Needle-
Jump to navigation
Jump to search
→ → Go back HOME to Zamboanga: the Portal to the Philippines.
"Needle" in Chavacano or chabacano of Zamboanga: Aguja-
---
In English
In Chavacano

A needle is needed to be able to mend clothes.
People who are lazy live in a house without a needle and thread.
If you live in the mountains and away from the city, you would need a needle and thread.
---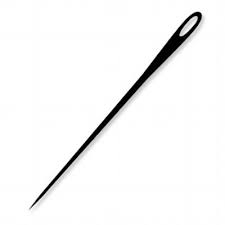 Aguja - Needle
English to Chavacano By: Franklin H. Maletsky: A Chavacano Zamboangueño

English to Chavacano - Chabacano:
The original online Chavacano Translation Dictionary Since 1997.


El original chavacano diccionario na internet
Email me some chavacano words and phrases: franklin_maletsky@yahoo.com. Gracias.
Translate English to chavacano or chabacano, simply click on the letter that the English word starts with below. Or use "SEARCH" top right
An example of a sentence translation from English to Chavacano
"GIVE RESPECT. DO NOT EXPECT RESPECT. Respect is to be earned, only if lost once given." — fhm

"DALE RESPETO. NO EXPECTA CON EL RESPETO. Necesita gana con el respeto, solamente si ele ya hace perde despues ya dale." — fhm
Updated July 16, 2022