Pangasinan Province, Philippines
Jump to navigation
Jump to search
Pangasinan is located on the west central area of the island of Luzon in the Philippines. Pangasinan borders La Union and Benguet to the north, Nueva Vizcaya and Nueva Ecija to the east, and Zambales and Tarlac to the south. To the west of Pangasinan is the South China Sea and the province encloses the Lingayen Gulf.

The land area of Pangasinan is 5,368.82 square kilometers. Pangasinan is 170 kilometers north of Manila, 50 kilometers south of Baguio City, 115 kilometers north of Subic International Airport and Seaport, and 80 kilometers north of Clark International Airport.

The province of Pangasinan is within Region I - Ilocos Region
Pangasinan has 44 Municipalities, 4 Cities, and 1,364 Barangays
The capital of Pangasinan is Lingayen. Lingayen is a 1st class municipality. The governor of Pangasisan has his/her office here.

The capitol is located at Alvear E, Maniboc, Lingayen.

Population (as of Aug 1, 2007 Census)= 2,645,395
Registered voters per COMELEC as of 2010= 1,330,027
15.9167° N, 120.3333° E - Pangasinan, Coordinates
Pangasinan News: Friday, May 31, 2019 -- Pangasinan Crisis and Intervention Center: a GAD learning hub : SAN FERNANDO CITY (PIA) -- The Province of Pangasinan with its Pangasinan Crisis Intervention Center in Lingayen town was recognized by the Philippine Commission on Women as the first .... Full Story»
---
List of Municipalities in the Pangasinan province within Region I in the Republic of The Philippines
Agno || Aguilar || Alcala || Anda || Asingan || Balungao || Bani || Basista || Bautista || Bayambang || Binalonan || Binmaley || Bolinao || Bugallon || Burgos || Calasiao || Dasol || Infanta || Labrador || Laoac || Lingayen (Capital) || Mabini || Malasiqui || Manaoag || Mangaldan || Mangatarem || Mapandan || Natividad || Pozzorubio || Rosales || San Fabian || San Jacinto || San Manuel || San Nicolas || San Quintin || Santa Barbara || Santa Maria || Santo Tomas || Sison || Sual || Tayug || Umingan || Urbiztondo || Villasis
Cities in the Province of Pangasinan: Alaminos City || Dagupan City || San Carlos City || Urdaneta City
List of the 17 Regions in the Philippines
National - Capital Region ● I - Ilocos ● II - Cagayan ● III - C. Luzon ● IV-A - Calabarzon ● IV-B - Mimaropa ● V - Bicol ● VI - W. Visayas ● VII - C. Visayas ● VIII - E. Visayas ● IX - Zamboanga ● X - N. Mindanao ● XI - Davao ● XII - Soccsksargen ● XIII - Caraga ● XIV - CAR ● XV - ARMM
Regions | Philippine Provinces | Philippine Cities | Municipalities | Barangays | High School Reunions
---
A | B | C | D | E | F | G | H | I | J | K | L | M | N | O | P | Q | R | S | T | U | V | W | X | Y | Z
Create Name's page
---

Provincial Seal of Pangasinan
AdrenoBoost™ - For Adrenal Gland Functioning

Promotes healthy adrenal gland functioning and hormone balance
Maintains cortisol levels already within healthy limits
Promotes energy levels, alertness and stamina
Helps the body adapt to everyday stressors and adrenal fatigue

Maintains blood sugar levels already within healthy limits
Maintains blood pressure already within healthy limits
Supports healthy circulation, sleep patterns and immunity
Astragalus as one of the main ingredients of AdrenoBoost™
Interactive Google Satellite Map of Pangasinan Province, Philippines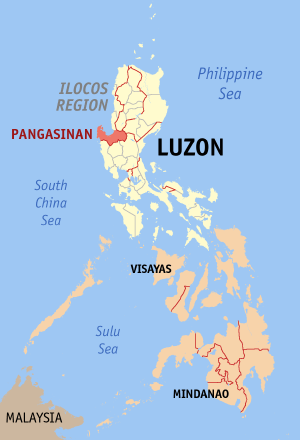 Map Locator of Pangasinan Province

Welcome to Sison, Pangasinan. Coming from the province of La Union.

Welcome to Pangasinan

The Capitol Building of Pangasinan in the municipality of Lingayen

The Capitol Building of Pangasinan in the municipality of Lingayen
We are non-political, non-religious, and not affiliated with any special interest groups.
---
---
How to get the best out of the Malunggay
Moringa (Malungay) leaves compared to common foods
Values per 100gm. edible portion

| Nutrient | Moringa Leaves | Other Foods |
| --- | --- | --- |
| Vitamin A | 6780 mcg | Carrots: 1890 mcg |
| Vitamin C | 220 mg | Oranges: 30 mg |
| Calcium | 440 mg | Cow's milk: 120 mg |
| Potassium | 259 mg | Bananas: 88 mg |
| Protein | 6.7 gm | Cow's milk: 3.2 gm |

Pangasinan State University, Asingan Campus

Church in Aguilar Pangasinan

Tondol Beach, Anda
Cities and Municipalities in Pangasinan

Municipalities and Cities within Pangasinan Province
History of Pangasinan, Philippines
article from:www.nscb.gov.ph
Created in 1850 by Governor General Ronquillo de Penalosa, Pangasinan was the earliest political and administrative unit in the Philippines. It was officially conquered and colonized by D. Martin de Goiti in 1571. At that time, its territorial jurisdiction included the present province of Zambales and parts of La Union and Tarlac. Lingayen was designated and remained up to the present the provincial capital.
By middle of the 19th century, the northern towns of Agoo to Bacnotan were separated from Pangasinan and became parts of the province of La Union.
In 1975, its territorial boundaries were further diminished when Panique and other municipalities south of it were affixed to Tarlac.
At present, the province is bounded in the North by Lingayen Gulf, La Union and Benguet, in the Northeast by Nueva Vizcaya, in the East by Nueva Ecija, Tarlac in the South and Zambales and the China Sea in the West. It is approximately 170 kilometers North of Manila and 59 kilometers Southwest of Baguio City.
Below is a history article from the LGU of Pangasinan:
Pangasinan was among the earliest political and administrative units in the Philippines. It was officially conquered and colonized by D. Martin de Goiti in 1571. On April 5, 1572, Pangasinan was made an encomienda by the Spanish royal crown to receive instruction on the Catholic Faith, which means that Pangasinan was organized under one leadership and has identity before the Spanish royal court.
Eight years later, in 1580, Pangasinan was organized into a political unit under an alkalde mayor who at that time has authority as head of the province or provincial government with judicial function indicating that Pangasinan has become a province. To commemorate the day when Pangasinan became an encomienda and the year it became a province, Pangasinan celebrates April 5, 1580 as the official founding day of the Province of Pangasinan. At that time, its territorial jurisdiction included the Province of Zambales and parts of La Union and Tarlac. By the middle of the 19th century however, the northern towns of Agoo to Bacnotan were separated from the province and became parts of La Union. The provincial territory was further diminished in 1875 with the annexation of Paniqui and other towns south of it to Tarlac.
Pangasinan, derived its name from the word "panag asinan", which means "where salt is made", owing to the rich and fine salt beds which were the prior source of livelihood of the province's coastal towns.
People of Pangasinan, Philippines
Pangasinan Population (as of 2015 census) = 2,956,726

Pangasinan Registered Voters (per COMELEC 2010)= 1,330,027

Pangasinan Population (as of Aug 1, 2007 Census)= 2,645,395
Elected officials of Pangasinan for the term of 2016-2019

Provincial Governor of Pangasinan: Amado "Pogi" I. Espino III
Provincial Vice-Governor of Pangasinan: Jose Ferdinand "Ferdie" Zerrudo Calimlim Jr.
Representatives of Pangasinan 1st District: Jesus Celeste
Representatives of Pangasinan 2nd District: Leopoldo Bataoil
Representatives of Pangasinan 3rd District: Rose Marie Arenas
Representatives of Pangasinan 4th District: Christopher George Martin De Venecia
Representatives of Pangasinan 5th District: Amado Espino JR.
Representatives of Pangasinan 6th District: Marlyn Primicias-agabas

Provincial Board Members of La Union

Napoleon Fontelera
Antonio Sison

Raul Sison
Nestor Reyes

Angel Baniqued
Generoso Tulagan

Jeremy Agerico Rosario
Liberato Villegas

Rosary Gracia Perez
Clemente Arboleda

Salvador S. Perez Jr.
Noel Bince
---
Elected officials of Pangasinan for the term of 2013-2016
Fontelera, Napoleon Jr. Capua
Sison, Antonio Del Fierro
Second District Sangguniang Panlalawigan (Provincial Board Members):
Reyes, Nestor Dalisay
Sison, Raul Palisoc
Third District Sangguniang Panlalawigan (Provincial Board Members):
Baniqued, Angel Jr. Martinez
Tulagan, Generoso Jr. Domingo
Fourth District Sangguniang Panlalawigan (Provincial Board Members):
Villegas, Liberato Zabala
Libunao, Mojamito Jr. Roca
Fifth District Sangguniang Panlalawigan (Provincial Board Members):
Uy, Danilo Chua Fifth
Arboleda, Clemente Jr.
Sixth District Sangguniang Panlalawigan (Provincial Board Members):
Shahani, Ranjit Ramos
Bince, Alfonso Jr. Cera
---
Elected officials of Pangasinan for the term of 2010-2013
---
Elected officials of Pangasinan for the term of 2007-2010
Barangay Elected Officials of Pangasinan Province
Businesses in Pangasinan, Philippines
How to Improve Your Business and Livelihood
The Philippine Livelihood Program: The Philippine government provides several programs to enhance the livelihood of the Filipino people. The department of Science and Technology through its Technology Research Center (TRC) regurlarly conducts various types of hands-on and personalized training programs.
DOST - Website
UPLiFT stands for Urban Program for Livelihood Finance and Training. - Website
DSWD Pro-poor and Livelihood Programs - Website
---
Take a picture of your Business (from a Sari-Sari Store to a Mega Mall). Upload that picture here in zamboanga.com and that picture can immediately be your business webpage. It is that easy. Here are two examples of how a picture becomes the webpage of the business: FHM Garden Grill and Catering and ABC Shopping Center
Give your business a good description. Add your address and contact number if available.
Possible Businesses
Auto, Trucks, Motorcycle and Bicycle dealers
Banks, Lending Firms, Pawnshops, and Financial Institutions
Clinics, Veterinary Clinics and Hospitals
Pharmacies, Drug Stores, Agri-Vets
Convenient Stores, Hardware and Supplies, General Stores, Sari-Sari Stores, Internet-Cafes
Department Stores and Appliance Stores
Supermarket, wet market, Fish Markets
Hotels, Motels, Pension Houses, Boarding houses and Resorts
Repair Shops: Shoe repair, Cellphone, Bikes (bicycles), motorcycles etc...
Restaurants, Carenderias, Coffee Shops, and Bakeries (Bakeshops)
Salons, Spas, Beauty Shops and Barber Shops
Gas Stations, Water Stations, Propane Stations
If you have real estate property, whether its commercial, residential, farm land, or just an empty lot in Pangasinan, you can list that property for free. Click to VIEW, EDIT, or ADD Realty Listings.
You can list your House and lot or farm land for sale or lease for free here.
If you are a real estate developer, you can list your subdivision, condominiums, high rises, apartment complexes, shopping strips or malls, and open market developments for Free.
Churches, Mosques, or Places of Worship in Pangasinan, Philippines
The name of your church, mosque, or place of worship can be listed in this community page. Take a picture of the facade of your church or place of worship and it can be posted here. We can even provide you with a free webpage. You can enter the data (story about your place of worship) here yourself, email the information or pictures to (franklin_maletsky@yahoo.com) or via Facebook.
---
FILIPINOS WAKE UP! THE TAXES YOU PAID ARE USED BY THE GOVERNMENT TO EXCLUSIVELY FINANCE THE RELIGION OF ISLAM.
Freedom of religion, yes. Equality, yes. But no favoritism.
---
---
List the Mosques or Masjid in Pangasinan here.

Masjid Angullia, Pogo, Alaminos City, Philippines

List the Catholic churches and chapels in Pangasinan here.

PARISH OF ST. JOSEPH ALAMINOS 1766, Pangasinan
PARISH OF ST. CATHERINE AGNO 1610, Pangasinan
PARISH OF ST. JOSEPH, AGUILAR 1810, Pangasinan
PARISH OF ST. MARK ALOS, ALAMINOS 1969, Pangasinan
PARISH OF ST. NICHOLAS TOLENTINO, ANDA 1858, Pangasinan
PARISH OF THE IMMACULATE CONCEPTION, BANI 1834
PARISH OF ST. JAMES BOLINAO 1610
PARISH OF ST. ANDREW BUGALLON 1920
PARISH OF ST. ISIDORE THE FARMER BURGOS 1876
PARISH OF ST. VINCENT FERRER, DASOL
PARISH OF ST. RAPAHAEL ARCHANGEL EGUIA 1889
PARISH OF ST. JOHN THE EVANGELIST INFANTA 1895
PARISH OF ST. ISIDRO LABRADOR 1765
PARISH OF THE HOLY CHILD, MABINI 1610
PARISH OF ST. RAYMOND OF PENAFORT MANGATAREM 1835
PARISH OF OUR LADY OF LOURDES SALASA 1720
PARISH OF ST. JAMES, SANTIAGO, 1973
PARISH OF ST. PETER MARTYR, SUAL 1835
PARISH OF OUR LADY OF THE PILLAR, ZARAGOSA 1967
PARISH OF ST. JOHN THE EVANGELIST INFANTA 1895
PARISH OF MARY HELP OF CHRISTIANS, BASISTA 1938
PARISH OF ST. VINCENT FERRER, BAYAMBANG, 1614
PARIS OF OUR LADY OF THE PURIFICATION BINMALEY 1674
PARISH OF GABRIEL THE ARCHANGEL BONUAN GUESET, DAGUPAN CITY, 1943
PARISH OF STS. PETER AND PAUL, CALASIAO (1588)
PARISH OF OUR LADY OF THE MOST HOLY ROSARY, CALMAY 1973
PARISH OF ST. ROSE OF LIMA, DOMALANDAN 1865
CO-CATHEDRAL PARISH OF THE THREE KINGS, LINGAYEN 1575
PARISH OF SAN ILDEPHONSE, MALASIQUI 1699
PARISH OF OUR LADY OF THE HOLY ROSARY MANAOAG 1600
PARISH OF ST. THOMAS AQUINAS MANGALDAN,1600
PARISH OF ST. JOSEPH, MAPANDAN 1905
PUBLIC ORATORY OF OUR LADY OF THE SACRED HEART, NAGUELGUEL 1950
PARISH OF ST. DOMINIC GUZMAN, SAN CARLOS CITY 1587
PARISH OF SAINT FABIAN, SAN FABIAN 1718
PARISH OF ST. HYACINTH, SAN JACINTO 1598
CATHEDRAL PARISH OF ST. JOHN THE EVANGELIST, DAGUPAN 1614
CHINESE PARISH OF ST. THERESE OF THE CHILD JESUS DAGUPAN CITY 1955
PARISH OF ST. PIUS V. URBIZTONDO 1852
PARISH OF THE HOLY CROSS ALCALA 1881
PARISH OF ST. LOUIS BERTRAND, ASINGAN 1669
PARISH OF ST. JULIAN, BALUNGAO 1944
PARISH OF THE HOLY CHILD BINALONAN 1841
PARISH OF OUR LORD'S NATIVITY, NATIVIDAD 1904
PARISH OF ST. JUDE THADDEUS POZORRUBIO 1880
PARISH OF ST. ANTHONY OF PADUA, ROSALES, 1853
PARISH OF ST. BARTHOLOMEW, SAN MAUEL 1687
PARISH OF ST. NICHOLAS TOLENTINO, SAN NICOLAS
PARISH OF ST. PASCUAL BAYLON, SAN QUINTIN 1863
PARISH OF OUR LADY OF MOUNT CARMEL SISON 1898
PARISH OF OUR LADY OF THE PILLAR SANTA MARIA 1875
PARISH OF ST. TOMAS AQUINAS, SANTO TOMAS
PARISH OF ST. PATRICK, TAYUG 1817
PARISH OF ST. ANTHONY, ABBOT VILLASIS 1763
PARISH OF IMMACULATE CONCEPTION, URDANETA 1858
PARISH OF THE IMMACULATE CONCEPTION UMINGAN 1845
Source of above information: capitalpangasinan.blogspot.com
List the Methodist churches in Pangasinan here.

List the Iglesia Ni Cristo churches in Pangasinan here.

List the Seventh-day Adventist churches in Pangasinan here.

List the Church of Jesus Christ Latter day Saints (Mormons) churches in Pangasinan here.

List the Presbyterian churches in Pangasinan here.

List the Baptist churches in Pangasinan here.
Schools in Pangasinan, Philippines
Take a picture of your school building(s) and send your pictures via email to (franklin_maletsky@yahoo.com) or message me via Facebook. I will then post the pictures in this page.
---
School year 2018-2019 starts Monday, Monday, June 4, 2018 and ends on Friday, April 5, 2019, for public elementary and secondary schools. The School Year shall consist of 208 school days inclusive of the five-day In-Service Training and the three days for the Parent-Teacher Conferences (PTC) conducted within the school year. However, learners are expected to be in school for a total of 200 class days.
List of schools: >>> click
PUBLIC NOTICE: Why pretend that the National language of the Philippines is Tagalog? It should be English. To be a Teacher, doctor, lawyer, engineer, architect, nurse, computer technician; what books do you learn from? English books of course. All your tests are in English. The constitution of the Philippines is written in English. All the laws and new laws introduced by congress are in English. For that matter, you can't be a teacher in a school system unless you know English. The "Licensure Exam for Teachers" is in ENGLISH! Who are these people forcing Tagalog down our throats? Tagalog is simply one of the many dialects of the Philippines. Keep your dialects but learn and be proficient in ENGLISH.
---
Economy of Pangasinan, Philippines
If you have an article that talks about the improvement of the economy of Pangasinan you can post that article here. If you come across any news item that talks about the economy of Pangasinan, you may post it here. Of course you have to reference the writer of the article. Any improvement to transportation, power and service usually improves the economy of the community, so go ahead and report that too.
The province's economy is mainly agricultural due to its vast fertile plains. More than 44 percent of its agricultural area is devoted to crop production. Aside from being one of the Philippine's rice granaries, Pangasinan is also a major producer of coconut, mango and eggplant.
As a coastal province, marine and inland fishing have become one of the major economic activities of the people.
Apart from agriculture and fishery, Pangasinan's economy also thrives in light industries. It is famous for exquisitely hand-carved furnitures, naturally-carved bamboo furnitures, rattan and the famous Fish Caviar (Bagoong), which has become the trademark of the province.
Pangasinan also boasts of its natural and scenic spots which have greatly contributed to the booming local tourism industry.
The province has two distinct seasons: dry from November to April and wet during the rest of the year. Average temperature is 27.6 degrees centigrade; humidity averages 87.3% and average monthly rainfall is 153.77 millimeters.
If you have a job available and that job is within the Province of Pangasinan, Philippines, you may post it here.
Remember to be as descriptive as possible and to post your Company name, Contact person, physical address, email address and Phone number..
Post expiration of Job Application. Go ahead and Click HERE to Insert your job offer in the "Pangasinan Philippines, Jobs" page.
Natural Resources of Pangasinan, Philippines
Protect the environment
It is sad but true that as of the year 2012 the rivers of the Philippines continue to be the #1 Sewer Systems of the Philippines.
Protect & Save the Rivers. Do not let your sewer drain into the river. Your community can be the first to initiate this project.
Build your riverbank protection with a built-in gutter system. Reforest within Ten Years - Guaranteed!
---
Let us plant more trees in every barangay in the entire Philippines. It does not make any difference if the barangay is urban, partially urban or rural; we need more trees. Trees will prevent erosion, provide oxygen, prevent green house effect, and even a place of business for the shade tree mechanic.
The Philippines is a tropical country and practically anything will grow. The DENR has the planting trees project that goes on every year. Lots of picture taking for the media. Planting trees one by one is the "human" way of doing it. This individual planting of trees is good if done to "line" the roads and highways with trees or along fences or property divisions, or if you have a plantation.
To reforest the nation of the Philippines we have to plant trees the "mother nature" way. Sow the seeds during the rainy season. Go deep into "bald" forests and plant trees by sowing seeds. If there's not enough volunteers to do this, use the military helicopters to fly over the designated areas and sow the seeds.
Guaranteed within a few years, The Philippines will be lush again. >>Read More
---
We are using our rivers as our sewer system. If you ask a Filipino, "Are the Filipinos a clean people?" The answer is an automatic, "Yes!". However, the Filipinos are suffering from the same disease or attitude as most people do, and that is the "NIMBY" disease or "NIMBY" attitude. (NIMBY) Not In My Back Yard. So it is OK to dump my garbage and sewer there. Not mine! Someone else will take care of it.
This attitude is killing our rivers. Your great-grandparents, grandparents or parents were once proud to tell the stories of how they enjoyed swimming in the river behind your house or nearby. However, you can't say the same or tell the same stories to your kids or grand kids. Why? Because your generation is killing the river.
Contact:
Secretary Roy Cimatu - since May 8, 2017
Department of Environment and Natural Resources
Visayas Avenue, Diliman, 1100 Quezon City, Philippines
+63-2-929-6626
osec@denr.gov.ph
---
We have so much water in the Philippines and yet very little to drink.
---
Instead of relying too much on Diesel fuel and Coal to generate the majority of Philippine's Electrical energy Supply, we can concentrate more on renewable and sustainable source of energy such as: Hydro Power, Solar Power, and Wind Power and thermal energy conversion. We have too many black outs.
Tourists Attractions of Pangasinan, Philippines
Help us post some interesting pictures. This will help boost the local economy of the community. Anything that is unique or anything that stands out in your community may be a tourist attraction.
Landmarks are usually photographed a lot by visitors. Send your pictures via email to (admin@zamboanga.com) or via Facebook.
Post the Pangasinan landmarks here.
---
The Capitol Building - designed by eminent American architect Ralph Harrington Doane, the Pangasinan Provincial Capitol has seen much of the province's history unfold. The building was constructed from 1917-1918 during the term of Pangasinan's 7th Governor, Daniel Maramba (1916-1922). Its inaugural in February 1919 featured a Pangasinan exposition which focused the attention of the entire nation on the province, its agricultural and industrial products, its achievements and potentials. During this time, it was considered to be the most beautiful provincial building in the country, admired and copied by other provinces. Under the administration of Governor Amado T. Espino, Jr. (2007-present), the Capitol Building was further refurbished while all other provincial government buildings in the Capitol Complex underwent general facelift, renovation and restoration works. . The Capitol Building now houses the Offices of the Governor, the Vice-Governor and the Provincial Board Members, and several provincial government departments. These intensive rehabilitation projects, with the Capitol Building reclaiming its reputation to be the most beautiful Capitol in the country today, have transformed the Capitol Complex as an alternative tourist destination and the pride of Pangasinenses.
The Sison Auditorium - the edifice was constructed in 1926-1927 during the term of Teofilo Sison, the 8th Governor of Pangasinan who also served as Senator of the Republic of the Philippines from 1928-1932 and was thereafter appointed as Secretary of Interior and Labor, and as Secretary of Justice and National Defense, earning him a distinction as the first Pangasinense to become a cabinet member. The Sison Auditorium was originally built as part of the Pangasinan Academic High School, the first secondary school in the province (now better known as Pangasinan National High School). Popularly known as "Assembly Hall", or the "Grand Provincial Auditorium", or simply the "Aditorium", it became the place of major social functions in the province. It also served at one time or another as a sports venue, as the Provincial Library, and as Office of the Vice-Governor and the Provincial Board. The Auditorium underwent general facelift, renovation and restoration works in 2008-2010 under the administration of Governor Amado T. Espino, Jr., with the vision to make it the Cultural Center of Pangasinan, to showcase the Pangasinense culture and artistry and the province's rich culture of indigenous songs, dances and other artistic expressions.
The Colegio del Santissimo Rosario - erected along the Agno River in Lingayen in 1890 by the Dominicansas an exclusive school for girls, the Colegio del Santissimo Rosario had a dormitory for the ninas, a clausura for the madres and a chapel. It served as barracks of American soldiers for two (2) years during the Filipino-American war and was damaged from the bombings that came with the Lingayen Gulf Landings during World War II. In 1947, the Columban sisters opened the St. Columban's Academy at the Colegio, following Bishop Mariano Madriaga's offer to use it as school for children in Lingayen. The school, now named St. Columban's College, moved to its present location beside the Catholic church in 1954. When the Dominican sisters constructed another school in San Manuel town, they retrieved materials from the Colegio and used them for their new school building, thus leaving its ruins.
The Casa Real - constructed in the 1840s, the Casa Real was a royal house where the Alcalde Mayor resided and held office as the Governor and the Judge of the Court of First Instance. It became the station of the Spanish soldiers and their native recruits who helped fought the Katipuneros during the revolutionary war against the Spanish rule. At the end of that century when the Americans colonized the province, it was named Capitol and served as the Office of the Governor. After the Taft Commission organized Pangasinan as a civil province on February 16, 1901, Judge William Howard Taft and his commissioners went to Lingayen and were given a grand reception in Casa Real. In World War II, the building was used by the Japanese as office during their invasion of the country and was partly damaged by the American naval bombardment in 1945. This 1,728 sqm. - public edifice served at one time or the other as the office and residence of the Alcalde Mayor and the Gobernador Civil, the courts of the judiciary, public elementary school and government offices. It was declared a National Historical Landmark by the National Historical Institute in 2002.
Festivals, Fiestas and Traditions of Pangasinan, Philippines
In the Philippines a fiesta is usually celebrated in barrios or barangays. It is the official holiday of the LGU, the barangay. Filipinos love fiestas. It is a time for joy and celebration. A fiesta is of Spanish origin and is usually commemorated in association with a christian patron saint. Most barangays whose population have been clustered by Muslims(Moros) and their population is more than that of the Christians, the celebration of the fiesta have been cancelled and replaced with the Hari Raya or Eid al-Fitr.
The cities or municipalities usually have yearly festivals where all the barangays participate. The cities or municipalities hold contests for the best floats in parades.
The oldest living man or woman in Pangasinan, Philippines
Do you know who the oldest living man or woman is in Pangasinan? Zamboanga.com is starting this inquiry in order to honor the older generation of the Philippines. Please provide the full name and date of birth of the elder living in Pangasinan. We will then post your entry in the Oldest Living Man or Woman in the Philippines page.
Pangasinan Zip Codes
Source: Philippine Postal Corporation
This table is Sortable by City/Municipality or by ZipCode
Click on Icon to Sort
ZipCode
Click on Icon to Sort
City/Municipality
Province
2400
Dagupan City
Pangasinan
2401
Lingayen
Pangasinan
2402
Labrador
Pangasinan
2403
Sual
Pangasinan
2404
Alaminos
Pangasinan
2405
Anda
Pangasinan
2406
Bolinao
Pangasinan
2407
Bani
Pangasinan
2408
Agno
Pangasinan
2409
Mabini
Pangasinan
2410
Burgos
Pangasinan
2411
Dasol
Pangasinan
2412
Infanta
Pangasinan
2413
Mangatarem
Pangasinan
2414
Urbiztondo
Pangasinan
2415
Aguilar
Pangasinan
2416
Bugallon
Pangasinan
2417
Binmaley
Pangasinan
2418
Calasiao
Pangasinan
2419
Santa Barbara
Pangasinan
2420
San Carlos City
Pangasinan
2421
Malasiqui
Pangasinan
2422
Basista
Pangasinan
2423
Bayambang
Pangasinan
2424
Bautista
Pangasinan
2425
Alcala
Pangasinan
2426
Sto. Tomas
Pangasinan
2427
Villasis
Pangasinan
2428
Urdaneta
Pangasinan
2429
Mapandan
Pangasinan
2430
Manaoag
Pangasinan
2431
San Jacinto
Pangasinan
2432
Mangaldan
Pangasinan
2433
San Fabian
Pangasinan
2434
Sison
Pangasinan
2435
Pozorrubio
Pangasinan
2436
Binalonan
Pangasinan
2437
Laoac
Pangasinan
2438
San Manuel
Pangasinan
2439
Asingan
Pangasinan
2440
Santa Maria
Pangasinan
2441
Rosales
Pangasinan
2442
Balungao
Pangasinan
2443
Umingan
Pangasinan
2444
San Quintin
Pangasinan
2445
Tayug
Pangasinan
2446
Natividad
Pangasinan
2447
San Nicolas
Pangasinan
Philippine Cycling is about cycling in the Philippnes. Philippine Cycling helps promote bike races, cycling clubs, bicycle tours, and the development of bicycle trails. Activities are coordinated with bike shops and cycling clubs throughout the Philippines to promote the fun of riding bikes. Philippine Cycling will be coordinating events with tour of Luzon, Visayas and Mindanao. Road biking and mountain bikings will be promoted by Philippine Cycling.
Cycling Activity to Participate In

Your cycling activity can be posted here and it will be shown in all the Provincial, City, Municipal and Barangay pages. Your 2015 Cycling Race or Activity can be Posted here.
ILOILO CITY, April 27-May 2, 2015 (PNA) – Some 5,000 bikers are expected to join the second Iloilo Bike Festival slated April 27-May 2, 2015 as the city continues to aspire to become a bike-able walkable metropolis. The activity that supported by the John B. Lacson Foundation Maritime University (JBLFMU) and Megaworld Iloilo aims to promote Iloilo as a safe and bike friendly city, promote the share-a-road movement encourage Ilonggos to commute via biking and raise Ilonggos awareness on the benefits of biking on health, safety and environment concerns. Read More....
CYCLING Le Tour de Filipinas 2015 set as country celebrates 60 years of top-caliber cycling Feb 1 to Feb 4 2015 - View the result of the race: A four stage race. Stage 1 starts in Balanga and back to Balanga for a 126K race Feb 1, 2015 (Sunday); stage 2 starts in Balanga, Bataan to Iba, Zambales for a 154.7 K race Feb 2, 2015 (Monday); stage 3 starts in Iba, Zambales to Lingayen, Pangasinan for a 150.1K race Feb 3, 2015 (Tuesday); stage 4 starts in Lingayen, Pangasinan to Baguio City, Benguet for a 101.7K race Feb 4, 2015 (Wednesday). For a total distance of 532.5 Kms. Read More >>>
Ronda Pilipinas: Feb 8 - 27 2015:>> Discovering young riders for the national team will be the main objective of the LBC Ronda Pilipinas 2015 when the country's premiere cycling race hits the road on Feb. 8 in Butuan City. Ronda Pilipinas executive project director Moe Chulani said the international multistage bikathon, which ends on Feb. 27, will have two qualifying legs of four stages each in Mindanao and the Visayas where the top riders will advance to face a tough foreign challenge in the six-stage Luzon finale. Read More>>>
Pangasinan Crisis and Intervention Center: a GAD learning hub
By Joanna P. Diaz-Sabado (JNPD/JDS/PIA- La Union)
SAN FERNANDO CITY (PIA) -- The Province of Pangasinan with its Pangasinan Crisis Intervention Center in Lingayen town was recognized by the Philippine Commission on Women as the first Gender and Development (GAD) local learning hub in Ilocos Region.
The facility was among the seven local learning hubs in the country recognized this year for "their efforts in gender-responsive local governance towards the promotion of human right, gender equality, and the empowerment of all women and girls and for providing and sustaining gender-responsive programs and services to women and children in difficult circumstances."
The center, employed with licensed social workers, is operating 24 hours and serves as an action center to immediately respond to cases of individuals and families in crisis situation.
Among their services include the provision of a temporary shelter, rescue operation; referral services; provision of financial assistance; and program advocacy, information and education campaign.
"Our target clients include sexually-abused children, victims of physical abuse, sexual abuse like incest, rape and acts of lasciviousness, psychological abuse, survivors of human trafficking, and some strandees," Mona Sabiano-Alavazo, Provincial Social Welfare and Development Office technical division chief, said.
She added, "They can be provided three to seven days of temporary shelter in the center."
Last year, they catered to 353 individuals in crisis situation.
Established in 2006, the provincial government hopes that more LGUs will also be recognized as learning local hubs on GAD.
The facility is located at the Lingayen District Hospital Compound with 24-hour hotline 0933-8653710.
Do this so your photo upload will be properly categorized for Abra.
Copy and paste the code below in "green" to the body or "Summary" of the image file that you are uploading.
{{zadheader pictures}}
[[Category:Pangasinan Philippines Photo Gallery]]
*[[Pangasinan Province, Philippines]]