LOG IN. UPLOAD PICTURES.


List of the 17 Regions in the Philippines
National - Capital Region ● I - Ilocos ● II - Cagayan ● III - C. Luzon ● IV-A - Calabarzon ● IV-B - Mimaropa ● V - Bicol ● VI - W. Visayas ● VII - C. Visayas ● VIII - E. Visayas ● IX - Zamboanga ● X - N. Mindanao ● XI - Davao ● XII - Soccsksargen ● XIII - Caraga ● XIV - CAR ● XV - BARMM

Chavacano Language -- Other Countries in the World.


Zamboanga Shopping
Cotabato City, Philippines
Jump to navigation
Jump to search
President Duterte and his followers promote the biggest DECEPTION and con in the Philippines. They push for Federalism and constitutional reform or charter change (cha-cha) just to boost political dynasties and to give the Muslims(Moros) their own state, a "BangasaMoro" (Muslim Nation), an Islamic State within the Philippines.
---
Barangays of Cotabato City. Geographically it is in the Maguindanao province, but it is classified to be within Region 12 in the Republic of The Philippines
The City of Cotabato is an independent chartered city and does not belong to the ARMM
Bagua | Bagua I | Bagua II | Bagua III | Kalanganan | Kalanganan I | Kalanganan II | Poblacion | Poblacion I | Poblacion II | Poblacion III | Poblacion IV | Poblacion V | Poblacion VI | Poblacion VII | Poblacion VIII | Poblacion IX | Rosary Heights | Rosary Heights I | Rosary Heights II | Rosary Heights III | Rosary Heights IV | Rosary Heights V | Rosary Heights VI | Rosary Heights VII | Rosary Heights VIII | Rosary Heights IX | Rosary Heights X | Rosary Heights XI | Rosary Heights XII | Rosary Heights XIII | Tamontaka | Tamontaka I | Tamontaka II | Tamontaka III | Tamontaka IV | Tamontaka V

---
Philippines, is the only country in the world which is 85% Catholic that created FIVE(5) national laws "favoring", "respecting" and "financing" the religion of ISLAM.
Then made it unlawful to finance all other religions.
The only country in the world that has a government commission that caters to Muslims only, for the hajj, for madrasas, and the spread of Islam at government's expense PAID by the taxes of Non-Muslims.
Religion is always good for the people but it should never be embraced or financed by government. Tax exemption is not tantamount to financing. Every non-profit organization is tax-exempt.
---

Adopt this webpage. Help your community get more exposure to TOURISTS and INVESTORS. Help us improve this webpage.

---
A | B | C | D | E | F | G | H | I | J | K | L | M | N | O | P | Q | R | S | T | U | V | W | X | Y | Z
Create Name's page
---
Regions | Philippine Provinces | Philippine Cities | Municipalities | Barangays | High School Reunions
---
---

Seal of Cotabato City
AdrenoBoost™ - For Adrenal Gland Functioning

Promotes healthy adrenal gland functioning and hormone balance
Maintains cortisol levels already within healthy limits
Promotes energy levels, alertness and stamina
Helps the body adapt to everyday stressors and adrenal fatigue

Maintains blood sugar levels already within healthy limits
Maintains blood pressure already within healthy limits
Supports healthy circulation, sleep patterns and immunity
Astragalus as one of the main ingredients of AdrenoBoost™
---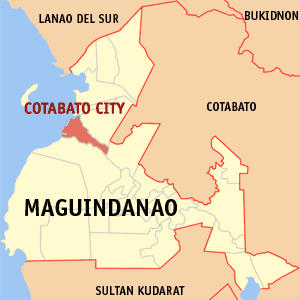 Cotabato City, Within the province of Maguindanao. However, Cotabato City jurisdictionally, is not part of the province of Maguindanao.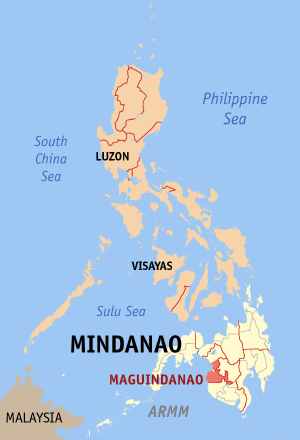 Maguindanao Province within The Philippines

Cotabato City Hall "The People's Palace"

Immaculate Conception of Tamontaka Church

Bridge in Cotabato City

Sultan Haji Hassanal Bolkiah Masjid (Grand Mosque of Cotabato), Kalanganan
Provinces in Region 12
Cotabato Province ● Sarangani Province ● South Cotabato Province ● Sultan Kudarat Province

---
Cotabato City, Philippines
The City of Cotabato is within the boundaries of Maguindanao province, but it is independent of that province. It is politically autonomous from the province of Maguindanao.
Cotabato City is designated as the seat of the ARMM regional government, but the independent chartered City of Cotabato itself is part of Region XII and not part of the ARMM.
June 20, 1959, Cotabato City by virtue of Republic Act No. 2364, became a chartered City.
Land Area 17, 599 Hectares or 176 square kilometers
Geography of Cotabato City, Philippines
Geography of Cotabato City
---
Location of Cotabato City, Philippines
7.2167° N, 124.2500° E - Cotabato City, Coordinates
Cotabato City is located in the island of Mindanao and within the province of Maguindanao but independent from the provincial administration.
Article below verbatim from: www.cotabatocity.net.ph/
Cotabato City is a chartered City geographically surrounded by the Province of Maguindanao that belongs to the Autonomous Region of Muslim Mindanao (ARMM). Yet the City is considered part of Region XII, not of ARMM. Based on the 2001 Plebiscite, ARMM would also include the provinces of Lanao del Sur (located north of Maguindanao), Tawi Tawi, Sulu and Basilan, with Marawi as the lone City of the Region. On the other hand, Region XII, as provided under Executive Order No. 36 issued on September 2001, includes the provinces of North Cotabato, South Cotabato Saranggani, Sultan Kudarat and the cities of Cotabato, General Santos, Kidapawan, Koronadal, and Tacurong.
This unusual situation makes local governance a bit tricky and complicated because of the influences of these two inherent administrative and political bodies on the social, economic, and political aspects of Cotabato City. The City has physical and economic linkages with the surrounding towns of the Maguindanao Province. These connections are further enhanced by the transport links primarily through the port and the airport, which are both located outside the City. In terms of planning procedures mandated by the Local Government Code, the City's development plans would have to be integrated with that of Region XII, not of ARMM. Already, there have been issues, like waste disposal and water resource development, whose resolutions have been constrained by territorial and jurisdictional difficulties.
Other issues impact on the conduct of commerce. Businessmen could not expect direct action by City officials on the alleged high fees and double charges at the port, simply because it is beyond the jurisdiction of the City. The same goes to securing LTO permits and franchises on public transportation, which the traders have to do twice – one with the City and one with the Maguindanao province – in order to bring their goods to and from Cotabato City.
The local government's efforts on peace and order are also affected. Although many would say that there has been a decrease in the frequency of crime and violence in the City, these are not appreciated by outsiders who still equate the City with the untoward incidents in the provinces of Maguindanao, North Cotabato and South Cotabato, or even in other parts of Mindanao. Thus, investors and travelers alike shy away from the City because of this image problem. Efforts should be exerted by all sectors in Cotabato City to mitigate this negative image. This will be a key and a part of the development proposals for this sector.
History of Cotabato City, Philippines
Cotabato City, the ancient capital town of Mindanao words "Kuta" for fort and "wato" for stone. The place basically spreads around what is known as P.C. Hill..
Settlements in Cotabato City started as early as 1475. The place developed as the capital town of Mindanao in the seventeenth centry under Sultan Dipatwan Qudarat, (reigned during this time).
In the nineteenth century when Sultan Makakua ruled, roads and wharves were constructed which gave rise to the birth of modern day Cotabato. That kind of development enticed the inhabitants from Zamboanga and the Visayas to migrate and settle here. The Chinese nationals who have long settled in Cotabato were assimilated into the population by intermarriages with the native Maguindanaons.
At the turn of the twentieth century, when the Americans started to rule the Philippines, Cotabato became the capital town of Cotabato province. It remained as its capital until 1959, the time which Cotabato became a chartered city pursuant to Republic Act No. 2364.
People of Cotabato City, Philippines
Populaton of Cotabato City as of 2015 Census: 299,438
Populaton of Cotabato City as of 2010 Census: 271,786
---
Registered voters of cotabato city as of 2010 per Comelec: 117,025
Based on the 2010 Census of Population and Housing (CPH), the province of Cotabato (North Cotabato) posted a total population of 1,226,508 persons as of May 1, 2010. This is larger by 267,865 persons compared to its total population of 958,643 persons counted in the 2000 CPH. The increase in the population count from 2000 to 2010 translated to an average annual population growth rate (PGR) of 2.49 percent.
Local Government Unit LGU of Cotabato City, Philippines
Philippine Veterans Office

Don Teodoro V Juliano Avenue, Cotabato City, Philippines

NDEA Office

Sinsuat Avenue, Cotabato City, Philippines

Office on Muslim Affairs

Sinsuat Avenue, Cotabato City, Philippines
---
The Sangguniang Panlungsod is composed of the City (Municipality) Vice-Mayor as Presiding Officer, regular Sanggunian members (Councilors), the President of the Association of Barangay Captains and the President of the Sangguniang Kabataan.
They shall exercise and perform the legislative powers and duties as provided for under Republic Act No. 7160, otherwise known as the Local Government Code of 1991. Shall consider and conduct thorough study all matters brought to their attention and consequently pass resolutions, enact ordinances and to introduce recommendations.
Budget of Municipalities and Cities: The Philippine budget formulation system is not centralized. It has been decentralized since 1991. It is the responsibility of each LGU to submit their budgetary needs for review. Failure to submit is the problem. "IMPERIAL MANILA IS A MYTH!".
---
Elected Government Officials of Cotabato City for the term of 2016-2019
Graham Nazer Dumama
Bruce Matabalao
Eduardo Rabago
Sukarno Sema
Michael Datumanong
Abdillah Lim
Freddie Ridao
Hassan Biruar
Christina Chua
Johari Abu
---
Elected Government Officials of Cotabato City for the term of 2013-2016
Mayor of Cotabato City: Japal "Jojo" J. Guiani Jr. (PDP) PARTIDO DEMOKRATIKO PILIPINO LAKAS NG BAYAN
Vice-Mayor of Cotabato City: ANDANG, ABDULLAH (PDP) PARTIDO DEMOKRATIKO PILIPINO LAKAS NG BAYAN
City Councillors of Cotabato City:
DUMAMA, GRAHAM NAZER (PDP) PARTIDO DEMOKRATIKO PILIPINO LAKAS NG BAYAN 3791 8.42%
DATUMANONG, DICK (LP) LIBERAL PARTY 2636 5.85%
MELENDREZ, FROI (LP) LIBERAL PARTY 2498 5.55%
TAHA, KUS (LP) LIBERAL PARTY 2282 5.07%
RIDAO, FRED (PDP) PARTIDO DEMOKRATIKO PILIPINO LAKAS NG BAYAN 2273 5.05%
PALACALA, MUARIF (PDP) PARTIDO DEMOKRATIKO PILIPINO LAKAS NG BAYAN 2237 4.97%
SEMA, SUKARNO (LP) LIBERAL PARTY 2228 4.95%
CORTEZ, JONATHAN (PDP) PARTIDO DEMOKRATIKO PILIPINO LAKAS NG BAYAN 2099 4.66%
BIRUAR, HASSAN (PDP) PARTIDO DEMOKRATIKO PILIPINO LAKAS NG BAYAN 1995 4.43%
FORMENTO, FLORANTE (LP) LIBERAL PARTY 1965 4.36%
Businesses in Cotabato City, Philippines
How to Improve Your Business and Livelihood
The Philippine Livelihood Program: The Philippine government provides several programs to enhance the livelihood of the Filipino people. The department of Science and Technology through its Technology Research Center (TRC) regurlarly conducts various types of hands-on and personalized training programs.
DOST - Website
UPLiFT stands for Urban Program for Livelihood Finance and Training. - Website
DSWD Pro-poor and Livelihood Programs - Website
---
Take a picture of your Business (from a Sari-Sari Store to a Mega Mall). Upload that picture here in zamboanga.com and that picture can immediately be your business webpage. It is that easy. Here are two examples of how a picture becomes the webpage of the business: FHM Garden Grill and Catering and ABC Shopping Center
Give your business a good description. Add your address and contact number if available.
Possible Businesses
Auto, Trucks, Motorcycle and Bicycle dealers
Banks, Lending Firms, Pawnshops, and Financial Institutions
Clinics, Veterinary Clinics and Hospitals
Pharmacies, Drug Stores, Agri-Vets
Convenient Stores, Hardware and Supplies, General Stores, Sari-Sari Stores, Internet-Cafes
Department Stores and Appliance Stores
Supermarket, wet market, Fish Markets
Hotels, Motels, Pension Houses, Boarding houses and Resorts
Repair Shops: Shoe repair, Cellphone, Bikes (bicycles), motorcycles etc...
Restaurants, Carenderias, Coffee Shops, and Bakeries (Bakeshops)
Salons, Spas, Beauty Shops and Barber Shops
Gas Stations, Water Stations, Propane Stations
If you have real estate property, whether its commercial, residential, farm land, or just an empty lot in Cotabato City, you can list that property for free.
Click to VIEW, EDIT, or ADD Realty Listings.
You can list your House and lot or farm land for sale or lease for free.
If you are a real estate developer, you can list your subdivision, condominiums, high rises, apartment complexes, shopping strips or malls, open market developments here for Free.
Churches, Mosques, or Places of Worship in Cotabato City, Philippines
The name of your church, mosque, or place of worship can be listed in this community page. Take a picture of the facade of your church or place of worship and it can be posted here. We can even provide you with a free webpage. You can enter the data (story about your place of worship) here yourself, email the information or pictures to (franklin_maletsky@yahoo.com) or via Facebook.
---
FILIPINOS WAKE UP! THE TAXES YOU PAID ARE USED BY THE GOVERNMENT TO EXCLUSIVELY FINANCE THE RELIGION OF ISLAM.
Freedom of religion, yes. Equality, yes. But no favoritism.
---
Take a picture of your school building(s) and send your pictures via email to (franklin_maletsky@yahoo.com) or message me via Facebook. I will then post the pictures in this page.
---
Due to Covid19: Pursuant to the instructions of President Roa Duterte, and as recommended by the DepEd, the opening of classes for the year 2020-2021 is deferred to October 5, 2020.
List of schools: >>> click
PUBLIC NOTICE: Why pretend that the National language of the Philippines is Tagalog? It should be English. To be a Teacher, doctor, lawyer, engineer, architect, nurse, computer technician; what books do you learn from? English books of course. All your tests are in English. The constitution of the Philippines is written in English. All the laws and new laws introduced by congress are in English. For that matter, you can't be a teacher in a school system unless you know English. The "Licensure Exam for Teachers" is in ENGLISH! Who are these people forcing Tagalog down our throats? Tagalog is simply one of the many dialects of the Philippines. Keep your dialects but learn and be fluent and proficient in ENGLISH.
---
The name of your school in Cotabato City can be listed here. You can list it like this:
Name of School. Private or Public. It can be an elementary school, high school, college.

Address of your school
Telephone Number
Principal of the school
You can also create a webpage for your school. We can help you.
Economy of Cotabato City, Philippines
If you have an article that talks about the improvement of the economy of Cotabato City you can post that article here. If you come across any news items that talk about the economy of Cotabato City, you may post it here. Of course you have to reference the writer of the article. Any improvement to transportation, power and service usually improves the economy of the community, so go ahead and report that too.
If you have a job available and that job is within Cotabato City, Philippines, you may post it here.
Remember to be as descriptive as possible and to post your Company name, Contact person, physical address, email address and Phone number.
Post expiration of Job Application. Go ahead and Click HERE to Insert your job offer in the "Jobs in Cotabato City" page.
Natural Resources of Cotabato City, Philippines
Protect the environment
It is sad but true that as of the year 2012 the rivers of the Philippines continue to be the #1 Sewer Systems of the Philippines.
Protect & Save the Rivers. Do not let your sewer drain into the river. Your community can be the first to initiate this project.
Build your riverbank protection with a built-in gutter system. Reforest within Ten Years - Guaranteed!
---
Let us plant more trees in every barangay in the entire Philippines. It does not make any difference if the barangay is urban, partially urban or rural; we need more trees. Trees will prevent erosion, provide oxygen, prevent green house effect, and even a place of business for the shade tree mechanic.
The Philippines is a tropical country and practically anything will grow. The DENR has the planting trees project that goes on every year. Lots of picture taking for the media. Planting trees one by one is the "human" way of doing it. This individual planting of trees is good if done to "line" the roads and highways with trees or along fences or property divisions, or if you have a plantation.
To reforest the nation of the Philippines we have to plant trees the "mother nature" way. Sow the seeds during the rainy season. Go deep into "bald" forests and plant trees by sowing seeds. If there's not enough volunteers to do this, use the military helicopters to fly over the designated areas and sow the seeds.
Guaranteed within a few years, The Philippines will be lush again. >>Read More
---
We are using our rivers as our sewer system. If you ask a Filipino, "Are the Filipinos a clean people?" The answer is an automatic, "Yes!". However, the Filipinos are suffering from the same disease or attitude as most people do, and that is the "NIMBY" disease or "NIMBY" attitude. (NIMBY) Not In My Back Yard. So it is OK to dump my garbage and sewer there. Not mine! Someone else will take care of it.
This attitude is killing our rivers. Your great-grandparents, grandparents or parents were once proud to tell the stories of how they enjoyed swimming in the river behind your house or nearby. However, you can't say the same or tell the same stories to your kids or grand kids. Why? Because your generation is killing the river.
Contact:
Secretary Roy Cimatu - since May 8, 2017
Department of Environment and Natural Resources
Visayas Avenue, Diliman, 1100 Quezon City, Philippines
+63-2-929-6626
osec@denr.gov.ph
---
We have so much water in the Philippines and yet very little to drink.
---
Instead of relying too much on Diesel fuel and Coal to generate the majority of Philippine's Electrical energy Supply, we can concentrate more on renewable and sustainable source of energy such as: Hydro Power, Solar Power, and Wind Power and thermal energy conversion. We have too many black outs.
Tourists Attractions of Cotabato City, Philippines
Help us add some of the tourist attractions of Cotabato City in Z-wiki. This will help boost the local economy of Cotabato City. Anything that is unique or anything that stands out in your community may be a tourist attraction.
Landmarks are usually photographed a lot by visitors. Post the Cotabato City landmarks here.
Festivals, Fiestas and Traditions of Cotabato City, Philippines
SHARIFF KABUNSUAN FESTIVAL (December 15 to 19) - An annual festival commemorating the arrival of Shariff Muhammad Kabunsuan from Johore (Malay Peninsula) who successfully propagated Islam in Mainland Mindanao.
Every city has some sort of a festival or tradition that is celebrated every year. In the Philippines almost all barangays that are predominantly populated by Christians celebrate fiesta. Tell us about the festivals, fiestas and traditions of Cotabato City.
Philippine Cycling is about cycling in the Philippnes. Philippine Cycling helps promote bike races, cycling clubs, bicycle tours, and the development of bicycle trails. Activities are coordinated with bike shops and cycling clubs throughout the Philippines to promote the fun of riding bikes. Philippine Cycling will be coordinating events with tour of Luzon, Visayas and Mindanao. Road biking and mountain bikings will be promoted by Philippine Cycling.
Cycling Activity to Participate In

Your cycling activity can be posted here and it will be shown in all the Provincial, City, Municipal and Barangay pages. Your 2015 Cycling Race or Activity can be Posted here.
ILOILO CITY, April 27-May 2, 2015 (PNA) – Some 5,000 bikers are expected to join the second Iloilo Bike Festival slated April 27-May 2, 2015 as the city continues to aspire to become a bike-able walkable metropolis. The activity that supported by the John B. Lacson Foundation Maritime University (JBLFMU) and Megaworld Iloilo aims to promote Iloilo as a safe and bike friendly city, promote the share-a-road movement encourage Ilonggos to commute via biking and raise Ilonggos awareness on the benefits of biking on health, safety and environment concerns. Read More....
CYCLING Le Tour de Filipinas 2015 set as country celebrates 60 years of top-caliber cycling Feb 1 to Feb 4 2015 - View the result of the race: A four stage race. Stage 1 starts in Balanga and back to Balanga for a 126K race Feb 1, 2015 (Sunday); stage 2 starts in Balanga, Bataan to Iba, Zambales for a 154.7 K race Feb 2, 2015 (Monday); stage 3 starts in Iba, Zambales to Lingayen, Pangasinan for a 150.1K race Feb 3, 2015 (Tuesday); stage 4 starts in Lingayen, Pangasinan to Baguio City, Benguet for a 101.7K race Feb 4, 2015 (Wednesday). For a total distance of 532.5 Kms. Read More >>>
Ronda Pilipinas: Feb 8 - 27 2015:>> Discovering young riders for the national team will be the main objective of the LBC Ronda Pilipinas 2015 when the country's premiere cycling race hits the road on Feb. 8 in Butuan City. Ronda Pilipinas executive project director Moe Chulani said the international multistage bikathon, which ends on Feb. 27, will have two qualifying legs of four stages each in Mindanao and the Visayas where the top riders will advance to face a tough foreign challenge in the six-stage Luzon finale. Read More>>>
Featured News of The Philippines
6% growth target stays
Monday, Septembe 16, 2019
The Department of Finance (DOF) said the government is maintaining its growth target of six percent or higher this year, even as the economy settled at only 5.5 percent growth in the first semester given the delay in the enactment of the 2019 General Appropriations Act (GAA).
Carlos Dominguez, finance secretary, also said to avoid a repeat of the 2019 budget delay, leaders of both the Senate and the House of Representatives are meeting every month to monitor the progress on the budget and the 25 priority bills enumerated in the 4th State-of-the-Nation Address ........... Full Story»
---
Stocks up, peso stronger
Thursday, August 15, 2019
Share prices ended higher yesterday as investors tracked overseas leads to trade the market.
The Philippine Stock Exchange index (PSEi) was up 70.20 points to 7,858.65, a 0.9 percent hike ........... Full Story»
---
Festivals in the month of November in the philippines
Adivay: November : La Trinidad, Benquet ★ Banaag Festival: November 1 : Anilao, Iloilo ★ P'yagsawitan Festival: November 3rd week: Maragusan Compostela Valley ★ Binabayani Festival: November Last week: Olongapo, Zamboales ★ Tan-OK ni Ilocano Festival: November third week: Ilocos Norte ★ Crown Festival: November 3rd week: Taytay, Rizal ★ Tumba (Candle) Festival: November 2: San Luis, Batangas ★ Pinta Flores Festival: November 3 to 5: San Carlos City, Negros Occidental ★ San Carlos City Fiesta: November 4: San Carlos City, Negros Occidental ★ Angono Arts Festival: November 5 to 25: Angono, Rizal ★
---
Inaugural triathlon at New Clark City set
Monday, August 16, 2019 12:00 am
MANILA, Philippines — All is set for the New Clark City Triathlon which is the first triathlon event to be held at the New Clark City Sports Complex in Capas, Tarlac on Oct. 19-20.
GoClark Sports and Events has partnered with presenting sponsor Robinsons Land Corp. in this triathlon featuring the swim event at the Aquatics Center, the 20km bike in the newly built New Clark City-SCTex connecting road and the run course in the sports complex, including the warm-up athletic track, the river park and a finish lap around the 20,000-seater Athletics Stadium ............................... Full Story»
ARMM's regional assemblymen to hold maiden session on Monday
By (PNA)
scs/NYP/EOF

COTABATO CITY, May 12 (PNA) – Regional Governor Mujib Hataman of the Autonomous Region in Muslim Mindanao (ARMM) assured his constituents on Saturday that the newly- appointed members of the Regional Legislative Assembly (RLA) are reform-oriented.
Hataman made the statement two days before the 27-member RLA convenes for its maiden session and to elect its Speaker on Monday. Of the 27 assemblymen, six are in hold-over capacity and eight are women.
ARMM-RLA information officer Sammy Peralta said of the 27 appointed regional lawmakers, only 26 have taken their oath of office before President Benigno S. Aquino III in Malacanang.
Due to prior commitments, Nedra Burahan failed to show up in the Palace oath-taking.
Hataman also brushed aside reports that there were switching of names of nominees in the selection of regional lawmakers who will help the regional executive in instituting reforms in the graft-ridden yet resource-rich region.
ARMM is composed of the provinces of Maguindanao, Lanao del Sur, Basilan, Sulu and Tawi-Tawi.
Hataman said the new assemblymen will begin performing there mandated tasks on Monday, May 14, at 4 p.m.
In his "Ulat sa Bayan," Hataman said reforms in the regional bureaucracy has reached about 90 percent.
"May pagbabago na sa ARMM, kung may political will, kaya naman pala ang pagbabago tungo sa matuwid na daan (Reforms are taking place in ARMM, if there's political will, we can do it and take the straight path)," he told his ARMM constituents as he reported on what had been done in his first 100 days in office.
Hataman, hand-picked by President Aquino to perform cleansing process in the graft-ridden regional government, said he has the full backing of the Chief Executive and that he succeeded in cleaning the Department of Education with ghost teachers, ghost schools and ghost students that led the ARMM to save about P162 million.
Since he assumed office, the regional government had been stripped of ghost employees who reported for work on paydays and never performed anything for the regional government.
Hataman also succeeded in putting up an open government where several civil society organizations have been closely watching how the regional government is being run.
"We are open, we are transparent and every transaction like bidding and others are done with the presence of CSOs," he said.
"I would like to lay down the foundation of a new ARMM, I know we will succeed with all your support," he told ARMM employees and constituents.
Your Story about Cotabato City
Create you own personal page about the barangay in the municipality or City you live in. Title it like so for specificity: "Mybarangay, MyCityMunicipality, Myprovince, Philippines by MyFirstname Mylastname". You can update and edit this page anytime and anyway you want. It does not have to follow the standard format of the main wiki. It is your page. A link to your page will be inserted in this main barangay page. Here is an example page.
If you want the tittle to be more generic then do this: "Philippines by Your name". You can insert your picture of anywhere in the Philippines in this page. This will be your personal WIKI social media page.
You can talk about your personal experiences, your advocacies, the environmental conditions of your barangay, municipality, city or province.
---
The oldest man or woman in Cotabato City, Philippines
Do you know who the oldest man or woman is in your community of Cotabato City? Zamboanga.com is starting this inquiry in order to honor the older generation of the Philippines. Please provide the full name and date of birth of the elder living in Cotabato City. We will then post your entry in the Oldest Man or Woman in the Philippines page.
Do the following so your photo upload will be properly categorized for Cotabato City.
Copy and paste the code below in "GREEN" to the body or "Summary" of the image file that you are uploading.
{{zadheader pictures}}
[[Category:Cotabato City, Philippines Photo Gallery]]
=[[Cotabato City, Philippines]]=