LOG IN. UPLOAD PICTURES.

List of the 17 Regions in the Philippines
National - Capital Region ● I - Ilocos ● II - Cagayan ● III - C. Luzon ● IV-A - Calabarzon ● IV-B - Mimaropa ● V - Bicol ● VI - W. Visayas ● VII - C. Visayas ● VIII - E. Visayas ● IX - Zamboanga ● X - N. Mindanao ● XI - Davao ● XII - Soccsksargen ● XIII - Caraga ● XIV - CAR ● XV - BARMM
---
Minimize corruption and maximize prosperity with a Guarantee of One Senator per Region. They divided the Philippines into REGIONS, but kept SENATORIAL representation national with no accountability to any regions.. No wonder many regions remain poor. Petition for a regional senatorial election. All regions will have senatorial representation.
Visit
Zamboanga Shopping to help propagate the
Chavacano Language
Pangasinan News September 2018
Jump to navigation
Jump to search
A | B | C | D | E | F | G | H | I | J | K | L | M | N | O | P | Q | R | S | T | U | V | W | X | Y | Z
Create Name's page
Regions | Philippine Provinces | Philippine Cities | Municipalities | Barangays | High School Reunions
---
Pangasinan Province - Archived News
---
Interactive Google Satellite Map of Pangasinan Province, Philippines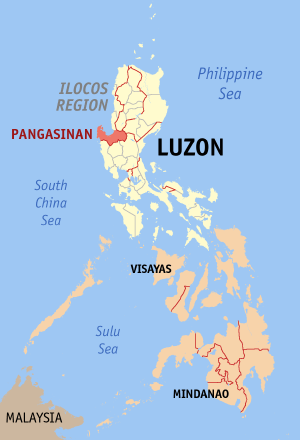 Map Locator of Pangasinan Province

The Capitol Building of Pangasinan in the municipality of Lingayen

Pangasinan State University, Asingan Campus

Church in Aguilar Pangasinan
Wars of ancient history were about possessions, territory, power, control, family, betrayal, lover's quarrel, politics and sometimes religion.
But we are in the Modern era and supposedly more educated and enlightened .
Think about this. Don't just brush off these questions.
Why is RELIGION still involved in WARS? Isn't religion supposed to be about PEACE?
Ask yourself; What religion always campaign to have its religious laws be accepted as government laws, always involved in wars and consistently causing WARS, yet insists that it's a religion of peace?
WHY??

Tondol Beach, Anda
By Hilda Austria (PNA)
DAGUPAN CITY -- The Department of Education (DepEd) Dagupan City Schools Division office will host in January a national event that will showcase the talents and skills of learners through exhibitions of their products, services and performance.
DepEd regional director Malcolm Garma said the regional office was chosen to be the host region, and Dagupan City as the host division for the National Festivals of Talent (NFOT) 2019.
NFOT aims to provide opportunity for learners from secondary schools and Alternative Learning System (ALS) to exhibit their talents and skills in language, arts, social studies, technology, and livelihood education.
DepEd Dagupan Schools Division Superintendent Lorna Bugayong, in an interview on Tuesday, said "I think we were chosen because we met all the requirements for conducting such national event, like one requirement is having air-conditioned venue for the opening and closing program and other plenary activities that can occupy at least 2,800 people, Mayor Belen Fernandez offered CSI Stadia and other functions rooms of stadia for all contests to be conducted."
Bugayong said there will be provision of billeting areas and street dancing venues.
She noted they are already preparing the venue for next year's event, although some repairs and additional facilities in billeting and contest areas are to be undertaken by the DepEd Dagupan Division.
"We just received the notice last week and so we are waiting for the DepEd central office to visit the city to tackle the preparations," she added.
Meanwhile, Bugayong said their division will also host the Regional Festivals of Talent on November this year thus, this will ensure that they will be well-prepared for the NFOT.
By Hilda Austria (PNA)
LINGAYEN, Pangasinan -- Team Pangasinan won PHP1-million worth of sports equipment and scholarships for ranking fifth in the recent Batang Pinoy National Championships held in Baguio City on September 15-21.
Pangasinan Provincial Information Officer Orpheus Velasco, in an interview with the Philippine News Agency (PNA), on Tuesday said the team bagged 71 medals, 24 of which are gold, 23 are silver, and 24 are bronze based on the medals tally released by the Philippine Sports Commission (PSC).
"Team Pangasinan got the gold medals from cycling (8 medals), athletics (4), taekwondo (4), arnis (3), lawn tennis (2), karatedo (2) and boxing (1)," Velasco said.
He noted that the team underwent rigid training sponsored by the provincial government through its flagship sports program, Pangasinan Sports Academy, which was started by then Governor Amado Espino Jr. at the Narciso Ramos Sports, and Civic Center prior to the send-off of the team.
Pangasinan's Provincial Sports Development and Management Council (PSDMC) executive officer Modesto Operania, in a recent interview, said Team Pangasinan would give a good fight during the Batang Pinoy national finals owing to the 16-day in-house training of the athletes.
Based on PSC's medals tally, the overall champion Baguio City won 83 golds, 81 silvers and 197 bronzes, followed by Cebu with 36- 40-44.
Laguna at third place got 34-13-31 while Quezon City achieved 29-16-18.
The top five winners received incentives in the form of sports equipment and scholarships: Baguio City with PHP3 million; Cebu, PHP2.5 million; Laguna, PHP2 million; Quezon City, PHP1.5 million; and Pangasinan, PHP1 million.
According to the PSC website, Batang Pinoy is the national youth sports competition for athletes less than 15 years old, which also includes out-of-school youth.
By Hilda Austria (PNA)
ALAMINOS CITY, Pangasinan -- Some 442,387 tourists, both local and foreign, visited the famous Hundred Islands National Park (HINP) here from January to August this year, according to the City Tourism Office (CTO).
City tourism officer Miguel Sison, in an interview with the Philippine News Agency (PNA) on Monday, said tourist arrival in the city this year is still higher than last year's, despite the slight effect of the onslaught of the southwest monsoon and weather disturbances since July this year.
CTO recorded 435,661 visitors from January to August in 2017, of which 14,065 were foreign tourists.
"On the positive side, due to the weather disturbances, the islands were able to rest after the peak season last summer," he said.
Sison noted that weather disturbances and gale warnings remain a challenge for the park since it is located in the natural sea of the Lingayen Gulf.
To prepare for the peak season, Sison said they are adding restrooms and other amenities in the park to improve the quality experience of the guests.
Another cruise ship from a European country with 400 passengers will sail to the islands on December, he said.
Aside from the main islands, the CTO also improved the Lucap Wharf, which is the boarding area before going to the islands.
"We have placed benches, which were donated by private citizens including businessmen, as we also beautified the place. By October, the start of our peak season, live bands will play at the entertainment center, while a private establishment will be opening a disco and karaoke television (KTV) area. With a lot of investors putting up transients and hotels around the area, we also wanted to offer 'night life' to our tourists in addition to the island visit," Sison said.
The city government has already earned PHP33.4 million from HINP this year, and it hopes to surpass the total income of PHP42 million of the tourist spots last year, he said.
Besides island hopping, the HINP also offers zip-lining, jet skiing, banana boat, helmet diving, kayaking and snorkelling at affordable prices, he added.
By Hilda Austria (PNA)
SAN NICOLAS, Pangasinan -- Following the onslaught of Typhoon Ompong, Pangasinan police participated in the International Coastal Clean up, tree planting activity and medical mission on Friday.
Police Chief Insp. Norman Florentino, in an interview on Friday, said some of the policemen and women of Pangasinan joined the Provincial Environment and Natural Resources Office in a coastal clean-up drive in Bonuan Tondaligan, Dagupan City.
Florentino said some planted tree seedlings in Sitio Cupi, Barangay San Pedro Alcala.
He said Pangasinan police also took part in the medical and dental mission at barangay Malico San Nicolas town.
"It was spearheaded by the Civil Service Commission (CSC) Urdaneta City Field office, in coordination with the Eastern Pangasinan Council of Human Resource Practitioners, in celebration of the CSC month," he said.
A total of 127 residents of the town benefited from the medical check-up, 23 from dental mission, while 97 elementary pupils have received assorted gifts, said Florentino.
"We are to serve the people in every possible way," he added.
By Hilda Austria (PNA)
LINGAYEN, Pangasinan -- The provincial government, through the Provincial Social Welfare and Development Office (PSWDO), has distributed a total of 14,607 family food packs to the residents of the provinces affected by the aftermath of typhoon 'Ompong'.
PSWDO head Emilio Samson, in an interview Tuesday, said the provincial government's relief operation is an addition to the efforts of the local government units (LGUs) of the respective towns and cities of the province.
"We have already distributed to 22 towns and cities, and we have a standby for distribution at Bayambang town to be given to the fifth district of the province," Samson said.
The family food packs distributed since Friday contained two kilograms of rice, four cans of sardines, and two packs of noodles, he noted.
Samson said the Office of the Civil Defense in Region 1 also donated 700 hygiene kits for the evacuees.
As of 2 p.m. Tuesday, 1,449 families or 5,586 persons are still in evacuation centers in Dagupan City, Bugallon, Aguilar, Mangatarem, Bayambang, San Carlos City, Calasiao, Sta. Barbara, and Urbiztondo.
"We are hoping that more non-government organizations will also aid our provincemates," he added.
By Hilda Austria (PNA)
LINGAYEN, Pangasinan -- The Pangasinan Police Provincial Office (PPPO) is encouraging about 55,000 registered motorcycle owners in the province to secure a 'Clean Rider' sticker on their motorcycles and licenses intended to easily identify the illegal motorcycles. The PPPO will launch 'Oplan Clean Rider' in Region 1 (Ilocos) on Saturday.
"Ang kagandahan kapag mayroong stickers kapag dumaan sa checkpoint ay agad malalaman ang motorcycles na hindi kailangan sitahin (The good thing if a motorcycle has a sticker is when it passed to a checkpoint, the police officers can easily determine that the rider does not need further inspection)," Chief Inspector Norman Florentino said in a radio interview on Friday,
Florentino admitted that in most crimes, motorcycles are used by criminals.
"After the launching, pwede na sila magfile ng application sa kani-kanilang station to avail yong sticker for free (they can file their applications in their respective stations to avail of the sticker for free)," he said.
Oplan Clean Rider was first introduced by the Philippine National Police in August this year, which aims to decrease or deter crimes related to riding-in-tandem criminals.
Regional police stations were given time to disseminate the information prior to the launching, he added.
Chief Inspector Dennis Ballitoc, deputy chief of Malasiqui Police Station Ballitoc, earlier explained how the 'Oplan Clean Rider' sticker will be issued.
"We will create a database and upon verification, if the rider is complete with his or her requirements and he or she is without criminal records, then we will issue a sticker that will be placed in the motorcycle and at the back of his or her driver's license to indicate that he or she is a 'Clean Rider'," he said.
"If the two did not match, we will call the registered owner of the motorcycle and confirm if he or she lent his or her motorcycle to the person driving it. Through this, we could also prevent or intercept carjacking incidents," he added.
By Hilda Austria (PNA)
LINGAYEN, Pangasinan -- Some 150 policemen from stations across the province donated blood in observance of the National Peace Consciousness Month on Tuesday at the Pangasinan Police Provincial Office (PPO) Camp here.
"We are just glad that we could serve our fellowmen not just in maintaining peace and order but even through donating our blood," said Chief Inspector Norman Florentino, Pangasinan, police community relations officer, in an interview Tuesday.
He said the bloodletting activity, which is in partnership with the Philippine Red Cross-Pangasinan chapter, is a nationwide simultaneous activity of the Philippine National Police.
Florentino admitted that only a few of the full force of the Pangasinan police were able to join the activity.
He said some are still deployed in water search and rescue operations, as the PPO remains in full alert status due to flooding in some parts of the province.
He disclosed that out of the 150 donors, only 66 have successfully donated blood.
"Some of our policemen who signified their intent to donate were disqualified upon screening because of various reasons but mostly because they did not have enough sleep yet from the operations related to the aftermath of the typhoon. Some have just donated recently, while some have been vaccinated with flu vaccines and the like, and other reasons," Florentino explained.
He added that the PPO regularly conducts bloodletting activities in the province, which they call the "Dugong Pulis".
The National Peace Consciousness Month is celebrated every September as mandated under Proclamation No. 675 issued on July 2004, according to the Department of Interior and Local Government website.
This year's theme is "Mithiing Kapayapaan Sama-samang Isakatupara".
By Liwayway Yparraguirre (PNA)
ROSALES, Pangasinan -- Residents of Pangasinan and neighboring provinces now have an additional venue to transact with the Professional Regulation Commission (PRC) in Region 1 (Ilocos), as officials formally opened its two-storey regional office building situated at the Government Center in Barangay Carmay in this town.
Before the opening of the regional office on Friday and the PRC Satellite Service Center on May 2018 at Robinson's Place Calasiao, professionals and new board passers from Northern Luzon travel to PRC-Baguio Regional Office to avail of the agency's services.
"Rosales is a very strategic area, we share common boundary with Tarlac and Nueva Ecija. It is the gateway to Northern Luzon (to Isabela and Cagayan, and to the Ilocos provinces). You put something in Rosales, you serve not only Pangasinan but also Northern and portion of Central Luzon," said PRC Commissioner Jose Cueto, Jr. in an interview Monday.
Cueto headed the blessing and inauguration of the building on Friday, with Abono Partylist Representative Conrado Estrella III and Rosales Mayor Susan Casareno.
He acknowledged that the PRC-Region 1 building is the first regional office, where the building and lot were provided through donation.
Businessman Robert Rodriguez donated the whole government center lot, which now houses regional offices of the National Tobacco Administration, the Land Transportation Office, the Technical Education Skills and Development Authority, the Office of the Ombudsman, and the Department of Labor and Employment, Cueto said.
"The groundbreaking ceremony transpired sometime in 2012, wherein the original lot area offered to PRC through then PRC-Baguio Regional Director Teofilo Gauis Sison, Jr. was 2,000 square meters. Because of the persistent bargaining of Sison, the lot area provision was increased to 2,500 sq.m. and then to the present 3,400 sq. m.," Estrella said.
Estrella explained that the initial estimated cost of the building was less than PHP100 million, but the problem on funding did not hamper their desire to pursue the project.
"It took a while, but the building was constructed, the budget was released so far just reached PHP34 million," he added.
The solon pledged another PHP5 million fund for the completion of the regional office.
"The building built is not the conventional way. It is made out of container vans. Aside from my district office and the National Irrigation Administration buildings (in Rosales) which are made of container vans, I researched and I found out that advanced countries are using container vans. First, it lasts a lifetime, free of rust, and cannot be affected by termites, plus it is also lightweight. It is environment-friendly because container vans being discarded are put to good use," Estrella explained.
Meanwhile, soon to be constructed at the government center are the Philippine Red Cross office and the Region 1 Medical Center annex hospital.
(PhilStar wire service)
MANAOAG—Fourth District Rep. Christopher de Venecia launched on Sept. 12 the Kabuhayan on Wheels project in the town to provide livelihood opportunities to residents.
De Venecia delivered a customized truck managed by Technical Education Skills Development Authority (TESDA) and accredited schools that will go around his district to teach and train the unemployed on various skills, i.e., facial, make-up, haircut and beauty care services and wellness massage.
"These will serve as their way to uplift their plight against poverty," De Venecia said.
He said he will continue this tradition of service started by his mom, former Rep. Gina de Venecia, with her project Isang Gunting, Isang Suklay, that provided livelihood in hair cutting.
Mayor Kim Mikael Amador thanked the congressman for bringing this project to their town.
TESDA Provincial Director Joel Pilotin said the project will be their reach-out project by training people in barangays to use their skills.
By Ahikam Pasion (PNA)
LINGAYEN, Pangasinan -- Sangguniang Panlalawigan (SP) members, through resolutions approved by the body on Monday, praised the relentless efforts of the Philippine Army and the Philippine National Police (PNP) in keeping Pangasinan insurgency-free.
Resolution nos. 1844 and 1845 have been authored and approved unanimously by all the SP members.
"The conferment of insurgency-free status to Pangasinan is not only beneficial to the province but also a welcome development," said Board Member Jeremy Aguirico Rosario of the 4th District of Pangasinan in his speech during their regular session.
The province of Pangasinan was declared 'insurgency-free' on Thursday, after thorough assessment and evaluation by the Philippine Army here.
In an interview Friday, Brigadier General Lenard Agustin, chairman of the Area Clearing Evaluation Board of the Philippine Army, clarified that the declaration of the province as 'insurgency-free' does not mean that there is no rebel presence in the area.
"One of the bases for the declaration of the insurgency-free status is on how tight the rebel group's grip in a certain area is. As for Pangasinan, we have assured that the rebel influence is minimal, close to nothing," Agustin said.
However, the Armed Forces of the Philippines would not be too complacent on the status because the rebel forces could gather strength and may possibly reclaim their influence in the area, he added.
"There are still some rebel groups around the province –especially the Kilusang Larangang Gerilya Caraballo, which operates in nearby provinces such as Zambales, Tarlac, and Nueva Ecija," Agustin further said.
These rebels, he noted, only pass through the province but do not stay here.
Officials urged the public to inform them of any unfamiliar faces in the community in order to prevent possible rebel groups from gathering more forces.
Meanwhile, the Philippine Army is keeping its guard up with the possible sortie of the New People's Army (NPA) amid the busy relief operations for victims of Typhoon Ompong.
Lt. Col. Eugenio Julio Osias IV, spokesperson of the 7th Infantry (Kaugnay) Division of the Philippine Army, said they consider the security aspects of relief operations.
"We have experienced numerous encounters with the rebel forces while we were busy transporting relief goods for affected citizens before. Ambush by the rebels could happen anytime," said Osias.
The Army is ensuring that rebel attempts would not happen again and that they would be able to transport relief on time without any negative repercussions, he added.
By Hilda Austria (PNA)
LINGAYEN, Pangasinan -- Pangasinan's Provincial Sports Development and Management Council (PSDMC) has assured the safety of the 241 athletes, coaches and other delegates of Team Pangasinan, who are in Baguio City for the "Batang Pinoy" national finals since Wednesday.
PSDMC executive officer Modesto Operania, in an interview on Sunday, said the Pangasinense delegates are all safe and sound amid the onslaught of Typhoon Ompong in Baguio City on Friday and Saturday.
"Team Pangasinan are staying at Baguio City National High School as their billeting area, and they are all safe and secured," Operania said.
He recalled that the athletes and trainer-coaches were sent off by the provincial government on September 12.
Later that day, however, the organizers announced that the sporting event's opening was moved to Sept. 17 instead of Sept. 15 due to the typhoon.
"They have started training again today (Sunday) at Baguio City, where they are now, in preparation for the upcoming sports competition," Operania said.
Meanwhile, Operania is confident that Team Pangasinan will give a good fight during the Batang Pinoy national finals owing to the 16-day in-house training of the athletes, which was sponsored by the provincial government.
The athletes will compete in 18 sporting events -- archery, arnis, athletics, basketball, boxing, chess, karatedo, sepak takraw, swimming, table tennis, taekwondo, tennis, volleyball, cycling, wrestling, wushu, futsal, and gymnastics.
Dagupan City's Balon Dagupan Team has pulled out from the Batang Pinoy due to the venue's high safety risk after it was struck by "Ompong".
By Hilda Austria
ALAMINOS CITY, Pangasinan -- The city government has installed an additional 35 units of payaos to provide sustainable livelihood to the fishermen here and keep them from turning to illegal fishing.
City Agriculturist Arceli Talania, in an interview on Wednesday, disclosed that the city spent PHP300,000 for all 35 units of payao. The number brought the total units of payao to 42.
Talania said payao, an artificial floating reef that attracts all sizes of fishes, is made of two plastic gallon containers that serve as floaters, and coconut leaves as its raft.
"The coconut leaves will (host) algae after a week in the seawater. The algae will soon draw the small fishes as they feed on it, while the small fishes will draw big fishes as their main predator. This will be beneficial for our fishermen as they need not go far to fish," she explained.
"Mayor Arthur Celeste saw its positive effect, increasing the catch of our fishermen. That's why, we adopted it," she added.
Talania said the Bureau of Fisheries and Aquatic Resources (BFAR) was the first to introduce 'payao', providing the city 15 units. However, due to typhoons, some were damaged while others were stolen, leaving them with only seven.
She clarified that fish nets are not allowed to be used in payao fishing.
The payaos, which were placed along the boundary of the Hundred Islands National Park on Monday, serve as markers of safe fishing zone, preventing the fishermen from fishing within the protected areas, she noted.
"We are with Task Force Isla and the barangay councils in monitoring and preserving the payao," Talania added. (PNA)
By Ferdinand Patinio (PNA)
MANILA -- The Archdiocese of Lingayen-Dagupan on Thursday lauded the approval on second reading by the House of Representatives a bill declaring the Basilica of Our Lady of the Rosary of Manaoag a pilgrimage site and tourist destination.
"It is a recognition of the firm faith in God and deep love for the Virgin among the people of Pangasinan. We are very grateful to (Congressman Christopher) de Venecia," Lingayen-Dagupan Archbishop Socrates Villegas said in a statement.
De Venecia is the principal author of House Bill 7882 which mandates the Department of Tourism and other concerned agencies to prioritize the development of the Basilica of Our Lady of the Rosary of Manaoag, subject to rules and regulations governing the development of pilgrimage sites and tourist destinations.
At the same time, the Catholic prelate is hoping that the measure will inspire the local government unit (LGU) to upgrade facilities around the basilica.
"We hope it animates the LGU to improve the infrastructure around the Basilica," he said.
"The zoning of businesses, traffic management and security concerns are top in the list that we hope the LGU will attend to," Villegas added.
Officially declared a basilica in February 2015, the church is home to the ivory image of the Blessed Virgin Mary which is known for narratives of miracles experienced by Catholic devotees.
By Verdelle De Vera (CIO)
BALON DAGUPAN NEWS
THE city of Dagupan received another national award after being adjudged one of the most outstanding local government units (LGUs) under the independent component city category in the field of literacy.
Mayor Belen T. Fernandez, Bryan Kua and Marcelino D. Fernandez, president and vice president, respectively, of the Liga ng mga Barangay, received the award and P40,000 cash incentive during the 2018 National Literacy Awards held at Hotel Supreme Convention Plaza in Baguio City on September 6.
Also present were the Department of Education (DepEd) Dagupan Schools Division Superintendent Dr. Lorna G. Bugayong, Chief Education Supervisor Venus Estonillo, City Social Welfare and Development (CSWD) Officer Leah Aquino, City Planning and Development Officer (CPDO) Josephine Corpuz and members of the local literacy council.
This is the first time Dagupan City was recognized by the National Literacy Awards in the national level after having been adjudged as regional awardee for the second time since 2016.
In her speech, Dr. Emelyn Libunao of the Philippine Information Agency (PIA) gave recognition to the local government's brand of unlimited service to its constituents when she presented the award.
"This is for the literacy initiatives that are unstoppable unliserbisyo – the literacy initiatives of Dagupan City," said Libunao.
Dr. Libunao is also one of the Literacy Coordinating Council (LCC) validators who conducted an evaluation of the city's literary programs during their visit in Dagupan sometime last August.
Mayor Belen T. Fernandez said that the award will serve as an inspiration for the local government to continue working and providing opportunities for Dagupenos through the city's literacy programs.
Other outstanding LGUs awarded under the Independent Component City category include Naga City, Bayugan City, Panabo City and Santiago City.
Meanwhile, outstanding LGUs belonging from 4th to 6th and 1st to 3rd class municipalities as well as highly urbanized cities were also awarded during the event.
(Politiko North Luzon)
Looking for a new beach destination? Head on to Tondalingan Blue Beach in Dagupan City!
Pangasinan 4th District Representative Christopher "Toff" de Venecia said the beach is not just an ideal destination for sea lovers; it also has a rich history!
"Did you know that on January 9, 1945, the Tondalingan Blue Beach was the landing site of the American Liberation Forces here in the Philippines?" said De Venecia.
Apart from that, Tondalingan Blue Beach also has picnic areas with cottages and table rentals, perfect for beach goers.
"So what are you waiting for? Bring some adobo, longganisa, and kaleskes and spend time with the people you love at Tondalingan Blue Beach!" said De Venecia.
By Leonardo Micua
AFTER the recent experience of residents during the extended severe flooding in Dagupan City, a plan for the city government to establish a permanent central commissary and a mobile kitchen to prepare and cook meals for evacuees was raised during a committee hearing of the Sangguniang Panlungsod (SP) last Wednesday.
The idea was discussed during the hearing attended by Councilors Alvin Coquia, Jeslito Seen, Nicanor Aquino and Redford Erfe-Mejia.
The councilors will ask Mayor Belen Fernandez to support and fund the operation of both the central commissary and the planned mobile kitchen.
Coquia said the plan calls for both the City Nutrition Office and the City Social Welfare and Development Office to manage the two operations.
Ana Marie Lopez, city nutritionist, told the committee that there were more than 1,000 evacuees at the Dagupan People's Astrodome alone who needed to be served hot meals and snacks.
The evacuees were fed meals prepared in an improvised kitchen at the back of the Astrodome.
Coquia said if there are no evacuees to be served, the central commissary can be used to prepare foods for regular feeding programs of the city government and for delegations participating in the Dagupan Bangus Festival.
On the other hand, the mobile kitchen can make rounds of the city and serve hot meals to families stranded in their homes, he added.
Councilor Seen said a central commissary, manned by personnel of the city nutrition office and CSWDO will ensure well-being of evacuees throughout the emergency.
By Hilda Austria (PNA)
ALAMINOS CITY, Pangasinan -- The Regional Science and Technology (S&T) Caravan 2018, which will offer free technology training courses for livelihood and showcase different technologies, will be held in this city on Sept. 18 to 21.
Director Felicidad Gan of the Department of Science and Technology's (DOST) office in Pangasinan, in an interview on Monday, said the trainings and forums will focus on improving the bamboo industry, boost peanut production, increase agriculture and aquaculture productivity, emergency food reserve, and salt iodization technology, among others.
"The trainings are for free, with participants coming from the host city and other towns from the first district of Pangasinan," Gan said.
She said the food technology developed by the DOST's Food and Nutrition Research Institute will also be presented in the caravan where visitors can also buy these products.
"The local government units of the 10 municipalities and cities of the Pangasinan's first district can also adopt the waste management technology developed by Adamson University funded by DOST, which they could use to tackle their problems on waste disposal, while there is also the technology to manage hotels and restaurants along the seashore," Gan noted.
Other services which will be offered during the caravan are Real Life Experience in a Box (RxBox) medical assessment, scholarship campaign, free calibration of weighing scales, planetarium and interactive science exhibits, she said.
"Students will also enjoy the exhibits at the Don Leopoldo Sison Sports Complex since these are interactive," she added.
Gan said 10 schools from the 1st district of Pangasinan will receive a Science and Technology Academic and Research-Based Openly Operated Kiosks (STARBOOKS) digital library on Sept. 21.
"Students can do their research through the STARBOOKS, where they could also access the technologies DOST is developing, among others, helpful materials and information," she said.
Different science and technology (S&T) contest will also be joined in by students from the entire Region 1 (Ilocos).
The four-day caravan aims to raise awareness and appreciation of the DOST's programs and projects in the countryside and remote areas; create potential investment opportunities on matured technologies towards establishment of technology; come up with agreement and undertakings that will result in S&T project implementation; determine and provide possible technical assistance needed by the city; and motivate the youth to appreciate science and technology in a fun and interactive way, she added.
By Hilda Austria (PNA)
CALASIAO, Pangasinan -- Top officials in this town on Friday inaugurated the regional evacuation center situated in Barangay Poblacion East that can accommodate more than 500 disaster evacuees.
"This is a very timely project because for the last two months this year, we have encountered severe flooding that affected all 24 barangays of our town, affecting 1,600 families. So, we thank all the national government agencies, which made this possible," Mayor Joseph Arman Bauzon said in his speech during the inauguration and blessing ceremony.
The evacuation center, whose main building has a floor area of 1,300.82 sq. meters, sits on a 3,757.5-sq. meter land donated by the local government unit (LGU) of Calasiao.
The Department of Public Works and Highways (DPWH) provided PHP36 million for its construction, said Simplicio Gonzales, district engineer of DPWH-Pangasinan's 3rd District Engineering Office.
Gonzales said the center consists of a two-story building with comfort rooms for male and female evacuees; a three-story building for laundry and drying; a one-story building for the office of the Municipal Disaster Risk Reduction and Management Office and Office of the Civil Defense (OCD); and a one-story building for a generator, among others.
"It is complete with amenities and facilities. A life-saving shelter during natural calamities and disasters and a temporary shelter for evacuees," he said.
Undersecretary Ricardo Jalad, OCD Administrator and Executive Director of the National Disaster Risk Reduction and Management Council, told newsmen the evacuation center here is the third in Region 1 (Ilocos).
Jalad said the other regional evacuation centers are in Bacnotan, La Union and Vigan, Ilocos Sur, while another one will soon be inaugurated in Alaminos City, Pangasinan.
"We thank the DPWH, LGU and other agencies, as well as Philippine Institute of Volcanology and Seismology for ensuring the safety of the structure," he added.
By Liwayway Yparraguirre (PNA)
LINGAYEN, Pangasinan -- Some 600 examinees from Pangasinan are expected to take the nationwide simultaneous Philippine Military Academy (PMA) entrance examination on Sunday at the Narciso Ramos Sports and Civic Center (NRSCC) gymnasium here.
Lt. Col. William Romero, officer-in-charge for the PMA entrance examination here, said in an interview on Friday that the number of processed applications has reached 137 as of Friday.
"For this year's examinees and for those planning to enter PMA, they should review on Mathematics (covering algebra, basic statistics, geometry); English (grammar, reading comprehension, vocabulary); and Abstraction (numerical and pattern analysis). To be prepared physically, they have to strengthen their bodies through push-ups, sit-ups and jogging," he said.
In 2017, the total number of examinees in Pangasinan reached 567, of which, only 23 successfully passed the entrance test.
However, only eight of them made it to the PMA after passing the medical and physical examinations, he added.
By Yolanda Sotelo (Philippine Daily Inquirer)
CALASIAO, PANGASINAN – A P36-million regional evacuation center was opened here on Friday, the first for Pangasinan province which has been plagued by floods.
The center is composed of eight buildings that sit on a 3.7-square-meter elevated lot donated by the Calasiao government.
It can accommodate 500 individuals seeking refuge from rising water that inundates this agricultural town during the monsoon season.
Calasiao is a catch basin for runoff water from upland provinces. Most of the villages here, including the business district, were under water in July and August.
The launching ceremony was led by Ricardo Jalad, administrator of the Office of Civil Defense.
Another regional center is being constructed in Alaminos City.
When not in use, the Center could serve other purposes like a place for training and conferences, Jalad said.
Mayor Joseph Bauzon said the center may also host flood victims from neighboring towns.
The Department of Public Works and Highways funded the evacuation center.
By Hilda Austria (PNA)
ALAMINOS CITY, Pangasinan -- Four associations from the so-called vulnerable sectors here have received a total of PHP2.8 million worth of livelihood assistance from the Department of Labor and Employment (DOLE) in Region 1 (Ilocos) through the city government.
"The livelihood assistance is under the DOLE Integrated Livelihood Program (DILP), wherein the associations will receive the grant through the local government unit of Alaminos in a form of equipment or materials they need for their businesses," Mhel Gaspar, information officer of DOLE-1, said in an interview Thursday.
Gaspar said the assistance was turned over to the city government on Tuesday.
He identified the association-beneficiaries as the Hundred Islands Souvenir Vendors Association (HISVA), Pangapisan High-Value Finfish Growers' Association, Association of Persons with Disabilities of Alaminos City, and Alaminos City Overseas Filipino Workers' and Parents' Association (ACOPA).
Gaspar said HISVA will receive PHP1.2 million for buying and selling of Hundred Islands National Park souvenirs; Pangapisan High-Value Finfish Growers' Association with PHP500,000 for the culture and production of high-value finfish; Association of Persons with Disabilities of Alaminos City with PHP500,000 for the building of its Empowered Grocery Store; and ACOPA with PHP600,000 for the establishment of its ACOPA Catering Services.
The city government will also give the associations at least 20 percent of the project's total cost as its counterpart based from the guidelines of the DILP, he added.
Aside from Alaminos City, the municipalities of Anda and Labrador have also received livelihood assistance this year.
"'Negosyo sa Kariton' project worth PHP460,000 were granted to 23 ambulant vendors and 'Tulong Pangkabuhayan' for the disadvantaged and displaced workers worth PHP425,880 in Anda, and starter kits such as fishing boats and fishing paraphernalia worth PHP1 million were given to 50 beneficiaries in Labrador," Gaspar said.
He reminded the beneficiaries of the project's goal of sustainability, and DOLE would continue to monitor their businesses' progress.
"We will continue to monitor because if their businesses grow, then we will give more interventions to further enhance their capabilities," he said.
Gaspar also encouraged other associations to avail of the same assistance from the government by coordinating with their local government.
"They can apply as we also look for those that are in need of our assistance. As long as they are registered with DOLE, Securities and Exchange Commission and Cooperative Development Authority, then they can apply," he added.
By Hilda Austria (PNA)
MALASIQUI, Pangasinan -- The Central Pangasinan Electric Cooperative (CENPELCO) targets to energize next year the remaining 136 'sitios' (smaller part of a barangay) within its jurisdiction that still have no electricity.
CENPELCO general manager Engr. Rodrigo Corpuz, in a phone interview on Wednesday, said these 'sitios' are extension of barangays, which still have no standard line of electricity.
"These sitios or sometimes called 'purok' emerged after some time, when people built houses in what used to be vacant lots," he said.
Corpuz disclosed that CENPELCO already submitted a funding request of PHP10 million to PHP15 million to the National Electrification Administration for the electrification of these sitios.
In 42 years of the cooperative's existence, he said they have already energized 14 municipalities and one city, with 553 barangays and 2,175 'sitios'.
"We are still at 93.75 percent electrification of 'sitios' but hopefully until next year, we will be able to totally energize all 'sitios' in our jurisdiction," he added.
By Liwayway Yparraguirre (PNA)
DAGUPAN CITY -- The city government regularly conducts training for the Balon Dagupan Swimming Team and recently held a try-out as part of its preparation for the upcoming competitions in the country.
Head coach Jefferson Lao, in an interview Monday, said the A-listed swimmers of the team will be competing in the Batang Pinoy 2018 national championship to be held this month in Baguio City.
Lao said the team is composed of eight swimmers, namely Janelle Alisa Frances Lin, Sean Iverson Fabiana, Mark Bryan Rioflorido, Gabriel Angelo Jizmundo, Leticia Macanlalay, Sophia Mae Garcia, Ma Alexie Adriano and Sophia De Vera.
Dagupan City Sports Commission executive director Finnela Sim said the local government is beefing-up its swimming team in preparation also for other competitions.
Sim noted they are presently maintaining 70 swimmers, who regularly train at the city's swimming pool, while there are almost 40 active members and another 30 swimmers from the summer sports clinic.
She said a swim try-out was held at the Dagupan City Poolside on Saturday intended to form the Balon Dagupan Swim Team Roster 2018-2019.
"New comers and those who were not able to join the summer sports clinic had a chance to avail of the program of Mayor Belen Fernandez. The objective is to select swimmers who will represent the city in various meets," she said.
Sim said they target to fill out 80 free slots.
Meanwhile, Mayor Belen Fernandez said the Balon Dagupan Swimming Team and the Dagupan City team as a whole have become a team to be reckoned with, as it made history in the 2018 R1AA (Region 1 Athletic Association) when it outmedaled the other 13 schools division in Region 1 (Ilocos) and captured the over-all champion title for the first time in the history of R1AA.
Dagupan City bagged 71 gold, 51 silver and 34 bronze medals. Of the said medal haul, the swimming team contributed 32 gold, 13 silver and 12 bronze medals.
Fernandez said the city is bent on maintaining its number one position in R1AA.
By Elsha Marie B. Soriano (JNPD/EMBS/PIA-1, Pangasinan)
DAGUPAN CITY (PIA) -- To protect the consumers against deceptive, unfair, and unconscionable sales promo, the Department of Trade and Industry (DTI) in Pangasinan conducted a seminar on sales promotion campaign on August 24 at the Star Plaza here.
Engr. Guillermo Avelino, senior trade and industry development specialist of DTI-Pangasinan, said the seminar, which was attended by around 50 entrepreneurs in the province, aims to provide additional knowledge to entrepreneurs about the provisions of the Consumer Act of the Philippines particularly in the conduct of sales promo.
Avelino said the activity, which is part of the agency's mandate to continue to educate and provide seminars for entrepreneurs, also aimed to strengthen the partnership between DTI and business establishments in the province in protecting the consumers against deceptive, unfair and unconscionable sales acts and practices as well as help the entrepreneurs improve their enterprises.
During the seminar, he said, the participants were informed about the provisions of Consumer Act of the Philippines or Republic Act 7394, scams and fraudulent sales acts and practices as well as rules and procedures for a sales promo.
"Any person intending to conduct any form or scheme for sales promotion campaigns of a consumer product, service or credit shall first secure a permit from DTI at least 30 days before the commencement of the promotion," said Avelino as he reminded all the business establishments in the province to comply with rules and regulations on sales promo campaigns.
Likewise, he said, as one of the agencies that issues sales promo permits, DTI advised the public to always check the issued DTI sales promo permit whenever a business establishment conducts sales promo campaign to avoid being victimized of deceptive sales promo.
He also advised the public to visit the DTI-Pangasinan office at 2nd Floor Star Building in Arellano Street in Dagupan City or call at telephone numbers (075)- 515-3183 or 529-6177 or email at cwdpangasinan@yahoo.com for additional information or inquiries regarding sales promo campaigns.
By Hilda Austria (PNA)
MALASIQUI, Pangasinan -- A total of 206 high school students in public and private schools in this town are participating in an ongoing math program from Aug. 6 to Sept. 8.
Christine Manuel Paglingayen, department head of Malasiqui National High School (MNHS) and coordinator for Mathematics Teachers Association of the Philippines (MTAP), said the program aims to provide opportunity for students to explore mathematics.
The program, a partnership between the MTAP and the Department of Education (DepEd), seeks to awaken the interest in mathematics among teachers and students; and identify and motivate mathematically-gifted as well as regular students towards full development of their potentials.
Paglingayen said the program is voluntary since each student who participates in the six Saturday classes pays a PHP200 one-time registration fee.
"The teachers who conduct the lesson for the students come from Manila so the registration is for the teacher's fee and materials for the students," she said in an interview Thursday.
Paglingayen admitted that teaching mathematics is still a challenge for the teachers.
"Our school got a poor ranking in the recent Mean Percentage Score-National Achievement Test for Grade 7 students hence, different approaches are being employed in the school such as the 'Sayaw Math', wherein students cheer or sing their lessons to make learning math a fun activity for them," she said.
Paglingayen said MNHS is also implementing a numeracy program that employs teachers to tutor some students who have difficulty with the subject during vacant periods.
Interscholastic competitions, for all type of learners from the brightest or math wizards to average learners in math, are also held in schools in the town, she said.
"Mathematics needs practice and exposure, and that is what we are doing here," she added.
By Hilda Austria (PNA)
ALAMINOS CITY, Pangasinan — Scuba diving is no longer a mere leisure activity at the Hundred Islands National Park (HINP) here as "scubasureros" also do it to maintain the cleanliness of the waters of Pangasinan's famous tourism site.
Keeping the waters of HINP pristine is a priority, since the national park attracts both local and foreign tourists with its unique characteristics.
"Scubasurero" is a term coined from scuba diving and "basurero" (garbage collector). It has become an underwater clean-up program of the city government of Alaminos since it was launched in 2016 under the leadership of Mayor Arthur Celeste.
Assistant City Tourism Officer Rose Aruelo, in an interview with the Philippine News Agency (PNA) on Monday, said some employees of the city government, who are licensed scuba divers, were the first members of the team of implementors. They dive into the waters of the HINP to collect garbage, especially those that are trapped in the seagrasses, on a quarterly basis, she said.
"We still have no sufficient budget and personnel then, so we could not yet do it on a monthly basis, but last year, the HINP Area Protection and Management Board passed a resolution making Scubasurero program a monthly activity," Aruelo said.
Aside from the 17 license divers employed by the city government of Alaminos, who regularly conduct the underwater clean-up drive, volunteers from non-government organizations and national government agencies like the Department of Environment and Natural Resources, Bureau of Fisheries and Aquatic Resources, Philippine National Police and Philippine Coast Guard also participate in the Scubasurero program.
Aruelo noted that the city government continues to produce more licensed scuba divers through the Open Water Scuba Diving Course Class to develop local divers to be part of the Scubasurero.
According to her, the latest scuba diving course class graduation was held last August 15. "It was sponsored by the city government and the trainees are all city government employees," she noted.
Scubasureros collect an average of 100 kilograms of garbage in their once-a-month open water scuba diving with a purpose.
"The activity has a very positive effect because it maintains the cleanliness of the sea, so we invite more licensed scuba divers to join us; more divers mean more garbage to be collected," Aruelo said.
The city government has 30 oxygen tanks available for use during the schedule of the underwater clean-up drive.
Aside from the Scubasurero, the HINP also implements the "Basura Mo, Iuwi Mo" program.
"We give incentives to tourists who would bring home their own trash from the islands. Upon registration, we give them trash bags and collect PHP200 as a bond, which is refundable when they get back from the islands with their own trash," Aruelo explained.
"Aside from their refund, we also give a gift certificate (good for two persons) that entitles them to free entrance and free environmental fee on their next visit. It has no expiration as long as the gift certificate is still intact," she added.
The smoking ban is also strictly implemented at HINP.
The national park serves an average of 1,800 local and foreign tourists daily, and higher during weekends.
About 500 tourists visit the park during the slack season, particularly the rainy season, Aruelo said.