LOG IN. UPLOAD PICTURES.

List of the 17 Regions in the Philippines
National - Capital Region ● I - Ilocos ● II - Cagayan ● III - C. Luzon ● IV-A - Calabarzon ● IV-B - Mimaropa ● V - Bicol ● VI - W. Visayas ● VII - C. Visayas ● VIII - E. Visayas ● IX - Zamboanga ● X - N. Mindanao ● XI - Davao ● XII - Soccsksargen ● XIII - Caraga ● XIV - CAR ● XV - BARMM
---
Minimize corruption and maximize prosperity with a Guarantee of One Senator per Region. They divided the Philippines into REGIONS, but kept SENATORIAL representation national with no accountability to any regions.. No wonder many regions remain poor. Petition for a regional senatorial election. All regions will have senatorial representation.
Visit
Zamboanga Shopping to help propagate the
Chavacano Language
Pangasinan News November 2017
Jump to navigation
Jump to search
A | B | C | D | E | F | G | H | I | J | K | L | M | N | O | P | Q | R | S | T | U | V | W | X | Y | Z
Create Name's page
Regions | Philippine Provinces | Philippine Cities | Municipalities | Barangays | High School Reunions
---
Pangasinan Province - Archived News
---
Interactive Google Satellite Map of Pangasinan Province, Philippines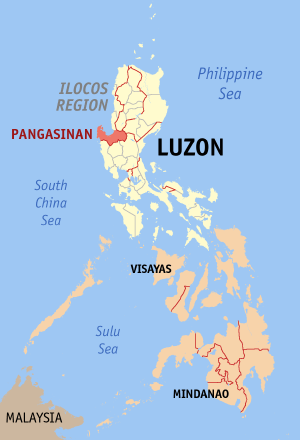 Map Locator of Pangasinan Province

The Capitol Building of Pangasinan in the municipality of Lingayen

Pangasinan State University, Asingan Campus

Church in Aguilar Pangasinan
Wars of ancient history were about possessions, territory, power, control, family, betrayal, lover's quarrel, politics and sometimes religion.
But we are in the Modern era and supposedly more educated and enlightened .
Think about this. Don't just brush off these questions.
Why is RELIGION still involved in WARS? Isn't religion supposed to be about PEACE?
Ask yourself; What religion always campaign to have its religious laws be accepted as government laws, always involved in wars and consistently causing WARS, yet insists that it's a religion of peace?
WHY??

Tondol Beach, Anda
By Leonardo Micua (PNA)
DAGUPAN CITY -- Two men who made an impact on the aquaculture industry in the Philippines through the years were feted today (Tuesday) when they were made to leave their footprints on concrete tablets in front of the Asian Fisheries Academy (AFA) at the National Integrated Fisheries Technology Development Center (NIFTDC) here.
The two are Dr. Rafael D. Guerrero III, who was honored for promoting all-male tilapia culture in the Philippines, and Maximo Abesamis, a businessman from Pangasinan, who was a pioneer in commercial milkfish farming in sea cages in the Philippines.
Before officials of various fishery schools and students from different parts of northern Luzon, Guerrero and Abesamis removed their shoes and socks and set their foot on concrete tablets where six other leaders and supporters of the aquaculture industry did the same earlier.
The two, both in their '70s, were honored as part of the "Giant Steps" program of the Society of Aquaculture Engineers of the Philippines, Inc. (SAEP) and the Philippine Aquaculture Society, Inc. (PAS), supported by the Bureau of Fisheries and Aquatic Resources (BFAR).
Dr. Westly Rosario, NIFTDC chief and PAS and SAEP president, said Guerrero and Abesamis were honored because of their outstanding contributions and works in aquaculture which they shared to fish farmers all over the country so that they could improve their harvests and incomes.
The other previous "Giant Step" honorees were former House Speaker Jose C. de Venecia Jr., prime mover of vannamei (white shrimp) farming in the Philippines; Pierre Morrissens, a global scientist and catalyst of Saline Tilapia Molobicus program in collaboration with BFAR; Dr. Herminio Rabanal, father of Modern Philippine Aqua Culture; Dr. Wilfredo Yap, who conceptualized the Mariculture Park System; Dr. Catalino de la Cruz, a pioneering expert on Aqua Culture Engineering and Integrated Aqua Culture Farming; and Dr. Emilia Quinto, who introduced fish cage farming.
Guerrero, one of the two new "Giant Steps" honorees, was dean of College of Inland Fisheries of the Central Luzon State University. He also worked as director for Training and Extension of the Southeast Asian Fisheries Development Center's Aquaculture Department.
He was also former executive director of the Philippine Council for Aquatic and Marine Research and Development.
He has been a consultant for aquaculture of various government and private corporations such as the Technology and Livelihood Resource Center, San Miguel Corporation and the Meralco Foundation.
On tilapia, Guerrero observed that one of the most prominent problems to the culture of the fish is overpopulation. With this in mind, he began his initial studies on tilapia sex reversal process for his doctoral dissertation at Auburn University in the US in early 1970s and later continued the work at CLSU.
In the 1980s, Guerrero and his wife Luzviminda, formed a research and development company for the commercial production of tilapia sex reversal feed for easy application of the technology by fish farmers.
With the technology, fish farmers produced high yields of fast-growing large-sized all-male tilapia.
Meanwhile, Abesamis, a businessman who was a graduate in Bachelor of Science in Agriculture at the University of the Philippines, was first to introduce fish pen for bangus production in Dagupan City and many growers copied his system.
Being a wide reader, he discovered in 1995 that salmon and bangus have the same characteristics and since salmon are widely cultured in Norway, he went there to study and observe the salmon production technology.
In Norway, he observed that salmon are mass produced in the ocean through the use of fish cages made of polyurethane materials.
From there, he imported fish cage materials used for salmon culture in Norway to the Philippines for the purpose of mass producing bangus.
This technology was so successful that he was recognized by the Association of Fish Producers in the Philippines for his invaluable contribution in fish production and steering the fisheries industry towards sustainable growth and development.
By Leonardo Micua (PNA)
LINGAYEN, Pangasinan -- Governor Amado Espino III on Monday paid tribute to the corn industry stakeholders of Pangasinan whose performance, he said, helped the province receive its 4th National Corn Achievers Award with a corresponding prize of PHP3 million.
Espino, along with Office of the Provincial Agriculturist Officer-in-charge Dalisay Moya and Supervising Agriculturist Nestor Batalla received the award last Nov. 23 from the Department of Agriculture in a ceremony at the Philippine International Convention Center in Pasay City.
The governor said on Monday that the unprecedented fourth award was clinched because of the solid foundation laid down by the former provincial administration of his father, former Governor Amado Espino Jr., now Pangasinan 5th district representative.
Under the former governor's leadership, the province reaped two national corn achievers award - in 2013 and 2014.
The third and fourth awards were received by the province under the watch of the younger Espino in 2016 and 2017 which, he said, are a manifestation of outstanding performance of Pangasinan corn industry stakeholders, especially the farmers.
A report from the provincial agriculture office showed Pangasinan's yellow corn production in 2016 totaled 363,838 metric tons while white corn was 4,522.
If added together, the total corn harvest last year was 368,360 metric tons.
Espino said the corn production development program of the province aims to make Pangasinan one of the major producers of high-grade yellow corn.
This, along with rice production, could overwhelmingly boost the province's well-deserved title as the "food basket of Northern Philippines."
Other awardees this year include: Dalisay Moya-Outstanding Provincial Agriculturist; Venancio B. Valeroso-Outstanding Provincial Corn Coordinator; Chrisanto Balita of Sto. Tomas and Edgardo Tugas of Alcala- Outstanding Municipal Agriculturists; Ramil R. Bustamante and Elizabeth Tubera of Sto. Tomas and Alcala- Outstanding Municipal Coordinators; Napoleon Campos of Sta. Barbara and Daisy Dela Cruz of Mangaldan-Hall of Famers, Outstanding Agricultural Extension Workers along with Jonathan Dominguez of San Nicolas, Zosima Belmonte of San Quintin, Alicia Noche of Mangaldan.
The eastern towns of Sto. Tomas and Alcala also received PHP1 million each for being conferred as Outstanding Municipalities in corn production.
By Leonardo Micua (PNA)
DAGUPAN CITY -- The people of Dagupan rejoiced when the Balon Dagupan Children's Choir (BDCC) was declared champion in the 2017 National Music Competitions for Young Artists (NAMCYA) Children's Choir category held at the Cultural Center of the Philippines main theater on Sunday (November 26).
This was disclosed by Mayor Belen T. Fernandez when she welcomed members of BDCC on their arrival after the competition.
"You made the city and people proud because of your achievement," she told them.
BDCC bested other choral groups like the Davao Girls Choir and Miriam College Middle School Chorus of the National Capital Region (NCR) which were both declared second placers, while the Calasiao Children's Choir, also of Pangasinan, was declared the third prize winner.
The competitions were held during the National Music Week and National Finals Weeks starting November 23.
Fernandez noted that this is the third year in a row that BDCC won national and even international acclaims after being formed in 2015.
The BDCC, with City Music Consultant Virginia Llamas Mendoza, was formed by Fernandez to advance and develop the talents of young children in the field of music especially in singing.
It is composed of students from different public and private schools in the city aged 8 to 13 years old.
BDCC was semifinalist in the first contest that the group joined in 2015 -- the Manila Broadcasting Company National Choral Competitions.
In 2016, it was declared champion in the 1st Malaysia International Children's Choir Festival, their first international competition.
In that same competition, the BDCC also bagged two major awards -- the Most Promising Overseas Choir and another, the Mayor's Award, for its rendition of the "O Sanctissima and Orde E", their two winning pieces.
For winning the championship in Malaysia last year, BDCC was honored by the National Commission for Culture and the Arts (NCAA) in the 9th Aning Dangal last February 27 during the 2017 National Arts Month and by the Philippine Association of the Record Industry Incorporated during the 30th Awit Awards on November 19.
BDCC is composed of Aaron Van M. Meneses of West Central Elementary School; Adanna P. Villamil, Alleya Vanna M. Meneses, Alloida Yssa Bele P. De Guzman, and April Joy G. Oliveras of Saint John Cathedral School; Alexa R. Torres and Angel M. Gutlay of JJDVS Tech-Voc Secondary School; Althea Lei Jewei L. De Leon, Bianca Yvessa A. Sindayen, Celeste N. Goroza, Drixsey Maye De Venecia, Gensheal Ira P. Hortaleza, Sohee M. Cho and Tiffany B. Cabrera of Dagupan City National High School;
Andrei Von M. Hortaleza of Malued Elementary School; Angelica S. Bustillo and Juriel Gianna Verania of East Central Integrated School; Brent Paolo S. Sotto of Edna's School; Chrystelle Jeyd Q. Mejia of LNU Creative Montessori Center; Jann Klein Ll. Mendoza of La Marea Academy; Janine Mae D. Munoz of Bolosan Elementary School; Joseph Raphael C. Lim and Mary Krystal Nicole O. Llamas of Saint Albert the Great School.
By Mark Gerry Naval Oblanca
CAPITOL NEWS
LINGAYEN, Pangasinan – "A tangible proof of the dedication, commitment and love for public health service."
This was how 6th district Board Member Noel Bince described the Provincial Health Summit annually conducted by the provincial government to update health leaders on the healthcare development status of Pangasinan, and to recognize the significant roles of public health key players in the grassroots.
Representing Governor Amado I. Espino, III and the Sangguniang Panlalawigan (SP) during the health summit's opening program held at the Sison Auditorium on November 24, BM Bince said that the largest gathering of health leaders – which is now on its 7th year — had been 'a reinforcement of the vision and mission of the provincial government, particularly on healthcare development.'
The health summit, which coincides with the LGU Scorecard awarding ceremony, was launched in 2011 during the administration of former Panagasinan governor and now 5th district Representative Amado T. Espino, Jr.
Bince said the SP, for its part, has been steadfast on formulating vital pieces of legislation in support to the healthcare thrust of the province.
"The provincial board is one with you in pushing programs and undertakings to advance the medical and health advocacies of the provincial government," he added.
Summit proper encompassed lectures by experts on medical field, which included : Ensuring Blood Adequacy through Community Based Mobile Blood Donation Network (Dr. Sheldon Steven Aquino, Manager of Department of Laboraties, Region 1 Medical Center); Investing in E-Health for decision-making (Dr. Dennis Batangan, Program Director, IPC Ateneo de Manila University); Financial Risk Protection through Universal Health Insurance (Abraham Ballares, Chief Social Insurance Officer, PhilHealth Region 1); and Rowena Comilang (Provincial Health Program Officer III, USAID Luzon Health).
The health summit was followed by the presentation of health status in the afternoon which included the 2016 Provincial Health Status report by Provincial Health Officer Ana Maria Teresa de Guzman.
Governor Espino led the awarding of 2015 and 2016 Local Government Unit (LGU) Scorecard; and recognition of health partners, outstanding barangay nutrition scholars, LGUs and Inter-local Health Zones.
(JNPD/VHS/PIA-1,Pangasinan)
SAN FABIAN, Pangasinan (PIA) - More than a thousand students from three elementary schools in Pangasinan on Wedenesday received school and hygiene kits as early Christmas treats from the national government.
The gift-giving project, jointly sponsored by the Philippine Amusement and Gaming Corporation (PAGCOR) and Friends of Rodrigo Duterte (FORD) - Pangasinan chapter, aims to bring the government closer to the people.
Rico Acuna of PAGCOR's corporate social responsibility group, said his team has been touring northern Luzon to bring the kits and treats to places that are seldom reached.
"This activity is part of President Duterte's advocacy on health and part of the budget and earnings of PAGCOR will be used for community and health services like these," Acuna told media men.
Grades 1 to 3 pupils of Sabangan-Narvarte and Sobol Elementary Schools in San Fabian town and North Central School in Dagupan City were the beneficiaries of the treats that consisted of school supplies, hygiene kits, and slippers inside a red back bag.
Apart from the bags, a feeding program was also implemented by FORD-Pangasinan in partnership with the provincial and municipal police offices.
Lynn Castillo-Ang, president of FORD-Pangasinan chapter, said the food prepared for feeding program had lots of Vitamin C which is the identified deficiency in the area.
Acuna added that aside from school and hygiene kits, PAGCOR also donates relief goods in disaster-stricken areas, school buildings, computers, medicines and even financial assistance to those who are in dire need of help.
By Leonardo Micua (PNA)
DAGUPAN CITY -- The 18th century piano of Leonor Rivera, ladylove of Philippine national hero Dr. Jose P. Rizal, is finally back in Dagupan and now under the care of the Arts and Culture Office at the city museum here.
Councilor Jeslito "Jigs" Seen, chairman of Culture and Arts Committee of the Sangguniang Panlungsod (SP), along with Culture and Arts officer Zenaida Sinlao, brought the piano back to the city on November 23 from Malolos City, Bulacan.
The return of Rivera's piano to the city was facilitated by Mayor Belen Fernandez.
Rivera, daughter of a cloth merchant from Camiling, then still part of Pangasinan, lived in Dagupan for a while, where she was serenaded by Dr. Rizal.
But the two ended their relationship while Rizal was abroad at the instigation of Leonor's mother as she was not inclined to have a son-in-law who enraged the Spanish authorities because of his novels "Noli Me Tangere" and "El Filibusterismo".
After their break-up, Leonor had reportedly refused to play piano.
She married Charles Henry Kipping, a railroad engineer who helped build the first railroad track from Manila to Dagupan.
Manolo M. Tenorio, curator of the Hiyas ng Bulacan Museum in Malolos, said the piano has been on display at their museum since 1971 after being brought there by someone from Bustos, Bulacan.
There, it was simply labeled as the piano which used to be played by Leonor Rivera, a name which did not mean anything to the Bulakenos.
"All that we know was this piano belonged to Leonor Rivera. Since the piano has no connection with our history and culture in Bulacan, we decided to give it back to where it belongs, the city of Dagupan," said Tenorio.
Sinlao, who made a thorough research on the history of the piano, learned this piano was once owned by Doña Carmen Villamil, a classmate of Rivera at La Concordia College.
It was while studying at La Concordia College where Leonor met Rizal. The Rivera family had a house in Manila where Rizal was among the boarders.
"The piano was actually owned by Villamil and that the same was used to be played by Rivera whenever she visited Villamil at their residence in Dagupan," said Sinlao.
Rivera also had a piano in their rented house in a street named after her in Dagupan City. Seen said it might had been taken by the Kippings when they moved to Camiling.
When the Villamil moved to Bustos, Bulacan they brought the piano with them, which explained how the piano reached the province.
Seen said the piano will be restored to its original form and will be displayed at the city museum for future generations of Dagupenos as part of Dagupan's colorful history.
By Leonardo Micua (PNA)
DAGUPAN CITY -- The city council here has endorsed the construction of a six-hectare common terminal for public utility vehicles on Jose R. de Venecia Expressway Extension in Barangay Tapuac here, away from the crowded central business district.
Councilor Luis Samson Jr. said on Tuesday this is consistent with the ordinance he sponsored in the city council seeking the establishment of a common terminal for all public utility vehicles entering the city.
In an interview, he said all buses, mini-buses and passenger vans were already given by the city council an ultimatum to vacate their terminals in the downtown area by end of December this year.
All these terminals, he said, are violating a standing city ordinance enacted way back in 1977 prohibiting terminals, which ingress and egress are located within 100 meters of a street intersection.
That ordinance was recently amended, with the distance of 100 meters from an intersection increased to 200 meters.
Samson said given by the city council the go-signal to build a common terminal on its more than six-hectare property is Servillano P. Dayo of SDP Corporation.
Another applicant is Dr. Abraham Coquia who proposed to build a common terminal on his family's lot in the south-end of Arellano Street but which is near a street intersection and the Dawel Bridge, Samson said.
The proposed common terminal to be built under private initiative must conform with all the regulations as to facilities for the convenience of passengers, to be prescribed by the city government, Samson said.
Public Order and Safety Office (POSO) chief Carlito Ocampo said the establishment of a common terminal became more pressing with the impending closure of the vehicle holding area on M.H. del Pilar Street not because it is located with 200 meters from a street intersection but because the land is now owned by ShoeMart Inc. which is now building a mall near the area.
By Leonardo Micua (PNA)
LINGAYEN, Pangasinan -- The provincial government is set to acquire additional facilities and equipment for the 12 provincial government hospitals of Pangasinan to be supplied by a private company under the Public-Partnership Scheme.
This, after the provincial board passed a resolution Monday authorizing Governor Amado Espino III to enter into and sign a Memorandum of Agreement (MOA) with BIOCHEM Scientific Diagnostic Supply, a private company supplying these facilities and equipment.
Authored by Board Member Jeremy Agerico Rosario, the resolution said the move is part of the provincial government's programs and projects to greatly enhance the delivery of public health and medical services to the people of Pangasinan.
The hospitals to get the new facilities and equipment are: Bayambang District Hospital; Eastern Pangasinan District Hospital; Lingayen District Hospital; Mangatarem District Hospital; Urdaneta District Hospital; Western District Hospital Asingan Community Hospital; Bolinao Community Hospital; Dasol Community Hospital; Mapandan Community Hospital; Pozorrubio Community Hospital; and Umingan Community Hospital.
Not in the list is the Pangasinan Provincial Hospital (PPH) which has the most number of facilities and equipment already, said Rosario.
Equipment/machines which were offered by the private company or entity include the following: hematology machine, immunoassay machine, cross matching machine, Hba1C machine, urine machine, coagulation machine, and electrolytes machine.
The cost of these facilities and equipment were not specified in the resolution.
The hematology instruments are machines that analyze blood. Used in medical labs, hematology instruments can do blood counts, detect proteins or enzymes, and help to diagnose illnesses or genetic defects.
The Immunoassay machine, on the other hand, is used in hospital and clinical laboratories to run automated biochemical tests to detect the presence and concentration of substances in the samples. There are many types of tests that immunoassay analyzers can perform, including testing for cancer markers, diagnosing infectious diseases, cardiac analysis, therapeutic drug monitoring, and allergy testing.
The electrolyte machine measures electrolyte levels in the human body to detect metabolic imbalances and measure renal and cardiac function.
By Dexter A. See
LINGAYEN, Pangasinan—The proposed P3.75-billion provincial budget for fiscal year 2018 has been endorsed for approval to the Sangguniang Panlalawigan after it was approved by the provincial board's Committee on Appropriations, Economic Affairs, and Ways and Means on Nov. 14.
The Appropriations Committee chair, 3rd District Board Member Angel Baniqued Jr. and Vice Governor Jose Ferdinand Z. Calimlim Jr., led the hearing at the SP session hall, where key officials of provincial government offices and departments, and chiefs of local hospitals, presented and defended their budgets.
The Office of the Provincial Veterinarian, will present its budget next week via a special committee hearing, Baniqued said.
The proposed budget for next year is nine percent more than the 2017 budget of P3.422 billion, Calimlim said.
Over P1.67 billion of next year's budget, or 44.6 percent, would go to social services, followed by P1.27 billion for general services (33.8 percent) and P809 million for economic services (21.6 percent).
On personal services, the implementation of the third tranche of the salary schedule under Executive Order No. 201 dated February 19, 2016 is proposed to be effective on January 1, 2018. Partial implementation of hazard pay to health workers was also proposed in the ordinance.
The province's total personal services allocation at 33.6 percent has not yet reached the maximum Personal Services Cap under Section 325 (a) of Republic Act 7160 or the Local Government Code.
Total personal services would rise by P108 million next year due to the implementation of a salary increase to include casual and job-order employees assigned at offices and hospitals of the province, the vice governor said.
Maintenance and other operating expenses of offices and hospitals also increased by P132 million based on programs, projects and activities to be implemented by these offices.
The other board members who attended the budget hearing were Jeremy Agerico B. Rosario, Noel C. Bince, Salvador S. Perez, Jr, Chinky Perez-Tababa, Generoso D. Tulagan, Jr., Shiela Marie Perez-Galicia, , Clemente Ninio B. Arboleda, Liberato Z. Villegas, Raul P. Sison and Jeanne Jinky C. Zaplan.
By Leonardo Micua (Sunday Punch)
THE Agno River Irrigation System Extension Project (ARISEP) expected to be completed in December 2018, will benefit more than 10,000 farmers in eight towns tilling 12,984 hectares of land in Pangasinan.
This was revealed by Ceferino Sta. Ana, project manager of ARISEP, a major irrigation project in Pangasinan, when he briefed participants to the Irrigation Stakeholders Summit at CSI Stadia in Dagupan City last Wednesday afternoon.
ARISEP, started in May 2015, is already 51 percent complete, and is expected
provide to year-round irrigation to rice lands in seven towns, namely, Natividad, San Nicolas, San Quintin, Sta. Maria, Tayug, Balungao, Umingan and Rosales.
He said the P2.6 billion ARISEP is Phase II of the Agno River Integrated Irrigation Project (ARIIP). (Phase I is already servicing irrigation requirements of some 18,000 hectares in eastern and central Pangasinan).
The project consists of rehabilitation and restoration of existing old irrigation line canals and construction of new canals.
Source of water for both Phases I and II of ARIIP is the San Roque Dam, the highest rock-filled dam in southeast Asia and the second highest in the whole of Asia.
By Joseph C. Bacani(CIO, Sunday Punch)
BALON DAGUPAN NEWS
MAYOR Belen T. Fernandez is eyeing to make Dagupan as a "Heritage City".
This after the Dagupan City History, Culture and Arts Office along with the Culture and Arts Committee of the Sangguniang Panlungsod has announced it is launching a citywide cultural mapping to identify the works of arts, artifacts and historical pieces and places in each of the 31 barangays here.
An orientation forum was conducted at the City Museum on Nov. 4 with Dr. Perla E. Legaspi, executive director, of Center for Pangasinan Studies, as resource speaker, to enlighten Punong Barangays and other stakeholders on the project.
Councilor Jeslito C. Seen, chairman, Culture and Arts Committee outlined the importance of the project as this would preserve the rich culture and arts of the city.
"Sabi nga po ni Dr. Jose P. Rizal, ang hindi marunong lumingon sa pinangalingan ay hindi makakarating sa paroroonan. Ang ating lungsod ay kinikilala bilang lugar kung saan unang nag-landing si General Douglas MacArthur and is also the place of birth of two of the country's national artists Victorio Edades and Salvador Bernal," he said.
"Kung kaya't nararapat lamang na pagyamanin natin ang ating mayamang sining at kultura om ating lungsod ," said Seen said in defining the rationale of the cultural mapping program. .
Dagupan is also known as the place where Leonor Rivera stayed for quite some time and where MacArthur established his headquarters, among others.
In line with this project, Mayor Fernandez committed a bigger budget to be used in preserving the historical sites and places in the city.
Also present during the forum were Councilors Dennis Canto, Marcelino Fernandez and Jose Netu Tamayo; Dr. Gonzalo Duque, chairman, Dagupan Heritage, Culture and Arts Commission; Dada Sinlao and Epee Rafanan of the Dagupan Arts Office; and Architect Alex Villaflor.
By Leonardo Micua (PNA)
DAGUPAN CITY--The National Irrigation Administration (NIA) is now optimizing the use of all its existing water dams, numbering 357 in the entire country, for hydro-power and tourism purposes to further boost the economic development of the country.
This was bared by NIA Director General Ricardo Visaya, former chief of staff of the Armed Forces of the Philippines (AFP), when he spoke Wednesday during an Irrigation Stakeholders' Summit participated in by local government officials and heads of irrigators associations in various parts of Pangasinan.
Among those in attendance were Governor Amado Espino III and Rep. Leopoldo Bataoil of the second district of Pangasinan.
Visaya cited the Pantabangan Dam which has a component for hydro power, aside from providing year-round water for the farms in Pampanga and Bulacan.
The Pantabangan Dam is now an important tourist destination and a hotel was already erected nearby, he said.
In a keynote speech during the summit, Visaya called on interested investors to come to NIA and enter into a memorandum of agreement with his agency if they want to tap some dams for hydro power and for tourism.
He said he is very confident that some of these dams spread all over the country are capable of hosting hydro power plants and could become tourist destinations.
Visaya said he does not know yet how much power could be generated from each NIA dam but is certain that this could soon fill up some of the power shortfall.
He said investors could share with NIA just 6 percent of the revenues that they could generate in their project.
Visaya told newsmen that if a dam would be used for hydro power, the cost of construction and maintenance would be shouldered by the proponent company while dams and its water would remain to be with NIA.
At the same time, Visaya announced the start of construction just two months ago of the huge Balog-balog Irrigation Dam in San Jose, Tarlac which seeks to irrigate the whole of the province.
Costing PHP15 billion, the project will be a source of hydro power aside from generating water for the farms year-round.
Visaya said the Balog-balog Dam project had long been planned and finally started under the administration of President Rodrigo Duterte.
The problem of road right of way and interference of local politicians caused the delay of the project planned way back during the administration of then President Diosdado Macapagal, he said.
Construction of the project is now in full swing under the administration of President Duterte as all obstacles that prevented the implementation of the project were finally ironed out through strong political will, Visaya said.
In a briefing during the summit, the AFP assured adequate security inside and around the project site.
Visaya belittled the capability of the communist New People's Army to launch an attack at the project site, saying the number of its members in the Tarlac-Zambales area had greatly diminished through the years.
By Leonardo Micua (PNA)
DAGUPAN CITY -- Mayor Belen Fernandez has welcomed the grand plan of President Rodrigo Duterte and the Philippine Economic Zone Authority (PEZA) to build a mega economic zone in Pangasinan, the nucleus of which will be in Dagupan City.
In an interview with reporters on Saturday, Fernandez quoted PEZA Director General Charito Plaza, who was in Dagupan on November 8, as saying that the planned mega economic zone of about 1,000 hectares will be located in Dagupan City and its 10 surrounding municipalities.
"I think President Duterte is giving much importance to countryside development. That is why he would like to bring a mega economic zone to Pangasinan," Fernandez said.
Plaza presided over the First Luzon Economic Zone Summit for Pangasinan and La Union at the CSI Stadia here hosted by the Dagupan City government.
The PEZA director general said the mega economic zone for Pangasinan is programmed to be built within 30 years, to be set up by a consortium of investors to come from China, Japan, Singapore, Taiwan and the United States.
Projected to initially cost USD390 million, the mega economic zone will also require the establishment of an international airport, an international seaport and railways.
Plaza said former House of Representatives Speaker Jose de Venecia Jr., now a special envoy of President Duterte, had a hand in consolidating foreign investors to come to the Philippines and build the mega economic zone in Pangasinan.
She said De Venecia has invited his friend, the Chief Executive Officer of Xian Long Company in China, which owns big hotels and three shopping malls and is also into the petrochemical industry that currently supplies 20 percent of China's requirements, to come and head the consortium.
Fernandez lauded Plaza's statement that Dagupan was chosen to be the nucleus of the planned mega economic zone because of its central location and its being the center of education, trade and commerce in Northern Luzon and Pangasinan.
Apart from this, Plaza hailed the persistence of the Dagupan mayor to have her city become part of the mega economic zone for Pangasinan in a bid to provide more employment to her constituents and boost the city's economy.
Of the municipalities identified as location of the mega economic zone, Dagupan appears to be the most ready, having just updated its Comprehensive Land Use Plan (CLUP) enacted way back in 1978.
On top of this, Dagupan was the first local government unit to offer a space at CSI Stadia to become PEZA's temporary Regional Business Center through the generosity of the local-based Urban Satellite Vision Inc.
Plaza said the American Sitel Philippines has expressed its intention to branch out to Dagupan next year because in the envisioned mega economic zone, Dagupan City will be the location of the Information Technology Park.
USATV was already endorsed by the city council of Dagupan to be accredited by PEZA, in connection with its plan to build the first IT Park on its own property in Barangay Lucao, Dagupan City.
Fernandez said the development will certainly stimulate the growth of Dagupan, given the fact that the city was recognized by the Department of Trade and Industry (DTI) as the most competitive city in the region based on its Cities/ Municipalities Competitive Index for 2017.
The mega economic zone in Pangasinan will also specialize in manufacturing, medical tourism, aqua marine and other agricultural and industrial projects, she said.
By Leonardo Micua (PNA)
LINGAYEN, Pangasinan -- Governor Amado Espino III on Tuesday thanked the Bureau of Fisheries and Aquatic Resources (BFAR) for turning over to Pangasinan fishermen PHP11.8 million worth of post-harvest facilities and equipment and another Php3.8 million worth of fishing boats.
Espino specifically thanked BFAR National Director Eduardo Gongona and Regional Director Nestor Domenden for these facilities that will mean a lot for the marginal fishermen.
The post harvest facilities include one mechanical fish sorter, 12 stainless tables, 10 fish processing kits for deboning, 25 basins and chopping boards, 75 cooler boxes, two stainless smoke houses, five fish carts and production related projects like one ring net, six payao materials and 70 pieces of artificial reef.
These facilities went to fishermen from Labrador, Binmaley, Lingayen, Labrador, Calasiao, Sta. Barbara, Mangaldan, San Fabian and Dagupan.
Meanwhile, BFAR also turned over 20 units of 30-foot fishing boats, seven units 38-foot fishing boats and two units of 20-foot fishing boats to fishermen associations in Alaminos City and Bolinao.
All these facilities were delivered by BFAR to Pangasinan last Friday.
Provincial Agriculturist Dalisay Moya said the facilities will certainly boost the fish catch and incomes of small fishermen in Pangasinan and improve their lives and of their families.
Molina said on top of agriculture, fishery is another industry that Pangasinan is famous for because of its long coastline and numerous rivers teeming with fish.
By Leonardo Micua With report from CIO (Sunday Punch)
$ 390-M INVESTMENTS
AT least $390 million dollars will be invested for the creation of a mega-economic zone in the province, which is a 30-year program that will initially benefit 10 municipalities including Dagupan to be undertaken by a consortium of big foreign companies from China, Singapore and Taiwan.
This was announced by Philippine Economic Zone Authority (PEZA) Director General Charito B. Plaza during the opening program of the 2017 Luzon Economic Zone Summit for Pangasinan and La Union held at CSI Stadia on November 8.
The mega economic zone in Pangasinan will cover 1,000 hectares in 10 towns of the province with Dagupan City as nucleus.
National Economic and Development Authority (NEDA has considered Dagupan City as a Sub-Regional Growth Center along with the cities of Alaminos, Urdaneta and Vigan.
The program includes the creation of an international seaport and airport and a different types of eco-zone where there will be a tourism zone, IT parks, medical tourism, manufacturing, aquamarine economic zone, and agro-industrial economic zone, among others.
Dagupan City Mayor Belen T. Fernandez in welcoming the officials said, "We are ready to take part and to make history, and we are ready to be part of this great opportunity".
Asked by newsmen why Dagupan City is included in the proposed mega economic zone, Plaza said Dagupan is centrally located in Northern Luzon, and Mayor Fernandez is "persistent in her desire to pursue the dreams she has for her city and people".
Dagupan is also very ideal for IT as haven for call centers and BPOs that will provide thousands of jobs to local graduates, she added.
She added, Dagupan being the educational center in the north with the presence of big universities and colleges here, education, science technology and innovation can become part of program for the city.
Plaza said Sitel Philippines, an American-owned company, is now discussing with her office so that it can branch out to Dagupan City next year.
USATV has sought endorsement from the Sangguniang Panlungsod (SP) of Dagupan to build the first IT center in Dagupan where investors can occupy.
Meanwhile, Plaza cited the efforts of Special Envoy Jose De Venecia Jr., in inviting investors from China to consolidate big Chinese industries for relocation to Pangasinan eco zones.
De Venecia, she added, is convincing his friend, the CEO of Xian Long Company in China, which owns big hotels, three big malls and in petrochemical that supplies 20 percent of the needs of the China, to spearhead the establishment of the mega economic zone in Pangasinan.
Among the guests were Baguio City Economic Zone Administrator lawyer Rene Joey S. Mipa, 2nd District Rep. Leopoldo N. Bataoil, Sual Mayor Roberto Arcinue and Pozorrubio Mayor Ernesto Go.
The summit coincided with the inauguration of the 1st PEZA Regional Business and Investment Center for Luzon office temporaarily at the CSI Stadia in Barangay Lucao. It will be housed permanently at the new government center once completed.
Plaza commended Fernandez for her advocacy and dream to provide jobs for her constituents and for working hard to make the city a part of the mega-economic zone that will soon rise in the province.
By Leonardo Micua (PNA)
DAGUPAN CITY -- The city of Dagupan was adjudged anew by the Department of Trade and Industry (DTI) in Region 1 as the Most Competitive City in the whole region.
This was known during the 3rd Cities and Municipalities Competitive Index (CMCI) awards ceremony held at CSI Stadia Friday morning, coinciding with the opening of the 10-day "RimattiAmianan" (Radiance of the North) at the adjacent CSI the City Mall.
DTI also recognized Dagupan as the No. 1 among the nine component cities in the region in the infrastructure category, government efficiency, and economic dynamism.
DTI Region 1 Director Florante O. Leal presented the awards for Dagupan along with Nelson Yuchongtian, president of the Pangasinan Filipino-Chinese Chamber of Commerce.
Leal disclosed that the CMCI is a program being undertaken by the agency to recognize top performing Local Government Units (LGUs) on their initiatives to improve their services in doing business in their areas.
He said that the competitive index is very important to businessmen who depend on how ready an LGU is to accommodate and welcome new businesses in their localities.
He said he is glad to note that this year, there were at least 125 LGUs that participated in the program.
Leal added that while DTI administers the program, a private group, however, does the evaluation of all the participating LGUs.
He applauded Mayor Belen Fernandez for hauling most of the awards this year, saying he is not surprised "because the necessary ingredients are already in place in her city with the kind of support provided by the LGU leadership.
Dagupan is now ranked 16th nationwide in infrastructure category; 9th nationwide in government efficiency; 16th nationwide in economic dynamism; and 13th nationwide as most competitive city.
By Leonardo Micua (PNA)
DAGUPAN CITY -- The province of Pangasinan and the city of Dagupan will observe a special public holiday on Monday, Nov. 13, to commemorate the birthday of one of its foremost sons, the late Speaker Eugenio Perez, erstwhile representative of the old second district of Pangasinan.
Republic Act No. 6721, signed into law by then president Corazon Aquino in 1989, set Nov. 13 every year as Pangasinan Day in honor of Perez, known in politics simply as "Manong Enyong".
Born on Nov. 13, 1896 in Sitio Obong in the once barrio of Basista in the town of San Carlos, Perez first became a councilor of San Carlos before he ran for Congress and won.
Basista is now a town in Pangasinan, carved out from San Carlos, which then became a city.
Perez, who was House speaker from 1946 to 1953, is remembered in Dagupan as the author of the law that converted the former town of Dagupan into a city. This law was signed by then president Manuel Roxas on June 20, 1947.
Perez was also one of the co-founders of the Liberal Party.
As speaker, he supported all the economic programs of then president Elpidio Quirino, among them the legislation that gave birth to the National Power Corp. (NPC), National Irrigation Administration (NIA), and the Development Bank of the Philippines.
Married to Consuelo Salazar, a music soprano with whom he had three children, Perez died on Aug. 4,1957.
By Leonardo Micua (PNA)
DAGUPAN CITY -- The city of Dagupan has bagged the Seal of Good Local Governance (SGLG) Award from the Department of Interior and Local Government (DILG) for the third year in a row.
This was revealed on Wednesday by City Councilor Jose Netu Tamayo who posted the complete list of 56 SGLG awardees throughout the country in his Facebook account as released by DILG.
Tamayo commended Mayor Belen Fernandez and Interior and Local Government City Director RhoderickDawis for Dagupan's third SGLG award.
Dagupan passed all the criteria set by the DILG, including good financial housekeeping to bag another SGLG award, Tamayo said.
Three other cities in Pangasinan also won the SGLG award - Alaminos City, San Carlos City and Urdaneta City.
The other SGLG awardees in Region 1 are Laoag City and Batac City in Ilocos Norte; and Candon and Vigan City in Ilocos Sur.
By Leonardo Micua (PNA)
LINGAYEN, Pangasinan -- Eight Overseas Filipino Workers (OFW) Family Associations in Pangasinan received a grant of PHP1.8 million from the Department of Labor and Employment (DOLE) and the provincial government that will help them put up a livelihood project under the Bigasang Bayani program.
Governor Amado Espino III, assisted by DOLE Region 1 Director Nathaniel Lacambra, turned over the amount to the officers and members of the eight OFW associations Monday afternoon at Urduja House here.
The two officials said the amount would enable OFW Family Associations to put up rice retail stores that would make them earn and also give their members access to cheaper rice from the government.
Public Employment Service Office (PESO) chief Alex Ferrer said this was the second batch of OFW associations given financial grants under the Bigasang Bayani livelihood assistance by DOLE and the Pangasinan government.
The eight OFW Family Associations are from Alaminos City, Anda, Asingan, Basista, Bugallon, Dasol, San Quintin and Sison.
The Bigasang Bayani project, said Ferrer, is a joint livelihood undertaking of the DOLE under its Integrated Livelihood and Emergency Employment Program (ILEEP) and the provincial government of Pangasinan thru the PESO's Bantay-Barangay, Tulong Hanapbuhay Program.
Ferrer noted that the Bigasang Bayani, a first in the country, is one of the components of the Pangasinan Migration and Development Council's (PMDC) flagship program Bantay Barangay, Tulong Hanapbuhay, which paved the way for the conduct of OFW mapping all over the province.
The mapping led to the establishment of OFW family associations in every town and eventually the province-wide Pangasinan OFW Family Federation Incorporated (POFFI).
The first batch of OFW family associations to receive the financial grant from DOLE and the provincial government under the Bigasang Bayani program were from Mangaldan, San Jacinto and Manaoag.
By Leonardo Micua (PNA)
DAGUPAN CITY -- The city council passed on third and final reading Dagupan's annual budget for 2018 in the amount of PHP948 million during its regular session Monday afternoon.
Councilor Jeslito Seen, chairman of the committee on appropriations, said next year's budget is PHP80-million bigger than the current annual budget of PHP868 million.
He explained this is needed to finance the implementation of the third tranche of the salary standardization of officials and regular employees of the city government next year.
Additional 14 employees of the health sector will also be hired in view of the start of operation of the Dagupan City Diagnostic Center built by the Department of Health with counterpart from the city government beginning early January next year.
Seen said the city disaster fund comprising five percent of the budget was also increased to PHP152 million.
In addition, PHP106 million was set aside by the council for the 20-percent development fund.
Of the PHP948-million budget next year, PHP329,821,985 will go to personal service, PHP421,904,143 for maintenance and other operational expenses (MOOE), PHP167,886,901 for capital outlaw, and PHP28,384,000 for financial expenses.
(PNA)
DAGUPAN CITY -- The Dagupan City Council, in a special session Friday, appropriated PHP106 million to kick off the construction of a new government center in the city.
This was gleaned from two ordinances approved by the council on motion of City Councilor Jeslito Seen, chairman of the Committee on Appropriations.
The first ordinance approved the supplemental annual investment program in the amount of more than PHP126 million and the second ordinance realigned the surplus/savings of the city from various expenses and projects in 2016 and re-appropriated this for various projects programmed up to the end of the year.
Appropriated were PHP60 million to cover the cost for the construction of the planned government center; PHP25 million to cover the cost for the procurement of Consulting Services for the preparation of detailed architectural and engineering design and plan for the proposed government center; and PHP21 million to cover the cost for the center's road and site development.
Seen cited the importance of the funds in starting work on the new government center, to be located in Barangay Pantal, at the newly designated Pantal-Lucao growth center.
He said since the PHP106 allocated by the council is not sufficient to complete the new government center, it is likely that the city government will apply for a PHP500-million to PHP600-million loan next year with the Land Bank of the Philippines.
The new government center will be built on a 1.2-hectare land donated to the city by the brother of Dagupan City Mayor Belen Fernandez.
The transfer of the present government center to the donated land was endorsed in an ordinance earlier passed by the city council with nine councilors voting 'yes', one abstaining, and one voting 'no'.
The vote was done after the council conducted a series of barangay consultations.
Also funded is the construction of a concrete foot bridge in Sitio Watak, Barangay Mamalingling worth PHP1.2 million to finally link barangays Bonuan Gueset and Mamalingling.
By Leonardo Micua (Sunday Punch)
A FAMILY from Quezon City, with roots in Dagupan City, has donated their more than 6,000 square meters of land in the island barangay of Pugaro to the Dagupan city government to be used as the site of a socialized housing project.
The donation was conveyed by Ma. Eleanor, Archibald, Allan, Arnold and Artemio, all surnamed Pablico, of Diliman, Quezon City.
In response, the Sangguniang Panlungsod approved a resolution of Councilor Jose N. Tamayo on Wednesday, authorizing Mayor Belen Fernandez to accept the donation from the Pablico family.
The donated land is part of their 50,000 square meter property long been occupied by illegal settlers who have refused to vacate the area.
It was learned that the remaining property of the Pablicos will be converted into a family and vacation resort.
Tamayo said Mayor Fernandez convinced the Pablico family to donate 6,080 square meters of their property to the city government for a housing project.
The city government is now discussing with the National Housing Authority (NHA) as well as the Pag-ibig Fund to help build a socialized housing project whose units will be amortized by beneficiaries.