LOG IN. UPLOAD PICTURES.

List of the 17 Regions in the Philippines
National - Capital Region ● I - Ilocos ● II - Cagayan ● III - C. Luzon ● IV-A - Calabarzon ● IV-B - Mimaropa ● V - Bicol ● VI - W. Visayas ● VII - C. Visayas ● VIII - E. Visayas ● IX - Zamboanga ● X - N. Mindanao ● XI - Davao ● XII - Soccsksargen ● XIII - Caraga ● XIV - CAR ● XV - BARMM
---
Minimize corruption and maximize prosperity with a Guarantee of One Senator per Region. They divided the Philippines into REGIONS, but kept SENATORIAL representation national with no accountability to any regions.. No wonder many regions remain poor. Petition for a regional senatorial election. All regions will have senatorial representation.
Visit
Zamboanga Shopping to help propagate the
Chavacano Language
Pangasinan News May 2017
Jump to navigation
Jump to search
A | B | C | D | E | F | G | H | I | J | K | L | M | N | O | P | Q | R | S | T | U | V | W | X | Y | Z
Create Name's page
Regions | Philippine Provinces | Philippine Cities | Municipalities | Barangays | High School Reunions
---
Pangasinan Province - Archived News
---
Interactive Google Satellite Map of Pangasinan Province, Philippines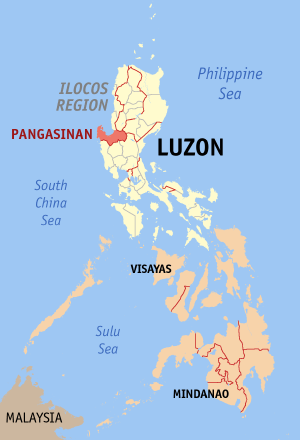 Map Locator of Pangasinan Province

The Capitol Building of Pangasinan in the municipality of Lingayen
----

Dietary supplement is a product that contains vitamins, minerals, herbs or other botanicals, amino acids, enzymes, and/or other ingredients intended to supplement the diet. The U.S. Food and Drug Administration has special labeling requirements for dietary supplements and treats them as foods, not drugs.
---

Pangasinan State University, Asingan Campus

Church in Aguilar Pangasinan
Wars of ancient history were about possessions, territory, power, control, family, betrayal, lover's quarrel, politics and sometimes religion.
But we are in the Modern era and supposedly more educated and enlightened .
Think about this. Don't just brush off these questions.
Why is RELIGION still involved in WARS? Isn't religion supposed to be about PEACE?
Ask yourself; What religion always campaign to have its religious laws be accepted as government laws, always involved in wars and consistently causing WARS, yet insists that it's a religion of peace?
WHY??

Tondol Beach, Anda
By Eva Visperas
PANGASINAN-ZAMBALES ROUTE
MANGATAREM—The P1.13-billion worth Daang Kalikasan project, an estimated 54-kilometer (km) road link that will link Pangasinan through this town and Sta. Cruz, Zambales had its groundbreaking ceremony on May 15.
The Mangatarem-Sta. Cruz Road (Pangasinan side) involves improvement of 13.05 km existing road and acquisition of 17.43 km new road and acquisition of road right of way.
The construction starts this year with an initial fund of P100-million for phase 1 while phases 2 up to 4 cost P300,000 each to be implemented in succeeding years thereafter and another P130-million for phase 5 funded by DPWH, Department of Tourism (DOT) and Department of Environment and Natural Resources (DENR).
The project is expected to stimulate economic activities in the area by providing shorter, faster and cheaper transport system, said Department of Public Works and Highways (DPWH) Assistant Regional Director for Region 1 Ronald Tan.
This project is an initiative of Pangasinan 2nd District Rep. Leopoldo Bataoil,
whose House Bill cited the 54-km road located through Barangay Muelang, Mangatarem and Barangay Guiguis, Zambales being used by off truck vehicles during summer season only.
The surrounding terrain is a beautiful landscape of gentle hills, river and pockets of forests which can still be saved, conserved and expanded to preserve the last remaining species of the wildlife, flowers and fauna, Bataoil said.
He added that "Daang Kalikasan" has a strong potential of becoming a world-class tourism attraction that will benefit both provinces.
Pangasinan Second District Board Member Raul Sison said the project will be beneficial not only for the present but future generations as well.
DOT Regional Director Martin Valera commended Bataoil for conceptualizing the project which will further promote travel and tourism, aside from increasing farmers' productivity and economy.
DENR Regional Director Paquito Moreno said the "Daang Kalikasan" project also boosts the environment.
(lvmicua/PNA)
DAGUPAN CITY, May 29 -- The Tondaligan Blue Beach here holds a big promise to become the new wind surfing capital as well as a diving site throughout the country that could thrill local and foreign visitors.
This was bared by former city councilor Liberato Reyna IV, an engineer, who was designated chair of the water sports event of Dagupan's Platinum Year celebration this coming June 20.
Reyna is a diving enthusiast, one of the few in Pangasinan today.
As a former city official, he acknowledged that the Tondaligan Blue Beach by the Lingayen Gulf was much better because of the dramatic changes introduced by the present city administration.
It's potential as a wind surfing paradise was discovered when the Philippine Wind Surfing Association (PWSA) came to Dagupan from May 27 to 29 to introduce wind surfing as a sports to local youth.
The PWSA was invited by Mayor Belen Fernandez as she wanted wind surfing to become a permanent activity at Tondaligan Blue Beach similar to beach volleyball promoted earlier here by the Beach Volleyball Republic.
The coming of the PWSA coincided with the demonstration testing of watercraft sports of Als Marine Inc., the local dealer of Yamaha sports water crafts, like jet skis, speed boats, banana boats, band wagon and kayaks at Tondaligan Blue Beach, and gears like life jackets, helmets and others.
Reyna said that on the part of PSWA, it brought here members of the national team to hone up for the World Wind Surfing Competition slated in Vietnam on June 10 this year.
Reyna said the only known beaches where wind surfing was a regular activity were Anilao, Batangas; Caliraya, Laguna; Boracay and Palawan.
But he is confident that after some more promotional activities, Tondaligan Beach will also become one of the best known wind surfing sites in the country because of the gentle breeze from the Lingayen Gulf, especially at this time of the year.
The former councilor said they could promote both wind surfing and diving at the same time at Tondaligan Blue Beach since both sports events were complementary with each other in order to attract more tourists to Dagupan.
He attested that the new images of cleaner Tondaligan Blue Beach, minus its old unsightly beach sheds, being posted many times on Facebook were real and not photo-shopped.
Reyna said any one could check this by going to the beach themselves for picnic, rest and recreation.
By Betheena Kae Unite with a report from Franco G. Regala
The construction of a new road linking the provinces of Pangasinan and Zambales has started, Department of Public Works and Highways (DPWH) said yesterday. At the same time the 5.17 kilometer farm-to-market road (FMR) in San Jose City, Nueva Ecija that links farms to markets in other barangays has finally opened.
The 60-kilometer Pangasinan-Zambales East-West Road Project is seen to yield economic and ecotourism advancement both in the Ilocos and Central Luzon regions.
"A new road which will connect the provinces of Pangasinan and Zambales starting from the municipality of Mangatarem in Pangasinan side to Sta. Cruz in Zambales is now being built," DPWH Region 1 Director Ronnel Tan said.
Tan said a groundbreaking ceremony was held in Barangay Umangan, Mangatarem, Pangasinan to commence the 30-kilometer Pangasinan segment of the road project.
Tan said the project covers the road improvement of the 13.05 km existing road and opening and paving a new road the span of 17.4 km.
The project has an initial allocation of R100 million in 2017.
The Pangasinan segment will be implemented jointly by the DPWH-I Regional Office and Pangasinan Second District Engineering Office in five phases until 2022, in the amount of R1.1 billion, Tan said.
NEW FMR OPENS
Meanwhile, Philippine Rural Development Project (PRDP) Regional Project Coordination Office 3 Focal Person and Department of Agriculture (DA) Regional Technical Director Crispulo Bautista said the newly-opened 5.17-km FMR in San Jose City is the first completed infrastructure subproject of PRDP in Central Luzon.
"It will support the implementation of the Sikkap San Jose Ampalaya Enterprise, another PRDP subproject that will be managed by three proponent groups that have merged and formed a cooperative called SIKKAP," said Bautista.
By Elsha Marie B. Soriano (JNPD/EMBS/PIA-1/Pangasinan)
ROSALES, Pangasinan (PIA) – At least 1, 024 patients from various towns in Pangasinan received free medicines, medical, and dental care services during the "Gamot para sa Kapwa" project initiated by the SM Foundation Inc.
Kristine Santiago, press relation officer of SM Rosales, said the project is in partnership with the Philippine Red Cross, Region 1 Medical Center (R1MC), Municipal Health Office of Rosales and the Department of Social Welfare Development (DSWD).
"Gamot para sa Kapwa is a medical and dental mission that aims to provide quality but free medical and dental care services as well as proper and complete dosage of medicines to less fortunate citizens in the community," Santiago said.
During the medical mission, Pangasinan residents were given free medical consultation, free medicines, x-ray and electrocardiograph (ECG) tests, random blood sugar test, uric acid test, cholesterol check-up, dental consultation and tooth extraction.
Santiago added that the project, which was first held at the Gymnasium of Bayambang town for this year, served at least 2, 564 patients in the province.
The 'Gamot para sa Kapwa' project is part of the health and wellness program of SM Foundation that helps the community enjoy better quality of life by caring for the sick, especially the elderly and the children who are feeling helpless about their medical condition, through our medical and dental missions and the free medicine distribution.
(lvmicua/PNA)
DAGUPAN, May 26 — Big businesses will soon mentor small counterparts in Pangasinan to help them grow and prosper.
This is the objective of the program "Kapatid Mentor Me" to be launched by the Department of Trade and Industry (DTI) provincial office on June 20 at the Star Plaza Hotel in Dagupan.
Natalia Dalaten of the DTI compared the novel project to "big brother-small brother partnership" with big businesses serving as mentor and would share their experiences with micro entrepreneurs so they would also succeed and grow.
After the launching program, the mentoring session will initially begin at 8:00 a.m. till 4:00 p.m. to be attended by 25 micro entrepreneurs that were screened for the purpose.
She said the mentoring sessions would continue every Friday thereafter till the participants complete 11 sessions up to September 1 and thereafter graduate from the course.
The "Kapatid Mentor Me" is a project of the DTI provincial office in cooperation with the Philippine Center for Entrepreneurship.
Under this project, the accredited mentors will come from Manila and the regions who were chosen after succeeding in their respective business ventures.
Topics to be discussed include entrepreneurial mind setting, values formation, marketing, business model canvass, product development assessment product development and innovation, operations management, supply and value chain human resource and organizational management, entrepreneurial accounting, recording, bookkeeping. taxation, how to register with the Bureau of Internal Revenue and others.
The 25 entrepreneurs attending the mentoring session will comprise only the first batch of trainees and we are looking forward that some more batches will follow, said Dalaten.
The Philippine Center for Entrepreneurship helped DTI in accrediting mentors who committed to share what they know about the business to the micro entrepreneurs.
By VENUS MAY H. SARMIENTO (JNPD/VHS/PIA-1, Pangasinan)
LINGAYEN, Pangasinan, May 24 (PIA) - Now that the Philippine Red Cross (PRC) has acquired a ship for humanitarian purposes, it is now setting its eyes on an aerial vehicle to help more people in need.
Novel Robert Dolde, member of the Board of Governors, bared that PRC aims to acquire helicopters from the donations of partners and supporters.
"PRC has land vehicles like ambulances and firetrucks and water vehicle with the Amazing Grace ship and rubber boats. It hopes to acquire choppers so it could have first aid and rescue vehicles for land, water and air," Dolde said during the 70th year celebration of PRC-Pangasinan Chapter held in Lingayen town.
Dolde said PRC also aims to provide an ambulance to all its chapters through the initiative of PRC Chairman Richard Gordon.
"With all the partners and volunteers, information technology and logistics, we can truly say that the Philippine Red Cross is always first, always ready and always there," he added.
Dolde said a repeat of the human cross formation done here will be held on July 23 in time for the Million Volunteer Run. The Philippines will then aim to outdo the record of the Australian Red Cross which gathered 7,000 volunteers for the emblem formation.
(PNA)
DAGUPAN CITY — A retired public school official in Dagupan has sought the preservation of the remnants of the Franklin Bridge at the bank of the Calmay bridge to serve as a memento of the past for the future generations of Dagupeños.
Leon Palaganas, retired school supervisor of the City Schools Division, said the Franklin Bridge used to link the downtown area of Dagupan to Barangays Calmay and Carael till it was washed out by the big flood in 1935.
When it was still up, it used to be the only link between central and eastern Pangasinan to western Pangasinan, Palaganas said.
Washed out together with Franklin bridge was the San Albertos Magnus College, a branch of Ateneo de Manila, which was the first sectarian school in Pangasinan.
The college was located near the western edge of the bridge.
Palaganas proposed to the executive committee for the 70th Platinum Year celebration of Dagupan on June 20 to do something to preserve the remnants of the Franklin Bridge which was among the declared heritage sites of Dagupan.
He said the remaining portion of the Franklin bridge can be converted into a classy cafe or a restaurant to allow diners a bird's eye view of the Calmay River.
Palaganas identified a possible investor who wants to restore the remnants of the Franklin bridge and convert it into a cafe and restaurant.
To date the remnants of the bridge is now dilapidated as it already gave way to the elements for a longtime.
The Department of Education (Deped) headed by City Schools Superintendent Froserfinal Bravo is in charge of making preparations for the 70th anniversary of Dagupan on June 20.
At the same time, the executive committee agreed to give posthumous award to the late Restituto Basa, a historian who wrote the book on the history of Dagupan.
The committee was still consulting Basa when he died due to lingering illness some two months ago.
(lvmicua/PNA)
BINALONAN, Pangasinan, May 22 — The Department of Science and Technology (DOST) is assisting small industries from barangays Capas and Moreno in this town to increase their productivity and product quality under the agency's Small Enterprise Upgrading Program (SETUP).
DOST extended financial assistance to Gandang Ani Enterprises, a rice and corn trading firm being managed by Mrs. Fatima Soriano-Baltazar and her husband located in Barangay Capas, Binalonan, as well as gave technology innovation support for the production process and upgrading of packaging and labeling of Mabuhay Chichacorn in Barangay Moreno, Binalonan.
DOST Regional Director Armando Ganal awarded the financial assistance to the cooperators as part of the agency's SETUP.
The agency responded to the needs of Gandangy Ani of a mechanical dryer to minimize losses during rainy season and increase its buying capacity all through the harvest period,
Meanwhile, Mabuhay Chichacorn, owned and managed by Mr. & Mrs. Placido Laroza, the only producer of crunchy corn kernel snacks in the province, was given financial assistance in connection with its desire to upgrade their deep fryer by adopting a more efficient and versatile deep-frying technology and improving the quality of packaging and labeling of the finished products.
With the DOST's SETUP, the interventions provided are expected to increase the firms' productivity and product quality.
Four other firms, namely: R&E Poultry Farm in Laoac, De Roxas Poultry Farm in Villasis, Tabrilla Poultry Farm in Balungao and the Natividad Mushroom Growers Association in Natividad were given financial assistance by DOST to improve the quality and quantity of their products.
(lvmicua/PNA)
LINGAYEN, Pangasinan, May 22 — With red scarves around their heads, at least 7,000 staff of the Philippine National (PRC) here, members and volunteers formed a human Red Cross at the Narciso Ramos Sports and Civic Center (NRSCC) grounds to mark the 70th founding anniversary of the chapter on Monday.
The 7,000 participants formed a human cross which stretched 60-meter vertical line and 60-meter across.
The activity held from 7:30 a.m. to 10:00 a.m. was led by PRC Pangasinan-Dagupan City-San Carlos City chapter administrator Florame Magalong with PRC Board of Governors member Nobey Robert S. Dolde as guest of honor and speaker.
With the gathering of some 7,000 sporting red scarves and red t-shirts the scene at the venue resembled a barrio fiesta.
Magalong said the theme of the celebration was "I AM for Humanity", PRC's mission and vision. I AM is an acronym for Inspire, Aspire and Make.
The participants included officials and employees of the Pangasinan provincial government led by Acting Governor Jose Ferdinand Calimlim and students from various colleges and universities in Pangasinan.
Aside from the formation of the human Red Cross, the other activities during the day included a day-long free blood typing; lecture on and demonstration of first aid and basic life support; hygiene promotion sessions; lectures on basic humanitarian law, on leadership, welfare service orientation and display of disaster management equipment.
The PRC Pangasinan chapter was one of the 15 provincial chapters inaugurated outside the PRC National Headquarters in Manila on April 15, 1947.
(lvmicua/PNA)
DAGUPAN CITY — The city government of Dagupan is set to start cleaning esteros and drainage canals under the food for work program supported by the Department of public Works and Highways (DPWH) and the Department of Social Welfare and Development (DSWD).
City Administrator Farah Decano said the program was a national government initiative to be implemented by the city government with the barangay people mobilized to work in unclogging "esteros" and drainage canals in their respective areas,
She said under the program, the barangay residents would work on the project but would not be paid in cash but on rice provided by DSWD.
Barangay chairmen will pick the people to work on this project, which is being done yearly to mitigate the impact of the flood that may be coming during the rainy days, Decano added.
It is also intended to make Dagupan City safer from dengue-causing mosquitoes. Esteros and drainage canals are where these mosquitoes lay their eggs.
All barangays of Dagupan are set to be covered by the program but declogging of esteros will first be started in the poblacion, particularly in the flood-prone areas.
The dredging of the shallow river system is still going on with the help of two dredging machines deployed to Dagupan by the DPWH, she said.
She added that Mayor Belend Fernandez had also stepped up her program to elevate roads in low-lying areas of the city to minimize flooding.
At the same time, the city government is working closely with the DPWH and Fourth District Congressman Christopher de Venecia to the continuation of flood control projects along the banks of the Pantal River starting in Barangay Pogo Chico. (lvmicua/PNA)
By VENUS MAY H. SARMIENTO (JNPD/VHS/PIA-1, Pangasinan)
DAGUPAN CITY, May 19 (PIA) - The Department of Science and Technology (DOST) -Pangasinan satellite office has introduced an eco-friendly septic system in the province to address the growing garbage and wastewater problem.
Arnold Santos, officer-in-charge of DOST-Pangasinan satellite office, said the newly-developed septic system enhanced with organo-minerals is meant to reduce health and environment risks and sanitation problems.
"The eco-sep, developed with Adamson University, will help solve sanitation problems like ineffective septic system, drainage, and material recovery facilities," Santos told the Philippine Information Agency.
Project proponent Dr. Merlinda Palencia of Adamson University said the project utilizes a drain field technology and the Vigromin organo-mineral powder that can help reduce odor and heavy metals in waste water.
The Vigromin powder costs only about P150 per kilogram but the plastic septic tank that can accommodate 2.5 cubic liters, however, ranges to about P60,000 to P70,000.
The project was installed at the Sierra Vista Resort in San Fabian town, the first in the province.
Resort Manager Luisa De Guzman said Sierra Vista often joins information caravans of DOST and have decided to adapt the eco-septic system for a clean environment.
Two more resorts in Pangasinan have shown interest to adapt the developed technology, according to DOST.
(lvmicua/PNA)
LINGAYEN, Pangasinan -- Governor Amado Espino III on Wednesday led the blessing and inauguration of the newly-constructed PHP2.5 million building hosting three units of nine food stalls near the Pasalubong Center at the provincial capitol compound.
The project is for small vendors eyeing to avail of a conducive place to sell their goods.
General Services Officer Evan Gladish P. Domalanta said the vendors who used to occupy ambulant stalls in the area would be given priority at a minimal monthly rental fee.
Meanwhile, Governor Espino said to make the place cozier more stalls and fixtures would improve the ambiance and transform the area as a picnic grove for families and beachgoers.
Aside from the newly-built food stall building, two more buildings are to be constructed. These are "Abong na Dayew" (Hall of Fame) and Pangasinan Training and Development Center (PTDC) II.
The Hall of Fame building will be funded by the PHP4 million cash incentive from the Department of Interior and Local Government Performance Challenge Fund won by the province as recipient of the Seal of Local Good Governance.
The other building to be built will be funded by PHP3.4 million fund from the provincial government.
The first will house the awards and recognition received by the province since the administration of former Governor Amado Espino Jr, now 5th district Representative.
On the ther hand, PTDC II building, which will be bigger than the old PTDC but smaller than the Sison Auditorium, will serve as venue for larger conventions and gatherings.
Present during the blessing and inauguration of food stalls are Provincial Administrator Nimrod Camba and some department heads.
(lvmicua/PNA)
LINGAYEN, Pangasinan, May 17 -- The Pangasinan provincial government honored anew its living veterans of World War II by giving them medical and educational assistance amounting to PHP105,000 through their beneficiaries as well as their grandchildren late Tuesday afternoon at the Ceremonial Hall of the Urduja House.
Governor Amado Espino III distributed medical aid of PHP5,000 each to at least 12 veterans while nine educational assistance amounting to PHP5,000 each were awarded to the grandchildren of the living war heroes.
These are in addition to the medical and educational assistance given to the veterans and their families during the Lingayen Gulf Landings and Pangasinan Veterans' Day last January 9.
Benigno S. Baldoz, 93, of Rosales; Sergio R. Casamiro, 94, of Umingan; Paulino M. Antolin, 94, also of Umingan; Floro D. Pollante, 98, of Balungao; Pedro F. Ramos, 94, of Laoac; Lorenzo M. Mortera, 96, of Villasis; Reynaldo V. Siador, 90, of San Fabian; Celestino T. Balagot, 99, of Urdaneta City; Miguel T. Monegas, 95, of Alcala; Eulogio Caguin, 92, of Manaoag; Alfredo P. Laroco, 95, of San Fabian; and Hilario P. Meriales, 95, of Sta. Maria, all received medical assistance.
The veterans' grandchildren given educational assistance were Lester DC. Cayabyab of Barbara, Angelyka V. Escano of Aguilar, Camille N. Navelgas of Agno, Jumel I. Dorado of Bautista, Freda F. Sibayan of Urbiztondo, Eurika S. Nadado of Bugallon, Mary Ann V. Torrecampo of Aguilar, Klent Euhan T. Nepa and Franklin Nepa of San Quintin, and Loridsl Veniegas of San Quintin.
Beneficiaries of the educational assistance are currently in college levels, undergraduate or out of school youth.
All the recipients were screened by the Provincial Social Wwlfare and Development Office.
(lvmicua/PNA)
LINGAYEN, Pangasinan, May 16 -- Job order employees, including consultants of the provincial government will receive financial assistance of PHP 4,000 each based on a resolution passed by the Sangguniang Panlalawigan(SP) during its special session on Tuesday.
This was contained in a resolution proposed by SP Member Angel M. Baniqued, Jr., who said that "the amount was a form of financial assistance to help JOs or contractual workers and consultants meet some of their financial needs during these current lean months".
"The provincial government and its officials find it meritorious to reward also, as a token of their dedicated service, all job order/contractual employees and consultants for their unprecedented efforts and assistance in making Pangasinan always No. 1 in terms of public and civil service," the resolution said.
Pursuant to the Local Government Code of 1991, the provincial board was granted with the power to determine the positions and salaries, wages, allowance and other emoluments and benefits of employees in the provincial government.
Meanwhile, Capitol employees holding plantilla positions (permanent/co-terminus) will receive their 14th month pay which is equivalent to the non-taxable one month salary.
(LVM/PNA)
DAGUPAN CITY, May 15 -- Brigada Eskwela in Region 1 kicked off Monday in Alaminos City with a parade and a program attended by top officials of the Department of Education (DepEd)
Joy Junio, superintendent of DepEd-Pangasinan 1, said the regional launching was attended by all school division superintendents of Region 1.
All public schools in Region 1 are simultaneously conducting Brigada Eskwela to prepare for the opening of classes in June this year by having classrooms and surroundings cleaned and facilities that need repair done.
The activity involves parents, teachers, other government agencies such as the Philippine National Police and the Philippine Army and members of civic organizations, supported by private companies.
The Brigada Eskwela in Dagupan City was joined by Mayor Belen Fernandez who rallied parents and civic organization for their active support and participation.
By Gabriel Cardinoza (Philippine Daily Inquirer)
BOLINAO, PANGASINAN— Twice a week, Julio Curiano Jr. would hop into a speedboat and head for a 5.8-hectare ocean nursery of giant clams off Silaqui Island at the northernmost tip of this town facing the West Philippine Sea.
A maintenance man of the University of the Philippines Marine Science Institute's marine laboratory here, Curiano spends his day checking on the thousands of giant clams like they are his own children.
He first inspects the baby clams, also called juveniles, that are having their first taste of the sea after spending months in a hatchery. "I measure their shells and clean them and their cages to ensure their growth and survival," he said.
The biggest clam in the nursery is a 98.3-centimeter long Tridacna gigas and the shortest is a 3-cm juvenile. The gigas—the largest among the world's giant clam species—can grow to more than a meter long. The longest clam recorded so far is 136.9 cm.
Curiano then takes water samples and measures their salinity, temperature and dissolved oxygen levels. The clams can only survive in water with salinity ranging from 28 to 32 parts per thousand and within a temperature range of 28 to 30 degrees Celsius.
"The average temperature here (in the nursery) is 30 degrees Celsius and the average salinity is 29 ppt. This is why this is an ideal site for a giant clam nursery," Curiano said.
If it gets too hot, especially during summer, he patiently moves the clams to a deeper part of the reef.
The reef is also protected by a natural breakwater, preventing waves from the West Philippine Sea from disturbing the stocks.
The Silaqui reef is also shallow, with its clear waters only 2 to 3 meters deep, just enough for sunlight to penetrate the sea. Sunlight is important because giant clams have algae in their mantle that use sunlight to produce food for the clams through photosynthesis, Curiano said.
"I know all the clams' birthdays and where they can be found in the nursery," he said. ADVERTISEMENT
The nursery hosts 35,684 adult giant clams and 11,209 juveniles, which are arranged in straight lines in six areas of the reef.
According to Curiano, the giant clams' birthdays are useful during spawning seasons because these guide him to the clams that should be induced to release eggs and to those that should release sperm for fertilization.
As hermaphrodites, the clams' sperm and eggs should not come from the same clam to avoid inbreeding, he said.
"I've been in this job since 2006. I love this job," he added.
By VENUS MAY H. SARMIENTO (JNPD/VHS/PIA-1, Pangasinan)
DAGUPAN CITY (PIA) - More health centers will soon rise in Dagupan villages with the near-completion of health buildings that would bring services closer to the people.
Mayo Belen Fernandez said health services is one of the top priorities of the city so that residents would not have to travel far to avail of services on health.
"Naniniwala ako na kapag ang gobyerno ang lumapit sa komunidad at mga kababayan, mas maalagaan sila at mas mabebenipisyuhan," Fernandez said during the inauguration of a health center in Sitio Korea, Barangay Bonuan Binloc on Wednesday.
The said health center will be manned by a nurse and midwife everyday while a city government doctor will do her rounds in the center.
The city executive said more health centers will rise in Barangay Lomboy which is now 75 percent complete and in Barangays Pantal and Pugaro.
A diagnostic center is also being constructed adjacent to the city health center in Barangay Herrero-Perez. The facility will offer free ECG, ultrasound ,and x-ray for indigent residents, she revealed.
Fernandez also reiterated the city's campaign on zero mortality among pregnant women saying that in 2016, no pregnant mother died while giving birth.
Philhealth cards were also issued to residents to encourage them to bring themselves to hospitals whenever they are sick or are about to give birth.
By Leonardo V. Micua
DAGUPAN CITY (PNA) -- In case of a storm surge or tsunami, the more than 500 residents of the island village of Salapingao and another 500 from Pugaro in Dagupan will now have a place to run to in order to save themselves.
This, after the city government and the Department of Interior and Local Government (DILG) inaugurated Wednesday the city's first three-storey evacuation center with a concrete roof deck on top in Barangay Salapingao.
The project was funded under the Bottom Up Budgeting program of the DILG with counterpart from the city government, all totaling Php 15 million.
This is in response to the report from the Philippine Institute of Volcanology and Seismology (Phivolcs) that in case the Manila trench moves at magnitude 8, it can generate a tsunami as high as five to seven meters in the shores of the Lingayen Gulf.
Mayor Belen Fernandez said the edifice is part of the city's disaster risk reduction and management program of the city that aims to keep people in the island barangay safe in cases of storm surge or tsunami.
In building the project, the city government considered that Salapingao has no land access to the mainland and can only be reached by boat.
At 900 square meters, the evacuation center can accommodate residents of both Salapingao and Pugaro whenever storm surge or tsunami strikes.
Pugaro is an island village north of Salapingao and is linked by a bridge to the adjacent town of Binmaley.
In case of tsunami, some people of Pugaro can run to adjacent Binmaley to save themselves. But not in the case of the people of Salapingao whose village is surrounded by water.
It was in Pugaro where then Mayor Benbjamin Lim tried to build a first of its kind man-made tsunami hill sometime in 2013 but it was not realized when he lost the election to then vice mayor and now mayor Belen Fernandez.
The land in which the evacuation center was built was donated by Romulo O. Reyes, a resident of Barangay Salapingao and a close relative of Salapingao village chief Delfin De Guzman.
DILG Region 1 Director James Fadrilan and Mayor Fernandez led today's blessing and inauguration of the building in the presence of the city's department heads and division chiefs, the DILG family under City Director Rhoderick Dawis and the barangay officials of Salapingao.
In their messages, Fernandez and Fadrilan thanked Reyes for donating a portion of his land to the government so that the three-storey building can be built.
By Leonardo V. Micua (PNA)
LINGAYEN, Pangasinan, May 11 -- The province of Pangasinan will soon receive a Php 158-million financial assistance from the Department of Health (DOH) to improve the infrastructures, equipment and facilities of 14 hospitals operated by the province.
This was shared by Governor Amado Espino III in his State of the Province Address (SOPA) during a special session of the provincial board at the Capitol Plaza here at 8:00 a.m, today, Thursday.
Espino said of the amount, Php 67.8 million will be used to fund the infrastructure needs of these hospitals and another Php 91 million for the purchase of hospital equipment and facilities.
The infrastructures include the construction of additional wards, laboratory and supply rooms, sewerage, waste water treatment facilities and others.
Espino said that in 2016, the DOH allocated P141 million for infrastructure alone to these hospitals.
On the other hand, the hospital equipment for these hospitals include x-ray machines, orthopaedic instruments, radiographic devices, electrocautery machine, anesthesia machine with ventilator, dental panoramic device, operating room table, maternal delivery table and others.
The amount for these equipment will be drawn from DOH's Health Facilities Enhancement Program.
Last year, the DOH already allocated to the province two mobile dental clinics which the Provincial Health Office (PHO) is now using in delivering free dental services to patients in various towns and cities.
At the same time, Espino revealed that the Philippine Charity Sweepstakes Office (PCSO) donated three brand new Foton ambulances in October last year for the Umingan Community Hospital, Mapandan Community Hospital and Eastern Pangasinan District Hospital.
In his SOPA, Espino said that the organizational and diagnostic capability improvements and physical and structural upgrading works of the 14 hospitals run by the province will continue.
He said because of the improvements done in these hospitals, they had become what he called "the hospitals of choice of most Pangasinenses" as their services and capabilities can now compare with those of big private hospitals.
In 2016, outpatients served by these hospital totaled 405,115 for the past 10 months starting July 2016, or 48,407 patients per month, translated to 1,125 patients per day.
The in-patients totaled 486,066 or 48.407 patients per month, or 1,615 patients per day.
Last year, the combined bed capacity rate of these hospitals reached 235 percent, although the DOH-approved bed capacity is only 655 beds.
Thus, Espino said the provincial government through the provincial board asked the DOH to increase these hospitals' authorized bed capacity to 1,500 beds.
Source: 300 to see action in Tigasin Triathlon in Lingayen
Wednesday, May 10, 2017
(LVM/PNA)
LINGAYEN, Pangasinan, May 10 -- Some 300 triathletes from all over the country will see action in 3rd edition of the Tigasin Triathlon sponsored by the Northern Cement Corporation (NCC) from May 12 to 13 in Lingayen, to be hosted by the province oif Pangasinan.
Spectators will witness the event along major thoroughfares in Lingayen as the triathletes will be flagged on at the Capitol Complex, along the Baywalk and the Lingayen beach.
Organizers said the event features 0.75 and 1.5 kilometer open water swimming on May 13 from 5-9 a.m. and Olympic distance triathlon (1.5km swim, 40 km bike and 10km run) and sprint distance (750 meter swim, 30 kilometer bike and 5 kilometer run) on May 14 from 4 a.m. to 12 noon.
The public is advised on traffic re-routing on Maramba Boulevard, Alvear East St. and Avenida Rizal West St. in Lingayen for the duration of the sprint component of the triathlon.
Swimming will be held offshore at the capitol Capitol beachfront while biking will be staged mainly at the Capitol baywalk.
Provincial officials led by Governor Amado I. Espino, III are expected to grace the triathlon event's awarding ceremonies to be held at the Provincial Training and Development Center in the afternoon on May 14 where individual and team winners will be awarded.
Fully-supported by the provincial government, the staging of another triathlon event at the Capital town is part of the aggressive efforts to promote Pangasinan as ideal venue of national sporting events.
Triathlon is said to have originated as "les trios sports" (the three sports) also known as "the race of the experts" which took place in the 1920s in France.
It was only in 2000 that triathlon was included as official sporting event in the Olympic Games.
By Elsha Marie B. Soriano (JNPD/EMBS/PIA-1, Pangasinan)
LINGAYEN, Pangasinan (PIA) – Two new buildings namely "Abong na Dayew" (Hall of Fame) and Training Center II are set to be constructed by the provincial government at the Pangasinan Capitol Complex in this town.
Governor Amado Espino III, who led the ceremonial ground breaking of the two new buildings held on Wednesday, said that the new structures will serve as additional facilities of the provincial government that will cater to all tourists and guests who visit and choose Capitol Complex as venue for seminars and gatherings.
Espino said the "Abong na Dayew" building, which has a total floor area of 384.94 square meters, will house the awards and recognitions received by the provincial government from the previous administrations up to present.
"Kasi sa kapitolyo, kung napapansin niyo nandun 'yong mga awards sa gilid o sa hagdan, so in due recognition doonn sa mga natanggap na awards ng provincial government at para sa mga empleyado natin na kahit papano makikita nila yong mga pinagpaguran nila,"said Espino.
He added the Hall of Fame building will also have a restoration area and at the same time serve as a venue for small gatherings.
Espino disclosed that for construction of the said building, the initial budget amounting to P4 million will be sourced out from the Seal of Good Governance cash incentive award received by the province and the remaining P3.4 million will be funded by provincial government for a total cost of at least P7.4 million.
He said the Training Center II, which will look like a smaller version of the Sison Auditorium, will be twice as big as the Provincial Training and Development Center (PTDC) with at least 1, 500 square meters.
The PTDC II will be 71 percent bigger than the existing training center that measures to about 875 square meters only.
For the phase I of the proposed Training Center II, at least P6.3 million will be funded but the whole building will cost up to P20 million to complete.
"Marami na din ang bumibisita sa probinsya ng Pangasinan, 'pag sabay-sabay ang mga bisita nagkukulang ang ating mga facilities so isa rin pong makakatulong itong Training Center II at Abong na Dayew," Espino added.
Likewise, Provincial Engineer Antonieta Delos Santos said the construction of the two new buildings will start this month and will hopefully be completed before the year ends.
By Gabriel Cardinoza
BOLINAO, PANGASINAN-For three decades now, the shallow reef surrounding Silaqui Island in the northernmost tip of this town in Pangasinan province has been a silent witness to the growth of thousands of giant clams, locally known as "taklobo."
The reef is where the baby giant clams are released to grow to adulthood after spending five months in a hatchery at the Bolinao Marine Laboratory (BML) of the University of the Philippines Marine Science Institute (UPMSI).
From a few breeders reared from larvae and juveniles imported from the Solomon Islands and Australia in 1987, it now boasts of 35,684 adults and 11,209 juveniles, making it the country's largest giant clam sea nursery.
As a result, the nursery has been the source of 50,000 giant clams now thriving in more than 60 sites all over the country, saving these from impending extinction.
"If you go to Anilao in Batangas [province] or Davao, most of the big clams there came from here," said Dr. Cecilia Conaco, BML deputy director. "Many more are requesting us to restock in different reef areas. So we've kept up to the restocking."
Endangered
Despite the significant rise in population, giant clams have remained endangered, Conaco said. It is still illegal to gather and possess them for trade, she added.
Giant clams are also among the creatures listed in the Convention on International Trade in Endangered Species of Wild Flora and Fauna, an international agreement between governments aimed at ensuring that international trade of wild animals and plants does not threaten their survival.
"They're still very vulnerable to extinction. The Tridacna gigas (the biggest among the giant clams), was locally extinct. It still is in many areas in the Philippines. That's why it is the focus of our conservation project," said Conaco.
Eight of the existing giant clam species in the world are found in the Philippines. Six are being cultured at the BML. These include the Tridacna gigas, Hippopus hippopus, Tridacna derasa, Tridacna squamosa, Tridacna maxima and Tridacna crocea.
According to Conaco, saving the giant clams is important because they help form the coral reef structure, aside from providing shelter to corals and fish.
"They are also filter feeders. They help filter the water, recycle nutrients and provide food and habitat for other organisms," she said.
The move to save the giant clams came about after a huge drop in the their population was noted in the 1980s due to the indiscriminate gathering by residents in coastal villages for food and shell craft.
UPMSI founder and former director, Prof. Edgardo Gomez, launched the giant clam project, where marine scientists developed techniques and built facilities for the culture and rearing of these clams.
Giant clam culture
The culture begins in the ocean nursery by inducing the giant clams that are 8 to 10 years old, to release sperm and eggs. These are then gathered and brought to the BML hatchery, where they are first put in larval rearing tanks and, after eight days, in concrete settlement tanks.
"We take care of them [for about five months] until they grow to about 5 centimeters (cm) in size. Then we bring them back out to the ocean nursery to enable them to grow faster," Conaco said.
Because they are vulnerable to predators, such as crabs and puffer fish, the juveniles have to be put in cages once they are transferred to the nursery, she said.
They are freed from the cages and laid on the seabed only when they grow to about 20 cm in size.
Challenges
Despite the success in bringing back the giant clam population, the project is still trying to hurdle certain challenges, according to Conaco.
"The big challenge I think is really getting the funds to get the personnel to take care of the clams," she said.
With the number of giant clams that they now have, many workers are needed to clean and take care of the clams and to bring them to the nursery. Algae had to be removed from the shells of the juveniles to enable them to get maximum sunlight and hasten their growth.
"Since we do not have much funding, so basically we just leave the clams to fend for themselves," Conaco said.
At present, the giant clams are under the care of Julio Curiano Jr., BML administrative aide, who is also in-charge of the ocean nursery maintenance and stock enhancement.
"The other thing is, the nursery is far away from [BML], and we do not have anybody watching over it. So, at times, we lose some clams," Conaco said.
Silaqui Island, which is part of Barangay Binabalian, one of the villages of Bolinao's Santiago Island, is a sparsely populated community that is 30 minutes away by speed boat from the BML.
Community help
"But we would like to be more proactive in reviving the project and starting the production once again to spread the stocks [all over the country]," Conaco said.
The country's giant clam population, she said, should reach a level where giant clams are able to multiply on their own. "We need to have a population where the egg and sperm will find each other in the water to become baby clams," she said.
"Right now, we are starting to see this here [in the nursery]. This means that the stocks that we have are already reproducing on their own and we are starting to see the small clams all over the reefs."
The BML is now trying to work with the Bolinao town government to find a way to involve the Silaqui community in taking care of the giant clams, especially now that the nursery is being visited by tourists.
"We want tourists to enjoy the clams, to learn about these, but at the same time, we want to make sure these are protected by not touching or stepping on these," Conaco said.
"It's a big effort and I think one of the promising things is that Bolinao [council] has passed an ordinance declaring the town as 'Giant Clam Capital of the Philippines,'" she added.
By Elsha Marie B. Soriano (JNPD/EMBS/PIA-1, Pangasinan)
SAN MANUEL, Pangasinan (PIA) – Pangasinan public school children received early gifts in a form of school bags containing school supplies through the "Gamit ni Bulilit" project of the National Grid Corporation of the Philippines(NGCP).
Lida May Lopez, head of corporate initiatives and advocacy division of NGCP, said the project, which is part of the grid's corporate and social responsibility, aims to support the education of grades one to three pupils studying in public schools in Pangasinan.
Lopez said the "Gamit ni Bulilit" project provided bags containing 10 pieces of notebooks and pencils to grade school pupils from 13 public schools in Pangasinan.
"This is our way of thanking our host community who have been cooperative and have been helping NGCP through the years in protecting our lines, ensuring its safety, and making sure that people are aware of the dos and don'ts within our transmission lines and NGCP facility," Lopez said.
She said on average, at least 300 pupils each school will benefit in the said project.
"We have the understand the gap sometimes that while the students may have the will to study but given the financial incapacity possibly at the family to provide particularly in school supplies that small detail is already a deterrent for a student to pursue school," she said.
"One basic premise is that, it is the formative year for a student to feel compelled to finish school. If at the beginning of his or her education, he or she is getting the support needed, he or she will continue going to school and eventually finish his or her education," Lopez explained when asked why NGCP choses to give school supplies to grade school pupils.
Lopez added that with the "Gamit ni Bulilit" project, the NGCP is looking forward to help more pupils in the province and support their education in the coming years.
Lopez, together with Alan Sandoval, head of NGCP District III Substation, handed over the school supplies to principals of each beneficiary school during the ceremonial turn-over held on April 26 at the NGCP Substation in this town.
By VENUS MAY H. SARMIENTO (JNPD/VHS/PIA-1, Pangasinan)
DAGUPAN CITY, May 5 (PIA) - The grand Bangus Festival in this city had a new attraction this year with the inclusion of the Association of South East Asian Nations (ASEAN) projects in two festival activities.
The Philippine Information Agency (PIA), the information arm of the government directly under the umbrella of the Presidential Communications Operations Office (PCOO), has been tapped to be one of the offices to help advocate the importance of the ASEAN.
As our country plays host to ASEAN 2017 that coincided with the association's 50th anniversary, the PIA deemed it proper to incorporate it in the grandest festival in Dagupan.
"We would want to incorporate an ASEAN float in the parade and a kiosk in the street party to promote and create greater awareness with a high impact among the public. This will be a first in the history of Bangus Festival and a first for PIA," said Regional Director Jennilyne Role of PIA.
Mayor Belen Fernandez warmly welcomed the inclusion of the ASEAN Float in the Festivals of the North held on April 28 and the ASEAN Mobile Kiosk in the Bangusan Street Party on April 30 saying it is the first time that the international association will be joining the grand party in Dagupan.
Executive Chairman Epee Rafanan said the Bangus Fest committee approved the ASEAN participation to the festival.
The ASEAN Float paraded in a mini truck bedecked with flowers and balloons. The front area featured the ASEAN emblem while the left and right sides of the truck bore the logo "ASEAN 50 PHILIPPINES, Partnering for Change, Engaging the World".
The ASEAN flag as well as the flags of the 10 member nations were prominently displayed in the inner portion of the float. A sound system also echoed the ASEAN Hymn during the parade.
On April 30, the ASEAN mobile kiosk was prepositioned at the entrance of the Bangusan Street Party along the four-kilometer stretch of the Jose de Venecia Expressway. The kiosk comprised of a rack with information materials on ASEAN, a huge television set that played ASEAN videos, and a standee of President Rodrigo Roa Duterte.
The Bangusan Street party, which was adjudged as the biggest street party in 2010, featured 20 live bands from Manila and other parts of the country and drew an estimated one million revelers this year.
Meanwhile, simultaneous with the Bangus Festival, the Philippines played host to the 30th ASEAN Summit held in Pasay City where the leaders of the nine other member states came to the country to forge mutual agreements on various programs and policies.
(SMCR/KS, Sunday Punch)
EARTH DAY
SM City Rosales conducted Trash to Cash Recycling Market activity last April 22, 2017 in observance of Earth Day.
A booth was strategically installed at the mall's parking area where customers, tenants and employees were encouraged to give recyclable materials such as plastic and PET bottles, tin and aluminum cans, books, newspapers, scratch papers, furniture made of wood, metal cookware and kitchen items in exchange to cash.
This activity was in observance of Earth Day 2017, another initiative of SM to involve its 60 Supermalls in environmental conservation. This year's theme is to highlight the Information, Education and Communication campaign on proper waste segregation through recycling market.
Over the years, SM City Rosales regularly holds the activity every first Fridays and Saturdays of every month.
To create more awareness in neighboring towns, "Give Back to the Mother Earth: Reduce, Reuse, Recycle Home Décor Making Contest" was also conducted at the mall's Event Center as part of the celebration of Earth Day.
11 recycled home decors entries were artistically created on the spot by a family, group of friends and individuals.
The entry of Mr. Joe Castillo from Tayug, a pure white peacock display made of newspapers and recycled wires bagged the 1st place award.
A swan vase made of cardboards, entry of Emperador family from Rosales, took 2nd place.
The 3rd placer was from Dagupan, Ms. Mary Rose Tiangco's, a wall display made of old CDs, newspaper and corrugated board.
By JEAN RUSSEL V. DAVID
Jude Michael Uson of Wado Ryu Karate Pilipinas won two gold medals in the 1st Vice Mayor Mahadeva Das Mesina Karate Championships on Tuesday at the Robinson's Place event center in Calasiao, Pangasinan.
The 16-year old karateka from San Fabian, Pangasinan executed the Pinan Godan kata (form) flawlessly to score 8.1 points in the boys' intermediate 16-above and 8.0 in the advance kata divisions.
"I am extremely happy and did not expect to win today because some of my opponents are my teammates and they're very good also," said Uson, an incoming Grade 11 student at the University of Luzon.
Uson's teammate JZ Singsing won the silver while Ren Bistudio of Wado Ryu and Elmer De Leon of Mc Shorin Ryu both finished third in the intermediate division.
In the boy's intermediate 10-12 years kata, Vishujana Mesina of Wado Ryu defeated Jonas Russel Ragenil and Jevi Ashcroft Thadani of Baguio City, who finished second and third, respectively.
Other winners in intermediate kata divisions were Shane Vasquez (boys' 7-9 years), Yuahna Jane Bulatao (girl's' 16-above), Khyssa Paltep (girl's 13-15), and Blessary Montemayor (girl's 10-12).
In the novice kata division, the gold medal winners were Patrick Del Pilar (boys' 16-above), Jp Singsing (boy's 13-15), Mararose Peckley (girl's 16-above), and Aeeka Corpuz (girl's 13-15).
"We came up with this tournament to promote the sport of karate here in our town and province. We want more kids to engage in this kind of activity, which promotes camaraderie and discipline among our youth. This is our initiative to give them importance," said Mesina in an interview after the opening ceremonies, which was led by Calasiao Mayor Joseph Arman Bauzon and other town officials.
The tournament was an opportunity for Philippine Karatedo Federation (PKF) Vice-President Alejandro Enrico Vasquez to scout players for the Batang Pinoy as well as Philippine National Games.
"This kind of event helps us determine players that will play in regional and national games. This is also part of our grassroots development program here in the province of Pangasinan," said Vasquez, who is the PKF Director in Region 1.
By Jojo Riñoza
Lingayen, Pangasinan — No less than a hundred motorboats dressed up in vibrant colors set off along the Limahong Channel of Agno River yesterday for the much-anticipated "Banca Parada" which highlighted last weekend's celebration of Pangasinan's "Pistay Dayat 2017" or Sea Festival.
The fluvial parade started in Sitio Bantayan in Lingayen, passed under the Domalandan Bridge, and ended on the riverside below the Banaga Bridge in Bugallon town.
The annual Banca Parade is a major highlight of the celebration of the Sea Festival, the theme of which for this year is "Masaganang Ilog at Karagatan, Yaman ng Pangasinan."
More than a parade, the event showcases the beauty and history of the revived rivers of Pangasinan which have undergone a series of clearing operations conducted by Task Force Kalikasan as part of the "Ilog Ko, Aroen tan Bilayen Ko" environmental advocacy of the provincial government.
Limahong Channel is a historically significant natural feature of Pangasinan that was utilized for transportation in the early times. It is believed to be the escape route of 15th Century pirate Limahong for his escape when Spanish colonizers pursued him.
Limahong or Lim Hong was a Chinese pirate and warlord who invaded the northern Philippine Islands in 1574.
Contingents in the fluvial parade are clustered in three: Category A (offices and hospitals of the provincial government); Category B (city/municipal local government units, national government agencies and non-government organizations); and Category C (barangays).
The winning fluvial floats took home the top three prizes of P25,000, P20,000, and P15,000.