LOG IN. UPLOAD PICTURES.

List of the 17 Regions in the Philippines
National - Capital Region ● I - Ilocos ● II - Cagayan ● III - C. Luzon ● IV-A - Calabarzon ● IV-B - Mimaropa ● V - Bicol ● VI - W. Visayas ● VII - C. Visayas ● VIII - E. Visayas ● IX - Zamboanga ● X - N. Mindanao ● XI - Davao ● XII - Soccsksargen ● XIII - Caraga ● XIV - CAR ● XV - BARMM
---
Minimize corruption and maximize prosperity with a Guarantee of One Senator per Region. They divided the Philippines into REGIONS, but kept SENATORIAL representation national with no accountability to any regions.. No wonder many regions remain poor. Petition for a regional senatorial election. All regions will have senatorial representation.
Visit
Zamboanga Shopping to help propagate the
Chavacano Language
Pangasinan News July 2014
Jump to navigation
Jump to search
A | B | C | D | E | F | G | H | I | J | K | L | M | N | O | P | Q | R | S | T | U | V | W | X | Y | Z
Create Name's page
Regions | Philippine Provinces | Philippine Cities | Municipalities | Barangays | High School Reunions
---
Pangasinan Province - Archived News
---
Interactive Google Satellite Map of Pangasinan Province, Philippines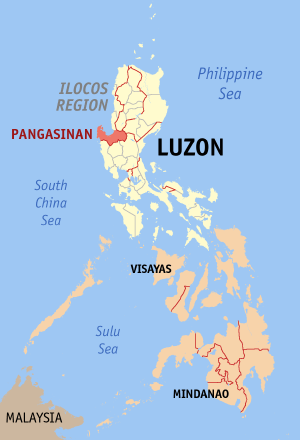 Map Locator of Pangasinan Province

The Capitol Building of Pangasinan in the municipality of Lingayen
----

Dietary supplement is a product that contains vitamins, minerals, herbs or other botanicals, amino acids, enzymes, and/or other ingredients intended to supplement the diet. The U.S. Food and Drug Administration has special labeling requirements for dietary supplements and treats them as foods, not drugs.
---

Pangasinan State University, Asingan Campus

Church in Aguilar Pangasinan
Wars of ancient history were about possessions, territory, power, control, family, betrayal, lover's quarrel, politics and sometimes religion.
But we are in the Modern era and supposedly more educated and enlightened .
Think about this. Don't just brush off these questions.
Why is RELIGION still involved in WARS? Isn't religion supposed to be about PEACE?
Ask yourself; What religion always campaign to have its religious laws be accepted as government laws, always involved in wars and consistently causing WARS, yet insists that it's a religion of peace?
WHY??

Tondol Beach, Anda
P1-B loan to fund development projects in Pangasinan
(PNA), LAP/LVM/JOHANNE MARGARETTE R. MACOB
LINGAYEN, Pangasinan, July 31 (PNA) -- The P1-billion loan of the province of Pangasinan with the Land Bank of the Philippines (LBP) is now a done deal following the signing of the loan agreement on July 31 at the Urduja House.
The agreement was signed by Provincial Administrator Rafael Howard Baraan in behalf of the province, and Cecilia Borromeo, LBP vice president, in behalf of Land Bank.
Arturo Soriano, officer-in-charge of the Office of the provincial accountant, said the projects to be funded by the loan are mostly infrastructures enumerated in the province's Annual Investment Plan.
These include roads and bridges construction, tourism-related and agriculture-related projects such as irrigation systems and other support to farmers, housing projects, and upgrading of hospitals such as the construction of the new complex at Pangasinan Provincial Hospital and procurement of equipment.
Soriano said, "Our debt service or borrowing capacity as allowed by the Bureau of Finance is P2.4-billion but we only availed of P1-billion, because if we maximize that capacity we might have difficulty paying the amortization."
He added that the P1-billion loan is just enough and will not affect the provincial government's statutory obligations like salaries of employees.
LBP made the loan offer to the provincial government "considering our good paying status," Soriano said.
Soriano explained that though the province has some savings, they opted to borrow from LBP, after securing authorization from the provincial board, to be able to fund the "big projects."
The fund will be released in parts upon the completion of every project. As of the moment, projects are yet to be bid out.
On the one hand, Borromeo, also head of Agricultural Development Lending Sector who represented president/chief executive officer Gilda Pico, cited the bank's "very satisfactory relationship" with the provincial government of Pangasinan.
"We are very inspired with the development plans of the province as most of the projects are also considered priority sectors of Land Bank so we are very happy and proudto be partners with Pangasinan," she said.
She added, "We think that it's a very good partnership as its (Pangasinan's) projects also benefit the small farmers and fishermen who are actually the mandated customers of Land Bank."
Borromeo said that the LBP is the first bank to provide loans to local government units (LGU), adding thst 90 percent of the LGUs have borrowed from the bank under the General LGU Lending Program.
Other personalities in the loan signing agreement were Filipina Monje, vice president of Northern and Central Luzon Lending Group; Jaime Cruz Jr., head of Pangasinan Lending Center; Liza Melendez, head LBP-Lingayen Branch; and provincial government department heads.
Pangasinan TESDA still accepts scholarship applicants
CTB/LVM/JOHANNE MARGARETTE R. MACOB/LVMSENT FROM MY IPAD.SENT FROM MY IPADY
LINGAYEN, Pangasinan, July 30 (PNA)--The Technical Education and Skills Development Authority (TESDA) provincial office is still accepting applicants for its scholarship program on various technical and vocational courses.
TESDA provincial director Engr. Manuel Wong, in an interview last July 28, revealed that their scholarship offering is still ongoing and went on to urge Pangasinenses to walk-in and apply in their office in Lingayen.
P 50M building rises soon at PPH
By Johanne Margarette R. Macob [(PNA), CTB/LVM/JOHANNE MARGARETTE R. MACOB/1410/LVMSENT FROM MY IPAD.SENT FROM MY IPADGY]
SAN CARLOS CITY, July 29 (PNA)-- From an average of about 400 patients daily, the Pangasinan Provincial Hospital (PPH) may soon have a lot more patients to accommodate, with the putting up of another structure in this facility called "hospital of choice."
This was after the provincial government led by Governor Amado Espino Jr. held the groundbreaking of a P50-million-worth two-storey complex building which will be built on about 700-square-meter lot at the PPH compound.
The complex will have the emergency room in its first floor while the second floor will housethe intensive care unit (ICU), operating rooms (ORs), laboratory, and diagnostic equipment such as the computed tomography (CT) scan, magnetic resonance imaging and X-ray.
Espino said the complex seeks to cater to the growing number of patients in the hospital which sometimes reach to over 600, from only 47 when he assumed his post in 2007.
The PPH which is said to be the biggest hospital north of Manila accommodates about 400 to 600 patients daily.
According to provincial health officer Dr. Anna Ma. Teresa De Guzman, more than P36-million of the amount to be used in the project will come from the Department of Health: P20.7-million for infrastructure to be downloaded to the provincial government and about P16-million worth of equipment. The rest of the amount will be shouldered by the provincial government.
Ground preparations like backfilling will be done in the area soon, to be followed by the bidding out of the project.
The Governor said that once funds are released, construction will start and "hopefully will be finished before the end of next year."
PPH officer-in-charge chief of hospital (COH) Dr. Policarpio Manuel said the building will be the 32nd structure to be built at the PPH under the Espino administration.
Meanwhile, effective August 1, 2014, OIC COH Manuel will serve as the permanent COH of the PPH.(p>This came after his appointment was signed by Espino last July 15, 2014.
"I accept the position as well as its attendant responsibilities and challenges," vowed Manuel.
Provincial administrator Rafael Howard Baraan, who made the announcement during the groundbreaking ceremony, said the PPH COH post has been vacant for almost a year.
Php40-M ER-OR-ICU complex to rise at Pangasinan Provincial Hospital
(PNA), FPV/LVM/PR/LVM
LINGAYEN, Pangasinan, July 28 (PNA)-- Governor Amado T. Espino Jr led the groundbreaking Monday of the Emergency Room-Operating Room-Intensive Care Unit Complex (ER-CR-ICU) that will soon rise within the Pangasinan Provincial Hospital compound.
Espino said that the 3-in-1 complex worth Php50-million is the 32nd structure to rise at PPH since he assumed the governorship in 2007.
The ER-CR-ICU structure will also house a new laboratory and state-of-the-art medical equipment that are normally utilized for diagnostic purpose.
The infrastructure development will be completed in two phases. The Php 30-million budget will be shouldered by the provincial government while the remaining Php20 million budget was allocated by the Department of Health (DOH) in recognition of the province's outstanding performance in health care services.
"We will start the ground preparations and civil works to lessen the contract price," Espino said
He added, however, that the target completion of the structure by mid-2015 will be dependent on the release of the budget.
At the same time, the governor expressed his heartfelt thanks to the services of doctors, nurses and personnel working in the provincial hospital who have been doing their best in rendering medical services for Pangasinenses.
The rise of the 32nd building at the PPH is expected to level up further the capability of the hospital to expand its health care services for Pangasinenses, especially for the poorest of the poor, said PPH Chief Policarpio Maniel.
Manuel attested that before Gov. Espino began his term in 2007, the hospital was only accommodating 50 in-patients.
"Not until Gov. Espino assumed his office in 2007 and we started accommodating an average of 150 in-patients and more," Dr Manuel said.
"Today, we have 431 in-patients given with quality health care services. This is an indication that PPH has been recognized as a hospital of choice," he added.
Dr. Manuel, who will officially assume as PPH Chief of Hospital on August 1, thanked Governor Espino for his unwavering trust since 2008, and for giving him the opportunity to serve the PPH as hospital chief.
"Today is my most memorable day in my career as a doctor," he said.
Pangasinan's poverty eradication gets BSP recognition
By Elsha Marie B. Soriano (MCA/EMBS/PIA-1, Pangasinan)
LINGAYEN, Pangasinan July 27 (PIA) – The Bangko Sentral ng Pilipinas (BSP) has recognized Pangasinan as the Most Outstanding Local Government Unit for the implementation of Credit Surety Fund (CSF) program.
Provincial Administrator Rafael Howard Baraan said the program is one instrument given by BSP that is used to enhance, support and guarantee the loans of various cooperatives in the province for their implementation of livelihood projects.
Baraan said the program, which was launched in 2011 with a P10 million seed fund from the provincial government and has now facilitated some P91 million to at least 18 credit surety fund cooperative is a partnership between the BSP, Land Bank of the Philippines (LBP) Development Bank of the Philippines (DBP) and the Industrial Guarantee Loan Fund (IGLF).
Pangasinan CSF has a total surety fund amounting to P22.8 million that will serve as collateral for member livelihood cooperatives, Baraan disclosed.
He said through the CSF program, the provincial government aims to capacitate every household in the province and enable every head of the household to support the needs of his family.
Pangasinenses look forward to PNoy's SONA
By Venus H. Sarmiento (MCA/VHS/PIA-1Pangasinan)
DAGUPAN CITY, July 26 (PIA) – Pangasinenses again await President Benigno Aquino III's fifth State of the Nation which he will deliver in a joint session in Congress on Monday, July 28.
President Aquino is expected to outline his accomplishments based on his promises in his 2013 SONA.
Among the topics he outlined in his last SONA include education, agriculture, job generation, infrastructure development, sin tax revenues, health care, poverty reduction and disaster risk reduction.
In terms of poverty reduction, the Presidential Communications Operations Office said the Pantawid Pamilyang Pilipino Program, which is the flagship project to alleviate poverty, reached its 4-million mark (4,090,667) in terms of household coverage nationwide as of June 25, 2014.
For health care, as of July 15, 2014, a total of 1,761 institutional healthcare providers are now accredited to provide Philhealth packages and benefits. At least 1,531 cities and municipalities with accredited outpatient clinics are now providing Primary Care Benefit packages, and 531 cities and municipalities are giving assistance on maternity care nationwide.
The DBM released P35.3 billion funds to cover the health insurance premiums of a total of 14,706,524 household beneficiaries—identified by the DSWD and the National Household Targeting System for Poverty Reduction (NHTS-PR)—for January to December 2014.
For the education sector, the Department of Education has completely addressed the backlog in textbooks and school seats attaining a 1:1 student to textbook and student to school seat ratio.
Teaching posts for 102,623 new items have been created. Combined with the 43,214 kinder volunteers and LGU-hired teachers, these effectively addressed the 145,827 backlog on teachers.
The remaining 6,978 water and sanitation facilities are included in the 2014 budget, the report said.
Farmers and the agriculture sector were also given due priority because In the first three months of 2014, rice output expanded by 3.28 percent, or 4.3 MMT, from the 4.17 MMT during the same period last year.
Due to limited rice importation between 2010 and 2014, the government was able to save P147 billion. From 2008 to 2010, the amount paid for rice imports were P176.18 billion, eight times the amount of P22.06 billion paid for the period of 2011-2013. The money spent to buy imported rice in 2001-2010 was 2.8 times the level of support given to rice programs. The agriculture department is determined to produce 59,678,679 MMT of rice between 2014 and 2016.
For job generation, a survey by pollster Social Weather Stations (SWS) indicated that jobless Filipinos at least 18 years old and above rose to 27.2 percent in March, when thousands of students graduated from college. But the government disputed the figure, saying the number of unemployed Filipinos went down from 8 percent to 7.2 percent in April, according to the April 2011 Labor Force Survey of the National Statistics Office (NSO) in 2011.
Since Pangasinan is a disaster- prone province, Pangasinenses wish to hear what PNoy has done for disaster risk reduction. PCOO said from the time Project NOAH was launched, 600 automated rain gauges and 400 water level measuring stations have been installed in 18 major river basins throughout the country. The Aquino administration also continue to modernize the weather detection technology, with Doppler radars, tsunami detectors, and alerting sirens.
Since the passage of the Sin Tax Law and Universal Health Care law, the Department of Health (DOH) had its largest budget increase in history – from P53 billion in 2013 to approximately P84 billion in 2014. The bulk (58%) of the increase came from the implementation of Sin Tax Law.
Pangasinenses also expect the President to update his "boss" on controversial topics like the Congress' Priority Development Assistance Fund (PDAF) and the Disbursement Acceleration Program.
Pangasinan joins search for 100 millionth Filipino
(PNA), LAM/LVM/PR/
LINGAYEN, Pangasinan, July 25 (PNA) -- The Provincial government of Pangasinan through the Provincial Population Office and the Pangasinan Provincial Hospital joins the nation in anticipating the birth of the 100 millionth Filipino expected to be born on July 27 at 12:06 a.m.
Ellsworth Gonzales, officer-in-charge of the Provincial Population Office, said the birth of the 100 millionth baby usher a symbolic hope for a better quality of life as he/she optimizes the challenge to make every Filipino count in development by ensuring that each Filipino is able to live in a healthy, productive, and livable environment.
Gonzales said this is also a call to make every newborn child to become wanted and ensured of his/her basic needs, such as health, education and other development concerns and aims to emphasize the importance of responsible parenthood, family planning and the implication of the 100 millionth population on the family resources, community and national economy.
The occasion of the birth of the 100 millionth baby will likewise be made an opportunity to highlight the significance of the Philippine Population Management Program in pursuing national and local development.
The Pangasinan Provincial Hospital serves as the venue for the entry of Pangasinan since the baby must be born in the biggest government hospital that has the most number of birth deliveries in each locality and must be born thru normal and spontaneous delivery, Gonzales said.
He added that the baby who will be chosen at the regional level will receive a starter kit worth P5,000 from the Regional Population Office and will be nominated as the region's entry to the national level.
Birthing facilities will be observing the Philippine Standard Time to ensure that there is uniformity in the time of birth nationwide.
The Jose Fabella Memorial Hospital in Manila will be the national venue.
DFA satellite office opens in Pangasinan
By Dexter A. See
CALASIAO, Pangasinan—The Department of Foreign Affairs (DFA) will open in August its satellite office at the Robinson's Place here.
Gov. Amado Espino Jr. said provincial folk will no longer have to go to Metro Manila or to San Fernando City in La Union for their passport and other travel documents.
Board Member Ranjit Shahani, on Friday said the consular office is being furnished, noting that in 2009, a building near the Capitol Complex was offered but Foreign affairs officials opted otherwise.
"The practice of DFA (is) make their services accessible to majority of the people considering that Filipinos usually patronize malls for their convenience," he said.
During the regular session of the Sangguniang Panlalawigan at the Capitol last June 30, the Board approved Provincial Resolution 635-2014 asking the DFA and Robinsons Land Corp. to name the satellite office Narciso Rueca Ramos Hall.
Resolution authors, Board Members Mojamito Libunao Jr. and Generoso Tulagan, said Ramos was a Pangasinan luminary in the realm of foreign service and international relations.
During a meeting with DFA officials in February, Provincial Administrator Howard Baraan said Pangasinan represented about 60 percent of Region I.
The satellite office could serve the neighboring provinces of Nueva Ecija, Tarlac and Zambales, he added.
Dagupan Day Care kids' supplementary feeding program gets P3.5M from DSWD
(PNA), CTB/LVM/ SENT FROM MY IPAD
DAGUPAN CITY, July 23 (PNA)--Mayor Belen T. Fernandez received a check worth P3.5 million from Department of Social Welfare and Development (DSWD) to bankroll a supplementary feeding program for Day Care Center pupils in 31 barangays here.
The check was hand-carried by Region 1 Director Marcelo Nicomedes J. Castillo when he and his staff called on the city executive last Monday at the city museum.
City Social Welfare and Development (CSWD) Officer-In-Charge Leah L. Aquino said the amount will help boost the nutritional status of children, particularly the malnourished ones, enrolled in the city's Day Care Centers for school year 2014-2015.
This was the third time the DSWD released funding for supplementary feeding of malnourished Day Care Center kids in Dagupan, twice since Mayor Fernandez took over the helm in July 2013.
Fernandez said the new outlay from DILG came as soon as the CSWD submitted a liquidation report on the utilization of the amount earlier released by the agency.
The mayor thanked the DSWD for its recent help to the city and also for the upcoming P650,000 livelihood project assistance as well as a separate 30 free housing units for homeless Dagupeños.
The DSWD earlier accredited all Day Care Centers in Dagupan after they were found to have complied with all the requirements for early childhood education set by the agency.
Two of the centers and teachers in fact received the coveted five-star recognition.
Aquino identified these centers as the Carael Day Care Center and Barangay 1 Day Care Center.
Their teachers, Armi E. Reyes and Felicidad De Leon, respectively, were recognized as five-year teacher awardees.
Fernandez awarded the two teachers a Certificate of Recognition each for their exemplary performance not only for garnering five-star awards but also for outstanding compliance to the standards set for the implementation of the early childhood care development center-based program.
She said the other Day Care Centers and teachers were given four and three star recognitions from DSWD.
More coops join PCSF in Pangasinan
(PNA), CTB/LVM/ JOHANNE MARGARETTE R. MACOB/LVMSENT FROM MY IPAD
LINGAYEN, Pangasinan, July 22(PNA)--More multi-purpose cooperatives (MPCs) in the province are joining and contributing to the Pangasinan Credit Surety Fund (PCSF) with which the provincial government contributed P10 million trust fund.
Rogelio Dela Peña, head of the PCSF oversight commitee, said that as of June 30 this year, there are now 23 cooperatives paying contributions from only a total of 11 cooperatives in 2011 when the Bangko Sentral ng Pilipinas (BSP) launched the CSF in the province.
"We are also processing applications of other cooperatives that are willing to contribute to and avail of the PCSF," he said.
Records show contributions of the 23 existing member-cooperatives now accumulated to a total of P6,292,000, with a total of P41,050,000 outstanding loan.
Top coop-contributors were the Albacopa Federation of Cooperatives in Alcala town with P1.6 million, the San Gabriel Segundo MPC in Bayambang with about P1-million, and the Malingas MPC in Calasiao with P500,000.
Pangasinan Swine Growers MPC in Balungao has P320,000 share; and the Lambayan MPC in Mapandan, Pangascasan Women's MPC in Sual, and Northern Bayambang Marketing MPC have P300,000 contributions each.
Other present coop-contributors to the PCSF are the Atlas Mabuna MPC, Biba Diwa MPC, Federation of Sual MPC, Masinop MPC, Philippine Livelihood Development and Training Foundation, Inc., San Vicente MPC, Villanueva MPC, San Pedro Apartado, Narra MPC, Star Inc., Women's Unity for Progress and Farmers MPC, CASABA MPC, St. Paschal Baylon MPC, and D' Plowman MPC.
Meanwhile, bank counterparts amounted to a total of P6,670,000, at least P3 million from the Land Bank of the Philippines, P2,670,000 from the BSP Industrial Guarantee Loan Fund, and P1 million from the Development Bank of the Philippines.
On the other hand, the local government unit of Pangasinan donated P10 million trust fund, making the province among 29 provinces with the highest contributions to the fund.
The most beautiful aspect of this scheme is that those borrowing from the fund does not have to post any collateral, said Governor Amado Espino Jr., who was instrumental in organizing the PCSF.
The trust fund provided by the provincial government is itself the collateral and any member-cooperative can avail of loan up to 10 times its paid contribution with interest varying from bank to bank.
At least 4,000 families who are into micro, small and medium enterprises such as those related to palay and corn production, trading, piggery, and micro-lending have already been benefiting from the PCSF.
Last July 9, the province of Pangasinan received an award as the "Most Outstanding Local Government Unit (LGU) in support to the Credit Surety Fund" for its successful implementation of the CSF.
Provincial Administrator Rafael Howard Baraan said that the province will vie for the hall of fame award next year, as it was the second consecutive year for Pangasinan to be given such award this 2014.
Pangasinan solon consults teachers, students on their needs
(PNA), LAP/LVM/JOHANNE MARGARETTE R. MACOB/LVM
LINGAYEN, Pangasinan, July 21 (PNA) -- Pangasinan Second District Rep. Leopoldo Bataoil consulted with teachers and students last July 18 consistent with his goal of bringing the government closer to the people.
Bataoil did this when he was guest speaker during the induction program of Pangasinan School of Arts and Trades-Department of Education (PSAT-DepEd) where he asked the students and teachers on the needs of their school.
"It's all about partnership, between the parents, between the teachers, between the students," he told the parents, teachers, and students who are officers of different clubs on how to to further achieve the vision of the school.
He reiterated that even without the priority development assistance fund (PDAF) and disbursement acceleration program (DAP), he can still serve the public by concentrating on their main task of making laws upon his consultation to the people.
Also, as vice chairman of the House of Representatives' committee on appropriations, he told them of the upcoming budget hearing after the President has delivered his State of the Nation Address on July 28.
The school principal Ferdinand Bravo thanked Bataoil and requested for the prioritization of the construction of the school covered court's extension.
Pangasinan still No.1 in Credit Surety Fund use
By Johanne R. Macob
LINGAYEN- The provincial government is on a roll. It has been cited for the second consecutive year as the "Most Outstanding Local Government Unit in support of the Credit Surety Fund."
After all, the Pangasinan Credit Surety Fund (PCSF) has a trust fund worth
P22.6-million pooled from the contributions of the donor institutions.
For this feat, the Bangko Sentral ng Pilipinas (BSP) presented the award instituted in partnership with the Land Bank of the Philippines, the Development Bank of the Philippines, the Industrial Guarantee Loan Fund of the Central Bank and credit cooperative banks.
Provincial Administrator Rafael Baraan, representing Gov. Amado T. Espino, received the award last July 14.
The Espino administration initially donated P10 million to the credit surety fund when it was introduced to the province by the BSP in May 2011, making the province the highest contributor to CSF.
The PCSF has 18 member-cooperatives and lists the Albacopa Federation of Cooperatives in Alcala town as highest trust fund contributior amounting to P1.6 million.
The Biba-Diwa MPC in Malasiqui and San Gabriel Segundo MPC in Bayambang also contributed P1.1 million and P1 million respectively.
Baraan said that the trust fund serves as collateral and any member-cooperative can avail of loan up to ten times its paid contribution with minimal interest.
A total of P91.2-million loan exposure is now helping micro, small, and medium enterprises (MSMEs)–particularly related to palay and corn production and trading and piggery-owners in the province, he said.
He said that the program has "an ambitious goal of making all households as independent production units" and added that an increase in PCSF membership and support from the LGUs will benefit more people.
Some 4,000 families have already benefited from the PCSF.
Young chess champ credits dad for success
By Johanne R. Macob
LIKE FATHER, LIKE SON
LINGAYEN– Pangasinan's newest young chess champ who was recently cited by the provincial government for his string of impressive wins in international tournaments unabashedly attributed his early success to his father.
"He is my coach. He is my idol," was how 11-year-old Dennis Gutierrez III of San Fabian described his father, Dennis Gutierrez Jr.
The young Dennis readily acknowledged the big role that his father played in his chosen sport after receiving the copy of the Sangguniang Panlalawigan (SP) resolution.
He said he was only three and a half years old when his father began teaching him the rudiments of chess.
His father, a former chess national master and a chess varsity player of Adamson University, trounced many national and international chess tilts in his younger days.
Dennis III said the regualr "tournaments" at home organized by his father with his three siblings helped him on top of daily practice honed his skills.
The grade 5-chess champ has represented the country in the Southeast Asian games, among other international competitions.
Recently, he has topped the 20th annual New York State Open Blitz Chess Championship held in Lake George, New York.
Despite the time he spends in playing chess, young Dennis has been able to maintain good grades in school, a third honor student himself.
In addition to the formal citation by the SP, Gov. Amado Espino Jr. awarded a financial grant to Dennis and assured continuous support for him.
Disaster-resilient Pangasinan kicks off calamity season observance
By Venus H. Sarmiento (MCA/VHS/PIA-1/Pangasinan)
LINGAYEN, Pangasinan, July 18 (PIA) – Disasters have become ordinary to Pangasinan residents and disasters managers who have mastered the ways to respond to calamities.
This was echoed by Regional Director Melchito Castro of the Office of Civil Defense (OCD) during the kick-off ceremony of the National Disaster Consciousness Month held earlier this week at the Pangasinan capitol grounds here.
Castro said disasters brought out the better side of Pangasinenses because it has made people stronger and united. He credited the provincial government led by Gov. Amado Espino, Jr. for the alert and responsive disaster team.
"Even if storms come, we are not so much worried because I know Pangasinan has a strong council and people here know what to do," Castro said.
He said the national government has started enhancing the national disaster response plan to upgrade the predictive capabilities of DRRMC member-agencies in reducing risks.
"OCD is one with the country in preparing for a safe nation and surpass the challenges of a new normal (referring to climate change)," he said.
Meanwhile, the PDRRMC led a coordinating conference with member agencies and the barangay council of Talibaew in Calasiao town.
A flood evacuation drill will be held in Talibaew village on June 30 since it is the first community to get inundated during heavy rains.
Col. Pedro Dulos, group commander of the 1st Regional Community Defense group of the Philippine Army said, the drill scenario will depict the worst case noting that catastrope dictates its own terms.
Part of the scenario is a forced evacuation of residents who tend to refuse leaving their houses as they are already used to flooding, the group said.
Col. Fernando De Guzman, OIC- PDRRMC Executive Director, scheduled a series of meetings and barangay orientations prior to the drill.
Barangay Captain Elpidio Untalan said he was thankful that his barangay was chosen for the drill as this will prepare the community during disasters.
Aside from the flood evacuation drill, PDRRMC will conduct tree planting and mangrove planting activities in observance of the Disaster Consciousness Month.
Typhoon 'Glenda' leaves zero casualty in Pangasinan
(PNA), LAP/LVM/HILDA MARTIN AUSTRIA/LVM
LINGAYEN, Pangasinan, July 17 (PNA) -— The provincial disaster risk reduction and management council (PDRRMC) happily announced that typhoon Glenda spared the province of Pangasinan from possible destruction on Wednesday.
The PDRRMC was in blue code alert from Tuesday to Wednesday as the province was placed under storm signal number 3 due to typhoon Glenda.
All local disaster and risk reduction councils down to the barangay officials and the partner government agencies were alerted and were ready to respond in case the typhoon caused damage.
Governor Amado Espino Jr. personally headed the operation of the PDRRMC until Thursday morning when typhoon Glenda finally exited from the Philippine Area of Responsibility (PAR).
Some 42 families from Dasol, Infanta, Bolinao and Sual evacuated at the height of the typhoon as a preemptive move due to the possibility of being affected by storm surge as their houses are located in coastal areas.
However, the evacuees already returned to their homes Thursday morning after the storm signal was lifted.
Ret. Colonel Fernando De Guzman, officer-in-charge of the PDRRMC, confirmed that they have recorded zero casualty and no damage to agriculture and infrastructure was registered whatsoever.
"We thank God for hearing our prayers to spare us from the typhoon," he said.
Meanwhile, some 2,000 relief good packs from the provincial government were readied for distribution on Thursday for the affected families.
"We are also preparing for another weather disturbance that may come as monitored by weather forecasters but we hope that we will be spared again," de Guzman said.
Pangasinan PESO conducts series of job placement activities
[(PNA), CTB/LVM/PR/UTB]
LINGAYEN, Pangasinan, July 16 (PNA) -- More than 100 unemployed residents of Pangasinan will soon get a chance to work abroad after qualifying for a final interview for job placements in Jeddah, Kingdom of Saudi Arabia.
Through a jobs fair arranged by the Provincial Employment Services Office (PESO), the RRJM Recruitment Agency processed the application of jobseekers last July 11 and assured that 110 applicants out of 120 have been booked for final interview ,today, July 16 in Manila.
As a support to the aspiring Pangasinense overseas workers, the province has provided one of its provincial buses to ferry the selected applicants to Manila for their final interview.The male applicants who met the requirements for the job will work as airline general workers.
As this developed, PESO Manager Alex Ferrer disclosed that eight more recruitment activities for local and overseas employment are set to be conducted for the whole month of July.
The First Magellan Overseas Corporation has set manpower pooling sessions on July 15 and 16
Another agency, EPSON Precision Phils. Inc. will also look for female operators to work in Lipa, Batangas while the Skills Development Center will scout for engineering staff, male and female and male direct workers and welder trainees for Subic, Zambales.
On July 17 to 18, the ABC Manpower Agency, Inc. will hire domestic helpers for Hong Kong and Singapore, call center agents, bartenders, bussers, cook, dishwashers, food servers, supervisors and managers to work in United Arab Emirates, architect draftsman for SA, cook, host/hostess and food servers for Kuwait and electrician, cable jointer and plumber for Qatar.
For deployment to Japan, the UNO Overseas Placement, Inc. is needing male and female farmers, dairy workers, welders, furniture worker, chicken deboner, female hi-speed sewer and male spray painters, metal electro-platers, mason, carpenters, sheet metal workers, and press machine operator on July 22.
On the same date, local agencies will recruit male and female operators to work for 3 Cs Company in Pampanga, and SYNERGY will hire male and female call center agents to work in Binmaley.
On the 23rd, Concorde Int'l Human Resource Corp. will recruit for Malaysia fitters, welders, pump operators, instrument technicians, tapper sampler, control room operators, stoker operator, auto mechanic, machinist, electricians, hydraulic technicians, furnace leader and crane operator.
Eyequest International Manpower Services is looking for male and female factory workers for Taiwan and applicants are advised to visit the PESO on July 25 and on July 29, NCCI will recruit male and female call center agents for its Lingayen branch.
The present administration of Gov. Amado T. Espino, Jr. takes pride that PESO has continuously trodden the path towards its goal of providing economic opportunities to Pangasinenses since the governor assumed the gubernatorial seat in 2007.
The efforts poured into this endeavor has yielded remarkable accomplishments during the years, proof of which, is the recent award as 2013 National Most Outstanding PESO in the PESO-First Class Province category where Pangasinan bested nine (9) other best performing provinces.
Since1900 the first term of Gov. Espino as chief executive of Pangasinan, the provincial government through the PESO has deployed some 9, 000 Pangasinenses for employment in Pangasinan, other key areas in the country and abroad.
Pangasinan PDRRMC vows province's readiness for disasters
(PNA), LAP/LVM/JOHANNE MARGARETTE R. MACOB/LVM/UTB
LINGAYEN, Pangasinan, July 15 (PNA) -- "We are prepared at all times. Our equipment are complete and pre-positioned. Our rescuers are fully equipped and trained."
Thus assured Fernando De Guzman, officer-in-charge of the Provincial Disaster Risk Reduction and Management Council (PDRRMC), during the kick-off ceremony of the National Disaster Consciousness Month (NDCM) on July 14 at the Capitol Plaza, Lingayen.
He added that the province has procured additional rescue boats to be used particularly in flood as the province's a catch basin of flood waters.
De Guzman added that they have identified possible evacuation centers in case a calamity occurs. These include high-rise buildings as gymnasiums, churches, and schools.
Still, the PDRRMC reiterated that disaster preparedness and response must be a capability of their barangay counterpart to be proactive toward disaster, as well.
Meanwhile, Regional Director Melchito Castro of the Office of Civil Defense (OCD) and Region 1 DRRMC acknowledged Pangasinan's strong DRRMC led by Governor Amado Espino Jr.
He said, "Even if storms come, we are not so much worried because I know Pangasinan has a strong council and people here know what to do."
He then reminded the people "to take DRRM as a step towards a stronger culture of safety and resilience in the pursuant of sustainable development."
Further, Castro disclosed that the NDRRMC is finalizing its National Disaster Response Plan to enhance the agency's predictive capabilities as pre-disaster risk assessment to lessen the risks.
After the kick-off program, Castro presided a coordinating conference with the concerned agencies in Pangasinan for the celebration of the NDCM and to further prepare for disasters.
As part of the celebration of NDCM which has the theme "Kahandaan at Kaligtasan ng Pamayanan, Pundasyon ng Kaunlaran," on July 30, a flood evacuation drill will be held in Barangay Talibaew, a flood-prone village in Calasiao town.
Also, the PDRRMC will hold tree planting and mangrove planting activities to perk up the province's capability to deal with disasters especially flood.
Pangasinan goods flood US website
By Dexter A. See
LINGAYEN, Pangasinan—Products of the povince are now being promoted online by the Pangasinan-USA Brotherhood Association (PUBA) in Southern California, an oficial said.
PUBA President Eddie Ferrer, in his letter to the technical working group (TWG) for Product Development and Export Promotion, preparations are being made this early for the Diversity Business Exposition on October 3-4, 2014.
The Expo convenors include the City of Artesia, Artesia Chamber of Commerce, Filipino-American Chamber of Commerce, Southern Corridor, Expo Committee Members and PB-USA Brotherhood.
Vice Gov. Jose Ferdinand Calimlim Jr. left for US recently to meet the PUBA and other partner organizations.
Ferrer said the US and local counterparts have started finalizing arrangements for the Pangasinan delegation's requirements for visa and accommodations.
At least 15 local producers have expressed interest in joining the two-day exposition devoted to 13 countries in Asia.
The early birds include Pangasinan Tropical Fruits MPC (dried and pickled mango), Rotico Products (peanut brittle), Dam Good Stuff (fashion accessories), DOREVI products (bamboo craft), Bandulf Industries (woodcraft wooden products), JE's and JB's Bagoong (fish sauce) and Aguinaldo Interiors (toy chest and hampers).
Other exhibitors are Crafter's Joy (handicraft), Connie's Furniture, GEM Handicraft (Native flower décor), MArmont Enterprise (buri bayong), Dragon Fruit Farm (fresh dragonfruit) BBLM Unistar (bamboocraft furniture) and VWT Enterprises (native handicrafts).
IPAREHISTRO NA ANG MGA BARIL / Six-month amnesty for loose firearms starts - PNP
By Hilda Martin Austria (Philippines News Agency)
LINGAYEN, Pangasinan -- Starting July 12, Saturday, the six-month amnesty for loose firearms is in effect nationwide in accordance with Republic Act 10195 or the Comprehensive Law on Firearms and Ammunition Control.
This was announced by the Pangasinan Police Provincial Office (PPPO) through its Public Information Officer Chief Inspector Ryan Manongdo.
Manongdo said the gun amnesty will allow holders of unlicensed firearms to register their guns for them to avoid stiff penalties.
PNP Chief Director General Alan Purisima signed the implementing rules and regulations of RA 10195 on Nov. 24, 2013, he said.
Under RA 10195, holders of unregistered firearms and those with expired license shall register and renew the same through the final general amnesty within six months.
Manongdo said during the interim period of six months, the IRR provides that no person applying for license would be charged any delinquent payment accruing to the firearms subject for registration.
All owners of unlicensed firearms are now advised to take advantage of the opportunity to register their firearms to avoid future police actions and or interventions such as when the police undertake "Oplan Katok" and implement search warrants issued by the courts.
DA opens Pangasinan trading center
By Czeriza Valencia (The Philippine Star)
MANILA, Philippines - The Department of Agriculture (DA) has opened a P29.3-million trading facility in Urdaneta City, Pangasinan, the largest depot for agricultural commodities in the province.
The new Pangasinan Agri-Pinoy Trading Center will enable small farmers to sell their produce to traders at competitive prices.
The facility will serve the marketing needs of 4, 800 farmers and fisherfolks in the province and generate around 1,200 jobs.
"This facility will improve the lives of farmers and fisherfolks in Pangasinan and nearby provinces," said Agriculture Secretary Proceso Alcala.
The department will assign a group of agriculture technicians to teach farmers how to produce high-quality farm products and keep quality consistent.
The new trading center in Pangasinan is one of the 10 new trading centers established this year by the government. These are meant to make farmers more entrepreneurial by eliminating several layers of middlemen and stabilize prices of agricultural products in the market.
The Agri-Pinoy Trading center program is a component of the Agri-Pinoy framework for attaining sufficiency in food staples and improving the working conditions of farmers.
The Agri-Pinoy framework, on the whole, aims to make farmers trade-oriented rather than production-oriented alone by introducing them to various parts of the value chain.
The DA is opening 15 more trading centers in 2015.
Also opened in Pangasinan is a new P1.5 million trading post for organic produce where around 70 farmers from Urdaneta, Manaoag and Villasis can showcase their products.
Provincial Summit vs.TB held in Pangasinan
By Johanne Margarette R. Macob [(PNA), CTB/LVM]
LINGAYEN, Pangasinan, July 11 (PNA)--The fight against tuberculosis (TB) in Pangasinan continues.
This was assured during the second Provincial Health Summit on July 11 at the Sison Auditorium with local chief executives leading the dialogue on TB control.
Gov. Alfonso Umali of Oriental Mindoro, the National President of the League of Provinces of the Philippines and the event's guest speaker, underscored that unity among other things is needed in the campaign versus TB.
He added, "In our current program (against TB), we need three things: we should be smart, there must be meeting of minds and there should be no confusion.
On the same occasion, Pangasinan Gov. Amado Espino Jr. said that political and health organizations in villages are tasked to identify all TB patients, citing that most TB patients have reservations on admitting their health condition.
Umali, a known advocate of TB management program, "Ligtas na Pamilyang Pilipino Laban sa TB," agreed with Espino, saying that TB monitoring should start in the barangay level, with the help of barangay health workers.
For his part, Gov. Espino cited the improvement on TB management in the province. From being the top four cause of mortality in 2007, TB is no longer included in the top 10 mortality causes at present, he said.
He also noted that most TB patients are those in poverty-stricken areas, thus poverty reduction remains a top concern of the provincial government despite the big decline of poverty rate of Pangasinan.
He urged the public to coordinate with the provincial hospitals particularly if they suspect themselves to be having TB.
"We are lucky because we have the provincial government that prioritizes health," thus remarked Dr. Jeremy Agerico Rosario, the Provincial Health Officer for Hospital Service.
The provincial government has previously launched its point of care program that allows the free enrollment of the head of any family to PhilHealth, in order to assist them in their hospital dues.
Meanwhile, Ester Dasmariñas representing Dr. Alejandro Herrin, Chief of Party of the Luzon Health United States Agency for International Development (USAID) Project, assured their continuous support to the province particularly in the training of health providers.
She said, "We are with you in your pursuit of a happy and healthy Pangasinan family."
Department of Health Region 1 director Dr. Myrna Cabotaje congratulated Pangasinan for "leading the way in bringing stakeholders together."
She also said that the summit is a celebration of partnership between the public and private sectors toward a common goal.
Local government units (LGUs) of Anda, Burgos, Sual, Lingayen, Dasol, Labrador, Calasiao, Bolinao, Malasiqui, Mangaldan, Mapandan, Bautista, Bayambang, Sto. Tomas, Laoac, Pozorrubio, Natividad, Sta. Maria, Umingan, Sison, San Manuel, Bugallon, Urbiztond also signed a pledge of commitment to TB and other health programs during awarding of best LGUs and interlocal health zones in the province.
Blood Donors Month: More than just bloodletting
By Venus H. Sarmiento (MCA//VHS/PIA1-Pangasinan)
DAGUPAN CITY, July 10 (PIA) - In 2012, Chairman Richard Gordon of the Philippine Red Cross (PRC) said the country needs to be prepared because disasters have become bigger.
As predicted, Superstorm Yolanda (Haiyan) slammed Central Philippines in 2013 leaving casualties of close to 3,000 residents in the Visayas region.
Once again, the PRC as with other health workers and local governments are knocking on every Filipino's doors to support the National Blood Donors' Month and collect as many blood for banking to be served to victims during calamities.
In Pangasinan, the Provincial Health Office and the Region I Medical Center (R1MC) will start a series of bloodletting activities in support of PRC's mission to ease sufferings in time of war, peace and calamities.The schedules include the LGUs of Binalonan (July 8), Umingan (July 21), Mangaldan (July 24), and Bayambang (July 26).
Donors from the Department of Education -West Central Elementary School will donate on July 16 and the Maxima Technology School on July 18. Employees and relatives of the Dagupan City City Electric Corporation (DECORP) will donate on July 18 while employees and mall goers of Nepo Mall in Dagupan City can donate on July 29.
Medical Technologist Trisha Ramos said Red Cross has enough blood supply but the increase in blood supply is a must especially this rainy season.
The Region I Medical Center (R1MC), also in the city, has partnered with the provincial government through the Provincial Health Office for blood donation activities in the province's sixth district.
"The move is urgent and necessary to ensure safe and readily available blood supply for dengue patients and for women with post-partum hemorrhage. This is a medical service attuned to the Millennium Development Goal (MDG) 5 which is Reducing Maternal Mortality," said Provincial Health Officer Anna Maria Teresa de Guzman.
Dahlia De Vera, nurse and blood recruitment officer of RIMC, said several religious sectors have signified intention to lead blood donation activities among their members.
These include the Iglesia Ni Cristo (July 5), Church of Jesus Christ of Latter Day Saints-Mormons (July 12), Methodist Church in Dagupan (July 19), Seventh Day Adventist (July 26), Catholic Church led by Archbishop Socrates Villegas in Malasiqui (July 20) and in Binmaley (July 29).
The Rural Health Unit of Mangaatrem town is scheduled on July 18, Junior Chamaber Inc, Alaminos City chapter (July 20), LGU Sison (July 22) and the Lyceum Northwestern University in Dagupan City (July 24).
De Vera said walk-in blood donors are welcome everyday at the Region I Medical Center.
Pangasinan marks disaster consciousness observance
By April Montes (MCA/AMM/PIA-1, Pangasinan)
DAGUPAN CITY, July 9 (PIA) – The Provincial Disaster Risk Reduction and Management Council (PDRRMC) kicks off a series of activities in Pangasinan in line with the observance of the National Disaster Consciousness Month (NDCM) this July.
Rafael Howard Baraan, provincial administrator and concurrent vice-chairman of the PDRRMC, said that simple yet meaningful activities are set to improve the community's understanding and awareness of the natural and social components of floods and strengthen people's capability to deal with floods.
Baraan said that awareness will strengthen people's ability to face the inevitable natural disasters long before government help arrives.
"It is good to be always prepared as disasters may come anytime," he said.
Activities for the NDCM celebration include a kick-off ceremony on July 14 at 7:30 a.m. at the Capitol Plaza in Lingayen town; hanging of streamers on strategic areas within the Capitol Complex in Lingayen and in the offices of PDRRMC member agencies and LGUs; public information drive on disaster preparedness through tri-media, leaflets and brochures; mangrove tree planting on July 23; tree planting activity at San Roque dam watershed area in San Manuel town on July 25; and flood evacuation drill at barangay Talibaew in Calasiao town on the third week of July.
With the aim of safeguarding communities from the adverse effects of disasters, the annual NDCM celebration seeks to promote public awareness on natural hazards, and disseminate critical information on measures which can be undertaken to mitigate the adverse effects of such hazards.
Dagupan council okays ordinance strengthening security measures
(PNA), LAP/LVM/HILDA MARTIN AUSTRIA/LVM
DAGUPAN CITY, July 8 (PNA) -— An ordinance requiring the installation of closed circuit television (CCTV) cameras, alarm system directed to the police station on business establishments and deployment of security guards in automated teller machines (ATM) booths was passed by the Sangguniang Panlungsod (SP) on Monday.
The ordinance instituting certain security measures for the protection of the lives and property of Dagupenos and providing penalties therefore for non-observance was authored by Councilor Jose Netu Tamayo.
"The purpose of the ordinance is to provide witnesses, if no one dares to talk as the footages from the CCTV cameras will be helpful in the apprehension and prosecution of criminal elements," said Tamayo.
He noted that in previous incidents in the city such as the shooting of a barangay captain and the robbery of a pawnshop, CCTV footages and the alarm system had been of aid in the apprehension and identification of the suspects.
Tamayo added that security guards posted especially at night near ATM booths will protect customers against thieves.
"There were incidents in the past when customers were robbed after withdrawing cash from an ATM," said Tamayo whose wife, a doctor of medicine, was one time a victim of robbery after withdrawing money from an ATM booth on Perez Boulevard.
"We are beating on zero criminality here and for most number of prosecutions for lawless elements," said Tamayo, a trial lawyer.
He said that based on the public hearings they conducted, the business sector in the city agrees and supports the ordinance.
"In those public hearings, stakeholders including the entrepreneurs in the city welcome the idea as they know that these are for the protection of their establishments, their clients and the citizenry as well," said Tamayo.
Required to install CCTV cameras under the ordinance are businesses with a gross capital of one million pesos.
Aside from these, the helmet law being implemented here was also amended with certain revisions in a bid to help deter the commission of crimes, especially by criminals riding in tandem on motorcycles.
"Before, we asked motorists to wear helmets for their safety but with the new ordinance, motorists are required to remove their helmets when they enter the central business district or in the 15 kilometers per hour zone, during parade and checkpoints," Tamayo disclosed.
He further explained that the revision of helmet law is due to the fact that criminals nowadays use helmets and bonnets to conceal their identity when they commit crimes.
The new helmet law will be implemented as soon as it is approved by Mayor Belen Fernandez and published in newspaper of general circulation in the city.
At the same time, business owners and banks in the city will be given 120 days to install CCTV cameras, alarm system in establishments and post security guards in ATMs after the approval and publication of the ordinance.
"The owners are given enough time because this will involve sums of money for the equipment to be installed, " Tamayo, also said.
Failure to comply with the ordinance would mean revocation of permit to operate business in the city.
Meanwhile, Tamayo was positive that these procedures will be supported by Mayor Fernandez who initiated the creation of the local peace coordinating council.
Pangasinan Police Office observes Police Community Relations Month
(PNA), LAP/LVM/JOHANNE MARGARETTE R. MACOB/LVM
LINGAYEN, Pangasinan, July 7 (PNA) -- The Pangasinan Police Provincial Office (PPPO) celebrates the 19th Police Community Relations (PCR) Month this July with activities anchored at strengthening the police-community link.
An awarding ceremony for outstanding police units, civilians and local government units was held at the PPPO Grandstand in Lingayen Monday morning to kick off the PCR Month.
The PPPO led by its officer-in-charge, Police Senior Superintendent (PSSupt) Sterling Raymund Blanco, recognized civilians, police personnel, and police units that have contributed best "in crime prevention and resolution of cases."
The civilian awardees were the local government units of Manaoag led by Mayor Kim Mikael Amador and Bani led by Mayor Cothera Gwen Yamamoto, and the non-government organization, Lingayen Padyakers and Runners Club led by Ronald Gonzalo.
Meanwhile, Philippine National Police unit awardees were Dagupan City Police Station (city category), Calasiao PS (class A municipality), Manaoag PS (class b municipality), San Jacinto PS (class c municipality).
DCPS head officers were awarded PCR Police Commissioned Officer of the Year: PSupt Christopher Abrahano, DCPS chief of police; and PCR Police Non-Commissioned Officer of the Year: PO2 Lotis Dacoco, DCPS.
There were also special recognitions given to Regional Trial Court (RTC) Branch 57, San Carlos City presiding judge Renato Pinlac and RTC Branch 56, San Carlos City executive judge Hermogenes Fernandez.
Also, as part of the PCR month observance, the PPPO launched its "Batang Mahirap, Edukasyon Mo, Sagot Ko" scholarship project.
The civilian awardees along with the event's guest speaker, Department of the Interior and Local Government- Provincial Director Reggie Colisao led a tree planting activity after the awarding program.
Other projects in coordination with other stakeholders such as the provision of cleft palate operations and reading glasses, among others, are being prepared for implementation this PCR month, Blanco said.
Country's 1st Prov'l consular office of DFA to Open Soon in Pangasinan
(ADV)
Lingayen - The country's first provincial consular office of the Department of Foreign Affairs (DFA) is set to open in August at the Robinson's Place in Calasiao, Pangasinan.
The services of DFA's satellite office will include issuance of new passports, renewal of expired passports, replacement of lost, expired or mutilated passports and authentication of other related documents.
Board Member Ranjit Shahani, tasked by Governor Amado T. Espino to facilitate the establishment of the provincial office of DFA, said Friday (July 4) that the consular office is now procuring the needed office equipment.
Way back in 2009, Governor Espino offered to DFA a building within the periphery of Capitol Complex for the DFA office. However, Provincial Administrator Rafael Howard F. Baraan said that DFA executives upon thorough deliberations decided to select the Robinsons Place in Calasiao because it is more accessible to people.
This is also in line with the new practice of DFA to locate its extension offices in some malls in other areas.
During the regular session of the Sangguniang Palalawigan at the Capitol on June 30, the Provincial Board approved Provincial Resolution No.635-2014 requesting the Department of Foreign Affairs and the Robinsons Land Corporation to name the DFA satellite office as Narciso Rueca Ramos Hall.
Ramos, whose birthplace is Pangasinan, was a former secretary of Foreign Affairs who had a long and distinguished career in foreign service.
Resolution authors, Board Members Mojamito Libunao, Jr. and Generoso Tulagan, said Ramos is a worthy son of Pangasinan who had established a name for himself in foreign service and international relations.
During a meeting with DFA officials in February, PA Baraan said this is a very good move since Pangasinan represents easily 60% of Region I. With its strategic location, the Pangasinan DFA office can also serve those from the other neighboring provinces like Nueva Ecija, Tarlac and Zambales.
Baraan said this will greatly help people lessen the burden of traveling to a far distance to secure passports considering the large number of overseas workers from the province and its neighboring towns and provinces.
Pangasinan is top 5 in most number of OFWs
CTB/LVM/PR/LVM
In a report to the Pangasinan Migration and Development Council meeting held here Friday, Andrea Luisa C. Anolin, a representative of the Commission of Filipinos Overseas (CFO), said that more than 175,000 registered overseas Filipino workers including migrants are from Pangasinan.
She added that the province posted a share of P7.34B from the P11.4B total remittances of Region 1 for the period April to September 2006.
On top of the remittances, Anolin noted the support of Pangasinan's overseas workers to the CFO's Lingkod sa Kapamilya (LINKAPIL) or Link for Philippine Development, a program aimed at forging deeper partnership between expatriates and Filipinos in the home country.
According to a report, the Filipino overseas from Pangasinan contributed P146 million to their home province in the form of donations and projects which include medical missions, infrastructure, scholarship, livelihood and holding of skills transfer seminar.
Taking cognizance of the contributions of Pangasinan to the country's economy, Anolin said the CFO has put up three satellite offices in Pangasinan, particularly in Dagupan City, Urdaneta City and Rosales town to cater to the needs of the overseas workers.
As member of the PMDC, the CFO vowed to help the provincial government in the campaign against anti-illegal recruitment and human trafficking activities as well as in the formulation of plans and programs for the welfare of OFWs and their families.
New zip line connecting two islands in Hundred islands soon to open
(PNA), LAP/LVM/HILDA MARTIN AUSTRIA/LVM
ALAMINOS CITY, Pangasinan, July 4 (PNA) -— Another zip line will soon open in the Hundred Islands National Park (HINP).
The new zip line is 480 meters long which will connect the Governor's Island to the Virgin Island.
This is in addition to the zip line opened in the Quezon Island last June 7.
Sol Tablang, tourism officer of Alaminos City, revealed that the zip line helped boost the tourist arrival at HINP even during the rainy season.
"It seems we don't have lean months here because even during rainy days, visitors keep coming", he added.
He noted that tourists especially foreigners still insist on going to the islands despite bad weather.
"With their request we usually ask the authorities if they would allow us to sail and when we get approval then we accommodate them provided that they will ride on bigger boats," he added."We will open the new zip line on July 29 if the weather permits," said Tablang.
A symphony of trees in Pangasinan town
By Yolanda Sotelo (Inquirer Northern Luzon)
NATIVIDAD, Pangasinan—The scene seems to leap out of a painting: A group of musicians plays classical pieces on a lawn carpeted by grass. Behind them is a pond framed by tall trees and where ducks gracefully swim.
But an afternoon drizzle on Saturday forced the musicians to stop playing, fearful that the instruments would get soaked by the rain. The "Concert by the Pond," as it is called by former Environment Secretary Victor Ramos, was transferred to his rest house here, where local church choir members were treated to a delightful mix of classical and modern music rendered on strings.
The concert, staged by Orchestra of the Filipino Youth, was a perfect introduction to Ramos' arboretum (collection of trees) to the public—with the mini-forest turning more enchanting with each note.
The 4-hectare arboretum in Rizal village in this agricultural town in eastern Pangasinan province boasts of at least 200 species of indigenous forest trees.
Ramos, who toured the Inquirer around the farm, was like a proud father introducing each tree, its characteristics and peculiarities—how tall they get, how big their trunks are, the shapes and textures of leaves, their uses and medicinal properties.
"Each tree has a role to play," he said.
"The trunk of this toog (Philippine rosewood) is so hard that it is used as railroad ties (where rails are placed). Loggers refuse to cut them in the forest because they are so heavy that they sink in the river," he said.
"The mangkono (iron wood) is as tough as iron that it is used as the axle of motorboats. They grow tall but very slowly and are best grown in mined-out areas. This bagras (around 20 meters high) is used as electric posts. The Philippine teak wood was used by the Spaniards to repair their galleons. This dau can live up to a thousand years," he said.
Then there's the barabai (Cerbera manghas) whose seeds have poison that can stun fish so they can be easily caught. The barabai seeds, however, are not harmful to humans, Ramos said.
The mini-forest has the lauat tree, whose leaves are used as shampoo and skin moisturizer. There's also the dapdalo tree, which is being researched by pharmaceutical firms for its antidepressant properties, and the palosanto, which is made into incense.
The mini-forest also has the anubing tree, whose leaves have properties similar to a nylon fabric; bayok, whose leaves change shapes as they mature; Palawan cherry, supa (also known as the "kerosene tree"), putat, tangisang bayawak, guiho, kalantas, dita or dalipara (which is made into blackboards), apitong, kupang, bungkal, ivory mahogany and kalingag.
Many of the trees are endangered, like the palosapis (Philippine mahogany or white lauan).
Ramos said he started collecting trees in 1995 when he turned 50. Well-wishers gifted him with saplings of native trees. "I brought here a botanist to identify the trees, their scientific names and uses," he said.
The saplings need care until they are about 1.5 meters tall when their roots are firmly anchored to the ground, he said.
Narra, the country's national tree, is easily propagated, he said. "You plant it when the rainy season starts and before you know it, you have a tree," he said.
Ramos, who grew up in San Nicolas town, said his tree farm was carved out from rice fields.
The farm, which also cultures fish and grows organic vegetables, is the fulfillment of his boyhood dream.
He bought the property in 1986 when he retired from a private company and before he joined the government.
He bought the first 2 ha at P75,000 per hectare. He hired an environment architect who told him that the land was not enough for his plan. "So I bought the adjoining 2 ha, but the owner increased the price to P150,000 each hectare," he said.
Then the hard work started—digging the three ponds of different shapes and sizes, and planting the native trees.
Ramos said the farm welcomed students who wanted to learn about the country's trees.
"This is my legacy to the community where I come from," he said.
Pangasinan farmers told: Be proud, you feed the people
By Venus H. Sarmiento (MCA/VHS/PIA-1,Pangasinan)
STA.BARBARA, Pangasinan, July 2 (PIA) - Pangasinan farmers were told to keep their heads high for helping feed the nation.
Gov. Amado Espino, Jr., who led the distribution of forest tree seedlings and certified seeds, said farmers should feel proud for feeding the people.
"I want you to be proud. A rich person cannot brag if he could not eat anything. You feed the people," he said.
The provincial government distributed on Monday some 10,875 assorted fruit-bearing and forest tree seedlings and 3,750 bags of certified seeds to farmers from various towns.
Now on its fourth year, the distribution of farm inputs is part of the provincial government's 10-point development thrust under the Agricultural Technology Enhancement Subsidy and Loan Assistance Program (ATELAP) which aims to increase agricultural productivity.
"This ceremony is meant to be a meeting ground among farmers to tell them that the government is thinking of them and is doing something for them," he said.
Espino said Pangasinan will continue to be a farming province.
Provincial Agriculturist Dalisay Moya said the province promotes high quality palay seeds which result in increased farm yield.
The seed distribution program is a joint undertaking of the provincial government, the Department of Agriculture and the ABONO Partylist.
To date, the provincial government has dispersed about 6.8 million pieces of tilapia fingerlings in 489 communal bodies of water and distributed 650,000 pieces of assorted forest and fruit bearing tree seedlings which were planted in various sites as part of climate change mitigation project.