Pangasinan News February 2013
Jump to navigation
Jump to search
→ → Go back HOME to Zamboanga: the Portal to the Philippines.
A | B | C | D | E | F | G | H | I | J | K | L | M | N | O | P | Q | R | S | T | U | V | W | X | Y | Z
Create Name's page
Regions | Philippine Provinces | Philippine Cities | Municipalities | Barangays | High School Reunions
---
Pangasinan Province - Archived News
---
Interactive Google Satellite Map of Pangasinan Province, Philippines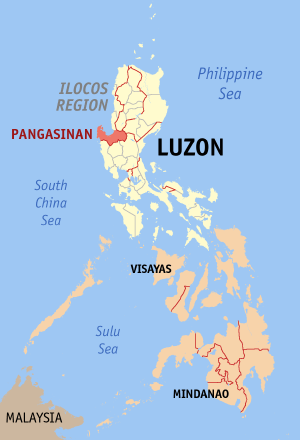 Map Locator of Pangasinan Province

The Capitol Building of Pangasinan in the municipality of Lingayen
Dietary supplement is a product that contains vitamins, minerals, herbs or other botanicals, amino acids, enzymes, and/or other ingredients intended to supplement the diet. The U.S. Food and Drug Administration has special labeling requirements for dietary supplements and treats them as foods, not drugs.
---
---
Manufacturers and distributors of dietary supplements and dietary ingredients are prohibited from marketing products that are adulterated or misbranded. That means that these firms are responsible for evaluating the safety and labeling of their products before marketing to ensure that they meet all the requirements of DSHEA and FDA regulations.

Pangasinan State University, Asingan Campus

Church in Aguilar Pangasinan
Wars of ancient history were about possessions, territory, power, control, family, betrayal, lover's quarrel, politics and sometimes religion.
But we are in the Modern era and supposedly more educated and enlightened .
Think about this. Don't just brush off these questions.
Why is RELIGION still involved in WARS? Isn't religion supposed to be about PEACE?
Ask yourself; What religion always campaign to have its religious laws be accepted as government laws, always involved in wars and consistently causing WARS, yet insists that it's a religion of peace?
WHY??
There are only two kinds of people who teach tolerance:
The Bullies. They want you to tolerate them so they can continue to maliciously deprive you. Do not believe these bullies teaching tolerance, saying that it's the path to prevent hatred and prejudice.
The victims who are waiting for the right moment to retaliate. They can't win yet, so they tolerate.

Tondol Beach, Anda
383 houses up in Pangasinan thru Gawad Kalinga partnership
By Venus H. Sarmiento (MCA/VHS – PIA1 Pangasinan)
ALAMINOS CITY, Feb. 28 (PIA) – This city's poor communities are now proud homeowners of some 383 housing units under the Gawad Kalinga (GK) volunteerism movement.
Beneficiary-families have started moving in to their new homes after the GK foundation and a multi sectoral group including homeowners completed building the units.
Beneficiaries include: Bangusville in barangay Bonuan Gueset, Dagupan City with 203 housing units; barangay Leet (40 units) and barangay Matic-matic (100 units ) in Sta Barbara town; Ecoville in barangay Lucap, Alaminos City with 20 units and Barangay Pias in Villasis town with 20 units.
"Gawad Kalinga," which means to give care, is a Philippine-based movement that hopes to end poverty for 5 million Filipinos by 2024. Established in 2003, the foundation currently works with over 2,000 communities and has been recognized as the 2006 Ramon Magsaysay Awardee & 2012 Skoll Awardee for Social Entrepreneurship.
Eddie Cera, GK head in Pangasinan, said the houses were the results of a multi-sectoral volunteerism effort.
The houses were built with the help of the owners themselves, a requirement of the GK foundation.
"If you labored (for your house), you will show love for it," Cera said.
Local government units, private organizations including concerned citizens and volunteers contributed for the housing materials including the lots where the houses were built.
To qualify for the grant, Cera said the Department of Social Welfare and Development identifies the poorest in the community which the GK checks and validates. Homeowners are prohibited from selling their houses or renting them out.
Cera said the foundation does not stop with building houses. It also offers livelihood opportunities, health care and education for the poor through valuable partnerships.
The GK's housing project scheme is already replicated in Malaysia, Indonesia and Papua New Guinea, he said.
Cera said he hopes to see GK houses in every Pangasinan village to change more lives, bring more hope and build more sustainable communities.
The foundation is currently preparing for the 'Bayani Challenge 2013,' another wide-scale volunteerism activity to be staged in Alaminos City on March 23-27.
50 Pangasinenses receive vending carts from DOLE
By April Montes (JCR/AMM-PIA1, Pangasinan with reports from DOLE)
BALUNGAO, Pangasinan, Feb. 27 (PIA) -- Fifty individuals from eastern Pangasinan will no longer walk around selling their goods exposed to grime and dust, thanks to the Department of Labor and Employment's (DOLE) livelihood assistance dubbed "Negosyo sa Kariton" (NegoKart).
The NegoKart is part of DOLE's thrust of providing productive and gainful employment opportunities to marginalized workers and informal sector workers through livelihood projects, said DOLE Region 1 Labor Communications Officer, Arly Valdez.
"The individual beneficiaries received their vending carts and raw materials amounting to P750,000 in this town last Thursday. Training on production, entrepreneurship, and business management will also be given to them," said Valdez.
The beneficiaries come from the municipalities of Asingan, 14; Balungao, 9; Natividad 8; Sta. Maria, 14; San Manuel, 3; Tayug, 1; and Rosales, 1.
From these beautifully-designed carts, the vendors will be selling fish balls, vegetables, general merchandize, balut, peanuts, native delicacies, and scrap metals.
DOLE Regional Director Grace Ursua, who led the awarding, said that the NegoKart affords the beneficiaries a more decent and viable source of income where they can peddle their commodities legally because they are issued business permits.
The local government unit of Balungao, which is the accredited co-partner for the project, shared P209,510 for the value added taxes and business permit fees.
"With the package of assistance given to them, the ambulant vendors can make their existing livelihood grow into more profitable business that will yield profits at par with minimum wage earners," Ursua said.
Aside from the resource assistance, the ambulant vendors will also be assisted in forming their association for mutual aid such as collective savings mobilization for social protection coverage under the Social Security System, PhilHealth, and others.
Alaminos City to host "Bayani Challenge 2013" on March 23-27
(PNA), LAM/LVM/RMA
ALAMINOS CITY, Feb. 26 (PNA) -- The province of Pangasinan is one of the 33 provinces throughout the country that will hold the March 23-27 "Bayani Challenge 2013", a nationwide project of Gawad Kalinga and the Presidential Communications Operations Office (PCOO) together with other government agencies and other private partners.
Eric Cayabyab, a GK national officer, said during a Partners Forum here, that the five-day activity will showcase volunteerism, love and sharing, to be participated in by some 100,000 volunteers from the government and private sectors and some from the beneficiaries of GK housing projects across the county.
Pangasinan and Ilocos Sur are the provinces in Region 1 chosen to host the activity.
In Pangasinan, Cayabyab said the Bayani Challenge themed "Isang Bayan, Isang Bayanihan", will be hosted by Alaminos City. In Ilocos Sur, it will be held in Candon City.
Cayabyab said the challenge seeks to bring together the biggest, most massive multi-sectoral showcase of volunteerism throughout the country that will touch the lives of the poor people.
The "Bayani Challenge 2013" in Alaminos City will be headed by Lian Braganza, a GK volunteer and president of the Hundred Islands Youth and Sports Council which has some 3,000 members across the city.
Braganza said the activity will not only focus the building of 16 houses in the GK Eco-Village in Barangay Lucap, Alaminos but also in the planting of mangroves, coastal clean up, tree planting in vacant lands and balding hillsides, environmental sanitation, and community organizing, among others.
He said Alaminos is accepting the challenge to host "Bayani Challenge 2013" to showcase that volunteerism is alive in the city and the people are willing to contribute their part to improve the lives of less fortunate members of the communities.
The young Braganza, who was involved in other Bayani Challenge" activities in the past, said he is prioritizing the construction and distribution of water-sealed toilet bowls, noting that some households do not yet have sanitary toilets.
Others involved in the "Bayani Challenge 2013" are the Department of Education (DepEd), Department of Tourism (DOT), Philippine Information Agency, Union of Local Authorities of the Philippines (ULAP) and Globe which offered its facilities to reach some 1 million netizens throughout the country.
Rep. De Venecia foresees minimal flood in her district
(PNA), LAP/LVM/LMMICUA/RMA
DAGUPAN CITY, Feb. 25 (PNA) -- Fourth District Rep. Gina de Venecia foresees minimal flood in her district this year and in future years due to several flood-control projects she initiated in Dagupan, Mangaldan, San Fabian, San Jacinto and Manaoag.
De Venecia cited the seven completed and about-to be completed drainage systems along Mayombo, Tapuac, De Venecia Highway leading to Calasiao, Lucao, Arellano and Bonuan Gueset, all in Dagupan City, and the soon-to-be started upgrading of A.B. Fernandez Avenue.
Noting that erosion already ate up a one kilometer-long west bank of the Cayanga River, beside the Seafood Processing Plant in Sitio Pontok, Barangay Bonuan Binloc, she called on the Department of Public Works and Highways (DPWH) to build a spur dike costing P20 million in the area.
The project is now about to be completed just in time for this year's rainy season.
In San Fabian, the construction of a spur dike and protective slope worth P36 million in barangay Binday has just been completed.
She said without these infrastructures, erosion might still continue this coming rainy season along the bank of the Bued River in Barangay Binday.
De Venecia revealed that some 50 hectares of agricultural land and 29 houses have already been washed out in Barangay Binday since 2010 due to rampaging flood waters of the Bued River.
In Mangaldan town, De Venecia introduced the Vetiver Grass Technology through the planting of vetiver grass in a bid to protect the earth dikes in 12 barangays.
She learned the technology in her previous trip in Queensland, Australia whose people are using vetiver grass to prevent erosion of fertile lands.
In Congress, De Venecia is pushing the approval of her House Bill 6003 that seeks to create a national Inter-Agency Dam Safety Monitoring Committee that will strictly monitor dam operations to prevent another disastrous flood not only in Pangasinan but also in other areas where dams are located.
She filed the bill in view of the big swath of destruction wrought by a big flood in Pangasinan in 2010 due to the release of a big volume of water from the San Roque Dam.
Pangasinan's blood coordinating council commended
By Dada Martin
THE secretary general of the Philippine Red Cross, Gwendolyn Pang, has commended the Dagupan City blood coordinating council (CBCC) for actively carrying out its commitment as contained in the memorandum of agreement it signed in October 2012.
Pang stressed that the CBCC, the first coordinating council established in Pangasinan headed by Dagupan Vice Mayor Belen Fernandez, will play a big role alongside PRC in encouraging more volunteers to donate blood.
"It was only a few months ago when we inducted the officers after Vice Mayor Fernandez volunteered to create the council and now they were already doing mobile blood donations", Pang said during the kick- off activity of the CBCC last Thursday.
She noted that in contrast some blood coordinating councils around the country stil are not complying with the terms of their respective memorandum of agreement with PRC.
MORE BLOOD
About 750, 000 units of blood were collected by the PRC from donors last year but the actual demand of the country is about 950, 000 units.
The CBCC was created through the initiative of Fernandez, who was elected chairman of the council in pursuant to Republic Act 7719 or the National Blood Services Act of 1994.
Fernandez, gave assurance that she will do her best "to help the PRC in providing blood services.
The blood coordinating council is composed of officials from the local government unit, media representative and representatives from the academe and non- government organizations.
Floramae Magalong, Philippine Red Cross (PRC) Pangasinan chapter administrator, vowed that the CBCC will be an ally of the PRC in ensuring enough supply of blood units and in encouraging more volunteers to be part of Red Cross through different activities.
Mangalong said PRC-Pangasinan chapter needs 119 units of blood a day not only for the province but the entire Region 1 since Dagupan is considered the blood center of the region.
Pangasinan town holds first-ever Pindang Festival
(PNA), JBP/LVM/JOHANNE MARGARETTE R. MACOB/0600/RMA
MANGALDAN,Pangasinan, Feb. 22 (PNA)-- Mangaldan town Mayor Bernardo Abalos yesterday announced the holding of the very first Pindang Festival March 2 to 11.
The municipality has long been known as producer of the best-tasting Pindang, the thin slices of dried and cured carabao meat. However, according to Abalos, due to lack of funds in the past, it is only this year that the town is coming up with this celebration.
Abalos said the main festival activities are set on March 2 and 3, where the the whole stretch of Rizal Avenue will be closed to traffic to give way to the street dancing and dance drama competition.
There will also be Best Dressed Duweg (carabao) and a variety show on Mar. 2nd; 101 Ways to Prepare Pindang, Longest Pindang, Pindang Making Rodeo, SMB Night Street Party and others on March 3.
Other events include the Sangguniang Kabataan Night on the 4th, Tricycle Drivers and Operators Association, Padyak Operators and Drivers Association (PODA), Farmers and Irrigators' Night, March 5; Senior Citizens' Night on March 6 ; Education Night on March 7; Celebrities Basketball Exhibition Game and People's Night (government workers, balikbayan, and non-government organization) on March 8; Civic Parade and Mass Demonstration and Coronation Night of Miss Mangaldan 2013 on March 9; 20th Werweran ed Mangaldan and Barangay Night on March 10 and Hot Bodies on March 11.
The municipal government launched the festival which is expected to further boost the Pindang industry of the town last December 10.
The holding of the festival was approved through a municipal resolution authored by Association of Barangay Captains (ABC) Municipal President Ritchie Abalos. He is also the chairman of the Pindang Festival.
Mayor Abalos is one of the main proponents of the event as he is also the executive chairman of the festival committee. Abalos succeeded Mayor Herminio Romero who died sometime in December last year.
As Vice Mayor back in 2009, Abalos was then asked of his plans if ever he becomes mayor. "Gusto ko magkaroon ng trademark ang Mangaldan…" he said.
Pangasinan town has world-class chess talents
By Alex Romeo R. Fernandez (MCA/ARF-PIA1 Pangasinan)
STA. BARBARA, Pangasinan, Feb. 21 (PIA) -- This town continues to produce local chess talents who are honed to represent the country in global tournaments.
The Sta. Barbara local government partnered with the Hermano Chess Club (HCC) headed by Allen Garcia and the Pangasinan Chess League (PCL) in holding the two-day 2013 Open Chess tournament that begun February 16.
International Chess Federation Master Haridas Pascua took the tournament title to continue his winning streak in local tournaments.
The Mangatarem town sensation swept the field, 7-0, to win the tournament held at the Orbos Gym here. It was Pascua's seventh local tournament win.
Rounding up the 68-player field were Dick Gicain, second place (6 points); Ely John Estabillo, Prince Mark Aquino and Verth Alora, third to fifth place (5.5); and Gerard Lalas, Emmanuel Lomibao, Samantha Glo Revita, Jovi Laca, Winfred Boquiren, Romy Fagon and Arnold Jabilles sixth to twelfth place (5).
Special prizes went to Palarong Pambansa medalist Revita (Top Lady Prize), Edgardo Arenos (Top Local Senior Player), Jovi Laca (Top Local), and Mark John Seva (Top Junior).
Meanwhile, seasoned campaigner Brylle Vinluan of San Fabian town, led the Under-16 category with 6.5 points.
Vinluan took the title by conceding only a draw in the third round against Christian Jake Tomines who made the same score but had to settle for second place for having the lower tie-break score. Areobin Prado came third with 5 points.
The Under-12 category, on the other hand, was won by Israelito Rilloraza with 6 points. He was followed by John Marx Anastacio, and Clarence Edrome Tomboc.
Provincewide PCOS roadshow demo set in Pangasinan
(PNA), LAP/LVM/HILDA MARTIN AUSTRIA/RMA
DAGUPAN CITY, Pangasinan, Feb. 20 (PNA) -— The Commission on Elections (Comelec) provincial office is all set to conduct a province-wide road show presentation on use of the Precinct Count Optical Scan (PCOS) machine.
Provincial Elections Supervisor Marino Salas scheduled the road show to start last week of February or early March as one PCOS machine already arrived here Monday from the Comelec central office.
Salas said the road show aims to educate the voters specially the first timers on how an automated election works, using a PCOS machine to count and canvass their votes.
Salas requested a PCOS from the central office to be used in the road show for demonstration purposes.
Although only one PCOS machine was made available by Comelec central office, Salas said the road show will cover the whole province.
Among the places to be prioritized in the road show are the key cities with high number of voting population such as San Carlos, Dagupan, Alaminos and Urdaneta cities.
"We will most likely cover the whole province, one day for smaller areas while two days will be needed for the other bigger areas, Salas said as he expressed hope the PCOS machine will not break down.
He said the other municipalities to be covered in the road show will be selected by drawing of lots to maintain fairness.
According to Salas, they will primarily target colleges and universities for the road show because these are where most first time voters are located.
"But we will also encourage and invite even the other voters who might have already forgotten to use the PCOS machine," Salas said.
Meanwhile, Salas announced that the training for the 25 core trainers for the PCOS technicians will start here on February 25 along with the board of canvassers' trainers and the training of members of the board of election inspectors.
The next training of some 1,118 teachers and IT (Information Technology) experts will be followed by the training of PCOS technicians who will be assigned to operate the PCOS machines on election day in the province.
Pangasinan, Leyte pilot sites of Project 'Suyod'
(PNA),FFC/LVM/RMA
LINGAYEN, Pangasinan, Feb. 19 (PNA) -- Pangasinan and Leyte are the only two provinces in the country chosen by the Philippine Health Insurance Corporation (PhilHealth) as pilot sites for its Project "Suyod."
Gov. Amado Espino Jr. said Project "Suyod" is an ambitious survey to capture all PhilHealth-eligible families in the country.
The result of the survey will serve as basis in formulating an effective mechanism for achieving universal health coverage in the entire country.
Records show that since 2008, Pangasinan has consistently enrolled the highest number of indigent families in the PhilHealth-sponsored program nationwide.
There were 27,000 indigent families enrolled with PhilHealth in 2007 which rose to an impressive 228,032 in 2012.
Pangasinan beat previous topnotchers Bukidnon and Cebu in the number of sponsored PhilHealth enrolees from indigent families
Project "Suyod" is set to take off this month in both Pangasinan and Leyte.
Governor Espino: Pangasinan now leading province in whole of PHL
(PNA), LAP/LVM/LVMICUA/RMA
LINGAYEN, Pangasinan, Feb. 18 (PNA) -- The province of Pangasinan has emerged from being just a non-entity to its present status as the best performing province in Region 1, and among the top performing provinces in the whole country today.
This was disclosed by Gov. Amado Espino Jr. in his State of the Province Address (SOPA) before some 10,000 well-wishers that included municipal and city mayors, congressmen and leaders of various sectors in front of the provincial capitol today (Feb. 18).
"Today, Pangasinan is widely known not just for its inherent political value as a vote-rich province, but more importantly as a consistent top performer in local governance, as a leading tourist destination, and favorite venue for big conventions, conferences, sports and of other national and international events," Espino said.
This is evidenced, he said, by the long list of national and regional awards received by the province since 2008.
Espino was elected governor in 2007.
Espino recalled that in 2010, the Department of Interior and Local Government declared Pangasinan as the nation's 5th Best Performing Province; and in 2011 as the nation's 4th Best Performing Province.
Enumerating past awards received by the province since 2008, Espino considers 2012 as a banner year for Pangasinan when it bagged the coveted "mother of all governance award"--the Gawad Pamana ng Lahi, as Region 1 champion and one of only 10 provincial nominees to the first-ever National Gawad Pamana ng Lahi, the results of which have yet to be announced.
The coveted leadership position, he said, did not just happen overnight nor by mere chance or a lucky twist of fate but rather, is the product of determined purpose-driven efforts to achieve clearly defined goals.
The other awards received by Pangasinan since 2008 are: RDC (Regional Development Council) 1 Best MDG (Medium Development Goal) Project Implementer (2010, 2011; DENR Likas Yaman Award (2010, 2011, 2012; RDC Region 1 Best NSM (National Statistics Month) Province (2008, 2009, 2010; Hall of Fame (2011), RDC Regional Best CRM (Coastal Resources Management (CRM) Project Implementer (2008, 2009, 2010);
Hall of Fame Award 2011; RDC Region 1 Best Performing Province in Local Governance (2010, 2011); RDC Region 1 Best Poverty Program Implementer (2010, 2011); RDC Region 1 Best Regional Agenda Implementer (2010, 2011); RDC Region 1 Champion, LGU Best Practices, 2010, 2011); and DILG Seal of Good Housekeeping (2011) .
In his speech, Espino said he and the people of Pangasinan who are behind him in all programs and projects of the provincial government will not rest till Pangasinan fulfills its mission to become number one throughout the country.
He said when he arrived at the provincial capitol on June 30, 2007, he set out to work with a sense of urgency, strongly determined to reverse the situation that was prevailing before.
Stressing that Pangasinan deserves a better deal, Espino re-organized the provincial government for the employees to function properly until they were primed to face the challenge.
"Just as we demanded the best from them, we reciprocated by attending to their (employees') needs, citing that Pangasinan is the only province whose workers enjoy the benefits of a wellness program especially designed for them.
In addition to regular health and fitness program, he said, every employee is entitled to a free annual executive check up on his birth month in any of the 14 hospitals operated by the province.
At the same time, he said, the salaries of provincial employees are now 77 percent higher than their base pay in 2007.
Myanmar vessel sinks off Bolinao, Pangasinan
By Frances Mangosing (INQUIRER.net)
MANILA, Philippines – A Myanmar vessel reportedly sunk Sunday off the waters of Bolinao, Pangasinan, leaving one person dead, two injured and 14 missing, radio reports said quoting the Philippine Coast Guard.
PCG spokesman Lt. Commander Armand Balilo was quoted as saying that the stricken sea craft, MV Arita Bauxite, developed engine trouble that led to its sinking.
A Chinese vessel MV Jin Cheng which was passing by rescued some of the survivors and radioed the local PCG in Pangasinan to report about the sinking. The PCG said seven people were saved.
DepEd Pangasinan II holds Skills Olympics
By Virgilio Sar. Maganes
ASINGAN- More than 100 secondary schools under the Department of Education-Pangasinan II (DepEd-Pangasinan II) trooped to the Luciano Millan National High School here to compete in various skills last February 1 to 2.
Education Program Supervisor Virgilio R. Barba of Technology and Livelihood Education, said the skills Olympics is conducted annually to determine the level of skills of students in various disciplines like dish garden making, table skirting, cooking, preparing project proposal, business planning, welding, fabric painting, T-shirt printing, tarpauling printing, e-bookkeeping and other motor-skills taught to the students.
"The skills Olympics used to be called as the Student Technologists and Entrepreneurs of the Philippines (STEP) competition. It transcended into simply skills Olympics to allow the students to compete and show their mastery and skills on various technical and livelihood activities," Barba said.
The skills Olympics has its theme: "Enhancing Skills, Improving Lives." School head Jose Venenciano Jr. of Luciano Millan National High School was elated for hosting the skills Olympics this year, saying that to host the prestigious affair will increase skills awareness and bring camaraderie as well to school administrators and technology teachers. "This brings out the best skills of students and showcase of what they learned in their technology and livelihood education subject. Although more skills have to be taught to them, we have concentrated on the skills that promote livelihood as a source of immediate income," said Danilo Tagason, technology and livelihood coordinator and head teacher III of Mangaldan National High School.
The skills Olympics was also highlighted by the selection of the top ten finalists for the search of Mr. and Miss Division Skills Olympic 2013 which will culminate on March 1, 2013 at the Event Center of SM City Rosales.
The results of the competition will also be awarded on the said date.
More than P1-M worth of shabu seized in Dagupan; 17 drug personalities arrested
(PNA), FFC/LVM/RMA
DAGUPAN CITY, Feb. 15 (PNA) -- Lawmen scored the biggest shabu bust in Dagupan City in recent year following a raid by combined elements of the Philippine Drug Enforcement Agency (PDEA) in Region 1, city and provincial police and Philippine Army at dawn Friday in Paga-sa Village, Barangay Bonuan Gueset, Dagupan City.
PDEA Regional Director Jeoffrey Tacio said 17 suspected drug personalities and about 215 grams of shabu estimated to cost more than P1 million, including three hand guns, were seized in the dawn raid.
Among the arrested drug personalities were Faizal Sumangan, Ali Bair Macaangos and Amino Bagul, all targets of the search warrants issued by Regional Trial Court Judge Genoveva Maramba of Branch 44 in Dagupan City.
The suspects and illegal drugs came from four houses that were raided. Also found in those houses were one Cal. 45 pistol, one Cal. 38 revolver and one Cal. 22 revolver.
Tacio said the illegal drugs were believed to have come from Cavite, a known source of shabu entering Pangasinan.
One of the houses searched by lawmen, said Tacio, was a known drug den.
Supt. Christopher Abrahano, Dagupan City police chief, said the raid was a big set back to the drug syndicate operating in Dagupan City as it surely paralyzed their operations.
He confirmed that this is the biggest drug haul ever scored by lawmen since the anti-drug campaign was stepped up in the city.
The raid was participated in by elements of the Special Action Force of the police.
Lingayen-Dagupan Archdiocese to observe golden anniversary on Feb. 16
(PNA), LAM/LVMICUA/RMA/PJN
DAGUPAN CITY, Feb. 14 (PNA) -- Archbishop Guiseppe Pinto will preside the mass during the golden anniversary celebration of the Archdiocese of Lingayen-Dagupan on Feb. 16.
About 50 archbishops and bishops from all over the country will be attending the golden celebration kicked off by a 9:00 a.m. mass at the St. John The Evangelist Cathedral, the seat of the Archdiocese of Lingayen-Dagupan.
Archbishop Socrates Villegas said the event is a celebration of praise and thanksgiving to God.
The Diocese of Lingayen was created on May 19, 1928 with Bishop Cesar Maria Guerrero as the first bishop, said Msgr Oliver Mendoza, chief of the Archdiocese's media office.
It was renamed Diocese of Lingayen-Dagupan on February 11, 1954 due to the destruction of the Lingayen Cathedral during the Second World War.
On February 16, 1963, it was elevated to the rank of a metropolitan archdiocese with the late Archbishop Mariano Madriaga as the first archbishop.
"This year, 2013, then is a time of grace as the church celebrates the golden year of the Metropolitan Archdiocese," Mendoza said.
Others who served the Archdiocese included Archbishop Federico Limon, SVD, a native of Mangaldan, Pangasinan who succeeded Archbishop Madriaga; Archbishop Oscar V. Cruz, who became archbishop upon the retirement of Archbishop Limon.
Msgr. Cruz served as Archbishop from 1991 to 2009 and was succeeded by Archbishop Villegas.
Million volunteer run, a hit in Pangasinan
By Venus H. Sarmiento (MCA/VHS- PIA1 Pangasinan)
DAGUPAN CITY, Feb. 13 -- Organizers got more than what they hoped for when more than 5,000 residents took part in the Million Volunteer Run staged by the Philippine Red Cross in Pangasinan on Sunday.
Red Cross Chapter Administrator Florame Magalong said Red Cross exceeded its target of 5,000 participants when the total registrants reached 5,540.
Magalong said it was the first occasion that one chapter conducted the volunteer run in two separate places, one in Dagupan City the other in Rosales town.
"We hope they (runners) will signify their commitment and interest of becoming a volunteer not only to PRC but even to other humanitarian organizations," she said.
Magalong also expressed the hope that volunteer runners would go from donating blood to becoming humanitarian volunteers who can be tapped in times of disasters.
Dr. Carmelo Vidal, chair of the million volunteer run, said the runners are part of saving the lives of the underprivileged and underserved. "They are not necessarily blood donors because Red Cross is not just about blood. It also offers other services," he said.
Vidal said top winners in all the five categories were given 50 percent scholarships from schools like the University of Pangasinan and AMA Computer school.
One notable runner is Mayor Irene Libunao of San Fabian town who said she chose to run to be of good example to others who would also extend support to the organization.
She said has become a regular blood donor and considered a galloner.
The five categories were the 3kilometer run for kids, adults and Department of Education representatives; 5k and 10kilometer run.
Top finishers in Dagupan City were as follows: 3K DepED female Jennifer Basa (Careenan ); male Alberto Delos Reyes (Salapingao); 3k kiddie female Christine Sison (Lucao); male Oliver Gonzales (Lucao); 3k adult female Gelli Campos (Binmaley); 3K male Marcelino Guellang;5kfemale Leila Chamollog (Pozzorubio);male Ludencio Rabina (Perez Blvd);10k female Cathy Blanco (San Carlos) Male Benjie Elizaga (Rosales).
Winners for the biggest contingent were: Salapingao Elementary School (elementary); Bocboc High School in Aguilar town (Secondary) and University of Luzon (Tertiary).
News Feature "Kurit Panlunggaring": Enriching Pangasinan's native tongue
By April Montes (MCA/AM – PIA1 Pangasinan with reports from PIO)
PANGASINAN, Feb. 12 (PIA) -- Literary works written in Pangasinense continue to enrich the province's native language with the conduct of the second "Kurit Panlunggaring."
Since its launch last year, "Kurit Panlunggaring," which means literary contest, has attracted dozens of Pangasinan writers whose works have deepened the residents' understanding of their native tongue.
Ma. Luisa Elduayan, chief of the provincial tourism operations division, said the "Kurit Panlunggaring" is a poem, essay and short story writing contest launched by the province last year to mark Pangasinan's founding anniversary celebration. The event is held every April 5 of each year.
Elduayan said the event intends to develop Pangasinan literature by offering incentives to professional and aspiring local writers here.
It is also designed to preserve the Pangasinan language and for Pangasinenses to appreciate their mother tongue in the written form.
The contest is in line with Gov. Amado Espino, Jr.'s advocacy to teach every Pangasinense the Pangasinan language and to let those in the Ilocano speaking areas in the province learn how to speak the language.
The competition is open to all writers in Pangasinan. There are two categories in the contest under two divisions: poetry and short story writing for adults and poetry and essay writing for the youth.
Cash prizes and trophies await the winners. Non-winning authors shall be entitled to a certificate of participation.
For the adult division, the first prize for poetry writing is P10,000; second prize is P8,000; and third prize is P5,000. Meanwhile, the first prize for short story writing is P15,000; second prize is P10,000; and third prize is P8,000.
For the youth division, the first prize for poetry writing is P5,000; second prize is P3,000; and third prize is P2,000. On the other hand, the first prize for essay writing is P8,000; second prize is P5,000; and third prize is P3,000.
Deadline for submission of entries is on March 14. The names of winners shall be announced on March 25 and prizes will be awarded during the commemorative program of Agew na Pangasinan (Pangasinan Day) slated on April 5.
For queries regarding the mechanics of the contest, interested participants may visit Pangasinan Tourism Office located at the first floor of Malong Building, Capitol Complex in Lingayen town. They may also call at (075) 542-8007 or 542-6853.
All Pangasinenses are encouraged to participate in this literary contest which will further boost the preservation of Pangasinan native tongue.
PRISAA under way in Lingayen
(The Philippine Star)
LINGAYEN , Philippines – Over 5,000 athletes, coaches and officials from 17 provinces are seeing action in the 60th Private Schools Athletic Association which gets going today at the Narciso Ramos Sports and Civic Center here.
Hostilities in all 18 sports, including seven team and 11 individual events in the collegiate level, will start tomorrow along with action in the secondary level.
PRISAA national chairman Emmanuel Angeles said PRISAA national president and host Region 1 president Gonzalo Duque said all the venues, equipment and facilities in and outside the NRSCC are ready for use in the next five days of competitions.
"On behalf of the provincial government and the municipality of Lingayen, I welcome you all here," said Duque. "It's a privilege to host the event."
The PRISAA board also confirmed yesterday Tagum, Davao del Norte to be the host next year. Davao del Norte Vice Gov. Victorio Suaybaguio Jr. attended the board meeting to personally get the confirmation of their bid to host the country's largest sports association.
This afternoon's parade will precede the three-hour-long program proper at the grandstand with Most Reverend Socrates Villegas, D.D., to serve as main guest of honor and speaker.
Pangasinan Elections Office to remove tarpaulins, posters of bets
(PNA),PDS/LVM/LVMICUA/1400/RMA
DAGUPAN CITY, Feb. 10 (PNA)-- The Provincial Elections Office and their deputies here are set to remove all posters and tarpaulins showing photos and names of national candidates on Feb. 12.
Provincial Elections Supervisor Marino Salas said as far as the tarpaulins and posters of local candidates are concerned, these ought to be removed on March 30 since the start of the campaign period for local candidates on March 29 falls on Good Friday.
Campaign period for the senatorial candidates will be on February 12.
Noting that there are now numerous tarpaulins of candidate hanging on side streets showing their names and photos and even the projects they are doing, Salas said all these should be removed in compliance with the Fair Elections Act.
There are even towns and cities where the photographs of the incumbent mayors who are running for re-election are placed in the control number of public utility motorized tricycles.
Salas said his office was bent on strictly enforcing the "Anti-Epal Drive" in Pangasinan, including Dagupan City.
However, he said that before March 30, his office would write candidates to ask them to remove their posters and tarpaulins and if they refused, the Comelec and its deputies would do it for them.
He reminded that those whose posters and tarpaulins would not be removed were risking themselves from the possibility of having to face a case for disqualification for violation of the Fair Election Act.
He said since the personnel of the Comelec in Pangasinan was inadequate, he would ask the help of the Philippine National Police (PNP) and even with the Department of Education (DepEd) in removing the "Epal" posters and tarpaulins.
He reminded that under the Omnibus Election Code, there were sizes for political posters and and that they should only be placed in common poster areas approved by the Comelec in the area.
At the same time, he called on the public to report to his office or to the police of any irregularities they see in the coming campaign.
Salas said barangay officials were prohibited from campaigning for and on behalf of candidates in the coming election.
Roderick Dawis, city director of the Department of Interior and Local Government (DILG), called on the public to report to his office or to the Comelec any barangay official, chairman or kagawad, whom they see campaigning for particular candidates in the coming elections.
Speaking during the Kapisanan ng mga Brodkasters sa Pilipinas (KBP) forum, Dawis reiterated that barangay officials should be apolitical and should distance themselves away from the campaign.
PDIC clarifies earlier report on Rural Bank of Sta. Barbara (Pangasinan), Inc.
(The Daily Guardian)
The Philippine Deposit Insurance Corporation (PDIC) would like to clarify that the Rural Bank of Sta. Barbara, Inc. (RBSBI), which was the subject of an earlier report released by the state deposit insurer was the rural bank located in Calasiao, Pangasinan. RBSBI was ordered closed by the Monetary Board on November 16, 2007.
The news report referred to the case filed by the PDIC against the manager and bookkeeper of the closed RBSBI in Pangasinan. Former RBSBI manager Lydia Cruz and former bookkeeper Sheila Geslani were accused by the PDIC of creating fictitious deposits and engaging in unsafe and unsound banking practices, in relation to the falsification of commercial documents.
Capitol Holds 3 events for Employees this Feb
(PIO/Mark Gerry Naval Oblanca)
Lingayen — As a continuing effort in keeping more than 3,000 workforce of the provincial government of Pangasinan physically fit and healthy as well as to recognize their commendable efforts in promoting total quality management in hospitals and offices and in the delivery of services to Pangasinenses, the Provincial Human Resources Management and Development Office (PHRMDO) has set three big events for capitol employees this February.
Chief Administrative Officer of PHRMDO Janet Asis was happy to note that the membership of the first official fitness program of the provincial government has drawn more than 100% increase since its launching last year as she noted that these three events will recognize the best efforts of the capitol employees in the delivery of services to Pangasinenses.
"Nakita kasi ng mga empleyado yung iba't-ibang serbisyo na makukuha sa Healthy Habit Club at yung kagandahan ng mga activities na makakatulong sa kanilang kalusugan, well-being at sa kanila ring itsura," Asis said.
Asis said Governor Amado T. Espino Jr. wants to duplicate the healthy habit program all over the province in coordination with the Provincial Health Office (PHO) led by Anna Maria Teresa De Guzman and other Non-Government Organizations (NGOs) as they bring the services and activities to various parts of the province to promote health and wellness among Pangasinenses.
Provincial Health Officer De Guzman also cited on a separate occassion: "Itong activity na ito ay inilaan lamang para sa mga empleyado ng provincial government para masigurado na sila ay malusog nang mabawasan 'yung kanilang pag-absent sa trabaho at nang maging productive sila."
As an opening salvo this month, a Work Health Summit along with medical and physical check up happens on February at 8AM, Sison Auditorium.
Among the medical exam and check-ups include: blood cholesterol determination, blood sugar determination, electrocardiography (ECG), dental check up, eye check up, bone and nerve screening, x-ray and pneumococcal (anti-pneumonia).
Meanwhile, best performing employees, offices and hospitals of the provincial government will be recognized during the Employees' Awards and Recognition rites slated on February 14, 1-5PM at the Sison Auditorium.
Offices of the provincial government will vie for best office award in line with the Performance Management System: Best Office Performer (Category A – office with 30 employees below, Category B – office with 31-60 employees and Category C – office with 61 employees and above) while hospitals will also compete in Best Hospital Performer (Category A – Community Hospitals, Category B – Pangasinan Provincial Hospital and District Hospitals).
Best Performing employees will also be recognized with respect to the following categories: Chiefs of Office and Hospital, 2nd Level Employees (office/hospital) and 1st level employees (office/hospital) and Best Focal Person (office/hospital).
For the Public Assistance Management award for offices and hospitals is categorized as Most Client-Friendly and Best PADO Focal Person while awards for the 5S of Good Housekeeping include: Best Office 5S Practitioner (categories A, B and C), Best Hospital 5S Practitioner (categories A, B and C), Best Office Employee 5S Practitioner, Best Hospital Employee 5S Practitioner and Best Office Employee 5S Practitioner, Best Hospital Employee 5S Practitioner and Best 5S Focal Person (Office/Hospital).
Best implementer of Health Risk Management Program will also be recognized with rewards as Most Improved Health and Fitness Award (male/female), Best Healthy Habit Club (HHC) member (office/hospital), Best HHC Focal Person (office/hospital). Best Office/Hospital Implementer of Quality and Productivity Program will also be hailed.
Capitol employees will also celebrate and enjoy Family Day on February 22, 9AM at the Pangasinan Training and Development Center (PTDC). Featured activities are: cookfest competition, cooking demonstration, massage and reflexology, spa and beauty care, aerobics dance contest, backyard gardening, facial services and other fun-filled activities.
All of these services are provided to the members and their families for free under the able leadership of Gov. Espino who envisions Pangasinan as "home of healthiest Filipinos."
Pangasinan coop pushing mushroom production nationwide
(PNA), LAP/LVM/LVMICUA/RMA
DAGUPAN CITY, Feb. 7 (PNA) -- A multi-purpose cooperative founded in Pangasinan is pushing for increased mushroom production nationwide to ensure sufficiency of this product and enable the country to save on foreign exchange.
Buenaventura Abalos, chairman of the board of the Balikatan Multi-Purpose Cooperative with head office in Barangay San Angel, Rosales in Pangasinan, said his group has now members as far as some areas in Luzon, Visayas and Mindanao.
Abalos said the cooperative is set to build a P23-million mushroom processing plant in Rosales and expects the Department of Agriculture to provide 70 percent of the cost at P16.1 million.
The rest of the cost at P6.9 million or 30 percent will be bankrolled by the cooperative as its equity.
Abalos said Agriculture Secretary Proceso Alcala has already approved the project which is expected to be realized shortly if not after the election.
He said in order to achieve food sufficiency in mushroom, the country must have a modern mushroom processing plant.
The plant will have among others such as drying facilities as well as for canning and a modern laboratory for the production of mushroom spawns.
The spawns would be disseminated in various parts of the country to drum up interest of Filipino households in mushroom raising.
Initially, members of the Balikatan multi-purpose cooperative produces oyster mushrooms that could be raised in a dry place in any part of the home, using only farm wastes such as hay, saw dust, leaves of trees and others.
He said the processing plant is expected to be the most modern mushroom processing plant throughout the country that will supply the increasing demands for mushrooms of the Filipinos.
"We will make the country self-sufficient in mushrooms in a few years so that we will no longer depend on imported mushrooms," said Abalos, noting that the canned mushrooms being sold in malls and supermarkets are coming from China.
Statistics shows that to date, the country is importing P2 billion worth of mushrooms from China when in fact the Filipinos, by working together in their spare times, can produce their own mushrooms, he added.
Abalos and members of his cooperative are now also conducting seminars and training on mushroom culture in various parts of the country in their bid to transfer technology to as many households in urban and rural areas.
"We must empower the Filipino households so that they can produce their own food at home," Abalos said.
At the same, Abalos thanked four congressmen in the country for pledging funds to boost the mushroom raising projects of their respective constituents.
These include Rep. Leopoldo Bataoil of the second district of Pangasinan and Rep. Bernardo Vergara of Baguio who committed P300,000 each; Rep. Arturo Robes of San Jose del Monte City, P1 million; and Maximo Dalog of Mt. Province, P2.2 million.
This financial help are a big boon to achieve mushroom sufficiency throughout the country, Abalos said.
Japan has job openings for Pinoy farmers–POEA
(PNA)
LINGAYEN, Pangasinan—An official of the Philippine Overseas Employment Administration (POEA) announced on Tuesday that Japan has job openings for Filipino farmers who are 30 years old and younger and are willing to learn Japanese farming technology.
Alexander Edades Asuncion, a member of the POEA governing board and the agency's land-based representative, made the announcement during his call on Gov. Amado Espino Jr. of Pangasinan province.
The objective of the job openings, Asuncion explained, is to train Filipino farmers on modern Japanese farming technology so that when they return home after their contracts expire, they can apply in the country what they learned from Japanese farms.
He said the job openings are a big boon to Pangasinan, which has a lot of farmers, some of whom may want to earn more by working in Japan.
Asuncion told newsmen that the POEA has a list of Japanese employers who are now in the Philippines to recruit farmers to work in their farms.
In order to qualify, a farmer must undergo training on Nihonggo, which costs P15,000. The amount, though, can be refunded once the applicant leaves for Japan.
Farmers will also be trained for free on how to operate farming equipment, which they will handle in Japan as that country has modern mechanized farming.
Asuncion did not disclose the salary range for qualified farmers, but assured that the Japanese employers give satisfactory wages.
Successful applicants are entitled to housing, food allowances and tickets in their trip, as well as other benefits.
Contracts will last from eight months to three years. The moment the farmer returns to the Philippines, he cannot reapply anymore.
Pangasinan village builds sports facility through bayanihan
By April Montes (MCA/AM – PIA1 Pangasinan)
URDANETA CITY, Feb. 5 (PIA) -- Residents in the village of Mabanogbog in this city will enjoy a paved basketball court for the first time-thanks to the residents' bayanihan spirit and the project initiated by the Galling Mo! campaign.
The concrete facility has been called a "court of inspiration" as it will not only nurture the youth in sports but will also be used as a multi-purpose facility for recreation and community events.
Mabanogbog residents showed their bayanihan spirit when they volunteered their services on February 3 for the construction of the facility which is expected to be completed in 21 days.
Geri Pacleb, of Geiser Maclang Marketing Communications, Inc., said that the court's construction is in line with the Galing Mo! campaign, a community project pioneered by Alaxan FR since July 2012.
The campaign led in the construction of 10 other basketball courts in Visayas and Mindanao last year. At least 10 more courts will be put up for Luzon this year.
Other areas where similar courts have been built include Tarlac, Nueva Ecija, Batangas and Pangasinan for Luzon. Other areas scheduled to break ground include Isabela, Cagayan, Ilocos Norte, Ilocos Sur, Camarines Sur and Albay.
Pacleb said that the campaign empowers people to take pride in their collective pains and inspire change in the community.
"The hard work they have given in creating basketball courts will benefit their community and will push them to become the basketball legends they look up to," said Pacleb.
Upon completion of the basketball court construction, an exhibition game will be held pitting the local folks against Philippine basketball legends Johnny Abarrientos, Jerry Codiñera, Jojo Lastimosa, Ronnie Magsanoc, Benjie Paras and Alvin Patrimonio.
The court will also be filled with "legend markers" – powerful inspirational messages from basketball legends written in the local dialect to encourage the residents to embody the values that make champions.
Principal protests 'reshuffling' of school heads in Pangasinan
By Jonathan L. Mayuga
THE former principal of a public elementary school in Binalonan town, Pangasinan province, has warned that cheating may occur in the upcoming midterm elections because of the abrupt reshuffling of school chiefs in her district.
The reshuffle was announced by Lelia V. Meimban, Department of Education (DepEd) Binalonan District II supervisor, during a staff conference attended by all school heads in the district, on January 11, 2012—two days before the Commission on Elections (Comelec) ban on the transfer or reassignment of teachers took effect.
According to Lilibeth A. Daus, former principal of South Central School, the move was highly suspicious, considering the crucial role teachers and principals play during elections.
South Central School is one of the biggest public schools in Binalonan. It is to be designated as a polling precinct in the May polls.
The reshuffling order, signed by Division Supt. Viraluz S. Raguindin, affected at least three schools in the district. One Teodorico N. Bonilla was transferred to South Central School, replacing Daus; one Joy Victoria Bautista was reassigned to the Tabuyoc Elementary School; and Daus was transferred to the Sumabnit Elementary School.
The order also assigned Christine Victoria Meimban, the district supervisor's daughter-in-law, as teacher in charge of the Pasileng Elementary School, where Bautista was formerly the principal. Christine was said to be "unqualified" for the post.
Since the order was handed down on a Friday, Daus said those affected had no chance to prepare for the reassignments, or in her case, appeal for reconsideration.
She also said that the order even cited a wrong DepEd order, which she said was done so hastily that the official who signed it failed to observe due diligence.
"Instead of DepEd Order 7, series of 1999 [that refers to] transfers or reassignments, the order cited DECS Order 7, Series of 1997," Daus said.
DECS stands for the Department of Education, Culture and Sports, the DepEd's former name.
"It came as a surprise because it is the middle of the school year," said Daus, now "a principal with no school."
She suspects that the reshuffling was politically motivated.
Daus has filed an appeal through proper channels, which she said only got her into more trouble.
According to her, she was eventually put on "floating status," allegedly upon the order Mayor Ramon Guico III of Binalonan, who reportedly sent a town councilor to tell her to stop complaining and simply follow the order.
Daus raised fears that what has happening in her district may also happen elsewhere, and is calling on Education Secretary Armin Luistro and the Comelec to act on the matter.
TPLEX seen as Pangasinan town's economic booster
(PNA), LAM/CJT/LVMICUA/RMA
ROSALES, Pangasinan, Feb, 2 (PNA) -– A local official is projecting this town to experience unprecedented economic growth once the Tarlac-Pangasinan-La Union Expressway (TPLEX) is completed.
Rosales Mayor Ricardo Revita made the projection, noting the town lies at a major TPLEX interchange which will improve access to this agricultural area.
The interchange will also help facilitate development of more business and tourism in Rosales, the gateway to eastern Pangasinan.
Among business establishments in the town is SM City Rosales along Maharlika Highway in Barangay Carmen.
Following Revita's proposal, the interchange was relocated to Bgy. Palakipak from Barangay Tumana to improve vehicular traffic in the town's main streets.
The relocation will also help improve access from main artery McArthur Highway to the town's interior areas, Revita noted.
He likewise said the relocated interchange will provide direct access to the area across the former Carmen Bus Terminal and to the town's San Bartolome, Cabalaongan Norte, Sitio Barangobong, Sitio Macatae, (Station District) and Acop-Calanutan Roads.
The Department of Public Works and Highways (DPWH) approved the interchange's relocation.
Revita opposed the original plan which located the interchange near the town's public market, fearing it will create traffic congestion and will not leave room for future development in the area.
Various parties who learned of the interchange's relocation already expressed interest in buying land within the town so they can expand their businesses there, Revita said.
He noted among those looking into business opportunities in Rosales are owners of eateries, gasoline stations, computer/ internet shops, boarding houses, parlors, sing-along bars, car wash stations, amusement places and inns.
Pangasinan PESO Wins Regional Award
By Mark Gerry Naval Oblanca (PIO)
Lingayen — Bringing employment opportunities closer to Pangasinenses has been a thrust of service of the provincial government of Pangasinan.
With its scheme in bolstering employment services for the people, the Pangasinan Provincial Employment Services Office (PESO) was awarded by the Department of Labor and Employment (DOLE) as Top Regional Performer (1st Class Provincial Category) during the awarding rites held at the Camayan beach resort, Subic Bay, Zambales, January 24 along with the Regional PESO YEPA (Year-Ender Planning Assessment).
Governor Amado T. Espino Jr. was recognized as best provincial chief executive with his efforts in making Pangasinan as number 1 in manpower development, while Ferrer was also awarded as Best Performing PESO Manager in Region 1.
Only provinces of Pangasinan and La Union (which consequently ended up as 1st runner-up) qualified for the regional award, Ferrer said.
Pangasinan PESO Manager Alex Ferrer who personally received the award from DOLE Regional Director Grace Y. Ursua, said: "the regional award gained nomination for the province of Pangasinan in the national level."
Pangasinan PESO was among top seven 2011 National Best PESO Awardees (1st class provincial category). Ferrer received the national award given by DOLE Secretary Rosalinda Dimapilis-Baldoz during the national PESO Congress held in Baguio City, October 11 last year.
Prior to the awarding, DOLE had a comprehensive review of PESO's accomplishments in year 2011 which include: local and overseas placements, implementation of DOLE programs, career employment coaching and leadership and organization skills contributing to employment, Ferrer added.
Under the administration of Gov. Espino, the provincial government had maximized the capability of the PESO to expand local and overseas employment opportunities for Pangasinenses.
Pangasinan PESO in coordination with various recruitment agencies goes full blast in its international job placements this February with three major recruitment fairs, Ferrer said.