LOG IN. UPLOAD PICTURES.

List of the 17 Regions in the Philippines
National - Capital Region ● I - Ilocos ● II - Cagayan ● III - C. Luzon ● IV-A - Calabarzon ● IV-B - Mimaropa ● V - Bicol ● VI - W. Visayas ● VII - C. Visayas ● VIII - E. Visayas ● IX - Zamboanga ● X - N. Mindanao ● XI - Davao ● XII - Soccsksargen ● XIII - Caraga ● XIV - CAR ● XV - BARMM
---
Minimize corruption and maximize prosperity with a Guarantee of One Senator per Region. They divided the Philippines into REGIONS, but kept SENATORIAL representation national with no accountability to any regions.. No wonder many regions remain poor. Petition for a regional senatorial election. All regions will have senatorial representation.
Visit
Zamboanga Shopping to help propagate the
Chavacano Language
Pangasinan News August 2016
Jump to navigation
Jump to search
A | B | C | D | E | F | G | H | I | J | K | L | M | N | O | P | Q | R | S | T | U | V | W | X | Y | Z
Create Name's page
Regions | Philippine Provinces | Philippine Cities | Municipalities | Barangays | High School Reunions
---
Pangasinan Province - Archived News
---
Interactive Google Satellite Map of Pangasinan Province, Philippines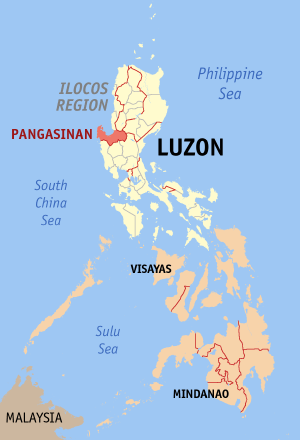 Map Locator of Pangasinan Province

The Capitol Building of Pangasinan in the municipality of Lingayen
----

Dietary supplement is a product that contains vitamins, minerals, herbs or other botanicals, amino acids, enzymes, and/or other ingredients intended to supplement the diet. The U.S. Food and Drug Administration has special labeling requirements for dietary supplements and treats them as foods, not drugs.
---

Pangasinan State University, Asingan Campus

Church in Aguilar Pangasinan
Wars of ancient history were about possessions, territory, power, control, family, betrayal, lover's quarrel, politics and sometimes religion.
But we are in the Modern era and supposedly more educated and enlightened .
Think about this. Don't just brush off these questions.
Why is RELIGION still involved in WARS? Isn't religion supposed to be about PEACE?
Ask yourself; What religion always campaign to have its religious laws be accepted as government laws, always involved in wars and consistently causing WARS, yet insists that it's a religion of peace?
WHY??

Tondol Beach, Anda
By VENUS MAY H. SARMIENTO (JNPD/VHS/PIA-1, Pangasinan)
DAGUPAN CITY, August 31 (PIA) – School heads and guidance counsellors of the 42 public elementary and secondary schools in Dagupan City participated in the Child Protection Policy training led by the Department of Education.
Dr. Froserfina Bravo, schools division superintendent, said the orientation-training held on Tuesday is aimed to capacitate the schools heads on handling child abuse and bullying cases in schools.
Bravo said activities in the training include topics on anti-bullying implementing rules and regulations, procedures and proper documentation for handling cases, simulation and workshop activities and all the appropriate actions to be taken to resolve or to properly address such incidents.
"Every school is mandated to form their Child Protection Committee as per Deped Order No. 40, to listen to problems on bullying and child abuse if there are," Bravo told the Philippine Information Agency.
Legal and administrative matters were also taught to the participants like how to submit an incident report, what to submit for the demolition of buildings, how to properly utilize school canteen proceeds and how to prepare administrative requirement forms.
The division superintendent said the concerned people have to be equipped with the knowledge and skills in the proper documentation of incidents and problems to avoid whatever complaints that may arise at the school level.
(PNA), FPV/LVM/LVMICUA/RMA
ALAMINOS CITY, Aug. 30 (PNA)-- The Department of Labor and Employment (DOLE) Regional Office I released a check amounting to PHP900,000 to boost the livelihood of vendors in the municipality of Urbiztondo, Pangasinan.
Bernadette May Mamitag, head of the DOLE field office in Alaminos City, said the amount will be used by the municipality to enhance the livelihood projects of 60 ambulant vendors under the program "Negosyo sa Kariton" or Negokart.
Mamitag turned over the check representing the amount to Mayor Raul Martin Sison at the municipal hall, in the presence of Vice Mayor Marilyn Sison, Chief Administrative Officer and PESO Manager Benigna Ramos, Labor and Employment Officer Mhel Gaspar and other LGU personnel.
The amount will be used for the purchase of vending carts, tools, cooking utensils and raw materials which the beneficiaries can use as start-up capital to boost their existing small vending businesses.
The beneficiaries will sell fish balls, "kikiam" and other street food, in addition to their existing merchandise. Aside from the capital assistance, the beneficiaries will soon be enrolled in micro-insurance.
For its part, LGU Urbiztondo will provide a counterpart of PHP225,000 to defray the expenses for the training of the beneficiaries on basic management and food handling and for their business permits and licenses.
Honorina Baga, DOLE-RO I OIC Regional Director said the Negokart is part of the "Kabuhayan" component of the DOLE Integrated Livelihood and Emergency Employment Program (DILEEP) that aims to contribute to poverty reduction and reduce vulnerability to risks of the poor, vulnerable and marginalized workers.
"One of the reasons for poverty is the lack of productive self-employment activities for our marginalized workers who comprise the bulk of our informal sector workers. Through our Negokart project assistance, we are increasing the capacities for economic improvement of our ambulant vendors in this part of Pangasinan," Baga said.
She said the Negokart assistance will help in terms of increasing the capital of the beneficiaries and providing them greater mobility. Also, the beneficiaries will be given social protection through their micro-insurance and will be able to legally operate their small businesses.
By Elsha Marie B. Soriano (JNPD/EMBS/PIA-1, Pangasinan)
LINGAYEN, Pangasinan (PIA) – The provincial government of Pangasinan will soon switch to the electronic payment and collection facility (EPCF) system of the Home Development Mutual Fund or Pag-IBIG Fund to make a faster and safer payment of premium contributions and loan amortizations of its employees.
The Sangguniang Panlalawigan, through a resolution passed on Monday, has authorized the enrolment of the provincial government of Pangasinan to the EPCF system.
Board Member Angel Baniqued, Jr. author of the resolution, said under Pag-IBIG Circular No. 335, employers from government and private sectors are mandated to remit their employees' premium contributions and loan amortizations through its accredited partner banks.
With the EPCF system, the provincial government can pay through electronic data messages or electronic documents, said Baniqued in a resolution.
"The EPCF offers faster way of transactions, accurate recording, anytime and anywhere payments, and save time and transportation costs," Baniqued said.
Likewise, Marilou Utanes, provincial treasurer, said Pag-IBIG Fund will no longer be accepting over-the-counter payments starting October 31 as mandated in the circular.
By April M. Montes (JNPD/AMM/PIA-1, Pangasinan)
ROSALES, Pangasinan (PIA) – Some 69 food processors in eastern Pangasinan benefitted from the product enhancement seminars conducted recently by the Department of Trade and Industry (DTI) in this town to promote the growth of micro, small and medium enterprises (MSMEs).
Natalia Dalaten, chief trade and industry development specialist of DTI-Pangasinan, said the seminars provided participants with knowledge and skills particularly on how to improve the packaging and labelling of their products so, they can compete and comply with the requirements in the international market.
Dalaten said that proper packaging and labelling are imperative in any business as they enhance consumer appreciation and marketability with functional and suitable materials; inform consumers of product nutritive content and value; increase shelf life; provide product identity; and protect the product.
She said that these seminars conducted by their agency, in partnership with the Department of Science and Technology and the local government unit of Rosales, were part of the agency's SME Roving Academy program.
"Support trainings and seminars of DTI will still continue under the SME Roving Academy program to assist entrepreneurs in making meaningful progress toward business success and sustain business growth," she told the Philippine Information Agency.
According to Dalaten, there are six more remaining seminars to be conducted by DTI for the rest of the year to help in the development of entrepreneurs in the province.
(PNA), LAP/LVMLVMICUA/RMA
LINGAYEN, Pangasinan (PNA) -- Two hospitals owned and operated by the provincial government will soon be expanded to accommodate and serve more patients, especially the poor.
The Sangguniang Panlalawigan (SP) has endorsed the expansion of both the Lingayen District Hospital (LDH) from 40 to 75-bed capacity and the Asingan Community Hospital (ACH) from 15 to 25-bed capacity.
The expansion of these hospitals is in line with the thrust of the administration of Governor Amado "Pogi" I. Espino III to have a mass-based health care program to accommodate the needs of more people especially the less-fortunate sector of the society, said Board Member Jeremy Agerico Rosario, author of the SP resolutions endorsing the expansion of the two health facilities.
With the SP endorsement, it will only be a matter of time before the Department of Health (DOH) issues the corresponding licenses of these hospitals to operate increased bed capacities, said Rosario, former assistant provincial health officer.
LDH has been admitting a daily average of 80 patients, beyond its maximum capacity of 40 beds, while ACH is accommodating up to 50 patients a day, beyond its actual capacity of 15 beds.
LDH caters to the health needs of the people of the second legislative district of Pangaainan, while ACH serves the people not only of Asingan town but also of nearby localities.
Already issued licenses by DOH to expand are the Urdaneta District Hospital, Umingan Community Hospital and the Pozorubio Community Hospital.
(PNA), SCS/LVM/LVMICUA/RMA
LINGAYEN, Pangasinan, Aug. 26 (PNA) -- World-renowned Italian-Iranian film artist Antonio Gellini is visiting the province of Pangasinan from Aug. 23 to 27 to see its beautiful tourist attractions as well as historical sites where participants of the Olympia Awards he is planning to hold in the Philippines could visit and enjoy as part of their rest and recreation.
Accompanied by Pangasinan Brotherhood–United States of America (PB-USA) president Jun Caringal and Filipino-American Chamber of Commerce Southeast Corridor president Felix Lopez, Dr. Gellini was welcomed to the capitol on Aug. 23 by some department heads led by Sangguniang Panlalawigan Secretary Verna Nava-Perez, on behalf of Governor Amado I. Espino III.
Gellini, founder of the World Film Institute, The Family Film Awards on the CBS TV Network, Olympic Arts Institute and the Olympia Awards, told the provincial government officials that he is travelling with his companions to search for places that could possibly serve as the host venue of the 2017 Olympia Awards.
Parts of Gellini's itineraries in Pangasinan include trips to the Hundred Islands in Alaminos City, Lingayen airport, Sual and other tourism attractions in Bolinao, Binmaley, Laoac and Urdaneta City.
Citing Pangasinan as a beautiful place to host an international gathering of artists, Gellini stressed that the opportunity of hosting the Olympia Awards would help spur tourism and the economic aspect of a place.
The Olympia Awards, much like the Olympic Games, is held every four years. It is composed of a pool of 250 artists and a panel of notable entertainment experts and film critics who will choose the top three choices in all 15 contest categories.
"In these changing times where the creation of visual images throughout the world can be shared through powerful media that cut across all boundaries, I believe that filmmakers have an important responsibility because what we can do can affect the entire world," said Gellini, who expounded his view on the role of an artist in the world today.
At the same time, Gellini said that through visual stories that take viewers on an adventure, the humanity can eliminate the barriers of race, age, gender and religion.
Meanwhile, PB–USA president Caringal bared that the visit of Gellini to Pangasinan would see prospects for investment and tourism promotions as well as trade cooperation.
Lopez, on the other hand, said he encouraged his friend, Gellini, to visit Pangasinan, believing that the vast natural wonders of Pangasinan would captivate the attention of the international artist and urge him to bring his Olympia Awards to the Philippines to highlight Pangasinan as a premier tourism destination.
Notable winners of the Olympia Awards include Tom Hanks (outstanding actor, feature film), Sandra Bullock (outstanding actress, feature film) and Ron Howard (outstanding director, feature film).
Other distinctions being given during the Olympia Awards are related in the fields of music, dance, film, theater, painting, sculpture and literature.
By April M. Montes (JNPD/AMM/PIA-1, Pangasinan)
PANGASINAN, August 25 (PIA) – The Professional Regulation Commission (PRC)-Baguio Regional Office will bring anew its services closer and more accessible to professionals in the Ilocos through its mobile outreach service dubbed "Araw ng Propesyonal."
According to PRC, the mobile outreach service intends to decongest the regional office by delivering its services closer to clients for their comfort and convenience, saving them from cost of travel and other related expenses.
In Pangasinan, the mobile outreach services will be conducted from 9 a.m. to 4 p.m. on August 26 (Friday) at the CB Mall Events Center in Urdaneta City and on September 2 (Friday) at the SM City Rosales.
Same event will also be held in various areas in the other provinces of region one.
The schedule and venue are as follows: September 1 (Thursday) at the CICOSAT College in San Fernando City, La Union (9 a.m. to 4 p.m.); September 3 (Saturday) at the Provincial Capitol Auditorium in Laoag City, Ilocos Norte (8 a.m. to 4 p.m.); September 8 (Thursday) at Candon City Hall in Ilocos Sur (9 a.m. to 4 p.m.); and September 10 (Saturday) at the Provincial Capitol conference room in Vigan City, Ilocos Sur (8 a.m. to 4 p.m.).
Services to be offered during the mobile outreach service include initial registration for licensure examination passers; application for licensure examinations; renewal of professional ID card; release of professional ID card and certificate of registration (per prior request by the professional and subject to availability); issuance (upon request) of certificate of good standing; and issuance of certificates of passing and ratings for Nursing Licensure Exam, Licensure Examination for Teachers and Criminologists only.
PRC advised professionals who wish to claim their professional ID card and/or board certificate on the said schedules to send an e-mail at prcbaguio.regulations.renewal@gmail.com or prcbaguio.releasing@gmail.com or text 0946-083-8240 / 0927-788-0145 at least three or four working days before the scheduled date with the following information: venue where to claim; complete name; profession; registration number; and date filed.
By VENUS MAY H. SARMIENTO (JNPD/VHS/PIA-1,Pangasinan)
DAGUPAN CITY, August 24 (PIA) – The Region I Medical Center (R1MC) based in this city signed a Memorandum of Understanding (MOU) recently with at least 30 local government units (LGUs) in Pangasinan to forge a partnership on voluntary blood donation.
Dr. Sheldon Steven Aquino, section head of the National Voluntary Blood Services (NVBS) program-Department of Laboratory Services of R1MC, said the move is to assure the continuous supply of blood for the public.
Dahlia Amor De Vera, donor recruitment officer of NVBS, said R1MC now targets the recruitment per municipality so as to make blood donation easier for the donors.
"Target namin na kami na po ang lalapit sa mga tao, kami na ang pupunta sa munisipyo para hindi na nila kailangang pumunta dito sa R1MC," De Vera said during the culminating activity for blood donors month.
The MOU indicated that the LGU will take charge in the provision and enlistment of blood donor-participants while R1MC will take care of the officers, staff and equipment needed for the donation. The hospital will also provide an inventory and statistical report of the blood units collected, stored and issued every month.
Instead of giving all donors a blood donor card, De Vera said they will be giving them a card of appreciation for participating in the noble endeavour because of reports that the former is being used for business by some enterprising individuals.
R1MC also feted some 71 mobile blood donor groups in the same activity.
Mobile blood donor groups from civil society organization, LGUS, rural health units and religious groups received a certificate of appreciation for their contribution to the voluntary blood services program thereby achieving the vision of Republic Act 7719 otherwise known as the National Blood Services Act of 1994."
By April M. Montes (JNPD/AMM/PIA-1, Pangasinan)
DAGUPAN CITY, August 23 (PIA) – The Home Development Mutual Fund or Pag-IBIG Fund has started accepting calamity loan applications from members living or working in this city which was proclaimed under state of calamity.
On August 17, Dagupan City was placed under a state of calamity due to the onslaught of flood brought about by the monsoon rains or habagat.
Becker Van Ramos, information officer of Pag-IBIG Fund Dagupan branch, said the calamity loan program is part of government efforts to extend assistance to Pangasinenses who were badly affected by the recent weather disturbance.
"An active member can loan as much as 80 percent of his or her total savings with a very low-interest rate of 5.95 percent per annum and payable within two years," Ramos told the Philippine Information Agency.
Qualified applicants should submit a fully-accomplished calamity loan application form and a photocopy of two valid IDs to the Pag-IBIG Fund office, he said, adding that loan applications can also be filed through their Fund Coordinators.
For more information, interested and qualified members can visit the Pag-IBIG Fund office located at Burgos Street in this city or inquire through the landline number (075) 522-3865 and 522-3266.
(PNA), LAM//LVMICUA/RMA
SAN FERNADO CITY, La Union, Aug. 22 (PNA) -- A machine shop in Pangasinan can now expand its operations after availing of P1.1 million worth of assistance from the Department of Science and Technology (DOST).
The company, Datuin Machine Works (DMW) based in Calasiao town, benefifed from DOST's Small Enterprise Technology Upgrading Program early this month.
The amount will be used by the company for the acquisition of precision machinery to increase productivity and improve its services to clients.
The company said they want to take advantage of the opportunity to increase productivity especially when it comes to machining in order to increase income as well as generate additional employment.
Now in operation for 28 years, DMW specializes in all kinds of engineering and reconditioning works as well as industrial machinery fabrication, said manager, Engr. Bryan Datuin.
Datuin said their company maintains shops in Calasiao as well as in Ilocos Norte.
Among their regular clients are Philex Mining Corporation, National Irrigation Administration (NIA) in Regions 1 and 2; Universal Leaf Tobacco Corporation, Pepsi Cola Bottling Company, Sual Power Plant, and Mhel Bhen Bus Line among others.
By April M. Montes (JNPD/AMM/PIA-1, Pangasinan)
ROSALES, Pangasinan, August 21 (PIA) – The Department of Trade and Industry (DTI) has rolled out anew its mobile training program to promote the growth of micro, small and medium enterprises (MSMEs) in eastern Pangasinan.
On August 18, DTI, in partnership with the Department of Science and Technology (DOST) and the local government of Rosales, conducted a training on packaging and labelling in support to MSMEs engaged in food processing.
Natalia Dalaten, chief trade and industry development specialist of DTI-Pangasinan, said their agency provides such productivity training under the SME Roving Academy, a program for the development of MSMEs so, they become competitive in the domestic and international markets.
"Through the SME Roving Academy, a series of entrepreneurship briefing and sessions are conducted to assist entrepreneurs in making meaningful progress toward business success and sustain business growth," she told the Philippine Information Agency.
Dalaten said another training which will focus on the current good manufacturing practices is also scheduled on August 24 in Rosales town.
For training registration and inquiries, she said that interested participants may visit the DTI-Pangasinan office at the second floor of Star Building in Arellano Street, Dagupan City or call (075) 515-3183 or text 0947-497-7889.
"They can also visit the Negosyo Center in Rosales town located at the ground floor of Robert Estrella Gym. Acceptance of participants will be screened and on a first come, first served basis," she added.
(Sunday Punch, RRB_PIO)
LINGAYEN – The Espino administration has identified four priorities as its focus for the development of the province.
At the Provincial Development Council (PDC) meeting held on August 10 at the Sison Auditorium, Governor Amado I. Espino, III said he wants the towns and cities to allot resources and focus on sports program, effective solutions on illegal drugs, urban greening and proper waste disposal even as he vowed to continue the various exemplary programs and projects set by the past provincial administration.
Stressing the four activities that are closest to his heart, Gov. Pogi appealed to all mayors to incorporate the four activities in their respective development plans.
Specifically, the governor urged all LGUs to appoint sports focal persons who will coordinate with the provincial government.
And with his plan to use Camp Tito Abat in Manaoag town as a drug rehabilitation facility, Mr. Epino urged the mayors to further help in identifying drug dependents and help facilitate their rehabilitation by allocating funds.
On urban greening proposal, the provincial government seek to plant idle lands with trees and be declared as protected areas in the long run.
On the worsening problem on garbage disposal, the governor announced his plan to construct and establish three landfill sites in eastern, central and western Pangasinan and local governments will be asked to help identify sites.
He added that together with Vice Governor Jose Ferdinand Z. Calimlim, Jr., a separate meeting will be held with the town and city mayors and the DILG provincial director for the realization of the landfill program.
The 2017 Provincial AIP that contained the various 10 development thrusts of the provincial government was immediately approved for endorsement to the provincial board.
Development plans of LGUs particularly Sta. Barbara, Villasis, Natividad, Bautista, Aguilar, Mangaldan, Laoac, Binalonan and Urbiztondo were also presented during the meeting.
Mayors present were: Ramon Guico III (Binalonan), Amadeo Espino (Bautista), Marvin Martinez (Infanta), Danilo Uy (Sison), Nonato Abrenica (Villasis), Rodrigo Rafael (Natividad), Silverio Alarcio (Alcala), Alberto Guiang (Burgos), Simplicio Rosario (Binmaley), Joseph Arman Bauzon (Calasiao), Dominador Arenas (Labrador), Rebecca Saldivar (San Nicolas), Roberto Arcinue (Sual), Artemio Chan (Pozorrubio), Heidee Chua (Asingan), Manuelito de Leon (Basista), Cesar Quiambao (Bayambang), Gerald Glenn Tambaoan (Mapandan) and Cecil Tiu (San Quintin).
By Elsha Marie B. Soriano (JNPD/EMBS/PIA-1, Pangasinan)
MANGATAREM, Pangasinan (PIA) - Despite monsoon rains last Friday, a group of students and employees from the Phinma-University of Pangasinan (UPang) pitched in for a tree planting project at the Manleluag Spring Protected Landscape here.
Mark Macaventa, chief operations officer of Phinma Pangasinan, said at least 120 members of the academe and 15 volunteer-residents worked together despite the rainy condition to plant some 1,500 narra seedlings provided by the Department of Environment and Natural Resources (DENR) in Pangasinan.
Macaventa said the greening activity, now on its sixth year, is part of the 60th anniversary celebration of Phinma Corporation and an annual project of the institution in partnership with DENR that aims to mitigate flooding and soil erosion in the province
"We have an agreement with DENR, that we will adopt a certain portion of land to plant trees as our way to preserve the environment," Macaventa said when asked why they chose to plant trees in Mangatarem town.
He also added that it is part of the simultaneous one-day outreach program of PHINMA Company that was held in various areas in the country with more than 1,800 members of the PHINMA community and volunteers.
By Elsha Marie B. Soriano (JNPD/EMBS/PIA-1, Pangasinan)
LINGAYEN, Pangasinan (PIA) - As the national government intensifies its efforts to fight illegal drugs in the country, the provincial government here also heightened its plans of action by urging lower local government units to allot funds for programs against illegal drugs.
During the regular session of the Sangguniang Panlalawigan here on Monday, the provincial board passed a resolution encouraging all the 44 towns and three cities in Pangasinan to include in their respective appropriations a certain budget for anti-illegal drugs campaign.
"The programs must be designed by the LGUs to address the pressing concern that is plaguing the people mostly the youth," Vice Governor Jose Ferdinand Calimlim, Jr. and the author of the resolution said.
Calimlim emphasized that "worthy of programs to fight drug addiction in the province cannot be realized without the necessary funds supporting them."
He said under Republic Act 9165, otherwise known as Comprehensive Dangerous Drugs Act of 2002, local government units shall appropriate a substantial portion of their respective annual budgets to enhance the enforcement of the law giving priority to educational programs and the rehabilitation or treatment of drug dependents.
By VENUS MAY H. SARMIENTO (JNPD/VHS/PIA-1, Pangasinan)
ROSALES, Pangasinan, August 17 (PIA) – Through its Core Shelter Assistance Project, the Department of Social Welfare and Development (DSWD) in the Ilocos turned over 150 brand new houses and 10 units of day care centers to residents of Rosales town recently.
The ceremony was led by DSWD Assistant Secretary Hope Hervilla, Regional Director Marcelo Nicomedes Castillo and Rosales Mayor Susan Casareno.
Hervilla, who represented Secretary Judy Taguiwalo, said the assistance would not have been possible without the help of everyone present and that the project is not by the name of anyone but is a help from the government for the people.
"Pag halos wala ng pag-asa, alalahanin ninyo na nandiyan ang gobyerno at ang DSWD ay isang instrumento," Hervilla said during the turnover ceremony.
She also said that it is President Duterte's advocacy to provide "maagap,mapagkalinga at mapagmalasakit na serbisyo sa bayan" which the DSWD adopted as its mandate.
For her part, Mayor Casareno thanked the DSWD for the housing units given to identified family-beneficiaries who lost their homes due to typhoons.
"Dahil sa pagkakaisa, nagkaroon ng katuparan ang pagbabago na inaasam ng mga kababayan natin," the mayor said.
Teresa Aris, president of the Neighborhood Association of Shelter Assistance (NASA), is thankful that now they have a comfortable home which they can call their own.
"Hindi na kami matatakot kapag may bagyo na baka ma-wash out ang mga bahay namin. Hindi na kami magsasahod ng timba at palanggana dahil sa tumutulong bubong," Aris said.
Director Castillo has also advised the beneficiaries to take care of their houses and asked not to sell them.
Castillo said the DSWD has earmarked another P22 million for the construction of 170 more houses in Rosales in a four hectare lot.
The Core Shelter Assistance Project (CSAP) in Barangay San Pedro West, pegged at P70,000 per unit, is a joint undertaking of the DSWD and the local government unit of Rosales which provided the lot area as its counterpart.
By Dexter A. See
LINGAYEN—The provincial government led by Gov. Amado Espino III formally recognized Rujealyn Cancino's promotion of quality education that earned her a spot in the elite list of winners of the 2016 Metrobank Foundation Search for Outstanding Teachers.
The Sangguniang Panlalawigan in its regular session held on Monday approved Provincial Resolution 64-2016 congratulating Cancino, a grade school teacher from Matalava, Lingayen, for winning the award.
"In her 19 years in the service as public school teacher, Ms. Cancino has shown untiring dedication and commitment to her duty to selflessly teach and hone every child," the resolution reads.
Cancino has also been recognized for her community development activities around the areas of her school.
Rujealyn is the first Pangasinense to receive the Metrobank citation.
Every year, the Metrobank Foundation Inc., in partnership with the Department of Education and the Commission on Higher Education, rewards outstanding teachers.
(Inquirer Northern Luzon)
DAGUPAN CITY—Government marine experts released 5,000 sea bass fingerlings on Friday into the Watac-Mamalingling River here in an effort to control the growing population of a species of tilapia, locally known as "molmol," that had invaded the city's bangus (milkfish) ponds.
Westly Rosario, chief of the National Integrated Fisheries Technology Development Center here, said the sea bass is a natural predator of the invasive tilapia. The fish had also been referred to as "tilapiang Gloria," after the diminutive former President and now Pampanga Rep. Gloria Macapagal-Arroyo.
"We call this [procedure] a biological control. You introduce another species that can eat the undesirable species," said Rosario.
Molmol is a smaller version of the ordinary tilapia that invaded fishponds in Pangasinan province early last year, prompting bangus growers to complain of losses.
This city produces what is known as the tastiest and juiciest bangus in its more than 900 hectares of fish ponds.
Rosario said bangus growers had tried to control the growing population of molmol by using chemicals, but the invasive fish had continued to thrive.
To prevent molmol from multiplying, bangus growers dry the pond bottom and apply tea seed or tobacco dust, a natural pesticide, to kill the pests.
If drying the pond is not feasible, its gate must be fitted with fine mesh net, Rosario said, adding that the flow of water should be impeded with either wooden boards or mud.
(PNA), FPV/LVM/LVMICUA/RMA
DAGUPAN CITY (PNA) -- Two of the top chess players from La Salette School here each scored five points to capture the titles in their respective divisions in the high school category in the 2nd Inter-Private School Chess Tournament of the Private School Principal League and the Dagupan City Sports Commission on August 11 at the city museum.
John Rhuiz Bravo earned the championship in the Swiss system tournament for being the only player in the secondary boys who scored five straight wins. Bravo formerly played for Pangasinan 1 and earned a gold medal in the Region 1 Athletic Association Meet. He was a silver medalist under team Philippines in the Association of South East Asian Games.
Coming in second was Kyle Brent Gallego of Lyceum Northwestern University-Francisco Q. Duque Special Science High School (LNU-FQDSSHS) after winning the playoff with Angelbert Baltazar of the Divine Word Academy of Dagupan who took the third place honor.
Bravo's schoolmate Maycydel Fajardo likewise earned the championship title in the secondary girls division after winning the playoff with Feah Rechille Abad of Lyceum Northwestern University-Francisco Q. Duque Special Science High School. Both earned five points in their games, which put them in the playoff.
Fajardo formerly played for Pangasinan II. She twice represented the province in the Batang Pinoy national competition and once in the Palarong Pambansa.
Finishing third after Abad was Geraldine Kate Cercado of St. John Cathedral School (SJCS).
In the elementary division, Kim Salinas of SJCS took an easy win to grab the title after scoring five straight points in all her games. She was a silver medalist in the 1st Inter-Private School Chess Tournament.
Coming in second and third were Sophia Reyes of JCCMI Academy and Samantha Viray of Northfield Academy, respectively.
In the elementary boys competition, Kenneth Estacio's strategical moves prevailed in the free-for-all playoff over John Alexis Padillo of SJCS and Joshua Baraganza of Wonderland School to win the championship. Padillo was second and Braganza, third.
The champions as well as the second placers will represent the private schools association in the coming division meet where they will face players from the public schools.
Meanwhile, Mayor Belen T. Fernandez was overwhelmed by the good number of participants which was twice as much than last year's as the total number of participants reached 96.
Fernandez congratulated the organizers of the tournament and went on to suggest that a similar tournament be staged for senior citizens.
"Chess is one good sports which raises one's IQ, it exercise both sides of the brain, increases one's creativity, improve one's memory, increases problem-solving skills, improves reading skills and concentration, it teaches planning and foresight and the most important of all, it prevents alzheimer's disease.
That's why I'd like to push for a chess tournament among our elders so that they will continue to be intellectually active," said Fernandez.
(PNA), LAP/LVM/LVMICUA/RMA
DAGUPAN CITY, Aug. 12 (PNA) -- Close to two weeks after planting 1,000 coconuts at Tondaligan Park on August 3, the Dagupan City government led by Mayor Belen Fernandez planted another 1,000 coconut seedlings in the shoreline of the island barangay of Pugaro on Friday (August 12).
This raised to 2,000 the number of new coconut seedlings planted by the city only this month, adding to the 3,000 already planted last year in the two coastal areas of Dagupan.
Mayor Fernandez said they intend to plant 5,000 coconuts more in these areas over the next next three years in order to complete their target of 10,000.
The coconut seedlings were sourced out by the city of Dagupan from the Philippine Coconut Authority (PCA).
Fernandez thanked personnel of various government agencies and non-governmental organizations who again joined forces with the city government in this new coconut planting activity.
These are the Dagupan Police, Bureau of Fire Protection, PNP Maritime Group, Philippine Navy, Philippine Coast Guard, Lions Club, Philippine Health Insurance Corporarion (PhilHealth), Boy Scouts of tne Phililpines, Barangay Council of Pugaro and City Disaster Risk Reduction and Management Office (CDRRMO).
The mayor said the planting of coconuts in both Pugaro and Tondaligan Park is part of the disaster preparedness program of the city government as the trees will help mitigate the impact of storm surge and tsunami emanating from the Lingayen Gulf.
She also said once the coconuts will bear fruits in a few years, and these will be the source of inexhaustible raw materials for such industries as "pastillas" and "bucayo" (coconut candy) for which Dagupan City is famous for, and therefore a big boon to the livelihood of the people.
(PNA), LAP/LVM/LVMICUA/RMA
LINGAYEN, Pangasinan, Aug. 11 (PNA) -- The provincial government reminded the public that they have until September 16 this year to submit their entries to a logo design contest, the winner of which will be adopted officially by the Center for Pangasinan Studies (CPS).
Maria Luisa A. Elduayan, Provincial Tourism and Cultural Affairs Office (PTCAO) chief and head of the CPS secretariat, said the contest kicked off last July 29 and will end on September 16 in a bid to solicit the best and most appropriate logo for the CPS.
Entries should be in digitized format (at least 300-600 dpi in a .jpg format) or a freehand illustration drawing.
For digital artworks, entries must be in CD-ROM format with letter-sized print in photo or ink-jet paper. The CD-ROM must contain "raw" or original working file used in the entry, which include ".psd" or ".tiff" files that must not be flattened fonts and raw materials such as scanned image sources. All entries must be 300-600 dpi resolution.
Meanwhile, for manually produced artworks, it must be fit in a ¼ illustration board. There are no restrictions in the number of colors.
A brief description or rationale (not more than 500 words) explaining the components of the logo should also be included in the entry.
The design of the logo should represent the CPS' mission and vision in terms of presentation of traditions, beliefs and promotion of ecotourism in the province. It should also communicate a proactive, progressive and empowered institution in the implementation of its different activities.
By entering the competition, the participants declare that the logo submitted is their original work, have not been submitted to any other competition, does not infringe on any third party's existing copyright, Elduayan said.
Winning entry will be chosen on the first week of October while the awarding of winners is tentatively set on the second week of October.
The winner of the contest will receive P10,000, a trophy and a certificate of special recognition. On the other hand, the 2nd to the 10th placers will be given P2,000 each and certificates of recognition.
The CPS was established by the provincial government with the technical assistance from the University of the Philippines UP) and the Pangasinan Historical and Cultural Commission (PHCC) and supported by private colleges and universities in the province. It will serve as a repository of documents, researches, artifacts, printed materials, and media materials on Pangasinan.
Conceptualized under the term of former Governor now 5th district Representative Amado T. Espino, Jr., the CPS will not only undertake research to render an extensive and accurate recording of Pangasinan history, culture and heritage, and but will conduct research and relevant studies in support to various development programs and governance initiatives in Pangasinan.
(PNA), LAP/LVM/LVMICUA/RMA
LINGAYEN, Pangasinan, Aug. 10 (PNA) -- The Sangguniang Panlalawigan (SP) has endorsed to the Department of Health (DOH) the upgrading of the Umingan Community Hospital (UCH) from 15 to 25-bed capacity.
The endorsement was contained in Provincial Board Resolution No. 66-2016 introduced by Fourth District Board Member Jeremy Rosario, chairman of the committee on health, during the SP session on August 8.
The provincial resolution was needed being a requirement of DOH in order to facilitate the issuance of the permit to construct or upgrade the health facility, said Rosario, a former Assistant Provincial Health Officer.
He said upgrading is necessary to justify the appointment of additional workforce to the facility.
The board member noted that based on the 15-bed capacity of UCH for the past several years, its hospital staff are primarily overworked, considering the big number of patients that it serves which surpasses its DOH-approved bed capacity.
According to UCH chief Julian Rose, Jr., the number of their patients increased significantly by 220 percent over those registered in 2015.
Dr. Rose admitted that the increase of UCH's bed capacity would result in corresponding increase of its manpower and services.
The resolution further stated that the upgrading would provide a sufficient and higher level of medical and health services to patients.
Rosario said the upgrading of UCH is in line with the main thrust of the provincial government led by Governor Amado I. Espino, III to have a mass-based health care program to accommodate all people especially the less fortunate sector of the society.
The UCH, along with the Eastern Pangasinan Disreict Hospital, caters to patients coming from the different municipalities in the 6th district of Pangasinan and other areas.
(PNA), FPV/LVM/LVMICUA/RMA
LINGAYEN, Pangasinan, Aug. 9 (PNA)-- Gov. Amado "Pogi" I. Espino III is set to enter into a Memorandum of Agreement (MOA) with the Philippine Institute of Volcanology and Seismology-Dept. of Science and Technology (PHILVOCS-DOST) for the implementation of the provision and training on the use of the Rapid Earthquake Damage Assessment System (REDAS) in Pangasinan.
This was contained in Provincial Resolution No. 65-2016 authored by Sangguniang Panlalawigan (SP) Member Liberato Z. Villegas approved during the SP regular session Monday authorizing the governor to enter into such agreement.
According to the resolution, "REDAS can be used as a tool by the province for mainstreaming disaster risk reduction into local development process, contingency planning and emergency preparedness."
The resolution further stated that the province is willing to avail of the REDAS software and for its selected staff, specifically from the Provincial Disaster Risk Reduction and Management Office (PDRRMO) and local government units (LGUs), to undergo the training.
The REDAS training was deemed as beneficial to the province so that it can fully understand natural hazards better and be more ready for its realistic disaster preparedness plans that are hazards-based.
REDAS software is a seismic hazard simulation software that aims to produce hazard and risk maps immediately after the occurrence of a strong and potentially damaging earthquake.
It can also be used to conduct seismic hazard and risk assessment, sort earthquake data parameters, produce map of different sizes, perform screen digitization, and develop risk database.
Meanwhile, Ret. Col Luchinvar Oro, PDRRMO Chief, explained that REDAS has been developed for use of disaster managers for making prompt decisions for quick deployment of rescue and relief operations.
Expressing his full support on programs and projects related to disaster response, the governor said he welcomes all ideas from the grassroots and different sectors of society in order to transform Pangasinan as the country's number one province in terms of disaster preparedness.
(PNA), RMA/LVM/LVMICUA/1850/RMA
LINGAYEN, Pangasinan, Aug. 8 (PNA)-- The provincial government, led by Governor Amado I. Espino, III congratulated Ms. Rujealyn R. Cancino, a grade school teacher from Barangay Matalava, Lingayen for being chosen as one of this year's outstanding teachers nationwide by the Metrobank Foundation.
This was contained in Provincial Resolution No. 64-2016, approved by the Sangguniang Panlalawigan on Aug. 8 that recognized Ms. Cancino's rare feat as one of the 10 Metrobank awardees nationwide because of her exemplary service in promoting quality education.
This outstanding service qualified her to be included in the elite list of winners of the 2016 Metrobank Foundation Search for Outstanding Teachers (SOT), the resolution reads.
"In her 19 years in the service as public school teacher, Ms. Cancino has shown untiring dedication and commitment to her duty to selflessly teach and hone every child," the resolution further reads.
At the same time, the SP also gave due recognition to Cancino's unselfish work involvement even outside the four corners of her classroom, thus, engaging herself in various community development activities around the areas of the school she serves.
A daughter of Mr. and Mrs. Eduardo Cancino, Rujealyn was the first Pangasinense to receive the coveted Metrobank award.
The Metrobank Foundation Inc., in partnership with the Department of Education and the Commission of Higher Education, has been steadfast in recognizing and paying tribute to outstanding teachers who have committed themselves in promoting the quality of Philippine education through excellence in the teaching profession.
By Elsha Marie B. Soriano (JNPD/EMBS/PIA-1, Pangasinan)
POZORRUBIO, Pangasinan (PIA) – Health care services of residents here and from nearby towns will soon be enhanced as the Pozorrubio Community Hospital (PCH), one of the 14 provincial government hospitals in Pangasinan, will increase its bed strength from 10 to 25.
On August 1, the Sangguniang Panlalawigan here passed a resolution endorsing to the Department of Health (DOH) the application for a license for the PCH to operate a 25-bed capacity.
Board Member Jeremy Agerico Rosario said the resolution is required by the DOH to facilitate the issuance of the permit to construct or upgrade the facility.
"In line with the main thrust of the provincial government to have a mass-based health care program for Pangasinenses, there is a need to increase the bed capacity of PCH in order to provide sufficient medical and health services to its patients as well as justify to DOH the increase of manpower of the said hospital," Rosario said.
In 2015, Rosario said the PCH registered at least 236 percent bed occupancy rate while for the first semester this year, there has been a 225.6 percent bed occupancy rate.
Dr. Alfredo Sy, PCH chief, added that as of the present time, the community hospital caters to an average number of 24 to 26 patients daily which is more than the 10 actual implementing bed capacity.
"Bed occupancy rate measures how good the services are provided to the patient and for the hospital to have good services, its bed occupancy rate should never be below or above 85 to 100 percent," said Sy adding that based on the percentage performance of a hospital, PCH is considered to be operating below the standards.
However, Sy clarified that facility wise, the hospital can accommodate not just 10 patients but at least 30 patients a day.
"We requested the permit to operate a 25-bed capacity to facilitate the construction of additional building and possibly additional manpower to accommodate more patients without sacrificing the quality of service provided to them," Sy added.
PCH, together with the Urdaneta City District Hospital (UCDH), caters to patients from towns of Pozorrubio, Bautista, Alcala, Binalonan, Laoac, Sto. Tomas, Sison, Villasis and Urdaneta City and other nearby localities.
By April M. Montes (JNPD/AMM/PIA-1, Pangasinan)
PANGASINAN, August 6 (PIA) – The Department of Trade and Industry (DTI) will bring its consumer awareness seminar in various schools here as part of the agency's enhanced consumer protection program to educate the students of their rights and responsibilities as clients.
Provincial Director Peter Mangabat of DTI-Pangasinan said the series of seminars to be conducted within the month of August aims to provide information and education to public, especially the youth to make them more vigilant when buying goods and services.
"Topics to be discussed during the seminar include Consumer Act of the Philippines; No Return, No Exchange policy; warranties; handling your own complaint; and Tobacco Regulation Act of 2003," he told the Philippine Information Agency.
He said that for this school year, consumer awareness seminar will be held in the following public and private schools: Mangaldan National High School, Sto. Tomas Catholic School (Mangaldan), Bonuan Boquig National High School (Dagupan City), Daniel Maramba National High School (Sta. Barbara) and Pangasinan National High School (Lingayen).
"The seminars are rendered for free by the agency and if interested, just contact the DTI-Pangasinan office at telephone no. 515-3183 or 529-6177," he said.
Mangabat encouraged other schools in the province to avail of the free seminar for the benefit of their students and school personnel.
(PNA), LAP/LVM/LVMICUA/RMA
LINGAYEN, Pangasinan (PNA) -- A total of 676 adults were accredited by the Alternative Learning System (ALS) after passing the test given by the Pangasinan II School Division based in Binalonan, Pangasinan.
All of them graduated in a recognition program on Thursday, August 4 in ceremonies held at Sison Auditorium, and graced by Governor Amado Espino III who vowed his full support to formal and non-formal education, specifically ALS.
The governor noted that some of the reasons why youths neglected their studies were either due to poverty, peer pressure, early pregnancy and marriage, and even vices.
The governor said the ALS program will serve as a new hope for everyone who had neglected their studies and who wish to change their lives.
On the other hand, Donato D. Balderas, Jr., schools division superintendent, said ALS is a parallel learning system in the Philippines that provides a practical option to the existing formal instruction. It includes both the non-formal and informal sources of knowledge and skills.
He added that the system is an alternate or substitute to those who do not have access to formal education in schools, adding that acquiring informal education does not make anyone a lesser person.
He said Pangasinan II has recorded a total of 82 accreditation and test passers in 2010, 107 in 2011, 267 in 2012, 517 in 2013, and 578 in 2014.
Meanwhile, Marilou Bianan, one of the ALS graduates, thanked the education department for conceptualizing the program.
Bianan, a 43-year-old mother of two kids, revealed that early pregnancy forced her to stop her studies.
"Masaya po ako na natapos ko din ang high school maski may edad na ako (I am happy that I finished high school even if I am old)," she said.
Another ALS graduate expressed his gratitude to the government for giving him an opportunity to change the course of his life.
"Gusto ko po na ituloy sa college ang pag-aaral ko para po makahanap ng magandang trabaho (I want to continue my studies until college so that I can find a good job)," said 26-year-old Jeffrey M. Calicdan, a resident of Mangaldan town who said he stopped his schooling because of poverty.
Aside from the graduation rites, the event was highlighted with the awarding of plaque and recognition to the choral group of Tayug National High School for winning the International Angklong Festival.
The awarding was facilitated by the Pangasinan Division II with the presence of Gov. Espino.
Present during the affair were Tayug Mayor Tyrone Agabas, Mangaldan Mayor Bona Fe Parayno and other Pangasinan Division II officials.
(PNA), LAP/LVM/LVMICUA/RMA
LINGAYEN, Pangasinan, Aug. 3 (PNA) -- Governor Amado "Pogi" I. Espino, III led the ceremonial turnover on August 3 of computer hardware and software to the Sta. Barbara Municipal government, as well as agricultural equipment to a local organization so that farming would be made easier for them.
The computer gadgets were turned over by Gov. Amado Espino III to Sta. Barbara Mayor Carlito Zaplan and the agricultural equipment to Raymundo Quino, president of the town's Bureau of Agrixultural Research Community-based Paericipatory Action Research.
Turned over to Zaplan were 13 desktop/laptop computers plus their peripheries and an Electronic Business Processing Permit and Licensing System Software so that the municipality can put up a One-Stop-Business Center.
The agricultural equipment consisted of a combined harvester and thresher, a mini-tractor and 10 water pumps.
Both sets of equipment were allocated to the province under the Bottoms Up Budgeting (BUB) of the Department of Trade and Industry (DTI) and the Department of Agriculture.
Espino said that this initiative is a continuation of the commitment of his father, former Gov. Amado Espino Jr., now representative of the Fifth District of Pangasinan, in support of countryside development.
At the same time, he urged all the recipients to make use of these equipment with utmost care more townspeople and farmers would be benefited.
Meanwhile, Quinto said that his association already called on their members in Barangays Leet and Matic-matic to take turns in using the farm machines and water pumps per schedule, though he said non-members could also make use of these.
By VENUS MAY H. SARMIENTO (JNPD/VHS/PIA-1, Pangasinan)
LINGAYEN, Pangasinan, August 3 (PIA) – When information and communication styles are just at the tip of one's fingers, would he still know the term patience?
When everything around a person is just a button away, would he still know the word perseverance?
As Pangasinan primes to launch the cyber education hubs of Technology for Economic Development (Tech4Ed) in the city and municipal levels, the provincial government has one plea to librarians and teachers: teach the values of patience and perseverance.
The province recognizes that Tech4Ed helps in the needs of the rural community and agrees that no one should be left behind in the moving pace of technology.
Tech4Ed is a project of the Department of Science and Technology-Information and Communications Technology (DOST-ICT) Office that aims to harness ICT to enable, empower and transform society creating an inclusive, integrated and equitable countryside, through providing opportunities for employment and empowering entrepreneurs.
Through the Tech4ED computer centers, links to on-line government services, skills training contents, e-learning on demand, employment and entrepreneurial services are at one's fingertips.
The libraries in the cities and towns will house the Tech 4Ed and ICT services throughout the province. A center manager trained by the DOST on such technology will man the libraries.
In a word of technology where everything is instant, is still there a room for patience? In Pangasinan, the provincial government expressed the need to inculcate the value of patience to students if they look for something important to them.
While the library's catalogue system would make things easier for those looking for books, the youth would most likely prefer to hold tablets and iPads where articles and books can be easily browsed.
And while students doing their thesis now resort to being netizens browsing online for information, it is still a worthwhile hobby to go to the library and look for the researches suitable to a topic.
As the country aims to cope with the fast-paced technology, students must still be taught how to turn the pages of a real book.
After all, teaching perseverance and patience in today's digital world can never hurt anyone.
(PNA), LAP/LVM/LVMICUA/RMA
LINGAYEN, Pangasinan, Aug. 2 (PNA) -- The Muslim community in Pangasinan will soon have a new resting place for their departed loved ones set to be built on a two-hectare lot in Barangay Laguit Padilla, Bugallon town.
Governor Amado 'Pogi' Espino, III, in a meeting on August 1 with officials of the Pangasinan Integrated Muslim Assembly (PIMA), vowed to support the establishment of a public cemetery for Muslims in the lot donated by Oscar Angeles, a philanthropist from Mangaldan town.
The sole burial ground of Muslims in the province located in Alaminos City is now congested, thus the need for a new public cemetery for them.
Governor Espino likewise vowed to sustain the good partnership of the provincial government and the Muslim communities in the province in fostering development advocacies and initiatives.
PIMA president Guia Macmod, on behalf of about 60,000 Muslims in the province, has also expressed gratitude to the lot donor and the support to come from the provincial government.
The proposed site for the new public cemetery is also in a strategic location in the central part of the province, Macmod said.
"I am doing this because I want to help my Muslim friends," said Angeles during the meeting, as he disclosed that the processing of legal documents and records for the transfer of rights of the property to be donated is jointly undertaken by the provincial assessor's and legal offices.
Macmod has also lobbied for funding from the provincial government for the construction of road access leading to the proposed cemetery.
Elsha Marie B. Soriano
LINGAYEN, Pangasinan, August 1 (PIA) – Librarians from various municipalities and cities in Pangasinan are now equipped with knowledge information and communication technology that will help improve and develop their communities.
Dubbed as the Technology for Education, to gain Employment, train Entrepreneurs towards Economic Development (Tech4Ed), the program developed by the Department of Science and Technology-Information and Communication Technology Office (DOST-ICTO) aims to set-up knowledge hubs to small communities and help them cope with the digital world.
In line with this, DOST-ICTO in partnership with the provincial government of Pangasinan conducted a Center Managers' Training on July 27 and 28 to introduce the Tech4Ed project and to educate librarians in the province in promoting the use of the cyber hubs in the local countryside and in uplifting digital literacy.
The two-day training, which coincided with the launching of Tech4ED center at the Provincial Library in Lingayen town, was attended by some librarians from the 18 municipal and city libraries in the province that are ready to establish their own knowledge hubs.
The hubs are aimed to uplift digital literacy and to bring digital opportunities to the most marginalized and vulnerable sectors of the society through a single online portal which contains various segments.
The six various segments of Tech4Ed projects are as follows:
1. eEduSkills. Under this segment, education seekers will be able to increase their knowledge and skills for employment and gain a High School Diploma through informal education. It provides digitized reviewers for Alternative Learning System, Learning English Application for Pinoys (LEAP), online Skills Training courses, and values and character formation;
2. eAssist. With this segment, vulnerable groups and marginalized communities will have assistance in starting their business and expand their market reach by utilizing ICT. It also provides entrepreneurs an access to courses on digital literacy, career development and financial literacy;
3. eAssess. This segment provides the citizen an industry assessment and certification for purposes of convenience and cost-efficiency like certification from Technical Education and Skills Development Authority (TESDA), Job Portals, industry assessments and industry certification;
4. m-Agri. This section helps farmers, cooperatives, agribusiness, and food processors obtain educational and informative resources such as applications, videos, manuscript and website regarding agriculture;
5. m-Marketplace. It will enable new competitors in the market specifically from rural communities.
6. eGovServ. Under this segment, communities will have access to services of various government agencies like Social Security System (SSS), Home Development Mutual Fund (Pag-ibig Fund), and National Bureau of Investigation (NBI).
"Napakaganda po ng programang ito, we are very thankful to the national government as well as to DOST-ICTO for this project that will provide expanded ICT services for marginalized Pangasinenses especially the out-of-school youth," Governor Amado Espino III said during the launching of the Tech4Ed center. (JNPD/EMBS/PIA-1, Pangasinan)