LOG IN. UPLOAD PICTURES.

List of the 17 Regions in the Philippines
National - Capital Region ● I - Ilocos ● II - Cagayan ● III - C. Luzon ● IV-A - Calabarzon ● IV-B - Mimaropa ● V - Bicol ● VI - W. Visayas ● VII - C. Visayas ● VIII - E. Visayas ● IX - Zamboanga ● X - N. Mindanao ● XI - Davao ● XII - Soccsksargen ● XIII - Caraga ● XIV - CAR ● XV - BARMM
---
Minimize corruption and maximize prosperity with a Guarantee of One Senator per Region. They divided the Philippines into REGIONS, but kept SENATORIAL representation national with no accountability to any regions.. No wonder many regions remain poor. Petition for a regional senatorial election. All regions will have senatorial representation.
Visit
Zamboanga Shopping to help propagate the
Chavacano Language
Pangasinan News April 2013
Jump to navigation
Jump to search
A | B | C | D | E | F | G | H | I | J | K | L | M | N | O | P | Q | R | S | T | U | V | W | X | Y | Z
Create Name's page
Regions | Philippine Provinces | Philippine Cities | Municipalities | Barangays | High School Reunions
---
Pangasinan Province - Archived News
---
Interactive Google Satellite Map of Pangasinan Province, Philippines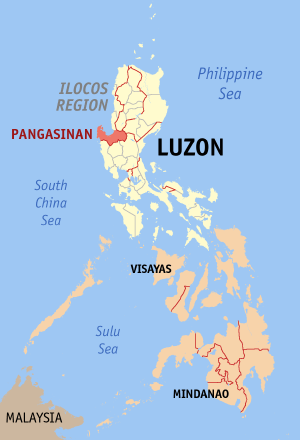 Map Locator of Pangasinan Province

The Capitol Building of Pangasinan in the municipality of Lingayen

Pangasinan State University, Asingan Campus

Church in Aguilar Pangasinan
Wars of ancient history were about possessions, territory, power, control, family, betrayal, lover's quarrel, politics and sometimes religion.
But we are in the Modern era and supposedly more educated and enlightened .
Think about this. Don't just brush off these questions.
Why is RELIGION still involved in WARS? Isn't religion supposed to be about PEACE?
Ask yourself; What religion always campaign to have its religious laws be accepted as government laws, always involved in wars and consistently causing WARS, yet insists that it's a religion of peace?
WHY??

Tondol Beach, Anda
DOLE leads mega job fairs in Pangasinan on Labor Day
By Venus H. Sarmiento
DAGUPAN CITY, April 30 (PIA) -- No wage hike is expected on Labor Day but job seekers may land on any of the 11,000 job vacancies that are up for grabs on May 1.
The Department of Labor and Employment will lead two job fairs in separate sites in Pangasinan, one at SM Mall in Rosales, the other at the Robinsons Mall in Calasiao town.
"Job fairs are important avenues to bring together employers and job seekers to facilitate employment," said DOLE Regional Director Grace Ursua during a press conference in Dagupan City.
Ursua said DOLE conducts an average of 100 job fairs a year including those initiated by local government units and schools. Out of the job fairs, 15 percent of registered and referred applicants are hired on-the-spot.
For the first quarter of 2013 alone, 4,000 out of 5,000 registrants were qualified and at least 500 applicants were hired on-the-spot.
"For local employment, job seekers can be hired on-the-spot but employment abroad requires a little more time as there is a need for pertinent requirements to be completed. Overseas hiring takes around 60-90 days," Ursua explained.
Another good thing about job fairs, she said, is that only licensed recruitment agencies are allowed to participate and only approved job orders are offered.
"Job fair is a good mechanism to prevent illegal recruitment agencies from fooling people," she added.
The job fair at SM will gather 25 local employers and another 25 overseas employers with over 6,000 vacancies and job orders.
The Overseas Workers Welfare Administration (OWWA) will also a 'Libreng Tawag" (Free Call) abroad at the site.
Job seekers won't get bored lining up or waiting for their papers to be processed because a mini food fair consisting of tupig from Balungao town, pancit canton from Alcala and products of the Masagana Farmers Association in Umingan will be showcased.
Meanwhile, the Robinsons mall job fair will have 25 local and 20 overseas recruitment agencies offering more than 5,000 vacancies and job orders locally and abroad. The Calasiao Blacksmith Association will display its products.
The fair will also offer wellness services like manicure, pedicure and facial treatments.
Both fairs will feature one stop shop services from member agencies of the Regional Coordinating Council like DOLE , OWWA, Technical Education and Skills Development Authority (TESDA), Philippine Overseas Employment Administration (POEA) and Professional Regulations Commission (PRC).
Other government agencies like the Social Security System, Philippine Health Insurance (PhilHealth) and Home Development Mutual Fund (Pag-IBIG Fund) will also have their service desks.
The third job fair venue in the region is the Imelda Cultural Center in Batac, Ilocos Norte which will offer 3,500 vacancies.
Govt communicators renew commitment to free information flow
By April Montes (MCA/AMM-PIA1, Pangasinan)
DAGUPAN CITY, April 29 (PIA) -- Government information officers (GIOs) have renewed their commitment to support national development through a free exchange of information among members.
In renewing their commitment as public communicators, the GIOs revived the Pangasinan Association of Government Information Officers (PAGIO), which became dormant for a year.
The group had its general assembly last week at the Philippine Information Agency (PIA)-Pangasinan Information Center and elected its new set of officers.
Engr. Bernardo Caronongan of the Department of Public Works and Highways-Lingayen District Office was voted as the fourth president of PAGIO.
He succeeded Supt. Geraldo Roxas of the Philippine National Police.
The other elected officers were Danilo Orbos of the Land Transportation Office as vice-president; Irene Martinez of the Philippine Health Insurance Corporation, secretary; Insp. Michael de Jesus of the Bureau of Jail Management and Penology, treasurer; Renalie Ferrer of the National Statistics Office, auditor; Carmina Gutierrez of the Department of Education-Pangasinan I, public relations officer; and Annaliza Natavio of the Home Development Mutual Fund, commonly known as Pag-IBIG, business manager.
Venus May Sarmiento, information center manager of PIA-Pangasinan, asked the body to work hand in hand with the PIA to realize President Benigno Aquino III's advocacy to reach out and get feedbacks from project beneficiaries and the general public as well.
She offered the weekly "Pantongtongan Tayo" radio program of the PIA over DZMQ Radyo ng Bayan and the KBP Forum at the PIA office as avenues for the various agencies to air their programs and projects.
Former PAGIO President Merlita Tibalao was also present during the meeting.
She told the new set of officers to be more active this time.
For his part, Caronongan assured the group of his time and efforts to make the association successful in its endeavors.
The PAGIO, composed of regular or designated information officers of national and local government offices in Pangasinan, was organized in 2003 to establish a cohesive body of persons in the area of information and advocacy programs which will embody the sentiments and aspirations of its members.
EducAid to hold seminar for public school teachers in Pangasinan
(EducAid Press Release)
EducAid, the country's provider of free, high-quality and world-class seminars for public school educators and students, will have a seminar on April 29 to 30, 2013 at St. Eldephonse Parish in Malasiqui, Pangasinan.
Titled "Inspire and Involve: Progressive Professional Building for Educators," the seminar will have four speakers who will share with 200 public school educators their experience and expertise in various fields that can help educators in their lives and profession.
Ms. Hyacinth Bibit-Capilos (EducAid) will talk about "Winning Leadership: Leadership that Matters." Mrs. Capilos has an extensive experience as HR practitioner. Her most recent experience was as offshore HR manager for a firm based in the Netherlands. Prior to that, she has worked in ABS-CBN and GMA 7. Apart from being a managing partner in EducAid, she is also a mentor in the international support system Freedom Faithnet Global or FFG.
Mr. Jelson Estrella Capilos (EducAid) will talk about "How to Wow: Improve your Presentation Skills." Mr. Capilos was a former lecturer at the Ateneo de Manila University, St. Paul University, and Enderun Colleges. He has also worked as writer and researcher at ABS-CBN and the House of Representatives. He is also a mentor in the international support system Freedom Faithnet Global or FFG.
Prof. Edwin Suson, BSCS, MScM, RFP, CET, will present about "Jumpstart your Financial Literacy." He is a professor at the University of Santo Tomas, and is a well-traveled professional in his pursuit of professional excellence. He is a Registered Financial Planner, Certified Entrepreneurship Teacher (from NFTE in New York), and Accredited Grassroot Entrepreneurship Management Trainor of ABS-CBN's Bayan Foundation.
Mr. Rodel Villarez will present about "Internet Usage for Educators." He is an IT expert from antivirus firm Trend Micro, and has Masters in Engineering Technology from the University of Southern Queensland in Australia. He was also a resource speaker for many IT-related conferences abroad.
Only 200 slots are available for this amazing seminar. For reservations and other details, call EducAid servant-leader Mr. Jovito Austria at 09105105585 or 09276876505. This seminar was made possible in part by Japan International Cooperation Agency (JICA) and Executive Optical.
Espino calls for independent probe in explosion in Bugallon town
(PNA), HBC/LVM/1740/RMA
LINGAYEN, Pangasinan, April 27 (PNA)--- Gov. Amado Espino Jr. has called on the Criminal Investigation and Detection Group and the NBI to jointly conduct independent investigation into a reported explosion in front of the house of outgoing Mayor Rodrigo Orduña of Bugallon town at dawn of April 24.
His call was made in response to a press statement released Friday by his opponent Hernani Braganza, calling the explosion a "grenade blast" even before the local police could determine the real cause.
Accounts of newsmen who went to the scene few hours after the reported incident had shown that the only damage were scratches on the house door. Moreover, one was hurt, windows were broken , no damage to the walls, and no crater was seen on the ground.
"By the looks of it, what exploded was just a firecracker," a newsman who went to the scene, noted. "You cannot even call that a bombing," he added.
Braganza is blowing out of proportion an insignificant event that may only be the work of a prank, Espino said.
"Blaming me for imagined crimes I never committed has become a habit of my opponent in the absence of real issues he can pin on me," Espino pointed out.
"He has now invented election violence where there is none,' he added.
Youth group to Comelec: Intensify campaign vs. illegal posters
(PNA), PDS/LVM/LMMICUA/RMA
DAGUPAN CITY, April 26 (PNA)-- Youth STAND Dagupan, a broad alliance of youth here, has slammed the Commission on Elections about its inaction over the presence of many over-sized and illegally placed posters plastered all over Dagupan City .
Alex Torio, spokesperson of the group, said , "Despite the Comelec resolution on campaign guidelines, candidates look fearless and go on with illegal campaigning schemes.
"We are dismayed that until today, actions have not yet been taken by the Commission," stressed Torio.
The group numbering around 500 throughout Dagupan has its own monitoring team that focuses on gathering data. It said, it has several hard evidences in their hands.
"If these candidates cannot follow the simple rule on where to properly place their posters, what more with more important rules? It is definitely not a good example for the youth," he added.
The group is already contemplating on filing cases against violators.
"But then, we are urging the Commission to intensify its monitoring all over the city. We are one with them in fighting for what is right." Torio said.
Pangasinan Dental Assn bags 12 highest national awards
(PNA), HBC/LVM/1630/RMA
DAGUPAN CITY, April 25 (PNA)-- Dr. Evangeline Flores- Padlan, president of the Philippine Dental Association, Pangasinan chapter, won the 2013 Presidential Merit Award, while the Pangasinan Dental Chapter, which she heads as president, was the recipient of 11 other highest distinctions.
Padlan is concurrently dean of the College of Dentistry of Lyceum-Northwestern University.
Both awards were given by the PDA in ceremonies Sunday at the PNB Center in Manila.
The awards received by PDA- Pangasinan Chapter were Most Outstanding Chapter, Most Outstanding President, League of President's Award, Presidential Merit Award, Best in Research, Best in "Binhi" Projects,Best in "Very Important Patient" Project, Best in Twin Chapters Sisterhood with Zamboanga City Dental Chapter), Best in Environmental Projects (First Place), PDA-Colgate Regional Convention Host, Best Poster (10th) National Dental Health Month 2012 and Best Poster (4th) National Dental Health Month 2013.
In her letter to LNU President Dr. Gonzalo T. Duque, Dr. Flores-Padlan acknowledged the support given by the university in the outreach programs and projects of the Pangasinan Dental Chapter that resulted in its winning most of the PDA annual awards.
3 jobs fair slated on Labor Day in Region 1
(PNA), HBC/LVM/ JOHANNE MARGARETTE R. MACOB
DAGUPAN CITY, April 24 (PNA)--In connection with this year's celebration of Labor Day, the Dept. of Labor and Employment Regional Office will conduct three simultaneous job fairs, two of which will be in Pangasinan.
DOLE Regional Director Grace Ursua said the three job fairs will be a boon to those who have not found the right employment and will at least help bring down the country's unemployment rate.
The 2013 Labor Day theme is "Manggagawang Pilipino: Handa Sa Hamon ng Makabagong Panahon." (Filipino Worker: Ready to the Challenge of Modern Times)
"Job fairs is (sic) mechanism to prevent illegal recruitment activities," Ursua said during a press conference Wednesday in Dagupan City.
The job fairs will be held at SM Rosales in Rosales, Pangasinan; Robinson's Place in Calasiao, Pangasinan; and LGU-Batac City Hall Imelda Cultural Center in Batac, Ilocos Norte.
Thousands of job-seekers both for local and overseas employment are expected to apply for jobs in these job fairs.
Cooperating agencies are the Philippine Overseas Employment Agency, Overseas Workers Welfare Administration, Technical Education Skills and Development Authority and Professional Regulations Commission.
Alongside the job fairs are wellness services such as manicure, pedicure, and facial make-up, free overseas calls for families of Overseas Filipino workers sponsored by OWWA; and livelihood and agriculture fairs.
According to Ursua, in the first quarter of 2013, 4,000 of the more than 5,000 applicants in similar job fairs qualified while 500 others were hired on the spot.
3 festivals set in Pangasinan
By Liway C. Manantan-Yparraguirre
DAGUPAN City -- Three festivals, all giving thanks to the bounty of the rivers and the seas, are being held in the province of Pangasinan.
First to open was the Mangunguna (fishermen) Festival of Bolinao town which is now on its sixth year. Pista'y Dayat, the mother of all festivals in the province, opened last Friday with Gov. Amado Espino Jr. leading the opening program at the capitol beachfront in Lingayen, as well as the opening of the Tourism and Trade Expo at the beachfront and the Dakep tan Dayew Photo Exhibit at the Pangasinan Training and Development Center.
Yesterday afternoon, City Mayor Benjamin Lim led the grand opening of the Bangus Festival (now on its 12 year) highlighted by the unveiling of the 12-feet bangus sculpture.
Dr. Anna Ma. Teresa de Guzman, Pista'y Dayat executive chairperson, said the activities lined-up is a mixture of new fun-filled and traditional activities.
Among the must-see events, she said is the Search for Mr. and Miss SK Pangasinan spearheaded by Board Member John Christopher Arcinue, Water Search and Rescue Simulation Drill on April 29 to be conducted by the Philippine Navy and the Triathlon Challenge scheduled on April 30.
The biggest crown usually is gathered on May 1, the main day of Pista'y Dayat, where the long stretch of the Lingayen beach is carpeted with beachgoers.
Pangasinan's Pista'y Dayat to go green
(PNA), FFC/PTR/LVM/LMM/RMA
LINGAYEN, Pangasinan, April 22 (PNA) -- The Pista'y Dayat (Sea Festival) in Pangasinan province is committed to go green from start to finish to emphasize the provincial government's utmost concern to protect, preserve and conserve the environment.
The Pista'y Dayat already kicked off Friday (April 19) in an opening program at the Lingayen beachfront led by Gov. Amado Espino, Jr., Vice Gov. Jose Ferdinand Calimlim and this year's chairperson of the executive committe Dr. Anna Teresa De Guzman, provincial health officer.
Speaking to newsmen, provincial administrator Rafael Baraan said that unlike in previous sea festival, there will be no fireworks during the entire duration of the celebration.
Fireworks display is not among the activities lined up in the 15-day festival as burnt fireworks emit toxic fumes that pose danger to health as well as the environment, Baraan said.
At the same time, he said the ban on the use of plastics and styrofoam on food products will also be strictly enforced, citing a standing ordinance of the municipal government of Lingayen.
"Pista'y Dayat" will be held till May 3 with various daily fun-filled activities lined up this year's executive committee to delight the locals, including visitors and tourists.
Among the featured activities include Tourism and Trade Expo and Pangasinan Photo Exhibit, SMB Barbecue Nite with Fire Dance, Palaro sa Tabing Dagat, SMB Acoustic Nite and Other Shows, Bonzai Exhibit;
Talent Night, "Takayan Na Dayew", "Paboksing Ed Gulpo", Mr. and Ms. SK Pangasinan, Water Search and Rescue Simulation Drill, Sand Sculpting Competition, Triathlon Challenge, Beach Volleybelles, Youth Camp, Water Sports Activities;
Thanksgiving Mass, Sand Sculpting Viewing, Banca Parada with Dragon Boat Exhibition, Drum and Bugle Exhibition, Sayawan ed Aplaya, SMB National Band Competition, Pageant Night for the Limgas Na Dayat, Kapuso Nite and finally Clean up Drive on May 3.
April 30 a holiday in Dagupan
By Eva Visperas (The Philippine Star)
DAGUPAN CITY, Philippines – Malacañang has declared April 30 as a special non-working holiday in this city to enable residents and visitors to celebrate the Bangus Festival.
President Aquino signed Proclamation No. 570 declaring April 30 as special non-working holiday "to give the people of Dagupan full opportunity to celebrate the occasion with appropriate ceremonies."
The three-week festival will kick off at SM Rosales on April 20 and will culminate on May 5.
First celebrated in 2002, the festival aims to showcase the local bangus industry and promote Dagupan as the bangus capital of the world.
Pangasinan's 15-day Pista'y Dayat opens on Friday
(PNA), GHG/LVMJR/MRMACOB/RMA
LINGAYEN, Pangasinan, April 20 (PNA)--—Governor Amado Espino Jr. led the formal opening of the Pista'y Dayat (Sea Festival) shortly after street dancing and drum and lyre exhibitions Friday afternoon at the Capitol Beach Front.
"Pista'y Dayat," dubbed as the "mother of all festivals", commemorates the bountiful sea resources of the Lingayen Gulf, the common fishing ground in Pangasinan's 14 municipalities.
Slated from April 19 to May 3,the event is Pangasinan's number one event that attracts more tourists especially during summer.
Speaking during the event, Espino that the beach front was mostly made up of sand dunes before he came to the capitol in 2007.
Espino also led the ceremonial ribbon- cutting marking the opening of the 6th Pangasinan Tourism and Trade Expo at the Pangasinan Training and Development Center (PTDC) Compoundo.
Provincial Tourism Office chief Malu Elduayan, said some 100 exhibitors are participating in the tourism and trade exposition showcasing thedifferent indigenous products from Pangasinan and other provinces like Ilocos Sur, Tarlac, and Nueva Ecija.
Other opening activities included the unveiling of a photography exhibit called "Dakep tan Dayew na Pangasinan" at the PDTC. During the night, local singer "Insiong" and the Banda ni ATE music group provided entertainment.
For his part, Provincial Administrator Rafael Baraan said the water sports activities during the festival are expected to set pace to the goal of making Pangasinan "Water Sports Mecca" of Northern Luzon.
Dr. Anna Ma Teresa De Guzman, executive chairperson of the event, assured that this year's festival will be more memorable to all Pangasinenses and visitors.
Other slated activities during the two-week celebration include a nightly SMB (San Miguel Beer) Entertainment Night (until May 3), Palaro sa Tabing Dagat I (April 20); Opening of Bonsai Exhibit (April 22); Limgas na Pangasinan Talent Night (April 25); Takayan na Dayew (April 26); 4th Governor's Cup/ Paboksing ed Gulpo, and All- American Classic Car Show (April 27); Mr. & Ms. SK Pangasinan (April 28); Water Search and Rescue Simulation Drill by the Philippine Navy (April 29); Sand Sculpting Competition, Triathlon Challenge, Beach Volleybelles Competition, Doypuay Kalangweran 2013/ Youth Camp, and Water Sports Activities- Parasailing and Banana Boat Rides (April 30); Thanksgiving Mass, Sand Sculpting Viewing, Palaro sa Tabing Dagat II with Kite Flying, Banca Parada with Dragon Boat Exhibition, Drum & Bugle Exhibition, Water Sports Activities- Parasailing and Banana Boat Rides, Beach Volleybelles Finals, Sayawan ed Aplaya Competition, and Limgas na Pangasinan Pageant Night (May 1); Kapuso Night (May 2); and Clean Up Drive (May 3).
Opposition sees Pangasinan as swing vote
By Christine F. Herrera
Vote-rich Pangasinan will provide the "swing vote" in favor of the United Nationalist Alliance after the Nationalist People's Coalition, led by Pangasinan Governor Amado Espino, threw its support behind the opposition despite the NPC having signed a covenant with UNA's rival, the Liberal Party.
NPC's Sherwin Gatchalian, also UNA deputy campaign manager, said Pangasinan is an NPC stronghold with 1.8 million voters.
"The possibility is big that NPC will provide all the needed support for the entire UNA slate to win in the province," said Gatchalian, mayor of Valenzuela City who is eyeing a House seat to be vacated by his brother Valenzuela City Rep. Rex Gatchalian, NPC spokesman.
Gatchalian said Espino and the mayors welcomed the UNA senatorial slate, led by Cagayan Rep. Jack Enrile Jr., also the NPC's official candidate for senator but opted to run under the banner of UNA.
"The leaders of the NPC rolled out a warm welcome for the senatorial bets of UNA. The political landscape in vote-rich Pangasinan is expected to change," he said.
Pangasinan was declared a Sona Libre or free zone after the LP had backed the filing of charges against Espino by LP's Alaminos City Mayor Hernani Braganza who is challenging the incumbent governor's reelection bid.
Braganza is the LP's provincial chairman and Espino also is the NPC's provincial chairman.
NPC's former Pangasinan Rep. Mark Cojuangco, son of NPC founder businessman Eduardo Cojuangco Jr., branded as "baseless and politically motivated" the charges of graft and corruption against Espino, who allegedly received a P1-billion kickback from illegal numbers' game jueteng.
Cojuangco said the witness presented by Braganza was twice convicted of extortion.
Cojuangco had earlier disclosed that the NPC had withdrawn its support for the Team Pnoy and that the covenant was only "for show and on paper" since it was the LP that violated it first.
Cojuangco's assertion was promptly denied by NPC secretary general Batangas Rep. Mark Llandro Mendoza and Rex Gatchalian and insisted that the NPC was still fully supportive of President Benigno Aquino III's Team Pnoy.
2-day job fairs in Rosales, Calasiao on Labor Day
(PNA), FFC/LVM/LMM/RMA
ROSALES, Pangasinan, April 18 (PNA) -- A two-day mega-job fairs will be conducted on May 1-2 at SM City Rosales here and at Robinsons Mall in Calasiao in connection with the observance of Labor Day.
The first mega job fair will be sponsored by Department of Labor and Employment (DOLE) in partnership with SM City Rosales to fill up over 5,000 local and overseas job vacancies.
During the activity, a one-stop shop services will be offered to job applicants from various government agencies.
These include the DOLE, Technical Education Skills and Development Authority (TESDA), Professional Regulation Commission (PRC), Philippine Overseas Employment Administration (POEA), Overseas Workers Welfare Administration (OWA), Regional Tripartite Wage Productivity Board, (RTWPB), National Labor Relation Commission, Social Security System (SSS), PagIBIG, Philippine Health Insurance Cirporation (PhilHealth) and Department of Social Welfare and Development (DSWD).
A livelihood products from different towns of eastern Pangasinan will also be showcased during the fair.
The mega jobs fair will be simultaneously held with other SM Supermalls throughout the country.
Last year a total of 7,839 applicants were hired on the spot nationwide.
DOLE is conducting similar job fairs for job-seekers from central and western Pangasinan at Robinsons Mall in Calasiao, and at the Batac City Hall also on May 1.
April 30 is special non-working holiday in Dagupan
(PNA), PDS/LVM/JOHANNE MARGARETTE R. MACOB/RMA
DAGUPAN CITY, April 17 (PNA)-- It will be special non-working holiday in Dagupan on April 30 in connection with the celebration of the "12th Bangus Festival."
This was contained in an Executive Order signed by Secretary Paquito Ochoa Jr. by authority of President Benigno S. Aquino III.
Proclamation No. 570 declared April 30 a special non-working day in the city to enable the people to take part in the "Bangus Festival" which lined up a series of activities, among them "Gilon-Gilon" Street Dancing, "101 Ways to Cook Seafood", "Lechon Festival" and others.
Malacanang issued the proclamation to give the people of Dagupan the full opportunity to celebrate and participate in the occasion with appropriate ceremonies.
This year's "Bangus Festival" will be managed by an executive committee chaired by Councilor Alvin Coquia.
DOST unveils innovative products in Pangasinan's media forum
By April Montes (MCA/AM-PIA1, Pangasinan)
DAGUPAN CITY, April 16 (PIA) -- The Department of Science and Technology (DOST) in the Ilocos Region is conducting a media forum today to showcase its banner programs and projects that will benefit people socially and economically.
Flogileane Barizo, DOST research analyst, said that programs and projects to be presented during the forum at the Lenox Hotel include the complementary food blends and the ovicidal-larvicidal (OL) trap system.
The DOST developed the food blends to address malnutrition while the trap system regulates the population of dengue-carrying Aedes mosquitoes, said Barizo.
The DOST is also set to unveil a locally built technology called, automated hot water treatment (HWT) for mangoes.
Engr. Thomas Ubiña, instructor at the Mariano Marcos State University in Batac City, Ilocos Norte, said the HWT technology was found to be effective in controlling postharvest diseases in fruits.
"It will benefit mango traders in Pangasinan as the technology prolongs storage life and offers better quality of fruits suitable for local and export marketing," said Barizo.
The success story of Bella's Calasiao Puto Special, which benefitted from the department's strategic program called Small Enterprise Technology Upgrading Program (SETUP), will also be shared by its owner Rodulfo dela Cruz.
Dela Cruz was assisted by DOST-Pangasinan to adopt technology innovations that improved the operations and expanded the reach of his business.
Other Pangasinan products and projects assisted by the DOST will also be displayed during the forum.
The DOST is the premiere science and technology body in the country charged with the twin mandates of providing central direction, leadership and coordination of all scientific and technological activities, and of formulating policies, programs and projects to support national development.
Poster-making contest set during 'Pista'y Dayat'
(PNA), PDS/LVM/LVMICUA/RMA
LINGAYEN, Pangasinan, April 15 (PNA)-- A poster-making contest on environmental protection and conservation that will showcase the arts and skills of high school and elementary students will be held on April 26 as one of the highlights of the 2013 Pistay Dayat (Sea Festival) celebration which will officially kick off on April 19 to May 1.
Rowena dela Cruz, Administrative Assistant IV of the Solid Waste Management Office (SWMO), said the poster-making contest aims to promote awareness among students from various schools in Pangasinan on the importance of environmental protection and conservation which is one of Gov. Amado T. Espino, Jr.'s priority programs.
She said the contest is a form of information education campaign to heighten the awareness of people especially the youth on the importance of environment.
It will likewise encourage students to express creatively their thoughts and ideas using the theme "Seven Principles of Environmental Education."
The seven principles include nature knows best, all forms of life are important, everything is connected to everything else, everything changes, everything must go somewhere , ours is a finite earth, and nature is beautiful and we are stewards of God's creation.
Dela Cruz said the project will soon become a regular activity of the province to develop partnership with the schools and the youth regarding the program.
The contest enjoins the participation of one representative and one coach per school for both elementary and high school participants, public and private.
Criteria for judging are creativity and presentation, originality, relevance to the theme and over-all impact.
Winners in the high school category will receive a cash prize of P5,000 for the top prize while the second and third prize winners will take home P3, 000 and P2, 000 respectively.
For the elementary category, the first prize winner receives P3, 000 cash and the second and third prize winners will receive P2, 000 and P1, 000.
No water shortage in Pangasinan yet despite long,dry summer
(PNA), PDS/LVM/LVMICUA/RMA
BALUNGAO, Pangasinan, April 14 (PNA)-- Water supply remains sufficient for most of the irrigated farms in Pangasinan despite the long dry, hot summer.
This was recently disclosed by Oftociano Manalo, president of the Pangasinan Irrigators Association, who said water is still sufficient in all the programmed areas for the second rice cropping season.
He said before planting rice, members of the irrigators association first met officials of the Department of Agriculture (DA) and the National Irrigation Administration (NIA) to find out if there is sufficient supply from the San Roque Multi-purpose Dam.
Manalo called on farmers to consult with their respective irrigators associations if they are planning to expand the areas they are planting rice for the second cropping in addition to the areas already programmed.
At the same time, the San Roque Power Corporation (SRPC) assured that the water level of the San Roque Dam is still normal.
The assurance was made by Tom Valdez, SRPC vice president for corporate social responsibility, who said that as of Friday, water level of the dam was measured at 238 meters above sea level (masl) which is three meters below the rule curve.
"This means we still have water for power generation as required as well as water for irrigation," Valdez said
However, Valdez said by next month, the water level is expected to drop to 230 masl which is still normal. The critical level of water in the dam is at 225 masl.
Manalo said construction of a multi-million peso re-regulating Dam down below the San Roque Multi-purpose dam is now complete but not yet operational.
However, the Agno River Integrated Irrigation Project (ARII) has yet to complete the construction of irrigation canals that will convey water to the farms in eastern and central Pangasinan as well as parts of Nueva Ecija and Tarlac.
The re-regulating dam will store water released by the San Roque dam during power generation for release to the farms downstream during summer.
The San Roque dam has installed capacity of 34 megawatts.
Considered as the biggest dam in Southeast Asia and the second biggest in Asia, the San Roque dam is a 290 meters tall with 1.2 kilometer long embankment dam, covering the municipalities of San Manuel and San Nicolas in Pangasinan, and Itogon, Benguet.
More police visibility sought for Mangatarem
(PNA), PDS/LVM/ JOHANNE MARGARETTE R. MACOB/RMA
MANGATAREM, Pangasinan, April 13 (PNA)-- Pangasinan Rep. Leopoldo Bataoil (2nd District)on Saturday called for more police visibility during campaign activities of candidates following the wounding of a reelectionist councilor Thursday night while observing a mini-rally of a rival party.
Reelectionist Councilor Raymund Cruz, 58, of Puwersa ng Masa (PMP) was shot and wounded when he dropped by to observe the mini-rally of the local Liberal Party (LP) headed by mayoralty candidate Cristina Cruz and her running-mate Nelson Cruz.
"Police visibility can deter any untoward incident especially if the police officers are in proper uniform, and decently performing their operations," said Bataoil.
Following the incident in Mangatarem, which is part of Bataoil's constituency, he sent a text message to Philippine National Police (PNP)Chief Allan Purisima, Regional Director Ricardo Marquez, and Provincial Director Marlou Chan to detail policemen in all political rallies.
Bataoil said the PNP should secure all public gatherings but added that there should be prior coordination with political parties.
He said the political parties should request for police assistance but added that even without a request,the police should take it upon themselves to provide security to ensure that no untoward incident will happen.
In relation to this, OIC Police Provincial Office Director Chan asked all political parties to inform the police stations of their rally schedules.
Bataoil said that even if the town of Mangatarem is not included in the list of priority areas of the police in this election, "there should be an outright augmentation force to be deployed in the area."
Reelectionist village councilor hurt in Pangasinan shooting
By Gabriel Cardinoza (Inquirer Northern Luzon)
DAGUPAN CITY — A reelectionist councilor of Mangatarem, Pangasinan was hurt Thursday night after he was hit by a stray bullet as he passed by a political rally in a village there, police said.
Senior Superintendent Marlou Chan, provincial director, said Councilor Raymundo Cruz was hit on his left arm. He was taken to a nearby clinic by his brother and then later, to a hospital in Dagupan City, where he is now recuperating.
Chief Inspector Fidel Junio, Mangatarem police chief, said Cruz, who is running under the Pwersa ng Masang Pilipino, dropped by Barangay (village) Caoile Olegario in Mangatarem at about 9:20 p.m. Thursday to listen to the town's Liberal Party candidates, who were having a political rally in the village.
But Junio said when Cruz arrived in the area, he saw a throng of people running away from the gathering.
He said the commotion ensued when somebody shouted while LP vice mayoral candidate Nelson Cruz was speaking.
Junio said Cruz then immediately left the place and rode on his motorcycle.
Then shots rang, with a bullet hitting his left arm.
Junio said no one else was reported hurt in the incident.
BIR to taxpayers: Help build the nation, pay taxes
By Venus H. Sarmiento (MCA/VHS/PIA-1Pangasinan)
CALASIAO, Pangasinan, April 12 (PIA) -- The Bureau of Internal Revenue in the Ilocos has reminded tax payers to file their income tax returns (ITR) and pay proper income taxes on or before the April 15 deadline.
The BIR will not extend the deadline for filing ITRs like what it did in previous years.
Regional Director Arnel Guballa said that the government needs revenues to complete public programs and projects and improve existing public facilities.
"Wala namang ibang pagkukunan ng pondo kaya dapat lang na magbayad tayo ng tamang buwis para umusad ang pamamahalaan (There is no other source of public funds that is why we need to pay proper taxes for the government to operate)," Guballa said in a press conference on Friday.
Guballa said that the BIR aims to improve the voluntary compliance of professionals like doctors, lawyers, and self-employed individuals in paying correct taxes by strictly implementing tax rules.
"It is the policy of the Department of Finance to go after professionals who do not pay proper and correct taxes," he said.
Guballa encouraged tax payers to pay income taxes before April 15, the last day of filing or they will be slapped with a 25 percent surcharge on their basic tax plus 20 percent interest.
In 2012, the BIR Regional Revenue Office No. I posted the highest growth rate of 16 percent with a P7.2 billion collection or P1 billion higher than the collection in 2011.
This year, the BIR Ilocos targets to collect P9 billion from the region.
FBI wanted American nabbed in Dagupan
By Mar T. Supnad
An American national, long wanted in the US and considered as over staying and undocumented alien, was finally arrested in Dagupan City, Wednesday after years of hiding in different places of the country.
Joint operatives of the Criminal Investigation and Detection Group, Bureau of Immigration (BI) and the local police arrested Brian Thomas Stickney, 46, who has a US warrant of arrest for 14 counts of possession of child sex images. Each count has a penalty of 40 years imprisonment in the US court.
Police Senior Superintendent Harris Fama, Chief of Detection and Special Operation Division (DSOD) of CIDG, who led BI and police agents and their US counterparts, said they nabbed Stickney early in the morning in his rented apartment in Brgy. Tebeng, Dagupan City, Pampanga.
Stickney is already considered an undocumented and overstaying alien with a warrant of deportation signed by BI Commissioner Ricardo A. David, Jr. pursuant to a Summary Deportation Order (SDO) from the BI board.
"We have Oplan Pagtugis against foreign fugitives who come here to evade prosecution and punishment for crimes they committed in their own country," said Police Chief Superintendent Francisco Uyami, CIDG director.
Stickney has been on the FBI wanted list since 2010 after he fled to the Philippines and joined a religious group in Ilocos, La Union and Cordillera. While in the Philippines Stickney claimed to be a former soldier and was said to have used several aliases. He was with his Filipina partner when he was arrested.
Pangasinan sparks cultural rebirth
(Manila Standard Today)
A provincial awardee, Alma Quintans-Kern, guest of honor and speaker during Pangasinan's 433rd founding anniversary celebration, commended local leaders for bringing back the passion of Pangasinenses to love and value the rich culture and heritage of the province.
In the commemorative program at the Capitol Plaza, Kern lauded Gov. Amado Espino and reminisced her childhood with fond memories of using the Pangasinan dialect as medium of communication at home while living in Manila.
Kern, who is a grand-daughter of two former Pangasinan governors (Daniel Maramba and Pedro Quintans), said that her ancestors inculcated in her values of being Pangasinense that formed the core of being she has today.
"My ancestors slept, talked, ate and breathed Pangasinan, she noted as she further disclosed that she was brought up and raised with a complete thought that the best things come from Pangasinan," Kern said.
Espino, for his part, outlined several projects and undertakings that were established under his administration geared to awaken the senses of every Pangasinense so that they become more appreciative of their culture and history.
The governor said that one of the cultural projects that was implemented last year included the production of Pangasinan Orthography, or the formal system of spelling and correct usage of Pangasinan words which was presented by Komisyon sa Wikang Filipino chairman Jose Laderas Santos.
Power outage in 15 areas in Pangasinan on April 11
By April Montes (MCA/AM-PIA1, Pangasinan)
DAGUPAN CITY, April 9 (PIA) -- Fifteen areas in Pangasinan will experience a 10-hour power outage on Thursday, April 11 from 7 a.m. to 5 p.m.
In a statement, the National Grid Corporation of the Philippines (NGCP) said the scheduled power interruption will affect Alaminos City and the towns of Agno, Anda, Bani, Bolinao, Burgos, Dasol, Infanta, Labrador, Mabini, Sual and parts of Calasiao, Dagupan City, Lingayen and Sta. Barbara.
Lilibeth Gaydowen, NGCP's corporate communication and public affairs officer for North Luzon, said parts of Pangasinan Electric Cooperative (PANELCO) 1, Central Pangasinan Electric Cooperative (CENPELCO) and Dagupan Electric Corporation (DECORP) will hold an annual preventive maintenance and testing of 100 mega volts ampere power transformer and its associated equipment at NGCP's Labrador Substation.
Regular line maintenance along Labrador-Bolinao 69 kilo volts transmission line will also be conducted simultaneous with DECORP's line maintenance of their Labrador-Calasiao 69 kilo volts line, she added.
Gaydowen said it was PANELCO 1, CENPELCO and DECORP which identified the cities and municipalities that will be affected by the power interruption based on the distribution utility's maintenance needs.
"The utility allots the available power within its franchise area and implements the power interruption schedule among the end-users," she said.
A momentary power interruption will also occur in the towns of Asingan, Binalonan, Laoac, Manaoag, Mangaldan, Mapandan, Pozorrubio, San Fabian, San Jacinto, San Manuel, parts of Sison and Urdaneta City from 7 a.m. to 7:30 a.m. and 4:30 p.m. to 5 p.m. to facilitate shifting of power source of DECORP's Calasiao Substation.
Gaydowen said normal operations will immediately resume after work completion.
The NGCP advised its customers and the general public affected by the interruption to take the necessary preparations and precautions.
More jobs available for Pangasinenses in local, int'l markets
(PNA), LAM/PTR/LVM/HMAUSTRIA/RMA/UTB
LINGAYEN, Pangasinan April 8 (PNA) -- The Provincial Employment Services Office (PESO) here has announced more job openings in both local and international markets for job-seekers, including new graduates from Pangasinan.
PESO chief Alex Ferrer said that companies from Clark Economic Zone and Calabarzon are outsourcing even fresh graduates from the province as production operators, management production staff and call center agents.
Ferrer said these jobs could provide experience and good compensation as well.
He said applicants need not go to the companies' main offices to apply, as a job fair will be conducted on April 11 at the PESO here, wherein applicants will be interviewed and undergo written examination and medical check-up.
He said skilled workers are still the most in demand personnel abroad, followed by hospitality industry and retail and service industry workers in Saudi Arabia, South Korea and Hong Kong.
However, there are only few applicants in these industries, according to Ferrer.
"We are now running out of applicants," he said.
The demand for nurses abroad decreased although they are still hiring nurses from the provinces but with higher qualification for the few slots.
Ferrer said the PESO provides skills enhancement program, and basic conversational skills to aid job seekers for the written exam and interview.
Meawhile, PESO opened 100 slots or summer jobs for the special program for employment of students (SPES).
The students started working for the provincial government this week and will end before the opening of classes in June.
Cargo truck loaded with 173 sacks of rice hijacked in Pangasinan
By Lilia M. Micua [(PNA), DSP/LVM/LMM/RMA]
LINGAYEN, Pangasinan, April 7 (PNA)-—A cargo truck loaded with 173 sacks of rice worth P242,000 was hijacked by five armed men while proceeding to San Carlos City from Urbiztondo town at about 9:30 p.m. Friday, according to the police.
Danilo Balin, 36, of Barangay Polo, San Carlos City, driver of the truck owned by Khato Moreno, proprietor of KNK Grains Merchandizing, told the police his vehicle was blocked by a white sedan where the armed men were on board at the boundary of the Urbiztondo-San Carlos provincial road.
Balin, who was alone in the truck, said all the five male culprits were Tagalog-speaking.
He related to the police that one of the suspects grabbed the steering wheel from him and subsequently, his eyes and mouth, were wrapped with a masking tape and his feet and hands were tied..
The suspects managed to drive the truck towards Tarlac City where it was abandoned at Barangay Tebag, Tarlac City with all its load of rice gone.
The driver was left abandoned inside the truck and was only able to ask for help from tricycle drivers who were passing by at about 2:00 a.m. of April 6.From there, he was immediately brought to the Tarlac City police station where he reported the incident.
A manhunt for the suspects is now going on.
Pangasinan presents language, history and arts book
By Leonardo V. Micua [PNA), LAM/LVM/RMA]
LINGAYEN, Pangasinan, April 6 (PNA) -- The Pangasinan Historical and Cultural Commission (PHCC) has presented a Pangasinan History and Development Book which is a more accurate and comprehensive account of the history of the province.
The book was received Friday by Governor Amado Espino Jr. Friday from Dr. Gonzalo T. Duque, chairman of PHCC, also president of Lyceum-Northwestern University (LNU) in Dagupan.
The turn-over of the book was made during the commemorative program that kicked off the 433rd foundation anniversary of Pangasinan called "Agew na Pangasinan" in front of the provincial capitol. .
It was also Dr. Duque that spearheaded an earlier research study that discovered that Pangasinan was formally organized as a province under the Spanish crown on April 5, 1580.
The PHCC was tasked to continually establish an accurate and comprehensive account of Pangasinan's history, in the dimensions of demographic/geographical setting, and political, economic, social, arts, and cultural development.
In his speech, Espino challenged the Commission to develop the much-needed instructional materials on Pangasinan history to pave the way for its inclusion in the basic curriculum for all elementary and secondary schools in the province.
The move, Espino said, will boost efforts of the province to further promote Pangasinan language and literature which was already preceded by the launching of two significant projects last year.
The first project was the issuance of the Guidelines on Pangasinan Orthography, or the formal system of spelling and correct usage of Pangasinan words, presented by Komisyon sa Wikang Filipino (KWF) Chairman Jose Laderas Santos during celebration of Pangasinan Day last year.
This Orthography Project was the result of many months of hard work, contentious discussions and debates by local scholars, Espino explained.
"The relevance of this first edition cannot be underestimated, as the same guidelines are primordial in the present implementation of the mother-tongue based K-12 curriculum of the Dep-Ed (Department of Education)", he stressed.
Espino said that as promised by KWF, a primer shall be published and distributed before the start of school year 2013-2014.
Corollary to this, Espino challenged writers, academicians, linguists and cultural workers to continue doing their research work and studies, and to accept the evolution of a living language, with an open mind.
This, he said, will ensure that the guidelines set forth in the first edition and more, may continually satisfy and adapt to the changing needs of its end-users, most especially children.
Secondly, the "Kurit Panlunggaring" (writing contest) launched by the provincial government last year, is now an established annual literary contest in the Pangasinan language,
This contest provides incentives and a suitable venue for professional and aspiring writers to produce more literary works in Pangasinan.
The project was made possible under the guidance of Pangasinan's prominent sons: Palanca awardee and newspaper columnist Al Mendoza, and former ASNA awardee and distinguished poet Santiago Villafania.
They had been joined by two other dedicated writers - Sergio Bumadilla and lawyer Ferdinand Quintos, who also served as jurors in the Annual Kurit Panlunggaring literary contest.
"To sustain our support for our aspiring literary artists, we plan to hold the fellows/writers workshop, as means to continually develop a bigger pool of Pangasinan writers whose literary works may be included in our planned publication of Pangasinan poems, essays and short stories," Espino said.
In his speech, Espino took the opportunity to recognize the students and advisers of Bachelor of Science Information and Communication Technology of the Pangasinan State University – Lingayen Campus, for initiating a project for the wider use of the Pangasinan Language.
The students also launched last Friday a collection of Pangasinan word games for android mobile phones. These games are Pangasinan versions of Text Twist, Scrabble, Word Hunt and more.
An android-based mobile application also features a collection of Pangasinan delicacies and their recipes.
Espino said these applications will be turned over to the Provincial Government for inclusion in the provincial websites, and will be made available to the general public for downloading.
"We thank the proponents of this interesting contribution, and we hope that by their example, they can inspire the younger generation in our province to contribute also in the overall effort to continually develop, promote, and preserve the Pangasinan language", Espino said.
In the area of Pangasinan performing arts, Espino said the provincial government also launched the Pangasinan Culture and Arts Festival two years ago.
Officially known as "Balitok a Tawir", this inter-municipal competition in Pangasinan folk songs and dances, including the zarsuela, was enthusiastically received not only by the competing Local Government Units but also by the people in Pangasinan at large.
Fil-Am awed by fast development of Pangasinan
(PNA), LAP/LVM/LVMICUA/RMA
LINGAYEN, Pangasinan, April 5 (PNA) -— "If my grandfathers were still alive, I know they would be amused with what is now developing in their dear province".
Thus said Alma Quintans-Kerns, this year's Balitok Awardee of the Asna Awards when she was the guest of honor during the commemorative program of the 433rd Foundation Anniversary of Pangasinan at the Capitol Plaza Friday, in praise of her province.
Kerns is the granddaughter of two great former governors of Pangasinan, Daniel Maramba by her mother's side; and Pedro Quintans, by her father's side.
"They would have been proud. And my Laki (grandfather) Daniel would be doubly proud to know that the revival and preservation of Pangasinan history and heritage is an important element of Governor (Amado) Espino's vision of the province," she said.
Kerns, founder of the-Washington-Pangasinan Sisterhood Association along with a Filipina Washington State legislator Velma Veloria, said: "I have come to two conclusions. First, I have not seen much clearer proof that I have seen in the past five years that Pangasinan is on its way to becoming the most respective province in the whole country".
"In the past, I saw our province as a beautiful lady but she had unfixed hair and her face was unwashed and dirty. But this time, she has well-combed hair and a nice face," Kerns said.
"Our social services and government facilities are working effectively and efficiently for the first time in a long time. When I hear about Pangasinan being the chosen venue for the Palarong Pambansa and other national conventions, I beam with pride," she confessed.
"I read about all the awards of Pangasinan and I say 'wow'. Justo amay ibabaga dad siac na ateng ko ya sangkamaungan so Pangasinan (There is truth to what my parents told me that Pangasinan is the best)."
Secondly, she said, it is clear that the people of Pangasinan share and appreciate the vision of Governor Espino and Vice Governor (Jose Ferdinand) Calimlim to make Pangasinan the number one, "the best place to invest, work, live and raise a family".
"Everywhere I go, I see wider streets, lighted and renovated plazas and churches, cleaner rivers, more trees and best of all, I see healthier kids," Kerns said.
Just like my grandfathers, Daniel Maramba and Pedro Quintans, both of whom served as governors, I love my province of Pangasinan and I am a proud daughter of Pangasinan, Kerns declared in her speech.
Both the Quintans and the Maramba clans established their roots in the soils of Pangasinan in the 1800s, the former in Malasiqui and the latter in Sta. Barbara.
The Maramba Boulevard in Lingayen leading to the provincial capitol was named after Don Daniel, governor of Pangasinan from 1916 to 1922.
"I belong to the third and six generations of the Marambas and Quintanses and although I now reside 24,000 kilometers away, I still hold Pangasinan very close to my heart," said Kerns.
Still speaking fluent Pangasinan even if she has been based in the land of milk and honey since 1974, Kerns explained why she has not forgotten the Pangasinan dialect.
"Since my family on both my father side and my mother side were fiercely loyal to Pangasinan, they drilled into my head that the greatest province in the world is of course Pangasinan, the sweetest mango in the world, the best beaches, the best bagoong (fish paste), the best bisokol (edible snails), the best rice belonged to Pangasinan, in other words, in their own minds, Pangasinan offers everything that was needed in our lives, and there was no need to search elsewhere."
She said her parents taught her there is no language more beautiful than Pangasinan than Pangasinan itself, pointing out that though she was born in Manila, "I spoke nothing but Pangasinan until I entered kindergarten".
"My father told me again and again that I had to learn how to speak Pangasinan so that people will know I am Pangasinense, telling in Pangasinan what her mother used to say to her that her late grandfather Daniel will come to her as a ghost if she does not know how to speak Pangasinan.
Probing her deep Pangasinan roots, Kerns still relishes the food that her family used to serve even in Manila where she studied like "baguisen", "inutekan" "saluyot", "buro ya gele-gele", "inasinan ya babuy", "patupat" and others.
In parting, Kerns called on the province and its people to "keep moving forward".
"We cannot turn back now, not when we are on the verge of becoming the best province in the country," she said.
Kerns added: "Our beloved province of Pangasinan already has what it takes to be number one: Share vision and shared pride, conscientious leadership, and rich resources. So, let's keep moving forward".
"Manibaan tayo sirin tapiano number one so probinsya tayo, number one so totoo tayo" (We should go together to make the province and its people number one)", she added.
Braid, Sr. Mananzan lead ASNA golden awardees in Pangasinan
(PNA), FPV/LVM/ JOHANNE MARGARETTE R. MACOB/RMA
LINGAYEN, Pangasinan, April 4 (PNA)---Dr. Florangel Rosario-Braid, a revered communications specialist and media practitioner; and Sr. Mary John Mananzan, a missionary Benedictine Sister who established the Benedictine Program, are this year's recipients of the Balitok (Gold) Awards in the annual ASNA Awards, highlighting the celebration of the 433rd Foundation Day of Pangasinan on Friday, April 5.
Governor Amado Espino Jr. will spearhead the awarding ceremonies set on the night of April 5 at the posh Sison Auditorium in Lingayen.
Dr. Braid, who is from Dagupan City, was chosen to receive the Balitok Award for Journalism and Development Communication; while Sr. Mananzan, who was born in Bayambang, will be awarded the Balitok Award for Women's Studies and Feminist Activism.
Braid is a scholar, development advocate and educator. She co-founded the Asian Institute of Journalism and Communication (AIJC) in 1980 and is now the president emeritus of the same institution.
Already bestowed with other prestigious awards as The Outstanding Filipino (TOFIL) award, Braid continues to practice her media expertise as a regular columnist of the Manila Bulletin.
On the other hand, Mananzan is also the first woman to graduate Summa Cum Laude from the Pontifical Gregorian University in Rome, Italy.
At present, Mananzan serves her second term as the prioress of the Missionary of Benedictine Sisters of the Manila Priory after being the president of the St. Scholastica's College for two terms.
Mananzan was bestowed with numerous awards including international ones as she was cited as one of the 100 inspiring persons in the world by the Women Deliver during the International Women's Day celebration in 2011.
The other ASNA awardees this year are Romeo Castillo-Mananquil of Binmaley town for Visual Arts, Dr. Josephine Paed-Arquillano of San Carlos for Fisheries Education, and Dr. B. Gen. Antonio Laperal-Tamayo of Malasiqui for Education and Culture.
The ASNA awards, being presented yearly to Pangasinan's outstanding sons and daughters who have positively distinguished themselves in their respective fields over the years, started four years ago.
The ASNA Awards are being given not only to recognize remarkable Pangasinenses but also to inspire others to follow the footsteps of those locals who have excelled in their respective chosen arena.
Asna is an ancient term for 'asin' (salt) which the province's name Pangasinan was derived from. The term signifies good quality of a man's character or his demeanor.
This year's panel of judges is composed of Fr. Weng Escaño, Judge Emma Bauzon, Howie Cham, Arabella Arcinue, Gabriel Cardinoza, and Dr. Lydia Buduhan.
Each of the winners has satisfied the following requirements set by the committee in-charge: nominated by a person or a non-government organization; a Filipino citizen, born in Pangasinan or has Pangasinan ancestry; not an incumbent elected public official; a true Pangasinan at heart, happy and proud to be one; complied with all the rules governing nomination; and alive and able to attend the awards night.
Grandma, 80, gets college diploma
By Eva Visperas (The Philippine Star)
DAGUPAN CITY, Philippines — You're never too old to pursue your dream.
Paciencia Pacibe Tamayo, at age 80, graduated from college last Monday, earning a Bachelor of Science degree in Education. The new teacher majored in Technology and Livelihood Education.
The widowed grandmother of 19 grandchildren and four great grandchildren was offered a job to teach at the barangay day care center but declined because of her age.
"It's enough that I achieved my dream," she said.
Tamayo, a resident of Maramba Boulevard, Lingayen, Pangasinan, marched with 3,203 other graduates of the Pangasinan State University (PSU) during their commencement exercises last Monday.
She told The STAR she is happy and fulfilled now that she finally has a college diploma.
"This is really my dream," she said.
Tamayo said she decided to go back to school five years ago after her husband died.
She stopped for one semester because her children were afraid she might not be able to take the rigors of studying, she added.
Tamayo said upon the prodding of a relative, she pursued a college degree at the PSU through the Expanded Tertiary Education Equivalency and Accreditation Program.
"I was never ashamed to go back to school," she said. "I don't care. It's my dream. It's my money I spent for my schooling with the help of my children."
Tamayo said Mathematics gave her headaches, but that her highest grade was 1.5 in Humanities.
Whenever she got low grades, she would cry and would ask her professors what she must do, she added.
Tamayo's daughter, Edna Tamayo-Tomelden, who works at the Commission on Audit in the Cordillera Administrative Region, said she and her siblings were initially hesitant to allow their mother to go back to school.
"We are very proud of her because she finally achieved her ultimate dream to have a college diploma," she said.
Binalonan included in list of areas of immediate concern in Pangasinan
(PNA), PDS/LVM/RMA
LINGAYEN, Pangasinan, April 2 (PNA)-- The town of Binalonan was included in the list of 12 original towns and cities placed as areas of immediate concern of law enforcement agencies in this election.
This was disclosed by Sr. Supt. Marlou Chan, officer-in-charge of the Pangasinan police, following a meeting of members of the Provincial Joint Security Control Center (PJSCC)last week.
The meeting was presided over by Provincial Elections Supervisor Marino Salas along with representatives of the police and the Armed Forces of the Philippines (AFP).
Chan said they had placed Binalonan as among the areas of immediate concern in the meantime although the request of some residents from that town is for it to be placed under Comelec control which is more complicated.
Other towns categorized as areas of immediate concern are Bolinao, Infanta, Agno, Urbiztondo, Bugallon, Malasiqui, Rosales, Balungao and San Manuel and the cities of Alaminos, Dagupan and San Carlos.
Pangasinan is one of the 15 provinces in the country named as areas of immediate concern in this election because of keen political rivalries, history of political killings and others.
A mayoralty candidate from Binalonan town earlier wrote the Provincial Elections Office seeking Comelec control of Binalonan due to keen political rivalry and to prevent bloodshed.
Float Parade showcases Pangasinan people's ingenuity
(PNA), LAP/PTR/LVM/LMMICUA/RMA
LINGAYEN, Pangasinan, April 1 (PNA) -- Tourists and guests are expected to be delighted to see the ingenuity and creativity of the Pangasinan people when they witness another spectacular parade of colorful floats on April 5.
This is the "Parada Na Dayew (Parade of Honor): Float Competition" which is one of the highlights of the 433rd Agew Na Pangasinan (Pangasinan Day) celebration.
Janet Asis, chair for the Parada Na Dayew, a grand cultural parade representing the various Local Government Units and some private entities, said the province expects over 30 floats to join the competition.
The floats will carry this year's theme "Say Pankakasakey na Karakelan, Aliguas na Baley Natan (Unity of All is Key to Progress of the Province Today)."
As the floats pass through the main thoroughfares of Lingayen, spectators will be treated to exciting performances of street dancers providing added fun and thrill to the public.
The parade which will start right after the commemorative program at the Capitol Plaza will begin with an assembly at the Capitol Compound, then move to Alvear Street–Artacho St.-Lingayen Plaza-Maramba Blvd. back to Capitol Compound.
Aside from the contingents for the float parade, walking participants will include mayors, vice mayors, councilors and employees who will follow their respective floats.
Asis disclosed that three stations will be put up during the parade where each contingent can showcase their float for a minute.
The criteria for judging include architectural value, creativity, artistry and originality, relevance to the theme or clarity of message, visual impact and technicality.
Winners will receive the following prizes: P100,000 for the grand champion; P75,000 for the 1st runner-up; 2nd runner-up P50,000; 3rd runner-up P40,000; 4th runner-up P30,000 and consolation prize of P5,000.