Pangasinan News
Jump to navigation
Jump to search
→ → Go back HOME to Zamboanga: the Portal to the Philippines.
List of Municipalities in the Pangasinan province within Region I in the Republic of The Philippines
Agno || Aguilar || Alcala || Anda || Asingan || Balungao || Bani || Basista || Bautista || Bayambang || Binalonan || Binmaley || Bolinao || Bugallon || Burgos || Calasiao || Dasol || Infanta || Labrador || Laoac || Lingayen (Capital) || Mabini || Malasiqui || Manaoag || Mangaldan || Mangatarem || Mapandan || Natividad || Pozorrubio || Rosales || San Fabian || San Jacinto || San Manuel || San Nicolas || San Quintin || Santa Barbara || Santa Maria || Santo Tomas || Sison || Sual || Tayug || Umingan || Urbiztondo || Villasis
Cities in the Province of Pangasinan: Alaminos City || Dagupan City || San Carlos City || Urdaneta City
---
---
Pangasinan - Archived News
---
Interactive Google Satellite Map of Pangasinan Province, Philippines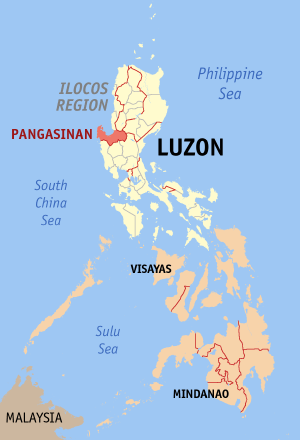 Map Locator of Pangasinan Province

The Capitol Building of Pangasinan in the municipality of Lingayen
Dietary supplement is a product that contains vitamins, minerals, herbs or other botanicals, amino acids, enzymes, and/or other ingredients intended to supplement the diet. The U.S. Food and Drug Administration has special labeling requirements for dietary supplements and treats them as foods, not drugs.
---
---
Manufacturers and distributors of dietary supplements and dietary ingredients are prohibited from marketing products that are adulterated or misbranded. That means that these firms are responsible for evaluating the safety and labeling of their products before marketing to ensure that they meet all the requirements of DSHEA and FDA regulations.

Pangasinan State University, Asingan Campus

Church in Aguilar Pangasinan
Wars of ancient history were about possessions, territory, power, control, family, betrayal, lover's quarrel, politics and sometimes religion.
But we are in the Modern era and supposedly more educated and enlightened .
Think about this. Don't just brush off these questions.
Why is RELIGION still involved in WARS? Isn't religion supposed to be about PEACE?
Ask yourself; What religion always campaign to have its religious laws be accepted as government laws, always involved in wars and consistently causing WARS, yet insists that it's a religion of peace?
WHY??
There are only two kinds of people who teach tolerance:
The Bullies. They want you to tolerate them so they can continue to maliciously deprive you. Do not believe these bullies teaching tolerance, saying that it's the path to prevent hatred and prejudice.
The victims who are waiting for the right moment to retaliate. They can't win yet, so they tolerate.

Tondol Beach, Anda
By Hilda Austria (PNA)
CALASIAO, Pangasinan -- The Department of Public Works and Highways (DPWH) fourth engineering district office in Pangasinan has 22 flood control projects underway for towns and cities in the province, an official said Wednesday.
Daisy Sharmaine Daroy of the monitoring engineering department of DPWH-Pangasinan IV said among the flood control projects for this year are the construction of protection works along Ingalera River Macabito section costing PHP20 million, in the Nagsaing Doyong section worth PHP30 million, and along Marusay River Barangay Talibaew in Calasiao town for PHP30 million.
In San Carlos City, Daroy said the agency is also constructing protection works along Agno River at Barangay Guelew for PHP50 million, at Barangay Supo for PHP50 million, and river bank protection along Ingalera River Ano section worth PHP32.179 million.
"There is also the construction of protection works along Angalacan River at Barangay Sta. Maria and at Barangay Baloling Mapandan worth PHP30 million and PHP50 million, respectively," she said in an interview.
In Bayambang town, Daroy said the construction of protection works along the different sections of Agno River is ongoing.
She said protection works in Bacnono section is worth PHP23.179 million; Ambayat 1st section -PHP7 million; and Carungay section -PHP3 million.
She added the DPWH also allocated PHP20 million for the construction of river bank protection along Agno River specifically in Caturay section; Warding section -PHP40 million; and Zone V section -PHP11 million.
For slope protection works along Agno River at Barangay Bongato West, the DPWH earmarked PHP30 million; Baragay Iton -PHP50 million; Barangay Manambong Norte -PHP20 million; Barangay Manambong Sur -PHP50 million; Barangay Wardig -PHP10 million; Phase 1 at Paragos -PHP20 million; Phase II at Paragos -PHP30 million; and Phase III at Paragos -PHP14.252 million.
Daroy said the funding for the projects come from the General Appropriation Act of 2019.
By Hilda Austria (PNA)
BAYAMBANG, Pangasinan -- Squash, okra, and onion chips will soon be distributed in the market by One Food Corporation with the help of the technology of the Pangasinan State University- Department of Science and Technology Food Innovation Center (PSU-DOST FIC).
In a forum Tuesday, Mayor Cezar Quiambao said a factory of nutritious snacks and other products made from the town's vegetables will rise in a 2,000-square-meter agricultural center of the town at Barangay Amancosiling Sur.
"We convinced the corporation to adopt the products of PSU-DOST FIC. From the many products, they will start with squash, onion and okra chips and tomato paste since these are abundant in our town. They will start next month to mass produce but they will use the facilities of PSU-DOST FIC," he said.
The mayor disclosed that an intensive backyard gardening program was started in the town to be able to supply the needed vegetable raw materials of the company.
"We are urging all residents to plant. We have provided them seeds and seedlings to plant in order to meet the demand. This is a big help because farmers and residents will have a permanent market of their produce. And also it is a big help since we are adding value to the agricultural products and there will be more employment opportunity for the people here when the factory finally opens," Quiambao said.
He added the products are intended for high-end and export markets.
Meanwhile, DOST provincial director Felicidad Gan said their office provided major equipment for the food innovation center and continuously support the analysis, nutritional facts, shelf life testing, and competitive packaging materials, among others.
By Hilda Austria (PNA)
BAYAMBANG, Pangasinan -- Residents of this town may avail of the free technology or livelihood trainings, while students can view technology exhibits during the Science and Technology Caravan here starting Tuesday.
The four-day event is headed by the Department of Science and Technology (DOST) regional office (Ilocos) and Pangasinan provincial office, in partnership with the municipal government of Bayambang.
In her speech during the opening program, DOST-Pangasinan provincial director Felicidad Gan said all the services and exhibits are free and open to all residents or students even those from neighboring towns or cities.
"The activity aims to raise awareness and appreciation of DOST projects as well as forge partnerships and collaboration between the local government unit and the DOST. Also, to create potential investment opportunities on matured technologies towards establishment of technology," she said.
Among the topics for the technology talk are improving bamboo craft and furniture industry, which will tackle processes on bamboo dyeing, preservation and engineered bamboo, resin lamination, drum-type charcoal kiln, among others; improving agriculture and livestock industry; food innovation; disaster risk reduction and mitigation; and waste management, Gan said.
Meanwhile, under technology livelihood trainings, residents will learn rags and t-shirt printing; bottled bangus in tomato sauce and tuyo gourmet making; mushroom production and processing; basic baking 101; no-bake products; salted egg making and pickled vegetable making, she added.
For the students, Gan further said the mobile planetarium will be on display at the Bayambang Events Center from Aug.13-16 with free admission.
"We wanted the students to appreciate the grandeur of the planets and stars, for the future astronauts or simply stargazers. We also have the science interactive activities" she said.
A robotics workshop and competition will also be held on Aug.14-15 at the second floor of the Bayambang Municipal Library.
During the caravan, Gan added DOST scholarship applications for undergraduates will be accepted and processed by their office.
A DOST- Science Education Institute scholarship campaign was held Tuesday as part of the caravan.
The caravan also offers free scale calibration, and there are also booths of technology exhibits.
Mayor Cezar Quiambao thanked DOST for bringing the caravan to their town.
"This is very important as it is in line with our revolution against poverty. Students and residents should take advantage of this. This is very important because you will learn a lot about doing business out of all these technologies," he told the attendees.
Quiambao also called on his constituents to enable the caravan to yield positive results.
"I challenge you, to have a business out of what you have learned here. Even just one of you who will be inspired to do business from what he has learned here. And I urge you come to my office and I will help you make that business happen," he said.
He added the DOST also provides assistance to those who are willing to learn more about their technologies.
(PIO/RRB, Sunday Punch)
THE provincial government congratulated Ben John C. Lazo for his Top 2 finish in the June 2019 Architecture Board Examination.
The commendation was formalized through the approval of Provincial Resolution No. 58-2019 which was approved during the regular session on August 5.authored by SP Member Vici Ventanilla.
Lazo, who hails from Barangay Poblacion in Malasiqui town is the son of Reynaldo A. Lazo and Filipina C. Lazo. He finished his degree of Bachelor of Science in Architecture at the University of Pangasinan-PHINMA.
(PIO/RRB/ Sunday Punch)
IT'S all systems go for the conduct of the 2019 Milo Marathon at the Lingayen Baywalk on August 18.
Marlon Domalanta of the Pangasinan Sports Development and Management Office and Tes Bernardino, race organizer, announced that online registration for interested participants will run until August 16.
The marathon will consist of four events to include the 21-kilometer (half marathon), 10-km run, and 5-km/3-km fun run.
Registration fee for the 21-km half marathon is P1,000 plus a Fit-To-Run medical certificate and P900 for the 10-km run. For the 5-km and 3-km fun run, adult fee of P160 will be required and P110 for students.
Schedule for the race are as follows: 21-km, 4:30AM; 10-km, 5AM; 3-km, 5:30AM; 5-km, 5:35AM.
Interested participants may register online or download the application form at https://www.milo.com.ph/events/milomarathon.
The event is a joint activity of the provincial government and the RUNRIO, Inc., the organizer of the event, supported by the local government units of Lingayen and Binmaley.
A Zumba activity and cheer dance competition will be featured after the marathon.
For more details, contact Tes Bernardino (0917-880-3585; 0949-762-3338).
By Dale Israel, Yolanda Sotelo (WITH REPORTS FROM VINCENT CABREZA AND JOEY A. GABIETA, Philippine Daily Inquirer)
Local governments aided by state agencies are waging a biological and chemical warfare of sorts to stop the fast-rising number of dengue cases and deaths caused by the mosquito-borne viral disease.
On Thursday, the Bureau of Fisheries and Aquatic Resources (BFAR) deployed pinky-sized scaly commandos to hunt and devour mosquito larvae in waterways near schools in Dagupan City and in the towns of San Fabian, Sta. Barbara and Mangaldan, all in Pangasinan province.
In Central Visayas, the Department of Health (DOH) regional office said it was speeding up the installation of insecticide-treated net curtains, which could kill mosquitoes on contact. Around 50 percent of all schools in the region are already covered.
The measures are on top of the Department of Health's campaign dubbed "Sabayang 4 o'clock habit para Deng-Get Out" to manually search and destroy mosquito breeding sites in homes, workplaces and schools.
'Tuyong' deployment
A team from the BFAR research center and volunteers from the Lions Club Dagupan on Thursday distributed 30 bags containing at least 100 mosquitofish each, mostly to schools, following a request from the Department of Education.
The fish, measuring 4 to 7 centimeters, are voracious eaters of mosquito larvae, said Westly Rosario, BFAR research center chief.
Locally called "tuyong," the fish were released in canals and waterways inside and near schools, including Mangaldan National High School, San Fabian National High School, Dagupan City National High School, and Sta. Barbara National High School.
The BFAR will breed more of the fish, which had been collected from canals and ponds, as they are now being used for the biological control of mosquitoes, Rosario said.
Tuyong are edible but not a preferred fare, he said as he dispelled concerns that they might become invasive as they die out during the dry season when water disappears from canals and ponds.
Dagupan cases drop
The fish (Gambusia affinis), was brought into the country by the Americans in the 1920s to stop the spread of malaria, another mosquito-borne disease.
According to Rosario, stocking tuyong in canals could have helped reduce the number of dengue cases in Dagupan, which fell from 175 cases from January to Aug. 5 in 2018 to 108 in the same period this year, according to the city health office.
Ana de Guzman, provincial health officer, said of the 3,877 people stricken with dengue last year, 12 died. This year, 2,753 cases were reported, with five deaths.
In the Cordillera region, hospitals had treated 4,327 patients from January to Aug. 3, with nine deaths, according to Amelita Pangilinan, DOH regional director.
Meshed curtains
In Cebu City, Jaime Bernadas, DOH director for Central Visayas, said the meshed curtains installed in schools were designed for doors and windows. Mosquitoes attack or feed from 6 a.m. to 9 a.m. and from 3 p.m. to 6 p.m., at times when thousands of children congregate in one location, he said.
Bernadas said the mosquito killers were safe to humans and could remain potent for up to five years if kept dry.
Central Visayas had 11,085 dengue cases with 74 deaths from Jan. 1 to Aug. 3, the DOH reported.
Health Secretary Francisco Duque III on Wednesday visited the dengue-hit province of Quezon where authorities reported 12 people dead in the first seven months of the year.
The provincial public information office listed 3,623 cases from January to Aug. 12, a 19.23-percent increase from the number for the same period last year.
Localities posting high cases of dengue included the cities of Lucena and Tayabas, and the towns of Unisan, Lopez, Atimonan, Mauban, Gumaca,
Infanta and Sariaya.
On Thursday, Duque traveled to Tacloban City in Eastern Visayas, where the provincial governments of Leyte, Samar and Eastern Samar and the cities of Ormoc and Tacloban had declared state of calamities due to dengue.
The region recorded 10,569 cases with 36 deaths, ranking Eastern Visayas 10th among the country's regions with a high number of dengue cases.
By Liwayway Yparraguirre (PNA)
DAGUPAN CITY -- Some 60 Grade 9 learners from public and private schools in the city will learn first-hand the duties and responsibilities of local government officials as they undergo training from them under the Manlinkor Ya Kalangweran (MYK) program this August 13 to 16.
MYK is a yearly program of Dagupan City government and the Department of Education (DepEd) Dagupan City Schools Division that trains top students to become youth leaders, and give them an opportunity to become counterparts of the city officials.
Augusto Mejia, one of the training facilitators, said the youth in service will officially take their oath of office on Tuesday before Mayor Brian Lim.
Elected as young city mayor (counterpart of Lim) is Frenzy Mae De Vera of St. John Cathedral School (SJCS), while Sander Khen Mirador of Dagupan City National High School (DCNHS) was elected as young city vice mayor.
The young councilors are Marianne Joy Vidal of SJCS, Ma. Diana Casaclang (St. Albert the Great School), Allen Ruth Cayago (DCNHS), Thiana Herizz Perez (DCNHS), Arif Javier (DCNHS), Jasmine Kaye Mendoza (Judge Jose De Venecia Sr. Technical-Vocational Secondary School or JJDVSTVSS), Beneil Dela Cruz (DCNHS), Angelica Barte (Bonuan Boquig National High School), Louisse Andrei Tuates (Dominican School), Klitschka Sandrine Gomez (DCNHS), Darrel Angela Ferrer (DCNHS), and Ardie Mararac (JJDVSTVSS).
Jobert Cruz of DCNHS will serve as young city administrator; Sophia Bianca Fabia of Mother Goose Special Science High School as young city DILG (Department of the Interior and Local Government) officer; Jastine Mae Diaz of Lyceum Northwestern University-FQD as young city police chief; Julen Rica de Vera of Carael Integrated School as young fire marshal; Siena Gotos of Salapingao National High School as young Comelec (Commission on Elections) officer; and Shaira Allapitan of Escuela de Nuestra Senora de la Salette as young city warden.
Others will serve as young officers assigned to the various city departments and offices.
Prior to assumption of their counterpart's position, the MYKs, or youth in service, underwent a leadership training from August 5-7 at the City Museum here, facilitated by the DepEd Dagupan in partnership with JCI (Jaycees Incorporated) Dagupan Bangus and JCI Dagupan.
In the past years, the MYKs were inducted in June 20 of each year, the city's founding anniversary.
Since no MYK was organized this June, Lim immediately directed the organization of MYK when he assumed office last month.
The MYK was launched in 2003 by the late mayor Benjamin Lim, the mayor's father. Its original name was Ogogaw Ya Manlingkor. The Pangasinan words Kalanweran and Ogogaw both mean youth.
By Hilda Austria (PNA)
MANGATAREM, Pangasinan -- The Philippine Red Cross (PRC) Pangasinan chapter, in partnership with the local government unit of Mangatarem, has chosen four barangays here as pilot areas of a project that aims to capacitate residents and students in facing disasters.
In an interview Thursday, PRC Pangasinan chapter chairman Maybelyn Fernandez said the Community Based Disaster Risk Reduction and Flood Resiliency Management of Communities (CBDRR-FRMC) project will provide mitigation trainings that are most needed in the four barangays.
Flood Resiliency Alliance and the International Federation of Red Cross and Red Crescent Societies have identified barangays Silag, Pampano, Valerio, and Sawat as highly susceptible to floods.
These barangays, with 7,904 population or 2,228 households, are located along the Agno River, as well as 10 other barangays of this town.
Agno River serves as the catch basin of other tributaries, and a spillway of a dam, making the areas around it flood-prone.
"Based from the assessment last year, the highest flooding was recorded in these barangays. Considering their topography and the population as well as the budget for disaster, they are considered the most vulnerable in the province," Fernandez said.
She said the project will run for three to five years, which will also include communities and schools.
"They will be taught to prepare not only themselves but also their properties when disaster (specifically flooding) strikes, while small-scale mitigations will be done in the areas identified depending on the needs on the ground. So the cooperation of the community is very important," Fernandez added.
PRC Pangasinan chapter administrator Florame Sanchez said the project will serve as a link between the communities, the municipal government, the provincial government, and the national government agencies.
"We will fill the gap between the local government units and national government agencies concerned. We will capacitate the communities and facilitate the mitigations but the communities will themselves scout for funding," Sanchez said.
Rex Vincent Escano, San Carlos City branch coordinator, said they are still in the data gathering and assessment part of the project.
"We are done with Silag and we will now proceed to the next barangay for data gathering. This is important for us to know what specific training or mitigation the communities need. But at the same time, we are also conducting trainings on first aid and community-based disaster management for the members of the Barangay Committee who were recipients of the PRC's cash transfer program last year," Escano said in an interview Thursday.
Meanwhile, Mangatarem Municipal Disaster and Risk Reduction Management Officer Engr. Edward Soquilla commended the project, and affirmed that it is timely.
"All our lives, we encounter flooding. Even our schools were not spared. Most of the documents in our schools are always swept by flood. The number one challenge still remains, that is on how to evacuate the people and how to give them proper orientation. The project will be a big help as the outcomes of the data gathering we will include these in our plan since the Department of the Interior and Local Government is now requiring us to submit a three-year plan for disaster management," he said.
Soquilla added the national government, through the Department of Public Works and Highways, is currently implementing dike construction project along some portions of the Agno River to ease flooding in their areas.
By Ahikam Pasion (PNA)
DAGUPAN CITY -- The Public Order and Safety Office (POSO) here has cleared around 40 percent of sidewalks and roads in the city since President Rodrigo Duterte gave the directive to local government units to clear the streets and roads of obstructions during his State-of-the-Nation Address (SONA).
POSO chief Robert Christopher Erfe-Mejia said the Central Business District has initially been the focus of their clearing operations but he vowed to move further away into the barangays.
"As of now, we will focus on cleaning our downtown area but we will soon clear inner roads and barangay roads," he said in an interview Wednesday.
Mejia also urged establishment owners to conduct their own "self-clearing" of sidewalks.
"Businesses also have a responsibility in keeping our sidewalks clean. It is everyone's obligation to comply in their own way," he added.
The POSO official vowed to continue their campaign until all Dagupan streets are completely rid of obstruction.
Meanwhile, around 200 riders whose motorcycles have modified mufflers have been apprehended.
Erfe-Mejia said noisy exhaust pipes are not allowed in the city in accordance with the city ordinance 2122-2018 prohibiting the use and/or modification of mufflers of motorcycles.
"Aside from 200 violators, there are also a number of violators of multiple traffic rules and ordinances," he added.
Currently, there are over 50 motorcycles impounded in the POSO office due to their relentless campaign against unruly motorcycle riders with various offenses.
Among these violations are not wearing of helmet, expired licenses, and even driving without license.
Erfe-Mejia also assured that violators will be able to retrieve their confiscated vehicles provided they pay the corresponding fines.
By Eva Visperas (The Philippine Star)
DAGUPAN CITY, Philippines — Due to heavy rains, some schools in Pangasinan are requesting for stocks of mosquito fish from the Bureau of Fisheries and Aquatic Resources (BFAR) as a defense against dengue-carrying mosquitoes.
Westly Rosario, chief of BFAR Dagupan, told The STAR they are scheduled to distribute this week mosquito fish (Gambusia affinis) to three different schools in Mangaldan, San Fabian and Sta. Barbara in Pangasinan for restocking.
The school said this will ease the worry of the Parents Teachers Community Association, adding that "this will be a way of solving the problem on increase on mosquito population, if not to eradicate the total population of the said species."
Rosario said mosquito fish is locally known as itar or kataba, and that its diet predominantly consists of large amounts of mosquito larvae.
He said in previous years, some schools and institutions like the Subic Bay Metropolitan Authority had also requested from them mosquito fish which were restocked in ponds, canals, creeks and other waterways near populated areas.
Rosario said Pangasinan, compared to other regions in the Visayas and Mindanao, has relatively lower cases of dengue.
"Maybe this was partly because of what we had previously restocked in canals in schools in Dagupan, Calasiao, Mangaldan, Malasiqui and San Fabian, among others," he added.
The BFAR chief said, historically, mosquito fish was spread by the Americans in the 1920s to address the malaria outbreak. It was then introduced into the ecosystems of other countries to lower mosquito populations.
Female mosquito fish can grow up to seven centimeters, with males up to four centimeters, and can survive even in waters with low oxygen. People became interested because of its "biological control," Rosario added.
Mosquito fish are small, dull grey, with a large abdomen and have rounded dorsal and caudal fins, and a mouth upturned towards the surface.
"Why wait until the larvae are hatched into a mosquito, fly and bite people? Stop them immediately while they're still in larvae stage," Rosario said.
He noted that mosquitoes nowadays have become immune to insecticides, thus stopping them at the earliest possible time through restocking of mosquito fish is a better means of control.
(PIO/SMDG, Sunday Punch)
THE provincial government rewarded members of the Pangasinan team that won second place in the Philippine Sports Association for the Differently-Abled (PHILSPADA) national competition held in Bulacan on May 22-31.
After the regular flag-raising ceremony at the Capitol Plaza, Gov. Amado Espino III presented cash incentives amounting to P158,000 to 27 PWD athletes from various towns.
Team Pangasinan reaped 24 gold, 12 silver, and 14 bronze medals during the aforementioned national sports activity. Cash prizes given were P8,000 (gold medalist), P6,000 (silver medalist) and P4,000 (bronze medalist).
Provincial Social Welfare and Development Officer (PSWDO) Emilio P. Samson said Pangasinan athletes did well in track and field, chess, badminton and weightlifting.
Last year, Pangasinan clinched the overall championship in the PHILSPADA paralympic games.
Meanwhile, in celebration of the 41st National Disability Prevention and Rehabilitation Week Celebration in the province last week, Espino also distributed assistive devices to children and adult PWDs from Villasis, Umingan, Malasiqui, Aguilar, Bayambang, Sta. Barbara, Asingan and San Carlos City.
Samson stressed that providing assistive devices and financial assistance to PWDs has been part of the intervention efforts of the provincial government.
By Hilda Austria (PNA)
ALAMINOS CITY, Pangasinan -- The city government here was awarded the Kapit Bisig Gold Hall of Fame (city level) by the Bangko Sentral ng Pilipinas (BSP) for its up-to-date registration of pawnshops and money service businesses in its jurisdiction.
"We are honored to have received an award coming from a national agency such as (the) BSP. It must mean that we are stepping in the right direction for our city. Of course, as the head of our city, I would want our constituents to be serviced reliably and efficient(ly). And receiving this award warms my heart and makes me proud to be a part of the local government unit that our reliable and efficient service to our people is being noticed in the national level," Mayor Arth Bryan Celeste said in an interview Friday.
Bernald Capitle, Business Permit and Licensing Office chief of this city, said this is the third consecutive year that the city received the same award from BSP hence, they are now Gold Hall of Fame awardee.
"(The) BSP recognized the city's fast periodic report in updating pawnshop and money service businesses' registration, which is our support to the campaign of (the) BSP and the Department of (the) Interior and Local Government (DILG) against money laundering activities and protection of consumers," he said in an interview Friday.
Meanwhile, aside from speedily updating their records, the city has long been implementing the "Ease of Doing Business Law" following its passage into law by President Rodrigo Duterte last year.
"We have made the processing of business permit simple so it can be released within 30 minutes. All they have to do is to apply, file and pay. In applying, questioning (for details of business) will take 15 minutes, three to five minutes for encoding and printing out, before they would proceed to the Treasurer's Office and printing out of Mayor's Permit. The processing at the Treasurer's Office is also fast because the dues they have to pay are already computed," Capitle explained.
In the simplified process, the applicant should have with him the pre-requirements in applying for business permits, such as community tax certificate, barangay clearance where the business will be established, contract of lease, license from national government agencies if needed, and certificate of registration for corporation/partnership, among others, he added.
Capitle further said the other requirements that took long to comply with are now part of the post permit requirements that may be submitted within 15 days, such as zoning clearance, real property tax or land tax clearance, garbage fee, fire safety inspection certificate and sanitary permit.
By Hilda Austria (PNA)
LINGAYEN, Pangasinan -- The Pangasinan Police Provincial Office (PPPO) has launched the use of digital facial composite sketch as an aid in determining the facial feature of a suspect involved in crime.
Col. Redrico Maranan, acting provincial director of PPPO, said the use of the system will help improve crime solution efficiency in the province.
"This is faster in identifying the facial feature of suspect in a crime compared to the pencil and paper sketch as this will only take five to 10 minutes whereas the latter takes one to two hours," he said in a conference Tuesday.
Maranan noted that the facial composite sketch is also more accurate since the database has thousand sets of eyebrows, eye color or shapes, among others.
"It is about 90-100 percent accurate depending on the vivid memory of the witnesses. It employs computer algorithms to pick out details about a person's face from a photo or video to form a template," he said.
"Like in other countries, police use facial composite sketch to identify unknown suspects by comparing their photos to images stored in databases and used mainly to reconstruct the suspect's face in hope of identifying them," he added.
Through the new digital facial composite sketch, Maranan said suspects can be immediately identified, and it can assist investigators in checking leads and additional evidence against a suspect.
He, however, clarified that other elements in solving a crime should also be considered, such as the complainant, witness and evidence, as the digital facial composite sketch is just an aid.
"This system will soon be implemented in the 48 police stations in the province. We will provide computers with higher megapixels and investigators will be trained on how to use the system. We target to finish all this in a month," he added.
By Hilda Austria (PNA)
MALASIQUI, Pangasinan -- Some 57 learners with special educational needs (LNES) from the Malasiqui Central School received on Wednesday gifts, snacks, and other treats from the Malasiqui Police Station and the Malasiqui Municipal Advisory Council (MAC) as a way to build their trust in the policemen.
Lt. Col. Joseph Fajardo Jr. said the activity is part of the Police Community Relations (PCR) Month celebration in July.
"As policemen, our duty is not only to ensure peace and order and security but we also contribute to the social aspects of the community," he said in an interview Thursday.
Fajardo said the Malasiqui MAC, composed of representatives from the various sectors of the community, initiated the gift-giving to acknowledge the importance of involving those with special educational needs in the community.
The PCR Month of the Philippine National Police (PNP) coincided with the Persons with Disabilities Week last month.
Meanwhile, the LNES learners received coloring books, crayons, stuff toys and snacks; while some policemen gave an intermission number. The learners showcased their talents and joined in some fun games.
"We hope (that) through this, they will see policemen as friends or trusted people and they would not be afraid of us," Fajardo said.
(Reports from Yolando Sotelo and Maricar Cinco, Philippine Daily Inquirer)
LINGAYEN, Pangasinan, Philippines — This capital town began dredging its drains while Dagupan City drew up plans to install more floodgates during high tide in preparation for the monsoon rains.
Volunteers cleared drainage canals along downtown Lingayen and around the plaza that had not been cleaned for almost three decades.
The town drains have a depth of 0.91 meters (3 feet), which could take in heavy rainfall, but muck and plastic litter have obstructed runoff water.
"We have a good canal system, all emptying into the Basing River. But the drains are clogged and we need to clean them to stop flash floods," said Mayor Leopoldo Bataoil, recalling the floods in the plaza after an hourlong rain in May.
The plaza again suffered flash floods when Tropical Storm "Falcon" (international name: Danas) struck the province last week. The water quickly subsided, "but not as fast as we wanted it to," Bataoil said.
"Dredging is still a work in progress because other canals around the central business district have not been cleaned," said Bataoil, a former representative of Pangasinan's second district.
Members of the local group Grace Guardians have been digging up sludge from canals, with the aid of a backhoe, but the town government has requested additional equipment from the Department of Public Works and Highways.
Temporary floodgates
In Dagupan, city engineer Virginia Rosario proposed a 30-day work plan that includes the installation of temporary floodgates that would be closed during high tide. Teams were also deployed to clean the city's creeks and drains.
Mayor Brian Lim earlier said a comprehensive drainage audit would be conducted as an initial step for planning long-term solutions for the city's perennial flooding.
Dagupan has an average elevation of 1 meter above sea level and has 14 creeks and seven rivers that flow out into the Lingayen Gulf.
Calabarzon alert
In Calabarzon region, residents along rivers and flood-prone areas in the provinces of Cavite, Laguna, Batangas, Rizal and Quezon were advised to take caution amid the inclement weather caused by the southwest monsoon.
The region has been experiencing light to moderate rains over the last few days.
The Philippine Atmospheric, Geophysical and Astronomical Services Administration (Pagasa) on Tuesday issued the general flood advisory, covering areas in Laguna, Cavite and Batangas.
According to the weather bureau, waterways likely to be affected were the Pagsanjan, Pila-Santa Cruz, San Juan and San Cristobal rivers in Laguna.
It also warned communities near Loboc, Cañas, Ylang-Ylang and Imus rivers in Cavite, as well as those along the Lian, Banabang-Molino, Pansipit, Kapumpong, Rosario-Lobo and Upper Bolbok rivers in Batangas.
In a telephone interview on Tuesday, Alex Masiglat, information officer of the Regional Disaster Risk Reduction and Management Council, said they had yet to enforce preemptive evacuation but had been monitoring water levels in the tributaries identified by Pagasa.
By Hilda Austria (PNA)
BAYAMBANG, Pangasinan -- Some 100 out-of-school youth and students are undergoing on-the-job training in a demo-farm at barangay Hermosa here, as members of the Millennial Farmers Association of Bayambang (MFAB).
Angelica Andrea Garcia, focal person on good governance of the local government unit (LGU), said the project aims to awaken interest of young people in agriculture.
"Many of the youth are no longer interested in agriculture as they see it dirty, messy, and (requires) hard work, so we wanted to entice them since our town already uses technologies or mechanization in farming," she said in an interview Monday.
The association started July last year and since then, the members attended different trainings on agriculture.
"The members are between 16-24 years old, residents of this town, and they are given food and transportation allowance," she said. Garcia added the demo-farm promotes urban gardening and the use of organic fertilizer.
"We use urban gardening to encourage even those living in urbanized areas to still plant," she said.
Aside from urging the youth to engage in agriculture, the LGU also wants to teach the young people how to plant and provide them other sources of income or livelihood, especially the out-of-school youth, she added.
"They are still on the cleaning period of the farm and soon enough, they would plant and yield the result of their labor," Garcia said.
The LGU has also requested the Bureau of Fisheries and Aquatic Resources (BFAR) for fish cages since the 1,800-square-meter demo-farm is near a river.
"We would also want to teach about aquaculture," she added.
By Ahikam Pasion
LINGAYEN, Pangasinan – The Provincial Health Office (PHO) here has reminded pregnant women to have regular pre-natal checkups to avoid pregnancy-related complications, following the death of an expectant mother in the province.
In an interview on Saturday, provincial health officer Dr. Anna de Guzman, said pre-natal checkup may be done in Barangay Health Centers and local health offices.
She disclosed that one Renato Reynaldo Jr. filed a complaint against the provincial government-run Western Pangasinan District Hospital after his wife Alma died during her checkup.
Documents from the hospital said the woman died from pre-eclampsia, along with her unborn baby.
"We just received the complaint, and we are currently investigating the matter," De Guzman said.
Excluding the ongoing case, there are currently 10 cases of maternal deaths in the province from January until the first week of July this year.
This, however, is lower than the 24 maternal deaths recorded during the same period last year.
"They should do it (check-up) monthly. Some complications may arise during the earlier or latter part of pregnancy, and the best way to avoid maternal death is to regularly monitor the mother's health," De Guzman said.
According to medical experts, pre-eclampsia is a pregnancy complication characterized by high blood pressure, plus signs of damage to another organ system, usually during the second half of pregnancy (from around 20 weeks), or soon after the baby is delivered. (PNA)
(Business World)
THE PANGASINAN government, through its Provincial Disaster Risk Reduction and Management Council (PDRRMC), is setting up 10 clusters with detailed duties to strengthen its system for disaster preparedness and response.
"We want to shift the paradigm doon sa (into the word) 'resilience.'
Ang pinaka-purpose nito ay mag– (The main purpose here is to) level up 'yong ating mga (our) LGUs (local government units) and stakeholders, PDRRMC Chief Col. Rhodyn Luchinvar Oro said during the Pangasinan in Action forum this week.
PDRRMC Spokesperson Avenix Arenas said they are now finalizing "the particular duties and responsibilities of disaster response clusters," which will then be endorsed to Governor Amado I. Espino III for the issuance of an executive order.
These specific functions will become the standard operating procedure for all PDRRMC member agencies and institutions.
The clusters are: food and non-food items; health; protection, camp coordination and management; logistics; emergency telecommunication; education; search, rescue and retrieval; management of the dead and missing; law and order; and clearing operations.
By Hilda Austria (PNA)
LINGAYEN, Pangasinan -- The National Nutrition Council (NCC) has awarded Pangasinan PHP34.40 million in financial aid which will be used to address malnutrition in the province, an official said Friday.
In an interview, Provincial health officer Dr. Anna Teresa de Guzman said the amount will be used for supplemental feeding programs, particularly in the towns that have high volume of malnourished children.
De Guzman said they will also focus on the first 1,000 days of a child, from the mother's pregnancy up to the second birthday of the child.
"We will give them nutritional foods and vitamins for both the children and pregnant mothers. We are also proposing to Governor Amado Espino III that we come up with a mobile kitchen so that the Provincial Health Office (PHO) can monitor the food being served to the recipients; we will prepare different healthy menu for them," she noted.
De Guzman said the malnutrition rate in the province decreased from 1.81 percent last year to 1.5 percent this year.
She said the towns of Sto. Tomas, Mapandan, Asingan, Sual, Manaoag, Labrador and Bayambang are listed to have high number of malnourished children.
"Before, we have 10 towns included in the list but now, there are only seven," she said.
De Guzman said they are particularly addressing stunted growth, which is now considered a sign of malnutrition among Pangasinenses.
"Experts said children that are lacking in nutrition in their first two years will no longer have healthy growth. Unlike if a child is wasting, it can still be reversed by giving nutritious foods, but for stunted growth, it is permanent," she said.
The PHO will also resume its Kalusugan Caravan in the different towns and cities in the province.
By Hilda Austria (PNA)
LINGAYEN, Pangasinan – The Pangasinan Provincial Disaster Risk Reduction and Management Office (PDRRMO) will hold a summit later this month to prepare the coastal barangays in the province to respond and build resilience in times of disasters.
PDRRMO spokesperson Avenix Arenas said the coastal barangay summit is a culminating activity for the National Resiliency Month this July, in coordination with the Office of the Civil Defense in Region 1 (Ilocos).
"The attendees to the summit will come from coastal barangays of San Fabian up to Infanta," she said in an interview Wednesday.
PDRRMO chief Rhodyn Luchinvar Oro said they are conducting continuous information campaign to prepare communities in case of emergency.
"The concentration of the summit is on the trench that could generate 8.2 magnitude earthquake, according to the Philippine Institute of Volcanology and Seismology (Phivolcs)," Oro said in a forum Tuesday.
Reports from Phivolcs indicate that an 8.2-magnitude earthquake may trigger tsunami that might affect coastal areas in the province.
In Pangasinan, Oro said two trenches are being monitored by Phivolcs -- the East Zambales fault and San Manuel fault.
He said the management of the San Roque Power Corporation assured that the structural integrity of the San Roque Dam situated in San Manuel town remains sound.
"The San Manuel fault, according to Phivolcs does not directly cover the San Roque Dam," Oro said.
He further said there is no device currently that can predict when an earthquake will happen, but the PDRRMO, along with other agencies, is implementing preparedness measures.
Oro also assured preparedness of the province in times of different disasters.
"We have started preparedness measures as early as January. We have launched the 'Ligtas at Aktibong Kabataan' to give importance to the role of the youth, especially in social media. They are the most physically fit in the family and they have the most knowledge in getting early warning information," he said.
PDRRMO also capacitated barangay officials being the first responders in times of disaster.
Pangasinan recorded zero typhoon-related casualties for the past three years, Oro added.
By Hilda Austria (PNA)
BOLINAO, Pangasinan -- Some barangays in the towns of Agno, Bani, Urbiztondo and Bolinao were the recipients of the Department of the Interior and Local Government's (DILG) SALINTUBIG (Sagana at Ligtas na TUBIG para sa Lahat) in 2017 and 2018.
DILG Pangasinan officer-in-charge Randy dela Rosa said the towns have received two projects worth about PHP12 million each.
"Some of the projects in 2018 are still on-going. There are still requirements that needed to be accomplished. The projects were given phase by phase, or by tranches," he said in an interview Monday.
SALINTUBIG is a continuing project of the DILG, which aims to provide more people access to potable water.
"The project is tested first before it is to be implemented; with water analysis and site validation.
There are still local government units (LGUs) who are requesting so probably, they have no source of potable water or they wanted additional to their existing sources," dela Rosa said.
This year, he said a SALINTUBIG project is set to be implemented in Bani town which again requested from the agency.
"For the other LGUs who see the need for potable water in their areas, they can submit their request anytime, since this is a continuing project of the DILG," he added. (PNA)
(Tempo Online)
Pangasinan ruled the 2019 PBA Ginebra San Miguel 3×3 Tapang ng Tatluhan by besting Manila, 21-13 in the National Championship on Sunday at Smart Araneta Coliseum.
Ervin Jay Silverie came through for the Kings, dropping 10 points in the victory for the Pangasinense crew.
Jayson Apolonio added six, while Christian Corpuz also had three in the conquest.
But the biggest bucket came from Ian Rhalf Llona, who buried the two-pointer –his lone bucket of the game – which proved to be the game-winner as Pangasinan claimed the crown with 2:01 remaining on the clock.
Barangay Ginebra legend Robert Jaworski Sr. awarded the Pangasinense squad the championship trophy and the P250,000 cash prize.
Gelo Vito led Manila in the runner-up finish with six points, while Kenneth Mocon had three. Jarrell Lim and Rickson Gerero both had a pair in the bridesmaid finish.
Now on its fourth year, the grassroots tournament is Ginebra San Miguel's way of reaching out to even more basketball communities, giving young players the opportunity to further improve their craft, especially with 3×3 basketball now included in the 2020 Tokyo Olympics.
By Liwayway Yparraguirre (PNA)
MANGALDAN, Pangasinan -- Pangasinan Vice Governor Mark Lambino has vowed to implement transparency and collaboration as he leads the Sangguniang Panlalawigan (SP) as the new presiding officer beginning Monday.
"We want to be transparent of the ordinances and resolutions that are tackled in the province will be made known to the Pangasinenses immediately. We do not want them to be surprised of the new policies that are being implemented," he said in an interview earlier.
He said the SP will also pursue collaboration, although he belongs to the political party opposing that of Governor Amado Espino III.
"The election is over. At the end of the day, all elected officials are public servants only. Collaborative because we are not going to be obstructionists to the programs that are for the betterment of the province, but we are also going to be critical to members of SP. We have to be aware and be made aware, we have to make the people be aware on what is going on," Lambino said.
He said the taxes of the province are paid by the people, therefore, they have the right to know where their taxes are being used for, and they want these taxes to be utilized in a good, proper and clean way.
The inaugural session of the 10th SP was held on Monday, July 8.
Lambino said traditionally, the inaugural session is held on the second Monday of July.
The vice governor, accompanied by his wife, lawyer Lani Sia-Lambino and their son Luke, took his oath of office last June 30 before Regional Trial Court Judge Maria Laarni Parayno.
At the same time, his mother Marilyn took her oath as mayor of Mangaldan town, witnessed by his father, Secretary Raul Lambino, Presidential Adviser for Northern Luzon and Cagayan Economic Zone Authority (CEZA) Administrator.
Meanwhile, the members of the 10th SP are Board Members Donabel N. Fontelera and Margielou Orange Humilde-Versoza (first district); Von Mark R. Mendoza and Nestor Reyes (second district); Angel Baniqued, Jr. and Vici M. Ventanilla (3rd district); Jeremy Agerico Rosario and Liberato Villegas (fourth district); Rosary Gracia Perez-Tababa and Nicholi Jan Louie Q. Sison (fifth district); and Noel Bince and Salvador Perez (sixth district).
(Manila Standard Lifestyle)
The Oriental goes to Pangasinan
The world-famed Hundred Islands in Alaminos City, Pangasinan will soon be the new home of The Oriental Hotels and Resorts, a popular hotel chain with properties in Albay, Bataan, Tagaytay, and Leyte.
The Oriental's president and chief executive Marie Abigail Lee was in Pangasinan to break ground for The Oriental Hundred Islands.
The soon-to-rise 100-room hotel is located at the jump-off point to the famed national park of 123 islets in the Lingayen Gulf.
Set to be completed next year, The Oriental Hundred Islands will sport tropical-themed, contemporary Filipino architecture and design complete with natural materials such as shell, rattan, wood, and bamboo. The resort will have private villas, seafood and al fresco dining, infinity pool, cabanas, a 1,000-person pavilion, spa and fitness center, and water sports recreation.
It will also preserve and enhance the gazebo with the monuments of Princesa Urduja and Lim Ah Hong, Pangasinan's legendary characters.
According to Lee, the project is a public-private partnership with the City Government of Alaminos to upgrade the tourist services and further boost arrivals in the area.
Discovery hotels win I Prefer Members' Choice Awards
Three properties of homegrown chain Discovery Hospitality Corporation are among the top 40 hotels that won the first I Prefer Members' Choice Awards of the Preferred Hotels and Resorts, the world's largest independent hotel brand representing more than 750 hotels, resorts, and residences across 85 countries.
Discovery Shores Boracay, Discovery Primea, and Discovery Suites Ortigas were voted by I Prefer members for delivering high quality standards and exceptional, personalized experiences.
"Our uniquely warm service style continues to win the hearts and minds of our guests. This recognition is a testament to our brand promise—service defined by thoughtful gestures and the highest standards," said Jun Parreño, president of Discovery World Corporation and chief operating officer of Discovery Hospitality
Discovery Shores Boracay, Discovery Primea, and Discovery Suites Ortigas were announced as one of 10 winners within the Asia, Middle East, and Africa category.
Along the gorgeous stretch of sand in Boracay, the award-winning Discovery Shores Boracay stands in a class of its own. Meanwhile, Discovery Primea, located in the heart of Makati, highlights boutique-style service and modern luxury. Business meets leisure at Discovery Suites, which towers along the bustling Ortigas Business District.
By Hilda Austria (PNA)
BAYAMBANG, Pangasinan -- The local government unit (LGU) of this town was awarded the fifth place in the nationwide local revenue collection efficiency in the municipality category.
Municipal Treasurer Luisita Danan said the municipality collected PHP111.02 million in revenues in 2017, surpassing the PHP44.7-million target set by the Bureau of Local Government Finance (BLGF).
Danan attributed the 248.2-percent collection efficiency during the year to its massive taxing information drive and cooperation of the taxpayers.
"Since Mayor Cezar Quiambao assumed office in 2016, we have increased regulatory fees in the market and in real property taxes. It was not easy at first to convince the taxpayers that it was necessary since the increase was mandated by law. But eventually, as we go to them in barangays and in every avenue, we explain it to them," she said in an interview Friday.
Danan added the LGU brings to the community its basic services, such as medical and dental missions, vaccination, distribution of seeds, among others, along with information campaign.
"For them to see where their taxes are going, that the LGU has a lot of projects to offer to them," she said.
Danan disclosed that the bulk of their collection came from business tax or the economic enterprise, and real property taxes.
"Real property tax is the most stable source of income of the LGU and the valuation of the land increases over time," she said.
Municipal assessor Annie de Leon said they implemented their best practices in appraisal and assessment of properties, as they campaigned in the town's 77 barangays.
"We urged our fellow citizens here to pay their taxes to sustain local revenue because it is where funding of the town's projects come from," she said in a separate interview Friday.
De Leon said the assessment on revenue collection was done by the BLGF in 2017, but the award was only given recently.
By Hilda Austria (PNA)
ALAMINOS CITY, Pangasinan -- A two-storey regional evacuation center at Barangay Tangcarang here, which would cater to residents of the first and second districts of Pangasinan, was inaugurated and formally turned-over to the city government here on Wednesday.
Mike Sabado, information officer of the Office of the Civil Defense (OCD) in Region 1 (Ilocos), said the Department of Public Works and Highways (DPWH) funded PHP36 million to establish the center, which was initiated by the National Disaster Risk Reduction and Management Council (NDRRMC) through the OCD.
"It aims to serve the disaster-affected populations in Alaminos City and nearby towns. This will also hinder the use of schools as evacuation centers," Sabado said in an interview Friday.
He said the center is situated on a 3,757.5-square meter land owned by the city government.
Mylene Manalastas, City Disaster Risk Reduction and Management Officer, said the evacuation center is "very much appreciated" by the city government, that would complement its existing permanent evacuation center.
"It can accommodate 500 individuals from Alaminos City or neighboring towns and cities. It has laundry area, material recovery facility area, electrical room, mess room, breastfeeding station, among others," she said in a separate interview.
Manalastas added it can also be used for other purposes other than being an evacuation center.
"We will hold trainings in the center, or even our youth camp since we are told to maximize its use," she said.
The city government also signed a memorandum of agreement with the barangay council of Tangcarang for the maintenance of the center.
More than nine regional evacuation centers have been constructed all over the region, according to OCD-1.
By Hilda Austria (PNA)
SAN FERNANDO, La Union -- The Pangasinan Police Provincial Office (PPPO) Civil Disturbance Team was awarded over-all champion in the 2019 Police Regional Office 1 (PRO-1) Civil Disturbance Management (CDM) competition on Tuesday.
"The level of competency and excellence shown by the CDM contingents proved that the PNP (Philippine National Police) is indeed worthy of recognition and respect from the community," PPPO acting provincial director, Col. Redrico Maranan said in an interview Wednesday.
Maranan said the competition is aimed at testing the operational readiness, competency, and capability of the team in handling civil disturbances and massive protests.
The competition is part of the 24th Police Community Relations Month carrying the theme, "Sambayanan, Mahalagang Kaakibat ng Kapulisan sa Pagtaguyod ng Mapayapa at Maunlad na Bayan."
Maranan noted that as champions, members of the Pangasinan PPO CDM contingent will prepare for the PNP CDM competition this year at the national headquarters in Camp Crame, Quezon City.
Other winners are Ilocos Norte Police Provincial Office (PPO) as 1st runner-up; Regional Mobile Force Battalion (2nd runner-up); La Union PPO (3rd runner-up); and Ilocos Sur PPO (4th runner-up).
By Hilda Austria (PNA)
ALAMINOS CITY, Pangasinan -- Mangoes produced in this city and some neighboring towns and cities will soon be turned into various products such as jams, vinegar, pickles, and pastillas, after some 27 members of agri-groups attended the mango value-adding processes training.
City agriculturist Araceli Talania said the training, spearheaded by the Department of Science and Technology-Pangasinan Science Technology Center (DOST-PCST) and the city government of Alaminos, was held here on June 27-28.
"We have a lot of mango, especially the Indian mango variety and since not all are sold, the other produced were just wasted. So we come up with this training to make other products out of the common fruit mango we find in our locality," she said in an interview Tuesday.
Talania said the mangoes are even organic as pesticides are not used to prevent pests from infecting the trees.
"We chose two representatives from each of the agri-groups in the city and some from other towns and cities so they could share to their members the processes on how to add value to mango," she added.
Talania further said they target to sell the processed mango products mostly to tourists who visit the Hundred Islands National Park.
"The products were delicious. I'm sure the tourists would love it," she said.
Talania said the training is in preparation for the next mango season.
"They have funds to start with and mangoes are plentiful in our province so by next year, they could possibly sell processed mangoes," she said.
By Ahikam Pasion and Liwayway Yparraguirre (PNA)
DAGUPAN CITY -- Mayor Brian Lim has vowed to focus on addressing three major problems of the city, which are flooding, waste management, and employment for Dagupeños.
In his first flag-raising ceremony as the newly-elected mayor Monday, Lim said he will put "every single bit" of dedication to his first 100 days of work.
He earlier approached the city government of Navotas in Metro Manila, headed by now Mayor Tobias Tiangco, to gain more insight on how to address the perennial flooding plaguing the city.
Navotas, much like Dagupan City, has a low-lying terrain and surrounded by bodies of water -- the coast of Manila Bay and other interconnected rivers on the other side of the city.
"Hindi nakakahiyang humingi ng tulong sa ibang bayan na may expertise sa pagresolba sa problema na naranasan din nila. Hindi tayo nagsasabing eksperto tayo sa baha kaya kailangang humingi ng tulong sa kanila maging sa Department of Public Works and Highways (DPWH) in the near future (It is not embarrassing to ask help from other cities which have expertise in resolving the problem they too encountered. We are not saying we are experts in flooding so we need to ask for help from them even to the DPWH in the future," he noted.
Lim said the city has a complex flood problem, which requires a comprehensive planning in order to identify the root cause.
"We have to study, we have to be humble enough to know that there are possible causes, and number of solutions we can implement," he emphasized.
Lim ordered city administrator Vladimir Mata to conduct a comprehensive drainage audit to determine if both old and new drainages in the city are still structurally sound, connected, and functioning well.
He also stressed the need for the closure of the city dumpsite located in Bonuan area.
"This would be possible by searching for a feasible sanitary landfill in order to temporarily dispose of the city's waste, while searching for new ways of waste management," he added.
Lim underscored the importance of proper waste segregation which should begin within Dagupan's households.
As for then mayor Belen Fernandez's waste-to-worth project, Lim said he would still determine if the project is the best and most cost-efficient solution.
"We only need to answer two questions on whether we should push through with the said project. If we see that waste-to-worth (project) is not the most effective way (to manage wastes), then why should we continue it? It's this simple, if the project of our predecessor is good, then we will continue it. But if it is wrong, we will not continue it especially if it is illegal," he added.
Waste-to-worth project aims to convert solid wastes into diesel fuel and methane gas, which will be processed in a facility conceptualized with the help of Procter and Gamble Philippines to be funded by Sure Global Company.
Lim also promised to provide job opportunities, giving focus on marginalized communities in the city.
"We want to move them away from traditional income sources. If we can give them more stable jobs, better so we can give them a stable income," he said.
Lim further said he will invite both domestic and foreign investors in the city to put up businesses and provide jobs.
Meanwhile, the city mayor asked for the cooperation of every city hall employee in order to achieve its goals towards progress and development of the city.
"(Sensitivity simply means that one) you must really truly care for your work. And if you truly care for your work, it means you are willing to do it without being recognized, without being thanked simply because you know what you do is important and what you do can benefit a great number of people," Lim explained.
In an interview with reporters, Lim said he will spend his first week by getting to know city hall employees, plus reviewing the various departments' reports, pending projects, and future initiatives.
"There are things I couldn't do that others can, while there are also things others couldn't do, but I can. The bottom line is that we need to cooperate, regardless of our political affiliation, to get things done," Lim added.
Lim is also set to attend schooling for newly-elected mayors, hosted by the Department of Interior and Local Government, in order to learn strategies to effectively lead the city.
By Hilda Austria
DAGUPAN CITY -- The City Health Office (CHO) here has opened its satellite center to improve the provision of healthcare services and in support of the Universal Health Care (UHC) Act.
The satellite health center in Barangay Bonuan Tondaligan will serve the villages of Bonuan Gueset, Bonuan Boquig, and Bonuan Binloc, with more than 49,000 combined population.
"This is to cater to the residents in the Bonuan area and in support to the UHC Act which aims to make healthcare accessible to the people," city health officer Dr. Ophelia Rivera said in an interview Friday.
The Department of Health (DOH) has funded the building construction, while the city government of Dagupan provides the lot and the management of the center, she added.
With the satellite office, Rivera said the people can save time and money in going to the CHO main office in Barangay Herrero Perez. The CHO main office previously served 150 to 200 patients daily.
"It is closer to them so it is more accessible to them as they would just ride one jeepney or even walk to go to the satellite office," she said.
The satellite center provides consultation and medicine with a doctor and barangay nurses and midwives on duty or going around the three barangays, while laboratory and diagnostic services are still done in the CHO main office, she added.
"Since we opened the center on Wednesday, we have already served 78 patients," Rivera said. She said they also plan to establish an infirmary which will serve the three barangays and the island barangays of the city.
"We are planning to put up an infirmary. Hopefully, we could acquire a lot near the satellite center. This will again be funded by DOH," Rivera said.
She said a sea ambulance will soon be donated by DOH for the island barangays. (PNA)
By Hilda Austria (PNA)
LINGAYEN, Pangasinan -- The Home Development Mutual Fund (Pag-IBIG Fund) has recognized the provincial government of Pangasinan as top employer in the government sector in North Luzon.
Corina Joyce Calaguin, Pag-IBIG Fund Dagupan branch information officer, said the provincial government ranked number one for its assistance and support to Pag-IBIG Fund's programs on membership, short-term loans, and remittances of members' savings and loan amortization.
In a phone interview on Thursday, Calaguin said Pangasinan has 5,431 regular and job order employees with members' savings remittances amounting to PHP11.9 million.
Calamity loan availment amounted to PHP8.49 million while multi-purpose loans totaled PHP23.62 million for its 1,041 members who availed of respective loans, she said.
Governor Amado Espino III attributed the award to the great efforts of all Pangasinan Provincial Capitol employees.
"The award reflects the hard work of all government officials and employees from the highest down to the lowest rank," he said during the presentation of the award Monday.
The province was also cited "for its exceptional support and relentless services rendered to the Boy Scout of the Philippines (BSP) in the successful and effective implementation of the Scouting Program in the province of Pangasinan" by the BSP.
By April M. Bravo (AMB/PIA Pangasinan)
SUAL, Pangasinan(PIA) -- The Junior Chamber International (JCI)-Lingayen Liberation II has brought its #ProjectAliguas, an advocacy for indigenous peoples' (IPs) development by five collaborating institutions, to the highlands of Sual town on June 22-23.
"#ProjectAliguas is an advocacy which supports the United Nation's Sustainable Development Goals of promoting gender equality and empowering women by focusing on the IPs of Pangasinan," said JCI-Lingayen Liberation II Member Mark Gerry Oblanca, project leader.
"Now on its fourth year, the #ProjectAliguas features its community immersion and outreach program component," he added.
Eight students from the Pangasinan State University were sponsored to take part in the community immersion to experience living in the Kankanaey tribal community at Sitio Baito, Brgy. Poblacion in Sual.
"The outreach program includes the provision of bags and hygiene kits for 50 school children at BATIDAPE community school. Lectures on oral health care, proper handwashing, and feeding program were also conducted," Oblanca added.
Aside from the community immersion, the JCI-Lingayen Liberation II also launched the "LIBLIBrary Project" in the BATIDAPE community school through the turnover of a mini-library.
JCI-Lingayen Liberation II Member Mark Marlon De Vera, project leader, said books were given to the school to provide accessible educational materials to children in the highland community.
"The project is a great manifestation of how the organization values a child's dream as a foundation of their future. Through the books from the LIBLIBrary Project, we are expounding their dreams and giving them a wide panorama of how the world views education as the greatest equalizer," said De Vera.
It can be recalled that five institutions to include the JCI-Lingayen Liberation II, National Commission on Indigenous Peoples-Pangasinan, Local Councils of Women-Pangasinan, Pangasinan Police Provincial Office and the provincial government of Pangasinan inked a manifesto sometime in October 2017 to institutionalize the #ProjectAliguas.
Since then, the Aliguas Indigenous Peoples ed Pangasinan (Support Projects Implementation in Indigenous Peoples Communities in Pangasinan) or #ProjectAliguas became instrumental for the conduct of various intervention strategies and development efforts intended to promote the general welfare of IPs in the province.
Component activities of #ProjectAliguas include the GIMONG Pangasinan (a cultural information dissemination strategy), GAYAK Pangasinan of women leaders (a fund raising activity), BATIK Pangasinan (a fund raising activity), and a series of capability enhancement trainings for indigenous women.
By Anne Hazel Fajardo-Flores (AMB/AHFF/PIA-1)
CALASIAO, Pangasinan (PIA) – With the aim to empower and enhance the capacities of focal persons for overseas Filipino workers (OFW), the Overseas Workers Welfare Administration-Regional Welfare Office 1 (OWWA-RWO1) conducted a training for Migrant Desk Officers (MDOs) on June 24-25 at The Monarch Hotel here.
The training is part of the implementation of the Sustaining Capacity Building Program of OWWA-RWO1.
The live-in training-seminar on OFW Mapping and Database System was conducted to 92 MDOs coming from the different local government units in the provinces of Ilocos Norte, Ilocos Sur, La Union and Pangasinan.
"I am grateful to our MDOs for their strong partnership with our agency and I hope that through this training, we would be able to continue and provide sincere public service to our OFW-constituents," said OWWA-RWO1 officer-in-charge for programs and services, Marivic Mondina.
"Also, we encourage you (MDOs) to initiate innovative service programs that will complement the existing plans of the government for OFWs," Mondina added.
During the training, it was agreed that MDOs will incorporate a uniform mapping and monitoring system on OFWs and returnees since it will be more beneficial to their work.
The idea of the system was based on Pangasinan Provincial Employment Services Office manager and chief of PMDC Alex Ferrer's best practice on the implementation of migration governance and monitoring.
According to OWWA, once the system is established, the data gathered may be used as a reference for welfare cases management, OFW tracking, and for other services in relation to migration development.
Aside from the workshop, resource speakers coming from the National Economic and Development Authority, Department of the Interior and Local Government and the Pangasinan Migration and Development Council (PMDC) provided comprehensive lectures to the participants.
The speakers talked about the salient points of the Philippine migration and provided an overview and alignment of the 'Ambisyon Natin 2040', a long-term vision of Filipinos for self and country, and other migration policies and plans of the Regional Development Plan 2017-2022.
Moreover, other aligned topics to migration also included mainstreaming community-based monitoring and comprehensive development planning which integrated thematic sectoral concerns in local development plans.
After the training, the participants received their certificates of participation awarded by OWWA-RWO1.
By Elsha Marie B. Soriano (AMB/EMBS/PIA Pangasinan)
DAGUPAN CITY (PIA) – To help in reducing the effects of climate change, the Department of Trade and Industry (DTI) has urged micro, small and medium enterprises (MSMEs) in Pangasinan to adopt climate smart and environmental friendly measures to enhance their competitiveness in the market and help the government counter the effects of climate change.
Natalia Dalaten, officer-in-charge provincial director of DTI Pangasinan, said everyone is involved in promoting and practicing green economy in their daily activities, like reduce, reuse and recycle processes and approaches.
"MSMEs should come up with measures to conserve and limit possible waste of inputs in their business activities because for every product or services produced a certain amount of energy and resources are used," Dalaten said.
She said DTI has listed some green economy initiatives in order to help the MSMEs and the public to observe climate smart and environmental friendly measures.
First, waste from one production or consumption should be processed as new input just like in organic farming.
Second, MSMEs should have eco-design products with regulating standby power that cannot exceed one watt when in off-mode. They should also phase out incandescent lamps and replace it with compact fluorescent lamps to have maximum illumination and reduce energy consumption.
Third, in using a vehicle, make sure to give their vehicle's tires a proper pressure to make the life of the tire longer. Giving your tire proper pressure will also increase fuel efficiency and safety in driving.
Lastly, have their workplace a proper ventilation and insulation like having efficient windows and have plants and gardens inside to reduce used of air conditioners and electric fans and be energy efficient and climate smart.
Likewise, she advised the buying public, distributors, and retailers to visit the DTI-Pangasinan Provincial Office located at the 2nd floor of Star Building, Arellano Street in Dagupan City or call at telephone numbers (075) 551-3183 or 529-6177 to avail of seminars and have additional information on green economy approaches and promotions.
By Hilda Austria (PNA)
LINGAYEN, Pangasinan -- The Civil Aviation Authority of the Philippines (CAAP) proposal to improve the Lingayen airport here will be implemented this year following the delays due to weather disturbances last year.
Lingayen airport officer-in-charge Elvis dela Cruz said asphalt overlay of runway costs more than PHP37.8 million.
"The bidding was done and we are just waiting for the notice to proceed in order to start the project," he said in an interview Monday.
Among the other airport improvement projects to be implemented this year are the concreting of apron with drainage canal and the construction of runway canal worth PHP10 million; improvement of perimeter fence worth PHP8 million; and provision of additional septic tank worth PHP75,000.
Dela Cruz said the construction of the fire station building worth PHP3.5 million and construction of staff house costing PHP1.5 million, which were part of their proposals last year, were already completed.
He added the concreting of the 66 meters by 48 meters apron worth more than PHP8.6 million by the Department of Transportation (DOTr) was already done, and was lined up for final inspection.
Meanwhile, dela Cruz admitted that the proposals involving the extension of the airport's runaway in order to achieve standard size for commercial flights are still to be approved.
Based from the CAAP's Lingayen Airport Development Plan, the extension of runway will cost PHP34.92 million, while the lot acquisition to enable the extension of the runway will cost PHP155.2 million.
The airport's runway measuring 1,040 meters is currently catering to general aviation. Only small aircraft, usually flight training planes for students from aviation schools, are using the airport here.
CAAP is proposing to extend the runway to 1,520 meters to accommodate commercial flights.
In the recent visit to the province this year of DOTr Secretary Arthur Tugade, Pangasinan Governor Amado Espino III expressed to him the province's desire to have commercial flights to and from the province to further boost tourism and ease travel.
By Alena Mae S. Flores
Labrador, Pangasinan—Labrador Oil Terminals Inc. broke ground Thursday on its P1.2-billion, 88 million-liter oil terminal here in Barangay Uyong that will serve the fuel needs of independent oil players in parts of northern Luzon.
"The Labrador Oil Terminal seeks to cater to the needs of the oil industry players in northern Luzon and serve as a viable alternative to Subic and Bataan. Once it operates, the terminal is projected to have a significant impact in the region in terms of making the operations of the independent oil traders and distributors more cost-efficient, thus making the market more competitive," LOTI chairman Jack Tan said during the ground-breaking ceremony.
He said the terminal would provide security of supply to neighboring provinces in Regions 1 and 2 and help oil companies lower fuel prices by P0.80 to P1 per liter due to reduced logistics costs.
The first phase of the terminal with a capacity of 28 million liters is expected to be completed by February next year, while the remaining 60-million liter capacity is estimated to be operational in June, depending on land negotiations.
Tan said LOTI was looking at new players like Gulf Oil, Centrum and Regas to store their imported petroleum products at the terminal. Cities and provinces in northern Luzon have a projected monthly consumption of about 40 million to 50 million liters.
LOTI officials said most of the fuel deliveries in Regions 1 And 2 were withdrawn from the Ports of Subic and Bataan.
"LOTI saw the need to level the gap of fuel prices and sufficiency especially in the provinces since most of the storage facilities in the country are confined in the major ports near the bigger cities which resulted in a significant issue in fuel costs as freight is variedly higher and is normally passed on to consumers," Tan said.
By LEANDER C. DOMINGO (TMT)
THE Department of Agriculture's Regional Field Office 1 (DA-RFO 1) has been training farmers and entrepreneurs in the Ilocos region on growing and processing soybeans, or utaw, whose importance as a leguminous crop has increased.
According to Melinda Calumpit, lead implementor of the "Enhancing Organic Soybean Production and Processing for Improved Local Supply and Utilization in Region 1" project in 2011, members of the People's Rural Organization for Sustainable Economic and Environmental Development (Proseed), as well as farmers and investors from the region, participated in a training in Pangasinan province
This training, held in Bolo village in Pangasinan's Labrador town last month, featured lectures and demonstrations on the processing of soya into various food items, such as soyamilk, tofu, lumpiang shanghai, patties, taho, chips, soy macaroons, fish ball and coffee.
"The business interest of the participants, through the activities [held] during the training, was developed, and initially two [of] the participants have decided to venture [into] soybeans," Calumpit said.
They are Rhenzy Ungria, owner of a canteen-based business at Manila's Paco district who decided to sell soya-based drinks, instead of soda, to comply with a school management order banning the latter; and his brother Jojo, owner of a noodle restaurant in Pangasinan's San Fabian town, who prefers to use tokwa as garnish for noodles.
Calumpit said there was a need to further develop the interest of farmers in soybean, adding that the trainings the DA-RFO 1's research and development division offered "include production technology and actual demonstration of processing and utilization of organic soybean."
"We have an increasing number of farmer-adoptors, which resulted in the improvement [in the] production of locally produced organic soybean, [which] [was] proven to be economical and [of] better quality," she said.
"Their (farmers in the region) interest in soybean production has improved their livelihood."
Soybean, Calumpit explained, is beneficial to the soil because of the presence of bacteria in its root nodules, which is responsible for converting nutrients from the atmosphere and the soil into a form that the crop can use.
"[S]oybean is also a good source of protein, carbohydrates, fats, minerals, fiber and other trace substances.…" she said.
Meanwhile, DA-RFO 1 officials said they would provide seed inoculants, organic fertilizers, biological control agents, foliar fertilizers or concoctions, as well as technical assistance.
"This is one way for us to promote the commodity and inspire more farmers to become more [involved] in soybean production and processing, other than the provision of planting materials," Calumpit said.
By Ahikam Pasion (PNA)
DAGUPAN CITY -- The City Veterinary Office (CVO) here has already conducted anti-rabies vaccination on some 10,500 pet animals, or 87.5 percent of its target for this year.
City veterinarian Dr. Daniel Paolo Garcia said they have organized trips, in coordination with barangay (village) officials, for the vaccination of pet animals.
"This has been fulfilled thanks to the unceasing support of the local government unit headed by outgoing mayor Belen T. Fernandez," he said in an interview Tuesday.
The CVO targets to vaccinate 12,000 pets in the city this year.
This target could be achieved within the month, as Bonuan Boquig is the only remaining barangay to be visited by the CVO. However, several sitios (sub-village) in the barangays are yet to be visited due to the presence of flood waters caused by high tide.
"May ilang mga barangays pa tulad ng Lucao na may naiwan pang sitio na di nababakunahan kasi high tide at lubog pa sa tubig yung sitio tukok na island sitio nila (There are still sitios left unvisited in some barangays like in Lucao because of flood waters due to high tide)," Garcia said.
The CVO plans to finish its vaccination program before July this year.
Garcia said pets should not get wet within a week after their vaccination as it could pose hazards to the animals.
"Parang sa mga bata din, na after vaccination, pwedeng lagnatin kasi yun ang normal na reaction ng katawan sa vaccines. Kaya kung maulanan o mapaliguan tapos di mapatuyo mabuti at gininaw lalo lumalala lagnat hanggang sa tumamlay at manghina at pwedeng mamatay pag di naagapan kaya yun po iniiwasan namin. (Like children, pet animals after vaccination could get fever as it is a normal reaction of the body to vaccines. So, if they get exposed or soaked in rain and they do not get dry and warmed immediately, the fever will worsen which could lead to their weakening and it could lead to their death if not immediately given medical attention, this is what we are trying to prevent)," he said.
Last year, the CVO vaccinated 12,000 pets in the city and in neighboring towns.
"We are also vaccinating them (pets in other towns) in order to prevent rabies outbreak in boundary barangays. It is the best preventive measure we can do," Garcia said.
Garcia also assured the ample supply of anti-rabies vaccine for pet animals.
By Hilda Austria (PNA)
DAGUPAN CITY -- The City Health Office (CHO) here has immunized some 4,325 children and adults with Japanese encephalitis vaccine from April 29 to May 31 this year.
City health officer Dr. Ophelia Rivera, in a phone interview Wednesday, said the shots were given for free to children between nine months to 15 years of age, and even adults.
Rivera said they went around the 31 barangays of the city for the scheduled immunization, and the CHO also vaccinated walk-ins in their office.
"This vaccine is not new. It was not just available in public health facilities before because it is costly. But now, it can be availed for free so parents should take this opportunity to protect their children against the Japanese encephalitis," she said.
Rivera noted Japanese encephalitis is a viral disease that can be acquired from the bite of carrier-mosquitoes but it can also be obtained from pigs and flying birds.
"We cannot just kill the pigs and the birds so the best way to prevent the disease is through vaccination and cleanliness. Cleanliness is also necessary to prevent breeding grounds of mosquitoes," she added.
Rivera pointed out that Japanese encephalitis is deadly, while 30 to 40 percent of those who survived develop complications such as deafness, paralysis, and other neurological disorders.
Dagupan City has not yet recorded any case of the disease. Other parts of Pangasinan, however, recorded 74 cases since 2016.
"The parents accepted well the vaccine," she said.
Meanwhile, the CHO conducted misting operations in the city in preparation for the rainy season when dengue cases are prevalent.
"We also ordered the barangay nurses and health workers to check the surroundings of their community and encourage the residents to conduct clean-up drives," she said.
By Hilda Austria (PNA)
DAGUPAN CITY -- Mayor Belen Fernandez on Thursday encouraged her constituents to work together toward sustaining growth during the commemorative program for the city's 72nd Charter anniversary.
"Let us honor them (values) and work to live up to them, defend it at all cost if needed. Because if we all pull together and stand up for one another, we will continue to be what we are today: the greatest city in Pangasinan, and the strongest in Region 1 (Ilocos)," she said.
The story of the city had drawn admiration from the neighboring towns and cities because of the people's attitude to rise amid adversities, she added.
Fernandez recalled the many challenges Dagupan had overcome, such as the 1990 earthquake, among others.
"In the annals of our history, there were many periods where our beloved city had several great starts, only to be interrupted by many periods of uncertainties, calamities, failed expectations and leaders who did not measure up," she said.
Prior to the program, a thanksgiving mass was held at the Eugenio Perez Shrine in Herrero-Perez here, where wreath laying was also conducted.
Perez, who was then Speaker of the House of Representatives, authored Republic Act 170 and signed into law by President Manuel Roxas in June 20, 1947, making Dagupan a chartered city.
Malacañang has issued Proclamation 743 declaring June 20 as a special non-working day in this city in celebration of its 72nd Charter Anniversary.
[Inquirer Northern Luzon, (Editor: Leti Boniol)]
ALAMINOS CITY – A five-star, 100-room hotel would be built at the Lucap Wharf, the gateway to the Hundred Islands National Park here, local officials said.
Mayor Arthur Celeste led the groundbreaking for the Oriental Hundred Islands Pangasinan that will be constructed and operated by the LKY Hotels and Resorts Inc.
The hotel will rise on a 1.2-hectare property leased by the company from the city government for 25 years.
Celeste said the city government decided to turn over an unfinished hotel structure at the wharf to a private company as the city has no capacity to manage a hotel.
The unfinished hotel was started during the administration of former Mayor Hernani Braganza using a P35-million bank loan.
It still has a pending loan of P17 million, which the LKY will assume.
LKY President Rebecca Lee said the construction would start next week and is expected to be completed before summer next year.
The hotel would have villas, infinity pool, private docking area, and restaurant that would feature local cuisine, she said.
Under the contract, the LKY will not remove any tree at the wharf and will leave and improve the existing historical structures like the Limahong-Urduja kiosk, Lucap lighthouse, and the newly built tourism function hall. Yolanda Sotelo
By Elsha Marie B. Soriano (JNPD/EMBS/PIA-Pangasinan)
DAGUPAN CITY, June 19 (PIA) -- The Malacañang Palace has declared June 20, Thursday, as a special non-working day in Dagupan City to enable Dagupeños to celebrate and participate in the observance of its 72nd Charter Day anniversary.
Executive Secretary Salvador Medialdea signed on June 14, Proclamation No. 743, to give Dagupeños full opportunity to celebrate and participate in the occasion with appropriate ceremonies.
Dagupan is the only chartered city in Pangasinan that became a city by virtue of Republic Act 170 authored by then Speaker Eugenio Perez.
RA 170 was signed into law by President Manuel Roxas on June 20, 1947.
The 72nd Charter Day anniversary celebration is anchored on the theme "Pankakasakey tan Biskeg na Ulopan, Asenso na Dagupeño Nagamuran (Pagkakaisa at Lakas ng Samahan, Asenso ng Dagupeño Makakamtan)."
This year's celebration will commence with a floral offering in front of the bust of Speaker Eugenio Perez at 6 a.m. to be followed by a Catholic Mass dubbed as "Misa ng Pasasalamat".
A commemorative program to be led by Dagupan City Schools Division Superintendent Lorna Bugayong and Mayor Belen Fernadez will be conducted after the thanksgiving mass at the Eugenio Perez Sr. Shrine in Barangay Herrero-Perez.
By Liwayway Yparraguirre (PNA)
ROSALES, Pangasinan -- A 10-foot diameter giant smoked fish pizza prepared by culinary students of an academy in this town highlighted the celebration of the 5th Tinapa (smoked fish) Festival here.
Hundreds of mall goers and Tinapa Festival guests partook of the slices of pizza that are 10 centimeters thick, served by Rosales Mayor Susan Casareno and SM City Rosales Mall Manager Herald Eleria following a simple program and ceremonial slicing of the pizza on Saturday.
Senior chef Marvin Dalisay of SKD (culinary arts school) Academy said 27 of their students, majority of them are members of their Saturday class, participated in the preparation of the giant pizza.
"The idea of what kind of pizza we are to prepare came from them," he said in an interview Monday.
Dalisay said the ingredients used for the pizza are 15 kilos of flour, 250 pieces tinapa, 20 kilos mozzarella cheese, five kilos of parmesan cheese, home-made pizza sauce, and several kilos of moringa (malunggay).
He said they started preparing the dough at 6 a.m., and then formed and cooked it.
It took them about three hours to assemble or prepare the pizza before it was finally presented to the public.
"There were two steps in preparing the tinapa. First, it was fried and hinimay-himay (flakes). Second, the tinapa flakes were sautéed in olive oil to bring out its flavor," he explained.
Dalisay said tinapa pizza is easy to prepare at home. There are only four ingredients for the dough -- these are flour, yeast, water, and salt. Ingredients for the homemade sauce can be bought at the supermarket.
"Tinapa is versatile, you can use it in any dish and in pasta," he said.
Meanwhile, Rosales Tourism Officer Aila Seradoy said there were 15 barangay nutrition scholar volunteers tapped by the local government to help first in preparing the several kilos of malunggay, which they themselves donated, by removing the leaves from the stalk.
During the event, they helped in serving slices of pizza to the people.
Marie Antonette Villar-Pescador, SKD Academy officer, said they are happy to be part of this "worthwhile endeavor".
Last year, a giant tinapa fried rice was also prepared and served to the people as part of the town's fiesta celebration.
Five years ago, Casareno thought of the introduction of the Tinapa Festival to highlight the town's tinapa industry, which she said was started by enterprising residents more than five decades ago.
The livelihood was handed down from one generation to another, and remains to be a good business to the families that inherited the industry from their parents. Tinapa producers are situated at Barangay Carmen West.
The local government was also able to source assistance from the Department of Science and Technology in the form of equipment. Beneficiaries are members of the Pantawid Pamilyang Pilipino Program who were also given seminar and training on how to prepare tinapa.
By Hilda Austria (PNA)
UMINGAN, Pangasinan -- Some 13,194 residents of six barangays in this town are now enjoying better quality of road with the rehabilitation of the 10.63-kilometer Gonzales-San Juan farm-to-market road under the Philippine Rural Development Project (PRPD).
Provincial Engineer Antonieta delos Santos said the 10-meter wide road project benefits residents of barangays Gonzales, Prado, Casillan, Luna Weste, Concepcion, and San Juan.
"The road area used to be of gravel but now it is smooth making travel of residents and transport of their goods easier and more comfortable," she said in an interview Friday.
Delos Santos noted the road rehabilitation started last quarter of 2017, and was 73 percent completed as of May 31 this year.
She said the remaining four-kilometer portion of the project is expected to be finished soon as the construction continues even during rainy season provided the weather permits.
Delos Santos said the PHP118.67-million road rehabilitation project is funded by the World Bank, the national government through the Department of Agriculture (DA), and the provincial government of Pangasinan.
The World Bank is funding PHP89 million or 80 percent of the total project cost, the provincial government is financing PHP18.547 million, while the DA's counterpart can reach PHP11.127 million, she added.
By Hilda Austria (PNA)
BAYAMBANG, Pangasinan -- Some 50,000 vegetable seeds and seedlings are being distributed by the municipal government to the residents of 77 barangays here to set in motion their community gardening project.
Municipal agriculturist Artemio Buezon, in an interview Friday, said the local government, with the initiative of Mayor Cezar Quiambao, has been urging residents to make use of every vacant lot for gardening or planting of vegetables.
"Since 2017, the Mayor has been telling the citizens here to plant in every vacant lot available. The municipal government provides seedlings as well as organic fertilizers as we do not encourage the use of pesticides, this way they could have their own and healthy food at their backyards," he said.
Buezon said the scope of then backyard nursery gardening in the town has widened this year, turning into what can best be described as community gardening.
"The nursery gardening benefited only eight to ten families per barangay, whereas our goal now is to benefit all the families in every barangay," he said.
Vegetable seeds such as eggplant, pechay, squash, tomato among others and the organic fertilizer from town's material recovery facility are provided for free by the municipal government, Buezon disclosed.
"They can plant the seeds in vase or anywhere. And those who say they cannot plant are just lazy. Everyone can plant since the soil here is fertile," he said.
He added that the municipal government has set a competition for best community garden every April, which is also their farmers' day.
"Winners receive PHP30,000 cash prize for first place, PHP20,000 for second place and PHP15,000 for third place while there is also PHP1,000 consolation prize for each of the participants. This is to encourage them more into gardening," Buezon said.
The community gardening is part of the poverty-alleviation strategies of the municipal government, which is a component of its revolution against poverty.
"This will not only provide meal for the families but also a source of income if they have produced more than what they needed," Buezon said.
By Joanna P. Diaz-Sabado (JNPD/JDS/PIA- La Union)
SAN FERNANDO CITY (PIA) -- The Province of Pangasinan with its Pangasinan Crisis Intervention Center in Lingayen town was recognized by the Philippine Commission on Women as the first Gender and Development (GAD) local learning hub in Ilocos Region.
The facility was among the seven local learning hubs in the country recognized this year for "their efforts in gender-responsive local governance towards the promotion of human right, gender equality, and the empowerment of all women and girls and for providing and sustaining gender-responsive programs and services to women and children in difficult circumstances."
The center, employed with licensed social workers, is operating 24 hours and serves as an action center to immediately respond to cases of individuals and families in crisis situation.
Among their services include the provision of a temporary shelter, rescue operation; referral services; provision of financial assistance; and program advocacy, information and education campaign.
"Our target clients include sexually-abused children, victims of physical abuse, sexual abuse like incest, rape and acts of lasciviousness, psychological abuse, survivors of human trafficking, and some strandees," Mona Sabiano-Alavazo, Provincial Social Welfare and Development Office technical division chief, said.
She added, "They can be provided three to seven days of temporary shelter in the center."
Last year, they catered to 353 individuals in crisis situation.
Established in 2006, the provincial government hopes that more LGUs will also be recognized as learning local hubs on GAD.
The facility is located at the Lingayen District Hospital Compound with 24-hour hotline 0933-8653710.
By April M. Bravo (AMB/PIA Pangasinan)
DAGUPAN CITY (PIA) – As part of its continuing support to promote ease of doing business, the Department of Trade and Industry (DTI) in Pangasinan informs the public that processing of all applications for product certifications can now be made online.
Natalia Dalaten, officer-in-charge provincial director of DTI-Pangasinan, said that with the full implementation of the Product Certification Information Management System (PCIMS), there is no need for entrepreneurs to go to any DTI office to process their papers.
Dalaten said the DTI's Bureau of Philippine Standards (BPS) can now use the PCIMS to process import commodity clearances (ICCs), as well as Philippine standard (PS) safety and quality certification mark licenses.
"Through the PCIMS, all manufacturers and importers of products covered by mandatory standards shall apply their licenses and clearances using the online and paperless system of the BPS," she told the Philippine Information Agency.
"They only have to request a registration form by emailing bps.scd@dti.gov.ph, and then applying through www.qualityproducts.dti.gov.ph," she said.
However, she said that the payment of certification fees and claiming of the certificates will still have to be done at the DTI office.
"For further information on how to access the PCIMS, visit the DTI-Pangasinan office at the 2nd Floor of Star Building, Arellano Street, Dagupan City or call telephone numbers (075) 529-6177 or 515-3183 or send an e-mail at R01.pangasinan@dti.gov.ph," Dalaten said.
By April M. Bravo (AMB/PIA Pangasinan)
ALAMINOS CITY, Pangasinan (PIA) – In pursuit of preserving the pristine and clean waters at the Hundred Islands National Park (HINP) here, the city government of Alaminos and the Department of Environment and Natural Resources have undertaken another SCUBAsurero underwater clean-up last Friday.
"SCUBAsurero" is a term coined by combining the words "scuba" and "basurero" or trash collector as licensed scuba divers forage for garbage under the waters around the islands.
The underwater clean-up program was launched by the city government of Alaminos in 2016 under the leadership of Mayor Arthur Celeste.
Miguel Sison, tourism officer of Alaminos City, said that SCUBAsurero was used to be conducted every once or twice a year but since the city government advocates the conservation, protection and rehabilitation of the Hundred Islands, it now became a monthly activity to sustain this premier tourist attraction in Pangasinan.
Sison said around 30 trained divers from the city government of Alaminos, including volunteers from national government agencies and private groups, conduct the underwater clean-up drive every month and collect garbage indiscriminately thrown by some visitors.
For Mamerto Viray, team leader of the SCUBAsureros, the project has done wonders as it tremendously decreased the volume of underwater garbage.
"Ngayon, medyo malinis-linis na," he said.
Viray said the Hundred Islands Diving Club plans to train non-divers and the youth for free to help in maintaining the cleanliness of this tourist destination.
He also requested visitors to keep the place litter-free, saying "Pakiusap, kapag may basura dapat ilagay sa wastong lalagyan at kapag may ibinigay na garbage bag, pakidala sa mainland."
Viray is referring to the "Basura Mo, Iuwi Mo" program also implemented by the city government of Alaminos in the HINP.
Under the program, a P200 refundable group bond is required of visitors going to the HINP.
The group will be given two bags: one for biodegradable trash and another for non-biodegradable materials.
Once the visitors return to the wharf or the mainland and turn in their garbage for proper disposal by the Alaminos City Tourism Office, they get back the P200 deposit.
They would also be given a gift certificate good for two persons for free entrance and free environmental fee on their next visit to the HINP.
The smoking ban is also strictly implemented at HINP.
By Hilda Austria (PNA)
ALAMINOS CITY, Pangasinan -- A total of 65,604 tourists visited the famous Hundred Islands National Park (HINP) here from May 1 to 24 this year, the Alaminos City Tourism Office (CTO) announced.
"The trend is still increasing since many are making the most of the summer vacation before the classes start in June (3)," said CTO officer Miguel Sison in an interview on Monday.
He said majority of the tourists flocked the Hundred Islands on Saturday and Sunday posting an average of 5,000 and 6,700 tourist arrivals, respectively.
Sison noted that 13,700 tourists visited the national park on Black Saturday (April 20) alone.
"Most of the visitors went to the Pilgrimage Island where a chapel was newly constructed and St. Claire and St. Joseph statues were newly built," he said.
The month of May's figure brought the total number of tourists who visited HINP from Jan. 1 to May 24 to 326,254.
The CTO recorded 561,909 tourist arrivals in 2017 but the number declined by 2.6 percent in 2018 due to weather disturbances, particularly typhoons.
Sison said HINP has 25 main islands of which eight are open to tourists, while the Bat and Monkey islands are just for viewing and the rest are still being developed.
"We used to have only three active islands," said Sison, referring to Governor's island, Children's island and Quezon Island.
"But now we have the Clave Island, Lopez Island, Marcos Island, Monkey Island, Bat Island and the Old Scout Island, wherein a portion of it is the snorkeling area for its corals," Sison said.
He said the activities being enjoyed by the tourists are banana boat ride, jet-ski ride, island-to-island ziplines, helmet diving, island hopping and swimming, among others.
(PIO/SMDG, Sunday Punch)
LINGAYEN - The provincial government recently received P34,489,860 as financial grant from the National Nutrition Council (NNC) for the implementation of Dietary Supplementation Program (DSP) for pregnant women in the province.
Ma. Eileen B. Blanco, NNC – Regional Office 1 Nutrition Program Coordinator, presented the cheque to the provincial officials led by Provincial Administrator Nimrod S. Camba, and Provincial Health Office (PHO) Chief Dr. Anna Ma. Teresa S. De Guzman on May 21 at the Capitol Building in the presence of by Fourth District Board Member Jeremy Agerico B. Rosario.
The DSP is a program of the Department of Health (DOH) and the NNC that provides health and nutrition services to pregnant women.
In 2018, the provincial board passed a resolution authorizing Governor Amado I. Espino, III to enter and sign a memorandum of agreement with the NNC to fully support the program of the national government in ensuring the holistic development of a child in the province.
Blanco said Pangasinan is the lone province in Region 1 that received the financial grant for the implementation of the DSP Umingan, Bayambang, Alaminos City and Urdaneta City.
The program will supplement the implementation of the Early Childhood Care and Development (ECCD) that focuses on the first 1,000 days of a child (from pregnancy up to the child's second birthday).
Blanco pointed out that the program is aimed at preventing malnourishment among children.
De Guzman added it will also support the Buntis Congress of the provincial government that promotes healthy and safe motherhood.
By Hilda Austria (PNA)
DAGUPAN CITY -- The Department of Education (DepEd) 1 (Ilocos region) is advocating scouting and sports in education through the "Happy School Movement".
DepEd-1 has launched the movement alongside the regional launch of Brigada Eskwela.
Dr. Edilberto Abalos, chief education support services division of DepEd-1, said the program aims to develop the children holistically.
"Scouting is one (of the) best ways to teach children discipline. And sports is also essential as children now have no physical activities," he said during the Kapisanan ng mga Brodkaster sa Pilipinas - Pangasinan chapter forum on Thursday.
Abalos said they encourage the putting up of playgrounds for children.
He also noted that discipline should begin at home.
"Parents should be the first teachers of children. The home should be the first place where discipline should be first taught," he added.
Meanwhile, Abalos said he approves of the mandatory Reserve Officers' Training Corps (ROTC), noting it is necessary to strengthen students' discipline.
He said the alleged abuses in ROTC in schools before were isolated cases.
By(AMB/PIA Pangasinan)
DAGUPAN CITY (PIA) – The Department of Labor and Employment (DOLE)-Dagupan Field Office is still accepting applicants for its Special Program for the Employment of Students (SPES).
Andrea Amor Mitre, labor and employment officer of DOLE-Dagupan Field Office, said at least 50 to 60 slots in private companies are available for interested applicants who wish to be employed this summer.
"SPES aims to provide temporary employment to poor but deserving students and out-of-school youth (OSY) this summer to augment the family's income to help ensure that beneficiaries are able to pursue their education," Mitre said.
She said those who are interested are encouraged to visit the DOLE office in this city and bring a copy of their birth certificate or any document showing their date of birth as the program is open for students and OSY who are 15 to 30 years old.
"Other requirements include the latest report card; certificate of indigence to be requested from their respective barangay offices; and if the parents are employed, the combined net income after tax, including the applicant's, if any, must not exceed the annual regional poverty threshold," she added.
"For OSY, they need a certification issued by the barangay or the city/municipality or provincial social welfare and development office where they reside," she said during the 'Pantongtongan Tayo' (Pag-usapan Natin) radio program of PIA Pangasinan aired over DZMQ Radyo Pilipinas Dagupan on Tuesday.
Mitre said qualified SPES applicants will be matched to the vacancies of available jobs and then referred to the participating public and private employers for their consideration.
She said the beneficiaries will work for a period of 20 days.
"For the compensation, the labor department will shoulder the 40 percent of the salary while the 60 percent will be paid by the employer where the beneficiary will render his or her services," she added.
Meanwhile, Mitre mentioned the upcoming jobs fair in Pangasinan such as the "Jobs Fair on Wheels" scheduled on May 28 from 9 a.m. to 3 p.m. in the municipality of San Jacinto.
DOLE will also stage the annual "Kalayaan Day Jobs Fair" on June 12 from 10 a.m. to 4 p.m. at the Nepo Mall Dagupan here.
By Hilda Austria (PNA)
DAGUPAN CITY — A total of 172 students from Pangasinan qualified as new scholars of the Department of Science and Technology - Science Education Institute (DOST-SEI).
Science researcher specialist Alexa Apostol of DOST-Pangasinan, said on Thursday that the incoming freshmen college students are excited to take up courses under DOST priority areas, such as in the field of engineering and agriculture.
"These are those who passed the qualifying exams and we had a meeting with them last week for the orientation and scholarship agreement signing," Apostol said during the Kapisanan ng mga Brodkaster sa Pilipinas - Pangasinan forum.
She disclosed that the new scholars will receive financial assistance comprising PHP7,000 in monthly living allowance; PHP20,000 in tuition fee subsidy every semester; PHP5,000 in book allowance per semester; and PHP1,000 in uniform allowance.
"The DOST-SEI has two sets of scholarship program. The Republic Act 7687 for the less privileged students and the merit scholarship for those who are well-off in life but deserve a scholarship," Apostol said.
The DOST-SEI will again conduct a qualifying exam for undergraduate scholarship on October 20. Submission of application is from June 3 to September 6, which will be open to senior high school students or graduates.
"They just need to submit first to us a properly accomplished application form; birth certificate; certificate of indigency for beneficiaries of Pantawid Pamilya Pilipino Program; tax exemption form (of their family); income tax return of previous year for those parents who are working, and electric bill for three consecutive months," Apostol said.
She added that the requirements will be used to assess which scholarship program will be applicable to the student.
"The students may study in a school in Pangasinan or any other parts of the region or even in Metro Manila," Apostol said.
Scholars of DOST-SEI must maintain an 85 percent annual weighted average and 85 percent semestral weighted average and they must not have failing grades in any academic subject.
By Elsha Marie B. Soriano (JND/EMS/PIA Pangasinan)
DAGUPAN CITY, May 23 (PIA) -- The Department of Trade and Industry (DTI) in Pangasinan will bring discounted school supplies and basic commodities closer to the buying public in the western part of Pangasinan as its Diskwento Caravan goes to towns Bolinao and Anda.
Natalia Dalaten, officer-in-charge of DTI-Pangasinan, said the caravan, which is a yearly activity in line with DTI's Balik-Eskwela Project, will be held at the Anda Municipal Gymnasium on May 27 and Don Raymundo Celeste Sports Complex in Bolinao on May 28 .
Dalaten said the caravan, which will run from 7 a.m. to 4 p.m., is a project of DTI that aims to provide opportunity for consumers to access basic goods, school supplies and prime commodities at discounted prices by bringing manufacturers and retailers in one place.
"The new school year is just days away and DTI's Diskwento Caravan can help parents save money specially in preparation for the start of classes," she said adding that the buying public from Western Pangasinan can avail of products marked down to up to 50 percent.
She added that consumer can be assured of the quality of the products to be sold during the caravan as the participating establishments have been long time partners of DTI Pangasinan since the start of the project.
The Diskwento Caravan, which started in 2009, is annually participated by distributors and retailers such as Magic Supermarket, National Bookstore, Addessa Corporation, Home Ideas Superstore and Sheridan Marketing.
Dalaten also advised the public to visit DTI-Pangasinan Provincial Office located at the 2nd floor of Star Building, Arellano Street in Dagupan City or call at telephone numbers (075)-551-3183 or 529-6177 or e-mail at dtipang@yahoo.com for inquiries and additional information on prices of school supplies or other concerns.
She said further that for those other distributors and retailers who are interested to join the Diskwento project may visit DTI office or may call and send letter to DTI.
Likewise, this year's caravan will be participated by the Bangko Sentral ng Pilipinas (BSP) Dagupan Branch.
Ma. Loudes Manaois, bank officer of BSP Dagupan branch, said their booth will feature information materials on Clean Notes and Coins as well as consumer education.
She added that BSP will also be exchanging unfit/mutilated notes to new bills.
By Elsha Marie B. Soriano (JND/EMBS/PIA Pangasinan)
LINGAYEN, Pangasinan May 22 (PIA) -- The Department of Agriculture (DA) Region 1, through the Regional Agriculture and Fisheries Information Section (RAFIS) in Ilocos Region, is set to conduct a one-day Regional Information Caravan on May 23 to promote agricultural and fishery programs and projects of the government.
Vida Cacal, regional information officer of DA Region 1, said the activity, which will be held at that Pangasinan Development and Training Center in this town, primarily aims to disseminate and promote current DA programs, projects, and activities including technology updates.
"The information caravan aims to sustain the delivery of vital information on processes and basic requirements and guidelines on DA programs and projects that farmers should know," Cacal said
She added that the event also aims to encourage stakeholders to build strong partnerships toward agricultural development.
Cacal said around 300 participants from the provinces of Pangasinan and La Union are expected to attend the activity.
Attendees are composed of farmers, fisherfolk, livestock raisers, representatives from state colleges and universities, agricultural extension workers, DA attach-agency representatives, and other stakeholders.
"The region-wide activity, which will be held annually starting this year, is in line with the celebration of the Farmers' and Fisherfolk's Month this May," she said, adding that DA will conduct the second leg of information caravan in November for farmers and DA stakeholders from Ilocos Sur and Ilocos Norte.
Participants will be given insights on the following topics: Availment of DA-RFO I's Banner Programs and Projects, PLEA/SURE Credit Facilitation and other Agricultural Credit Window, Irrigation Water Support Program, training program, Rice and Other Commodities Marketing Strategies, farm mechanization, and Occurring Pests and Diseases.
By Hilda Austria (PNA)
ASINGAN, Pangasinan -- The Department of Education (DepEd) in Pangasinan is urging all education stakeholders to participate in this year's Brigada Eskwela, the schools' maintenance initiative of DepEd.
"All stakeholders, even ordinary citizens are invited. Everybody should help the schools so we can better prepare the students' and pupils' classrooms," said lawyer Donato Balderas Jr., DepEd Pangasinan II division superintendent, in an interview Tuesday.
Balderas said the week-long annual school maintenance program was launched Sunday.
He admitted that scarcity of classrooms and books are common problems encountered by the division, as the school children's population increases every year.
"These are somewhat addressed. There are new school buildings or classrooms every year as the population increases," he added.
Pangasinan division II has 600 elementary and high schools conducting their respective Brigada Eskwela.
By April M. Bravo (AMB/PIA Pangasinan)
URDANETA CITY, Pangasinan, May 20 (PIA) -- Pilmico, the food subsidiary of Aboitiz Equity Ventures, conducted an Agri and Livelihood Expo at the Urdaneta City Cultural and Sports Center in this city Saturday, May 18, to promote sustainable livelihood through backyard farming.
Victoria Altiche, corporate communications associate of Pilmico Foods Corporation, said the expo aims to provide a venue for local farmers and aspiring agri-entrepreneurs to learn about how backyard farming can be a sustainable and viable source of income.
To support this, Pilmico conducted free seminars on animal husbandry and nutrition, and held basic and advanced baking demos during the expo.
Local businesses were also invited to showcase their products and to connect target attendees with potential customers and partners within the area.
"In partnership with the Department of Trade and Industry, the expo gave way for better communication of business requirements as well as tips on how the attendees can jumpstart their agribusiness," Altiche said.
In a statement, Jefferson Abian, Pilmico assistant vice president for feeds sales, said "With an entrepreneurial mindset and the right skills in farming, businesses can thrive for generations."
"The expo is our way of giving back to the community, a tangible expression of our promise to empower the backyard sector, and ultimately, the agriculture industry as a whole," he added.
Attendees were also treated to a special cooking demonstration by celebrity chef, Chef Boy Logro, where the different flavors of the Philippines were showcased using pork, chicken and eggs.
Pilmico advances business and communities by being a true partner for growth of local farmers and businesses.
Through the expo, the company is able to inspire future agri-entrepreneurs by sharing its extensive industry knowledge, business solutions and expert advice.
(PIO/SMDG, Sunday Punch)
LINGAYEN– The Philippine Beach Games is set to hold its fourth edition in Pangasinan on May 24-26.
The three-day multi-sport event will feature 10 events this year: beach dodgeball, beach handball, beach petanque, beach run, beach ultimate, beach volleyball, beach football and beach touch rugby.
JP Demontano, PBG founder and head, noted that Lingayen Capitol Beachfront is, by far, the ideal and perfect venue for the beach games.
"When we saw Pangasinan, specifically Lingayen, we thought that this is what we are looking for," Montano said stressing that since 2016, the multisport event achieved feats and continues to expand in partnership with the provincial government
He expressed his gratitude to the provincial government for the support the organization has been receiving since the first staging of PBG in the province in 2016.
Demontano added that more than the entertainment, this activity aims to discover and hone local talents and introduce new sets of sports to the next generation.
"Gusto naming dumami ang local teams at mag-introduce ng new sports para sa kabataan," he stated.
As such, preserving the unrivaled beauty and abundance of pristine beaches, which serve venue to the annual tournament, is at the core mission of the activity.
Registration for PBG sports starts on May 24 while the main tournament begins on May 25.
By Ahikam Pasion (PNA)
LINGAYEN, Pangasinan -- The Land Transportation Office (LTO) regional office here has reminded Pangasinan youths to follow traffic laws to minimize or eliminate road accidents.
Lawyer Teofilo Guadiz III, LTO-1 director, said youths are usually victims of road accidents because of their impulsive nature and need for speed.
"Based on our statistics, half of accidents involve youths with age ranging from 17 to 20 years old, and majority of these accidents are violent accidents, leading to death," Guadiz said in an interview Wednesday after the holding of the road safety advocacy dialogue.
Guadiz thus urged the public, especially motorists, to take extra caution when driving in order to prevent accidents which could lead to death. "Accidents could happen anytime, and these are usually caused by recklessness. Kabataan man o hindi, involved lahat dito (Youth or not, everybody is involved here)," he said.
Aside from the LTO, the event participated by some 250 youths from Pangasinan, was also co-organized by other branches of the government including the Philippine National Police and the Department of Education, among others.
By Ahikam Pasion (PNA)
DAGUPAN CITY -- Pregnant women in this city may now avail of free pre-natal check-up and delivery at the diagnostic clinic and lying-in center, which was formally opened on Thursday.
Mayor Belen Fernandez, in an interview Friday, said the facility, worth more than PHP20 million, was funded by both the city government and the Department of Health (DOH).
"Share natin is the maintenance, some of the equipment. Sa building naman, may share tayo at ang DOH (Our share is the maintenance, some of the equipment, while for the building we shared the expenses with the DOH)," Fernandez said.
The diagnostic clinic features state-of-the-art X-ray machines, ECG (electrocardiogram), and CT (computed tomography) scan while the lying-in clinic offers birthing beds and wards for birthing moms to recover.
The lying-in clinic will serve pregnant mothers on a 24-hour basis.
The CT scan machine was given to the clinic by the Villaflor Hospital, a private hospital in Dagupan.
The diagnostic clinic would also cater to the needs of Dagupeños, especially the indigent, the city government employees, as they would no longer have to cash out for an examination.
Residents could avail of services using the equipment for free, but they should first register at the City Health Office.
"We are targeting an initial 20,000 residents in Dagupan, but they need to register in order to get a green card ID.
This will entitle its owner to avail of the free services offered," Fernandez added.
Meanwhile, a newborn hearing screening equipment is also set to be delivered to the clinic soon.
The equipment, worth USD35,000, will be donated by the Rotary Club of Dagupan.
"The equipment is very vital so that we can immediately detect if the newborn infant has hearing impairment.
Through the equipment, we could identify and treat it right away," city health officer Dr. Ophelia Rivera, said in an interview.
(Tempo Online)
LINGAYEN, Pangasinan – With the ongoing finals in the University Athletic Association of the Philippines, Sisi Rondina will not be around to defend her title when the Philippine Superliga Beach Volleyball Challenge Cup unwraps today at the Capitol Beach Front here.
Without the University of Santo Tomas ace, Petron has picked up Floremel Rodriguez to team up with Bernadeth Pons. Rodriguez is a seasoned beach volley campaigner who once ruled the Cebu Schools Athletic Foundation, Inc. while playing for Southwestern University.
Tipped to give the Blaze Spikers a tough time are bitter rivals in F2 Logistics and Generika-Ayala A as well as PDT Home Fibr A, UVC A and Sta. Lucia Splendido.
Michelle Morente and Fritz Gallenero will represent the Cargo Movers while Patty Orendain and Fiola Ceballos, who gave Rondina and Pons a tough time in the 2017 edition, will banner the Lifesavers.
Former National Collegiate Athletic Association Most Valuable Player Gretchel Soltones and Shola Alvarez will don the colors of PLDT Home Fibr A while veteran beach volley bidder Bang Pineda and Jinggay Bangad as well as Jackie Estoquia and Dhanylaine Demontano will suit up for Sta. Lucia Splendido.
Rojas said the implementation of the program is based on Republic Acts 7323 and 95471 or the Act strengthening and expanding the coverage of the SPES amending for the purpose the provisions of R.A. 7323, otherwise known as the SPES.
The older news reports are kept here.