Davao City News September 2015
Jump to navigation
Jump to search
A | B | C | D | E | F | G | H | I | J | K | L | M | N | O | P | Q | R | S | T | U | V | W | X | Y | Z
Create Name's page
Regions | Philippine Provinces | Philippine Cities | Municipalities | Barangays | High School Reunions
---
Davao City - Archived News
---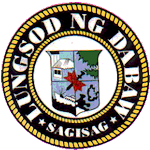 The Seal of Davao City
Interactive Google Satellite Map of Davao City, Philippines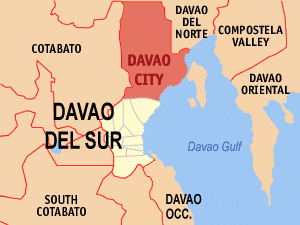 Davao City Map Locator

Map of Davao City

Davao City Hall
300px
Davao City Montage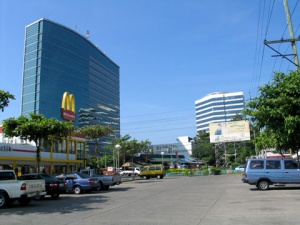 Davao City Aerial View

Entrance to Davao City

Nat'l Hwy Through Davao City

Davao City Victoria Mall

Old Davao City Airport

Current Davao City Airport

Mangrove forests are critical for the stability of coastal areas and the sustainability of fish and marine resources which provide food and livelihood to people in more than 800 coastal towns in the Philippines. USAID, through the Philippine Environmental Governance Project, assisted the local government (Davao City) in establishing, through a local ordinance, the mangrove area as a marine protected area.

USAID, through the Philippine Environmental Governance Project, assisted the local government (Davao City) in establishing, through a local ordinance, the mangrove area as a marine protected area. A crucial part in effective coastal resources management is law enforcement with Bantay Dagat teams playing a crucial role by safeguarding local waters. In Davao City Philippines, Bantay Dagat members protect mangrove areas from illegal cutting, thus conserving areas for fisheries and marine biodiversity habitats.
By Karina V. Canedo
A CULTURAL Corner of Iran (CCI) was launched at Davao City Library & Information Center (DCLIC) last Tuesday.
Officials of the National Library of the Philippines, Islamic Embassy of Iran (IEI)-Manila and the city government of Davao signed a memorandum of understanding (MOU) for the establishment of CCI.
NLP director lawyer Antonio Santos, acting counselor of cultural section of Embassy of the Islamic Republic of Iran (Eiri) Mahdi Abolghasemi, City administrator Melchor V. Quitain, who represented Davao City Mayor Rodrigo Duterte, signed the MOU together with witness DCLIC officer-in-charge Pedrita M. Badar.
The MOU was executed last September 29 as a collaborative effort of the NLP and the DCLIC that will undertake the establishment, operation and maintenance of the CCI.
Badar said that DCLIC is the first library in the Philippines selected by the Eiri to have a cultural corner.
"Natingala pud gani ang director nganong kita ang gipili (even the director was surprised why we were chosen)," Badar said.
She said the city mayor was able to talk with an officer from the Iranian Consulate through a chance visit and hence reinforced and conceived the idea of putting up the CCI.
Apart from DCLIC, the other parties have also different responsibilities stipulated in the MOU.
NLP will coordinate the activities related to the CCI project. It is also mandated to monitor, evaluate and provide assistance to the librarian in maintenance of the operations of the CCI.
The Eiri, for its part, will provide DCLIC through NLP one set of computer, computer table, computer chair, reading table with chairs, shelf, books and other reading materials.
These materials are already present in the in DCLIC upon the launching. The Eiri will also be responsible for the financial assistance for the launching of CCI and appointment of representatives of the embassy of Iran.
The DCLIC is responsible to provide space to house the CCI in the library and other necessary furniture for the effective and efficient operation of the CCI.
The local office is also required to appoint a librarian to be in charge if the operation of CCI and to assume full responsibility over all equipment, furniture, books and other library materials allocated by NLP, hereby designating the head as responsible official.
It is also responsible for the submission to NLP, through Reference Division, reports on the utilization of the services of the CCI as well as annual inventory report.
The MOU was made through NLP which is mandated to affiliate public libraries throughout the country which are essential repositories of knowledge and information for the educational, spiritual, cultural, economic development of the community.
NLP and the National Library and Archives of Iran through Iranian Studies Center has long been engaged in the promotion of the Iranian language and culture in the Philippines.
(PNA), FPV/LCM/DIGNA D. BANZON/LDP
DAVAO CITY, Sept. 29 (PNA) -– For the first time, Davao City will host the upcoming 16th national convention of the Association of Tourism Officers of the Philippines (ATOP) on October 1 to 4 with 1,000 officers expected to converge in this city.
Davao City tourism head Lisette Marquez said it will be the first time this city will be hosting the ATOP convention which will showcase the best of the region's products.
She said prior to the convention the first ATOP Expo will open Wednesday (September 30). Activities for the ATOP convention will include the Mayor's Night with Mayor Rodrigo Duterte hosting a welcome dinner.
In this event, the launching of meetings, incentives, conferences and exhibitions (MICE) Davao Program will take place to be highlighted by the Airline Partnership Signing with Air Asia.
Other highlights are messages on the "One Billion Tourists, One Billion Opportunities: The Philippine Context"; the USAID and DENR Collaboration in Strengthening Policy and Practice in Mt. Apo Natural Park that will be tackled by Clay Epperson, Philippines Acting Mission Director of USAID and Secretary Ramon Paje of the Department of the Environment and Natural Resources;
Strengthening Policy and Practice in Protected Area Management and Biodiversity Conservation: The Mt. Apo Natural Park Success that will be discussed by DENR XI regional director Joselin Marcus Fragada; Greening the Tourism Value Chain: Ensuring Resiliency for a Sustainable Future by Rita Pilarca, the senior adviser on Promotion of Green Economic Development.
On October 3, Marquez said it is dedicated to the benchmarking tours. According to Marquez, there are 200 participants who signed up for the Samal Island tours where the visitors will visit Hagimit Falls, the Monfort Bat Cave and Taklobo (Giant Clams) Tours.
She said there will also be tours around Davao City such as a visit to the Public Safety and Security Command Center, Central 911, D'Bone Collection Museum, Crocodile Park, Tribu K'Mindanawan.
The Davao Royalties: Waling-Waling and Philippine Eagle is another group tour component; agricultural tour to the Mindanao Baptist Rural Learning Center (Contour Farming – Sloping Land Agricultural Technology) in Davao del Sur; and for the Plantation Tour, the Banana Beach, Hijo Plantation and Tadeco's banana farms in Davao del Norte.
The Adventure Tour in Compostela Valley featuring Camp Manuel T. Yan Ecotourism Park and Mahayahay Cave; and, the World Heritage Site Tour in Davao Oriental for Mt. Hamiguitan.
Marquez said the package tours are collaborated between the private sector and the local government units.
(PNA), LAP/LCM/JENNY GRACE M. MENDOZA/LDP
DAVAO CITY, Sept. 28 (PNA) -- The Department of Trade and Industry (DTI) 11 in partnership with the Department of Tourism (DOT) 11, Mindanao Development Authority (MinDA), Mindanao Business Council (MinBC) and city government of Davao will host the BIMP-EAGA Trade, Tourism and Investment Forum on October 5 at the Marco Polo Hotel, this city.
Around 200 delegates, comprising of contractors, exporters and importers, logistics companies and micro, small and medium enterprises (MSMEs), are expected to attend the gathering.
The forum is aimed at providing a platform for convergence of the BIMP-EAGA clusters and development partners to present business and investment opportunities, priority programs and projects, including those in the national and sub-regional economic growth corridors.
A business-matching session will be arranged and conducted for pre-matched clients in the afternoon. Although pre-matched clients will be given priority, walk-in investors will also be accommodated.
Simultaneous with the forum and business-matching will be a Product Investment and Tourism Information Exhibit at the lobby of the Marco Polo Hotel's Grand Ballroom. The exhibit is set to showcase investment projects, trade opportunities, incentives (local and national), tourism destination packages, among others.
"The Trade, Tourism and Investment Forum is geared towards encouraging more information exchange and trade opportunities especially within the BIMP EAGA pillars," DTI 11 Regional Director Maria Belenda Q. Ambi said.
The BIMP-EAGA Trade, Tourism and Investment Forum is part of a three-day event Trade and Investment Facilitation (TIF) Cluster Meeting at Seda Abreeza Hotel that will be attended by the Heads of Delegation from Brunei Darussalam, Indonesia, Malaysia and Philippines on October 6 and 7.
In addition, the BIMP-EAGA Trade, Investment and Tourism Center will be launched at the second floor of Abreeza Ayala Mall in the afternoon of October 7. The center, which will showcase products of the sub-regional cooperation's member countries, will be open to the public.
By Ivy C. Tejano
VARIOUS agencies, supporting projects in life sciences and technological advances, is set to hold a three-day Southeast Asia Regional Training Programme on Renewable Energy Resource Assessment and Mapping at Marco Polo Hotel in Davao City slated on September 28-30.
Maria Victoria I. Dado, science research specialist II under the Department of Science and Technology (DOST) in Davao Region, said the three-day training will be co-organized by the Asian and Pacific Center for Transfer of Technology and International Renewable Energy Agency (Irena) with the support of the DOST.
Dado said the training aims to strengthen the existing capacities of the member countries by identifying and assessing potential renewable energy resources with particular focus on solar and wind energy resources.
She added that this is important especially for stakeholders in Mindanao where some of the renewable energy projects are implemented.
Also, the event is organized to engage regional stakeholders to discuss the themes and see how these can promote the common interest and welfare of the Asia-Pacific Economic Cooperation (Apec) member economies towards energy resilient Apec community.
The main objectives of the training will be to provide training on various methodologist, tools and techniques for solar and wind energy resource assessments that are developed by IRENA and other international organizations that are readily available for estimating the national renewable energy potential.
To understand the inter-relationship between renewable energy resource availability with policy areas such as energy subsidies, skills development, infrastructure planning and national climate change policy and learn from the regional policy best practices.
To enhance knowledge of key regional stakeholders on regional and global initiatives on renewable energy resource assessments from organizations such as IRENA and the World Bank; and to share regional experiences, successes, challenges and best practices on renewable energy resource assessments and preparing resource assessment maps.
Lastly, to create a pool of trainers in solar and wind resource assessments that could further disseminate the trainings in their respective countries.
By Jonathan A. Santes
Davao City – If being able to come up-close and personal with exotic animals was not enough, mall goers were treated to free copies of the Manila Bulletin's Animal Science and Agriculture Magazines Friday during the opening of the Davao Pet Expo 2015 at the Gaisano Mall here.
The first-ever pet show held inside a mall, the event showcased exotic animals like a large Albino snake, a Tree and Bull Python, a Bulb Chicken, Water Monitor Lizards, White Texas Snakes and high-pedigreed dogs.
City Mayor Rodrigo Duterte, in a message delivered for him by city councilor Leonardo Avila III, welcomed the participants to the event, saying the city was open to all responsible pet keepers.
Rolando Basco, organizer of the Pet Expo said they were happy with the warm reception accorded them by the city and pet keepers' organizations, saying "it was first in the history a pet show was held inside a mall."
According to him, mall owners do not usually allow the entry of pets inside the malls due to health reasons and the possible spread of virus inside the mall.
That was why it was a pleasant surprise for the Pet Expo organizers that they were accepted into the Gaisano Mall, stressing that it offered a friendly and conducive area for pets since cool temperature is kept throughout the day.
He likewise thanked the organizations of pet lovers, namely the Davao Dog lovers, Davao Pet Lovers Exotic Pet Keepers from the cities of Davao, Tagum and Panabo for participating in the event.
By Ace June Rell S. Perez
POSITION Davao as the Cacao and chocolate capital of the Philippines, the Cacao Industry Development Association in Mindanao Inc. (Cidami) said.
Cidami with Department of Tourism and other stakeholders are now gearing up for a Geographical Indicator (GI) mark from the Department of Trade and Industry (DTI) in a bid to position Davao cacao-based products in the global market and increase its marketability.
A GI is a sign used on products that have a specific geographical origin and possess qualities or a reputation that are due to that origin.
Valente "Val" Turtur, executive director of Cidami told reporters at the sidelines of the 2nd Davao Chocolate Festival opening ceremony at the SM City Annex, Ecoland, Davao City on Friday that achieving this goal of securing a GI mark, the cacao industry should educate first the cacao farmers on the standards on quality cacao beans and other products.
"Maybe in three years' time we can come up with that, at present we are still working on that but of course kailangan ng consultancy, we are still in the stage of educating the farmers because we cannot come up with the brand known for quality unless it would resonate from the farmers themselves," he said adding that shifting from the farmers' traditional culture to the new will be very challenging but possible.
He also said that of the over 16,000 cacao farmers in the city, only 20 percent are conscious of the cacao quality standards and that the association is doing measures on increasing the awareness of farmers through congress, seminars and exhibits like Davao Chocolate Festival.
"We want to instill through branding na pag Davao–Cacao chocolates the world would translate it as premium in volume and quality," Turtur added.
According to DTI, GI is "a specific intellectual property right that designates a product from a specific region and whose characteristics result in both the natural conditions of its origin and the expertise of local producers. More commonly, a geographical indication consists of the name of origin of the goods or products."
Turtur emphasized that consistently Davao's cacao industry is performing well in supply and quality making it enough to be positioned as the caco and chocolate capital in the country.
Some of the registered chocolate makers based in the city who excelled globally are Malagos Chocolate, Puratos, Cacao de San Isidro, Coco Dulce, Chocolate Bean, among others.
"Our Cacao- based chocolate products here in Davao are artisan and gourmet chocolates, our chocolate products are 70 percent or more real chocolate," Turtur said.
Meanwhile, Cidami in partnership with SM Malls is set to bring the chocolate festival in Manila next year to further promote Davao chocolates.
The 2nd Davao Chocolate Festival opens on Friday and will run until Sunday, September 27.
By Ace June Rell S. Perez
ANOTHER business process outsourcing (BPO) firm, Expert Global Solutions (EGS) is expanding its presence in the country with the opening of its new contact center in Davao City, its first outside Metro Manila.
Rainerio "Bong" Borja, EGS president and country head, in a recent gathering of stakeholders on Tuesday at the White House Fusion Cuisine and Wine Lounge, said they are targeting start their operation in Davao City by November this year.
"We are expecting to start our operations in Davao in time for the inauguration of the Matina IT Park." he said.
EGS will occupy the entire four-storey first building of the Philippine Economic Zone Authority (Peza)-accredited Matina IT Park, the biggest information technology center in Mindanao. The IT center is comprised of three buildings with a combined lease area of 19,790 square meters. It will be developed by Plaza de Luisa Development, Inc.
The BPO firm is set to employ some 1,500 to 1,700 employees in Davao in its initial stage of operations.
"Aside from the given economic growth in Davao, we also thought that there is a big talent pool here that we can tap in our operations. Also the city's environment is very conducive in our kind of business, it very safe considering that we work at night," Borja said.
He said heir advantage from among BPO firms operating in the city is that they engage and look after their employees with utmost concern.
EGS started its operations in the Philippines in 2003. At present they are operating in about nine sites in Luzon. The company had already employed 14,000 employees nationwide. They are now targeting to add 2,000 more employees by the end of the year.
Samuel Matunog, president of ICT-Davao, Inc. said in an interview that the council has welcome EGS as it strengthens the ICT industry in the city.
"We welcome the investment of EGS in Davao. This will translate to more employment opportunities in the city especially that the firm is open not only to young employees but even retirees, and person with disabilities (PWDs) for as long as they are qualified," he said.
By Ace June Rell S. Perez
In a bid to provide farmers better access to financing, the Davao City Chamber of Commerce and Industry Inc. (DCCCII) through its flagship event dubbed as Davao Trade Expo (Date) 2015 forged partnership with five big financial institutions in the country.
These are the Land Bank of the Philippines, Development Bank of the Philippines (DBP), Bank of the Philippine Islands (BPI), Banco De Oro (BDO) and Security Bank, all of which vowed to support the agri-financing forum set on the second day of the event.
Date 2015 is slated on September 25 to 27 at the SMX Convention Center.
"Our partner banks will showcase and present their programs on financing to the farmers. The forum will educate local farmers on how to access programs offered by banks," Mary Antonette Doromal, DCCCII executive director, said in an interview with Sun.Star Davao.
She said the forum is a good avenue for the banks to showcase their programs aimed at capacitating the budding small farmers.
"We want to take part in the development of the small farmers, especially on financial aspect," Doromal said.
The forum is open to all small and big farmers who are planning to expand their business, especially in livestock, poultry and aquaculture but have no access in financing.
Doromal said giving the farmers a venue to better access in financing with proper trainings in running their agribusiness is better than just teaching them plain principles and methodologies.
"We want to highlight that banks are very interested to support in the development and expansion of dairy industry," she said.
(CCC)
The centerstage is set for the region's 'sweetest festival', the Davao Chocolate Festival slated on Friday to Sunday at The Annex events center of SM City Davao.
Due to the success of last year's celebration, the chocofest will once again showcase chocolate processors and other related enterprises.
The exhibitors include Human Nature, Lara Mia, Cidami, Aromacology, Gatchocolatto, Giardino, The Chocolate Bean, Gourmet Bites, Coco Dolce, Kablon Farms, Tsokolate de San Isidro, Malagos chocolates, Cacao de Davao, SM Supermarket, iChef Kiddie Zone, and Puratos.
The event will be a magnet to those who have the sweet tooth and loves free-taste as it opens with the slicing of a massive chocolate cake which is about 10 feet in diameter at 10 a.m. on Friday. At 4 p.m., Davao's top barristas will entertain the spectators in a Chocolate mocktail challenge.
On Saturday, culinary enthusiasts will enjoy a workshop of the award-winning and officer of the prestigious Pastry Alliance of the Philippines, Chef Jackie Ang Po on her segment titled, Baking Chocolates at Home'. In the afternoon, the search for the year's best chocolate dessert will take place in the activity, Chocalatier's match.
On Sunday, the Cacao Industry Development Association of Mindanao (Cidami) will give updates on the new things in the cacao industry at 10 a.m.
"We encourage the cacao players to expand their production by value adding especially now that there is a huge demand for cacao in the world market; hence, there is a big opportunity to earn," Cidami executive director Val Turtur said during Monday's Kapehan sa SM at The Annex.
It will be followed by Chef Rolando Laudico's talk on cooking chocolates at 3 p.m. then the city's best chocolate cake during the chocolate cake-off will be announced.
Meanwhile, anyone can score a golden ticket with a single receipt, minimum purchase of P5,000 from any mall tenant. The shoppers will have to present their official receipt at the redemption booth at the ground floor area. These tickets, which are limited only to the first 20, will enable the holders to avail of freebies from the participating exhibitors.
SM City Davao assistant mall manager Engr. Nick D. Saptos, for his part, said shoppers can also win a ticket if they can guess the total number of golden chocolate coins inside the chocolate capsule. To win, they have to post a photo of the capsule with their guess on Facebook, Instagram, or Twitter with #SMDavaoChocolateFestival. Those who can give a guess closest to the actual number of coins will win.
(PNA), CTB/LCM/PR/LDP
DAVAO CITY, Sept. 20 (PNA) – The Davao Light and Power Company collaborated with the Ateneo de Davao University (AdDU) on capacity building program for the lumad community in remote barangay of Gumitan in Marilog District, this city.
The partnership is part of Davao Light and AdDU's Mindanawon Initiative for Cultural Dialogue (AdDU-MICD) which is aimed at empowering the Indigenous Peoples within the power firm's franchise area.
Fermin Edillon, Community Relations Manager of Davao Light, said the partnership emanated after Davao Light installed a solar charging station last December 27, 2014 in Gumitan, which is an off-grid area. Edillon said Davao Light has seen the potential of the tribe, thus he wanted to create a sustaining project that will provide livelihood and at the same time improve skills.
This made the electric utility to partner with a lumad-focused organization, the AdDU-MICD, which has been Davao Light's long-time partner in empowering the Lumads.
AdDU-MICD, which has long been a long-time partner of Davao Light, helped in organizing Gumitan's Women Farmer Development Association (GWFDA), which is the recipient of this capacity building project.
Under GWFDA, the lumads could enhance their abilities that will allow them to achieve measurable and sustainable results necessary in the operations of the solar charging station. The program also includes various workshops including technical assistance. Davao Light also hopes to sustain the culture of the tribes while supporting them cope with the fast-changing society.
Davao Light is also set another solar-charging station in another lumad community located in an off-grid area of Davao Light's franchise.
Meanwhile, Davao Light also turned over P200,000 to AdDU-MICD as support to its Lumad Scholarship Program, a continuing education program since 2003 to allow Lumads get a college degree in various colleges and universities within its franchise.
By Christine Joice C. Cudis
THE Department of Agrarian Reform (DAR) Davao, in partnership with the Catholic Relief Service, will help local farmers to market goods, as part of its poverty reduction program in the region.
DAR regional director John Maruhom said, "the project's goal is to assist agrarian reform beneficiaries (ARBs) and small farmers to access to greater value in the market chain."
For instance, Maruhom said that farmers in Davao del Norte are already selling durian by-products, Davao del Sur will prioritize rice production, while Davao Oriental focusses on coconut and chili production.
This is through the collective production and marketing of their products and strengthening of business support services. Marketing of these goods has been made possible through the Baba's Foundation. The products are sold both in the national and international market.
DAR has allocated P700,000 for this program.
By Digna D. Banzon [(PNA), CTB/LCM/DDB/LDP]
DAVAO CITY, Sept. 18 (PNA) -- A foreign restaurant owner is expanding business in this city and neighboring cities in the region before the year ends.
Jay York, general manager and managing director of Zoofari Group, Inc. disclosed that friendly business policies in the city and growth in resto has encouraged them to expand their operation.
York, who hails from Los Angeles, California, said their Outback Grill Barbecue Restaurant with a Safari theme has become a birthday destination among Dabawenyos with an average of 3 to 5 groups of diners daily.
He said they are now already on its third year of operating a restaurant and fourth of innovating kids' play activity area in Davao City.
"We already have followers both Filipinos and foreigners," he said, adding that diners experience the good food, the fun and entertainment.
Its famous "chicken dance" is the best seller wherein diners together with the staff interact with each by dancing the "itik-itik" dance.
There is also fire dancing exhibition on weekends, he said.
And the Golliath Burger Challenge is a much-talked about in town where one has to consume in one hour a 2.2-kilo burger to win P1,000 and a t-shirt. The burger with a kilo of pure beef pattie costs about P892, he said.
Todate, more than 20 diners had beat the challenge, he said.
York said their business here started first with the "crab hermit" in a mall where they sell the strawberry crab hermit from Indonesia as pets but folded up after several months and then brought in the "My Pop Popcorn".
He said their business concept is for the kids and with the prodding of the mall management to open a children's play activity area, they opened the first Zoofari at SM City Davao in 2012.
The restaurants and cafe came later, he said parents leave their kids at the play area in (Zoofari Tree Haus in Bacaca), and they go somewhere else to eat hence we put up the Miner's Cafe. With the Outback Grill nearby they could also order food from there, he added.
Zoofari has branched out to Tagum City and "we will be opening our tallest play structure with 9 meters in height in Gaisano, Digos City, he revealed.
He said Gaisano has given them the best location with a 200-square meter area.
As we operate the Zoofari he said they have accommodated an average 15,000 to 20,000 children monthly.
"We offer our facility also for free to orphanages here so these children could play with unlimited time," he said.
York added they have received good reviews especially among parents.
He said there are no video games inside because "we wanted the kids to just play".
"What we offer in our facility is for the children to develop healthy lifestyle," he said.
York said they saw in Davao an opportunity where they can create an area beneficial to both parents and the children.
(PNA), CTB/LCM/PR/LDP
DAVAO CITY, Sept. 17 (PNA) -- AboitizPower has declared full commercial operations for the first of two 150-MW unit of its Therma South Energy Project in Davao City starting Friday.
The power plant will deliver contracted power to its more than 20 customers – electric cooperatives and distribution utilities all over Mindanao.
"We have informed our customers and our stakeholders that we will soon be on full commercial operations and will supply Mindanao with reliable and cost-effective baseload power," Therma South Inc. president and COO Benjamin A. Cariaso, Jr. said.
"We are here not only to help Mindanao solve the current power crisis. The Aboitiz group is committed to helping Mindanao sustain its economic growth and finally fulfill its potential," Cariaso added.
The second 150-MW unit is scheduled for commercial operations in early 2016. The power plant started construction in 2012 and, at its peak, employed more than 4,500 workers, mostly from its host communities.
It is the first major power plant added to the Mindanao grid since 2006.
The power plant also features the first "coal dome" in Southeast Asia – a modern coal storage facility that will ensure security of the fuel and safety and well-being of the surrounding areas. It will utilize circulating fluidized bed (CFB) technology to ensure it meets government standards on health, safety and protection of the environment while operating in an efficient and cost-effective manner.
The power plant will supply power to major cities of Davao, Cagayan de Oro, Gen. Santos, Butuan, Kidapawan, Cotabato and Tagum. It will also serve the provinces of Davao, Caraga, Cotabato, Sultan Kudarat, Sarangani, parts of Bukidnon, parts of Misamis and parts of Zamboanga peninsula.
By Karina V. Canedo
THE Davao City Veterinarian's Office (CVO) conducted the first ever meat handling seminar for Hotels and Restaurants, catering services, hospitals and infirmaries, and food chains on Wednesday.
CVO Meat, Livestock and Fish Inspection Division Head Dr. Clarita Tellano said in an interview with Sun.Star Davao Wednesday morning that they held the seminar afternoon 1:00 pm to 5:00 pm at City Council Building.
"It is for them to be aware and ensure that their meat suppliers have meat inspection certificates, and that their raw food came from authorized establishments," Tellano said.
She said that it has long been part of the plan to conduct meat and fish handling for different hotel establishments, food chains, hospitals and infirmaries, catering services and other channels, but budget constraints shelved this.
"Karon ra 'ni kay nadagdagan ang budget (It is conducted now because we got additional budget)," Tellano said.
She said Wednesday morning that they have invited 50 participants to come in the seminar.
She said another meat handling seminar for the same audience would be conducted this November 18.
By Karina V. Canedo
DAVAO City Councilor Rachel Zozobrado, vice-chair of the Committee on Agriculture of the Davao City Council, said they will push for proper labeling of Genetically Modified Organism (GMO) products for consumer's benefit.
Zozobrado, in a media interview at the sideliness of the policy forum protecting the rights of Organic Agriculture Practitioners in Davao City Against Genitically Modified Organism contamination, said that she will collaborate with councilor Marissa Abella Committee on Food and Agriculture to push through an ordinance that will ensure proper labeling of farm products.
"After listening earlier, you'll see how dangerous ang introduction ng GMO and we know also for a fact that spread out na ang GMO. I am thinking of collaboration with Councilor Abella because it is her committee," Zozobrado said.
She said that the labeling will be on foods containing GMO, not only on the finished products but also as suggested by Interface Development Interventions (Idis).
During the forum, Magsasaka at Siyentipiko para sa Pag-unlad ng Agrikultura (Masipag) National Secretriat Chito Media, PhD, said that the problem of the markets is no proper labeling between organic and GMO food, and this may be disadvantageous to the customers.
He said that this is necessary because GMO products can cause adverse effects on the health of the consumers and a violation on the consumer's rights.
Meanwhile, Zozobrado wishes that the city will be able to police manufacturers who spread GMO products and hopes that people will be more aware of its ill iffects.
She said many people only act if there are already disorders, quoting the speaker that prevention still is better than cure.
She added that a lot of people are trying to go organic, which are costly than products with GMO that are more affordable.
"We will ask mayor to totally ban GMO here in Davao because there are several municipalities and cities na naa na silay ing-ana. We will coordinate with Idis, GO Organic Mindanao and City Agriculturist Office," Zozobrado added.
(KVC)
ORGANIZERS bared that 26 barangay chiefs in Davao City's coastal areas are all set for the international coastal clean-up set to kick off at 6 a.m. on Saturday.
Davao City Environment and Natural Resources Head Eliza Madrazo, in an interview with Sun Star Davao, said that preparations shift to high gear for the event.
Engineer Madrazo said participants were briefed on the activities that will take place during the clean-up.
She said that she already assigned personnel who will check the amount of wastes and the kind of wastes to be collected.
Madrazo said that heads of different organizations each committed to bring 10 participants so they expect some 500 attendees.
She said that it's up to the barangay chiefs if they will tap many community participants for the event.
She said that participants will come from the University of Immaculate Concepcion, Davao Medical School Foundation, NCCC Cares, Davies, Phoenix Petroleum Philippines and Holcim Philippines, among others.
Madrazo added that they also requested department heads at City Hall to send 10 participants from each office.
By Ace June Rell S. Perez
MINDANAO-based cacao exporter, Cacao de San Isidro Inc. (CSI) Trade Ventures, is now exporting its products to Singapore and Japan.
"We now go outside Europe, we are now exporting to Singapore and Japan just this year, although we are just exporting small bulks at present. Still, it is a big step of our expansion, true to our goal of connecting Davao cacao products to the world," said CSI marketing director Dante R. Muyco.
CSI Trade Ventures is one of the cacao players that pioneered exporting cacao products to Europe along with the Puentespina's Malagos Chocolate in 2009.
At present, it is exporting 500 metric tons (MT) per year to Europe.
Muyco refused to give the export figures they are supplying to Japan and Singapore.
"We encourage other cacao players for expansion and to go on exporting because bigger market is there," he said.
Located in San Isidro, Davao del Norte, CSI Trade Ventures is operating in a 4,000-hectare cacao producing area with some 500 farmers.
The Davao del Norte's average annual cacao production per tree is at 600 grams.
"Challenge is how to enhance such production that for the next few years, aakyat ito to more than a kilo or two," he said.
The Cacao Industry Development Association in Mindanao Inc. (Cidami) is now gearing up for a research and development program dubbed as "Cacao Plant Nutrition Research" in January next year in a bid to increase productivity in the industry.
"With quality production as our main concern, we are now preparing for a nutritional research for cacao. At present, we are still identifying the research area," said Valente Turtur, Cidami executive director.
The $250,000 research is in collaboration with the Universal Harvester Inc., International Plant Nutrition Institute, ACDI/VOCA.
By Marianne L. Saberon-Abalayan
WHAT Davao City tracksters failed to accomplish, the arnisadors delivered by sweeping four gold medals on Day 2 of the 2015 Philippine Olympic Committee-Philippine Sports Commission (POC-PSC) National Games Mindanao Qualifying in Pagadian City, Zamboanga del Sur as of Saturday.
Alfred Sagne axed the men's double identical weapon gold but settled for silver in men's single weapon event in the anyo (form) competition.
Monec Bucol, for her part, annexed the women's single stick gold medal and the single sword and dagger silver.
The two other golds came from the women's synchronized team of Jennilyn Morcillo, Adelfa Sagne and Jezebel Morcillo who stamped their rivals in double identical and sword and dagger events.
The city's athletics team, which bagged three golds and one silver Friday, salvaged a silver in men's 10,000-meter run courtesy of Michael Barrosa yesterday morning. Glenn Arellano of Pagadian timed 37:22 seconds to claim the gold while Barrosa registered 40 seconds. Another runner from Pagadian finished with the bronze.
Davao City athletics coach Harris Ratag, in a phone interview yesterday, said in the vernacular, "We have finalists in 200 meters and 800 meters when action resumes at 5 p.m. so we might get additional medals later in the day."
University of Mindanao varsity tracksters Adrian Linao (men's shot put), Langie May Meder (women's 100) and Joppe Sabitan (men's 400) were the first day athletics gold winners for the city as Glein Payac accounted for a silver (men's 400).
In chess, Davao City's Mary Jonah Lequin and Zsuzsa Grace Tabudlong grabbed the gold and silver, respectively, in women's rapid event. Lequin earned 5.5 points while Tabudlong had five.
Jimzon Trangia of Davao City, for his part, placed second in men's rapid chess to pocket the silver with 5.5 points. Antonio Joel Fernan of Zamboanga del Sur (6.0) copped the gold.
The city's women's chess team of Exiquila Apao, Janes Hitfield Caingles and Tabudlong earlier swept the first three medals in blitz.
Meanwhile, Aldrin Paña gave Davao City a gold in visually impaired rapid chess as teammate Julius Calonia got the silver. Their teammates Jobert Lumanta and Antonio Español earlier won the ortho chess blitz silver and bronze, respectively, in the persons with disabilities category.
By Carina L. Cayon (PIA-XI/Carina L. Cayon)
DAVAO CITY, Sept. 11 (PIA) – President Benigno Aquino III interacted with young students from public elementary schools here who earlier engaged in a tree planting activity dubbed as "TreeVolution of the Young."
In one of his visits in the city on Wednesday, the President took time to hear the tree planting report from Grade 6 pupil leader Jirojunn Juri Lopoz, and answered five questions from student leaders on environment issues at Teodoro Palma Gil Elementary School (TPGES).
Lopoz, president of the Supreme Pupil Government District Federation of Davao Central District, reported to the President what transpired during the tree planting which gathered 500 pupils including their teachers who planted 2,000 seedlings of fruit trees at Barangay Tigatto.
He told Pres. Aquino that a leadership training on climate change and taking care of the environment has inspired the officers of the SPG to adopt the theme "SPG Saves the Environment."
"Because we believe that as young stewards, there's a lot that we can do to help save and protect Mother Earth. Sabi po namin sa aming mga sarili, kahit kami ay bata, alam naming meron kaming magagawa sa kalikasan," he said.
Lopoz took the initiative of upholding the care for the environment as a platform and advocacy of the school's student government which he brought to the level of the SPG federation that covers seven public elementary schools within the Davao Central District.
This gave birth to the "TreeVolution of the Young" tree planting activity which gained the interest of Pres. Aquino who was personally invited by Lopoz in a visit to Malacanang in June this year.
Though the President was not able to join the tree planting in the morning of September 9, Lopoz expressed happiness when Pres. Aquino met with the young environmentalists during his "Visit to the TreeVolution of the Young" in the afternoon of the same day at TPGES.
"The presence today of our dear President Benigno Aquino III is a concrete sign that God favors the desires of a child's heart," he thanked the President.
The pupil leader said that aside from planting trees, the SPG officers also agreed to implement two other major activities such as cleaning the surroundings and helping recycle and segregate wastes by giving trash bins in every school.
Lopoz also included in his report that the tree planting participants have joined the One Million Filipino Youth Voices Campaign spearheaded by the Climate Change Commission.
"Upang ipaabot ang aming pakikiisa sa kampanya para sa kalikasan," he said.
After the report of Lopoz, Pres. Aquino answered questions from the pupils, which included issues on how the government solves the problems on air pollution and illegal logging, and on how the young generation could help save the environment.
The President cited the implementation of the Clean Air Act and the efforts of the Climate Change Commission headed by Secretary Lucille Sering on promoting a good environment, as his reply to the issues on air pollution.
On the issue on illegal logging, Pres. Aquino replied, "Meron talagang pasaway e. Pero ang punto nito at marami sa Mindanao, ano. Hindi maraming pasaway, maraming insidente ng illegal logging. May mga liblib na lugar, mahirap bantayan."
He told the pupils that the government continues to fight illegal logging, and that those confiscated illegally cut logs are made into chairs and tables for the use of public schools.
The President raised the importance of conserving water and power as he warned of the El Niño effect in the country.
He was also asked on how the K to 12 program of the Department of Education could benefit the children, in which he replied, "… Ang mungkahi dito, bigyan yung bata ng sapat na panahon para matuto ng buong-buo para makayang makipag-sabayan sa kaalaman ng maski sinoman sa buong mundo."
After the dialogue with the pupils, Pres. Aquino honored a photo opportunity with the SPG officers and teachers of the seven public elementary schools under the Davao Central District, namely: Teodoro Palma Gil Elementary School, Bolton Elementary School, Cesario Villa-Abrille Elementary School, Dona Pilar L. Marfori Elementary School, Kapitan Tomas Monteverde Sr. Elementary School, Magallanes Elementary School, and Wireless Elementary School.
By Ace June Rell S. Perez
THE Cacao Industry Development Association of Mindanao Inc. (Cidami) will focus its efforts on providing quality cacao seedlings to ensure quality cacao products that will be made available in the market.
"Before we are more focus only to the produced but this time we want to give more attention to the seedlings. This is one of the things we will discuss with cacao industry players in the country during the Kakao Konek this year," said Valente Turtur, executive director of Cidami and chair of the Cacao Industry Council.
But quality cacao seedlings can only produce quality products if the farming practices are at par with the global standards in cacao farming.
"All the cacao players and concerned government agencies must have a common agenda and goal. We need to sit down and discuss on ways of boosting the industry so we will have a common vision for cacao's sustainable production," Turtur said.
The Kakao Konek 2015 or National Cacao Congress, which opens Friday and will run until Saturday at SMX Convention Center will be participated in by some 500 to 700 expected cacao exporters, traders, growers, and technicians not just in the country but also from foreign countries.
Turtur said that Japan, Europe and US traders have confirmed attendance during the industry's big event. United States Department of Agriculture Foreign Agricultural Service (Usda-FAS) counselor Ralph Bean will talk on the cocoa and chocolate market in the US, while Peter Van Grinsven, director of cocoa sustainability of Mars, Inc. will discuss on the updates on world market and supply, and demand on cocoa quality.
Keynote speakers like Senator Cynthia A. Villar, chair of Senate committee on food and agriculture; Agriculture Sec. Proceso J. Alcala; Francis Pangilinan, chair of Philippine Coconut Authority and presidential adviser for Food Security and Agri Mechanization; and key players in the industry will grace the event.
The Cacao Double-Up Program of the Mindanao Development Authority, cacao branding and the business matching of multinational cacao export companies will also take centerstage during the congress.
The congress for this year carries the theme: "Enhancing Productivity: Key to Sustainable Cacao Industry." The organizers are expecting around 500 to 700 visitors.
At present, Davao Region has a total of 23,000 hectares, 6,000 has of which is from Davao City with some 16,000 farmers.
(PNA), LGI/BNB/LILIAN C. MELLEJOR/LDP
DAVAO CITY, Sept. 9 (PNA) -- Close to 500 school children from seven public elementary schools in the city planted 2,000 tree seedlings in the area of Tigatto in an event entitled "Treevolution of the Young".
The pupils, led by the officers of the Supreme Pupil Government (SPG) of Teodoro Palma Gil Elementary School (TPGES) of Davao City and the SPG Federation of the Davao Central District initiated the project aimed at involving children and the youth in efforts to preserve the environment.
Key government officials who attended the said event include Climate Change Commissioner Lucille Sering and Mindanao Development Authority (MinDa) Secretary Lualhati Antonino.
Sering lauded the project which she described as an activity to prepare the nation for the future.
She said the government is also doing a lot of events in the country, highlighting the 15 ways of protecting the environment.
Sering cited the government's National Greening Program (NGP), a project which aims to beef up efforts to protect the environment.
"You can never go wrong in planting a tree," she emphasized.
Sering said that the Aquino administration gave the largest budget for climate change. This year, the budget for climate change initiatives reached PhP129 billion.
Meanwhile, grade six pupil Jirojunn Juri Lopoz, SPG president of the TPGES, took the lead in embracing environmental protection as a platform and advocacy of his school's student body.
The young Lopoz who was also elected as the new SPG Federation President of the Davao Central District committed to implement programs aimed to enhance environmental advocacy among the seven schools.
The SPG Federation, which adopted the advocacy entitled "SPG Saves the Environment", is composed of seven schools namely Teodoro Palma Gil Elementary School, Bolton Elementary School, Cesario Villa-Abrille Elementary School, Doña Pilar L. Marfori Elementary School, Kapitan Tomas Monteverde Sr. Elementary School, Magallanes Elementary School, and Wireless Elementary School.
The tree-planting activity is one of their chosen activities under their advocacy. Their projects also include massive cleanliness drive within the school and distribution of trash bins.
"TreeVolution of the Young" is also supported by the Department of Education and the Department of Environment and Natural Resources (DENR).
The initiative is part of the continuing efforts to promote reforestation in Mindanao and support the objectives of the NGP with the intent to increase the region's forest cover, raise environmental awareness, address climate change and encourage proactive participation for the protection, rehabilitation, conservation, and management of the region's natural resources.
During the event, MinDa recalled that on Sept. 26, 2014, the DENR and MinDa organized TreeVolution: Greening MindaNOW, or more popularly known as "TreeVolution," a massive tree-planting activity that successfully facilitated the planting of four million trees in strategic areas in Mindanao, particularly in typhoon-affected provinces, denuded mangroves, and critical watersheds.
The event mobilized 258,487 volunteers from Mindanao's six regions covering 283 planting sites in 29 locations and totalling to 7,000 hectares of land. It also currently holds the Guinness World Record for Most Trees Planted Simultaneously at Multiple Locations, surpassing the record previously held by India.
More than a tree planting-activity, TreeVolution increased environmental awareness among the people of Mindanao, particularly the youth – the most number of volunteers who participated in the activity.
The event also encouraged massive participation in initiatives to protect the environment.
By Lilian C. Mellejor [(PNA), LAP/LCM/LDP]
DAVAO CITY, Sept. 8 (PNA) -- President Benigno Aquino III will visit Davao Wednesday for a series of engagements before heading to Cebu for the Asia-Pacific Economic Cooperation (APEC) meeting.
Mr. Aquino is expected to land at Davao International Airport Wednesday afternoon and will motor to Island Garden City of Samal (IGACOS) for the inauguration of the Department of Tourism (DOT) – Department of Public Works and Highways (DPWH) convergence involving the concreting of the circumferential road leading to tourism sites in the island city.
After the briefing, the Chief Executive will travel to the mainland where he will meet some 500 students from seven schools in a dialogue at Teodoro Palma Gil Elementary School.
The 500 schoolchildren will be joining the "Treevolution of the Young" in Tigatto where they will be planting at least 2,000 seedlings; then head back to the school for a dialogue with the President.
The seven participating schools at the Davao Central District are: Teodoro Palma Gil Elementary School, Bolton Elementary School, Cesario Villa-Abrille Elementary School, Doña Pilar L. Marfori Elementary School, Kapitan Tomas Monteverde Sr. Elementary School, Magallanes Elementary School, and Wireless Elementary School.
President Aquino's visit will end with a meeting with Friends of PNoy at the SMX Convention Center.
The Chief Executive, together with cabinet officials, will also meet with groups including Friends of Mar, local government executives, and of non-government organizations.
By Ace June Rell S. Perez
DAVAO CITY's culinary industry will take center stage in the upcoming Davao Agri Trade Expo (Date) 2015, the flagship event of the Davao City Chamber of Commerce and Industry, Inc. (DCCCII).
John Carlo Tria, Date 2015 program head, told reporters in yesterday's Kapehan Sa Dabaw at the SM City Annex that they will be staging the Culinary Festival dubbed as "Cook's Golden Dory Cook-Off Challenge 2015," during the three-day event.
"This year, we are staging this event to take part in the booming culinary industry in the city," he said.
Date 2015 is slated on September 25 to 27 at the SMX Convention Center. Organizers are eyeing to generate P300 million in revenues during the event. They are expecting some 10,000 visitors during the event.
The culinary fest's cooking show will be on the third day of the event (September 27) starting at 8 a.m.
"Culinary fest is also staged to promote healthy competition among different culinary schools in the city," Tria said adding that the event is in partnership with Vitarich Cooks. Celebrity Chefs will judge the participating culinary schools.
Date 2015 will also offer something for this year through organizing the first "Lechon Parade," which will also be on the last day of the event. The parade is in cooperation with Davao Hog Farmers Association and Davao Association of Veterinary Technical Representatives.
"We do not only showcase the lechon, of course we will also offer this to all the Date 2015 visitors for free, so we are inviting families to visit the event," he said.
This year's Date will focus on the livestock, poultry and aquaculture industry. The event carries the theme: "Building Local Products for the Global Community."
An agri-finance forum, dairy production and game fowl industry will also take center stage during the three-day expo.
Date 2015 is spearheaded by the DCCCII in partnership with the City Government of Davao, Department of Trade and Industry, Department of Agriculture and Hogs Farmers Association.
It is also supported by the Davao Association of Veterinary Technical Representatives Inc., Mindanao Alliance of Dairy Industry Stakeholders Association, Goat and Sheep Raisers Association of Davao, Southern Philippines Egg Producers Association, Mindanao Integrated Aquaculture Association, Davao United Gamefowl Breeders Association, and Mindanao Game Fowl Breeders Association.
By Ace June Rell S. Perez
THE Mindanao Development Authority (Minda), in partnership with the Philippine Institute for Development Studies (Pids), launched the Mindanao Knowledge, Research and Policy Center (MKRPC) during the first Mindanao Policy Research Forum at the Waterfront Insular Hotel on Friday.
MKRPC aims to provide evidence-based analysis and advice to government and decision-makers. It will also provide technology, research and development support to Mindanao's key industries.
Janet M. Lopoz, undersecretary of Minda, said the center will be a one-stop shop for all researches in Mindanao.
"At present, the center will be a virtual center, where one-stop shop for all Mindanao researches will be placed in one database, it is envisioned to be the think-tank for Mindanao embracing the thrusts of Mindanao 2020 research agenda," she said, adding that plans are on hand in putting the center at the planned cultural center to be built in Davao City that was once Davao terminal airport.
MKRPC will operate under the Minda together with high education institution members and research entities based in Mindanao.
It has four program components composed of database development and management, research and resource mobilization, partnership-build and advocacy and capacity building.
By Marianne L. Saberon-Abalayan
DAVAO City karatekas dominated the 30th Kadayawan Karatedo Invitational Tournament held recently at the NCCC Mall Davao.
The host city collected a total of eight gold medals, three silvers and four bronzes while Davao del Sur hauled five golds, three silvers and one bronze in second.
Tagum City clinched four golds, four silvers and two bronzes in third followed by Indonesia School (3-4-1) fourth, Panabo City (2-3-5) fifth, Cagayan de Oro City (2-2-2) sixth, Jose Maria College (0-2-6) seventh, Holy Cross College of Sasa (0-1-1) eighth and Ecoland (0-1-0) ninth.
Lya Marie Carrillo pocketed the women's kata and women's -55 kg kumite golds to lead Davao City's medal harvest as teammate Miyuki Tacay (women's -62 kg kumite) added one gold.
Other Davao City gold medalists were Sean Paul Gica (boys 10 kumite), Christian Clark Robles (boys 11-13 kumite), Stephen Paul Gica (boys 14-16 kumite), Azumi Tacay (girlks 7-8 kumite), and Shinji Rex Tacay (men's +76 kg kumite).
Davao del Sur swept three gold in girls division led by Maridel Flores (11-13 kumite), Idel Grace Flores (open age, weight advance kata) and Leanzy Marie Cacananta (open age, weight intermediate kata). Ethel Grace Flores (women's -55 kg kumite) and Jamil Taunan (men's -55 kg kumite) also topped their events.
Tagum City, meanwhile, leaned on its champions Maridel Flores (girls 11-13 kumite), Mayorie Ledesma (girls open age, weight novice kata), Joana Baloyo (women's +61 kg kumite) and Jan Pedro (boys open age, weight intermediate kata).
The two-day event was organized by Philippine Shotokan Karatedo Association (PSKAI)-Takai Gijutsu School of Martial Artsand sponsored by the city government of Davao through the Sports Development Division of the City Mayor's Office.
By Azer N. Parrocha [(PNA), RMA/ANP]
MANILA, Sept. 4 (PNA) -- Domestic tourist arrivals in Davao between the period April and May 2015 rose 41 percent from the same period in 2014, a tourism regional director said on Friday.
Partly responsible for the growth in domestic tourist arrivals was the Visit Davao Fun Sale (VDFS) for 2015 as well as efforts of the region to provide travelers with a new destinations and better tourism experience.
The VDFS 2015 was a city-wide sale that ran from April 3 to May 17, 2014, which allowed visitors to avail of discounted travel packages, accommodations, and other services.
"(There was a) 41 percent increase in our domestic tourists that entered Davao City. I think the Visit Davao Fun Sale for 2015 really did a job to achieve this," Department of Tourism (DOT) XI Regional Director Roberto Alabado III said.
He also remarked how the perception level in Mindanao is changing to being considered "a safe place" precisely because of various factors like passage of the Bangsamoro Basic Law (BBL) as well as efforts carried out by the local government.
On the other hand, Alabado said that foreign tourist arrivals in Davao yielded a 10 percent increase between the period April and May 2015 compared to the same period last year.
Top foreign tourist arrivals, Alabado said, came from America, Japan, and South Korea.
Alabado foresees that this number would spike by 10 to 20 percent in the comings years with the ASEAN integration and future plans to market Davao to Singapore, the only country which hosts direct flights to the region.
"We are not yet marketing in Singapore but we may market depending on the resources," Alabado said, noting that a 20 to 30 percent increase in foreign tourist arrivals would already be sustainable for Davao.
He also expressed optimism that there would be more direct flights to Davao as well as more cruise ships calling port.
"Right now we are looking at promoting Davao to neighboring countries," he added.
The regional director said that Davao will also be pushing promotion of Davao as a destination for meetings, incentives, conferences, and events/exhibitions (MICE) conventions.
"If they hold the MICE in Davao, we can give convention-goers incentives and discounts," he said.
After the success of VDFS last year, the local government as well as its partners in the private sector have begun already promotions for VDFS 2016 which will be held on March 25 to end of summer, May 31, 2016.
VDFS 2016 will highlight its Samal Inland Tour and Samal-Talikud Island Tour, Samal Agri-Kultural Tour packages.
(PNA), LAP/LCM/CHERRY MAE D. PALICTE/LDP
DAVAO CITY, Sept. 3 (PNA) -- With the weather bureau's forecast of worsening El Niño, the Department of Agriculture (DA) has outlined interventions to cushion its impact in the region.
According to Philippine Atmospheric, Geophysical and Astronomical Services Administration (PAGASA), the region might experience near normal rainfall condition from August to November 2015 while below normal condition is expected from November 2015 to January 2016.
DA Regional Director Remelyn Recoter, in a consultative meeting with provincial agriculturists and veterinarians, said her office is proposing P95 million to fund the regional El Niño mitigation action plan.
"December and January will be our critical period as the forecast says the region will expect lowest rainfall pattern particularly in the provinces of Davao Oriental and Davao del Sur," Recoter said.
Among the strategies identified include installation of 200 Open Source Pumps (OSPs) for irrigators' associations (IAs) under rice program. Another 25 units of OSPs will be installed through the provincial local government units (PLGU) under the corn program.
For high-value crops program, the region is proposing the establishment of small-scale irrigation projects such as spring development and water pump rehabilitation. The program will also provide vegetable seeds including mungbean and soya beans.
Other interventions for crop sub-sector include buffer stocking of seeds for farmers to immediate plant and recover after the dry spell.
For the livestock sub-sector, vitamins and antibiotics will be provided and buffer stocks for forage seeds and train farmers on silage making will be ensured.
Recoter said part of the proposed regional funding is to conduct four Cloud Seeding Operations (CSO), at P3 million per activity.
"Cloud seeding will only be conducted if the affected area is at least 1,000 hectares with existence of standing crops at critical growth stage," she said.
By Karina V. Canedo
THE system being installed in Davao City to allow online payment transaction in different districts for local government offices such as City Treasurer's Office and other offices that require collection of payment will be completed soon, Davao City Information and Technology Center (CITC) head
But operating it might take some time since the proposal has not been approved yet.
CITC Office-in-charge Ricarte D. Franco Jr. in an interview with Sun.Star Davao on Wednesday said that their office is almost done with the point of payment system that allows city treasurer's office other agencies to have real time access on different district collection centers in real time.
"It is a software solution for collection. We want different districts different collection centers are connected para real time siya ma-access sa atong point of collection sa office especially the city treasurer," Engr.Franco said.
The CITC developed the system.
He said that they also want to add the access of data for business bureau collection to be up next year.
Franco added that once they are finished with the software they will repair and upgrade the old antennas for every collection point for every district.
"We want it connected soon. For example we have connection with the different districts and here at the center, automatically at real time we can immediately see the collection data. So that is what we want to aspire for us to have online payment. But before we can do that we need to set up our infrastructure," Franco said.
Once the hardware, like the antenna, are all set, then they can upload the program.
He said that the system would benefit the taxpayers because they no longer have to flock to the City Treasurer's Office at the City Hall.
Franco said that this project would cost a lot and that they still do not have the budget for it since the proposal has not yet been approved.
(PNA), LAP/BNB/LCM/DIGNA D. BANZON/LDP
DAVAO CITY, Sept. 1 (PNA) -- Young architects in the city initiated a toy project which shows the distinct cultural heritage of the numerous ethnic groups in the Philippines.
Dubbed "BALAY-BALAY 3D Architecture Puzzles", the toy project features Filipino culture and tradition through designs of Filipino traditional houses.
Project head Architect Gloryrose Dy said the NCCA provided PhP500,000 worth of funds for research, design and building of prototype with the objective that they could provide tools for Filipino children to discover the distinct cultural heritage of the various Filipino ethnic groups.
She clarified that "the assistance of NCCA is only on the concept and design".
The first and current model is the Torogan, the traditional house of the Maranaos which was chosen not only for its grand architecture but also for its disaster resilient features and its communal significance.
Dy said the torogan house is an example of 'green architecture' as it was built based on functionality and good ventilation.
The puzzle project is based on the thesis of architecture student, Henna Dazo, who is also the team's researcher. Her study focuses on the "Historical Evolution of Maranao Architecture Across Key Geographical Areas in Mindanao".
Dazo said the authentic Torogan Maranao house can be found in an interior village in Marawi district where the house was built out of trunks of trees and without using nails and other concrete materials.
Right now, only three of the original Torogan houses can be found there as some houses are already built with concrete materials although following the same traditional design.
In their project, Dy said they partner with artisan woodworkers in Mintal, Davao City as "we aim for the commercialization of this toy project by the first quarter of 2016".
"We would rather see the children play toys that will also educate them on our culture and heritage as well as play with stuff that are non-toxic," she said, adding that constant playing with the toy puzzle the children will know the different parts because of its corresponding functions.
Dy said that most of the toys that people see in the market are plastic whereas the Balay Balay toy puzzle is educational and at the same time allow the children know about history.
She said the team will be using raw materials that are organic, eco-friendly and cycled materials sourced locally.
A BALAY-BALAY TA (Let's Play houses)! Interactive Exhibit is still ongoing at the Abreeza Ayala Mall until September 5. The opening last August 28 was graced by the NCCA Grants Officer Bernadette David, National Commission for Muslim Filipinos Davao Region Head for Settlement Sammy Buat and Head Cultural Affairs Yusof Calil, Council Mabel Sunga-Acosta of Davao City, the Director of the United Architects of the Philippines Ericson Europa, and other officials.