Davao City News April 2015
Jump to navigation
Jump to search
A | B | C | D | E | F | G | H | I | J | K | L | M | N | O | P | Q | R | S | T | U | V | W | X | Y | Z
Create Name's page
Regions | Philippine Provinces | Philippine Cities | Municipalities | Barangays | High School Reunions
---
Davao City - Archived News
---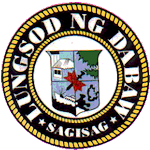 The Seal of Davao City
Interactive Google Satellite Map of Davao City, Philippines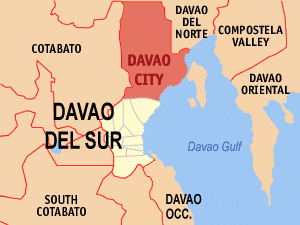 Davao City Map Locator

Map of Davao City

Davao City Hall
300px
Davao City Montage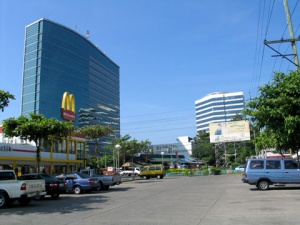 Davao City Aerial View

Entrance to Davao City

Nat'l Hwy Through Davao City

Davao City Victoria Mall

Old Davao City Airport

Current Davao City Airport

Mangrove forests are critical for the stability of coastal areas and the sustainability of fish and marine resources which provide food and livelihood to people in more than 800 coastal towns in the Philippines. USAID, through the Philippine Environmental Governance Project, assisted the local government (Davao City) in establishing, through a local ordinance, the mangrove area as a marine protected area.

USAID, through the Philippine Environmental Governance Project, assisted the local government (Davao City) in establishing, through a local ordinance, the mangrove area as a marine protected area. A crucial part in effective coastal resources management is law enforcement with Bantay Dagat teams playing a crucial role by safeguarding local waters. In Davao City Philippines, Bantay Dagat members protect mangrove areas from illegal cutting, thus conserving areas for fisheries and marine biodiversity habitats.
Davao City's Central 911 to be deployed in Palarong Pambansa 2015
By Joey Sem G. Dalumpines (PIA-11)
DAVAO CITY, April 30 (PIA) Emergency Response Center Central 911 will deploy its ambulance and personnel at the venues of the Palarong Pambansa 2015 in Tagum City, Davao del Norte to look into the health of the athletes and to immediately respond to contingencies.
Cynthia Perez, spokesperson of the Central 911 said two small and one bus-type vehicles will be assigned in the playing venues while 12 medical personnel will tag along from May 1 up to the culmination of the Palaro on May 9.
"We will look into the welfare of the players, particularly their health needs," she said.
On the other hand, Senior Superintendent Camilo Cascolan, chief of staff of the Police Regional Office 11 said the security sector composed of the police, military and the local government units in the area is already in placed with the arrival of the delegations from various parts of the country.
He said three hundred soldiers from the 10th Infantry Divisiion will be directly involved to secure the playing venues and billeting areas.
"They will be responsible for the inner security and the border security checkpoints," Cascolan said.
He said checkpoints will be set up on a regular basis composed of military and police personnel whose concern is not only the borders of Tagum City, but also outside of the city, in Compostela Valley, Davao Oriental, Davao del Norte and as far as Davao del Sur.
"These checkpoints will be set up by the municipal police stations in coordination with the Philippine Army," Cascolan.
He said days-off for policemen are cancelled for the meantime.
Cascolan said security will be provided to athletes who would visit the tourist destinations in the region.
"These people will be escorted at the same time infokits about the contact numbers of municipal police stations and Army patrol basis will be given to them, so that authorities can easily coordinate and secure properly all those who would be going out of the area, especially those visiting tourist spots," he said.
Earlier, Lt. General Aurelio Baladad, commander of the Eastern Mindanao Command said a military task force has been organized to support the security needs of the Palarong Pambansa 2015.
He clarified that the police will take the lead role in the implementation of security while the Army lends support.
Baladad assured that the military will provide the assistance of bomb experts as the need arises.
DA XI allocates P52-M for cacao expansion program
By Digna D. Banzon [(PNA), CTB/LCM/DDB/LDP]
DAVAO CITY, April 29 (PNA) – The Department of Agriculture (DA) in Region XI has allocated P52 million to support the cacao expansion program for the region this year.
Melanie Provido, regional coordinator of the High Value Crops Development Program (HVCDP), disclosed that the biggest bulk of the allocation of about P28 million is for production and support services.
Provido said there is an allocation for market development services of P1.5 million while extension support, education and training services at P5.050 million while irrigation network services of P1.225 million. The agricultural and fishery machinery, equipment and facilities support services was pegged at P16.250 million.
Provido said other agencies are also supporting the industry since the country still cannot meet the demand in the world market, thus collaboration between private and government agencies is needed.
Of the country's total cacao production, 90 percent comes from Mindanao of which 80 percent is from the Davao Region.
She said Davao's cacao beans already penetrated the foreign market.
Our cacao farmers are learning to produce good quality beans after going through series of trainings from planting, harvesting, and fermenting drying.
"They have learned to manage their cacao farm," she said.
Provido cited that with the intervention, the production of cacao beans has increased.
She noted that the growth rate of production in 2002 was at 1.9 percent way below to last year's growth of 11.32 percent an indication that the production has tremendously improved.
She said the Davao Region was able to produce in 2014 a total of 5,428 metric tons (MT) of cacao beans which figure is higher compared to the 2013 production of only 4,876 MT.
She attributed the increase to the interest of farmers on cacao production which is being supported by the concerned government and private organizations.
The buying price of cacao beans is also one factor that encouraged farmers to go into cacao production. Some of the farmers opted intercropping cacao plants under coconut trees for additional income. On the average Provido said a tree will produce about 1.5 kilos per year and a hectare of land could accommodate about 600 trees.
The buying price of cacao beans of good quality is between P120 to P140 per kilo and could even go up to P160 while the wet beans is at P37 per kilo.
But Provido said they encouraged farmers to process the beans to put premium on their production.
Job fairs offer more than 15,000 jobs
(DAVAO TODAY)
DAVAO CITY – Over 15,000 jobs will be available at the job fairs which will be held in malls during the labor day, the Department of Labor and Employment said.
Dole Region 11 have recorded to date 2,394 job vacancies for local private companies while 12,819 overseas jobs that are ready for the 2015 Labor Day Job Fairs on May 1 and 2. These job vacancies are offered by a total of 105 participating companies including 75 local agencies and 30 overseas agencies.
The job fairs on May 1 will simultaneously be held in four locations: Gaisano Mall of Davao, SM City Davao Ecoland, Gaisano Mall of Tagum and Local Government Unit of Sta. Cruz specifically at Darong Gym in Brgy. Darong. Gaisano Mall of Davao will stretch its schedule until May 2.
A one-stop shop will also be mounted during the job fair which will cater and serve necessary documents and pre-employment requirements for the convenience of the applicants.
Stationed in the one-stop shop are National Statistics Office (NSO), National Bureau of Investigation (NBI), Social Security System (SSS), PhilHealth, Professional Regulation Commission (PRC), Employees' Compensation Commission (ECC),National Labor Relations Commission (NLRC), National Reintegration Center for OFWs (NRCO), Regional Tripartite Wages and Productivity Board (RTWPB), Technical Education and Skills Development Authority (Tesda), Department of Foreign Affairs (DFA), Overseas Workers Welfare Administration (Owwa), and Philippine Overseas Employment Administration (POEA).
"This is one of the DOLE's efforts to make it easy and fast for jobseekers to find jobs that will fit their qualifications, interests and career inclinations," said Dole Davao regional director Joffrey M. Suyao.
Mall Expo showcases homemade products of 4Ps beneficiaries in Davao
(PNA), FFC/LCM/CARMELA C. DURON/LDP
DAVAO CITY, April 27 (PNA) -- Showcasing the products of program beneficiaries of the Department of Social Welfare and Development (DSWD), the DSWD Livelihood Unit participated in the recent Mindanao Trade Expo Foundation, Inc. (MTEFI) Bazaar held at Abreeza Mall, this city.
"Opportunities like this link our program participants to a broader market where they can aggressively promote and sell their homemade and handmade products," said DSWD 11 Regional Director Priscilla N. Razon.
"We aim to highlight the products of our Pantawid Pamilya and Sustainable Livelihood program participants, promote our indigenous products, address the demand for native products, as well as generate employment in the community since most of these products are labor intensive," Razon added.
The bazaar is one of the varied citywide events supporting the month-long Visit Davao Fun Sale campaign of the Department of Tourism and Davao City Government.
The bazaar captured the taste and style of local customers, institutional buyers, tourists and visitors by offering distinctly Davao products.
At this early, DSWD beneficiaries are already preparing for the annual Kadayawan Festival in August and numerous Christmas bazaars which will kick off in November.
The DSWD livelihood unit continuously provides its participants capability enhancement sessions such as product development, entrepreneurial seminars, and skills trainings in coordination with private and public partners.
For 2015, the livelihood unit targets 22,190 Pantawid Pamilya beneficiaries for entrepreneurial engagement and employment with a PHP200 million budget.
Banana industry remains strong
By Reuel John F. Lumawag
AMID the challenges that rocked the banana plantations in Davao Region, the industry has remained strong as it ended 2014 with an increase in production volume.
Philippine Statistics Authority (PSA) said the volume of production in the region reached 3.37 million metric tons in 2014, which is 6.4 percent higher as compared to 3.16 million MT reported in 2013.
Data also showed that Mindanao remains as the top producer of bananas in the country, with Davao Region accounting for 37.91 percent of the total volume of production in the whole country.
Also, the country's banana production increased by 2.8 percent in 2014 to 8.88 million metric tons (MT) from 8.64 million MT in 2013 despite Luzon and Visayas incurring slight decreases last year.
When Typhoon Pablo struck in 2012, many of Davao Region's banana plantations were affected, and considering that the region is the major producer of banana in the country, it was a major loss to the region's production and revenues.
On top of these, it had to deal with the Fusarium Wilt, also known as Panama Disease, and other pests and diseases.
Among the known varieties growing in the country include cavendish, lakatan, and saba.
The production of cavendish bananas increased by 5.2 percent to 4.45 million MT from 4.23 million MT; lakatan increased by 2.7 percent to 954,839 MT from 930,032 MT; and saba increased by 0.4 percent to 2.56 million MT from 2.55 million MT.
According to the recent Major Fruit Crops Bulletin of PSA, the growth in production was brought about by the increase in cavendish production in Caraga; favorable weather condition during flowering and fruiting stage in Autonomous Region of Muslim Mindanao (Armm) and Soccsksargen; and increase in area and bearing hills harvested in Northern Mindanao and Davao Region.
Caraga Region posted a 17 percent growth, the highest in the country. The region's production reached 243,792 MT in 2014 from 208,303 in 2013.
Armm also posted a huge increase by 7.4 percent, wherein banana production increased to 493,598 MT from 459,606 MT.
Other regions in Mindanao also experienced an increase in their production. Zamboanga Peninsula increased by 5.8 percent to 274,127 MT from 259,188 MT; Northern Mindanao increased by 2.6 percent to 1.78 million MT from 1.73 million MT; and Soccsksargen increased by 1.5 percent to 1.20 million MT from 1.18 million MT.
Data showed that despite a decrease in the volume of production of bananas in seven regions in Luzon and Visayas, the increase in the production in Mindanao was able to jack up the production of the whole country.
PSA noted, however, a decrease of areas planted with bananas in the whole country but it was only minimal.
Area planted in the country decreased by 0.9 percent to 441,951 hectares (has.) in 2014 from 446,017 has. in 2013. There was also a 0.8 percent decrease in the area planted for saba, it dropped to 182,094 has. from 183,484 has.
However, there was an increase in the areas planted for cavendish and lakatan at 1.1 percent and 0.8 percent, respectively. Areas planted for cavendish increased to 83,843 has. from 82,903 has. while lakatan increased to 56,346 has. from 55,908 has.
Pilipino Banana Growers and Exporters Association (PBGEA) also reported that the 83,843 has. planted for cavendish was able to generate roughly around 503,058 direct and indirect employment opportunities.
Despite the strong performance in 2014, the industry still faces a number of challenges like peace and order, climate change, pests and diseases, increase in production costs, cause-oriented groups, moratorium on expansion, subsidies given by governments of other banana-producing countries, Asean Economic Community, proposed house bills and local ordinances, tariffs, fluctuations or limited flexibility in market prices, demographics or aging populations of major markets, economic conditions of importing countries, geopolitical concerns, global competitiveness, and standards which are becoming stricter over the years.
1,200 teens join inter-brgy youth basketball opening
By Karlo Paolo R. Pates (With Report from Jeepy P. Compio)
SOME 1,200 teenagers from 182 barangays in Davao City attended the opening ceremony of the Inter-Barangay Youth Basketball League that opened Thursday morning at the Davao City Police Office (DCPO) Gym.
DCPO spokesperson Senior Inspector Milgrace Cajes Driz, in an interview with Sun.Star Superbalita at the sidelines of the event, said that the event aims to provide an alternative activity for teens and keep them away from bad influences like illegall drugs and gangsterism.
"Programa ni sya sa DCPO ug sa ACTS-CIS Partylist, tumong niini aron malikay atong kabataan sa pagbuhat og dautan, aron di sila mabutang sa CICL (This program jointly organized by DCPO and ACTS-CIS partylist aims to prevent the youth from vices and so they won't become children in conflict with the law)," Driz said.
Elimination games were ongoing as of yesterday presstime in respective barangays where the top two teams will represent their barangays in the main tournament that will unfurl on May 16 until 22 at the DCPO gym. Cash prizes are at stake for the top four teams. Champion will receive P10,000 with trophy while the next three teams will take home P8,000, P6,000 and P5,000.
Top 12 teams in the main tournament will also receive free basketballs and jerseys.
The 12 police stations in the city also provided their own support to this program to further maintain the peace and order in their respective areas of responsibility (AOR).
DCPO director Police Senior Supt. Vicente D. Danao Jr. and a representative of Congressman Samuel D. Pagdilao Jr. of the Anti-Crime and Terrorism-Community Involvement and Support (ACT-CIS) Partylist Region 11 also attended the event.
Power firm opens its Cleanergy Park in Davao City
(PIA 11-Joey Sem G. Dalumpines)
DAVAO CITY, April 24 (PIA) The Aboitiz Group of Companies formally launched its Cleanergy Park, at Punta Dumalag, Barangay Matina-Aplaya, the former sanctuary of Hawksbill Turtle in the Davao Gulf area.
The Davao Light and Power Company, a subsidiary of the Aboitiz Power added structures to provide and enhance visitors' experience like a turtle sanctuary view-deck, a Mangrove boardwalks, weather station and learning center and a seedling nursery and botanical garden.
Jose Aboitiz, executive vice president and chief operating officer of the Aboitiz Power Distribution Group said the park represents the firm's sustainability mindset- to do well by doing good, always making the right long-term decisions that balance the interests of people, planet and profit.
He recalled spending his childhood days in the area, frowling around during picnics with his family.
"The park nurtures environment conservation and biodiversity enhancement, a flag-ship project in the company's sustainability mindset," Aboitiz said.
He underscored that sustainability has been the direction of the company geared towards preserving the environment as they provide energy to the citizenry.
Aboitiz cited these sustainability efforts which include race to reduce program that promotes efficient use of water, paper and electricity, wealth on waste that aims to creatively recycle waste materials after its useful life and the A-Park program that pledged an additional six million trees by 2020 over the 3.4 million already planted in 2010.
Mayor Rodrigo Duterte in a message read by Councilor Al Ryan Alejandre said that the Cleanergy Park comes as the country braces for the impact of climate change.
He urged the people to preserve the environment even if the country's carbon foot print is insignificant to that of developed and developing countries which contribute much to the global warming leading to changing weather patterns.
Duterte stressed that the environment is the most important and significant in all resources.
"Too much or too little care will not only impact on the economy, but also to the health and welfare of our people. It is the reason that the environment needs thorough focus," he stressed.
Duterte pledged to support initiatives like that of the Cleanergy Park in form of policies that will lead to real solutions.
However, he pointed out that government alone cannot do it.
Duterte said the engagement of stakeholders is needed and that the Cleanergy Park might be replicated by other entities.
Davao prepares for Kadayawan festival
By Arianne Caryl N. Casas
PREPARATIONS have begun for the celebration of Kadayawan sa Dabaw festival in August.
Davao City Mayor Rodrigo R. Duterte has issued an executive order (EO) creating the executive committee (execom) that will plan, organize, manage, and implement the activities of the festival.
Duterte signed the order on April 15.
The city government has partnered with the Kadayawan sa Dabaw Foundation Inc., a private sector, in holding the annual event.
Duterte heads the execom with Vice Mayor Paolo Z. Duterte and Rollie Dumalag of Kadayawan sa Dabaw Foundation as vice chairpersons.
The Kadayawan Foundation is in charge for the ways and means committee while the City Tourism Office is part of the secretariat.
Councilor Al Ryan S. Alejandre, spokesperson for the execom, said the city will celebrate the 30th Kadayawan this year.
"We need to be prepared because it's going to be the 30th celebration. It will also give the ways and means committee more time to look for sponsors," Alejandre told Sun.Star Davao.
He said there will be no changes to the roster of activities.
The events are Agri-Trade Fair Exhibit, Kadayawan sa Kadalanan, Pamulak, Tunog Mindanaw, Sayaw MIndanaw, Yugyugan sa Kadayawan and Hulagway sa Kadayawan.
There will also be Kadayawan sa Lumadnong Katilingban, which includes the Davao River Festival, Panagtagbo, Lumadnong Bantawan, Lumadnong Dula, and Hiyas sa Kadayawan.
This year's Kadayawan sa Dabaw will be from August 17 to 23.
The festival will coincide with Indigenous Peoples' Day.
Interest in fashion designing seen among young Mindanaoans
By Digna D. Banzon (PNA), CTB/LCM/DDB/LDP
DAVAO CITY, April 22 (PNA) -- Young Dabawenyos have shown interest in the fashion designing industry as indicated by the growing number of enrollees in schools offering fashion designing.
This was disclosed by Christine Munda, academic director of Fashion Institute of Design and Arts (FIDA) who noted increasing number of youth taking up the course on fashion design especially in their Academy.
"There is really a growing interest in it," she said.
Citing the trend in their Academy, Munda said students enrolled in the one year course took the path towards production of Ready to Wear dresses while those in the two-year course focus on specialty work and intricate designs.
"What is good with graduates of fashion design is that they would know the production side as they do actual work in school from concept to pattern making and execution of the work," she said.
She said their students are not only from Davao City but some are also coming from the cities of Cotabato, General Santos, Tagum and other neighboring provinces and cities.
"Our students are 75 percent high school graduates while 25 percent are degree holders," she said. She said most of their graduates either get employed in Manila or abroad while others put up their own business.
According to Munda, there are other opportunities for the graduates of fashion design especially there is big demand of fashion designers abroad. And the pay, she said is good ranging between P50T to P60T as starting pay. Others get percentage from the sale of items.
With this growing interest, Munda said FIDA is organizing a graduation fashion show to feature the works of their graduates.
This year's show entitled "ECHOES: Voices from the legends" will showcase the creation of their graduates inspired by famous designers. It is not only honoring the 'masters' but the event will also give rise to creativity of the developing artisan-student.
She said it is in this show that fashion industry business players can spot those with potential and sometimes hired on the spot and a way of introducing students to the business industry.
Daciba entries shine
(KRP)
DAVAO City Bowlers Association (Daciba) Michael Jay Pepito and Brendel Pantonial emerged champions in the 15 and 16 year-old age-group categories of the ongoing 38th Fedbop Grand National Duckpin Bowling Championships that opened Monday afternoon at the Mega Dover Lanes.
Pepito rolled a total of 205 pins after two games to pocket the title over David Shem Calida of Daciba and Joemar Yorong who took the next two places.
Calida garnered 194 pinfalls while Yorong scored 173.
Pantonial, for her part, hit 183 pinfalls. She bested fellow Daciba bets Eilaren Mhae Tumapon (180) who placed second and Ariana Kissa Saro of Daciba who came third.
Michael Ang of Daciba and Gabrini Ginoo of Iligan clinched the boys and girls 13-14 titles, respectively.
Ang amassed 203 pins after two games, outclassing Carlo Tendoro of Daciba (222) and Rey Allen Cabrera of Daciba (215).
Iligan's Ginoo toppled 196 pins to annex the crown over Ericha Anne Dela Cruz of Daciba (178) and Jane Charise Pepito (177).
Meanwhile, Justin Enero of Zamboanga and Lauriz Ginoo of Iligan ruled the 7-9 events.
Cel De Jose of Butuan City claimed the men's executive title while Grace Bermudez nabbed the ladies executive plum.
All participating teams joined the flag ceremony at the City Hall last Monday followed by a parade wherein Sports Development Division of the City Mayor's Office staff Charles Raymond Maxey represented Davao City Mayor Rodrigo R. Duterte.
Games were still being played as of press time.
Food trip, walking tour highlight Davao fun sale
By Reuel John F. Lumawag
ORGANIZERS of Visit Davao Fun Sale (VDFS) 2015 are set to stage the Visit Davao Food Trip and Walking Tour on April 23-27 for hotel and restaurant management (HRM) and tourism students in Davao City.
Olan Fernandez Emboscado, author of thetravelteller.com and resource person for the five-day tour, said in Monday's Kapehan sa Dabaw, that the event will serve as students' culinary immersion which will feature homegrown restaurants and the local flavors of Davao City.
The tour will be participated in by 10 member schools of the Tourism Educators' Association of Davao City (TeaDC).
Emboscado said the tour will also feature a cultural and heritage walking tour on San Pedro street and will visit the City Hall, Sangguniang Panlungsod, San Pedro Cathedral, Osmena Park, and Museo Dabawenyo.
He said with the cultural and heritage tour, the students will find out the deep history of Davao City and next time they pass by the area again, they will know the story behind these iconic locations.
Emboscado said they will also be visiting the Bankerohan Public Market where students will get a taste of the local delicacies, like puto maya and sikwate, and observe local community life in the market.
He said the food trip will end at one of the local restaurants in the city that are participating in the Madrid Fusion Flavors of the Philippines, namely Bistro Rosario, Tiny Kitchen, and Chippens, among others.
The activity will also include a durian and local fruit tasting and local restaurant exposure for product knowledge and food appreciation.
Jemary Lou Supena, member of TeaDC, said tour will provide a venue for HRM and tourism students to learn and apply the things they learned from school.
By Lilian C. Mellejor and Digna D. Banzon [(PNA), CTB/LCM AND DDB/LDP]
DAVAO CITY, April 19 (PNA) -- The Philippine Postal Corporation (PhlPost) finally moves up to compete in real-time mail delivery system targeting a big share of the P20 billion business dominated by two companies in the country.
"It is imperative. We want to survive," said Postmaster General Josie dela Cruz, who was here on Saturday for the launching of PHLPost Express, "Puso Padala" promo for domestic money transfer and turnover of new mail delivery vans.
Dela Cruz is buoyant on PhlPost improved express products and services, aiming to hit at least five percent or P1.5 billion of the P20 billion mail business, which is shared by LBC and 2Go. PhlPost and other courier companies belong to "others" category.
With PhlPost already experiencing a rising trend in revenue since 2010 when it decided to begin the "wheels of change", Dela Cruz said the increasing growth is not enough to cover for the losses incurred when the internet started to boom. She said they still require more hardwork and invest more for the mechanization or state of the art mail exchange.
In 2014, PhlPost already earned P600 million. It is not yet enough to surpass the yearly losses. We will not stop – we need to be creative, she said in her message to her employees in Davao, Caraga, and Region 12, which makes up the PhlPost area 7 in Mindanao.
Hopefully, Dela Cruz said, they will be able to hit their target of P1.5 billion in two years.
Goodbye to snail mail
Now on its 23rd Corporate Anniversary, PhlPost goes full swing on its express services. PhlPost is bidding goodbye to "snail mail" with the launching of the Express service, now competing with top earners LBC and 2Go but with lower rates.
Express service is the economical way of sending door-to-door items with next day delivery commitment with full track and trace system, SMS notification, and proficient Customer Service Officer to give feedback status of the items from the time of acceptance up to the item delivered.
Dela Cruz said it puts an end to "lost mails and parcels" especially with the tracking system. Importantly, she said it also erases the "magnanakaw" image of the postal company.
The service covers not only domestic. For International destinations, Dela Cruz said they are banking on its membership with the Universal Postal Union and the bilateral agreement with 45 countries for reciprocal exchange of the mail service items.
Dela Cruz said Tracking mails even applies to the last leg of delivery in the far-flung corners of the country.
Paperless money order
Phlpost also bids goodbye to the paper-based money order system. Just like the two leading couriers, it is now capable of delivering real-time, safe, reliable money transfer. Among its features is the SMSM real-time-alert of text notification to the customer on the status of the transaction; Cash Pick-up at any participating Post offices; door-to-door delivery; low service fees with maximum amount of P50,000 per application.
It has launched a Piso Padala promo from April 15 to May 15. Under this promo, the public can send electronic money order at any participating post offices for a flat rate of P1.00 for every P1,000.
Sleeping giant
Dela Cruz disclosed the future expansion of PHLPost given the corporation's vast operational network, familiarity in the delivery beats, and the long-standing track record in the courier industry.
"We are not over with our problems," she said. Dela Cruz urges the 9,000-strong PhlPost employees to continue improving delivery efficiency.
She pointed out that their "karteros" are the backbone of their operation. Dela Cruz emphasized agility and speed and the value of discipline that translate into sustainable and reliable mail delivery service
There are 4,000 karteros nationwide. Davao, Caraga (Surigao del Sur) and Region 12 has more than 200
"We can make this work and succeed," Dela Cruz stressed.
Luis Carlos, Assistant Postmaster General for Marketing and Management Support Services, said PhlPost is a "sleeping giant".
The biggest income earner of PhlPost is still the mails. Carlos said it is 80 percent of the net earnings. He said the bulk mails come from the government agencies while seven to eight percent of the total revenues are commercial or business mails.
Carlos said they are also moving into e-mall (on-line trading) given the increasing volume of the mails and parcels because of increasing purchases on-line. He said PhlPost will be a big part in the movement of goods and products.For Davao, PhlPost has also started with its "Singing kartero" in partnership with a flower shop for sending flowers, cards to love, relatives and friends.
Other system of improvement is underway that includes the mechanization of sorting mails, the 133 delivery vans with CCTVS and Global Positioning System (GPS) to track movement of letter carriers.
PhlPost has initially invested P1.7 billion for the mail express service.
The skills of karteros will also be improved with at least knowledge of the GPS and internet technology.
Dela Cruz said the improvement is part of their commitment to protect the mails of the public.
"I strongly believe we will stay. PhlPost is a sleeping giant," Carlos added.
PWC highlights 11 tribes of Davao City in fashion show
By Jenny Molbog-Mendoza (Fashion Nook)
THE Philippine Women's College of Davao highlighted the 11 tribes of Davao City during the PWC Fashion Design Show 2015 last April 9 at the Abreeza Mall Activity Center.
PWC-Davao's Fashion Design Program head Emi Alexander Englis said the Ata, Iranun, Kagan, Klata/Guianan (Djangan), Maguindanaw, Maranao, Matigsalug, Ovu Manobo, Sama, Tagabawa, and Tausug have unique tangible and intangible cultures that surely make a great inspiration for designs.
Having this in mind, nine senior students and 11 undergraduate students of PWC-Davao's Bachelor of Fine Arts (BFA) Fashion Design Program considered the artisanal heritage of the city's tribes in order to come up with this year's "Thesis Capsule Apparel Collection".
The graduating young designers were assigned one tribe each to interpret in their creations, while the two tribes were interpreted by the undergraduate students regrouped in two.
Before producing such modern-ethnic and awe-inspiring fashion design pieces, the students had to squeeze out their creative juices in tweaking details from ethnic costumes and giving them a fresh look on contemporary apparel.
After deliberations during the show, British Council's "Look of Style" finalist Xioti Chiu, former FIP instructor, and current faculty of Helena Z. Benitez School of Fine Arts and Design (HZB-SFAD) Fashion Design Program chose the best among the featured designs.
Simple is not the opposite of complex
For "Best Thesis" awardee Amanda Lee Velasco, "simple is not the opposite of complex at all". Velasco came up with an all-white collection, a permutation of the colourful patterns of the Matigsalug tribe's "sinalapid belt". As a minimalist herself, she strategically composed her accoutrements in boxy silhouettes and textured it with intricate beading patterns which are also in white.
Technology and tradition sublime
Bold and dense but can truly be worn anytime and be offered to any client. Wilson Limon's "Manata" collection aptly reflected the business savvy and blogger in him. Limon is already an enterprising designer with an online shirting business. For his thesis, he magnified his consciousness and redirected it to local pride of place. His musing brought him to Toril's Lubogan District where traditional Bagobo Tagabawa artisan Bae Arlyne Salazar continues the beading tradition technique of the tribe called "Pangulabe" or ornate beading. His creations earned him the "Best Material, Technique, and Construction for a Themed Apparel Capsule Collection" award.
Sporty Androgyny
Jozel Ignes, a Mindanao Trade Expo Fashion Accessory Grand Prize Winner, deconstructed the armalis motif of Sama tribe. He converted the motif's curvilinear pattern into hard-edge geometric tetris as ornamentation and cut strategically panels as pattern on the apparel. Edgy and sporty, his collection was adjudged "Best in Runway Appeal Presentation".
Passionately dark
Along with Ignes, Alexis Nickole Rule shared the credits for "Best Runway Appeal and Presentation" with her Landap-inspired set. "Landap" is the Maranao malong. Using gold upholstery and lame, she took the lines and magnified "okir" geometrically. "Okir" is the term used for geometric and flowing designs.
Equally remarkable pack
Joanna Tutor is well remembered to be the first to go up the mountains of Paquibato for her field study on the Ata Tribe. Upon return to the city, she was richer with stories from the people and how their landscape influenced immensely their culture.
Bianca Sabellano's "Linya de Dayan-Dayan" dwelt on the linear patters of the costumes of the Ovu Manobo women. Shades of blue dominated her palette. For the tribe, blue means royalty. Beaded headbands completed the look.
Triangular cut-outs on upholstery and faux leather transported
Juna Paulene Buencamino's musings from specific elements pointed out by Kaagan Tribe Princess, Bai Sonia Comara Manuel-Vicente, to a collection she can very well relate as a designing woman herself. Buencamino, an experimental fashion accessory design winner in MTE, took that single piece and expand it as garment details on her collection.
Michiko Javilles came up with a jewel colored ensemble punctuated with studs as inspired by "tambuku" buttons from Tausug women's blouses. Her tent dresses were ready to party.
Cermen Pepe's streetwear collection has interesting braided leather trimmings combined with silver upholstery and mesh. Inspired by geometric lines from Maguindanao Tribe's "inaul" fabric, Pepe transposed the olourful linear patterns into stark black and white.
Undergraduate Wild Card
The Iranun and Klata Djangan tribes were each shared by two groups composed by 11 second year students.
The 1st year students shared also the limelight with adorable fashion accessories made from paper clips, toy rings, acrylic beads, loofah, bamboo chops and seeds.
Farmers to benefit from P70-M post-harvest facility
By Cammille Faye Llido (NDDU Intern)
THE Department of Agriculture (DA) has set aside P70 million for a post-harvest facility in Davao City, a city councilor said.
Councilor Marissa S. Abella told reporters the Agri Pinoy Trading Center (APTC) will be built on a five-hectare property in Daliao, Toril, which is owned by the National Development Council (NDC).
"We still have no definite date when the construction will start because a memorandum of agreement (MOA) is needed between Davao City and Department of Agriculture," Abella said.
She said the center will be a drop-off center for agricultural produce and will give farmers a chance to improve their skills.
Abella said the APTC will enable agricultural producers to directly sell their harvest to customers.
Summer destination: Eden Nature Park in Davao
(ABS-CBNnews.com)
DAVAO – Planning to visit Davao this summer? Make sure to add Eden Nature Park to your list.
Located in Davao City, this 80-hectare park lets visitors experience nature, culture and adventure all in one place. It is home to many gardens, orchards, and plant nurseries, a butterfly pavilion, parks for deer and horses and a fishing site, among others.
Thrill-seekers can try some of the park's attractions such as the SkyRider (zipline), and SkyCycle (bike zipline), go swimming or horseback riding, or explore the mountain trails. Those who want to get a dose of history, meanwhile, can visit Eden's Tinubdan cultural park, which features the customs and traditions of the indigenous people of Mindanao.
Eden Nature Park has day packages where guests can avail of a buffet lunch (P520 per adult, P330 per child) or plated snacks (P200 per adult, P170 per child). A guided shuttle tour requires a fee of P120, while the SkyRider and SkyCycle cost P150 and P200, respectively.
Guests also have the option of staying at Eden Nature Park's rooms and lodges.
Tuburan Earth Day Family Adventure run kicks off April 19
(PNA), RMA/LCM/LOLITO T. DELOS REYES/LDP
DAVAO CITY, April 15 (PNA) -- Tuburan Institute, the city's first Steiner-Waldorf school, is holding an Earth Day Family Adventure Run on April 19 in Tugbok District, this city.
There will be a 7-kilometer trail run for adults and a 1.5 km. nature walk and tree planting for children and their parents. Registration fees are Php 150 for trail run and Php 100 for nature walk.
The trail run will start at 6 a.m. from the Mintal Covered Court and will traverse the Davao-Bukidnon highway, then turn left at the USEP intersection towards New Loon. It will pass through the Tuburan access road and end at the New Loon Creek.
The nature walk will begin at 7 a.m. and will start at the Tuburan green school site and head towards several coconut farms and orchards before ending at the New Loon Creek for the riverbank tree planting.
"The top runners will receive goody bags from participating green business," said Tuburan Institute director Maya Vandenbroeck at the SCOOP Session of The Royal Mandaya Hotel last Tuesday.
The funds raised will help develop Tuburan's green school campus in New Loon, Brgy Tugbok. "Children need green spaces where they can climb trees and develop their intrinsic appreciation and love for nature. At the Tuburan Institute, we believe that this develops their empathy for the environment and fuels their passion to protect it, which is essential if we are to develop the next generation of Dabawenyos to become environmental stewards," said Vandenbroeck.
"In line with the school's environmental values, we are aiming for a zero waste impact on the environment. This is why we are encouraging participants to bring their own water containers which they can refill at water stations set up along the route by participating residents of Mintal and Tugbok Proper. Similarly, we will not be using tarpaulin posters; instead we will be using katsa cloth," she said.
Japanese Yoko Matsuda, a parent of two young students of Tuburan Institute, also called on the public to join the event as a way of celebrating Earth Day 2015.
"This is a perfect opportunity for families to bond together and for parents to inculcate in their children the responsibility of every human to become a good steward and co-creator of the Highest Being's Divine Plan," she said.
The 2015 Earth Day Family Adventure Run is also co-organized by the Save Davao Shrine Hills Advocates, and the Interface Development Interventions, Inc. Participants may register until April 18 at the following outlets in the city - Bayani's Animal Wellness Center (Maa), Coffee for Peace (Matina), Forest Outdoor Shop (Mintal), Pet's First Veterinary Clinic (Cabaguio) or Balik Bukid Farm and Kitchen (Quimpo Ave). Group registrants may get in touch with Karina at 09228805556.
Marina-XI moves to make Davao-based seafarers world-standard compliant
By Joey Sem G. Dalumpines (PIA-11)
DAVAO CITY, April 14 (PIA) The Maritime Industry Authority has intensified its orientation on the Standards of Trainings Certification and Watch-Keeping reaching out to more seafarers in Davao Region.
Michael John Recto Esplago, maritime education and training standard supervisor of the Maritime Industry Authority said the activity is very important to keep the seafarers aware on how government approaches the STCW being a signatory state.
He said the government adopts the measure in compliance to the international standard in accordance to the Republic Act 10635 mandating Marina as a single maritime administration to impose the STCW.
Esplago said the standard measure covers all maritime stakeholders both in-land and on the sea.
"Workers at sea are covered with the certification while the certification of all those teaching maritime education and training are also included in the implementation of the STCW convention," he said.
Esplago revealed that Davao Region is very vibrant on seafaring with many applicants hailing from this area, just like Cebu and Manila.
Felisa Orongan, regional director of the Marina 11 said that employment contracts of the majority of seafarers even in Davao Region hail from their offices in Metro Manila.
She said there are half-a-million Filipino seafarers worldwide.
Orongan stressed that Filipino seafarers have to comply the STC W to ensure their employability. (PIA 11-Joey Sem G. Dalumpines)
All set for the May 1 Jobs Fair in Davao City
By Joey Sem G. Dalumpines (PIA-11)
DAVAO CITY, April 13 (PIA) The Department of Labor and Employment formally forged an agreement with its agencies, two malls, and two media partners to support the jobs fair slated on the last week of April towards May 1, International Labor Day.
Atty Jason Balais, acting regional director of the DOLE 11 said 62 business establishments have confirmed to join in the jobs fair in order to provide employment to the residents of the city this year.
He said the DOLE 11 expects more than a hundred establishments to sign in on the Labor Day Jobs Fair.
Balais said 37 local agencies have confirmed to support the activity, where 25 overseas agencies are also expected to join.
He said a total of 3,300 job vacancies have been solicited so far by the DOLE 11 which he expects to balloon by 10,000 jobs on May 1.
"A one-stop-shop composed of other government agencies like the Social Security System, Philippine Health Insurance Corporated, Employees Compensation Commission and Professional Regulation Commission will provide assistance to the jobseekers to fast-track their application for employment," Balais said.
He pointed out that the DOLE wants to get more people by hitting 15 percent of the applicants who are hired on the spot during the Labor Day Jobs Fair.
SEDA Hotel Davao launches breakfast for a cause for Mamasapano 'bakwits'
By Lilian C. Mellejor [(PNA), CTB/LCM/LDP]
DAVAO CITY, April 12 (PNA) – The SEDA Abreeza Hotel here launched Sunday its second "Pamahaw ug Pagtabang: A Breakfast for a Cause project for the families in Mamasapano, Maguindanao that were displaced by the armed conflict since the bloody encounter of armed groups and the Special Action Forces (SAF) in January 25.
The project, which will run for two Sundays: April 12 and April 19, is targeted to hit P60,000 to P80,000 and will be donated either in cash or to buy food items for the beneficiaries through Maguindanao Governor Toto Mangudadato.
It is the second breakfast for a cause project by SEDA hotels although this year only SEDA Abreeza Davao is organizing it as an anniversary event. SEDA Abreeza Davao is celebrating its second year anniversary this month.
In 2013, SEDA hotels were able to raise some P60,000 for the benefit of Typhoon Yolanda survivors. The money was pooled through Ayala Foundation.
Kennedy Kapulong, hotel manager of SEDA Abreeza, said that as part of the project they are offering buffet breakfast at a discounted price from P600 to P480 for adults and P280.00 for kids. The menu is non-pork in respect to the Muslims who are also invited to join the fund raising project.
Kapulong said that among those invited were Gov. Mangudadato, Davao City Mayor Rodrigo Duterte, the National Commission of Muslim Filipinos, Muslim traders at Victoria Mall and Aldevinco Shopping Center, Davao Archbishop Romulo Valles, who has already sent letters of endorsement to all churches.
Davao City's own beatbox artist Neil Ray Garcia, a marketing student of the Holy Cross of Davao College provided entertainment for the guests. Garcia won at Talentadong Pinoy competition and recently won for the semi-finals of the Asia Got Talent in Singapore.
Now on its second year, SEDA Abreeza Davao is enjoying high occupancy rate at 65 percent of the total number of hotel rooms. The hotel has 186 rooms. He said 85 percent of the hotel's clients either corporate or on leisure travel are mostly from Manila, provinces and cities in Mindanao and Cebu. It has also international occupants mostly Japanese, Koreans, Americans and Australians and a small market from Singapore.
Kapulong said the hotel has seen an occupancy growth from 40 percent in 2013 to 65 percent in 2014. He expected an increase this year as they are now focusing on hosting more meetings and events.
"Our primary strength is our location -– the hotel is just 20 minutes to the airport," Kapulong said, adding that it is also accessible to the downtown area, the business district and other institutions.
According to Kapulong, the breakfast for a cause is just one of their corporate social responsibility (CSR) projects. They are also launching its second treeplanting project this month at the Vanishing Island in the Island Garden City of Samal (IGACOS).
Zamboanga, Davao Cities forge 'sisterhood' pact
By Joel Locsin / LBG (GMA News)
Will Zamboanga City soon have the Davao-style "911" emergency hotline, and Davao City the Zamboanga-style cultural diversity?
The two cities are poised to begin cultural and best-practice exchanges after their officials signed a "sisterhood" agreement on Thursday.
Mayors Rodrigo Duterte (Davao) and Isabelle Climaco-Salazar (Zamboanga) led the pledge signing event in Davao City, GMA Davao reported Friday.
Under the agreement, both cities are to exchange information and assist each other in implementing their respective programs.
Zamboanga City is eyeing setting up an emergency response mechanism like the "911" central command center of Davao City, the GMA Davao report said.
The "911" system ensures the swift response of firefighters, police and rescue teams to emergencies.
"We have to invest heavily on security because that is the reality that we in Mindanao are facing. But just like Davao, it has had a turnaround economically, financially, and it is something we hope that we would be able to achieve within our term," said Climaco-Salazar.
For its part, Zamboanga City said it is willing to help Davao beef up its cultural presentation and economic activity.
"They (Zamboanga) have the unique culture and we have ours, subculture of the Filipinos and whatever exchanges, endeavors or maybe exchange of students who would like to know the culture of Zamboanga Archipelago, and of course the Caraga region, Davao region," Duterte said.
NEDA approves P90 M funding for Samal-Davao bridge study
By Carmelito Q. Francisco
DAVAO CITY -- P90-million worth of funding for a feasibility study on the proposed bridge connecting this city and the Island Garden City of Samal has been approved by the National Economic and Development Authority (NEDA).
In a statement, NEDA Davao Region Director Maria Lourdes D. Lim said the the agency's Infrastructure Committee recently approved the funding for the study to be undertaken by the government, which will take into account previous pre-feasibility studies made by other organizations.
Ms. Lim said one of the main points that the feasibility study will determine is whether it is timely to build a Davao-Samal Bridge, which will need to be at least be a kilometer long.
One of the previous pre-feasibility studies, undertaken in 1999 with funding from the Japan International Cooperation Agency, estimated the cost at P6.48 billion for a 1.2 kilometer bridge.
A more recent study, conducted by Katahira and Engineers International in 2005, recommended a longer structure at 1.35 kilometers and will cost P15.93 billion.
The NEDA-funded feasibility study was proposed by the Regional Development Council in January.
The council's chair, Davao del Norte Gov. Rodolfo P. del Rosario, is the leading proponent of the bridge, saying it is necessary for the faster movement of goods and services between the two cities.
Davao is an independent component city while Samal is under Davao del Norte province.
Samal, a popular beach destination, can be accessed by boat from Davao City.
One of the most well-known resorts in Samal is Pearl Farm, a property of the Floirendo family whose matriarch is a sister of the governor.
Mr. Del Rosario, who also chairs the Davao Integrated Development Program, a group of provincial and city governments, is also lobbying for the construction of an airport in Samal.
Visit Davao Fun Sale to feature 'Pomelo Festival'
(PNA), FFC/LCM/DDB/LDP
DAVAO CITY, April 9 (PNA) -- The first ever Davao Pomelo Festival will be launched Friday (April 10) to be led by SM Lanang Premier in support to the six-week citywide sale and events extravaganza Visit Davao Fun Sale (VDFS).
SM Lanang press relation manager Acey Puno-Reyes said the event will be co-presented by the Davao Pummelo Stakeholder's Association, Inc. (DPSAI). It aims to promote and support the production and export of pomelo, one of the foremost fruits grown and harvested in Davao City.
"As a food tourism effort, it also intends to create increased awareness and appreciation for the fruit people love for its sweet, juicy and tangy taste," she added.
Among the leading pomelo producers participating in the Davao Pomelo Festival are Nenita Farms, Davao Golden Pomelo, Inc., Hellen Cabalida, Sheba Marie Elefante and Rosemarie Ambay.
She said foreign and local tourists are invited to visit and get a taste of Davao's favorite fruit at the Pomelo Market from April 10 to May 17; and, "once hooked to the mouthwatering goodness of pomelo, they can join the fun at Eat-All-You-Can fest happening all Saturdays and Sundays during the period."
On April 18-19 and 25-26, the public is invited to witness Pomelo Dishes and Drinks Chef Demos at the festival. Featured chefs will show how the fruit can spice up and enhance the flavor of food and beverage with a dash of creativity and imagination.
The Davao Pomelo Festival is part of the Flavors of the Philippines campaign of the Department of Tourism (DoT) for VDFS. It is supported by the Davao City Government, the Department of Science and Technology DOST), the Department of Agriculture (DA), Department of Trade and Industry (DTI) and REDD-Ltd.
Dubai firm eyes 2 major projects
By Reuel John F. Lumawag
A DUBAI-based port operations company has signified interest to forge a partnership with the government and private company to develop two major projects in Davao City.
Davao City Investment and Promotion Center (DCIPC) officer-in-charge Ivan Cortez, in an interview with Sun.Star Davao on Wednesday, said Dubai-based port operator Peninsular and Oriental Steam Navigation Company (P&O) is looking into the possibility of a joint operation in terms of port operations for the Davao Sasa Port Modernization Project or for reclamation project of Megaharbor in Davao City, which will include a port in one of its four islands.
He said they met the company during a site visit in Dubai, United Arab Emirates (UAE) during the Annual Investment Meeting (AIM) in the same city on March 30 to April 1.
Cortez said that at present, P&O is operating one container terminal in Manila and due to the port congestion at the capital, the company is looking into the possibility of expanding to other areas in the country.
He said another location the company is looking at is Cebu City.
He said P&O is set to communicate with Megaharbor and the concerned government agency on the Davao Sasa Port Modernization Project.
Cortez said if everything pushes through, P&O will partner for joint operation on port operations to the project that will come first.
Cortez, together with businessmen and representatives of the Davao City Chamber of Commerce and Industry Inc. (DCCCII), represented the city as among the Mindanao delegation to the AIM.
The Mindanao delegation was led by Mindanao Development Authority (Minda) chair Secretary Luwalhati R. Antonino. The Philippine delegation was led by Department of Trade Undersecretary Ponciano C. Manalo Jr.
Cortez said Manalo presented investment opportunities in the Philippines while Antonino presented projects and investment opportunities in Mindanao.
He said DCCCII and the business chamber in Dubai expressed interests for a chamber to chamber sisterhood agreement.
Bill to amend the Special Program for Employment of Students filed
(PNA), FPV/PR/EBP
MANILA, April 7 (PNA) -- Out-of-school youth and children of displaced workers will soon be included in the coverage of the Special Program for Employment of Students (SPES) of the government.
Rep. Karlo Alexei B. Nograles (1st District, Davao City) filed House Bill 5469 seeking to amend Republic Act 7323 otherwise known as the Special Program for Employment of Students (SPES), which currently provides employment to only poor but deserving students.
The bill widens the coverage of SPES to include out-of-school youth and dependents of displaced workers or would-be displaced workers due to business closures or work stoppages.
Nograles said the bill would allow them to enroll in any secondary, tertiary or technical-vocational institutions.
"While it is recognized that SPES as an employment bridging program has changed the lives of many Filipino youth, it cannot be denied that the implementation of the program has encountered multitude of problems, both procedural and substantial," Nograles said.
"The current program covers only current enrolled students, depriving other disadvantaged youth to pursue education," Nograles added.
Under the measure, any entity or person employing at least 10 persons may employ poor but deserving students, out-of-school youth (OSY), or dependents of closures or work stoppages intending to enroll in any secondary, tertiary or technical-vocational institutions, 15 years of age but not more than 30 years old.
The measure also requires 60 percent of the salary or wage shall be paid by the employers in cash and 40 percent by the government also in the form of cash directly to the student, or through financial institutions or other payment facilities.
It will be subjected to the existing rules on procurement in the case of payment for the student's tuition fees, books, and other education-related expenses, including their daily allowance.
The 40 percent share shall be paid within 30 working days upon submission of the partner-employer or participating establishment of their report on payment of salary or wages which shall be the basis of the 40 percent salary or wages to be paid by the government through the Department of Labor and Employment (DOLE).
In case of sickness, absence, or death of the SPES beneficiary, the immediate heirs may claim the salary upon presentation of proof.
The SPES beneficiary shall be entitled to social protection by virtue of an insurance coverage with the Government Service and Insurance Commission (GSIS) for a period of one year.
The DOLE shall issue the implementing rules and regulations to carry out the purposes of the proposed Act.
The co-authors of the bill are Reps. Emmeline Aglipay Villar (Party List, DIWA), Florencio Flores, Jr. (2nd District, Bukidnon) and Deogracias Ramos, Jr. (2nd District, Sorsogon).
Visit Davao registers 1,700 guests in 3 days
By Reuel John F. Lumawag
THE Visit Davao Fun Sale (VDFS) Tours Consortium reported it has received more than 1,700 visitors for the Visit Davao Fun Sale (VDFS), ongoing until May 17.
Edmund Mayormita, vice president of the VDFS Tour Consortium, who guested in Monday's edition of Kapehan sa Dabaw at SM City Davao, said the figure represents the number of registered visitors for the fun sale since it opened last Friday. This is based on hotel accommodations and does not include participants to a number VDFS-related events slated this week.
"We are happy that these visitors would want to enjoy and experience Davao," he said.
Mayormita also said these visitors booked through the VDFS web portal, visitdavaofunsale.com, and through tour operators. He also said some of the visitors availed of the Fun Tours and Fun Packages.
Meanwhile, a total of 140 food establishments will be offering special promotions during the staging of VDFS.
Benjie Lizada, VDFS executive committee vice chair, said 117 of these are stand-alone stores while the remaining are restaurants based at participating malls in the city.
Among the participating stand-alone food establishments include Taps, Tsuru, Tiny Kitchen, Cafe Tavera, Business Class, and Asia Restaurant, among others. These restaurants are mostly located on Rizal Street, Torres Street, Palma Gil and Obrero, Roxas Street, Matina Town Square, Phoenix G Megastation in Lanang, Damosa Gateway, Victoria Plaza Carpark, Quimpo Boulevard, and Lanang Business Park.
Participating mall-based restaurants include Antonio's Bar and Grill, Basti's Brew, Bulgogi Brothers, Wings & Dips, and Hollywood Diner, among others. Malls with participating restaurants include Victoria Plaza Mall, SM City Davao, SM Lanang Premier, NCCC Mall Davao, and The Peak, Gaisano Mall of Davao.
Lizada said to avail themselves of discounts and special promotions of these restaurants, diners simply have to present the VDFS Passport, which is available at booths in mall, airport, and partner hotels, and Visit Davao City Lifebit application, which can be downloaded from the Google Playstore and soon in the App Store.
The application also contains more than 250 discount coupons from some 200 participating restaurants, spas, hotels, and entertainment centers.
The VDFS is a six week tourism sale campaign is a collaborative effort of the Department of Tourism 11, City Government of Davao, Office of Councilor Al Ryan Alejandre, and the private tourism stakeholders of Davao City.
DPWH 11 confident of meeting 2015 accomplishment target
(Philippines News Agency)
DAVAO CITY—The Department of Public Works and Highways (DPWH) here in Region 11 remains confident of meeting its 2015 accomplishment target despite a slow start in the first quarter.
DPWH 11 Regional Director Mariano Alquiza said the DPWH 11, which has a P15-billion budget allocation for infrastructure projects for Davao region this year, has accomplished 2.5 percent of the lined-up infra projects.
"This year DPWH 11 has 723 big infrastructure projects, of which 183 projects have been already been started, while 534 infrastructure projects have yet to start construction," he said in an interview.
Citing last year's accomplishment in the first quarter with only 0.9 percent, Alquiza said works picked up in July with 60-percent accomplishment rate. "We're confident we can catch up in the second quarter this year," he said.
Shabu seized in Davao
By Francis Wakefield
Operatives of the Philippine Drug Enforcement Agency (PDEA) and the Philippine National Police (PNP) confiscated some P735,000 worth of shabu from three persons during a buy-bust operation in Davao City.
Undersecretary Arturo G. Cacdac, Jr., PDEA director general, said that the illegal drug weighing 60 grams was seized from Rizaldy Banluta, 36, of Poly Subdivision, Matina, Davao City; Edwin Duy, 40, a businessman from San Isidro, Malakas, General Santos City; and Laila Dela Druz, 28, of Deca Homes Subdivision, Cabantian, Davao City.
Cacdac said the suspects were arrested in the early morning of March 28 by the PDEA Regional Office 11 (PDEA RO11) under Director Emerson Rosales, in collaboration with operatives of San Pedro Police Station. The three were apprehended after they sold shabu to an undercover agent who posed as buyer. Cacdac said the entrapment operation took place near a pizza parlor on Bonifacio Street in Davao City.
3 boys, 2 girls qualify in Davao elims for Jr. NBA
(PNA), LAM/LCM/LDELOS REYES/LDP
DAVAO CITY, April 1 (PNA) -- Four Davaoeños and one player from Cagayan de Oro are set to pursue their basketball dreams in Manila this April after topping the Regional Selection Camp of Jr. NBA/Jr. WNBA Philippines 2015 presented by Alaska at the University of the Immaculate Conception here.
They are Paolo Emanuel Antonio, 14, of Stella Maris Academy in Davao City; Christopher Gonzaga, 14, of the University of the Immaculate Conception, Davao City and Jeffy Malilim, 13, of Corpus Christi School, Cagayan de Oro. They will vie for the honor of becoming Jr. NBA All-Stars at the National Training Camp in Manila this April.
Rozie Amatong, 11, of Modern International Learning Center; and Rhea Ville Bausin, 14, of Daniel R. Aguinaldo National High School both in Davao City will also compete in the Jr. WNBA division of the NBA's global youth development program.
The five National Training Camp (NTC) finalists stood out in a field of 259 participants aged 10-14 who tried out in the Mindanao leg of the regional selections. Participants were subjected to vitals tests, skills challenges and basketball drills on Day 1, at the end of which the top 40 performers were asked to return on Day 2.
More intense drills and basketball team exercises met the semifinalists on Day 2 where a final scrimmage at the end of the day helped the coaches to select the most skilled basketball players who also exemplified the Jr. NBA/Jr. WNBA core values of Sportsmanship, Teamwork, a positive Attitude and Respect.
The NTC finalists from Davao were chosen by the Jr. NBA evaluation committee composed of Jr. NBA/Jr. WNBA coaches Rodney Santos, John Ramirez, Eric de la Cuesta, Christian Luanzon and Junjun Alas of Alaska, Louie Gonzalez and Ish Tiu and Melissa Jacob of Perlas Pilipinas.
"This group will compete well in Manila," said Jr. NBA/Jr. WNBA Coach Ish Tiu of Perlas Pilipinas. "In particular, I would like to commend the boys here for showing exemplary STAR values. As for the girls, they're something else -- a package of skill, talent, passion and perseverance. I'm excited for them to showcase their God-given talents in Manila."
Eleven-year old Rozie Amatong, the youngest participant, wowed the crowd with her heroics, including a buzzer beating shot that made her team win in the final scrimmage. "Basketball is a beautiful game. I especially love the challenge that comes with this sport," she said.
The last Regional Selection Camp for 2015 will be held at the PICC Forum in Manila on April 11 and 12. Boys and girls who wish to join the selection camps may still register at www.jrnba.asia/philippines. The program is absolutely free.
At the National Training Camp ten Jr. NBA and five Jr. WNBA All-Stars will be selected and will embark on a unique, overseas NBA experience together with fellow Jr. NBA All-Stars from Southeast Asia. The Coach of the Year presented by Alaska will also be announced at the National Training Camp that will be attended by NBA talents.
Full program terms and conditions can be found in the Jr. NBA/Jr. WNBA event website. Fans can also follow Jr. NBA/Jr. WNBA on Facebook at www.facebook.com/jrnbaphilippines. For all things NBA, fans may visit www.nba.com, and follow the NBA on Facebook (www.facebook.com/philsnba) and Twitter (www.twitter.com/nba_philippines).
ALL set for fun sale
By Reuel John F. Lumawag
IT'S all systems go for staging of Visit Davao Fun Sale (VDFS) 2015 on April 3 to May 17.
The VDFS 2015 will feature discounts and special promos from malls, tour operators, hotels, spas and massage centers, and restaurants.
Department of Tourism (DOT)-Davao Director Roberto P. Alabado III told Sun.Star Davao in a phone interview Wednesday that they will be kicking off the VDFS with an Easter Egg Hunt at the participating malls in Davao City, which includes Abreeza Mall Davao, Gaisano Grand Citimall, Gaisano Grand Toril, Gaisano Mall of Davao, Gaisano Mall of Toril, NCCC Mall Davao, SM City Davao, and SM Lanang Premier.
He said they distributed to the malls special Easter Eggs and those who find it will be able to win free tours.
Other participating malls for VDFS 2015 include S&R, Robinsons Abreeza, and Victoria Plaza Mall.
The malls will be offering special promos and discounts from 40 percent to 70 percent. Each mall will also have its own events in celebration of the VDFS.
Aside from the malls, more than 100 restaurants will also be offering their own special promos, freebies, and discounts.
The restaurants are grouped into 12 clusters, Matina Town Square, Damosa Gateway, Phoenix Mega Station, The Peak of GMall of Davao, Lanang Business Park, Bricklane and Obrero, Victoria Plaza Carpark, Rizal Street, F. Torres Street, Roxas Avenue (with Aldevinco Souvenir Center), Eden Nature Park area, and Calinan area (Malagos Mountain Resort and Philippine Eagle Center).
Members of the Davao Wellness Association, which is comprised of a group of health and wellness establishments in the city, will also offer discounts and promos.
Dinners and visitors of spas and wellness centers will simply have to present the VDFS Passport or the Visit Davao City Lifebit mobile application, which can be downloaded from the Google Play Store and from the App Store, to avail of the discounts.
There are also discounted package tours being offered by the VDFS Tours Consortium, which is composed of tour operators in the city, as they will be running the Fun Tours and Fun Pacakges, wherein Fun Tours can be availed for as low as P600 per head, and three-day, two-night Fun Packages for as low as P2,613. Bookings and more details are available at vdfs.discoverdavao.com.
Hotels will also be offering discounts and special promos during the VDFS.
Other VDFS activities include the DurianMan Triathlon on May 2 and the VDFS Summer-end Parties on May 16.
The VDFS is a collaborative effort between the Davao City Tourism Office, Office of Councilor Al Ryan Alejandre, DOT, and the tourism sector stakeholders, comprised of the travel and tour agencies, hotels and resorts, restaurants and entertainment groups, malls and shopping centers, Mice (meeting, incentives, conventions, and exhibitions) Organizers Ventures (Move) Davao, and the Davao Wellness Association (DavWell).
The VDFS is also the official entry of Davao Region to the Visit Philippines Year 2015 along with Mt. Apo Boulder Face Challenge and Visit Samal Island.