Bangsamoro
Jump to navigation
Jump to search
→ → Go back HOME to Zamboanga: the Portal to the Philippines.
Draft of Bangsamoro Basic Law
Read the 122 page draft of the BBL: DRAFT of the Bangsamoro Basic Law
On Sept. 15, 2014 13 senators signed the Bangsamoro (BBL) Senate Bill No. 2408
May 20, 2015: The House of Representatives ad hoc committee on the proposed Bangsamoro basic law approved the measure on Wednesday, May 20, with a vote of 50-17 with one abstention.
On November 7, 2016 President Duterte signed the Bangsamoro Transition Commission
Duterte's speech after signing the executive order on the bangsamoro transition commission

With a 21 member committee 10 from the National government and 11 from the MILF.
This is bad news:

Article XI Section 19 (Public order and Safety): Section 19. Coordination. – The Central Government and the Bangsamoro Government shall establish coordination protocols, which shall govern the movement of Armed Forces of the Philippines in the Bangsamoro territory.

The AFP can no longer move freely in the Bangsamoro as it did in the ARMM. It must first ask for permission.

The oath of allegiance to the Republic of the Philippines which was in the ARMM no longer exist in the Bangsamoro. The oath of allegiance of public officials are to the Bangsamoro and not to the Republic of the Philippines.
The preamble pledges allegiance to the religion of Islam: "We, the Bangsamoro people and other inhabitants, imploring the aid of the Almighty, aspiring to establish an enduring peace on the basis of justice, balanced society, and asserting our right to conserve and develop our patrimony; reflective of our system of life as prescribed by our faith, and in harmony with our customary laws, cultures and traditions;"

"by our faith" means the religion of Islam.

July 23, 2018 final Bicam report

Article XI section 19 was erased.
---
The BBL draft passed: the word "contiguous" was replaced by "cities and provinces" and the 1976 tripoli agreement was included.
These are the country's representatives who voted on this: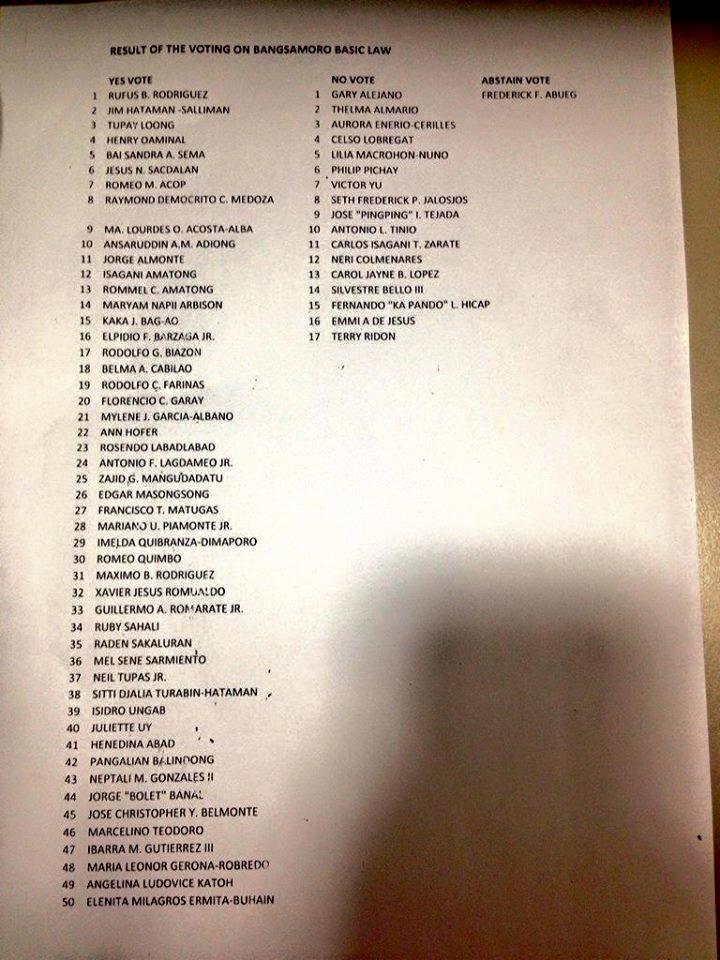 The Bangsamoro does not pledge allegiance to the Republic of the Philippines
The ARMM pledges allegiance to the Philippies: Article XVI General provisions: SEC. 3. "Oath of Office. – All public officers and employees, as well as members of the Regional Police Force and the military establishment, shall be required to take an oath of allegiance to the Republic of the Philippines, to support and defend the
Constitution and this Organic Act, renounce the use of violence, and commit themselves to democratic means in the pursuit of their ideals and aspirations."
The Bangsamoro does not pledge allegiance to the Philippines. In fact the word "allegiance" is not even mentioned in the BBL. That section in the ARMM was removed when it became the BBL.
Yes vote on the passing of BBL May 20, 2015
Abad, Henedina (Batanes)
Acop, Romeo (Antipolo City 2nd district)
Acosta- Alba,Ma. Lourdes (Bukidnon 1st district)
Adiong, Ansaruddin (Lanao del Sur 1st district)
Almonte, Jorge (Misamis Occidental 1st district)
Amatong, Isagani (Zamboanga del Norte 3rd district)
Amatong, Rommel (Compostela Valley 2nd district)
Arbison, Naryam Napii (Sulu 2nd district)
Bag-ao, Kaka (Dinagat Islands)
Balindong, Pangalian (Lanao del Sur 2nd district)
Banal, Jorge (Quezon City 3rd district)
Barzaga, Elpidio Jr. (Cavite 4th district)
Belmonte, Jose Christopher (Quezon City 6th district)
Biazon, Rodolfo (Muntinlupa City)
Cabilao, Belma (Zamboanga Sibugay 1st district)
Dimaporo, Imelda Quibranza (Lanao del Norte 1st district)
Ermita-Buhain, Elenita Miagros (Batangas 1st district)
Fariñas, Rodolfo (Ilocos Norte 1st district)
Garay, Florencio (Surigao del Sur 2nd district)
Garcia-Albano, Mylene (Davao City 2nd district)
Gonzales, Neptali II (Mandaluyong City)
Gutierrez, Ibarra III (Akbayan Party-list)
Hataman-Salliman, Jim (Basilan)
Hofer, Ann (Zamboanga Sibugay 2nd district)
Katoh, Angelina Ludovice (Akbayan Party -list)
Labadlalad, Rosendo (Zamboanga del Norte 2nd district)
Lagdameo, Antonio Jr (Davao del Norte 2nd district)
Loong, Tupay (Sulu 1st district)
Mangundadatu, Zajid (Maguindanao 2nd district)
Masongsong, Edgar (1-CARE Party -list)
Matugas, Francisco (Surigao del Norte 1st district)
Mendoza, Raymond Democrito (TUCP)
Oaminal, Henry (Misamis Occidental 2nd district)
Piamonte, Mariano Jr (A Teacher Party-list)
Robredo, Maria Leonor Gerona (Camarines Sur 3rd district)
Quimbo, Romero (Marikina City 2nd district)
Rodriguez, Maximo (Abante Mindanao)
Rodriguez, Rufus (Cagayan de Oro 2nd district)
Romarate, Guillermo Jr (Surigao del Norte 2nd district)
Romualdo, Xavier Jesus (Camiguin)
Sacdalan, Jesus (North Cotabato 1st district)
Sahali, Ruby (Tawi-Tawi)
Sakaluran, Raden (Sultan Kudarat 1st district)
Sarmiento, Mel Senen (Western Samar 1st district)
Sema, Bai Sandra (Maguindanao and Cotabato City 1st district)
Teodoro, Marcelino (Marikina City 1st district)
Turabin-Hataman, Sitti Djalia (AMIN Party-list)
Tupas, Niel Jr (Iloilo 5th district)
Ungab, Isidro (Davao City 3rd district)
Uy, Juliette (Misamis Oriental 2nd district)
No vote on the passing of BBL May 20, 2015
Alejano, Gary (Magdalo Party List)
Almario, Thelma (Davao Oriental 2nd district)
Bello, Silvestre III (1-BAP)
Cerilles, Aurora Enerio (Zamboanga del Sur 2nd district)
Neri Colmenares (Bayan Muna)
de Jesus, Emmi (Gabriela Party-list)
Hicap, Fernando (Anakpawis Party-list)
Jalosjos, Seth Frederick (Zamboanga del Norte 1st district)
Lobregat, Celso (Zamboanga City 1st district)
Lopez, Carol Jayne (YACAP)
Macrohon-Nuño, Lilia (Zamboanga City 2nd district)
Pichay, Philip (Surigao del Sur 1st district)
Ridon, Terry (Kabataan Party-list)
Tejada, Jose (North Cotabato 3rd district)
Tinio, Antonio (ACT Teachers)
Yu, Victor (Zamboanga del Sur 1st district)
Zarate, Carlos Isagani (Bayan Muna)
Abstain
Abueg, Frederick (Palawan 2nd district)
An independent State