San Jose, Dinagat Islands, Philippines
From Zamboanga.com :Portal to The Philippines
Barangays of San Jose in the Dinagat Island Province of The Philippines
Aurelio • Cuarinta • Don Ruben Ecleo (Baltazar) • Jacquez • Justiniana Edera • Luna • Mahayahay • Matingbe • San Jose (Pob.) • San Juan • Santa Cruz • Wilson
Philippines News: Friday, December 19, 2014 -- PH electronics sector seen growing faster than expected at 7-11% in 2014 : MANILA, Philippines–Despite lingering congestion at the ports of Manila, the Philippine electronics industry is seen to grow faster than expected this year at about 7 to 11 percent due to rising global demand and the recovery of key markets .... More
---
List of Municipalities in the Dinagat Island Province within Region XIII (Caraga) in the Republic of The Philippines
Basilisa | Cagdianao | Dinagat | Libjo | Loreto | San Jose (Capital) | Tubajon
---
A | B | C | D | E | F | G | H | I | J | K | L | M | N | O | P | Q | R | S | T | U | V | W | X | Y | Z
Regions | Philippine Provinces | Philippine Cities | Municipalities | Barangays | High School Reunions
---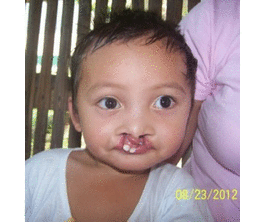 In as few as 45 minutes a child or anyone can be saved from a lifetime of pain, shame and isolation. You can give them a chance to go to school, make friends and have a bright future. For as little as 100 pesos you can help provide a surgery for a child suffering from a cleft palate or cleft lip(harelip).


One act of random kindness at a time.

Visit our website: B.O.S.S.
San Jose,
Dinagat Islands Province, Philippines

San Jose has a total of 12 barangays.
Registered Voters of San Jose as of (2010) = 16,438
San Jose is in the "LONE" Voting Congressional District of Dinagat Island.
Population of San Jose (as of Aug 1, 2007) = 28,398
Land Area of San Jose (as of 2007, in hectares) = 2,780
San Jose is a un-classified Municipality and Partially Urban.
San Jose is in the Dinagat Island province and within Region XIII–Caraga Region in the upper north/eastern part of the island of mindanao
Geography of San Jose, Dinagat Islands, Philippines
Geography of San Jose
Location of San Jose, Dinagat Islands, Philippines
10.0083° N, 125.5889° E - San Jose, Dinagat Islands, Coordinates
San Jose is located ....
History of San Jose, Dinagat Islands, Philippines
The beginning of San Jose
People of San Jose, Dinagat Islands, Philippines
Total Population of San Jose
San Jose, Dinagat Island, Philippines supports Philippine Cycling
Philippine Cycling is about cycling in the Philippnes. Philippine Cycling helps promote bike races, cycling clubs, bicycle tours, and the development of bicycle trails. Activities are coordinated with bike shops and cycling clubs throughout the Philippines to promote the fun of riding bikes. Philippine Cycling will be coordinating events with tour of Luzon, Visayas and Mindanao. Road biking and mountain bikings will be promoted by Philippine Cycling.
Cycling Activity to Participate In
Your cycling activity can be posted here and it will be shown in all the Provincial, City, Municipal and Barangay pages. Your 2015 Cycling Race or Activity can be Posted here.
Tour of Matabungkay 2014 - Billed as "the most awaited road cycling event of the year", the 2014 Tour of Matabungkay attracted a record number of participants at just over 500 riders across the categories for the challenging four stage 3-day race. Read More
Sports News of San Jose, Dinagat Island, Philippines
Every community has its sports hero. Who is the sports hero of San Jose? Are there any basketball courts, tennis courts, volleyball courts, baseball fields, softball fields, or any type of sports area or arena in San Jose? Go ahead and list any upcoming sports events in San Jose.
13-year-old bags gold in world memory tiff
Friday, December 19, 2014 12:00 am
MANILA, Philippines - Jamyla Lambunao bagged a gold medal in the Random Words event and earned the title of International Master of Memory (IMM) during the 23rd World Memory Championship in Hainan, China last weekend.
Competing in the Juniors Division for the first time Lambunao, a Grade 8 student of St. Scholastica's Academy Marikina, successfully recalled 207 words in 15 minutes to give Team Philippines its only gold medal in the tournament ............................... Full Story»
News and Events
PH electronics sector seen growing faster than expected at 7-11% in 2014
Friday, December 19, 2014 5:30 am
MANILA, Philippines–Despite lingering congestion at the ports of Manila, the Philippine electronics industry is seen to grow faster than expected this year at about 7 to 11 percent due to rising global demand and the recovery of key markets.
This growth may, however, slow down to about 5 to 7 percent next year, the Semiconductor and Electronics Industries in the Philippines Inc. (Seipi) reported Thursday ......................... Full Story»
---
EU grants Philippines zero tariffs on strategic exports
Thursday, December 19, 2014 8:00 pm
MANILA, Philippines - The European Parliament on Thursday night (Manila time) completed the last stage in the process to grant the Philippines GSP+ that will provide duty free entry to the EU for some of the most important Philippine exports.
The GSP+ preferences cover over 6,200 tariff lines including fruit and foodstuffs, coconut oil, footwear, fish and textiles ......................... Full Story»
Local Government Unit LGU of San Jose, Dinagat Islands, Philippines
The Sangguniang Panlungsod is composed of the City (Municipality) Vice-Mayor as Presiding Officer, regular Sanggunian members (Councilors), the President of the Association of Barangay Captains and the President of the Sangguniang Kabataan.
They shall exercise and perform the legislative powers and duties as provided for under Republic Act No. 7160, otherwise known as the Local Government Code of 1991. Shall consider and conduct thorough study all matters brought to their attention and consequently pass resolutions, enact ordinances and to introduce recommendations.
---
Elected officials of San Jose for the term of 2013-2016
Mayor Ecleo, Allan Ii Buray
Vice-Mayor Bagunas, Mario Dagale
Councilor:
Libor, Rochelyn Sumbilon
Ecleo, Gracelyn Buray
Labigan, Rafael Argabio
Ecleo, Jessie Dagairag
Olaco, Ricardo Jr. Esmeralda
Medallo, Cristino Sr. Villacarlos
Sepe, Epifanio Sr. Gumaod
Reponte, Rodrigo Olvis
---
Elected officials of San Jose for the term of 2010-2013
Barangay Elected Officials of San Jose, Dinagat Islands
Businesses in San Jose, Dinagat Islands, Philippines
How to Improve Your Business and Livelihood
The Philippine Livelihood Program: The Philippine government provides several programs to enhance the livelihood of the Filipino people. The department of Science and Technology through its Technology Research Center (TRC) regurlarly conducts various types of hands-on and personalized training programs.
DOST - Website
UPLiFT stands for Urban Program for Livelihood Finance and Training. - Website
DSWD Pro-poor and Livelihood Programs - Website
---
Take a picture of your Business (from a Sari-Sari Store to a Mega Mall). Upload that picture here in zamboanga.com and that picture can immediately be your business webpage. It is that easy. Here are two examples of how a picture becomes the webpage of the business: Twins Fried Chicken Restaurant and ABC Shopping Center
Give your business a good description. Add your address and contact number if available.
Possible Businesses
Auto, Trucks, Motorcycle and Bicycle dealers
Banks, Lending Firms, Pawnshops, and Financial Institutions
Clinics, Veterinary Clinics and Hospitals
Pharmacies, Drug Stores, Agri-Vets
Convenient Stores, Hardware and Supplies, General Stores, Sari-Sari Stores, Internet-Cafes
Department Stores and Appliance Stores
Supermarket, wet market, Fish Markets
Hotels, Motels, Pension Houses, Boarding houses and Resorts
Repair Shops: Shoe repair, Cellphone, Bikes (bicycles), motorcycles etc...
Restaurants, Carenderias, Coffee Shops, and Bakeries (Bakeshops)
Salons, Spas, Beauty Shops and Barber Shops
Gas Stations, Water Stations, Propane Stations
Real Estate for Sale in San Jose, Dinagat Islands, Philippines
---
If you have real estate property, whether its commercial, residential, farm land, or just an empty lot in San Jose, you can list that property for FREE HERE in Z-wiki.
You can list your House and lot or farm land for sale for free here in Z-Wiki
Churches, Mosques, or Places of Worship in San Jose, Dinagat Islands, Philippines
The name of your church, mosque, or place of worship can be listed here. Take a picture of the facade of your church or place of worship and it can be posted here. We can even provide you with a free webpage. You can enter the data here yourself or email the information to franklin_maletsky@yahoo.com
Schools in San Jose, Dinagat Islands, Philippines
School year 2014-2015 starts June 2, 2014 and ends March 27, 2015, for public elementary and secondary schools. The school year will have 201 school days, of which 180 days are "nonnegotiable" student-teacher contact time.
---
The name of your school in San Jose can be listed here. You can list it like this:
Name of School. Private or Public. It can be an elementary school, high school, college.

Address of your school
Telephone Number
Principal of the school
You can also create a webpage for your school. We can help you.
Economy of San Jose, Dinagat Islands, Philippines
If you have an article that talks about the improvement of the economy of San Jose you can post that article here. If you come across any news items that talk about the economy of San Jose, you may post it here. Of course you have to reference the writer of the article. Any improvement to transportation, power and service usually improves the economy of the community, so go ahead and report that too.
Natural Resources of San Jose, Dinagat Islands, Philippines
Protect the environment
It is sad but true that as of the year 2012 the rivers of the Philippines continue to be the #1 Sewer Systems of the Philippines.
Protect & Save the Rivers. Do not let your sewer drain into the river. Your community can be the first to initiate this project.
Build your riverbank protection with a built-in gutter system. Reforest within Ten Years - Guaranteed!
---
Let us plant more trees in every barangay in the entire Philippines. It does not make any difference if the barangay is urban, partially urban or rural; we need more trees. Trees will prevent erosion, provide oxygen, prevent green house effect, and even a place of business for the shade tree mechanic.
The Philippines is a tropical country and practically anything will grow. The DENR has the planting trees project that goes on every year. Lots of picture taking for the media. Planting trees one by one is the "human" way of doing it. This individual planting of trees is good if done to "line" the roads and highways with trees or along fences or property divisions, or if you have a plantation.
To reforest the nation of the Philippines we have to plant trees the "mother nature" way. Sow the seeds during the rainy season. Go deep into "bald" forests and plant trees by sowing seeds. If there's not enough volunteers to do this, use the military helicopters to fly over the designated areas and sow the seeds.
Guaranteed within a few years, The Philippines will be lush again. >>Read More
---
We are using our rivers as our sewer system. If you ask a Filipino, "Are the Filipinos a clean people?" The answer is an automatic, "Yes!". However, the Filipinos are suffering from the same disease or attitude as most people do, and that is the "NIMBY" disease or "NIMBY" attitude. (NIMBY) Not In My Back Yard. So it is OK to dump my garbage and sewer there. Not mine! Someone else will take care of it.
This attitude is killing our rivers. Your great-grandparents, grandparents or parents were once proud to tell the stories of how they enjoyed swimming in the river behind your house or nearby. However, you can't say the same or tell the same stories to your kids or grand kids. Why? Because your generation is killing the river.
Contact:
Secretary Ramon J. P. Paje
Department of Environment and Natural Resources
Visayas Avenue, Diliman, 1100 Quezon City, Philippines
+63-2-929-6626
osec@denr.gov.ph
---
We have so much water in the Philippines and yet very little to drink.
---
Instead of relying too much on Diesel fuel and Coal to generate the majority of Philippine's Electrical energy Supply, we can concentrate more on renewable and sustainable source of energy such as: Hydro Power, Solar Power, and Wind Power. We have too many black outs.
Tourists Attractions of San Jose, Dinagat Islands, Philippines
Help us add some of the tourist attractions of San Jose in Z-wiki. This will help boost the local economy of San Jose. Anything that is unique or anything that stands out in your community may be a tourist attraction.
Landmarks are usually photographed a lot by visitors. Post the San Jose landmarks here.
Festivals, Fiestas and Traditions of San Jose, Dinagat Islands, Philippines
Every city has some sort of a festival or tradition that is celebrated every year. In the Philippines almost all barangays that are predominantly populated by Christians celebrate fiesta. Tell us about the festivals, fiestas and traditions of San Jose.
Your Story about San Jose, Dinagat Islands, Philippines
Tell your story about San Jose. You can talk about the good things in San Jose or simply talk about the past. You can talk about the eco-system of San Jose. What is the local LGU doing about the preservation of your natural resources? The topic can start here and once it gets bigger it can have a page of its own in Z-Wiki. It's all up to you.
Click HERE to view more PHOTOS about San Jose.
Disclaimer
Most of the contents in this site are taken from the Department of Tourism, Comelec, National Statistical Coordination Board, DILG: Department of the Interior and Local Government, (LGU) government sites, online news, and other content sites about the specific community. This page does not serve as the official website of the community but rather compliments and helps the community to promote tourism and attract investors.
This is an interactive and collaborative webpage, meant to help promote this community and showcase it to the world via the internet.
This wiki page follows a format. The editor of this wiki page reserves the right to change formats, edit, or delete entries that may be considered as offensive, vulgar or not for the betterment of this wiki page.