LOG IN. UPLOAD PICTURES.

List of the 17 Regions in the Philippines
National - Capital Region ● I - Ilocos ● II - Cagayan ● III - C. Luzon ● IV-A - Calabarzon ● IV-B - Mimaropa ● V - Bicol ● VI - W. Visayas ● VII - C. Visayas ● VIII - E. Visayas ● IX - Zamboanga ● X - N. Mindanao ● XI - Davao ● XII - Soccsksargen ● XIII - Caraga ● XIV - CAR ● XV - BARMM
---
Minimize corruption and maximize prosperity with a Guarantee of One Senator per Region. They divided the Philippines into REGIONS, but kept SENATORIAL representation national with no accountability to any regions.. No wonder many regions remain poor. Petition for a regional senatorial election. All regions will have senatorial representation.
Visit
Zamboanga Shopping to help propagate the
Chavacano Language
Zamboanguita, Negros Oriental, Philippines
Jump to navigation
Jump to search

Location of Zamboanguita, Negros Oriental, Philippines

About 28 kilometers from Dumaguete
Located at the Southern tip of the province of Negros Oriental and across from the island province of Siquijor.
Politically, Zamboanguita is within the third district of Negros Oriental.
To the west of Zamboanguita is the municipality of Siaton, and to the north/east is the municipality of Dauin.
Zamboanguita has a total of 10 barangays
Registered Voters of Zamboanguita as of (2010) = 13,501
Population of Zamboanguita (as of Aug 1, 2007) = 24,914
Land Area of Zamboanguita (as of 2007, in hectares) = 8,586
Zamboanguita is a 4th class Municipality and Partially Urban.
Zamboanguita is in the Negros Oriental province the Negros Island Region 18.
The Philippines has 42,046 barangays, 1488 municipalities, 146 cities, 81 provinces and 17 regions. It has a democratic form of government and the freedom of speech is upheld by law. English is the "lingua franca" and is the mode of instruction in all high schools, colleges and universities. Laws and contracts are written in English.
---
---
List of Barangays in Zamboanguita in the Negros Oriental Province within Region VII-Central Visayas in the Republic of The Philippines
Basac | Calango | Lotuban | Malongcay Diot | Maluay | Mayabon | Nabago | Najandig | Nasig-id | Poblacion
---
The Philippines has been a "decentralized" form of government since 1991, contrary to what most Filipinos think. Ever since the creation of Republic Act 7160, each LGU is responsible for its own domain. Even the smallest LGU the barangay creates its own Budget. It is not dependent on handouts from the city, municipality or province. "IMPERIAL MANILA IS A MYTH!", it does not exist anymore. The Philippine budget formulation system is not centralized. "Budgetary planning has been DECENTRALIZED since 1991". It is the responsibility of each LGU to submit their budgetary needs for review. Failure to submit is the problem.
---

Adopt this webpage. Help your community get more exposure to TOURISTS and INVESTORS. Help us improve this webpage.

---
List of Municipalities in the Negros Oriental Province within Region VII-Central Visayas in the Republic of The Philippines
Amlan (Ayuquitan) || Ayungon || Bacong || Basay || Bindoy || Dauin || Jimalalud || La Libertad || Mabinay || Manjuyod || Pamplona || San Jose || Santa Catalina || Siaton || Sibulan || Tayasan || Valencia || Vallehermoso || Zamboanguita
Cities in the province of Negros Oriental: Bais City || Bayawan City || Canlaon City || Dumaguete City (Capital) || Guihulngan City || Tanjay City
---
A | B | C | D | E | F | G | H | I | J | K | L | M | N | O | P | Q | R | S | T | U | V | W | X | Y | Z
Create Name's page
---
Regions | Philippine Provinces | Philippine Cities | Municipalities | Barangays | High School Reunions
---
---

Seal of the Municipality of Zamboanguita

Map location of Zamboanguita, Negros Oriental
Interactive Google Satellite Map of Zamboanguita, Negros Oriental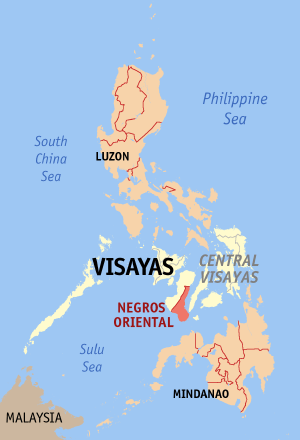 Map Locator of Negros Oriental within the Philippines
AdrenoBoost™ - For Adrenal Gland Functioning

Promotes healthy adrenal gland functioning and hormone balance
Maintains cortisol levels already within healthy limits
Promotes energy levels, alertness and stamina
Helps the body adapt to everyday stressors and adrenal fatigue

Maintains blood sugar levels already within healthy limits
Maintains blood pressure already within healthy limits
Supports healthy circulation, sleep patterns and immunity
Astragalus as one of the main ingredients of AdrenoBoost™

Zamboanguita Municipal Hall

Zamboanguita Municipal Hall
Wars of ancient history were about possessions, territory, power, control, family, betrayal, lover's quarrel, politics and sometimes religion.
But we are in the Modern era and supposedly more educated and enlightened .
Think about this. Don't just brush off these questions.
Why is RELIGION still involved in WARS? Isn't religion supposed to be about PEACE?
Ask yourself; What religion always campaign to have its religious laws be accepted as government laws, always involved in wars and consistently causing WARS, yet insists that it's a religion of peace?
WHY??
Zamboanguita Church or San Isidro Labrador Church is Made of cobblestones.

Thalatta Resort in Zamboanguita

Zamboanguita public park
Zamboanguita,
Province of Negros Oriental, Philippines

Geography of Zamboanguita, Negros Oriental, Philippines
The terrain of Zamboanguita is rolling to hilly with the highest peak of around 1,300 meters above sea level. The shape of Zamboanguita is almost that of a triangle. The base is where the coastline is where 5 of the ten barangays are located. Along the main highway the elevation is anywhere from 3 to 10 meters and it gradually increases as you move inwards. Three rivers run through zamboanguita, namely, Mag-abo, Guinsu-an and Bangculotan Rivers.
Land area of 8,586 hectares
History of Zamboanguita, Negros Oriental, Philippines
Zamboanguita or little Zamboanga acquired its name from its neighbor down south across the sea, Zamboanga City. Zamboanguita was established in 1866. Modest compared to the 6th largest city in the Philippines with 98 barangays, Zamboanguita is doing just fine with its 10 barangays.
Here is a story of how Zamboanguita got its name: Zamboanguita derived its name from an incident involving a coguita (octopus). Long before the Spaniards set foot in Negros Island, fishermen from as far as Mindanao would visit the yet unnamed town and benefit from the bounty of its rich fishing grounds – from its small tugnos (juvenile gobies) to the large iho (shark) in Nearby Apo island.
One day, a group of Moro fishermen fishing in the area found a coguita caught in their fishing net, which they then separated from their fish catch as it had tentacles and had no gills. The leader of the Moro group then ordered one of his men to go to the beach, find a tree and "isab-ong ang coguita" (hang the octopus)." Since then, every time an octopus was caught, it was hung on that particular tree.
The local people eventually started calling the place "Sab-ongan ug coguita." When the Spaniards descended on the town, they called the town "Zamboangaguita" and later on it was shortened to "Zamboanguita"
People of Zamboanguita, Negros Oriental, Philippines
Population of ZAMBOANGUITA, NEGROS ORIENTAL as of 2020 census: 29,569
Population of Zamboanguita as of 2015 census: 27,552
Population of Zamboanguita (as of May 1, 2010) = 24,996
Zamboanguita Population (as of Aug 1, 2007) = 24,914
---
Zamboanguita Registered Voters (2009) = 13,501
Local Government Unit LGU of Zamboanguita, Negros Oriental, Philippines
The Sangguniang Panlungsod is composed of the City (Municipality) Vice-Mayor as Presiding Officer, regular Sanggunian members (Councilors), the President of the Association of Barangay Captains and the President of the Sangguniang Kabataan.
They shall exercise and perform the legislative powers and duties as provided for under Republic Act No. 7160, otherwise known as the Local Government Code of 1991. Shall consider and conduct thorough study all matters brought to their attention and consequently pass resolutions, enact ordinances and to introduce recommendations.
Budget of Municipalities and Cities: The Philippine budget formulation system is not centralized. It has been decentralized since 1991. It is the responsibility of each LGU to submit their budgetary needs for review. Failure to submit is the problem. "IMPERIAL MANILA IS A MYTH!".
---
Elected officials of Zamboanguita for the term of 2019-2022
Municipal Mayor: Glenson Elola Alanano
Municipal Vice-Mayor: Felipe Tuban Elmido
Councilors of Zamboanguita:
Enriqueta Trinidad Alabado
Samson Entea Elnar
Desiderio Diaz Eltanal
Florante Kirit Partosa
Reineria Elopre Trinidad
Mario Credo Pinili
Mario Butalid Elman
Ricky Daven Taan
---
Elected officials of Zamboanguita for the term of 2016-2019
Mayor of Zamboanguita: Glen Alanano
Vice-Mayor of Zamboanguita: Eping Elmido
Councilors of Zamboanguita:
Nandit Galang
Dandan Alabado
Ricky Taan
Renee Trinidad
Erie Eltanal
Dublon Marilla
Samy Elnar
Flor Trinidad
---
Elected officials of Zamboanguita for the term of 2013-2016
Mayor of Zamboanguita: ADANZA, KIT MARC (LP) LIBERAL PARTY
Vice-Mayor of Zamboanguita: ALANANO, GLENSON (NPC) NATIONALIST PEOPLES' COALITION
Councilors of Zamboanguita:
ELNAR, SAMY (LP) LIBERAL PARTY 5467 7.41%
TRINIDAD, FLOR (LP) LIBERAL PARTY 5100 6.91%
ELMIDO, FELIPE SR. (LP) LIBERAL PARTY 4921 6.67%
ALABADO, ENRIQUETA (NPC) NATIONALIST PEOPLES' COALITION 4872 6.60%
MARILLA, DUBLON (LP) LIBERAL PARTY 4697 6.37%
PINILI, MARIO (NPC) NATIONALIST PEOPLES' COALITION 4654 6.31%
PARTOSA, DEODORO (LP) LIBERAL PARTY 4396 5.96%
BALIOLA, ANECITO (LP) LIBERAL PARTY 4285 5.81%
---
Elected officials of Zamboanguita for the term of 2010-2013
---

This is the "Barangay Code of the Philippines".
Every Government Unit in the Philippines is within a Barangay. The municipal hall, city hall, the provincial capitol building, and even the Malacañang Palace where the president resides is within a Barangay.
The barangay has power and authority over its domain. The improvement of the barangay rests on the barangay officials. The barangay chairman, the barangay council and the local businessmen forge the prosperity of the barangay. Not the president of the Philippines, senate, nor congress. Not the governor of the province, not the mayor nor council of the municipality or city. Poor barangays stay poor because of weak and/or ignorant(uninformed) barangay leaders.
When roads or any infrastructure need to be built, improved or repaired, all the barangay officials have to do is make a resolution and present it to the city or municipality council. The resolution will force the city/municipal council or responsible government office to hear the legitimate demands. "The squeaky wheel gets the grease."
Each city or municipality is represented by the "barangay association or federation". The elected president of the Association of Barangay Council and the President of Kabataan (SK) association each have a seat in the City/Municipality council. Their powers are the same and equal to the elected city/municipality councilors. They are there to help lobby the demands of the barangays. They are not there just to collect a big salary and rub elbows with the regular elected city/municipality council, but to also represent the needs of the barangays.
The duties of the barangay officials are specifically written in Chapter III(Punong Barangay) and Chapter IV (The Sangguniang Barangay). Read it..
Practically anything that has to do with the barangay, the barangay officials have a say on it and most likely the authority over it. The majority of the barangay officials are not aware of their duties and power. They depend on the city council or mayor. The elected barangay officials are afraid of the mayor and city/municipality's "Sangguniang Panlungsod". They are in fear of being ousted or removed from office. The truth is, the "Sangguniang Panlungsod" does not have the power to remove or suspend any elected barangay officials from office. Only the COURT OF LAW can do this (judicial branch of the government). Elected public officials can't be suspended by the DILG or the office of the president unless an official complaint has been filed, there must be proof and there must be due process. Republic Act 7160 chapter 4, Section 60. Information is power. Be informed. Do not be intimidated by the president, senator, congressman, governor, mayor, vice-mayor, or councilors. Do your job.
The control of traffic is not up to the city council or chief of police. It is controlled by the barangay. If the barangay needs traffic enforcers, the barangay can make a resolution to demand it from the city or municipality council. When the electric coop or the water district do not maintain their lines, the barangay can directly demand for the maintenance from the utility companies. No need to wait for city council.
The citizens also has the power to make demands to the barangay officials. In case the officials get blinded. Simply file an official complaint with the barangay secretary naming the Punong barangay as the respondent representing the barangay.
If the power lines are sagging, don't go to the power company, go to the barangay office. Ask the barangay for a DEMAND resolution against the power company.
If the water lines are busted, don't wait for the water company, go to the barangay office. Ask the barangay for a DEMAND resolution against the water company.
If the potholes in the road are not fixed, don't wait for the The Department of Public Works and Highways (DPWH), go to the barangay office. Ask the barangay for a DEMAND resolution against the DPWH.
Are you beginning to get the point?
Cleaning the shorelines, drainage systems, streets, rivers, and parks within your barangay is YOUR responsibility. You are accountable for this. It is not the responsibility of the City/Municipality officials. The citizens and officials of the barangay are responsible. Stop blaming others.
BUDGET: As far as the preparation for the budget expenditures, it starts at the barangay level, then moves on to cities, municipalities, provinces and regions. The barangays need to exercise their authority. They need to put their yearly budget together for their administration and future projects. The majority of the barangays leave this job to the municipality and city. This is so wrong. Then when the budget doesn't come or is lacking, they complain.
The budget for the barangays does go to the City or Municipality, but simply for holding and later distribution. The city or municipality DOES NOT approve the budget. It was already approved by congress. The city or municipality simply "distributes" the approved budget.
The bureau of internal revenue is in cahoots to subdue the barangays, municipalities and provinces. They call the rightful shares to the taxes collected as "Internal Revenue Allotment Dependency". It is not a dependency. It is the lawful and rightful share of the LGU as specified in "TITLE III, SHARES OF LOCAL GOVERNMENT UNITS IN THE PROCEEDS OF NATIONAL TAXES, CHAPTER I, Allotment of Internal Revenue Taxes, Section 284."
"IMPERIAL MANILA IS A MYTH!", it does not exist anymore. The Philippine budget formulation system is not centralized. "Budgetary planning has been DECENTRALIZED since 1991". It is the responsibility of each LGU to submit their budgetary needs for review. Failure to submit is the problem.
DURING ELECTIONS: Where do City and Municipality politicians go to campaign? They seek the support of the Barangay officials. They plead to the barangay folks for the votes. Even the candidate for president. But after the election they ignore you. Do not ever forget the power of the barangay.
Ignorance keeps the pinoys thinking that Manila rules. Be informed, be educated and make your barangay prosper.
Absolutely NO need for FEDERALISM. It is a ploy to give the Bangsamoro an Islamic State where the religion of Islam is financed by the Philippine government. Bangsamoro will be a HOMELAND not for all Filipinos but for only the Muslim Filipinos. It violates the constitution's "separation of church and state". Religion is always good for the people but it should never be embraced or financed by government. Tax exemption is not tantamount to financing. Every non-profit organization is tax-exempt.
Businesses in Zamboanguita, Negros Oriental, Philippines
How to Improve Your Business and Livelihood
The Philippine Livelihood Program: The Philippine government provides several programs to enhance the livelihood of the Filipino people. The department of Science and Technology through its Technology Research Center (TRC) regurlarly conducts various types of hands-on and personalized training programs.
DOST - Website
UPLiFT stands for Urban Program for Livelihood Finance and Training. - Website
DSWD Pro-poor and Livelihood Programs - Website
---
Take a picture of your Business (from a Sari-Sari Store to a Mega Mall). Upload that picture here in zamboanga.com and that picture can immediately be your business webpage. It is that easy. Here are two examples of how a picture becomes the webpage of the business: FHM Garden Grill and Catering and ABC Shopping Center
Give your business a good description. Add your address and contact number if available.
Possible Businesses
Auto, Trucks, Motorcycle and Bicycle dealers
Banks, Lending Firms, Pawnshops, and Financial Institutions
Clinics, Veterinary Clinics and Hospitals
Pharmacies, Drug Stores, Agri-Vets
Convenient Stores, Hardware and Supplies, General Stores, Sari-Sari Stores, Internet-Cafes
Department Stores and Appliance Stores
Supermarket, wet market, Fish Markets
Hotels, Motels, Pension Houses, Boarding houses and Resorts
Malatapay Beach Resort
Repair Shops: Shoe repair, Cellphone, Bikes (bicycles), motorcycles etc...
Restaurants, Carenderias, Coffee Shops, and Bakeries (Bakeshops)
Salons, Spas, Beauty Shops and Barber Shops
Gas Stations, Water Stations, Propane Stations
NGO and Non-Profit Organizations
Marine Conservation Philippines - located in Lotuban, Zamboanguita
Real Estate for Sale or lease in Zamboanguita, Negros Oriental, Philippines
If you have real estate property, whether its commercial, residential, farm land, or just an empty lot in Zamboanguita, you can list that property for free.
Click to VIEW, EDIT, or ADD Realty Listings.
You can list your House and lot or farm land for sale or lease for free here in Z-Wiki
Churches, Mosques, or Places of Worship in Zamboanguita, Negros Oriental, Philippines
The name of your church, mosque, or place of worship can be listed in this community page. Take a picture of the facade of your church or place of worship and it can be posted here. We can even provide you with a free webpage. You can enter the data (story about your place of worship) here yourself, email the information or pictures to (franklin_maletsky@yahoo.com) or via Facebook.
---
FILIPINOS WAKE UP! THE TAXES YOU PAID ARE USED BY THE GOVERNMENT TO EXCLUSIVELY FINANCE THE RELIGION OF ISLAM.
Freedom of religion, yes. Equality, yes. But no favoritism.
---
Schools in Zamboanguita, Negros Oriental, Philippines
Take a picture of your school building(s) and send your pictures via email to (franklin_maletsky@yahoo.com) or message me via Facebook. I will then post the pictures in this page.
---
Due to Covid19: Pursuant to the instructions of President Roa Duterte, and as recommended by the DepEd, classes for the year 2021-2022 will be opened but will be monitored.
List of schools: >>> click
PUBLIC NOTICE: Why pretend that the National language of the Philippines is Tagalog? It should be English. To be a Teacher, doctor, lawyer, engineer, architect, nurse, computer technician; what books do you learn from? English books of course. All your tests are in English. The constitution of the Philippines is written in English. All the laws and new laws introduced by congress are in English. For that matter, you can't be a teacher in a school system unless you know English. The "Licensure Exam for Teachers" is in ENGLISH! Who are these people forcing Tagalog down our throats? Tagalog is simply one of the many dialects of the Philippines. Keep your dialects but learn and be fluent and proficient in ENGLISH.
---
High Schools
Decor Carmeli Academy
Jose Marie Locsin Memorial High Achool

Mayabon, Zamboanguita, Negros Oriental, Philippines

Santiago Delmo Memorial High School

National Highway Maluay, Zamboanguita Municipality
Elementary Schools - Basically every barangay has its own Public Elementary School.
Lutoban Elementary School

Lutoban, Zamboanguita Municipality

Zamboanguita Central Elementary School

Magsaysay St. Poblacion, Zamboanguita Municipality

Maluay Elementary School

National Highway Maluay, Zamboanguita Municipality

Nabago Elementary School

Nabago, Zamboanguita Municipality
Economy of Zamboanguita, Negros Oriental, Philippines
The economy of Zamboanguita is growing. Tourism is a major contributor to the economy of Zamboanguita. The local economy is based on corn, copra, fishing and livestock.
If you have an article that talks about the improvement of the economy of Zamboanguita you can post that article here. If you come across any news items that talk about the economy of Zamboanguita, you may post it here. Of course you have to reference the writer of the article. Any improvement to transportation, power and service usually improves the economy of the community, so go ahead and report that too.
Natural Resources of Zamboanguita, Negros Oriental, Philippines
Protect the environment
It is sad but true that as of the year 2012 the rivers of the Philippines continue to be the #1 Sewer Systems of the Philippines.
Protect & Save the Rivers. Do not let your sewer drain into the river. Your community can be the first to initiate this project.
Build your riverbank protection with a built-in gutter system. Reforest within Ten Years - Guaranteed!
---
Let us plant more trees in every barangay in the entire Philippines. It does not make any difference if the barangay is urban, partially urban or rural; we need more trees. Trees will prevent erosion, provide oxygen, prevent green house effect, and even a place of business for the shade tree mechanic.
The Philippines is a tropical country and practically anything will grow. The DENR has the planting trees project that goes on every year. Lots of picture taking for the media. Planting trees one by one is the "human" way of doing it. This individual planting of trees is good if done to "line" the roads and highways with trees or along fences or property divisions, or if you have a plantation.
To reforest the nation of the Philippines we have to plant trees the "mother nature" way. Sow the seeds during the rainy season. Go deep into "bald" forests and plant trees by sowing seeds. If there's not enough volunteers to do this, use the military helicopters to fly over the designated areas and sow the seeds.
Guaranteed within a few years, The Philippines will be lush again. >>Read More
---
We are using our rivers as our sewer system. If you ask a Filipino, "Are the Filipinos a clean people?" The answer is an automatic, "Yes!". However, the Filipinos are suffering from the same disease or attitude as most people do, and that is the "NIMBY" disease or "NIMBY" attitude. (NIMBY) Not In My Back Yard. So it is OK to dump my garbage and sewer there. Not mine! Someone else will take care of it.
This attitude is killing our rivers. Your great-grandparents, grandparents or parents were once proud to tell the stories of how they enjoyed swimming in the river behind your house or nearby. However, you can't say the same or tell the same stories to your kids or grand kids. Why? Because your generation is killing the river.
Contact:
Secretary Roy Cimatu - since May 8, 2017
Department of Environment and Natural Resources
Visayas Avenue, Diliman, 1100 Quezon City, Philippines
+63-2-929-6626
osec@denr.gov.ph
---
We have so much water in the Philippines and yet very little to drink.
---
Instead of relying too much on Diesel fuel and Coal to generate the majority of Philippine's Electrical energy Supply, we can concentrate more on renewable and sustainable source of energy such as: Hydro Power, Solar Power, and Wind Power and thermal energy conversion. We have too many black outs.
Tourists Attractions of Zamboanguita, Negros Oriental, Philippines
Help us post some interesting pictures. This will help boost the local economy of the community. Anything that is unique or anything that stands out in your community may be a tourist attraction.
Landmarks are usually photographed a lot by visitors. Send your pictures via email to (franklin_maletsky@yahoo.com) or via Facebook.
---
Cottage by the Beach
Acqua dive
Wellbeach Dive resort
Fiestas and Traditions of Zamboanguita, Negros Oriental, Philippines
In the Philippines a fiesta is usually celebrated in barrios or barangays. It is the official holiday of the LGU, the barangay. Filipinos love fiestas. It is a time for joy and celebration. A fiesta is of Spanish origin and is usually commemorated in association with a christian patron saint. Most barangays whose population have been clustered by Muslims(Moros) and their population is more than that of the Christians, the celebration of the fiesta have been cancelled and replaced with the Hari Raya or Eid al-Fitr.
The cities or municipalities usually have yearly festivals where all the barangays participate. The cities or municipalities hold contests for the best floats in parades.
---
Traditions of Zamboanguita

Fiesta – San Isidro Labrador, May 15
Every Wednesday - Malatapay: Open market, fresh seafood, vendors compete to give you the best service and the best food. Not just food, its a flea market too. It's a feast with authentic native cuisine. People come from all over to enjoy the scenery and the beautiful seaside extravaganza.
Your Story about Zamboanguita, Negros Oriental, Philippines
Create you own personal page about the barangay in the municipality or City you live in. Title it like so for specificity: "Mybarangay, MyCityMunicipality, Myprovince, Philippines by MyFirstname Mylastname". You can update and edit this page anytime and anyway you want. It does not have to follow the standard format of the main wiki. It is your page. A link to your page will be inserted in this main barangay page. Here is an example page.
If you want the tittle to be more generic then do this: "Philippines by Your name". You can insert your picture of anywhere in the Philippines in this page. This will be your personal WIKI social media page.
You can talk about your personal experiences, your advocacies, the environmental conditions of your barangay, municipality, city or province.
---
The oldest man or woman in Zamboanguita, Negros Oriental, Philippines
Do you know who the oldest man or woman is in your community of Zamboanguita? Zamboanga.com is starting this inquiry in order to honor the older generation of the Philippines. Please provide the full name and date of birth of the elder living in Zamboanguita. We will then post your entry in the Oldest Man or Woman in the Philippines page.
Featured News of The Philippine
Updated: January 17, 2022
Legazpi, 5 Albay towns suspend classes as Covid-19 cases soar.
LEGAZPI CITY – This city, along with five municipalities in Albay province, announced on their respective social media accounts on Monday the suspension of classes from January 17-28 due to rising number of active coronavirus disease 2019 (Covid-19) cases. In an advisory, Legazpi City Mayor Noel Rosal said the order is part of the City Inter-Agency Task Force's preemptive action, considering the surge of confirmed infections in the city. The suspension of classes covers all levels in both public and private schools and "submission of academic requirements and conduct of other teaching-related activities shall be moved to a later date," the announcement read.
→|||||←
Iloilo City targets 60K kids in vax drive for 5-11 age group
ILOILO CITY – The local government here is gearing to commence its pediatric vaccination targeting more or less 60,000 children aged five to 11 years old by the end of this month. "Once we roll out the vaccination for 5 to 11 (years old), we already identified two mega vaccination sites that will cater only to this age group to separate them (from other vaccinees)," said Dr. Roland Jay Fortuna, Iloilo City Covid-19 focal person, in a press conference on Monday. He said the use of the gymnasiums of the Ateneo de Iloilo Sta. Maria Catholic School and the Central Philippine University (CPU) is still subject to confirmation.
Source: "PNA.GOV.PH"
Zamboanguita, Negros Oriental, Philippines supports Philippine Cycling
Philippine Cycling is about cycling in the Philippnes. Philippine Cycling helps promote bike races, cycling clubs, bicycle tours, and the development of bicycle trails. Activities are coordinated with bike shops and cycling clubs throughout the Philippines to promote the fun of riding bikes. Philippine Cycling will be coordinating events with tour of Luzon, Visayas and Mindanao. Road biking and mountain bikings will be promoted by Philippine Cycling.
Cycling Activity to Participate In

Your cycling activity can be posted here and it will be shown in all the Provincial, City, Municipal and Barangay pages. Your 2015 Cycling Race or Activity can be Posted here.
ILOILO CITY, April 27-May 2, 2015 (PNA) – Some 5,000 bikers are expected to join the second Iloilo Bike Festival slated April 27-May 2, 2015 as the city continues to aspire to become a bike-able walkable metropolis. The activity that supported by the John B. Lacson Foundation Maritime University (JBLFMU) and Megaworld Iloilo aims to promote Iloilo as a safe and bike friendly city, promote the share-a-road movement encourage Ilonggos to commute via biking and raise Ilonggos awareness on the benefits of biking on health, safety and environment concerns. Read More....
CYCLING Le Tour de Filipinas 2015 set as country celebrates 60 years of top-caliber cycling Feb 1 to Feb 4 2015 - View the result of the race: A four stage race. Stage 1 starts in Balanga and back to Balanga for a 126K race Feb 1, 2015 (Sunday); stage 2 starts in Balanga, Bataan to Iba, Zambales for a 154.7 K race Feb 2, 2015 (Monday); stage 3 starts in Iba, Zambales to Lingayen, Pangasinan for a 150.1K race Feb 3, 2015 (Tuesday); stage 4 starts in Lingayen, Pangasinan to Baguio City, Benguet for a 101.7K race Feb 4, 2015 (Wednesday). For a total distance of 532.5 Kms. Read More >>>
Ronda Pilipinas: Feb 8 - 27 2015:>> Discovering young riders for the national team will be the main objective of the LBC Ronda Pilipinas 2015 when the country's premiere cycling race hits the road on Feb. 8 in Butuan City. Ronda Pilipinas executive project director Moe Chulani said the international multistage bikathon, which ends on Feb. 27, will have two qualifying legs of four stages each in Mindanao and the Visayas where the top riders will advance to face a tough foreign challenge in the six-stage Luzon finale. Read More>>>
Do this so your photo upload will be properly categorized for Zamboanguita.
Copy and paste the code below in "GREEN" to the body or "Summary" of the image file that you are uploading.
{{zadheader pictures}}
[[Category:Zamboanguita, Philippines Photo Gallery]]
[[Category:Negros Oriental, Philippines Photo Gallery]]
=[[Zamboanguita, Negros Oriental, Philippines]]=