Zamboanga del Sur News October 2012
Jump to navigation
Jump to search
→ → Go back HOME to Zamboanga: the Portal to the Philippines.
A | B | C | D | E | F | G | H | I | J | K | L | M | N | O | P | Q | R | S | T | U | V | W | X | Y | Z
Create Name's page
Regions | Philippine Provinces | Philippine Cities | Municipalities | Barangays | High School Reunions
---
Zamboanga del Sur - Archived News
---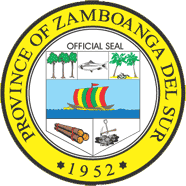 Seal of Zamboanga del Sur Province
Interactive Google Satellite Map of Zamboanga del Sur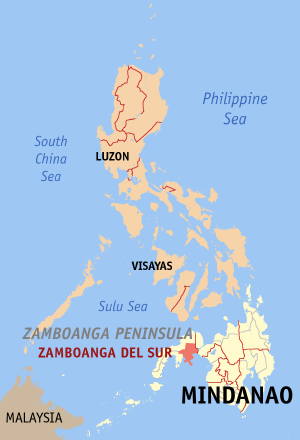 Zamboanga del Sur Map Locator

Municipalities within Zamboanga del Sur

Provincial Capitol of Zamboanga del Sur

Provincial Capitol of Zamboanga del Sur, Santo Niño, Pagadian city
Dietary supplement is a product that contains vitamins, minerals, herbs or other botanicals, amino acids, enzymes, and/or other ingredients intended to supplement the diet. The U.S. Food and Drug Administration has special labeling requirements for dietary supplements and treats them as foods, not drugs.
---
---
Manufacturers and distributors of dietary supplements and dietary ingredients are prohibited from marketing products that are adulterated or misbranded. That means that these firms are responsible for evaluating the safety and labeling of their products before marketing to ensure that they meet all the requirements of DSHEA and FDA regulations.
Lapuyan Falls: The favorite haunt of the fair Subanen maidens of Sitio Baga and all its neighboring areas, usual meeting place with many a young country swain in some secluded cavern beneath the rocky forest lane.

Lakewood, Zamboanga del Sur, Philippines

Village of Pedagan
Wars of ancient history were about possessions, territory, power, control, family, betrayal, lover's quarrel, politics and sometimes religion.
But we are in the Modern era and supposedly more educated and enlightened .
Think about this. Don't just brush off these questions.
Why is RELIGION still involved in WARS? Isn't religion supposed to be about PEACE?
Ask yourself; What religion always campaign to have its religious laws be accepted as government laws, always involved in wars and consistently causing WARS, yet insists that it's a religion of peace?
WHY??
There are only two kinds of people who teach tolerance:
The Bullies. They want you to tolerate them so they can continue to maliciously deprive you. Do not believe these bullies teaching tolerance, saying that it's the path to prevent hatred and prejudice.
The victims who are waiting for the right moment to retaliate. They can't win yet, so they tolerate.

Lintugop, Aurora
Pagadian City, Zamboanga del Sur

Provincial human resource management office of santo niño pagadian city

Civil Service Commision office in santo niño pagadian city
Province of Zamboanga del Sur, Philippines
Mining firm TVIRD closes 'danger zone' in Zamboanga to protect public
By: Mindanao Examiner
Wednesday, October 31, 2012
PAGADIAN CITY- TVI Resource Development (Phils.) Inc. on Wednesday said it is limiting the entry of civilians to its Mineral Production Sharing Agreement area in Sitio Balabag in the town of Bayog in Zamboanga del Sur province.
It made the announcement after intelligence reports from authorities revealed the possibility that an undisclosed number of high-powered firearms, explosives, and regulated chemicals are still being concealed by illegal mining operators in the area.
"The entry restriction to Balabag is a precautionary measure that the company is taking to protect the safety of the community," Yulo Perez, TVIRD's Vice President for Operations, said in a statement sent to the regional newspaper Mindanao Examiner.
He added: "Earlier geological studies conducted by company geologists likewise revealed that Balabag has become a geo-hazard area due to the proliferation of illegal miners' un-engineered underground mine tunnels."
Bayog Mayor Leonardo Babasa Jr. also said that Balabag has become a danger zone and poses both health safety and security risks to people. Aside from polluting the area with their chemical-laden mine wastes, illegal miners are likewise maintaining armed personnel who are being blamed for lawlessness and rising criminality, including a number of unresolved deaths in the area.
The information was confirmed by locals who said that they have seen other high-powered firearms, which were not among those confiscated by police authorities in a raid conducted in the area previously.
An improvised explosive device also exploded last week at a road in the village of Dipili just near to TVIRD's MPSA area and authorities were saying that the blast could be mine-related.
Just recently, members of the Criminal Investigation and Detection Group, led by Senior Superintendent Edgar Danao, raided several illegal mine processing facilities in Balabag and confiscated at least 13 high-powered firearms that included an M16 Armalite rifle, a KG9 sub-machine gun, some 4,000 meters of detonating cord, four sacks of commercial dynamites, and assorted ammunition.
Police also seized cyanide and nitric acid which are highly toxic chemicals used in gold mining operations. At least 16 suspected illegal miners, including Bayog town councilor Julieto Monding, are now facing multiple charges for violating Republic Act No. 8294 for the illegal possession of firearms, ammunition, and explosives. They too, were charged for violating RA 6969, for the possession of toxic substances.
Following the CIDG raid, Zamboanga del Sur Governor Antonio Cerilles, ordered the implementation of a cease and desist Order on all illegal mining operations in Balabag. A multi-agency composite team, comprised of representatives from the Provincial and Municipal governments, Mines and Geosciences Bureau, Environmental Management Bureau, Zamboanga del Sur Provincial Police Office, and National Bureau of Investigation.
A total of 108 rod mills and 65 carbon-in-pulp plants were dismantled by authorities.
Police seized weapons cache, explosives in Zambo Sur raid
By: Mindanao Examiner
Tuesday, October 30, 2012
An unidentified gunman shot and wounded the head of an environmental group who was opposing destructive mining and illegal logging operations in the southern Philippines, according to Kalikasan People's Network for the Environment.
It said Dr. Isidro Olan, executive director of the Lovers of Nature Foundation, was shot while he was driving home in the town of Carmen in Surigao del Sur on Monday afternoon.
"Dr. Olan was a passionate environment defender who opposed destructive and large-scale mining as well as illegal logging activities in Cantilan and other areas of Surigao del Sur. We ask for everyone's prayers for Dr. Olan's immediate recovery, and for justice to be swiftly exacted upon the assassins and their clients as well," Fr. Oliver Castor, spokesperson for the Task Force Justice for Environment Defenders, said in a statement sent Tuesday to the regional newspaper Mindanao Examiner.
The motive of the attack is still unknown, but Castor said there could be no other motivation to assassinate Olan than his staunch opposition to ecologically destructive projects in their areas.
"If the Aquino government claims to be hard workers for the protection of human rights, we demand to hear about their work on Dr. Olan's case now. In fact, we would like to hear what about what they have done now about the 61 extrajudicial killings of environment defenders we recorded since 2001 that remains languishing in court up to the present," the priest said.
Clemente Bautista, convener of the Defend Patrimony Alliance, said the failed assassination of Olan sent a chilling effect to environmental advocates.
"It's not even Halloween and yet this latest attack on Dr. Olan already produces a chilling effect to environmental advocates. The year 2012 is already the bloodiest year for environmental advocates in this new millennium, and it infuriates us to remember that President Benigno Aquino dismissed the ever mounting cases of human rights violations in the country is dismissed as just propaganda of the Left. Is the attempt to take the life of Dr. Olan for his defense of the environment not real enough for Aquino?" Bautista asked.
Both groups demanded for an immediate and independent investigation of the attempted assassination of Olan. No individuals or groups claimed responsibility for the attack.
In September, gunmen ambushed a Subanen tribal leader Timuay Locenio Manda and his son Jordan in Zamboanga del Sur province. His son was killed in the attack.
Manda, who is fighting for their ancestral lands, was heading to school to bring his son when gunmen attacked them in the town of Bayog. Two of the 5 attackers, were arrested days later.
"In my effort to assert our rights and to protect our people and ancestral domain, my beloved son was sacrificed. It is very painful and I thirst for justice," he said. "I vow to continue my struggle in order not to make my son's death in vain. I need your support in this most trying time of my life as a father and a leader."
Manda's group – representing the 3,000-strong Council of Pigsalabukan Guhom de Bayog - is claiming some 23,800 hectares of lands in the town where several mining companies are operating.
Government authorities recently shut down illegal mining activities in Bayog and charged at least 16 people, including a town councilor, accused as one of the mining financiers.
Police seized weapons cache, explosives in Zambo Sur raid
Source: www.mindanaoexaminer.com/news.php?news_id=20121028023915
By: Mindanao Examiner
Sunday, October 28, 2012
Police seized a cache of weapons and explosives and tons of hazardous chemicals used by illegal miners in the mountain town of Bayog in the southern Philippine province of Zamboanga del Sur.
Police also filed criminal charges against a town councillor and 15 others following a raid at the miners' hideout in Balabag, site of recent government crackdown against illegal mining operations.
Senior Superintendent Edgar Danao, regional chief of the Criminal Investigation and Detection Group, said they raided the compound owned by Bayog town council member Julieto Monding and seized assorted weapons and explosives.
He said also confiscated from the compound were 13 high-powered firearms, including M16 rifles and KG9 sub-machine gun; 4,000 meters of detonating cord, four sacks of commercial dynamites and assorted munitions, including nitric acid and tons of highly toxic and deadly cyanide, used in illegal gold processing operation.
Danao said they have 21 search warrants issued by the court. They also swooped down on Monding's 14 rod mills and dozens of carbon-in-pulp plants.
Monding - who is running for mayor in next year's polls - is also a member of the Monte de Oro Small Scale Miners Association, which is illegally operating in Balabag for decades now. Their operation was halted after a government order was enforced recently by authorities that put a stop to all forms of illegal mining activities in the town.
"The operation is not mining related, nor it is related to the implementation of the cease and desist order issued by the Mines and Geosciences Bureau. It is purely police matter. It is more on peace keeping since it is widely known that there are high-powered firearms and explosives in Balabag. It is for crime prevention because we know there is lawlessness and high rise of criminality in the area," Danao said.
"We could not have filed airtight cases without the hard work of our intelligence operatives in the area. I am commending my men because while they worked hard to meet our objective, respect for people's rights were observed," he added.
He said nine of those charged are members of the indigenous Subanon tribe who are natives of the area. There was no immediate statement either from Monding and the others or the Monte de Oro Small Scale Miners Association about the charges against them.
The Department of Interior and Local Government earlier ordered an investigation into the illegal activities of Monding and other town officials allegedly involved in clandestine mining operations in Balabag.
WRIT OF KALIKASAN
The National Bureau of Investigation is now consolidating pieces of evidence that will lead to the filing of Writ of Kalikasan against illegal miners in Balabag due to the magnitude of environmental destruction they caused during their almost 30 years of mining operation.
Writ of Kalikasan is a legal remedy under Philippine law which provides for the protection one's right to "a balanced and healthful ecology in accord with the rhythm and harmony of nature." It also protects one's right for a healthy environment.
Lawyer Jose Rommel Ramirez, chief of the NBI's Environment and Wildlife Protection Division, said decades of illegal mining operation in the area have affected not only the residents of Bayog, but the province as well.
He said Bayog town Mayor Leonardo Babasa, Jr. and several village officials have submitted their sworn statements attesting several violations by illegal miners of the Mining Act of 1995 and other environmental laws.
Zamboanga del Sur Governor Antonio Cerilles said illegal mining operation in Balabag has contaminated water supplies in Sibugay Valley that is largely used by farmers in their irrigation in the town of Bayog, Imelda, Buug, Diplahan and Siay.
"Farmers from these municipalities are getting irrigation waters from Dipili River whose tributaries include Balabag and Depore Creeks," he said.
He said tons of mine wastes heavily laden with mercury and cyanide flowed out freely from shallow ponds dug by illegal miners and merged with the waters from Dipili River. The Dumaguillas bay has become the catchment basin of the waters from river.
Fish kills were also reported in the area and had been largely blamed to illegal mining operation from Balabag.
Cerilles said wastes from Balabag might be one of the causes of the recurring red tide in Dumaguillas Bay, the source of marine products in the province.
Depore village chieftain Romeo Sungcad said many residents have suffered long enough from the environmental destruction wrought by the illegal mining operations. "We can't make use of the Dipili River anymore because we know it is laced with toxic chemicals like cyanide and mercury," he said.
Sungcad said his rice paddies have turned reddish due to pollution caused by illegal mining and that he reported this to the Department of Department of Environment and Natural Resources.
Ernesto Mancao, a council member of Depore, said the massive siltation caused by illegal mining activities flowed from Balabag down to residential and farming areas.
Rebels burn down poultry farm in Zamboanga del Sur
By: Nikko Dizon
Saturday, October 27, 2012
Between 9,000 and 10,000 chickens were roasted Friday when alleged communist insurgents torched the poultry farm of a businessman in Zamboanga del Sur who had supposedly refused to pay them protection money, the military said Saturday.
A statement issued by the Army's 1st Infantry Division said the attack was carried out by the New People's Army under the Mindanao Regional Party Committee, which had allegedly been demanding P60,000 monthly from poultry farm owner Onyx Go.
The incident took place at 12:30 a.m. Saturday in Barangay (village) Dalaon, Molave, in Zamboanga del Sur, according to Captain Alberto Caber, spokesman of the Army's 1st Infantry Division.
Caber said some 9,000 to 10,000 chickens were housed in the two poultry houses that the rebels allegedly set on fire. Losses were estimated at P3.5 million to P4 million.
A witness to the incident said that seven armed rebels, including a woman wearing a bonnet, entered the compound at around midnight, frisked farm workers and confiscated their cellular phones.
Some of the armed men poured gasoline around the buildings and, 30 minutes later, set them on fire.
Quoting Go, the military statement said the NPA extortion unit called the businessman by phone after the fire to warn him to pay up so that his farm would not be burned again.
Caber said the area had been cleared of communist insurgents but lately, "their extortionists" have returned to harass businessmen.
"The NPA has been asking money from [Go] for a long time. Last year, they held up his 'lechon manok' business in Poblacion Molave. After that they would call him up to demand [money]," Caber said.
The incident prompted 1st Infantry Division commander Major General Ricardo Rainier Cruz III order intensification ordered tighter security measures to prevent a recurrence of the arson and alleged extortion, the statement said.
"We must intensify intelligence operations and maximize information-sharing with the PNP counterparts and other stakeholders," Cruz said.
Zamboanga del Sur gov't demands damages from illegal miners
By: Roel Pareño
Friday, October 26, 2012
The provincial government of Zamboanga del Sur demanded damages and held the so-called "big time" illegal miners accountable for the environment destruction and abuse of law and tribal rights in the mineral rich-town of Bayug.
Governor Antonio Cerilles called for justice against more than 40 illegal mining groups which have been dismantled in Sitio Balabag by an inter-agency task group after the Mines and Geosciences Bureau early this week.
"They had been lording over Balabag for years, denying government millions in taxes, enriching themselves in the process, and depriving their laborers of their right to government-mandated salaries and benefits," Cerilles said in a statement.
Cerilles is questioning who would pay the damages done to Balabag area, citing that the water supply that sustains the agriculture and fishing industry have been contaminated.
Cerilles demanded that the illegal mining operators must rehabilitate the destruction brought by the years of illegal and improper method of mineral extractions.
"I think the cost of the rehabilitation should neither come from the government nor from anybody else. It should be them," Cerilles said.
The task force - composed of the Provincial Government, MGB, Environmental Management Bureau, the Philippine National Police, National Bureau of Investigation, elements of the 53rd Infantry Battalion and the Bayog Local Government – has been implementing the cease and desist order of the MGB in in Sitio Balabag, Depore, Bayog town.
The task force have so far dismantled about 60 percent of the mining equipment in the area that include several rod mills. Carbon-in pulp plants, and generating sets without any resistance.
Other small scale mining operators have requested to voluntarily dismantle their facilities but the task force demanded that the equipment must be turned over to the authorities for proper inventory, Anthony Padayhag, executive assistant of Cerillesm said.
Padayhag said Cerilles demanded that the waterways in Balabag, which have been polluted by toxic chemicals, must be rehabilitated and cleaned-up immediately.
"The area's soil and water ecosystem must be inspected while reforestation should takes place to replenish the logged-out forests of Balabag hills," Padayhag added.
Zamboanga illegal mining operations stopped
By: Mindanao Examiner
Wednesday, October 24, 2012
PAGADIAN CITY– Philippine authorities on Wednesday shut down dozens of illegal mining operations in the southern province of Zamboanga del Sur, enforcing a long-due government order to halt all forms of destructive mining practice in the area.
The operations, which started on Tuesday, targeted small-scale miners who are members of the Monte de Oro Small Scale Miners Association operating in Balabag Hill in Bayog town, where the TVI Resource Development (Phils.) Inc. also operates.
A police convoy, briefly halted by a roadside explosion in the town, swooped down in Balabag and dismantled dozens of rod mills and other structures used by illegal miners. Members of the National Bureau of Investigation and the Criminal Investigation and Detection Group were also in the area supervising the operations.
Policemen also seized illegal chemicals, including mercury, nitric acid and cyanide, used by local miners in the processing of gold.
"We are happy that authorities finally enforced the government order to put a stop to all illegal mining activities in Balabag," Lullie Micabalo, a spokesperson for TVI Resource Development (Phils.) Inc., told regional newspaper Mindanao Examiner.
The Zamboanga del Sur provincial government and the Mines and Geosciences Bureau of the Department of Environment and Natural Resources have previously ordered a stop to all hazardous and illegal mining operations in Balabag, especially those involving the Monte de Oro Small Scale Miners Association, but the unabated illegal mining activities still continue.
The Monte de Oro Small Scale Miners Association insisted its operation is legal and even applied for a permit so its members can continue their activities, but the Provincial Mineral Regulatory Board also issued a resolution denying the group's application to mine.
Illegal miners have been operating in Balabag for more than a decade now and were largely blamed for the destruction of the mountain and environmental pollution in the town.
In July, a private security guard shot Godofredo Jungoy, Jr. dead an illegal miner Wilbert Catampungan who was trying to smuggle chemicals and fuel inside an area where the TVI operates.
The company said the security guard was only defending himself after he had been attacked and mauled by a gang of mine workers. The illegal miners, who are members of the Monte de Oro Small Scale Miners Association, were sneaking under cover of darkness bags of cyanide, activated carbon, and diesel fuel to use in their outlawed gold processing plants in Balabag.
Jungoy, accompanied by his lawyer, told police that he was trying to stop a group of illegal miners, who were smuggling illegal chemicals within the area of TVI in Balabag where the company has a Mineral Production Sharing Agreement with the government.
MPSA is an agreement between a TVIRD and the Philippine government wherein the firm is granted exclusive right to conduct mining operations within Balabag.
GIVING BIRTH
By: www.mb.com.ph
Tuesday, October 23, 2012
PAGADIAN CITY- The chief of Zamboanga del Sur Medical Center has recommended that mothers giving birth should have access to facility based delivery (FBD) and skilled birth attendants (SBA) to ensure her and her baby's safety. "Delivery at the facility is very important and delivery attended by skilled birth attendants, rather than delivering at home which is handled only by a 'hilot," Zamboanga del Sur Medical Center Chief Dr. Ma. Rovel Blancia said. Under the Millennium Development Goal (MDG), the Philippines aims to reduce maternal mortality to at least 52 per 100,000 live births by 2015, Blancia said.
NMIS celebrates 19th Nat'l Meat Safety Consciousness Week, 40th anniversary
By: Claro A. Lanipa
Monday, October 22, 2012
PAGADIAN CITY- The National Meat Inspection Service (NMIS) celebrates its 19th Meat Safety Consciousness Week with the theme "Karneng Ligtas at Sapat, Kabalikat ng Lahat." (Sufficient and Safe Meat is Everybody's Concern).
NMIS Week also coincides with the agency's 40th anniversary celebration this month.
NMIS 9 Technical Director Arturo De Jesus said, the theme for this year recognizes the role of everyone towards sufficient supply of safe meat.
"In our goal towards self-sufficiency, let us not sacrifice public safety or public health over production," de Jesus said.
De Jesus also appealed to meat establishment operators to ensure that their establishments are thoroughly clean before and after operation.
"Make certain that workers have medical certificate, free from any diseases and handling of meat and meat products must be on a hygienic and sanitary manner," he emphasized.
De Jesus said, "in the surveillance study conducted by NMIS, it was found out that some workers do not observe proper hygiene."
"With this observation, our office has reminded plant operators and informed them regarding certain observations and we have also advised them to improve their food handling practices," he said.
Proclamation No. 276 declares third week of October of every year as Meat Safety Consciousness Week.
Operation Timbangan at Pagadian City public market
By: Miriam Fe E. Jacinto
Friday, October 19, 2012
PAGADIAN CITY- Vendors at the Pagadian City Public Market were surprised with the conduct of Operation Timbangan from ConsumerNet, a group of several government agencies whose thrust is to protect the interest of consumers at large.
Among the government agencies that joined the operation were the Department of Agriculture, Department of Health, Department of Education, Department of Trade and Industry, and the Office of the Pagadian City Market Superintendent.
The activity is to highlight the observance of the Consumer Welfare Month in October with the theme "Get Organized. Be Heard. Be Empowered."
Operation Timbangan at the Pagadian City Public Market aims to bring awareness to the consuming public that they should be vigilant against deceitful businessmen who manipulate weighing scales, particularly in the public markets and sell under-weighed products.
As a result of the Operation Timbangan, 48 defective weighing scales in the different sections, namely, 18 vegetable and fruit sections, nine fish section, 14 meat section and seven rice section were confiscated and the owners of said weighing scales will pay a fine imposed by the Office of the City Treasurer.
As provided by law, the regulation of the use of weights and measures (weighing scales) is under of the office of the city or municipal treasurer.
The Consumer Act of the Philippines (R.A. 7394) clearly provides that consumers are to be protected against deceptive, unfair, and unconscionable sales act and practices.
With the undertaking of the Operation Timbangan, it is the aim of the ConsumerNet to bring to public consciousness this provision of law.
Tesda now open to assess drivers, to earn national certificate
By: Gideon C. Corgue
Thursday, October 18, 2012
PAGADIAN CITY- Drivers of buses, jeepneys, and vans who want to have a National Certificate (NC) II and NC III may now file their application/enrollment as the Technical Education and Skills Development Authority (Tesda) announced it is now accepting applicants for assessment.
Provincial Director Eulalio Lumactod said applicants can register and take the assessment (written exam) at the Tesda provincial office, where the evaluation/assessment is being conducted daily.
Lumactod said applicants will be issued NC II and III certificates once they are evaluated as competent by their assessors. "The NC is one of the requirements before a certificate of public convenience (CPC) is issued," he said.
Lumactod said drivers of public utility buses should be certified by Tesda with a Driving National Certificate III upon passing the assessment while jeepney drivers or drivers of other modes of public land transportation should be certified by Tesda with a Driving National Certificate II.
The Tesda chief said Department of Transportation and Communications has issued Department Order No. 2011-25 or the inclusion of driver proficiency standard as an additional requirement in the application of regulatory powers of the Land Transportation Franchising and Regulatory Board to issue certificates of public convenience to jeepney, van and bus drivers. The order also aims to ensure safety of passengers of public utility vehicles.
The CPC is one of the requirements of bus, van and jeepney drivers in the renewal of their driver's license in the Land Transportation Office.
Lumactod said those who are interested to take the assessment must apply in the office and must bring the following requirements: examination fee of P400 and two pcs. passport size, noncomputer-generated pictures (front view position with collar and white background).
For further details, applicants are advised to visit Tesda office at Dao, Pagadian City or call at tel. nos. 214-1234, and mobile no. 090870289931, 09157039775.
DOE, PEMC sets public consultations on proposed IMEM
By: Jocelyn P. Alvarez
Wednesday, October 17, 2012
PAGADIAN CITY- To make the public understand in a comprehensive and detailed manner the power supply challenges that beset the region , the Department of Energy (DOE) in partnership with the Philippine Electricity Market Corporation (PEMC) will conduct series of public consultations on the proposed Interim Mindanao Electricity Market (IMEM).
The first leg of a series is set on October 22 in Cagayan de Oro City.
Atty. Josefina Patricia Asirit, chief of staff and undersecretary of the DOE, in a statement said said the activity is part of the department's continuing effort to improve the current power supply situation in Mindanao.
Asirit said the consultations will also discuss the proposed policies and actions of the DOE to address the situation in the region including the establishment and operationalization of the IMEM.
"It is envisioned that with the IMEM, we will be able to attract more power generation investments in Mindanao," the DOE Chief said.
DA calls for organic farming nationwide
By: PIA
Thursday, October 11, 2012
PAGADIAN CITY- The Department of Agriculture is pursuing its organic agriculture campaign by trying to reach out to organic farming practitioners in the country.
The National Organic Agriculture Board (NOAB), together with the Bureau of Agriculture and Fisheries Product Standards (BAFPS), is visiting major regions in the country to update all organic practitioners from the non-government organizations (NGO), peoples' organizations (PO) and local government units on the implementing rules and regulations of the Organic Agriculture Act of 2010 (R.A. 10068) as well as its programs that are beneficial to farmers.
In Zamboanga Peninsula, the conduct of the Mindanao-wide NGO-PO Forum in Dipolog City raised questions and presented major concerns that focused on the sustainability of the program and the technicalities of the proposal-making for the program grant.
During the opening, DA-Dipolog City Officer–In-Charge Vicente Balinguit read the message of Regional Executive Director Eduardo B. Holoyohoy that said "the activity supports the Food self-sufficiency and nutrition security through sustainable organic and ecological agriculture in the Philippines and the production of 'healthier' food through organic farming."
He also quoted Secretary Proceso J. Alcala saying "our emphasis on organic farming rests on our thrust to surmount dependency on imported agricultural chemicals which not only drain our foreign exchange reserves, but also contribute to environmental and land degradation."
Rey Pedroso of the Badianagan Organic Farmers' Association and Visayas Representative for Small Farmers said, "The department is serious in its advocacy for the sustainability of the program but since the main thrust of DA is food security, we cannot abruptly shift from conventional to organic as it might cause food shortage in the country."
To advance the program to the next level, grants are given in the form of organic farming infrastructures, trainings/extensions, and production support in which the organizations are required to submit proposal to be approved by the NOAB.
"Slowly and patiently we are trying to win the hearts of other entities to shift to organic farming as there is no question about its environmental sustainability and health benefits. The creation of R.A. 10068 means that you are already recognized as organic agriculture farmers, from there let's create a common perspective," added Dr. Charito Medina, of Magsasaka at Siyentipiko Para sa Pag-unlad ng Agrikultura.
As part of the department's support to the farmers, DA-RFU-IX Organic Focal Person Peter Andalahao proposed a proposal-making training as an aid for the approval of the requests of farmers.
SEC uncovers P244-M double-your-money scam
By: Doris C. Dumlao
Wednesday, October 10, 2012
The Securities and Exchange Commission has uncovered a P244-million "double-your-money" scam perpetrated by a Pasay-based trading firm Aman Futures Group Phils. Inc. that allegedly victimized investors—especially low-income earners—in Pagadian City and other parts of Visayas and Mindanao.
Based on a cease-and-desist order (CDO) dated Oct. 8 issued by the five-member SEC en banc chaired by Teresita Herbosa, Aman Futures was directed to immediately stop offering unregistered securities, soliciting investments or pooling funds. "Unless restrained," the SEC said this company would " operate as a fraud on investors or is otherwise likely to cause grade or irreparable injury or prejudice to the investing public."
After the CDO decision, Herbosa told reporters that the next step would be to "find basis for a criminal complaint" with the help of witnesses.
Citing the need to "forestall grave damage and prejudice to all concerned and to ensure the preservation of the assets" for the benefit of investors, Aman or any of its representatives, salesmen and agents were barred from transacting any businesses involving the funds in its depository bank. They were also prevented from transferring, disposing or conveying any of the assets – real or personal, including bank deposits – of involved persons.
Aman Futures is chaired by one Manuel Amalilio, a Filipino of Malaysian descent, whose alleged scheme was to solicit investments or money placements, promising to return the entire sum in the form of post-dated checks plus investment profit raging from 15 to 30 percent to as high as 40 percent. The SEC said "it appears that what lures investors in parting with their money is the promise and corresponding expectation of high returns or profits."
The en banc's order was based on a report by the SEC enforcement and prosecution department (EPD), which in turn acted on complaints from concerned citizens and government agencies about this alleged double-your-money scam. Based on the EPD report, "people are allegedly lining up every day in order to invest their hard-earned money in the hope of receiving the promised return."
Citing a September 6 conference with Aman Futures, the SEC documents noted that the company's corporate secretary Isagani Laluna and Lurix Lopez, one of the directors, claimed that Amalilio was a long-time commodity futures trader in Malaysia and Japan. They said Aman Futures accepted investments or money placements via checks or bank transfers and at the end of a 20- to 30-day period, Aman Futures would put into the investor's account the principal plus the profit ranging from 15 to 40 percent.
The Aman Futures officials said Aman Futures had a customer agreement with Malaysian brokerage firm Okachi (Malaysia) Sdn. Bhd. that in turn engages in futures trading of commodities such as oil, manganese, palm oil and nickel.
The SEC uncovered four "grave" violations of the Securities Regulation Code by Aman Futures in this case.
   non-registration of securities sold as investment contracts;
   non-registration as broker or dealer but acting as such;
   engaging in commodity futures contracts despite a prohibition by the SEC; and,
   engaging in activities that are "off tangent" with the company's primary purpose as a general trading company.

"Nowhere in the primary purpose of Aman Futures is it stated that the company can engage in the business of soliciting and accepting investments and money placements from the public," the order said.
PNP holds stakeholders forum to restore peace and order in Bayog
By: Gideon C. Corgue
Monday, October 08, 2012
PAGADIAN CITY, Zamboanga del Sur- The Philippine National Police (PNP) has organized a stakeholders' forum to restore peace and order in Bayog, Zamboanga del Sur.
"Without peace, there can be no lasting development," said PNP-9 Regional Director Chief Supt. Napoleon Estilles during the stakeholder's forum at the Zamboanga del Sur Police Provincial Office conference room, Camp Abelon.
"We all need to bring strategic approach to raise the world and people's attention for the importance of peace as the only solution to conflicts and survival of humanity," Estilles said in a message read by Deputy Regional Director for Operations Sr. Supt. Ramon Ochotorena.
Estilles said the forum aimed to understand the internal peace and security plan of the PNP, hand-in-hand with the Armed Forces of the Philippines (AFP) and other sectors of the community.
He said this initiative of the PNP seeks peaceful resolution to the ongoing conflicts in the municipality of Bayog.
A peace covenant has been signed by mining stakeholders here during a forum organized by the PNP.
Prior to this, shooting incidents that killed small-scale miners and a child in the area have intensified a brewing conflict between Canadian mining firm TVI Resources Development Phils. (TVIRD) and Monte de Oro Small-Scale Miners Association (MOSSMA) over rights to the mineral-rich Sitio Balabag in Barangay Depore.
"Let this activity serve as guiding light to reach lasting peace in the area," Estilles said.
The forum was highlighted by the signing of a peace covenant by all stakeholders to include the legal counsels of TVIRD, Mossma, PNP, AFP, non-government organizations and the religious sector.
Over 806,000 forest, fruit trees planted in Zamboanga del Sur to support NGP
By: Gideon C. Corgue
Friday, October 05, 2012
PAGADIAN CITY- A total of 806,526 fruit and forest trees have been planted in 1,581.50 hectares of land in Zamboanga del Sur under the government's National Greening Program (NGP).
Forestry Specialist Romel Candido of City Environment and Natural Resources Office (CENRO) said this is in support to the government's effort in "re-greening" the country as per Executive Order No. 36 issued by President Benigno S. Aquino III which calls for the planting of 1.5 billion trees covering about 1.5 million hectares of public lands.
Candido said in 2011, the CENROs were able to maintain and protect the 481,000 planted seedlings in 962 hectares of lands and, subsequently, 325,526 seedlings of falcata, mahogany, narra, rubber, mangrove and fruit tree seedlings were also planted in the 619.5 hectares of lands from January to September this year.
Candido said local officials, government employees, public school teachers and students, people's organizations (PO) such as farmers association and irrigators association have actively participated in the NGP program.
Candido encouraged local officials and POs to plant fruit trees to help improve their food security, nutrition, income and health.
DSWD extends reintegration services to Pinoy deportees, OFWs
By: Claro A. Lanipa
Thursday, October 04, 2012
PAGADIAN CITY- Following its mandate in empowering disadvantaged and vulnerable individuals and groups for an improved quality of life, the Department of Social Services and Development (DSWD) is implementing the Reintegration Program for Deportees and Returning Overseas Filipino Workers.
DSWD-9 Regional Director Teodulo Romo Jr. said the program targets deported Filipinos and other OFWs who have returned to their places of origin in the country and are in need of social and economic reintegration services.
With their goal of empowering this sector through provision of services that enable them to become productive individuals even in their own communities and to effectively and efficiently implement this program, DSWD partnered with other government agencies and local government units, Romo said.
He added that this program provides a package of social and economic reintegration services for deportees for them to attain an improved quality of life.
Romo said it specifically aims to increase economic capacities, facilitate psychological healing and recovery in line with the promotion of harmonious relationship among family members through psychological services.
With this, a one-day orientation on the program will be conducted on October 10 at Jardin de La Vina Hotel in Zamboanga City to be participated by selected media personnel and information officers of national agencies.