South Georgia
Jump to navigation
Jump to search
Major Cities of South Georgia in the Geographic Region of Antarctic Region
---
---
SOUTH GEORGIA COAT OF ARMS

Location of South Georgia within the Antarctic Region

Map of South Georgia

Flag Description of South Georgia : blue, with the flag of the UK in the upper hoist-side quadrant and the South Georgia and South Sandwich Islands coat of arms centered on the outer half of the flag; the coat of arms features a shield with a golden lion rampant, holding a torch; the shield is supported by a fur seal on the left and a Macaroni penguin on the right; a reindeer appears above the crest, and below the shield on a scroll is the motto LEO TERRAM PROPRIAM PROTEGAT (Let the Lion Protect its Own Land)); the lion with the torch represents the UK and discovery; the background of the shield, blue and white estoiles, are found in the coat of arms of James Cook, discoverer of the islands; all the outer supporting animals represented are native to the islands
About South Georgia
South Georgia, mountainous, barren island in the South Atlantic Ocean, 800 miles (1,300 km) east-southeast of the Falkland Islands (Islas Malvinas). It is part of the British overseas territory of South Georgia and the South Sandwich Islands, although Argentina also claims the territory.
South Georgia has an area of 1,450 square miles (3,756 square km). It is 100 miles (160 km) long and 20 miles (32 km) wide and rises to Mount Paget (9,625 feet [2,934 metres]). The island's bleak Antarctic climate, with perpetual snow covering three-fourths of the island, supports only hardy grasses and other tundra plants. Reindeer were introduced shortly after 1900 and have survived. Marine life is abundant offshore, and there are a number of species of penguins and seals. Whaling ceased in the area in 1965, but commercial fishing vessels still harvest Patagonian toothfish, icefish, and Antarctic krill in the islands' territorial waters. A small number of scientists and support personnel maintain British Antarctic Survey stations at Grytviken on King Edward Point and at Bird Island, off the northwest tip of the island, and constitute the island's only inhabitants.
Capt. James Cook visited and claimed South Georgia for Britain in 1775. It subsequently was made a dependency of the Falkland Islands. The island periodically served as a base for whaling and scientific expeditions during the 19th century, and Norwegian whalers founded a commercial outpost at Grytviken in 1904. Great Britain formally annexed South Georgia and the South Sandwich Islands in 1908. The British explorer Sir Ernest Shackleton first crossed South Georgia Island in 1916 while in search of aid for his ill-fated trans-Antarctic expedition. He later died on the island and was buried at Grytviken. Argentina made a territorial claim to South Georgia in 1927.
Britain began establishing research stations on the island in 1945, but it was not until 1964–65 that further explorations of the island's interior were made, including the first ascent of Mount Paget. The island was the site of military occupation as part of Argentina's unsuccessful attempt to annex the Falkland Islands and their dependencies during the Falkland Islands War in 1982. A British garrison was established on the island after the war but was decommissioned in 2001. South Georgia and the South Sandwich Islands became a British overseas territory in 1985. A commissioner, who is also the governor of the Falkland Islands, oversees the territory. In 1993 Britain extended the territory's exclusive fishing zone from 12 to 200 nautical miles (22 to 370 km). Cruise ships make regular visits to the island. The South Georgia Museum, located in the former home of a whaling-station manager, was established in 1992 and has exhibits on whaling, maritime and natural history, and Shackleton memorabilia, among other themes.
Geography of South Georgia and the South Sandwich Islands
Location: Southern South America, islands in the South Atlantic Ocean, east of the tip of South America
Geographic coordinates: 54 30 S, 37 00 W
Map references: Antarctic Region

Area:

total: 3,903 sq km
land: 3,903 sq km
water: 0 sq km
note: includes Shag Rocks, Black Rock, Clerke Rocks, South Georgia Island, Bird Island, and the South Sandwich Islands, which consist of some nine islands
Area - comparative: slightly larger than Rhode Island
Land boundaries: 0 km
Coastline: NA km

Maritime claims: territorial sea: 12 nm
exclusive fishing zone: 200 nm

Climate: variable, with mostly westerly winds throughout the year interspersed with periods of calm; nearly all precipitation falls as snow

Terrain: most of the islands, rising steeply from the sea, are rugged and mountainous; South Georgia is largely barren and has steep, glacier-covered mountains; the South Sandwich Islands are of volcanic origin with some active volcanoes

Elevation extremes:

lowest point: Atlantic Ocean 0 m
highest point: Mount Paget (South Georgia) 2,934 m
Natural resources: fish

Land use:

arable land: 0%
permanent crops: 0%
other: 100% (largely covered by permanent ice and snow with some sparse vegetation consisting of grass, moss, and lichen) (2001)
Irrigated land: 0 sq km (1998 est.)

Natural hazards: the South Sandwich Islands have prevailing weather conditions that generally make them difficult to approach by ship; they are also subject to active volcanism

Environment - current issues: NA

Geography - note: the north coast of South Georgia has several large bays, which provide good anchorage; reindeer, introduced early in the 20th century, live on South Georgia

Demography of South Georgia and the South Sandwich Islands
Population: no indigenous inhabitants note: the small military garrison on South Georgia withdrew in March 2001, to be replaced by a permanent group of scientists of the British Antarctic Survey, which also has a biological station on Bird Island; the South Sandwich Islands are uninhabited (July 2005 est.)
Economy of South Georgia and the South Sandwich Islands
Economy - overview: Some fishing takes place in adjacent waters. There is a potential source of income from harvesting finfish and krill. The islands receive income from postage stamps produced in the UK, sale of fishing licenses, and harbor and landing fees from tourist vessels. Tourism from specialized cruise ships is increasing rapidly.
Government and Society of South Georgia
Structure of Government
The Commissioner of South Georgia and South Sandwich Islands in Stanley, Falkland Islands has responsibility for the running of this British Overseas Territory. Policy advice and guidance will come from the British Government via the Foreign and Commonwealth Office in London as shown on the diagram below. The Commissioner has full responsibility for the island. In matters of defence he will seek advice from commander British Forces Falkland Islands who in turn will seek his advice from the Ministry of Defence. The British Antarctic Survey Scientists at KEP South Georgia are funded by the South Georgia Government and the Foreign and Commonwealth office but looked after administratively by the British Antarctic Survey Headquarters in Cambridge. A schematic diagram of how South Georgia is governed is below.

Overview In 1985 South Georgia and the South Sandwich Islands became a distinct U.K. Overseas Territory with a Commissioner as head of the Government. It had previously been part of the Falkland Islands Dependencies.
The Commissioner for South Georgia and South Sandwich Islands (SGSSI) has vested in him, legal, financial and administrative authority and responsibility for the governance of the Territory. Colin Roberts is the current Commissioner.
A Senior Executive Officer (James Jansen) deals with policy matters. The Operations Director (Richard McKee) oversees GSGSSI's operations and logistics, tourism management and cultural heritage. Dr Jennifer Lee is the Environmental Officer. A Financial Secretary and Attorney General hold similar appointments in the Falkland Islands' Government. The Marine Environment and Fisheries Manager is Dr Paul Brewin. He oversees the SGSSI Marine Protected Area and works to ensure the sustainable management of the fishery which the GSGSSI seeks to run to the highest international standards.
The South Georgia Government team is based in Stanley in the Falkland Islands at Government House. Their address is:
Office of the Commissioner, Government House, Stanley, Falkland Islands, South Atlantic, Tel no + 500 28200 Fax + 500 28201
On South Georgia the Government Officers at King Edward Point are the Government's representatives and have responsibility for local administration. Their duties include those of Harbour Master, Customs and Immigration Officer, Fisheries Officer and Tourism manager. The Government Officers are Pat Lurcock, Jo Cox and Simon Browning.
Culture Life of South Georgia
History of South Georgia
The Resurrection Island of South Georgia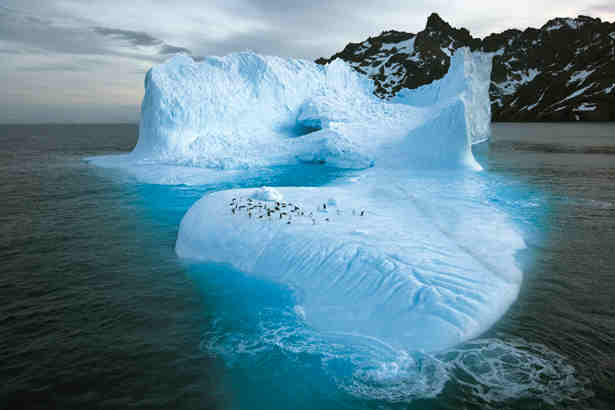 Once a scene of slaughter, icy South Georgia
is awash with life again.
By: Kenneth Brower
Photograph by: Paul Nicklen


South Georgia rises sheer and stark from the sea, a hundred-mile arc of dark Antarctic peaks, ice fields, and hanging glaciers. From the deck of a ship, the island makes a startling apparition, like the Himalaya just emerged from the Flood. For a polar outpost so solid and austere, covered half by permanent snow and ice and half by bare rock and tundralike vegetation, South Georgia is strangely chimerical. Its meanings are contrary and elusive. Its moods are mercurial, brightening one moment, darkening and spitting sleet the next, then brightening again. The island seems marked in some unusual way, simultaneously favored and cursed. Few spots on Earth are so full of ambiguity and paradox.
The first paradox for the visitor has to do with one's latitude of departure. To travelers arriving from the north, the island seems forbiddingly antipodal and cold. To travelers arriving from the south, voyaging up from the Antarctic Peninsula, the island seems almost tropically lush. (In Antarctica there are two native species of vascular plants; on South Georgia there are 26.) To the explorer Ernest Shackleton—whose ship Endurance was crushed nearly a century ago by Antarctic pack ice, who rallied his crew through 16 months of entrapment in the floes, and who escaped finally with five of his men in a small lifeboat, crossing 800 miles of mountainous seas to the whaling stations of South Georgia—that snowy island looked like paradise.
Last February photographer Paul Nicklen and I retraced Shackleton's route. We left the Antarctic Peninsula and sailed, as Shackleton had, just offshore to the South Shetland Islands, from which the explorer had launched his desperate run for South Georgia. His lifeboat, James Caird, was 20 feet long. The cruise ship on which Nicklen and I hitched a ride, National Geographic Explorer, was 367 feet and 6,000 tons. Where Shackleton's little vessel was pounded by a hurricane and a succession of gales, our big ship enjoyed fair weather. I was beginning to feel cheated of the true Antarctic experience when we raised South Georgia, which greeted us with hurricane-force winds of 110 miles an hour.
The second paradox of South Georgia is the crazy changeability of its weather. The Southern Ocean, as some call the seas that encircle Antarctica, has, on average, the strongest winds on Earth. There is little to weaken them, for these far southern latitudes circumscribe the entire globe almost without interruption by land. Low-pressure areas are free to chase one another eastward around the bottom of the planet like a howling dog in pursuit of its tail.
South Georgia sometimes seems like a time-lapse film of weather—one of those frantic abridgments in which clouds boil across the sky while a stroboscopic flickering of light and shadow passes over the land. You sail into a bay in bright sunshine and air scrubbed clean by the ceaseless circumpolar wind. You really can see forever. The steep headlands are an intense, improbable green. Depth of field is infinite, from the kelp beds in the foreground to the snows of the peaks beyond. A glacier, cradled in its high cirque, sends a skein of streams down the rock wall, icy rivulets glittering so bright they hurt the eyes. Then, moments later, like Dorothy whirled back to Kansas, you look out on that same emerald Oz rendered suddenly in gray halftones. A new front has blown in. The sun is just a dimly glowing patch of cloud across which flurries of snowflakes swirl and eddy, dark patterns against the glow. South Georgia suffers from a meteorological version of bi­polar disorder.
Disclaimer
This is not the official site of this country. Most of the information in this site were taken from the U.S. Department of State, The Central Intelligence Agency, The United Nations, [1],[2], [3], [4], [5],[6], [7], [8], [9], [10], [11], [12], [13], [14],[15], [16], [17], [18], [19], [20], [21], [22], [23], [24],[25], [26], [27], [28], [29], [30],[31], [32], [33], [34], and the [35].
Other sources of information will be mentioned as they are posted.