San Jose cebu city philippines
Jump to navigation
Jump to search
Philippines News: December 14, 2019 -- The Philippines bows down to the terrorist group (MNLF) : President Rodrigo Duterte appointed Nur Misuari, founding chairman of the known terrorist group, the Moro National Liberation Front (MNLF) as the country's Special Economic Envoy on Islamic Affairs to the Organization of Islamic Cooperation (OIC). As announced by the Office of the Presidential Adviser on the Peace Process (OPAPP) last December 14, 2019.. .... More
---
Barangays (80) of Cebu City, in the province of Cebu, within Region 7 in the Republic of The Philippines
Adlawon | Agsungot || Apas || Babag || Bacayan || Banawa || Banilad || Basak Pardo || Basak San Nicolas || Binaliw || Bonbon || Budla-an || Bulacao Pardo || Buhisan || Buot-Taup || Busay || Calamba || Cambinocot || Camputhaw (Pob.) || Capitol Site (Pob.) || Carreta || Central (Port Center) || Cogon Ramos || Cogon Pardo || Day-as || Duljo || Ermita || Guadalupe || Guba || Hipodromo || Inayawan || Kalubihan || Kalunasan || Kamagayan || Kamputhaw (Camputhaw) || Kasambagan || Kinasang-an || Labangon || Lahug || Lorega San Miguel || Lusaran || Luz || Mabini || Mabolo Proper || Malubog || Mambaling || Oprra || Pahina San Nicolas || Pahina Central || Pamutan || Pardo Proper || Parian || Paril || Pasil || Pit-os || Pulangbato || Pung-ol Sibugay || Punta Princesa || Quiot Pardo || Sambag I || Sambag II || San Antonio || San Jose || San Nicolas Proper || San Roque || Santa Cruz || Santo Niño || Sapangdako || Sawang Calero || Sinsin || Sirao || Suba || Sudlon I || Sudlon II || T. Padilla || Tabunan || Tagba-O || Talamban || Taptap || Tejero || Tinago || Tisa || Toong || Zapatera
---
Philippines, is the only country in the world which is 85% Catholic that created FIVE(5) national laws "favoring", "respecting" and "financing" the religion of ISLAM.
Then made it unlawful to finance all other religions.
The only country in the world that has a government commission that caters to Muslims only, for the hajj, for madrasas, and the spread of Islam at government's expense PAID by the taxes of Non-Muslims.
Religion is always good for the people but it should never be embraced or financed by government. Tax exemption is not tantamount to financing. Every non-profit organization is tax-exempt.
A | B | C | D | E | F | G | H | I | J | K | L | M | N | O | P | Q | R | S | T | U | V | W | X | Y | Z
Create Name's page
Regions | Philippine Provinces | Philippine Cities | Municipalities | Barangays | High School Reunions
---
---


Barangay Seal

Cebu City Map Locator
Interactive Google Satellite Map of the Province of Cebu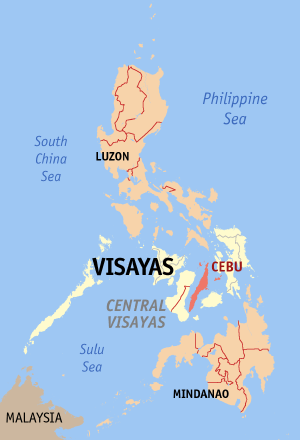 Location of The Province of Cebu in The Philippines
AdrenoBoost™ - For Adrenal Gland Functioning

Promotes healthy adrenal gland functioning and hormone balance
Maintains cortisol levels already within healthy limits
Promotes energy levels, alertness and stamina
Helps the body adapt to everyday stressors and adrenal fatigue

Maintains blood sugar levels already within healthy limits
Maintains blood pressure already within healthy limits
Supports healthy circulation, sleep patterns and immunity
Astragalus as one of the main ingredients of AdrenoBoost™


Barangay Hall
San Jose, Cebu City,
Cebu, Philippines

Location of San Jose, Cebu City, Cebu, Philippines
San Jose is located ....
History of San Jose, Cebu City, Cebu, Philippines
Contribute your knowledge about the history of San Jose
People of San Jose, Cebu City, Cebu, Philippines
Total Population of San Jose
Local Government Unit LGU of San Jose, Cebu City, Cebu, Philippines
Elected officials of San Jose for the term of 2013-2016
Punong Barangay Ardaba, Joventino Arciete
Barangay Kagawad Bondaug, Pablo Iii Perez
Barangay Kagawad Borces, Edgardo Cogtas
Barangay Kagawad Gabato, Salvacion Vecina
Barangay Kagawad Miñoza, Bonifacio Seno
Barangay Kagawad Borces, Edel Opigal
Barangay Kagawad Cesa, Warlito Comahig
Barangay Kagawad Cadungog, Jenysel Limotan
---
Elected officials of San Jose for the term of 2010-2013
Businesses in San Jose, Cebu City, Cebu, Philippines
We invite you to list your business located in San Jose, Cebu City.
Give your business a good description. Add your address and contact number if available.

Resorts, restaurants, pension houses, or hotels are welcome to be listed here.
Bakery, Mechanical Shop, Bicycle Shop, Tailor shops can be listed here.
If you have a pharmacy or gas station, it can be listed here too.
Hardware stores, Agrivets, salon, spas, etc. are welcome to be listed.

We do not allow external links except for our sponsor zamboanga.com and maletsky.com. If you have an external site for your business you may not link to it in Z-Wiki but you can point to it. e.g. list it like this: www.my??business.com - this tells the people of your website but it does not link to it.
Businesses in San Jose

The name of your business, address, phone number
Real Estate for Sale in San Jose, Cebu City, Cebu, Philippines
If you have real estate property, whether its commercial, residential, farm land, or just an empty lot in San Jose, you can list that property for FREE HERE in Z-wiki.
You can list your House and lot or farm land for sale for free here in Z-Wiki
Churches, Mosques, or Places of Worship in San Jose, Cebu City, Cebu, Philippines
The name of your church, mosque, or place of worship can be listed in this community page. Take a picture of the facade of your church or place of worship and it can be posted here. We can even provide you with a free webpage. You can enter the data (story about your place of worship) here yourself, email the information or pictures to (franklin_maletsky@yahoo.com) or via Facebook.
---
FILIPINOS WAKE UP! THE TAXES YOU PAID ARE USED BY THE GOVERNMENT TO EXCLUSIVELY FINANCE THE RELIGION OF ISLAM.
Freedom of religion, yes. Equality, yes. But no favoritism.
---
Schools in San Jose, Cebu City, Cebu, Philippines
Take a picture of your school building(s) and send your pictures via email to (franklin_maletsky@yahoo.com) or message me via Facebook. I will then post the pictures in this page.
---
School year 2018-2019 starts Monday, Monday, June 4, 2018 and ends on Friday, April 5, 2019, for public elementary and secondary schools. The School Year shall consist of 208 school days inclusive of the five-day In-Service Training and the three days for the Parent-Teacher Conferences (PTC) conducted within the school year. However, learners are expected to be in school for a total of 200 class days.
List of schools: >>> click
PUBLIC NOTICE: Why pretend that the National language of the Philippines is Tagalog? It should be English. To be a Teacher, doctor, lawyer, engineer, architect, nurse, computer technician; what books do you learn from? English books of course. All your tests are in English. The constitution of the Philippines is written in English. All the laws and new laws introduced by congress are in English. For that matter, you can't be a teacher in a school system unless you know English. The "Licensure Exam for Teachers" is in ENGLISH! Who are these people forcing Tagalog down our throats? Tagalog is simply one of the many dialects of the Philippines. Keep your dialects but learn and be proficient in ENGLISH.
---
The schools in San Jose
Economy of San Jose, Cebu City, Cebu, Philippines
If you have an article that talks about the improvement of the economy of San Jose, Cebu City you can post that article here. If you come across any news items that talk about the economy of San Jose, Cebu City, you may post it here. Of course you have to reference the writer of the article. Any improvement to transportation, power and service usually improves the economy of the community, so go ahead and report that too.
Natural Resources of San Jose, Cebu City, Cebu, Philippines
This page needs some articles about the natural resources of San Jose, Cebu City. Where does the energy source of this Cebu City come from? Are there any mining industries? Rivers and tributaries are part of the natural resources.
Tourists Attractions of San Jose, Cebu City, Cebu, Philippines
Help us add some of the tourist attractions of San Jose in Z-wiki. This will help boost the local economy of San Jose. Anything that is unique or anything that stands out in your community may be a tourist attraction.
Landmarks are usually photographed a lot by visitors. Post the San Jose landmarks here.
Fiestas and Traditions of San Jose, Cebu City, Cebu, Philippines
Fiesta date of San Jose
Your Story about San Jose, Cebu City, Cebu, Philippines
Tell your story about San Jose. You can talk about the good things in San Jose or simply talk about the past. You can talk about the eco-system of San Jose. What is the local LGU doing about the preservation of your natural resources? The topic can start here and once it gets bigger it can have a page of its own in Z-Wiki. It's all up to you.
Cebu City, Cebu, Philippines supports Philippine Cycling
Philippine Cycling is about cycling in the Philippnes. Philippine Cycling helps promote bike races, cycling clubs, bicycle tours, and the development of bicycle trails. Activities are coordinated with bike shops and cycling clubs throughout the Philippines to promote the fun of riding bikes. Philippine Cycling will be coordinating events with tour of Luzon, Visayas and Mindanao. Road biking and mountain bikings will be promoted by Philippine Cycling.
Cycling Activity to Participate In

Your cycling activity can be posted here and it will be shown in all the Provincial, City, Municipal and Barangay pages. Your 2015 Cycling Race or Activity can be Posted here.
ILOILO CITY, April 27-May 2, 2015 (PNA) – Some 5,000 bikers are expected to join the second Iloilo Bike Festival slated April 27-May 2, 2015 as the city continues to aspire to become a bike-able walkable metropolis. The activity that supported by the John B. Lacson Foundation Maritime University (JBLFMU) and Megaworld Iloilo aims to promote Iloilo as a safe and bike friendly city, promote the share-a-road movement encourage Ilonggos to commute via biking and raise Ilonggos awareness on the benefits of biking on health, safety and environment concerns. Read More....
CYCLING Le Tour de Filipinas 2015 set as country celebrates 60 years of top-caliber cycling Feb 1 to Feb 4 2015 - View the result of the race: A four stage race. Stage 1 starts in Balanga and back to Balanga for a 126K race Feb 1, 2015 (Sunday); stage 2 starts in Balanga, Bataan to Iba, Zambales for a 154.7 K race Feb 2, 2015 (Monday); stage 3 starts in Iba, Zambales to Lingayen, Pangasinan for a 150.1K race Feb 3, 2015 (Tuesday); stage 4 starts in Lingayen, Pangasinan to Baguio City, Benguet for a 101.7K race Feb 4, 2015 (Wednesday). For a total distance of 532.5 Kms. Read More >>>
Ronda Pilipinas: Feb 8 - 27 2015:>> Discovering young riders for the national team will be the main objective of the LBC Ronda Pilipinas 2015 when the country's premiere cycling race hits the road on Feb. 8 in Butuan City. Ronda Pilipinas executive project director Moe Chulani said the international multistage bikathon, which ends on Feb. 27, will have two qualifying legs of four stages each in Mindanao and the Visayas where the top riders will advance to face a tough foreign challenge in the six-stage Luzon finale. Read More>>>
News: Cebu City, Cebu, Philippines
Inaugural triathlon at New Clark City set
Monday, August 16, 2019 12:00 am
MANILA, Philippines — All is set for the New Clark City Triathlon which is the first triathlon event to be held at the New Clark City Sports Complex in Capas, Tarlac on Oct. 19-20.
GoClark Sports and Events has partnered with presenting sponsor Robinsons Land Corp. in this triathlon featuring the swim event at the Aquatics Center, the 20km bike in the newly built New Clark City-SCTex connecting road and the run course in the sports complex, including the warm-up athletic track, the river park and a finish lap around the 20,000-seater Athletics Stadium ............................... Full Story»
---
Philippines News: December 14, 2019 -- The Philippines bows down to the terrorist group (MNLF) : President Rodrigo Duterte appointed Nur Misuari, founding chairman of the known terrorist group, the Moro National Liberation Front (MNLF) as the country's Special Economic Envoy on Islamic Affairs to the Organization of Islamic Cooperation (OIC). As announced by the Office of the Presidential Adviser on the Peace Process (OPAPP) last December 14, 2019.. .... More
---
San Jose chief still richest barangay captain in Cebu City
Thursday, June 11, 2009
By Rene H. Martel
SAN Jose's neophyte village chief is the richest Cebu City barangay captain for the second straight year.
From a net of P17 million last year, Barangay Captain Merinisa Arinasa's statement of assets, liabilities and net worth (SALN) this year showed an increase of around P3 million.
She listed her real properties as totaling P17.15 million, which include inherited agricultural land, house and lot, three residential lots, and a piece of property in Tabuelan town.
She owed banks P3.06 million but has P6.44 million in personal and other properties, which included four vehicles and heavy equipment–two backhoes, three dumptrucks, two mini-trucks, and a payloader that were all bought in 2008.
The Arinasas are into construction and sand and gravel extraction.
In an interview last year when Sun.Star Cebu published a feature of her, Arinasa, now 55, said her properties, which she said were acquired through "guts, risks, and honesty," are all declared in her SALN.
Same amount
Next to Arinasa in terms of net worth is Inayawan Barangay Captain Rustico Ignacio, who said in his SALN that he is worth P15.085 million and without any liabilities.
He indicated exactly the same amount in his SALN last year.
Ignacio, who is into the scrap-buying business, among other ventures, owns land and buildings in Inayawan, Poblacion Pardo, Tejero, T. Padilla in Cebu City; Lapu-Lapu City; and in Olango Island.
The third richest Cebu City Barangay Captain is Domingo Lopez of Tinago, who has P14.745 million worth of properties, including land along M. J. Cuenco Ave. and Barangay Bacayan in Cebu City, Sogod town, Talisay City, and Masbate province totaling P11.1 million. He also has three vehicles worth P3.645 million.
Guadalupe Barangay Captain Eugenio Faelnar is the fourth richest, with P12.608 million worth of jewelry, five residences, three vehicles, and cash in the bank. He, however, has liabilities of P600,000.
Next to Faelnar is Day-as Barangay Captain Rey Cañada, who has P10.48 million in assets and P100,000 in liabilities.
Cañada reported inherited residential and agricultural lots totaling P4.8 million and P10.48 million worth of personal properties, which include audio equipment and three vehicles.
Rounding up the top 10 are Quiot' Vicente Ramos (P9.07 million, with P350,000 in liabilities), Tejero's Jessielou Cadungog (P8.2 million, with P80,000 in liabilities), Buhisan's Rustica Asid (P6.141 million), Sambag I's Jerry Guardo (P6.42 million, with P400,000 in liabilities), and Banilad's Mary Luz Tabar (P5.497 million).
Like Ignacio, Asid declared total assets exactly like what she indicated in her 2008 SALN.
Excluding Faelnar, Ramos, Guardo, and Asid, all the 10 richest barangay captains of Cebu City are first-timers in their job.
The list did not take into account Talamban Barangay Captain Alvin Arcilla's assets, who has personal and other properties worth P820,000.
While he indicated real properties in his SALN, the value of a house and lot each in Talamban and in Barangay Pit-os; an Internet café; a lot each in Sitio Tag-ube and in Barangay Pit-os; and a factory in Tawason, were not indicated.
On the other hand, Sta. Cruz's Jerome Lim replaced Guba's Renerio Limotan as the poorest barangay captain.
Limotan, who declared his wristwatch worth P2,200 and a class ring worth P4,000 as his only assets last year, now has P34,700 in personal and other properties. He, however, said he has a P60,000 loan with the Cebu CFI Cooperative.
Lim, who reported P36,000 worth of personal and other properties, has a P150,000 loan with the CFI.
Parian Barangay Captain Mark Balaga, single, has the lowest assets with just P21,000 in personal properties.
He only owns a cellphone worth P9,000; watch, P3,000; and an airconditioning unit worth P21,000, and owed the CFI P100,000 in loans.
The SALN is a financial statement that public officials are required to submit to the Office of the Ombudsman every year.
Republic Act 6713, or the Code of Conduct and Ethical Standards for Public Officials and Employees, requires them to submit a declaration, under oath, of their assets, liabilities, net worth and financial and business interests.
They are also mandated to declare the assets of spouses and unmarried children under 18 years old who are living with the family. The names of relatives working in the government should also appear in their SALNs.
The SALN helps the anti-graft office keep track of any drastic change in the net worth of public officials or unexplained wealth.
Many "lifestyle checks" begin when questions are raised about SALN reports.
Click HERE to view more PHOTOS about San Jose, Cebu City.
Disclaimer
Most of the contents in this site are from registered user collaborations. Information has also been taken from the Department of Tourism, Comelec, National Statistical Coordination Board, DILG: Department of the Interior and Local Government, (LGU) government sites, online news, and other content sites about the specific community. This page does not serve as the official website of the community but rather compliments and helps the community to promote tourism and attract investors.
This is an interactive and collaborative webpage, meant to help promote this community and showcase it to the world via the internet.
This wiki page follows a format. The editor of this wiki page reserves the right to change formats, edit, or delete entries that may be considered as offensive, vulgar or not for the betterment of this wiki page.