LOG IN. UPLOAD PICTURES.

List of the 17 Regions in the Philippines
National - Capital Region ● I - Ilocos ● II - Cagayan ● III - C. Luzon ● IV-A - Calabarzon ● IV-B - Mimaropa ● V - Bicol ● VI - W. Visayas ● VII - C. Visayas ● VIII - E. Visayas ● IX - Zamboanga ● X - N. Mindanao ● XI - Davao ● XII - Soccsksargen ● XIII - Caraga ● XIV - CAR ● XV - BARMM
---
Minimize corruption and maximize prosperity with a Guarantee of One Senator per Region. They divided the Philippines into REGIONS, but kept SENATORIAL representation national with no accountability to any regions.. No wonder many regions remain poor. Petition for a regional senatorial election. All regions will have senatorial representation.
Visit
Zamboanga Shopping to help propagate the
Chavacano Language
Pangasinan News March 2019
Jump to navigation
Jump to search
A | B | C | D | E | F | G | H | I | J | K | L | M | N | O | P | Q | R | S | T | U | V | W | X | Y | Z
Create Name's page
Regions | Philippine Provinces | Philippine Cities | Municipalities | Barangays | High School Reunions
---
Pangasinan Province - Archived News
---
Interactive Google Satellite Map of Pangasinan Province, Philippines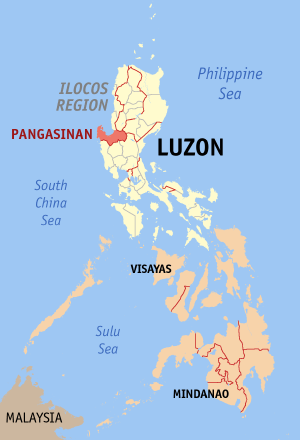 Map Locator of Pangasinan Province

The Capitol Building of Pangasinan in the municipality of Lingayen
----

Dietary supplement is a product that contains vitamins, minerals, herbs or other botanicals, amino acids, enzymes, and/or other ingredients intended to supplement the diet. The U.S. Food and Drug Administration has special labeling requirements for dietary supplements and treats them as foods, not drugs.
---

Pangasinan State University, Asingan Campus

Church in Aguilar Pangasinan
Wars of ancient history were about possessions, territory, power, control, family, betrayal, lover's quarrel, politics and sometimes religion.
But we are in the Modern era and supposedly more educated and enlightened .
Think about this. Don't just brush off these questions.
Why is RELIGION still involved in WARS? Isn't religion supposed to be about PEACE?
Ask yourself; What religion always campaign to have its religious laws be accepted as government laws, always involved in wars and consistently causing WARS, yet insists that it's a religion of peace?
WHY??

Tondol Beach, Anda
By Hilda Austria (PNA)
ALAMINOS CITY, Pangasinan -- The Department of Social Welfare and Development (DSWD) office in Region 1 (Ilocos), National Housing Authority (NHA), and the city government of Alaminos, turned over some 12 houses to the recipients of the Core Shelter Assistance Program (CSAP) on Tuesday.
City Social Welfare Development officer Imelda Ruiz of this city said these new units brought the total number of housing units at barangay Longos here given out to beneficiaries to 58.
Ruiz said 113 more housing units in Barangay Lucap were already completed, while 19 units in Barangay Victoria are under construction.
"We will be giving another 14 units situated at Barangay Lucap, to the recipients within this month," she said in an interview Wednesday.
Through the CSAP, the DSWD granted to the city the 500 housing units worth PHP65 million.
Ruiz recalled that in 2015, city mayor Arthur Celeste requested housing assistance from the DSWD for the residents living in hazard zones.
"We were able to identify these recipients following typhoon 'Lando', which affected the city and destroyed the houses of our indigent residents," she said.
Ruiz noted the beneficiaries were families that do not have their own houses, have no regular jobs, and are considered poorest of the poor.
The NHA took charge of developing the lands that are sites for the housing project, while the city government of Alaminos provided the lot needed.
"The lot in Longos, which is about 8,000 square meters, was donated by the mayor's friend," she said.
The houses were bungalow type and the beneficiaries themselves helped in building their own houses.
"We implemented bayanihan system so we tapped the able beneficiaries to help in the construction, and they are given incentive through the cash for work by the DSWD. The agency gave additional PHP1 million for the livelihood assistance to the families," she said.
The city government, she added, opted for single bungalow type instead of the usual duplex type housing to provide space for the backyard gardening program in the core shelter housings.
"We encourage the families to have a backyard gardening. We actually have a contest on this and people can also pick and buy their goods, as we aim for the livelihood of the beneficiaries and development of the area as well," Ruiz explained.
She said the beneficiaries are continuously motivated as other projects are being introduced to them.
The housing units were given for free but the recipients are prohibited from selling or renting out their houses, Ruiz added.
By Liwayway Yparraguirre (PNA)
BAYAMBANG, Pangasinan -- A 51-meter-tall Saint Vincent Ferrer statue situated at Barangay Bani here, which will be an entry to the Guinness World Record for tallest structure made of bamboo, will be finished and inaugurated on April 5 this year.
Mary Clare Judith Phyllis Jose-Quiambao, wife of Mayor Cesar Quiambao, said the blessing and inauguration ceremony is in time with the 400th founding anniversary of the St. Vincent Ferrer Parish Church here, and the 600th year death anniversary of Saint Vincent Ferrer.
Jose-Quiambao, the brains behind the project, said they initially thought of flying thousands of sky lanterns on that day. However, they shelved the idea for environmental reasons.
She recalled that she came out with the idea of constructing the tallest St. Vincent Ferrer statue while discussing with Mayor Quiambao, fiesta hermano mayor Henry Fernandez and some companions, on what activity to hold on that historical day.
"I was browsing the internet and saw a statue of St. Vincent Ferrer. And I thought it fits well as my husband Cesar is a devotee of Saint Vincent Ferrer. There were many instances of little miracles in his life because of the saint. Also, we got married at the St. Vincent Ferrer Parish Church. Also, I am a devotee of Saint Vincent and Mama Mary," she said in an interview Tuesday.
"It will be a historical milestone for the Bayambanguenos which the present and next generations will see. We bought the land, the project is privately funded by the Kasama Ka Foundation, no fund from the local government was used," Jose-Quiambao added.
Architect Gerry Suratos, the project manager, said the prayer park where the statue is being constructed measures 21,000 square meters (2.1 hectares).
Based on the masterplan, it will have five meters wide pathways for persons with disability (PWDs) that will pass through the 15 Stations of the Cross. It will have a chapel, three Events Place, and a parking space that can accommodate 120 cars.
"The project was conceptualized on November 2017. The project plan was finalized on March 2018. We mobilized on April 2018. Mayor Quiambao told me, Gerry i've been working with projects na halos miracle na natapos (completed miraculously). I don't know if you can finish this project on time. I assured him we can do it with the help of the people ... and prayers," Suratos said.
Suratos said he assured the mayor they can finish the project in less than a year if they do it through digitalized image.
"We employed 3D (three-dimensional) scan and 3D image making use of polygon. All of the locations of the image or statue are polygons, so we don't need a sculptor. If a sculptor would do the statue, it will take three to five years," he said.
Accordingly, the height of the St. Vincent Ferrer statue is 51 meters from the base up to the statue's tip. The image itself is 42 meters high from the feet.
For the materials, 60 tons of engineered bamboo were bought from China; while 600 tons of steel were used. The foundation is 7.5 meters deep, and they used 768.99 cubic meters of 6,000 PSI cement.
"Its core is super structure, it can withstand even a signal number eight typhoon," Suratos said.
"The reason why we used polygons is because the materials are panels of bamboos (bamboo panel), like the flooring. It's all flat surfaces and not curved. There are 5,000 polygons (triangles, irregular shapes) for the whole statue. The biggest challenge is the head because of the hair of St. Vincent, which is curly. The head alone has about 700 polygons," he added.
The St. Vincent Ferrer statue facing the east will be illuminated with lights. It can be seen even from the neighboring towns of Bautista, Alcala and Basista.
By Hilda Austria (PNA)
STA. BARBARA, Pangasinan -- The provincial government of Pangasinan has opened the third Umaani Expo showcasing latest farm machineries and equipment as well as providing a platform for farmers and fisherfolk to promote their products.
Governor Amado Espino III, in his speech during the formal opening program on Monday, told the farmers and fisherfolk that the goal of the activity is to enable them to learn more about various ways to further boost their agricultural production.
"Para matuto at kumita kayo (So you would learn and earn more) for your families and send your children to school," he said.
Espino also told them that the expo has a lot to offer, as the national agencies such as the Department of Agriculture, National Irrigation Administration, among others, alongside the provincial government, are supporting them.
"Bangon tayo, bawi tayo. Andito provincial government na tutulong palakasin at paunlarin ang agrikultura (Let us recover. The provincial government is here to help you as we strengthen and develop agriculture in the province)," he noted.
Pangasinan's agriculture sector experienced massive loss last year due to several weather disturbances in the province.
"The Umaani Expo, a brainchild project of the governor, is a way of showing recognition and gratitude to the farmers, and fishermen for their sacrifices and invaluable contributions to the food security in the province, and to nationbuilding," said provincial agriculturist officer-in-charge Nestor Batalla.
On March 12, the Umaani Expo will highlight the Sangka Contests or the competition for the biggest, heaviest and longest high-value crops; and heaviest fish, among others.
Attendees will also learn about the latest updates and concerns on farming, fishery, livestock raising, and other technical concepts on agricultural production.
The five-day expo, which runs from March 11 to 16, carries the theme: "Payabungin at Pangalagaan ang Agrikultura ng Pangasinan."
Other activities include Agew na Umaaniy Pagey (Rice Farmers' Day); Agew na Umaanid Tanaman (Corn and High Value Crops Farmers' Day); Agew na Umaanin Bii (Women's and Agribusiness Day), and Agew na Umaaniy Sira (Fisherfolks' Day); Agew na Umaani Extension Officers (Agricultural Extension Workers' Day), and Agew na Manag-ayep (Livestock Raisers' Day).
By Hilda Austria (PNA)
BINMALEY, Pangasinan -- Seven towns and one city in Pangasinan are the recipients of the shared service facility (SSF) program of the Department of Trade and Industry (DTI) this year.
Officer-in-charge provincial director Natalia Dalaten of DTI provincial office in Pangasinan said the beneficiaries of the SSFs were chosen last year, and the equipment is set to be turned-over to them this year.
Binmaley Integrated Small Fisherfolks, Fishpond Owners and Operators Multi-Purpose Cooperative and the Engineered Bamboo Project of Alaminos City each received PHP933,000 and PHP1 million, respectively, last January 26, she said.
Other SSF beneficiaries are Sual's PHP1-million fish processing facility; Dagupan City's glass freezer for fish processing worth PHP2.8 million; Pangasinan State University (PSU) Sta. Maria Campus for PHP1.5-million laboratory food processing; PSU Bayambang Campus for incubation, innovation for attaining sustainability in food processing costing PHP1 million; Mangaldan for cacao (cocoa) processing worth PHP1 million; and San Fabian for candle making costing PHP500,000.
"We hope to deliver all the facilities in the first quarter of this year, but some facilities take time to make because it is customized according to the need of the beneficiaries," Dalaten said.
She added the products of the beneficiaries are enrolled in the One Town One Product (OTOP) Next Generation program of DTI to further boost the marketing and labeling of products.
"Those under OTOP Next Gen are other privileges such as training and seminar on how they could better market their products, and are part of exhibits of DTI," Dalaten said.
By Hilda Austria (PNA)
BASISTA, Pangasinan -- Bags, tissue holders, pencil case, refrigerator cover, apron and cellphone cases made of paper and plastic wastes can be bought in this town while landscapes of eco-friendly bricks made from plastics are showcased here.
Forrester Gellie Saldivar, solid waste management officer of this town, said the main materials for their products come from wastes collected from the residents, while the bags and other products are made by some women here who attended the training on bag-making by Women's Brigade Tungtungin Putho from Los Baños from August 13 to 17 last year.
"They were taught how to weave newspapers, brochures, telephone directories (and) even old calendars into bags. They were also taught how to make tissue holders, pencil case, ref cover, apron, cellphone bag, among others," she said on Thursday.
Saldivar said the first finished bags and other products (Bags for Life) made from paper by the women's group here were sold out to overseas Filipino workers, who visited the town during the fiesta last September.
"Many balikbayans bought the bags and other products as pasalubong since they said these are unique products," she added.
The products from recycled paper are priced between PHP70 to PHP300.
"In line with the Women's Month this March, we will again conduct a training on March 20-22 that will be participated in by Kalipunan ng Lahing Pilipino and Day Care Workers here," she said.
The Department of Environment and Natural Resources (DENR) has chosen this town as the pilot area in Pangasinan for the "Tayo ang Kalikasan" (TAK) advocacy program for its best practices in solid wastes management through recycling wastes into new products.
Saldivar expressed hope that with their partnership with the DENR in the TAK advocacy program, there would be more assistance and linkages for them.
"DENR will provide us technical assistance and networking to the different government agencies that can help us more with our plans and programs," she added.
TAK was launched here on February 21 this year.
Saldivar said their campaign on proper solid waste management started in May last year with the introduction of eco-friendly bricks in schools.
Each of the 16 elementary and high schools in the town collect from their students single-used plastic bags, which is the main component for the eco bricks that are used in landscaping.
"Because of this project, the schools also built their own material recovery facilities," she said.
In July last year, the Basura Expo was introduced in the town.
"We collect wastes as such packaging of juice drinks, newspaper, telephone directories, brochures, metallic foil packaging of junk foods from the residents in exchange for cash," Saldivar said.
Newspapers are bought at PHP4 per kilogram (kg); 25 cents per piece for dried and cleaned juice drink plastic packaging; and PHP3 per kg for candy wrappers or dried and cleaned metallic foil packaging (junk foods)," she said.
By Liwayway Yparraguirre (PNA)
SAN CARLOS CITY, Pangasinan -- Athletes from this city were praised for their discipline, particularly for picking up trash at various places, during the opening of the Region 1 Athletic Association (R1AA) Meet on Wednesday at the Marcos Stadium in Laoag City.
In a Facebook post by Thelma Ruiz Sacsac, she said: "I'm very much elated when I saw San Carlos City delegates picked up rubbish just after the opening program, thank you guys for supporting IN's (Ilocos Norte) advocacy."
A photo of athletes was also taken, each of them carrying a water container.
Superintendent Vilma Eda of the Schools Division of Ilocos Norte (SDOIN), the host division, earlier announced the conduct of an environment-friendly R1AA 2019.
In its advisory, SDOIN discouraged the utilization of single-use plastic, such as bottled water and other plastic containers.
The participants and guests are instead advised to bring their own tumbler for water, container for food, among others."
San Carlos City sent 750 delegates, including 600 athletes, to the regional meet.
In an interview Thursday, San Carlos City Mayor Joseres Resuello said he was also an archer when he was in high school, thus, would like the city's athletes to learn all aspects of discipline.
He noted recycling of plastic wastes is already being implemented in the city's schools.
"We are collecting single-used plastics and plastic bottles from schools in exchange for eco bricks and chairs respectively, which they can use in their schools," Resuello said.
Meanwhile, Resuello said they are again aiming for the over-all championship in the SPED Games, special games for the differently-abled athletes, to complete a three-consecutive year win and become a hall of famer.
The Dagupan City team, last year's over-all champion, had started hauling medals.
In the swimming event, Janelle Frances Alisa Lin captured gold medal in the 400-meter freestyle (secondary).
Leonora Fernandez, swimming coach, said Jessiely Grace Umali also won gold medal in the 100-meter swimming competition, while Marie Alexie Adriano captured silver medal.
Ma. Jesse Lou Cacapit, Janesiesly Joy Umali, Krisma Marinas and Jessiely Grace Umali earned silver medal in the 200-meter freestyle relay.
By Liwayway Yparraguirre (PNA)
ALAMINOS CITY, Pangasinan -- The city government will stage anew its third Paraw (colorful sailboats) Festival at the Hundred Islands National Park (HINP) here that will be held along with the annual city fiesta on March 8 to 29.
In an interview Thursday, Mayor Arthur Celeste said the city is "very lucky to have the natural wonder of HINP that is continuously attracting tourists".
The main highlights of the festival are the Paraw on Parade and Paraw Race on March 28. Other activities include the Paraw Sail Painting Contest on March 23, while the Agri-Parade will feature the floats of farmers and fisherfolks on March 19.
Paraw festival will also feature the seafood culinary of the city through the Culinaria Ed Pangasinan (Food festival) on March 21 and Talaba (oyster) Ihaw- Ihaw festival on March 24.
"We have many more activities for everyone to enjoy," he said.
Meanwhile, Celeste said that since he assumed leadership in 2013, the city government has improved the facilities at the main islands of Quezon, Children's and Governor's, and developed other islands to cater to more tourists.
He added they are building more projects so tourists will have other alternate places to visit aside from the HINP.
"We have the Mangrove Park, the E-kawayan factory, salt-making industry, a housing project which has become part of the tourism benchmarking, the faith tourism (a 56-foot Christ the Savior statue was constructed at the highest point of the Pilgrimage Island)," he said.
Celeste said tourist arrivals tremendously increased, but they made sure that environmental protection and conservation were primarily considered.
According to the City Tourism Office, tourist arrivals reached 600,000 as of end-2018 from just 150,000 in 2013.
By Ahikam Pasion
DAGUPAN CITY -- The city government is joining the celebration of National Women's Month this March to promote awareness of women's rights.
With the theme "We make CHANGE work for women", Mayor Belen Fernandez proudly presented the city's achievements in line with the event, among them the launch of the training on gender sensitivity, the mental health awareness campaign, passage of the Anti-Street Harassment Ordinance, and the Gender Development Code of Dagupan City.
The month-long celebration here will highlight various activities, such as the Batik Ulopan Dagupeña Laban sa Karahasan (amazing race format) on March 8; free beauty services for the first 100 women on March 12; and Araw ng mga Kababaihang Manggagawa ng Dagupan on March 22.
The awarding of the Ulirang Kababaihan, skills training for selected solo parents, and the launch of the Women's Center for women and children victims of violence will be held on March 26.
Dr. Lydwina Bernardo, focal person of the Gender and Development Focal Point System (GDFPS), said the programs indicate the city's willingness and support for the localization of the Magna Carta for Women.
"This was also with the President's (Rodrigo Duterte) blessing. He wants to push gender equality and women empowerment forward," Bernardo said in an interview Tuesday.
In her speech on Monday, Fernandez emphasized the role of women in society.
"Ninety percent of department heads in the city are composed of women because women are hardworking, industrious, and focused on their duties," she said.
Meanwhile, Fernandez announced the opening of the city's lying-in clinic on March 14.
"The lying-in clinic's purpose is to ensure that no woman in Dagupan will give birth in her own home," she said, noting that the clinic is equipped with state-of-the-art X-ray, electrocardiogram, and ultrasound machines. (PNA)
By Hilda Austria (PNA)
LINGAYEN, Pangasinan -- The towns of Alcala, Burgos, Bautista, San Jacinto and Mabini will soon have their own fire stations upon activation by the Bureau of Fire Protection (BFP) this month.
BFP-Pangasinan provincial director, Supt. Eddie Jucutan said last week the requirements to activate a fire station were already met, including the memorandum of agreement with the local government unit for the use of facilities that will serve as the office of BFP in the respective towns.
"We have learned that these municipalities have their fire trucks so we worked on it for them to have their own fire station to be manned by BFP personnel," he said.
Jucutan noted about 48 new personnel will be deployed in the province and some of them will be assigned in the said five municipalities.
"We will deploy new personnel as well as experienced personnel together. They will be in charged in managing the newly-activated fire stations," he added.
Jucutan also confirmed they have secured an exemption certification from the Commission on Elections for the deployment of the personnel in relation to the 2019 mid-term elections in May.
By Hilda Austria (PNA)
DAGUPAN CITY -- The Department of Health (DOH) regional office has intensified its catchup vaccination in Ilocos Region, especially in Pangasinan, following a high rate of measles cases in the province.
John Lee Gacusan, senior health program officer of DOH-1, said Pangasinan has the highest number of suspected measles cases with 471, of which 23 were confirmed with 17 deaths from the disease as of February 26 this year.
La Union has 50 suspected cases, Ilocos Sur - 22, and Ilocos Norte -13.
Gacusan said the immunization program in the region for the past five years is on a declining trend.
"From 2014 to 2018, there are 201,662 children under five years old who were never vaccinated, Pangasinan with 110,205 of the total number," he said during the Pangasinan Information Officers' Assembly on Thursday here.
In 2019, Gacusan said they target to immunize with anti-measles some 72,974 children under five years old.
"We have mobilized our team to augment health workers in Pangasinan since it is the biggest among the provinces in Region 1 to hasten immunization," he added.
DOH-1 also held an inter-agency meeting with other government agencies, such as the Department of Education (DepEd), Department of Social Welfare and Development (DSWD), Department of Interior and Local Government (DILG), and the Philippine Information Agency (PIA) regional offices to assist in the campaign.
"PIA will continue to help the DOH in advocacy and promotion activities. DSWD involves Day Care workers for vaccination of day care pupils and enjoining parents of Pantawid Pamilya beneficiaries. DepEd coordinates with health workers," Gacusan said.
He further said the DILG also mandates local government units (LGUs) to open health centers on weekends for immunization programs.
"Catch up vaccination is a proven strategy to reduce and control the transmission of measles and prevent further outbreak," Gacusan said.
He noted that "cooperation and participation of all stakeholders are needed to surpass such public health challenge faced by immunization program and health department as a whole."
By Hilda Austria (PNA)
DAGUPAN CITY -- The Bangko Sentral ng Pilipinas (BSP) branch here is asking the public to stop the spread of counterfeit money by surrendering it to them in exchange for a reward.
BSP-Dagupan senior research specialist Gomer Gomez said the reward system by the BSP is under the program "Bayani ka na, Nagkapera ka pa", which is being implemented for more than a decade already.
"Matagal na po itong programa ng BSP na naglalayong mapatigil ang pagkalat ng pekeng pera (This program is being implemented by BSP for a long time now that aims to stop the spread of fake money)," he said in an interview Friday.
Gomez explained that the amount of the reward for the counterfeit money would depend on the value of the money surrendered to them.
He asked those who have counterfeit money to call their hotline number 6531026 for further details and proper coordination.
Gomez clarified that only counterfeit peso bills and coins are covered under the program, and this does not include other foreign currencies such as the US dollar.
"They could give us the counterfeit dollar if they have one and we will coordinate with the BSP Central Office on how to address it. But the program only rewards those surrendered counterfeit peso bill and coins," he said.
The Pangasinan police recently recorded incidents of counterfeit bills, even dollar, in the province.
By Hilda Austria (PNA)
DAGUPAN CITY -- The Department of Health (DOH) office in Region 1 (Ilocos) will soon launch an immunization program that will address the possible spread of the deadly Japanese encephalitis among children.
John Lee Gacusan, senior health program officer of DOH-1, said the Japanese encephalitis vaccine will be part of the National Immunization Program.
Pangasinan recorded 23 confirmed cases and at least two died last year, he said in an interview Thursday.
"The disease is not yet known to our country, but other countries are experiencing outbreak. We do not want that to happen here before we act on it," Gacusan said.
It is expected to be launched by last week of March or first week of April after which the vaccine will be available in health centers or rural health units for free for nine-month old up to 59-month old children, he added.
Gacusan assured the vaccine is safe and is being used for over 30 years now by other countries.
"Four hundred million children were immunized by this vaccine in many countries. It is approved by the World Health Organization and the Food and Drugs Administration in the Philippines," he said.
Adults can also avail of the said vaccine in private clinics for a fee.
Japanese encephalitis is a disease spread through mosquito bites and its symptoms, such as fever, vomiting, confusion and difficulty of moving, could lead to swelling of the brain and coma and eventually death.
By Ahikam Pasion
DAGUPAN CITY – Six teams from the largest universities and colleges in the cities of Dagupan and Urdaneta competed with their talents and skills in firefighting and rescue in the first Inter-college Fire Olympics here on Monday.
Dagupan City fire marshal, Chief Inspector Georgian Pascua, in an interview, said the event was initiated by the Bureau of Fire Protection (BFP) stations here and in Urdaneta City and the local government units with the aim to train college students on the traits of leadership, teamwork, and commitment.
"We need more responsible youths, sa ganitong edad matutunan na nila kung paano rumesponde sa emergencies (even at their age they would be able to learn how to respond on emergencies)," he said.
The participants were criminology students from University of Pangasinan, University of Luzon, Colegio de Dagupan, Panpacific University North Philippines, Lyceum Northern Luzon, and Urdaneta City University.
The teams, composed of a 12-man squad each representing their school, underwent several instances to showcase their skills.
"We focus on basic firefighting techniques such as hose relay, bucket relay, and the likes. The kids can use these skills in their schools and even in their homes when the need arises," Pascua said.
Winners received cash prize and trophy, but the skills that the participants learned which they can apply in real-life situations are grander than the prizes, he noted.
Pascua extended his gratitude to the local government of Dagupan, headed by Mayor Belen Fernandez, for its full support to the activity.
Meanwhile, the BFP-Dagupan is set to stage a Junior Fire Olympics for younger students in March to coincide with the Fire Prevention Month.
"We will have more activities for the students to immerse themselves into. It will be a good learning experience for them," Pascua said.