Palawan News
Jump to navigation
Jump to search
→ → Go back HOME to Zamboanga: the Portal to the Philippines.
A | B | C | D | E | F | G | H | I | J | K | L | M | N | O | P | Q | R | S | T | U | V | W | X | Y | Z
Create Name's page
Regions | Philippine Provinces | Philippine Cities | Municipalities | Barangays | High School Reunions
---
Province of Palawan - Archived News
---


Seal of Palawan
Please upload
Interactive Google Satellite Map of Palawan Province, Philippines

Map locator of Palawan

Map of Palawan Island
Map of Palawan

Provincial Capitol of Palawan
Dietary supplement is a product that contains vitamins, minerals, herbs or other botanicals, amino acids, enzymes, and/or other ingredients intended to supplement the diet. The U.S. Food and Drug Administration has special labeling requirements for dietary supplements and treats them as foods, not drugs.
---
---
Manufacturers and distributors of dietary supplements and dietary ingredients are prohibited from marketing products that are adulterated or misbranded. That means that these firms are responsible for evaluating the safety and labeling of their products before marketing to ensure that they meet all the requirements of DSHEA and FDA regulations.
Undergroud River in Palawan
Underground river in Pureto Princesa, Palawan
Baracuda Lake, Coron, Palawan
Wars of ancient history were about possessions, territory, power, control, family, betrayal, lover's quarrel, politics and sometimes religion.
But we are in the Modern era and supposedly more educated and enlightened .
Think about this. Don't just brush off these questions.
Why is RELIGION still involved in WARS? Isn't religion supposed to be about PEACE?
Ask yourself; What religion always campaign to have its religious laws be accepted as government laws, always involved in wars and consistently causing WARS, yet insists that it's a religion of peace?
WHY??
There are only two kinds of people who teach tolerance:
The Bullies. They want you to tolerate them so they can continue to maliciously deprive you. Do not believe these bullies teaching tolerance, saying that it's the path to prevent hatred and prejudice.
The victims who are waiting for the right moment to retaliate. They can't win yet, so they tolerate.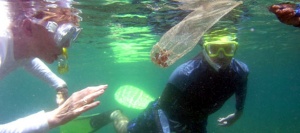 U.S. Ambassador to the Philippines Kristie A. Kenney and USAID/Philippines Environment Office Chief Daniel Moore witness the safe and sustainable collection of ornamental fish by certified Marine Aquarium Council collectors in Palawan
By Hanna Camella Talabucon
In line with the celebration of World's Breastfeeding Awareness Month, 60 lactating will simultaneously breastfeed their babies in the first-ever "Hakab Na" happening on Sunday, August 18 at SM City Puerto Princesa.
The "latch-on" event, being the first in the province, was facilitated by moderators of a local online group called Palawan Breastfeeding Moms.
Coleen Mae Bundal, one of the creators of the page and a known breastfeeding advocate, said she drew inspiration from her own personal journey when she became a mother.
Bundal said she went into a rough breastfeeding journey and likes to help other breastfeeding moms, especially those who are new to motherhood.
"With all the hardships I went through, I saw how important breastmilk is for babies and sadly, how little information moms have to provide milk for their little ones," Bundal said.
"With all the mom friends I got in our group, I realized we can work together in spreading breastfeeding awareness in Palawan," she added.
Presently, 60 mothers have registered to join but Bundal said they are still open for registration until Sunday morning.
The term "Hakab Na" was derived from the English term "latch on," which means "to breastfeed."
Bundal said the event was adapted from the world famous celebration called Big Latch On which is now on its 10th consecutive year.
Hakab Na is now celebrated in some key cities in the Philippines and is now being introduced to Puerto Princesa.
Bundal also said that aside from talks from medical profesionals, the event will highlight success stories from moms who also experienced difficulties in producing breast milk but nevertheless succeeded in their breastfeeding journeys.
Palawan Breastfeeding Moms is an active Facebook page where local Palawan moms interact with each other through queries experienced in motherhood and child upbringing.
Some members of the page have also been regular donors of breast milk to newborn babies who are confined in intensive care units in hospitals around Puerto Princesa.
The page has been growing its members despite of being just created early this year.
Bundal assured that they will continue to provide a helping hand for mothers around the province.
"We want to strengthen the organization and continue helping moms. We want to be the support system every breastfeeding mom needs," Bundal said
By Russell Fernandez
Starting August 15 until 17, 2019, the Palawan Bonsai Society and SM City Puerto Princesa in partnership with JCI Puerto Princesa Kiao will host the interactive 4th Palawan Bonsai and Suiseki Exhibition.
Mallgoers could witness miniature trees patiently trained by Palawan's Bonsai Artists, see collections of natural stones that evoke forms and shapes revealed by collector's and enthusiast's extraordinary presentation at The Event Center of SM City Puerto Princesa.
There will also be a free 2-day seminar for those who are eager to learn and commit to the noble ancient art of bonsai.
With the theme "Small Trees, Big Dreams, One with Nature, Trees we Nurture", the exhibit aims to be a fun-filled experience for friends and families as a memorable bonding moment.
Interested visitors may also win exciting prizes from the Palawan Bonsai Artist with their best photo of nature in a pot.
By Gerardo Reyes Jr
The city government through the City Agriculture Office assisted farmers and fishermen in Puerto Princesa to improve their agricultural and fishery endeavors by availing of the government's lending program for the agri-fishery sector.
The Agricultural Competitiveness Enhancement Fund (ACEF), is a lending program through Land Bank of the Philippines (LBP), which is a government-owned and controlled financial institution, aimed to contribute to the upliftment of the socio-economic conditions of the people belonging to the agriculture and fishery sector.
Joven Delgado, aquaculturist of the City Agriculture Office said that there are already 25 applications from farmers and fishermen submitted to LBP.
"Meron ng 25 na naipasa pero marami pang iba na applications na ina-assist pa namin. Tinulungan sila sa mga requirements. Tinuruan sila sa pag-gawa ng Farm Plan at Business Plan," he said.
ACEF covers agrifishery projects such as purchase of farm inputs, equiptment or farm improvement, acquisition or establishment of agri-based production and processing machineries, equiptment and facilities, relending to farmers and fisherfolk.
For individual farmers, they can avail of a maximum of P1 million loan while P5 million is the maximum for associations.
Delgado explained that loan applications worth P300,000 and below can be processed and approved at LBP local branch only. It has also a very minimal interest and farmers and fishers should avail it.
"Ini-encourage namin ang mga farmers at fishermen kasi malaking tulong ito. Wala itong collateral at 2percent per annum lang. Ibig sabihin sa P100,000 mo ay 2,000 lang ang tubo sa isang taon," he said.
Delgado further said that funds will strictly go to the projects it will help improve the socio-economic conditions of farmers and fisherfolk.
By Gerardo Reyes Jr
The Social Housing Finance Corporation (SHFC), through its Palawan Satellite Office, has turned – over to National Housing Authority (NHA) – MIMAROPA Office a check amounting to P315,198 for the payment of origination/ mobilization fees.
SHFC grants mobilization or origination fees to accredited government agencies, one of which is the NHA who helps Homeowners Associations (HOA's), in resolving their land tenure problems.
Amelia Romero, head of NHA Palawan, explained that the fund is intended for the Sailors Homeowners Association Inc. with 218 member-beneficiaries located in Barangay San Miguel, Puerto Princesa City.
"This will be realized so long as the land owner is willing to sell their properties to the actual occupants who form themselves into a homeowner's association. Loan documents are prepared, completed, packaged and submitted to SHFC as the funding institution. After its loan approval the land owner is paid directly once the project is taken – out," NHA-Palawan said in a statement.
After take – out, member beneficiaries shall pay SHFC their monthly amortization for 25 years.
The Sailors Homeowners Association Inc. has a total land area of 1.6 hectares in a property formerly owned by Ma. Rita Jocelyn Lim-Palces.
By Gerardo Reyes Jr
The Race for Water Odyssey, a scientific and environmental expedition which navigates around the world to assess plastic pollution of the ocean, will have a port of call in Puerto Princesa on September 16-20, 2019.
Puerto Princesa and then Taytay town here in Palawan were chosen as the only places in the country to be visited by the Race for Water.
Nelson P. Devanadera, executive director of the Palawan Council for Sustainable Development (PCSD), said that the expedition will dock at the Baywalk area and will be a grand event in the city.
The Race for Water Odyssey will conduct a five-day lecture series to various audiences like national and local government employees, business and tourism sector, academe, and students.
The expedition is under the auspices of the Race for Water Foundation, an organization dedicated to the preservation of bodies of water and the ocean.
"The foundation aims to prevent plastic waste from reaching the wastewater and ocean by developing social models and business models that could give value to plastic waste and hence encourages its collection water," he said.
Devanadera further explained that the Race for Water has set sail around the world for a five-year Odyssey to offer solutions for preserving the oceans from plastic pollution, which to date, a genuine environmental disaster on a planetary scale.
By Leila B. Dagot (LBD/PIAMIMAROPA-Palawan)
PUERTO PRINCESA, Palawan (PIA) --- All of the lower units of Palawan Police Provincial Office (PPO) passed the performance audit in the proficiency stage of the Performance Governance System (PGS) conducted by the Regional Police Office (PRO) – Mimaropa on recently at A & A Plaza Hotel in Puerto Princesa City.
Police Lieutenant Colonel Socrates Faltado, information officer of PRO and assistant team leader of the audit team, said most of the municipal police stations (MPS) in Palawan got the rating of best practice and some of them placed in good progress.
"On the results of our PGS performance audit, most of the stations got a good remark, it's just goes to show that towards institutionalization, which is the fourth and final stage of the PGS, our commanders, the COPs (chiefs of police) would be very accurate in presenting issues of the community surrounding the unit in terms of crime prevention, crime solution, because of the sustainability of the PGS," Faltado said.
The audit is the process of the proficiency evaluation stage, covering the performances since year 2015 up to present.
In this stage, Rizal MPS got the highest rating with the score of 4.64, followed by Quezon MPS with 4.61, Aborlan MPS with 4.59, Narra – 4.47, San Vicente – 4.44, Cuyo MPS – 4.41, Bataraza and Linapacan tied in the score of 4.40, Busuanga and Coron also tied at the score of 4.39, Dumaran, 4.37, Kalayaan – 4.36, and Roxas – 4.33.
The three MPS: Araceli, Brooke's Point and Sofronio Española tied at the score of 4.32; while the Police Mobile Force Company (PMFC) got 4.29; Magsaysay- 4.24; Balabac - 4.22; Agutaya and Culion – 4.1; Cagayancillo – 4.12; and El Nido MPS got the lowest with the score of 3.89.
Faltado explains PGS or otherwise known as the Philippine National Police (PNP) Peace and Order Agenda for Transformation and Upholding of the Rule of Law (P.A.T.R.O.L) Plan 2030, is the organization's strategy endeavors for real and lasting transformation through adaptation of the balanced scorecard as a management and measurement tool in order to attain its vision of becoming a highly capable, effective and credible police service.
"Documentation is very important because these are the evidences of performance that can be analyzed over time," Faltado said, prompting all police personnel in the MPS the importance of documentation to evaluate their performances.
By Gilbert Ramoya
Bonsai enthusiasts and eco-warriors Shin and Charlene Evangelista of Brookes Point town here in Palawan urged the Free Eco Workshop participants held at Frontier Lodge on July 27, 2019, to plant more trees and try growing plants indoor using water, recycled glass or plastic bottles and variety of trees and plants suitable to be planted.
Ms. Shin stressed the important role of trees in saving and preserving the biodiversity in their town and she gladly announced that their family already planted 100,000 trees as of this date.
Earlier this year, they tried an indoor plant for their lodging house as an added feature to rooms and the receiving area. They were among those interested in growing water bonsai.
They contacted Mr. Edwin Dela Torre, an inventor of Amazing Powder Grower for Water Bonsai, to acquire technical skills and knowledge on how to plant and manage a water bonsai.
Ms. Shin and her sister Charlene, shared and presented to the participants the easy-to-follow procedures and materials' preparation.
They promote collecting a recycled glass and plastic bottles as containers for water bonsai plant and to help lessen the litters of this waste in their surroundings. The other recycled materials needed are styrofoam and lunch boxes from the fast-food chain.
Apart from the plant and variety of trees suited as bonsai plant, the amazing powder grower served as nutrients of the plant to grow their roots in a couple of weeks plays a vital role in this new hobby of bonsai enthusiasts.
A sachet of powder grower should be mixed in 1.5 liters of tap water, then shaken for 30 seconds, and then wait for the water to become clear prior to pouring into the glass container.
The amazing water bonsai now attracted individuals without a green thumb and ignited their creativity.
"Kelangan lang ng enough light not necessarily direct sunlight for water bonsai, and before maubos yung water sa glass container pwede nyo na palitan ng tap water kaya easy to manage sya kasi di nyo na kelangan magdilig and pwede nyo din sya pagkakitaan at ibenta yung inyong water bonsai plants," said Shin Evangelista.
The workshop ended with finished products being exhibited including their recent collection of water bonsai at the Frontier Lodge. Some lucky participants received a free sachet of powder grower during the raffle.
By Gilbert Ramoya
A free workshop for upcycling of beverage tin cans dubbed as "Moto in Can" was held July 27 in Brooke's Point town.
Renowned local artist Mr. Jc Enon facilitated the activity that was organized and presented by Frontier Lodge on its 13th anniversary.
The two-part workshop was attended by environment-friendly individuals while government agencies DTI, DENR, and MENRO sent representatives. Some school teachers, barangay hall officials, staff and elementary students also joined.
Mr. Nemisio Evangelista, a former government employee and owner of Frontier Lodge, told the participants to do their part in preserving the clean and green town of Brooke's Point.
The morning activities were held at Event Hall of Frontier Lodge, and at Barangay Hall of District II in the afternoon.
Mr. Enon taught the participants to actively engage in 4C's activities and help to lessen the trash littered in the surroundings and to maintain the clean and green image of the town.
Activities included in 4C's are: Collect, Clean, Cut and Create. The gathering of trashes that can be recycled and upcycled is under Collect stage. Cleaning and preparation of all recyclable materials follow. Tips on how to Cut the tin cans and materials and tools preparation have also presented the process. Lastly, the Creativity of art enthusiasts was kindled.
"Simpleng pagtulong namin taontaon sa kalikasan at kapwa po ay paraan namin para pasalamatan si Lord sa mga biyaya na binigay nya, dahil naniniwala po kami na sa simpleng pagtulong sa kapawa at kalikasan, maari kaming maging instrumento upang maparamdam sa kanila ang pagmamahal at kabutihan ng ating Panginoon," said Ms. Shin Evangelista, Manager of Frontier Lodge.
Ms. Evangelista encouraged the participants to continuously live the life of an eco-warrior in their town. To motivate them, prizes were awarded to the participants both in the adult and kid categories.
The "Owl" creation of Gabay Guhit and members of Life Church group was declared first prize winner in the adult category while "Camera" was the first prize winner in kid category from students of Brooke's Point Central Elementary School. Other handcrafted creations of groups are "Ship" of government agencies, "Plane" of teachers and church members, "E-Trike" of JVL Services and Unlad and "Bike" of Brooke's Point Central School students.
Apart from the workshop, the participants also received freebies and prizes in the raffle draw and free snacks sponsored by the Frontier Lodge. The Moto in Can product exhibit and photo opportunity ended the day-long activity.
(BusinessMirror)
The Department of Tourism (DOT) celebrates the inclusion of the three popular island tourist destinations of Palawan, Cebu and Boracay in Travel + Leisure's World's Best Awards 2019.
Leading the Philippine honorees is the "the perennially popular Philippine island of Palawan," wrote the magazine. Palawan, which ranked second on the 15 Best Islands in the World list, is home to the enchanting Puerto Princesa Subterranean River National Park, Coron and El Nido.
Palawan is also where the DOT's San Vicente Flagship Tourism Enterprise Zone (TEZ) is located. Master-planned as an integrated tourism destination project, it is envisioned as a sustainable investor's haven that will be a catalyst for inclusive economic growth through public and private partnership.
"We are thrilled that Palawan has improved its ranking this year, and is inching closer to regaining its top spot in T+L's World's Best Awards. Hats off as well to Cebu and Boracay for being recognized among the best in Asia," DOT Secretary Bernadette Romulo Puyat said.
Cebu and Boracay were voted seventh and ninth, respectively, in the Top 10 Islands in Asia category by the readers of the international travel magazine. The islands were rated according to their activities and sights, natural attractions and beaches, food, friendliness and overall value. Palawan also came in second on this list.
"This citation by a major publication validates our efforts toward attaining a sustainable tourism industry and now, more than ever, encourages the DOT to work even harder on this advocacy, creating a tourism environment that is recognized and lauded not only today, but for the generations to come," remarked Puyat. T+L writer Rebecca Ascher-Walsh quoted one reader naming Palawan as the "single most beautiful place I have ever seen."
Ascher-Walsh also wrote that the Philippine island triumvirate of Palawan, Cebu and Boracay are longtime favorites thanks to top-notch reef and wreck diving, white-sand beaches, hiking trails with waterfalls and welcoming locals.
(Manila Standard)
The light at the end of the tunnel is now in sight for the long-suffering residents of Palawan following efforts of the Department of Energy to ramp up support for a multi-sectoral program to end the recurrent brownouts in the province once and for all.
In a meeting last week, various stakeholders in the public and private sectors came up with various programs based on the recent findings and recommendations of the DOE's Task Force PALECO.
The special task force was created in February by Energy Secretary Alfonso G. Cusi to address the power interruptions in Puerto Princesa and other parts of Palawan .
The Inter-Agency Coordinating Committee and the Task Force met with the representatives of the Palawan Electric Cooperative, the National Power Corp., and provincial government agencies on Thursday (July 25) to discuss the progress of the implementation of their respective action plans.
PALECO has been facing an angry backlash from both its consumers and the local government since 2017 due to unreliable electricity services in the province.
In February this year, Secretary Cusi directed TF PALECO to look into the power interruptions perennially bugging Palawan through a Performance Audit and Assessment. To this end, the Task Force conducted two site validations in February and March.
The Task Force's findings included the uncoordinated synchronization of the protection system of PALECO and NPC's distributions lines; overloaded substations; vegetation obstruction along distribution lines; and the slow coordination among various government agencies on distribution line maintenance and improvements.
Based on these findings, the DOE directed PALECO, NPC, and the National Electrification Administration to submit implementation programs. PALECO was expected to accelerate tree clearing activities along its distribution lines, while the NPC was requested to fast track the improvement of its transmission lines and upgrade its power substations.
In the meeting, the IACC-TF PALECO also presented its final report to the Palawan Council for Sustainable Development (PCSD), a multi-sectoral and interdisciplinary body governing and implementing policies in the province, headed by Gov. Jose Chavez Alvarez. The PCSD has pledged to help foster efficient coordination among the various relevant stakeholders and local government
Agencies to effectively address all the issues surrounding the matter. The council's members include local government units and agencies, consumer and business groups, as well as indigenous cultural communities/indigenous peoples,
"The DOE is committed to taking the lead in ensuring that PALECO's issues will soon be addressed. With the cooperation of all stakeholders, particularly the PALECO Board of Directors, its management member-consumers, as well as the local government agencies, we should be able to provide high quality electricity services that Palawenos deserve," Secretary Cusi said.
By Danessa Rivera (The Philippine Star)
MANILA, Philippines — The National Grid Corp. of the Philippines (NGCP) is investing over P6 billion to interconnect the Mindoro and Palawan transmission lines.
NGCP is asking the Energy Regulatory Commission's approval to pursue the Stage 1 of the Palawan-Mindoro Interconnection project (PMIP).
PMIP Stage 1 has an estimated cost of P6.4 billion and will serve as the preparatory stage for the interconnection of Palawan to the main grid.
It aims to conduct further studies on the interconnection of Palawan to Mindoro through submarine cable and establish a transmission backbone designed to serve long-term power needs in the area.
"NGCP is proposing to implement the PMIP to provide adequate, reliable and affordable power supply in Palawan. With the increasing demand for power in the island due to tourism and economic development, it is about time to pursue this interconnection to the main grid which will provide Palawan with more reliable power supply and access to cheaper alternative sources of power in the main Luzon grid," the grid operator said.
Stage 1 of PMIP has two components: a desktop and hydrographic survey and a new transmission line and substation project in Mindoro.
NGCP said the survey would assess the risks in the study area, present information that may affect the survey and actual project implementation, determine the feasible routes for the proposed submarine cable interconnection, and assess engineering risks along the possible cable routes, and other factors.
The second component is the establishment of the Calapan-San Jose 230-kiloVolt (kV) transmission line backbone and San Jose 230kV substation in Occidental Mindoro since the province will eventually serve as the connection link of Palawan to the main grid.
NGCP said this transmission backbone would provide reliable transmission of power in the area while creating potential for generation facilities as well.
It will also provide an interconnection link to Palawan and the Visayas islands, which may be explored in the future.
Stage 1 of the PMIP will run for 27 months for the conduct of the desktop and hydrographic survey, while the development of the Calapan-San Jose 230kV backbone and San Jose 230kV substation will run for 60 months.
If a viable route for the project is identified upon completion of the hydrographic survey, and the 230kV backbone component is completed, NGCP will proceed to stage 2 of the project, which is the actual implementation of the Palawan-Mindoro interconnection through submarine cable.
(ABS-CBN News)
MANILA - Tourist paradise El Nido will not be closed to visitors amid its rehabilitation, Environment Secretary Roy Cimatu said Thursday.
Swimming, however, will be disallowed in Bacuit Bay, where algae was reportedly worse than that of Boracay Island before it was shut down for a 6-month rehabilitation last year, Interior Undersecretary Epimaco Densing III earlier said.
The Department of the Interior and Local Government earlier recommended the closure of 4 barangays--3 fronting in Bacuit Bay and the fourth covering Corong-Corong Beach--in El Nido where waters have been contaminated with human waste.
Officials said establishments will be given 20 days to comply with requirements to assure water quality and safety.
Located at the northern tip of Palawan, El Nido is one of the Philippines' top tourist destinations, and attracted around 200,000 tourists last year.
Aside from El Nido, the DILG said it was "watching" the tourist islands of Panglao and Coron in the province for a possible cleanup similar to Boracay.
By Gerardo Reyes Jr
The Puerto Princesa City Water District (PPCWD) initiated "biofencing" in the city's watershed Irawan Ecopark as among the activities of its 43rd anniversary celebration.
Antonio Jesus Romasanta, general manager of PPCWD, said that the biofencing will be conducted at the riverside of Sitio Impapay in Brgy.Irawan.
Biofences are panels of plants, grown vertically on structures that can be either free-standing or attached to wall. Biofences can turn spaces into something natural and beautiful. They can also improve air quality and provide health benefits.
Biofences make a breathtaking statement by creating alluring environment. They are as equally impressive in appearance as they are purveyors of good health; the plants work as a natural air-filtration system.
Romasanta said that they encourage everyone who will join not to bring any single use plastic or disposable bottles.
"This agency supports worldwide eco-friendly campaign thus we strongly discourage the use of single-use plastic and suggest to bring individual water/ drink container during the event," he said.
Aside from the biofencing activity at 6:30am, the PPCWD will also hold a fun run at around 4am starting from their office in Brgy. Sta. Monica going to Irawan Ecopark.
Romasanta said that August 5, 2019, which falls on Monday, is the PPCWD anniversary.
By Gerardo Reyes Jr
The city government of Puerto Princesa, headed by City Mayor Lucilo R. Bayron together with other officials, led the groundbreaking of P190.7-million worth of infrastructure projects within Balayong People's and in Sports Complex and Fitness Park during the 3rd Balayong Trees Nurturing activity.
Mayor Bayron said that two years after the park was established during the first Balayong Tree Planting in July 2017, the construction of infrastructure projects within the park will officially start.
"Ngayong taon na ito ay maraming nakasaad na projects na e-introduce sa Balayong People's Park natin. Nakikita ko na itong park na ito ay magiging napakagandang park sa mga darating na panahon," he said.
Mayor Bayron explained that this was made possible with the approval of the release of funds from the Department of Budget and Management (DBM).
He said that the construction of the four-lane PSU to Rafols Road within the government center in Brgy. Sta. Monica is now ongoing. It has a spacious pedestrian lane and parking spaces.
The development of Balayong Nature Park is now ongoing with the ongoing construction of Watch Tower, Water Pod, Amphitheater, Learning Pod, and View Deck which cost P 86.5 million.
In the Sports Complex and Fitness Park, the infra projects include: the improvement of existing Volleyball Courts with Covered Bleachers amounting to P 19.5 million; Construction of Indoor Badminton and Table Tennis and Covered Lawn Tennis and Sepak-Takraw Court that cost P 47. 7-million; Repair of New Grandstand basement converted to stock room and weight room for Taekwondo, Wushu, Arnis, Training Boxing Gym, Chess Dorm with P7.2-million budget; and the construction of new swimming pool and conversion of old pool into an infinity pool with canal pavement, overview drain, retaining wall pump and Cistern Tank that cost P 29.6-million.
The city government also presented and demonstrated to the public the newly procured earthballing equipment known as Tree Spade.
Atty. Carlo B. Gomez, city environment and natural resources officer said that they are pushing for the acquisition of the equipment to make earthballing easy and efficient in transplanting trees affected by road widening and other infra projects.
Atty. Gomez assured that Balayong trees that did not survive will have a replacement. Through the City ENRO Office, there is also a provision of continuing maintenance of the Balayong trees to ensure high survival rate.
During the event, the crowd was also entertained through Larong Pinoy. The participants exhibited their talents and skills through games like bamboo boxing, sack race and tug of war.
By Myrna M. Velasco
A subsidiary of Yuchengco-owned PetroEnergy Resources Corporation (PERC) is prepping up for P1.1 to P1.3 billion worth of investments for planned 10 to 20-megawatt hybrid power generating system in Palawan.
The proposed project, once it takes off from blueprint, will be undertaken by the company's subsidiary PetroGreen Energy Corporation, according to PERC Vice President Francisco G. Delfin Jr.
"It's a project by PetroGreen where we intend to put up 10 to 20 megawatts of installed capacity of solar, then with a component of battery storage and diesel," he expounded.
Delfin indicated though that there is just one major factor that they have yet to contend with relative to this planned venture – the power supply procurement decision of off-taker Palawan Electric Cooperative.
He stressed the company had already secured most of the permits and even the term sheet for the project's financing – but everything has yet to depend on when PALECO undertakes its competitive selection process (CSP) for a power supply agreement.
"For Palawan, this is a service contract that we secured as early as 2017 and we have already secured many of the necessary government permits – LGU (local government unit) endorsements, ECC (environmental compliance certificate) clearances – but the only thing holding us back to proceed is of course the offtake," Delfin said.
He qualified that the company can opt for either a phased or one-time development of the proposed facility that shall comprise ground-mounted photovoltaic (PV) solar with 2 to 4 megawat-hour (MWh) battery storage and diesel installation.
"It depends on ultimately what PALECO will set in the CSP, we can go with an initial 10 megawatts; but it really depends on the customer which is PALECO," he said.
The Yuchengco firm executive further noted that the required land for the solar installation had already been secured; and the company had likewise completed the technical feasibility studies for the project.
"The diesel component will ensure the 24-hour availability of power; and the battery storage is for a size of 2 to 4 MWh just to address the fluctuations," he pointed out; adding that for consumers of Palawan, this will bring down their cost and at the same time provide them with round-the-clock electricity service.
+Until this point though, there is no set timeframe yet on when the Palawan power utility will conduct its CSP on a power supply deal for the targeted entry of new power suppliers in the island-grid.
By Catherine Talavera (The Philippine Star)
MANILA, Philippines — Palawan stays on the radar of international travelers as readers of Travel+Leisure magazine once again voted it as one of the 15 Top Islands in the World.
No stranger to the list, Palawan ranked second this year with a score of 90.87. This is an improvement from last year's sixth place with 90.04.
The island was previously voted as the best island in the world in 2013 and 2017.
Palawan is joined by other top islands in the world in the 2019 list such as Sri Lanka, Bali, Milos and Maldives
Meanwhile, the Philippine island also grabbed the second spot in the best islands in Asia list, joined by Cebu and Boracay, the seventh and ninth best islands in the region registering a score of 87.09 and 86.90, respectively.
"The Philippine islands of Cebu, Palawan and Boracay are longtime favorites, thanks to top-notch reef and wreck diving, white-sand beaches, hiking trails with waterfalls and welcoming locals," Travel+Leisure said.
"Five-star lodgings with water views and doting service abound, from the Shangri-La Boracay Resort & Spa to El Nido's four eco-friendly, waterfront Palawan properties," it added.
In addition, readers of Travel+Leisure also voted Amanpulo in Pamalican island as among the Top Resort Hotels in Southeast Asia, landing in the 11th spot with a score of 92.96.
Earlier this year, Boracay and El Nido, Palawan were named among the best beaches in Asia by TripAdvisor's 2019 Traveler's Choice Awards.
Boracay White Beach, described as the island's most popular beach famous for its amazing sunsets and white sand that stays cool in hot weather, ranked ninth among the 25 best beaches in Asia.
In addition, Yapak Beach or Puka Shell Beach, the second largest beach in Boracay named after the prevalent white puka seashells, also ranked 25th on the list.
Two more beaches in El Nido, Palawan were also cited in the list, namely Nacpan Beach and Las Cabanas Beach ranking 13th and 22nd in the region.
By Gerardo Reyes Jr
Three out of 10 Philippine pangolins hunted in Liminangcong, Taytay town that were rescued from alleged smugglers were released by the enforcement team of Palawan Council for Sustainable Development (PSCD) to the wild in Palawan on July 8, 2019.
These three pangolins rescued on June 28 were the remaining survivors after they were transported from Taytay town passing through Batangas province on their way to Chinatown in Binondo, Manila.
The smuggler reached Batangas by riding a small boat from Palawan. The suspects were caught in Tagaytay City in Cavite onboard a shuttle van.
The suspects were identified as Simforoso Salazar, JordanTorrequimada and Victor Canunjag. Both Torrequimada and Canunjag were from Roxas, Palawan while Salazar is a resident of Calatagan, Batangas.
PCSD ECAN Regulation and Enforcement Division OIC Levita Lagrada said this incident calls for stronger cooperation of the local government units (LGUs) with the PCSD staff in implementing Republic Act 9147 or the Wildlife Act.
Lagrada emphasized the need for the locals to get involved in watching over for illegal activities and reporting them immediately to the authorities.
"The whole Palawan is surrounded by waters making it prone to poachers who look for unguarded coasts to smuggle wildlife. For this reason, the fight against wildlife trafficking ideally begins at the barangay level," Lagrada said in an statement.
"PCSD Enforcement team maintains the confidentiality of the location where the pangolins were released to protect them from poachers," the statement further said.
Dubbed as the "world's most trafficked mammal", pangolins are being hunted to extinction due to the high demand of foreign markets for its scales and meat that used in traditional medicine.
Philippine Pangolin, locally known as "balintong", thrives in Palawan alone. It is classified as critically endangered.
By Gerardo Reyes Jr
The Sangguniang Panlalawigan of Palawan enjoined all its component municipalities to strictly enforce the prohibition on the selling of alcoholic and tobacco products to minors, and selling these products within the 100-meter radius from schools and public places frequented by children and minor.
Board Member Clarito D. Demaala IV sponsored a resolution urging all the 23 component local government units (LGUs) to execute in their respective territorial jurisdiction, the Republic Act No. 9211 also known as Tobacco Regulation Act of 2003 and the Executive Order No. 26 series of 2017 issued by President Rodrigo Duterte.
"It is the policy of the State to protect the populace from hazardous products and promote the rights to health and instill health consciousness among them,"
The resolution said that based on the report released by the World Health Organization (WHO) more than a quarter of the total population of the Philippines smokes and 11 percent are minors.
RA 9211 and EO 26 series of 2017 prohibit the selling of tobacco products and alcoholic drinks within the 100-meter radius distance from schools, playground, and places frequented by children and minors.
The establishment owners should designate specific No Smoking Areas in places away from elevators, stairways, gas stations, health centers, and food establishments. Government agencies, offices, and establishments should install No Smoking signages in public places and enforce fines and penalties to violators.
"The Provincial Government of Palawan believes that our children must be protected from the harmful effects of smoking thus recognizes the importance of implementing the laws especially in view of the opening of classes for school year 2019-2020," said BM Demaala.
He further authored another resolution that enjoined LGUs to enforce Presidential Decree 1619 series of 1979 that penalized vendors who sell alcoholic beverages to children and minor.
Demaala said that a research conducted by the University of the Philippines (UP) said that most young Filipinos started to drink alcoholic beverages at 16 or 17. However, there are more recent studies that showed that 12-year-old children started learning to drink alcoholic beverages.
By Gerardo Reyes Jr
The city government targets to fully equip the City Engineering Office (CEO) with heavy equipment needed to perform its functions in a bid to fast-track the implementation of infrastructure projects in Puerto Princesa City.
Mayor Lucilo R. Bayron said that his administration is pushing for the acquisition of equipment to ensure the timely implementation of projects and to speed up the completion of four satellite city halls in Brgy. Napsan, Macarascas, Luzviminda and San Rafael.
On Monday, July 8, 2019, he announced that he appointed former City Councilor Modesto Jonjie Rodriguez II as one of his executive assistants who will administer the construction of the four satellite city halls.
"Siya (Rodriguez) ang hahawak sa ating mga mini-city hall. Tayo ay magpapadala ng maraming equipment doon para maapura ang pagpatrabaho. Ito ay part ng ating Equipment Acquisition Program ng 2019," Mayor Bayron said.
He further said that each satellite city hall will be provided with 10-wheeler truck, 6-wheeler truck, grader, payloader and other necessary equipment.
Mayor Bayron explained that he also wanted to fully equip the CEO with equipment by 2021 so that they will be capable of implementing projects by administration.
"By 2020 ay mayroon na tayong capability at by 2021 full na ang equipment natin. At ang city engineering ay dapat maka-focus na dyan. Lahat ay by administration na," he said.
On September last year, the Sangguniang Panlungsod summoned the city engineer during its "question hour" over the delayed implementation of infra projects in the city. The CEO defended that the lack of manpower and equipment hampered their implementation of these projects, mostly road construction project.
Mayor Bayron said that he already approved the creations of additional positions for CEO to address the concerns.
The blessing of the heavy equipment was made on Monday morning and the city government assured that more units will be delivered to the city hall within tbe year.
"Ang mga construction equipment units ay napurchased sa ilalim ng Acquisition Program for 2019 sa pamamagitan ng 20 percent development fund para makapagumpisa sa paglalagay ng apat (4) na satellite city halls na makapagbibigay at hatid serbisyo para sa mga napakalalayong mga barangays. Ang mga ito ay partial pa lang ng equipment acquisition program para sa 2019. Marami pang darating at ang target talaga para sa full implementation ng ating mga mini city halls. Kapag nakumpleto natin ang mga ito, 'yong mga maintenance ng ating mga kalsada sa labas na kailangang-kailangan ng mga magsasaka at mangingisda maaasikaso na rin natin ng mabilisan," a statement from the office of Mayor Bayron said.
By Russell Fernandez
As the new school year officially started, 43 Tulong Aral scholars from Don Ramon Roces Memorial Elementary School received their benevolent support from Petron Foundation Inc. thru a free shopping spree of school necessities at The SM Store Puerto Princesa.
With a mandate to fuel hope for the less privileged, the Petron Foundation Inc. (PFI) undertakes its education program dubbed as Tulong Aral ng Petron.
The said scholarship program is a long term and strategic initiative program undertaken by the Petron Foundation that aims to secure a better future for the country's less privileged children by giving them the chance to get into school, keeping them there, keeping them well, and making sure that they learn.
With its partnership with SM, DepEd, and DSWD, PFI envisions its education program as a system wide and sustainable business solution to the country's social problems, in particular, poverty.
The Tulong Aral ng Petron programs supports elementary, high school, college, and technical – vocational scholarship programs. Furthermore, they also have Reading Programs and Youth Entrepreneurship & Skills Training Program.
The company takes a step further by initiating the entrepreneurial education and development program, which seeks to develop the Filipino youth to become wealth creators. By leveraging on Petron's competencies, the company can help enhance the current high school curriculum on entrepreneurship, give them opportunities for employment and, in the long term, guide them to become entrepreneurs.
The Tulong Aral ng Petron sends over 6,000 children from indigent communities to public elementary schools, under the Department of Social Welfare and Development (DSWD) kapit Bisig Laban sa Kahirapan program.
By Erika Concepcion
The city government of Puerto Princesa, together with its partner companies Meralco Energy, Inc. (MServ) and Signify Philippines, inaugurated the country's first smart city-enabled street lighting system installed in Brgy. San Manuel and Brgy. San Pedro, Puerto Princesa City.
"The street lighting project, this is actually the country's first smart city enabled by connected LED street lighting system that provides insight into activity patterns," said MServ Chief Operating Officer Ronaldo Torres.
"You can have a real time monitoring kung ilang konsumo na 'yung ating LED street light and in addition, you have reduced your consumption by half. Before, you used to use 120 watts but right now, this is 60 watts LED, lowering the consumption but giving exactly the same illumination," he mentioned.
Out of the 740 bulbs installed in some of the streets of Brgys. San Manuel and San Pedro, 688 are smart lights while the rest are ordinary light bulbs. According to Torres, they will gradually convert most of the street lights of Puerto Princesa into smart lights.
The difference of these smart lights compared to an ordinary bulb is that the smart light offers world class illumination and it can easily be controlled using the dashboard. It has a unique feature that tells you everything you need to know about the street lights and it is saving the city a lot of money.
"Every single street pole in Puerto Princesa is sending relevant data to the cloud, every night it's getting downloaded, and the next day it's on the dashboard," said Jagan Srinivasan, country leader of Signify Philippines; which is formerly known as Philips Lighting.
"The City Engineer now has everything at his fingertips sitting behind his laptop… he knows what's going on with respect to the lighting infrastructure," he added.
He also said that this project is in strict compliance with the Department of Energy.
Vice Mayor Nancy Socrates also placed emphasis on the importance of lighting. "Katulad po ng food, shelter and clothing, light is now a basic necessity especially in our modern society and especially in a tourist city like Puerto Princesa. We need light for safety, we need light for peace and order but most of all, we need light for the convenience of our residence and our visitors," she stated.
For the next three years, the city government aims to provide smart lighting in all the public streets and public thoroughfares starting from Brgy. Irawan and Brgy. Sta Lourdes down to the city poblacion. According to Mayor Lucilo Bayron, "We will crush the time, and ang target natin is pagbaba natin sa 2022, mula sa Irawan hanggang Sta. Lourdes, lightened up na 'yung lahat ng ating public thoroughfares."
"This is only the first step at malayo pa 'yung pupuntahan natin, pero with you, supporting us, alam ko kaya natin ito," he added.
(Panay News)
EXECUTIVES of Junior Chamber International (JCI) and Palawan Pawnshop-Palawan Express Pera Padala recently announced that nominations are now open for the Kasambahay Kasambuhay Pilipinas Awards, which recognizes outstanding Filipino household service workers.
Now on its fourth year, the kasambahay awards gives P75,000 cash and trophy to each of 10 awardees every year in colorful ceremonies held in their honor. Last year's awards ceremony was held December at the Araneta Coliseum in a three hour star-studded show.
"The awards program focuses on the importance and dignity of the loyal household service workers or kasambahays and draws inspirational lessons from their simple lives and daily accomplishments," said Bobby L. Castro, CEO of Palawan Pawnshop and Palawan Express Pera Padala.
The JCI chairperson for this year's search, William Ong, informed that nominations are restricted to domestic workers who have rendered at least seven straight years of service to the present employers, not more than 75 years old, still at work, and ambulant enough to claim the award in Metro Manila.
He urged qualified domestic helps – nannies, maids, cooks, laundry women, drivers, gardeners, utility boys, and others – to join the search and avail themselves of nomination forms from JCI offices or Palawan Pawnshop branches nationwide.
Filled out nomination forms, including attachments such as employment certificates and identification cards, among others, are sent back to the same JCI office or Palawan Pawnshop branch no later than the August 31, 2019 deadline.
Launched in 2016, Kasambahay, Kasambuhay Pilipinas Awards has so far produced 25 awardees.
Castro hopes that "through this continued endeavor, the kasambahays' worth will be fully appreciated and that they will emerge as duly recognized partners in the Filipino home and society."
By REGINA G. POSADAS
Explore this uniquely exquisite eco-town before heading to El Nido and Coron
There was a snorting pig tied to a tree and several chickens scampering on the sand at the first beach resort we passed by. Aboard a rented van on narrow, unpaved, and unlit roads while we were headed to the next tourist spot, huge potholes, sudden dips, and ambling or lounging animals (like stray dogs and a herd of goats) compelled us to stop or transition into slow-mo every so often.
But also just a motorized boat ride away in the same municipality, we found ourselves in a serene and secluded beach, with powdery white sand, wonderfully refreshing blue waves, and inviting swings and hammocks swaying gently in the breeze. Not only one but several gorgeous and sun-drenched beaches are bordered by picturesque panoramas of mountains and skies, with sandbars that appear and disappear depending on the tide, on erstwhile unheard-of islands that exuded an intimate and "endless vacation" vibe.
Welcome to San Vicente, Palawan, where the raw, rural, and rugged harmonize to deliver some seriously riveting scenery and exhilarating escapades. Located in the northwestern side of Palawan's main island, it relies heavily on fishing and farming, but a comprehensive master plan and a burgeoning tourism industry are effectively transforming it into one of the country's popular and preferred destinations.
I got to see and savor San Vicente and other parts of Palawan in late June, thanks to a jam-packed trip organized by the Philippine Tour Operators Association (PHILTOA). Dubbed "Palawan, the Last Frontier Update with The New Connectivity," the five-day adventure commenced at the Clark International Airport in Angeles, Pampanga, where a Philippine Airlines flight took us straight to San Vicente Airport. A combination of land and water transportation brought us to El Nido, and then Coron, before the final plane ride back to Clark. PHILTOA had originally set a Clark to San Vicente to Taytay to El Nido to Coron to Clark route, but due to intermittent rains and a few unavoidable delays, we had to forgo the excursion to Fort Santa Isabel in Taytay as well as the walk to the forest to look at a waterfall.
Even so, our schedule remained full and enjoyable. In between transfers and slumbers, we took long walks (and had Fitbit count our steps) when we inspected a series of properties, hopped from one island to another swam, snorkeled, fed the fish, searched for turtles, had a picnic and partook of delectable spreads, networked and bonded with associates and co-travelers old and new, and of course, took pictures like there's no tomorrow.
"Not only one but several gorgeous and sundrenched beaches are bordered by picturesque panoramas of mountains and skies, with sandbars that appear and disappear depending on the tide, on erstwhile unheard-of islands that exuded an intimate and 'endless vacation' vibe."
San Vicente might not be as developed and well-known as El Nido and Coron, but it is certainly teeming with attractions, affordable tours (readymade or customized), and things to do. There are e-trikes, boats, motorbikes, and vans you can easily ride or rent to explore the area. There is no shortage of accommodations either, although the majority of the current beach resorts and bed and breakfasts are the simple, no-frills type ideal for short stays.
Aivan Franz Abao (+639 38 633 3396, abaoaivan@gmail.com), one of our tour guides, who is also the marketing manager of St. Vincent Travel and Tours in Barangay Poblacion, said that a typical eight-hour day tour of San Vicente costs only R1,500 per head for a minimum of six persons, and already includes stops at seven different locations, boat rides, entrance fees, lunch, dry bags, beach towels, and snorkel gear. Asked to name his top five destinations in San Vicente, he picked Boayan Island for its aquaculture and experiential tourism (catch cultured tropical fish using a hook and line), Long Beach for its 14.7-kilometer white sand beach (the longest in the Philippines), Bato ni Ningning for its superb views, Inaladelan Island where you can camp, swim with the turtles, play beach volleyball, and more. Visit the town of Port Barton for its varied restos and cheap eats, attractive reefs, tranquil mangroves, kayaking, treks to waterfalls, and more island hopping tours. If it's an extreme and unforgettable experience you seek, go skydiving at 10,000 feet, recommended Aivan.
By Tet Andolong
El Nido, Palawan, is known for its white-sand beaches, coral reefs, small and large lagoons as well as the gateway to the Bacuit archipelago, which is a group of islands with steep cliffs, dive sites and fish-filled crystal-clear waters.
It is also currently ranked No. 5 on Condé Nast Traveller's list of "24 Best Island Beaches in the World" and was also named the Best Beach and Island destination in the Philippines for its "extraordinary natural splendor and ecosystem" by CNN.
EL Nido, Palawan, has established itself as a special point of interest on the world map. Leading global international tour operators have included El Nido on their list of beach and high-end adventure travel destinations as well as their bucket lists of adventurers all over the globe.
Having said that, the place most visited in Palawan today aside from El Nido Resorts is Lio Beach, which is also located in El Nido within Bacuit Bay on the west coast of the northern portion of the Palawan Province. Lio Beach is only five minutes away from Lio Airport where AirSWIFT flies directly from Manila. Several flights depart daily to and from NAIA Terminal 4 and the flight to Lio Terminal Airport only takes an hour and 10 minutes.
El Nido is where people from all walks of life are reborn and rejuvenated after soaking in the waters of its tranquil lagoons and beaches. The white sands of Lio Beach, pristine waters, signature Filipino hospitality as well as great bar and restaurants lined up along the shore are irresistible to locals and foreigners alike.
Amid these untouched and seemingly surreal settings at Lio Beach is the newest and only five-star resort hotel—Seda Lio. The resort, which is only 20 minutes from El Nido town, is the perfect choice for those who want a peaceful stay away from the crowds and noise of the beachfront, yet still close enough to the island's attractions. Privacy and sheer relaxation are guaranteed.
The nice thing about being located in the tropics is that the nature-feel of the island is maintained in such a way that it still feels homey unlike a city hotel. You're on an island, so you should feel the tropical ambiance, even when you're already inside your room.
Because Seda Lio has always maintained its cozy and classy vibe, each room in the resort is simple and elegant, and the amenities are sure to get guests in the island paradise mood.
The 153-room Seda Lio Hotel, which has been designed to showcase its unique setting within Lio Tourism Estate, was recently awarded a spot on the global list of "Sustainable Destinations Top 100." The prestigious list drawn up by an international jury recognizes tourist spots that exhibit overall sustainability and success in destination management.
Lio's character and design are guided by principles of sustainability—developing the land with the least impact on the environment. Seda Lio Hotel, just like El Nido Resorts, sister companies under AyalaLand Hotels and Resorts Corp., are some of the advocates that help keep Palawan inhabitable while empowering its communities, take care of its indigenous people, as well as protect and conserve Palawan's biodiversity.
"One of the most important activities that we contribute to sustainability in El Nido is waste segregation," said Seda Lio's assistant front office manager Jaiah Reodica.
"Used plastic has the risk of escaping into the environment. Even when it's in landfills, plastic can be blown away and end up in the ocean. For biodiversity during summer, we help nesting female sea turtles hatch and lay their eggs on the beach," added Reodica.
Seda Lio is situated along Lio's expansive four-kilometer length of ivory beach, which is naturally oriented toward this stretch of paradise. Seda Lio also offers many photogenic views within its sprawling four-hectare site of the lush inland mangrove forest, the emerald bay known for its rich marine biodiversity and the ancient limestone cliffs and dense vegetation of Cadlao island. Cadlao is located just across the water from the hotel.
Seda group general manager Brett Hickey is happiest when guests arriving at the hotel are impressed by all the natural attractions that surround them rather than the built environment. "Our location within a nature retreat makes Seda Lio unique. We build on that experience by further offering more options for relaxation like a two-level infinity pool with special areas for kids and cabanas, a spa, an all-day dining facility that offers al fresco or air-conditioned seating, and rooms designed for comfort and relaxation, each one with a balcony."
All those features and facilities remain respectful of the environment, said Hickey. "For instance, there are no Seda Lio structures constructed higher than the coconut tree line. Buildings fronting the beach have also been built some distance away from the waterline in anticipation of storm surges."
For island hopping, picture taking, watersports such as kayaking, diving and snorkeling, one can visit Pinagbuyutan Island, Cadlao Island, Snake Island, Cudugnon Cave, Entalula Beach, Cathedral Cave, Pansandingan Beach, Big and Small lagoons and more. However, Seda Lio can arrange a group tour for their guests through their partners including El Swift Tours, El Nido Yachting Club and Adventures Scuba. One can also rent an exclusive boat for only P2,500 inclusive of captain, tour guide and life jackets for taking in the different breathtaking sights of El Nido.
Since its opening in August last year, Seda Lio has been a hotspot for both local and foreign tourists, business meetings and seminars, weddings and other groups marking a milestone. Each room offers first-class amenities including a 48-inch LED HDTV with cable channels, complimentary WiFi and strong Internet access. The Deluxe room is 45-sqm in size with balcony; the Suite is 76-sqm with a bedroom, executive desk, living room and balcony, while the Presidential Suite is 148 sqm with a bedroom and sofa bed, living and dining room, kitchenette and expanded balcony as well as media panel with HDMI, USB and AV connectivity.
Other facilities of Seda Lio that guests enjoy are the Misto, an all-day dining restaurant served by very hospitable waiters and waitresses; Pool Bar, Game Room, function rooms for up to 300 persons including El Nido's only indoor ballroom that can seat 150; state-of-the-art gym; Spa Villas with eight treatment rooms; Lobby Lounge with viewing deck overlooking the Cadlao lagoon; and Children's Playroom and Outdoor Play Area.
The one thing that stands out at Seda Lio is their personalized service. Guests who have stayed at the resort marvel at the handwritten notes and surprise treats they find when they return to their room. These are just some of the simple things that make your stay at Seda Lio a total bliss.
By Robertzon Ramirez (The Philippine Star)
MANILA, Philippines — Travel website Lonely Planet has released its Best in Asia Pacific list for 2019 and, no surprise, a Philippine destination is among the top 10.
This year's list-topper is Margaret River and Southern WA in Australia. According to the site, highlights for any traveler to these parts include views of the ocean "the hue of a Bombay Sapphire bottle." Lonely Planet goes on to add "wineries, breweries and restaurants," which "lie between tracts of tall-tree forest and kangaroo-dotted farmland."
Down some spots on the list at number eight is the Philippines' Palawan. Highlights that Lonely Planet included are the "crown jewel… El Nido, where skyscraping karst formations rise out of blue water in Bacuit Bay." Other places mentioned are the big lagoon at Miniloc Island, backpacker favorite Port Barton and San Vicente with its brand new airport.
Other places on the 2019 list are Shikoku in Japan, Bay of Islands and Northland in New Zealand, Singapore, the Cook Islands, Central Vietnam, Fiji, Beijing in China and Cambodia. Tourism on the rise
The country's tourist arrivals increased by 8.5 percent, or a total of 2,867,551 from January to April this year, according to Department of Tourism (DOT). This was higher than the 2,641,241 in the same period in 2018.
In another report, the DOT said that 2,790,303 travelers have visited the Philippines through the airports in Manila, Cebu, Kalibo, Clark, Palawan, Davao, Bohol and Iloilo, which is 11 percent higher than the 2,521,087 tourist arrivals in the same period last year.
The DOT, however, said that the tourist arrivals in the Philippines through seaports in Manila, Subic, Palawan, Batangas, Davao, Pangasinan, Cebu Zamboanga, Bohol (Tagbilaran), Romblon, Boracy, Leyte and Laoag have decreased by 36 percent, or 77,248 in 2019 from 120,154 last year.
The DOT's data were taken from the arrival and departure cards in different sea and airports in Manila.
By Gerardo Reyes Jr
The Bureau of Fisheries and Aquatic Resources (BFAR) said that they will promote the seaweeds value-added products to help the small scale processing of seaweed food products in Puerto Princesa City and Palawan.
BFAR Regional Director Elizer "Toto" Salilig said that their agency will extend support and other forms of assistance to seaweed growers and seaweed associations who are also engaged in food processing.
"I was amazed nung nakita ko yung seaweed noodles at iba pang mga products from seaweeds. Napakaganda. Ang ating mga seaweed growers ay sila ang ating mga hero. E promote po natin ang mga products nila, " he said.
Salilig instructed his assistant regional director, Roberto Abrera to facilitate the distribution of seaweed planting materials and other form of assistance to the seaweed industry in Palawan.
The women of San Rafael Seaweed Farmers Association based in Brgy. San Rafael, Puerto Princesa City were engaged in processing raw seaweeds into various seaweeds processed value-added products.
They participated the 2nd Palawan Seaweed Industry Summit last May 9-10, 2019 as among the participants in the two-day exhibit of seaweed processed value-added products at City Estate Asturias Hotel.
BFAR also trained the seaweed farmers association to prepare, improve, and equip the skills of women engaged in seaweed food products processing. Participants learned the process from ingredients preparation, extracting seaweed gel and puree, sanitizing and sealing of bottles for packaging.
Mr. Rogelio Paclibar, President of San Rafael Seaweed Farmers Association said tbat among the products that they are producing are Seaweed Noodle, Pickles, Cookies, Crackers, Sticks (Shing-a-Ling) among others.
Aside from BFAR, the city government of Puerto Princesa, national government agencies like Department of Science and Technology (DOST), Department of Trade and Industry (DTI) and others also extended their support to the association. Palawan is considered as one of the country's biggest seaweeds producer along with Tawi-tawi. Both provinces produces more 300,000 metric tons of raw seaweeds based on Philippine Statistics Authority (PSA) data.
By Gerardo Reyes Jr
The Department of Science and Technology (DOST) has chosen Puerto Princesa City as its pilot area to promote and ensure food safety in adherence to Food Safety Act of the Philippines or Republic Act 10611.
DOST provincial head Engr. Pacifico Sariego informed Mayor Lucilo R. Bayron about the project which the national government allocate P1.3 Million for the purpose.
They will focus on the safety of food sold in the city. This will improve the quality of the locally-produced food prpducts including local delicacies known as kakanin, and food sold in the streets.
The lucrative tourism industry in the city prompted the national government to collaborate with the city government to come up and design a Good Manufacturing Processes Food Cart to promote and ensure food safety to all consumers.
The project will provide training and technical assistance to food handlers and ambulant food vendors in the city. The DOST will also come up with a system to easily identify food stalls whose food products are safe and passed the standards.
They will also check the physico-chemical and microbiological properties of the workplaces and food outlets, therefore assuring the consuming public that the products are safe and of good quality. For the purposes of implementing the project, a special body is formed headed by the City Mayor. Other members of the body include the DOST, and the city government offices of health, legal, Sangguniang Panlungsod, administrator, joint inspection team of business permits and licensing, Department of Health (DOH) and other agencies.
By Ma. Stella F. Arnaldo (Special to the BusinessMirror)
AN interagency task force with representatives from the Departments of Tourism (DOT), Environment and Natural Resources (DENR), and the Interior and Local Government (DILG) will be inspecting Banwa Private Island in Roxas, Palawan, tagged as the "most expensive resort in the world."
DOT Assistant Secretary for Tourism Regulation Coordination and Resource Generation (TRCRG) Ma. Rica C. Bueno said in a text message to the BusinessMirror, "[Banwa] is still fixing their documentary requirements."
The three agencies form the core task force that had recommended the closure of Boracay Island, another popular beach destination in the Philippines, for six months in 2018 from April 26. The inspection team for Banwa will come from the three agencies' regional offices, said Bueno.
DOT Regional Director for Mimaropa (Southwestern Tagalog region) Daniel B. Intong, whose office covers the Palawan province, also explained: "Banwa submitted documents for accreditation a month or so ago, but our office requested them to request for star rating so that it gets a premium accreditation." The star-rating system is aligned with global hotel rating standards ranking tourism establishments from one to five stars.
After their global multimedia publicity splash announcing their opening and tagging it the most expensive resort in the world, Banwa abruptly stopped accepting bookings after it was discovered they had yet to secure accreditation from the DOT. (See, "No DOT accreditation for costliest resort," in the BusinessMirror, May 21, 2019.)
In an e-mail to this paper, Banwa General Manager Rochelle Kilgariff said the resort's owners are "committed to complying with all government requirements, applicable laws, rules and regulations," adding that they have been able to secure "the relevant permits from the local government and an ECC [environmental clearance certificate] from the DENR."
The owner, Ecoresort Development Corp. (ERDC)—not the Aquos Foundation Inc., as an Aquos official earlier claimed—filed its application for accreditation with the DOT in February 2019, according to Kilgariff, and is readying for the task force inspection next week.
She stressed, "pending the actual issuance of the DoT accreditation, ERDC has not commenced actual operations and accepted any bookings from paying guests." Industry sources, claimed, however, there have been a number of guests that had already stayed at the island resort, said to cost $100,000 (P5.2 million) a night, for a minimum of three nights or $300,000 (P15.6 million). The amount covers the nightly accommodations in villas, food and other amenities for 48 persons.
After its worldwide publicity promotion in a number of international publications, would-be guests were encouraged to call the resort's private concierge and sales staff listed on its web site. The site now has notification saying, "Banwa Private Island will become wholly available for charter upon finalization of pending regulatory documentation, which is expected imminently."
The Duterte administration, through the interagency task force, has tightened its regulations on the opening of hotels and resort establishments, after indiscriminate building on Boracay Island was partially blamed as the cause of overtourism on the island, leading to environmental pollution. The task force has been monitoring other island destinations in the country for possible pollution and easement issues, as well as accreditation problems. Among these are Panglao Island in Bohol, Siargao Island in Surigao del Norte, El Nido and Coron in Palawan.
DOT sources said Tourism Secretary Bernadette Romulo Puyat was incensed that the resort had opened sans accreditation, quickly instructing the agency's TRCRG department to make sure Banwa's papers were in order.
The DILG has also investigated why the local government of Roxas, Palawan, allowed Banwa to be issued a business permit to operate without the DOT accreditation. (See, "'Most expensive resort in the world' under DILG probe, faces closure," in the BusinessMirror, May 24, 2019.)
(BusinessMirror)
PALAWAN Gov. Jose C. Alvarez has vowed an economic renaissance for the province, which is set to be divided intro three provinces, anchored on a platform of tourism that would reduce poverty incidence to 26 percent from its previous level of 60 percent.
Alvarez made the promise after the oath-taking of the newly elected officials of the municipalities of Palawan in his inaugural address at the City-state Asturias Hotel. There, he bared the building of four regional airports in the province that would bring in a target of 5 million tourists and money in circulation of P250 billion from tourism.
He said that poverty incidence has been reduced by 4 percentage points to 56 percent since he assumed office with his Partido ng Pagbabago, but this is not enough to make a dent on the poverty level in the province.
But with the tourism target of 5 million that could come about from the building of tourism infrastructure like the regional airports in Coron, Balabac, San Vicente and Taytay municipalities, the target could be reached and spell economic growth that would employ people from the province.
He vowed to surpass the number of tourists in Cebu (7.5 million) and increase the per-capita income of the province to approximate that of Malaysia's 27,000 ringgit (about P250,000). He said this could be achieved especially with the programmed Roro projects where he said tourists can go by land from Mindoro and Batangas.
"I can welcome senior citizens from Palawan who can use the Roro and treat them to coffee in Makati," he said, with the planned infra buildup in the province.
"Lahat tayo damay damay [We're all in this together]," he said as he pitched for the establishment of the three provinces in the province: Palawan del Norte, Palawan Oriental and Palawan Del Sur, which would be the mother province as envisioned under RA 11259, which President Duterte signed on April 5, 2019.
A plebiscite is scheduled in May 2020 for the ratification of the planned three provinces.
Alvarez said the three provinces can earn an IRA of P60 billion that could be used in reducing poverty incidence in Palawan. He said that the target poverty reduction to 26 percent is achievable since tourists have now reached 2.5 million, up from a measly 300,000 tourists when he began his term.
Also, he said that there has been a considerable growth in the province from negative 1.6 percent earlier in his term,t which began in 2013. "As you can see, the party has changed the face of Palawan," he said, and vowed that the economy would further grow.
By Rich Reduble
The national government through the National Nutrition Council (NCC) will implement a monitoring and evaluation system among different local government units in the country including the Province of Palawan, in a bid to help intensify nutrition programs in the local level.
The national government through the National Nutrition Council (NCC) will implement a monitoring and evaluation system among different local government units in the country including the Province of Palawan, in a bid to help intensify nutrition programs in the local level.
The system is known as Monitoring and Evaluation of Local Level Plan Implementation Protocol (MELLPI Pro).
Under MELLPI Pro, the nutrition action plans of 23 municipalities will undergo evaluation to determine if they are addressing properly the health needs of Palaweños.
Provincial Nutrition Action Officer (PNAO) Rachel T. Paladan said that the new system is an easier means that will facilitate the monitoring and evaluation of the implementation of nutrition programs, therefore addressing properly the nutrition needs of areas where malnutrition is prevalent.
The province has been awarded as the Most Dynamic Province on Nutrition Program Implementation in the region two years ago by the NCC.
This year, Palawan has a Malnutrition Prevalence Rate of 8.98 percent.
The provincial government last year successfully conducted the first provincial nutrition summit.
This month of July is observed as Nutrition Month.
(ABS-CBN News)
MANILA—Google on Sunday put out a special doodle celebrating the 7th anniversary of the Puerto Princesa Subterranean River making the Ramsar List of Wetlands of International Importance.
The doodle features the entrance of the famous natural wonder, one of the world's longest underground waterways at 8.2 kilometers.
The underground river made it to the New 7 Wonders of Nature in 2011. It is also a UNESCO World Heritage Site.
"Aside from celebrating the destination, we hope that this effort serves as a reminder to do our part in conserving it," Google said.
By Carmela Martinez
Under the "String-of-Pearls Project", the Malampaya Foundation, Inc. (MFI) was able to produce more than 9 million eggs of the world's largest clam in the West Philippine University (WPU) Hatchery in Puerto Princesa City Saturday.
Tridacna gigas, more commonly known in the Philippines as Taklobo, is the largest living immobile bivalve mollusk in the world and also one of the most endangered species with a survival rate of .01 percent.
A Philippine-native species was found in Dos Palmas, Palawan. This type may be bigger compared to others from Pacific Islands, though molecular study is still needed to confirm it.
Giant clams are important because they are food for some marine animals and they increase fish density, Sherry Lyn Sayco, a researcher from the University of the Philippines Marine Science Institute (UPMSI), said.
According to the WPU, this particular type of clam was difficult to propagate because there are only a few of the species left.
The team had to brood stock to collect eggs and sperms unlike other species that can be bred in the laboratory.
The MFI and WPU were in charge of breeding 9.5 million eggs that were fertilized from the Palawan native giant clams while the UPMSI supervised the project.
When matured, the clam will be deployed to MFI's marine protected areas north of Palawan.
The "String-of-Pearls Project" started last year and it has increased the population of other giant clam species like the Tridacna squamosa, also known as the fluted giant clam in the same family of Tridacna gigas and the Hippopus hippopus or known as the bear paw clam.
By Roel Pareño (The Philippine Star)
ZAMBOANGA CITY, Philippines — The military has pulled out the Marine Battalion Landing Team (MBLT)-3 from Sulu for deployment in Palawan.
Western Mindanao Command chief Lt. Gen. Arnel dela Vega led a sendoff ceremony for soldiers of the MBLT-3 yesterday aboard the Philippine Navy's BRP Davao del Sur.
"The MBLT-3... contributed a lot in decimating the ranks and in the reduction of the armaments of the Abu Sayyaf," Dela Vega said.
He said there is a need to rotate Marine units and the MBLT-3 was allowed to take a respite from the operations against Abu Sayyaf bandits.
The redeployment is part of the efforts to continuously maintain and sustain the readiness of government troops, Dela Vega added.
He said the redeployment of the MBLT-3 to Palawan will not result in the reduction of forces in Sulu.
Aside from two Marine battalions, Dela Vega said the MBLT-7 from Sarangani was deployed in Sulu last month.
"We have increased our forces there to ensure we can finish off threat groups," Dela Vega said.
By Keith Anthony S. Fabro (Rappler.com)
Mount Mantalingahan Protected Landscape has been on the UNESCO World Heritage Site Tentative List since 2015. Local officials say its potential inscription will add 'another layer of protection' to the area.
PUERTO PRINCESA, Philippines – Palawan's largest terrestrial protected area Mount Mantalingahan Protected Landscape (MMPL), which faces continuing forest destruction, may gain additional protection should it be inscribed as a UNESCO World Heritage Site, an environment official said.
"The inscription is extremely important to us because this will be another layer of protection for MMPL. Once it's finally inscribed as a UNESCO World Heritage Site, even more support will come in to help maintain its ecological integrity," MMPL protected area superintendent Mildred Suza told Rappler on Sunday, June 23, during the MMPL's 10th anniversary celebration.
MMPL was established as a protected area by virtue of Presidential Proclamation 1815. It covers 120,457 hectares encompassing the 5 southern Palawan towns of Bataraza, Brooke's Point, Jose Rizal, Quezon, and Sofronio Española.
Despite being declared a protected area 10 years ago, Suza admitted that the MMPL is still not spared from non-traditional slash-and-burn farming, timber poaching, charcoal making, entry of plantation and other destructive activities that all contribute to the continued forest loss in the area.
"In our nomination dossier, all these threats to MMPL, as well as the corresponding actions of the management have been listed. [The UNESCO evaluation committee] will assess how effective the management is in addressing these threats," said the superintendent, who only assumed the position two years ago.
Suza said the Forest Foundation Philippines has funded a project that will hire an additional enforcement coordinator as well as enforcers in each town within the protected area. Currently, the protected area office only has one permanent and two job order (non-regular) forest rangers who work with other environmental law enforcement agencies also tasked to safeguard the MMPL.
MMPL has been on the UNESCO World Heritage Site Tentative List since 2015. Over the past years, its nomination team – composed of the academe, government agencies, and non-government organizations in the province – has been complying with the UNESCO inscription requirements.
"After the UNESCO's evaluation as to the completeness of nomination documents and ground validation in June 2020 onwards, we expect the inscription announcement or refer for further review decision early 2021," she added.
Currently, Palawan is the only province in the Philippines with two designated UNESCO World Heritage Sites: the Puerto Princesa Subterranean River National Park, and Tubbataha Reefs Natural Park.
"We are confident that the MMPL will be inscribed as such (UNESCO World Heritage Site), because it will not be evaluated if it does not meet the criteria. The mountain range is rich in exceptional biodiversity," she said.
Suza said the MMPL has met two crucial criteria for natural heritage site category: exceptional biodiversity, and high endemicity or the rich number of threatened species native only to a geographic location.
Records show MMPL hosts at least 861 plant species and 169 vertebrate species, representing significant contributions to the known pool of Philippine and global biodiversity. The International Union for the Conservation of Nature lists 23 of these as threatened species – 4 critically endangered, 5 endangered, and 14 vulnerable.
In 2007, Conservation International's (CI) rapid biological assessment in MMPL recorded several noteworthy species that prove the protected area has "exceptionally high floral and faunal diversity and endemism." These include, among others, at least 5 plant species that are newly recorded for Palawan, and 12 more considered as new plant records for the Philippines.
The same assessment team rediscovered the Palawan soft-furred mountain rat, which had not been seen since it was first discovered in 1962. This rat species is known to occur only in Mount Mantalingahan.
The MMPL-endemic Palawan moss shrew, also first spotted during the 2007 CI assessment, was confirmed as a new shrew species in a Journal of Mammalogy paper published by the American Society of Mammalogists in 2018.
"This year we'll be having again a biodiversity assessment and monitoring in MMPL funded by the Forest Foundation Philippines, so we are expecting more species will be added to our record, and will further solidify our outstanding universal value claim," Suza said.
The mountain range also exhibits 11 out of 12 forest formations in the Philippines.
"In other protected areas, probably they have 3 or 5. Here, we have 11. What we don't have is peat swamp forest. But who knows? The team might see it in this year's assessment," she added.
As a key biodiversity area, MMPL is 1 of the 10 Philippine sites of the Alliance for Zero Extinction, a global partnership that works to identify, map, and safeguard sites that are home to highly threatened species.
The Mantalingahan range is also identified as 1 of the 11 important bird areas in Palawan for harboring most of the threatened and restricted range birds, including the Palawan striped-babbler, bush warbler, and white-browed shortwing.
By Keith Anthony Fabro
White sandbar surrounded by crystal-clear turquoise waters: sounds like the idyllic northern Palawan escape, right? Actually, there's also an underrated one in southern Palawan (hint: it's not in Balabac) you should check out soon before it gets crowded.
I and my high school friends first saw its striking photo on Facebook. And we're totally blown away! So on a group chat we agreed to go there on Black Saturday last April when most of us were free.
But the problem was we actually didn't know its exact location.
There's little information on the Facebook post itself, which was shared more than a hundred times. Scouring through the long comment thread, there you go — the owner of the photo said it's somewhere on the boundary of Narra and Sofronio Española towns.
Next task: finding a boat that brought us there. As the self-proclaimed tour organizer whenever we plan to go places, I took on the responsibility of looking for a fishing boat that can be hired for a day.
Luckily, my father has a fisherman friend in Calategas, a coastal village in Narra. After 20 to 30 minutes of van ride from the town proper and another 5 minutes of tricycle ride from national highway to our jump-off, we met the very accommodating boat owner.
My girly friends had changed clothes for our DIY photo shoot later that day. Because, why not? For summery OOTDs, they pulled off floral dresses, while I donned my Bohemian-inspired polo. Of course, we didn't forget to slather on sunscreen to protect our skin from the daylong exposure to the harsh sun.
In a snap, we all found ourselves leaving the coast, sitting relaxed on an outrigger boat and taking in the refreshing sea breeze from the Sulu Sea.
As the motorized boat glided through the waves, I gazed back and was treated to nature's grandeur. Picture this: mangrove-fringed coast with a backdrop of rolling mountains blanketed by billowing clouds. Ah, I couldn't ask for more!
On our journey, we passed by islands and islets — most of which were uninhabited. It left me amazed. Actually, I was born and raised in Narra but little did I know of these, more so the presence of a sandbar here.
After a 30-minute boat ride from Calategas, we reached the sandbar at around 11 a.m. It was high tide, so it's totally submerged when we arrived. Our boatman suggested to have our lunch on the nearby Banking Island, which was 10 to 15 minutes away from the sandbar. And we agreed.
The island is privately owned, so we first asked permission from its caretakers before we settled in. There we also chanced upon a group of local excursionists. We didn't prepare much for lunch. What we had were rice, salted eggs and tomatoes, canned food, watermelons, and pineapples.
It was past noon when we returned to the sandbar, which was the size of around three basketball courts combined. Buddy, it's jaw-dropping! Who would've thought there's a tiny stretch of white sand set in this portion of the sea? And it's surrounded by crystal-clear waters!
The best thing about it? No other visitors were there, so we had it all to ourselves!
(That afternoon, we also chanced upon there the bantay dagat or sea guards of Sofronio Española town. And with that, I assume the sandbar is covered by their municipal waters.)
The powdery sand, the azure skies kissing the navy blue seas, the islands not far away— it's heaven at every turn! Before anything else, we snapped lots of selfies and groupies. With such irresistible views, I bet that's the first thing you'd do, too.
As a talossophile, being in the sea makes me feel blissful and free. And that's exactly I experienced as I found myself chilling out in its mesmerizing waters. It was really soothing. The longer I spent time communing with the sea, the more I felt my worries floating away.
It was 4 p.m. when we bade goodbye. On our way back, I realized how blessed we are, because wherever we live in this province, we don't have to go far to find a piece of paradise we could come back to anytime. How to get there: If you're coming from Puerto Princesa City, the van fare from San Jose terminal to Calategas, Narra is around P190. If you're from Narra town proper, that's only P40. Tricycle fare from the national highway in Calategas to its coastal area is P10. For boat rental (P1500 for up to 15 persons), contact Mr. Dudoy Guyod at +639091941507.
By Rich Reduble
The Department of Agriculture, through the Bureau of Fisheries and Aquatic Resources (BFAR), distributed 15,000 units of fiberglass fishing boats to fishermen all over the country as part of the FB Pagbabago program, a statement released on June 22, 2019 read.
Under the program, DA-BFAR identifies low income fishermen, including calamity victims, and provides one fishing boat to every two families, a strategy which was designed to prevent the recipients from selling their boats.
In 2016, the DA-BFAR distributed 3,724 units and in 2017, it reached 7,494 or more than double the units that they distributed during the first year.
Last year, they distributed 3,693 units and in 2019, they released 65 units, including the 12 units given to 22 crew members of the F/B GEM-VER 1, which figured in a maritime incident in the Recto Bank, West Philippine Sea on June 10.
DA Secretary Emmanuel "Manny" Piñol said that the program started during the administration of President Rodrigo R. Duterte in response to the request of the small-time fishers for sturdy boats for fishing in municipal waters, which means that portion of the coastal waters within the 15-kilometer radius from the mainland.
"Ito po ay designed for municipal waters only. Ang una pong nakatanggap nito ay mga mangingisdang Badjao sa Davao na sa kaunaunahang pagkakataon ay nakatanggap ng tulong mula sa gobyerno," he said.
Each boat is made of fiberglass-reinforced plastic and is equipped with an engine, fish nets and fishing gears, including life vests. The boats are fabricated by the fishermen themselves and they are paid for their labor.
The counterpart of the fisherman is the outrigger or "katig" which could be made out of bamboo poles.
(Reports from Arlie Cabrestante, ABS-CBN News)
MANILA — The local government of Puerto Princesa, Palawan on Monday filed a civil lawsuit against the city's local electric cooperative over its alleged failure to provide satisfactory service to consumers.
Parts of the city have been experiencing blackouts for the past 3 weeks.
Mayor Lucilo Bayron led the filing of the case against Palawan Electric Cooperative (Paleco), armed with the petition signed by over 500 residents of different barangays.
Named respondents in the case are Paleco, its board of directors, and acting general manager.
According to Bayron, the city's "electricity crisis" has remained unresolved since 2009.
Paleco acting general manager Nelson Lalas, one of the respondents, said the cooperative's board will tackle the case during their upcoming meeting.
By Erika Concepcion
Are you one of those people who badly need a breath of fresh air but is tired of going to the same beach over and over again? Do you want to spend time with your family and friends and discover something new but have no idea where to go? Consider these problems solved because this newly undiscovered beach in Sitio Talaudyong, Puerto Princesa City has finally opened its doors to the public, and it's waiting to be a part of your itinerary!
Brief History
It was discovered by Commodore N. Hernandez back when he was still a captain of one of the destroyers of the Philippine Navy. Whenever he would roam around the Philippines and the weather gets bad, when they would reach the area of West Philippine Sea, they would usually dock near Talaudyong Beach.
Commodore's crew would say almost the same thing about how exquisite the beach is every time they would dock nearby and it made a lasting impression on him. He bought the property in 1986 and when he retired in 1995, he decided to stay in Palawan. He fell in love with the island, and for him, it is one of the most beautiful and safe places in the Philippines.
Why visit Commodore's Beach?
Commodore's Beach is the perfect getaway for the locals, especially to those who hate long distance drives since it is just an hour away from the heart of the city. It is one of the family-friendly beaches located in Puerto Princesa and it is practically safe, especially for children because the water has no undercurrent.
With its serene, crystal clear waters and soft powdery sand, it will surely capture the heart of each and every guest like you.
The beach is protected by guards 24/7 for the safety of their guests, and there are also life guards on standby in case of an emergency. They will soon be offering different types of water activities including paddle boarding and kayaking.
The owners have a lot in store for Commodore's Beach and this is just the beginning for them, or as they would like to call it, their "phase one." According to one of the owners, who is also Commodore's son, JP Hernandez, "This will become a one stop shop for all of the inbound and local tourist of Palawan."
"Magkakaroon tayo ng commercial spaces, magkakaroon tayo ng mga boutique hotels, magkakaroon tayo ng mga activity areas, magkakaroon tayo ng relaxing areas. Kumbaga meron nang pwedeng idagdag sa listahan ng pwedeng gawin sa Puerto Princesa, na beach," he said.
They are also very careful and conscious about taking care of the environment, especially about conserving or maintaining the quality of the beach. According to JP, "As much as possible, I want this resort to be low carbon footprint, off the grid siya, kung kaya. Or sustainable energy [ang] gagamitin. So sa simula pa lang, gusto na namin gawing tama dito sa resort. Gusto namin habang wala pang sumisita, tama na 'yung ginagawa namin kasi ang pangarap namin dito sa talaudyong beach, ito ang maging example na resort sa buong Pilipinas."
"Gagawin namin dito yung practice, once na fully operational na talaga kami, meron kaming 5pm habit and every 5pm, lahat ng staff ng resort na to, lilinya kami doon sa start ng property line tapos lalakarin po namin 'yung buong beach na may dala kaming trashbag, welcome po sumali sa amin lahat ng bisita, lahat ng guest namin para tumulong i-maintain ang beach. Pupulutin namin kung ano man yung basura," JP said.
"Pag-maging conscious lang kami na every 5pm at least every day, mare-reset ang beach, lahat ng basura na mawa-wash off dito, at least man lang matatapon sa trash bag, at ang disposal po namin ngayon lahat ng trash bag iipunin namin, ihahatid po namin doon kung saan dinadaanan ng city ng dump truck. Hindi kami maghuhukay jan, magtatambak, magsusunog, kasi that destroys the environment. So we are conscious enough to put it in a trash bag," he added.
"Ang vision ho namin para sa Talaudyong Beach is kung ano yung nae-experience natin ngayong 2019, 30 years [or] 50 years from now, dapat ganito pa rin siya. Hindi siya magbabago, hindi mag-aamoy basura ang beach natin at hindi basically masisira ang cove na to."
So if you want to go on a road trip, feel the gentle waves, see the sun set and basically just enjoy your free time without having to go far away from the city, Commodore's Beach is your go-to, very accessible destination.
Commodore's Beach is located at Sitio Talaudyong, Brgy. Bacungan, Puerto Princesa City, Palawan. You can visit from Monday to Sunday, with an entrance fee of PHP100.00 and a lunch buffet for only PHP250.00 (Palaweño rate) and PHP300.00 for the local/foreign guests.
By Rich Reduble
The Department of Health (DOH) wants MIMAROPA region to be rabies-free by 2020.
The Department of Health (DOH), together with the Department of Agriculture (DA), Department of Interior and Local Government (DILG) and the provincial government, sealed a partnership with each other for the conduct of a massive vaccination program to achieve the region's goal to become rabies-free by next year.
In support to this initiative, the Provincial Veterinary Office will conduct vaccination en masse from June 24-26, 2019, in Narra and Roxas towns.
"Pinili natin yung dalawang munisipyo na may presence ng rabies… Ito yung bayan ng Narra at Roxas… Sa June 23, magsasagawa tayo ng meeting kaugnay nito and then sa June 24 onwards, doon na yung mismong activity natin… Noon, nagkaroon ng kaso yung Aborlan pero agad naman natin itong na-control," said Dr. Juanito Pio Lledo, head of the Provincial Veterinary Office.
During the activity, they will also extend services for pet dogs like castration, ligation, registration, treatment and other services.
"Ito ay pamamaraan para sa population control… Kailangan din na maging responsible yung mga nag-aalaga ng aso para maiwasan yung pagkalat ng rabies… tuluy-tuloy yung activities natin nauna lang yung Puerto Princesa," Dr. Lledo added.
The Provincial Veterinary Office further urged the public to avail of the services and visit the municipal hall of Narra and Roxas for more details.
"Gusto kong manawagan sa mga namumuno na parating po yung team natin na magsasagawa ng malawakang pagbabakuna at pagkakapon, mangyari po sana na bigyan natin ng pansin para maging successful itong aktibidad… mayroong target na 200 heads sa Roxas at 200 heads sa Narra… Sa mga barangay kapitan, municipal veterinary aide at barangay tanod, na tulungan yung ating team," he said.
(Manila Standard)
In line with its advocacy on financial literacy, British life insurer Pru Life UK's community investment arm Prudence Foundation, together with its regional NGO partner Junior Achievement Asia Pacific, recently visited the Department of Education Division of Puerto Princesa in Palawan to share program developments with 77 schools that have been implementing Cha-Ching since 2018.
Aside from the Philippines, the Cha-Ching curriculum is being rolled out in seven other countries—Brunei, India, Indonesia, Malaysia, Singapore, Thailand, and Vietnam.
In 2018, the program forged partnerships with more than 2,000 Asian schools, training close to 3,000 teachers to reach 280,000 students throughout the Asia Pacific region.
Brought about by a partnership between Pru Life UK and DepEd in April 2012, the Philippines became the first country in Asia to integrate Cha-Ching in its grade school curriculum.
The Cha-Ching curriculum adopts a multi-platform activities-based learning approach to inculcate the four key money-smart concepts of Earn, Save, Spend and Donate in students.
Pru Life UK further fortified its financial literacy advocacy in 2017 by collaborating with Junior Achievement Philippines to enhance the Cha-Ching curriculum.
From only two pioneer schools in 2012, the program now has 926 partner schools, trained over 4,800 teachers, and educated over 240,500 students on key money-smart concepts.
By Romar Miranda
PUERTO PRINCESA CITY –– The National Economic and Development Authority (NEDA) supports the provincial government as it pushes to divide Palawan into three provinces.
NEDA Undersecretary for Regional Development Adoracion M. Navarro, said Wednesday that the agency posed no objection on the move to divide the province into Palawan del Norte, Palawan Oriental, and Palawan del Sur.
"We recognize the objectives of the proponents to manage Palawan better—to ensure that the far-flung LGUs are reached by government services," she said.
Navarro also acknowledged the side of the opposition and said that their fears might have stemmed from previous experience.
"The premise (of the proponents) is management, not extraction. The opposition's premise comes from distrust, so I guess what's better for the people of Palawan—seeing there are conflicting views—is to have more discussions so there could be clarifications on each side and address the fears of those who distrust," she added.
On April 5, President Duterte signed Republic Act 11259 dividing Palawan into three provinces. The plebiscite would be held on the second Monday of May 2020.
(The Philippine Star)
MANILA, Philippines — National Power Corp.'s (Napocor) capacity addition and transmission system projects in Palawan were certified as energy projects of national significance (EPNS) by the Energy Investment Coordination Council (EICC) of the Department of Energy.
The certification was granted to the Palawan island service delivery improvement projects which consisted of capacity additions to eight existing Small Power Utilities Group (SPUG) plants and the installation of new generating sets to 18 new areas with an aggregate capacity of 5.3 MW.
The existing areas included in the project package are the Agutaya Diesel Power Plant DPP, Araceli DPP, Balabac DPP, Cagayancillo DPP, Culion DPP, Cuyo DPP, Linapacan DPP and Rizal DPP.
Meanwhile, the new areas where power facilities will be established are located in the island or far-flung villages in the municipalities of Taytay, Cuyo, Coron, Linapacan, Balabac, Araceli, Culion, Agutaya, El Nido, Busuanga, and San Vicente.
Another certificate on EPNS was granted to Napocor's Palawan grid development projects which are composed of nine transmission and substation projects. These include the Brooke's Point to Bataraza transmission line (approximately 28 kms), Taytay to El Nido transmission line (approx. 60.9 kms), Alimanguhan Switching Station project, Alimanguhan Switching Station to San Vicente transmission line, Bataraza substation project, Brooke's Point substation expansion project, and substations in El Nido, San Vicente and Taytay.
"These transmission line projects will complete the backbone transmission system of the province, and strengthen power reliability and stability," said Napocor president and CEO Pio Benavidez.
"With the priority status from EICC – DOE, we hope to expedite the bidding, awarding and implementation process of the said projects," Benavidez said.
Early this year, Napocor garnered the same certificate for its 23 projects in various power facilities in off-grid areas in the country.
EICC was created through Executive Order 30, which aims to harmonize and streamline the regulatory processes for critical energy projects.
By Harthwell Capistrano
For the third time, Berong Nickel Corporation receives a national safety excellence award in a recently concluded 5th National Convention and General Assembly in Cebu City.
The award was given to BNC because of its strong implementation of highest level of safety and having achieved a no lost time accident in their operations.
"The attainment of no lost time accident in our operations was made possible because of the strong commitment to implement the highest level of safety in our operations from the top management down to the lowest rank of our operations," said Mr. Rolando Sajot, BNC's Safety and Health Superintendent, who is also a recipient of the award together with their Safety Officer Mr. Ralph Adrian Fabian.
"First, I would like to thank God for the award and recognition. This will not be possible without his guidance in making every personnel under BNC operation safe. Receiving the award for the 3rd time was a privilege—this drives us to continuously improve and strengthen the value of safety in everything we do," he added.
Mr. Sajot said that receiving award will not stop them to continuously improve, "because there are many things that still need to be done to ensure that everyone working under our operations will go home to their family safe and complete at the end of the day," adding that the "challenge of changing behavior is a long process and we wanted that to be in place."
Organized by the Workplace Advocates on Safety in the Philippines Incorporated in partnership with Occupational and Health Center, Bureau of Working Conditions and the Employees Compensation Commission, the event was attended by various companies nationwide ranging from oil and gas, mining, construction, service and manufacturing sectors.
"To BNC family and to all our contractors congratulations to us for a job well done, let's keep our head up because we've done the greatest responsibility that was tasked to us – making everyone safe while working," Mr. Sajot said.
"This award fuels my passion to go beyond what needs to be done in order to ensure that safety is number one in our day to day operation. To the WASPI organization we thank you for recognition and award," he concluded.
BNC is based in Berong, Quezon, Palawan and has been a recipient of various awards. Last year, it earned a certification on Environmental Management System or ISO 14001.
By Jonathan L. Mayuga
For more than 20 years, women in a small fishing community in Quezon, Palawan, felt empowered. Thanks to seaweeds, which they have been farming to earn extra income. They are not only able to help put food on the table but send children to school, some of whom have already finished college.
Cherish Fisherfolks Association President Mardy Montaño, 48-year-old, native of Negros Occidental, found her way in Sitio Balintang, Barangay Isugod in Quezon, Palawan, when she got married 20 years ago.
As a fisherman's wife, Montaño felt she had to help bring food on the table. Thus, she found seaweed farming an endeavor she can rely on.
Speaking in Filipino, some of the group's members narrated how seaweed farming gave them self-worth and the drive as empowered members of their community.
"Most of our members here were able to send their children to school. Whenever our children would send text messages reminding us of tuition or boarding-house obligations, we will immediately go out and harvest seaweed," said Montaño, proudly claiming to have one of her children as among the first to graduate in college.
Her daughter Jaira Faith R. Montaño recently passed the licensure examination for Agricultural Engineering.
Seaweed or sea vegetables are algae that grow in the sea. A food source for ocean life—as well as human with a distinct taste for "exotic" seafood—seaweed grows along rocky shorelines around the world.
Seaweed is commonly eaten in Asian countries, including the Philippines, where it is being farmed in coastal areas.
As seaweeds are also a source of carrageenan, a substance used as an emulsifier in food products and cosmetics, seaweed farming is in high demand.
The fisherfolk in Quezon town have their respective buyers in their barangays, who, in turn, transport the dried seaweed to a consolidator in Puerto Princesa City. The consolidator in Puerto Princesa then supplies the dried seaweeds to food companies or factories to extract and process the carrageenan from the dried seaweeds.
Aileen Ramadan, 41, a member of the group, said seaweeds are a blessing to their community.
"With seaweed farming, we don't have to borrow money from loan sharks because we have a source of income when the fishing season is off," she said.
As fishermen who live in a coastal community, sometimes they have to stop fishing during the typhoon season for safety reasons.
They then resort to seaweed farming, which requires capital that most fishermen lack.
"We need capital every time we start seaweed farming," she said.
In the earlier days, the fishermen were compelled to borrow money from moneylenders who are often loan sharks who charge high interest rates.
Not anymore. Today, members of Cherish Fisherfolks Association with 22 women and 66 men, have found reliable partners to boost their income from seaweed farming and make their small industry flourish. Thanks to Protect Wildlife, a United States Agency for International Development-funded project in southern Palawan.
The project being implemented by the Department of Environment and Natural Resources (DENR) and its various development partners, Protect Wildlife Project promotes biodiversity conservation in the rural areas.
Environment Undersecretary Jonas R. Leones for Foreign-Assisted Projects said Protect Wildlife has been making inroads on wildlife conservation in the rural areas.
"Aligning conservation policies with on-the-ground action and enforcement is very much called for in the face of growing threats facing the country's biodiversity resources. The DENR most especially regards the livelihood intervention on seaweed farming in Quezon, Palawan, as added boost that would ultimately address poverty and conservation issues," Leones, also the DENR's undersecretary for policy, planning and international affairs, said.
Through Protect Wildlife, the group was able to access microfinancing through Lutheran World Relief (LWR) and Ecumenical Church Loan Fund (Eclof), and now has a legal status to be recognized by the Quezon, Palawan, local government unit (LGU).
Lawrence San Diego, communications manager of Protect Wildlife in southern Palawan, said Cherish Fisherfolk Association's linking with partners, such as LWR and Eclof, ensures microfinancing for its members.
Through the USAID-LWR partnership with Eclof as the microfinance organization, Protect Wildlife was able to cover five LGUs in southern Palawan, specifically targeting upland communities in and near the Mount Mantalingahan Protected Landscape and coastal communities to improve their agriculture, aquaculture and fisheries-based livelihoods.
For the association, Eclof started its lending in April 2018, Johnel Cinco, Eclof area manager in southern Palawan said. To date, he said Eclof has released close to P1 million to members of the group, who are responsible clients.
"What I can say is, here at Cherish, I never encountered payment delays. They are always up to date with their obligation as they pay on time," he said.
The loan program enables the members of the group to continue seaweed production, thus, reducing threats of illegal fishing activities or even illegal wildlife trade, San Diego said, adding that some of the islands in Quezon and nearby towns are known nesting sites of the endangered pawikan (sea turtles).
For its part, the Municipal Agriculture Office, through their Agri-Fishery Technologist, provides technical assistance to the association members to improve their harvest.
Through the partnership of USAID-LWR with Eclof, the association was able to receive a grant of a land-based seaweed dryer and an additional grant of a floating seaweed dryer, which the members said have been helping them improve their products.
"What we are targeting now is to buy the seaweed our members produced and directly sell them to buyers. This will allow us to earn while our members get the most from their produce," said Montaño, who is also a member of the Fisheries and Aquatic Resources Management Councils (FARMC) in Quezon, Palawan, another feat for a woman who was picked to represent a male-dominated sector.
"Maybe women are empowered by seaweed farming. Because I would have not been elected president or chosen as a representative of FARMC if they don't believe in me," she said.
Mary June Calubag, Protect Wildlife Project Community Enterprise Development associate, said seaweed farming, a viable source of livelihood as it provides profit within a short period of time, contributed to the development of positive changes in the attitudes and behaviors of the farmers.
"Unlike in other areas, starting the project here at Cherish was a lot easier because Cherish is already organized and established. What we did was help to obtain their legal status and be recognized by the local government," she said.
The seaweed farms in Quezon gradually develop to be a conducive environment for marine life to thrive, while the interaction between human and marine life has become a common occurrence in the farms, which have become nurseries for fish, squid, crabs, lobsters and other crustaceans, as well as grazing sites for dugongs and sea turtles.
More important, members of the group have now been actively supporting the Bantay Dagat (sea watchmen) in their municipality by voluntarily monitoring their coastal waters for illegal-fishing activities.
The same association from Isugod has also advocated the total ban on the use of fertilizers on seaweeds. The seaweed farms have become a nursery of siganid fish, krills, anchovy, squids and lobster eggs.
Seaweed farming has also been proven to be the most viable and sustainable source of income, because the supply of propagules can easily be replenished from cuttings, without depleting the natural marine resources.
So far, Cherish Fisherfolks Association has established a system that allows its members to earn additional income by renting out the seaweed dryer and motorized boat to members and nonmembers who would like to use the association's assets for planting, harvesting and drying of their seaweeds.
On top of increase and a steady source of income, seaweed farming benefits the community as additional people, particularly women and children from non-permittees needing money are hired to help prepare seaweeds for planting and harvesting which is the most labor-intensive stage in the whole production cycle.
Seaweed farming also gives the women an opportunity to contribute significantly to the family income as they join the men in becoming family breadwinners. Indeed, the women—the wives, mothers and daughters in this small coastal community in Quezon, Palawan—are empowered by seaweed.
By Timothy Walker
Eighty-five years ago this month, the largest pearl ever discovered – the legendary Pearl of Allah – was found in the Palawan Sea.
The discovery in June, 1934, was made at Palawan's Brook's Point. The massive specimen measured 9.4 inches in diameter and weighed 6.4 kilograms.
Wilburn Cobb, an American who brought the pearl from the Philippines in 1939 and owned it until his death in 1979, published an account of how he came to own it in Natural History magazine.
According to Cobb, he tried to buy it from a Muslim tribal chief but he refused, because he considered the pearl sacred, in part because of its resemblance to the turbaned head of the Islamic prophet, Muhammad.
However, in 1936 Cobb saved the life of the chief's son, who was stricken with malaria, and was given the pearl as a token of gratitude. Because of its sacred associations, the pearl came to be known as the Pearl of Allah.
Later, Cobb wrote a new account in 1969, this time linking the pearl to Chinese legend.
He alleged he had been approached by a Chinese man named Li, who told him that the pearl had first been grown in a much smaller clam around a jade amulet inserted by a disciple of the legendary sage Lao Tzu more than 2,500 years ago, and been transferred over the centuries to ever larger clams, growing to record size. Wars had supposedly been fought over the artifact, and it had been sent to the Philippines as a protective measure, where it was lost in a storm. This version of events gave the pearl a new name, the Pearl of Lao Tzu.
After Cobb's death in 1979, Peter Hoffman and Victor Barbish bought the pearl from his estate for $200,000.
A more recent evaluation of the pearl has given the unique item a market value of more than $100 million.
Technically, it is not considered a gemstone pearl, but is instead known as a "clam pearl" or "Tridacna pearl" from a giant clam.
By Peter Policarpio
To store seeds of the different varieties of plants for conservation and research purposes, the Department of Agriculture's (DA) Plant Genetic Resources Center (PGRC) of Region IV-B MIMAROPA was formally opened in Palawan Agricultural Center, Brgy. Irawan, Puerto Princesa City this morning, May 30.
Funded by the Bureau of Agricultural Research (BAR), the PGRC aims to store seeds of crops in the region for preservation. This is to ensure the crops' survival amidst the different threats in the environment to secure food supply and the agriculture industry for the generations to come.
"Ang importansya po ng Plant Genetic Resources, alam po natin na tayo lahat ay hindi na tayo bata dito, for future generation. So whatever commodities or indigenous materials na me'ron tayo sa ating region, 'yun po 'yung icoconserve natin para 'pag nagkaroon ng calamities me'ron po tayong paguumpisahan ulit," said Digna Sandoval, BAR Assistant Director during the inaugural program.
Indigenous varieties of plants in Palawan including varieties developed by the Palawan Research and Experiment Station (PRES) as well as other plant varieties in other provinces in the region will benefit as the new facility will protect from threats like natural calamities and infestations or non-use.
"Itong station nila (PRES) ay ano po siya, sila ang nagpo-produce ng mga organic vegetable so which means marami ditong vegetable na which I think na indigenous dito sa Palawan. So 'yun 'yung isang advantage kasi nito, main function nitong Plant Genetic Resource Center, to collect, not only collect, we have to conserve also what we have not only in the station but in the entire region of Palawan para 'yung mga nakolekta natin ay magiging ano 'yan, magiging source ng genetic material for future generation especially now na with the advent of climate change, nawawala na yung mga iba-iba nating mga crop genetic resources," said Sandoval in an interview.
Dr. Louella Lorenzana, Regional Technical Director for Research of DA-MIMAROPA, DA-PRES was able to develop different variants of crops including six variants of cashew. The station was able to register two of the cashews variety namely "Mitra" and "Recto" in which planting materials are ready to be distributed. DA-PRES is expecting the approval of the registration of the other four cashew varieties namely: "Fernandez", "Gonzales", "Caliwag", and "Eleazar".
"We have two cashew varieties, it's the Mitra variety and the Recto … ready na kami magdistribute ng planting materials with tag sa variety na ito because we developed that from the station and we have four more in the process of evaluation and then hopefully in the next three years makalabas na, approved na itong varieties na ito. So we will be having six varieties for utilization. These are promising good varieties for production of cashew here in Palawan," Lorenzana explained in an interview.
The genetic materials or seeds can still be used and grown after years of storage in the center.
The inauguration was attended by regional research managers and technical directors from all over the country who also attended the 2019 2nd Quarter Research Managers' Meeting from 28th to 30th of May where they presented their accomplishments per region.
By Rich Reduble
The three-storey modern Agricultural Trading Center within the 13-hectare complex of Puerto Princesa Integrated Agricultural Center in Barangay Irawan is expected to open this year.
Enera Tuibeo, assistant head of the City Agriculture Office, said that the trading center, which has more than 2,000 square meters of floor area, is part of the complex envisioned by the city government as one-stop-site that will house the public market, transport terminal, training center, slaughterhouse, restaurant, and other facilities.
"Dito sa agricultural trading center sa Irawan ay matutulungan ang mga farmers kung saan ang kanilang mga produce ay madaling ma-market. Ngayong year na ito ay expected na ma-launch at mabubuksan na," she said.
The Department of Agriculture released P30 million while the city government allocated P20 Million for the trading center.
Tuibeo said that the facility will be managed by an association of agri-products producers under the supervision of their office.
It is expected to converge both buyers and producers from Puerto Princesa and nearly towns. This will address the difficulties faced by farmers in marketing their agricultural produce.
Based on the record of the City Agriculture Office, vegetable production was at 4,086 metric tons in 2018 from 124 hectares vegetable farm in the lowland area.
She further said that that their office distributed a total of 61 kilograms of vegetable seeds to 2,740 farmers in 2018. These farmers in turn established some 31 hectares of vegetable farm in 22 barangays.
By Leila B. Dagot (LBD/PIAMIMAROPA-Palawan)
PUERTO PRINCESA, Palawan, May 29 (PIA) --- The Puerto Princesa Subterranean River National Park (PPSRNP) was recognized by Tripadvisor, the largest social travel website in the world, as 'excellence hall of famer'.
On the Tripavisor's website, PPSRNP got an excellent traveler rating, as of this year.
Jan Elmer Badilla, information officer of PPSRNP shared to Philippine Information Agency (PIA) that on May 23, the management received the good news from the Tripadvisor on the award.
Badilla also said that PPUR has been receiving the 'traveler's choice certificate of excellence' every year since 2015, and so finally for this year, it has reached the hall of fame.
"When we assumed into office in 2013, PPUR has been getting some negative reviews in Tripadvisor, so part of our social media strategy is to manage issues being raised there by actively interacting with PPUR websearchers on Tripadvisor," Badilla said.
Badilla said that this award manifests increasing number of tourists visiting underground river.
"Every year, our tourist arrivals continue to increase (at PPUPR), as we are fully aware that most foreign travelers depend on the internet reviews as basis of their itinerary," he added.
In 2018 there were 342, 280 local and foreign tourists who visited the PPUR. From January to April, 2019, underground river got 128, 429 tourist visitors, while there were 109,601 on the same period of 2018.
By Rich Reduble
The Provincial Government of Palawan released the pension for the elderlies in the different towns through the Local Social Pension Program for Indigent Senior Citizens, a statement from the Provincial Capitol said on Friday.
The personnel of the Provincial Social Welfare and Development Office disbursed and distributed the social pension to senior citizens. Each beneficiary received P1,500 for the month of July to December 2018.
The program, funded by the provincial government, is separate from that of the Department of Social Welfare and Development (DSWD).
Helen Bundal, population officer II of the PSWDO, said that the beneficiaries of the pension from the provincial government will receive P250 monthly while indigent senior citizens who are beneficiaries of the national government's social pension will receive P500 monthly.
"Ang pagkakaloob ng local social pension para mga indigent senior citizen sa lalawigan ay pagtugon ng Pamahalaang Panlalawigan sa Expanded Senior Citizens Act of 2010 na nag-aatas sa mga lokal na pamahalaan na pagkalooban ng buwanang pension ang mga kapus-palad na nakatatandang mamamayan sa kani-kanilang lokalidad upang makatulong sa kanilang pangangailangan partikular sa pagkain at gamut," said Palawan Provincial Information Office.
Aside from the local social pension, the provincial government likewise implemented programs for the elderly like the financial assistance, medical assistance, provision of medicines and other services intended for the senior citizens.
The beneficiaries of the program are the poor senior citizens or those ages 60 years and above, and residents of Palawan.
The provincial government of Palawan is the only province in the region that implements this separate program for senior citizens, specifically allocating funds for those who are not covered by the national government's social pension program.
By Jhesset O. Enano (Reporter, Philippine Daily Inquirer)
PUERTO PRINCESA CITY, PALAWAN, Philippines — From 10 a.m. to sundown, JR-Lhiy Pastrana and Elmie Caabay scout southern Palawan forests for termite nests, ant mounds and scratches on trees — traces of their elusive object.
Guided by a local farmer or hunter and his dogs, they look for the endangered Philippine pangolin (Manis culionensis).
Little is known about this scaly mammal, only recently described as distinct from the Sunda pangolin.
Most trafficked mammal
One of the eight pangolin species, it shares the unfortunate fate of being the most trafficked mammal, due to high demand for its scales and meat in Asian markets.
The ground survey forms part of a research aiming to shed light on the Philippine pangolin, the least studied of eight species, before it is pushed to extinction.
The study is led by wildlife group Katala Foundation and funded by USAID Protect Wildlife, a five-year project for conservation.
With the Palawan Council for Sustainable Development and the Palawan State University (PSU), it aims to determine the Philippine pangolin population, habitat preferences and threats to aid policies and programs for its conservation.
Glesselle Batin, Palawan Pangolin Conservation Project coordinator, said protecting the species was a challenge when little scientific knowledge was available.
The Philippine pangolin is described as endangered on the International Union for Conservation of Nature's Red List. Yet no areas have been protected specifically for its conservation.
"We may have already lost about 85 to 95 percent of them, but this is only based on the perception of tribal leaders," Batin said.
Research area
The research focuses on the Victoria-Anepahan Mountain Range, which straddles Puerto Princesa City and the towns of Aborlan, Narra and Quezon.
A big slice of the P4-million funding for the project is dedicated to the ground survey and camera traps set in several areas, covering over 6,000 hectares.
Researchers on the ground would document and capture the pangolins, noting various measurements.
The animals will later be released in the same area where they have been taken.
From September to December 2018, the team recorded 14 pangolins, including two pregnant ones, in a total surveyed area of 800 hectares.
Pastrana, 25, said the researchers' work was not easy, walking as much as 20 ha every night.
Researchers, however, observed that threats to the animal's habitats remain, such as slash-and-burn farming, or kaingin, timber poaching and charcoal making.
Interviews done by PSU with indigenous communities showed that poaching and illegal trade on pangolin meat and scales continue.
USAID Protect Wildlife says pangolin meat goes for $3 to $5 per kilo, while the scales, believed to have medicinal uses, sell for as much as $190 per kilo.
More than 30 camera traps have been set up in areas stretching 4,000 hectares.
7 photographed
So far, the cameras captured pictures of seven pangolins, but also other wildlife, such as the endemic Palawan peacock-pheasant, civet cat, porcupine and deer.
The researchers hope the numbers will rise. The final findings will be published by year-end, Batin said.
Partnership with upland indigenous peoples, she noted, would be very valuable, as they are the ones most familiar with the pangolin and the threats.
"We hope our research [will] help in the implementation and enforcement of wildlife law," she said.
By Christia Marie Ramos (Reporter, INQUIRER.net)
PUERTO PRINCESA CITY — Twenty-three years ago, Mardy Montaño moved a thousand kilometers away from her home in Negros Occidental to be with a man she met while she was on a three-day vacation in Palawan.
Now, this 48-year-old woman is leading a group of seaweed farmers in the coastal community of Sitio Balintang, Barangay Isugod in Quezon.
Montaño is the president of the Cherish Fisherfolks Association, which has 86 members — 22 women and 66 men.
Though hesitant at first, she accepted the challenge of leading the organization.
"I never dreamed of becoming president of fisherfolk because it should be a man. But it went through an election. I don't want this position, but then the people put me here. So I rose up to the challenge," she said, speaking in Filipino to a small group of journalists on a media tour of Protect Wildlife Project sites of the United States Agency for International Development (USAID) in southern Palawan.
Paying for children's education
Seaweed farming has helped association members send their own children to school.
"This is the source of livelihood that helped us give our children an education," Montaño said. "Unlike in the cities where there are permanent jobs, there are factories, we have none of that here. Just the sea. When there's a storm, our cooking pots are empty. Our students are pitiful whenever their fathers don't earn anything. But because of seaweeds, we already have children who have finished school."
Her own eldest child, she said, was already an agricultural engineer, thanks to seaweed farming.
According to her, farmers earn P85 per kilogram of seaweed.
A line of seaweed — which is about 25 meters long — weighs about 100 kilograms when fresh and from 25 to 30 kilograms once dried.
This means that they can earn up to P2,500 for each seaweed line.
"For example, if our kids would text: 'Mama, we have a midterm or final exam next week.' Mothers then prepare the seaweeds for drying," Montaño said.
According to her, 10 lines of seaweed would pay for the midterm exam fee of a student and 20 lines would pay for the final exam fee.
Drying facilities
For association members, drying their fresh seaweed is of utmost importance as they rely mostly on dried seaweed products to bring food to the table.
In the past, these farmers from Quezon would often lay their harvested seaweed along the pier to dry.
But they were able to acquire a solar inland dryer and a floating one through a partnership of the United States Agency for International Development (USAID), the Lutheran World Relief (LWR) and the Ecumenical Church Loan Fund (ECLOF).
By Jhesset O. Enano (Reporter, Philippine Daily Inquirer)
PUERTO PRINCESA CITY — Clad in a brown ranger vest, "MakMak" will soon fly in and make a clarion call for biodiversity conservation in schools at Brooke's Point town in southern Palawan.
But MakMak, with his radio, binoculars and whistle, is no ordinary ranger.
Rather, he is a mascot of the endemic blue-naped parrot (Tanygnathus lucionensis), which has been drafted as the town's ally against the illegal wildlife trade.
MakMak, which stands for "makabayan, makakalikasan," is the brainchild of local officials who underwent the "Campaigning for Conservation" training under Protect Wildlife, a project by the US Agency for International Development (USAID) for biodiversity conservation and habitat protection.
Launched in March, MakMak was an idea designed to develop a love for nature in the hearts of children through puppet shows, comics and songs.
"We believe that children have an influence on their parents," said Rebecca Gadayan, acting municipal information officer.
"We want them to tell stories to their parents about how they should join in forest protection efforts to protect MakMak's kind and other species thriving in the forest."
Face of campaign
Local officials said they chose the colorful bird to be the face of the town's environmental campaign since it was easier to elicit empathy for the bird that was already popular in communities.
Brooke's Point is one of five municipalities in Palawan covered by the Mt. Mantalingahan Protected Landscape, an area of 120,457 hectares that is home to indigenous peoples as well as several endemic and endangered flora and fauna.
It is also the point of origin of Brooke's Point's watershed, which provides water to the mainly agricultural town.
According to the International Union for Conservation of Nature (IUCN), there are four critically endangered, five endangered and 14 vulnerable species within this protected area whose forests also host threatened and restricted-range birds of the Palawan Endemic Bird Area, including the blue-naped parrot.
Uphill battle
But the illegal wildlife trade and improper use of some of the town's natural resources, like timber, have threatened its rich biodiversity.
Despite multiple efforts by the local government to push environment protection and conservation among adults, it remains an uphill battle, Gadayan said.
"We've had so many environmental campaigns targeting adults, but they have not been truly effective," she said, adding that wildlife capture and poaching, as well as kaingin, or slash-and-burn practices, remain.
"So this time, we decided to flip our strategy: it will be the children who will now influence their elders. They can share with their parents our message that MakMak should remain free and his habitat should be protected."
Locally known as "pikoy," the blue-naped parrot, or the Philippine green parrot, is listed as a near-threatened species in the IUCN's Red List, with its population on steady decline because of hunting, trapping and habitat loss.
School partnerships
As of last year, the IUCN said that there are some 1,500 to 7,000 mature pikoy in the wild.
Gadayan said local officials hope to roll out their campaign in school events, partnering with teachers and school administrators to include their message of conservation in the academic year's activities. They hope to visit at least one or two schools every month.
Outreach activities in the town's 18 barangays are also being eyed for MakMak, which has already received positive feedback during the campaign's official launch with schoolchildren earlier this year.
Renewed strategy
While the USAID has underwritten the conceptualization and execution of the campaign with a P300,000 funding, the local government of Brooke's Point has also committed P200,000 to continue implementing the campaign throughout the year.
But it remains to be seen whether MakMak and the renewed campaign strategy will bring about behavioral and cultural change in how communities and indigenous groups protect the environment, Gadayan said.
"We know there is still a long way to go," she said. "What is important is to continue our efforts and spread our campaign to keep MakMak and other species free to roam in their habitat."
By RAFFY AYENG
A SHIP carrying illegally caught fish and other endangered species worth P3.2 million were seized as it headed to Manila, the Philippine Coast Guard said on Thursday.
The PCG said the Merchant Vessel Alejandra, which was carrying about 200 fish tubs, left Linapacan in Palawan on May 19 enroute to Delpan Wharf when combined elements of the PCG and the Bureau of Fisheries and Aquatic Resources (BFAR) seized the ship the next day.
The PCG said that of the 162 tubs that were examined, 79 were filled with fish that were caught through dynamite fishing. Another tub was filled with stingrays and sharks.
The tubs that contained fish caught through legal and accepted means were turned over to the concerned consignees. The others that came from dynamite fishing were given to charitable institutions.
The confiscated endangered species are subjected to further investigation and disposition, the PCG said.
The Coast Guard Medical Service arrived in Delpan and conducted an initial check-up on the 10 crew members who were brought to Gat Andres Bonifacio Memorial Medical Center for final physical and medical examination.
By Jonathan L. Mayuga
There is more to El Nido in Palawan than its beautiful landscape and seascape.
A first-class municipality known for its crystal-clear waters and breath-taking island scenery, El Nido is home to a diverse species of birds, fish and amazing marine wildlife that adds value to ecotourism.
Also known for its stunning coral reefs and colossal limestone cliffs, El Nido is rich in biodiversity.
Unfortunately, decades of neglect and unsustainable tourism practices are threatening to destroy El Nido, a good reason it is now the subject of massive rehabilitation by the Department of Environment and Natural Resources (DENR).
Protected area
Covered by this captivating town is the El Nido-Taytay Managed Resource Protected Area, which also includes portions of the nearby Taytay town.
Established by virtue of a presidential proclamation signed by then-President Joseph Estrada on October 8, 1998, the El Nido-Taytay protected area is considered one of the largest marine sanctuaries in the Philippines.
It is approximately 90,321 hectares, where 36,018 hectares is terrestrial, while 54,303 hectares comprise the coastal and marine areas. It is shared by 18 barangays from the municipality of El Nido and three from the municipality of Taytay.
The protected area also covers a total of 1,442 hectares of mangrove area, 2,00 hectares of seagrass and 2,000 hectares of coral reef.
The highest peak in the protected area is on Cadlao Island, with an elevation of 640 meters. Spotted with karst limestone formations, the islands and the mainland El Nido is unique in many ways.
Before being declared a protected area, El Nido is previously covered by conservation measures aimed at protecting this beautiful town from destructive development projects and activities.
Administrative Order 518 signed in 1984 established a 360-square-mile maritime area in El Nido as a turtle sanctuary.
El Nido is one of the eight priority areas of the National Integrated Protected Areas Program (Nipap).
Beautiful lagoons
Within the El Nido-Taytay protected area are some of the tourist attractions being showcased by tourism officials of the municipality of El Nido and the provincial government of Palawan.
These include the Big Lagoon and Small Lagoon, the Secret Lagoon, all in Miniloc Island, and the Cadlao Lagoon in Cadiao Island.
Known as the country's last ecological frontier, Palawan is a major source of wild-caught fish in Luzon.
According to the area's biodiversity profile released by the DENR-Mimaropa region, a total of 197 species of fish species belonging to 28 families have been recorded within the area.
Commonly found species of fish within the area are damselfish, parrotfish, triggerfish, butterflyfish, angelfish, wrasse, grouper, snapper, rabbitfish, goatfish and barracudas. But often, sharks can also be found in its famed Bacuit Bay. Marine turtle haven
Even before the establishment of the protected area, El Nido's islands and islets are hosts to five of the seven marine turtles—the green sea turtle, hawksbill turtle, olive ridley, leatherback and loggerhead turtle.
El Nido is also frequented by dolphins and whales. Some of them have been recorded by the DENR, such as the bottlenose dolphin, spinner dolphin, bryde's whale and humpback whale.
The rare sea cows, locally called dugongs, are also found in the seagrass areas of Barangay Corong-corong, Manlag and Aberawan.
Birds and fish sanctuaries
El Nido is known to host a number of native birds, including those that are identified with Palawan, such as the Palawan blue flycatcher, Palawan flowerpecker, Palawan tit and Palawan hornbill.
Two endemic species can be found in El Nido's Taraw Cliff—the Amorphophallus natolii, and Amorphophallus salmoneus.
Besides the protected area, there are seven locally managed fish sanctuaries and marine protected areas (MPAs) that give marine ecosystems in El Nido double protection. These are the Mitri Island, Dilumacad Island, in Barangay Buena Suerte; Depelder Reef in Barangay Corong-corong; Masagana MPA in Barangay Masagana; Tres Marias, Guintongaoan/Turtle Island in Barangay Bebeladan; and Cagbatang MPA in Barangay Pasadeňa.
An outdoor laboratory
Henry Adornado, regional executive director of Mimaropa, said being rich in biodiversity, El Nido is ideal for the conduct of scientific research.
Adornado, a former director of the Ecosystems Research and Development Bureau, said he had already appealed to the Department of Tourism to fund a study that will determine El Nido's carrying capacity.
Such study will entail a cost of not less than P5 million, which will help policy-makers come up with better rules and regulations without compromising El Nido's ecological integrity.
He said El Nido offers biologists a great learning experience given its unique island ecosystems and the surrounding coastal and marine areas.
"It is rich in terrestrial and marine biodiversity. It has a lot of secrets waiting to be uncovered," he said in Filipino. Pollution, human encroachment
Carol Esmenda, El Nido-Taytay protected area assistant protected area superintendent, said El Nido's water is deteriorating owing to pollution caused by direct discharge of untreated wastewater from the mainland.
Worse, developments, such as the construction of break walls in the beach to protect resorts, is seriously threatening marine turtles, El Nido's flagship species.
Esmenda said in an interview with the BusinessMirror on May 14 that because some locals are selling their properties to foreign investors, El Nido is experiencing a construction boom, with or without necessary permits, even within the supposedly protected area.
This, she said, is causing a lot of distress to El Nido's already threatened terrestrial and coastal habitats.
"Because of development in the beaches, like human encroachment, marine turtles are unable to find their way back to their nesting grounds. Marine turtles have this unique characteristic that they go back to where they were hatched to lay eggs," she explained in Filipino.
Some locals, she said, are also reportedly consuming turtle eggs, and some egg gatherers are secretly selling them to tourists.
P10-M Ipaf
Esmenda, however, is confident that stronger protection will soon be put in place for protected areas with the approval of their work and financial plan that will utilize the P10 million in revenues generated by the park.
The fund is from the automatic Integrated Protected Area Fund (Ipaf) which allows the protected-area management to retain 75 percent of the revenues they generated in the operation of a protected area.
"Last December we came up with the work and financial plan, and [it] was approved, so we are hoping to hire more park rangers to protect the park," she said, confiding that the protected are has only two boats, one of which is already unserviceable.
She said they plan to hire 10 more park rangers and hopefully, acquire even small motorized boats to strictly enforce a policy guided by 2015 carrying capacity study on the maximum number of boats to be allowed operating in El Nido.
"Before, we only ask favors from the Philippine Coast Guard and LGUs [local government units] for us to use their boats because it is also part of their mandate. Hopefully, with our Ipaf, we can have our own boats and more rangers to protect the park," she said.
According to Esmenda, the park rangers will also help create the ecotourism rules and regulation, so as to ensure the protection and conservation of El Nido's threatened wildlife.
Easement rules violation
Records from the DENR-Mimaropa Office revealed a serious violation of the easement rule in El Nido. Of the combined 603 commercial and residential units inventoried by the DENR in the area, 285 are commercial establishments, while 318 are households. So far, 496 violators of easement rules have been issued a notice to vacate, representing 82 percent of the total number of inventoried buildings.
According to Adornado, the DENR continues to issue notices to vacate to violators of the easement rules. Of those issued with notices to vacate, 99 owners of these commercial and residential establishments have so far complied with the order.
Adornado said the DENR with the help of experts from the Mines and Geosciences Bureau (MGB) and the Environmental Management Bureau (EMB) are determined to enforce environmental laws, particularly the Philippine Clean Water Act of 2004.
He said water samples are being collected from outfalls and those that fall below accepted standard in terms of coliform bacteria depending on the gravity of the violation.
Some establishments, he said, are issued with a notice of violation, while some have already been issued a cease-and-desist order, effectively stopping their operation, pending compliance of corrective measures.
"Some establishments are already putting up their own wastewater-treatment facilities, and some are already connecting to sewer lines," he said.
Saving El Nido
According to Adornado, saving El Nido's rich biodiversity by strictly enforcing environmental laws and regulating tourism will ensure sustainable tourism that will benefit communities.
Compared to Boracay, Adornado said the problem besetting El Nido is a lot more manageable with ample budget.
He said enforcing environmental laws entails costs outside the regular budget of the DENR, and sometimes require the expertise of DENR personnel from other units such as the MGB.
He said going island to island, patrolling the vast territory and going resort to resort requires manpower, as well as logistics to mobilize people.
Adornado said El Nido boasts of unmatched natural beauty. Its landscape, the beaches, its pristine waters make it a tourist magnet. Keeping it that way, he said, will be the only way for the communities to continue enjoying nature's bounty.
"If you are an environment lover, the landscape, El Nido is really beautiful. If we can maintain its beauty, it will be of great benefit to the people in El Nido," he said.
By Jean Malanum (PNA)
MANILA -- Palawan's capital city of Puerto Princesa will host the National Finals of the Batang Pinoy, the Philippine Sports Commission (PSC) announced on Tuesday.
PSC Chairman William "Butch" Ramirez said the Batang Pinoy national secretariat will meet with Puerto Princesa Mayor Lucilo Bayron on May 23 to finalize the details of the Memorandum of Agreement (MOA) for the tournament, which was scheduled from August 25 to 31 this year.
"We have happily accepted the offer of Puerto Prinses to host the national finals," said Ramirez in a statement.
An estimated 10,000 athletes, who took part in the qualifying legs held in Tagum City, Iloilo City and Ilagan City, will see action in 21 sports.
Participants in billiards, cycling, gymnastics, judo and muay thai were given automatic slots in the National Finals.
Last year's National Finals was co-hosted by Baguio City and the province of Benguet.
By Lyndon Plantilla (LP/DENR Mimaropa)
QUEZON CITY (PIA) -- The Department of Environment and Natural Resources (DENR) – Mimaropa strictly enforces environmental laws on restaurants and hotels found polluting Bacuit Bay in El Nido, Palawan.
"We have initial investigations done on other hotels and restaurants and we are just waiting if results of their effluent samples would merit issuance of Cease and Desist Orders (CDOs),"said DENR Mimaropa Regional Executive Director Henry Adornado.
Last week, a DENR-Mimaropa team led by the Environment and Management Bureau (EMB) Mimaropa served CDOs to El Nido Sea Shell Resorts and Hotel in Brgy. Buena Suerte; Doublegem Beach Resort and Hotel; Buko Beach Resort; Panorama Resort (Mangonana Inc.), Four Seasons Seaview Hotel and Stunning Republic Beach Resort, in Brgy. Corong-corong; Sava Beach Bar/Sava Nest Egg Inc., El Nido Beach Hotel and The Nest El Nido Resorts and Spa, Inc. in Brgy. Masagana.
Cuna Hotel, also from Barangay Maligaya allegedly discharging blackish and foul smelling wastewater, was also served with CDO as ordered by the Pollution Adjudication Board.
"Until these erring establishments have shaped up, we have no other choice but to enforce the law and stop them from polluting El Nido,"Adornado said.
The establishments' water line and facilities from the kitchens to the comfort rooms (faucets, kitchen sinks, lavatory, sewer lines, outlet pipes,etc) were sealed and notices of violations were posted outside of the buildings.
Engineer (IV) Dan Goodwin Borja, a member of the implementing team and Officer-in-Charge of the EMB Administrative and Finance Division, said that if an establishment was served with a CDO, the CDO stops the cause of pollution."
"It is a tedious process but that is what the law prescribes. We make sure all our actions are done in due process," said EMB Mimaropa Regional Director Michael Drake Matias who signed the CDOs.
Wastewater samples taken from the establishments, based on laboratory analyses, went beyond the DENR's 'General Effluent Standards for Biochemical Oxygen Demand (BOD).
BOD is a measure of the quantity of oxygen used by microorganisms when decomposing organic materials present in water. It provides an index on how discharged wastewater affects its receiving environment.
A high BOD indicates high amount of organic matter present in the water sample.
Furthermore, these establishments were found continuously discharging wastewater without valid permits which violate Rule 14.12 of the Implementing Rules and Regulations of The Philippine Clean Water Act of 2004 which says "Disapproved applications or suspended or revoked wastewater discharge permits shall not grant any right or privilege to the applicant or former permit holder to discharge its waste water into any body(ies) of water and /or land. Any discharge shall be a ground for the immediate issuance of a cease and desist order,"
Engineer Borja said these establishment have no permits and are not allowed to discharge wastewater.
The ongoing rehabilitation of El Nido forms part of the strong directive of Secretary Roy Cimatu to protect all bodies of water in the country.
By Shane Frances Montecillo
NARRA, PALAWAN, Philippines — From goat farm to town hall.
Gerandy Danao, a man who raises 34 goats for a living, has ended the more than 30-year rule of a family in Narra town, Palawan province.
Danao, who ran as an independent candidate, won by 1,033 votes over reelectionist Mayor Lucena Demaala.
He said he relied mostly on "word of mouth" from people who knew him and campaigned for him. "I told myself, if no one will run against Demaala, I will. It's time for change," he told the Inquirer.
"If it weren't for the people, I wouldn't have won. This is for them," he said.
Demaala and her husband, Clarito, had held power in Narra for more than 30 years.
Asked about his plans for the first-class farming town of Narra, Danao said he would focus on agricultural programs, construction of farm-to-market roads, distribution of machinery to farmers and tourism.
(BusinessMirror)
ROOMS with intimate views of paradise that are also kind to the pocket are now offered by the recently launched 50-room Huni bed and breakfast hotel at Lio Tourism Estate. Globally acclaimed for its natural beauty, the Ayala Land community in El Nido has been master planned to remain ecologically sustainable for decades to come beginning with the design of its beachfront hotels.
Named after the Filipino word meaning "hum of the sea," the sprawling Huni hotel features simple contemporary architectural lines and buildings with no more than two stories to keep the visitor's attention on the turquoise waters of Bacuit Bay and Lio's pristine 4.5 kilometers of ivory beach. Huni's spacious air-conditioned rooms from 34 to 54 square meters further make use of full-length glass doors that emphasize the restful surroundings. The hotel has further dispensed with sachets and single-use plastics in its rooms and main dining facility in line with measures to remain respectful of the environment.
"Huni offers good value for couples and groups seeking to better appreciate nature, to try out new activities or to just relax," according to Joey Bernardino, group director for sales and marketing of Ten Knots Development Corp. that developed the brand. "Less than a five-minute drive from Lio airport, it is also a short stroll through Lio beach to the curated dining and retail options of Shops at Lio and the cultural offerings of the artists' village Kalye Artisano, also within the estate."
At the same time, it is highly accessible to El Nido town, the jump-off point to island hopping to Bacuit Bay's iconic sights like the Big and Small Lagoon; the bay's not-to-be-missed snorkeling sites; limestone caving; rock climbing; and other adventures. When energies have waned, Huni's swimming pool and breezy lounging areas that make use of natural weaves and materials also offer guests the option to just laze at the hotel or to do less strenuous activities like volleyball, kayaking and paddle boarding at the beach.
Bernardino explained that over the long-term, the Huni brand will be available in other Ayala Land tourism estates and communities. "We established the brand to make new tourism areas accessible to a broader market that appreciates value."
The resort brand will also stand for consistent and customer-focused service, qualities that are associated with the Ayala Land name. "Wherever a Huni property is found, guests can be assured of a relaxing vacation. We envision that in the future, guests will be in the habit of booking a Huni room each time they want to explore an Ayala Land destination."
Huni Lio is accessible through direct flights to Lio airport from Manila, Clark, Cebu and Puerto Princesa via AirSwift. It can also be reached by land by van service from Palawan's biggest airport at Puerto Princesa and San Vicente, Palawan. The van ride from Puerto Princesa to Lio, Beach is an estimated six hours while the ride from San Vicente to Lio Beach is around three hours.
El Nido and all its attractions, including those at Lio, are collectively considered the last frontier, according to Bernardino. "As world populations grow, putting nature-based destinations at greater risk, we also expect more visitors to [come to] our piece of paradise," he said. Huni is an excellent reason to visit Lio and all the other attractions of El Nido sooner than later.
By Keith Anthony S. Fabro (Rappler.com)
The hotels are served cease and desist orders for discharging wastewater without valid permits
PALAWAN, Philippines – The Department of Environment and Natural Resources (DENR) has issued cease and desist orders (CDO) against 10 hotels for "gravely polluting" Bacuit Bay in El Nido, one of the country's tourism hotspots undergoing massive rehabilitation.
Signed by Michael Drake Matias, regional director of the Environmental Management Bureau (EMB) Mimaropa, the orders were served on Wednesday, May 15, to the following establishments found discharging wastewater without valid permits:
• El Nido Sea Shell Resorts and Hotel
• Doublegem Beach Resort and Hotel
• Buko Beach Resort
• Panorama Resort (Mangonana Inc)
• Four Seasons Seaview Hotel
• Stunning Republic Beach Resort
• Sava Beach Bar/Sava Nest Egg Inc
• El Nido Beach Hotel
• The Nest El Nido Resorts and Spa, Inc
The DENR said these establishments violated Rule 14.12 of the Implementing Rules and Regulations of Republic Act No. 9275 or the Clean Water Act of 2004.
Under RA 9275, establishments with "disapproved applications or suspended or revoked wastewater discharge permits" are prohibited to do such an act as it would pollute any receiving body of water.
The order specified that the result of the laboratory analysis on the wastewater taken from said establishments went beyond DENR effluent standards.
Meanwhile, the DENR's Pollution Adjudication Board served the same order to Cuna Hotel, which has existing complaints for "discharging blackish and foul smelling wastewater."
Cuna Hotel's effluent sample had "greatly exceeded the water quality standard set by the department." The department said it remains "in force and in effect until modified or lifted by the Board or the DENR secretary."
To ensure that erring establishments stop discharging wastewater, a team from the regional EMB sealed all their water lines and facilities, from their kitchens to toilets.
The team also posted a notice of their violations to the public.
"It is a tedious process but that is what the law prescribes. We make sure all our actions are done in due process," Matias said in a press statement.
While the 10 establishments had been placed under close watch, the DENR continuously checked the wastewater discharge of other business structures in El Nido.
"We have initial investigations done on other hotels and restaurants and we are just waiting if results of their effluent samples would merit issuance of CDO," said DENR Mimaropa Regional Executive Director Henry Adornado.
"Until these erring establishments have shaped up, we have no other choice but to enforce the law and stop them from polluting El Nido," Adornado added.
Hotel owners who received orders have been given time to comply with requirements prescribed in the law to legally operate.
The ongoing rehabilitation of El Nido forms part of Environment Secretary Roy Cimatu's directive to protect all bodies of water in the country for people to enjoy their most beneficial use.
"We have longed benefited from El Nido. It is about time we all realize that we have a shared responsibility to protect and save it from degradation so that we and the generations to come can still savor the beauty and natural resources that this wonderful island has to offer, " Ardonado said.
By Randy S. Peregrino
THIS year's Toyota Roadtrek was more special and memorable for all the participants. Aside from returning to the scenic province of Palawan for the fourth time, Toyota Motor Philippines also commemorated the 15th edition of this annual summer media drive event. According to TMP, it was a celebration of friendship between the company and the media that goes beyond business. So once again, select members of the motoring media flew in to the scenic province of Palawan for this exclusive drive that has become a tradition of fun, camaraderie with friendly competition among participants.
Introducing the new Avanza
One of the highly anticipated episodes at this year's Roadtrek event was the introduction of the new Avanza. During our first stop at the Princesa Resort, TMP presented the refreshed model in radiant Dark Blue SE shade. Several years since its last update and having been the second best-selling multipurpose Vehicle (MPV) in the country, next only to the Innova, we couldn't agree more that it's high times TMP introduce the latest iteration.
First vice president for Brand and Product Planning Cluster Cristina Arevalo confidently shared the Avanza's milestone of finally reaching around 100,000 unit sales since its introduction in 2006. "The Avanza is the vehicle choice for the young and starting family on the lookout for best-value without sacrificing style. This year, TMP is among the first in the Asean region, along with other countries, that launched the new Avanza," she said.
The new look is definitely sportier. It highlights the new split-type LED headlamps design united with the grille's chrome bar. The rear end, meantime, received new set taillights complemented with a new combined red lenses and chrome bar garnish. Even the alloy wheels are new with a nice two-tone design. As for the interior, there's the new 6.8-inch Capacitive Touch Panel Display infotainment system. The unit is enhanced with K2 technology allowing multiple phone connections for hands-free and streaming functions. Moreover, smartphone mirroring is enabled through T-link app.
Under the hood, both the 1.5-liter (103 hp) and 1.3-liter (95 hp) engines where retained with an optional drivetrains of four-speed automatic transmission and five-speed manual gearbox. Safety-wise, there are two SRS airbags, three-point ELR seatbelts for all seats, and an Isofix child seat restraint system. All these with the Antilock Braking System (ABS). Price starts at P731,000. The best part is that, for the 1.5-liter Velos and G variants, customers will get the new features without any price increase according to TMP.
Divide et impera
Of course the event won't be a Toyota Roadtrek without it's known entailing sequences of challenging activities for the participating groups. Teamed up with our publication's motoring editor Tet Andolong along with fellow scribes Aries Espinosa and Tessa Salazar, we all came prepared for the contests ahead.
The initial phase kicked off with a game of tic-tac-toe on the ground. Each team member had to race toward the placed plastic circles to plant flag poles in order to complete the required combinations. Add to that the photo contest with the new Avanza. After that, we then proceeded to Toyota Puerto Princesa dealership for another task. This time, teams played the difficult game using three bamboo pipes cut in half with lace and hanged in our necks. Without touching, we had to slide plastic balls and drop it in a bucket.
Then the task to come up with a music video from a song we picked. Because of the tight deadline, each team had to film inside the assigned vehicle while on the road. Aside from that, we got series of trivia questions to answer while en route to the next stop.
Rolling with the Toyotas
When we arrived at the airport, our team's assigned vehicle was the top spec Vios 1.5 G Prime model. It was like a reconnection with the car from the previous drive event to La Union and Baguio. The vehicle's radiant Super Red shade, sporty kits, chrome accents, piano black finishes and the16-inch alloy wheels relived the same level of excitement. With the interior's absolute endowment of all the bells and whistles you can find in a premium subcompact sedan, taking it for a spin was as refreshing as ever.
Next vehicle to drive was the burly FJ Cruiser in its well-liked bright yellow shade. As a passenger this time, one of notable things the interior had to offer is its absolutely Spartan cabin designed for rugged use. Those hard but well-shaped plastic materials at door sidings, as well as floor linings and everywhere, tells you that this vehicle is ready to take on dirt and water. The acceleration brute was given coming from its massive 4.0-liter V6 engine, but what we like was the spacious cabin which provided enough room to sprawl around while filming our music video.
Then came the new Avanza. For the longest stretch of the road trip, we get to drive this newly introduced model on the well-paved roads yet with constant tight turns. On the road, hauling four occupants plus heavy luggage at the back didn't hinder the 1.5 liter mill's delivery at all. It provided steady acceleration on leveled roads. But on long stretch of ascents, there was a need to squeeze all the torque you can get from lower gears.
Having a relatively stiff suspension setup, its level of rigidity became an advantage. Even with high ground clearance, the vehicle was nimble on turns and curves and even demonstrated good maneuverability. Add to that the light yet responsive steering. After the winding roads, we finally reached Taytay port. From there we sailed to the majestic Apulit Island resort where checked in, settled and capped the day with dinner and socials.
Culmination night
On our last night, no other than TMP President Satoru Suzuki greeted us. "For almost two decades now, the Toyota Roadtrek tradition has been a symbol of our enduring friendship that goes beyond business," he said. "I'd like to congratulate everyone for their genuine display of friendly competition. The games and challenges of Roadtrek are tests of character, and I'm really happy to see the best of motoring journalist played out together with grace," Suzuki concluded. Our team may have fell short on accumulated points this year, but we still look forward to next year's edition of the Toyota Roadtrek.
(PR)
PALAWAN -- Scientists from World Wide Fund for Nature (WWF) Philippines and Large Marine Vertebrates Research Institute Philippines (Lamave) have set up an acoustic network to study shark and ray movements and habits in Cagayancillo.
The research, funded by WWF-Singapore, is part of a three-year large marine protected area project in north eastern Palawan. The acoustic technology will give the team an insight into identifying key habitats for sharks and rays to effectively zone and develop Cagayancillo's 1-million hectare marine protected area (MPA).
The acoustic network consists of a number of acoustic receivers (underwater listening devices) that are placed underwater at a depth of 20-30 meters on strategic areas of the islands and atolls. The receivers "listen out" for "pings" transmitted by acoustic tags attached to select sharks and rays. The team successfully deployed three new receivers and replaced one that was deployed in Arena, an atoll in the south of Cagayancillo, in June 2017. Later this month the team aims to tag sharks in Cagayancillo waters, an output that was thwarted in April by rough weather and low encounters with sharks.
Cagayancillo is a remote archipelagic municipality in the heart of the Sulu Sea that lies 330 kilometers east of Puerto Princesa and 170 kilometers away from Tubbataha Reefs Natural Park.
In 2016, the local government unit declared the municipality the largest multi-use marine protected area in the Philippines. Unlike Tubbataha, which is a strict no-take zone, the Cagayancillo multi-use marine protected area currently accommodates sustenance fishing, seaweed farming and commercial fishing, with current restrictions only designated to marine reserves within the MPA.
The deployment of the acoustic network is one step in a wider research study towards zoning the MPA, with fish and coral studies also being carried out in a holistic approach to managing the ecosystem.
The acoustic network will enable the team to understand how sharks and rays are using Cagayancillo's diverse habitats. The frequency of pings collected by different receivers will shed light on important areas for the species and give an insight into why species may be spending time there.
The success of Tubbataha Reefs Natural Park is a clear inspiration for the municipality of Cagayancillo, whose goal is to protect municipal waters to safeguard the ecological and economical importance, ensuring a thriving ecosystem for its people both for sustenance and economic gain through tourism. This research by WWF-Philippines and Lamave will provide a scientific perspective on the marine resources and how best to protect them, information that aims to compliment local knowledge.
"Working with the people of Cagayancillo in protecting the marine environment has always been striking the balance between safeguarding the marine wildlife and sustaining livelihoods. How to connect the lives of rays and sharks with that of the local communities, in real terms, remains to be the challenge we face. We earnestly hope that science and insights from the locals themselves will show us the way," said Marivel Dygico of WWF-Philippines.
The older news reports are kept here.