LOG IN. UPLOAD PICTURES.


List of the 17 Regions in the Philippines
National - Capital Region ● I - Ilocos ● II - Cagayan ● III - C. Luzon ● IV-A - Calabarzon ● IV-B - Mimaropa ● V - Bicol ● VI - W. Visayas ● VII - C. Visayas ● VIII - E. Visayas ● IX - Zamboanga ● X - N. Mindanao ● XI - Davao ● XII - Soccsksargen ● XIII - Caraga ● XIV - CAR ● XV - BARMM

Chavacano Language -- Other Countries in the World -- Guaranteed One Senator per Region


Zamboanga Shopping
Moncado Kadingilan, Marawi City, Lanao del Sur, Philippines
Jump to navigation
Jump to search
President Duterte and his followers promote the biggest DECEPTION and con in the Philippines. They push for Federalism and constitutional reform or charter change (cha-cha) just to boost political dynasties and to give the Muslims(Moros) their own state, a "BangasaMoro" (Muslim Nation), an Islamic State within the Philippines. - Why Islam want to govern the Philippines.
---
Barangays (96) of Marawi City, in the Lanao del Sur Province within Region 15-ARMM of The Philippines
Ambolong • Amito Marantao • Bacolod Chico Proper • Banga • Bangco • Banggolo • Bangon • Basak Malutlut • Beyaba-Damag • Bito Buadi Itowa • Bito Buadi Parba • Boganga • Boto Ambolong • Buadi Sacayo • Bubong Lumbac • Bubonga Cadayonan • Bubonga Lilod Madaya • Bubonga Marawi • Bubonga Pagalamatan • Bubonga Punod • Cabasaran • Cabingan • Cadayonan • Cadayonan I • Calocan East • Calocan West • Daguduban • Dansalan • Datu Naga • Datu Sa Dansalan • Dayawan • Dimaluna • Dulay • Dulay West • East Basak • Emie Punud • Fort • Gadongan • Gadongan Mapantao • Guimba • Kapantaran • Kilala • Kormatan Matampay • Lilod Madaya • Lilod Saduc • Lomidong • Lumbac Marinaut • Lumbaca Madaya • Lumbaca Toros • Malimono • Marawi Poblacion • Marinaut East • Marinaut West • Matampay • Mipaga Proper • Moncado Colony • Moncado Kadingilan • Moriatao Loksadato • Navarro (Datu Saber) • Norhaya Village • Olawa Ambolong • Pagalamatan Gambai • Pagayawan • Panggao Saduc • Pantaon • Papandayan • Papandayan Caniogan • Paridi • Patani • Pindolonan • Poona Marantao • Pugaan • Rapasun MSU • Raya Madaya I • Raya Madaya II • Raya Saduc • Rorogagus East • Rorogagus Proper • Sabala Manao • Sabala Manao Proper • Saduc Proper • Sagonsongan • Sangcay Dansalan • Somiorang • South Madaya Proper • Sugod Proper • Tampilong • Timbangalan • Tolali • Tongantongan-Tuca Timbangalan • Toros • Tuca • Tuca Ambolong • Tuca Marinaut • Wawalayan Calocan • Wawalayan Marinaut
---
Philippines, is the only country in the world which is 85% Catholic that created FIVE(5) national laws "favoring", "respecting" and "financing" the religion of ISLAM.
Then made it unlawful to finance all other religions.
The only country in the world that has a government commission that caters to Muslims only, for the hajj, for madrasas, and the spread of Islam at government's expense PAID by the taxes of Non-Muslims.
Religion is always good for the people but it should never be embraced or financed by government. Tax exemption is not tantamount to financing. Every non-profit organization is tax-exempt.
"Click here to Comment"
---

Adopt this webpage. Help your community get more exposure to TOURISTS and INVESTORS. Help us improve this webpage.

---
A | B | C | D | E | F | G | H | I | J | K | L | M | N | O | P | Q | R | S | T | U | V | W | X | Y | Z
Create Name's page
---
Regions | Philippine Provinces | Philippine Cities | Municipalities | Barangays | High School Reunions
---
---


Barangay Seal

Marawi City within Lanao del Sur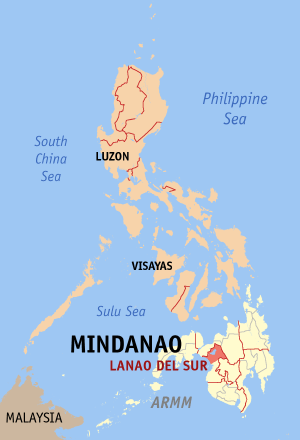 Lanao del Sur Province within The Philippines
AdrenoBoost™ - For Adrenal Gland Functioning

Promotes healthy adrenal gland functioning and hormone balance
Maintains cortisol levels already within healthy limits
Promotes energy levels, alertness and stamina
Helps the body adapt to everyday stressors and adrenal fatigue

Maintains blood sugar levels already within healthy limits
Maintains blood pressure already within healthy limits
Supports healthy circulation, sleep patterns and immunity
Astragalus as one of the main ingredients of AdrenoBoost™
---


Barangay Hall
Wars of ancient history were about territory, power, family or lover's quarrel, politics and sometimes religion.
But we are in the Modern era and supposedly more educated and enlightened .
Think about this. Don't just brush off these questions.
Why is RELIGION still involved in WARS? Isn't religion supposed to be about PEACE?
Ask yourself; What religion is always involved in wars and consistently causing WARS, yet insists that it's a religion of peace?
WHY??
Moncado Kadingilan, Marawi City,
Lanao del Sur, Philippines

Location of Moncado Kadingilan, Marawi City, Prvnce, Philippines
History of Moncado Kadingilan, Marawi City, Prvnce, Philippines
PART – I: BARANGAY PROFILE
Historical Background
In 1930's, there was a foreign corporation named Filipino Federation of America, Inc. and now became World Army Crusaders, Inc. founded by Gen. Helario Cameno Moncado which composed of Filipino members who migrated to different states of United States of America.
In 1931, Gen. Helario Cameno Moncado returned to the Philippines for the purpose of opening different colonies in Mindanao for its 10,000 members who were willing to return to the Philippines from abroad. Gen. Helario Moncado has set up several colonies in different parts of Mindanao. One of which is here in Marawi City, the Municipality of Dansalan then.
In 1932, the Moncado Colony Park, which was the third and one of the best parks in Mindanao, was built headed by Gen. Helario Cameno Moncado. This park was located at Moncado Federation and now Moncado Kadingilan. But unfortunately, the lot where that park was situated has been sold. So due to the order of the owner of that lot, the park was destroyed and abolished but, because some members of the World Army Crusaders, Inc. protested the vendor, it is now a contested lot.
The place here in Marawi, which was colonized by Moncado, was divided into 3 barangays, which its first name was derived from the name of Moncado. These were Moncado Colony, Moncado Kadingilan and Moncado Federation.
The Moncado Kadingilan is derived from the name Moncado who was treated as Prophet by Moncadist, and the Maranao word Kadingilan, which means looking, surprised sidewise either left or right.
It was named Moncado because Moncado had colonized this place, and Kadingilan because during the time of American regime, some of their soldiers put a wheel for fetching water from a well at Langagen located at the upper part of Marawi particularly the North and East of the barangay. Langagen is a Maranao term, which means looking upward. This wheel was attractive to sight and attention of people passing by. People who's coming and going to Basak area were always looking at the wheel thus they named it Kadingilan.
During the time of Former President Corazon C. Aquino, she initiated the merging and abolishing of some barangays all over the country. As a result, the Moncado Federation was merged to Moncado Kadingilan, In 1990 the City Council had approved City Ordinance No.6, naming Barangay Moncado Kadingilan as Barangay DARUSSALAM which means Community of Peace.
Timeline:
1920's - Public Cemetery was founded
1932 - First opening of Dansalan Central Elem. School and now became Marawi Central Elementary Pilot School, one of the oldest Public Elementary Grade in the town.
1931 - Gen. Hilario Camino Moncado returned to this town to set up some colonies in the different part of the Mindanao
1932 - Moncado Colony Park was built
1939 - Polio Center was built at Langagen
1940's - American soldier made a wheel in the barangays
1950 - First Opening of Dansalan Junior College Foundation
1950's - City and Provincial Motor Pool was built
1960's - Dansalan Hospital headed by Dr. Alfredo Primero was built
1970's - House of late Ex-Congressman Haron Al-Rashid Lucman and Ex-Governor Prencess Tarhata Alonto Lucman was built at Langagen Federation
1970's - First opening of Ibango Central Elem. School
1988 - Darul-Salam Mosque was built
1989 - Tariq Mosque was built
1989 - Darul-Aman Mosque was built
1989 - First Opening of Caltex Station owned by Faiso Rasuman
1990 - Bilal Mosque was built
1994 - First opening of Jamiatu Muslim Islam Foundation a Multi level private school.
1995 - NAWASA / NPC Reservoir was built at Langagun
1996 - Marawi Sport Complex was founded under the administration of Hon. Atty. Abbas M. Basman
1997 - First Opening of Madrasatul Darul-Salam Al-Islamia
1998 - First Opening of Maranao Rural Bank
1999 - Opening of the Sen. Ninoy Aquino College Foundation.
1999 - Community Health Center in the barangay was built by UNFPA under the admin.
2000 - Ramadhan Mosque was built
2000 - DXSM Transmeter was built at Langagun

Manang AURORA RAMOS VALDEZ – First elected Barangay Captain of Barangay Moncado Federation.
Hadji BASHER TAWAGUN – First elected Barangay Captain of Barangay Moncado Kadingilan
Farouk Sharif - Elected Barangay Chairman
Muamar "Puno" Dimaro Umpar - Elected Barangay Chairman to date.
People of Moncado Kadingilan, Marawi City, Prvnce, Philippines
Total Population of Moncado Kadingilan
Elected Government Officials of Moncado Kadingilan, Marawi City, Prvnce, Philippines
Republic Act No. 11462 Approved: 03 December 2019: That the barangay and sangguniang kabataan elections on the second Monday of May 2020 shall be postponed to December 5, 2022.
---
Elected Officers of Moncado Kadingilan for the term of 2018 - 2020
Punong Barangay Chairman/Captain :
Barangay Kagawads/Councilors:

7 members: Need their names

Sangguniang Kabataan (SK officials)

SK Chairman:
SK kagawad:

7 members: need their names
---
Elected Officers for the term of 2013 - 2016
Result not yet available from the COMELEC as of SEPTEMBER 2016. You may email ersd@comelec.gov.ph to inquire.
---
Elected Moncado Kadingilan Officers for the term of 2007 - 2010

Chairman (captain):
Kagawad:

SK Chairman:
SK Kagawad:

?
?
?
---

This is the "Barangay Code of the Philippines".
Every Government Unit in the Philippines is within a Barangay. The municipal hall, city hall, the provincial capitol building, and even the Malacañang Palace where the president resides is within a Barangay.
The barangay has power and authority over its domain. The improvement of the barangay rests on the barangay officials. The barangay chairman, the barangay council and the local businessmen forge the prosperity of the barangay. Not the president of the Philippines, senate, nor congress. Not the governor of the province, not the mayor nor council of the municipality or city. Poor barangays stay poor because of weak and/or ignorant(uninformed) barangay leaders.
When roads or any infrastructure need to be built, improved or repaired, all the barangay officials have to do is make a resolution and present it to the city or municipality council. The resolution will force the city/municipal council or responsible government office to hear the legitimate demands. "The squeaky wheel gets the grease."
Each city or municipality is represented by the "barangay association or federation". The elected president of the Association of Barangay Council and the President of Kabataan (SK) association each have a seat in the City/Municipality council. Their powers are the same and equal to the elected city/municipality councilors. They are there to help lobby the demands of the barangays. They are not there just to collect a big salary and rub elbows with the regular elected city/municipality council, but to also represent the needs of the barangays.
Practically anything that has to do with the barangay, the barangay officials have a say on it and most likely the authority over it. The majority of the barangay officials are not aware of their duties and power. They depend on the city council or mayor. The elected barangay officials are afraid of the mayor and city/municipality's "Sangguniang Panlungsod". They are in fear of being ousted or removed from office. The truth is, the "Sangguniang Panlungsod" does not have the power to remove or suspend any elected barangay officials from office. Only the COURT OF LAW can do this (judicial branch of the government). Elected public officials can't be suspended by the DILG or the office of the president unless an official complaint has been filed, there must be proof and there must be due process. Republic Act 7160 chapter 4. Information is power. Be informed. Do not be intimidated by the president, senator, congressman, governor, mayor, vice-mayor, or councilors. Do your job.
The control of traffic is not up to the city council or chief of police. It is controlled by the barangay. If the barangay needs traffic enforcers, the barangay can make a resolution to demand it from the city or municipality council. When the electric coop or the water district do not maintain their lines, the barangay can directly demand for the maintenance from the utility companies. No need to wait for city council.
The citizens also has the power to make demands to the barangay officials. In case the officials get blinded. Simply file an official complaint with the barangay secretary naming the Punong barangay as the respondent representing the barangay.
If the power lines are sagging, don't go to the power company, go to the barangay office. Ask the barangay for a DEMAND resolution against the power company.
If the water lines are busted, don't wait for the water company, go to the barangay office. Ask the barangay for a DEMAND resolution against the water company.
If the potholes in the road are not fixed, don't wait for the The Department of Public Works and Highways (DPWH), go to the barangay office. Ask the barangay for a DEMAND resolution against the DPWH.
Are you beginning to get the point?
Cleaning the shorelines, drainage systems, streets, rivers, and parks within your barangay is YOUR responsibility. You are accountable for this. It is not the responsibility of the City/Municipality officials. The citizens and officials of the barangay are responsible.
BUDGET: As far as the preparation for the budget expenditures, it starts at the barangay level, then moves on to cities, municipalities, provinces and regions. The barangays need to exercise their authority. They need to put their yearly budget together for their administration and future projects. The majority of the barangays leave this job to the municipality and city. This is so wrong. Then when the budget doesn't come or is lacking, they complain.
The budget for the barangays does go to the City or Municipality, but simply for holding and later distribution. The city or municipality DOES NOT approve the budget. It was already approved by congress. The city or municipality simply "distributes" the approved budget.
The bureau of internal revenue is in cahoots to subdue the barangays, municipalities and provinces. They call the rightful shares to the taxes collected as "Internal Revenue Allotment Dependency". It is not a dependency. It is the lawful and rightful share of the LGU as specified in "TITLE III, SHARES OF LOCAL GOVERNMENT UNITS IN THE PROCEEDS OF NATIONAL TAXES, CHAPTER I, Allotment of Internal Revenue Taxes, Section 284."
"IMPERIAL MANILA IS A MYTH!", it does not exist anymore. The Philippine budget formulation system is not centralized. "Budgetary planning has been DECENTRALIZED since 1991". It is the responsibility of each LGU to submit their budgetary needs for review. Failure to submit is the problem.
DURING ELECTIONS: Where do City and Municipality politicians go to campaign? They seek the support of the Barangay officials. They plead to the barangay folks for the votes. Even the candidate for president. But after the election they ignore you. Do not ever forget the power of the barangay.
Ignorance keeps the pinoys thinking that Manila rules. Be informed, be educated and make your barangay prosper.
Absolutely NO need for FEDERALISM. It is a ploy to give the Bangsamoro an Islamic State where the religion of Islam is financed by the Philippine government. Bangsamoro will be a HOMELAND not for all Filipinos but for only the Muslim Filipinos. It violates the constitution's "separation of church and state". Religion is always good for the people but it should never be embraced or financed by government. Tax exemption is not tantamount to financing. Every non-profit organization is tax-exempt.
Businesses in Moncado Kadingilan, Marawi City, Prvnce, Philippines
We invite you to list your business located in Moncado Kadingilan, Marawi City.
Give your business a good description. Add your address and contact number if available.

Resorts, restaurants, pension houses, or hotels are welcome to be listed here.
Bakery, Mechanical Shop, Bicycle Shop, Tailor shops can be listed here.
If you have a pharmacy or gas station, it can be listed here too.
Hardware stores, Agrivets, salon, spas, etc. are welcome to be listed.

We do not allow external links except for our sponsor zamboanga.com and maletsky.com. If you have an external site for your business you may not link to it in Z-Wiki but you can point to it. e.g. list it like this: www.my??business.com - this tells the people of your website but it does not link to it.
Businesses in Moncado Kadingilan

The name of your business, address, phone number
Moncado Kadingilan, Marawi City, Prvnce, Philippines supports Philippine Cycling
Philippine Cycling is about cycling in the Philippnes. Philippine Cycling helps promote bike races, cycling clubs, bicycle tours, and the development of bicycle trails. Activities are coordinated with bike shops and cycling clubs throughout the Philippines to promote the fun of riding bikes. Philippine Cycling will be coordinating events with tour of Luzon, Visayas and Mindanao. Road biking and mountain bikings will be promoted by Philippine Cycling.
Cycling Activity to Participate In

Your cycling activity can be posted here and it will be shown in all the Provincial, City, Municipal and Barangay pages. Your 2015 Cycling Race or Activity can be Posted here.
ILOILO CITY, April 27-May 2, 2015 (PNA) – Some 5,000 bikers are expected to join the second Iloilo Bike Festival slated April 27-May 2, 2015 as the city continues to aspire to become a bike-able walkable metropolis. The activity that supported by the John B. Lacson Foundation Maritime University (JBLFMU) and Megaworld Iloilo aims to promote Iloilo as a safe and bike friendly city, promote the share-a-road movement encourage Ilonggos to commute via biking and raise Ilonggos awareness on the benefits of biking on health, safety and environment concerns. Read More....
CYCLING Le Tour de Filipinas 2015 set as country celebrates 60 years of top-caliber cycling Feb 1 to Feb 4 2015 - View the result of the race: A four stage race. Stage 1 starts in Balanga and back to Balanga for a 126K race Feb 1, 2015 (Sunday); stage 2 starts in Balanga, Bataan to Iba, Zambales for a 154.7 K race Feb 2, 2015 (Monday); stage 3 starts in Iba, Zambales to Lingayen, Pangasinan for a 150.1K race Feb 3, 2015 (Tuesday); stage 4 starts in Lingayen, Pangasinan to Baguio City, Benguet for a 101.7K race Feb 4, 2015 (Wednesday). For a total distance of 532.5 Kms. Read More >>>
Ronda Pilipinas: Feb 8 - 27 2015:>> Discovering young riders for the national team will be the main objective of the LBC Ronda Pilipinas 2015 when the country's premiere cycling race hits the road on Feb. 8 in Butuan City. Ronda Pilipinas executive project director Moe Chulani said the international multistage bikathon, which ends on Feb. 27, will have two qualifying legs of four stages each in Mindanao and the Visayas where the top riders will advance to face a tough foreign challenge in the six-stage Luzon finale. Read More>>>
Real Estate for Sale or lease in Moncado Kadingilan, Marawi City, Prvnce, Philippines
If you have real estate property, whether its commercial, residential, farm land, or just an empty lot in Moncado Kadingilan, you can list that property for FREE HERE in Z-wiki.
You can list your House and lot or farm land for sale or lease for free here in Z-Wiki
Churches, Mosques, or Places of Worship in Moncado Kadingilan, Marawi City, Prvnce, Philippines
The name of your church, mosque, or place of worship can be listed in this community page. Take a picture of the facade of your church or place of worship and it can be posted here. We can even provide you with a free webpage. You can enter the data (story about your place of worship) here yourself, email the information or pictures to (franklin_maletsky@yahoo.com) or via Facebook.
---
FILIPINOS WAKE UP! THE TAXES YOU PAID ARE USED BY THE GOVERNMENT TO EXCLUSIVELY FINANCE THE RELIGION OF ISLAM.
Freedom of religion, yes. Equality, yes. But no favoritism.
---
Schools in Moncado Kadingilan, Marawi City, Prvnce, Philippines
The schools in Moncado Kadingilan 1. Dansalan Jr. College 2. Marawi Central Elementary Pilot School 3. Ibango East Elementary School 4. Ninoy Aquino College Foundation 5. Jamiatu Marawi Islamia Foundation 6. Cali Politicnic College F. 7. Aba-Alkail Computer School
Economy of Moncado Kadingilan, Marawi City, Prvnce, Philippines
If you have an article that talks about the improvement of the economy of Moncado Kadingilan, Marawi City you can post that article here. If you come across any news items that talk about the economy of Moncado Kadingilan, Marawi City, you may post it here. Of course you have to reference the writer of the article. Any improvement to transportation, power and service usually improves the economy of the community, so go ahead and report that too.
Natural Resources of Moncado Kadingilan, Marawi City, Prvnce, Philippines
This page needs some articles about the natural resources of Moncado Kadingilan, Marawi City. Where does the energy source of this Marawi City come from? Are there any mining industries? Rivers and tributaries are part of the natural resources.
Tourists Attractions of Moncado Kadingilan, Marawi City, Prvnce, Philippines
Help us add some of the tourist attractions of Moncado Kadingilan in Z-wiki. This will help boost the local economy of Moncado Kadingilan. Anything that is unique or anything that stands out in your community may be a tourist attraction.
Landmarks are usually photographed a lot by visitors. Post the Moncado Kadingilan landmarks here.
Fiestas and Traditions of Moncado Kadingilan, Marawi City, Prvnce, Philippines
Fiesta date of Moncado Kadingilan
Your Story about Moncado Kadingilan, Marawi City, Prvnce, Philippines
Tell your story about Moncado Kadingilan. You can talk about the good things in Moncado Kadingilan or simply talk about the past. You can talk about the eco-system of Moncado Kadingilan. What is the local LGU doing about the preservation of your natural resources? The topic can start here and once it gets bigger it can have a page of its own in Z-Wiki. It's all up to you.
The oldest man or woman in Moncado Kadingilan, Marawi City, Prvnce, Philippines
Do you know who the oldest man or woman is in Moncado Kadingilan? Z-Wiki is starting this inquiry in order to honor the older generation of the Philippines. Please provide the full name and date of birth of the elder living in Moncado Kadingilan.
Pictures of Moncado Kadingilan
Click HERE to view more PHOTOS about Moncado Kadingilan, Marawi City.
Disclaimer
Most of the contents in this site are from registered user collaborations. Information has also been taken from the Department of Tourism, Comelec, National Statistical Coordination Board, DILG: Department of the Interior and Local Government, (LGU) government sites, online news, and other content sites about the specific community. This page does not serve as the official website of the community but rather compliments and helps the community to promote tourism and attract investors.
This is an interactive and collaborative webpage, meant to help promote this community and showcase it to the world via the internet.
This wiki page follows a format. The editor of this wiki page reserves the right to change formats, edit, or delete entries that may be considered as offensive, vulgar or not for the betterment of this wiki page.