Margosatubig, Zamboanga del Sur, Project B.O.S.S.
Jump to navigation
Jump to search
→ → Go back HOME to Zamboanga: the Portal to the Philippines.
B.O.S.S. Brotherhood Operation Sweet Smile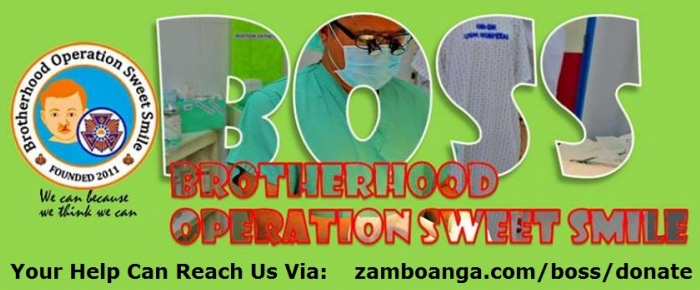 All your donations will go to project BOSS.

Margosatubig, Zamboanga del Sur, Philippines|Margosatubig, Zamboanga del Sur, Project B.O.S.S.
The chief of hospital of Margosatubig Regional Hospital, Dr.Richard B. Sison was so accommodating that he immediately agreed that the project be held in their hospital plus we will house and feed the volunteers. The foundation is Maharlika Charity Foundation Dr. Benedict Edward P. Valdez is also a Mason. They swiftly moved and was here in Pagadian to have site inspection after a week only of communicating. I was handed a proposal wherein we would put up a counterpart amounting to 90K. I almost fell off my chair, and politely told them that our group is a newly formed group and that we can't afford. Maybe my honesty and being frank with them, is what Dr. Valdez saw that he said we just give him at least 40 patients and they would come back to do the operation.
The 40 patients requested was more than doubled, it was 82 harelip patients that arrived, and had the chief of hospital exclaimed My God what a forsaken place is this!! 76 was successfully operated. In token we awarded the Doctors, nurses & staff of MCFI w/certificate of appreciation & tshirts, right after the dinner and fellowship followed. The funds came from my solicitation and not a single centavo was used from the coffers of the association.
Impressed by the outcome Dr. Valdez invited me to assist them in Marawi and make it as our project. I said we could do it. I tapped then bro Rash Arimao, who later got lost and could not be contacted anymore. Brod Ali Andig being the Vice Chairman of I'MAPO, I had him involved and he likewise tapped his alma mater Beta Upsilon. This project was huge involving Cataract, Hernia, Dental Extraction, Cystic removal & Harelip. The participation of the LGU was needed so I talked to bro Gov. Bombit Adiong who did not hesitate. MCFI has been doing this kind of mission for 38 yrs. We were lucky enough that he got me into the loop. I made it as a project of I'MAPO, but again not a single centavo from the association was used. I then termed it as Project B.O.S.S Brotherhood Operation for Sights & Smiles for it involved Cataract, if only Harelip then it will be Sweet Smile. Oct last year it was done. Read More...
From June to December of 2011:

180 Harelip patients, 52 elederly with cataract, 1 Hernia case, 148 dental extraction and 32 cystic removal wre given medical care in Zamboanga del Sur, Marawi City, Lanao del Sur and part of Tacloban, Leyte.
Margosatubig, Zamboanga del Sur Project B.O.S.S. - Second Mission
It was time for a repeat in Zamboanga del Sur, same venue and this time 52 arrived & 40 were operated last Nov.2011. The Chief of Hospital Dr. Richard B. Sison didn't expect that there would still be this many after our first mission. Our partners as usual is the Maharlika Charity Foundation (MCFI). How sad bro Butch Mapayo didn't join this mission. It was during this mission that the project director of MCFI, Dr. Benedict Edward P. Valdez invited me to assist them in Tacloban City.
Margosatubig, Zamboanga del Sur, Project B.O.S.S. - (Third Mission)
June 28-30, 2013, Again in Margosatubig Regional Hospital the nurses & staff of Maharlika Charity Foundation (MCFI) came in ahead of the doctors on the 26th, the doctors arrived 28th and immediately started operating finishing 13 patients half a day. Dr. RichardSison, the chief of hospital unfortunately was in Manila for an important seminar. How sad there are always those who can't be accommodated for various reasons, like having colds, coughs, fever and even asthma. The Cleft Palate wasn't likewise accommodated for the absence of plastic surgeon and no content in the blood bank of the hospital.
There were no formal closing ceremony for the Chief of Hospital was having a seminar in Manila, in spite of inclement weather, there were still more than 60 cleft lip/palate patients who arrived. 41 were successfully operated. The cleft palate we will just look for a way to bring him to the foundation to be operated.
We were welcomed to stay in the house of Bro Bobet Ang, even though both him and his wife was in Ormoc. Leyte. We were accompanied by a friend Auring who tagged along to have a first hand information about our Project B.O.S.S.
Do the following so your photo upload will be properly categorized for B.O.S.S. Brotherhood Operation Sight & Smile.
Copy and paste the code below in "GREEN" to the body or "Summary" of the image file that you are uploading.
{{zadheader pictures}}
[[Category:Margosatubig BOSS Photo Gallery]]
[[Category:BOSS Photo Gallery]]
{{boss contact}}
*[[Margosatubig, Zamboanga del Sur, Project B.O.S.S.]]