LOG IN. UPLOAD PICTURES.


List of the 17 Regions in the Philippines
National - Capital Region ● I - Ilocos ● II - Cagayan ● III - C. Luzon ● IV-A - Calabarzon ● IV-B - Mimaropa ● V - Bicol ● VI - W. Visayas ● VII - C. Visayas ● VIII - E. Visayas ● IX - Zamboanga ● X - N. Mindanao ● XI - Davao ● XII - Soccsksargen ● XIII - Caraga ● XIV - CAR ● XV - BARMM

Chavacano Language -- Other Countries in the World.


Zamboanga Shopping
Marawi City, Lanao del Sur, Project B.O.S.S.
Jump to navigation
Jump to search
B.O.S.S. Brotherhood Operation Sweet Smile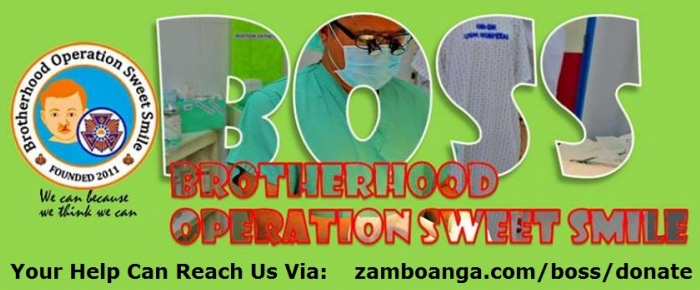 All your donations will go to project BOSS.

Marawi City, Lanao del Sur, Project B.O.S.S. October 16-20, 2011
October 16-20, 2011 The second coming of Project in Marawi, this time for Harelip operation only. The ever cooperative Dr. Emelda Taib was again at the helm, this time it was the APOs in Capitol who tied up with us, led by its president Bro. Mel Cabili, but it was Bro Sultan Rash Arimao who I closely coordinated with, he was ably assisted by Bro Nelson Bantuas. Their group is called APOCIAA a newly accredited Alumni Association. We had a total of 54 harelip cases. Bro. Gov. Bombit Adiong once again was elated that we again brought the Project B.O.S.S. to his province of Lanao del Sur. He even went inside the operating room to witness. We plan to bring it to the coastal municipalities of his province. Bro Anwar Balindong is the Mayor of Malabang and Bro. Actor Maruhom is the Mayor of Marogong.
Do the following so your photo upload will be properly categorized for B.O.S.S. Brotherhood Operation Sight & Smile.
Copy and paste the code below in "GREEN" to the body or "Summary" of the image file that you are uploading.
{{:BOSS_DONATE}}
[[Category:Marawi City BOSS Photo Gallery]]
[[Category:BOSS Photo Gallery]]
{{boss contact}}
*[[Marawi City, Lanao del Sur, Project B.O.S.S.]]