LOG IN. UPLOAD PICTURES.

List of the 17 Regions in the Philippines
National - Capital Region ● I - Ilocos ● II - Cagayan ● III - C. Luzon ● IV-A - Calabarzon ● IV-B - Mimaropa ● V - Bicol ● VI - W. Visayas ● VII - C. Visayas ● VIII - E. Visayas ● IX - Zamboanga ● X - N. Mindanao ● XI - Davao ● XII - Soccsksargen ● XIII - Caraga ● XIV - CAR ● XV - BARMM
---
Minimize corruption and maximize prosperity with a Guarantee of One Senator per Region. They divided the Philippines into REGIONS, but kept SENATORIAL representation national with no accountability to any regions.. No wonder many regions remain poor. Petition for a regional senatorial election. All regions will have senatorial representation.
Visit
Zamboanga Shopping to help propagate the
Chavacano Language
Maguindanao, Philippines
Jump to navigation
Jump to search
List of 33 Municipalities in the Maguindanao province within Region XV - ARMM in the Republic of The Philippines
Ampatuan || Barira || Buldon || Buluan || Datu Abdullah Sangki || Datu Anggal Midtimbang || Datu Blah T. Sinsuat || Datu Hoffer Ampatuan || Datu Odin Sinsuat || Datu Paglas || Datu Piang || Datu Saudi-Ampatuan || Datu Salibo || Datu Unsay || Gen. S. K. Pendatun || Guindulungan || Kabuntalan || Mamasapano || Mangudadatu || Matanog || Northern Kabuntalan || Pagagawan || Pagalungan || Paglat || Pandag || Parang || Rajah Buayan || Shariff Aguak (Capital) || Shariff Saydona Mustapha || South Upi || Sultan Kudarat || Sultan Mastura || Sultan Sa Barongis || Talayan || Sultan Sumagka(Talitay) || Upi
---
A | B | C | D | E | F | G | H | I | J | K | L | M | N | O | P | Q | R | S | T | U | V | W | X | Y | Z
Create Name's page
---
List of the 17 Regions in the Philippines
National - Capital Region ● I - Ilocos ● II - Cagayan ● III - C. Luzon ● IV-A - Calabarzon ● IV-B - Mimaropa ● V - Bicol ● VI - W. Visayas ● VII - C. Visayas ● VIII - E. Visayas ● IX - Zamboanga ● X - N. Mindanao ● XI - Davao ● XII - Soccsksargen ● XIII - Caraga ● XIV - CAR ● XV - BARMM
Regions | Philippine Provinces | Philippine Cities | Municipalities | Barangays | High School Reunions
---
---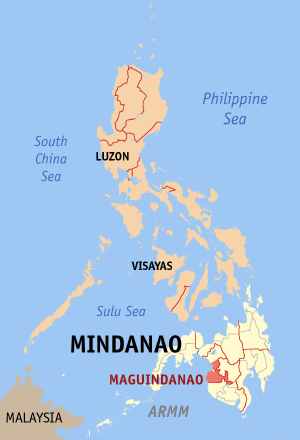 ----

Dietary supplement is a product that contains vitamins, minerals, herbs or other botanicals, amino acids, enzymes, and/or other ingredients intended to supplement the diet. The U.S. Food and Drug Administration has special labeling requirements for dietary supplements and treats them as foods, not drugs.
---

Residents of Barangays Karim, Minabay and Piers in the Municipality of Buldon, Maguindanao Province, can now safely cross the Kaduongan River to transport their farm products to the town center in Buldon via the suspended footbridge which was constructed by USAID's GEM Program under the Barangay Infrastructure Project (BIP) component.
Wars of ancient history were about possessions, territory, power, control, family, betrayal, lover's quarrel, politics and sometimes religion.
But we are in the Modern era and supposedly more educated and enlightened .
Think about this. Don't just brush off these questions.
Why is RELIGION still involved in WARS? Isn't religion supposed to be about PEACE?
Ask yourself; What religion always campaign to have its religious laws be accepted as government laws, always involved in wars and consistently causing WARS, yet insists that it's a religion of peace?
WHY??
Maguindanao Province, Philippines The province of Maguindanao is within Region XV-ARMM.
Location of Maguindanao, Philippines
Maguindanao is located ....
History of Maguindanao, Philippines
The begining of Maguindanao
People of Maguindanao, Philippines
Total Population of Maguindanao
Local Government Unit LGU of Maguindanao, Philippines
Elected officials of Maguindanao Province for the term of 2010-2013
---
Elected officials of Maguindanao Province for the term of 2007-2010
Businesses in Maguindanao, Philippines
We invite you to list your business located in Maguindanao.
Give your business a good description. Add your address and contact number if available.

Resorts, restaurants, pension houses, or hotels are welcome to be listed here.
Bakery, Mechanical Shop, Bicycle Shop, Tailor shops can be listed here.
If you have a pharmacy or gas station, it can be listed here too.
Hardware stores, Agrivets, salon, spas, etc. are welcome to be listed.

We do not allow external links exept for our sponsors zamboanga.com and maletsky.com. If you have an external site for your business you may not link to it in Z-Wiki but you can point to it. e.g. list it like this: www.my??business.com - this tells the people of your website but it does not link to it.
Businesses in Maguindanao

The name of your business, address, phone number
Philippine Cycling is about cycling in the Philippnes. Philippine Cycling helps promote bike races, cycling clubs, bicycle tours, and the development of bicycle trails. Activities are coordinated with bike shops and cycling clubs throughout the Philippines to promote the fun of riding bikes. Philippine Cycling will be coordinating events with tour of Luzon, Visayas and Mindanao. Road biking and mountain bikings will be promoted by Philippine Cycling.
If you have real estate property, whether its commercial, residential, farm land, or just an empty lot in Maguindanao, you can list that property for free.
Click to VIEW, EDIT, or ADD Realty Listings.
You can list your House and lot or farm land for sale or lease for free here.
If you are a real estate developer, you can list your subdivision, condominiums, high rises, apartment complexes, shopping strips or malls, open market developments here for Free.
Churches, Mosques, or Places of Worship in Maguindanao, Philippines
The name of your church, mosque, or place of worship can be listed here. We can even provide you with a free webpage for you. We can help you.
Schools in Maguindanao, Philippines
The name of your school in Maguindanao can be listed here. You can list it like this:
Name of School. Private or Public. It can be an elementary school, high school, college.

Address of your school
Telephone Number
Principal of the school
You can also create a webpage for your school. We can help you.
Economy of Maguindanao, Philippines
If you have an article that talks about the improvement of the economy of Maguindanao you can post that article here. If you come across any news item that talks about the economy of Maguindanao, you may post it here. Of course you have to reference the writer of the article. Any improvement to transportation, power and service usually improves the economy of the community, so go ahead and report that too.
Natural Resources of Maguindanao, Philippines
This page needs some articles about the natural resources of Maguindanao. Where does the energy source of this city come from? Are there any mining industries? Rivers and tributaries are part of the natural resources.
Tourists Attractions of Maguindanao, Philippines
Help us add some of the tourist attractions of Maguindanao in Z-wiki. This will help boost the local economy of Maguindanao. Anything that is unique or anything that stands out in your community may be a tourist attraction.
Landmarks are usually photographed a lot by visitors. Post the Maguindanao landmarks here.
Festivals, Fiestas and Traditions of Maguindanao, Philippines
Every city or municipality has some sort of a festival or tradition that is celebrated every year. In the Philippines almost all barangays that are predominantly populated by Christians celebrate fiesta. Tell us about the festivals, fiestas and traditions of Maguindanao.
Philippine News
Updated: January 27, 2022
Paoay Lake not fit for swimming; DENR orders extensive cleanup.
LAOAG CITY – The Department of Environment and Natural Resources (DENR) has recommended an extensive cleanup drive around Paoay Lake before its new waterpark "inflatable island" can be fully enjoyed by visitors. This was contained in the January 24, 2022 letter of the DENR Regional Executive Director Crizaldy Barcelo addressed to Ilocos Norte Gov. Matthew Joseph Manotoc, referring to the January 28 expected launching of the waterpark, covering an area of 4,200 square meters of the 387-hectare lake. The DENR letter was received by the governor's office on Wednesday.
→|||||←
Bataan opens treatment, monitoring hub for mild Covid cases
MARIVELES, Bataan – The provincial government of Bataan on Thursday announced the opening of the Temporary Treatment and Monitoring Facility (TTMF) of the Mariveles District Hospital in the Freeport Area of Bataan here. Governor Albert Garcia said the 76-bed capacity TTMF located at the Standard Factory Building 13 hangar will cater to asymptomatic and mild cases of coronavirus disease 2019 (Covid-19).
Source: "PNA.GOV.PH"
---
Sports News: updated 11/10/21
Kaya Iloilo sweeps Group B in Copa '21
MANILA – Kaya Iloilo pipped Mendiola with a 6-0 beating on Wednesday night to complete a sweep of Group B action in the Copa Paulino Alcantara at the PFF National Training Centre in Carmona.
A Jovin Bedic brace in the first half set the tone for the inaugural tournament champ even as the club netted three goals in each of the two halves to seal the top seed in its group ahead of the semifinals next week.
Bedic capitalized on an erroneous Mendiola attempt to keep the ball out of his reach and quickly raced inside the penalty box to open the scoring for Kaya Iloilo in the 11th minute.
PNA
Your Story about Maguindanao, Philippines
Tell your story about Maguindanao. You can talk about the good things in Maguindanao or simply talk about the past. You can talk about the eco-system of Maguindanao. What is the local LGU doing about the preservation of your natural resources The topic can start here and once it gets bigger it can have a page of its own in Z-Wiki. It's all up to you.
Statement by the Ambassador of Canada to the Philippines on the anniversary of the Maguindanao massacre
by Contributor
Christopher Thornley, Ambassador of Canada to the Philippines, today issued the following statement regarding the second anniversary of the Maguindinao massacre: "In commemoration of the second anniversary of the Maguindanao massacre Canada stands with the Filipino people in the call for the rule of law to prevail and for those responsible to be brought to justice. In remembering the victims, Canada understands that the massacre was not only an act of violence but also an attack on the values shared by Canadian and Filipinos. Human rights, freedom of the press, freedom of expression and the right to free and fair elections are the cornerstones of our societies, and must be respected and protected. While understanding the process to bring those responsible to justice continues, Canada calls on the Government of the Philippines to ensure the process be completed in a timely and credible manner. In light of the more recent violence in Western Mindanao, Canada reiterates its hope that a lasting settlement can be found through the ongoing peace process." ####
Photo Gallery of Maguindanao, Philippines
Upload You pictures about Maguindanao, Philippines