Isulan, Sultan Kudarat, Project B.O.S.S.
Jump to navigation
Jump to search
→ → Go back HOME to Zamboanga: the Portal to the Philippines.
B.O.S.S. Brotherhood Operation Sweet Smile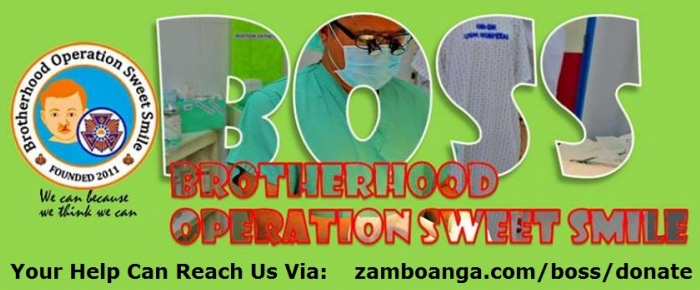 All your donations will go to project BOSS.

April 16-20, 2012 The project was initiated by MCFI with the Board Members and Governor. We were asked to assist in info dissemination to raise the number of patients, and our brothers and sisters of APOSKAA were so helpful and cooperative and Bro. Akmad Talungon, the President was able to patch me up with Bro. Mayor Tong Paglas, who without hesitation accepted, supported and took the lead to assure the success of Project B.O.S.S. this time its Sights & Smiles for Cataract was included. Project B.O.S.S. in Isulan, Sultan Kudarat resulted to:
Cataract - 36 Patients who now can see clearly.
Pyterygium - 32 Patients no more impaired vision.
Squint - 11 Patients no more double vision.
Harelip - 26 Patients who now can sport a sweet smile.
Hernia - 9 Patients no more discomfort.
TOTAL of - 114 Patients benefited the FREE Medical Outreach Mission of I'MAPO with MAHARLIKA CHARITY FOUNDATION. This is our FIFTH of togetherness in serving humanity.