Davao City News October 2015
Jump to navigation
Jump to search
A | B | C | D | E | F | G | H | I | J | K | L | M | N | O | P | Q | R | S | T | U | V | W | X | Y | Z
Create Name's page
Regions | Philippine Provinces | Philippine Cities | Municipalities | Barangays | High School Reunions
---
Davao City - Archived News
---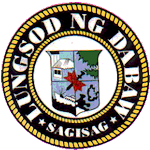 The Seal of Davao City
Interactive Google Satellite Map of Davao City, Philippines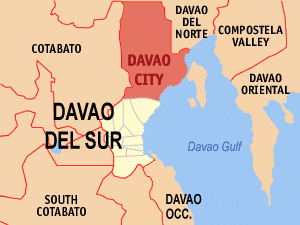 Davao City Map Locator

Map of Davao City

Davao City Hall
300px
Davao City Montage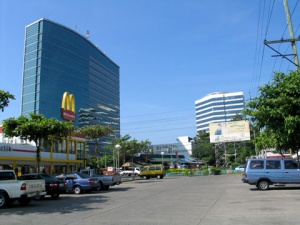 Davao City Aerial View

Entrance to Davao City

Nat'l Hwy Through Davao City

Davao City Victoria Mall

Old Davao City Airport

Current Davao City Airport

Mangrove forests are critical for the stability of coastal areas and the sustainability of fish and marine resources which provide food and livelihood to people in more than 800 coastal towns in the Philippines. USAID, through the Philippine Environmental Governance Project, assisted the local government (Davao City) in establishing, through a local ordinance, the mangrove area as a marine protected area.

USAID, through the Philippine Environmental Governance Project, assisted the local government (Davao City) in establishing, through a local ordinance, the mangrove area as a marine protected area. A crucial part in effective coastal resources management is law enforcement with Bantay Dagat teams playing a crucial role by safeguarding local waters. In Davao City Philippines, Bantay Dagat members protect mangrove areas from illegal cutting, thus conserving areas for fisheries and marine biodiversity habitats.
(Sun.Star Davao)
TRIPLE-A property developer DMCI Homes has just made its mark in Davao City with its recent acquisition of Verdon Parc, a 2.9-hectare condominium development that the real estate company obtained from its affiliate, DMC-Urban Property Developers Inc. (DMC-UPDI).
Verdon Parc offers a vibrant metropolis whose progressive yet peaceful character is expected to naturally make it the next destination of choice for real estate ventures. DMCI Homes brings its trademark resort-style living proposition in the city while complementing the best that the locale has to offer.
DMCI Homes' senior marketing manager Jan Venturanza said that as the center of business and education in Mindanao, they recognized the tremendous potential of condo-living in the city. The fact that it's been consistently recognized as a next-wave city for IT-BPO companies also adds credence to this.
"Davao is a safe and secure haven where home seekers can readily find growth and wellness, judging from the businesses and investments currently underway there," added Dennis Yap, project manager at DMCI Homes. "For professionals, young families, students, and entrepreneurs, Davao is the ideal place to pursue one's career and dreams. We are sure that Verdon Parc will become the place where they can find that much-needed 'calm and wellness' after a long day's work."
"With Verdon Parc, we are finally bringing our unique brand of quality and value to Davao City," Venturanza said.
Nestled in a prime location at Ecoland Drive corner Peacock Street in the southside of Davao City, Verdon Parc is easily accessible to key commercial and business districts in the city, with the airport, several commercial hubs, schools, hospitals and places of worship being just a few minutes' drive away.
Inside the residential units, spaciousness and serenity characterizes the enclave's ambiance. Its expansive leisure spots enmeshed in modern tropical design is also seen to remind future residents of a true vacation paradise.
"Our genuine resort design fits perfectly with Davao's tropical environment, great views and surrounding ocean," explained Yap. "We are very excited to introduce our residential developments in the area, starting with Verdon Parc. Our nature-infused, wide open spaces conducive for intensive relaxation and lumiventt technology will be new here."
(PIA/RG Alama)
DAVAO CITY- The first IVF (In Vitro Fertilization) facility in Mindanao opened last October 28 in Davao City.
Formerly the Fertility Care Center- Davao (FCCD) the new IVF facility located inside Brokenshire Hospital would cater to clients in Mindanao and also with the coming ASEAN Integration clients from the neighboring Sulawesi region in Indonesia.
Dr. Darlene Estuart, incorporator of the IVF said the facility aims to lower the costs of IVF as compared to the facilities in Manila and Cebu.
The IVF offers packages which depends on the age of the patient, the initial package rate is P285,000 and could reach up to P450,000. The computation of the cost is averaged at P10,000 for every year of a particular age.
IVF is a medical procedure where the egg and the sperm are joined in a laboratory, the fertilized egg or embryo is then injected in the uterus. The cycle of IVF takes about two weeks.
Dr. Maria Lourdes Cabling, the IVF Center aims to tackle the increasing infertility cases in the country. Based on the census conducted by the Philippine Obstetrical and Gynecological Society and the Philippine Society of Reproductive Endocrinology and Infertility the country there is a 10 to 12% increase of infertility annually.
It can be attributed to changing mindset with couples particularly women opting to focus more on career than having children, physical distance of the couple particularly those whose spouse is working overseas. Other factors include presence of sexually transmitted disease, endometriosis and obesity. Environmental factors include exposure to harmful materials like pesticides.
The P30-million facility is equipped with brand new incubator and the ICSI (Intra Cytoplasmic Sperm Injection) machine imported from Europe. Aside from the machines there are four trained IVF experts in the center.
Apart from the IVF technology, the center also aims to educate the public particularly the clients on myths and misconceptions about infertility.
Dr. Veronica Deniega said that infertility is a couple problem and not just a problem to be burdened by one spouse alone.
Deniega despite the country having a large population the IVF center is still needed because couple without children is a segment of a population, which must not be neglected. "Having children is a human right." Deniega added.
By Digna D. Banzon [(PNA), CTB/LCM/DDB/LDP]
DAVAO CITY, Oct 29 (PNA) -- Leaders of the coffee industry are campaigning for farmers to produce more beans for the flourishing specialty coffee business.
Philippine Coffee Board, Inc. (PCBI) president Pacita Juan said the specialty beans are sought-after by coffee shops here.
"That is why our advocacy for "Pick Red" continuous, she emphasized.
She said feeding the trees with the right nutrients and applying good agricultural practices would increase production and produce quality beans.
According to Juan, good coffee comes with the right beans and that is only when the red fruit is picked.
"Farmers are discouraged to harvest the fruits by bunch because even the green fruits are taken," she said.
Juan stressed that when red beans are mixed green beans would not produce the right aroma and taste.
Meanwhile, Juan said there are initiatives to improve production such as the planting of one million coffee trees by July 2016 to be carried out under the Eco Tree Program. Greening Mt. Apo with coffee is another endeavor that is now ongoing here spearheaded by businessman Sonny Dizon.
Juan admitted that the demand of the country for 100,000 tons of coffee beans has not been met with our production of only 20,000 tons annually. The balance of the country's requirement is imported from Vietnam and Indonesia.
The need to increase the volume is a must, she said, adding that 90 percent of the total produce is used for the production of instant coffee and only 10 percent for specialty coffee.
"But we see a flourishing specialty coffee market especially with the increasing demand of ground coffee," she said.
Juna noted a trend that consumers are looking at 3rd wave coffee shops and these are the establishments that need the right beans for specialty coffee.
On the other hand, Juan said the Philippine coffee is at par with those produced by other countries.
We have coffee farms in Cavite, Bukidnon, Benguet, Iloilo, Davao, Cordillera, Batangas and Sagada and we are looking for other areas to propagate more coffee plants.
Also, Juan said they see specialty coffee as an opportunity in Asia as countries like Japan, Korea, China and Taiwan are looking for specialty coffee beans.
(PNA), FPV/LCM-PR/LDP
DAVAO CITY, Oct. 28 (PNA) – The Philippines Chamber of Commerce and Industry (PCCCI) and the Mindanao Development Authority (MinDA) signed on Tuesday a joint agreement aimed at promoting investments and formulate policy agenda that will enhance the business climate and competitiveness of Mindanao.
The PCCI is the country's largest business organization, while MinDA is a sub-national government agency mandated to promote, coordinate, and facilitate socioeconomic development in Mindanao.
"We commit to work together to encourage investments in Mindanao and enhance further the competitiveness of key sectors in efforts to facilitate a more business-conducive environment in the island-region," said Secretary Luwalhati R. Antonino, MinDA chairperson.
She added the partnership will also focus on the conduct of policy dialogues on prevailing concerns affecting Mindanao's business sector, specifically those that involve PCCI local chambers, industry key stakeholders, and trade associations.
"Our goal is to develop and implement trade and investment promotion activities such as business matching sessions, exchange of information, and market analysis that will support investment generation in Mindanao.
The deal also aims to strengthen the conduct of the Mindanao Business Conference (MinBizCon), the annual gathering of the biggest business players in the region and enhance further the participation of Mindanao in the BIMP-EAGA.
BIMP-EAGA stands for Brunei Darussalam Indonesia Malaysia the Philippines East ASEAN Growth Area, an initiative launched in 1994 as a key strategy to accelerate social and economic development of less developed areas in participating countries.
"In formulating the detailed work program for the agreement, a technical working group will be organized and represented by PCCI and MinDA," said Antonino.
She added that training and other capacity-building activities will be conducted among the members of the technical working group to strengthen knowledge and expertise in trade promotion and investment generation.
Antonino said the PCCI and MinDA have been closing working for several years now in rallying Mindanao policy recommendations through the MinBizCon. Among these policy recommendations include the modernization of Mindanao's agri-based industries, strengthening of the region's logistics, power sector, infrastructure, tourism, and natural resource management.
In a statement, PCCI President Alfredo M. Yao said the 41st Philippine Business Conference focuses building strategies between the government and the business sector to intensify strategic synergies and alliances that would build and strengthen competitiveness in an integrated global marketplace.
"The PCCI recognizes the tremendous potentials of Mindanao particularly its role in the development of the local economy, export growth, jobs creation, and overall international competitiveness of the country," he added.
Yao said Mindanao's strength in agriculture and agribusiness and its burgeoning business process outsourcing are among those that will attract investments in the region, along with the emerging industries such as construction, infrastructure, creative industries, and research and development.
He added that this year's business gathering, which focused on the theme "One. Global. Filipino: Synergies in Partnership for Global Competitiveness." highlighted the success stories and global and regional trends on business competitiveness, including strategies for business and economic growth, developing a world-class infrastructure and advancing international trade partnerships.
The PBC is the annual gathering and dialogue of policymakers in the Executive and Legislative branches of government and of decision makers in Philippine business.
By Christine Joice C. Cudis
IDP Education, a world leader in international student placement services, is helping more Dabawenyos create better credentials and develop useful expertise as it conducts monthly seminars in the city for those who are interested to study abroad.
Earlier this month, the organization managed a Study Expo at the SMX Convention Center in Lanang, Davao City.
Hundreds of participants came to gain knowledge on how they can avail of the opportunities opened by IDP Education.
Ada Cruz-Lopez, Marketing Manager, who also earned her degree in Marketing in the United States, said that the exposure she got helped her in strategizing in the global context, better.
"All Filipinos, if educated can be at par with anybody," she added.
Today, there were already hundred thousands of Filipinos who graduated outside the country through the help of IDP Education since they started in the business in the last 45 years.
They have already a network of over 100 international student placement centres; ergo, they have a global presence in more than 30 countries.
From application of the students to their VISA requirements, the organization provides full assistance.
IDP Education is also a co-owner of the IELTS (International English Language Testing System), which has become the world's most popular high-stakes English language proficiency test.
For those who are interested, further information and schedule of their trainings are listed in their website, info.cebu@idp.com.
By Ace June Rell S. Perez
THE Department of Trade and Industry (DTI) in Davao Region has recorded around P8.1 million in sales during the Diskwento Caravans from first to third quarter of the year.
DTI registered a total of 42,519 beneficiaries for these caravans held in the region from January until September this year.
Discounts of up to 50 percent were offered by participating distributors for prices of basic necessities, prime commodities, school supplies, NFA Rice or native kakanin, and others.
A total of P8,172,348.43 in sales were recorded for the 14 Diskwento Caravan's conducted by DTI Davao within the three quarters.
"Actually we only target some 10 caravans for this year, but surprisingly, we reached 14 as of 3rd quarter not including the one we conducted in Davao City last October 15 to 16 and the upcoming caravan in Compostela Valley in November," Rachel Remitio, Consumer Welfare and Trade Regulation (CWTR) division chief for DTI Davao told Sun.Star Davao in an interview.
She added that they attributed the exceed in target to the interest of the Local Government Units (LGUs) in the region to stage such caravan to provide discounts to its consumers.
"For as long as the LGU who requested can provide the necessary need to conduct the caravan we will accommodate," she said, adding that the conduct per caravan as per budget of DTI Davao is around P20,000.
The recent caravan conducted in Davao City generated some P800,000 in sales with around 3,500 consumers beneficiaries. The last caravan in the region will be staged in Compostella Valley on the third week of November. DTI-11 is expecting some P200,000 in sales with 2,000 consumers to be benefit on the caravan.
As of Monday, a total of 15 diskwento caravans were staged and one more is yet to be conducted.
(KVC)
DAVAO City Mayor Rodrigo Duterte said that he had ordered the police to prepare for the observance of All Soul's Day next week.
"As usual direction sa police na bawal tung magdala ug saba na mga radio. It's time for the dead, and you are supposed to be there to pray and mag-reminisce. Kinahanglan hilom ni," Duterte said in his weekly program Gikan sa Masa Para sa Masa on Sunday.
He added that alcoholic and intoxicating drinks are also banned, as well as firearms and pointy objects.
"It is very important not to disturb the public peace; we are there to pray and to reconnect with the dead. Fundamentals ng araw nayan is not to disturb the public peace," Duterte said.
He said they have designated a lot of officers to keep the peace and orderly behavior for the day of the dead.
(Sun.Star Davao)
JUDGES at the 2015 International Chocolate Awards' World Drinking Chocolate Competition have adjudged the Philippine-made Malagos 65% Dark Chocolate as one of the world's best.
In an announcement made on its website on October 9, 2015, the organization gave Malagos 65% Dark Chocolate the Silver Prize as one of the world's best drinking chocolates.
The Davao-made chocolate won in the Dark Drinking Chocolate Category, specifically drinks made with milk.
Winning the Gold was Chocolate de Mesa from the United States.
Entries to the 2015 World Drinking Chocolate Competition of the International Chocolate Awards were judged using a specially developed judging system, created after international trials and consultation with independent experts around the world.
The competition drew entries from around the world. The entries were judged live at the Schokolade Gourmet Festival in Hannover, Germany last September 2015, using consumer recipes prepared by a team of chefs according to the entrants' consumer recipes.
This honor comes soon after Malagos Chocolates' recent victory at the 2015 Academy of Chocolate Awards in London, where its 100% Pure Unsweetened Chocolate won the Bronze Award for Best Unflavored Drinking Chocolate.
"We are very proud of this achievement. Winning two international awards in the span of only one year proves that Philippine-made chocolates can be elevated to world-class standards," said Rex Puentespina, Chocolate Maker at MalagosAgri-Ventures Corp., the company that makes the award-winning chocolates.
The Davao-based company started making premium single-origin cocoa liquor in 2012.
They received training from the Mars Cocoa Sustainability Team, which taught them how to process high-quality beans to international standards.
The company also started working closely with more than 40 small farmers in the area, using cacao beans harvested from trees growing in the foothills of Mount Talomo in Davao.
The area is a highly diverse agricultural zone on the island of Mindanao in the southern Philippines.
Malagos Agri-Ventures grows Trinitario clones, a cross between the Criollo and Forastero varieties, specifically and predominantly the UF 18, BR 25 and PBC 123 clones. These beans are considered as fine flavor beans.
These are manually harvested then fermented on the farm to further enhance naturally their complex flavor.
The company also invested in solar dryers, precision-controlled roasters, ball mill grinders and tempering machines. The company continues to invest in equipment and technology, producing other premium, single-origin fine chocolate products such as Malagos Cocoa Liquor /Mass, Malagos 100% Pure Unsweetened Chocolate, Malagos Roasted Cocoa Nibs and Malagos Dark Chocolate in 65%, 72% & 85%.
The International Chocolate Awards is an independent competition recognizing excellence in fine chocolate making and in the products made with fine chocolate.
As the World's only fully independent international fine chocolate competition, it aims to support companies producing fine chocolate and chocolatiers, small companies and artisans working with fine chocolate.
By helping these markets to grow and develop, it also aims to support the farmers that grow fine cacao.
(PNA), CTB/LCM/PR/LDP
DAVAO CITY, Oct. 23 (PNA) -- Workers who need to apply for their own Social Security System (SSS) membership number, a mandatory requirement of private sector companies and household employers, can now do it electronically through the SSS website (www.sss.gov.ph) instead of lining up at SSS branches.
Renato Malto, SSS Officer-in-Charge of the Service Delivery Department, said among those expected to benefit from the thru-the-web issuance of social security or "SS" numbers are millions of current and future Filipino workers starting their employment in the private sector, households or overseas.
"We also accept online SS number applications from self-employed people such as entrepreneurs, freelancers and informal sector workers. Those eligible for voluntary SSS membership, such as overseas Filipino workers (OFWs) and non-working spouses of active SSS members, can also apply for their own SS number through our website," Malto said.
The web-based issuance of SS numbers offers an easier and modern alternative for workers aiming to register with the SSS. Previously, workers can only secure an SS number by personally applying for it at SSS branches.
Malto said the SSS has adopted a two-phase application process for the online issuance of SS numbers. The web system will initially verify if the applicant already has an existing SS number using the full name and birth date given by the worker, who must also provide an email address as part of the first phase.
"Once the SSS has determined that the applicant has no previous SS number, the web system will prompt the worker to provide additional details during the second phase such as the home address, contact information, marital status, and names of the spouse, parents and children," he said, adding that the applicant would be notified of the results of the first and second registration phases through email.
Workers with an SS number issued through the SSS website can use it for paying their monthly SSS contributions. The issued SS number would be considered as "temporary," and the worker has to convert it to permanent status by presenting any accepted supporting documents such as the birth or baptismal certificate or valid passport to any SSS branch.
"Once the worker has successfully changed the temporary SS number to a permanent one, it can be used to file for various SSS benefits and loan privileges, as well as to apply for the UMID [Unified Multipurpose Identification] card if at least one monthly contribution has already been posted," Malto said.
In 2014, nearly 2.3 million manual application forms for SS numbers were received at SSS branches, including 1.67 million E-1 forms for regular and household employees; 583,146 RS-1 forms for self-employed workers; 20,458 OW-1 forms for OFWs; and 5,517 NW-1 forms for non-working spouses of SSS members.
(PNA), LAP/LILIAN C. MELLEJOR/LDP
DAVAO CITY, Oct. 22 (PNA) –- The Davao Light and Power Company (DLPC) has again issued safety tips for its consumers as Christmas is around the corner.
"We all know that Pinoys smell something magical about these 'ber' months. Aside from the fact that the longest Christmas season unfolds in our country and TV programs begin their usual early countdowns, everyone, no age group or gender, has started to spread the good vibes of the season thru Christmas songs and colorful decorations," Davao Light said in a press release.
DLPC said the holiday season is commonly a period where there is big energy use, but it doesn't have to be that way all the time.
Davao Light has offered easy tips on conserving energy and saving on Christmas bonus. These are:
1. If you're planning on replacing your old Christmas lights, consider LED holiday lights. Even though they are a little bit more expensive than the ordinary one, they use less electricity, won't burn your children's hands, and they last longer, saving you money in the long run.
2. There is a lot of free e-cards in the internet, yet it is better and efficient to give handmade ones. Use your old stationery or your old school supplies to make a lovely card.
3. The Holiday season can be a time for family trips and night outings. In times like these, turn the lights off when not at home and/or when asleep.
4. Wait until dark to turn on your Christmas lights, but don't forget to turn them off before going to bed. To avoid unnecessary running up of electricity bill, set a timer on your mobile phone to remind you of switching those lights off.
5. Turn off air conditioners when not badly needed. Open windows to let the natural breeze of the season cool down your home.
6. Don't put too much food in the refrigerator. Pack food to give away to friends and relatives.
By Ace June Rell S. Perez
THE proposed 28-kilometer monorail project, a mass transportation system to be established in Davao City, has been endorsed by the City Government to the Department of Transportation and Communication (DOTC) and Philippine National Railways (PNR).
The project proponent is Korea Engineering and Construction (KEC), a Korean firm. The proposed project will cover the Toril to Davao International Airport route.
Davao City Investment Promotions Center (DCIPC) officer-in-charge (OIC) Ivan C. Cortez said as mass transport system similar to the Light Railway Transit (LRT) and Mass Railway Transit (MRT) is under the jurisdiction of the national government, they had already recommended the project to concerned agencies.
"Last October 8, in a special meeting, Davao City PPP Board resolved to endorse the project to the proper government agencies for appropriate action on the proposal of KEC involving the establishment and operation of the monorail in the city. The route of the train will traverse from Toril up to the Davao International Airport," he said.
In the same meeting, officials agreed that "while there is an ongoing evaluation as to how the city government will treat and tackle the proposed Bus Rapid Transit, the PPP Board, does not see any hindrance if it will also push for the realization of a train system in Davao City alongside the BRT as the two will become complementary in servicing the transport needs of the people."
The KEC already submitted its feasibility study to Davao City PPP Board in May of this year. The proponent is eyeing to start commercial operations by 2021 with 36 trains for the initial operations. The P30 billion monorail project, as per study, can be constructed along the center islands.
"Since it will be constructed along center islands it is expected that there will be less obstruction and disruption during the construction phase. The land acquisition will be done to secure areas for train stops or stations," Cortez said.
Based on the project description, the project's total investment cost between 2016 up to 2020 is estimated at P40 billion including land acquisition and contingency.
The monorail's daily passenger volume is projected at 92,000 in 2021 and is expected to double at 253,000 passengers per day in 2040. The project's annual operating cost is pegged at some P880 million. Passengers proposed fare is P15 for the first three km and an additional of P1.50 per succeeding kilometer.
Meanwhile, Davao City Mayor Rodrigo R. Duterte said that the City government will subsidize a large portion of the commuters' fare to greatly contribute to the productivity of the ordinary workers which in turn will hasten an inclusive national growth.
Duterte also said initial steps for the realization of the project should be taken now so by 2021, the government has already addressed a transportation need.
It is reported that the national government's initial comment is Davao City will need a train system by 2021.
By Ace June Rell S. Perez
OFFICIALS and experts from the Japan International Cooperation Agency (Jica) and its private partners will look into the viability of a project converting used cooking oil to biodiesel fuel (BDF) as an alternative fuel for automobiles.
A team from Jica is set to visit Davao City on November 14 to look into the findings of the initial study conducted by the city government on the feasibility of the project, which is also aimed to address the illegal selling of used cooking oil, comply with the law and protect the environment.
Lawyer Tristan Dwight Domingo, assistant city administrator, said in Monday's Kapehan Sa Dabaw that the study is already on going and is now collecting used cooking oils from the households and private establishments.
"Two weeks ago the city government invited 10 barangays in the city and also private establishments, including malls, hotels and restaurants, and they agreed and signified to participate in the study," he said.
"So far, the feedback on the initial study, majority of them said that it is a welcome development," Domingo added.
The initial plan of the project is to power the garbage collection trucks or other city government vehicles using this used cooking oil that will be converted to biodiesel fuel.
"The agreement was for us City Government to drum up interest in order to invite other people, households or private establishments to join us in the initial study to be conducted, so right now informal pa ang collection," Domingo said.
At present, the used cooking oil collected by the City Environment and Natural Resources Office (Cenro) is stored temporarily in containers at the government's motor pool in Ma-a.
Domingo said anyone can call the hotlines of Cenro (227-265) and motor pool office in Ma-a (244-0094).
The purpose of the collection is to gauge the supply and amount of the cooking oil that can be collected.
"On November 14, when the Japan partners will be coming, they'll be needing data, compute it and determine whether or not it is feasible for us to have this project, if it is viable in the city then the Jica will ship the machine that will convert the used cooking oil into a BDF," Domingo said.
He said any diesel engine can use the BDF being generated by used cooking oil. At present, Japan is using BDF for some of its companies.
Davao is chosen to be the pioneer city where to implement the project. If successful, Japan will offer it to other LGUs. The project will be funded by Jica.
Domingo explained that used cooking oils were disposed and flush to sink, fed to animals like pigs, some traditionally put it in the food of the dogs.
"It is really a crucial thing for Davao City to do its part in making this project feasible, with this project we will have a proper way of disposing the used cooking oils which is also reported as the cause kung bakit bumabara ang mga kanal natin," Domingo ended.
By Karina V. Canedo
The implementation of P2.5 million worth of projects to strengthen marine conservation in the city is now ongoing under a partnership with a German firm, an official said.
Davao City Councilor Marissa P. Abella, in Monday's weekly flag ceremony, said the project partnership is dubbed as "Strengthening established marine protected network within Davao City and conservation of marine biologically important species".
The project is funded by the GIZ, a German aid to committed to help other countries in terms of fish conservation.
She said that the project aimed to reduce illegal fishing, to manage marine protected areas, to increase community awareness and to identify supplemental livelihood programs.
She said that the fund was coursed through the University of South Eastern Philippines (Usep), a partner of the project implementation.
She said that the funds were sent by tranches depending on accomplishments and that the city already forwarded the first tranche of funds that was sent during the second quarter this year.
Abella said that Davao is fortunate to have 19,827 hectares marine waters along at 26 coastal barangays that forms part of the 10 percent of the total area of Davao Gulf that becomes an avenue for strategic fishing and priority biodiversity conservation area.
She thanked partner agencies Department of Agriculture, Bureau of Fisheries and Aquatic Resources (BFAR) and the fisher folks of Davao City in their continued support on the city's program for fish conservation.
Abella also commended BFAR for the strict implementation of the closed season last June to August this year that protected spawning and breeding ground for tuna and other species.
According to Bfar Regional Director Fatma Idris in a media forum at Kapihan sa Isla, at Blugre Cafe, SM Lanang Premiere, Davao Gulf has been a potential breeding areas for larvae of anchovy, big-eyed scad (matambaka) and other tuna species.
Meanwhile, Abella said that the City Fisheries and Aquatic Resources Management Council are pushing to expand the closed season to give more time for our marine resources to multiply and regenerate.
"I hope that we are going to validate and take action on this," Abella said.
Abella added that fisher folk registration is also ongoing, including fishermen and fish vendors.
She added that a tablet has also been provided for the said registration which helps in identification of beneficiaries to various programs.
"I hope in the coming months we will intensify our support especially in the barangay level where farmers and fisher folks rely on the richness of our marine ecosystem," Abella said.
She also hoped that this year's fisheries conservation week will be meaningful and successful.
The 52nd Fish Conservation Awareness Week initiated by the City Agriculturist's office started yesterday with the theme of "Pinatatag na Batas pangisdaan, hakbang sa Pagkamit ng Mas Masaganang Pangisdaan".
The event was ushered by a motorcade among stakeholders and highlighted by a poster making contest.
Today, a fish cage tour in Punta Dumalag is set in the morning while a mangrove seaweed area tour is slated in the afternoon in barangays Lasang and Bunawan. Simultaneous seaborne patrol operations will also be conducted in Davao City waters.
Tommorow, October 21, fisher folk registration, fisher boat and fishing gear registration will be conducted in Barangay Talomo to be held simultaneously with a coastal cleanup spearheaded by barangay Captain Artemio Jimenez.
On the same day a fingerling distribution will also be conducted in Marilog district.
On October 22, deputization of Bantay Dagat as fish warden will also be held at World Palace followed by a culmination program on Oct. 23.
By Rhealyn C. Pojas
SOME 500 youths are the target participants of a forum to be initiated by several government and non-government organizations this October 30 to encourage them to engage in agriculture.
The event will be organized by Interface Development Interventions, Inc. (Idis) in partnership with Grean Pea and Masipag Mindanao, City Agriculture Office, and Ateneo de Davao University.
Idis Executive Director Mary Ann Fuertes told the media during last Thursday's I Speak forum held at the City Hall conference room that they are targeting the youth because they will be the future farmers in the country.
"I-target namo sa youth kay [sila] man ang sunod nga producer [og wala na'y farmers] sa future," Fuertes said expressing further that nowadays, the trend is that the youth take lesser interest in agriculture which plays an essential role because without it there will be no food supplies.
Ang paglantaw sa youth [karon] sa agriculture kay baba pero unsa man ang atong kan-on kung wala'y farmer?" Fuertes asked to imply the possible scenario that the future might hold if today's youth will not engaged in farming.
During the forum, they will encourage the youth to take up agricultural courses and teach them how to do farming and make it profitable so that the youth will be encouraged to take up agriculture-related courses, agribusiness, packaging, and marketing.
"[Mao na ang] kailangan gayud karon kay makahadlok nga wala na gayud ta'y magsaka, wala nay mag produce og rice kay pagtan-aw nila baba kaayo ang agriculture pero wala nila natan-aw nga walata'y pagkaon kung wala'y mag-uuma (These are essential because it is scary to think that there are no farmers in the future who will produce our food supplies because the youths do not have interest in agriculture. They do not see that we will not have food if we do not have farmers)," Fuertes said in the vernacular.
The current farmers that the countries now have are already old and their children are not following their steps to become farmers, Fuertes also expressed.
The speakers for the forum will come from Kahayag Farm and Masipag Mindanao who will tackle about food situation here in Mindanao including speakers from the academe who are teaching organic agriculture.
(davaotoday.com)
DAVAO CITY – A Partylist lawmaker called on government to support local farmers in order to help the country solve rice deficit.
In a statement released coinciding World Food Day Friday, Bayan Muna Rep. Carlos Zarate said "genuine agrarian reform and support for local peasants–not importation–will help the country from the chronic rice deficit."
"Our farmers would benefit more from the billion pesos the government spends to import rice if it is spent on genuine agrarian reform and support to agriculture. Subsidizing and supporting our farmers would ease the heavy yoke of providing enough food for our people," Zarate said.He said the increase in the price of rice and corn are seen as the result of El Niño.
To assuage possible rice shortage, Economic Planning Secretary Arsenio Balisacan said that the government plans to initially allocate P19.2 billion to assist farmers affected by El Niño. Importation of rice is also pegged to increase in 2016. The Philippines has imported 1.9 million metric tons of rice this year, according to Balisacan.
But Zarate said the plan to import for supply is "dismaying", adding that increasing subsidy to agriculture is "more crucial for food self-sufficency."
Zarate also said that irrigation is the lifeblood of agriculture, yet there are 1.34 million hectares of land that are not irrigated, citing a study made by Kilusang Magbubukid ng Pilipinas.
"With El Niño and climate change, the irrigation of our farmlands should be prioritized. However, even the budget for irrigation is riddled by anomalous allocations. For example, there is a total of P507,678,000 budget for the National Capital Region under the National Irrigation Authority in the General Appropriations Bill, which is certainly preposterous," Zarate claimed.
By Ace June Rell S. Perez
A P1 billion government investment on oil palm promises to convert poverty to prosperity.
Dr. Pablito P. Pamplona, board of trustees of the Philippine Palm Oil Development Council, Inc. (PPDCI) in a speech during the Malaysian Palm Oil Council Forum yesterday at the Marco Polo Hotel-Davao said that there are a lot of benefits if the Philippine government makes 1,000,000 oil palm seedlings available to smallholders on "Plant now, Take Care (PNTC)" and invest with a billion on oil palm.
"The distribution among small landholders of 1,000,000 oil palm seedlings is expected to convert idle, underutilized agricultural lands, grass and brushlands to agro-reforestation and high productivity within a total of 7,143 hectares, liberate 3,571 farmers from poverty assuming that each farmer is provided planting materials good for 2 ha. or 240 plants, create 5,000 farm jobs and 80 milling jobs," he said.
"It will also produce crude palm oil for import substitution – at a yield of four tons of palm oil per ha annually at P30,000 for 20 years amounting to P18,286,080,000," he added.
Pamplona also pointed out that the 1,000,000 oil palm seedlings if made available to small landowners will generate some P750 million in foreign and local investments in the putting up and operation of two additional milling plants, increase business activities in various rural communities and increase tax revenue of the Local Government Units (LGUs).
In his presentation, the cost to the government of planting 1,000,000 seedlings at P200 will translate for a total of P200 million. Another P20 million for seedlings distribution and training of farmers may be included for a total of P220 million.
In a recent report, as initial government action, the Department of Agriculture will add a budget allocation of some P50 million this year, several folds of the previous year's budget at only P1 million. The budget will be utilized as assistance to farmers, for fertilizers, seedlings and research and development.
At present, the Philippines has a total area of 75,000 has. planted with palm oil, around 69,000 are in Mindanao, the rest are in Palawan and Bohol.
The expansion will need some 38.4 to 42 million oil palm seedlings, with an average of 128 to 140 trees per hectare. At present, the country is importing a total of 350,000 to 400,000 metric tons (MT) amounting to P35 billion annually.
The country is importing palm oil from neighboring Asean countries, like Malaysia, Indonesia, Singapore, among others. Meanwhile, Some 170 stakeholders from across the country attended the forum. The forum carries the theme: "Health, Progress and Sustainability through Malaysian Palm Oil."
(PNA), FFC/LCM/CCD/LDP
DAVAO CITY, Oct. 15 (PNA) -- The Pantawid Pamilyang Pilipino Program of the Department of Social Welfare and Development (DSWD) in Region 11 will conduct the Regional Launching of the Youth Development Session (YDS) at the Davao City National High School on Tuesday, October 20.
The activity will also include the actual conduct of the YDS modules to high school Pantawid beneficiaries.
The Regional Launching will involve the DSWD National Area Management Unit, Regional Youth Development Unit, Office of the Commissioners of the National Youth Commission, Regional officers from the Department of Education, School Heads of identified beneficiaries and some 260 Pantawid Pamilya high school beneficiaries.
"Youth are a positive force for transformational change. Their opportunities for communicating, acting and influencing are unprecedented. The challenges they face are unprecedented, too, from climate change to unemployment to multiple forms of inequalities and exclusion, in particular for youth belonging to vulnerable or marginalized groups," said DSWD 11 Regional Director Priscilla Razon.
"Our youth are engaged in public life and participate in political processes and institutions. When young men and women understand their rights, they can become empowered to engage in civil society, public service and political processes, at all levels. Youth are agents for community resilience and they can be positive agents of change in their communities in time of conflict and disaster," Razon said.
Currently, the Pantawid Pamilyang Pilipino Program provides education grants to more than 7 million children aged 3-18 belonging to more than 4.3 million households. Under the expansion, children in high school are entitled for education grants until they are 18 years old.
By Ace June Rell S. Perez
THIS year's staging of the Davao Investment Conference, which is slated on November 4 to 6 at the SMX Convention Center, will give focus on real estate industry in a bid to showcase the booming climate of housing and property investments in the city.
In its third year, the Davao City Chamber of Commerce and Industry, Inc. (DCCCII), the lead organizer of the Davao Icon 2015, will bring in various competent and well-respected personalities in the real-estate industry.
Mary Antonette Doromal, DCCCII executive director, said in an interview with Sun.Star Davao that through the conference, Davao will further be positioned as the investment hub in Mindanao.
"With Davao Icon 2015, we will be able to market Davao City as the place to be as far as investment is concerned, we want to highlight how the business climate in Davao City is well performing especially with the real-estate industry," she said.
She pointed out that the event aims to bring together potential buyers and investors as well as industry experts to discuss business opportunities, success stories, best practices and eventually build partnerships, thus bringing more people and investment to Davao.
Some 90 exhibitors from real-estate industry are expected to participate in the event. Also exhibitors from the Information and Communication Industry (ICT), manufacturing and tourism sector will gather in the event.
The realization of the event is in partnership with the City Government of Davao through the Davao City Investment Promotion Center (DCIPC) and City Planning and Development Office (CPDO), Organization of Socialized Hosing Developers of the Philippines (OSHDP) and Subdivision and Housing Developers Association – Southern Mindanao Chapter (SHDA-SMC).
With the theme, Invest Davao: Live.Work.Play., the conference will also present investment opportunities available locally and to the ASEAN region as presented by industry experts, successful businessmen and government leaders.
In recent years, air connectivity and sea connectivity were highlighted in the conference. Davao Icon was first staged in 2011.
By Ace June Rell S. Perez
A LEADING Japan-based Business Processing Outsourcing (BPO) company is eyeing Davao City for expansion.
ISFnet, Japan's leading IT services and IT staff supply company, expressed interest on putting up a subsidiary office in the city.
Andrew Go, ISFnet business development manager, said the city has all the potentials, giving it a big chance to pursue the foreign company's plans for expansion.
"Actually, we do not only eye Davao City alone for our business expansion. We are looking nationwide but so far with the looks of the ICT industry in the city, Davao definitely has a potential for such investment," he said.
Go also said they are looking at some key criteria such as the number of potential partners whom they can look for, the market and the infrastructure as well.
"Considering these qualifications, I must say all aspects are in Davao City. It seems quite favorable," Go said.
In a separate interview, Davao City Investment Promotion Center (DCIPC) officer in charge Ivan C. Cortez clarified that the BPO firm is still up for confirmation.
"ISFnet is still in the exploratory stage," he said, adding that the investment's information such as project location, cost and timeline are not official yet..
ISFnet was founded in January 2000 in Tokyo, Japan by Yukiyoshi Watanabe and initially offered Internet-related consulting services. At present, it has offices in 22 cities in Japan, and subsidiaries in China, South Korea, Singapore, Malaysia, Vietnam, India, Myanmar and the Philippines.
By Ace June Rell S. Perez
SOME 200 participants from various companies in manufacturing, service, agribusiness and food industries, including small and medium enterprises (SMEs) from across the country, will convene in Davao City for the 35th Productivity Improvement Circles National Convention (PICNC).
The event is slated on October 15-16 at Chippens in the Garden in Cabantian, Davao City.
In a bid to showcase different quality circle projects by each company for this year, the Quality and Productivity Association of the Philippines (QPAP) is set to stage anew the PICNC, hosted by its Southern Mindanao chapter, the Productivity and Quality Association of Southern Mindanao (PQASON).
Speaking in Monday's Kapehan Sa Dabaw at the SM City Annex, Michael King Ando, PQASON president, said the convention serves as a venue for quality practitioners to conduct networking, showcase new technologies and celebrate the best achievements as far as quality and productivity is concerned.
"For this year, we will be hosting the annual event of PICNC, the participants of this competition are quality circles in the different companies nationwide who gather every year to present their projects that help these companies in attaining their vision and goals," Ando said.
"The promotion of the quality circle in the country has helped a lot to boost our economy in a sense that these quality circles would enhance participation from the different employees including rank and file employees. These are people who helped the respective organizations in trying to solve problems at their level and in a sense help our economy boost and be at par and be competitive as well with our neighboring countries," he added.
The convention will come in four categories; production, non-production, team category and Kaizan Categories.
The two-day event will provide for an opportunity for learning and exchange among the participants. Plenary sessions, inputs and presentation from the outstanding circle, team projects, kaizen and jingle entries will take center stage during the event.
At present, over a thousand were member companies in QPAP, some 80 of which are from PQASOM chapter.
Richard Ursua, comprehensive chair of PQASOM, for his part said that the present situation in the country is that in terms of productivity and quality, the private companies out stand the government offices and agencies which are considered under the service industry.
"Mostly the private companies follow the quality and productivity improvement, sorry to say but as what I had observed the government is lagging in a sense that probably the private companies are more competitive with other companies and countries, therefore they are more quality and production-conscious," Ursua said.
"The very basic thing is to practice quality because thru it we try to improve our cost and production," he added.
Ando also pointed out that the association is not just focused on establishing quality circles but also mentoring and teaching organizations on how to put up and sustain quality circle activities.
By Ace June Rell S. Perez
OVER a thousand farmers and fishermen in Davao Region gathered last Friday during the turnover of 2015 Bottom-Up Budgeting (BUB) checks cum orientation on Republic Act 10654, amending the "Philippine Fisheries Code of 1998," at the Waterfront Insular Hotel, Davao City.
The event was organized by the regional offices of the Department of Agriculture (DA) and Bureau of Fisheries and Aquatic Resources (BFAR) in a bid to capacitate further the potential of farmers and fishermen in the region.
Bulk of the participants was fisherfolks from Davao City, Panabo City, and from the towns of Davao Oriental, numbering about 700. Most of the farmers who attended the event are into cacao farming.
Secretary Proceso J. Alcala graced the event to personally turn over the BUB projects by BFAR and DA in the region for the farmers and fishermen.
Some P68.6 million worth of agricultural projects were turned over to various local government units (LGUs), P21.2 million of which are under DA while P39.4 from BFAR.
For Davao City alone, a total of P1.7 million was turned over for the Fisheries Resource Management Project (FRMP)-Fishery project and Strengthening of Fishery Law Enforcement project in the city.
"Ito po ay programa ng pamahalaan na dinadala sa harapan, itinatanong at isinasama sa harapan ng mamayan para makapagbigay ng panukala, obserbasyon para ang ating pamayanan ay tama ang tatahakin na polisiya, ang mga tulong na ito ay pagpapatunay na bunga sa tulong magsasaka at mangingisda sa kanilang sarili sapagkat sila ay aktibong lumalahok sa programa ng pamahalaan sa pamamagitan ng BUB project," Alcala said.
During the event, some farmers, private and government officials were given the chance to raise issues and concerns confronting the agricultural and fishery sector.
Some issues tackled and entertained by the agriculture secretary with the regional directors of BFAR and DA were about the extensive training for farmers, establishing market for the farmers' products, irrigation, issues on marine protected area, technical assistance, farm to market roads, illegal, unreported, unregulated fishing (IUUF), among others.
Also, various farming and fishing equipment and facilities were raffled to the participating farmers and fishermen. A total of 10 engine, 40 fiber glass motorized boat, 10 breeder native pig, 10 goats, 15 power sprayer, five units of open source water pump, four Carabaos and two units of hand tractor with trailer were given to lucky farmers and fishermen.
"With the technical and financial assistance we received from this project, in behalf of the farmers and fisher folks in Governor Generoso, Davao Oriental, we extend our gratitude to the government for helping us through this," said Allan M. Peligrino, chairman of the Fisheries and Aquatic Resources Management Council of Gov. Generoso.
By Ace June Rell S. Perez
A TOTAL of 4,286 jobs were generated by new investments across Mindanao from first (Q1) to third (Q3) quarter of this year.
The Board of Investment (BOI) Davao Extension Office data from Q1 to Q3 bared that a total of 4,286 jobs were and will be generated for all the 27 new investments recorded in the island.
Of the figure, Davao Region accounted for an estimated 68 to 69 percent with a total of 2,931 job opportunities.
For the third quarter of this year, 10 new investments were poured in Mindanao; some 80 percent were represented by power and energy industry.
A total of 453 jobs were made available by the new investors. The new firms invested or expanded in the island are Archipelago Philippine Ferries Corp.(30), Sammito Packaging Corp.(109), Filsure Enterprise Corp.(105), Del Sol Energy CGS, Inc., a two-phased project (80), Amaia Land Corporation, Gerphil Renewable Energy Inc., Allforward Warehousing Inc.( 8), Power Source Philippine Energy Inc.(61), and Palm Asia Milling Corp.(60). Data for Amaia Land Corporation and Gerphil Renewable Energy Inc. did not showed any number of employments to generate.
Investments in Mindanao reached a total of P9.2 billion in the third quarter (Q3) of this year, representing a significant hike of about 248 percent as against the P2.6 billion investments recorded in the same period last year.
Davao Region's record for Q3 dropped about 66 percent with P352 million as compared to the same period last year with P1.03 billion.
(PNA), FFC/LCM/CCD/LDP
DAVAO CITY, Oct. 9 (PNA) -- Some 59 senior citizens will receive social pension while another five will receive wheelchairs during the culminating program of the Elderly Filipino Week on Wednesday, October 14 at the Department of Social Welfare and Development (DSWD) regional office here.
During the culmination, according to DSWD regional director Priscilla N. Razon, older persons will also undergo PhilHealth Registration and will be serenaded by the DSWD Kural and by fellow oldies at DSWD Home for the Aged in Tagum City. They will also be treated to a foot spa.
The Elderly Week is celebrated annually with this year's theme: "Igalang ang Nakatatanda at ang Kanilang mga Karapatan."
Razon said other regional events for the week-long celebration are radio guesting at DXRD Sonshine Radio and DXAB ABS-CBN, orientation on RA 9994 or The Expanded Senior Citizens Act of 2010, orientation on Social Pension, tour in historical spots in Tagum City and Elderly Got Talent.
The Davao City Office of Senior Citizens Affairs and the City Social Services and Development Office have organized a dance and chorale competition and a Search for Mutya ng Senior Citizens slated on Friday, October 9 at SM City Davao Activity Centre, she said.
Meanwhile, Razon further said some 224 seniors in Compostela town received their social pension during the 17th ARENA Serbisyo Caravan in Ngan, Compostela last Friday.
Other cities, municipalities and provinces throughout the region are also conducting activities to advocate and protect the rights and privileges of senior persons.
To date, she said some 59,465 social pensioners in Davao Region are enjoying their PHP500 monthly pension while DSWD 11 has disbursed a total of PHP267,592,500. social pension funds since January 2015.
(PNA), LAP/LCM/LOVELY A. CARILLO/LDP
DAVAO CITY, Oct. 8 (PNA) -– The Philippines could be the next online game development hub following the successful partnership between Davao City-based business process outsourcing (BPO) company Next BPO Solutions, Inc. (NBSI) and Netherlands-based company Maata Games for the development of a massively multiplayer online game (MMOG) called Erectus.
"Erectus is an online three-dimensional game featuring the clash of civilizations between the Homo Sapiens and Homo Erectus 130,000 years ago," said Paul Ludwig, Managing Partner and Head of Marketing and Sales of Maata Games.
The Homo Erectus, played by the system, felt threatened by the new civilization of Homo Sapiens which is played by gamers worldwide.
Erectus is a free browser-based game but an in-game shop will be made available to allow players to purchase items to boost their camp. It will take months to finish the game, he said, although other can purchase can purchase time from the game shop if they it faster.
There are two gameworlds: the Erectus World, a game available to players early July this year, and the Erectus Asia, which is basically a tournament for players in the Brunei, Indonesia, Malaysia, Philippines-East Asean Growth Area (BIMP-EAGA) that already launched during the recent BIMP-EAGA Chief Executive Officers Information and Communication Technology Forum in the city.
Erectus was simultaneously launched on March 31 at the University of Mindanao in Davao City and at nine other local and foreign cities including Cebu and Manila, Philippines; Tokyo, Japan; Hong Kong; Cape Town, South Africa; Luanda, Angola; Amsterdam, Netherlands; San Francisco, United States of America; and Hamburg, Germany.
"This is a real-time strategy game that can be played by people through their browsers. Each player can start on their own and later on form allegiance with other players," he said. The game is available in four different languages namely Filipino, English, Dutch, and Japanese. However, there is a plan to develop Erectus into a mobile game application once they have established a large number of players.
Ludwig, who conceptualized Erectus, said the game's design, storyline and gameplay were done in the Netherlands but the programming and coding were done in Davao City by five IT student developers from NBSI.
"We initially planned to outsource the work in Europe but we had a business contact in the Netherlands who knew one of the student developers here," he said.
The cost of labor is also ten times lower here, he added. Maata then partnered with NBSI which facilitates the working space and equipment for the coders since game development started in October last year.
Ludwig said "there is a very high possibility for the Philippines to become a game development hub because Filipino programmers can think for themselves and are vocal when they think that something is not a good idea."
They also have a very high command of English which makes communication easier, he added.
"My programmers here are very highly skilled and are a joy to work with," he said. It took four years to complete the game from conceptualization to coding, but the latter only took less than a year. The target players are gamers from 16 to 70 years old.
Xavier Eric B. Manalastas, president and chief executive officer of NBSI, said the partnership shows that Filipino programmers and game developers in Davao are highly-skilled and competitive.
Manalastas said Erectus will showcase Davao as a destination for game development and an ICT-BPO hub. While the city is a known BPO destination, there are IT professionals who are developing games for mobile phones.
"This is a milestone for the city's software industry," said Atty. Samuel Matunog, president of the Information and Communications Technology, Inc.-Davao. He said this is the first of its kind to be undertaken by a Davao-based company and "it has placed the city in the global gaming arena."
However, Ludwig said the Philippines need to address the issue on fast internet connection if it wants to be a gaming hub or even the next Silicon Valley.
As it is now, he said, internet connection here is not only expensive but also slow.
The slow internet connection in the country was one of the concerns discussed by the ICT players during the Forum. ICT is one of the sectors for cooperation and collaboration among the BIMP-EAGA member economies and is a key enabler for socio-economic development and integration in the region. Thus, the ICT industry players discussed the development initiatives that have been done in the BIMP-EAGA as the region prepares for the Association of South East Asian Nations Economic Community which will be fully implemented this year.
ICT-Davao vice president Lizabel G. Holganza said Mindanao's ICT sector has asked the National Telecommunications Company (NTC) and the telecommunications companies to bring the cost of broadband in Mindanao down.
"We want to understand how to build a better infrastructure for all of Mindanao's territories so we can bring the cost of bandwidth down. That's the issue of the Small and Medium Enterprises (SMEs), how to bring the cost of broadband down," she said.
The ICT officials sat down a few months ago with the NTC and the executives of Smart and Globe and told them that they cannot apply the rates of the National Capital Region to other parts of the Philippines because that is an entry barrier to our SMEs.
Holganza said the high cost of broadband is impeding the competitiveness of the SMEs especially in the ICT sector.
However, she said, the telecommunications companies explained that they have made significant investments in putting up telecommunications infrastructure in Mindanao so the price of broadband is really influenced by the volume of user.
"We were told that there are not so many BPO companies here so they cannot bring the cost down," she said.
While they understand the position of the telecommunications companies, she said, the high cost of broadband is really very crippling for the SMEs.
By Ma. Cristina C. Arayata [(PNA), LAM/MCCA]
MANILA, Oct. 7 (PNA) -- Students in Davao City will learn from interactive displays in the Health On the Go traveling exhibit of the Department of Science and Technology (DOST), which will run until October 23.
The traveling exhibit features interactive health and nutrition learning displays for elementary students. The DOST has partnered with the Philippine Foundation for Science and Technology, United Laboratory, and DOST Region XI for the exhibit that was housed at the Mindanao Science and Technology Centrum in Bago Oshiro, Tugbok, Davao City.
The exhibit aims to make learning science a fun and easy experience for students. It also teaches the students the importance of having a healthy mind and body, and teaches them ways on how to keep away from various diseases. Moreover, it showcases displays mimicking science phenomena, plus practical learning materials students can easily relate with.
Among the interactive displays in the Health on the Go include the digital display mapping of different disease outbreaks in the world such as the avian flu (or H5N1); the Severe Acute Respiratory Syndrome (SARS); the Middle East Respiratory Syndrome Coronavirus (MERS-Cov) in Saudi Arabia and in some countries in the Middle East; and Ebola virus in Congo, Africa.
Also, there are displays on several disease-carrying insects and animals, and corresponding diseases. Displays on how to avoid being sick are more explicitly detailed, as well as displays that encourage children to exercise and keep their bodies from moving.
The Health on the Go traveling exhibit also incorporated usual displays such as the Plasma Sphere, Bernoulli Effect, Ant-Gravity Mirror, Head on the Platter, and Laser Harp, among others.
(KVC)
DAVAO City Councilor Rachel Zozobrado, in a privilege speech Tuesday, pushed for a mass rail transit to address the traffic build-up in Davao City.
Zozobrado said that by this time, stakeholders must already be putting their heads together to address the problem even before it worsens.
Zozobrado, in her speech, discussed the issue of Carmaggedon, which is how people describe the traffic problem in Edsa, and pointed out the possibility that Davao City might experience the same if the city would not plan its continued urban development.
"For now, the traffic situation in the city is manageable and tolerable. But given a few more years, we could be experiencing the Carmaggedon problem given the increasing number of vehicles in the city plying the same narrow roads that we have right now," Zozobrado said.
She cited that based from the study of Philippine Institute of Development Studies (PIDS), P4.56 billion is the total amount of the opportunity costs of passengers caught by traffic in a year.
She also cited a current study of Japan International Cooperation Agency (Jica) that states that the traffic will cost the Philippines up to P6 billion a day by 2030, and such amount would continue to increase if appropriate solution will not be found.
She said that based on the Jica study, what adds up to the cost of traffic are the value of time lost due to delay, fuel costs, vehicle operating cost, impact on health, and greenhouse gas emissions.
Zozobrado suggested that the council must collate and look into the studies made about the city's traffic congestion and revisit the Traffic Code and come up with probable solutions in the worsening traffic situation.
"In the process, maybe, we can conduct another consultation involving various sectors of society to see if the time is indeed ripe for a railway system, or if not, another mode or system of public transportation for the city, OR even, construction of fly-overs, road widening or improvement of our road networks," she said.
Zozobrado, in the earlier part of the speech, said she agrees to Mayor Rodrigo Duterte's demand to put up railways in the city, and reiterated that if "we will wait for five to 10 years for the construction of such transportation mode, it might be too late, and the city might be caught unprepared for the worsening traffic situation."
She moved that her privilege speech be passed at first reading. It was approved and recommended to the committee level.
By Ace June Rell S. Perez
THE success of the recently-concluded 16th National Convention of the Association of Tourism Officers of the Philippines (Atop) in Davao City further strengthened the city's position as destination for international Meetings, Incentives, Conventions and Events or Exhibitions (Mice).
Alphonsus D. Tesoro, Atop president told reporters Friday that Davao City has once again proven that it is already an established Mice destination in the country.
"Davao City is very well-prepared to host the convention. The city is indeed an established Mice destination," he said.
"I attended several conventions in the past in different locations but we find Davao really a Mice destination because it has ready facilities, stable peace and order and partnership between the public and private sector is very strong and apparent," Tesoro added.
Arwin Lingat, provincial tourism officer of Pampanga, also said they will keep the standard of Davao City as to hosting the national convention is concerned.
"On our side we need to really keep how Davao City set the standard that is our challenge," Lingat said as Clark, Pampanga will host next year's Atop National Convention.
Meanwhile, during the first day of the event, Davao City formally launched the Mice Davao Program in a bid to signify the city as a potential Mice destination in the country.
During the launch, partnership between the city government and private sector with Air Asia was signed.
By Ace June Rell S. Perez
A MANILA-BASED Business Process Outsourcing (BPO) company, Expert Global Solutions (EGS), has vowed to provide more job opportunities in Davao City as it offers at least 2,000 jobs in its initial stage of operations.
EGS is set to start operations in the city by November of this year in time for the inauguration of the Matina IT Park.
"We will occupy the entire first building of the four-storey Matina IT Park," said Rainerio Borja, EGS president and country head.
Matina IT Park, developed by Plaza de Luisa Development Inc. is touted to be the biggest information technology center in Mindanao and it is also accredited by the Philippine Economic Zone Authority (Peza). It will be composed of three buildings with a combined lease area of 19,790 square meters.
Once established, the Davao City site of EGS will be the first branch in Mindanao.
EGS started its operations in 2003. At present, once Davao site will be operational, they are operating in about 10 sites nationwide. The company had already employed 14,000 employees nationwide. They are now targeting to add 2,000 more employees by the end of this year.
"We lauded this development in the city, this will further boost and strengthen the Information and Communications Technology (ICT) industry in Davao," Samuel Matunog, president of ICT-Davao Inc., said in an interview.
"This will translate to more employment opportunities in the city especially that the firm is open not only to young employees but even retirees, and person with disabilities (PWDs) for as long as they are qualified," he added.
Borja, for his part, said that their advantage from among BPO firms operating in the city is that they engage and look after their employees with utmost concern.
"We chose Davao, it is because it is undeniably a growing economy," Borja said.
(Sun.Star Davao)
THE soon-to-be-established Agri-Pinoy Trading Center (APTC) in Davao City is expected to link local farmers and fishermen to major food region across the country.
"The APTC-Davao will form part of the country's integrated supply chain as the city's strategic location makes it as the premiere agricultural and trade center of Mindanao," said Department of Agriculture (DA) regional director Remelyn Recoter.
Recoter, along with Davo City officials, led the simple groundbreaking ceremony last September 30 at the proposed site of the APTC-Davao in Daliao, Toril.
She also turned over the P35 million check to Davao City Administrator Jesus Melchor Quitain, the first tranche of release for the P70-million APTC funds from the DA.
"The trading post will enable small farmers and fishers in Davao City including those from the neighboring provinces to market their produce directly and earn comfortable incomes," Recoter said.
"APTC will also make food accessible and affordable to our consumers," she added.
"The site has the key elements required for the development of a trading center such as excellent supply of fruits and vegetable produce, accessible to service facilities, good road condition, supportive community, and compatible land use," said Saturnino Mejia of the National Development Company (NDC).
The site of the five-hectare APTC-Davao is a property under the NDC, which has granted the Davao City government to utilize the area as its counterpart.
Meanwhile, Quitain stressed the need to ensure the quality of products to be sold in the center to sustain its operations.
"This is our challenge to our farmers to produce products with A-1 quality. The people that will run the facility should also be competent. (After all) it is not the facility but the people that can make this trading center a success," he said.
(Sun.Star Davao)
THE Department of Trade and Industry (DTI) and Davao Ecocrafts Association, Inc. are set to launch a one-stop facility in Davao City on October 6 in a bid to promote trade, tourism and investment opportunities.
Dubbed as Ecofusion, the facility will house products from Mindanao and Palawan as well as investment projects and tourism destinations in line with the objective of the Brunei Darussalam-Indonesia-Malaysia-Philippines East Asean Growth Area (BIMP-Eaga) Trade and Investment Facilitation Cluster.
The brand name of the facility was coined from the word "eco" representing the three major development principles of BIMP-Eaga commitments, which are the ecological balance, eco-tourism and economic development.
The word "fusion," on the other hand, depicts the integration of initiatives on trade, tourism, environment and investments of the four member-countries.
Located at the 3rd level of Abreeza Ayala Mall in Davao City, the facility will serve as a platform to promote greater trade opportunities for products that highlight the beautiful culture and natural endowments of Mindanao and Palawan.
Additionally, it will be a venue as well for tourism and investment promotion that provides data and information to investors, tourists and other stakeholders.
DTI regional director Maria Belenda Q. Ambi said this is not only an opportunity for micro, small and medium enterprises (MSMEs) but also for the local government units (LGUs) to encourage infusion of investments into their respective areas of jurisdiction.
"DTI and DEA, along with our partners, will work really hard for the EcoFusion to truly achieve its goals. But, of course, we need the support of our MSMEs, LGUs and other stakeholders," she said.
The EcoFusion's establishment is in partnership with the Mindanao Development Authority (Minda) and Department of Tourism (DOT). It is under the BIMP-Eaga Trade and Investment Facilitation Cluster.
By Digna D. Banzon [(PNA), CTB/LCM/DDB/LDP]
DAVAO CITY, Oct. 1 (PNA) – At least 30 representatives from Asian countries converged here for a training programme on Renewable Energy Resource Assessment and Mapping held at the Marco Polo Hotel Davao from September 28 to 30.
The training was facilitated by IRENA or the International Renewable Energy Agency with headquarters in Abu Dhabi UAE. The Agency is an intergovernmental organization with specific mandate to promote renewable energy and has 133 member countries and the European Union.
According to Abdul Malik Ali, associate program officer of IRENA the participants were trained on how to use the Global Atlas tool as this will provide information and hotspot identification to specifically pinpoint which part of the country has the best location for a particular RE project.
"The participants were trained on how to use the tool for both the wind power solar power spatial planning techniques," he said.
He said that in the hotspot analysis workshop the delegates went through hands-on exercise by using the tool to identify areas for wind and solar energy deployment.
Dr. Krishman S. Raghavan, coordinator, technology transfer, APCTT-ESCAP on the other hand, said discussions on policy mechanisms were tackled that included target setting based on reliable potential, exercise on tariff calculation, auction design, the distributed generation and net metering design and other technical and policy issues.
"The inputs gained by the participants will be used by them when they work on their RE projects back in their countries," he said.
The training is in collaboration with Economic and Social Commission for Asia and the Pacific (ESCAP) with focus on Asia Pacific Center for Transfer of Technology (APCTT).
The Global Atlas tool is used for free to representative countries said Department of Science of Technology region director for Region XI Anthony Sales.
He said Philippines is among the recipients of the training being one of the signatories on transfer of technology in Asia and the Pacific.
As a regional institution of the UN ESCAP, the APCTT has strong linkages with the S&T and R&D community technology transfer intermediaries and SMEs in the countries of the region and can play important role in promoting renewable energy technology transfer, capacity building, and knowledge networking.
Through the establishment of Renewable Energy Cooperation Network for the Asia and Pacific (RECAP) with a membership of 15 countries including Thailand, APCTT has built a robust institutional mechanism by facilitating cross-border cooperation for promoting the adoption and use of renewable energy in the region.
Sales said the use of the Global Atlas is easier for the member-countries to identify which area is suitable.
Engr. Fortunato Sibayan, chief of Solar and Wind Energy Management Division on Renewable Energy of the Department of Energy said wind power is best suited in North or in Luzon while solar in the south in the island of Mindanao.