Davao City News March 2017
Jump to navigation
Jump to search
A | B | C | D | E | F | G | H | I | J | K | L | M | N | O | P | Q | R | S | T | U | V | W | X | Y | Z
Create Name's page
Regions | Philippine Provinces | Philippine Cities | Municipalities | Barangays | High School Reunions
---
Davao City - Archived News
---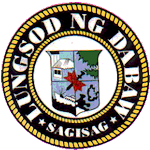 The Seal of Davao City
Interactive Google Satellite Map of Davao City, Philippines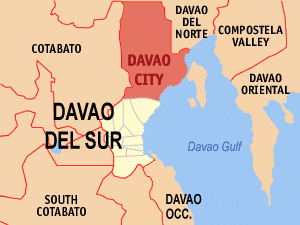 Davao City Map Locator

Map of Davao City

Davao City Hall
300px
Davao City Montage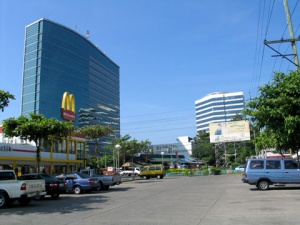 Davao City Aerial View

Entrance to Davao City

Nat'l Hwy Through Davao City

Davao City Victoria Mall

Old Davao City Airport

Current Davao City Airport

Mangrove forests are critical for the stability of coastal areas and the sustainability of fish and marine resources which provide food and livelihood to people in more than 800 coastal towns in the Philippines. USAID, through the Philippine Environmental Governance Project, assisted the local government (Davao City) in establishing, through a local ordinance, the mangrove area as a marine protected area.

USAID, through the Philippine Environmental Governance Project, assisted the local government (Davao City) in establishing, through a local ordinance, the mangrove area as a marine protected area. A crucial part in effective coastal resources management is law enforcement with Bantay Dagat teams playing a crucial role by safeguarding local waters. In Davao City Philippines, Bantay Dagat members protect mangrove areas from illegal cutting, thus conserving areas for fisheries and marine biodiversity habitats.
By Adam B. Morrell
AN AUSTRALIAN Olympian gives hope to children in Maa, Davao City through a free running training program dubbed as "Running out of Poverty."
Tony Benson, a 1972 Olympian and former World No. 5 in men's 5,000 meters, said: "The program is simple. We simply go to an elementary school and scout for potential athletes and indulge them to running or local games that they would enjoy since we don't train them hard until they reach 13 or 14 years old. We just let them play those games and watch the result in local competitions."
He was joined by Filipino Olympian Hector Begeo and Triathlon Association of the Philippines (Trap) board member and representative for Mindanao Eustaquio "Stax" Savellano in Thursday's Davao Sportswriters Association (DSA) Forum at The Annex of SM City Davao.
Benson, who came to Davao City on his own expense, added that when the kids reached the right age, they will continue to encourage them to keep training in High School.
"And if they keep training in High School and work hard to get a scholarship, then the university will pay for their studies because they can run well. When they graduate, that's the simple goal of Running out of Poverty," said Benson, who coached Lydia de Vega, Isidro del Prado and Begeo during the glory days of the prestigious Gintong Alay under the late president Ferdinand Marcos.
Benson chose Davao City to be one of the recipients. He started his advocacy with his wife who succumbed to breast cancer.
"My wife has a slogan `Dream extreme, train as a team'," Benson said, underscoring the importance of support from the coach, parents and the community.
Benson decided to visit Davao City having been prodded by his former student Peter Mcormak who is also a runner in Australia and is residing in Davao.
He started his training last Tuesday with Adella Snyder helping him select Barangay Langub and Maa Central Elementary School.
Savellano, for his part, said he is willing to support the advocacy of Benson, saying: "We would want to grab the opportunity to learn something coming from a high caliber coach."
Savellano, who helped Benson donate shoes for selected athletes, shared that Benson is a level five track and field coach and a level three triathlon coach.
Begeo, meanwhile, shared his experiences which would help encourage athletes to become successful through their sports.
"Nandito ako para mag-advise sa kanila, papaano rin maging Olympian at papaano makuha yung goal mo. Kailangan mo lang talagang makinig sa coach para magtagumpay ka," said Begeo, who was once a shoeless student who became a successful businessman in Australia,.
Begeo, who formed part of the second batch of Gintong Alay in 1981, recalled that when he was same at the age of these athletes, he had to run seven kilometers to go to school and another seven kilometers in going home due to poverty.
Training session is set at 9 a.m. Friday, March 31, at Maa Central Elementary School and in Barangay Langub on Saturday, April 1.
(PIA/RG Alama)
DAVAO CITY (PIA)- The Land Transportation Office Regional Office -XI (LTO-XI) is eyeing the utilization of image-capturing speed guns to catch overspeeding violators.
LTO-XI Assistant Regional Director Neil Canedo said the LTO-XI office has an allocation for two of these speed guns.
The speed guns will have the capability of taking the image of the moving car and its corresponding speed, the present speed guns does not have the ability to capture the images of vehicles.
Motorists have disputed the findings of the current speed guns arguing that the enforcers may have flagged the wrong vehicles.
Canedo said the LTO is already in the process of procuring these imaging speed guns which he says is estimated to cost between P400,000 to P500,000.
"We have also suggested to the city to procure also those type of speed guns, with the speed limit law we have." Canedo said.
Canedo said currently there are 15 operational speed games as some of the speed guns are not calibrated. The LTO has five operational calibrated speed guns. The rest are spread to the City Government and the Traffic Management Group.
He said the speed guns have varying specifications and are cheaper as compared to the imaging speed guns.
The LTO assistant regional director said there have been cases of motorists contesting the overspeeding violations at the traffic adjudication board, he hopes that the new speed guns will solve these disputes and at the same time enforce the speed limit properly.
Executive Order 39 signed by then City Mayor and now Philippine President Rodrigo Duterte in 2013 sets the strict implementation of speed limit regulations within the territorial jurisdiction of Davao City.
By Juliet C. Revita
CHINA is looking into the possibility of putting up a consulate in Davao City in a bid to further stimulate more economic and trade activities and accelerate the transactions of a growing number of Chinese nationals in the city.
"When I asked the Chinese Embassy if there is any future for the Chinese Consulate to open here in Davao City, they said that they will likely open (their Chinese Consulate)," Representative Jericho Nograles said during the Kapihan sa Apo View Hotel Thursday, March 23.
He said the abandoned house located in front of Sta. Ana church is the old Chinese Consulate which is still the property of China and is being eyed to be reopened in a still undetermined date.
"China is having a hard time keeping their growth. They are afraid of experiencing negative growth and that is the reason why China is looking for the Philippines for additional investments," he said.
He added that China has appointed a new Consul General to be assigned both in Cebu and in Davao since Davao belongs to the consular district of Cebu.
A consular office is tasked to assist legal transactions such as processing of visa application and uphold the protection of their nationals.
In October last year, President Rodrigo Duterte and Chinese President Xi Jinping forged a joint agreement which states that the Philippines positively responded to the creation of a People's Republic of China Consulate in Davao City.
"The Philippines welcomes China's proposal to open a Consulate-General of the People's Republic of China in Davao in due course," the press statement said.
"Proper arrangements for the diplomatic premises in both countries will be made in the spirit of the 1975 Joint Communiqué, on the basis of international practice and reciprocity, with priority for the most immediate concerns," it added.
By Juliet C. Revita
THE SMX Convention Center is targeting to at least have one convention held at the center every month.
SMX Convention Center Davao branch manager Daphne Jezelle Alojado said Monday during Kapehan sa Dabaw at SM City Davao that this can be achieved through reaching out to other key cities to conduct sales blitz and promoting the meetings, incentives, conferences and exhibitions (Mice) Program Incentives.
She said they are eyeing to visit Metro Manila and Metro Cebu to promote SMX Convention Center Davao and invite various potential clients to have their events here.
"Our target is hopefully to increase it more at least once a month for SMX. We have at least one convention and I'm sure that we can go beyond that," Alojado said.
"That's our target together with the Department of Tourism (DOT) because we already have this Mice program. We've started this last 2013 but formally it was launch 2014 onwards," she added.
She said last year, they have been actively conducting roadshows to further attract more clients, especially to those who have not yet visited Davao City.
Alojado said when President Rodrigo Duterte assumed his office in June 2016, more and more people are gaining interest to the city as they have recorded 10 conventions being held here from only four conventions in 2015. They noted that almost every month, there have been different government meetings held at the SMX Convention Center.
As more conventions are being held in the city, Alojado said it will result to positive benefits to different industry stakeholders such as hotels and restaurants. Aside from that, the tenants of the SM Lanang Premier, where the SMX Convention Center is located, also benefited from the increasing number of functions.
"With the number of conventions that we had, it is not only hotels but even for the malls since we are inside SM Lanang Premier. Whenever we had affiliates meeting, other tenants would really inform us that they have good sales because of the conventions we had," she said.
SMX Convention Center Davao can cater up to 5,200 people in a theater set up.
This coming April, they have several conventions of various associations or organizations including the Budget Officers Convention and Social Welfare Development Convention. Then for July, an Association of Southeast Asian Nation (Asean) meeting will be held here.
By Jennie P. Arado
SMALL Medium Enterprise (SME) Roving Academy by the Department of Trade and Industry (DTI) continues to assist small-scale entrepreneurs in Davao Region.
SME Roving Academy is a package of different trainings like skills training and entrepreneurial trainings.
According to Rachel Remitio, chief of Small, Medium Enterprise Development Services Division of DTI-Davao Region, this program is open to everyone interested with the training, even those who are still starting with their own business.
"This program is not really conducted following a schedule but once we have gathered enough interested participants, automatically we conduct the training," Remitio said adding sometimes a group of participants come to Negosyo Centers to enlist while some local government units (LGUs) initiate the grouping of women and other interested residents in their community to undergo a particular skills training like bead works or accessory making.
DTI hires the mentors and trainers from their network of medium and big-scale entrepreneurs who are willing to train those who are still starting up.
Usually, SME Roving Academy trainings are conducted in Go Negosyo centers but due to a limited space in some centers, DTI comes to the community which requests for the training and conducts it there.
They conduct the training once they have reached a minimum of around 25 to 30 participants. She added that SME Roving Academy project is for free.
"At DTI, we have priority projects, those which can possibly generate jobs, develop small micro medium enterprise. We have priority sectors like processed food like cacao by-products, processed coconut and coffee, wearable and homestyles like souvenir items, bags, and fashion industries," said Remitio.
She said if any community association is interested with the skills training that DTI conducts, they can approach the nearest Go Negosyo Centers for more information.
By Anna Angelica Sotto
THE Energy Logics Philippines Inc. (ELP), together with the Qingqao Hengshun Zhongshen Group Co. (QHZGC), seeks to put up a hydroelectric and solar power plant in Mindanao, an official said.
During the ground breaking ceremony of the $430 million wind and solar energy project in the Northern part of the Philippines, the Filipino and Chinese companies expressed interest in putting up an energy source in Mindanao.
"Everyone is asking why we launched in Davao. Gusto naming ipakita na kung kaya naming gawin sa Ilocos, kayang-kaya din namin gawin sa Mindanao," Energy Logistics Project corporate partner Jenny Munar said at the sidelines of the launching held at Marco Polo Davao, Thursday, March 23.
Munar said they are looking for renewable projects in Mindanao and are willing to sit down with the local government unit (LGU) to create a sustainable power supply.
"There is a new technology wherein we can harness the energy in water without destroying the environment, so for Mindanao, we would want to establish both hydro and solar power plants," she said.
More investments
Munar highlighted that Chinese investments in the country poured in after President Rodrigo Duterte's first visit to China.
"Nagkaroon ng trust and confidence ang Chinese government sa atin. Expect more projects in the coming months," she said.
QHZGC Senior Consultant An Chee Sin, for his part, said the projects are part of China's support to the Philippine Government.
"This project will be a start and it will be a testament to the Philippines and China. We will continue to contribute to the Philippine society," he said.
The ongoing construction of the 132-megawatt wind energy project in Burgos and 100-megawatt facility in Pasuquin, Ilocos Norte are currently the biggest projects China has ever made in the country. The two are expected to be completed within 18 months.
(PNA), AEROL JOHN PATENA
MANILA, March 25 (PNA) -- Globe Telecom on Saturday installed its Southeast Asia-United States (SEA-US) submarine cable system in Davao City over the weekend.
Globe Business Senior Advisor Mike Frausing said the cable system would be able to provide greater route flexibility and support for applications and services dependent on bandwidth Internet which is necessary for critical operations of businesses.
"We are excited over this development since it won't take long before we can finally address the rising demand for internet services from businesses in the Philippines," Frausing said in a statement.
The SEA-US cable was connected to the Globe cable landing station in Brgy. Talomo, Davao City which also houses the power feed equipment necessary to run the system. It is expected to ease the country's dependence on international cable systems routed through northern Philippines and prevent a repeat of a 2008 incident where major international cables were broken due to the Taiwan earthquake which left the Philippines isolated for a few days in terms of Internet connectivity.
The SEA-US cable system consortium in which Globe is a part of, will link five areas and territories that include Manado (Indonesia), Davao (Philippines), Piti (Guam), Oahu (Hawaii, United States), and Los Angeles (California, United States).
The 14,000-kilometer cable system estimated to cost at around USD 250 million will consist of two fiber pairs with an initial design capacity of 20 terabits per second and will use the latest in submarine fiber-optic technology with 100 gigabits per second transmission equipment per pair that will cater to the exponential growth of bandwidth between Southeast Asia and the United States.
Furthermore, the Globe Business Davao Data Center, which is linked to the SEA-US cable system, will cater to BPOs, financial institutions, Internet service providers and other content providers in southern Philippines. Once completed, it will address ICT requirements of major trade and industry centers in Mindanao region.
"The primary source of information now for many people is the Internet so the city government of Davao is very happy with this development. This will definitely benefit Davao City especially the service sector such as Business Process Outsourcing and Banking and Finance as well as the whole Philippines. Thank you very much for the trust you placed in Davao's local government and for choosing Davao as a place to invest in," Davao Councilor Bernard Al-ag who represented City Mayor Sara Duterte said during the cable landing ceremony.
Globe is also a member of an international consortium of telecommunications and technology companies operating the Southeast Asia-Japan Cable (SJC) system, an 8,900-kilometer cable system linking seven territories that include Brunei, mainland China, Hong Kong, Japan, Singapore and the Philippines, including the option to link with Thailand.
It has also made investments in the East Asia Cable system (EAC), Asia Pacific Cable Network-2 (APCN2), Tata Global Network–Intra Asia cable system (TGN-IA), the City to City cable system (C2C) and is interconnected with major Trans-Pacific Cable systems, which encompasses the Unity, Tata Global Network-Pacific, (TGN-P) and the Japan-US Cable Network (U-US).
By Karina V. Canedo
THE Japan International Cooperation Agency (Jica) in coordination with the Davao City Government is set to conduct a feasibility study to craft a 30-year master plan for flood mitigation projects in one major and two principal river basins in Davao City.
"A scoping mission will be sent by the Jica team in July," Davao City Administrator Zuleika Lopez said Thursday, March 23 after the meeting with city officials, Jica team, officials from Department of Public Works and Highways (DPWH) and National Economic Development Authority at the City Hall conference hall.
Lopez said that the team is expected to give the city a master plan from the feasibility study and recommend actions to undertake.
Lopez said the master plan is aligned with the Byaheng DO30, executive plan of Davao City Mayor Sara Duterte Carpio.
"The city mayor identified flood control drainage maintenance program, na kung pwede masali sa (if it can be included in) DPWH, that is why we are very fortunate because the Jica team is coming in mostly because of the agreements between President Duterte and President Abe when he visited early this year," Lopez said.
Lopez said the information sharing will be the city's major role in the undertaking.
"There will no budget from our end, but we have agreed to provide information they need for the scoping mission in July 2017. Once the team is settled, we will also provide our technical team," she said.
DPWH Undersecretary Emil Sadain said in a media interview that the masterplan is huge because it will involve 1700 square kilometers catchment area for Davao River, Talomo River with 244 square kilometers and the Matina Pangi River with 78 square kilometers.
"So if you add the catchment area for this one major river basin and two principal river basins this will total to over 2,000 square kilometers," Sadain said.
He added the master plan will also include coastal engineering flood wall to avoid storm surge.
"Siltation is also one factor also, once there is flood, it brings down volumes of soil and it settles on the bottom of the seabed, so kailangan din ma-dredge yun (it has to be dredged). There will be dredging works to do," Sadain said.
Sadain added the study will also look if there is a need to construct a dam just in the upstream section.
Davao City Planning officer Ivan Cortez said the behavior of the waters will also be studied.
"Our engagement with Jica determines the behavior of the water where it will run once there will be an overflow, and it will determine the level of water so that the right infrastructure will be built," he said.
Representatives of Jica present Thursday assured they will coordinate with the Jica team that is also currently conducting a study on the city's infrastructure and urban development.
The same team also said they have considered the environmental and social side of the projects that will be proposed.
(PNA), LCM/ALEXANDER LOPEZ
DAVAO CITY, March 23 (PNA) – After opening its chocolate museum a few weeks ago, a garden resort here will soon offer a first of its kind service in Mindanao and the whole country – a chocolate spa.
Rhea Pañares, Malagos Garden Resort marketing coordinator, said the chocolate spa will become one of the regular features that will be offered to customers and visitors of the resort.
Pañares said the chocolate spa, which is expected to start during the celebration of Kadayawan festival this August, will utilize waste materials from cacao products such as the cacao husks that can be turned into soaps and scrubs.
She stressed it will not be a "usual spa but a wellness retreat where clients can stay for two to three days for a full wellness immersion."
The resort opened its 280 square meter chocolate museum, also considered the first in the Philippines, last March 8. The museum is drawing more tourists, especially on weekends.
The museum is an interactive cacao and chocolate-related installation where visitors will be familiarized on how chocolates are made starting from harvesting.
Visitors to the museum, she said, are also allowed to tour a nearby cacao farm.
The museum is also a source of information to visitors on the wonders of cacao and chocolate-making through infographics, audio and video presentations and interactive displays.
It was set up to entice visitors to venture into cacao farming and production.
(PNA), LCM/LITO DELOS REYES/LDP
DAVAO CITY, March 22 (PNA) -- The Philippine Sports Commission will launch here the Children's Games for out-of-school youths (OSYs) in April as part of the Mindanao Sports for Peace Program.
"This is the real gold mine, not the Olympics. The gold is clear by means of reforming the children and inspiring them to go to school and study (to avoid making them) future kidnappers, robbers and criminals," said PSC Chairman William "Butch" Ramirez in an interview Wednesday.
The Sports for Peace program that Ramirez started sometime in 2008 through the Mindanao Children's Games will be re-launched here and will have stops in Cotabato City, Cagayan de Oro City, Butuan City and Zamboanga Peninsula.
"The Sports for Peace is part of our anti-drugs campaign in helping kids do away with vices like illegal drugs. Through this, we will accomplish what President Rodrigo Duterte wanted and bring sports development in the grassroots," said Ramirez.
In the Davao series, Ramirez said basketball, volleyball and running events will be featured as well as Bisaya Dabaw oratorical contest.
"We will ask policemen to coach the teams and officiate the games. We will also invite the Church, the City Mayor's Office, Philippine Drug Enforcement Agency (PDEA), Association of the Barangay Captains and athletic directors to help make the Children's Games a success," he said, adding that 20 barangays will be identified with the help of the ABC to participate in the inaugural edition of the sportsfest for 13 years old and below OSYs.
There will be free shirts and shorts and other logistical needs, including meals and transportation subsidy, for barangay teams.
Ramirez said no cash prizes will be given, but they are considering giving away mobile phones, among other items, aside from a tour to Malacañang or at the Presidential Guest House in Panacan here.
He added that meeting President Duterte will be a bonus for the children.
The Sports for Peace is part of PSC's grassroots development program that supports the human development, anti-poverty alleviation and anti-drug programs of the Duterte administration.
Ramirez is eyeing to hold the opening ceremonies at the Davao City Treatment and Rehabilitation Center for Drug Dependents or at a public park or gym.
By Jennie P. Arado
STA. Ana Wharf is targeted to be cleaned up and be developed into a promenade area similar to Baywalk of Manila in a bid to attract more visitors not only for the tourists coming for island hopping and diving activities but also for the locals to enjoy the view, said a City Tourism Operations Office (CTOO) official.
"Sta. Ana Wharf (beautification) is a project by the city. We have plans already for the wharf, something doable. Something that we can possibly see the results and changes by May this year," said CTOO Head Generose Tecson Monday, March 20.
She also said orders had been given out even before Araw ng Dabaw for the container vans in the area to be removed and for the clearing operations to commence.
To avoid flooding in the wharf during high tide season, Tecson said part of the plan is to put up little islands in the middle of Sta. Ana Wharf and to elevate it by about a meter. They will also ask the nearest construction operations in the area if they could dump their mounds in the wharf for the creation of the little islands.
"We'll turn these islands into parks connecting one island from another. Later on, we intend to beautify that by putting trees and grasses. Much later on, a terminal and an area for food stalls and souvenir shops (will also be put up) so that it will be integrated in that area," said Tecson, emphasizing these will not all be done by May but assured that significant changes will be visible in the coming months.
She added they would also ask help from private companies and volunteers for any contribution and help they can impart regarding the beautification of the wharf without having to spend a lot of money.
Tecson also said the budget for the said project is still being finalized.
"What we can do is to beautify Sta. Ana wharf. We are Davao City. There are tourists coming in that area. We can't just allow for the wharf to look like that," she said.
The Sta. Ana beautification project is currently a joint effort of the local government of the city headed by lawyer Lawrence Bantiding, Davao City Assistant Administrator.
Aside from CTOO, other sectors who are involved in the project are City Economic Enterprise, City Environment and Natural Resources Office, and City Engineering Office.
(PNA), LAP/BS/LCM/DIGNA BANZON/LDP
DAVAO CITY (PNA) -- A newly-opened restaurant here is venturing on a different kind of a green or healthy food dining experience, especially for kids.
Lenlen Uy-Bosquit, owner of Sundays Resto, said feeding children with healthy food like green vegetables is a challenge for many parents.
"As a mother, I was challenged too and that inspired me to serve it here," she said.
Bosquit said among the dishes they serve, which appealed to the tastes of the kids, are malunggay dip with gourmet bread, mashed cauliflower and veggie-laden lasagna.
Veggie salads mixed with Davao fresh fruits like pomelo and ripe mango are winners, too.
Meanwhile, Bosquit, who does some of the cooking herself, said they also offer special comfort foods, which are "heirloom family recipes" from her Chinese grandmother, like "humba", ox tail, pochero steak and chicken tender.
Sundays complements the Go Hotel, a family venture with the Gokongwei led-Robinsons Land Corporation, which caters to foreign and domestic visitors.
She said they get "good feedback" from foreign visitors involving Filipino comfort dishes.
The family also operates Dencios Kamayan, which has eight branches around Davao City. Sundays Resto is the newest family baby under the supervision of Bosquit.
"The homey setting is what we want to offer to our diners plus our family recipe at an affordable price," she said.
Bosquit said the opening of more restaurants in Davao City is a welcome competition.
She said that the raw materials they use like vegetables, meat and other products are sourced locally except the cheese, which they import.
Sundays is one of the participants at the "Visit Davao Fun Sale," a sales event in Davao.
(PNA), BS/ LCM/ARMANDO FENEQUITO JR/LDP
DAVAO CITY (PNA)--Aboitiz Power Corporation (AboitizPower) has tied up with the Department of Trade and Industry - Region 11 (DTI-11) to implement a comprehensive crafts livelihood project for members of the Matigsalug ethnoliguistic group in Marilog, Davao City.
The project is initiated by its subsidiary, Therma South, Inc. (TSI), in partnership with Aboitiz Foundation, which is an offshoot to the donation of 12 sewing machines and raw materials to the Matigsalug Council Of Elders Marilog District Davao City, Inc. (MACOEMADDACI) in November 2015.
The sewing machines and materials were used in the training of the tribe members on how to produce their traditional costume.
In a statement, TSI President and Chief Operating Officer Sebastian Lacson said the project will give "sustainable impact on the livelihood of the Matigsalug."
"We are very excited about this livelihood project, especially that this will create a lasting impact on the lives of our Matigsalug partner communities," Lacson said.
Under the project, AboitizPower and DTI will help the Matigsalug tribe to identify and produce viable indigenous products. The project taps known local craft designers and established exporters, such as Great Gifts and Souvenirs, TADECO Home and Mindanao Trade Expo.
The project, which will run for 11 months, aims to capacitate a group of Matigsalug women and out-of-school youth in Marilog District to engage in a viable community-based enterprise.
DTI will help promote market access for the Matigsalug products by facilitating the group's participation in local and national trade fairs and exhibitions.
MACOEMADDACI President Datu Juanito Mandahay said the group is grateful to the project.
"MACOEMADDACI is very happy to be a recipient again of this sustainable livelihood package from AboitizPower and DTI," Mandahay said.
By Jennie P. Arado
NEWLY-LAUNCHED mobile application Davao Guide is expected to help with the influx of tourists in Davao City as it is designed to make their visit in the city more convenient and informative, a city tourism official said.
Last Wednesday, March 15, in line with the celebration of the 80th Araw ng Dabaw, the Davao City Government headed by the City Information Office (CIO) Officer Jefry Tupas and City Tourism and Operations Office (CTOO) Head Generose Tecson, launched the mobile app Davao Guide.
"I think it will help with the influx of the tourists. They always say they lack information about Davao City but then here, it's already nationwide and maybe even beyond, so it's gonna be easy for everybody to have more information about us. When you go to Davao, you feel like you're one of the natives here. You're a Dabawenyo also," said Tecson.
The mobile app was created by the Cebu-based company InnoPub Media in partnership with the Davao City Government and Smart Communications.
Max Limpag, co-founder of InnoPub Media, said the mobile app is a very convenient tool to help tourists decide what to do, where to go, and where to stay when in the city. Also, it keeps the user updated of the current and upcoming events in Davao City.
The app provides information about the heritage sites, nature parks and gardens, and other popular destinations. The tourist spots are arranged by popularity and they also include contact numbers and location information of the place. A directory of licensed tour guides in Davao Region can also be found in the app aside from the updates section where the administrators publish tips and the latest developments in the city.
The CTOO and the CIO will serve as the administrators managing the application but if ever locals would want to add tourist destinations that were not included in Davao Guide, they can recommend it to the two offices.
Limpag also said that together with the CIO and CTOO, they made sure that all the establishments found in the app are legal, licensed, and registered to avoid inconvenience in the part of the tourists.
"We look at it as the support of the tourism program of the city. We are working on the notification system," Limpag said, adding that they are also working on the rating system in the application.
Tupas added these establishments undergo verification process first before they were included in the application. He said, aside from the promotion of these destinations, the app will also help the establishments improve their service for the intention of being visited more by tourists since they are seen by every user of the app.
Site markers containing quick response (QR) codes and near-field communications (NFC) stickers had been deployed in select areas like the airport and the city hall for easier scanning and access of information.
They plan to put QR codes and NFC stickers in more tourist areas in the city in the future.
Davao Guide is now available for free download from the Google Play Store and will be also available from the Apple App Store in a few days.
(PNA), LAP/BS/LCM/ARMANDO FENEQUITO/LDP
DAVAO CITY, March 13 (PNA) -- The Department of Science and Technology (DOST) kicked off on Monday the two-day Mindanao Regional Scientific Meeting in Davao City in a bid to get a clearer picture of the island's fisheries and aquatic resources.
In a press conference Monday, DOST Assistant Secretary for Mindanao Anthony C. Sales said the gathering of scientists and researchers also aims to come up with a recommendation for the development of fisheries and aquatic resources in Mindanao.
One of the major problems that will be discussed is the intrusion of foreign fishing vessels in local fishing grounds.
He said the data and other important information that will be gathered during the meeting will be submitted to their national office for presentation to the Office of the President and the House of Representatives for their appropriate actions.
Sales said the recommendation will also serve as inputs for the proposed establishment of the Department of Fisheries and Aquatic Resources.
Former President Gloria Macapagal Arroyo filed a bill in the Lower House for the creation of such department while Senator Francis Pangilinan authored a similar proposal in the Senate, he said.
National Academy of Science and Technology - Philippines (NAST-PHIL) acting president Fabian M. Dayrit said the creation of a department for fisheries and aquatic resources needs a thorough study.
Dayrit said the proposed new department will not just include the fisheries sector but also the energy and transportation industries, among others.
(PNA), BNB/LCM/DIGNA D. BANZON/LDP
DAVAO CITY, March 12 (PNA) -- Coca Cola Philippines is eyeing to enroll 40,000 women micro-retailers this year under its Sari-Sari Store Training and Access to Resources (START) Program to honor women small entrepreneurs.
By 2020, Coco Cola targets to empower 200,000 women to reach its three-year global target of five million women micro entrepreneurs.
This was revealed by Adel Tamano, Vice President for Public Affairs and Communications of Coca Cola Philippines which celebrates Women's Month with the theme "We Make Change: Work for Women Micro Retailers".
He said the STAR Program was launched in the country in 2011 and to date, it has impacted the lives of over 80,000 women in 48 sites nationwide.
Tamano said "5by20" or 5 million women entrepreneur by 2020 is the biggest jobs creation program in history that the company is pushing because of what women provide in their business value chain.
According to him, when you invest in women the money goes to community, nutrition, education thus resulting to better communities.
Women are tapped by the company because they are part of the value chain to their business in the country, Tamano said.
"Our focus is the micro and small businesses like sari-sari store owners who need help," he added.
Assistance is in the form of training in partnership with the Technical Education and Skills Development Authority (TESDA) in various programs like financial literacy, access through micro-financing including gender sensitivity. It is a 12 weeks training where the beneficiary reports once a week for four hours, he said
"We try to remove the blocks to their becoming successful women entrepreneurs like lack of education, lack of access to financing, and similar others," he said
The strength of the program is that "we want to awaken the entrepreneurial spirit of women and these are women who are willing to go through this rigid training," he said.
Tamano revealed they are investing significantly in this sector because in "our business in the Philippines 70 to 80 percent is through the sari-sari stores and it makes perfect sense for us to provide resources for them because their success is our success."
The training is a three-year course with the first year on startup then the second year is on how they do well with the business and the 3rd year is the peer mentoring program. Once completed, the participants will get certificates of completion and accredited by TESDA as STAR graduates.
"We want them to grow and become sustainable that is why we have the mentoring program with the help of TESDA and our partner company Coca-Cola Femsa that assists women store owners on a daily basis," he said.
Tamano said they don't give money but only provides the resources and the opportunity through the capacity building program in acquiring know-how on applying for micro financing and access to financing.
Tamano also said they help in the formation of the Philippine Association of Sari-sari Store and Carinderia Owners (PASCO) as part of peer mentoring program.
(PNA), BS/LCM/PR/LDP
DAVAO CITY, March 10 (PNA) --Eighty years ago on March 1, 1937, Davao formally became a city in an inauguration attended by then Interior Secretary Elpidio Quirino at the now Quezon Park, a prominent landmark located in front of the City Hall.
From the United States, the late President Manuel Quezon said the cityhood of Davao was "important in international trade" as it "brings realization to one of my long cherished plans of affording your city every opportunity to make great strides in its political, social, and economic development."
Quezon's vision was to make Davao a "progressive and model urban center."
Quirino administered the oath-taking of the first mayor of the city, Santiago Artiaga. The seven members of the first city council were also present.
The creation of the city was also seen as a reaction to the increasing number of foreigners gaining control over the municipality of Davao, among them Japanese businessmen who were instrumental in the vast development of lands into abaca plantations.
It was a political decision indicating that the locals were independent and capable of running a government of their own.
Local historians say the triumph that the people felt with the newly-earned autonomy was shown by their excitement to participate in the events prepared by both the newly-born city government and the private organizations.
The announcement from the government was specific -- for the Dabawenyos to come out on the streets and join the inauguration "in their best attire to witness, join and perform in their assigned roles..."
Davao historian Ernesto Corcino wrote that a three-hour civic parade was staged that day.
Another historian, 89-year-old Librada "Libby" Rufo, said the parade's route was limited only in three major streets of the new city - Oyanguren Street, Claveria Street, and Hospital Avenue, now called J.P. Laurel Avenue.
The parade ended at the San Pedro Street, exactly in front of the City Hall, according to Rufo. It is the city's oldest street, named after the equally oldest church in the city, San Pedro Church.
"There were only a few people then, and everyone knew each other," she said.
There were only about 68,000 people in Davao the time it was declared a city. Most of the residents of downtown Davao were immigrants from Luzon.
"The language predominantly used in Davao then was Tagalog because the residents were immigrants from Luzon," she said.
During the war in early the 1940s, it was said that the longest battle to liberate the country from occupation happened in Davao City -- lasting for six months until the surrender of the Japanese in 1945.
"Davao's destruction, followed by a swell of thousands of guerrillas who wanted to squat on former-Japanese owned plantations, together with a deluge of sickly refugees from the mountains, added to the physical and economic problems of the city," an article on Davao history said.
The rebuilding of the city was aided by the deluge of war veterans and investors after the war. Davao gradually blossomed, its economic growth spurred by agriculture and trade - its lands becoming host to high-value crops that even these days, provided the people livelihood and employment.
"After the war, Bisaya became the lingua franca," said Rufo.
Soaring high
After eight decades, Davao City is now the center of trade and commerce in Mindanao. Aside from durian, cavendish bananas, pineapples, cacao, and orchid and tropical plants, Davao is also bursting with real estate development, manufacturing, and others.
For many, it is the city of great opportunities and the potential endless - even despite the diversity of its people's culture and tradition.
And it continues to soar high -- just like one of its icon, the Philippine Eagle.
Lemuel Ortonio, the chief of the Davao City Investment Promotion Center, said the city grew higher in 2016 with 38, 526 total business application compared to the previous year's 36,950.
He noted that Chinese, Japanese, and other foreign investors have expressed their intentions to pour capital and establish businesses in the city.
Davao City's partnerships with other local cities continue -- even reaching across borders with pacts with cities in Japan, Hawaii, Malaysia, Indonesia, Korea, and Taiwan.
Davao City, the hometown of President Rodrigo Duterte, has also been widely recognized for trailblazing people development and welfare, economic growth, security, environmental protection, good governance and many other legislations that are being emulated across the country.
It is one of the safest cities in the world, consistently on top of child-friendly cities in the Philippines, the most competitive city to do business, most gender-responsive LGU - and the list could go on.
Under the leadership of Mayor Inday Sara Duterte, the city government is focused on realizing her 10 priority sectors -- Poverty Alleviation, Infrastructure Development, Solid Waste Management, Education, Health, Agriculture, Tourism, Transportation Planning and Traffic Management, Peace and Order, and Disaster Risk Reduction and Mitigation.
Under 'Byaheng DO30: Our Trip For the Next Three Years', Mayor Sara intends to accomplish 30 projects and programs during her term.
Celebration: Araw ng Davao
The journey and the plight of the city and its people have always been celebrated with pride and great anticipation for more productive and better years ahead.
The late Gil Abarico, who served as Davao City Press Secretary, said the celebration is an "occasion for assessing and demonstrating Davao City's capacity for growth and progress along economic, industrial, social and cultural endeavors."
Today, eighty years later, the celebration is about reconnecting to our roots and being proud that we are Dabawenyos.
Mayor Inday said the celebration of Araw ng Davao this year is a salute to the people, the history, the icons, the industry, the milestones that made Davao City a modern, multi-cultural melting pot of harmony and unity in diversity.
"On this 80th founding of Davao City, I call on the Davaoenos to stand tall, united, and resilient in the face of various challenges of the modern era," Mayor Sara said.
"Let this milestone remind us to be humble and mindful of the lessons of the past and inspire us to remain resolute as we rise together in unity and prepare for a brighter future ahead," she added.
Vice Mayor Paolo Duterte also said that this year's celebration is a "celebration of the dynamism, the strength and determination of the city and its people."
By Digna D. Banzon [(PNA), LAP/BS/LCM/DDB/LDP]
DAVAO CITY, March 9 (PNA) -- The producer of the internationally-awarded Malagos Chocolates has opened the country's first Chocolate Museum in Malagos Garden Resort in Calinan, this city.
The museum complements the Malagos Cacao Farm, which straddles 30 hectares of 50-year-old rehabilitated cacao trees.
Charisse Puentespina, project director and head of Charisse Puentespina Designers and Associate, said the opening of the Chocolate Museum is the "newest attraction in Davao City." Aside from attracting visitors, Puentespina is hoping it would encourage other farmers to grow cacao and engage in sustainable farming.
"What we are proud of about the museum is the 'tree to bar' (chocolate) experience," said Puentespina.
"Once harvested, the cacao beans are brought to the plant where we do the chocolates so that in terms of traceability, one is sure that what they are eating is safe, she added.
Puentespina, who is also in charge of production, said they want to share their cacao growing and cacao making procedures to the public.
She said the plant is able to produce 15 tons of chocolates a month but "we hope to to increase production with the additional equipment and technology."
The plant is still half-mechanized as there are still portions that are manually operated.
Puentespina said the task is challenging. However, she said their foremost objective is to provide a venue to educate the youth on sustainable farming and chocolate production.
The company's chocolate maker, Rex Peuntespina, said the entrance to the museum includes a welcome information about the "tree to bar" concept, which is "very unique" compared to other museums abroad.
"We should be proud that raw materials in foreign countries that have museums showcasing chocolate-making, like in Europe, source their raw materials from us," he said.
At the museum, the company teaches people how to appreciate dark chocolates.
"We show them how chocolates are made from scratch (as well as) the practices in the farm," he said.
He said it is a "must-see" in Davao City as the tour can be capped with the "make your own chocolate" in the demo area.
The Malagos Chocolate is a 2-Star Winner (3-star highest) at the 2016 Great Taste competition, the "Oscars" of the food world, held in London last August. In April 2016, it won a silver award for Best Unflavoured Drinking Chocolate at the 2016 Academy of Chocolate Awards in London.
It won its first award, a bronze award for Best Unflavoured Drinking Chocolate, at the 2015 Academy of Chocolate Awards in London.
Puentespina said with their chocolate products winning international awards, it makes "people curious how and where these chocolates are made."
(PNA), LAP/BS/LCM/ALEXANDER LOPEZ/LDP
DAVAO CITY, March 8 (PNA) –- Two young scientists from the University of Mindanao urged schools to teach students the species of flora and fauna endemic in the Philippines instead of those found in other countries, after they discovered new species.
Milton Medina and Analyn Cabras made the call as they presented their newly-discovered endemic species of flora and fauna during the regular Habi at Kape press conference at the Abreeza Mall in Davao City on Wednesday.
Both researchers also called on the Department of Environment and Natural Resources (DENR) to establish critical habitats and protected areas for endemic species in the country, especially those considered endangered.
Moisture, they added, is part of the ecosystem and biodiversity that supports endemic flora and fauna species in the country.
Destruction of forests will destroy the ecosystem that will endanger these endemic species and eventually cause their extinction, the researchers added.
Cabras presented to the media new species of Pachyrhynchus belonging to a hyper-diverse family of beetles called weevils.
The new species, Pachyrhynchus miltoni, were found in the hinterlands of Marilog District in Davao City.
"The new discovered species was named after young researcher Milton Medina, who obtained the material for identification from Barangay Baganihan, Marilog District," Cabras said.
Pachyrhynchus miltoni, she added, is closely related to Pachyrhynchus speciosus samarensis and P. Kraslavae but differs in the shape of aedeagus (male genitals) and features of the coloration of the body.
Cabras said there are approximately 51,000 species of weevils under 4,600 genera in the world – and in the Philippines, one of the most conspicuous weevils is a member of the genus Pachyrhynchus.
Medina, on the other hand, presented the new species Hoya (Apocynaceae) that was found in Valencia City, Bukidnon province.
"Recently, a new species was added to the Genus Hoya in the Philippines and named Hoya reyesii in honor to Dr. Ricardo Reyes, a plant grower and hobbyist who collected the plant sometime in 2014," Medina said.
Dr. Reyes personally handed the plant species to Medina for detailed examination.
The examination ran for three months and included the description of both the vegetative and reproductive characters using stereomicroscope procedures in accordance with the rules of International Code for Botanical Nomenclature (ICBN), Medina said.
The newly-discovered species was closely associated with Hoya amorosoae species that can be found in Mt. Hamiguitan in Davao Oriental, he added.
"The size of the flower is as small as the head of the common matchstick, hence making the species one of the smallest in the section of Acanthostemma," Medina described.
He said the morphological descriptions of the new species were validated and confirmed by Robert Dale Kloppenburg in Fresno, California, USA. Kloppenburg is a world leading expert in Hoya.
Both scientists said they are now reviewing the inventory of fauna and flora species that are endemic in the country.
The result of the inventory will be transformed into reading and learning materials that can be used in schools to help educate schoolchildren about the country's endemic species.
(PNA), JMC/BS/LCM/DIGNA D. BANZON/LDP
DAVAO CITY, March 7 (PNA) -- The Mindanao Development Authority (MinDA) and the Davao City Chamber of Commerce and Industry, Inc. (DCCCI) are crafting the Mindanao Convergence Plan that will give investors a "bird's eye view" of the investment opportunities not only in Davao City but also its neighboring areas.
DCCCI President Ronald Go said they are partnering with MinDA after seeing the need to come up with a single investment document, which they can easily present to prospective investors.
"In six months' time we may be able to put this together. This document contains information that we can present to prospective investors," Go said.
The chamber earlier said most of the members of the business delegations from China and Japan are interested on infrastructure projects.
Go noted the influx of foreign and local businessmen exploring opportunities in the region. This month, DCCCI will be receiving a British delegation and in April, a delegation from South Africa.
"These foreign investors have shown interest in Davao City and its success story. They are interested in the transformation of the city, especially its economic growth," he added.
In July, DCCCI is hosting the Davao Investment Conference (ICON) 2017, where they expect to present the Mindanao Convergence Plan.
Arturo Milan, a board of trustee of DCCCI, said that domestic and foreign investors would grace the ICON.
"We want a 50-50 mix (of domestic and foreign) participants because we want to be sure that these foreign investors get to find the right local partner (and vice versa)," he said.
Milan said that ICON 2017 has drawn interested participants from China, Japan, South Korea, Malaysia, Indonesia and Singapore.
While they are open to other foreign investors from Europe and the United States, Milan said Asian countries are aggressively looking at the market in Davao City and its neighboring areas.
Milan said the conference also wants to promote potentials in the BIMP-EAGA (Brunei Darussalam, Indonesia, Malaysia, the Philippines-East ASEAN Growth Area) sub-economic grouping.
(PNA), FPV/BS/LCM/ALEXANDER LOPEZ/LDP
DAVAO CITY, March 6 (PNA) -- A group of Chinese investors is eyeing the development of an industrial park here to serve as investment hub for manufacturing, service and agriculture in the Davao region.
This was revealed by Arturo Milan of the Davao City Chamber of Commerce and Industry, Inc. (DCCCI), who said the group of Chinese investors were among the foreign investors who visited Davao City and the region in the past two months to explore the possibility of doing business in the area.
Milan added that industrial parks are also being developed by local business groups in the region, including the ongoing 100-hectare business park of the Floirendo Group in Panabo City.
The Lapanday Group is also mulling the development of an industrial park in the region, Milan said.
He noted the Davao region "is now ready to host huge business ventures such as industrial park developments."
He cited the region's capacities in terms of electricity as well as available manpower.
"Now, we have an oversupply of energy for the next five years," he pointed out, adding that the Department of Energy (DOE) is currently working for the interconnection of the Mindanao grid to the Visayas grid by 2020.
"Industrial parks must be established and developed in the region to attract more investors and businesses to come in," he added.
Milan will chair the Investment Conference 2017 (ICON 2017) that will be held on July 21 to 22 at the SMX Convention Center in SM Lanang, Davao City.
Some 700 local and foreign delegates are expected to join the ICON 2017, which seeks to promote the area's opportunities in the areas of infrastructure, connectivity, tourism, manufacturing and agriculture.
Aside from China, other investors from the United States, Japan, Australia and South Korea also came to Davao City during the first two months of this year to explore investment opportunities in the city.
By Digna Banzon [(PNA), LCM/DIGNA BANZON/LDP]
DAVAO CITY (PNA) -- The Davao-GenSan-Bitung Roll-on/Roll-off (RoRo) is set for a trial run on March 28.
This was revealed by Super Shuttle Roro assistant vice president for Corporate Planning Edrick de Guzman, who said they needed to do trial voyage to test the route from Davao City to Bitung, Indonesia.
The first formal voyage will commence on April 30 from Kudos Port in Sasa, Davao City passing the General Santos International Port and the final port of destination in Bitung, Manado, Indonesia and back for three days travel time.
De Guzman said they are optimistic at this new partnership with government and the private sector and wished that such sea linkage will be sustained.
He said the government has to really put hard work on sustaining this linkage through collaboration between the private sector and concerned government agencies like the Department of Trade and Industry (DTI) and the Department of Transportation (DOTr).
"The only thing that will stop us from operating is when they no longer see the support of the government," he said, adding that they were excited with the new route because it would open up to more international markets.
The route will be serviced by Super Shuttle RORO owned by Asian Marine Transport Corporation with a capacity of 100 TEUs (Twenty-foot Equivalent Unit).
DOTr assistant secretary for Maritime Fernando Juan Perez said the preparations were going smoothly, including the inspection conducted in the ports of General Santos and Bitung. He said the improvement at Kudos Port in Davao City would be finished by March 20.
Perez is also the chairperson of the Philippine Inter-agency Task Force on Asean Roro. He said it was the shipping line choice to use the private port in Davao because they had been using this port long before.
Perez urged the business sector to take advantage of this route saying, this route could bring their products to other foreign markets in the world.
He also said that there was a big difference in terms of cost and time using this new route with only USD0/TEU for 1.5 days compared to the current route of Davao-Manila-Jakarta-Bitung route at USD,200/TEU for 3 to 5 weeks.
DTI assistant secretary Art Boncato, who is also the Philippine government senior official representative to the BIMP-EAGA said, "This is a major milestone as we have completed the loop and the project was the outcome of the Asean Blueprint 2025, the Master Plan on Asean Connectivity, and the BIMP-EAGA Vision 2025.
The connectivity, he said, would make Davao-GenSan-Bitung as the transshipment point to the EAGA (East Asean Growth Area) set to benefit Filipino producers, especially Mindanao and Palawan grow their businesses and link their markets in Bitung and the rest of Indonesia and vice versa.
"The connection is going to be historic in terms of transshipment because this will cut the time in terms of moving goods from certain parts of the Philippines to parts of Indonesia and outside," he said.
Boncato added that traders could move products from the Philippines to Indonesia, China and the rest of Asia and the world because it is very strategic and great incentives for the businesses to grow their markets.
Trades are also that their permits and licenses are being taken cared by the shipping company.
(PNA), LAP/LCM/ARMANDO FENEQUITO JR./LDP
DAVAO CITY (PNA) -- The National Academy of Science and Technology (NAST) and the Department of Science and Technology Region (DOST) 11 will hold its Regional Scientific Meeting focusing on attaining sustainability in fisheries.
DOST 11 regional director Anthony Sales said the two-day event on March 13 to 14 at the SMX Convention Center aims to gather all stakeholders to present and discuss the status of the country fishery sector, its progress in achieving the Sustainable Development Goals.
More than 300 scientists and researchers from all over Mindanao are expected to attend the activity.
Sales said any policy recommendations on appropriate interventions as agreed upon during the plenary sessions will be submitted to the Philippine government and the private sector.
The regional meeting will be the prelude to 39th Annual Scientific Meeting which will take place on July 12 to 13.
The meeting will also serve as the leading forum for the presentation of the results of scientific and policy research.
(PNA), FPV/PR/EDS
MANILA, March 2 (PNA) -- Australian Ambassador Amanda Gorely is in Davao City to lead the launch of "Australia in Davao" promotions.
The Australian Embassy collaborated with partners in Davao to offer a series of events to celebrate the longstanding partnership with Mindanao, and with the city of Davao.
"Over the years, Mindanao has been one of the priorities of our development cooperation in the Philippines. We continue to support programs in education, livelihood, peace and stability. Given the economic growth of Mindanao, we see opportunities to expand our bilateral engagement in other key areas such as trade and investment," Ambassador Gorely said.
Trade ties between Australia and the Philippines are valued at approximately AU.982 billion per annum. More than 280 Australian companies have an established presence in the Philippines and have created 40,000 jobs.
The total size of the Australian investment in the country is estimated at AU billion covering a multitude of sectors and contributing to knowledge sharing and economic growth.
The Australian Embassy has partnered with the Davao Business Chamber to host a Business Lunch Forum to increase business engagement between Mindanao and Australia.
Ambassador Gorely, together with Australian Senior Trade & Investment Commissioner Elodie Journet will be keynote speakers at the event.
The Australian Trade & Investment Commission (Austrade) will conduct an Australian Food and Wine Appreciation Class for students of the Institute of International Culinary and Hospitality Entrepreneurship (IChef). Dairy Australia scholars, as well as representatives from Meat and Livestock Australia and food importers will be on hand to share their knowledge and expertise about Australian fresh produce, dairy, red meat and wine.
IChef has worked with Workskills Australia to offer training programs suitable for an Australian apprenticeship and traineeship pathway.
To honour the Australia Global Alumni based in the region, the Ambassador will be hosting a reception at the recently opened Australian-themed restaurant Bondi and Bourke. The reception will bring together Dabawenos who studied and trained in Australia, and key business personalities from the city for an evening of appreciation for Australian food, wine and culture. Australia Global Alumni in Davao are excelling in business, the academe, in development work and in government service.
"Australia Global Alumni play an important role in nurturing the strong relationship between Australia and the Philippines. They prove that our people-to-people links can create meaningful impact in encouraging trade and development in Mindanao." Ambassador Gorely added.
In Mindanao, Australia works with local governments, local organizations and NGOs to support programs in education, technical vocational training, peacebuilding and disaster risk.
"President Duterte has done much to shine the spotlight on Mindanao, and we are pleased that Australia's development cooperation in the region over the years align with the Administration's economic and development agenda," said Ambassador Gorely.
The Australian-funded Provincial Road Management Facility (PRMF) recently completed its road maintenance and rehabilitation including for seven provinces in Mindanao. The project rehabilitated 170.2 km of roads and helped maintain 161.7 km of roads for a total investment of PHP 655 million, to help improve access to markets, health facilities and schools.
The Australian Government also invested AU million over five years to support to Basic Education Assistance in Muslim Mindanao (BEAM-ARMM) which has trained over 12,000 teachers, established over 800 learning centers, and provided technical and vocational skills to 11,000 out of school youths.
Australia has also supported in humanitarian assistance to Mindanao in the aftermath of Zamboanga siege, providing permanent housing to up to 400 homeless families, and livelihood assistance including health, civil registration and psychosocial services to at least 1,000 families.
For more information on Australian Embassy's programs, please check www.philippines.embassy.gov.au, like us on Facebook, Australia in the Philippines, and follow @AusAmbPH on Twitter.
(PNA), LAP/LILIAN C. MELLEJOR/LDP
DAVAO CITY, March 1 (PNA) -– Davao City is celebrating its 80th founding anniversary with events lined-up for two-week celebration of colorful history, growth, grand development of the city and the Davaoenos over the past 8 decades.
"Our celebration is a celebration of our unity as a people -- united in the face of challenges and adversities and determined to survive and overcome every trial that comes our way," said Mayor Sara Duterte-Carpio.
This year's celebration carries the theme: "Stand tall. United. Resilient." reflecting of the city's unity amid threats.
"We are here together as one and this is a proof that the Dabawenyos' strength, determination, persistence, and love for our fellow Filipinos and our country are unwavering and simply indestructible. We have proven to the world that Dabawenyos always survive and rise in unity," Sara said.
Also, Davaoeños will enjoy a long weekend from March 16 to 19 after President Rodrigo Duterte declared March 17 a special non-working holiday in Davao City.
The declaration is covered by Proclamation No. 166 issued on February 24 by the President through Executive Secretary Salvador Medialdea.
"It is but fitting and proper that the people of the City of Davao be given full opportunity to celebrate and participate in the occasion," the Proclamation stated.
The city is celebrating its founding anniversary every 16th of March, which has been declared a holiday through Republic Act 7552 of 1992, which declares March 16 of 1990 and every year thereafter as Araw ng Davao, a special nonworking public holiday in the entire Davao City.
Mayor Sara created a committee that plans for the Araw program to ensure a fitting and meaningful celebration.
Sara heads the committee, but in her absence, City Administrator Zuleika Lopez is overseeing the overall preparation.
This year, the mayor named Renato Gatchalian, owner of Saging Repablik and president of the Davao Tourism Association (Data), co-chair.
Vice Mayor Paolo Duterte was named Vice Chairperson while the members include City Mayor's Office Chief of Staff Atty. Raul Nadela Jr., City Tourism Officer Regina Rose Tecson, Assistant City Administrator for Administration Atty. Tristan Dwight Domingo, City Accountant Vingelina Bajan and Councilor Al Ryan Alejandre.
The committee is tasked to find ways to support the effective implementation of the activities planned.
City Chief Information Officer Jefry Tupas said that as in previous Araw ng Davao celebrations, funds for this year shall come from private sector sponsorships together with appropriations from the City Tourism Office and the City Government of Davao.
Tupas said Mayor Sara also wanted the event to be promoted both locally and internationally through various media outlets, to ensure optimal participation of visitors and tourists.
This year's series of activities include the Parada Dabawenyo which will be an elaborate presentation of the history of Davao. The parade will highlight eight floats showcasing the roots and history of the city.