Davao City News December 2017
Jump to navigation
Jump to search
A | B | C | D | E | F | G | H | I | J | K | L | M | N | O | P | Q | R | S | T | U | V | W | X | Y | Z
Create Name's page
Regions | Philippine Provinces | Philippine Cities | Municipalities | Barangays | High School Reunions
---
Davao City - Archived News
---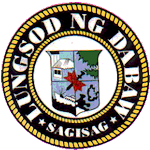 The Seal of Davao City
Interactive Google Satellite Map of Davao City, Philippines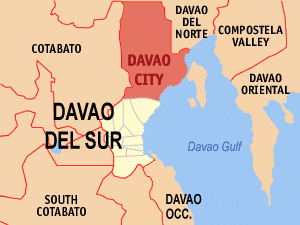 Davao City Map Locator

Map of Davao City

Davao City Hall
300px
Davao City Montage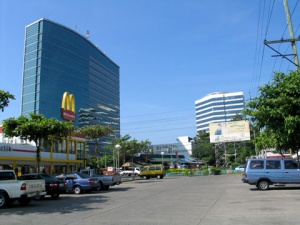 Davao City Aerial View

Entrance to Davao City

Nat'l Hwy Through Davao City

Davao City Victoria Mall

Old Davao City Airport

Current Davao City Airport

Mangrove forests are critical for the stability of coastal areas and the sustainability of fish and marine resources which provide food and livelihood to people in more than 800 coastal towns in the Philippines. USAID, through the Philippine Environmental Governance Project, assisted the local government (Davao City) in establishing, through a local ordinance, the mangrove area as a marine protected area.

USAID, through the Philippine Environmental Governance Project, assisted the local government (Davao City) in establishing, through a local ordinance, the mangrove area as a marine protected area. A crucial part in effective coastal resources management is law enforcement with Bantay Dagat teams playing a crucial role by safeguarding local waters. In Davao City Philippines, Bantay Dagat members protect mangrove areas from illegal cutting, thus conserving areas for fisheries and marine biodiversity habitats.
(JPA)
THE Department of Agriculture (DA), together with the National Food Authority (NFA) and the Philippine Maize Federation, Inc. (PhilMaize), targets for a healthier and more practical staple food as they launched Bigas-Mais Blend at Sasa Wharf last week.
"The rice and white corn combo is a healthier choice for the rice-eating Filipinos as corn contains higher amylose content which makes it harder to gelatinize and slower to digest… Bigas-Mais is just one of our strategy to quash our dependence on imported rice every time a shortfall in supply surfaces," said Agriculture Secretary Manny Piñol.
The Bigas-Mais, which is targeted to be available in leading supermarkets in the country by January 2018, comes in three variants the Regular, with 70 percent rice and 30 percent white corn; the Special with equal portions of rice and white corn; and the Premium with 30 percent rice and 70 percent white corn.
In a press release published at the official website of DA, it was stated that the new blend is expected to create new market segment demand especially for that of the health conscious. Aside from that, pressures on rice imports is hoped to tone down because of this Bigas-Mais as it aims to local farmers revive the country's corn industry.
A memorandum of understanding was signed between DA, NFA, and PhilMaize during the launching at Sasa Wharf last week, December 21. In this project, DA is tasked to "ensure the availability of quality corn seeds and provide the required interventions for production areas such as capacity building, farm mechanization equipment, and postharvest facilities."
The NFA will be the one to distribute and promote the Bigas-Mais blend to retail outlets, government and non-government institutions, and other institutional buyers. They are also tasked to monitor compliance in terms of existing quality standards.
Supply of quality rice-corn blend will be done by PhilMaize. This role includes necessary processing related to the product such as milling, packaging and storage, sourcing from local producers.
"Corn is not a new staple food but it has been overlooked by the government for so long…If we are able to infuse at least 300,000 to 500,000 tons of corn next year, it will be the second time in our history that we are able to reach sufficiency in staple grains," Piñol said.
By Jennie P. Arado
WHEN the NCCC Mall at Ma-a was consumed by fire on December 23, it left not only 38 people dead but also 2,900 people unemployed.
With this, the Department of Labor and Employment (Dole) promised to provide a month-long emergency employment for these displaced workers as transition before being fully absorbed by their original companies.
In an interview on Presidential Communications Assistant Secretary Margaux Uson to Labor and Employment Secretary Silvestre Bello III posted on Uson's official Facebook page, Bello said the department will provide assistance to the relatives of the victims including a P30,000 burial expense assistance that will be coming from the Employees Compensation Commission (ECC). On top of this, a P5,000 worth of grocery items will also be given to the families of the victims during the wake as assistance to the members of the family.
The fire which lasted for more than 30 hours left 2,900 people unemployed including NCCC Mall employees, the surviving SSI employees, and the mall tenant's employees.
"More important is we will provide a one month emergency employment program for the displaced workers. In the case of the victims, their dependents (will have the) one month emergency employment. It will be the department that will pay for the salary of the 2,900 displaced workers. We will employ them for one month and then pay for their salaries. It will just be a transition phase because we have a commitment from NCCC Mall management that they will absorb all their displaced workers and also from the SSI that they will also absorb their displaced call center employees," Bello said.
Those who will be held responsible for the said fire incident has yet to be determined as the investigation is still ongoing. The Inter Agency Task Force, headed by the Department of Interior and Local Government, had been tasked to handle the investigation. Included in the task force are the Bureau of Fire Protection, Department of Justice, National Bureau of Investigation, and the Criminal Investigation and Detection Group.
By Yas D. Ocampo and Nonoy E. Lacson
Davao City — Mayor Sara Duterte-Carpio said the city government would start in January next year the relocation of residents living in hazard areas affected by Tropical Storm Vinta last week.
Duterte said the city government's Housing Office is collating information on the families affected by the flood.
Offices under the City Mayor's Office, particularly the City Disaster Risk Reduction and Management Office (CDRRMO), were already posting notices to residents to evacuate their homes.
During the floods last week, water levels rose roof-high under the Gov. Generoso Bridge when water from the Davao River spilled over nearby residential areas.
Floods also displaced thousands of homes around the city, including homes along the Davao River.
Upstream, at least 150 houses were swept by the swelling tributaries from waters coming from other water systems during the height of the tropical storm.
The city has allocated P83.4 million in quick response funds for cash, food, and non-food assistance for the roughly 20,000 families affected by the floods.
Some P3.5 million was allocated for the 357 families whose homes were assessed as totally damaged in cash assistance worth P10,000 each.
A total of P19,310 families affected by the floods will receive P3,000 each in cash assistance.
Food assistance worth P16.7 million will be distributed to the evacuees, while the city has also invested in non-food items worth P1.5 million.
Elsewhere in the city, volunteers have come together to repack donations given to the city government by charitable institutions and other donors.
Repacking has been ongoing in several parts of the city, with operations ongoing round the clock in sites such as City Hall, Sangguniang Panlungsod, and the Task Force Davao headquarters in Sta. Ana Wharf.
Operations would then be moved and centralized at the Sta. Ana Wharf when the city government needs to resume normal operations.
ARMM assistance
ZAMBOANGA CITY — Thousands of families affected by floods and landslides in Lanao del Sur are receiving assistance from the Autonomous Region in Muslim Mindanao (ARMM) government after the onslaught of Tropical Storm Vinta in the region.
ARMM Governor Mujiv Hataman said a total of 1,442 families in the municipalities of Balindong and Tugaya, received relief goods from the ARMM's Humanitarian and Emergency Action Response Team on Wednesday, December 27.
Hataman led the distribution of the relief goods in Balindong, which consists of rice, corned beef, sardines, and 3-in-1 coffee. Balindong and Tugaya were among the hardest hit in Lanao del Sur of Tropical Storm Vinta.
(PR)
DAVAO CITY – Congressman Weslie Gatchalian, a representative of the Gatchalian family, and Bryan Yves Lasala, hotel manager of Waterfront Insular Hotel Davao, personally handed a one million peso check donation to the House of Hope Foundation for Kids with Cancer during its annual Survivors Day held last December 9, 2017, Saturday at the Ateneo de Davao University.
2017 marks a 10-year partnership between Waterfront Insular Hotel Davao and the House of Hope. Traditionally, over the years, the Management laid out initiatives for the benefit of the foundation under their Corporate Social Responsibility program. Proceeds from hotel offers and promotions were donated to the beneficiaries for their much needed treatment fund.
According to Dr. Mae Dolendo, pediatric oncologist and founder of the charity organization, resources for childhood cancer treatment in Mindanao are limited and providing holistic cancer care continues to be a challenge. As of today, the Southern Philippines Medical Center is the only medical facility in the region with a Children's Cancer and Blood Diseases Unit and a multidisciplinary team that can respond to their needs. Every year, about 100 to 150 patients come to seek for treatment that spans a number of months to years. As most of them are indigent, with no place or family to stay with, the transient home was built through a project of the Rotary Club of Waling-Waling Davao and in coordination with the Davao Children's Cancer Fund.
In recent years, the survival rate for children with pediatric cancer has increased from 10% to 50%. The 'Kids of Hope', or the beneficiaries of all programs and initiatives under the foundation's advocacy, represent a coming together – of people, families, communities and sectors in working together to provide the best possible chances for children with cancer.
The Gatchalians' Waterfront Philippines (WPI) is an investment holding company for hotel, leisure and tourism businesses. It primarily operates through its chain of hotels – Waterfront Pavilion Hotel and Casino (Manila), Waterfront Cebu City Hotel and Casino (Cebu), Waterfront Airport Hotel and Casino (Mactan) and Waterfront Insular Hotel (Davao).
By Karina V. Canedo
THE distribution of financial assistance from the calamity fund to the typhoon hit areas in the city is set to start today, an official said.
Majority floor leader Bernard Al-ag said that the council has approved P83.4 million worth of assistance and its distribution will start Wednesday, December 27.
"The council approved P83.4 million yesterday, tomorrow, there will be a start of the distribution financial assistance and operations for relief goods," Al-ag said.
Last December 25, the 18th Davao City declared the city under a state of calamity and authorized Mayor Sara Duterte-Carpio to use the remaining P83.4-million Quick Response Fund (QRF) from the city's 30 percent Disaster Risk Reduction Management fund.
Duterte-Carpio during the special session assured the council that utilizing the remaining amount for QRF for the financial assistance for the Typhoon Vinta victims will not mean that the city will not have any reserved amount should any disaster come after.
She said that the city mayor's office still has a remaining budget peace and order fund worth P30 million which is intended for city's use for calamity assistance until December 31, 2017.
Duterte-Carpio also asked the assistance of the city councilors in the distribution of the financial assistance.
"Because we have 18,603 affected families, may I request the city councilors to assist the city mayor for the distribution of the financial assistance, maybe we can divide the evacuation centers and we'll assign councilors in each distribution area to assist the Davao City Social Services and Development Office (CSSDO) during the giving of financial assistance," she said.
Duterte-Carpio said that city councilors can also help in addressing issues and concerns during the distribution.
Since Saturday, more than 130 individuals, companies, government and non-government offices have also coursed their donations of food and financial assistance to the city hall.
By Lito Delos Reyes (PNA)
DAVAO CITY -- The Citywide Cycling Association of Davao (CICAD) will be staging next year its second Tapang at Malasakit Para sa Pagbabago Bike Fun Ride on March 11, Sunday in Davao City.
This was agreed during CICAD's year-end meeting held Wednesday at the Jaltan Magallanes.
"We need to make again this kind of fun ride to show that we still strongly support the Duterte administration both national and local," said founding CICAD president and now Chairman Salvador "Jun" Paholio Jr.
Also present at the meeting were the other CICAD officers led by its new President Dominic Carpio.
CICAD had successfully organized the first Tapang at Malasakit Para sa Pagbabago bike fun ride last March 13, 2016 around the major streets of Davao City. It was joined by more than 800 participants from different clubs and associations.
"We will still be inviting them and we will also invite the other regions," Paholio said.
All types of bikes are welcome to join from BMX to mountain bike, folding bike or road bike.
"Kahit anong klaseng bikes. Kahit ordinary bike lang made from China. Sama-sama po tayong mag fun ride upang ipakita muli natin ang ating tapang at malasakit para sa ating bansa," he added.
The bikers will assemble at the Rizal Park at 4:30 a.m. and will jump-off at exactly 5:30 a.m.
Registration is free but participants must still have to register at the CICAD secretariat in order to qualify for the raffles during the closing program at 8 a.m.
Mayor Inday Sara Duterte-Carpio and Solid Duterte Supporters Group (SDSG) D' Original national president Mar Masanguid are the invited guest speakers.
"We will finalize the route next month," Paholio said.
By Ace June Rell S. Perez
DAVAO hotel player, Waterfront Insular Hotel Davao, plans to renovate its hotel facilities in 2018 to continuously improve its services and remain competitive in the industry.
Waterfront Davao hotel manager Bryan Yves S. Lasala, in a recent interview with SunStar Davao, said that renovation plans include refurbishment of the guest rooms.
"The guest rooms have never undergone major renovations since the 90's. We still want to keep the character of the property, hopefully we can start next year," he said.
Other facilities to be improved are the function rooms and the lobby area.
"We want to capitalize on the sudden increase of foot traffic, tourist traffic in Davao City," Lasala added.
Asked on how the hotel was doing in 2017, Lasala said that it has been a challenging year, not just for them but for the whole hotel industry.
"This year has been challenging because of what happened in Marawi City and the declaration of martial law in Mindanao, starting May until July, we experienced a decrease in hotel occupancy," he said.
However, Lasala said, the industry recovered fast in August.
"Overall, in terms of revenue, occupancy, number of events, this year has been very good to us. We saw the influx and sudden rise of hotel occupancy, we have been averaging for the past two years between 60-65 percent but for 2017 we are hitting 72-75 percent, about 10-12 percent increase in occupancy," he said.
He added that on a weekly basis, two or three days in a week are 100 percent occupied.
He attributed the increase to President Rodrigo Duterte's election in the presidency.
"Also, the influx of local and international conventions and meetings had contributed a lot to this development," he said.
From January to September this year, the regional office of the Department of Tourism reported that tourist arrivals in the region reached two million tourists.
"We just have to push Davao more, we need to package Davao with a distinct destination that would make tourists come here, we need to create a package to make people come here," Lasala said.
By Armando Fenequito, Jr. (PNA)
DAVAO CITY -- The Davao City Police Office (DCPO) received Tuesday its 26 new patrol cars – a Mitsubishi Montero donated by the people of Japan to boost its mobility within the downtown areas.
DCPO director Sr. Supt. Alexander Tagum said he is very happy with the arrival of the new donated patrol cars because it would be a big help in securing the city.
"I am not happy for the DCPO alone but for the whole people of Davao City because the purpose of these new Nintendo Sports vehicle will be for the protection and security, " he said.
"We assured that most of these vehicles will be deployed in the commercial areas and public convergence," Tagum added.
He said 24 of the vehicles would be given to Mobile Patrol Group which would be deployed in the areas of Sta. Ana, San Pedro, Talomo, Buhangin, and Sasa.
"We will be requesting that one of the vehicles will be painted with Matte Black for SWAT," he said.
One of the vehicles will be used as a tactical vehicle of DCPO's Special Weapons and Tactics (SWAT) while the other one will be used as City Director's vehicle.
He said there would be three police officers in every vehicle to ensure that there would be enough force to respond in every call for police assistance.
To drive the new cars, DCPO will employ drivers paid by the city government by the city government.
The screening of applicants is ongoing. So far, 66 applicants are now for background check.
Tagum said there would be a "soft turn over on December 21" so that the vehicles would be used in securing the Christmas season in the city.
"Eventually, the formal turnover will be conducted in the second week of January 2018 with the presence of President Rodrigo Duterte and the Japanese ambassador," he said.
(CIO)
DAVAO CITY – This city's Rizal Park continues to be the favorite destination for the Dabawenyos and their families, especially during this Yuletide Season.
This Christmas, the local government of Davao turned the area into a theme park — just like what it did last year — with fun rides and ice cream — yes, ice cream — for children to enjoy for free.
The entire park lights up during the night, complementing the colorful candy cane themed decors of the nearby City Hall building.
A giant Christmas tree stands close to the park's eagle-inspired stage. Meanwhile, not very far from the park, one could see the giant parol installed near the Sangguniang Panglungsod.
Among those who regularly go to the Rizal Park are the Genebraldo couple and their children.
"We visit Rizal Park every now and then so that our children could enjoy the different rides and even the free ice cream. This serves as our bonding time," Milton Genebraldo said.
Visiting the park, he said, also saves the family money.
The rides at Rizal Park - such as the merry-go-round - are open daily from 5 p.m. until 9 p.m.
Mayor Inday Sara Duterte reminded parents that Christmas is for the children.
"Christmas is for the children," she said. "Hopefully, the kids, together with their loved ones, will enjoy the surprises we have for them at the Rizal Park this Christmas," Mayor Inday said.
(SunStar Davao)
INTERNATIONAL President James "Jim" Rochford flew in Sunday, December 17, to grace various activities prepared by the Kiwanis clubs here.
He is accompanied from Manila by Kiwanis International President-elect Florencio "Poly" Lat and Aspac chairperson past governor Trinidad "Toto" Gonzales of the Philippine Luzon District.
With Kiwanis of Divisions 7 and 8 as hosts, members of Kiwanis clubs headed by District Governor Ivan Nemenzo welcomed him upon his arrival at the Francisco Bangoy International Airport.
Rochford was then ushered to the nearby Kiwanis welcome marker for the ribbon cutting, where a welcome plaque is mounted in appreciation of his visit. Erected in 2011 alongside the exit road of the Davao International Airport as a project of Division 7 clubs, the marker serves as a symbol of the active presence of Kiwanians in Davao City.
The entourage of Rochford along with the Philippine Luzon District, Philippine South District Officers and members headed by Nemenzo are scheduled to pay a courtesy call to President Rodrigo Duterte.
A fellowship dinner program at the Insular Century Hotel saw Rochford formally recognizing newly organized Kiwanis clubs from Visayas and Mindanao regions.
A lawyer by profession, Rochford has been a member of Kiwanis Club of Peoria, Illinois, USA for 36 years. He is a certified Kiwanis trainer and is George F. Hixson and Walter Zeller Fellow of the Kiwanis International Foundation. He has served in Kiwanis district leadership functions and has been advisor for high school Key Clubs and University Circle K Clubs.
He has personally invited 1,500 new members to Kiwanis and has opened 105 new Kiwanis clubs. Outside of Kiwanis, Rochford is founder and president of the Peoria Irish AAU basketball program. He has been a Tri-County Citizen of the Year, and a recipient of the JC Penny/Golden Rule Award.
In line with this year's Kiwanis theme, "Eye of the Tiger" and Kiwanis motto, "Serving the Children of the World", Rochford's visit will serve to encourage all Kiwanians to put more focus for committed service to more children of the communities.
By Armando Fenequito, Jr. (PNA)
DAVAO CITY -- The number of tourist arrivals in Davao City could hit about 170,000 to celebrate Christmas or 10,000 more compared with last year.
Even without firecrackers or display of pyrotechnics, the city has become a destination for domestic tourism because of its month-long Pasko Fiesta.
Davao City Tourism Operations Office (CTOO) chief Generose Tecson said the city is targeting around 170,000 tourists who will be coming to the city to celebrate Christmas.
"We know that our fellow Dabawenyos are the ones who invited their friends and relatives to experience the celebration of Christmas here in the city, " she said.
She said tourists can experience the activities of the Pasko Fiesta sa Davao such as the "Kaan sa Davao" or the food festival along Palma Gil Street and kan anan sa Tribo at the Magsaysay Park's Kadayawan Village where people can experience the different indigenous food of the city's tribes.
"We want them to experience how we celebrate as people. Despite our differences in our culture and traditions we still unite and that's our difference from other places," she said.
She said the visitors can also enjoy the lantern parade and the choral competition at City Hall.
Last year, Tecson said the number of city visitors reached 160,000 based on the hotel occupancy. That was even the year when a bomb exploded at the Roxas night market.
"We are really targeting last year's arrivals. We've seen the trend that after the declaration of martial law our tourist arrivals decreased," she said.
"However, it was surprising that in July our tourist arrivals increased and during Kadayawan that was really terrific because there are many people who came to Davao," Tecson added.
By Jennie P. Arado
EASE of doing business in Davao City is expected to improve with the new Davao City Investment and Tourism building along Palma Gil St. targeted to be completed by the later part of 2018.
Last Tuesday, December 12, a groundbreaking ceremony was held to mark construction of the 4-story building that would house both the Davao City Investment and Promotion Center (DCIPC) and the City Tourism Operations Office (CTOO). The construction for the entire building was allocated with P50 million.
"Our services offered in DCIPC will be much more accessible to our potential investors. The mandate of both DCIPC and CTOO is to promote the city. The only difference is that we are into the investment and they are into the tourism sector. With this new building, the coordination and communication between these two offices will be easier and accessible and more efficient because we are located in one building," said DCIPC head Lemuel Ortonio.
"Investment and tourism go hand-in-hand for both are integral drivers that push the economy forward with both being among the key priority areas of the city government. With the increasing attention that Davao City is receiving these recent times, comes increase in investment opportunities as well as tourist arrivals and tourist opportunities…I hope this bigger, more spacious area will inspire you to continue accommodate clients, prospective investors, and guests to the best of your abilities and provide improved services," said Mayor Sara Duterte-Carpio in a statement read by city council tourism committee chair Al Ryan Alejandre. Apart from DCIPC and CTOO, the new Davao City Investment and Tourism building will also house the Negosyo Center, which is located at the current DCIPC office at Magsaysay Park. This is the first Negosyo Center in Davao City. The office of the Optical Media Board will also be housed in the new building.
Ortonio said they target to move to the new building by the last quarter of 2018.
By Lilian C. Mellejor (PNA)
DAVAO CITY –Since the opening of the Pasko Fiesta on December 1, the Davao City Hall has become the nightly destination of people from all walks of life. No one ever misses to pass City Hall awed by its candy land Christmas décor.
Nong Jun, a candy seller at the Rizal Park, said some people dropped by even after 12 midnight to get a good vantage point since the place is packed with spectators from 6 p.m. to 9 p.m. and all you get in your selfies or groufies are shadows of people's heads or arms taking photos.
He said that just before dark falls, scores especially children of nearby barangays and schools troop to City Hall and the Rizal Park to get a glimpse of the candy land theme.
Nong Jun also extends hours at the Rizal Park from his usual home time of 7 p.m.
"Oportunidad na ni nga mokita ko bisag candy candy lang lang akong baligya. Daghan pud mag date ug suroy nga pamilya (This an opportunity for me to earn even if I am just selling candies. Many are also dating and families are visiting Rizal Park)," he said.
City Hall's candy land theme drew Dabawenyos and other visitors on weekends.
Jessanie, a high school student of Catalunan Grande, said it's perfect for selfie. She said she visited City Hall after seeing some photos of Pasko Fiesta on Facebook.
Since she came to Davao as working student, Jessanie said it's her first time to witness Pasko Fiesta.
City Hall and the Rizal Park turned into candy land town. Giant lollipops garbed the City Hall building.
Lollipops are made of round fabricated steel and covered with light. The two posts of city hall ate covered with decorations to appear as candy.
The Rizal Park has the 40-footer Christmas tree and a children's carousel of favorite cartoon characters.
Across City Hall, the front of the Sangguniang Panlungsod and the Centennial Park are full of colorful dancing lights and a giant lantern - a gift from Pampanga to the people of Davao City.
The city has also spruced up city streets with lighted stars of yellow, red and green colors. These are the stars made by inmates of the Davao City Jail.
Opened Friday night, the Pasko Fiesta is a month-long holiday celebration of the city.
It gives the city residents joyous celebration with different indoor and outdoor events even without firecrackers and display of pyrotechnics.
Mayor Sara Duterte-Carpio, who opened the Pasko Fiesta during the lighting ceremony on Friday night enjoined city residents to go out and participate in Christmas events.
There are more than 20 activities for the celebration.
City Tourism Officer Generose Tecson said Pasko Fiesta brings out the youth in every Dabawenyo.
Christmas reminds us of kids' favorite - carnivals, candies and carols, she said.
Among this year's activities are the parol display contests in the barangays, a light up competition of establishments, variety shows in 11 barangays; Pasko Pahalipay sa Davao, Santa Claus in Magsaysay Park and People's Park, and a photo contest.
There are events for Lumads in their respective communities to encourage them to stay in their homes rather than caroling in the city where they face risk of city life.
Thousands of Lumads from many areas in Davao City and neighboring provinces come down to city every year to carol.
There is also the Kan-anan sa Tribo, a food market by the 11 tribes at Magsaysay Park, the Lesbian Gay Bisexual and Transgender (LGBT) Year-end Party for the LGBT community at Azuela Cove, Siyam ka Kaadlawon or Simbang Gabi.
By Lilian C. Mellejor (PNA)
DAVAO CITY – Elated by Davao City's victory in the 2016 Child-Friendly City and the Kalasag award,
Davao City Mayor Sara Duterte-Carpio said these awards are the city's contribution to the country.
"Dabawenyos are committed to nation-building," the city mayor said in a short press statement released Tuesday by Chief Information Officer Jefry Tupas.
Duterte-Carpio said, "These awards are Davao City's contribution to our country."
The mayor issued the statement after the city was announced the winner in the 2016 Presidential Child-Friendly Municipalities and Cities (PACFMC), besting contenders Baguio, Bacolod and Mandaluyong.
With the win, Davao City is elevated to the Hall of Fame.
The city was 2015's Most Child-Friendly for highly-urbanized category over competing cities of Baguio, Mandaluyong and Bacolod. In 1998, 1999, 2013 and 2014, Davao bagged the same award. In the guidelines, national awardees for three consecutive years with consistently increasing final score shall be conferred the "Hall of Fame Award".
The city was validated for the Seal of Child-Friendly Local Governance (SCFLG) along with 30 other local government units in Davao region PACFMC in July.
Other Davao region's conferees are: (Davao Oriental) Baganga, Banaybanay, San Isidro, Manay, Mati City, Tarragona; (Compostela Valley) Compostela, Laak, Mabini, Maco, Maragusan, Mawab, Monkayo, Montevista, New Bataan; (Davao Del Norte) Asuncion, Braulio E. Dujali, Carmen, IGaCoS, Panabo City, San Isidro, Tagum, Talaingod; and, (Davao Del Sur) Digos City, Hagonoy, Magsaysay, Malalag, Matanao, Padada, and Santa Cruz.
City Social Services and Development Office (CSSDO) chief Ma Luisa Bermudo earlier said Davao had always been at the forefront when it comes to establishing programs for children.
Among the city's programs are the Quick Response Team for Children's Concern (QRTCC) designed to rescue, investigate and document cases of sexual, exploitation, and atrocities committed against children; the establishment, operation and maintenance and the upgrading and standardization of residential facilities to satisfactorily meet the accreditation requirements of the DSWD Standards Bureau; the Crisis Intervention Center (CIC) Balay Dangupan, a shelter care institution for physically and abused children, was accredited First Level Standards last year; the Davao City Children's Village or Bahay Pag-asa, which continues to serve as a temporary shelter for Children in Conflict with the Law (CICL); the Paginhawaan Drop-In Center for street children who need temporary shelter and protection and the Lingap Center for Mentally-Challenged Children; and the city government's Child Minding Center which provides day care services for the children of city employees under five years of age.
This year, Duterte-Carpio initiated the Kean Gabriel Hotline 09088184444, a child abuse reporting number. Since it was established, the Kean Gabriel already rescued 483 abused children.
The Presidential Child-Friendly Award was conceptualized with the goal of encouraging local government units to be "child-friendly".
This is to support the Convention on the Rights of the Child (CRC) adopted by the United Nations General Assembly which highlights the rights of children on survival, development, protection and participation in governance.
The award is conferred to deserving local government units in recognition of their vital role in the sustained promotion of children's rights to survival, development, protection and participation as well as in ensuring child-friendly governance.
By Digna D. Banzon (PNA)
DAVAO CITY –The Department of Tourism in Region 11 (DOT-11) is looking forward to 2018 with more tourist arrivals and higher tourist receipts.
This, as 2017 performance indicates a positive trend in tourist arrivals, said DOT-11 chief operations officer Zuhairah Abas.
Abas said that with the 2017 performance, DOT is optimistic that growth would continue in 2018.
Abas reported that tourist arrivals from January to September 2017 increased despite the declaration of martial law in Mindanao.
The arrivals of foreign travelers hit 113,305 for the first nine months of 2017 compared to 96,902 for the same period last year.
In the same period, the arrival of overseas Filipinos accounted for 31,482 compared to 17,573 in 2016.
Domestic travelers only recorded 1,918,355 in 2017 compared to 2,046,627 in 2016, Abas said, as travelers from affected areas related to the Marawi incident were not able to travel.
With these figures, Abas said the total volume in 2017 for the first nine months was pegged at 2,063,142 visitors for domestic, foreign, and overseas Filipinos compared to 2,161,102 in 2016.
She, however, remains bullish the performance will still improve at the end of the year.
Meanwhile, Abas said DoT has lined up activities that would open Davao's destinations for foreign markets.
She said by January 2018, the tourism sector here would join an international and a domestic travel expositions.
She said DoT is coordinating for a big delegation that would join the Malaysia Travel Fair from January 19 to 21 organized by the Malaysian Inbound Tourism Association (MITA) with 650 booths and some 75,000 visitors expected.
"We want to be part of this travel fair because many travelers check the different offerings showcased in this exposition," she said.
She said a team would join the largest Travel Fair in Cebu slated on January 27 to 29 to promote Davao destinations in the Visayas market and international travelers because Cebu already has several international flights.
Abas said that while DOT's goal is to make Davao's presence known to other international markets by highlighting selected places like the Camp Manuel in Tuburan, Mawab, Compostela Valley province where visitors can witness field exhibitions and drills of the men in uniform.
"Kakaiba kasi ito sa mga foreigners (this is different for foreigners)," she said.
She also cited the surfing site of Mati City and the rich natural resources of Davao Occidental.
"We will showcase our sites one at a time at hindi natin ibigay lahat para may thrill (and we will not offer all these for some thrill)," she said.
She said Davao Region would also join the biggest travel fair in the Philippines in February 2018 which would be held in Manila, the Philippine Travel Tour Expo.
On Valentine's Day, DoT will also organize the "My Heart Beats for Chocolate", which is appropriate for Davao City as the chocolate capital of the Philippines.
(PNA)
DAVAO CITY -- A food manufacturing firm is offering "chocolate bonus" to Davao cacao farmers starting this month as its way of giving back to their clients.
Guadalupe Ocial, Kennemer Foods International (KFI) area manager for South Mindanao, said the company would plow back to the farmers the amount of PHP4 for every kilo sold to the traders.
The traders will get a PHP2 share per kilo delivered to them. She said this is the company's way of giving back to their clients and that the company's international buyers also want the farmers to share the benefit of what they earned.
Ocial quoted KFI chief executive officer Simon Bakker, who said: "We want the farmers to get the right price."
Ocial said pass on price to traders are regulated. For instance, if the buying price is at PHP34 per kilo for wet beans the traders' price to the farmers must be at PHP32 and they cannot go beyond the ceiling price.
She added that international buyers want farmers, as main producers, would benefit from the profit of the industry and not only the consolidators like Kennemer and their respective companies and traders. Without the farmers, Ocial said there are no grinding companies and chocolate makers.
"They want to take good care of the farmers by also sharing the profit as a way of encouraging them to produce more quality beans," she said.
She said her company would release the chocolate bonus starting this month.
"We require the traders to submit the list of farmers where they sourced out the beans," she added.
"This will be in a payroll form where the farmers acknowledge receipt (of) the corresponding bonuses and said payroll will be submitted back to us," she added.
Kennemer Foods International, Inc. is a Philippine agribusiness company specializing in the growing, sourcing and trading of high-quality agricultural crops such as fermented cacao beans sourced from smallholder farmers.
Ocial said Kennemer was established in 2010 with its buying and post-harvest center in Talandang, Tugbok, Davao City.
"We buy beans both from the farmers and through the traders where we process the seeds," she said.
Ocial, who manages the Kennemer area in Calinan, said among their clients are Puratos, Mars, and Olam International where they process the beans based on the protocol requirements of these international buyers.
The fermented beans are brought to their clients' processing areas either in Indonesia and Malaysia. It is during the holiday season when the bulk of Kennemer's delivery happens.
Ocial said the peak season of cacao production or harvesting time falls on the second and fourth quarters.
She said there is a big requirement for cacao beans here as many of the grinding companies are starting to locate in Asia. Malaysia, for example, is sourcing their raw materials from the Philippines. This is the reason Kennemer is expanding with the acquisition of the 42 solar dryers to increase the volume of their production.
Kennemer is also actively planting trees and setting up cacao centers throughout Mindanao.
Ocial believes that cacao production will thrive and the level of growth will continue to increase especially among small cacao farmers.
The company also engages in contract growing where it encourages farmers to form a 25-member cluster. The farmers will undergo free training.
Through its sister company Agronomika, Ocial said, Kennemer also extended financing to the small cacao farmers with a 7-year term loan plus two years grace period for a P120,000 loan per hectare.
It is a supervised loan used to fund farm inputs and other materials that are needed in cacao growing.
(CIO)
DAVAO CITY -- Kitakyushu City in Japan could be the next destination of Davao City's cacao beans.
Kitakyushu City officials hinted on the possibility of sourcing cacao beans from the city for its chocolate industry duting Mayor Inday Sara Duterte's visit there.
During her November 28 visit to Japan, Mayor Inday and Kitakyushu City Mayor Kenji Kitahashi also signed a Memorandum of Understanding (MOU) for a Green Sister City Cooperation.
"The mayor of Kitakyushu is interested in Davao's cacao beans as a source for their chocolate industry. They are familiar with the Malagos Chocolate as it has won various awards internationally and want to check out the possibilities in that area," Mayor Inday said.
Kitakyushu City has offered to help Davao with its solid waste management. In turn, Davao City could supply the Japanese city with quality cacao beans.
Mayor Inday said the Kitakyushu mayor is familiar with the cacao produced by Malagos Agri-Ventures Corp. Malagos cacao beans was recently chosen as one of the best 50 (out of the 166 bean samples submitted) cacao beans samples during the International Cocoa Awards held in Paris.
Mayor Inday, who spoke before delegates of the Kakao Konex 2017 held here from December 5-6, narrated how Kitakyushu City produces peculiar chocolates.
"They produce chocolates formed into nuts and bolts and you can play with it while eating; it's not sweet and a little bitter," she said.
Kitakyushu City is also known as the City of Iron because of the large ironwork companies in the area. Because of this, the Neji choco, which is 57 percent made of cacao and shaped like nuts and bolts, became the most sought after souvenir from the city.
Mayor Inday said she is hopeful that the popularity of Davao' cacao beans in the international market would allow micro and macro farms and farmers to maximize their production.
Mindanao accounts for 90% of the Philippine cacao production, with Davao identified as the country's chocolate capital. The city government has recently launched Cacao City to help promote the city's cacao industry.
By Digna D. Banzon (PNA)
DAVAO CITY – The city government and the tourism industry players have strengthened partnership to transform Davao as premier destination for Muslims, especially that the Davao–Kuala Lumpur direct connection begins on December 21.
Department of Tourism (DOT) 11 Director Roberto Alabado III said DoT, the city government, and other stakeholders have been working hard to put in place the availability of facilities and services to meet requirements for Muslim tourists.
This move, he said, has been doubled or even tripled now that there is a direct route to Malaysia frequented by Muslim tourists.
Connectivity to a destination is a major factor that will entice tourists to visit the place, he said. And Davao ha the sites of the sun and the beaches where most of these tourists, including the Muslims, can visit and enjoy.
"We are making ourselves ready," Alabado said.
Alabado bared there are ongoing talks to further meet other requirements to draw more Muslim tourists to Davao.
DOT 11 operations chief Zuhairah Abas said that Air Asia direct flight to KL has kept them working to establish Halal facilities.
But the positive effect on this connectivity, she said is the increasing interests of Malaysian businessmen to invest on the food sector.
"They want to come to invest in food not only on operating a restaurant but as a supplier of food that are already Halal certified," she said.
Except for the meat, these are foodstuffs not found here, she said.
Abas said there are already initial talks between the Malaysian investors with the Davao City Investment and Promotion Center (DCIPC) on the prospects of investing here.
She revealed that a Filipino company also wants to invest in Halal slaughterhouse in Biao, Tugbok, Calinan district.
The Davao City Halal Council, she said has ongoing discussions with the service sector on how to improve establishments become Halal-compliant.
"The business owners in Davao are excited and showed a positive response to our campaign in making the city as a potential Halal hub," she said, citing one establishment plan of converting to a Muslim restaurant.
There are also talks with hotels to put a sign inside the room that will spot which direction is facing the Black Stone for Muslims to pray.
Abas said local government units and the Ulamas are also working together to beautify their mosques and the surrounding as these are areas that Muslim tourists would visit, she said.
Abas is positive on the increase of Muslim travelers with the opening of KL direct route. She said AirAsia has a lot of connectivity to the Middle East.
"Muslims travel to places because it is part of their belief to worship and praise the creation of Allah through nature and Davao has a lot of natural wonders that they haven't experience yet," she said.
"We need to complement what the airline company has offered by showcasing our destinations to sustain the direct route as this is important in improving our tourists arrivals," she said.
She said Air Asia's maiden flight from KL to Davao on December 21 is fully booked as well as its return flight on the same day. The frequency of the flight is four times weekly on Sundays, Mondays, Tuesdays and Thursdays.
By Lito Delos Reyes(PNA)
DAVAO CITY -- More than 100 players from different schools and clubs are featured in the 2017 Global Stick Blade Alliance (GSBA) Regional Championships on Saturday at the Kadayawan Hall of NCCC Mall, Davao City.
The event is organized by the Amara Infinite Sports Inc., Amara Davao Escrimador, and GSBA, in cooperation with the City Sports Development Division.
Tournament director Elie Agravante Gamboa of GSBA said the event is aimed to select the best fighters in preparation for the upcoming national tournament next year in March in Davao City.
"Our goal is to promote the stick and martial arts or eskrima kali arnis from all over the world," Gamboa said.
The categories are the Non-traditional Caranza Forms - Single Stick Individual for men and women, Double stick Individual for men and women, Full Contact Padded Stick first hit System and full contact Continuous Live Stick 10 pt. system rules - flyweight, pinweight, bantamweight, featherweight, extra light weight, half lightweight, lightweight and Senior Open weight.
Personalized medals and certificates will be awarded to the winners. It is sponsored by NCCC Mall Davao, Amara Infinite Sports, city government of Davao, I.Flex Fitness, GSBA Phils., Filipino Martial Arts Amara Davao Escrimadors, Pableo Escrima and Flightyard Gan Soo Do.
"Arnis is a Filipino sport and an art that is alive to the modern society and bearing a good culture and active surroundings for the younger generation," said Gamboa.
Among the participating teams are the Ateneo de Davao Junior High School, Precious International School of Davao, Carmen National High School, Gensan BTAD Arnis, Sarangani BTAD Arnis, Talomo NHS, Don Enrique Bustamante NHS, Catalunan Pequeno Elementary School, Magallanes Elementary School, Tugbok Central Elementary, SPED Center and CPT. Eskrimador Arnis Club.
By Reuel John F. Lumawag
IN A bid to further promote the cacao industry in Davao Region, the Department of Tourism (DOT) launched Tuesday, December 5, the Davao Chocolate Tour Overload.
The tour program is being done in coordination with the Cacao Industry Development Association of Mindanao Inc. (Cidami), Department of Agriculture (DA), Department of Trade and Industry (DTI), Davao City Tourism Office, and the Visit Davao Consortium.
"This is being done in partnership with the private sector, we have the Visit Davao Consortium and all the accredited tour operators. This is for everyone (partner tour operators) to sell this (Davao Chocolate Tour Overload), the role of the Department of Tourism (DOT) is to brand Davao. For destination marketing, we would want people to have that recollection that once we talk about chocolate, we think of Davao," said Eden Josephine L. David, DOT assistant secretary, in an interview at the sidelines of the Kakao Konek 2017 on Tuesday at the SMX Convention Center, SM Lanang Premier.
She added that through this tours program, which is being spearheaded by DOT's Farm Tourism Sector, they are also helping the cacao farmers.
"We are not only talking about the chocolate itself but also the farm activities," David said.
In a briefer on the Davao Chocolate Tour Overload, DOT said the program will be an educational tour that highlights the transformation of the cacao fruit into a chocolate.
"The tour also touches on the social and environmental issues related to cacao and cacao farmers. One will get to try the many chocolate products from various cacao farms and chocolate manufacturers," DOT said.
Interested groups can book the tour to any DOT accredited tour operators and Visit Davao Tours Consortium. Promo rates are pegged at P3,594 for two persons; P2,344 for three; P1,927 for six; and P1,719 for eight.
DOT said that the first half of the tour will provide tourists insights on the various stages of the cacao plant's growth.
Meanwhile, the second half of the tour is a guided walking tour through a chocolate processor's facilities where one will see how the cacao bean is made into a chocolate bar.
Group tours and the drop off point after the tour is the Cacao City at the Pasalubong Center, where tourists can buy locally made chocolate products.
By Digna D. Banzon (PNA)
DAVAO CITY -- The Philippine's flag carrier expanded its operation in Davao City to accommodate more clients and its adjacent municipalities and provinces.
Philippine Airlines (PAL) president and COO Jaime Bautista said the opening of the new branch is their way of manifesting their commitment to continue serving their riding passengers from Davao and the adjoining municipalities.
PAL now has three branches in Davao City. Davao, he said is PAL's busiest route with eight daily flights from Manila and two to three flights daily to Cebu.
"We are planning to expand operations in Davao although we already started the Davao-Tagbiliran route," he said.
He said PAL is planning to operate a Davao-Siargao route as the airline firm eyes to increase its presence from Davao to more destinations in Luzon, Visayas, and Mindanao.
As this developed, he said PAL is expecting the delivery of two brand new 777 300 ER aircrafts this December that would fly from Manila to US, London, and Canada.
"This will allow us to operate non-stop flights with these aircrafts that are equipped with the most modern in-flight entertainment system," he said.
Davao City Mayor Sara Duterte-Carpio lauded the expansion of PAL in the city.
Duterte-Carpio cited the airline company's expanding business in Davao City and the growing business in the Philippines.
She said Dabawenyos are working hard that "our city become competitive and will be put in the map in the ASEAN community and not just the Philippine community".
By Jennie P. Arado
HOTELS and other venues for events in Davao City for December are already 80 percent booked, an official of the Davao Event Suppliers Association (Desa) said Monday, December 4.
Desa president Elinor Marcelino said several events like weddings and Christmas and company parties are already booked in different hotels, convention centers, and clubhouses in the city.
"Although it's not too late to book, but chances are they are going to put you as second priority because they also have other bookings for that day," he said.
She added the ideal timeline to book events is six to 12 months earlier in order to get a good supplier at a good rate and to properly lay down monthly budgets especially if the event is as big as a wedding. Booking several months earlier can also help minimize conflict with event schedules, reception and church venues, and other unexpected --- .
Even if it is already December, there are still a number of companies who call Desa-accredited events organizers to book with timeline as limited as two weeks. Marcelino said they still accept these but oftentimes clients' request may be toned down to a minimum due to limited time and limited suppliers who are ready to accept rush services.
"Usually, of course, there is a 'rush fee' especially for souvenir or plaque-making that are needed immediately. Sometimes these are needed for Noche Buena or New Year. No one would want to work on holidays. Usually the 'rush fee' is double the original price," she said.
She said it is highly recommended for clients to approach Desa-accredited events organizers as it provides a network of suppliers for easier and faster referrals.
Marcelino said their organization wants to make sure that the events booked with them come with good quality.
By Armando Fenequito, Jr. (PNA)
DAVAO CITY -- The Davao City Social Services and Development Office (CSSDO) is gearing up for the visit and caroling of lumads in the city.
The different tribes from the city hinterlands and neighboring provinces come down to the big city for their annual caroling despite an assurance from the city authorities that events would be held in their respective communities.
CSSDO head Ma Luisa Bermudo said the social workers are now assessing the lumads from different barangays since the convergence would start on December 7 and ends on December 20.
"We do it (assessment) simultaneously since last week so that we can execute it smoothly," she said.
Bermudo said the city would have nine shelter areas in Marilog and Paquibato, even as the CSSDO opened a shelter in Baguio district located in Barangay Tambobong.
She said that the city brings the convergence of IP groups far from the downtown area as they do not want them to experience risk of city life.
However, the CSSDO head said that for the lumads who are not from the city, there would be a contingency plan to keep them safe while caroling.
"Naa tay contingency, naa tay gi andam ng mga areas nga gi-identify nato. Pero kani siya, for short lang ni nga period (The contingency, we have prepared and identified possible areas for them but only for a short period)," she said.
Bermudo said the CSSDO would encourage these non-Davao lumads to go back to their places and the city would refer them to their respective local governments.
She said her office already monitored groups from other places who are already in the city. "Naa na tay makita sa may Buhangin, sa atoang lugar sa Agdao. Naga-conduct mig rescue sa ilaha og gina ingnan nga mo balik usa sa ilang lugar kay wala pa may December. Delikado man pud gud especially, they have children og naa sila sa mga risky nga lugar labaw na pag maghunong ang mga skayanan sa traffic, so delikado kaayo sa ilang mga bata (We see some of them in Buhangin and Agdao. We rescue them and told them to go back to their place since it was not yet December. It is dangerous for them especially to their children because they are in the risky place and their children will run to the vehicles during traffic stops)," she said.
By Lilian C. Mellejor (PNA)
DAVAO CITY – The Office of the Participatory Governance and the different chapters of the Kilusang Pagbabago kicked off Friday the Biyaya ng Pagbabago caravan in Ifugao, Mountain Province and will end in Davao City on December 9.
Undersecretary Joselito Libres said the caravan brings government services and programs to the people.
Biyaya, which means gift, is part of the vision of the Duterte administration for greater people participation for economic inclusivity and foster participation in governance.
Biyaya ng Pagbabago is spearheaded by the Office of Cabinet Secretary Leoncio Evasco, who heads 12 agencies, such as the Philippine Coconut Authority, National Housing Authority, among others.
The caravan involves a multi-sectoral and multi-agency service. It brings programs to the grassroots so that people know how to access them, claim the benefits of government programs especially livelihood.
"If people know how to access the different programs of the government especially those in the rural communities, they will be liberated from poverty," Libres said.
"The President is persistent in addressing the issue of poverty," he added.
The Biyaya ng Pagbabago partners with Kilusang Pagbabago (KP) in delivering the government programs.
Alexander "Rocky" Balili, lead convenor of KP, said KP is a mass convergence of people and organizations from the grassroots, Indigenous Peoples and the Urban Poor. KP is more known as support groups of President Rodrigo Duterte's campaign against illegal drugs, criminality, corruption, and poverty.
"It is an organized sector affected by poverty. We train people on how to access government programs," Balili said during the Kapihan sa PIA Friday.
Balili said a nation is mature if people are more educated and successful if people are active in claiming government programs.
He, however, admitted educating and teaching the people to claim government programs require hard work.
But Libres and Balili said the administration achieved first steps in fulfilling campaign commitment that would liberate people from poverty.
Balili hinted at the President's fight against corruption by minimizing service delivery mechanism; implementing the 72-hour period of processing documents; the Lingap program of Davao is now offered to indigent families nationwide; and the download of projects are done directly to the people instead of the local government units.
In previous administration projects were downloaded through LGUs that these have been politicized and identification of beneficiaries were selective.
Libres said the 8888 complaints hotline has become effective in terms of minimizing corruption and hastening implementation of programs and projects.
Libres, however, clarified programs are not only under the agencies under the Office of the Cabinet Secretary but, there are many being implemented by government agencies that should reach targeted beneficiaries.
By Cherry Mhae Palicte (PNA)
DAVAO CITY -- The Davao Region Upland Agriculture Research Station (DARUARS) will soon convert its 429-hectare property into an agro eco-tourism area.
This was announced by Department of Agriculture (DA) 11 Assistant Regional Director for Research and Regulations Angelina Pancho, saying the construction of the R&D building in the area starts the many developments in the area.
She said part of the planned development includes: Sloping agricultural land technology (SALT), establishment of building for goat production and development of creeks for fish production.
"This [429-hectare property] has a big potential to become an agro eco-tourism area. We can conduct research about climate resilient crops here and more buildings that can help the farmers as well as the IPs," Pancho said Friday.
She also said with more buildings to be established, the more jobs will be generated which can help the indigenous people in the area.
Meanwhile, Digna Sandoval, head of Institutional Development Division of Department of Agriculture-Bureau of Agricultural Research (DA-BAR), said the Multipurpose R&D building is part of the Institutional Development Grant (IDG) by their agency in support to the regional stations under BAR.
DA-BAR funded the P4 million worth multipurpose R&D building which plays a vital role in providing farmers the means of access to the various farming technologies generated from the works of the R&D community.
BAR's IDG program supports the acquisition of scientific and information technology equipment; including the establishment and renovation of R&D facilities of the National Research and Development System for Agriculture and Fisheries-member institutions.
During the groundbreaking on Wednesday, DA-BAR Director Nicomedes Eleazar represented by Sandoval, stressed that BAR supported the R&D edifice to provide conducive working environment for the researchers.
Eleazar hopes that the building will serve its purpose of fostering an environment that will facilitate the easier adoption of new technologies that contribute more effectively to tackling the emerging challenges in agriculture, not only in this region, but in other places as well.
Pancho said the donated building will provide innovative generation and relevant information needed by the farmers.