Davao City News December 2016
Jump to navigation
Jump to search
A | B | C | D | E | F | G | H | I | J | K | L | M | N | O | P | Q | R | S | T | U | V | W | X | Y | Z
Create Name's page
Regions | Philippine Provinces | Philippine Cities | Municipalities | Barangays | High School Reunions
---
Davao City - Archived News
---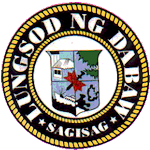 The Seal of Davao City
Interactive Google Satellite Map of Davao City, Philippines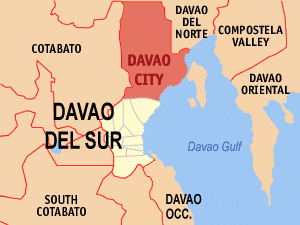 Davao City Map Locator

Map of Davao City

Davao City Hall
300px
Davao City Montage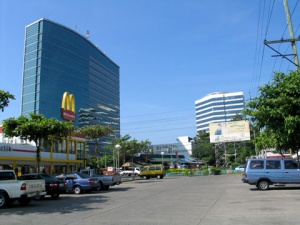 Davao City Aerial View

Entrance to Davao City

Nat'l Hwy Through Davao City

Davao City Victoria Mall

Old Davao City Airport

Current Davao City Airport

Mangrove forests are critical for the stability of coastal areas and the sustainability of fish and marine resources which provide food and livelihood to people in more than 800 coastal towns in the Philippines. USAID, through the Philippine Environmental Governance Project, assisted the local government (Davao City) in establishing, through a local ordinance, the mangrove area as a marine protected area.

USAID, through the Philippine Environmental Governance Project, assisted the local government (Davao City) in establishing, through a local ordinance, the mangrove area as a marine protected area. A crucial part in effective coastal resources management is law enforcement with Bantay Dagat teams playing a crucial role by safeguarding local waters. In Davao City Philippines, Bantay Dagat members protect mangrove areas from illegal cutting, thus conserving areas for fisheries and marine biodiversity habitats.
(PNA), LAP/LCM/DIGNA D. BANZON/LDP
DAVAO CITY, Dec. 30 (PNA) -- The Department of Agriculture (DA) in partnership with the Davao City government is set to open the PHP70-million Davao Food Terminal by first quarter next year.
DA-11 Regional Director Ricardo Onate said the Food Terminal located in a five-hectare property in Daliao, Toril (formerly the Agri-Pinoy Trading Center or APTC), will serve as drop-off and wholesale market of farm products.
It will provide marketing support for small and medium farm-size vegetable and fruit growers in various barangays here in Davao City and Davao del Sur.
The facility also has a dormitory, retail and wholesale sections and commercial spaces.
Onate said they are targeting an April 2017 soft opening.
He said the facility is a progressive type complex which will be managed by the city government. But he said the food terminal will be eventually managed by a farmers' cooperative.
Other components of the project are ten hauling trucks to transport farm produce from farm to the food terminal. Each truck would cost PHP1.5 milion.
"We are optimistic that there will be a big improvement in the agricultural production with new direction and processes of implementation of projects," Onate added.
(PNA), LAP/LCM/DIGNA D. BANZON/LDP
DAVAO CITY (PNA) -- The Davao City government is targeting PHp7 billion in tax collection next year for its various programs and projects.
City Councilor Danilo Dayanghirang, chairperson of the City Council Committee on Finance, Ways and Means, said this was the commitment made by the city treasurer to double their efforts in revenue collection.
While the biggest source of the city government remains to be the Internal Revenue Allotment (IRA), Dayanghirang emphasized the need to further strengthen real property tax (RPT) collection to achieve the PHp7-billion target.
Dayanghirang, however, noted improvement on real property tax collection giving the city's collection rating a six in a scale of ten.
This could be improved more, he said, given the 60 percent performance on RPT collection and the assurance of the City Treasure's Office (CTO) and the City Assessor's Office (CAO) to exert more effort in their collection.
He said there is also a need to review the real property tax rates because these are no longer the appropriate rate schedule given the city's economic development.
He said he will propose for an adjustment on local taxes that includes the business tax and the RPT.
The tax rate was passed 9 years ago, he said and it needs to be reviewed every 5 years as per government guidelines.
He added that the Commission on Audit (COA) already called their attention why there has been no review done by the city government.
If the rates are raised, Dayanghirang said the collection could even reach PHp7.5 billion to PHp8 billion in 2018. The 2016 budget stands at PHp6.8 billion.
Next year, the administration of Mayor Sara Duterte-Carpio will undertake the 10-point key priorities to include Poverty Alleviation, Infrastructure Development, Solid Waste Management, Health, Education, Agriculture, Tourism, Transportation Planning and Traffic Management, Peace and Order, and Disaster Risk Reduction and Mitigation.
By Jennie P. Arado
THE Davao City Chamber of Commerce & Industry, Inc. (DCCCII) is optimistic about business prospects for 2017 as the city continues to grab the interest of both tourism and business investors.
Incoming DCCCII President Captain Ronald Go looks forward to next year as a year of opportunities for the chamber and for its members. Aside from new projects that will be launched next year, Go said the chamber will continue with their flagship activities next year like the Davao Agri-Trade Expo that will be held on September 21 to 23, 2017.
The Davao Investment Conference will be held in July 2017.
Both Go and the incumbent president Bonifacio Tan estimate that with former Davao City Mayor Rodrigo Duterte's presidential win, the number of people coming in the city has doubled.
Local tourists and business investors alike are curious as to what the city can offer.
As the business sector is expected to flourish and be busier, the chamber hopes to be able to bring the services their members need.
"We hope to be able to help our members especially the small medium enterprises as we move forward and try to gain more markets for their products and services so that we can continue this growth," said Go.
In a meeting that the chamber executives had with President Duterte, Go said the president is pleased with the 9 percent growth of the economy and personally requested the members of the chamber to sustain it and improve over the years for Davao City.
By Jennie P. Arado
THOSE interested to join the Davao City Chamber of Commerce and Industry Inc.
(DCCCII) are invited to for as long as they have a legitimate business in the city, incoming DCCCII president Ronald Go said.
Application forms are available at the DCCCII office along J.P. Laurel Avenue in Bajada.
Along with the filled up application form, an applicant must be able to present legal documents issued by the Department of Trade and Industry, Bureau of Internal Revenue, and the Securities Exchange Commission.
The application will then be screened by the chamber.
The final approval will be by the Board of Trustees. For further questions about the membership, DCCCII can be reached through their landline number (082) 221-1402.
By Ace June Rell S. Perez (ASP)
HOMEGROWN hotel establishment, the Royal Mandaya Hotel is developing and renovating its Royal Ballroom next year, one of the hotel's moves in upgrading its 18-year-old building to be at par with the growing industry's standards.
Benjamin Banzon Jr., general manager of the hotel, said Thursday night, December 22, during its media thanksgiving party that the hotel keeps on improving its services and facilities to better serve their clients.
"Starting maybe January or February next year, we will be renovating the Royal Ballroom," Banzon said.
He added the year 2016 for the hotel industry in the city has been undeniably booming and upbeat as tourist arrivals continue to leap by multiple folds.
With the hotel's upgraded function hall, Banzon said, they expect higher occupancy.
Last October, the homegrown hotel launched its newly-renovated Lantawan Hall wherein owners invested P5.5 million. The Lantawan Hall is considered as the biggest function room among all the 11 function rooms of the hotel as it can accommodate 100 to 1,000 guests. It is also the Mindanao's first function hall to have top-of-the-line upgraded sound systems and glimmering remote-controlled chandeliers. Banzon said the innovation, which started last July 2016 and completed last August 8, is a reflection of the hotel's bid of leading the tourism industry in the city. The hall's interior was designed by Architect James Hao who is also the president of the Philippine Institute for Interior Designers. The hall allows guests to have a breathtaking view of the Davao gulf. He said despite being one of the oldest hotels in Davao City, they are continuously striving and improving facilities to be at par with the industry's standards while maintaining its affordable rates. Banzon also said that the hotel's revenue increased this year compared to last year.
By Ace June Rell S. Perez (with PR)
DAVAO'S information technology (IT) talents have proven anew their excellence as a Davao-made mobile game won multiple accolades in a recently-concluded GameOn's ICT Creatives Awards Night of the Game Developers Association of the Philippines (GDAP).
The mobile game, dubbed as Tamagogo, was developed by young developer and designer Resa Embutin, 22, and Kevyn Montana, 24, from renowned, homegrown technology firm, Ingenuity.
The developers received three awards for their Tamagogo mobile game from GDAP.
These are Best in Mobile/Handheld Games, Best in Game Art, and Best in Game Play.
GDAP has been recognizing game developers since 2011. The organization rewards student and studio developers.
Tamagogo is a casual stealth and strategy game with a one-touch control mechanism which makes it easier to navigate a simple plot: escape a terrain of moving hazards, including roving guards, while helping a monster (the game's hero) rescue and hatch its eggs. The app is available for download on iOS and Android.
Tamagogo took four months to develop and was created from scratch by Embutin and Montana. Embutin and Montana are both BS Information Technology graduates of the University of Mindanao and of the University of Immaculate Concepcion, respectively.
Tamagogo was intended to be a portfolio game, showcasing the team's skills, but it soared beyond its purpose.
"It is humbling to be acknowledged this way. We are fairly new to game development and we are excited and encouraged to explore more of what we can do," Montana said.
John Naranjo, CEO of Ingenuity, said the recent awards proved that the company produces nothing but innovation and quality.
"At Ingenuity, we recognize talented budding developers and enable them to explore their potential by giving them flexibility to tap into their imagination and develop new and innovative concepts. We provide them the platform to come up with solutions and products that entertain, educate, and inspire," Naranjo said.
Naranjo added that he believes in the role of young minds in shaping the future and molds Ingenuity to be the ideal venue for talent development in the technology sector. He is particularly keen on building local talents.
Ingenuity, founded in 2010, is a Davao-based software company that builds world-class applications across platforms, serving various industries.
The company is driven by making meaningful connections in the community and in the industry. Their growing suite of applications and products include Cloudsite (for enterprises), Insta! (for local restaurants), Hackademy (for the education sector and local community).
"We partner with startups, creative agencies, and corporations to create defining solutions--from mobile apps and games to enterprise software suites--that transform brands, grow businesses, and make people's lives better," Naranjo said.
By Ivy C. Tejano
DAVAO City is ready to welcome 2017 by gathering the most number of people who will be simultaneously blowing party horns in the 14th Davao Torotot Festival New Year's Eve Countdown that will be held at Rizal Park, Davao City.
Around 10,000 participants are expected to join the Torotot Festival organized by the Smart Communications and the Davao City Government, which will kick off with a parade from PLDT on Ponciano Street to People's Park then back to Rizal Park.
City Tourism Office head Gene Rose Tecson said the parade will start at 4 p.m. while the program will start at 6 p.m. Tecson added that this year's presenter is the Smart Communications while the city is in-charge of logistics.
Smart Communications regional head Arnold Dellosa said in an interview that this year's festival will still have contests on most creative torotot, torotot costume and torotot-inspired cost play where winners will take home P50,000 each.
"Expect the biggest and brightest torotot displays in different shapes, colors, and sizes, as the entries compete for the Most Creative Torotot, Most Creative Torotot Costume and Cost Play Torotot-Inspired Outfit, this year," Dellosa said.
There will also be a Hip-Hop Dance Contest where the winner will take home P50,000 cash prize from 8Telcom, the regional distributor of the Smart Communications.
The Zumba winner would also receive a P15,000 cash prize.
Aside from the competition, Dellosa said, they will have a balloon drop and these balloons contain gifts that will be received by the lucky winners. Smart will be giving out some 10 LTE cellular phones and 10 LTE pocket Wi-fis. "We will still have countdown. We also invited local disk jockeys to bring more entertainment to the participants of the Torotot Festival. For this year, we are focusing on talents from Davao, so full-blown Dabawenyo talaga (only)," he said.
Dellosa said they expect participants not only from Davao City but also from neighboring municipal cities and that Smart is doing its promotions for the Torotot Festival via Facebook and blogs.
"We would like to invite everyone to join the Torotot Festival as we would like to showcase how people in Davao City celebrate New Year with a cause [with] zero casualties. We can still celebrate New Year with bliss," Dellosa said.
Dellosa said the essence of the torotot festival is to support the advocacy of the City Government over zero casualties, no smoking and no firecracker/pyrotechnic.
Dellosa added that they will also distribute 1,000 torotots before 12 midnight.
Read more: http://www.sunstar.com.ph/davao/local-news/2016/12/23/10000-eyed-join-torotot-festival-516621 Follow us: @sunstaronline on Twitter | SunStar Philippines on Facebook
By Jennie P. Arado
THE International Youth Fellowship (IYF) World Camp will be held at the University Of Southeastern Philippines (Usep), Davao City for the first time early next year.
IYF Public Communications Relations Officer Cho Sung Hyuk said in Kapehan sa Dabaw presscon Monday that on February 9 to 12, 2017 IYF World Camp will be held in Davao City for the first time.
The said camp was first held in South Korea 15 years ago. The objective of the IYF World Camp is to globalize students and to bring them closer to their own culture and other nationalities' culture since participants would be meeting students from different countries as well.
The camp consists of different kinds of activities, each of which are focusing on the academic, sporty (mini-Olympics) and cultural needs of each student.
But the main highlight of the camp is the Mind Lecture, which is formulated primarily to mold the minds of the participants through a classroom-type discussion.
"We would like to raise leaders for our next generation through World Camp," Cho said.
IYF World Camp in Davao City will be a joint effort of Usep, Davao City Government and IYF.
This camp was first-handedly witnessed by Usep President Dr.
Lourdes Generalao when she was in South Korea and was impressed with how the camp was helping the youth participants. Since then, negotiations to bring IYF World Camp to the Davao commenced.
Some 4,000 delegates from Usep are expected to join the camp while 500 additional students will be endorsed by the Davao City Government.
Some 140 foreign delegates from different countries have already registered.
An estimate of 5,000 youth participants are joining the World Camp.
(PNA), LAP/LCM/ALEXANDER D. LOPEZ/LDP
DAVAO CITY, Dec. 21 (PNA) -- Durian growers in Davao City are gearing towards increasing their productivity as demand for processed durian in China is increasing.
Larry Miculob, chairperson of the Davao City Durian Council told reporters here on Wednesday that buyers in China are requiring 100 container vans of processed durian starting in 2017.
The high demand for durian, Miculob added, is the result of the reopening of the banana market in said country as President Rodrigo Duterte was able to rebuild the Philippines' good relationship with China.
He said that last year, the council was only able to ship four container vans of processed durian to China.
Miculob attributed the low durian export to the decrease of production this year due to the onslaught of El Niño phenomenon and the non-inclusion of durian as among the fruits for export to China and other countries in signed bilateral agreements.
Around 40 percent of durian productions in Davao City were destroyed by the long dry spell that affected most of agricultural lands in Mindanao from the last quarter of 2015 to early parts of this year.
On the problem of non-inclusion of durian, Miculob pointed out that only mango, banana, pineapple and papaya are included in the list of fruits that are for export to China.
He added that the council has already requested the Philexport to discuss with the Export Management Bureau of the Department of Trade and Industry (DTI) to include durian in the list of fruits for export to China.
"If durian will be included in the list of exportable fruits to China then we can directly ship our products to our buyers," Miculob stressed.
He said that the shipment of the four container vans of processed durian to China this year was coursed through other markets in Thailand because they cannot directly ship the same to their buyers.
"We are at the disadvantaged side on that situation because of the extra expenses that we incurred in the process of coursing our products to Thailand before reaching our buyers in China," he lamented.
Miculob also aired out the industry's need for more support from the government in order to improve their production to meet the increasing demand for durian in the international market.
"We requested the city agriculture office in Davao City to add 2,000 to 3,000 hectares of agricultural lands for durian plantation," he said.
The durian council, which has 18 registered members, covers only around 150 hectares of lands devoted to durian, with an estimated yearly production of eight tons per hectare.
Davao City has a total land area of 2,800 hectares planted to durian, Miculob added.
Volume in durian production starts in July until October while lean months run from February to April each year.
Another support the council asked from the government is the provision of processing facilities.
"We have an existing request at the DTI for bigger production facilities not only for durian but also to other fruits," Miculob said.
The high demand for processed durian in China will require huge processing facilities for growers as it will eat up around 60 percent of durian production in Davao City.
"If the delivery for China is materialized, only 40 percent of our durian production will be left for local consumption and market," he added.
Miculob also encouraged other durian growers in nearby provinces to increase their areas of durian production.
By Jennie P. Arado
EMPLOYMENT rate for Davao region hiked to 96.4 percent as of October this year, according to the data provided by the Philippine Statistics Authority. For the same period last year, it was at 94.5 percent.
Department of Labor and Employment (Dole) Assistant Regional Director Jason Balais said the job fairs that Dole had launched this year, including the Labor Day and the Independence Day job fairs, could have contributed to this increase.
This is aside from the increase in investment activities especially in real estate development and mall constructions.
President Rodrigo Duterte's visit to other countries is also fanning investor interests in the Philippines, most especially to Davao region, where the president resides.
For the agriculture sector, banana and other fruit orders for export had started to increase, which means additional manpower and hectares of land are needed. These all add up to an increase in job offers in the region.
On December 16, the minimum wage increase took effect.
For the non-agriculture sector, from P317, minimum wage was already increased to P340 inclusive of the P5 cost of living allowance (Cola). For the agriculture sector, minimum wage is P335 inclusive of the P5 Cola.
While for those retails and services establishments with less than 10 employees, minimum wage is P315 inclusive of the P5 Cola.
"I don't think the increase will discourage investors to come to Davao region. They will have to factor in the new minimum wage in their investments and we're confident that people will not shy away simply because we have increased our minimum wage," Balais said in an interview.
Last week, the Department of Science and Technology (DOST) held the Technology Transfer Day at the SMX Convention Center, SM Lanang. DOST-Davao Assistant Regional Director Elsie Mae Solidum said with this emergence of new technologies is the possible decrease in job availabilities for the beneficiary areas.
However, Balais is positive these new technologies will not affect or decrease the demand of agricultural manpower.
"The introduction of technology and automation will not affect the employment of people. In the banana industry, the ratio of our hectarage to workers is still the same. We still maintain that for every hectare, at least there would be one employee. That has not changed over the years in spite the introduction of several technologies in terms of harvest, in terms of planting," Balais said.
Also, after the president's directive, a variety of 63 establishments from Davao Region already volunteered to end the contractualization practice in their companies. A total of 7,728 workers from these establishments were already for regularization. These companies include banana plantations, retail establishments, resorts, and gasoline stations among others.
By Lilian C. Mellejor [(PNA), LAP/LCM/LDP]
DAVAO CITY, Dec. 19 (PNA) -- The National Irrigation Authority (NIA) is accelerating engineering design and the feasibility study for the government's irrigation program master plan particularly where the PHp42-billion package offered by China to the Philippines will be involved.
Newly-installed NIA Administrator Peter Laviña said the PHp42-billion China package will be used to fund six irrigation projects in support to the government's 10-year program aimed at achieving rice sufficiency in the country.
"We are currently preparing feasibility studies for the master plan. We aimed to reach 70 percent of irrigable land in the country," Laviña told reporters during Monday's "Kapehan sa Dabaw" forum at SM Davao Annex.
Laviña said NIA will be constructing more irrigation systems and projects to irrigate 43 percent of the 3.02 million hectares throughout the country. According to Laviña, only 1.7 million hectares are irrigated to date.
He stressed, however, the irrigation will also be utilized as hydro power source to energize rural areas, which are not yet connected to power supply.
"Our goal is to open up irrigation projects in 2017 with PHp12 to PHp14 billion per small irrigation project," he said. Laviña said this is aside from the six projects funded under the China package.
On no-fee irrigation, Laviña said there is already a PHp2-billion allocation to implement this in 2017. This was a promise made President Rodrigo Duterte during the election campaign. Mr. Duterte promised to give priority to agriculture and vowed to allocate more funds to the sector.
The President has earlier said that his administration would make irrigation services free for the farmers even as he promised to provide them with adequate farm facilities once elected into office.
Real economic growth, he explained, must start from the land as the country is mainly agricultural.
(Sun.Star Davao)
DAVAO City has another landmark with the unveiling of the Davao City National High School (DCNHS) monument at the junction of Tionko Avenue and F. Torres Street last Sunday.
An initiative of Batch 1991, to which Mindanao artist Rey Mudjahid "Kublai" Ponce Millan belongs to, the monument entitled "Ilaw ng Dabaw" shows students emerging from the pages of a book topped by a beacon of light.
The unveiling gathered 21 batch mates and was attended by DCNHS principal Wenefredo Cagape.
The monument is a donation by the artist himself with close friend Alex Montanez of APM Advertising pitching in for the lightings.
Since its opening, the area has attracted people who are taking pictures of the monument.
The 2016 City High Grand Alumni Homecoming will be held Sunday, December 18, at 4 p.m. at the DCNHS new gym.
By Ace June Rell S. Perez
MINDANAO will host three Brunei Darussalam, Indonesia, Philippines-East Asean Growth Area (Bimp-Eaga) events next year as the country will serve as the new chair of the economic sub-region.
The cities of Davao and General Santos are the areas identified where the international events will be staged.
In the recently-concluded 20th Bimp-Eaga Ministerial Meeting in Palawan, the ministers said in the joint statement that among these events include Bimp-Eaga Halal Congress on March 1 to 3 and the first Bimp-Eaga Technical and Vocational Education Forum on July 18 and 19 in Davao City.
The first Budayaw Festival, biennial event promoting diverse Bimp-Eaga culture and heritage, is eyed to be held on September 29 to October 4 in General Santos City.
Romeo Montenegro, assistant secretary and deputy director for investment promotion and public affairs of Mindanao Development Authority, said the year 2017 would also be the start of the implementation of Bimp-Eaga Vision (BEV) 2025.
Initially, during the endorsement of the BEV 2017-2025 roadmap, Montenegro said, they have identified $23 billion worth of priority infrastructure projects, most are poured in Mindanao.
The BEV 2025 was endorsed by the ministers during their ministerial meeting.
The joint statement said: "The BEV 2025 aims to deliver three main outcomes, namely, (1) competitive and green manufacturing, (2) sustainable, competitive and climate resilient agro-industry and fisheries and (3) sustainable tourism destination."
(PNA), LAP/LCM/DIGNA D. BANZON/LDP
DAVAO CITY (PNA) -- The Davao City Investment and Production Center (DCIPC) revealed it is now getting several queries from Chinese and Japanese investors on possible business opportunities here.
DCIPC head Lemuel Ortonio said the interest of the investors of these two countries especially China picked up after President Rodrigo Duterte's visit to China's capital Beijing last October.
He said most of those Chinese investors fielding queries at DCIPC readily mentioned President Duterte's visit to their country and where the President invited possible investors to Davao City.
Although nothing is final yet, Ortonio said these investors expressed their interest to locate in Davao City particularly on the services sector.
There is still a need to put up additional four-star hotels and convention center, according to Ortonio during Tuesday's Biz Forum at Dermpath, SM Davao.
Meanwhile, Ortonio also disclosed plans by some investors to set up light manufacturing for car parts assembly.
Most of the interested investors are taking advantage of the many opportunities in the city. Among these are on agri-business sector, tourism and recreational facilities, light manufacturing and assembly, property development, health and wellness, educational and sport facilities, environmental protection or green projects, information and communications technology with telecommunications - subsumed under ICT, generation of new sources of energy, transportation and infrastructure, and public-private partnership (PPP) projects.
Ortonio hopes to get these interested investors, noting that the city's investment climate has improved.
He reported that for the third quarter this year, about 39,887 new and renewed businesses were recorded compared to last year's total registered investments of 36,950.
By Yas D. Ocampo
Davao City – The City Council here has passed, on second reading, the local government's nearly P7-billion budget for 2017.
The city council is expected to pass the ordinance on third and final reading today.
The bulk of the appropriation will go to the General Fund worth P5.2 billion, which comprise 76.4 percent of the total budget.
The General Fund covers expenses for statutory and contractual obligations, personnel services, maintenance and other operating expenses, and capital outlays of the departments, offices, and units of the city government.
The city's Development Fund will account for 21.8 percent of the budget or around P1.5 billion.
This covers expenditures for infrastructure and non-infrastructure projects, including debt servicing.
The remaining P127.7 million, or 1.8 percent, will be for the city's economic enterprises.
Meanwhile, the offices of the city accountant and city budget officer have certified that the city will be expecting P46.5 million more from income from local sources as predicted surplus for the year.
The projected surplus is based on a projected increase in local collections.
Councilor Danilo Dayanghirang had earlier sought an increase of 10 percent in local collections from around 3.5 percent, based on a year-on-year comparison of 2015 and 2016.
However, City Administrator Zuleika Lopez said the city government would have to work on an increase of only five percent for now.
The increase in business permits and other income-generating programs is expected to offset the P6.9 billion budget by January.
For now, the surplus is an unappropriated amount that is yet to be collected.
Among the highest funded offices will be the City Mayor's, City Environment and Natural Resources Office (Cenro), City Council, and City Engineer's Office (CEO).
The City Mayor's Office will be receiving 38 percent of the budget under the General Fund, or around P1.9 billion.
The Cenro is slated to receive P458 million, and the City Council P450 million, while the CEO has been allotted P363 million.
By Ace June Rell S. Perez
THE Davao and General Santos to Bitung, Indonesia sea connectivity route is targeted to start before the launching of the Association of Southeast Asian Nations (Asean) Summit 2017 to be hosted by the Philippines next year.
Mindanao Development Authority (Minda) deputy executive director, assistant secretary Romeo Montenegro said the final identified roll-on-roll-off (Ro-Ro) shipping service which will serve the route is the Asian Marine Transport, a Philippine registered shipping firm and operator of the Super Shuttle Ferry, Super Shuttle Roro, and Shuttle Fast Ferry vessels.
"What is being prepared for now is the shipping firm is reviewing the load to determine the cargo volume (of both Mindanao and Indonesia) to make the shipping service viable," Montenegro said.
The shipping service is among the priorities of Brunei Darussalam-Indonesia-Malaysia-Philippines-East Asean Growth Area (BIMP-Eaga) which will further facilitate sub-regional trade, enhance people-to-people contacts as well as give the greater impetus to the multimodal transport connectivity of the sub-region.
Minda Secretary Datu Abul Khayr Alonto said earlier in a statement that the route is seen as one of the mechanisms that will strengthen sea trading within Eaga, which is part of their strategy to develop a virtual economic bridge for the sub-region's traders.
In the recently concluded 20th Ministerial Meeting in Puerto Princesa, Palawan, the sub-region's ministers said they are pleased with the steady progress for the establishment of "safe, efficient and reliable shipping routes in Davao-Gensan-Bitung."
Once realized, the route will enable traders from Mindanao to easily export goods and commodities like food and beverage, electronics and garments, beauty products, fertilizer, construction materials, agricultural inputs, tin cans and packaging materials up to North Sulawesi in Indonesia.
Last year, MV Beverly of PT Kanaka from Bitung and Platinum Shipping Lines of Cagayan de Oro were reported to serve the route but some challenges in securing permits were faced causing the project's delay.
"They faced challenges like getting permits, they need first to upgrade its permit to the international standards to serve the route," Montenegro said.
(PNA), LAP/LILIAN C. MELLEJOR/LDP
DAVAO CITY, Dec. 12 (PNA) -- Already in the Hall of Fame, Davao City once again bagged this year's Special Award for Excellence in Literacy, a recognition for its impressive record in providing quality education to the public.
The National Literacy Coordinating Council (NLCC) bestowed the award to Davao City despite being already elevated in the Hall of Fame in 2013 for effectively implemented literacy programs in 2008, 2010 and 2012.
Administrator Zuleika T. Lopez said the award is recognition of the city's efforts "in making sure that Dabawenyos are not only equipped with basic literacy and numeracy skills, but that there is an empowering environment that will allow them to learn."
Lopez said the award was the "cherry on top of the cake as it reinforces the Hall of Fame Award you bestowed on us in 2013 and it will strengthen our resolve to improve our current literacy effort for our people, especially as education is among the 10-point agenda of the City Government."
Chief Information Officer Jefry Tupas said Davao City is the only contender for the 2016 Special Award of Excellence in Literacy during an assessment of its programs by NLCC.
Tupas said the assessment included an examination of the continued implementation of the programs on literacy and their impact on the public.
In the assessment earlier this year, Tupas said, Sr. Roseanne Malilin, chair of NLCC Board of Judges, noted that the service excellence award is the topmost honor singly recommended for contenders who have been bestowed the Hall of Fame Award.
Tupas said Davao City is the only qualified city in the Philippines in the past 10 years. It has been implementing education programs in urban and rural communities -- benefiting lumads, Muslims, children, mothers, persons with disabilities, children of prostituted women, and the youth, Tupas added.
According to Tupas, the validated sites were the Samahan ng may Iba't-ibang Kakayahan sa Dabaw (Sakadab) in Los Amigos, Bahay Pag-asa, Children's Village Davao City, the Davao City Treatment and Rehabilitation Center for Drug Dependents (DCTRCDD) in Bago Oshiro, the Ray of Hope inside the Bureau of Jail Management and Penology compound, Public Security and Safety Command Center (PSSCC), Central 911, and the Davao Healthy Lifestyle Programs in Jacinto Street.
"We share this award with everyone who helped make this recognition possible -- the Barangay Literacy Coordinating Councils, the Department of Education Davao City Division, and all Davaoeños for inspiring us to always give our best," Lopez said.
By F. Pearl A. Gajunera
DAVAO CITY—The National Literacy Coordinating Council has bestowed the 2016 Special Award for Excellence in Literacy to Davao City after the local government successfully sustained its impressive record in providing quality education to the public.
City Administrator Zuleika T. Lopez received the award on Thursday in a ceremony in Quezon City attended by top education officials.
Lopez said the award recognized the city's efforts "in making sure that Dabawenyos are not only equipped with basic literacy and numeracy skills, but that there is an empowering environment that will allow them to learn."
As of last year, the city had a 99-percent literacy rate for children aged 10 years and above, said Loraida Fabro of the City Planning and Development Office.
Davao City received the Hall of Fame Award for its education programs in 2013, after dominating other local government units in the effective implementation of literacy programs in 2008, 2010 and 2012.
Lopez said the award was "the cherry on top of the cake, as it reinforces the Hall of Fame Award you bestowed on us in 2013 and it will strengthen our resolve to improve our current literacy effort for our people, especially as education is among the 10-point agenda of the City Government."
Davao City, the only contender for the 2016 Special Award of Excellence in Literacy, was assessed by NLCC earlier this year, including an examination of the continued application of the literacy programs and their impact on the public.
Sr. Roseanne Malilin, chairman of the NLCC Board of Judges, noted the service excellence award is the topmost honor "singly recommended for contenders who have been bestowed the Hall of Fame Award."
Davao City is the only qualified city in the Philippines in the past 10 years. It has been implementing education programs in urban and rural communities—benefiting lumad, Muslims, children, mothers, persons with disabilities, children of prostituted women, and the youth.
Validated sites were the Samahan ng may Iba't-ibang Kakayahan sa Dabaw (Sakadab) in Los Amigos, Bahay Pag-asa, Children's Village Davao City, the Davao City Treatment and Rehabilitation Center for Drug Dependents in Bago Oshiro, the Ray of Hope inside the Bureau of Jail Management and Penology compound, the Public Security and Safety Command Center, Central 911, and the
Davao Healthy Lifestyle Programs on Jacinto Street.
"We share this award with everyone who helped make this recognition possible—the Barangay Literacy Coordinating Councils, the Department of Education Davao City Division, and all Dabawenyos for inspiring us to always give our best," Lopez said.
(PNA), LAP/LCM/FUNNY PEARL A. GAJUNERA/LDP
DAVAO CITY (PNA) -- Davao City has joined Shanghai Declaration on promoting Health in 2030 Agenda for Sustainable Development, according to City Health Officer Josephine Villafuerte.
Villafuerte said Davao is the only city in Mindanao invited to join the Shanghai Declaration for healthy cities that will push the promotion of good governance for health in line with the Sustainable Development Goal (SDG) to which Philippines is a signatory.
Under the Shanghai Declaration on promoting Health in 2030 are five healthy cities, governance principles which are, to integrate health as a core consideration in all policies, to address all social, economic and environmental determinants of health, to promote strong community engagement, to reorient health and social services and to assess and monitor well-being, disease burden and health determinants.
Villafuerte, who was able to attend the Shanghai event last month, said the city pledged to strengthen the programs that promote health.
"Through this event, we agreed to commit to Shanghai's agenda to strengthen the health promotion in our city to ensure healthy lives of every Davaoeṅos," Villafuerte said.
The 10 priority health city action areas are: deliver the basic needs of all residents; to take measures on the climate change; deliver service to the children that leaves no child behind; to make an environment safe for women; improve health and quality of life of the poor; address discrimination against sick people; to make the city safe from infectious diseases; promote sustainable urban mobility; increase access to affordable and healthy foods; and, make a smoke free environment.
Among the 10 priority health city action areas, Davao City already has an existing ordinance to develop a clean and green city including the liquor and smoking ordinance.
The city also committed to consider the growing importance of traditional medicine, which could contribute to improve health outcomes, including those in the SDGs.
(PNA), FPV/SFM/RSM
MANILA, Dec. 9 (PNA) -- After meeting President Rodrigo Duterte in Malacanang Palace, US Ambassador to Manila Sung Kim on Friday said he is eager to visit Davao City, the hometown of the chief executive.
In a chance interview, Kim said he is now arranging his schedule to visit other tourist spots and most visited places in the country but he wants to prioritize Davao City.
"I am planning to visit Davao City by next week. I want to know more about the culture of Filipinos in this part of Mindanao," Kim said.
He recalled that the last time he visited the Philippines was 25 years ago, as he claimed that he is looking forward to revisit Davao City to see the progress in the President's hometown.
The Korean–born US Ambassador said he was given extra hour by President Duterte when he made a courtesy call and presented his credentials.
"It was terrific. The president was kind enough to give me a lot of time and we were able to cover a whole range of issues-- important issues regarding US-PHL partnership. I think it was a terrific start. I'm very much looking forward to work with President Duterte and his team to strengthen our special partnership," the chief US envoy in Manila stressed.
Asked how he gauged the Philippines-US relations, Kim said he had said many times that the relationship of the two nations is one of most enjoyed and most special.
"I'm deeply committed to do everything possible to make sure to strengthen all of the important aspects of this relationship. And there are many different dimensions of this of course, we have a rock solid alliance. Very strong economic engagement, long enforcement cooperation etc.," he explained.
He said that his plan and commitment is to make sure "to strengthen and deepen all aspects of our relationship."
"So, I'm sure you can expect that relationship will continue to grow," he pointed out.
When asked how he will strengthen the US-PHL relations under the Trump administration, Kim said he sees "US-PHL relationship is one of their most enduring because this relationship has enjoyed very strong support and strong commitment throughout the past 70 years of our alliance."
"I think there's a wide recognition in Washington that this is an important relationship that sends mutual interest, so I expect that with the new administration, we will see similar type of strong commitment to this relationship," he noted.
"I think it reflects the deep bond between the people of the two countries. There's a very close friendship, I mean four million Filipino Americans residing in the US, over quarter of million Americans residing here. So my impression in five days here is I'm very, very excited to be here," he pointed out.
Meantime, Kim said his dream as a diplomat is to be the first US Ambassador to Korea.
"... obviously for me to go back to Korea as the first Korean US Ambassdor. Korea is very special to me, but I have to confess, I am also super excited about being here, I have visited the Philippines many years ago, and I have been struck by the energy and the beauty of the Philippines and I want to come back. It took me 25 years, but I'm back and it's good to be back here," he concluded. << Back
(PNA), LAP/LILIAN C. MELLEJOR/LDP
DAVAO CITY, Dec. 8 (PNA) -- Davao City will host the two-day 4th Asian Freestyle Football Championship which kicks-off Friday at the SM Premier Fountain Court with about 31 delegates from 12 countries for the competition.
Jointly organized by Maharlika Sports Development Foundation and the Asia Freestyle Football Federation in partnership with the City Sports Division, Liga ng Barangay and the Department of Education (DeEd), the freestyle football event will be participated by delegates from Philippines, Indonesia, Malaysia, India, Vietnam, Thailand, China, Japan, Hong Kong, Brunei, Iran and Singapore.
The theme: "Isang Bola ka Lang" is inspired by the World Freestyle Football Federation (WFFF) brand - "All you Need is a Ball", said Edgar Te, executive director of the Maharlika Sports Development Foundation, Inc. Te said the aim of the event is to "create responsible sports development program for children."
Te said the qualifying rounds will start Friday, December 9, when they select 16 to qualify for the finals on December 10. The second day of the event will be graced by four members of the Azkals, the Philippine National Football team.
Te said this is the first time the country is hosting the freestyle football championship after this was brought first to Vietnam then to Kuala Lumpur and Indonesia.
In an interview, Nam Hoai Nguyen, secretary general of the Asian Freestyle Football Federation, said the federation aims to bring the freestyle football all over Asia. He said they wanted to impart education to Asian communities especially among the youth through tricks, music and dance with football.
He hoped the sports event will inspire the youth in Davao, noting that the freestyle football has continually gained popularity worldwide since early 1900s. In the early 21st century, Nike began an advertising campaign which relied heavily on the freestyle form of football,
Philip Warren Gertsson, a Filipino-Norwegian, said, "You are free what to do and what you want in freestyle football." Gertsson was supposed to play for Norway but at last minute wanted to represent the Philippines.
Gertsson aspires to get back the title which he said was taken from him during the championship event in Indonesia last year.
By Juliet C. Revita (JCR)
PROPERTY developer Megaworld Corporation, with its wholly-owned subsidiary Suntrust Properties, Inc., bared that they will build a world-class hospital in Davao City starting next year.
Gracing the groundbreaking of the Treatment and Rehabilitation Center for Drug Dependents (TRCDD) on Tuesday, December 6, in Malagos village, Calinan, Davao City, Megaworld executive director Kingson Sian told reporters that they are now boosting their investments in the city considering the booming economic activities.
"Suntrust and Megaworld are doing major projects here in Davao," Sian said.
One of their major investments is the building of a medical resort facility with 250 beds to be called Lanang Premier Doctors Hospital to be part in the first project of the company here which is the 11-hectare Davao Park District in Lanang.
"We are investing in Davao heavily," he said.
The business park, meanwhile, will house both residential spaces and offices. It will generate around 100,000 workforce to be employed in Davao City primarily in the business process outsourcing (BPO) sector.
"We're looking at additional projects but within that Davao Business Park," he said.
The Davao Business Park will be composed of both BPO offices as well as residential, retail facilities, and commercial areas.
The company has allocated P15 billion for the next five to seven years of building and developing the township project.
(PNA), LAP/LCM/DIGNA D. BANZON/LDP
DAVAO CITY, Dec. 6 (PNA) -- The firm Mega Harbour has assured the use of the latest technology for the PHP38-billion reclamation project in Davao City that will involve use of choice marine sands, clearing and filtration of silts to ensure stability of the sea bed.
In a statement Tuesday (December 6), Mega Harbour chairman Regis Romero II, said the use of marine sands, instead of filling materials from land, would prevent water displacement that could make sea level rise and cause floods.
The silts, which may contain mud and toxic chemicals from precipitated industrial wastes, will then be dumped into a pit especially built for this purpose and the site where the pit will be constructed will depend on the recommendation of the Department of Environment and Natural Resources (DENR), it said.
Mega Harbour is also conducting a vulnerability assessment of the critical infrastructure in the surrounding areas so as to make the project's holistic design adapt accordingly and effectively," he said.
He said they are set to start the project in the second half of 2017.
Mega Harbour is currently conducting all the environmental, geological and technical studies required to ensure public safety in every aspect and generate lasting benefits for the populace.
The Davao Coastline and Port Development Project, which is a joint venture between Davao City and Mega Harbour involving 200 hectares of offshore areas running parallel to the entire shoreline of Poblacion and Agdao districts.
Romero also boasts of the project's social component such as the provision of potable water and power supply, a quality road network, flood control system, sanitation facilities, a green and pollution-free environment and promotion of entrepreneurial activities for the affected coastal communities of Poblacion and Agdao districts with a total population of 3,500 households or around 20,000 individuals.
By Lovely A. Carrillo [(PNA), JMC/LCM/LAC/LDP]
DAVAO CITY, Dec. 5 (PNA) -- The city is being eyed as the new tourism and investment destination for Chinese nationals, with 20 bankers and their spouses from Beijing expected to visit for a four-day, three-night tour anytime soon.
"This is the first organized Beijing groups to come here. We hope to get the market as these are Chinese big spenders and not just ordinary tourists," said Alex Divinagracia, Vice President for Travels and Tours of the Davao Tourism Association (DATA).
Divinagracia said this is an offshoot of the previous sales missions made by former Tourism Assistant Secretary Arturo Boncato.
There is an influx of inbound travel to the Philippines and one of the cities benefiting from this is Davao, he added.
Jean Rose Tecson, City Tourism Officer, said there is also a group of tour operators from Xiamen who is now in the city from Dec. 3-7.
Meanwhile, a group of Chinese investors are set to visit Davao City next year to check out opportunities in infrastructure, real estate and tourism.
Earlier, Davao City Council Majority Floor Leader Bernard Al-ag said Chinese investors are also expected to visit the city next year to look for possible opportunities in real estate and other investments.
"We offered them the Three Ridges Integrated Area Development (TRIAD) area as this has been classified as a tourism development zone," he said. TRIAD includes Barangays Catigan, Eden and Tagurano in Toril.
The Department of Tourism in Davao Region (DOT-XI) is also eyeing regular flights between Davao and Xiamen this month. This is in addition to the regular Xiamen-Manila and Xiamen-Cebu flights.
It can be recalled that Xiamen Air brought some 80 Chinese businessmen and tourists to the city a few months ago to test the waters.
Tourism Assistant Secretary Eden David earlier said Davao is a viable market for Chinese tourists in the Visiting Friends and Relatives (VFR) tourist sector.
She added there are other feeder markets that go to Xiamen and a regular flight between Xiamen and Davao will help push the traffic between the said areas.
Jazmin Esguerra, previously the country's attache to China and now tourism consultant for the region, said it is possible to recapture the Chinese market now that a better relationship has been established after President Rodrigo Duterte's visit to China.
With the lifting of the travel advisory against the Philippines, Esguerra said the Philippines should try to get its share of the 120 million Chinese travelers (3015 travel data) with a total outbound expenditures amounting to USD194 billion.
Esguerra however said "we have to start again, more than 400 countries are promoting to the Chinese market so we have to start at the bottom again."
She said it is not too late for the country's tourism sector to lure the Chinese market but it will depend on the quality and quantity of promotions that will be done by the government.
"There are more than 620 million internet users and more than 80 percent mobile device users in China so social media has a huge impact in the decision-making process of the Chinese tourists in choosing their destinations," she said.
The top 10 outbound destination of Chinese tourists in 2014 are Hong Kong, Thailand, South Korea, Taiwan, Macao, Japan, Singapore, Malaysia, Indonesia and France.
"There's a problem in Thailand since they are in mourning and has limited tourism promotion and offerings and we should take advantage of this because we are nearer. They will come here for beach holidays, shopping and the Philippine Eagle Center because they do not have that," she said.
Esguerra, however, said the Philippines is more expensive than Bali in Indonesia and Thailand so we offer perks and improve our tourism products and experience.
This is a big challenge considering that the tourism budget has been reduced by 40 percent this year, she added.
Among the tourism products in the Davao Region which could lure the Chinese tourists are its natural environment including the beaches and the mountain resorts but the experience has to be enhanced by bringing in fresh fruits and vegetables to cater to health-conscious tourists as well as organic and grilled food.
By Ace June Rell S. Perez
THE Davao Tourism Association (Data), the oldest tourism-oriented group in Davao City in partnership with the Department of Tourism (DOT) and City Tourism Operations Office (CTOO) Thursday, December 1, launched the "Turismo Cafe", a regular press conference focused on issues, concerns, and updates on the current state of the tourism industry in the region.
Renato "Gatchi" Gatchalian, president of Data said Turismo Café, which will be staged twice a month, is initiated by the members of Data to keep the public aware of the tourism activities thereby boosting the industry.
During the launch, DOT regional director Roberto Alabado III and city tourism officer Generose Tecson were present.
"We are very glad that this initiative was strongly supported by DOT and CTOO," he said in an interview Thursday at the Marco Polo Hotel Davao.
The regular press conference will be organized in different venues around the city.
"We want our guests to tour around the city, a way of promoting our tourism-oriented establishments here," Gatchalian added.
During the launch, various tourism issues and concerns were tackled, including pushing for the city's heritage tourism, updates on the Little Tokyo project in Mintal, strict monitoring and regulation of accredited tour agencies, and come up with a tourism calendar of activities for the year.
(PNA), LAP/LCM/DIGNA D. BANZON/LDP
DAVAO CITY, Dec. 2 (PNA) -- The city government of Davao will increase its livelihood assistance to women victims of abuse and violence by their partners.
According to Davao City government head for Integrated Gender and Development Division (IGDD) Lorna Mandin, the assistance on livelihood in support to abused women is an important component of the Violence Against Women (VAW) campaign.
Otherwise, she said they are pushed back to the same relationship and get the chance of being victimized again.
She said sustaining their capacity on earning their income for a living is a must while they continue to strengthen advocacy campaign on VAW by going to the barangays including hard-to-reach areas.
She said women in remote areas must also know about this program to ensure of their rights as well as of their safety and protection.
She also noted that women in remote places are vulnerable and usually do not come out in the open because of fear.
"We have to go to the farthest barangays and conduct orientation on VAW," she said.
IGDD has also organized a legal team whose task is to handle the increasing incidence of violence against women.
Mandin said VAW incidences continue to increase from the 600 cases last year from January to June to about 900 cases during the same period this year.
She attributed the increase to the rising number of women reporting their cases.
(PNA), LAP/LILIAN C. MELLEJOR/LDP
DAVAO CITY, Dec. 1 (PNA) -- Labor Secretary Silvestre Bello III has announced the latest adjustment on minimum daily wage for workers in Davao region.
Bello said the wage increase is a result of the periodic assessment of the socioeconomic condition survey conducted by the Regional Tripartite Wages and Productivity Board (RTWPB) -11.
RTWPB-11 on Thursday announced that the approved new minimum wage rate is PHp340 for non-agriculture/industrial/commercial and retail service employing more than 10 workers. This is inclusive of the PHp5.00 Cost of Living Allowance (COLA).
At present, the minimum wage for this sector is PHp317.
The workers in the Agriculture sector will receive PHP335.00 inclusive of COLA while those in the Retail/Service employing not more than 10 workers receive PHp310 inclusive of COLA.
RTWPB, however, said the PHp5.00 COLA granted under Wage Order No. RB XI-18 as indicated in the above wage rates will be integrated in the basic wage on May 1, 2017.
The RTWPB said it has not granted any exemption in the compliance of the wage order.
However, RTWPB said that in case of a calamity, the Board may accept applications for exemption for establishments adversely affected by calamities such as natural and/or human-induced disasters subject to the NWPC Guidelines No. 02, series of 2007 as amended by NWPC Resolution No. 01, series of 2014.
Meanwhile, on the demand for an across-the-board wage increase, Bello said it is only made through Congress.