Davao City News April 2014
Jump to navigation
Jump to search
A | B | C | D | E | F | G | H | I | J | K | L | M | N | O | P | Q | R | S | T | U | V | W | X | Y | Z
Create Name's page
Regions | Philippine Provinces | Philippine Cities | Municipalities | Barangays | High School Reunions
---
Davao City - Archived News
---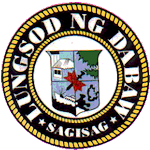 The Seal of Davao City
Interactive Google Satellite Map of Davao City, Philippines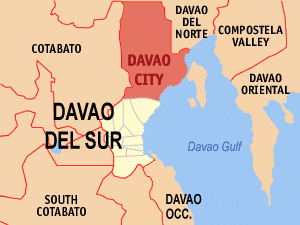 Davao City Map Locator

Map of Davao City

Davao City Hall
300px
Davao City Montage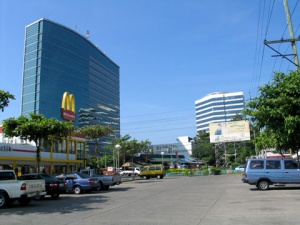 Davao City Aerial View

Entrance to Davao City

Nat'l Hwy Through Davao City

Davao City Victoria Mall

Old Davao City Airport

Current Davao City Airport

Mangrove forests are critical for the stability of coastal areas and the sustainability of fish and marine resources which provide food and livelihood to people in more than 800 coastal towns in the Philippines. USAID, through the Philippine Environmental Governance Project, assisted the local government (Davao City) in establishing, through a local ordinance, the mangrove area as a marine protected area.

USAID, through the Philippine Environmental Governance Project, assisted the local government (Davao City) in establishing, through a local ordinance, the mangrove area as a marine protected area. A crucial part in effective coastal resources management is law enforcement with Bantay Dagat teams playing a crucial role by safeguarding local waters. In Davao City Philippines, Bantay Dagat members protect mangrove areas from illegal cutting, thus conserving areas for fisheries and marine biodiversity habitats.
Airsoft matches slated for May
(MDC)
SOME 15 teams all over Mindanao will participate in the airsoft fun match organized by the Airsoft Warfare Operatives Legion (AWOL) team on May 4, 2014 at the SM City Davao, Parking C3.
Bambi Posadas of AWOL said Monday during the Kapehan sa Dabaw at SM City Davao Annex that the slated event aims to revive airsoft in the city.
"The previous gun bans in the city somehow affected the sport. We are conducting this event to bring back the appreciation of airsoft enthusiasts into the sport." Posadas said.
He said that each team shall be composed of 10 members to play in a close quarter battle game site with obstacles and battle rooms, "The fun games to be conducted are also part of our game site re-launching."
He said that the whole area will be secured with nets to make it safe for the spectators.
He added that the site is open for walk-in persons, free of charge who would want to experience airsoft.
An airsoft orientation will be conducted for those who would want to play the sport plus airsoft guns will be provided so that everybody could enjoy.
TNT-SBP U-18 3X3 Davao leg kicks-off on May 8–9
(PNA), LAM/LCM/LTREYES/LDP
DAVAO CITY, April 29 (PNA) -- The Talk N' Text-Samahang Basketbol ng Pilipinas (TNT-SBP) Under-18 3x3 "Tatluhan" will hold its Davao regional eliminations on May 8 and 9 at the Davao City Recreation Center (DCRC), known as the Almendras Gym.
According to Regino "Boy" Cua, SBP region XI director, the tournament is open for competing teams representing schools, barangays, clubs, civic organizations, non-government organizations or commercial entities.
Players born January 1, 1996 onward are eligible to play, he said.
"Only four players will be allowed to play per team. Registration is pegged at P100 per player," Cua said.
The champion team for the Davao regional elimination, organized by Duterte Basketball League (DBL), will earn the right to represent Davao region to the national finals slated May 24–25 in Manila.
Registration is now ongoing at the City Sports Office inside the DCRC Almendras Gym compound while at the Gaisano Skygym starts on April 23. Deadline of submission is on May 6.
The two-day event is one of the sporting activities in this year's Davao Summer Sports for Peace Festival.
Cua added three other regional qualifying legs will also be held in Mindanao in the cities of Cagayan de Oro, Zamboanga, and General Santos City.
MinDA, DOE spearhead improvement of power situation in Mindanao
By Venus L. Garcia (VLG/PIA-Caraga)
DAVAO CITY, Apr. 28 (PIA) – The Mindanao Power Monitoring Committee chaired and co-chaired by Mindanao Development Authority (MinDA) and Department of Energy (DOE), respectively is putting forth all its efforts in improving the power situation in Mindanao.
MinDA Asst. Sec. Romeo Montenegro III revealed in his lecture here during the second day of the 9th Mindanao Media Summit on Impact of Climate Change in Mindanao that a serious power deficit persists, supply is currently unable to meet demand as the 200MW STEAG coal-fired power plant is currently on force outage and the major hydro power plants are running on limited capacity due to low water elevation brought about by the dry summer months, and there is a need to address surging energy consumption growth brought about by the rapid growth of Mindanao and the substantial losses due to system loss.
He said that the situation is expected to improve only until 2015 when committed projects come on stream.
The current supply deficiency has resulted in rotating outages across Mindanao, however some areas are able to mitigate the impact of the supply deficiency due to additional power supply coming from embedded generators.
Potential renewable energy projects are considered wherein biomass and hydropower sites in Mindanao were identified.
Also, Asec Montenegro enumerated the status of committed power plants: the ongoing construction of Tudaya 1 Hydroelectric Power Plant and Tudaya 2 Hydroelectric Power Plant in Sta. Cruz, Davao del Sur; completed construction and ongoing engine assembly of 15 MW MEGC Diesel Power Plant in Mapalad, Dalipuga, Iligan City; ongoing construction of the powerhouse and coal dome of 2 x 150 MW Coal?fired Therma South Energy Project in Brgy Binugao Toril Davao City and Brgy. Inawayan, Sta. Cruz, Davao Del Sur; ongoing construction of foundation of power house and water treatment building of 2 X 100 MW Southern Mindanao Coal Fired Power Station in Brgy. Kamanga, Maasim, Sarangani; and conduct of geo surveying on the site of 3 x 135 MW FDC Utilities – Misamis Coal?fired Power Plant in Misamis Oriental.
Montenegro said that certain measures are being pursued to bridge the power supply gap.
Mindanao solon proposes disaster-proof houses
By Sammy F. Martin [(PNA), CTB/SFM]
MANILA, Apr. 27 (PNA) -- Davao City Congressman Karlo Alexei Nograles on Sunday urged the government to build communities that are disaster-resilient by constructing houses that are not only strong against extreme weather conditions but are modular and highly portable.
Nograles said the technology is readily available and is now being piloted in the town of Tanauan in Northern Leyte through Veerhuis Bowsystemen B.V., a Dutch firm which developed state-of-the-art proprietary technology for the manufacture of steel framed, permanent and prefabricated housing.
The company also makes durable steel-framed tents to serve as temporary shelters for those displaced by natural disasters.
The Mindanao solon said that just recently, he and Veerhuis Bowsystemen B.V. Representative Bernhard Hildesheim turned over 17 steel-framed tents and 1 permanent housing unit costing P6.112 Million for some of the displaced families in Brgy. Sta. Cruz, Tanauan, Leyte and he saw its potential in the government's ongoing rehabilitation effort in areas devastated by typhoon Yolanda (International name Haiyan).
He said that the Veerhuis Bowsystemen B.V. steel-framedhousing units can be used in the government's relocation program for the tens of thousands of families in Eastern Visayas who were displaced by typhoon Yolanda.
"I think that if we use their technology, we can build houses more rapidly with the least amount of money, and without sacrificing quality. We need to start building communities that are disaster-resilient, and I believe modular but sturdy housing unit is the best way to go," Nograles said.
For his part, Hildesheim said that Veerhuis Bowsystemen B.V. has been involved in various reconstruction and rehabilitation efforts in other countries that had their share of man-made and natural disasters, such as Haiti which was devastated by a massive earthquake.
"When I heard of the epic destruction caused by Yolanda, I realized that the products produced by my company could help at least some residents by accelerating their journey on the path to recovery," Hildesheim said.
"This donation might also represent an opportunity to demonstrate the advantages of our technology, the use of which allows us to construct a house within three days," he added.
The Veerhuis process relies on the construction of small, in site factories, operated entirely by community residents, to produce "housing kits," which are then assembled on individual plots. The houses are anchored by steel cables to concrete platforms and can withstand, without damage, up to Category II typhoons.
"Our approach relies solely on community-based labor. The operation and output of a single factory can generate up to 1,300 full-time jobs, including those responsible for manufacturing the housing kits and those who erect the houses from the kits," Hildesheim said.
Davao City gov't gears up for international trade fair and business gab
(MinDa/PIA-Caraga)
DAVAO CITY, April 26 (PIA) -- The city government of Davao has declared October 20-26, 2014 a celebration week for BIMP-EAGA and IMT-GT as it plays host to an international trade fair and business leaders conference to be held at SM Lanang Premier's SMX Convention Center.
Dubbed as the 2nd BIMP-EAGA and IMT-GT Trade Fair and Business Leaders' Conference, the event expects to draw around 800 business leaders, government officials, traders, and potential investors from across five countries within ASEAN. More than 200 international exhibitors are also expected to participate in the trade fair.
BIMP-EAGA stands for Brunei Darussalam Indonesia Malaysia the Philippines East ASEAN Growth Area, while the IMT-GT stands for Indonesia Malaysia Thailand Growth Triangle. Both sub-regional groupings are among the most dynamic economic cooperation in ASEAN.
"The City of Davao welcomes this event as an opportunity, not only for Davaoeños, but also for residents and entrepreneurs in other cities and municipalities in Mindanao, to effectively promote investments and generate trade in their respective jurisdiction," Mayor Rodrigo Duterte said in Proclamation No. 3, signed on April 8, 2014.
The city government also issued an executive order creating the BIMP-EAGA and IMT-GT Committee to serve as the main collaborating arm of the city with the other local and national agencies involved in the preparation for the event.
Overall preparations are spearheaded by the Mindanao Development Authority (MinDA), the Philippine Coordinating Office for BIMP-EAGA.
At the city-led committee meeting held this week, MinDA Executive Director Janet Lopoz encouraged Davao City and Mindanao-based entrepreneurs to participate in the said international event, which provides strategic opportunities for trade and investments.
"Beyond mere showcase of unique products and investment opportunities from across the five countries, this international trade fair and conference will also benchmark on the our preparedness for the ASEAN economic integration by 2015," she said.
The weeklong event is also a commemorative celebration of BIMP-EAGA's 20th this year. BIMP-EAGA was launched in 1994 in Davao City as a key strategy to accelerate social and economic development of less developed areas in participating countries.
Other activities featured during the weeklong celebration also include East ASEAN Film Festival, ASEAN Street Food Festival, Information Communication and Technology (ICT) Summit and Innovation Expo, Importers/Exporters Forum and a Golf Tournament.
Pope John Paul II relics on display
With a report from Ben O. Tesiorna (Solar News)
Davao City – In time for his canonization this Sunday, April 27, relics of Pope John Paul II are on display at the John Paul II College here since April 20 and until mid of next month. The "Totus Tuus Tour," a Latin phrase that means totally yours, will display Pope John Paul II's personal items such as books, clothes, robe, part of his cassock, and other memorabilia. Aside from the John Paul II College of Davao, other areas where the other relics are being displayed are: April 1: Radio Veritas Chapel, West Avenue corner EDSA, Quezon City April 27 to May 18: BL, John Paul II Parish (and Eastwood City Mall), Eastwood City, Bagumbayan, Quezon City May 9 to 12: St. Joseph Parish, Upper Bicutan, Taguig City May 13 to 16: Holy Cross Parish, Matingain, Lemery, Batangas May 17 to 18: (Birthday of St. John Paul II) Holy Family Parish, Kamias, Quezon City May 23 to 25: Immaculate Conception Parish, GSIS Village, Project 8, Quezon City May 26 to 29: Santa Maria dela Cabeza Mission Station, Barangay Mangoso, Sigma, Capiz May 31 to June 1: St. Paul of the Cross Parish, Concepcion Dos, Marikina City. Other relics of Pope John Paul II that are on display are his hair, bones, and blood remains. Fifty replicas of the Pope's skullcap, purificator, chasuble, and a stole that he used during the beatification of Lorenzo Ruiz in Manila in 1981 will also be exhibited. The two sets of relics came all the way from Rome and Poland. Pope John Paul II, the longest serving pope, will be canonized on April 27 along with Pope John XXIII known as the "Good Pope."
Google business group to launch GDays Davao
(PNA), LAM/LCM/JGQUIROS/LDP
DAVAO CITY, April 24 (PNA) -- Google Business Group Davao (GBG Davao) will launch its first GDays Davao and GBG Women on May 10 at Cap Auditorium, this city.
The program is aimed at educating people on how to use Google technologies as aid in the practice of profession or businesses.
Angel Abella of GBG-Davao said that GDays is a community-organized conference that will feature multiple tracks for businesses, marketers, publishers and content owners by accessing information through Google.
The conference also tends to help Davao community to help spur information and business growth thru digital strategy with tools like Google Apps, Adwords, Adsense, Youtube, Google+ and Analytics, Abella said.
The GBG Women program also aims to increase women participation in GBG communities on entrepreneurship opportunities through digital technology.
DSWD reviews Kalahi-CIDSS Project for VisMin clusters
(PNA), FPV/LCM/ CARMELA C. DURON/LDP
DAVAO CITY, April 23 (PNA)-- The Department of Social Welfare and Development (DSWD) 11 hosted the 1st quarter Kalahi-CIDSS Project Review and Evaluation Workshop (PREW) for Visayas and Mindanao clusters with Regional Director Priscilla Razon welcoming participants at Eden Nature Park and Resort.
The workshop also sets planning for the next quarter's Kalahi-CIDSS program. As DSWD also embraces new responsibilities and advances into NCDDP or the National Community-Driven Development Program, the participants were given an overview about the new endeavor.
During the workshop, the participants went into technical sessions in which issues and concerns of different regions were tackled.
Moreover, Grassroots Participatory Budgeting (GPB) was discussed. Participants were directed to encourage community participation by eliciting genuine involvement of various sectors at the local government level.
Duterte assures the resettlement of Badjaos in Isla Verde
By Joey Sem G. Dalumpines (PIA 11)
DAVAO CITY, April 22 (PIA) Mayor Rodrigo Duterte assured that Badjao dwellers of Isla Verde razed in a fire incident in April 4, can return to the area and rebuild houses on a temporary basis.
He told reporters that bringing them to a relocation site in Barangay Los Amigos is no longer an option since majority of the affected dwellers belongs to the Badjao tribe which needs to live near the sea.
"Going to Los Amigos is unrealistic since no one will transfer there," Duterte said.
He told the Task Force Isla Verde rehabilitation to share a portion of the razed area for the Badjaos.
Duterte said the affected area must be fenced for security reasons.
"Let me stressed that it is temporary, as in temporary, not permanent, they can stay there," he said.
Duterte said he will confer with the Sangguniang Panglungsod on either material or financial assistance that the city government can give more to the affected families.
He ascertained that the affected families need help.
The five-hour fire incident dubbed as one of the biggest fire that hit the city razed more or less one thousand houses and displaced 3,700 families.
No one was killed in the incident.
1st WOMB Open Golf tourney April 26-27
(PNA), FPV/LCM/LOLITO T. DELOS REYES/LDP
DAVAO CITY, April 21 (PNA)-- The first Women of Matina Beauties (WOMB) Open Golf tournament is slated on April 26 and 27 at the Davao City Golf Club.
Prizes at stake for two hole-in-one winners. Raffle prizes will also be given to lucky participants.
"We have two brand new Kawasaki motorcycles courtesy of Emcor," said Dr. Josephine Vergara, president of the organizing WOMB at the SCOOP Session held at The Royal Mandaya Hotel.
Registration fee is Php 1,500 inclusive of a dinner and raffle during the awarding night on April 27. The proceeds of the two-day event will go to the Lambag Foundation.
WOMB, composed of the lady golfers of DCGC, is organized by Evelyn Quinsay, Stella Barnes, Sally Antivo, Rose Sara, Virgie Hermiston, Winnie Dixon and JM Balbuena.
The event is also supported by Henry Ngo, Col. Sammy Afdal, Pearl Farm Beach Resort, J Bridge International, Stella Barnes, Peter Deloria and First Line Print.
Tim Tebow's charity hospital in Davao seen to open in 7 months
By Ayan Mellejor (Inquirer Mindanao)
DAVAO CITY, Philippines — A state-of-the-art $3.5-million charity hospital for physically disabled children, which is being funded in part by Philippine-born American football superstar Tim Tebow, is now near completion and is expected to operate before the year ends.
The 17-bed capacity Tebow Cure Hospital in Barangay (village) Lanang here is now 97 percent complete, according to Leron Lehman, the hospital's executive director.
Lehman said workers have been rushing to put finishing touches on the facility such as the installation of tiles and pipes, even as hospital officials have been completing the requirements for final licensing from the Department of Health (DoH).
He told reporters here on Wednesday that the recruitment of about 45 to 50 staff, including expatriates that would handle surgical jobs, has been ongoing.
The hospital was designed to have a 30-bed capacity but initially, only 17 beds would be commissioned.
Lehman said the facility would accept children with such conditions as clubfoot, bowed legs, cleft lip/palate, untreated burns, or hydrocephalus and other physical birth defects.
"We are six or seven months away to the opening," he said.
The project, which features a six-story building, started in June 2012 and is 70 percent funded by Tebow's foundation.
The former New York Jets quarterback, who also occasionally plays for the Greater Boston-based New England Patriots, has decided to build the hospital here, in partnership with the Pennsylvania-based Cure International.
"There are a lot of disabled children here in Mindanao and there are a bunch of reasons why their families do not seek medical help…they are poor and cannot afford surgery or transportation. But, you know healing changes everything," he said.
Tebow is the son of an American missionary-couple, which spent years in the Philippines to spread the Gospel. He was in fact born in Makati.
The hospital, Cure's first in Southeast Asia, will have an operating suite and sterilization facilities; private clinics and outpatient area including laboratory, radiology and physical therapy, charity beds and private or semi-private rooms, Timmy's playroom, charity clinic, Spiritual ministry and training activities, according to Lehman.
While the hospital would be 100 percent charity, Lehman said the hospital would provide good opportunities for private practice later.
"But we do not intend for low cost private practice provider. Private practice should not overshadow our charity work," he said, noting that one of the 24 orthopedic surgeons in Davao City with a 30-year practice has already offered 'charity time' in the hospital.
Lehman said Tim Tebow and Cure International have chosen Davao as location for this hospital because needed drugs and other supplies could be easily secured; the city has trained staff; and they could fulfill their mission here despite some challenges.
Lehman also highlighted the commitment of Mayor Rodrigo Duterte in terms of facilitating the needs of the project.
The hospital's annual budget could reach to half million dollars, said Lehman
DOT optimistic over Davao City's hosting of 2015 APEC meeting
(PNA), JBP/LILIAN C. MELLEJOR/LDP
DAVAO CITY, April 19 (PNA) -- Department of Tourism (DOT) Assistant Secretary Arturo Boncato expressed optimism on Davao City's possible hosting of one of the ministerial meetings of the Asia-Pacific Economic Cooperation (APEC) Summit in the Philippines next year.
Boncato expressed no doubt on the city's readiness in terms of security, facilities, credibility and willingness of the private sector in supporting the event.
"Of course, the final decision is with the organizing committee. There is no official announcement yet. But, the city is ready for any kind of meetings," he said.
According to Boncato, the DOT is hopeful that Davao City will be recognized as one of the host cities of the APEC meetings in 2015.
Last year, the APEC organizing committee shortlisted Davao City along with Metro Manila, Cebu, Bacolod, Boracay, Tagaytay, Clark, Subic, Iloilo and Bacolod, to host one of the APEC's senior official meetings and ministerial meetings.
APEC has 21 member economies with a primary goal of supporting sustainable economic growth and prosperity in the Asia-Pacific region. Its mission is to build a dynamic and harmonious Asia-Pacific community by championing free and open trade and investment, promoting and accelerating regional economic integration, encouraging economic and technical cooperation, enhancing human security, and facilitating a favorable and sustainable business environment.
Mayor Rodrigo Duterte, although he was keen to host one meeting, reportedly expressed reservations of holding one meeting in his city, particularly on concerns of security and financial aspect.
Marco Polo – A Hotel in Davao City Really Worth Going To
By Angeline Rodriguez
As if heading to Davao City on the Cebu Pacific Air Wi-Fi-full flight and staying at Banana Beach Tagum for a few nights wasn't enough of a treat, I was also able to experience a peaceful stay at Marco Polo when I went to Davao City last month.
After my insane, activity-filled Tagum days, Marco Polo was exactly what I needed. Although located right in the middle of Davao City, being inside Marco Polo gave me a sense of serenity the minute I walked in. I was also in a bit of a culture shock. After the beach-y vibe of Banana Beach Tagum and the activities that I went through there, seeing such a clean and elegant place took me for a loop – in a good way. It was exactly what I needed to get proper work done and to just relax after having exhausted myself in Tagum.
The minute I saw the room I was going to stay in, I knew it was exactly what I needed. It was simple. It was clean. And it was professional-looking. I felt like a businesswoman on an important business trip (say that in Barney Stinson's voice). And, most importantly, the beds were extremely soft and comfy. Every single night I was there, I never wanted to get up out of bed. If I didn't have a bladder, I probably would've stayed in bed all day every day, to be honest.
Speaking of bladders, I'm pretty sure everyone will agree with me when I say that cleanliness is the most important thing that comes with a hotel bathroom. Well, Marco Polo definitely did not disappoint. They also provide anything you could possibly need in excess, which is a good thing, so you don't have to constantly call room service for more towels/soap/shampoo/bath gel/toilet paper, etc.
While staying in Marco Polo in itself already made me feel safe, in general, it is nice to know that they go the extra mile by providing safes for all of their clients to store their expensive belongings in, too. Better safe than sorry, after all!
For coffee addicts like me, Marco Polo has everything covered, as well. A well-stocked coffee-making area ensures that you can get your coffee fix any time of day.
Since I am also a workaholic, having this pretty executive desk to work at everyday made my stay even better. Not only was it ultra comfy, but it also inspired me to get out of bed and actually get a lot of work done while resting and relaxing at the same time. Did I mention that their Wi-Fi in the rooms are really fast? Coz they are! Win-win-win all the way!
Bookworms can also enjoy this cozy lil nook. (I eventually moved this chair to the executive desk coz it was just so darn comfy!) As you can see, there really is no need to leave the hotel room anymore once you reach Marco Polo because everything that you could possibly need can be found in your room alone. (The mini bar is well-stocked, too!)
Aside from all of the things mentioned above, all rooms at Marco Polo also have IDD telephones with voice mail facilities, fax modem ports, and LCD TVs with cable.
Marco Polo has room types for various price ranges from comfy Superior Rooms to luxurious Continental Club rooms to opulent Presidential Suites.
Unfortunately, staying in your room and being a bum can only get you so far. To avoid going crazy (and getting fat), you will have to venture out every once in a while to maintain your sanity. Fortunately, even if you are completely convinced that you don't want to leave the hotel in order to enjoy the utmost relaxation, there are some other awesome areas at Marco Polo that you can also enjoy without leaving the premises.
Their gym area in itself is perfect to burn some fat, regardless of what kind of workouts you may be interested in.
Marco Polo's fitness centre is full of strength training and cardiovascular equipment that are sure to keep your heart rate and endorphins going. I was told that the kinesis equipment pictured above isn't easy to find at other hotel gyms.
The gym doesn't get crowded, either, and all of the equipment is clean and well taken care of. Besides, even if a lot of people do go, there is a lot of equipment to go around anyway.
They even have a separate aerobics room for your usage.
The highlight of my stay at Marco Polo was definitely their breakfast buffet at Cafe Marco, though. Not exaggerating or anything: Marco Polo has the best breakfast buffet I ever had anywhere in my life. This is probably why the Boys Night Out boys love it so much! This is also why my morning plate always looked like this:
It is very rare to find breakfast buffets that serve all sorts of different kinds of food, where every single kind of food tastes FABULOUS. you know what I mean, right? Some breakfast buffets serve great sushi, for example, but are a bit lacking in the bread department and vice versa. At Marco Polo, however, every single kind of food was DELICIOUS. And they changed up the food every day, too, so you won't get sick of it if you eat there in the mornings over and over again.
Also, since their breakfast buffet was always so filling, I actually skipped lunch every single day that I stayed there. :p
Marco Polo also has an area called the Continental Club, which offers the ultimate in personalized luxury service for leisure travellers and business executives. The Club has a butler service, business facilities and a lavishly outfitted private lounge with complimentary breakfast, afternoon tea and cocktails.
Guests at the Continental Club may also use the Boardroom with full meet facilities free of charge. They even have a Library with newspapers, magazines and reference books for guests to use as they please.
For even further rest and relaxation, you can head to Marco Polo's Lazuli Spa. I fell in love with Lazuli Spa at first sight. From the decor to the friendliness of the staff, everything was just perfect. Check out a complete list of their treatments at http://www.lazulispa.com
I loved the vibe of Lazuli overall. They have foot massages, single rooms and double rooms and a Honeymoon Suite. Every room comes with an individual portable media player with a list of music that you can choose from, as well as a choice of color lighting and scents, so you can get a personalized soothing experience all the way through.
Naturally, Marco Polo has a swimming pool, as well. Perfect for both professional swimmers and just-for-fun swimmers, Marco Polo's outdoor lap pool keeps things simple and fuss-free, completing their wide range of facilities at the hotel.
So, whether you are in Davao City for a short time or a long while, stay at Marco Polo. Not only will you get to relax and enjoy the utmost comfort and relaxation; you will also get to get some work done and work out to ensure the utmost productivity at the same time. Also: you'll get to taste the best breakfast buffet ever!!! :p
Davao rapid chess open tournament to kick-off on May 3
(PNA), LAM/LCM/LTREYES/LDP
DAVAO CITY, April 17 (PNA) -- The third Engr. Allan Diez Rapid Chess Open tournament is set on May 3 and 4 at the second floor of the NCCC Mall here."This is open to all rapid chess players," said tournament arbiter Sammuel Yu at the SCOOP Session of The Royal Mandaya Hotel, this city.The champion will earn P4,000 cash prize; the second placer will get P2,000; and, third place will get P1,000. The fourth and fifth placers will each pocket P750. A special award of P500 each will be given to the best players in the Kiddies (14 years old and below), Juniors (20 years old & below) and top female performer.Registration fee is P200 only. The event is supported by the National Chess Federation of the Phils. (NCFP) Region 11 under regional director James Infiesto.
Davao cacao farmers upgrade bean drying process
By Carmencita A. Carillo
DAVAO CITY -- Cacao farmers in this city are cashing in on fermented dried cacao beans, whose price is about one-third more than that of beans dried traditionally.
Eduardo de Vera of Balingaeng Multipurpose Cooperative, a local group of cacao growers, said they used to sell unfermented dried beans at P90 per kilogram, until they saw that fermented beans went for P120/kg.
Fermented dried cacao beans have better quality than the traditionally dried since the fermentation bring out the best and aromatic flavor of cacao, Mr. De Vera said.
The regional office of the Department of Agriculture (DA) turned over, last February, eight sets of cacao post-harvest facilities and equipment worth P2.239 million. CacaoNet, a federation of farmers' cooperatives in the region, received the equipment. These include fermenting equipment and dryers to assist the farmers in their expansion project.
Musa Sajid, president of CacaoNet and chairman of the Tamayong Tausog Multi-Purpose Cooperative here, said the quality of cacao beans will depend on how the beans are dried.
"With the tunnel-type solar dryer, it will be easier for us to dry our cacao beans, even during the rainy season resulting to less bean rejection," Mr. Sajid said.
DA's High Value Crops Development Program has also provided the cooperative with a storage building for the farmers.
Davao City Mayor Rodrigo R. Duterte has also encouraged farmers to cash in on the opportunities offered by cacao in the domestic and world market, and has ordered the City Agriculturist's Office to provide more cacao planting materials and training for cacao farmers.
DA data showed that cacao production in the Davao Region increased 2% to 3,844.3 metric tons last year from 3,762.89 MT in 2012.
Remelyn R. Recoter, DA regional director, said the region's cacao industry has been enjoying a continuing growth in the past years.
The DA in the region has earmarked P14 million to ensure the continuous growth of the region's cacao industry. The fund will be used for to buy seedlings, machines and other planting equipment; to establish post-harvest facilities and for marketing assistance.
Two-day eco fair to mark Earth Day in Davao City
(PNA), LAP/LCM/DIGNA D. BANZON/LDP
DAVAO CITY, April 15 (PNA) –- Davao City will mark Earth Day with a two-day Eco Fair at SM City Ecoland on April 21 to 23 aimed at encouraging the public to further respect, protect and care for the environment under the theme: "Earth Day is Everyday, Everywhere for Everyone".
Consultant of PCEEM (People Collaborating for Environmental and Economic Management) Juvy Castro said the event is also set to convene advocates from different institutions here in advocating care for Mother Earth.
"We encourage these groups to register during this activity," she said, adding that groups have been invited to work with PCEEM for a long range of advocacy in making Davao City as the most environment friendly city not only in the region but the whole of the country and Asia.
"The challenge is big but, a continuing advocacy could open up the interest of everyone and the public to support this undertaking," Castro said.
She also said that all these efforts are geared towards supporting the objective for ASEAN integration and the need to be competitive.
Ann Rubio, a PCEEM consultant, said, "we encourage everyone to join as we network with all environment enthusiasts".
"We link with everyone from local government units to national agencies, the private offices and the public," she said.
Aside from the exhibits, Rubio said there will be a series of sessions including a tropic on Organic Agriculture and Climate Change with Reynaldo Gil C. Lomarda, president of Greenminds; lectures on Toxic Waste and Chemical Safety Ecowaste Collation; and, Prospects and Challenges of Industry in the Midst of Climate Change by Dairy Best Davao.
The Bureau of Fisheries and Aquatic Resources (BFAR) in Region XI will facilitate lecture on Fish Culture of Hito and Tilapia; Water Sanitation Facilities: Bio Sand Filter and Bio Gas Digester by the Department of Agrarian Reform (DAR) XI; while the Vermi Culture and Rapid Composting will be facilitated by the Department of Agriculture (DA XI).
There will also be side events such as the waster market fair at the Parking Area of the Mall; a Zero Waste Workshop for children and Creative Writing Contest.
Philippines to host largest sub-regional trade fair and business gab
(PNA), LAM/JS/PR/UTB
DAVAO CITY, April 14 (PNA) -- The Philippines will host this year's largest sub-regional trade fair and business conference that will gather the top business leaders and traders from two economic sub-regional groupings within the Association of South East Asian Nations (ASEAN).
Business players from Brunei Darussalam, Indonesia, Malaysia, the Philippines, and Thailand will converge here from October 23 to 26 for the 2nd BIMP-EAGA and IMT-GT Trade Fair and Business Leaders' Conference 2014, an international event designed to attract foreign investments and promote regional cooperation within Asia and the Pacific region.
BIMP-EAGA stands for Brunei Darussalam Indonesia Malaysia the Philippines East ASEAN Growth Area, while the IMT-GT stands for Indonesia Malaysia Thailand Growth Triangle.
"While both growth triangles have their respective road maps, this convergence will enhance our competitiveness by turning the sub-region into a single investment area and production network, thereby accelerating economic growth in Southeast Asia," said Luwalhati Antonino, Chair of the Mindanao Development Authority (MinDA), the Philippine Coordinating Office for BIMP-EAGA.
The international fair and business conference, which will be held at the SM Lanang Premier's SMX Convention Center will feature a series of sub-events designed to strengthen economic, social, and cultural relations in preparation for the ASEAN integration in 2015.
Antonino explained that the trade fair and business conference are follow through events to the 1st BIMP-EAGA and IMT-GT Consumer Fair and Business Transformation Leaders Conference held in Melaka, Malaysia in December of 2012, where the Philippines expressed its commitment to sustain the convergence by hosting this year's fair and conference.
Key exporters and producers in the ASEAN region will conduct sharing of strategies during the Business Leaders' Conference, and will discuss the potential impact of the ASEAN integration on SMEs and on their participation in the supply chain.
Also on the agenda are Climate Change Adaptation and the alignment of the four pillars of BIMP-EAGA, namely connectivity, food basket, tourism, and environment. Investment programs within the Mindanao Development Corridors, the island-region's spatial development framework, will also be presented.
The trade fair, which will be dovetailed by the Business Leaders' Conference will showcase the finest and unique products of participating countries as well as current developments in the services sector, technology innovations, and investment opportunities. Business-matching sessions will be conducted simultaneously with the trade fair and the business conference.
"This year's trade fair will also bring together key business players from other ASEAN countries. We aim to highlight market and investment opportunities for globally competitive products, as well as strategies to escalate private sector participation in integration initiatives of the two growth triangles into the ASEAN market," said Antonino.
She added that the four-day activity is also a commemorative celebration of BIMP-EAGA's 20th this year. BIMP-EAGA was launched in 1994 in Davao City as a key strategy to accelerate social and economic development of less developed areas in participating countries.
IMT-GT was formed in 1993 with similar goals of promoting trade, investment, and tourism in less-developed states and provinces in Sumatra, Indonesia, Peninsular Malaysia, and Southern Thailand. Both sub-regional groups aim to harness private sector leadership in initiatives to promote cross-border investments and improve connectivity.
Dabawenyo dragon boat paddler to compete in world championship (Sports)
By Lolito T. delos Reyes [(PNA), CTB/LTDR/LDP]
DAVAO CITY, April 13 (PNA) -- A dragon boat paddler from Davao City will be seeing action in the 2014 Club Crew World Championship set in Ravenna, Italy on September 4-7.
Jerson Ray Royana, a member of the Dragon Warriors Dubai, is coming home to Davao this month to also join the 1st Davao Dragon Boat Festival slated on May 1-4 at the Baywalk, Queensland in Times Beach, this city.
Royana wants to paddle for the newly-formed Hiraya Minokawa Dabaw, the first dragon boat club formed in Davao City last April 9.
Royana, however, will still first join the Dragon Warriors Dubai team in the RAK Dragon Boat Festival at the Ras Al Kaima, UAE on April 25-26 before he will fly to Davao.
"Bale yan ang preparation din naming for the Club Crew World championship," Royana said in a long distance interview Saturday evening by the Philippines News Agency.
Before Royana went to Dubai to work for a fitness gym, he was a be-medalled kayaker, adventure racer and Frisbee player.
"Pero iba ang dragon boat sa kayak. Madalas akong mapagalitan sa simula ng aming coach during the training," he said.
Royana hopes that the dragon boats will already arrived earlier in Davao City so that the local teams can already prepare and use it.
In his first dragon boat competition, Royana's team finished second in the 200 meters and third in the 500 meters during the Shangri-la Dragon Boat Festival held October 11-12, 2013.
They finally won the 200m and 2-kilometer race in the Abu Dhabi Sailing and Yacht Club (ADSYC) Regatta held December 14, 2013.
Last February 28, Royana's team ruled the 1-km race but placed third in the 3-km event of the Eastern Mangrooves Regatta held at the Moror, Abu Dbabi.
Royana is hoping that he will be able to share also his experience to the Davao paddlers upon his arrival.
3,000 Davao fire victims given food packs
(PNA), CTB/LOLITO T. DELOS REYES/LDP
DAVAO CITY, April 12 (PNA) -- The 1BAP (Banat and Ahapo) Party List together with the Alpha Phi Omega (APO) International Fraternity distributed food packs last Friday to the more than 3,000 victims of a recent fire in this city.
Eva Silaran-Collado, district head of 1BAP in Mindanao, led the distribution of the food packs donated by 1BAP Party List representative Silvestre "Bebot" Bello and Vice President Jejomar Binay.
"Vice President Binay, being our fraternal brother in APO, also gave his contribution for the relief goods to the fire victims," she said.
The food packs were distributed to the victims who are temporarily sheltered at the different public schools and covered basketball courts.
It was followed by a porridge feeding on Saturday morning at Barangays 23 and 22 covered courts conducted by the officers and members of the APO Southern Mindanao Region led by Regional Administrative Director Roger Pialago and the APO Disaster Response Team, which is also headed by Collado.
Former Paglat Mayor Al Langkuno of Maguindanao, also donated P5,000 cash during the feeding activity. Langkuno, an alumni of Alpha Lambda also helped distribute the lugaw with his daughter and fellow APO member Raiza Langkuno of Beta Phi.
Also present were past APO Section 2 Chair Eden Ascaño, Barangay 22 Captain Eduardo Millondaga, Barangay 23 Captain Wateng Uzman, Barangay Council of Women president Ruth Asio and City Health Officer Lucila Capute.
"We will again distribute more relief goods soon," Collado said.
Barangays 22 and 23 have been already declared in state of calamity by the city government.
1st Ciudades Bike Fest slated for May
By Merle Dawn S. Comidoy
THE 1st Ciudades Bike Festival Fun Ride 2014 gets underway on May 25, 2014 from 7 a.m. at Magsaysay Park to Ciudades, Mandug.
Organizer Ferdie James Nervida of Davao XC-Mumhu Riders said in yesterday's Davao Sportswriters Association (DSA) Forum at NCCC Mall Davao, B3 Center Lanes that this will be the biggest bike gathering of Davao City for this year.
"When we were planning for the event, we thought of conducting a bike festival that would allow cyclists all over Mindanao to participate," Nervida said.
He said that young cyclists, BMX riders and the like are invited to join the 15-20 kilometers open bike tournament.
"Family games will also be done in the event such as pump track challenge, log pull challenge and chainless race," he said.
Winners of the competition will receive cash prizes. A cash prize of P4,000 will be received by the champion while the next two spots take home P3,000 and P2,000, respectively.
Special awards will be given to the youngest biker, oldest biker and biggest delegation.
All interested cyclists just have to pay a registration of P350 inclusive of jersey, lunch, raffle ticket and one day unlimited use of the bike park during the event day.
Ciudades El Centro Park of the Lapanday Properties Philippines Incorporated is open to all individuals who would love to experience various sports activities. Entrance fee is pegged at P30 (Monday to Thursday) or P50 (Friday to Sunday).
DTI XI assists, facilitates biz matching of 4 Mindanao hot chili producers to foreign, local markets
(PNA), FPV/JENNY GRACE M. MENDOZA/LDP
DAVAO CITY, April 10 (PBA) -- The Department of Trade and Industry (DTI) in Davao Region assisted and facilitated four Mindanao hot chili enterprises in business matching with foreign and local markets.
DTI XI Officer-in-charge Belenda Q. Ambi said based on the Hot Chili Project Update issued by DTI-Davao as of March 2014, the four hot chili enterprises are Subangon Dumang Makers, Ayana's Kinamayoin Davao Oriental; M.A.M.A. Chili Trees Farmers Association and Food Processors Association of Taytayan in Misamis Oriental.
DTI facilitated a buyers meeting between Subangon Dumang Makers based in Davao Oriental and Singaporean buyer MD Aahraf Rahiman of Halal Food Trader in Davao City on September 10, 2013.
Subangon Dumang Makers will be supplying hot chili powder (dumang), hot chili in dried whole form, and hot chili flakes form.
On the other hand, Ambi said Ayana's Kinamayo, also in Davao Oriental was linked to three buyers. One is an entrepreneur based in Davao City and the other two based in Manila.
The buyers in Davao will be working on the distribution of chili sauce in Davao City and Indonesia.
Meanwhile, she said the M.A.M.A. Chili Trees Farmers Association has been linked with Kablon Farms of Tupi, South Cotabato, where its demand for chili stands at 500 kilograms per week.
The association will also tap the farmers of Caaatihan and Simulao, Boston, Davao Oriental for fresh chili supply. It is also currently discussing for a possible partnership with a buyer in the city who has markets in Indonesia for chili paste and dried chili.
Ambi said DTI XI is also working on a business matching between Food Processors Association of Taytayan and the potential local buyers.
In fact, she said DTI XI also conducted initial negotiations with NCCC Mall in Davao City and Gaisano Mall of Tagum City in Davao del Norte.
The association also linked itself with hot chili farmers of Barangay Simulao, Boston, Davao Oriental for the supply of chili.
The hot chili project is the livelihood initiative of the agency to assist typhoon Pablo victims, she added.
Davao City allots P45M for fire survivors
By Ben O. Tesiorna
Davao City - The Davao City Council declared on Tuesday (April 9) two of three coastal barangays under state of calamity in the aftermath of fire that swept through them last Friday (April 4). The council also allocated P45 million to aid thousands who survived the fire.
At the same time, the Council declared two of the three barangays under a state of calamity after the huge six-hour fire destroyed 2,235 houses and damaged 44 others, causing damage worth more than P155 million.
The areas now under state of calamity are Barangays 22-C and 23-C, having the most number of affected families, at 3,547, according to data provided by the City Social Services and Development Office (CSSDO). Of this number, 3,024 families are in Barangay 23-C, while the 523 families are in Barangay 22-C.
Barangay 21-C was not declared as under state of calamity since the area damaged by fire was not as big as in the other two barangays.
The P45-million aid will be taken from the quick response fund, a portion of the city's entire calamity fund.
The CSSDO will distribute the money as follows:
P10,000 each to 2,279 house owners
P5,000 each to 883 renters and 228 boarders
P2,000 each to 145 sharers and 12 caretakers
The fire victims are sheltered in three evacuation centers.
Meanwhile, Mayor Rodrigo Duterte signed Executive Order No. 18 creating Task Force Isla Verde aimed at restoring order to the area.
The task force chairman is Duterte himself, with retired Gen. Francisco Villaroman as his vice chairman.
So far, the task force has fenced off the affected areas so that the delineation of spaces for roads, drainage, and buffer zones could start.
Proposal raising monthly income of senior citizens gains support
(PNA), LAM/AMAJERO/LDP
DAVAO CITY, April 8 (PNA) -- A measure seeking to double the monthly income of senior citizens from P500 to P1,000 gained support from members of the House of Representatives.
Although there is a big drop in percentage of senior citizen lawmakers which is now dominated by young and debonair solons, they too support the measure.
Among those who pledge support in passing the bill were young neophytes who personally approach the author asking him to be co-sponsors. They said they have high respect to senior citizens, as they admitted that they too wanted to reach the bonus life.
In his House Bill 3731, Davao del Norte Rep. Anthony del Rosario seeks to lower the age of coverage from the present 77 years old to 70 years old.
Del Rosario said the present age requirement is no longer reasonable considering today's average lifespan of senior citizens that is shorter compared to the past decades.
"The coverage should be lowered so that our elderly will be able to avail of the benefits longer into their twilight years," Del Rosario said in his explanatory note.
The measure amends Republic Act 7432, as amended, otherwise known as the Expanded Senior Citizens Act of 2010.
"The time is ripe to re-visit the provisions embodied in the existing law and uphold the time-honored principle that those who have less in life should have more in law," Del Rosario stressed.
"It cannot be denied that over the years the prices of commodities have increased and by increasing the senior citizens' purchasing power, this bill hopes to alleviate the situations of our indigent elderly," Del Rosario said.
The Mindanao lawmaker also cited Article XV, Section 4 of the 1987 Constitution, which states that the family has the duty to care for its elderly members but the State may also do so through just programs of social security.
"The principles enshrined in the Constitution do not only serve to protect the less privileged and the most vulnerable sectors in our society such as the elderly but also affirm their important role in the community as partners in nation-building," Del Rosario explained.
City to host nat'l bowling tourney for second year in a row
(MDC)
DAVAO CITY Government will host the 37th Federation of Duckpin Bowlers of the Philippines (FEDBOP) Annual Grand National Convention and Bowling Championship Tournament for the second consecutive year on May 5 to 10 at Dover Mega Lanes.
In a text message sent to Sun.Star Davao, Fedbop's Emie Orteza said that the event is part of the Davao City Summer Sports Festival under the Comprehensive Sports Development Program or Duterte Game Plan.
Orteza said that this is the first time in years that a record number of bowling teams will participate in the tournament.
"This will be open to all duckpin bowlers in the country having lifted all the restrictions imposed on players who have played previously on Philippine Duckpin Bowling Council (PDBC) sanctioned tournament," he said.
He said that the tournament will give more emphasis to the youth. "There will be different age categories: 7-9, 10-12, 13-14, 15-16 and 17-18 for both boys and girls."
A total of over P500,000 in cash prizes, trophies and medals are at stake in the event hosted by the Davao City Bowlers Association headed by Jerson Tamayo in cooperation with the City Government of Davao through the Sports Development Division of the City Mayor's Office.
Davao runners top 12-km obstacle trail run
(PNA), FPV/LOLITO T. DELOS REYES/LDP
DAVAO CITY, April 6 (PNA) – Davao runners Jobert Carolino and Criselyn Jaro ruled the challenging 12-kilometer obstacle trail run in the Ciudades Tierra Series held Saturday at the Ciudades race track in Barangay Mandug, this city.
Carolino clocked 48 minutes and 11 seconds to win the men's division. Michael Barosa (48:50) finished second followed by Elsie Echalico (50:13).
Jaro, on the other hand, had a time of 58:58 to beat her own elder sister Cynthia (1:00:43) in the distaff side.
Vetean Mona Lisa Ambasa settled for third place at 1:02:37.
The runners had to go through various obstacles that made the experience even more fun, dynamic and exciting. There was the Mud Pit, Anarchy Wall and the Race Wall situated in strategic areas of the race.
"There were also markers, water breaks and Marshals that were positioned in every phase so that the runners were adequately hydrated and never lost," said race director Gado Pelingo.
Michael Constantino clocked 23:59 to win the men's 6K. Mark Anthony Rance (24:25) and Dominador Garcia (24:50) placed second and third, respectively.
Ruffa Sorongon (27:50) won the women's 6K followed by Cellie Rose Jaro (29:02) and Cecelie Jaro (31:28) in that order.
Dymie Rose Jaro (16:28) completed it a family affair by winning the women's 3K. Second was Jonalyn Durado (16:59) followed by Luzviminda Nutal (18:50).
Ronald Dagaang (12:53) topped the men's 3K followed by Axilwills Licong (13:36) and Raymond Inodio-an (14:01).
Cash prizes and gift items were awarded to the winners. Personalities from the media and blind runner Aga Casidsid also joined the race supported by Columbia Sportswear, Mountain Hardwear, Summit drinking water and Skyflakes.
PBCom looking at Mindanao growth areas
(PNA), CTB/LOVELY A. CARILLO/LDP
DAVAO CITY, April 5 (PNA) -- The Philippine Bank of Communications (PBCom) is eyeing several growth areas in Mindanao for its expansion.
"We are supportive of new businesses so if we find new growth areas even in Mindanao whether or not we already have a branch there then we will make our presence felt," Wilbert T. Lim, Head of PBCom for Visayas and Mindanao said in an interview.
Lim said they are looking at putting up branches in Butuan since it is a good growth area. Among the factors that will determine the choice of an area for the setting up of a PBCom Branch are liquidity and money flow in the area and the existence of new businesses that need financial support.
PBCom is one of the country's oldest banks, starting service in 1939 at the heart of Juan Luna Street in Binondo, the Wall Street of the Philippines at that time. It came under full Filipino ownership in 1974 and is now celebrating its 75th year.
With a new management team headed by Nina Aguas as president and CEO, PBCom started to reinvent itself by launching the new Oriental Dragon as its new logo. It has also rebranded the bank by changing its colors and refurbishing all branches nationwide.
"But more than the physical changes we have also integrated to a totally new core banking platform known as T24 or Temenus which has allowed us to expand to other products and services," Lim said.
Temenus is the world's leading banking software vendor that provides cost-effective banking software systems for over 1,500 banks and Financial Institutions in over 120 countries.
PBCom has 67 branches all over the country including 10 branches in Mindanao specifically in Davao City with three branches; Tagum, General Santos City, Koronadal, Zamboanga with two each, and Cagayan de Oro City and Iligan. Among the newest branches are in Sta. Rosa, Cebu, Baguio, The Fort in Manila and one in Makati Place.
Among PBCom's primary products are deposits and savings but with the new banking system, it plans to provide online transactions for its clients including debit payments and online payments. In Mindanao, up to 80 percent of PBCom's loans portfolio consists of personal accounts with up to P1 million in loanable amount. Loans by Small and Medium Enterprises with a loanable amount of up to P150 million constitute 10-15 percent while Enterprie and Commercial Loans with up to P800 million in loans constitute a small percentage.
Lim said PBCom has opened more business centers and ATMs in key cities in the country that promise upgraded customer service.
He said the company experienced 70 percent growth in company profit in the first three quarters of 2013. It aims to allocate more resources to further its expansion plans in 2014, with investments being made in new technology, increasing their branch network, and leveraging human capital.
Productivity-based incentive scheme to benefit workers, mgt. in banana industry
(PIA/RG ALAMA)
DAVAO CITY- Banana industry workers and management will stand to benefit from the productivity-based incentive scheme adapted by the Regional Tripartite Wages and Productivity Board (RTWPB).
The Voluntary Productivity-based Incentive Scheme otherwise known as Second-Tier Pay aims to provide the banana enterprise on a range of productivity incentives which is over and above the mandatory minimum wage (first tier) which the banana workers is receiving.
The productivity incentive scheme aims to guide enterprises on a range of productivity incentives, which may be the basis for employer initiatives and enterprise negotiations.
Advisory No. RB XI-01 recommends that enterprises may start with a 1% increase in productivity-based incentives considering that there has been a 0.80% average increase in demand for Cavendish bananas for the past five years, plus prospects of new markets for banana exports based upon data from the Department of Agriculture.
"It would mean additional benefits and income aside from the minimum wage the worker is receiving." Joffrey Suyao, Department of Labor and Employment- XI Regional Director said.
Suyao said the advisory is voluntary and on the enterprise level noting that many large banana companies already have existing productivity schemes.
Virginia Camus, labor representative in the RTWPB-XI said that the productivity-based incentive scheme will not just benefit banana workers receiving minimum wage but also would positively impact workers receiving over the minimum wage and also those receiving below minimum wages.
She also said that the scheme will encourage workers to participate in company productivity programs, the scheme will also benefit enterprises as it will be a performance based incentive which will push the productivity of the workers.
"It will also be advantageous to the management because it will enhance productivity, it will give workers the incentive to work more." Rulfo Asis, management representative said.
"It is an eloquent proof that your board is working hard. We studied carefull the guidelines and it was immediately approved in Manila." Atty. Bienvenido Cariaga, management representative said.
The National Wages and Productivity Commission (NWPC) commended the advisory of RTWPB-XI for it being compliant to NWPC guidelines on having a specific pilot industry for the scheme.
Suyao said there were two or three regions that have submitted earlier than RTWPB but they were for generic industries when under the NWPC guidelines it must be tested in a specific industry and with its success can be replicated.
Tourism stakeholders promote 'One Summerfun, One Davao'
(PNA), FPV/DIGNA D. BANZON/LDP
DAVAO CITY, April 3 (PNA) -- The different stakeholders in Davao Region are one in promoting this year's summer activities dubbed as "One Summerfun, One Davao."
One Davao Tourism Officers Association (ODTOA) president Noel Daquioag said it has been their goal to support each other as they market the different destinations in their respective areas.
"New destinations continue to be uncovered in the different places of the Davao Region," he also said.
A unified promotion of these places will entice tourists to visit the different destinations of the region and creating events will also give them a unique experience," he said.
Acting head of the Department of Tourism (DOT) in Region XI Eden Larano said the different local government units come together to complement each other in the promotion of their destinations.
"Because it is summer, most of the events are sports related activities from beach volleyball, mountain climbing, swimming and others," she said.
Digos City tourism head Bebot Felera said they have every summer "Mt. Apo Summer Climb" from April 12 to 20, 2014,that is held in time of the Holy Week. Among others, the participants will be issued a Certificate of Climb. The climb carries a registration fee of P720 for local climber, P432 for student and P1,080 for foreigners.
Meanwhile, Davao del Norte for this summer will have the "Lingaw Sa Tag Araw Summer Workshops" that include workshops on visual art, brass band, dancesport, theater arts, hip-hop dance.
The other event is the Grand Sta. Cruzan which is spearheaded by the Tagum City Tourism Council and the Diocese of Tagum. It is a religious-historical celebration held in small Christian communities Gagmayng Kristohanong Katilingban (GKK) in a presentation in the most colorful May-time festivity which depicts Catholic tradition of procession or parade of Biblical characters and the traditional presentation of the sagala (a religion-historical beauty pageant).
The City of Mati in Davao Oriental has organized "Mati SummerFrolic 2014", an electronic music festival of colors in Barangay Dahican.
Provincial tourism head of Davao Oriental Miguel Troccio said together with this event is the 10th year anniversary celebration of the Amihan sa Dahican surfers which will highlight the Dahican Strip.
Included during the holding of Summerfrolic are beach volleyball, beach frisbee, foam party and the feast on waves of surfing and skim competition.
In Compostela Valley, tourism officer Christine Dumpar said they are also into promoting their pilgrimage site where for this Summer they are encouraging tourists to help in the actual building of houses in Maragusan town where an area there is also badly hit by typhoon Pablo.
Participants, she said will be ushered to a side trip to the different destinations there from mountain climbing and trekking towards the waterfalls and the chance to see the largest flower in the world, Rafflesia, that can only be found in the forests of Maragusan.
She said there are also sports activities in beaches of beach volleyball, duathlon, frisbee, wake-boarding.
Davao City tourism head Lisette Marquez said there will be lined up sports activities even as she said that they will be inviting professional basketball players for this summer's sports event in the city.
Marquez said during summer there is always an increase in arrivals, the city being the island's major destination in the south.
She said fun activities are held and these are done in coordination with the private sector.
Major malls here continue to provide events be it in entertainment or organized activities for the youth and the children, she added.
Davao's health centers get P80M from DOH
(Mindanews), LGI/ASA/DDB/LDP
DAVAO CITY (MindaNews / 2 April) – Fourteen of the city's sixteen district health centers will get P80-million worth of upgrades to improve their primary health care packages courtesy of the Department of Health.
Councilor Mary Joselle Villafuerte, chair of the city council's committee on health, said that the upgrades will be completed this year.
The grant from DOH, she said, would cover for the expansion of buildings as well as the purchase of equipment, such as the districts' birthing facilities.
Once finished, the upgrades would allow the district centers to be accredited by the Philippine Health Insurance Corporation (PhilHealth) in providing primary health packages, especially for maternal health care and other outpatient services.
But Villafuerte said the committee would be preparing the documents to get PhilHealth accreditation even before the improvements are finished.
"This means that patients from the barangays don't have to avail of the city's Lingap program at the Southern Philippines Medical Center to get health care," she said.
Villafuerte said the PhilHealth accreditation would also help the city's district centers generate income, with more patients accessing their services instead of going to the SPMC.
Those who would benefit are PhilHealth accredited patients as well as those identified by the DOH's Pangkalahatang Kalusugan (Universal Healthcare) program.
The upgrades in the district health centers would be a small but significant step to help those who are in need of primary health care, Villafuerte said.
The DOH program would rely on data from the Department of Social Welfare and Development (DSWD) on identifying the beneficiaries.
According to DSWD's Margie Cabido, planning and monitoring officer, the city has 19,877 households who have been identified as beneficiaries of the program as of March 7.
Marilog district has the highest number of beneficiaries at 1,442.
DOST allots P31-M for RxBox
(PNA), LGI/ASA/DDB/LDP
DAVAO CITY, April 1 (PNA) -- In support to the government's Universal Health Care, the Department of Science and Technology (DOST), in partnership with the Philippine Council for Health Research and Development (PCHRD), has developed a program using "RxBox" that will run for two and a half years with a funding cost of P31 million.
Dr. Kristine Mae P. Magtubo, program manager of RxBox-Telehealth Program, National Telehealth Center, UP Manila, said RxBox is a biomedical telemedicine device designed to provide better access to life-saving health care services in isolated and disadvantaged communities nationwide.
Magtubo said the project is one of DOST's efforts for a "Smarter Philippines" which is an ICT innovation designed to support the call for "Kalusugang Pangkalahatan" under the Aquino administration.
The device can capture medical signals with its built-in sensors (i.e blood pressure monitor, pulse oxymeter, EOG, fetal heart monitor and maternal tocometer), save the data in an electronic medical record (CHITS - CommunityHealth Information Tracking System).
As this was being developed, she said the information gathered thru the device is transmitted via internet to clinical specialists at the Philippine General Hospital (PGH) as part of the National Telehealth Service Program (NTSP).
"This makes health care cost-efficient as it reduces unnecessary travels and hospitalizations of patients through smarter diagnosis," she said.
The RxBox is currently deployed in 21 sites in the Philippines including two sites in Misamis Occidental and one in Bukidnon.
She said about a hundred sites will be covered by the program under the initial funding, but continues research and development is still being done.
"With this program, health services will now be improved," she said.
Citing some data, she said 60 percent of Filipinos die without seeing a doctor. Other factors include the lack of medicines and other life-saving technology and also the maldistribution of health workers.
She said geographic isolation is also another factor as commercialized medicine are expensive and out of reach of the poor Filipinos.
Magtubo said that with these deficiencies, Filipinos need to maximize established benefits of information and communication technology in health care as this will enable communications and connects patients, health technology and health providers.
She said there are 94 million Filipinos today and for every 100 persons, there are 113 mobile phones being used and 3.5 out of 10 have internet access that can be used for healthcare services.