Davao City News
Jump to navigation
Jump to search
A | B | C | D | E | F | G | H | I | J | K | L | M | N | O | P | Q | R | S | T | U | V | W | X | Y | Z
Create Name's page
Regions | Philippine Provinces | Philippine Cities | Municipalities | Barangays | High School Reunions
---
---
---
Davao City - Archived News
---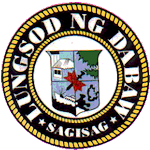 The Seal of Davao City
Interactive Google Satellite Map of Davao City, Philippines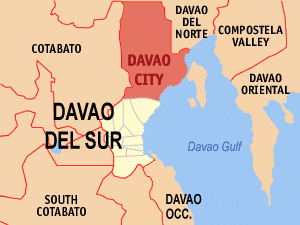 Davao City Map Locator

Map of Davao City

Davao City Hall
300px
Davao City Montage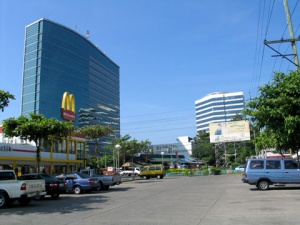 Davao City Aerial View

Entrance to Davao City

Nat'l Hwy Through Davao City

Davao City Victoria Mall

Old Davao City Airport

Current Davao City Airport

Mangrove forests are critical for the stability of coastal areas and the sustainability of fish and marine resources which provide food and livelihood to people in more than 800 coastal towns in the Philippines. USAID, through the Philippine Environmental Governance Project, assisted the local government (Davao City) in establishing, through a local ordinance, the mangrove area as a marine protected area.

USAID, through the Philippine Environmental Governance Project, assisted the local government (Davao City) in establishing, through a local ordinance, the mangrove area as a marine protected area. A crucial part in effective coastal resources management is law enforcement with Bantay Dagat teams playing a crucial role by safeguarding local waters. In Davao City Philippines, Bantay Dagat members protect mangrove areas from illegal cutting, thus conserving areas for fisheries and marine biodiversity habitats.
By Digna Banzon (PNA)
DAVAO CITY -- The Department of Tourism in Region 11 (DOT-11) reported that over a million tourists visited Davao Region for the first half of the year.
DOT-11 Director Tanya Rabat-Tan noted that the region's 1.5 million arrivals for both foreign and domestic tourists are higher compared to the 999,000 arrivals in the same period last year.
In an interview on Tuesday, Tan said this city has cornered the biggest slice of tourist arrivals although the other provinces and cities are also catching up.
For instance, Tan said Davao del Norte's tourist arrivals continue to pick up because of its popular beach destinations while Mati City, Davao Oriental, is becoming a favorite for sports and adventure enthusiasts because of its famous surfing site in Dahican.
Tan said DOT is optimistic of a continued uptrend in arrivals, with several conventions in the pipeline to be held in various places in Region 11.
This city's Kadayawan Festival this month, she added, could rake in a good number of tourists especially that activities are spread out for the whole month.
"Tourists are interested in festivals. People from the neighboring areas would come to witness the celebration," Tan said.
Generose Tecson, Davao City Tourism and Operations Office (DCTOO) chief, earlier said they are hoping to hit the 3 million target arrivals this year.
For the month of June alone, Tecson said the city was visited by 230,000 tourists, while the first half of the year saw the arrival of 1.2 million tourists here.
Tan said this year's Kadayawan will be covered by media bloggers from Indonesia and Brunei, who will be arriving on August 17 in time for the "Indak-indak" or street dancing, one of the festival's major events.
By Frances Mae Macapagat (PIA/Frances Mae Macapagat)
DAVAO CITY (PIA) – Now on its 24th edition of converging local micro, small, and medium entrepreneurs (MSMEs) in Mindanao, the Mindanao Trade Expo 2019 gives a new flavor this year with a new player showcasing the products made by Marawi weavers.
Assisted by the USAID Plan International (Marawi Response Project), the Marawi weavers join the other Mindanao exhibitors in the MTE 2019 which opened at the Abreeza Mall Davao last Aug. 10 and will end Aug. 14.
Davao City Mayor Sara Duterte, as conveyed by Davao City Investment and Promotion Center Chief April Marie Dayap, commended the organizers for continuously opening new opportunities for every Dabawenyo and Mindanaoan to market their products and merchandises to leading industries and stakeholders.
" Activities like this amplifies prospects and expands networks for our local market players especially the MSMEs. This is a beautiful platform which supports our local entrepreneurs and at the same time advocates Mindanao's rich cultural heritage," Duterte said.
The MTE 2019 is co-organized by the Department of Trade and Industry (DTI), Philippine Exports Confederation and the Abreeza Ayala Malls.
DTI XI Regional Director Ma . Belenda Ambi urged other entrepreneurs to maximize and make use of all available platforms provided by the government.
"Knowing that common issues of the MSMEs are capital and market, the government right now has a lot of platforms for you to exhibit and market your products. Nationwide, we have established OTOP Philippine Hubs, Go Lokal Stores, and national, regional, and provincial trade fairs," Ambi said.
However, she reminded the entrepreneurs in order for them to successfully market their product is by ensuring that they continue to innovate. This includes improving the design, the quality and the competitiveness in terms of cost.
The DTI official was also happy to acknowledge that most of the exhibitors have improved their products and have made use of the resources distinct in Mindanao.
By Rudolph Ian Alama (PIA/RG Alama)
DAVAO CITY - There will be several holidays for Davao City during the month of August. Three national holidays (one holiday awaiting proclamation) and a local holiday.
Aug. 12 is a regular holiday as per Proclamation 789. The day marks Eid al-Adha or the Feast of Sacrifice, an Islamic holiday which commemorates Ibrahim (Abraham) willingness to follow Allah's command to sacrifice his son, Ishmael.
Aug.16, is a non-working day for the City of Davao in celebration of the annual Kadayawan Festival. Proclamation 774, classifies Aug. 16 as a Special holiday which is only applicable in Davao City.
Aug. 21 is a nationwide SPECIAL non-working Day, known as Ninoy Aquino Day, it commemorates the hero's death at the tarmac of the Manila International Airport on Aug. 21, 1983.
Aug. 26 is National Heroes Day and as per Proclamation No. 555 it is classified as a REGULAR holiday.
Unlike in previous years, there is no holiday set for August 19 in Davao City which is the day after the culminating weekend of the Kadayawan. The schedules for the two main events of the Kadayawan Festival underwent changes, the Indak-Indak sa Kadalanan (Street Dancing Competition) and Pamulak (Floral Float Parade) which used to be held in one weekend will now be held on two weekends.
Individuals are advised not to share dates of holidays without verifying their corresponding proclamations as to avoid confusing the public.
By Che Palicte (PNA)
DAVAO CITY -- To further promote environmental awareness among Dabawenyos, the local government here has thrown its support behind a private company's social media campaign aimed at helping to ensure the welfare of the environment.
This, as Vice Mayor Sebastian "Baste" Duterte called for a cleaner and greener celebration of Kadayawan Festival this month.
He said he wanted to craft laws that would contribute to the good quality of the environment on a long-term basis, citing in particular the city's natural resources.
"I am willing to listen to the groups who are pushing for environmental preservation and consider their thoughts in my decisions," he said.
The vice mayor said he would back policies pushing for environmental sustainability as he vowed to keep an open line to the City Council which he leads, and groups pushing for the preservation of natural resources.
He stressed that there needs to be a balance, saying the development of the city must be responsive to the needs of the people.
In time for the 34th Kadayawan Festival celebration, Coca-Cola Philippines launched early this month a social media campaign dubbed as "#betterbottlecapchallenge" which will run from August 21 to 25, to further encourage the active participation of local residents and tourists in environmental preservation.
In a statement sent on Saturday, the company said participants are asked to capture, through photographs and videos, the unique and creative ways in which they've deposited their used plastic polyethylene terephthalate (PET) bottles in designated Coca-Cola collection bins, and post these on their social media accounts with the #betterbottlecapchallenge hashtag.
"We are excited to be part of the annual Kadayawan Festival -- not only through celebrating life, health, and prosperity, but also by enriching the festivities through our activities geared toward environmental conservation," said lawyer Juan Lorenzo Tañada, director of Coca-Cola Beverages Philippines, Inc. Corporate and Regulatory Affairs.
Last August 2, Coca-Cola Philippines officials presented a World Without Waste installation to Vice Mayor Duterte at the Magsaysay Park here that features the beverage brand's iconic bottle collection bin; a bench made from 1,000 recycled PET bottles and a collection bin made from 600 plastic PET bottles from Winder Recycling Company, a Davao-based partner which gives used plastic bottles a new life by converting them into high-value products, such as school chairs and benches.
Other installations will follow at the People's Park, Rizal Park, Botanical Garden, and Sta. Ana Wharf in this city.
"We see the warm welcome of our presence at Kadayawan as an opportunity to further promote a cleaner and greener way of living, most especially during a celebration so important to Davaoeños. We hope that this will be the start of a long-term partnership with the Davao City government, which we recognize as a partner in ensuring the welfare of the environment," Tañada said.
By RALPH LAWRENCE G. LLEMIT
THE Land Transportation Office (LTO)-Davao Region will expand its regional office to cater more transactions.
On Thursday, August 8, LTO-Davao Region officially announced its plans to expand into a four-story building during its groundbreaking ceremony.
LTO assistant regional director Neil Cañedo said the project will be handled by the Department of Public Works and Highways (DPWH).
Cañedo said the expansion will cost P200 million, and will be done by phases.
He said the new building will have a modern look and will be more accessible to both clients and employees.
"The building will have a modern glass, with elevators for the first phase of the project," Cañedo told reporters during the event.
With the new building, he said it will cater to more than 1,200 clients, both from the application and renewal of license operations.
DPWH-Davao City district engineering office acting public information officer John Frances Fuentes, meanwhile, said the target construction has yet to be determined as they await the notice to proceed with the contract.
However, he said DPWH has committed to finish the construction of the new LTO building within 330 calendar days.
Meanwhile, Cañedo said LTO will temporary operate in its Motor Vehicle Inspection Station (MVIS) in SM City Davao once the construction will proceed.
He said there is a need for the building to be reconstructed, as it is almost 25 years old.
Aside from the building, he said LTO 11 will also invest on online payment system for the renewal of licenses and for addressing penalties.
By Carina Cayon (PIA-XI)
DAVAO CITY(PIA) – The Go Negosyo Center in partnership with the Department of Trade and Industry in the region once again provided an avenue for entrepreneurs and aspiring business persons from the Micro, Small and Medium Enterprises (MSMEs) sector to learn more and be inspired up close by successful business men and women in Davao Region.
More than 500 MSMEs and would-be entrepreneurs from across the region came face to face with business experts in a free one-on-one mentorship during Go Negosyo and DTI-XI's second "Mentor Me on Wheels" held on Wednesday, July 30, at SM City Mall.
Business personalities like Villa Margarita Hotel and Catering CEO Mary Ann Montemayor, Go Negosyo MSME Development Programs Adviser Merly Cruz, Cheesemaker and Founder of Malagos Farmhouse Cheese Olive Puentespina, and around 50 business mentors have joined the activity to share their expertise, insights and experiences with the mentees.
DTI-XI Regional Director Maria Belenda Ambi said the mentees got the chance to be guided on entrepreneurial mind-setting and values formation.
"We got more local mentors. We have a dynamic community of entrepreneurs in Davao Region because from being mentees, they have become mentors themselves," Ambi said.
"This activity is regarded as a celebration of good harvest because Davao Region has produced remarkable numbers of mentors and mentees. It is our desire to harvest more entrepreneurs who are more equipped and empowered to face the challenges in the business world," stated business icon Mary Ann Montemayor, who is also Honorary Consul of Hungary in Mindanao.
Montemayor said that Go Negosyo has been good to Davao, adding that "Davaoenos must be thankful for this blessing."
MSME Development Programs of Go Negosyo adviser Merly Cruz raised the importance of mentoring, saying that it aims to "change the lifestyle of Filipinos from employment mentality to entrepreneurship mindset."
She urged the mentees to explore the online platform and employ digitalization in doing their business. "If you're going online, please do so. You will see how powerful and practical online platform is. That's the way our life is going."
According to DTI-XI, the "Mentor Me on Wheels" and Mentor Me Online introduced mentors to micro and small entrepreneurs, offering technical and practical know-how on entrepreneurship through events in more convenient and accessible locations.
The mentees also learned entrep-mindsetting focused on establishing the foundation of a values-oriented entrepreneur such as maximizing resources effectively, capacitating the team objectively, honoring obligations and agreements religiously, and managing and operating the enterprise sustainably.
By Lito Delos Reyes (PNA)
DAVAO CITY -- Twenty-two teams will see action in this years' Dragon Boat Festival 2019 slated on August 10 and 11 at the Sta. Ana Wharf, this city.
Nine are local teams coming from this city including the Amihan, Bernardo Carpio National High School Dragon Boat Team, Dragon Boat Force (DBT), Dragons Del Sur DBT, Habagat DBT, Hiraya Minokawa Dabaw, Hydra DBT, Kampilan DBT, and Ricspeed DBT.
Five teams are from Manila -- Philippine Blue Phoenix DBT, Philippine Titans DBT, Riptide DBT, SAG-1 DBT, and the United Paddlers Club PH.
The other teams are Boracay Dragon Force, Brave Heart DBT of Cagayan de Oro, Bugsay Marajao of Surigao City, Kujaw Tigar Dragons of Cortes, Surigao del Sur, Pearl Farm Paddlers of Samal, Polillo DBT of Quezon, and Samal Dragons of Samal.
By Rudolph Ian Alama (PIA/RG Alama)
DAVAO CITY - Indian graduates of the Davao Medical School Foundation Inc. (DMSFI) are among the top passers in the Medical Council of India (MCI) screening exams.
The screening exams also known as the Foreign Medical Graduates Examination is a licensure examination for Indian students who studied medicine outside of India. Passing the exams allows them to practice medicine in the country.
Dr. Erwin Rommel Hontiveros, assistant dean of the DMSFI said that 30 out of the top 50 MCI passers are graduates of the DMSF.
"The Indian passing rate is 15% while the DMSF passing rate in the MCI is 86%," Dr. Hontiveros said.
The DMSFI International Medical Degree (IMD) program graduates have topped the screening test as per records of the MCI, it has topped the 173 medical schools in China, Russia, Kyrgyzstan, Ukraine and other medical schools in the Philippines.
The performance of the Indian students, highlight DMSFI accomplishments as one of the top medical schools in the country. Passing rate for the past four years in the Philippine board exams for physicians is more than 98% and for two years the school has achieved 100% passing rate for the core batches.
Hontiveros attributes the achievement to excellent instruction and competent faculty. And during the medical school's 43rd anniversary the school highlighted its world-class digital simulation center which improves the teaching of clinical competence from second year to fourth year levels.
He added that DMSFI is popular among Indian students as they have the same medium of instruction, same climate, and the performance of the graduates have greatly influenced the students from the subcontinent to come to Davao and enroll in the DMSFI.
Aside from these factors, another influence is the English language which is widely spoken between the two countries.
The MCI has given automatic recognition to DMSFI when an Indian graduate of the Davao medical school topped the MCI screening exams.
Hontiveros said recently they got news that Indian graduates netted 89-90% passing rate in the MCI.
There are 300 Indian students in the second year, 300 students in the third year and 178 students in the fourth year.
According to an Indian embassy data in 2017, about 8,000 Indian students are in the Philippines to study science and medicine with about 4,500 Indians studying medicine at DMSFI.
By RALPH LAWRENCE G. LLEMIT
DAVAO City now ranks second as the top safest city in Southeast Asia, according to an online user-contributed survey site Numbeo.com.
Based on the Crime Index 2019 Mid-Year of Numbeo, Davao City has a Safety Index rate of 72.50. Davao's rank rose from last year's number four with 71.21.
Meanwhile, the city has one of the lowest Crime Index with 27.50.
Davao City trailed behind Chiang Mai in Thailand as the safest city in Southeast Asia with a Safety Index of 77.88, and a Crime Index of 22.12.
Numbeo is an online database that provides information about the living conditions in countries around the world.
Described itself as "the world's largest database of user contributed data about cities and countries worldwide", it gives current information on each city's cost of living, housing indicators, health care, traffic, crime, and pollution.
Also included in the top 10 safest city in Southeast Asia are Singapore in Singapore, Makati City in the Philippines, Hanoi in Vietnam, Penang in Malaysia, Bangkok in Thailand, Iloilo in the Philippines, Bali in Indonesia, and Cebu in the Philippines.
Public Safety and Security Command Center (PSSCC) chief Benito de Leon said the ranking is a good indicator of the city's peace and order, incorporated with the current Martial Law implementation in the city.
"Magandang indicator ito because it indicates the stability of Davao City in terms of crime index, which is very low, and the safety index is very high," De Leon said.
He attributed this feat to the "good leadership" of the local chief executives, the strict monitoring of the safety and security clusters, and the support of the constituents.
"We rose from number 4. Nalagpasan natin 'yung Singapore, which is, sila yung nanguna last year sa ranking (We dethroned Singapore, who was last year's top on the list)," he said.
Recently, the Davao City Peace and Order Council (CPOC) unanimously passed a resolution lifting the Martial Law in the city.
De Leon said there is no need for its implementation because the city is still being manned by the government, and its operations are not disrupted.
He also said there will be no changes in security and monitoring strategy in case Martial Law will be lifted.
By RALPH LAWRENCE G. LLEMIT
COUNCILOR Myrna Dalodo-Ortiz will help in the creation of the Davao City Tourism Master Plan.
Dalodo-Ortiz, who heads the committee on tourism of the City Council, said the master plan aims to repackage the tourists' go-to areas.
The councilor discovered that the City only has Davao City Tourism Code.
"The masterplan will help us san tayo papunta, and how we are going address the need for the city to package ourselves from local and foreign tourists," Dalodo-Ortiz said Wednesday, July 31, during the 19th City Council Media Briefing at the City Council.
The councilor's proposal was among those discussed during the Executive and Legislative Agenda meeting last July.
The master plan aims to create a specific strategic development on specific tourism areas such as farm tourism, beach tourism and others.
Ortiz said she wants the package experience patterned after countries that offer tourism experiences from mountains to beaches.
She also said she wants the visitors to experience the farm tour of Davao to showcase the agriculture sector as the next go-to destination in the city.
She added they are awaiting the consultants from the Tourism Infrastructure and Enterprise Zone Authority.
The councilor said the consultation for the master plan will start next year.
City Tourism Operations Office head Generose Tecson, in a previous report, reiterated the need for the city to have a master plan as it covers long-term plans for the city's marketing, product development, tourism force, tourism budget, financing, government relations, and industry support.
"We have plans for Davao City and we have been very vocal about it. We were already expressing our sentiments na magpadala na ng consultant na qualified to do the master plan since this will become our guide for the next three, five or even 20 years," Tecson said.
She said the master plan will not only further develop and improve the tourism industry in the city but the neighboring areas as well.
By Che Palicte (PNA)
DAVAO CITY -- A total of 58,387 Certificates of Land Ownership Award (CLOAs) were distributed by the Department of Agrarian Reform (DAR) to Agrarian Reform Beneficiaries (ARBs) from the five regions of Mindanao on Friday evening here.
The CLOAs benefited 60,233 ARBs covering 102,727 hectares, said Secretary John Castriciones, who added that the distribution was pursuant to President Rodrigo Duterte's directive that ARBs in Comprehensive Agrarian Reform Program (CARP)-covered lands should be provided with titles.
"With the titles given, it would allow our farmers to be more empowered," Castriciones said.
Based on DAR data, about 208,895 Emancipation Patent (EP) are being kept by Land Bank of the Philippines (LBP) that will soon be given out all over the country, covering more than 354,783 hectares and would benefit 200,710 ARBs.
DAR also distributed 1,361 CLOAs to 1,709 ARBs in Davao Region, involving a total of 1,452 hectares of lands acquired and distributed to them.
Moreover, LBP said it seeks to pursue a more focused and direct approach in lending to provide more ARBs and individual small farmers with access to credit.
Castriciones said Landbank put in place a PHP5-billion direct lending program called Accessible Funds For Delivery to ARB's or (AFFORD-ARBs), which will specifically cater to ARBs engaged in rice, corn, and high-value crops production.
"This will further give assistance to our farmers. If they availed this loan, it will be payable in one year with only six percent interest," Castriciones said.
"The awarding of titles to the recipient farmer-beneficiaries is the penultimate step towards the completion of the implementation of the CARP," he added.
The next phase, he said, would be for the government to render support services to ARBs through the provision of capability development training and common service facilities, with a vision to optimize the potential to market their produce to the public.
"I hope they will take good care of what the government gave them. We remind them not to sell or pawn their acquired titles," the DAR chief said.
By JENNIE P. ARADO
THE month-long celebration of Kadayawan Festival aims to stretch the economic opportunities of the tourism facilities here, Davao City Mayor Sara Duterte-Carpio said.
In an interview on Pastor C. Quiboloy's program Give Us This Day aired online Friday, August 2, Duterte-Carpio said the change from a week-long celebration to a month-long Kadayawan Festival is done in a "business sense" decision to provide economic and enjoyment opportunities both for the tourists and the businessmen in the city.
"This is a suggestion by our tourism sector which makes sense. Sinasabi kasi nila if we all put our events in one week, wala na tayong bisita after one week, so hindi natin ma-stretch ang economic opportunities ng hotels, ng malls, ng stores, ng businessmen. So gusto nila it's a month-long celebration para every day of the month, we have visitors who are buying, who leave their money diri sa atoa sa syudad sa Davao (They are saying that if we put our events in one week, we don't have visitors anymore after that week so we can no longer stretch the economic opportunities of our hotels, malls, stores, and businessmen. So they want it to be month-long so for every day of the month, we have visitors who are buying and leaving their money here in the city)," she said.
In a previously published article, City Tourism Operations Officer (CTOO) Generose Tecson said the adjustments of the schedule were made for tourists to have more time to explore the different parts of the city.
She also wished the tourists would have a good stay in the city given that the hotels and other accommodation facilities in Davao City quickly get fully booked as the festival comes to a close, based on their previous Kadayawan assessment.
She said major hotels in the city have around 95 percent of occupancy rate come Kadayawan.
This year, the CTOO expects around 250,000 domestic and foreign tourists to come and join in the celebration. This is almost 20 percent increase from last year's 208,645 tourist arrivals during the festival.
Further, Duterte-Carpio said with the spread-out schedule of the big events, a less heavy traffic situation should be expected.
By Che Palicte (PNA)
DAVAO CITY -- The chief of City Transport and Traffic Management Office (CTTMO) said Wednesday the Peak Hours Augmentation Bus Service (PHABS) system will soon operate around the clock pending approval from the Land Transportation Franchising and Regulatory Board (LTFRB).
PHABS, which is currently being operated by a private bus company, started early this year to address the growing need for public utility transport for the city's underserved routes, such as Catalunan Grande and Toril District.
The buses start to ply their assigned routes from 6:30 am to 9 a.m. and 5 p.m. to 9 p.m., which have been identified as peak hours in the city.
Compared to public utility jeepneys that as for a minimum of PHP8 fare, PHABS buses charge PHP10 for the first five kilometers and an additional PHP2.20 for every succeeding kilometer.
"They are willing to extend the operation of the bus in the city because it is safe and comfortable," Abude said, referring to the bus company that currently serves PHABS routes.
Abude said bus firm Mindanao Star is willing to add another 12 buses, which would suffice the need for the Catalunan Grande and Toril routes. Currently, the two routes are being served by seven buses.
Meanwhile, Abude said that part of the Davao Integrated Bus Service (DIBS), all buses running in the city will soon become a High Priority Bus System (HPBS), which aims to modernize the transportation system of the city and address traffic congestion.
"If HPBS will be implemented, we will put a gadget in it. This will be captured by our traffic signal and our stop signal will automatically turn into green as soon as it is detected. That's also one feature which makes this bus a high priority one," Abude explained.
He said four additional city-based routes will be opened once HPBS is fully implemented.
He said the city government and CTTMO are in a discussion about the financial assistance to be given to the affected operators and drivers in the planned routes.
"We also looked into their welfare, such as in Catalunan route where about 400 drivers and operators will directly be affected if this is fully implemented," he pointed out, adding they're looking at implementing HPBS in the last quarter of the year.
By Rudolph Ian Alama (PIA/RG Alama)
DAVAO CITY (PIA)- The historic Sta. Ana wharf is being envisioned by the city as an event center which will host concerts, festivals and sports activities.
This coming Kadayawan Festival, Sta Ana wharf will be the venue for several Kadayawan events.
"The vision for Sta. Ana is that it will be a concert ground, activity center for sports and events so that the destinations will not just be focused only in the city center," says Kat Dalisay, organizer of the Tabuan sa Kadayawan, a weekend food and dry goods market during the festival which will be held at the park.
Dalisay said a series of concerts showcasing Manila-based performers will be held at the wharf.
"People will really go there (wharf) to catch those artists, then they can explore the market, indeed Sta. Ana will be a beehive of activity," Dalisay said.
Other activities to be held at the wharf include the Kadayawan Dragon Boat Festival which will feature several top Dragon Boat teams in the country, and the Mugna Kadayawan, an on-the-spot wall art competition.
Built in the early 1900s to service American abaca plantations in Davao, The City Government currently manages the wharf on the basis of a memorandum of agreement between the local government and the Philippine Ports Authority who owns the port.
The City Government particularly the City Tourism Operations Office (CTOO) has beautified the five-hectare wharf to make it presentable to tourists as the port facility serves as the jump-off point for island tours to Samal and Talikud Islands.
Among the improvements put up by the city government include the construction of rest rooms and tents, landscaping, beautification and the installation of lighted gardens.
Located along Davao City's Chinatown district, the wharf also is adjacent to Magsaysay Park where the Kadayawan Village is located, making Sta. Ana Wharf a perfect destination to explore different facets of Davao City and its Kadayawan Festival.
Dalisay said with the events held in the wharf, Sta Ana is being transformed into another tourist attraction in the city. She said during the recent Araw ng Dabaw celebrations, a total of 80,000 people visited Sta. Ana wharf which hosted concerts and a food festival.
By LYKA AMETHYST H. CASAMAYOR
DEPARTMENT of Information and Communications Technology (DICT)-Mindanao Cluster 3 (MC3) Director Erlito Tancontian said the coming of the third telco provider will further boost the economy of Mindanao.
After the Philippine government awarded the Certificate of Public Convenience and Necessity (PCN) to Mislatel Consortium, which was later renamed to Dito Telecommunity Corporation, Tancontian said there might be a possibility that it will prioritize Mindanao, particularly Davao City.
"We can expect na uunahin ang Mindanao, particularly Davao City, kasi one of the owners of the consortium is Dennis Uy and probably, hometown talaga ang uunahin niya. Lalo na tayo sa Mindanao na we have long been deprived of these services, especially yung mga sulok natin walang connectivity," he said.
With the commitment of the third telco to provide connectivity services to about 37 percent of the total population of the country with 27 megabits per second (mbps) per subscriber, Tancontian believes this will help with the development of the business sector to become more globally competitive with faster and more reliable internet connection at a reduced cost.
He said the city has been growing for the last few years and a better connectivity will be another improvement opportunity for businesses in the city.
"Positive naman tayo na talagang maganda kung mayroon tayong third telco. Kung mas maraming kompetensya, mas maganda. Para naman yung dalawang telco will aim to give better services also. We hope they improve their services at we hope na mababa ang singilan. Cheaper but reliable," he said.
Meanwhile, ICT Davao President Attorney Samuel Matunog said the BPO and IT industry welcomes the new development as the competition will improve services and lower rates.
"[It will also] expand Internet access to the countryside, and therefore more employment opportunities in the rural areas. And will provide another layer of resiliency in the infrastructure, a guarantee required by clients abroad. There are more benefits we can cite, but on the whole we view this development positively," Matunog said.
By Che Palicte (PNA)
DAVAO CITY – A young farmer from this city is set to receive his award as the most outstanding young organic farmer in Davao region next month.
Janel Juaton, 27, a resident of Megcawayan, Calinan here, has been practicing organic farming since 2014. "Organic farming is very beneficial since you are nurturing crops without the use of synthetic chemicals," he said in an interview on Saturday.
"It is both beneficial to our health as well as the environment," Juaton added.
However, he said that shifting to natural farming is not an easy task since he waited for about three years to convert his land to become purely organic.
Currently, Juaton owns a 4.2-hectare land which is certified organic by Participatory Guarantee System (PGS) and Masipag Farmers Guarantee System (MFGS).
His farm was planted with various crops and has raised native chickens, goats and pigs. He also put up a fish pond for tilapia production. "There's a lot to consider when you go for organic like time issues, your potential marketing skills, your finances and your labeling," he explained.
Juaton was also given a special citation for being an outstanding young farmer/fisherfolk during the Regional Gawad Saka Awarding of the Department of Agriculture (DA) 11, in June.
He received PHP10,000 and a plaque. In 2016, he was part of the Young Filipino Farmers team that was trained in organic farming in Japan for one year.
"I was able to study the technologies used in Japan and have applied some of it in my own farm," Juaton said. With his success in organic farming, he was able to build his own house, bought a motorcycle and improved his farm.
"This is the first time that my organic thrust was commended. I hope more youth will be indulging into organic farming and my technologies will be replicated by other farmers," Juaton said.
The awarding ceremony will be in August during the Regional Organic Agriculture Congress which will be held in this city.
By Digna Banzon (PNA)
DAVAO CITY — The city government and the Department of Agriculture (DA) have joined hands for the PHP350 million fruit processing facility, an official of the Durian Industry Council of Davao City (DICDC) said.
DICDC chairman Candelario Miculob said Tuesday the facility would be useful in boosting their foreign market viability where demand for frozen fruits remains high.
"Davao has an abundant supply of fruits especially during the third quarter and with this processing facility, fruits can be processed and marketed with added value," Miculob said.
Miculob said despite their contribution to the country's production at 60 percent, the supply to the foreign market remains very low.
"We supply our buyers but only for small volumes, such as in Singapore, Hong Kong, and other countries" where demand is high, he said.
"Although there are small-sized facilities here, they can only process a ton in 12 days and cannot meet the big requirement of the China market," he said.
He also noted that foreign markets require facilities with international standards.
The planned processing facility is set to be built within the Davao Food Terminal Complex in Daliao, Toril, this city. It would include, among others, the building, the cold blasts freezing storage, a facility for raw materials, packaging, and others.
Miculob said construction will start anytime this year as soon as all requirements have been fulfilled.
By Rudolph Ian Alama
DAVAO CITY (PIA) - The Kadayawan Village which showcases the houses and the culture of the 11 indigenous tribes of Davao City is expected to draw in crowds in this year's Kadayawan Festival.
" The difference from last year's Kadayawan Village is that there will be a month long of activities which we will be holding in the village and we encourage the IPS, the indigenous political structure, the tribal council that they themselves would oversee the construction of their houses which will be as authentic as possible," William Banzali, the community-based eco-cultural officer of the City Tourism Operations Office said.
Created in 2017, the Kadayawan Village located inside Magsaysay Park aims to show the culture of 11 indigenous peoples of Davao City (Ata, Klata, Ubo-Manuvo, Matigsalog, Tagabawa, Maguindanaoan, Kagan, Iranun, Tausug, Sama and Maranao).
Featured in the village are indigenous cuisine, songs, dances, rituals, arts, games, handicrafts and architecture.
In 2017, during the initial staging of the village about 10,000 visitors were recorded in the village.
Banzali said through the years that the IPs had increasingly participated in the building and the running of the village. "Their creative ideas are coming out and these are reflected in the architecture of their houses."
The CTOO is expecting more visitors for this year's tribal village due to the month-long festivities and activities held in the village. Also increasing tourist arrivals in Kadayawan will also contribute to a hike in visitor traffic to the village. (PIA/RG Alama)
By Digna Banzon (PNA)
DAVAO CITY -- The Consulate General of the Republic of Indonesia will hold a three-day expo here with focus on tourism, trade, and food on Friday (July 12).
The event, dubbed as Wonderful Indonesia: Tourism, Food and Trade Expo 2019, will run from July 12 to 14 at the activity center in SM Lanang Premier in this city.
Consul General Dicky Fabrian of the Republic of Indonesia said on Wednesday the expo will showcase Indonesia's tourism industry, authentic Indonesian food and delicacies, and other export quality products with 20 business establishments participating.
Fabrian said the exhibitors took advantage of the expanded roll-on, roll-off (RORO) route to ship their products and goods that will be displayed at the expo.
The expo aims to support the continuing efforts on the revival of the Brunei Darussalam-Indonesia-Malaysia-Philippines East ASEAN Growth Area (BIMP EAGA) Sea linkage via RORO in sustaining the load cargo from and to the port of destinations within the region, particularly in this city and Bitung, North Sulawesi, the consul general said.
The Reefer Express Line Filipinas, a Philippine shipping company, is one of the exhibitors at the expo to promote its shipping services.
Meanwhile, Fabrian said delegates from Bitung City, North Sulawesi together with their city government officials, will participate in the event.
"The presence of North Sulawesi during this expo will also strengthen the relationship between Davao City and North Sulawesi business community as it will link business to business and people to people direct contact," he said.
During the expo, Indonesia's top tourist destination will be highlighted, where tour packages to Bali, Jakarta, Surabaya, Lombok, and other destinations will be offered to Filipino travelers and other foreign tourists.
By Che Palicte (PNA)
DAVAO CITY -- A local durian industry council here commended the project of the Department of Agriculture in Region 11 (DA-11) dubbed as the "The Durian 500 Program", which seeks to increase the productivity of the "king of fruits" not only in the city but the entire Davao Region as well.
Launched in May, the Durian 500 Program is a collaboration between the City Agriculturist Office (CAO) and DA-High Value Crops Development Program (HVCDP) that aims to expand to 500 hectares the durian plantations in tribal communities here.
In a press conference Monday, Candelario Miculob, president of the Davao Durian Industry Development Council (DDIDC), said the program has enabled farmers to plant more durian seedlings within the 500-hectare farmland.
"DA-11 and CAO provided the seedlings, training and marketing assistance to the local farmers," Miculob said.
Targetting about 78,000 durian fruit trees to be planted, Miculob added that the chosen land in Baguio District is one of the highly suitable areas for durian plantation due to its climate and rich volcanic soil.
Based on the data of DDIDC, Region 11 has 6,000 hectares of durian farm that can produce around 40 tons--half of this from this city's durian production.
"The council is looking at other potential planting areas in Paquibato, Calinan, Tugbok, Toril and portion of Marilog District," Miculob said.
But Miculob admitted that the volume of durian production this year is expected to slow down due to the long dry spell.
"With the limited supply of durian, it is expected that the prices will increase in the market," he said.
According to DA-11, the Durian 500 Program will link durian produce of tribal communities with the buyers and respond to the growing demand in the export market, particularly in China.
By Frances Mae Macapagat (PIA/FGM)
DAVAO CITY - About 800 stakeholders from various sectors in the community will attend the Dagyaw: Open Government and Participatory Governance Regional Townhall Meeting 2019 on July 16 at the Davao Recreation Center.
Following the townhall meetings that took place in San Fernando City, Pampanga and in Cebu City, a Davao leg is scheduled as organized by the Department of Interior and Local Government (DILG), Department of Budget and Management (DBM) and the Presidential Communications Operations Office (PCOO).
The PCOO, through its attached agency, the Philippine Information Agency (PIA) identified key concerns and issues in every region and raised these as key topics of the Regional Townhall Meeting.
For Davao Region, senior government officials will discuss the issues on TRAIN 2, Violent Extremism and the Build,Build, Build as a way of communicating good governance reforms of the Duterte administration.
"This is also a good venue for the government to answer and clarify questions from the public", said DILG XI regional director Alex Roldan.
In the day-long Dagyaw 2019, regular citizens are given the opportunity to clarify and raise local concerns through direct interfacing between senior government officials.
It was learned that the presence of senior officials in the regional dialogues and their openness to directly interface with non-government stakeholders is much appreciated.
"This is why I encourage the agency regional officials to open their lines especially to the media and be more active in explaining to them and to the public what the government is doing", Roldan added.
Also, the event is also designed as a one-stop shop of frontline government services and national programs as booths of the Social Security System (SSS), PAG-IBIG Fund, and other agencies will be set-up in the same venue.
The Dagyaw 2019 addresses the concern on the need for the government to focus on providing local platforms for citizen engagement programs related to frontline service delivery and anti-corruption efforts.
Stakeholder inputs will also be gathered for the co-creation of the Philippine Open Government Partnership (PH-OGP) National Action Plan 2019-2021.
Key outputs of the Dagyaw 2019 will include the updated Participatory Governance Cabinet Cluster Performance and Projects Roadmap and the PH-OGP National Action Plan 2019-2021.
By Che Palicte (PNA)
DAVAO CITY -- Mayor Sara Z. Duterte led the media launching of the 34th Kadayawan Festival here Monday.
In her speech, Mayor Sara said she hopes the annual celebration would give Dabawenyos the opportunity to appreciate and celebrate the blessings poured out to the city.
"We celebrate it annually not just to give Dabawenyos a reason to celebrate; we do it so we do not forget where we come from and what blessings we have received through the years, blessings which we continue to receive today," the mayor said.
She described the festival as a "coming together" of the community to show gratitude the local indigenous peoples have helped shaped the history of the city.
"I am inviting everyone across the globe to come and visit the city this August to witness the highlights, the sights, and flavors of Kadayawan in Davao," she said.
Mayor Sara also called on Dabawenyos -- IPs, Muslims and Christians -- to go out and not just enjoy the festivities but to use Kadayawan as an opportunity to "continue to learn about one another and the uniqueness of each culture."
On the other hand, Gene Rose Tecson, City Tourism Operations Office (CTOO) chief, said the 2019 Kadayawan budget is estimated to reach up to PHP70 million -- most of it coming from private sector partners.
"But we are still hoping for more [sponsorship] since we are increasing our prizes to the various competitions," Tecson added.
She said the city expects some 250,000 tourists this year, an increase of some 50,000 compared last year.
"That is why we spread the activities to all weekends of August. If we put all the activities in just one week, we might have a shortage in our accommodations," she explained.
As the main highlights for Kadayawan, Tecson thanked the 11 tribes of Davao for their continued support to the city and the community.
This year, she said, the Kadayawan will focus on the "Bantawan" or cultural shows featuring the traditions and dances of the 11 tribes while "Dula Kadayawan" will showcase tribal games.
Meanwhile, Col. Alexander Tagum, Davao City Police Office (DCPO) director, said that after a meeting among security agencies they have decided to increase security deployment during the festival.
"It means more security personnel will be manning strategic points and public convergence areas during the event to ensure the safety of the Dabawenyos and visitors," Tagum said.
Tagum reiterated the rule on bringing specific objects during the festival.
"No backpack and no jacket policy will be observed to control the possible entry of the terrorists. I hope our people will cooperate for this is for everybody's benefit," he added.
The 34th Kadayawan Festival will officially kick off on August 2.
By Che Palicte (PNA)
DAVAO CITY -- The Department of Public Works and Highways (DPWH)-11 will hand over to the city government the first evacuation center located in Barangay Los Amigos, Tugbok District here next month.
In an interview on Sunday morning, Dean Ortiz, DPWH-11 spokesperson, said the project cost is about PHP34 billion and was funded by the DPWH but the site is owned by the city government.
"We are just doing a final inspection and finishing touches of the facility then, later on, we can turn it over to the city government," Ortiz said.
He added that the facility can cater to about 130 families.
Aside from the facility here, Ortiz disclosed that DPWH had constructed seven evacuation centers around Davao Region. These are located in Cateel, Tarragona and Lupon in Davao Oriental, Nabunturan in Compostela Valley, Tagum City in Davao del Norte, Digos City in Davao del Sur and Malita in Davao Occidental.
City Disaster Risk Reduction Management Office (CDRRMO) head Alfredo Baloran said the evacuation center in this city will be used as temporary shelter for victims of calamities.
"It is complete with amenities that will help alleviate their condition while away from their homes," he added.
Baloran said there will be two more evacuation centers to be constructed in the city — in districts 1 and 2.
"For now, we are looking at Mahayag in District 2 while we are still identifying the location for District 1," he added.
By Che Palicte (PNA)
DAVAO CITY – The United Women of Maa Association (UWMA) received a total of PHP489,647 worth of livelihood assistance from the Department of Labor and Employment-Region 11 (Davao Region) in a turnover ceremony held here Thursday.
The 169 members of UWMA said they intend to use the assistance for the purchase of equipment and initial materials for their garment-making business.
In a statement Thursday, DOLE-11 Director Raymundo Agravante advised the beneficiaries to maximize the utilization of the grant given by the agency.
"Be aggressive in your production and marketing so that you can have a huge profit for the benefit of the association, and of course to the individual members as well," Agravante said.
Meanwhile, DOLE-11 communications officer Eduardo Monreal said Friday the grant is designed to provide livelihood assistance as an initial capital or for improvement of businesses for small associations and cooperatives.
He also said the application of the livelihood assistance is open to any group or cooperative as long as they meet the requirements needed by the agency. The grant is under the DOLE Integrated Livelihood Program (DILP).
"DOLE distributed livelihood assistance to various groups throughout the region like Persons with Disability (PWD), women, and others. They may also apply to Public Employment Service Office in the city," Monreal said.
By Che Palicte (PNA)
DAVAO CITY – The Davao City Tourism and Operations Office (CTOO) is expecting around 250,000 tourists for the upcoming Kadayawan festival in August.
In a press conference here Thursday, City Tourism Officer Generose Tecson assured the city can accommodate tourists as it has enough hotels, inns, and transient houses.
"This year's Kadayawan is different from the previous celebrations since we spread out some activities so that tourists will have the time to explore the city," Tecson said.
Tecson added that the budget for the entire festivity may increase to PHP75 million compared to the PHP60-million allocation last year.
"Our prizes for the contest such as the Indak-indak (street dancing) may also increase, and these prizes will be taxed," she said.
One of the highlights of the celebration is the Tribal village, showcasing the culture and traditions of the city's 11 tribes.
Tecson said they have allocated PHP150,000 for the Indigenous People's groups and PHP250,000 for the Moro tribes for the beautification of their ancestral houses.
Kadayawan is a month-long celebration of the culture and traditions of the city's 11 tribes.
By LYKA AMETHYST H. CASAMAYOR
THE Department of Agriculture (DA)-Davao reported that a total of 117,600 kilograms or 2,950 bags of buffer seeds for calamities were already distributed to the farmers affected of El Niño in some areas in Davao region.
The agency, through the Disaster Risk Reduction Management (DRRM), distributed around 2,100 bags inbred rice certified seeds in Davao del Norte which was hit hardest since the weather occurrence in November last year. Compostela Valley received 55 bags and 300 bags in Davao Oriental. Each bag of seeds would cost P1,360.
"Buffer stocking is one of the programs of the DA para may paunang seeds. In case of calamities or disasters sa mga farms, at least may ready na itanim ang mga farmers kung sa tingin nila ay pwede na ulit magtanim," DA-DRRM alternate focal person Joedel Leliza said in a phone interview yesterday, July 2, 2019.
"Ang Basis namin for distribution is the request of the local government units (LGUs) kasi hindi naman lahat ng areas ng Davao region ay affected ng El Niño," he added.
Affected farmers are advised to go to the nearest provincial or municipal office and asked to avail for seeds through a request letter.
"Lahat po pwede makakuha ng seeds as long as affected ng calamities," Leliza said.
Meanwhile, DA 11 regional seed coordinator Evelyn Basa said the agency is currently requesting another 5,969 bags of seeds for buffer stocks which are expected to be given to the region this year.
Aside from buffer stocking, the agency has programs for productivity enhancement for farmers not affected of any calamities but is having a difficulty in its production.
"Kahit hindi affected pwede parin mag request sa amin. Kung may damage man sa mga identified vulnerable areas sa region, at least stable parin ang production by enhancing productivity of other areas not affected of calamity or what we call non-vulnerable areas," Leliza said.
(PR)
THE second Ground Receiving Stations (GRS) of the Philippine Earth Data Resource and Observation (Pedro) Center was launched in Davao City this weekend -- unveiling the Philippine's largest tracking antenna for earth observation satellites to date.
The launching happened three years after the first GRS was set up at the Department of Science and Technology (DOST)-Advanced Science and Technology Institute (Asti) office in Quezon City.
Attended by DOST officials headed by Secretary Fortunato dela Peña, the soft launch was held on June 30 at the Civil Aviation Authority Philippines (Caap) transmitter facility in Davao City.
Now fully operational, the Davao GRS (D-GRS) provides additional capacity and redundancy to the functions of the Pedro Center in Quezon City.
The Pedro Center, since its start of operation, has been receiving satellite-captured images from various earth-observation satellites, including the Philippines' very own Diwata-1 and Diwata-2 microsatellites, alongside other supported foreign satellites.
The establishment of the D-GRS serves as an auxiliary antenna for the Pedro Center, which means that in cases of catastrophes and impending threats of disasters in Manila, the Pedro Center can still receive earth surface information.
Designed to communicate with earth observation satellites by receiving, processing, and distributing space-borne imagery, these ground receiving stations also have direct access to a broad range of optical (high-resolution, multispectral) and synthetic aperture radar (cloud-penetrating, day-night-imaging) satellite data. Simply put, these ground facilities can upload commands and can download data captured by satellites deployed in space.
For the time being, the D-GRS is remotely-operated and is used for initial tests such as Modis data from satellites such as Terra and Aqua.
Compared to the Pedro Center with only 3.7 meters, the D-GRS has a 7.3-meter satellite-tracking antenna that will allow more efficient download of images at a higher bandwidth.
Both antennas are contained inside a radome, a special spherical structure enclosing the antennas from physical forces while still allowing reception of satellite signals. The radome can withstand temperatures up to 80°C, wind speed of up to 320km/hr, and rainfall at 100mm/hr for one (1) hour, thereby prolonging the effective lifespan of the antennas.
The direct reception of data from earth observation satellite images provides the Pedro Center more capability in near real-time acquisition of information.
With the Asti and Davao GRS in full operation, the reception, processing, and satellite data storage cycle will open more opportunities to promote inclusive innovation, reaching more Filipino scientists and researchers in return.
The GRS facilities of the Pedro Center are vital infrastructure for pre- and post-disaster monitoring that support our DRR agencies.
The D-GRS was established with the support and cooperation of the DOST-Davao, the Caap, and the Department of Information and Communications Technology.
By Antonio Colina IV
DAVAO CITY – The number of tourists who visited Davao City reached 1,037,792 from January to May this year, or an increase of 6.14 percent from 977,714 tourists reported in the same period of 2018, data released by the City Tourism Office showed.
Of the total arrivals, the data showed 78,254 were foreign visitors and 20,444 visiting overseas Filipinos.
The CTO data showed Americans remained as the top foreign visitors of the city with 8,963 for the first five months of the year.
Chinese tourists came second highest with 6,867, followed by Japanese (5,262), Koreans (3,365), Australians (2,889), Indians (2,772), Singaporeans (1,924), Canadians (1,738), British (1,420), and Arabs (2,428).
CTO head Generose Tecson encouraged the Tourism Promotions Board (TPB) to include Davao City, the hometown of President Rodrigo R. Duterte, in their international promotion campaign to help the local government sustain the international flights.
Qatar Airways launched a once weekly Davao-Doha-Davao flight last June 18, the fourth international route of Davao after Davao-Singapore-Davao of SilkAir and Cebu Pacific, Davao-Hong Kong-Davao of Cathat Dragon, and Davao-Quanzhou-Davao of XiamenAir.
"How come they don't promote us? They should include us? Ang nangyayari ngayon inaasa sa Davao City (what is happening is that it leaves everything to Davao City). We cannot do it alone because this is not only for the city but also for the whole region," she said.
According to the agency's website www.tbp.gov.ph, the TPB, an attached agency of the Department of Tourism, markets and promotes "the Philippines domestically and internationally as a world-class tourism and meetings, incentives, conferences, and exhibitions (MICE) destination, in strategic partnership with private and public stakeholders to deliver a unique high-value experience for visitors, significantly contributing to increased arrivals, receipts, and investments to the country."
Tecson said the TPB should promote Davao as a destination to help make the international flights more sustainable by luring in more foreign visitors, which comprise a measly share of the city's total tourist arrivals.
She said the agency's help would complement the international investment and tourism roadshows of the local government to position Davao as a premier investment and tourism hub of the country.
(PIA 11)
ONE of the U.S. Navy's newest warships made a port call at the Port of Davao for a three-day visit.
USS Montgomery arrived at the Port of Davao in Sasa on Saturday, June 29.
According to commanding officer Cmdr Eddie Rosso, the visit was to strengthen partnerships between the two countries and to practice interoperability with their counterparts in the Philippine Navy.
Rosso said the ship's visit was not related to the tensions in the South China Sea.
"The US and the Philippines has been in a partnership for over 70 years," Rosso said citing the ship's visit as symbol of friendship between the two countries.
The USS Montgomery is the fourth Independence Class ship littoral combat ship to be built in her class. She was commissioned in 2016.
"Most ships have a draft of 30 to 40 feet, this ship drafts 14 feet which gives our navy the opportunity to a lot of places that we couldn't be able to, particularly in the littoral coastal areas," Rosso said.
He said the ship can do so many roles like forward presence, deterrence, sea control, disaster relief, and humanitarian aid.
One of the ship's unique characteristics is its speed and maneuverability. LCS uses steerable water jets instead of the usual propellers and rudders to drive the ship.
The ship is capable of going 40 plus knots, one of the fastest US navy ships in service.
Aside from littoral capabilities she can also operate in an ocean environment.
This is USS Montgomery's maiden deployment from her homeport in San Diego, California.
After a media tour during her arrival, the ship on Sunday, June 30, hosted several visitors from the city which included local government officials and counterparts from the Philippine military.
By Dhel Nazario
Another milestone will unfold in Davao City as the second Ground Receiving Station (GRS) is set to be launched, unveiling the Philippine's largest satellite-tracking antenna to date.
This will be undertaken three years after the first Ground Receiving Station (GRS) called The Philippine Earth Data Resource and Observation (PEDRO) Center was set up at the DOST-Advanced Science and Technology Institute (DOST-ASTI) office in Quezon City.
Soon to be fully operational, the Davao GRS will have the same functions as the first GRS installed at DOST-ASTI.
These ground receiving stations are designed to communicate with Earth Observation satellites, including the Philippines' very own Diwata-1 and Diwata-2 microsatellites, by receiving, processing, and distributing space-borne imagery.
They also have direct access to a broad range of optical (high-resolution, multispectral) and synthetic aperture radar (cloud-penetrating, day-night-imaging) satellite data. Simply put, these ground facilities can upload commands and can download data captured by satellites deployed in space.
For the time being, the D-GRS will be remotely-operated and will be used for initial tests like telemetry download from free satellites such as Terra and Aqua. Compared to the ASTI GRS with only 3.7 meters, the D-GRS has a 7.3-meter satellite-tracking antenna which will allow more efficient download of images at a higher bandwidth.
The direct reception of data from satellite images provides the PEDRO Center more autonomy for near real-time acquisition of information.
With the ASTI and Davao GRS in full operation, the reception, processing, and satellite data storage cycle will open more opportunities to promote inclusive innovation, reaching more Filipino scientists and researchers in return.
Installed at the Civil Aviation Authority Philippines (CAAP) Transmitter Facility in Davao City, the D-GRS was established with DOST Region XI, CAAP, and Department of Information and Communications Technology.
(LHC)
THE Mindanao Development Authority (Minda) reported that Metro Davao Urban Plan (MDUP) is on its finalization stage this year.
"We are currently finalizing the necessary documents. We are planning to officially end the project this year, specifically on July. Hopefully after that, more of the institutional mechanisms na lang ang tututukan natin after we complete the four-volume MDUP," Minda development management officer II Katherine Zenitho Geldore said during Habi at Kape media forum Wednesday, June 26.
"What we are happy now is that some of our local government units (LGUs) have already adapted the recommendations of the Master Plan and they already considered the inputs to the updating of their zoning ordinances or Comprehensive Land Use Plans (Clups)," she added.
MDUP 2018-2040 is an effort of the National Government through the Minda with the support of Congress, to prepare the cities and municipalities within the Davao Region for metropolization to the people, to the environment, and to the economy.
Among the proposed growth centers are Tagum City, Municipality of Carmen, Panabo City, Island Garden City of Samal, Digos City, and Municipality of Sta. Cruz.
Minda public relations head Adrian Tamayo said in a text message Friday, June 28, they aim to complete the MDUP within the year. It will then be presented to concerned LGUs planning bodies within Davao, and to the Regional Development Council to be adapted for further growth and development of the city.
"The MDUP identifies competitiveness of various cities within the Davao Region in order to sustain and manage growth alongside protecting environment," Tamayo said.
"Metro Davao can manage and most likely avert the common pitfalls of urbanizing areas such as congestion, pollution and related environmental problems, and inequitable growth at the expense of agriculture," he said.
By LYKA AMETHYST H. CASAMAYOR
MORE than 1.5 million tourists have visited Davao Region in the first quarter of 2019, an increase of 69.75 percent from the same period last year.
Davao del Norte posted a significant increase of 705,427 tourists from 193,991 in 2018. Majority were identified as domestic tourists while, 15,134 are foreign tourists.
"We can see the pattern. Malaki 'yung increase sa first quarter of 2018 and then first quarter of 2019. Isa sa mga main contributors is 'yung Davao del Norte probably because there are some conventions na even if located in Davao City, the guests take advantage of tours available like island hopping in Samal so that accounts already for more tourist arrivals in Davao del Norte," Department of Tourism (DOT)-Davao director Tanya Rabat-Tan said in an interview with SunStar Davao Friday, June 28, 2019.
In the data obtained from DOT 11, Davao City posed the next highest number of tourists of 564,037. Majority or 505,491 were domestic tourists, 45,042 were foreign tourists, and 13,504 are overseas tourists or those Filipinos who visited but are now living abroad.
Compostela Valley followed with 282,868 from 131,095 in the same period of 2018; Davao Oriental recorded a decline of 14,632 from 40,198 tourists last year; Davao del Sur also posted a drop of tourist arrivals this year with 1,316 from 15,409 in 2018; and Davao Occidental have 188 tourists.
Despite decrease of tourist arrivals in the first quarter this year, Tan said they are optimistic to reach the 2019 target to exceed by 10 percent from the total number of tourists in 2018.
"Dito pa lang sa first quarter, ang laki na ng difference so I think we will reach the target," she said.
By Rudolph Ian Alama (PIA/RG Alama)
DAVAO CITY, (PIA) - The City Government of Davao is showing off its investment potentials to lure more businesses during the Davao Investment Conference 2019.
"We are anchoring the positioning of Davao City as a gateway to the Southeast Asian market so we will be highlighting our opportunities and also show to our investors that we have a wider scope of market as we are also the gateway to BIMP-EAGA (Brunei-Indonesia- Malaysia Philippines- East ASEAN Growth Area)" Lemuel Ortonio chief of the Davao City Investment and Promotions Center (DCIPC) said.
The City thru the DCIPC has put up a booth at the foyer of the SMX where the Investment Conference is being held. Inside the booth various information materials are offered to visitors mostly businessmen who are interested in Davao City as a market or location for business.
According to Ortonio they are pushing investments on 10 preferred investment areas which are: Agri-Business, Information Communications Technology, Light Manufacturing and Assembly, Tourism and Recreational Facilities, Property Development, Health and Wellness Educational and Sports Facilities, Environment Protection or Green Projects, Generation of new sources of Energy, Transportation and Infrastructure and Public-Private Partnerships.
The 2019 Davao Investment Conference organized by the Davao City Chamber of Commerce and Industries Inc. aims to attract more foreign investments to the region by showcasing business opportunities and testimonials of successful foreign locators in the region.
About 700 delegates are attending the conference which is the largest Davao ICON to be held. The two-day event (June 20-21) is held at SMX Lanang Premiere and features several talks of leading national and global businessmen, business matching and exhibits.
"We will be opening more of our gates to foreign investments," Ortonio said of Davao City's direction to look outward to sustain its economic growth.
Davao City Mayor Sara Duterte in her keynote speech spoke highly of Davao Region's economic performance as one aspect investors cannot ignore as the City is one of the fastest growing economic centers in the country.
"With this year's ICON centered on the theme 'Davao, Your Southeast Asian Investment Destination' we look forward to further widening our gates to welcome more investments both foreign and local to the city," Mayor Duterte said.
By RALPH LAWRENCE G. LLEMIT
THE Davao City Tourism and Operations Office (CTOO) expects some 250,000 tourists, domestic and foreign, joining the annual Kadayawan sa Dabaw festival this year.
CTOO head Generose Tecson said the city aims to beat its recorded 208,645 tourist arrivals last year.
She said last year's records were "very impressive" despite the implementation of martial law in Mindanao and the Ninoy Aquino International Airport (NAIA) runway incident that affected flights, both domestic and international.
Tourist arrivals during Kadayawan have continuously increased since 2016 with 171,851 and 185,660 in 2017.
Mayor Sara Duterte-Carpio recently said she would request her father, President Rodrigo Duterte to exempt Davao City from the martial law implementation.
Duterte-Carpio said exempting the city from martial law would be possible since it can be declared to specific areas.
Tecson said the mayor's request would be helpful to attract more tourists in the city.
"That would be very good because there are some countries na nag-hehesitate magpadala ng tourists here because of the martial law (That would be very good because there are some countries that are hesitant to bring their tourist here because of Martial Law)," she said Monday, June 24, after the flag raising ceremony at the City Hall of Davao.
"Kagaya ng European and American (countries), need nila ng travel insurance pag nagtatravel. You cannot get one if you are travelling to a country that is under martial law (Like in European and American countries, they will not be given travel insurance when they are travelling to a country under Martial law)," she added.
The tourism officer, meanwhile, said they are preparing for the formal launch of the festival, now on its 34th year, on July 8. Meanwhile, the official kickoff celebration will be on August 8.
Tecson also said this year's Kadayawan will be a month-long celebration, wherein activities will be spread out in the entire city.
"The difference this year is that we spread out some activities para ang mga tourist will have all the time to be here and 'di sila siksikan in one week lang (The difference this year is that we spread out some activities so that tourists will have the time to explore the city. Because one week is not enough)," she said.
This year's theme will still carry the 11 different tribes and four symbolic icons of the city but she said this year will have a different design on its layout and promotional campaign.
By Cherry Mhae Palicte (PNA)
DAVAO CITY -- The Department of Social Welfare and Development (DSWD) in Regìon 11 already released some PHP132 million worth of material assistance to individuals and families in crisis during the first half of the year.
DSWD-11 Director Mercedita Jabagat bared on Monday the transportation, medical, burial, educational and financial assistance, was given to over 38,996 individuals and families in crisis.
Financial assistance is monetary support given either as outright cash or guarantee letter (GL) addressed to service providers or establishments to augment the client's resources.
Jabagat said the various assistance given yearly by DSWD through its Crisis Unit provides integrated services to individuals and families who are indigent, vulnerable, disadvantaged, in crisis or in any difficult situation.
Transients, repatriates, deportees, abandoned, student-in-crisis, former rebels, and families of the personnel of the Armed Forces of the Philippines killed-in-action or wounded-in-action can also avail of the assistance, Jabagat said.
The DSWD Crisis Unit also provides psychosocial intervention and referrals to other agencies for services not available in DSWD.
Jabagat said the assistance extended is based on the assessment and recommendation of social workers.
Carmela Duron, the DSWD-11 Information Officer, said people or families availing of DSWD assistance should bring any valid identification card and barangay certification. They must include the following: for medical - Medical Certificate, Hospital Billing, Doctor's Prescription and Laboratory Request; for burial - Death Certificate and Funeral Contract; and for educational - Enrolment Assessment Form, Validated School Identification Card and Statement of Account.
By ACE JUNE RELL S. PEREZ
THE Department of Foreign Affairs opens on Friday, June 21, an authentication center in Davao City, the first center outside Luzon.
Located within DFA's Mindanao and Consular Office at the 3rd floor of SM City Davao, the center scraps the inconvenience of Mindanaons to travel to Manila to have their documents authenticated.
Foreign Affairs Undersecretary for Civil Security and Consular Concerns Brigido DJ Dulay said in his speech during the inauguration ceremony that the roll-out of the authentication services in Davao is a testament of the Duterte administration's commitment to an efficient and responsive frontline services to the public.
Acting director of the Authentication Division Office Consular Affairs Eric P. Valenzuela told reporters that DFA receive around 1.5 million documents for authentication both here and abroad – for the overseas Filipinos - in a year.
He added that one of their problems is the unclaimed authenticated documents from Mindanao.
"Before, there are a lot of Mindanao documents unclaimed in our Manila office maybe because they don't have the time or money - or both to claim it. Hopefully with this development (opening of Davao authentication center), this situation will no longer be an issue," he said.
Anyone who wish their documents for work, study, and/or business to be authenticated by DFA, regular processing costs P100 per document. Claiming of authenticated documents varies. For those who secured a proof of urgency or are under meritorious cases, an expedited processing will be applied where one can claim the document/s the following day.
At present, DFA has six authentication centers – four in Manila, one in Pampanga, and one in Davao City.
"But we are still opening more centers in other parts of the country. The goal is to bring this crucial government service closer to the public. We will open one in Cebu and one in Luzon very soon," Valenzuela said.
Apostille Convention
The Davao authentication center also features the Apostille Convention.
Dulay explained that the Apostille Convention removes the need for authenticated documents to undergo another authentication by the Embassy or Consulate of the country of destination that is also a State party to the convention.
"With Apostille, the authentication process will be cut into half. Filipinos who wish their authenticated documents no longer need to go to the Embassy or Consulate of the country where they intend to present or use their documents," Dulay said.
The authentication of Philippine-issued documents alone, he said, will be accepted in 113 Apostille Convention member countries. It 'apostillization' process comes without the red satin ribbon.
"This establishes conditions more conducive to foreign investments as well as raising the country's competitiveness," the undersecretary said.
The DFA Authentication Center-Davao accepts applications for authentication Mondays to Fridays from 10 a.m. to 4 p.m. and on Saturdays from 10 a.m. to 3 p.m. Scheduling of appointments is not necessary.
By Digna Banzon (PNA)
DAVAO CITY -- The two-day Davao Investment Conference (Davao ICon) drew more participation from foreign businessmen with half of the 600 total delegates, particularly the European Union member countries and members of the diplomatic community.
Davao City Chamber of Commerce and Industry (DCCCI) president Arturo Milan said this only indicates that Davao City has become an attractive place as an investment location.
In a press briefing on Thursday, Milan said of the 12 ambassadors, six are from the Netherlands, Sweden, Russia, France, Hungary, and Belgium.
Their participation in the conference, Milan said, is a show of interest to boost trade with Davao Region and Mindanao.
"One of the export countries of Davao City is The Netherlands that's why other EU countries would also like to participate," he said.
Milan also said the participation of the ambassadors is a very good way for them to know more about Davao Region that it is a safe place for investment.
"Travel advisories are issued by the embassies and their coming here would allow them to experience our place and get a first-hand look contrary to the negative stories that they hear," he said.
"They are quite excited about Davao and I think their impression has changed slowly," he added.
Milan said the foreign delegates are first-time visitors in Davao like the Japanese, Chinese, and especially the Europeans.
On the other hand, European Chamber of Commerce of the Philippines in Southern Mindanao chairperson Tony Peralta said: "This is an important event for us where the ambassadors of EU member countries are also participating together with the European businessmen."
He said the businessmen have shown interest in Davao cacao, shipbuilding, construction projects, and food processing.
By RALPH LAWRENCE G. LLEMIT
EXPECT a fully upgraded-Agdao Public Market, which is envisioned to compete with the supermarkets in malls, a city official said.
Davao City Economic Enterprise representative Gerald Castillo said the design of the public market was inspired by Maramag Public Market in Bukidnon, dubbed as the "cleanest public market in the Philippines."
He said the city had a benchmarking in Maramag few years back.
"Ang stalls nato kay parehas sa mga supermarkets nga naa'y chiller. Ta's naa ta'y business centers (Our stalls will be similar to those in supermarkets wherein they have chillers. We will also have business centers in the area)," Castillo said Thursday, June 20, during the iSpeak media forum at the City Hall of Davao.
The public market, which will be expanded to a three- to four-story building, is expected to be completed early 2021. It will then be renamed as Agdao Farmer's Market.
Castillo said the P2-billion market will also have a parking building for customers.
He said, however, it is still uncertain if the modern design of the Agdao market will also be adapted to the Bankerohan Public Market, which is now also being pushed to undergo rehabilitation.
"Hopefully, we could do the same. But it would still depend on the budget allocation," Castillo said.
CEE head Maribeth Lumactod, meanwhile, said there are plans to make the Agdao market air-conditioned as it was included in their original proposal but it is not final yet.
Lumactod recently revealed that the rehabilitation of the Bankerohan market is not yet possible as they are still settling the market's proof of ownership.
She also said the Panacan Public Market is also being targeted to be rehabilitated.
By LYKA AMETHYST H. CASAMAYOR
DAVAO City generated a total revenue of P64.65 billion from 2.39 million tourists in 2018, a city official said.
Davao City Investment and Promotion Center (DCIPC) head Lemuel Ortonio said in a phone interview Thursday, June 20, that the economic benefits include all the purchases they do in Davao City from the time they arrived.
"It is the way they spend their money here apart from the usual hotel or accommodation payments," he said.
During his presentation at the 5th Davao Investment Conference at the SMX Convention Center Thursday, June 20, Ortonio said the city is confident it could reach its target of three million tourist arrivals this year, which would mean increase of revenue.
"Tourism industry in Davao City is mainly driven by local tourists. However, in the past number of years, we have seen a growth in foreign arrivals," Ortonio said.
He said the top international arrivals in the city include Americans, Japanese, Chinese, and Korean visitors.
Due to the growing number of tourists in the city, City Tourism Operations Office (CTOO) head Generose Tecson admitted the city still lack accommodation facilities to cater to the visitors.
This prompted the local government to encourage investors to venture on convention and exhibition centers and accommodation facilities such as hotels.
"Currently, we have two international hotel brands in the city and we hope that with the presence of these two brands, investors on tourism facilities will be encouraged to put up their own brand of hotels here," Ortonio said.
Meanwhile, he also mentioned the Halal tourism industry in the city as it posed as a halal-friendly city in the country not only to the Muslim consumers but also to the non-Muslims as people slowly understood its health advantages.
By Rudolph Ian Alama (PIA/RG Alama)
DAVAO CITY, June 20 (PIA)- The City Government of Davao is upbeat on the positive impact which the direct flight between Davao City and Doha, Qatar will be bringing to the City.
"These additions to our connectivity will hopefully translate to an easier and more convenient international business trade to flourish in our city," Davao City Mayor Sara Duterte said during her keynote speech at the Davao Investment Conference today, June 20.
The City Mayor said they are looking forward to widening the gates to welcome more investments, both local and foreign to the city. "And we are more than ready for this development as Davao City has opened its air connectivity to more international routes," the City Mayor said.
"This augurs well for our city's objectives of increasing foreign arrivals. As the gateway to the region, we don't get to promote the city only but to include our neighboring provinces," City Tourism Operations Office head Generose Tecson said of the weekly flights.
Davao City is targeting about 3 million tourism arrivals for this year, and the additional international air connectivity will help bring that goal to reality.
A Boeing 787 Dreamliner of Qatar Airways landed at the Davao International Airport in the early evening of June 19 bringing 133 passengers. This is the first flight of the airlines which will be servicing the Davao-Doha route weekly.
"There will be more people from across the globe who will have better access to the city of Davao, it will be easier to them to see what we have here in Davao City and we also hope aside from tourism potentials, the visitors can also see the investment opportunities here," Davao City Investment and Promotions Center head Lemuel Ortonio said.
(LHC)
FOREIGN and local businessmen will have a glimpse of the investment potentials in Davao Region as the 5th Davao Investment Conference (Icon) kicks off Thursday at the SMX Convention Center, SM Lanang, Davao City.
The theme this year is "Davao: Your Southeast Asian Investment Destination."
DCCCII executive vice president John Carlo Tria told SunStar Davao Wednesday, June 19, that after all the preparations in the last few weeks, they are now ready to showcase the investment opportunities in the region and further boost its economy.
"We are already full blast in our preparations... We will be launching the exhibit which is open for the public and we will have the presentation of the different speakers," Tria said
As of Wednesday, almost 400 delegates already confirmed participation. One-third of the delegates are foreign investors and entrepreneurs, including the large Chinese cloud computing company Alibaba Cloud International, Japanese manufacturing firm Packwell, Inc, and others from China, Singapore, Japan, South Korea, and Malaysia, among others.
"Some of our delegates are already here in the city. We expect walk-ins and we are ready to accommodate them," Tria said, adding that the group started accepting walk-ins since 3 p.m. Wednesday.
Davao City Mayor Sara Duterte-Carpio will be delivering a keynote message on the first day of Davao Icon.
Among the topics that will be discussed during the investment conference include investing in Davao City by Lemuel Ortonio, officer-in-charge, Davao City Investment Promotion Center; Davao Region Investment Opportunities by Maria Lourdes Lim, director, National Economic Development Authority in Davao Region; Aboitiz Power Corporation's COO Emmanuel Rubio will be discussing the Mindanao power outlook; Ricardo Lagdameo, vice president, Damosa Land Inc., will discuss how special economic zones are catalysts of growth; and Jettson Yu, founder and managing director of Prime Philippines, will be giving a talk on the real estate trend in Davao Region.
On the second day, foreign speakers will be giving talks on doing business in Mindanao and in Davao. Trade Secretary Ramon Lopez and Finance Secretary Carlos Dominguez will also be speaking on the second day, June 21, 2019. President Rodrigo Duterte is also expected to deliver a keynote message.
The event aims to encourage investments in the region in the different sectors like tourism, infrastructure, real estate, information and communication technology (ICT), and Halal trade and tourism.
The event is in cooperation of the European Chamber of Commerce in the Philippines, Inc., American Chamber of Commerce of the Philippines, Inc., Japanese Chamber of Commerce in Mindanao, and the Canadian Chamber of Commerce of the Philippines, Inc.
It was also supported by the local government unit of Davao, Davao City Investment Promotion Center, the Mindanao Development Authority, the Department of Trade and Industry-Davao and the Department of Tourism-Davao.
By REUEL JOHN F. LUMAWAG
AFTER announcing that it will expand its operations in Davao Region, Japanese manufacturing firm Packwell, Inc. will be participating in the 5th Davao Investment Conference (Icon) on June 20 to 21 at the SMX Convention Center, Lanang, Davao City.
In April, Damosa Land, Inc. and Packwell entered into an agreement on the manufacturer setting up operations at the Anflo Industrial Estate (AIE) in Panabo City, Davao del Norte.
A Facebook post of DLI first vice president Ricardo Lagdameo Monday, June 17, 2019 stated that Packwell chairman Masahito Hoshino and his team visited the industrial estate ahead of the Davao Icon.
Packwell's manufacturing site at the AIE will be its fifth in Asia and first in the Philippines. The Japanese firm will be putting up its factory on a 1.6-hectare lot in the AIE.
DLI, in a statement, said the entry of Packwell in Davao Region is "already an evidence of international interest."
"The interest of potential foreign investors to explore their opportunities in the Davao Region is steadily gaining ground," the homegrown real estate firm said.
Davao City Chamber of Commerce and Industry, Inc. (DCCCII) executive vice president John Carlo Tria earlier said they have received confirmation of foreign delegates from China, Singapore, Japan, South Korea, and Malaysia.
In a recent interview with DCCCII president Arturo Milan, he said some of the Chinese and Korean delegates have started to arrive in Davao City since last week.
"They (Chinese delegates) will be joining the Icon. There will be four different groups," Milan said in an interview with SunStar Davao on June 14, 2019 at the DCCCII office.
One the groups is based in Shanghai, China and is looking at opportunities in agribusiness. There is also a group from Jinjiang and Naning.
Milan also said the Korean delegation have already started to arrive in Davao City and met with some last week.
Organized by the DCCCII, Davao Icon theme this year is "Davao: Your Southeast Asian Investment Destination."
Milan said through Davao Icon, they want to push for additional international flights from Davao City in a bid to spur the business environment of the city and the region. Qatar Airways is also expected to announce direct flights between Doha, Qatar and Davao City during the event.
Meanwhile, DLI's Lagdameo will be giving a presentation on the country's Special Economic Zones and on opportunities for foreign investments to enter the Davao Region through AIE.
By LYKA AMETHYST H. CASAMAYOR
A CACAO-BASED cooperative in Davao City has proven its capacity not only to meet the demand for cacao beans but also to produce quality chocolates that could compete with other famed local chocolates in the country.
The Biao Agrarian Reform Beneficiaries Cooperative (Barbco) in Barangay Talandang, Tugbok District, Davao City currently has around 1,200 hectares in the different areas of Davao Region cultivated by more than 2,000 cacao farmers. The cooperative is under the Department of Agriculture-High Value Crops Development Program (DA-HVCDP).
BARBCO manager Alfonso Andoy, Jr. told SunStar Davao that with the support of the DA, Department of Agrarian Reform, the City Government of Davao through its City Agriculturists Office and other government agencies, the cooperative was able to thrive in transforming plain cacao production center into producing processed products.
"We have proven that we could produce our own chocolate products from our own produced cacao beans. This way, cacao farmers are encouraged as they can see that there is really demand for both cacao beans and chocolates," he said.
This also opened opportunities for cacao farmers to increase their income through value adding.
"We look into value-adding activity and monitor the value chain. We made a proposal to the DA and they saw our advocacy not only in making the cacao industry in the region known, but also in helping the farmers stick into cacao farming," Andoy said.
He said from harvesting cacao beans, they converted it into fine flavor which may take 20 to 25 days of fermentation using an equipment that has the capacity to process around 6,000 to 8,000 cacao beans.
Barbco is now slowly penetrating the market with their products like chocolate-coated mallows, chocolate-coated bread sticks, tablea, instant champorado, dark chocolates, and milk chocolates. There are also products that are on trend during occasions like the bouquet of chocolates, hugot chocolates, among others. Andoy said they make sure that they know what is trending in the market and innovate to keep up.
Andoy said the cooperative is also starting to train their cacao farmers to become entrepreneurs of their own products.
"We are hoping to expand our area for planting cacao and encourage more farmers to be part of our cooperative. We have all the support, facilities and technology to further improve our industry. Davao will continue to become prominent in cacao and chocolate production not only in the country but also abroad," Andoy said.
While the industry is evidently on the rise, cacao farmers continue to face numerous challenges like lack of connectivity and market access.
By Joey Sem G. Dalumpines (PIA XI)
DAVAO CITY (PIA) -- The City Disaster Risk Reduction and Management Office pins its hope on the establishment of an AM/FM radio broadcasting system by the city government which aims to update barangay residents on impending calamities and emergencies.
Alfredo Baluran, CDRRMO chief said radio has a wider scope and can easily reach many barangays even outside the city.
He acknowledged the fact that radio is the most accessible medium of communication for barangay residents.
"We can easily pass the information to the listeners, especially on water hazards like the surge in the levels of water among rivers and waterways," Baluran said.
He said any information can easily be relayed like feedbacking to the CDRRMO since radio telecommunication is established in all barangays and all waterways are constantly monitored.
Baluran said human monitors are as important as the scientific data gathered through the remote rain gauges in determining the extent of the hazard that may affect a large number of residents.
He said the CDRRMO is currently maximizing the use of situational reports sent through text blasts.
"Incidentally, not all people have cellular phones, so radio comes in handy," Baluran said.
He also bared that the CDRRMO is currently equipped with state-of-the-art cameras to monitor the shoreline of the city.
Baluran said four coastal cameras are monitoring Davao Gulf from Binugao, Toril, Daliao, Toril, Matina-Aplaya, and Tibungco used for earthquake and flooding situations.
By RALPH LAWRENCE G. LLEMIT
SOME 10,000 individuals are expected to celebrate with the Hugpong ng Pagbabago's (HNP) thanksgiving activity Friday, May 31.
The activity, called as "Daghang Salamat, Davao City," will be a luncheon and dinner activity at the Rizal Park, San Pedro Street.
The thanksgiving party will be celebrated, weeks after candidates endorsed by the HNP, a regional party of Davao City Mayor Sara Duterte-Carpio, snagged nine out of 12 Senate seats during the 2019 midterm elections.
In Davao City, all of HNP's endorsed candidates were voted in the Magic 12.
A temporary closure to vehicular traffic will be implemented nearby the venue's vicinity from 12:01 a.m. Friday (May 31) until 6 a.m. Saturday (June 1).
These are: the portion of Bolton Street in between Rizal Park and City Council Building, from corner San Pedro Street to corner Magallanes Street; City Hall Drive right side, from between Quezon and Rizal parks up to the City Engineer's Office and City Planning and Development Office; and the road fronting City Hall.
The celebration also coincides with Duterte-Carpio's 41st birthday.
The mayor previously thanked everyone who supported her and her party during the campaign period.
She also thanked the Dabawenyos for delivering a "12-0 vote" for HNP senators, saying it is a first in the city's history.
"Daghang Salamat sa inyong tanan. (Thank you everyone.) I have said that I feel alone everyday stressing over making sure Davao City is OK, but when I am in distress, Dabawenyos carry me on their backs," she said on her previous Instagram post.
No details have yet been disclosed if Duterte-Carpio and her partymates will be present during the activity.
By Rudolph Ian Alama (PIA/RG Alama)
DAVAO CITY - Government offices from local government units, national government agencies military/police units, government owned and controlled corporations (GOCCs), schools along with private establishments observed the National Flag Day in Davao Region.
May 28 heralds the start of a 15-day period known as National Flag Days and will culminate on June 12, the country's Independence Day celebration. Republic Act 8491 known as the Flag and Heraldic Code of the Philippines calls on the public and private sector to display the flag during the said period.
Flag-raising ceremonies were held in the morning in government offices and schools. The local government of Tagum City through its City's Historical and Cultural Commission has installed several Philippine Flags fronting the new city hall.
In Davao City, several ceremonies were held to mark the National Flag Day. In the Police Regional Office –XI headquarters, Police Brigadier General Marcelo Morales, PRO-XI chief led the flag-raising rites. One of Davao City's largest mall - SM Lanang Premier also commemorated the event with a flag march participated by its security personnel.
The May 28 National Flag Day marks the Battle of Alapan held on May 28, 1898 where the Philippine Revolutionary Army defeated the Spanish garrison in Cavite. After the battle, the Philippine flag hand-sewn by Marcela Agoncillo was hoisted for the first time by General Emilio Aguinaldo in present-day Cavite City.
Fifteen days after the Battle of Alapan, Gen. Aguinaldo declared the country's independence in Kawit, Cavite.
By LYKA AMETHYST H. CASAMAYOR
FARMERS in Davao City can now ensure that their agricultural products are directly sold to consumers without the intervention of middlemen with the opening of the Davao Food Terminal Complex (DFTC) in Toril District Tuesday, May 28.
The P1.086 billion food complex is located within a 20-hectare property and will have food processing centers, cold storage/warehousing facilities, trading post, technology/ business incubation center, tourism component, agri-aqua culture, and water filtration and bottling facilities.
Davao City Mayor Sara Duterte-Carpio said this will also benefit the farmers and consumers of the neighboring areas as well.
"It is my hope that this will be just one of the many agricultural initiatives that will elevate our local agricultural industry even further and will empower our agricultural players, especially our local farmers to be at par with our global counterparts," Duterte-Carpio said in her message during the grand opening.
She added that the DFTC is a proof that the goal in defeating hunger and addressing food security while helping the farmers is achievable amid changing climate and increasing food demand across the globe.
Duterte-Carpio acknowledged the Department of Agriculture (DA), the Department of Trade and Industry-National Development Company (DTI-NDC), the Department of Science and Technology (DOST) and the farmers group in Davao City.
The DA allocated P70 million for the project in a bid to improve the farmer-consumer trading market in the city.
Businessman John Carlo Tria told SunStar Davao in a separate interview Tuesday, May 28, that the project will improve food safety and quality of food handling.
He said this will allow producers better flexibility and price for their goods.
Earlier this year, the Davao City Council approved the rates and charges of DFTC.
The specified space rental fee will be P12 for every one square meter a day.
By Lilian Mellejor (PNA)
DAVAO CITY -- Following the successful tourism and trade roadshow in Seoul, Korea last week, the city government said it will increase its engagements with foreign neighbors not only to boost trade and tourism industry but also find a market for local entrepreneurs.
Lemuel Ortonio, the chief of the Davao City Investment and Promotions Center (DCIPC), said the city government is eyeing more international trade and tourism activities to showcase Davao City's products.
DCIPC is the prime marketing arm of the city government in generating investments and promoting the city as today's best investment destination in the Philippines.
Ortonio said DCIPC still plans to do more trade and tourism roadshows between Davao and Korea after the successful three-day roadshow held recently in South Korean capital.
Ortonio, who led the Davao delegation composed of city government officials and representatives from the local business sector and tour operators, cited the well-attended Davao City Business Forum with over 50 Korean businessmen at the Philippine Embassy in Seoul.
The forum was organized by the Philippine Embassy aimed at highlighting the investment opportunities in Davao.
According to Ortonio, the products that the Koreans were interested in are the cacao beans and nibs supply from Davao, seaweeds trading and pet bottle recycling machines.
The delegation also met with Korean tour operators and participated in the investment meeting with the Korea Chamber of Commerce and Industry, visited the Seoul Food Expo and the Kintex International Convention Center.
City Chief Information officer Jefry Tupas said the Seoul trade and tourism roadshow was not the first for this city.
Tupas said the city government held previous similar engagements in Japan, Malaysia, and Singapore.
By Lito Delos Reyes (PNA)
DAVAO CITY — Around 200 young children participated in the 3rd Children's Games at the Our Lady of Lourdes Parish at Central Park in Bangkal, this city, on Sunday.
Philippine Sports Commission (PSC) Chairman William "Butch" Ramirez said it was his first time to join the parade since the Children's Games was revived in May 2017.
"This is my first time to march after all several Children's Games we conducted for about 18,000 kids, we already lost count because I'm also from here and I just live nearby," Ramirez said.
He thanked Fr. Toto Espana for caring for the welfare of the youth.
He then told young participants that the Children's Games is for everybody -- rich or poor.
"There's no native, Christians nor Muslims since we are all Filipinos, we are one," he added.
In his interaction with the children, Ramirez encouraged them to make new friends among them. The children played different traditional games during the one-day event.
By Antonio Colina IV
DAVAO CITY – A team of experts commissioned by Japan International Cooperation Agency (JICA) has started a feasibility study on Davao City's sew­erage management system, a project that involves building wastewater treat­ment facilities along coastal areas to address the contamination in the river and beaches.
Assistant City Administrator Tristan Dwight Domingo said in an interview at the sidelines of the celebration for the enthronement of Japanese Emperor Naruhito, and the 100th anniversary of the Davao Japanese Community on Thursday the primary area recom­mended as the site for phase 1 of the sewerage treatment park project is Magsaysay Park.
Under the Infrastructure Modern­ization for Davao City (IM4Davao), a 27-year Infrastructure Modernization Plan (IM4Davao) containing short, medium, and long-term proposed high priority projects with an estimated cost of R298.4 billion, there have been six sewerage treatment parks being planned for the city.
The feasibility study, which will be completed by first quarter of 2020, will determine the suitability of Magsaysay Park as a location for the sewerage treatment plant, Domingo said.
"The proposal for wastewater treat­ment facility will be located at the coastal areas because it is where the wastewater from the uplands, or from all over the city usually passes before it reaches the sea or the ocean," he said.
According to the JICA-funded study, the river and beach waters of the city are seriously contaminated with fecal coliform.
By LYKA AMETHYST H. CASAMAYOR
FARMERS and fisherfolk in Davao Region will have access to the use and purchase of the latest technology for farming and fisheries at a learning center that will soon rise in Davao City.
Postharvest Development and Mechanization (Philmech) Applied Communication Division Chief Rodolfo Estigo said once the Agriculture and Fishery Postharvest and Mechanization Learning Center in Tugbok District will be completed, new machines and equipment for the agri-fishery sector will be placed for actual training of interested individuals. The equipment will also be made available for purchase.
"Farmers can try how to operate and man the machines and equipment. This would help them decide which new technologies to adopt in their farming operations because they have seen how these machines work," Estigo said.
"[Farmers and fisherfolk] can also seek advice in technical assistance on how they can integrate the technologies into their existing business," he added.
Among the equipment available will be processing systems for cacao, coffee and adlay. There will also be a compact corn mill and brown rice howler, among others.
Estigo said teaching individuals with actual equipment allows the farmers or fisherfolk to experience concrete concepts that work. He said this may persuade farmers and fisherfolk in accepting new technologies and in turn improve or increase their production.
The groundbreaking ceremony of the learning center was held on May 17, 2019. Estigo said they expect the project to be completed before year end.
"This building will serve as a demonstration center. If people want to see how the machine will operate, dito nila makikita 'yun. It will also serve as information center, training center and farm and business advisory hub," Estigo said.
"Ang magiging function ng project na ito is to showcase our technologies in relation to the agri-fishery sector. And in this, kung ano 'yung mga appropriate for Davao region na research results naming, we will bring them all here like the cacao processing system na kung saan sa Davao ang pinakamaraming cacao to also show sa ating mga stakeholders kunga no 'yung mga latest technology on it," he said.
By Rudolph Ian Alama (PIA-XI)
DAVAO CITY (PIA) -- The Jose Maria College's (JMC) College of Medicine in this city aims to meet the needs of the Universal Health Care Program in terms of providing medical professionals.
"The Universal Health Care Law is a game-changing reform of the country's health system and it needed to be matched by the medical education that has for long didn't look into primary aspect of health care," JMC College of Medicine Dean Aurelio Camilo B. Naraval said during the formal launching of the school.
The new college of medicine is the third medical school in Davao City and in Mindanao after Davao Medical School Foundation and Brokenshire College.
Naraval said the new college of medicine will provide a fresh thinking in addressing the common health problems in the community. Our curriculum will respond to this… our medical students even in their first year are already exposed to the public health centers and health facilities," Dean Naraval said.
Commission on Higher Education chair Prospero de Vera who was the guest in the formal launch held May 18 at the Marco Polo Davao said that the country needs doctors who "have the eye on the ground" that can identify diseases that hit the community.
"One problem in the medical education in the Philippines is that a lot of the universities produce clinicians and experts, we focus on tertiary level, we produce a lot of specialists and the problem is a lot of the diseases in the Philippines have to be advanced before the specialists come in," De Vera said.
The CHED chair added that the JMC College of Medicine is the first school of medicine approved after the passage of the landmark Universal Health Care Law signed by President Rodrigo Roa Duterte. The law aims to give Filipinos access to affordable and quality healthcare.
The Jose Maria College is founded by Pastor Apollo C. Quiboloy of the Davao City-based Kingdom of Jesus Christ congregation.
"We are pouring out our resources to help one of the major challenges we are facing today, which is the health of our people, that is why we in the private sector are helping our government in our little humble way by establishing this college of medicine," Quiboloy said.
The College of Medicine campus, located in the JMC compound in Sasa beside the Davao International Airport, boasts of state-of-the-art learning facilities. Manned by 40 faculty members, the college has five classrooms, eight laboratories and two theaters.
By Lito Delos Reyes (PNA)
DAVAO CITY -- Dabawenyos will see the world's heavyweight boxers in action when this city hosts the "Thrilla in Davao" on June 15.
The "Thrilla in Davao" will feature Ronald Clyde "The American Dream" Johnson of the US tackle Saul "The Phoenix Assassin" Farah of Bolivia for the vacant Global Boxing Organization heavyweight title.
The 34-year-old Johnson (15W-1L-0D) has been waiting in the wings for an opportunity to stake his claim as a future world titlist.
"Johnson is not a pushover. He (won) the USNBC (US National Boxing Championship) light heavyweight championship in 2009 over Bill Bailey," said Rey Rodis, chairman of the RED Boxing International.
"But he cannot take his opponent for granted. He needs to have a definite fight plan if he wants to win," Rodis added.
The 36-year-old Farah (69W-23L-3D, 60KO) has won the World Boxing Council (WBC) Latino heavyweight and the Bolivian cruiserweight championship.
"His (Farah) style is almost like Mike Tyson's who comes surging forward to put down his opponent, the earlier the better," Rodis said.
It has been 44 years following the 1975 Thrilla in Manila heavyweight contest held in the country's capital during the Marcos years.
The "Thrilla in Davao" is a 54-round boxing extravaganza presented by the RED Boxing in cooperation with the city government.
By Lilian Mellejor (PNA)
DAVAO CITY – The Davao Light and Power Co. is expecting a 30-percent increase in electricity demand in its franchise areas from 421 megawatts (MW) in 2018 to 546 MW by 2023 based on the continued economic growth across the country.
"The construction boom in the city is a win-win for all sectors," Rodger Velasco, Davao Light director and president and chief operating officer, said Sunday.
Davao Light, the third largest privately-owned electric utility in the country, is expecting the construction of more residential buildings, a hotel business park, a multipurpose indoor arena, a factory, and schools between 2019 and 2021.
Velasco said they also look forward to serving more customers, especially when the government's "Build, Build, Build" program shifts to a higher gear.
The electric utility sees an increase in its customer base to 504,911 from 404,574 last year.
It is also anticipating an increase in its sales from 2,468,191 MW per hour in 2018 to 3,137,336 MW per hour in five years.
Davao Light serves Davao City, Panabo City, and the towns of Carmen, Dujali, and Sto. Tomas in Davao del Norte province.
Earlier, Mindanao Development Authority Assistant Secretary Romeo Montenegro said the construction boom in the city would boost electricity demand.
Montenegro underscored the importance of power supply moving along the growth trajectory in the long-term, "thus the need to bring in new and reliable capacities even before the developments get ahead of us".
By Joey Sem G. Dalumpines (PIA XI)
DAVAO CITY (PIA)- A total of 5,000 athletes from all parts of the country will converge here from May 18 to 24 for the holding of the 2019 National Games under the Private Schools Athletic Association Sports Foundation Incorporated.
Laureano Santos, Secretary General of the PRISAA said this year's theme will be "Sustaining Filipino Athletes for Global Competitiveness."
Speaking in the I-Speak Forum, he said that the PRISAA 2019 will open formally on Sunday, May 19 with the mass, assembly and parade of athletes and delegations' officials from the UM-Matina Campus Chapel Grounds to the Track and Field Oval.
"Athletes from private schools secondary and tertiary will compete in athletics, basketball, volleyball, beach volleyball, football, sepak takraw, softball, badminton, boxing, chess, dance sports, karatedo, swimming, table tennis, taekwondo, tennis, weightlifting, billards, and academic and cultural presentations like oratorical contest, PRISAAyawan, PRISAAwitan, solo and duet singing contests and Mutya Beauty Pageant," he said.
Santos said the playing venues will be at the UM Matina Campus, Davao del Norte and Sports Tourism Complex in Tagum City, Davao del Norte, Abreeza Mall and Almendras Gym.
The PRISAA has produced medalist in the Southeast Asian (SEA) Games and other international competitions like Hidelyn Diaz who hails from Universidad de Zamboanga, Zamboanga City.
Angel Sumagaysay, deputy chief of the Public Safety and Security Command Center assured the readiness of the city to provide ample security to the athletes in their billeting and gaming venues.
"We can handle the athletes' safety and security since the number of delegations is more manageable than the Palarong Pambansa," he said.
By RALPH LAWRENCE G. LLEMIT
THE year 2019 is a milestone for Davao City in the field of sports.
During the first half of the year, three major sports competition were hosted in the city - the Davao Region Athletic Association (Davraa) Meet held last January, the Alveo Ironman 70.3 Davao last March, and recently, the 2019 Palarong Pambansa last April 27 to May 4.
On May 19 to 24, another sports competition will be hosted by the city for the first time, the National Prisaa Games 2019.
With this, Davao City Sports Development Division of the City Mayor's Office (SDD-CMO) officer-in-charge Mikey Aportadera said the city will once again prove its worth in hosting huge sports events, as it had become successful in recent ones.
Despite having a short rest from the recently-concluded Palaro, Aportadera guaranteed the city will be able to deliver its commitment not only to the organizers, but also to the delegates and athletes who will participate in the competition.
"The city will be providing the logistical support. Our priority will be the welfare of everybody who will come over and participate," he said.
The sports head's said safety and security, health, social welfare and accommodation will be assured in their almost one week stay.
"For the city, we have been using a certain template in the hosting of Davraa twice in a row, and the recent Palarong Pambansa," Aportadera said, adding that the city is confident that the Prisaa hosting will be smooth and successful.
Some 7,000 participants, including athletes and delegates, will be flocking in the city, for the Games to be participated in by 16 regions with 1,200 member schools.
Aportadera said hosting huge sports events had been the vision of Mayor Sara Duterte-Carpio since then.
"We support her that she wants to host big events, both national and international events here because she sees that Davao City is ready to open its doors to invite people to come over," he said.
He also said it is one way of developing local athletes to be competitive in big sports events outside the city.
While Davao City is continuously pushing for the development of its sports facilities, including the Davao City-University of the Philippines (DC-UP) Sports Complex, he also said there is a need to push for sports development, both in public and private schools.
"Let's look at what needs to be done. We also need to improve identification of athletes to compete, so that by the time there will be competitions, we are ready," Aportadera said.
Hosting huge sports events is also a economic booster, he said, as Prisaa athletes and their families outside Davao City would have the chance to explore different tourist landmarks in the city.
Aportadera said the city is looking forward to host another Prisaa Games in the future, this time, with a more upgraded and word class facilities.
By LYKA AMETHYST H. CASAMAYOR
AS A way to empower and give thanks to farmers and fisherfolks, the Department of Agriculture (DA) 11, together with the Bureau of Fisheries and Aquatic Resources (BFAR) 11, highlighted the different products of the local farmers in Davao region during the Grand Farmers Fiesta at
Manambulan, Tugbok District, Davao City yesterday, May 17.
"Pasasalamat ito sa ating mga magsasaka at mangingisda that is why we highlighted their products here and also to promote available, affordable, safety food for the people," DA 11 Regional Director Ricardo Oñate said in an interview with SunStar Davao yesterday.
Oñate, in his speech during the opening ceremony, acknowledged the farmers and asked for continued support to the projects of the government.
Fresh and processed agricultural and fisheries products were on display during the event where Onate said that the agriculture sector has still been facing challenges like in food production especially with El Niño and dry spell hitting some parts of the region.
"Ang food production kaya na nato kay naa naman tay mga technology karon na pwede na nato i-adapt. Daghan ang mga requests na dili nato mahatag, muhangyo lang mi na magsinabtanay lang (We can increase food production because we now have technology that farmers can now adapt. However, if there are requests we cannot approve yet, we hope for your patience)," Oñate said.
Meanwhile, BFAR 11 Regional Director Fatma Idris said that through the event fisherfolks are empowered, adding that the bureau is continuous with its provision of interventions to improve the fishery sector especially now that the fish production is not doing well in the region.
More than 1,200 farmers and fisher folks attended the whole day event which is also part of the celebration of the Farmers and Fisherfolks Month.
By Cherry Mhae Palicte (PNA)
DAVAO CITY -- The Department of Agriculture (DA) 11 (Davao region) will collaborate with other agencies to provide the Indigenous Peoples (IPs) the capability to develop their ancestral lands.
It will be a convergence initiative aimed at providing the intrinsic importance of agricultural land, forests and related natural resources for their sustainable livelihood.
The DA-11, together with the National Commission on Indigenous Peoples (NCIP) - Davao and other stakeholders, has already discussed the proposed Ancestral Domain Development Areas (ADDA).
The ADDA project will address the IPs' heavy dependence on raw forest resources, both timber and non-timber, by providing technical assistance, packaging and social marketing, and developing ancestral domain products following the principles of value chain.
About 10 municipalities have been identified as project sites, among them Boston, Tarragona, and Cateel in Davao Oriental; Maco, New Bataan, and Laak in Compostela Valley; Talaingod and Kapalong in Davao del Norte; Magsaysay in Davao del Sur; and Malita in Davao Occidental.
The NCIP said the ADDA shall be sub-divided into various lots and will be offered to the interested investors following community rules on land allocation and other existing laws.
The investors will be invited by the departments of agriculture, environment, social welfare,trade and industry, and labor.
Based on the map suitability of DA-11, cacao, coffee, abaca, upland rice, corn, peanut, mung bean, and root crops are best suited in the identified ADDA.
Director Ricardo Oñate said on Friday that DA will provide the needs of the IPs, such as seeds, technology and other inputs the agency can offer.
"The projects should not bring harm to the cultures and tradition of the IPs. Thus, this whole nation approach (project) would increase IP youth participation in attaining sustainable food production," Oñate said.
The project covers several components -- capacity development training of IP farmers, community organizing, forest protection, and planting of high-value crops, coffee, fruit trees, and vegetable garden.
Lawyer Geroncio Aguio, NCIP director, said the convergence effort could possibly generate employment since the ADDA project will invite investors for wood processing, plywood factory, abaca processing (stripping machine and decorticator), organic upland rice, corn and peanut production and marketing, cacao and coffee processing. Aguio said the ADDA pilot area's integrated facilities will also be built on the project site.
By JENNIE P. ARADO
OTHERS may be puzzled of why Anchor Land's first real estate property development outside Metro Manila is located in Davao City and not any other big cities in Luzon or Visayas.
However, at the recently concluded Davao on the Rise, a business forum organized by Inquirer Property and Lamudi.ph, different government agencies and private sectors attested to what Davao City is now in terms of tourism and investment opportunities that make it the new investment hub in the south.
In front of several brokers and real estate agents, City Tourism Operations Office (CTOO) head Generose Tecson talked about the constantly increasing number of tourists visiting the city. From 2.4 million tourist arrivals in 2018, Tecson said they are targeting to reach 2.8 million for 2019.
"We understand that before they invest in our city, they are tourists first. So we make it a point to make them have a wonderful experience as tourists here," she said.
Tecson added that together with the Davao City Investment and Promotions Center (DCIPC), they are conducting tourism and investment road shows in different cities and neighboring countries to introduce what the city can offer in terms of tourism and investment areas.
"We're adding more activities under the preferred investment areas. We currently have 10 preferred investment areas and one of them is real estate so we're providing tax incentives. These are local incentives and you can also avail of the national government incentives through the Board of Investments. We've also added a few items to further make it attractive, including tax deductions," DCIPC Investors Assistance and Servicing Unit head Christian Cambaya said.
Davao City Chamber of Commerce and Industry Inc. (DCCCII) president Arturo Milan said they continue to lobby the approval of other direct flights from Davao City to neighboring countries to make the city more attractive and more accessible to tourists and investors alike.
"We are also pushing that the Davao International Airport also be under an authority already," Milan said, adding that extensive attention put toward the airport will benefit the entire city and neighboring provinces and municipalities as the international airport will be the first impression guests will have of the city.
With the joint effort of public and private sectors in making Davao City a feasible area for tourists and investors alike, Tecson said the increasing influx of tourists comes the equally increasing demand for
accommodation facilities especially during conferences and other big events conducted in the city.
Along with this, she encouraged everyone who has accommodation facility business, even small or AirBnB types, to register their business to be properly monitored, regulated, and promoted by the local government.
Anchor Land president Elizabeth Ventura is aware of this dilemma and so by developing 202 Peaklane in the center of Davao City, they wish to be of help especially that the units are perfect investment opportunities for those who seek to buy residences they can rent out.
Ventura shared that 202 Peaklane units are designed with the clients' value for money in mind so much so that it is the only property of its kind in Davao City with fully-furnished units.
"The actual units are business-ready, meaning, the clients can easily liquidate the unit they acquire because these units are already fully-furnished. They get the idea of what the set-up looks like and how they can be maximized from our model units in the showroom," Ventura said.
"These units we offer are affordable because the clients will no longer have to spend on the capital in order to turn their investments into profitable properties."
202 Peaklane offers three types of units -- the lifestyle suites, the lifestyle suites, the premium suites, and the family suites.
The lifestyle units are fully furnished studio residences complete with double decks, multi-functional desks and chairs, cabinets, and a kitchenette. Each comes with separated toilet and bathroom so that the residents can efficiently move around in the unit.
The premium suites are fully furnished studio units with a hotel-like set-up. These units are built with single beds, desks, cabinets, kitchenettes, as well as separated toilet and bathroom.
The family suites are two-bedroom residences with spaces ideal for starting families.
202 Peaklane will rise as the best alternative to hotel accommodation and the best option for vertical living in Davao City, which is just a pedestrian lane across Ateneo de Davao University and Marco Polo Davao.
"We are thankful for the private sectors for working hand-in-hand with the local government for necessary projects for the city's development," Tecson said.
Anchor Land is considered a key contributor to change in Davao City's real estate landscape.
Davao on the Rise was held at Marco Polo Hotel on March 20, 2019. It was supported by SunStar Davao and Anchor Land.
The older news reports are kept here.