Cities of the Philippines
Jump to navigation
Jump to search
→ → Go back HOME to Zamboanga: the Portal to the Philippines.
List of the 17 Regions in the Philippines
National - Capital Region ● I - Ilocos ● II - Cagayan ● III - C. Luzon ● IV-A - Calabarzon ● IV-B - Mimaropa ● V - Bicol ● VI - W. Visayas ● VII - C. Visayas ● VIII - E. Visayas ● IX - Zamboanga ● X - N. Mindanao ● XI - Davao ● XII - Soccsksargen ● XIII - Caraga ● XIV - CAR ● XV - BARMM
Regions | Philippine Provinces | Philippine Cities | Municipalities | Barangays | High School Reunions
---
*Philippine News
---
Interactive Google Satellite Map of The Philippines
Kiddie pool In Pasonanca, Zamboanga City Picture from: Zamboanga Tourism
IMAGE FROM DINAGYANG FESTIVAL IN ILOILO CITY Photo Taken by Joselito Villasis
Sun Valley Golf Club is the newest championship golf course in the Philippines. Located in Cogeo, Antipolo City, along Marcos Highway, it is easily accessible from Ortigas Center and Makati City.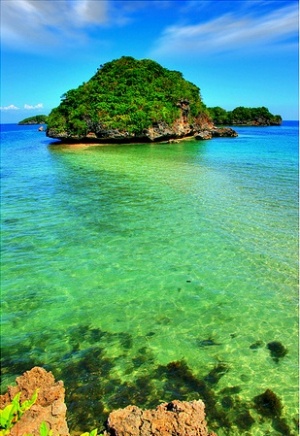 Alaminos City boasts of its Hundred Islands National Park.
Underground River in Pueto Princesa, Palawan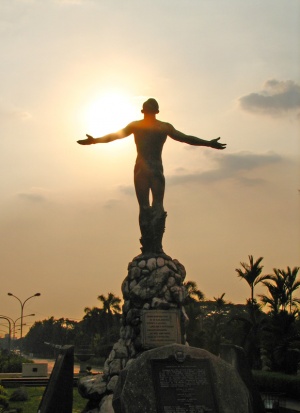 University of the Philippines, Diliman, Quezon City
Chocolate hills of Batuan, Carmen, and Sagbayan Bohol. When there isn't enough rain, the grass on these limestone hills turn brown. Hence, the name Chocolate hills. These hills range from 40 to 120 meters high.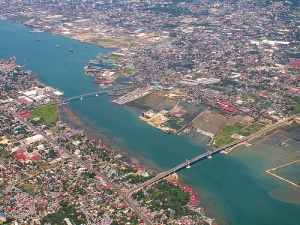 The bridge at the top of the image is the first Mactan-Mandaue bridge, the one below is the Marcelo Fernan Bridge.
The river starts in the Kalatungan Mountain Range found in the central part of the province of Bukidnon. It finally empties into the Macajalar Bay at Cagayan de Oro City in the Province of Misamis Oriental.
Dietary supplement is a product that contains vitamins, minerals, herbs or other botanicals, amino acids, enzymes, and/or other ingredients intended to supplement the diet. The U.S. Food and Drug Administration has special labeling requirements for dietary supplements and treats them as foods, not drugs.
---
---
Manufacturers and distributors of dietary supplements and dietary ingredients are prohibited from marketing products that are adulterated or misbranded. That means that these firms are responsible for evaluating the safety and labeling of their products before marketing to ensure that they meet all the requirements of DSHEA and FDA regulations.

Fundacion Pacita: This stone studio was built by Pacita Abad, an Ivatan artist from the remote province of Batanes. She died of lung cancer December of 2004.

The boy, the sea, and the cloud in Bongao, Tawi-Tawi, Philippines

Old Seaport of Mambulac, Silay City
Ormoc City, Leyte Plaza
Wars of ancient history were about possessions, territory, power, control, family, betrayal, lover's quarrel, politics and sometimes religion.
But we are in the Modern era and supposedly more educated and enlightened .
Think about this. Don't just brush off these questions.
Why is RELIGION still involved in WARS? Isn't religion supposed to be about PEACE?
Ask yourself; What religion always campaign to have its religious laws be accepted as government laws, always involved in wars and consistently causing WARS, yet insists that it's a religion of peace?
WHY??
There are only two kinds of people who teach tolerance:
The Bullies. They want you to tolerate them so they can continue to maliciously deprive you. Do not believe these bullies teaching tolerance, saying that it's the path to prevent hatred and prejudice.
The victims who are waiting for the right moment to retaliate. They can't win yet, so they tolerate.
Crucifixion of the faithfuls in Angeles City
The presidents of the Philippines haven't shown any respect for the Barangay system. Not a single president so far has honored the name of the barangay where the Malacañang Palace is located in. Will the 16th president (Duterte) be the first to start respecting the barangay system? So far he hasn't. As citizens, you can ask the president to do so. You can also help update the barangay pages in two ways: (1) by sending your information or pictures via email to franklin_maletsky@yahoo.com, (2) by messaging your information or pictures via Facebook.
---
List of 145 Chartered Cities in the Philippines:
Listed as City, Province, and Country.
There are three classes of cities in the Philippines:

The highly urbanized, which may also be chartered and independent of the province they are in are listed below in green letters.

Note: Cities that are to be converted into "highly urbanized" cities in the future, are not eligible to participate in provincial elections.

The independent component cities which are independent of the province and they are listed below in green letters.
The component cities which are part of the provinces where they are located and subject to their administrative supervision.
According to the NSCB (National Statistical Coordination Board) there are 143 Cities in the Philippines as of September 2012. Below is the alphabetical list of the cities in the Philippines.
One very important factor to remember is that MUNICIPALITIES are not classified as CITIES. The list of cities in the Philippines will continue to increase as municipalities later become cities. A municipality must qualify to be classified as a city.
Note: As of March 30, 2011, The League of Cities of the Philippines (LCP) agreed that 21 municipalities have met the requirements for cityhood set by Constitution and the Local Government Code. Soon there will be more than 143 cities in the Philippines.Read about it
Every barangay in each city of the Philippines has a Z-Wiki Interactive Webpage of its own. Your help via information updates will be greatly appreciated.

PH climbs 19 spots in global innovation
Thursday, August 1, 2019
The Philippines jumped 19 places to rank 54th among 129 countries in the Global Innovation Index 2019.
It was a significant improvement from the 73rd spot the country held in 2018 as its score climbed to 36.18 from last year's 31.56 ........... Full Story»
---
Philippines eyes air talks with Jordan, Morocco
Monday, July 15, 2019
MANILA, Philippines — The Philippines plans to hold air talks with Jordan and Morocco this year to strengthen diplomatic ties and prepare for potential air services agreements with these countries in the future.
"Most of the air talks this year are more of in the nature of diplomatic commitments. Morocco is asking us. Jordan is asking us. Many countries which are not really in our radar," Civil Aeronautics Board (CAB) executive director Carmelo Arcilla said ........... Full Story»
]
Independent Philippine Cities
From a legal and fiscal standpoint, once a city is classified as either "highly-urbanized" or "independent component" city:
its Sangguniang Panlungsod legislation is no longer subject to review by any province's Sangguniang Panlalawigan.
it stops sharing its tax revenue with any province Consequently, the governor and the provincial government do not have administrative supervision over an independent city and its elected officials, as stated in Section 29 of the Local Government Code Local Government Code of 1991 (Republic Act 7160), although they and the government of the independent city can always cooperatively work together on matters of common interest.
Prior to 1980, the eligibility of cities to vote for provincial officials was determined by their respective charters. With the enactment of Bilang 51 on December 22, 1979, all cities that were classified as belonging to the newly-introduced "highly urbanized city" distinction lost their eligibility to participate in provincial elections regardless of what their charters indicated. Batas Pambansa Bilang 51, Chan-Robles Law Library. As a result, the cities of Angeles, Bacolod, Cebu, Iligan, Iloilo and Olongapo became ineligible to vote for provincial officials. The only independent cities that can still participate in the election of provincial officials (governor, vice governor, Sangguniang Panlalawigan members) are the following:
Cities declared as highly urbanized between 1987 and 1992, whose charters allow their residents to vote and run for elective positions in the provincial government, and therefore allowed by Section 452-c of the Local Government Code to maintain these rights: Lucena, Mandaue
Registered voters of the philippine cities of Cotabato, Ormoc, Santiago, as well as all other highly urbanized cities, including those to be converted or created in the future, are not eligible to participate in provincial elections.
In addition to the eligibility of some independent philippine cities to vote in provincial elections, a few other factors become sources of confusion regarding their autonomy from provinces. Some independent cities still serve as the seat of government of the respective provinces in which they are geographically located: Bacolod City, Negros Occidental, Philippines , Butuan City, Agusan del Norte, Philippines, Cagayan de Oro City, Misamis Oriental, Philippines, Cebu City, Cebu, Philippines, Iloilo City, Iloilo, Philippines, Lucena City, Quezon, Philippines, Pasig (Rizal (province)|Rizal), Puerto Princesa City, Palawan, Philippines, and Tacloban City, Leyte, Philippines. In such cases, the provincial government takes care of the expenses of maintaining its properties such as provincial government buildings and offices outside its jurisdiction by paying for the actual cost of running these facilities as well as providing the host city government with an annual amount (which the province determines at its discretion) to aid in relieving incidental costs incurred to the city.
The representation of a city in the House of Representatives of the Philippines(or lack thereof) is not a criterion for its independence from a province, as Congress is for national legislation and is part of national (central) government.
Being part of an administrative region different from the province's own does not make a city independent. The city of Isabela functions as a component city of Basilan: its tax revenues are shared with the provincial government, its residents are eligible to vote and run for provincial offices, and it is served by the provincial government and the Sangguniang Panlalawigan with regard to provincially-devolved services. However, by opting to remain within Region IX, Isabela City's residents are not eligible to elect and be elected to regional offices of the expanded Autonomous Region in Muslim Mindanao - ARMM which now includes the rest of Basilan. Services that are administered regionally are provided to Isabela City through the offices of Region IX based in Pagadian City; the rest of Basilan is served by the ARMM and the regional government based in Cotabato City. Isabela City is not independent from its province, rather it is simply outside the jurisdiction of the ARMM, the region to which the other component units of Basilan belongs. It must be noted that regions are not the primary subnational administrative divisions of the Philippines, but rather the provinces.
Many government agencies, as well as Philippine society in general, still continue to classify many independent philippine cities outside Metro Manila as part of provinces due to historical and cultural ties, especially if these cities were, and are still, important economic, cultural and social activity centers within the geographic bounds of the provinces to which they previously belonged. Furthermore, most maps of the Philippines showing provincial boundaries almost always never separate independent cities from the provinces in which they are geographically located for cartographic convenience. Despite being first-level administrative divisions (on the same level as provinces, as stated in Section 25 of the LGC), independent cities are still treated by many to be on the same level as municipalities and component cities (second-level administrative divisions) for educational convenience and reduced complexity.
We do not have a list of component philippine cities. We do not have a list of independent cities in the Philippines either. We only keep the one list of cities in the Philippines because component cities can later become independent cities.
News about Cities of the Philippines
The League of Cities of the Philippines (LCP) agrees that 21 municipalities have met the requirements for cityhood set by Constitution and the Local Government Code. The list of municipalities below have already qualified for cityhood based on the standards set by law: Cabuyao, Laguna • San Pedro, Laguna • Cainta, Rizal • Taytay, Rizal • Binangonan, Rizal • Bacoor, Cavite • Gen. Trias, Cavite • Imus, Cavite • Carmona, Cavite • Silang, Cavite • San Pedro, Laguna • Pantabangan, Nueva Ecija • Calaca, Batangas • Sto. Tomas, Batangas • Bauan, Batangas • Nasugbu, Batangas • Mauban, Quezon • Marilao, Bulacan • Sta. Maria, Bulacan • Norzagaray, Bulacan • Limay, Bataan
---
LCP not against towns' efforts
By EDMER F. PANESA
May 27, 2010, 4:41pm
The League of Cities of the Philippines (LCP) cried foul Thursday over allegations that it is greedy and insensitive to the aspirations of other municipalities that dream to become cities even as it welcomed to the league its two new members – the cities of Dasmariñas and Biñan.
"The LCP is not against any initiative on the part of a municipality to be converted into a city. However, what we strongly object to is the conversion of a municipality that is not yet, by itself, prepared to become a city," said LCP president Mayor Benjamin C. Abalos Jr. of Mandaluyong City.
It will be recalled that the LCP had questioned a Supreme Court (SC) decision that declared as valid and constitutional 16 new republic acts converting 16 municipalities into cities.
The LCP said the SC "erred in disregarding the mandatory and prohibitive language of the Constitution" in exempting the 16 new cities from a law that requires towns to have an annual income of P100 million to vie for cityhood.
Basically, the league was concerned that the existing cities would suffer a reduced share in the Internal Revenue Allotment –a subsidy given by the national government to local government units – with the creation of additional cities presumably with low income.
Voting 6-4, the SC granted last December 22 granted the second motion for reconsideration filed by the towns that lost their city status because of the high tribunal's decision on November 18, 2008, which found their "cityhood laws" unconstitutional.
The 16 towns converted into cities under various republic acts are Baybay in Leyte; Bogo in Cebu; Catbalogan in Samar; Tandag in Surigao del Sur; Borongan in Eastern Samar; Tayabas in Quezon; Lamitan in Basilan; Tabuk City in Kalinga; Bayugan in Agusan del Sur; Batac in Ilocos Norte; Mati in Davao Oriental; Guihulngan in Negros Oriental; Cabadbaran in Agusan del Norte; Carcar in Cebu; El Salvador in Misamis Oriental; and Naga in Cebu.
The SC noted that as early as the 11th Congress, which was convened after the 1998 presidential elections, all 16 municipalities had been seeking cityhood – along with 33 other towns that eventually became cities – or way before the passage of Republic Act (RA) 9009.
Enacted in June 2001, RA 9009 amended the Local Government Code to raise the income requirement for towns to becomes cities to P100 million from P20 million.