Buluan, Province of Maguindanao, Philippines Project B.O.S.S.
Jump to navigation
Jump to search
→ → Go back HOME to Zamboanga: the Portal to the Philippines.
B.O.S.S. Brotherhood Operation Sweet Smile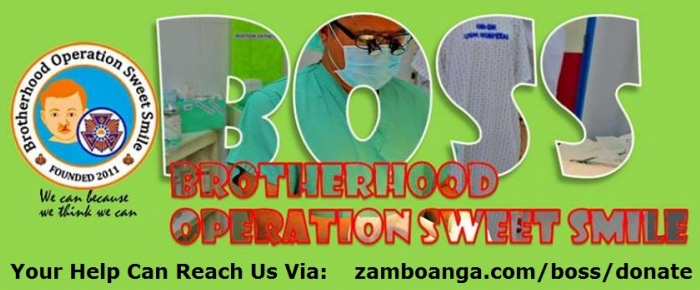 All your donations will go to project BOSS.

Buluan, Maguindanao, Project B.O.S.S. November 19-22, 2012
November 19-22, 2012. During the Tacurong City mission me & my better half went to Buluan, Maguindanao and met Ms.Lynette Estandarte, the Provincial Budget Officer for the replication of Project B.O.S.S. I was in touch with Gov. Toto Mangudadatu through the endorsement of his chief of security Bro Maj. Abubakar Mangelen, so was referred to Ms. Lynette. After few introductions the date was set originlly for the 18th -22 to coincide with the foundation day of Mauguindanao. We got the ARMM PNP to participate in looking for patients too, and of course the AFP Easr Mindanao Command. The mission was done with the cooperation again of Maharlika Charity Foundation Inc. (MCFI). The chief of Hospital of Buluan District Hospital, Dr. Elizabeth Samama was very cooperative. Gov. Toto Mangudadatu gave us a visit during the conduct of the mission, he even donned a scrub suit to enter the operating room. He was so much delighted at the success and wanted it to be repeated in the near future. There were 54 cleft Lip patients given a restorative surgical procedure and now can sport a sweet smile. And 6 Pedia Hernia now relieved of the encumbrance. Our brod Mayor of Datu Paglas, Mohamad Pendatun Paglas and his lovely wife Sis Sakina Paglas opened their lovely home for us to stay during the duration of Project B.O.S.S., pampering us with delightful meals, another Apo, Sis Helen Uede was so supportive and very hospitable, sis Sally Dalid & bro Aladdin Dalid came all the way from Cotobato to observe. Brods, Jaypee Piang, Jomz Mohamad, Norben Bello and a lot more APOs in Buluan shared their part as well.Our heartfelt appreciation to all those who have given their share.
Do the following so your photo upload will be properly categorized for B.O.S.S. Brotherhood Operation Sight & Smile.
Copy and paste the code below in "GREEN" to the body or "Summary" of the image file that you are uploading.
{{zadheader pictures}}
[[Category:Buluan, Maguindanao BOSS Photo Gallery]]
[[Category:BOSS Photo Gallery]]
{{boss contact}}
*[[Buluan, Province of Maguindanao, Philippines Project B.O.S.S.]]
Photo Gallery