Bato, Sibonga, Cebu, Philippines
Jump to navigation
Jump to search
→ → Go back HOME to Zamboanga: the Portal to the Philippines.
Regions | Philippine Provinces | Philippine Cities | Municipalities | Barangays | High School Reunions
---
List of the 17 Regions in the Philippines
National - Capital Region ● I - Ilocos ● II - Cagayan ● III - C. Luzon ● IV-A - Calabarzon ● IV-B - Mimaropa ● V - Bicol ● VI - W. Visayas ● VII - C. Visayas ● VIII - E. Visayas ● IX - Zamboanga ● X - N. Mindanao ● XI - Davao ● XII - Soccsksargen ● XIII - Caraga ● XIV - CAR ● XV - BARMM
Within these 17 regions in the Philippines, there are 42,027 barangays, 1486 municipalities, 148 cities, 82 provinces. It has a democratic form of government and the freedom of speech is upheld by law. English is the "lingua franca" and is the mode of instruction in all high schools, colleges and universities. Laws and contracts are written in English.
---
Barangays of Sibonga in the Cebu Province within Region 7 in the Republic of the Philippines
Abugon • Bae • Bagacay • Bahay • Banlot • Basak • Bato • Cagay • Can-aga • Candaguit • Cantolaroy • Dugoan • Guimbangco-an • Lamacan • Libo • Lindogon • Magcagong • Manatad • Mangyan • Papan • Poblacion • Sabang • Sayao • Simala • Tubod
---
The Philippines has been a "decentralized" form of government since 1991, contrary to what most Filipinos think. Ever since the creation of Republic Act 7160, each LGU is responsible for its own domain. Even the smallest LGU the barangay creates its own Budget. It is not dependent on handouts from the city, municipality or province. "IMPERIAL MANILA IS A MYTH!", it does not exist anymore. The Philippine budget formulation system is not centralized. "Budgetary planning has been DECENTRALIZED since 1991". It is the responsibility of each LGU to submit their budgetary needs for review. Failure to submit is the problem.
---
---
Herbal Medicine, Heals Naturally and Maintains good health! Allows us to live Long and Prosper! We are one with Flora. Throughout time humans and the animal kingdom have relied on the healing power of herbs. We used them in several ways: we have ingested them, rubbed them on our bodies, bathed in them, even used them in our cooking to flavor our foods.Herbal Medicine, Heals Naturally and Maintains good health! Allows us to live Long and Prosper!
---
---
We are one with Flora. Throughout time humans and the animal kingdom have relied on the healing power of herbs. We used them in several ways: we have ingested them, rubbed them on our bodies, bathed in them, even used them in our cooking to flavor our foods.
Wars of ancient history were about possessions, territory, power, control, family, betrayal, lover's quarrel, politics and sometimes religion.
But we are in the Modern era and supposedly more educated and enlightened .
Think about this. Don't just brush off these questions.
Why is RELIGION still involved in WARS? Isn't religion supposed to be about PEACE?
Ask yourself; What religion always campaign to have its religious laws be accepted as government laws, always involved in wars and consistently causing WARS, yet insists that it's a religion of peace?
WHY??
There are only two kinds of people who teach tolerance:
The Bullies. They want you to tolerate them so they can continue to maliciously deprive you. Do not believe these bullies teaching tolerance, saying that it's the path to prevent hatred and prejudice.
The victims who are waiting for the right moment to retaliate. They can't win yet, so they tolerate.


Barangay Seal
Please Upload Picture
Interactive Google Satellite Map of Sibonga, Cebu, Philippines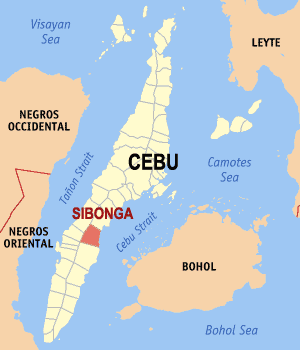 Sibonga within The Province of Cebu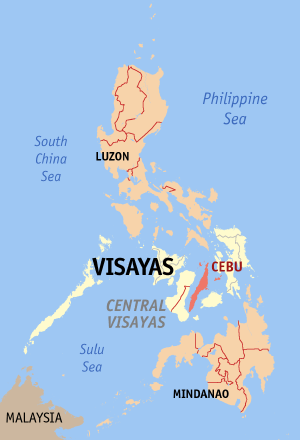 Location of The Province of Cebu in The Philippines


Barangay Hall
Please Upload Picture
Dietary supplement is a product that contains vitamins, minerals, herbs or other botanicals, amino acids, enzymes, and/or other ingredients intended to supplement the diet. The U.S. Food and Drug Administration has special labeling requirements for dietary supplements and treats them as foods, not drugs.
---
---
Manufacturers and distributors of dietary supplements and dietary ingredients are prohibited from marketing products that are adulterated or misbranded. That means that these firms are responsible for evaluating the safety and labeling of their products before marketing to ensure that they meet all the requirements of DSHEA and FDA regulations.
Bato, Sibonga,
Cebu, Philippines

Location of Bato, Sibonga, Cebu, Philippines
Bato is one of the barangays of Sibonga in the island province of Cebu that's within Region VII in the central visayas area.
History of Bato, Sibonga, Cebu, Philippines
Contribute your knowledge about the history of Bato
People of Bato, Sibonga, Cebu, Philippines
Population of Bato, SIBONGA as of 2020 census: 1,531
Featured News of The Philippines
Updated: September 30, 2023
Empowering Local Farmers: AgroDigital PH to Launch Innovative E-Commerce Platform in Negros Oriental.
In a bid to bridge the gap between local farmers and the hospitality sector, an innovative e-commerce platform is set to be launched in select areas of Negros Oriental, specifically in regions marked by conflict. This initiative, named AgroDigital PH, is aimed at facilitating online transactions between farmers and businesses in the hospitality industry, such as hotels and restaurants. The platform is set to make its debut in the communities of Barangay Dobdob in Valencia and Barangay Talalak in Sta. Catalina, as shared by Krystle Jade Bato, the representative from the provincial office of the Department of Trade and Industry (DTI). This initiative, backed by an initial PHP500,000 from the provincial government, is a venture of the Poverty Reduction, Livelihood, and Employment Cluster (PRLEC) of the provincial Task Force to End Local Communist Armed Conflict (TF-ELCAC). The initiative aims to empower local farmers, enabling them to reach a broader market while bypassing intermediaries, thus benefitting communities impacted by communist insurgencies.
---
Unified Strides Toward Fair Elections: Police Regional Office 5 Advocates for Secure and Equitable Polls
The Police Regional Office (PRO) 5, operating in Bicol, remains optimistic about achieving secure, accurate, and fair Barangay and Sangguniang Kabataan Elections (BSKE), attributing this to the collaborative efforts of various stakeholders across diverse provinces. In a recent initiative, PRO-5 organized a widespread solidarity cycling event, witnessing participation from thousands and conducted across all Police Provincial Offices (PPOs) in the region. The event was designed to promote a collective spirit and cooperation in anticipation of the forthcoming Oct. 30 elections. Brig. Gen. Westrimundo Obinque, the director of PRO-5, expressed his gratitude to the participants gathered at the PRO-5's headquarters, Camp Gen. Ola, for their embodiment of unity and cooperation, emphasizing the significant role of active participation in ensuring a tranquil and secure election process. Obinque accentuated the dual objective of the event: to fortify unity amongst various stakeholders and to advocate for health and wellness.
---
Local Government Unit LGU of Bato, Sibonga, Cebu, Philippines
Elected Bato Officers for the term of 2010 - 2013

Chairman (captain): ?
Kagawad:

?
?
?

SK Chairman: ?
SK Kagawad:

?
?
?
Businesses in Bato, Sibonga, Cebu, Philippines
We invite you to list your business located in Bato, Sibonga.
Give your business a good description. Add your address and contact number if available.

Resorts, restaurants, pension houses, or hotels are welcome to be listed here.
Bakery, Mechanical Shop, Bicycle Shop, Tailor shops can be listed here.
If you have a pharmacy or gas station, it can be listed here too.
Hardware stores, Agrivets, salon, spas, etc. are welcome to be listed.

We do not allow external links except for our sponsor zamboanga.com and maletsky.com. If you have an external site for your business you may not link to it in Z-Wiki but you can point to it. e.g. list it like this: www.my??business.com - this tells the people of your website but it does not link to it.
Businesses in Bato

The name of your business, address, phone number
Real Estate for Sale in Bato, Sibonga, Cebu, Philippines
If you have real estate property, whether its commercial, residential, farm land, or just an empty lot in Bato, you can list that property for FREE HERE in Z-wiki.
You can list your House and lot or farm land for sale for free here in Z-Wiki
Churches, Mosques, or Places of Worship in Bato, Sibonga, Cebu, Philippines
The name of your church, mosque, or place of worship can be listed in this community page. Take a picture of the facade of your church or place of worship and it can be posted here. We can even provide you with a free webpage. You can enter the data (story about your place of worship) here yourself, email the information or pictures to (franklin_maletsky@yahoo.com) or via Facebook.
---
FILIPINOS WAKE UP! THE TAXES YOU PAID ARE USED BY THE GOVERNMENT TO EXCLUSIVELY FINANCE THE RELIGION OF ISLAM.
Freedom of religion, yes. Equality, yes. But no favoritism.
---
Schools in Bato, Sibonga, Cebu, Philippines
The schools in Bato
Economy of Bato, Sibonga, Cebu, Philippines
If you have an article that talks about the improvement of the economy of Bato, Sibonga you can post that article here. If you come across any news items that talk about the economy of Bato, Sibonga, you may post it here. Of course you have to reference the writer of the article. Any improvement to transportation, power and service usually improves the economy of the community, so go ahead and report that too.
Natural Resources of Bato, Sibonga, Cebu, Philippines
This page needs some articles about the natural resources of Bato, Sibonga. Where does the energy source of this Sibonga come from? Are there any mining industries? Rivers and tributaries are part of the natural resources.
Tourists Attractions of Bato, Sibonga, Cebu, Philippines
Help us add some of the tourist attractions of Bato in Z-wiki. This will help boost the local economy of Bato. Anything that is unique or anything that stands out in your community may be a tourist attraction.
Landmarks are usually photographed a lot by visitors. Post the Bato landmarks here.
Fiestas and Traditions of Bato, Sibonga, Cebu, Philippines
Fiesta date of Bato
Your Story about Bato, Sibonga, Cebu, Philippines
Tell your story about Bato. You can talk about the good things in Bato or simply talk about the past. You can talk about the eco-system of Bato. What is the local LGU doing about the preservation of your natural resources? The topic can start here and once it gets bigger it can have a page of its own in Z-Wiki. It's all up to you.
Philippine Cycling is about cycling in the Philippnes. Philippine Cycling helps promote bike races, cycling clubs, bicycle tours, and the development of bicycle trails. Activities are coordinated with bike shops and cycling clubs throughout the Philippines to promote the fun of riding bikes. Philippine Cycling will be coordinating events with tour of Luzon, Visayas and Mindanao. Road biking and mountain bikings will be promoted by Philippine Cycling.
Cycling Activity to Participate In

Your cycling activity can be posted here and it will be shown in all the Provincial, City, Municipal and Barangay pages. Your 2015 Cycling Race or Activity can be Posted here.
ILOILO CITY, April 27-May 2, 2015 (PNA) – Some 5,000 bikers are expected to join the second Iloilo Bike Festival slated April 27-May 2, 2015 as the city continues to aspire to become a bike-able walkable metropolis. The activity that supported by the John B. Lacson Foundation Maritime University (JBLFMU) and Megaworld Iloilo aims to promote Iloilo as a safe and bike friendly city, promote the share-a-road movement encourage Ilonggos to commute via biking and raise Ilonggos awareness on the benefits of biking on health, safety and environment concerns. Read More....
CYCLING Le Tour de Filipinas 2015 set as country celebrates 60 years of top-caliber cycling Feb 1 to Feb 4 2015 - View the result of the race: A four stage race. Stage 1 starts in Balanga and back to Balanga for a 126K race Feb 1, 2015 (Sunday); stage 2 starts in Balanga, Bataan to Iba, Zambales for a 154.7 K race Feb 2, 2015 (Monday); stage 3 starts in Iba, Zambales to Lingayen, Pangasinan for a 150.1K race Feb 3, 2015 (Tuesday); stage 4 starts in Lingayen, Pangasinan to Baguio City, Benguet for a 101.7K race Feb 4, 2015 (Wednesday). For a total distance of 532.5 Kms. Read More >>>
Ronda Pilipinas: Feb 8 - 27 2015:>> Discovering young riders for the national team will be the main objective of the LBC Ronda Pilipinas 2015 when the country's premiere cycling race hits the road on Feb. 8 in Butuan City. Ronda Pilipinas executive project director Moe Chulani said the international multistage bikathon, which ends on Feb. 27, will have two qualifying legs of four stages each in Mindanao and the Visayas where the top riders will advance to face a tough foreign challenge in the six-stage Luzon finale. Read More>>>
Click HERE to view more PHOTOS about Bato, Sibonga.