Difference between revisions of "BOSS"
Jump to navigation
Jump to search
→ → Go back HOME to Zamboanga: the Portal to the Philippines.
m

m

(Changed protection level for "BOSS" ([edit=sysop] (indefinite) [move=sysop] (indefinite)))

(No difference)
---
Revision as of 22:09, 30 March 2012
B.O.S.S. Brotherhood Operation Sweet Smile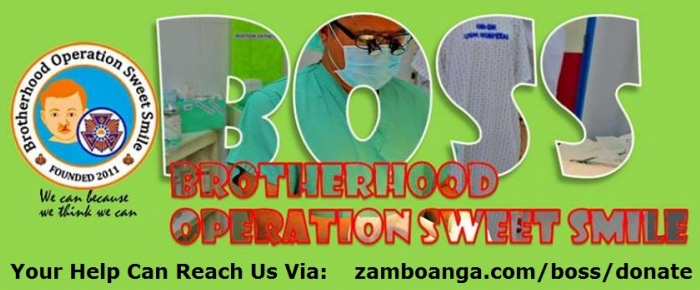 All your donations will go to project BOSS.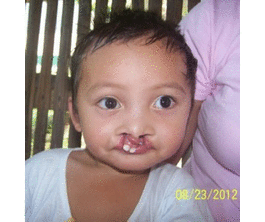 In as few as 45 minutes a child or anyone can be saved from a lifetime of pain, shame and isolation. You can give them a chance to go to school, make friends and have a bright future. For as little as 100 pesos you can help provide a surgery for a child suffering from a cleft palate or cleft lip(harelip).


One act of random kindness at a time. Visit our website: B.O.S.S.
Child with a Harelip or Cleft Palate

Child Before the Operation with a severe condition

Same Child After the Operation and during recovery

2013-03-16 Kapatagan Project B.O.S.S. Getting ready to be operated
---
We are registered with the SEC as a Non-Profit and Non-Stock corporation.

Registration #: CN201708930
Cleft lip (cheiloschisis) and cleft palate (palatoschisis), which can also occur together as cleft lip and palate, are variations of a type of clefting congenital deformity caused by abnormal facial development during gestation. A cleft is a fissure or opening—a gap. It is the non-fusion of the body's natural structures that form before birth. Approximately 1 in 700 children born have a cleft lip and/or a cleft palate. An older term is harelip, based on the similarity to the cleft in the lip of a hare.

Clefts can also affect other parts of the face, such as the eyes, ears, nose, cheeks, and forehead. In 1976, Paul Tessier described fifteen lines of cleft. Most of these craniofacial clefts are even more rare and are frequently described as Tessier clefts using the numerical locator devised by Tessier. A cleft lip or palate can be successfully treated with surgery, especially so if conducted soon after birth or in early childhood.
Because of your donations, this woman can now have a great smile.
Cleft Lip/Palate - Harelip in the Philippines
Article below copied verbatim from: http://www.ncbi.nlm.nih.gov/m/pubmed/9003905/
Clinical and epidemiologic studies of defined geographic populations can serve as a means of establishing data important for genetic counseling and as a first step in identifying strategies best suited for identification of causes. Under the sponsorship of Operation Smile International, clinical, genetic, and epidemiologic studies were carried out at six sites within the Philippines between 1989 and 1996.
Patients who were being evaluated for surgical repair of craniofacial anomalies (primarily clefts of the lip and palate) were briefly examined for the presence of associated anomalies, and a family history was obtained to look for the frequency of cleft lip and palate in siblings.
Birth records of 47,969 newborns over an 8-year period at one hospital in Bacolod City in the province of Negros Occidental were reviewed. Medical records of infants born with clefts of the lip and/or palate and other major anomalies were reviewed and birth prevalence rates calculated. Findings include a birth prevalence of 1.94 per 1000 live births for cleft lip with/without palate in the Philippines.
Recurrence rates in siblings for nonsyndromic clefts of the lip and palate were 23 per 1000 for cleft lip with or without cleft palate, and 14 per 1000 for cleft palate only. The percentage of clefts associated with multiple anomalies was 21% at birth and 6% for individuals examined during the screening process, providing evidence for a high postnatal death rate.
These data provide groundwork for additional etiologic studies including segregation analysis and molecular genetic studies involving linkage or association, as well as for studies of environmental contributions to clefting such as vitamin deficiencies. Preliminary molecular analysis using an association approach is reported in a companion paper.
The findings suggest a high incidence of cleft lip and palate in native-born Filipinos.
Cataract in The Philippines
A cataract occurs when the lens inside your eye becomes cloudy. Things linked to clouding include: Aging (age-related cataracts).
Overexposure to ultraviolet (UV) radiation, such as from sunlight, tanning booths, or sunlamps. Diabetes. Diabetes, especially when the blood sugar levels are above the safe range, causes changes in the eye that can result in cataracts. Disease inside the eye, such as glaucoma, retinitis pigmentosa, retinal detachment, or long-term uveitis. Long-term use of steroid medicines. Frequent X-rays or radiation treatments to the head.
Family history (genetics). A person may inherit the tendency to develop cataracts.
Vitrectomy. People older than age 50 who have had the vitreous gel removed from their eye (vitrectomy) have an increased risk of cataracts. Eye injury. Even though injury-related cataracts are rare, injury is a leading cause of cataracts in children. Being born with cataracts (congenital). Some children are born with the condition.
Project B.O.S.S. stands for Brotherhood Operation Sight & Smile. Wherein APO SOZA ALAS, Cranio Facial Foundation Philippines, Mabuhay Deseret Foundation & Maharlika Charity Foundation Inc has joined hands in rendering FREE Cataract and Harelip Operation in the areas of Mindanao & parts of Visayas. Anyone is welcome who could contribute for the success of this noble and life transforming endeavor.
A smile is a facial expression formed by flexing the muscles near both ends of the mouth. The smile can also be found around the eyes (see 'Duchenne Smiling' below). Among humans, it is an expression denoting pleasure, joy, happiness, or amusement, but can also be an involuntary expression of anxiety, in which case it is known as a grimace. Smiling is something that is understood by everyone despite culture, race, or religion; it is internationally known. Cross-cultural studies have shown that smiling is a means of communicating emotions throughout the world. "Verbatim from Wikipedia"
Visit our Facebook Page.
From June to December of 2011:

180 Harelip patients, 52 elederly with cataract, 1 Hernia case, 148 dental extraction and 32 cystic removal wre given medical care in Zamboanga del Sur, Marawi City, Lanao del Sur and part of Tacloban, Leyte.
---
---
Founding of B.O.S.S. Brotherhood Operation Sweet Smile
Our Vision
To give new Sight to the cataract afflicted people and Sweet Smile to the cleft lip/palate afflicted children.
Our Mission
Get the brotherhood and other people involved and with partnership with Smile Train sponsored groups extend free surgical restoration to indigent hapless citizen of Mindanao and parts of Visayas in particular, and the nation in general. Have the brotherhood worldwide and friends to participate and support our noble cause. To make this a foundation.
Organizers and Promoters of Project BOSS, Brotherhood Operation Sweet Smile
Founder:
Helping Hands

Mayor Ireneo Glepa of Molave
The chief of hospital of Margosatubig Regional Hospital, Dr.Richard B. Sison
Maharlika Charity Foundation Inc.
Mabuhay Deseret Foundation
Cranio Facial Foundation Inc.
Philippine Band of Mercy
ACPPI Advance Craniofacial Projects Philippines Inc. Dr. Rico P. Nebres
Zamboanga del Sur Medical Society (ZDSMS)
Association of Surgeons & Anesthesiologists of Pagadian (ASAP)
Brod Gov. Bombit Adiong of Lanao del Sur
Drs. Emelda Taib of Marawi in-charge Medical Missions
Sis Cielo Martinez
Dr. Aileen Riel Espina Chief of Hospital Eastern Visayas Regional Hospital Tacloban, Leyte
ABS CBN Cagayan de Oro Ms. Shiela Labrador
ABS CBN Cotobato City Ms. Lerio Bompat
ITVN 8 Ms. Divina Roxas
RMN Cotobato City, Mr. Bong Calamba & Mr. Vern Simon
RMN Pagadian Buknoy Dumapit, Mel Coronel
RMN Surigao City Ms. Gay Tiu
RMN Malaybalay City Richard Villaronte
RPN 9 Teleradyo Pagadian City, Ms. emelyn Campilan & Mr. Efren Superal
Happy FM Malaybalay City
Alpha Phi Omega Delta Phi Chapter & It's Alumni
Alpha Phi Omega Sultan Kudarat Alumni Association
Alpha Phi Omega Surigao City Alumni Association
Alpha Phi Omega Capitol Integrated Alumni Association
Alpha Phi Omega Beta Upsilon Chapter & Alumni thru Brod Ali Andig
Alpha Phi Omega Cavite City (APO CACI) Bro. Boy Dizon
APOKAA Sis. Mona M. Lidasan
APO NCAR Sis Irene S. Sibayan
BETA THETA ALAS-APOKASA Bro. Bem Cabrera/Bro Cedric Mantawil
KAPOHIL (KAPATIRAN ALPHA PHI OMEGA sa HILAGANG LANAO)
1st Infantry (TABAK) Division under the command of Maj. Gen. Rainier G. Cruz III, Gen. Dan Lucero (RIP), Gen. Gerry Barrientos
4th Infantry (DIAMOND) Division under the command of Maj.Gen. Oscar Lactao
GHQ Philippine Army Fort Andres Bonifacio under the command of LtGen. Eduardo M. Ano
403rd Brigrade, Malaybalay, Bukidnon under CO Col. Jojo Gille
LGU Sultan Kudarat Gov. Suharto T. Mangudadatu of Sultan Kudarat
LGU Labangan, Zamboanga del Sur Mayor Kitty Nandang of Labanagan
LGU Tukuran, Zamboanga del Sur Mayor Dyango Villamero of Tukuran
LGU Lapuyan, Zamboanga del Sur Mayor Daylinda Sulong of Lapuyan
LGU Pagadian City Mayor Sammy Co of Pagadian City
LGU Pagadian City Mayor Tata Pulmones of Pagadian City
LGU Lanao del Norte Gov. Khalid Q. Dimaporo of Lanao del Norte
LGU Maguindanao Gov. Toto Mangudadatu of Maguindanao Province
LGU Surigao City, Mayor Ernie Matugas of Surigao City
LGU Bukidnon Gov. Jose Ma. Zubiri of Bukidnon Province, Philippines
Kapatagan, Provincial Hospital
Caraga Regional Hospital
Amai Pakpak Medical Center under the Chief of Hospital Dr. Amer Saber
Bukidnon Provincial Medical Center under the Chief of Hospital Dr. Piciong Legaspi
Loving Presence Foundation with Ms. Josephine Belsondra
TZU CHI Foundation
Benty Bantug Benitez Foundatio
University of Southern Mindanao under the Presidency of Bro. Francisco Garcia
USM Hospital under the Chief of Hospital Dr. Deodatu Garcia
Philippine Carabao Institute Bro. Benjamin John Basilio
Contact Us
Contact:
Bel T. Yenko: email: gabrielyenko@gmail.com
Babes C. Rota: email: diosarota1925@gmail.com
cellphone:

+63-920-950-1925 or
+63-917-635-1925 or
+63-920-955-1925 or
+63-922-832-1925

For your donation please click Here
Commendation of Project B.O.S.S. from the Vice-President of the Philippines
Vice-President Jejomar C. Binay wrote a letter of commendation to the founder of Project B.O.S.S.
Commendation of Project B.O.S.S. from the Philippine Army General Headquarters
LtGen. Eduardo M. Año AFP Eduardo M. Año presented a Plaque of Appreciation

Successful Stories of B.O.S.S. Brotherhood Operation Sweet Smile
May 29-31, 2016 Praise the Lord! He has allowed us to conduct our noble advocacy in the Cavite Naval Hospital. This was made possible by the leadership of Bro. Rodolfo "BOY Dizon, president of APO CACI (APO Cavite City /Alumni Association). It was a milestone in the annals of history for both the Cavite Naval Hospital and the APO CACI, both having done it for the first time. Forty plus patients registered but only 26 came, plus the three that were picked up in Baclaran when we fetched our chief nurse. ->->Full Story
May 10-13, 2016 The second time we did the mission catering to 30 patients. We have again ACPPI as our medical team up. There are still some cleft palate from the first mission to be operated upon, plus those in this mission, so we will be back by Set. 07, 2016. ->->Full Story
January 14-17, 2016 With the cooperation of the Local Government of the Province of Bukidnon, and with the assistance of the 403rd Brigade, and the untiring support of the Chief of Hospital Dr. Piciong Legaspi we were able to successfully conduct our mission. ACPPI medical group, headed by Dr. Rico P. Nebres, was our partner. ->->Full Story
April 20-24, 2016 The fifth replication, eclipsing the record established in our first mission by a dozen with a lot less mortality. Our partner here is ACPPI, Advance Craniofacial Projects Philippines Inc. Headed by Dr. Rico P. Nebres, a Plastic Surgeon. LtCol. Benedicto Manquiquis was the CO of CMO Batallion, accomplishing a feat that would take sometime to be at least equaled if not surpassed. ->->Full Story
June 23-26, 2013 the second coming of our group this time for Saving Sight: Mabuhay Deseret Foundation (MDF) was our partner who provided the lenses, goggles, pre & post operative medicines. The 1st Infantry (TABAK) Division again generously hosted the noble undertaking. The able and kind hearted surgeons who performed the operations were Dr. Egay Legaspi, Dr. Ramcarl Blancia, both from Pagadian City, & Dr. Tito Dejos and his three resident doctors, they are from Cagayan de Oro City, they stayed for a half day only. There were 34 cataract patients successfully operated and 27 pterygium excisions. 10 more were handled to Doctors Legaspi & Blancia, for operation, even after the mission for the microscope bogged down. The needed materials and medicines were left by MDF. ->->Full Story
Aug. 24-27, 2012 Project was replicated in this AFP Camp: Praise the Lord! Glory be his name! There were 102 harelip afflicted patients who showed up for the Project B.O.S.S. a noble endeavour of our group APO SOZA ALAS in giving free harelip operation in partnership with Maharlika Charity Foundation Inc. (MCFI). The hospital of the 1st Infantry (TABAK) division was the venue, and they hosted likewise the billeting & meals of the MCFI Doctors, Surgeons, Nurses and other technical staff. 1st Infantry (TABAK) Division likewise fed not only the patients but as well as the parents or watchers that came with the patients. The LGU of Labangan likewise contributed in the feeding of the patients and other LGUs as well like Pagadian City, Tukuran, Lapuyan, Bayug those are the LGUs that came to my knowledge for the others were coordinated by the 1st Infantry. ->->Full Story
April 12-14, 2016 As promised we returned to cater to those first batch left and the new ones that came. Again the complete cooperation of the first stakeholders and the new ones was beyond words to describe. Many thanks again to the chief of hospital Dr. Deodatu Garcia, and to his staff. Of the 40 who came, 36 were successfully operated. The combination of the two successive missions left numerous cleft palate to be operated so we scheduled an AUGUST 17-20, 2016 mission. We coordinated with Governor Emmyloy Taliño Mendoza of Cotobato, for a province wide mission. ->->Full Story
March 04-07, 2016 God's intervention in this mission was really greatly manifested. We have a schedule in other place but due to hot issues on politics it was deferred and we had already some 30 patients listed with RMN Cotobato. i wrote CRMC, but couldn't be accommodated at that time. Then a twist of fate happened. Dr. Aurito Ampong called ->->Full Story
December 15-18, 2015 Our first replication of Project BOSS in the GHQ of Philippine Army. Inclement weather prevented some patients to arrive thus only a handful benefited. ACPPI is becoming now our favorite medic team.
November 19-22, 2012. During the Tacurong City mission me & my better half went to Buluan, Maguindanao and met Ms.Lynette Estandarte, the Provincial Budget Officer for the replication of Project B.O.S.S. I was in touch with Gov. Toto Mangudadatu through the endorsement of his chief of security Bro Maj. Abubakar Mangelen, so was referred to Ms. Lynette. After few introductions the date was set originlly for the 18th -22 to coincide with the foundation day of Mauguindanao. We got the ARMM PNP to participate in looking for patients too, and of course the AFP East Mindanao Command.->->Full Story
September 10-14, 2012. In cooperation with the LGU of Province of Lanao del Norte, headed by our Brod Gov. Mohammad Khalid Q. Dimaporo we were able to replicate the Project B.O.S.S. The able overseeing of Dr. Jamaica Dimaporo-Umpa assisted by Sis Gemma Harun, the hosting went smoothly without any hitch. Dr. Rizal D. Aportadera again spearheaded the delegation of Maharlika Charity Foundation and the project director Dr. Benedict P. Valdez formed the surgeons team who was joined by Dr. Bernabe Mendozaa the next day. ->->Full Story
April 16-20, 2012 The project was initiated by MCFI with the Board Members and Governor. We were asked to assist in info dissemination to raise the number of patients, and our brothers and sisters of APOSKAA were so helpful and cooperative and Bro. Akmad Talungon, the President was able to patch me up with Bro. Mayor Tong Paglas, who without hesitation accepted, supported and took the lead to assure the success of Project B.O.S.S. this time its Sights & Smiles for Cataract was included. Project B.O.S.S. in Isulan, Sultan Kudarat resulted to: ->->Full Story
Kapatagan,_Lanao_del_Norte,_Project B.0.S.S. - Second Mission:
May 28-31, 2014 Second Mission This time for cataract mission. There were more recipient for our FREE reading glasses, 300 total than the cataract operated patients only 65 out of the hundreds examined. Mabuhay Deseret Foundation were our partners. DPAO was the department designated by Gov. Khalid Dimaporo to oversee the mission from its patient gathering to implementation. Dr. Egay Legaspi, from Pagadian City participated on the first day of the mission all by himself. Full Story
March 15-17, 2013. APO SOZA ALAS (Alpha Phi Omega Southern Zamboanga Alumni Association) in partnership with its local organization the KAPOHIL (Kapatiran Alpha Phi Omega sa Hilagang Lanao) has again implemented its Project B.O.S.S. in Kapatagan Provincial Hospital, Lanao del Norte. It would be recalled that last Sept. 2012 the first such project in Lanao del Norte was conducted in Baroy Provincial Hospital, Lanao del Norte were 69 indigent Cleft Lip/Palate patients benefited from the FREE Restorative Surgical Procedure. This is the 14th such mission that APO SOZA ALAS has done since they started it in Margosatubig, Zamboanga del Sur, on June 21, 2011. Full Story
March 02, 2011 we launched the project in the office of Mayor Ireneo Glepa of Molave. I Had it announced by the RMN radio. I Had the ABC President involved by informing the brgy captains of such a project. Tap the churches also to disseminate the info.
Margosatubig, Zamboanga del Sur, Project B.O.S.S. - (Third Mission)
June 28-30, 2013, Again in Margosatubig Regional Hospital the nurses & staff of Maharlika Charity Foundation (MCFI) came in ahead of the doctors on the 26th, the doctors arrived 28th and immediately started operating finishing 13 patients half a day. Dr. RichardSison, the chief of hospital unfortunately was in Manila for an important seminar. How sad there are always those who can't be accommodated for various reasons, like having colds, coughs, fever and even asthma. The Cleft Palate wasn't likewise accommodated for the absence of plastic surgeon and no content in the blood bank of the hospital. ->->Full Story
Margosatubig,_Zamboanga_del_Sur,_Project_B.O.S.S. - Second Mission:
It was time for a repeat in Zamboanga del Sur, same venue and this time 52 arrived & 40 were operated last Nov.2011. The Chief of Hospital Dr. Richard B. Sison didn't expect that there would still be this many after our first mission. Our partners as usual is the Maharlika Charity Foundation (MCFI). How sad bro Butch Mapayo didn't join this mission. ->->Full Story
Margosatubig,_Zamboanga_del_Sur,_Project_B.O.S.S. - First Mission:
June 21, 2011 The chief of hospital of Margosatubig Regional Hospital, Dr.Richard B. Sison was so accommodating that he immediately agreed that the project be held in their hospital plus we will house and feed the volunteers. The foundation is Maharlika Charity Foundation Dr. Benedict Edward P. Valdez is also a Mason. They swiftly moved and was here in Pagadian to have site inspection after a week only of communicating. I was handed a proposal wherein we would put up a counterpart amounting to 90K. I almost fell off my chair, and politely told them that our group is a newly formed group and that we can't afford. Maybe my honesty and being frank with them, is what Dr. Valdez saw that he said we just give him at least 40 patients and they would come back to do the operation. ->->Full Story
October 16-20, 2011 The second coming of Project in Marawi, this time for Harelip operation only. The ever cooperative Dr. Emelda Taib was again at the helm, this time it was the APOs in Capitol who tied up with us, led by its president Bro. Mel Cabili, but it was Bro Sultan Rash Arimao who I closely ->->Full Story
June 06-09, 2012 Project B.O.S.S. came to this city and in cooperation of the Caraga Regional Medical Center and Rotary of Metro Surigao performed surgical restoration to 18 patients, though there were about 38 who came. ->->Full Story
November 13-15 2013 The group of Project B.O.S.S. came again to this city for the FREE Cataract and Cleft Lip/Palate operation done this time by the Mabuhay Deseret Foundation and Bro. Dr. Butch Mapayo, the Plastic Surgeon. The city government hosted the affair and the Caraga Regional Hospital was the venue. ->->Full Story
December 2011 With barely 3 weeks to go right after the Margosatubig mission Dr. Benedict P. Valdez invited me to assist them in Tacloban, Leyte for the mission. With the able help of sis Judge Cielo Martinez he was able to convince the Delta Phi Chapter to partner with us. Sis. Cosette Garcia was referred to me for coordination and their President Brod. Gerry Adolfo, as well as Brod Dodong Millanes & Sis Mebie Miralles were among the APOs who cooperated very well. Though there were only a dozen of Harelip patients operated, it was a milestone event for the Eastern Visayas Regional Medical Center (EVRMC) was made a Cleft Center. ->->Full Story
October 20-24, 2012 The LGU of Tacurong City hosted this noble endeavor which is the 10th one we are doing with Maharlika Charity Foundation. The AFP East Mindanao Command, under the auspices of our Brod. Lt. Gen. Jojie Segovia, became our partner in searching for patients, they even ferried them. Col Junie Castro, the CMO has always been closely coordinating with me. Mayor Lina Ortizo Montilla, gladly accepted this mission when I proposed it to her right after when Bro Lt. Gen. Jojie Segovia requested me to do it first in Tacurong City before we do it in Camp Panacan in Davao City. ->->Full Story
November 03-07, 2012. Our second mission in this place with Maharlika Charity Foundation Inc. and our 11th of togetherness. MMFC (Medicl Missions For Children) headed by Dr. Dennis Snyder is a group similar to MCFI, they are from Boston, USA. 13 of them joined our delegation and only & from MCFI & 2 of us from APO SOZA ALAS. We left Pagadian City for Cebu via Ozamis taking the Cokaliong ferry the night of Nov 2, 2012. We missed the Weezam Fastcraft 1st trip to Ormoc so we arrived late for lunch courtesy of the president of APO ORMOC AA, Bro Jeffrey del Socorro a DMD. We took the van for Tacloban City and was met by Bro Dodong Millanes, we took a tricycle for EVRMC, only to be taken by the ambulance to our lodging place the Asia Stars Hotel. The following day Sis Mavic Ditanongun arrived from Cebu, she stayed for the nigh in our room. The foreign delegation arrived on the noon of the 4th and later after screening the patients they rolled up their sleeves and don the gown and scalpel in hand they started working. 50+ patients showed up and 40 were operated plus 2 hernia. Sis Boots Palconite had me & Dr. Dennis Snyder interviewed by TV5. We left ahead of the group of MMFC & MCFI, we stayed overnight in the place of Bro Jeffrey and left the following day for Cebu/Ozamis/Pagadian. The culmination night was held in EVRMC. The AFP was again our partner, it was the 8th ID, under the able command of Maj. Gen Gerardo Layug. He was represented in the culmination night by Col Valencia. Brod Joey Yap belongs to the 8th ID who brought some patients.
March 12-15, 2014 Originally slated to be done in Guihulngan City, Negros Oreintal. Cranio Facial Foundation Philippines instead decided that the patients be brought to this city for they have tied up with Betty Bantug Benitez Foundation for a similar mission. There were however only seven (7) patients that were brought from Guihulngan City and only five (5) got operated and some sixteen (16) patients from Victorias City & nearby places were successfully operated, there about equal number of patients denied due to health and weight conditions.
February 2014: Zamboanga City, Philippines Porject Brotherhood Operation Surgical Services. We were informed by Dr. Anton Lim, the director of TZU CHI Foundation when we brought the eye patients late last year that they will conduct Goiter & Hernia operation. Dr. Anton Lim asked us to bring patients. We had the information disseminated over RMN station and there were a lot who trekked to Zamboanga City and we met them there. More than a dozen Goiter patients benefited and a couple of Hernia patients.
December 2013 We brought to TZU CHI Foundations patients with a squint eye and a tumor for check up prior to operation, they were from Imelda, Zamboanga Sibugay and Bayug, Zamboanga del Sur. The child with the squint was finally operated the following month. However the woman with eye tumor couldn't be handled with their facilities and being referred to Manila. Another kid with a congenital cataract who came on the second visit didn't however continued with his check up for they left even bvefore the check up.
Future Operations of B.O.S.S. Brotherhood Operation Sweet Smile
Other Areas Being Worked On For Replication
Liloy,Zamboanga del Norte.
Ipil, Zamboanga Sibugay.
AFP Camp Panacan.
Tawi-tawi.
Camarines Sur.
Ormoc City.
Butuan City.
Aklan
Donations Please: For the continued effort of B.O.S.S., we need your assistance.
Log in to facebook please.
Contact:
Bel T. Yenko: email: gabrielyenko@gmail.com
Babes C. Rota: email: diosarota1925@gmail.com
cellphone:

+63-920-950-1925 or
+63-917-635-1925 or
+63-920-955-1925 or
+63-922-832-1925

For your donation please click Here
What Causes a Cleft Lip/Palate?
The development of the face is coordinated by complex morphogenetic events and rapid proliferative expansion, and is thus highly susceptible to environmental and genetic factors, rationalising the high incidence of facial malformations. During the first six to eight weeks of pregnancy, the shape of the embryo's head is formed. Five primitive tissue lobes grow: a) one from the top of the head down towards the future upper lip; (Frontonasal Prominence) b-c) two from the cheeks, which meet the first lobe to form the upper lip; (Maxillar Prominence) d-e) and just below, two additional lobes grow from each side, which form the chin and lower lip; (Mandibular Prominence) If these tissues fail to meet, a gap appears where the tissues should have joined (fused). This may happen in any single joining site, or simultaneously in several or all of them. The resulting birth defect reflects the locations and severity of individual fusion failures (e.g., from a small lip or palate fissure up to a completely malformed face). The upper lip is formed earlier than the palate, from the first three lobes named a to c above. Formation of the palate is the last step in joining the five embryonic facial lobes, and involves the back portions of the lobes b and c. These back portions are called palatal shelves, which grow towards each other until they fuse in the middle. This process is very vulnerable to multiple toxic substances, environmental pollutants, and nutritional imbalance. The biologic mechanisms of mutual recognition of the two cabinets, and the way they are glued together, are quite complex and obscure despite intensive scientific research.
Doctors don't always know exactly why a baby develops cleft lip or cleft palate, but believe it may be a combination of genetic (inherited) and environmental factors (like certain medications or vitamin deficiencies). Both mothers and fathers can pass on a gene or genes that cause cleft palate or cleft lip.
Genetics
Genetic factors contributing to cleft lip and cleft palate formation have been identified for some syndromic cases, but knowledge about genetic factors that contribute to the more common isolated cases of cleft lip/palate is still patchy. Many clefts run in families, even though in some cases there does not seem to be an identifiable syndrome present,[21] possibly because of the current incomplete genetic understanding of midfacial development. A number of genes are involved including cleft lip and palate trans-membrane protein 1 and GAD1, one of the glutamate decarboxylases
This webpage was authorized by Mr. Gabriel T. Yenko
Poor child! can't be operated on yet for she's underweight, cause can't feed well due to her condition. This is a temporary remedy till after two months she'll be checked again if ok for operation already. She's a grandchild of APO parents. >>Read Full Story
Partial Photo Gallery of B.O.S.S.
To view the rest of the pictures, please click on B.O.S.S. Photo Gallery.
Click to view the Comments and Discussions about Project B.O.S.S.
Jobs Opportunity with Project B.O.S.S.
Project BOSS is looking for fund raisers or sponsorship recruitment coordinators. Part Time or Full Time

We are hiring coordinators for every province in the Philippines. Not volunteers! This is a PAID position.

No expiration date for this job posting. We are always interviewing and hiring.

Fundraising is a great job. You get to meet important people.
Job Description:

Approach Sponsors or advertisers for the charitable bicycle race Tour de Zamboanga. A 4 day 510 kilometer bicycle race for charity.
Not a volunteer Job. This is a paid position.
B.O.S.S. = Brotherhood Operation Sweet Smiles

A Non-Profit Charitable organization for surgical restoration. Registered with the Security and Exchange Commission of the Philippines

Contact:
Bel T. Yenko: email: gabrielyenko@gmail.com
Babes C. Rota: email: diosarota1925@gmail.com
cellphone:

+63-920-950-1925 or
+63-917-635-1925 or
+63-920-955-1925 or
+63-922-832-1925

For your donation please click Here
Do the following so your photo upload will be properly categorized for B.O.S.S. Brotherhood Operation Sweet Smile.
Copy and paste the code below in "GREEN" to the body or "Summary" of the image file that you are uploading.
{{:BOSS_DONATE}}
[[Category:BOSS Photo Gallery]]
{{boss contact}}
*[[B.O.S.S. Brotherhood Operation Sweet Smile]]