Antipolo Del Sur, Lipa City, Batangas, Philippines
Jump to navigation
Jump to search
Philippines News: December 14, 2019 -- The Philippines bows down to the terrorist group (MNLF) : President Rodrigo Duterte appointed Nur Misuari, founding chairman of the known terrorist group, the Moro National Liberation Front (MNLF) as the country's Special Economic Envoy on Islamic Affairs to the Organization of Islamic Cooperation (OIC). As announced by the Office of the Presidential Adviser on the Peace Process (OPAPP) last December 14, 2019.. .... More
---
Barangays of Lipa City, in the Batangas Province within Region IV-A(Calabarzon) in the Republic of The Philippines
Adya | Anilao | Anilao-Labac | Antipolo Del Norte | Antipolo Del Sur | Bagong Pook | Balintawak | Banaybanay | Barangay 12 | Bolbok | Bugtong na Pulo | Bulacnin | Bulaklakan | Calamias | Cumba | Dagatan | Duhatan | Halang | Inosloban | Kayumanggi | Latag | Lodlod | Lumbang | Mabini | Malagonlong | Malitlit | Marauoy | Mataas Na Lupa | Munting Pulo | Pagolingin Bata | Pagolingin East | Pagolingin West | Pangao | Pinagkawitan | Pinagtongulan | Plaridel | Poblacion Barangay 1 | Poblacion Barangay 2 | Poblacion Barangay 3 | Poblacion Barangay 4 | Poblacion Barangay 5 | Poblacion Barangay 6 | Poblacion Barangay 7 | Poblacion Barangay 8 | Poblacion Barangay 9 | Poblacion Barangay 9-A | Poblacion Barangay 10 | Poblacion Barangay 11 | Pusil | Quezon | Rizal | Sabang | Sampaguita | San Benito | San Carlos | San Celestino | San Francisco | San Guillermo | San Jose | San Lucas | San Salvador | San Sebastian | Santo Niño | Santo Toribio | Sapac | Sico | Talisay | Tambo | Tangob | Tanguay | Tibig | Tipacan
---
Philippines, is the only country in the world which is 85% Catholic that created FIVE(5) national laws "favoring", "respecting" and "financing" the religion of ISLAM.
Then made it unlawful to finance all other religions.
The only country in the world that has a government commission that caters to Muslims only, for the hajj, for madrasas, and the spread of Islam at government's expense PAID by the taxes of Non-Muslims.
Religion is always good for the people but it should never be embraced or financed by government. Tax exemption is not tantamount to financing. Every non-profit organization is tax-exempt.
---

Adopt this webpage. Help your community get more exposure to TOURISTS and INVESTORS. Help us improve this webpage.

---
A | B | C | D | E | F | G | H | I | J | K | L | M | N | O | P | Q | R | S | T | U | V | W | X | Y | Z
Create Name's page
---
Regions | Philippine Provinces | Philippine Cities | Municipalities | Barangays | High School Reunions
---
---
AdrenoBoost™ - For Adrenal Gland Functioning

Promotes healthy adrenal gland functioning and hormone balance
Maintains cortisol levels already within healthy limits
Promotes energy levels, alertness and stamina
Helps the body adapt to everyday stressors and adrenal fatigue

Maintains blood sugar levels already within healthy limits
Maintains blood pressure already within healthy limits
Supports healthy circulation, sleep patterns and immunity
Astragalus as one of the main ingredients of AdrenoBoost™


Barangay Seal
Interactive Google Satellite Map of Lipa City, Batangas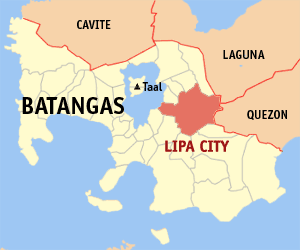 Lipa City, Batangas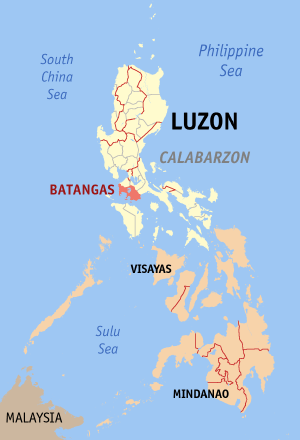 Batangas Province, Philippines


Barangay Hall
Please Upload Picture
Antipolo Del Sur, Lipa City,
Batangas, Philippines

Location of Antipolo Del Sur, Lipa City, Batangas, Philippines
Antipolo Del Sur is situated 3 km southwest of Lipa City proper, it has a moderately rugged and hilly topography.Its hard soil and rocky landscape is well known for its rock mining , red cinder (volcanic rock or buga)and quarrying.This is evident by depleted portion of the Antipolo hill in San Adriano site and the backdrop of the anilao hill extension. Then, it has an abundant vegetation where greenpepper and coffee, and antipolo tree were scattered everywhere . This is where Antipolo got its name.
By:--Troi Laya
History of Antipolo Del Sur, Lipa City, Batangas, Philippines
Name and its Origin
Antipolo tree belongs to the family MORACEAE and genus Artocarpus. It's scientific name is Artocarpus blancoi and is very much related to the popular jackfruit/Nangka/Langka (Artocarpus heterophyllus). Similarly, the seeds of the Antipolo can also be cooked or boiled or eaten raw by birds and land animals. But it was not certain if the flesh is also edible. The wood of this tree is said to be of good quality and can be used to make furniture. The tree stands to about 30-40 meters in height and can reach a diameter of about 1-2 meters.Itslleaves, twigs and the stem can produce a milky sap. They are monoecious, with unisexual flowers, with both sexes on the same plant."
Antipolo Del Sur, has no concrete and detailed history that even old folks can not attest to its genuine historical background. But mostly, attested that it was named after this antipolo tree, saying that its presence was noted since Spanish settlers arrive in the Philippines and up to Japanese Era until the liberation. Post war period marked the start of Antipolo tree depletion. It was told mainly because of its tough quality wood which was very ideal for furniture. Local birds hunters also used its milky sap, which was extracted from its bark, for bird hunting. They put this milky sap or "Dagta", after cooking in a pan or tin can for hours,into their bait or "Kanaan" where a decoy bird , usually maya, is placed in a twig with a string and when the other bird dwell into its twig will catch it and can no long fly due to its sticky texture similar to a sticky gum. Nowadays, bird hunters were gradually vanishing due to its depleting forest and trees which were mostly converted to commercial lots in form of subdivision like the Avida, by the ayalas, and woodberry, and active quarrying which drove the birds out for its noisy operational activities.
By:--Troi Laya
People of Antipolo Del Sur, Lipa City, Batangas, Philippines
Total Population of Antipolo Del Sur
Local Government Unit LGU of Antipolo Del Sur, Lipa City, Batangas, Philippines
Elected officials of ? for the term of 2010-2013
---
Political Condition
Currently, it is strongly headed by Barangay Capt. Marlon M. Luancing, an in-laws of Malleta clan, married to Lorna Malleta Luancing, who has a strong and influential clan in Lipa. His popularity and connections established his political career. He is now serving its 3rd term, the longest in the history of Antipolo Del Sur. No one has ever accomplished this feat.He is a quiet guy with dynamic influence bearing the slogan " Kay Luansing, Tahimik ang Gising". He is currently the Association of Barangay Captain(ABC) President, or Liga ng mga Barangay Captain sa Lipa, which is equivalent to a City Councilor. His Objective is Peace and Order and even tagged the "BAD or Baranggay Ayaw sa Droga Slogan" during his second Term.
Social Services
Women group is active in Antipolo del Sur as started by then Mayor Vilam Santos-Recto, her legacy remain to Samahang Kababaihan which actively supporting some livelihood programs for women like Rice Retailing, a part of income is being shared to its active members. Medical Programs and Services has never been ignored in Antipolo del Sur, its BHW's (Brgy Health Workers) are actively initiating and taking part in medical mission, vaccination, family planning and seminars, and information dissimination.Feeding Programs are conducted weekly in cooperation with Nestle and other local business not only Antipolo and in the city as well. Parish History
By:--Troi Laya
Businesses in Antipolo Del Sur, Lipa City, Batangas, Philippines
We invite you to list your business located in Antipolo Del Sur, Lipa City.
Give your business a good description. Add your address and contact number if available.

Resorts, restaurants, pension houses, or hotels are welcome to be listed here.
Bakery, Mechanical Shop, Bicycle Shop, Tailor shops can be listed here.
If you have a pharmacy or gas station, it can be listed here too.
Hardware stores, Agrivets, salon, spas, etc. are welcome to be listed.

We do not allow external links except for our sponsor zamboanga.com and maletsky.com. If you have an external site for your business you may not link to it in Z-Wiki but you can point to it. e.g. list it like this: www.my??business.com - this tells the people of your website but it does not link to it.
Businesses in Antipolo Del Sur

The name of your business, address, phone number
Real Estate for Sale in Antipolo Del Sur, Lipa City, Batangas, Philippines
If you have real estate property, whether its commercial, residential, farm land, or just an empty lot in Antipolo Del Sur, you can list that property for FREE HERE in Z-wiki.
You can list your House and lot or farm land for sale for free here in Z-Wiki
Churches, Mosques, or Places of Worship in Antipolo Del Sur, Lipa City, Batangas, Philippines
The name of your church, mosque, or place of worship can be listed in this community page. Take a picture of the facade of your church or place of worship and it can be posted here. We can even provide you with a free webpage. You can enter the data (story about your place of worship) here yourself, email the information or pictures to (franklin_maletsky@yahoo.com) or via Facebook.
---
FILIPINOS WAKE UP! THE TAXES YOU PAID ARE USED BY THE GOVERNMENT TO EXCLUSIVELY FINANCE THE RELIGION OF ISLAM.
Freedom of religion, yes. Equality, yes. But no favoritism.
---
---
Antipolo del Sur is part of Mary Meditrix Parish. It was inducted in 2009 and now celebrating its annual feast every May 30th. But prior to its induction to its new parish, it was divided into four small religious subdivision, the KMP (Kapisang Munting Paraiso), Centro, KGN (Kapisanang Gabay ng Nayon or San Adriano) and Sitio Alibangbang. Its religious subdivision is distinguished by influential families and clans which is still evident nowadays that some still celebrates its own old feast dates.
By:--Troi Laya
Schools in Antipolo Del Sur, Lipa City, Batangas, Philippines
Take a picture of your school building(s) and send your pictures via email to (franklin_maletsky@yahoo.com) or message me via Facebook. I will then post the pictures in this page.
---
School year 2018-2019 starts Monday, Monday, June 4, 2018 and ends on Friday, April 5, 2019, for public elementary and secondary schools. The School Year shall consist of 208 school days inclusive of the five-day In-Service Training and the three days for the Parent-Teacher Conferences (PTC) conducted within the school year. However, learners are expected to be in school for a total of 200 class days.
List of schools: >>> click
PUBLIC NOTICE: Why pretend that the National language of the Philippines is Tagalog? It should be English. To be a Teacher, doctor, lawyer, engineer, architect, nurse, computer technician; what books do you learn from? English books of course. All your tests are in English. The constitution of the Philippines is written in English. All the laws and new laws introduced by congress are in English. For that matter, you can't be a teacher in a school system unless you know English. The "Licensure Exam for Teachers" is in ENGLISH! Who are these people forcing Tagalog down our throats? Tagalog is simply one of the many dialects of the Philippines. Keep your dialects but learn and be proficient in ENGLISH.
---
The schools in Antipolo Del Sur
1. Jose K. Obando Memorial School 2. San Adriano Elementary School
Economy of Antipolo Del Sur, Lipa City, Batangas, Philippines
If you have an article that talks about the improvement of the economy of Antipolo Del Sur, Lipa City you can post that article here. If you come across any news items that talk about the economy of Antipolo Del Sur, Lipa City, you may post it here. Of course you have to reference the writer of the article. Any improvement to transportation, power and service usually improves the economy of the community, so go ahead and report that too.
---
Antipolo Del Sur has mid-strong economic condition mostly dependent from quarrying and commercial lots revenues.Quarry operators has a huge shares in daily revenues due to active rock mining generating a fee on a per truck basis. Antipolo is noted for its Red Cinder or volcanic rock, known as buga, hard rock or gravel, and even this Armor Rock which usually used in making artificial land like the portion of Roxas Boulevard and Mall of Asia, its underneath is composed of Huge Armor Rock equal to Jeep-size Rock which were taken from from this hilly Antipolo Del Sur.
By:--Troi Laya
Natural Resources of Antipolo Del Sur, Lipa City, Batangas, Philippines
This page needs some articles about the natural resources of Antipolo Del Sur, Lipa City. Where does the energy source of this Lipa City come from? Are there any mining industries? Rivers and tributaries are part of the natural resources.
Tourists Attractions of Antipolo Del Sur, Lipa City, Batangas, Philippines
Help us add some of the tourist attractions of Antipolo Del Sur in Z-wiki. This will help boost the local economy of Antipolo Del Sur. Anything that is unique or anything that stands out in your community may be a tourist attraction.
Landmarks are usually photographed a lot by visitors. Post the Antipolo Del Sur landmarks here.
Fiestas and Traditions of Antipolo Del Sur, Lipa City, Batangas, Philippines
Fiesta date of Antipolo Del Sur
Your Story about Antipolo Del Sur, Lipa City, Batangas, Philippines
Tell your story about Antipolo Del Sur. You can talk about the good things in Antipolo Del Sur or simply talk about the past. You can talk about the eco-system of Antipolo Del Sur. What is the local LGU doing about the preservation of your natural resources? The topic can start here and once it gets bigger it can have a page of its own in Z-Wiki. It's all up to you.
Lipa City, Batangas, Philippines supports Philippine Cycling
Philippine Cycling is about cycling in the Philippnes. Philippine Cycling helps promote bike races, cycling clubs, bicycle tours, and the development of bicycle trails. Activities are coordinated with bike shops and cycling clubs throughout the Philippines to promote the fun of riding bikes. Philippine Cycling will be coordinating events with tour of Luzon, Visayas and Mindanao. Road biking and mountain bikings will be promoted by Philippine Cycling.
Cycling Activity to Participate In

Your cycling activity can be posted here and it will be shown in all the Provincial, City, Municipal and Barangay pages. Your 2015 Cycling Race or Activity can be Posted here.
ILOILO CITY, April 27-May 2, 2015 (PNA) – Some 5,000 bikers are expected to join the second Iloilo Bike Festival slated April 27-May 2, 2015 as the city continues to aspire to become a bike-able walkable metropolis. The activity that supported by the John B. Lacson Foundation Maritime University (JBLFMU) and Megaworld Iloilo aims to promote Iloilo as a safe and bike friendly city, promote the share-a-road movement encourage Ilonggos to commute via biking and raise Ilonggos awareness on the benefits of biking on health, safety and environment concerns. Read More....
CYCLING Le Tour de Filipinas 2015 set as country celebrates 60 years of top-caliber cycling Feb 1 to Feb 4 2015 - View the result of the race: A four stage race. Stage 1 starts in Balanga and back to Balanga for a 126K race Feb 1, 2015 (Sunday); stage 2 starts in Balanga, Bataan to Iba, Zambales for a 154.7 K race Feb 2, 2015 (Monday); stage 3 starts in Iba, Zambales to Lingayen, Pangasinan for a 150.1K race Feb 3, 2015 (Tuesday); stage 4 starts in Lingayen, Pangasinan to Baguio City, Benguet for a 101.7K race Feb 4, 2015 (Wednesday). For a total distance of 532.5 Kms. Read More >>>
Ronda Pilipinas: Feb 8 - 27 2015:>> Discovering young riders for the national team will be the main objective of the LBC Ronda Pilipinas 2015 when the country's premiere cycling race hits the road on Feb. 8 in Butuan City. Ronda Pilipinas executive project director Moe Chulani said the international multistage bikathon, which ends on Feb. 27, will have two qualifying legs of four stages each in Mindanao and the Visayas where the top riders will advance to face a tough foreign challenge in the six-stage Luzon finale. Read More>>>
Pictures of Antipolo Del Sur
Click HERE to view more PHOTOS about Antipolo Del Sur, Lipa City.
Disclaimer
Most of the contents in this site are from registered user collaborations. Information has also been taken from the Department of Tourism, Comelec, National Statistical Coordination Board, DILG: Department of the Interior and Local Government, (LGU) government sites, online news, and other content sites about the specific community. This page does not serve as the official website of the community but rather compliments and helps the community to promote tourism and attract investors.
This is an interactive and collaborative webpage, meant to help promote this community and showcase it to the world via the internet.
This wiki page follows a format. The editor of this wiki page reserves the right to change formats, edit, or delete entries that may be considered as offensive, vulgar or not for the betterment of this wiki page.