Difference between revisions of "Albay Province, Philippines"
Jump to navigation
Jump to search
→ → Go back HOME to Zamboanga: the Portal to the Philippines.
Line 210:
Line 210:





==[[Albay News]]==

==[[Albay News]]==

'''Waterfront lifestyle mall showcases weekend night market fair'''

''''''

*Source: http://www.pia.gov.ph/news/index.php?article=771353979930

*Source: http://www.pia.gov.ph/news/index.php?article=

*By: Shannah Marie O. Montales

*By: Shannah Marie O. Montales

*''Tuesday, November 27, 2012''

*'', November , 2012''






LEGAZPI CITY- A waterfront lifestyle mall in this city has added another attraction seen to allure Legazpeno and visitors alike with the opening of a night market.

LEGAZPI the opening of night market.






Chester Celso Olitin of the waterfront mall's Leasing Department said Embarcadero de Legazpi has since Friday last week opened the night market with an exciting combination of a wide range of products and a sense of community that awaits the consumers.

the Department the a and the .






The the idea of putting up a night market in in Embarcadero de Legazpi, came from the idea of flourishing night market phenomenon in Metro Manila and across the country. Open-air night markets are also very popular across Asia Countries like Hong Kong, China, Thailand, Singapore and South Korea.

in and the .






Embarcadero de Legazpi, according to Olitin, has adopted this concept suitable to the demands of the Albayanos.

to the of the .






Olitin also cited that people should check out the Embarcadero de Legazpi Night Market as it showcases yummy treats – good and affordable food are available and everyone can enjoy a variety.

also out the and and .






One may also indulge into pricey goodies – people who are low in the budget and even those who would want to save a little money need not to worry for clothes, fashion accessories, pillows, trinkets, art, and other bazaar items are sold at very affordable prices.

and , , , , , and other .






The concept also promotes a sense of community – an informal crowded setup and the fact that some of the owners personally staff the stalls themselves to enthusiastically explain their products to their customers engenders a sense of community that cannot be seen in other markets.

The the of the the .






Anyone can take a break from shopping in the waterfront mall or a long jog from Puro to eat some potato chips and cool down with a sip of fresh buko shake while meeting new friends and enjoying the live band music.

can in the a and .






The opening of the night market was highlighted with a blessing of the location, followed by a fireworks display and the trademark Batucada Show [a style of Brazillian music performed by a group or ensemble of percussion which is influenced by African culture (yahoo.com)] of Embarcadero de Legazpi.

The opening ,of Embarcadero de .






"Embarcadero de Legazpi is basically a night mall and people flock over to it during the night so it is very suitable to have a night market open here," he added.

is the .






The Embarcadero de Legazpi Night Market is the first night market in this city.

Embarcadero de Legazpi. , , and to shop our the Legazpi , " Olitin.

 

"Legazpeños, tourists, shoppers and all are gladly invited to visit Embarcadero de Legazpi's Night Market. Affordable items can be bought at affor`dable prices. Everyone is welcome to party with us and shop at our Night Market, the first one in Legazpi City," Olitin said.

 

The night market is open on Fridays, Saturdays and Sundays from 5:00 p.m.-12:00 mn until December.






==Albay Zip Codes==

==Albay Zip Codes==
---
Revision as of 14:27, 29 November 2012
List of Municipalities in the Albay Province within Region V(Bicol) in the Republic of The Philippines
Bacacay | Camalig | Daraga (Locsin) | Guinobatan | Jovellar | Libon | Malilipot | Malinao | Manito | Oas | Pio Duran | Polangui | Rapu-Rapu | Santo Domingo (Libog) | Tiwi
Cities in the province of Albay: Legazpi City (Capital) | City Of Ligao | City Of Tabaco
A | B | C | D | E | F | G | H | I | J | K | L | M | N | O | P | Q | R | S | T | U | V | W | X | Y | Z
Create Name's page
---
List of the 17 Regions in the Philippines
National - Capital Region ● I - Ilocos ● II - Cagayan ● III - C. Luzon ● IV-A - Calabarzon ● IV-B - Mimaropa ● V - Bicol ● VI - W. Visayas ● VII - C. Visayas ● VIII - E. Visayas ● IX - Zamboanga ● X - N. Mindanao ● XI - Davao ● XII - Soccsksargen ● XIII - Caraga ● XIV - CAR ● XV - BARMM
Regions | Philippine Provinces | Philippine Cities | Municipalities | Barangays | High School Reunions
---
---

Seal of the Province of Albay
Interactive Google Satellite Map of the Province of Albay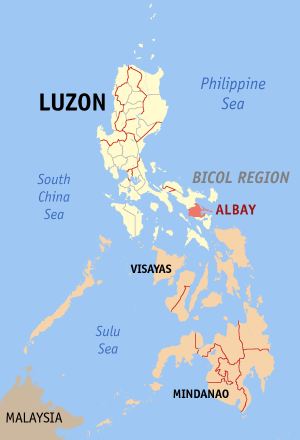 Location of Albay within the Philippines

Provincial Capitol Building of Albay, in Legazpi City
Dietary supplement is a product that contains vitamins, minerals, herbs or other botanicals, amino acids, enzymes, and/or other ingredients intended to supplement the diet. The U.S. Food and Drug Administration has special labeling requirements for dietary supplements and treats them as foods, not drugs.
---
---
Manufacturers and distributors of dietary supplements and dietary ingredients are prohibited from marketing products that are adulterated or misbranded. That means that these firms are responsible for evaluating the safety and labeling of their products before marketing to ensure that they meet all the requirements of DSHEA and FDA regulations.
Wars of ancient history were about possessions, territory, power, control, family, betrayal, lover's quarrel, politics and sometimes religion.
But we are in the Modern era and supposedly more educated and enlightened .
Think about this. Don't just brush off these questions.
Why is RELIGION still involved in WARS? Isn't religion supposed to be about PEACE?
Ask yourself; What religion always campaign to have its religious laws be accepted as government laws, always involved in wars and consistently causing WARS, yet insists that it's a religion of peace?
WHY??
There are only two kinds of people who teach tolerance:
The Bullies. They want you to tolerate them so they can continue to maliciously deprive you. Do not believe these bullies teaching tolerance, saying that it's the path to prevent hatred and prejudice.
The victims who are waiting for the right moment to retaliate. They can't win yet, so they tolerate.
The Province of Albay, Philippines
Albay has a total of 720 barangays, 15 municipalites, and 3 cities - Every barangay in the province of Albay has an Interactive Webpage of its own.
Registered Voters of Albay as of (2010) = 606,617
Population of Albay (as of Aug 1, 2007) = 1,190,823
Land Area of Albay (as of 2007, in hectares) = 257,577
Land Area: 2,552.6 sq. km
Albay is a 1st class province.
The capital city of Albay is Legazpi City
Geography of Albay, Philippines
Albay has a land area of 2,552.6 square kilometers, politically subdivided into 15 municipalities, three cities and 720 barangays.
Location of Albay, Philippines
The Province of Albay is situated in the Southern Luzon land mass between the provinces of Camarines Sur on the north and Sorsogon on the south. It is bounded on the east by the Pacific Ocean, on the northeast by the Lagonoy Gulf, and on the west and southwest by the Burias Pass. North of the province' s mainland are the islands of Rapu-rapu, Batan, Cagraray and San Miguel, all falling under its jurisdiction. Source: www.nscb.gov.ph
History of Albay, Philippines
Article below was taken verbatim from: www.census.gov.ph
Albay and its surrounding areas were known as Ibalon when Juan de Salcedo and 120 soldiers explored it in 1573. Sawangan, a small settlement by a mangrove swamp, became a town called Albaybay (meaning "by the bay") in 1616. The town was first renamed Albay, then LEgaspi, as Albay went on to refer to the province.
In 1846, Masbate , Ticao and Burias were seperated from albay to form the comandancia of Masabate. Albay was then divided into four districts: Iraya, Cordillera or Tobaco, Sorsogon and Catduanes. In 1894, Sorosogon became a seperate province and Catanduanes followed suit in 1945. The province of Albay itself was created on March 10, 1917 .
Its colorful history includes both natural and man-made disasters. In 1649, the natives rebelled against their recruuitmenst to Cavite to build galleons. In 1814, Mayon Volcano erupted, killing 1200 people and burying the town of Cagsawa . During the early 19th century, hemp for shipping rope became an international source of wealth. Albay prospered greatly until the demand for hemp fell sharply.
People of Albay, Philippines
The Bicol dialect spoken in Legaspi is the common tongue used, but there are variations in tone and meanings of words as one goes farther away from the city. However, the people also speak Tagalog fluently.
A number of tribal communities can be found in the towns of Tiwi and Rapu-Rapu.

Adopt this webpage. Help your community get more exposure to TOURISTS and INVESTORS. Help us improve this webpage.

---
Elected Governor, Vice-Governor, Board Members , and House of Representatives of Albay Province for the term of 2010-2013
House of Representatives:
---
Elected Governor, Vice-Governor, Board Members , and House of Representatives of Albay Province for the term of 2007-2010
House of Representatives:
Elected Barangay Officials of Albay Province
Businesses in Albay, Philippines
We invite you to list your business located in Albay.
Give your business a good description. Add your address and contact number if available.

Resorts, restaurants, pension houses, or hotels are welcome to be listed here.
Bakery, Mechanical Shop, Bicycle Shop, Tailor shops can be listed here.
If you have a pharmacy or gas station, it can be listed here too.
Hardware stores, Agrivets, salon, spas, etc. are welcome to be listed.

We do not allow external links exept for our sponsor zamboanga.com. If you have an external site for your business you may not link to it in Z-Wiki but you can point to it. e.g. list it like this: www.my??business.com - this tells the people of your website but it does not link to it.
Businesses in Albay

The name of your business, address, phone number
Real Estate or Properties for Sale or lease in Albay, Philippines
If you have real estate property, whether its commercial, residential, farm land, or just an empty lot in Albay, you can list that property for free.
Click to VIEW, EDIT or ADD Realty Listings.
You can list your House and lot or farm land for sale or lease for free here.
If you are a real estate developer, you can list your subdivision, condominiums, high rises, apartment complexes, shopping strips or malls, open market developments here for Free.
Philippine Cycling is about cycling in the Philippnes. Philippine Cycling helps promote bike races, cycling clubs, bicycle tours, and the development of bicycle trails. Activities are coordinated with bike shops and cycling clubs throughout the Philippines to promote the fun of riding bikes. Philippine Cycling will be coordinating events with tour of Luzon, Visayas and Mindanao. Road biking and mountain bikings will be promoted by Philippine Cycling.
Cycling Activity to Participate In

Your cycling activity can be posted here and it will be shown in all the Provincial, City, Municipal and Barangay pages. Your 2015 Cycling Race or Activity can be Posted here.
ILOILO CITY, April 27-May 2, 2015 (PNA) – Some 5,000 bikers are expected to join the second Iloilo Bike Festival slated April 27-May 2, 2015 as the city continues to aspire to become a bike-able walkable metropolis. The activity that supported by the John B. Lacson Foundation Maritime University (JBLFMU) and Megaworld Iloilo aims to promote Iloilo as a safe and bike friendly city, promote the share-a-road movement encourage Ilonggos to commute via biking and raise Ilonggos awareness on the benefits of biking on health, safety and environment concerns. Read More....
CYCLING Le Tour de Filipinas 2015 set as country celebrates 60 years of top-caliber cycling Feb 1 to Feb 4 2015 - View the result of the race: A four stage race. Stage 1 starts in Balanga and back to Balanga for a 126K race Feb 1, 2015 (Sunday); stage 2 starts in Balanga, Bataan to Iba, Zambales for a 154.7 K race Feb 2, 2015 (Monday); stage 3 starts in Iba, Zambales to Lingayen, Pangasinan for a 150.1K race Feb 3, 2015 (Tuesday); stage 4 starts in Lingayen, Pangasinan to Baguio City, Benguet for a 101.7K race Feb 4, 2015 (Wednesday). For a total distance of 532.5 Kms. Read More >>>
Ronda Pilipinas: Feb 8 - 27 2015:>> Discovering young riders for the national team will be the main objective of the LBC Ronda Pilipinas 2015 when the country's premiere cycling race hits the road on Feb. 8 in Butuan City. Ronda Pilipinas executive project director Moe Chulani said the international multistage bikathon, which ends on Feb. 27, will have two qualifying legs of four stages each in Mindanao and the Visayas where the top riders will advance to face a tough foreign challenge in the six-stage Luzon finale. Read More>>>
Churches, Mosques, or Places of Worship in Albay, Philippines
The name of your church, mosque, or place of worship can be listed here. We can even provide you with a free webpage for you. We can help you.
List the Mosques or Masjid in Albay here.

List the Catholic churches and chapels in Albay here.

List the Methodist churches in Albay here.

List the Iglesia Ni Cristo churches in Albay here.

List the Seventh-day Adventist churches in Albay here.

List the Church of Jesus Christ Latter day Saints (Mormons) churches in Albay here.

List the Presbyterian churches in Albay here.

List the Baptist churches in Albay here.
Schools in Albay, Philippines
Take a picture of your school building(s) and send your pictures via email to (franklin_maletsky@yahoo.com) or message me via Facebook. I will then post the pictures in this page.
---
Due to Covid19: Pursuant to the instructions of President Roa Duterte, and as recommended by the DepEd, classes for the year 2021-2022 will be opened but will be monitored.
List of schools: >>> click
PUBLIC NOTICE: Why pretend that the National language of the Philippines is Tagalog? It should be English. To be a Teacher, doctor, lawyer, engineer, architect, nurse, computer technician; what books do you learn from? English books of course. All your tests are in English. The constitution of the Philippines is written in English. All the laws and new laws introduced by congress are in English. For that matter, you can't be a teacher in a school system unless you know English. The "Licensure Exam for Teachers" is in ENGLISH! Who are these people forcing Tagalog down our throats? Tagalog is simply one of the many dialects of the Philippines. Keep your dialects but learn and be fluent and proficient in ENGLISH.
---
The name of your school in Albay can be listed here. You can list it like this:
Name of School. Private or Public. It can be an elementary school, high school, college.

Address of your school
Telephone Number
Principal of the school
You can also create a webpage for your school. We can help you.
Economy of Albay, Philippines
"The province's economy is basically agricultural with coconut, hemp, rice, vegetables, sugarcane and pineapple as the major products. Vast grazing lands are also available for pasturing cattle, carabao, horses, goats and sheep. Its forests are sources of timber, rattan, pili nuts and other minor forest products." Source Verbatim: www.nscb.gov.ph
If you have an article that talks about the improvement of the economy of Albay you can post that article here. If you come across any news item that talks about the economy of Albay, you may post it here. Of course you have to reference the writer of the article. Any improvement to transportation, power and service usually improves the economy of the community, so go ahead and report that too.
If you have a job available and that job is within the Province of Albay, Philippines, you may post it here.
Remember to be as descriptive as possible and to post your Company name, Contact person, physical address, email address and Phone number..
Post expiration of Job Application. Go ahead and Click HERE to Insert your job offer in the "Jobs in Albay Philippines" page.
Natural Resources of Albay, Philippines
Protect the environment
It is sad but true that as of the year 2012 the rivers of the Philippines continue to be the #1 Sewer Systems of the Philippines.
Protect & Save the Rivers. Do not let your sewer drain into the river. Your community can be the first to initiate this project.
Build your riverbank protection with a built-in gutter system. Reforest within Ten Years - Guaranteed!
---
Let us plant more trees in every barangay in the entire Philippines. It does not make any difference if the barangay is urban, partially urban or rural; we need more trees. Trees will prevent erosion, provide oxygen, prevent green house effect, and even a place of business for the shade tree mechanic.
The Philippines is a tropical country and practically anything will grow. The DENR has the planting trees project that goes on every year. Lots of picture taking for the media. Planting trees one by one is the "human" way of doing it. This individual planting of trees is good if done to "line" the roads and highways with trees or along fences or property divisions, or if you have a plantation.
To reforest the nation of the Philippines we have to plant trees the "mother nature" way. Sow the seeds during the rainy season. Go deep into "bald" forests and plant trees by sowing seeds. If there's not enough volunteers to do this, use the military helicopters to fly over the designated areas and sow the seeds.
Guaranteed within a few years, The Philippines will be lush again. >>Read More
---
We are using our rivers as our sewer system. If you ask a Filipino, "Are the Filipinos a clean people?" The answer is an automatic, "Yes!". However, the Filipinos are suffering from the same disease or attitude as most people do, and that is the "NIMBY" disease or "NIMBY" attitude. (NIMBY) Not In My Back Yard. So it is OK to dump my garbage and sewer there. Not mine! Someone else will take care of it.
This attitude is killing our rivers. Your great-grandparents, grandparents or parents were once proud to tell the stories of how they enjoyed swimming in the river behind your house or nearby. However, you can't say the same or tell the same stories to your kids or grand kids. Why? Because your generation is killing the river.
Contact:
Secretary Roy Cimatu - since May 8, 2017
Department of Environment and Natural Resources
Visayas Avenue, Diliman, 1100 Quezon City, Philippines
+63-2-929-6626
osec@denr.gov.ph
---
We have so much water in the Philippines and yet very little to drink.
---
Instead of relying too much on Diesel fuel and Coal to generate the majority of Philippine's Electrical energy Supply, we can concentrate more on renewable and sustainable source of energy such as: Hydro Power, Solar Power, and Wind Power and thermal energy conversion. We have too many black outs.
Tourists Attractions of Albay, Philippines
"The landscape of the province is dominated by the world famous Mayon Volcano rising over 7500 feet above sea level. The volcano has erupted 47 times since 1616 with the catastrophe of February 1, 1814 as the most destructive, burying the church and houses in Cagsawa. Mounts Masaraga and Malinao in the northeast and Mount Catburauan in the west borders the expanse of Albay's land area." Source verbatim: www.nscb.gov.ph
Help us add some of the tourist attractions of Albay in Z-wiki. This will help boost the local economy of Albay. Anything that is unique or anything that stands out in your community may be a tourist attraction.
Landmarks are usually photographed a lot by visitors. Post the Albay landmarks here.
Festivals, Fiestas and Traditions of Albay, Philippines
Every city or municipality has some sort of a festival or tradition that is celebrated every year. In the Philippines almost all barangays that are predominantly populated by Christians celebrate fiesta. Tell us about the festivals, fiestas and traditions of Albay.
Philippine News
Updated: September 23, 2022
Baguio promotes urban farming to boost food supply.
BAGUIO CITY – Residents here are encouraged to engage in urban agriculture for a sustainable source of food as the local government crafts the city's agriculture development plan. Councilor Isabelo Cosalan, who chairs the committee on agriculture at the Baguio City council, said the city will come up with a development plan that is doable and will bring prosperity.
---
Benguet state U opens extension classes in 2 remote towns
LA TRINIDAD, Benguet – The Benguet State University (BSU) is bringing tertiary education closer to far-flung towns in the province through the opening of extension classes. BSU President Dr. Felipe Comila, in a press briefing Friday, said 120 freshman students from the towns of Kabayan and Kapangan have enrolled in education and criminology courses for the first semester of the school year.
Source: "PNA.GOV.PH"
---
---
Sports News: updated 11/10/21
Kaya Iloilo sweeps Group B in Copa '21
MANILA – Kaya Iloilo pipped Mendiola with a 6-0 beating on Wednesday night to complete a sweep of Group B action in the Copa Paulino Alcantara at the PFF National Training Centre in Carmona.
A Jovin Bedic brace in the first half set the tone for the inaugural tournament champ even as the club netted three goals in each of the two halves to seal the top seed in its group ahead of the semifinals next week.
Bedic capitalized on an erroneous Mendiola attempt to keep the ball out of his reach and quickly raced inside the penalty box to open the scoring for Kaya Iloilo in the 11th minute.
PNA
Duty Free Philippines opens store in Legazpi City
By: Shannah Marie O. Montales
Thursday, November 29, 2012
LEGAZPI CITY– Not too long after the opening of the night market, Embarcadero de Legazpi has also opened the Duty Free Philippines (DFP) Legazpi branch last Sunday, November 25.
Recognized by the Department of Tourism (DOT) under Executive Order No. 46, the Duty Free Philippines is a corporation established to maneuver the duty-and tax-free merchandising system in the Philippines.
Its program is responsible in enhancing service facilities for tourists while exercising foreign exchange and regulating revenue for the government.
Duty Free Philippines' mission is to satisfy the shopping needs of the international travelers in an efficient service environment while showcasing the Filipino traits of warmth and hospitality.
As a world-class travel retailer,it also carries out the task of building a stable and responsive company which enhances its employees' professional growth and well being and supports the development of the country's tourism industry.
Imported and labelled fragrances, chocolates, confectioneries, liquor, designer bags, trendy apparels, and even gadgets not found in other malls and department stores in this city await the chic, international shoppers.
The products are all sold in US currency; but Philippine Peso holders can adjust their money with the price of the product in the shop's standard currency.
"Though it still has limited products compared to other Duty Free Philippines branches in the country, almost all the quality products which can be found in some branches are also here in the Legazpi branch," said Estrella Monserate, a repatriate and Overseas Filipino Worker in Dubai.
"The November 25 event was only a partial opening. The grand opening will be on December," explained Chester Celso Olitin of Embarcadero de Legazpi's Leasing Department.
Certainly, Bicolanos will be looking forward to this especially that this is the first branch of the said shop in the region.
"For a more unique shopping experience, I am inviting everyone to visit Duty Free Legazpi in Embarcadero de Legazpi. Invite your family, friends, and loved ones to shop in our newest member of the Embarcadero de Legazpi family, Duty Free Legazpi." said Olitin.
Albay Zip Codes
Source: Philippine Postal Corporation
This table is Sortable by Municipality/City or by ZipCode
Click on Icon to Sort
ZipCode
Click on Icon to Sort
Municipality/City
Province
4500
Legaspi City
Albay
4501
Daraga (Locsin)
Albay
4502
Camalig
Albay
4503
Guinobatan
Albay
4504
Ligao
Albay
4505
Oas
Albay
4506
Polangui
Albay
4507
Libon
Albay
4508
Sto. Domingo
Albay
4509
Bacacay
Albay
4510
Malilipot
Albay
4511
Tabaco
Albay
4512
Malinao
Albay
4513
Tiwi
Albay
4514
Manito
Albay
4515
Jovellar
Albay
4516
Pio Duran
Albay
4517
Rapu-rapu
Albay
Do the following so your photo upload will be properly categorized for Albay.
Copy and paste the code below in "GREEN" to the body or "Summary" of the image file that you are uploading.
{{zadheader pictures}}
[[Category:Albay, Philippines Photo Gallery]]
*[[Albay Province, Philippines]]