Zamboanga Del Sur News
From Zamboanga.com :Portal to The Philippines
Province of Zamboanga del Sur - Archived News of Zamboanga del Sur
---

Seal of Zamboanga del Sur Province
Interactive Google Satellite Map of Zamboanga del Sur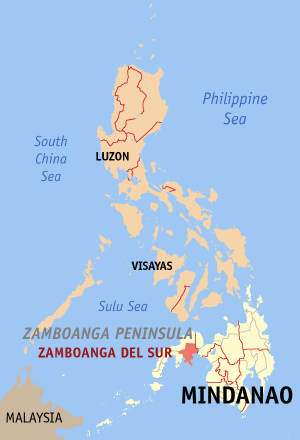 Zamboanga del Sur Map Locator

Municipalities within Zamboanga del Sur

Provincial Capitol of Zamboanga del Sur

Provincial Capitol of Zamboanga del Sur, Santo Niño, Pagadian city
Lapuyan Falls: The favorite haunt of the fair Subanen maidens of Sitio Baga and all its neighboring areas, usual meeting place with many a young country swain in some secluded cavern beneath the rocky forest lane.

Lakewood, Zamboanga del Sur, Philippines

Village of Pedagan

Lintugop, Aurora
Pagadian City, Zamboanga del Sur

Provincial human resource management office of santo niño pagadian city

Civil Service Commision office in santo niño pagadian city
Bayog's Subanen Leaders Approve of TVIRD's Success in Canatuan
By Franklin P. Gumapon
ZAMBOANGA DEL NORTE - The successful track record of TVI Resource Development Philippines Inc. (TVIRD) in its Canatuan mine site – as well as its genuine community engagement and environmental programs – have been recognized by the town of Siocon, the Subanons of Canatuan who comprise 30% of its workforce, national award-giving bodies and, as of late, the Subanen tribal leaders of Bayog, Zamboanga del Sur who visited Canatuan recently.
The company has become one of the country's largest producers of copper since its operations came on-stream in 2004, following its prior gold-silver project and its current production of zinc concentrates.
Today, as it is set to conclude its operations in Canatuan, it looks towards the gold and silver potential in Bayog – which is located approximately 75 kilometers east-northeast of its Canatuan mine site – as the next phase in the company's development. The Subanen Timuays (chieftains) express the same anticipation during their mine tour.
"We are grateful that this opportunity provided us the assurance of what TVIRD has done in Canatuan can be replicated in our area (Bayog municipality) when it starts operations there," expressed Timuay Mitobusan Casiano Edal who came together with fellow tribal leader Timuay Lucenio Manda to experience firsthand the company's responsible mining practices and its sustainable programs for the Subanons of Canatuan.
Subanen solidarity for responsible mining
Both chieftains, chosen representatives of the entire indigenous community as the result of Subanen unification, expressed their support to responsible mining in their ancestral domain, which is endowed with minerals but is still reeling from the environmental damage wrought by decades of illegal mining.
They also showed their solidarity to the Pikumpungan Subanen Lupa Pusaka (PSLP) – an organization of Subanen tribe officials covering six municipalities in the province of Zamboanga headed by Datu Dalepusan Isis Guilingan. The PSLP represents another group of Subanens in the area surrounding the gold-rich Balabag hill in the town of Bayog.
All three leaders also anticipate the commencement of the company's environmental clean-up in the area, just like it did in its Canatuan mine site. Before ramping-up its operations in 2004, TVIRD's first order of business was to conduct an extensive environmental clean-up and to assess damage done to Mt. Canatuan – prior damage that was caused by small scale illegal miners who also exploited the indigenous communities.
Similarly, the company is set to conduct the same clean-up in Balabag, which has also experienced decades of illegal mining.
Bringing Canatuan to Balabag
"Today, TVIRD as a company enjoys a high degree of trust and confidence from its host communities and neighboring municipalities," TVIRD General Manager Germidas Las Pinas said. During their visit, the Subanen chieftains approved of the benefits provided by TVIRD to their kin.
"They are receiving social services like health, education, infrastructure support and livelihood that they enjoy from the company," Timuay Manda expressed.
Prior to commencing operations in the area, TVIRD has already rolled-out its environmental and social programs in Balabag. Also this year, the Sangguniang Panlalawigan of Zamboanga del Sur and Bayog's Sangguniang Bayan granted the company social license to operate via resolutions of support for its entry, in addition to the same support expressed by the Subanens.
"Now that we witnessed ourselves responsible mining in Canatuan, we hope in the near future, we will fully experience the same progress in our own town," Timuay Edal expressed.
Responsible environmental programs
Not escaping the Subanen leaders' admiration is TVIRD's sulphide tailings storage facility – a dam that was designed and built under the strictest international standards and is strong enough to withstand the maximum credible earthquake (8.5 magnitude) and the probable maximum flood in the area.
"It is commendable that the locals in Siocon are the ones trained to monitor the sulphide dam after the company ceases its operations. We need not worry for the community who is left here," Timuay Manda said.
"The goal of the company's environment management unit is to return the Canatuan mine to a natural and stable state for the Subanons' productive use in the future," TVIRD Environment Manager Nilda Callora said. Progressive rehabilitation is one of the priority commitments of TVIRD for the protection and conservation of the environment.
Under the TVIRD Final Mine Rehabilitation Plan, the company will conduct active and passive rehabilitation in the years following the decommissioning of its operations.
Power 102 forum held in Pagadian
By Franklin P. Gumapon
PAGADIAN CITY – Some 50 media practitioners from Zamboanga Sibugay, Dipolog City and this city participated in the Power 102 forum conducted here recently by the National Grid Corporation of the Philippines (NGCP).
The forum tackled NGCP's power transmission development plan in the country particularly here in Mindanao.
NGCP spokesperson and head for corporate communications department, Atty. Cynthia Albanza, explained to the participants that the power industry in the country has been handled by three distinct groups starting from generation to transmission and to distribution.
The NGCP, she said, is only in charge of the transmission of electricity from power plants to distributors like the electric cooperatives.
As regards the power supply shortage besetting Mindanao nowadays, Alabanza admitted that there is a rising generation deficiency due to the declining capacities of the island's hydropower plants as a result of the dry spell.
She also said that the demand for electricity in the island keeps increasing because of the new investors coming in.
It can be recalled that the first vice president for Mindanao Affairs of the Aboitiz Power, Bobby Orig, told the press earlier that power deficiency in Mindanao could reach 484 megawatts (MW) this year. This power shortage will greatly affect the business activities particularly in the major cities of Davao, General Santos, Zamboanga City, Cagayan de Oro and Butuan.
On the other hand, the Department of Energy (DOE) said new power plants with combined capacity of at least 100 MW are needed to address the power problem in the island.
Kidnap victim reported released Thursday
By Liza Jocson
Kidnap victim Arsina Nanoh was reportedly released in Pagadian City early Thursday morning by her abductors in Pagadian City.
According to reports, Nanoh is to board a commercial flight to Manila, where she will be met by her husband.
They are set to meet with Department of the Interior and Local Government Secretary Manuel Roxas.
Nanoh was reportedly abducted at a downtown shopping mall in Zamboanga City on Tuesday afternoon.
Police are still investigating the circumstances surrounding the alleged abduction incident after it was found out there was no commotion inside the mall when the victim was taken.
DENR-Zambo Peninsula targets to plant 24,416 trees
(PNA), LAP/TPGJR/HIROHITO D. CADION/UTB
PAGADIAN CITY, Zamboanga del Sur, March 5 (PNA) -- The Department of Environment and Natural Resources (DENR) through the National Greening Program (NGP) is set to plant 24,416 trees this year here in the Zamboanga Peninsula.
DENR's Forest Management Services Regional Technical Director Carlito Tuballa said Wednesday that they originally targeted to plant 19,159 trees but it was increased to 24,416 trees in line with this year's concept of the NGP to alleviate the livelihood of the farmers by incorporating into the program the planting of high-value crops (HVC).
Tuballa said they will incorporate the planting of 5,257 HVCs such as rubber and fruit trees, bamboo and mangrove. It will be planted by selected partner community-based farmers' organizations.
Tuballa said the 24,416 assorted species of trees including those classified as HVC will be planted in four areas as follows: Zamboanga del Norte, 10,273 trees; Zamboanga del Sur, 4,651; Zamboanga Sibugay, 4,544; and, Zamboanga City, 4,948.
He said they will closely monitor the growth of the trees to ensure zero damage or mortality, citing any damaged trees will be immediately replaced with new ones.
He said this year's number of trees to be planted in the region will be higher by 3,418 compared to the 20,998 trees grown last year.
Pagadian joins "Fire Prevention Month" celebration
By Gideon C. Corgue
PAGADIAN CITY – "Fire plays an important role in our lives if we use it safely but if we misuse it, it can cause extensive damage to both the properties and human lives," said an official of the Bureau of Fire Protection (BFP)-9.
Supt. Clemente Alvarez, assistant regional director for operations, BFP-9, said during the Fire Prevention Month's kickoff ceremony on Saturday at Pagadian City Central Fire Station that fire is important to man's life adding that "without fire our life is meaningless."
"We are observing fire prevention not only during March but each day. Every day is a fire prevention day. The fire may occur anytime and anywhere," the fire official pointed out.
Alvarez urged his fellow fire officers and volunteer firefighters to intensify their level of alertness especially during summer season to prevent the occurrence of fire.
Alvarez said the fire personnel are seriously fulfilling their motto: "To protect and serve so that others may live."
In 2013, the BFP has recorded a total 44 fire incidents of which 40 cases were accidental and 4 were arson, with an estimated damage to properties amounting to P41.3 million.
Meanwhile, City Fire Marshall Reggy Olmedo urged everyone to be careful with fire.
"I urged everyone to be conscious about fire safety at home and in the workplace since fire prevention is everybody's business," Olmedo said.
Pagadian City Central Fire Station is joining all fire stations in the country in observing March as fire prevention month pursuant to Presidential Proclamation No. 115-A issued by the then President Ferdinand Marcos on November 17, 1967.
A thanksgiving mass, motorcade and bloodletting were the activities lined up during the opening ceremony to heighten public awareness on fire safety and prevention.
Bayog mayor delivers first SOMA
By Claro A. Lanipa
BAYOG, Zamboanga del Sur – "My administration has successfully implemented its program and services to the benefit of its residents especially the indigents," declared Mayor Leonardo L. Babasa Jr. as he delivered on Thursday his first State of the Municipality Address (SOMA) here at Bayog Central Elementary School mini-grandstand.
Babasa said "my administration has helped the Department of Education (DepEd) in improving quality education by hiring 120 locally paid teachers and allocated some P3.7 million from 2010 to present for their salaries and wages."
The municipal has also given agriculture a top priority to help the farmers uplift their standard of living and address unemployment problem, the chief executive said.
Poverty incidence of this town has significantly decreased from 58.24% in 2008 to 43.45% in 2012, Babasa reported.
Babasa delivered his message in the dialect (Cebuano) so that the audience could fully understand his administration's accomplishments.
Meanwhile, Zamboanga del Sur Governor Antonio Cerilles lauded Mayor Babasa for holding his first SOMA saying that "it is very seldom for a local chief executives to hold such as this in their respective municipality."
"I hope that Bayog will continue to support the clean, honest, transparent and dynamic leadership to attain a better tomorrow," Cerilles exhorted.
Also present during the event were Regional Directors Malcom Garma of the Department of Education (DepED)-9, Noemi B. Edaga of the Philippine Information Agency (PIA)-9, Provincial Director Verner Virgilio C. Jayme of the Department of Interior and Local Government (DILG), municipal and barangay officials, businessmen, teachers and students of the JH Cerilles State College- Bayog campus.
HACKING INCIDENT
By Jonas D. Macasa Jr., P02 (Duty PNCO)
On or about 10:00am of February 28, 2014 at Purok Kapalaran, Barangay Balangasan, Pagadian City, a victim identified as one Elizer Garcia Y Larede, 50 years old, married, fish vendor by occupation and a resident of same place was hacked by certain Marcelino Porquer, 63 years old, married and a resident of Barangay Canunan, Guipos, Zamboanga Del Sur with the used of sharp bolo.
Initial investigation conducted by the responding elements of Pagadian City Police Station disclosed that while the victim was walking at aforesaid place when suspect suddenly appeared from behind and hacked him without apparent reasons.
Victim sustained multiple hacked wound at the diff parts of his body and immediately brought to Zamboanga Del Sur Medical Center, Barangay Dao, Pagadian City for immediate med treatment while the suspect was also brought to same hospital for his bruises of his body.
Motive of the incident is purely personal grudge.
Investigator of Pagadian City Police Station is now preparing appropriate charges against the suspect for immediate filing in court.
Investigator on case is PO2 Rodolfo Z. Baco with contact number 09999933074.
Abducted Pagadian City student escapes
(Mindanao Examiner)
PAGADIAN CITY (Mindanao Examiner / Mar. 1, 2014) – Police forces recovered an abducted 19-year old student following a daring escape from his captors in the southern Philippine province of Zamboanga Sibugay.
Stephen Tan, who was seized February 27 in Pagadian City in Zamboanga del Sur province, told police that he managed to escape by jumping into a cliff while he was being led by his captors to a village in Diplahan town.
Tan said he was blindfolded throughout his ordeal and managed to escape only after his three captors told him to remove his cover. He said they were walking on a trail at the edge of a cliff near a river and he jumped from the steep rock and ran as his captors chased him until they lost him.
Tan said he hid in the grass and later found a house and sought help from its owner Clarito Ferrarin. He said borrowed the man's cell phone and contacted his father to say that he escaped from his abductors.
The victim's father phoned the town's mayor Cris Jose to seek help about his son. The politician then coordinated with the local police force headed by Inspector Raul Cortes and recovered Tan in a shanty where he was waiting for rescuers.
Chief Inspector Ariel Huesca, a regional police spokesman, said Tan, an engineering student at the Southern Mindanao College, was driving his car in Pagadian City when gunmen nabbed him in the village of Gatas.
He said police and military forces were tracking down Tan's abductors in the town.
Pagadian City police launch operation to rescue engineering student
(PNA), FPV/TPGJR/HIROHITO D. CADION/UTB
PAGADIAN CITY, Zamboanga del Sur, Feb. 28 (PNA) -- The police have launched an operation in a bid to rescue an engineering student of the Southern Mindanao College (SMC) seized by gunmen, believed to be kidnappers, late Thursday in this city.
Local police chief Supt. Glenn Dulawan said Friday the operation to rescue the victim, Stephen Tan, was launched jointly with the Provincial Public Safety Battalion (PPSB) and with the military forces.
Dulawan said Tan, 19, was seized around 9:30 p.m. Thursday by gunmen while he was with his classmates in front of the Philippine Health Insurance Corporation (PhilHealth) office along Cabrera Street, this city.
Dulawan said the suspects, armed with high-power firearms, have forced the victim to board a Sports Utility Vehicle (SUV) with registered plate number KJS-723 that fled towards east direction from the crime scene.
However, Dulawan said the victim's relatives have reported the incident three hours after the incident.
The family of Tan owns a resort in Barangay Mahayahay, this city.
Dulawan said they are checking the ownership of the suspects' getaway vehicle while the troops are tracking down the whereabouts of the victims.
Suspect on Pagadian City Shooting Incident Arrested
By PCINSP ARIEL T HUESCA (With report from PO2 Jonas D. Macasa Jr., RPIO9)
Last February 23, 2014 at Purok Smith, Barangay San Pedro, Pagadian City, Zamboanga Del Sur, a victim identified as PO1 Wenrite Padayhag, PNP member assigned at Pagadian City Police Station was shot several times by the suspect John Modapil y Alpad, 35 years old, resident of Purok Saudi Islam, Barangay Muricay, Pagadian City with the used of caliber 45 pistol. Investigation conducted by Pagadian City Police Station disclosed that said PNP personnel has responded on the alleged illegal discharge of firearm that took place at the said place, upon his arrival of the place of incident, said victim was suddenly shot several times by same suspect of illegal discharge of firearm. Fortunately, PO1 Wenrite Padayhag was not hit and was able to take cover and return fire while suspect immediately fled to unknown direction after the incident. Immediately, a joint hot pursuit operation were conducted by personnel of Zamboanga Del Sur Provincial Public Safety Company and Regional Public Safety Battalion 9 that resulted to the arrest of said suspect and confiscated from him were the following: One (1) caliber 45 pistol ARMSCOR; One (1) live ammunition; and one (1) magazine and also recovered from the crime scene; Three (3) fired cartridge case of same caliber. Suspect sustained two (2) gunshot wounds on his right thigh and right ankle and was brought to Zamboanga Del Sur Medical Center for medical treatment and subsequently brought to Provincial Crime Laboratory for paraffin examination. Suspect is now temporary detained at Pagadian City Police Station locked-up cell while an appropriate case is now being prepared for filing in court against him.
Physical injury complaint up vs Pagadian mayor
By Bong Garcia
OFFICIALS of the Zamboanga Sibugay athletic delegation have filed a complaint of physical injury against Pagadian City Mayor Romeo Pulmones, the police said Wednesday.
Zamboanga Peninsula police information officer Chief Inspector Ariel Huesca said the complaint against Pulmones stemmed after the official allegedly slapped and punched an athlete of Zamboanga Sibugay after a basketball game.
Huesca said the incident took place Tuesday after a basketball game at the Dipolog City Sports Complex between Zamboanga Sibugay and Pagadian City in the ongoing Zamboanga Peninsula Regional Athletic Association (ZPRAA) meet.
The complainants are Zamboanga Sibugay Secondary Athletic Manager Eleone Diocares, Secondary Head Coach Dioscoro Escala, Secondary Basketball Boys Coach Junito Gadayan, Secondary Training Director Henry Siaron, and the victim, Julius Marcera Jr. y Atilano, 16, a 4th year student of the National High School in Siay, Zamboanga Sibugay.
Initial investigation showed Pulmones went down to the basketball court area together with more or less 10 unidentified companions and without any sufficient reason got mad, shouted, and scolded the technical and officiating officials, Huesca said.
Huesca added that an unidentified trainer of the Elementary Basketball Boys team of Pagadian City approached Marcera and subsequently grabbed his backpack and right after Pulmones allegedly slapped the athlete hitting at the back of his head.
The unidentified trainer of Pagadian City team also punched Marcera hitting the victim on the left side of his face, Huesca said.
He said the Dipolog City Police Station Mobile Patrol Team 1 led by Senior Police Officer 2 Henry Bilas pacified the incident to prevent further trouble.
He said the group of Pulmones left the playing venue after the incident.
Efforts to reach Pulmones to get his statement concerning the incident proved futile.
However, a reporter based in Pagadian City said that Lea Agonoy of the Pagadian City Government information office said Pulmones refused to comment about the incident.
DepED-9 holds 3rd IPEd stakeholders' forum in Pagadian City
By Franklin P. Gumapon
PAGADIAN CITY – To achieve effective and meaningful education for indigenous peoples (IPs) in the region, tribal leaders, national government agencies (NGAs), non-government organizations (NGOs), education officials and other stakeholders have for the third time converged here to synchronize and coordinate programs and services in support of IP education in the area.
Points of collaboration between and among stakeholders in promoting IP education were identified in a series of workshops during the two-day IPEd forum held on Feb. 20-21 at the Bay Plaza Hotel here.
Dr. Eugene Penales, elementary education chief of the Department of Education (DepED)-9, emphasized that IPEd subscribes to the rights-based approach which is anchored on these three principles: participation, inclusion and empowerment.
Doctor Penales also urged the different NGAs to always include the indigenous cultural communities (ICCs) in the implementation of their respective programs and projects.
Representatives from the Department of Agrarian Reform (DAR) and Technical Education and Skills Development Authority (TESDA) have presented that their offices have projects and services that cater to IPs.
Dr. Reynaldo Ortiz of the Rotary Club of Pagadian also assured the DepED of the club's commitment to IPEd saying that supporting education is one of the major programs pursued by the group.
The other five programs of the Rotary Club are promoting peace, fighting diseases, providing clean water, saving mother and child and improving local economy.
It can be recalled that the DepED had issued Department Order No. 62 s. 2011 aimed at recognizing, protecting and promoting the rights and welfare of ICCs and IPs.
SEAFDEC provides technical assistance to seaweed farmers in Zambo. Sur
By Gideon C. Corgue
PAGADIAN CITY – Researchers from Southeast Asian Fisheries Development Center (SEAFDEC) in Iloilo City recently visited the coastal municipalities of Zamboanga del Sur's first district to conduct a study on seaweed farming industry in the area.
Maria Ravilla T. Luhan and Evelyn Grace Ayson SEAFDEC's Seaweed Ecology and Breeding and Seed Production of Marine Fish visited the municipalities of Labangan and Tukuran as well as this city upon the invitation of first district representative Victor Yu to conduct a two-day consultative meeting with the seaweed farmers at the Dynasty Beach Resort, Lower Bayao, Tukuran to draw up measures to help out the marginal seaweed farmers.
Yu said seaweed farmers in the first district have been producing less due to climate change and the "ice-ice" or whitening disease that hits several seaweed farms.
It can be recalled that seaweed farming provides a source of livelihood to thousands of families living in the coastal areas who are directly involved in the production, trading and exporting said product in Mindanao.
Yu said the government is coming up with certain solutions to address the concerns of the seaweed sector. "With the technical assistance of SEAFDEC, we are coming up with productivity enhancement techniques through the adoption of seaweed tissue culture technology, etc," he added.
Yu said he wanted to increase not only the production of seaweeds but also of fishes in the area.
Meanwhile, Roel Dela Torre, member of Small 'Likum-Likum' Fisherfolk Association of Pagadian City said he was happy that the researchers provided them with the necessary knowledge in the production of seaweeds saying that it can help improve the standard of living of local farmers.
Ex-Paganini mayor, wife enter not guilty plea in Aman scam
By Roel Pareño (The Philippine Star)
ZAMBOANGA CITY, Philippines – Former Pagadian City mayor Samuel Co and his wife Prescilla Ann had expressed hope they would be granted bail, as they pleaded not guilty in the syndicated estafa case filed against them in connection with the multibillion -peso investment scam of the Aman Futures.
Co and his wife arrived in Pagadian City Thursday morning from Manila under tight security provided by agents of the National Bureau of Investigation (NBI) backed by the military and the police.
The couple, accompanied by their lawyer Percendo Puloyapoy, was brought to the sala of Judge Felix Rodriguez where they entered the not guilty plea.
The Cos filed a motion for bail even as the charges of syndicated estafa is a non-bailable case.
Citing security reason, they asked to be detained at the NBI headquarters in Manila pending resolution of their case.
The couple expressed confidence the charges against them would be dismissed citing lack of evidence.
They stayed overnight at the NBI office in Pagadian and were flown back to Manila Friday morning. They will return to Pagadian for the hearing on April 11 and 12.
Wounded dolphin treated in Zamboanga del Sur
By Roel Pareño (philstar.com)
ZAMBOANGA CITY, Philippines - A badly injured adult dolphin was rescued by the fisher folks, police and Bureau of Fisheries and Aquatic Resources (BFAR) in the waters of Dumangguilas Bay, Zamboanga del Sur, according to an official.
Chief Inspector Ariel Huesca, spokesman of Police Regional Office 9 (PRO), said the bottlenose dolphin was spotted drifting off the waters in the vicinity of sitio Asinan, Margos Thursday afternoon.
The elements of the Margos Municipal police led by Senior Inpsector Jonathan Presto Lladoc and BFAR technician with the fisher folks conducted rescue operation and brought the wounded sea mammal near the wharf for medical treatment.
The dolphin, measuring three meters long with a width of two meters and weighed about 1,000 pound, sustained injuries on its belly and forehead which they believed to be caused by a propeller blade.
The dolphin will be palced under medication before its release to the high seas once its wounds are healed and its condition is stable, according to the BFAR technician in the area.
P14-M cocoa production to boost Zambo farmers
(PNA)
THE Department of Agrarian Reform (DAR) and Kennemer Foods International Inc. (KFI) embarked on a P14-million cacao production to provide farmers in Zamboanga Del Sur access to global markets for cocoa and arm them with new technology to boost their income and develop sustainable agribusiness enterprise.
Provincial Agrarian Reform Program Officer II (PARPO) Arturo N. Soria said the business venture will initially cover 200 hectares of lands in Midsalip, Zamboanga del Sur for a period of 10 years to assist the private sector to have a steady supply of cacao beans.
"The lands to be used are managed by agrarian reform beneficiaries (ARBs), who are members of Midsalip Farmers Multi-Purpose Cooperative (MIFAMCO), the proponent cooperative in the said project," he added.
"The KFI will market all the harvested cocoa beans they purchased from the ARBs, who will be provided, by the same organization, with technology as well as high quality planting materials, farm inputs, trainings and technical consultancy," Soria said.
Soria added that the KFI will fund MIFAMCO to extend cocoa production loan to potential producers for the purchase of cocoa seedlings.
KFI is an international organization, producer and marketer of food and agricultural products. The company specializes in growing and trading high quality fermented cacao beans.
It is committed to rural development as their products encompass complete agricultural value-chain from planting materials, training and agri-technology.
Beneficiaries Development Coordination Division Chief Josephine Sisican said this endeavor will capacitate the involved stakeholders, especially the ARBs' economic activities.
"The DAR will continue to provide agricultural facilities in the area to empower the farmer beneficiaries and oversee the implementation of the project," she added.
MIFAMCO Chairman Andres Rondrique said he is positive that this partnership would launch the growth of cacao industry in Region IX starting in Midsalip.
The older news reports are kept here.