Zamboanga Del Sur News
From Zamboanga.com :Portal to The Philippines
Province of Zamboanga del Sur - Archived News of Zamboanga del Sur
---

Seal of Zamboanga del Sur Province
Interactive Google Satellite Map of Zamboanga del Sur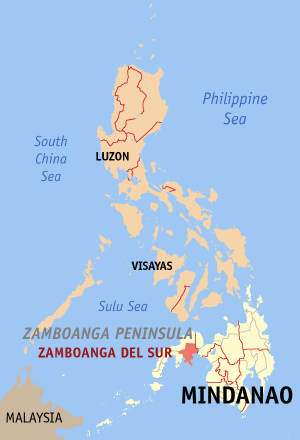 Zamboanga del Sur Map Locator

Municipalities within Zamboanga del Sur

Provincial Capitol of Zamboanga del Sur

Provincial Capitol of Zamboanga del Sur, Santo Niño, Pagadian city
Lapuyan Falls: The favorite haunt of the fair Subanen maidens of Sitio Baga and all its neighboring areas, usual meeting place with many a young country swain in some secluded cavern beneath the rocky forest lane.

Lakewood, Zamboanga del Sur, Philippines

Village of Pedagan

Lintugop, Aurora
Pagadian City, Zamboanga del Sur

Provincial human resource management office of santo niño pagadian city

Civil Service Commision office in santo niño pagadian city
Military: NPA strength declines
By Bong Garcia
THE strength and weapons of the New People's Army (NPA) rebels had been steadily decreasing in Zamboanga Peninsula, a top military official said.
Army's 1st Infantry Division commander Brigadier General Gerardo Barrientos attributed the decline to the ongoing "Bayanihan" peace development efforts.
Barrientos said another factor that contributed to the continued decline of NPA strength and weapons is the military's continued collaboration with local government units within the command's area of jurisdiction.
"The number of NPA members in the region and their firearms continue to decrease," Barrientos said in a statement, citing the NPA's manpower was reduced by around 10 percent while their firearms went down by five percent.
Barrientos said the troops from the Army's 53rd Infantry Battalion recently recovered two serviceable M-16 Armalite rifles and ammunition in an arms cache in the forested tri-boundary of Zamboanga Del Sur, Zamboanga Del Norte and Misamis Occidental.
He said the troops also recovered two handheld radio transceivers, two pairs of military uniforms, medical paraphernalia, personal belongings and subversive documents of high intelligence value.
Army's 53rd Infantry Battalion commander Lieutenant Colonel Alvin Luzon said the arms cache was discovered after residents and former rebels informed them of the place where the NPA rebels kept their stash of weapons.
"These items were left behind because the NPA lacks the manpower to bring it due to numerous surrenderees and the capture of their members," Luzon added.
Barrientos commended the troops involved in the recovery of the arms cache, citing it was brought about by the good rapport of the soldiers to the community.
NGCP: Tripping disrupts power service in parts of Zambo Sur
By Joel Locsin /LBG, GMA News
A line trip on Saturday night caused a power service disruption in parts of Zamboanga del Sur, the National Grid Corp. of the Philippines said Sunday.
In an advisory, the NGCP said it is working to restore the power transmission service to areas covered by the Zamboanga del Sur Electric Cooperative 2 (ZAMSURECO-2).
Citing initial reports, it said the RT Lim-Sirawai 69-kilovolt line section tripped at 9:50 p.m. Saturday.
The NGCP added the delay in the restoration is due to "adverse situation beyond the control of NGCP."
RDC-9 member-agencies vow support to climate change campaign
By Franklin P. Gumapon (FPG/PIA9)
PAGADIAN CITY, Aug. 30 (PIA) – Member-agencies of the Regional Development Council (RDC)-IX's Development Administration Committee (DevAdCom) and Regional Social Development Committee (RSDC) have expressed support to the Climate Change Advocacy Campaign (CCAC) now being spearheaded by the Philippine Information Agency (PIA) and the Department of Environment and Natural Resources.
In two separate meetings held here recently by the DevAdCom and RSDC, the CCAC branding, "Nagbabago na ang Panahon, Panahon na Para Magbago" and "Nagbago na ako" was presented to the members and they all agreed to support it.
Samples of official templates of CCAC branding materials were also shown to the members of the two committees by the PIA.
To drum up public awareness on climate change and other environmental issues, all national government agencies (NGAs) as well as the schools and non-government organizations (NGOs) are enjoined to adopt the CCAC branding by hanging tarps, streamers and/or wearing CCAC T-shirts. They may also use the CCAC logos in their information, education and communication (IEC) materials including letterheads.
The CCAC branding will again be presented and discussed in the regular RDC meeting on Sept. 23, 2914 at Zamboanga Economic Zone, Zamboanga City.
Bayog women groups receive livelihood assistance from DOLE
By Claro A. Lanipa
BAYOG, Zamboanga del Sur - The Department of Labor and Employment (DOLE-9) through the Public Employment Service Office (PESO) distributed on Tuesday production supplies, utensils and equipments to two Women Empowerment Movement-Rural Improvement Club (WEM-RIC) groups here.
Damit WEM-RIC with 90 registered members received an initial of P114,750 worth of production supplies. The group's budgetary requirement is placed at P340,000 and will venture in "bagoong making." While Depore WEM-RIC was given a total of P42,100worth of utensils and equipment whose budgetary requirement was pegged at P149,000 and would engage in banana chips making.
PESO Manager Cerilo Carcueva disclosed that these two projects were being funded under DOLE's Integrated Livelihood Program with a counterpart from the municipal government.
Carcueva said the LGU of Bayog through his office would closely supervise and monitor the implementation of these projects. The project management staff will also undergo the needed training to ensure sustainability of the program.
PESO will be tapping government agencies in the conduct of such training like the Technical Education and Skills Development (TESDA), Department of Trade and Industry (DTI) and the Food and Drug Administration (FDA), he said.
"Through these projects, housewives from low-income families would find employment opportunities," the PESO manager said.
DA sets technology forum on Adlai production in Dinas, Zamboanga del Sur
(PNA), LAM/TPGJR/HDCADION/UTB
PAGADIAN CITY, Zamboanga del Sur, Aug. 28 (PNA) -– The Department of Agriculture (DA) is holding a two-day technology forum on Adlai production in the nearby town of Dinas, this province.
The two-day event, dubbed as the First National Adlai Grand Farmer's Field Days and Technology Forum, is set to be held next month from Sept. 3-4 with no less than DA Secretary Proceso Alcala as the keynote speaker.
Alcala has helped promote Adlai as alternative food crop.
DA Regional Information Officer Melba Wee said Thursday the two-day activity will be spearheaded by DA Regional Director Constancio Alama and the Zamboanga Peninsula Integrated Agricultural Research Center (ZAMPIARC) in collaboration with the Mindanao Zonal Research Development and Extension Network, Bureau of Agricultural Research, High Value Crops Development Program (HVCDP), National Adlai Technical Working Group and the municipal government Dinas.
Wee said the two-day event will showcase Adlai production and management technologies in varying crop stages, regional booths and exhibits, Adlai farm machinery demonstration, post-harvest processing technologies, Adlai value-added products, farmer's forum and symposium, among others.
Adlai is a tall-grain bearing tropical plant that has been growing abundantly in the country and is being cultivated since ancient times as staple food.
Wee said more or less 1,000 farmers, Local Government Units (LGUs), private sector representatives and investors from Mindanao and other parts of the country are expected to join the momentous event.
Wee the forum will be held in Dinas since the town has been very supportive to DA's Adlai production program, as it has a four-hectare farm now being used as techno-demo farm by the Betinan Agricultural Research Station of San Miguel town.
She said DA is promoting Adlai as one of the important alternative food crops in support of DA's Food Staple Sufficiency Program.
The two-day forum is themed: "Harnessing the Potentials of Adlai as Additional Staple Food for Filipinos."
1st FAB beefs up delivery of govt programs, services
By Gideon C. Corgue
TINOTUNGAN, Tukuran, Zamboanga del Sur – To help bridge the gap and act as catalyst between the government and the barangay folks through the delivery of government programs and services, the 1st Field Artillery Battalion (FAB), Army Artillery Regiment, Philippine Army has embarked on "adopt-a barangay" program.
In keeping with this program, a medical and dental outreach program was held on Tuesday at Barangay Tinotungan by the officers and men of the 1st FAB led by Lt. Col. Sonny M. Sales in collaboration with the Zamboanga del Sur provincial government and this town.
Civil Military Officer Capt. Zal L. Bagondol said "apart from the medical and dental services we also conducted first aid training to the members of the Barangay Emergency Response Team (BERT), a tree planting activity in support of the National Greening Program (NGP), supplemental feeding for the malnourished children, free circumcision, and others.
The battalion has identified five barangays for the implementation of the said program, namely, Tinotungan, Man-ilan, and Sto. Rosario of Tukuran town and San Isidro and Tawagan Norte of Labangan town all of Zamboanga del Sur.
Last Aug. 5, the same activity was conducted in the barangay where 68 residents availed themselves of the medical consultation and were given free medicines, 24 children were circumcised, eight children were immunized, six pregnant women were given pre-natal services, and four others underwent sputum test.
A tree planting is going to be held tomorrow, Aug. 28, in the same barangay to be participated in by the officials and employees of Tukuran, Barangay officials and residents, and schools.
Barangay Chairwoman Victoria G. Pintac expressed her deepest gratitude to the officers and men of the 1st FAB for choosing her barangay as one of the beneficiaries of the program.
The same services will also be undertaken in the other four identified barangays.
BNHS studes back environment protection, climate change adaptation
By Gideon C. Corgue
BAYOG, Zamboanga del Sur, Aug. 26 (PIA) – Students of Bayog National High School (BNHS) here have expressed their support to protecting the environment, as they formulated an action plan aimed at addressing the adverse effects of climate change.
In a climate change advocacy forum conducted on Friday by the Philippine Information Agency (PIA), a 30-minute video documentary on climate change produced by PIA and a six-minute video produced by the GMA Network were shown to the students, followed by an open forum.
The students were also asked to give their suggestions and recommendations to mitigate the impact of climate change.
"We have to plant trees so that we can help the government address climate change that is already affecting us today," said Armie Jay Anlap, a senior high school student adding that "human beings are now suffering the adverse effects of climate change and so with our agriculture."
Grizzell Elardo, also a senior high school student, said "we have to observe proper disposal of garbage and avoid burning of plastics, as these would contribute to global warming and climate change."
"No one will be spared from the severe consequences of climate change. We need to act now. Otherwise, we will all suffer," Elardo urged.
Nasher Dulay, a freshman student said he is ready to participate in tree planting activity to be undertaken by the school to help solve climate change problem.
Dulay recalled that during his elementary years, he actively participated in tree planting activities conducted by the Boy Scout of the Philippines at the Eco-Park in Bayog.
"I am very much eager to plant more trees and will support other activities related to climate change mitigation and adaptation," Dulay added.
Meanwhile, School Principal Danilo Ungang said BNHS has implemented Republic Act 9003 otherwise known as Ecological Solid Waste Management Act, in support of the climate change mitigation and adaptation efforts of the government.
"We are teaching our students to be responsible by strictly observing proper disposal of garbage in our school, Ungang concluded.
3.1 quake jolts Zamboanga del Sur
(PNA), FPV/CLTC
MANILA, (PNA) -- A magnitude 3.1 earthquake jolted the province of Zamboanga del Sur on Monday morning, according to the Philippine Institute of Volcanology and Seismology (PHIVOLCS).
In its bulletin, the agency said the tremor occurred at 6:35 a.m. with its epicenter traced 12 kilometers southwest of Midsalip town in Zamboanga del Sur.
The tremor, which was tectonic in origin, had a depth of 11 kilometers.
PHIVOLCS said there was no casualty or damage reported fromthe tremor and aftershocks were also not expected.
Zambo Sur town gets P9-M water system projects
By Bong Garcia
THE Department of Interior and Local Government (DILG) is implementing next month P9-million water system projects in nine villages in the Municipality of Aurora, Zamboanga del Sur.
Aurora, which comprises 44 villages, is a second-class town in Zamboanga del Sur with 48,434 population, based on the 2010 census of the National Statistics Office (NSO).
DILG Project Development Management Officer Engineer Ali Hassan said the projects are funded by the Office of the Presidential Adviser on the Peace Process (Opapp) through the Payapa at Masaganang Pamayanan (Pamana) program.
Hassan said the potable water system projects form part of the 2013 projects Opapp has approved based on the proposal submitted by the Municipal Government of Aurora through the DILG.
Each of the water system projects cost P1 million, for a total of P9 million for the nine projects. The projects were already bided out.
The beneficiaries of the projects are the villages of Acad, Alang-Alang, Balintawak, Bemposa, Ceboneg, Commonwealth, La Paz in Libertad, and, Monte Alegre.
Aurora Mayor Boen Dorotheo Cabahug said the nine-beneficiary villages were among the remaining areas in his municipality that do not have ample supply of potable water to meet the needs of the residents.
Cabahug thanked the Opapp and DILG for providing them the needed projects.
Subanens flash green light for Balabag mining project
By Jonathan L. Mayuga
TRIBAL leaders in Bayog, Zamboanga del Sur, have approved of the Balabag Mining Project of TVI Resources Development Philippines Inc. (TVIRD), finally giving consent to the Canadian miner to dig for gold and silver mineral ores in their ancestral lands.
Subanen leaders Lucenio Manda and Casiano Edal entered into a memorandum of agreement (MOA) with TVIRD on August 19 in Dao, Pagadian City, Zamboanga del Sur.
TVIRD President Eugene Mateo and Director Michael Regino signed the agreement.
The signing was witnessed by officials of the National Commission on Indigenous Peoples (NCIP), led by Timuay Woy Lim Wong of the NCIP Region 9 Office.
The two Subanen leaders represent the collective tribe in the town of Bayog of the same province, which has ancestral domain over vast tracts of land that encompasses the company's Mineral Production Sharing Agreement (MPSA) area covering 4,779 hectares in Sitio Balabag.
The signing of the MOA culminated two months of public consultation supervised by the NCIP.
"On behalf of my people, I thank Gov. Tony Cerilles and Mayor Jun Babasa for their political will and unrelenting support to the development of the Subanens and the communities in Bayog. Today we exercise our right to keep illegal mining from returning to our town," said Manda, who is also a Sangguniang Bayan member of Bayog.
For his part, Regino said: "We are no longer two different groups on opposite sides of the table. We are now united by a common road map for development."
The agreement is a prerequisite for a Certification Precondition to be issued by the NCIP Commission en banc for the company to operate its Balabag Mining Project.
"Based on its success in Canatuan, we believe in TVIRD's capability to implement development [in Bayog]," said Manda, who succeeded his father, Rosendo, as one of the leaders of the ancestral domain.
He was referring to the company's flagship gold and silver project that came on stream in the town of Siocon, Zamboanga del Norte, in 2004.
The company concluded its successful 10-year run in Canatuan with its final copper and zinc concentrate shipments in January 2014.
"We want the TVIRD-Subanen partnership to be a model for development—a testament that securing the tribe's free, prior and informed consent is a transparent process that can bring social and economic benefits," he said.
He said that by consulting with everyone involved, each will have ownership over the project, citing the consultative relationship he shares with his contemporary, Timuay Casiano Edal, and the development of a consensus over the past two months.
Given its mineral-rich environment, the Subanens of Bayog are confident that mining will enhance economic activity in the town while royalties are direct benefits that they can invest in the tribe's future.
"The MOA signing is significant to us. Employees [of TVIRD] may change, but the commitment on both sides would remain. That is legacy-building. When mining is done, there will still be sustainable development—there will be infrastructure left behind to support local trade and economy," Manda said.
PIA conducts first leg of climate change advocacy forum
(PNA), LAM/TPGJR/HDCADION/UTB
BAYOG, Zamboanga del Sur, Aug. 22 (PIA) - - - A climate change advocacy forum was held at Bayog National High School (BNHS) on Aug. 20, spearheaded by the Philippine Information Agency (PIA) and the Department of Environment and Natural Resources (DENR).
This is the first among a series of advocacy campaigns in schools, tapping the youth to be advocates for climate change adaptation and resiliency.
Mr. Danilo Ungang, BNHS school principal lauded the PIA for choosing their school as the pilot area in its advocacy campaign. Bayog is identified as a flood and landslide-prone municipality.
Informtion Center Manager Claro A. Lanipa encouraged the participants to "listen, take note and pay attention to the climate change video presentation," which aims to lessen public apathy, and called on the youth to be actively involved in the campaign to be climate change-resilient.
"The local government unit (LGU) will not stop its advocacy on climate change resiliency and adaptation until all the people will understand and be prepared for any disaster," said Ms. Bernadine A. Gabawan, municipal information officer speaking on behalf of Mayor Leonardo L. Babasa who is in Manila for an equally important task.
Elected officers of the youth advocate group "I am a Climate Change-Resilient Youth were: President – Julie Claire C. Salomes; Vice President – Armie Je M. Anlap; Secretary – Grizelle A. Elardo; Saira Comie – Treasurer; Business Manager – Christyl Joy Baco; PIO – Ronn Brevler Clorion; and Auditor - John Irvin Baterna.
NFA-Pagadian City receives shipment of 55,000 sacks of Vietnam rice
(PNA), LAM/TPGJR/HDCADION/UTB
PAGADIAN CITY, Zamboanga del Sur, Aug. 21 (PNA) -– The National Food Authority (NFA) has received a shipment of 55,000 sacks of rice of 50 kilos each imported from Vietnam, an NFA official announced Thursday.
NFA-Pagadian City-Zamboanga del Sur Manager Nieves Toca said the imported rice arrived here Wednesday from nearby Zamboanga City.
Toca said the rice shipment that arrived here Wednesday was the second allocation of imported rice her office received for this year.
The first shipment that consisted of 5,000 sacks arrived on the first week of July this year.
Toca said they expect that the remaining imported rice allocation of 21,000 sacks to arrive here in September. A total of 81,000 sacks of rice have been allocated for her office.
She said the imported rice is 15 percent broken but of good quality. The rice will be distributed to NFA-accredited outlets and will be sold at P32 per kilo to the consuming public.
"We have 30 NFA rice outlets in Agora Public market in this city alone," she said.
Meanwhile, she disclosed her office has a buffer stocks for emergency purposes consisting of 33,185 sacks of palay, 1,132 locally-produced rice and another 37,595 sacks of imported rice "in our bodega (warehouse)."
The older news reports are kept here.