Zamboanga Del Sur News
From Zamboanga.com :Portal to The Philippines
Province of Zamboanga del Sur - Archived News of Zamboanga del Sur
---

Seal of Zamboanga del Sur Province
Interactive Google Satellite Map of Zamboanga del Sur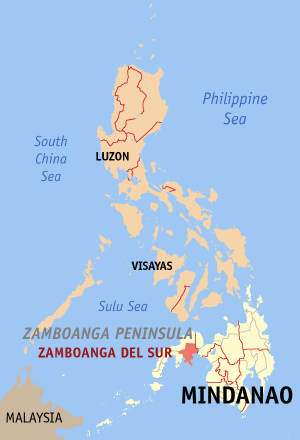 Zamboanga del Sur Map Locator

Municipalities within Zamboanga del Sur

Provincial Capitol of Zamboanga del Sur

Provincial Capitol of Zamboanga del Sur, Santo Niño, Pagadian city
Lapuyan Falls: The favorite haunt of the fair Subanen maidens of Sitio Baga and all its neighboring areas, usual meeting place with many a young country swain in some secluded cavern beneath the rocky forest lane.

Lakewood, Zamboanga del Sur, Philippines

Village of Pedagan

Lintugop, Aurora
Pagadian City, Zamboanga del Sur

Provincial human resource management office of santo niño pagadian city

Civil Service Commision office in santo niño pagadian city
NFA-Pagadian City receives shipment of 55,000 sacks of Vietnam rice
(PNA), LAM/TPGJR/HDCADION/UTB
PAGADIAN CITY, Zamboanga del Sur, Aug. 21 (PNA) -– The National Food Authority (NFA) has received a shipment of 55,000 sacks of rice of 50 kilos each imported from Vietnam, an NFA official announced Thursday.
NFA-Pagadian City-Zamboanga del Sur Manager Nieves Toca said the imported rice arrived here Wednesday from nearby Zamboanga City.
Toca said the rice shipment that arrived here Wednesday was the second allocation of imported rice her office received for this year.
The first shipment that consisted of 5,000 sacks arrived on the first week of July this year.
Toca said they expect that the remaining imported rice allocation of 21,000 sacks to arrive here in September. A total of 81,000 sacks of rice have been allocated for her office.
She said the imported rice is 15 percent broken but of good quality. The rice will be distributed to NFA-accredited outlets and will be sold at P32 per kilo to the consuming public.
"We have 30 NFA rice outlets in Agora Public market in this city alone," she said.
Meanwhile, she disclosed her office has a buffer stocks for emergency purposes consisting of 33,185 sacks of palay, 1,132 locally-produced rice and another 37,595 sacks of imported rice "in our bodega (warehouse)."
'MotorCop' trained to fight riding tandem thugs
(Daily Zamboanga Times)
PAGADIAN CITY — The local police in partnership with the city government has trained selected policemen to comprise the "MotorCop" group to combat motorcycle-riding criminals in this city.
Supt. Glenn Dulawan, local police chief, said Tuesday the "MotorCop" group would be comprised of 30 policemen who have just completed a two-day training from Saturday until Sunday on gun handling while driving and marksmanship.
Dulawan said the training was funded by the local government through the City Peace and Order Council chaired by Mayor Romeo Pulmones following recommendation from Councilor Ernesto Mondarte.
Dulawan said they will be tasked to conduct roving patrols as well as to respond to distress calls.
Dulawan said Pulmones turned over Tuesday motorcycles to his command to be used by the members of the MotorCops.
He said they will be also issued radio communication sets and the city government is providing additional gasoline allocation for the group.
DILG-9 announces LTIA regional winners
By Franklin P. Gumapon (FPG/PIA9 with reports from Lemuel Mejares, DILG-9)
PAGADIAN CITY, Aug. 19 (PIA) - Three barangays have emerged as regional winners in the recently conducted search for Lupong Tagapamayapa Incentive Awards (LTIA) by the Regional Awards Committee chaired by the regional direcctor of the Department of Interior and Local Government (DILG)-9.
DILG-9 Regional Information Officer Lemuel Mejares informed the Philippine Information Agency (PIA) that a cash prize of P50,000 was given to each of the winning barangays, namely, Barangay Sto. Niño of Dapitan City for component city category, Barangay Siare of Sindangan, Zamboanga del Norte for 1st to 3rd class municipality category, and Barangay Poblacion, San Pablo, Zamboanga del Sur for 4th to 6th class municipality category.
The LTIA was designed to assess the efficiency and effectiveness of the Lupong Tagapamayapa in settling cases in consonance with the objectives of the Katarungang Pambarangay (KP) program, said DILG-9 Regional Director Paisal O. Abutazil.
Regional KP focal person Marilyn Arasa said the three barangays will represent the region in the national awards whose winners will be declared before the year ends.
She also disclosed that the cash prizes received by the winners can be used in the procurement of supplies and equipment or in capability building activities to sustain "their efficient and effective performance."
Barangay Sto. Niño would use its prize to improve the barangay office while Barangay Siare would use it for Lakbay-Aral to learn the best practices of other places that can be replicated in the barangay. Barangay Poblacion, on the other hand, has yet to decide on its project.
Other members of regional awards committee were an executive judge of the Regional Trial Court (RTC), representative from the Regional Peace and Order Council (RPOC), president of the Liga ng mga Barangay regional chapter, and two representatives of non-government organizations based in the region.
The LTIA was established pursuant to section 406b of the Local Government Code of 1991 to provide economic and other incentives to the lupons for their outstanding contributions to the objectives of the Katarungang Pambarangay.
Lapuyan town trians stakeholders on disaster risk reduction plan formulation
By Gideon C. Corgue
LABANGAN, Zamboanga del Sur – To enhance the capacity of stakeholders on disaster risk reduction, particularly on prevention and mitigation measures, a one day orientation on Barangay Disaster Risk Reduction and Management plan formulation was conducted on Thursday, Aug. 14, at the old municipal gym here.
The activity, which was an initiave of municipal government through the Municipal Disaster Risk Reduction and Management Office (MDRRMO) Office, wasparticipated in by 104 barangay officials composed of punong barangay, barangay kagawad, barangay secretary, and chiefs of barangay emergency response team.
MDRRMC Officer Nasrudin Ismael said the LGU had invited experts from the Provincial Planning and Development Office (PPDO) to guide the participants in peparing their disaster plan.
Ismael said the activity was alsoin compliance with the provision of Republic Act 10121 or the Philippine Disaster Risk Reduction and Management System.
The barangay officials, Ismael said,must be equipped with knowledge and skills on how formulateand implement a comprehensive disaster planto make their communities resilient to disaster.
The MDRRMO chief said there are areas in Lapuyanidentified by Mines and Geo-Sciences Bureau (MGB) at risk of possible rain-induced landslides such asDumara,Lubusan, Maralag,Pampang, Pantad,Poblacion, Salambuyan, Talagag,Tiguha, Tininghalang, and Tipasan.
Meanhwile, Vice Mayor Joel Sulongsaid with the disaster plan, barangays can help reduce the possible risk of landslides.
"Angmgamulupyosabarangay makabalonaunsaangilangbuhatonpanahonangkatalagmanmahitabougniini. Malikayanusabnilaangmgadautangepektosakalamidadpinaagipagpatumansagimugnangadisaster plansailang barangay."
(The residents in barangays will know on what to do in times of disaster. They can also prevent harmful effects of disaster by implementing the disaster plan in their barangays.) Punong barangay FelicitoSetit of Tiguha said he was very thankful that the LGU conducted the activity saying"it capacitated them to become active local partners in disaster risk mitigation."
"Ang among nagamanga BDRRM plan akokiningire-echo saakongmgakatawhanatolsa barangay assembly aronmahibalo kamikung unsay angaybuhatonpanahonsaemerhensya,"Setit concluded.
(The BDRRM plan that we have formulated will be be re-echoed to my residents during the barangay assembly so that we would know on what to do in times of emergencies.)
DILG sets disaster preparedness training
By Bong Garcia
THE Department of the Interior and Local Government (DILG) is conducting a three-day Training of Trainers (ToT) on Geographic Information System (GIS) for Disaster Preparedness and Response (DPR).
DILG Regional Director Paisal Abutazil said the ToT, which will be held from August 18-20 in Pagadian City, is aimed to address the demands of time in addressing risk reduction and management concerns.
Abutazil said that at least 50 personnel, whose assignments are related to GIS and DPR, are among those who will attend the training.
They comprise of Disaster Risk Reduction and Management Officers, Planning and Development Coordinators, Local Government Operations Officers, Information Technology Planning and Development Officers and Engineers from all over the region.
Disaster Risk Reduction and Management (DRRM) Regional Focal Person Teresita Catalbas said the selection of participants for the ToT was based on the areas identified as most vulnerable to disasters.
Catalbas said the areas identified as most vulnerable to disaster include Dipolog City, Dapitan City, Siocon and Labason, Zamboanga del Norte; Bayog, Margosatubig, Molave and Pagadian City, Zamboanga del Sur; and, Diplahan and Imelda, Zamboanga Sibugay.
She said Zamboanga City is also included.
Earlier, the DILG, through its Local Government Operations Office, assisted the Pagadian City Disaster Risk Reduction and Management Council in training the village officials on disaster planning.
The participants of the training were the village chiefs, councilmen designated as the disaster risk reduction and management officers, and members of the Barangay Emergency Response Team of Pagadian City's 54 villages.
Rotational blackouts extend in Zamboanga del Sur
By Roel Pareño (philstar.com)
ZAMBOANGA CITY, Philippines — Daily rotational blackouts have affected Zamboanga del Sur for a week as a result of an insufficient power supply from the Mindanao grid, a power cooperative said.
The Zamboanga del Sur Electric Cooperative -1 (Zamsureco-1) said they it was prompted to implement the daily rotational three-hour outtage after one of the two units of the 210- megawatt coal-fired power plants of the STEAG State Power Inc. malfunctioned.
The power supplier's plant based in Villanueva town, Misamis Oriental has since undergone repair.
The Zamsureco-1 needs at least 34 megawatts to supply its close to 70,000 consumers in at least 24 towns and a city during peak hours. The supplier, however, couprovide only 29 megawatts.
The rotational brownout will be lifted by the Zamsureco-1 once the operation of the STEAG coal-fired power plants has resumed to normal.
Climate change forum set Aug. 20 at Bayog National High School
By Gideon C. Corgue (FPG/GCC/PIA-Zamboanga del Sur)
BAYOG, Zamboanga del Sur, Aug. 15 (PIA) – In a bid to intensify an advocacy campaign on climate change to stakeholders, the Philippine Information Agency (PIA)-9, the development communication arm of national government, will hold a climate change advocacy forum at Bayog National High School (BNHS) come Aug. 20 in barangay Kahayagan here.
Provincial Information Center Manager Claro Lanipa said the forum is an offshoot to the regional launch of Climate Change Advocacy Campaign held by the Department of Environment and Natural Resources (DENR)-9 and Philippine Information Agency (PIA)-9 in Sibugay Grand Plaza Hotel, Ipil, Zamboanga Sibugay last July 18 aimed at increasing public awareness on climate change adaptation and risk reduction programs of the national government.
Lanipa said it is the first time that a climate change advocacy forum will be conducted in public secondary schools in the province.
He added that PIA-9 has encouraged the active involvement of secondary students especially those in municipalities vulnerable to flooding, landslides and other natural disasters. "These students play a crucial role in disaster mitigation," Lanipa said.
Meanwhile, BNHS Principal Danilo Ungang expressed his elation over the proposed activity saying this will equip the students with knowledge on climate change mitigation and adaptation.
"We are delighted that PIA9 has chosen BNHS to be the first school to receive its services," Ungang said, adding that after the activity, those students living beside or atop the hills and mountains would be able to apply their knowledge during emergencies.
To ensure quality participation of the students, Lanipa said, only classrrom key officers are invited to join the activity.
"The forum, which will last for less than three hours, is entirely different because it will be purely video presentation of the documentary produced by PIA containing scientific explanations from climate change experts with images on natural and man-made disasters happening in the country," Lanipa explained.
"Strictly, there will be no lecture. The activity is interactive. At the end of the video documentary, participants are encouraged to formulate solutions to address the challenges of climate change," Lanipa concluded.
Bayog MDRRMO conducts training on disaster risk reduction management
By Gideon C. Corgue (FPG/GCC/PIA-Zamboanga del Sur)
BAYOG, Zamboanga del Sur, Aug. 14 (PIA) – The Municipal Disaster Risk Reduction Management Office (MDRRMO) conducted on Tuesday a one day training on disaster risk reduction management to barangay captains, school heads, barangay secretaries, and members of Barangay Emergency Response Team (BERT) at the municipal gym here.
MDRRM Officer Abraham Capayas said the training was in compliance with the provision of Republic Act No. 10121 otherwise known as "An Act Strengthening the Philippine Disaster Risk Reduction and Management System of 2010."
Capayas said the law mandated all local government units (LGUs) to adopt and implement a comprehensive disaster risk reduction management plan and strengthen the capacity of the LGUs together with partner stakeholders to build disaster-resilient communities.
In the said training, Capayas said, the participants were taught how to formulate a barangay disaster risk reduction management plan that would serve as a guide in responding during emergencies.
Mayor Leonardo Babasa Jr. in an interview with the Philippine Information Agency (PIA)-9 staff said the training was part of government's participatory process where key officials of the barangays should be actively involved in BDRRM planning.
"The BDRRM plan that they have formulated will be discussed with their residents during the barangay assembly and consequently will be submitted to MDRRMO for consolidation," the mayor pointed out adding that "the BDRRM plan will help the people prepare for any disaster, mimimize its impact, and educate them about any impending natural calamities.
Babasa said Bayog is vulnerable to natural disasters, as some of the barangays have been affected by flooding several times due to climate change.
"Our municipality is situated between Sibuguey and Dipili rivers. Our barangays will experience severe flooding brought by incessant rains," Babasa reported.
Babasa is confident that with the BDRRM plan, his dream of attaining zero-casualty in times of disaster will be fulfilled.
Punong Barangay Allan Malinao of barangay Matun-og thanked the LGU for involving them (stakeholders) in the training.
"Nagpasalamat mi sa LGU nga gilakip mi sa maong pagbansaybansay tungod kay ang BDRRM plan amo kining magamit panahon nga makasinati kami ug kalamidad sa among barangay."
(We thanked the LGU that we were involved in this training because the BDRRM plan will be used by us when we experience calamity in our barangay.)
Malinao said the adverse effects of climate change has been felt already in their barangay.
"Kaniadto talagsa ra ang baha mahitabo sa among barangay apan karon, kadaghan na ug nakadulot ug dakong kadaut sa among mga uma (Before, the floods seldom happened in our barangay but now they occur more often, destroying our farms)," said Malinao, an owner of a 2-hectare farm.
Stakeholders support NGP; plant 1,000 seedlings in Tukuran
By Gideon C. Corgue (GCC/PIA9-Zamboanga del Sur)
TUKURAN, Zamboanga del Sur, Aug. 13 (PIA) – In an effort to address climate change, members of 1st Cavalry Squadron Battalion, Philippine Army, barangay officials, teachers, students and Pantawid Pamilyang Pilipino Program (4Ps) beneficiaries on Saturday participated the tree planting activity held in an indentified area in barangay Navalan, Tukuran here.
Civil-military operations officer Capt. Ronnie Madriñan said the activity is one of the highlights of battalion's 38th founding anniversary on August 16 with the theme:"Sustained dependability, preparedness and professionalism moving forward to be a world class combat unit."
The activity, Madriñan said is in support of the government's priority program --the National Greening Program (NGP) to lessen the impact of climate change which is happening in our country today.
"The activity is in compliance with the Executive Order No. 26 declaring an interdepartmental convergence initiative for a national greening program and Presidential Decree No. 1153 that calls every Filipino citizen to help, as duty and obligation, to conserve and develop the resources of the country," Madriñan.
Madriñan said 1,000 grafted seedlings of Mahogany, Narra and other fruit-bearing trees were planted by the stakeholders in the area.
Punong Barangay Leoncio Osores said he is happy that the 1st Cavalry Squadron battalion has chosen barangay Navalan as the pilot area for the tree planting activity.
"Aron nga maseguro nga ang tanan nga seedlings mabuhi, ako ang nagmugna sa 'Bantay Kalikasan' nga gilangkuban ug lima ka mga tawo aron maoy mosusi ug mo-alima sa mga tanom."
(To ensure that all seedlings will grow, I have created 'Bantay Kalikasan' wich composed of five persons to inspect and care for the trees), Osores assured.
4Ps beneficiary Margie Gansan said joined the tree planting activity because she wanted to contribute something for the environment.
"Nadasig ako nga misalmot sa pagtanom ug mga kahoy tungod kay gusto ko nga makatabang sa atong kinaiyahan. Nagtuo ako nga sa atong hiniusa nga paningkamot pagpananom ug mga kahoy mapugngan ang dautang epekto nga gidulot pag-usab sa atong klima," Gansan said
(I was inspired to join the tree planting acitivity because I want to contribute something for our environment. I believe that in our collective efforts in doing tree planting, we can mitigate the adverse effects of climate change.)
Meanwhile, Philippine Information Agency (PIA)-9 regional director Noemi Edaga lauded the efforts made by all stakeholders in planting trees saying that the impacts of climate change are persistent and are already being felt everywhere in the world.
Edaga, who is one of the participants, hopes that the stakeholders will not only plant trees but also commit in the nuruting of trees and maintenance. "In that way, we are protecting not only the environment but also ourselves," Edaga concluded.
DOH, NNC call on health, non-health establishments to put up lactation stations
By Gideon C. Corgue (FPG/GCC/PIA9-Zamboanga del Sur)
PAGADIAN CITY, Aug. 12 (PIA) – The Department of Health (DOH) and the National Nutrition Council (NNC) on Thursday pushed for the strict implementation of Repubic Act No. 10028 otherwise known as "An Act Expanding the Promotion of Breastfeeding."
Nutrition officer Nimfa Ekong of National Nutrition Council (NNC)-9 in her message during the conduct of nutrition information caravan at Hotel Guillermo here said the activity was in support of government's initiative in expanding the promotion of breasfeeding.
Ekong said the DOH and NNC urged all government and private health institutions to establish lactation rooms for the lactating mothers to continue doing breastfeeding practices in their respective workplaces and to address the prevalence of malnutrition in the country.
"We appeal to the local government units through their local chief executives to implement RA 10028 especially section 11 of Chapter III, the establishment of lactation stations," Ekong urged.
The law mandates all health and non-health facilities, establishments or institutions to establish lactation stations where lactating mothers can freely breastfeed their babies, she added.
Meanwhile, Ekong said, there are already seven hospitals in Zamboanga del Sur which have complied the provisions of the law and are acrredited by the DOH as Mother-Baby Friendly Hospital under its flagship program, the Mother-Baby Friendly Hospital Initiative (MBFHI).
The MBFHI was launched in 1992 pursuant to Republic Act 7600 otherwise known as the "Rooming-In and Breastfeeding Act of 1992" to ensure that all maternities, whether free standing or in a hospital, become centers of breastfeeding support.
Ekong said the following hospitals have achieved baby-friendly status, namely: the Zamboanga del Sur Medical Center, Jamelarin Hospital , Aisah Medical Hospital , J. Cabahug Hospital, and Metro Pagadian Specialist in Pagadian City, and Igano Hospital, and Blancia Hospital in Molave, Zamboanga del Sur.
Those health and non-health facilities, establishments and institutions which fail to establish their lactation stations will not be allowed by the DOH to operate next year and or the years to come.
Mothers urged to love, care for children
By Gideon C. Corgue
PAGADIAN CITY – Zamboanga del Sur Medical Center (ZSMC) chief of clinics, Dr. Aurito Ampong, has called on all mothers love and care for their children.
In his message during the culmination of the National Breastfeeding Week celebration Thursday, Ampong quoted award-winning singer/song writer Gary Valenciano who said: "the secret of serving is loving."
"I encourage you all mothers to serve and love your children. You can show your love by breastfeeding them," Ampong stressed.
Ampong explained the importance of breastfeeding to 12 postpartum mothers from the OB-Gyne and private wards who attended the activity along with the doctors and nurses of the Zamboanga del Sur Medical Center, a mother-baby friendly hospital.
Breastfeeding, Ampong said, provides ideal nutrition for infants. "If you breastfeed your children, they will grow healthy and strong."
Ampong encouraged also his fellow doctors and nurses to continue doing advocacy on breastfeeding to the mothers in the hospital to address the prevalence of malnutrition.
In related development, Dr. Ma. Rovelle Blancia, provincial health officer and acting hospital administrator of the Zamboanga del Sur Medical Center said the hospital's administration has a reason to celebrate saying that the ZSMC was awarded by the Mother-Baby Friendly Hospital Initiative Committee (regional level) a certificate of commitment as breastfeeding hospital for two years for sustaining the guidelines and implementation of the program.
Blancia said it also received another certificate of commitment for establishing lactation rooms for their breastfeeding employees at the OB-Gyne ward located and the 2nd floor and for their patients and watchers at the outpatient department at the first floor.
The establishment of lactation rooms is one way of promoting and encouraging breastfeeding and gave opportunities for mothers to continue expressing their milk and/or breastfeeding their infant or young child.
The older news reports are kept here.