Zamboanga Del Sur News
From Zamboanga.com :Portal to The Philippines
Province of Zamboanga del Sur - Archived News of Zamboanga del Sur
---

Seal of Zamboanga del Sur Province
Interactive Google Satellite Map of Zamboanga del Sur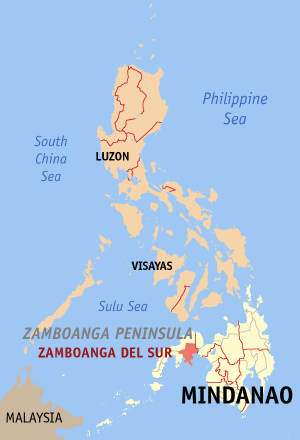 Zamboanga del Sur Map Locator

Municipalities within Zamboanga del Sur

Provincial Capitol of Zamboanga del Sur

Provincial Capitol of Zamboanga del Sur, Santo Niño, Pagadian city

Visit our website: B.O.S.S.
Lapuyan Falls: The favorite haunt of the fair Subanen maidens of Sitio Baga and all its neighboring areas, usual meeting place with many a young country swain in some secluded cavern beneath the rocky forest lane.

Lakewood, Zamboanga del Sur, Philippines

Village of Pedagan

Lintugop, Aurora
Pagadian City, Zamboanga del Sur

Provincial human resource management office of santo niño pagadian city

Civil Service Commision office in santo niño pagadian city
Tambulig Teen Robber, 4 Other Wanted Persons Arrested
By PINSP DAHLAN T SAMUDDIN with report from PO2 Radzben S Jul and PO3 Bernard Uy Tan (RPIO9)
Tambulig, Zamboanga Del Sur- Elements of Tambulig MPS led by SPO4 Roberto C. Cortes arrested a teenager charged with robbery in Barangay Cabgan at about 3:00 PM on November 21, 2014. Police Senior Inspector Benjamin Napigkit, Tambulig MPS Chief of Police, identified the arrested person as Rolando Sardual y Cortez, 19, resident of said place. He was arrested by virtue of warrant for robbery with force upon things docketed under criminal case number 2014-10-2897 with recommended bail bond of Php 40,000.00, issued by Judge Jaime Caberte, RTC, 9th Judicial Region, Branch 23 in Molave, ZDS, dated November 6, 2014. The accused is temporarily detained at said MPS while awaiting court disposition.
Pagadian City - A man facing qualified theft charges was collared by the operatives of Pagadian City Police Station and Tukuran Police Station led by Police Inspector Avelmar Renan U. Garambas during manhunt operation in Barangay Upper Bayao, Tambulig at about 7:30 PM on November 21, 2014. Alvin Martinez y Bernadez was arrested by virtue of warrant for qualified theft docketed under Criminal Case Number 11804-2k14 with bail bond fixed at Php 40,000.00, issued by Presiding Judge Dennis P Vicoy, 9th Judicial Region, Branch 20, Pagadian City. The accused is temporarily detained at Pagadian CPS while awaiting court disposition
Siocon, Zamboanga Del Norte - Operatives of Siocon Police Station arrested Jose Vidal Mora y Velasco, 46, in Barangay Poblacion at about 1:00 PM on November 21, 2014. He was arrested by virtue of warrant for the crime of grave coercion docketed under Criminal Case Number 3399 with bail bond amounting to ₱12,000.00, issued by Acting Presiding Judge Vera T. Vergara of 4th Municipal Circuit Trial Court (MCTC), this municipality, dated November 14, 2014. Arrested wanted person is temporarily detained at said MPS for proper disposition.
Dipolog City - Operatives of Dipolog CPS led by SPO2 Martillano Barrios arrested a wanted person in LKS, corner Gen. Luna and Herrera streets at about 4:30 PM on November 21, 2014. Aldrin Centino y Latong, 30, resident of Brgy. Biasong was apprehended by virtue of warrant of arrest for theft, docketed under Criminal Case No. B-43499 with recommended bail bond amounting to ₱10,000.00, issued by Judge Veronica C. Laput of MTCC, Branch 2, Dipolog City dated October 23, 2014. Suspect is temporarily detained at Dipolog CPS for documentation and proper disposition.
Liloy, Zamboanga Del Norte - A man was arrested by operatives of Liloy Police Station led by Chief Inspector Joseph R. Maulad during manhunt operation thru random checkpoint near a COMPAC in Brgy. Baybay at about 7:30 PM on November 21, 2014. Arrested man was identified as Lloyd Dingcong y Pagador, 28, resident of Barangay San Miguel. He was nabbed by virtue of warrant of arrest for the crime of grave threats in relation to R.A. 7610 docketed in Criminal Case No. L-002080 with recommended bail bond of ₱10,000.00 issued by Judge Oscar Tomarong of RTC Branch 28, this municipality, dated January 17, 2013. Arrested wanted person is temporarily detained at said MPS for proper disposition.
Four new HIV-AIDS cases recorded in Pagadian City
(Philippine News Agency)
PAGADIAN CITY, Zamboanga del Sur -- A local health official disclosed that four new cases of HIV-AIDS have been recorded in Pagadian city.
City health officer Dr. Noel Ceniza on Saturday said the four new cases were discovered with the assistance of the Pagadian Gay Society and Humanitarian Gays Association (PAGAYSHEA) since the patients were classified as man having sex with men (MHM).
Ceniza added it was the PAGAYSHEA that convinced them to undergo medical examination.
The PAGAYSHEA, which was organized months ago, is actively involved in healthy lifestyle advocacy and also provides assistance to its members with health problems.
Pagadian City HIV-Sexually Transmitted Infections (HIV-STI) coordinator Carleen Jerusalen said that with the latest discovery, the total number of people positive for Human Immunodeficiency Virus-Acquired Immunodeficiency Syndrome since 2012 has reached 14.
Jerusalen said two of the 14 patients were confirmed to have already died.
However, Jerusalen added that only three of the remaining 12 patients were monitored to be still residing in the city.
They were among the four people who were recently found positive with HIV-AIDS, Jerusalen said.
She said they are preparing for the holding of an HIV-AIDS regional congress on Nov. 26 in Dipolog City.
Pagadian netfest lures big field
(The Philippine Star)
MANILA, Philippines - Action in the Palawan Pawnshop Regional age-group 2014 tennis tournament presented by Technifibre shifts to Pagadian City, Zamboanga del Sur with the roster already hitting the 200-player mark with more expected to sign up before the start of the event today.
Top players from the Zamboanga del Sur Sports Academy headlines the field in the four-day event tipped to discover a number of talents from the host province and from municipalities of Vincensosagun, Josefina, Tigbao, Aurora, Tambulig, Dumingag, Tukuran, Dinas, Tabina, Guipos, Kumalarang and Molave.
"We'd like to laud Palawan Pawnshop's effort to help develop the sport and for being a partner of Zambo del Sur in promoting tennis here where it has a huge following," said Gov. Antonio Cerilles, adding the event will not only give the Zambo youth the needed exposure but also test their skills against their counterparts from other municipalities and nearby provinces.
For details, call Palawan Pawnshop secretariat at 0915-4046464.
"Palawan Pawnshop is committed to promote the sport throughout the country and at the same time respond to the strong clamor to stage a tournament in various cities and provinces, including Zamboanga del Sur where the sport is popular," said Palawan Pawnshop COO Bobby Castro.
The circuit, sanctioned by the Philippine Tennis Association headed by president and Parañaque City Mayor Edwin Olivarez, is coming off a successful staging in Sultan Kudarat where siblings Rachel Patricia Velez and John David Velez of Davao and Iligan City's Gerry Manlangit pocketed two titles each.
"The huge turnout in all our legs has continued to inspire us to stage more tournaments, even in the far-flung areas not only to promote the sport but also to give the youth a venue where they can hone their talent and skills," said Castro.
Dumalinao town bags DSWD award
(FPG/ALT-PIA9/Zamboanga Sibugay)
DUMALINAO, Zamboanga del Sur, Nov. 20 (PIA) – It pays to submit reports on time.
This town has recently been awarded a Certificate of Recognition for its prompt and regular submission of reportorial requirements for the Social Pension Program Implementation for calendar year 2013-2014.
Municipal Social Welfare and Development Officer Lolita F. Jakosalem received the said award from the Department of Social Welfare and Development (DSWD)-9 Regional Director Zenaida L. Arevalo at the Grand Astoria Hotel in Zamboanga City.
"We have 226 senior citizens in our town and 36 new members under the National Household Targeting System for Poverty Reduction (NHTS-PR), said Ms. Jakosalem.
Mayor Ace William E. Cerilles said the beneficiaries receive P500 pension every month which is released every quarter. "Regular monitoring and follow-up aside from personally handing over the checks to recipients are being done to ensure that they receive their benefits."
"Our senior citizens are still very productive members of the community," the mayor pronounced, as he is very supportive of their endeavors led by the federation president, Ms. Rita Chavez.
Mr. Alberto Embudo, focal person for senior citizens and manpower development assistant patiently delivers the pension of every senior citizen. If they are not around, it is delivered through the barangay captain.
"I see to it that the payroll and other needed documents are sent back immediately to the regional office without delay. Maybe that was our edge," explained Jakosalem.
In another development, four wheelchairs given by Vice President Jejomar "Jojo" C. Binay during his recent visit in town were turned-over to identified recipients upon the recommendation of the MSWDO. They were Josephine Mann, Riza Belen, Silvina Apoya and Genaro Aguilar.
POPCOM 9 to celebrate POPDEV Week 2014
(FPG/CAL/PIA9)
PAGADIAN CITY, Nov. 18 (PIA) – In observance of the Population and Development (POPDEV) Week 2014, the Commission on Population (POPCOM)-9 will spearhead this year's celebration on Nov. 23-29 with the theme "Bigyang Halaga ang Bawa't Pinoy sa Pag-unlad… Ngayon at Bukas."
POPCOM 9 Regional Director Reynaldo O. Wong emphasizes the need to consciously catapult the welfare of every Filipino in inclusive development. "The commemoration calls for the explicit consideration of the well-being of every Filipino in development outcomes and in ensuring that every Filipino is provided with quality life in a sustainable manner," Wong said.
"In recognition of the importance of integrating population dynamics with development planning, policy-making and resource allocation to achieve local development, POPCOM-9 adopts POPDEV Integration as one of the key strategies to ensure the success of the Philippine Population Management Program (PPMP)," Wong explained.
The main objective of this strategy is to achieve development outcomes that are facilitative and supportive of sustainable human and socio-economic development from the grassroots up, Wong further said.
Over the years, he said, POPCOM 9 has already capacitated the local government units (LGUs) and partner agencies in integrating population variables with local development processes. Various modules and tools have been developed and promoted to guide program managers and planners in analyzing and tackling development administration in their localities.
In line with the celebration POPCOM 9 will hold a POPDEV summit in the city on Nov. 19, 2014 to tackle the policy and program implication of having 100 million Filipinos in the country and aspires to reach a consensus on key action areas.
Proponents see steady market for Adlay wine of Zamboanga's Subanen tribe
By Anne Camille B. Brion (BusinessMirror)
KNOWN as the wine of the Subanen tribe, an indigenous group in Zamboanga, pangase wine is looking into the possibility of bringing this unique product into the market.
Pangase is a fermented wine present in the tribe's ritual ceremonies and special occasions, including weddings, birthdays and even death anniversaries. It has become one of their identities and plays a major role in their culture.
As of now, pangase wines are reaching selected areas in Luzon, the Visayas and Mindanao. Coming in small, medium and large jars, pangase wine is priced at P1,000, P1,500 and P2,000, respectively. Plans to put the wines in bottles are also underway. These wines, along with other adlay champion products from the other regions, were showcased during the Grand Adlay Field Day held in Dinas, Zamboanga del Sur.
"Currently, there are two types of this wine being produced. One is rice-based and the other is adlay-based," said Joy Murayao Chua, manager of the Buug Subanen Workers Association (BSWA) which engages in the production and selling of pangase wine and coco-water vinegar. She describes the pangase adlay wine as sweeterand tastier than the pangase rice wine.
The Subanens are known to cultivate the adlay for a long time now and have been consuming it as one of their staple foods. This food crop is being promoted widely by the Department of Agriculture and Bureau of Agricultural Research as an alternative crop to rice and corn in support to achieving national food security and sufficiency.
"Pangase adlay wine is made of tapay powder—a concoction of different organically grown herbal plants, roots, leaves, ginger, hot chili, rice hull, and cooked adlay. Fermentation occurs in ceramic jars that ranges from three months up to one year. The longer the fermentation, the stronger the taste of the wine becomes," Chua added.
With these ingredients, the Subanens believe of the health benefits one can gain after drinking it.
"Adlay is organically grown, we plant them without using chemical fertilizers. Aside from that, some of those who were able to try the wine said that upon drinking, they felt na nawawala ang lamig sa katawan nila, which make them perspire afterward," Chua said.
MAG-IISANG TAON NA / Almost 1 year after Zambo Sur mayor ambush at NAIA 3, still no CCTVs
By Azer N. Parrocha / JST (Philippines News Agency)
MANILA -- Almost one after a Zamboanga Sur town mayor, a baby, and two others were killed in an ambush at Terminal 3 of the Ninoy Aquino International Airport, the airport chief said no new closed circuit television (CCTV) surveillance system has been acquired yet due to a bidding failure.
Airport and transport authorities have been widely criticized as CCTVs would have greatly helped in the police investigation.
In a press conference last week, Manila International Airport Authority (MIAA) general manager Jose Angel Honrada said the bidding for the P480-million CCTVs attracted some 39 firms last September, but the two winning bidders failed the post-qualification review, a key step before the contract can be awarded.
MIAA declared a failure of the bidding last Oct. 27.
Asked if any of the bidders filed a motion for reconsideration, Honrado said that the second bidder did but was later denied.
MIAA said it plans to reopen the bidding and publish the invitation to bid this month.
On 20 December 2013, Labangan town Mayor Ukol Talumpa, his wife, and two others, including one-year-old baby, were killed in an ambush outside the NAIA Terminal 3's arrival area before lunch time. The perpetrators, wearing police uniforms, fired at people in the arrival area before escaping on board a motorcycle.
Airline passengers pay a terminal fee for the use of the airport terminals.
Pinoy fighter Marvin Mabait suffers TKO defeat in US world title fight
By JM SIASAT / JST (GMA News)
Zamboanga del Sur native Marvin Mabait suffered a technical knockout defeat in the hands of WBC world super flyweight champion Carlos Cuadras on Thursday (Friday PHL time) in Washington DC.
The 26-year-old Mabait was knocked down three times by his Mexican foe before referee Eddie Claudio stopped the contest at the 0:36 mark of round six.
Mabait was a late replacement in the world title bout after fellow Filipino fighter Sonny Boy Jaro pulled out of the fight due to a problem with his visa.
It was Mabait's second consecutive stoppage defeat as his record fell to 19-3-2 with 13 knockouts. Cuadras improved to 31-0-1 with 25 knockouts.
Wanted Man Nabbed in Pagadian City
By PINSP DAHLAN T SAMUDDIN with report from PO2 Radzben S Jul (RPIO9)
Operatives of Pagadian City Police Station arrested Alex Basilan for light threats in a manhunt operation in Purok Sweet Love, Barangay Dumagok at about 11:00 AM November 10, 2014. Suspect was arrested by virtue of warrant of arrest under criminal case number 17000 issued by Hon Pablito S. Pielago Jr. with Php 2, 000 bail bond. He is detained at Pagadian CPS for proper disposition.
Dumingag Police Campaign against Illegal Gambling
By PINSP DAHLAN T SAMUDDIN with report from PO2 Jonas D. Macasa Jr. (RPIO9)
Dumingag, Zamboanga del Sur- An inquest case for violation of PD 1602 was forwarded to the prosecutor's office by Dumingag Police Station who arrested Juelito Mangatol Capa, Ramel Alperez Saragene, Ryan Sahube Albios, Samuel Balucan Salibay, Alden Torres Ganza, Arnold Labrado Mainit and Rodel Nguno Gantunok during an anti-illegal gambling operation in Barangay Caridad, Dumingag at about 4:45 PM of November 6, 2014.
Initial reports showed that, the suspects were caught engaged in illegal gambling particularly playing "Hantak and Cara y Cruz". Confiscated were gambling materials and bet money in the area. Suspects are detained at Dumingag Police Station awaiting court disposition.
The older news reports are kept here.