Zamboanga Del Sur News
From Zamboanga.com :Portal to The Philippines
Province of Zamboanga del Sur - Archived News of Zamboanga del Sur
---

Seal of Zamboanga del Sur Province
Interactive Google Satellite Map of Zamboanga del Sur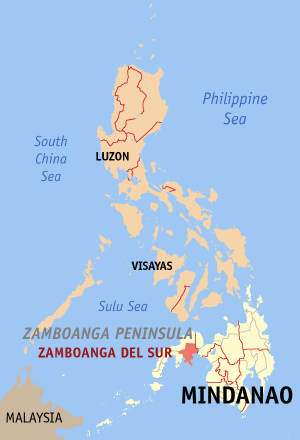 Zamboanga del Sur Map Locator

Municipalities within Zamboanga del Sur

Provincial Capitol of Zamboanga del Sur

Provincial Capitol of Zamboanga del Sur, Santo Niño, Pagadian city
Lapuyan Falls: The favorite haunt of the fair Subanen maidens of Sitio Baga and all its neighboring areas, usual meeting place with many a young country swain in some secluded cavern beneath the rocky forest lane.

Lakewood, Zamboanga del Sur, Philippines

Village of Pedagan

Lintugop, Aurora
Pagadian City, Zamboanga del Sur

Provincial human resource management office of santo niño pagadian city

Civil Service Commision office in santo niño pagadian city
Move to protect Mount Pinukis in Zambo Sur gains support
(PNA), LAP/TPGJR/HIROHITO D. CADION/UTB
PAGADIAN CITY, Zamboanga del Sur, Dec. 10 (PNA) -– The protection of Mount Pinukis has gained support with the signing of a covenant by concerned stakeholders during the "Panaw-Senati uban sa Kabuhatan" (Walk-experience of Creation) Tuesday in Barangay Lison Valley, this city.
The signatories are representatives from the Interfaith Forum for Solidarity and Peace; Civil Society Organizations (CSO); Local Government Units; National Government Agencies; police, military; and, other environmental groups that supports the move to protect Mount Pinukis.
Prior to the covenant signing, the signatories and more than 1,000 people gathered in front of San Jose Parish Church and left on convoy to Barangay Lison Valley for the PANAW as part of the culmination in the celebration of the Mindanao Week of Peace and also of the Universal Declaration of Human Rights (UDHR).
Interfaith convenor Diosdado Marquest of United Church of Christ in the Philippines (UCCP) said the officials and residents of Barangay Lison Valley welcomed the more than 1,000 PANAW participants coming from the different barangays of this city and municipalities in this province.
The participants have seen for themselves the actual destruction done by the illegal loggers and small scale mining operations to Mount Pinukis.
The Subanen Tribe leaders headed by Chieftain Vencio Bawan also welcomed the PANAW contingent through rituals conducted particularly at Purok Mati and Purok Atis in Barangay Lison Valley near the foot of Mount Pinukis.
PANAW organizer Fr. Roi Ramos expressed hopes that President Benigno Simeon Aquino III will listen to the clamor to protect Mount Pinukis, citing a copy of the covenant will be sent to the Chief Executive.
Mount Pinukis, which has a height of 1,562 meters above sea level, is located in the municipality of Midsalip, this province.
Mount Pinukis is identified as the only remaining source of water that runs through the vie rivers that irrigates at least 90,000 hectares of rice field in the provinces of Zamboanga del Sur, Zamboanga del Norte, Zamboanga Sibugay and parts of Misamis Occidental and Lanao del Norte.
"For a peaceful community, we should raise a lot of fish"
By Alma L. Tingcang (PIA9)
What started out as a high school hobby for this young man has become a thriving industry when he engaged in the koi breeding business. Having a father who was an agriculturist paved the way for his penchant for keeping fishes and his interest in them became more intense when he realized that he could gain much from it.
Raising ornamental fish, including Koi is the No. 2 hobby in the world, providing high profit, but second only to photography. In the ornamental fish business, anyone can make a six figure income, not even requiring a university degree to do it.
How it started?
Mr. Velly Marcial Naciongayo, 36 years old, is a Bachelor of Science in Marine Transportation (BSMT) graduate who hails from Sebucao, Dumalinao, Zamboanga del Sur. His inspiration comes from the love of his life, Ardilyn and their two kids, Dimple, 8 years old and Billgord,5.
"I started with only 6 breeders which I bought from Laguna in 1996. Koi being an ornamental fish cannot be eaten so I also raised tilapia in the same pond for our consumption," he recounted.
Little by little, Velly started to develop his backyard pond to accommodate more koi and tilapia. One advantage he saw was that mosquitoes started to vanish in the place, where there used to be plenty since fishes eat mosquitoes.
"Farming helped me and my family so much. Life was quite hard at that time and we could not sustain our everyday needs. Food was scarce and I could barely provide a decent life for my family," Velly tearfully recalled.
However, things changed a few years after. "In 3 months, we harvest the koi and we also have tilapia which I sell in my store at P120/kilo. Sometimes the harvest could reach up to 400 kilos, more than enough for our needs," he said. Koi is sold at P10 a piece where a box containing 2,000 koi is sold at P20,000, while the big ones are priced at P1,000 each.
Winning the prestigious award
Little did he know that he would reach a milestone in his life when he joined the Search for the 2013 Most Outstanding Farmer in the Philippines organized by the Junior Chamber International (JCI) Philippines together with the Department of Agriculture and the Universal Harvester Inc., which he handily won. He received his award on Nov. 15, 2013 at Makati Shangri-La.
"I am thankful to God for all these blessings, the sponsors, JCI Phils., DA and Universal Harvester Inc. for recognizing my efforts in koi farming, to Mayor Ace William E. Cerilles for giving much attention to agriculture and our municipal agriculturist, Mr. Ponciano Edano who always visits and monitors my progress, giving valuable advices," Velly said.
LGU support
"There are 12 categories of the yearly award and this is the first time that Dumalinao bagged the title. This is once in a lifetime award. "To you Velly, you make every Dumalinaoan proud so carry on the good deeds and continue helping others," said the young mayor.
"Basically an agricultural hub, our program in Dumalinao is geared on farming, applying the latest technology so that farmers will have maximum benefit," the good mayor explained.
Future venture
Sebucao farmers are also beneficiaries of the DA and Nestle Philippines joint venture of 100 hectares coffee plantation launched last Nov. 25 through the efforts of Mayor Cerilles.
Velly is now promoting aquatic farming, having organized the Backyard Aquatic Gardeners Association (BAGA) with 20 members. Aside from its financial benefits, you will surely enjoy raising fish and derive health benefits, he says.
Health benefits
"Raising fish is therapeutic, like a healing balm. It takes away fatigue and problems giving you peace of mind. This is also one way to control mosquitoes," he cited.
BAGA plans to embark on bigger activities and, at the same time, giving back life to depleted rivers by sowing fish fingerlings in them.
Very soon, a banana plantation project will also start to be integrated with coffee. With banana, coffee, and fish in town, we will soon be expecting an abundant harvest, bringing peace and prosperity to Dumalinao. As Velly said, "For a peaceful community, we should raise a lot of fish."
Two teenagers executed in Pagadian City
(Mindanao Examiner)
PAGADIAN CITY (Mindanao Examiner / Dec. 8, 2013) – Unidentified gunmen executed two teenagers in an attack in Pagadian City in the southern Philippine province of Zamboanga del Sur, police said on Sunday.
Police said the victims – Manilyn Besirel, 14, and Mar-Mar, 18, were both peppered with bullets in the village of Bulatok before midnight on December 6. Residents in the area reported the killings to the police.
Forensic investigators have recovered at least 11 bullet casings fired from a .45-caliber pistol near the bodies of the victims. But it was unclear how many gunmen were involved in the murder, but gun attacks carried out by suspected hired killers and extrajudicial killings are not uncommon in Pagadian, the provincial capital and seat of the regional government agencies.
The victims were not natives of the village and local authorities could not say whether the two had been abducted and executed in the area. Both resided near Agora Market in Santa Lucia District in downtown Pagadian.
The motive of the killings is unknown and police said an investigation has been begun into the murders of the teenagers. No individual or group claimed responsibility for the attack.
Man facing criminal charges shot in Pagadian City
(Mindanao Examiner)
PAGADIAN CITY – A man facing criminal charges was shot and seriously wounded by an unidentified assailant in a daring gun attack in Pagadian City in Zamboanga del Sur province in Mindanao, police said Thursday.
Police said the gunman shot Arsenio Lumusob, 45, in the head in San Jose District. Lumusob, a resident of Purok Santan B also in San Jose District, was rushed to the Pagadian City Medical Center and is in critical condition.
Lumusob was with his grandson walking along Salazar Street when the gunman, who followed him on a motorcycle, attacked him. His grandson was unscathed from the shooting.
Police said Lumusob is facing two criminal charges – one for illegal possession of firearm and the other is robbery. It was unknown whether the shooting was connected to the cases or not.
No individual claimed responsibility for the attack and police are still investigating the shooting.
We are blessed to be a blessing to others, say Zambo. Sur donors for Yolanda victims
By Alma L. Tingcang (PIA9)
PAGADIAN CITY - The outpouring of support from local and international communities for the victims of Typhoon Yolanda may be tremendous, but people who have generous hearts always find a way to share their material blessings.
Thus, relief efforts were initiated by the management and staff of Caritas Health Shield, Ramona Fishing Corporation/Ramona Construction, Zamboanga Motors Supply and the office of Zamboanga del Sur First district Congressman Victor J. Yu.
"We are doing this to help the victims. Actually, the idea came from Fritzie and Ivy and we were also very willing and happy to contribute and share, so all of us agreed to help," says Michelle Quimada of Ramona Fishing Corp.
To date, donations have reached 17 sacks of rice, canned goods, bottled water, biscuits, Milo, noodles, shampoo,soap, toothbrush and toothpaste.
Ms. Fritzie S. Piape, together with Ms. Evelyn Tumulak initiated this charitable project because they were so touched by the heartbreaking sight of Yolanda's aftermath. "It pains to see people who have nothing to eat, needing food and water. While we are enjoying abundant supply of God's blessings, there are those wanting in the basic necessities of life," Ms. Piape said.
"It's heartwarming to know that you are able to help in your own little way to alleviate their plight. So it is just right to share God's blessings to others in need," she added.
"We only solicited relief goods from those offices occupying the Zamboanga Motors building but there were also sister companies who donated and gave wholeheartedly, and we are so grateful for their involvement," explained Ms. Tumulak.
They have already packed the relief goods and will be sending them out soon to the victims in Tacloban.
Donations are still being accepted at Caritas Health Shield office located at the 2nd floor of Zamboanga Motors Building, Rizal Avenue, Pagadian City.
Security measure in place for peaceful Christmas season in Pagadian City
(PNA), PDS/TPGJR/CHARNYL S. ALBARRACIN/UTB
PAGADIAN CITY, Zamboanga del Sur, Dec. 5 (PNA) --Mayor Romeo Pulmones on Thursday assured the residents that security measure is in place to ensure a peaceful celebration of the Christmas season in this city.
Pulmones disclosed that the local police in collaboration with military have step-up security operations to include intelligence monitoring in a bid to prevent any eventuality by lawless elements.
Pulmones pointed out that the public must also help in preventing the occurrences of crimes and should be vigilant and alert.
"Crimes can't be stopped but at least we can lessen its rate. We need the help of all Pagadianons to reduce all sorts of crimes in this city," Pulmones said.
"We pray and we ask our heavenly Father's guidance as we celebrate these Christmas and New Year with no untoward incidents in this city," he added.
"We pray also for those bad guys who have plan to disrupt our peace and order that their plans will not materialize," he further added.
He said that the implementation of tightened security measure will continue until the celebration of this city's feast every third Sunday of January in honor of its patron saint, the Señor. Sto. Nińo.
He urged the public to cooperate with law enforcers to ensure to successful implementation of the security measure.
DILG-9 chief urges local officials to take active role vs. terrorism
By Gideon C. Corgue (PIA9)
PAGADIAN CITY – In response to the call of President Benigno S. Aquino III to fight all forms of terrorism, the members of the Security, Justice and Peace cluster of the Regional Development Council (RDC)-9 chaired by the regional director of the Department of Interior and Local Government (DILG)-9 has intensified its efforts to address terrorism and other threats in the region.
Speaking during a two-day advocacy program and trainers' training held at Chandler Suites here last week, DILG-9 Regional Director Paisal Abutazil said organized threat groups are operating in region 9 and in the neighboring provinces of Basilan, Sulu and Tawi-tawi, and the Autonomous Region in Muslim Mindanao (ARMM) where they have long been posing threats to the security and properties of the people in the area.
"With the local government units (LGUs) as the lead targets of this unlawful attacks, it is imperative upon the LGUs to strengthen and intensify coordinated efforts with the Philippine National Police (PNP) and the Armed Forces of the Philippines (AFP) to combat terrorism," stressed Abutazil.
"Huwag po nating kalimutan ang nangyari sa Zamboanga City(Let us not forget Zamboanga City incident)," Abutazil said.
The Moro National Liberation Front (MNLF)-Misuari faction stormed Zamboanga City last Sept. 8, leaving hundreds of people dead and billions of properties destroyed. The standoff lasted for almost a month.
Abutazil said "it is a fact that one major hindrance to true and lasting peace and the security of our environment is terrorism particularly in Zamboanga Peninsula area and the whole of Mindanao."
"While threats from terrorism remain complex and ever changing, I enjoined the local officials of the provinces, cities , municipalities and barangays to support and take a very active role in the fight against terrorism to have a peaceful, safe, orderly and friendly community," Abutazil urged.
Abutazil expressed confidence that the unified and sustained stakeholders' actions would definitely help in preventing and combating terrorism in the region.
Dubbed "Target hardening: Operationalizing the whole-of-nation approach against terrorism," the training was participated in by LGU officials, PNP and military personnel, religious leaders, non-government organizations and media.
A similar activity would be conducted in six regions of Mindanao, Central Visayas, and National Capital Region (NCR) in Luzon starting October to December this year.
Zambo. Surians: Modern day good Samaritans
By Gideon C. Corgue (PIA9)
PAGADIAN CITY – As a show of deep sympathy and support to the victims of typhoon "Yolanda" (international name, Haiyan) that hardly hit the Visayas region last Nov. 8 and brought tremendous losses of lives and properties, generous organizations and individuals from this city offered their help by donating cash or relief goods.
A few days after super typoon 'Yolanda" had wrecked havoc in the Eastern Visayas region, the premiere division of Philippine Army (PA), the 1st Infantry Tabak Division based in Camp Major Cesar Sang-an, Pulacan, Labangan, Zamboanga del Sur, spearheaded the "Oplan Tabang Visayas" (Oplan Help Visayas) to assist the victims of the calamity.
Overflowing support
"Oplan Tabang Visayas" got active, strong support from national government agencies NGAs, non-government organizations (NGOs), professionals, teachers, businessmen, students, among others.
In-kind donations started piling up in dropping centers set up at the Philippine Information Agency (PIA), Gaisano Capital Mall, City Commercial Center and the Sto. Niño Parish.
"We opened our doors as a drop-in center for donations of relief goods such as rice, canned goods, medicines, clothing, etc. for the typhoon victims," said PIA-9 Regional Director Noemi B. Edaga adding that the agency strongly supported the Philippine Army's relief efforts since "the typhoon left thousands homeless and hungry and they all need our immediate help."
"Recorrida"
The Tabak troopers intensified the relief operations by conducting "recorrida," an appeal to the public using a public address system with military vehicles, in the city as well as in the municipalities of the province.
"We are happy to see that even during our surprise visits to the municipalities, people were favorably responding to our call by having their donations ready to be picked up by our vehicles," Lt. Franco Salvador Suelto said.
"We are thankful for the overwhelming expression of support from the community," Suelto added.
Big heart
Greater Innovation of Responsible Lady Lawyers in Zamboanga del Sur (GIRLLZ) and Zamboanga del Sur Medical Society (ZSMS) were among the professional organizations giving their donations for the typhoon victims.
"We can't just watch and do nothing to the typhoon victims who are dying and suffering hunger. Our hearts are bleeding for them," GIRLLZ president Atty. Analyn Costanilla said.
"At first, we want to extend our help to the victims but we did not hear any information on government's aircraft that would transport the relief goods to the devastated areas until we read the info graphics posted at PIA's facebook page, PIA ZamboSur, saying that PIA is accepting donations, thus we immediately sent our relief goods there," Costanilla said.
Overwhelming support
At the start of packing the goods, Costanilla said, "we were expecting to produce only four sacks of relief goods but we were surprised to have more from our members."
"We are overwhelmed by the support extended by our members. We never thought that we have produced one truckload of goods in just two days," Costanilla pointed out.
Volume of goods
After a call for help to typhoon victims made in a holy mass by a parish priest of San Jose Parish in Dumingag, Zamboanga del Sur, the parishioners immediately responded to the call, and in just a few hours after, huge volume of relief goods came.
The parishioners, teachers, students and other well-meaning individuals helped the parish in re-packing the relief goods which accounted for 770 packs. These goods were turned-over to PIA.
"It is only through our help that the survivors can draw strength to keep them moving and going from untold difficulties and sufferings," Father Elvin Sabandal, the assistant parish priest said.
Solidarity of support
Sabandal said "the solidarity of support to help out the survivors had given them some comfort that they are not alone in their efforts to recover from the tragedy."
The Tabak division also thanked all well-meaning individuals and organizations for sharing their time, resources and efforts to help the typhoon survivors.
Pagadian City hosts 2013 regional invention contest, exhibits
By Claro A. Lanipa (PIA9)
PAGADIAN CITY – The city plays host to the 2013 Regional Invention Contest and Exhibits (RICE) with the theme, "Inventions and Innovations for Smarter Philippines" held at the Gaisano Mall starting Nov. 28 to Dec. 1.
In his welcome message, Mayor Romeo P. Pulmones who was represented by City Administrator Prixio Daniel said "this science and technology event will give us the opportunity to see for ourselves the new ideas and devices from our very own inventors in the region."
"The efforts of the Department of Science and Technology (DOST) and its coordinating organizations are impressive and commendable because this will indeed inspire and encourage further the ingenuity of our inventors whose hidden talents and unique abilities are not exposed and recognized," Pulmones stressed.
Meanwhile, Engr. Mahmud Kingking, assistant regional director for field operations of DOST-9, said "this event gives importance to our local inventors and researchers who will be considered the architects, builders, troubleshooters and problem fixers of our society."
"The conduct of RICE is very timely especially we are moving towards the unification of the ASEAN communities by year 2015. We need to prepare ourselves for the greater challenges in our lives because we are expecting more stiff competitions especially in the areas of business, education, agriculture, transportation industry and even in the service sector," Kingking said.
Kingking underscored the importance of being competitive through innovations and inventions to survive these days.
On the other hand, Zamboanga del Sur first district Representative Victor J. Yu who chairs the House Science and Technology Committee expressed optimism that such exhibit could have more impact by inviting and encouraging more inventors to join. He also urged the local government units to extend full support to the activity.
Activities like this, he said, "will help motivate, encourage and inspire our younger generations to focus more on science and technology (S&T). We must admit that in the near future S&T will determine our everyday life, as science and technology advances.
The event was graced by Prof. Fortunato Dela Pena, undersecretary for S&T Services, DOST and was participated in by some 60 participants/inventors with more than 60 entries for the contest.
Tabak Division and PIA-9 embark on Oplan Tabang Visayas journey
By Riza P. Lacbao
The First Infantry "Tabak" Division, under the command of Brigadier General Felicito Virgilio M. Trinidad Jr., has embarked on a long journey from the Zamboanga Peninsula with members of the Philippine Information Agency-Region 9, to bring relief goods to Ormoc City and nearby municipalities for its Oplan Tabang Visayas efforts. The said relief goods are now at the Naval Forces Central in Cebu awaiting to be ferried by a Philippine Navy boat to the typhoon-devastated areas.
In a phone interview with Lt. Col Randy Sinocruz, G7 of Tabak Division, the relief goods consist of 7,058 food packs (38, 819 kg), 188 cartons of mineral water (10,945 kg), assorted biscuits/goods and medicines (10,356 kg), or almost 9 tons of relief goods.
The relief goods were donated by concerned citizens and groups and by the local government units under the provinces of Zamboanga Sibugay, Zamboanga Del Sur, Zamboanga Del Norte, Lanao Del Sur, Lanao Del Norte and Misamis Occidental.
Oplan Tabang Visayas is an offshoot of the request of the concerned individuals and groups for the 1st Infantry Division to distribute the relief goods in their behalf to the survivors of Supertyphoon Yolanda.
"Our 40-member contingent is expected to depart Cebu for Ormoc anytime by Landing Ship Vessel (LSV) 551 of the Philippine Navy to deliver the relief goods," Ltc Sinocruz said.
The older news reports are kept here.