Zamboanga Del Sur News
From Zamboanga.com :Portal to The Philippines
Province of Zamboanga del Sur - Archived News of Zamboanga del Sur
---

Seal of Zamboanga del Sur Province
Interactive Google Satellite Map of Zamboanga del Sur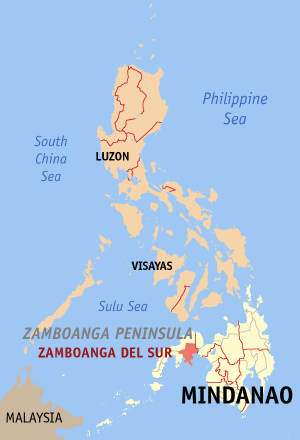 Zamboanga del Sur Map Locator

Municipalities within Zamboanga del Sur

Provincial Capitol of Zamboanga del Sur

Provincial Capitol of Zamboanga del Sur, Santo Niño, Pagadian city
Lapuyan Falls: The favorite haunt of the fair Subanen maidens of Sitio Baga and all its neighboring areas, usual meeting place with many a young country swain in some secluded cavern beneath the rocky forest lane.

Lakewood, Zamboanga del Sur, Philippines

Village of Pedagan

Lintugop, Aurora
Pagadian City, Zamboanga del Sur

Provincial human resource management office of santo niño pagadian city

Civil Service Commision office in santo niño pagadian city
Tabak to commemorate 78th founding anniversary
By Gideon C. Corgue (FPG/GCC-PIA-Pagadian City)
LABANGAN, Zamboanga del Sur, April 22 (PIA) – The Philippine Army's 1st Infantry (Tabak) Division based in this town will celebrate its 78th founding anniversary come May 5.
Tabak, which specializes in anti-guerilla warfare, was established on May 5, 1936 as the 1st regular division of the Philippine Commonwealth Army and was stationed at Camp Aguinaldo in Quezon City.
On December 4, 1989, it was transferred and stationed in Camp Major Cesar L Sang-an in Barangay Pulacan, Labangan, Zamboanga Del Sur.
The division is known as world's best anti-guerilla fighters in Asia combating terrorists in Southern Mindanao.
In a press release issued by the Division Public Affairs Office, it said that several activities were lined up for the month-long celebration, which formally commenced last April 8 with no less than the Tabak commander, Maj. Gen. Felicito Virgilio Trinidad Jr. as guest of honor and speaker during the opening ceremony held at the division grandstand.
A squad challenge was held on the opening day with participants from the different battalions under 1st Infantry (Tabak) Division. They competed for a week to test their individual and collective competence as squad and to promote teamwork, leadership and unity.
An inter-color sports fest was also held with eight teams actively participating in different fun games, basketball, lawn tennis and badminton.
On April 26 at 9 a.m., a photo exhibit will be conducted at Gaisano Mall to update the public on the army's capabilities in safeguarding Filipino people and protecting the country's sovereignty. This will be followed by a fun run on May 3 to be held at Pagadian City starting at Plaza Luz to rotunda.
The event, which will start at 4 a.m. will have the following features: a 3-kilometer, 5-kilometer, and 7-kilometer run. It aims to foster harmonious relationship with the stakeholders in support of the Army's Internal Peace and Security Plan dubbed as "Bayanihan."
Following the fun run, a motorcade will also be held from Plaza Luz to barangay Kawit to be capped by a clean-up drive at the coastal area of said barangay.
On May 3, a medical and dental outreach program for indigent patients will also be conducted at Barangay Deburok, Pagadian City.
At 10 a.m. on May 7, an anniversary parade and arrival honors will be held at the Tabak Grandstand, and in the evening, an anniversary night will be held at the 1st Infantry Divisions old parade ground.
Zambo Sur police chiefs commended for peaceful Holy Week observance
(PNA), LAP/TPG/HDC/SGP
PAGADIAN CITY, Zamboanga del Sur, April 21 (PNA) –- Police director Senior Supt. Sofronio Ecaldre has commended all the police chiefs for a job well-done that led to the peaceful observance of the Holy Week.
Ecaldre made the commendation as he announced Monday that the observance of the Holy Week in the entire province was generally peaceful.
Ecaldre's command covers 26 municipalities and this city, which is the capital of the province.
Ecaldre said he is very happy to inform the public that there was no untoward incident that happened in all of the venues of religious activities here.
Policemen in coordination with the military forces were deployed in all venues of the Holy Week activities like churches.
Checkpoints were also set up in strategic places to as the campaign against loose firearms continue in the entire province.
Ecaldre also expressed his gratitude to the motorists who cooperated with them during security inspections.
DRIVER AND BACKRIDER ARRESTED FOR POSESSING ILLEGAL DRUGS
With report from PO2 Jonas D. Macasa Jr. (RPIO9)
Two persons who were riding in tandem on a single motorcycle were arrested by the elements of Aurora Municipal Police Station, Zamboanga del Sur Police Provincial Office for possessing illegal drugs on Good Friday afternoon. Arrested drugs couriers were identified as Eddie Mingo y Suco, 25 years old, single and a resident of Purok Quatro, Barangay Bobongan, Ramon Magsaysay, Zamboanga del Sur and Ricky Cugay y Gabayan, 33 years old, also single and a resident of Purok Uno of the same barangay. Confiscated from their possessions were Eight (8) pieces straw-like heat sealed plastic sachet containing white crystalline granules, believed to be Shabu and five (5) pieces rolled aluminum foils. Report reaching Police Regional Office 9 Headquarters disclosed that prior to their arrest, the duo were riding in tandem on an XRM, Honda single motorcycle with licensed plate 3623 KD and were flagged down at the check point. When inspected, the duo yielded the said confiscated illegal drugs and drugs paraphernalia. Thereby, they were arrested and were brought to Aurora Municipal Police Station and detained at its detention cell.
PCSO to launch BingoMilyonaryo in Zamboanga del Sur after Holy Week
(PNA), /TPGJR/HIROHITO D. CADION/PJN
PAGADIAN CITY, Zamboanga del Sur, April 19 (PNA) -- The Philippine Charity Sweepstakes Office (PCSO), in a bid to curb illegal gambling in the countryside, is launching its BingoMilyonaryo Game in this province after Holy Week.
PCSO BingoMilyonaryo Sales Operation Supervisor for Visayas and Mindanao Jermaine Gabo said the operation system of the BingoMilyonaryo Game was programmed and designed to counter illegal number games operations nationwide "because it is not like lotto where the clients will go and buy their tickets in the outlets."
Gabo explained that in BingoMilyonaryo Game it is the agents or retailers equipped with online machine that go to the barangays to register the bettors' bet.
Gabo said the bet will be automatically registered at the PCSO central office and a computerized ticket will be issued to the bettor.
He said the online machine is protected with safety features and the bettor can claim their prizes by presenting the issued computerized ticket.
He said the BingoMilyonaryo can be played in five options and these are: Bingo2; Bingo3; Bingo4; Bingo5; and, Bingo6.
He said the minimum bet of P5 could win P2,000 to P4 million, the jackpot price.
He said the PCSO has authorized Comnet Management Corporation (COMNET) to sell and distribute tickets for the BingoMilyonaryo Game by virtue of the Deed of Authority dated January 2013.
COMNET is operating in National Capital Region (NCR), Luzon and Visayas and some parts of Mindanao.
Gabo said that the operation of BingoMilyonaryo in this province will be under the territorial dealer of Mekas Gaming and Entertainment Corporation with office at Benigno Aquino Street, Sta. Lucia, Pagadian City.
PAGADIAN CITY POLICE BUSTED A DRUG PUSHER IN PAGADIAN CITY
With report from PO2 Radzben S. Jul (RPIO9)
A suspected drug pusher was arrested by elements of Pagadian City Police Station during a drug buy- bust operation at Barangay Bulatok in Pagadian City Wednesday afternoon April 16, 2014. Arrested was Jay-Ar San Juan Y Alanquihan, 20 years old, married and a resident of Barangay Lumbog In Margosatubig Zamboanga Del Sur. Seized from his possession were four heat sealed transparent plastic sachets containing white crystalline substance believed to be shabu, three disposable lighter, four aluminum foil and three pieces one hundred peso bill (P100.00) marked money. The confiscated items are now under the custody of Pagadian City Police Station for submission to crime lab office for laboratory examination. The arrested pusher is now being detained at said police station pending the filing of violation of Republic Act 9165 against him.
Massive infra spending set
Reports from AFP, Ben O. de Vera and Riza T. Olchondra (Philippine Daily Inquirer)
With just two years to go before its term ends, the Aquino administration plans to spend more on infrastructure and introduce other reforms to try to make economic growth inclusive and lift millions out of poverty.
The revised Philippine Development Plan (PDP) sets more ambitious economic targets to address persistent concerns that poor Filipinos are not enjoying the benefits of the country's recent dramatic economic growth.
Among the new targets is the lowering of the poverty incidence from 25.2 percent of the population in 2012 to 16.6 percent by 2016, economic officials said.
"It does not mean that we can do nothing but wait until the benefits of economic expansion 'trickle down' to the poor," Socioeconomic Planning Secretary Arsenio Balisacan said Monday in an introduction to the revised plan.
Despite economic growth of more than 7 percent in recent years, among the highest rates in Asia, unemployment has remained high while the rate of poverty has barely fallen.
"Simply stated, the gains have yet to materialize into actual, tangible improvements in the lives of the majority of the people," the report said.
Growth targets
Under the revised plan, the economy is expected to grow 6.5 to 7.5 percent this year, 7 to 8 percent next year and 7.5 to 8.5 percent in 2016.
"The strategies in the PDP midterm update are directed at improving the responsiveness of poverty to growth (which implies higher incomes), enhancing the provision of basic services (so that quality of life is improved) and increasing resilience to disasters (so that improved quality of life is maintained)," said a summary of the plan.
Provinces categorized
It said that for growth to result in more opportunities and accelerate poverty reduction, the updated plan would "deliberately address the constraints faced by the poor as summarized by their province of residence."
For "Category 1" provinces with the highest magnitude of poor households—Zamboanga del Sur, Cebu, Pangasinan, Negros Occidental, Camarines Sur, Leyte, Iloilo, Sulu, Quezon and Davao del Sur—poverty reduction efforts will be focused on improving infrastructure to attract more job-generating investments in agro-industry, food manufacturing, information technology-business process management, logistics and tourism.
Category 2 provinces
In "Category 2" provinces, or those with the highest poverty incidence based on population—Lanao del Sur, Maguindanao, Eastern Samar, Apayao, Zamboanga del Norte, Camiguin, Sarangani, North Cotabato, Masbate and Northern Samar—the revised plan calls for putting in place measures to ensure that basic social services, such as basic education, health services, sanitation and water are accessible.
Following the onslaught of natural disasters such as the 7.2-magnitude earthquake that shook central Visayas and Supertyphoon "Yolanda" (international name: Haiyan) that devastated huge swaths of central Philippines, the updated PDP identified 30 provinces, whose geographies expose them to hazards like flooding and landslides, as another set of focus areas.
Included in the disaster-prone "Category 3" provinces were Ilocos Norte, Ilocos Sur, Abra, Benguet, Cagayan, Quirino, Isabela, Nueva Viscaya, Zambales, Pampanga, Aurora, Cavite, Laguna, Rizal, Quezon, Albay, Catanduanes, Antique, Catanduanes, Antique, Iloilo, Bohol, Eastern Samar, Leyte, Northern Samar, Southern Leyte, Zamboanga del Sur, Zamboanga Sibugay, Dinagat Islands, Agusan del Norte, Surigao del Norte and Surigao del Sur.
Focus on risk reduction
According to the plan, the poverty-reduction strategies in these 30 provinces will be focused on disaster-risk reduction and mitigation, income diversification, and social insurance and protection.
Chief among the poverty-fighting measures is an increase in infrastructure spending to 5 percent of gross domestic product by 2016, compared with the 2013 level of less than 3 percent.
These reforms in turn will improve the connections between urban centers where growth has been concentrated and the poverty-stricken rural areas where the majority of the country's 100 million people live, the plan said.
One of biggest obstacles
The country's crumbling infrastructure has long been cited by businessmen and economists as one of the biggest obstacles to prosperity, raising transport and power costs, keeping regions mired in underdevelopment and discouraging investors.
Critics charge that only a few sectors are enjoying the benefits of the country's economic growth while many Filipinos have not been touched by it.
Balisacan last month expressed doubt about the feasibility of reducing the incidence of poverty to 16.6 percent by 2016.
He said at the time the poverty rate was forecast to be 18 to 20 percent by 2016, partly due to last year's natural disasters.
For University of Asia and the Pacific economist Cid L. Terosa, the strategy of accelerating both infrastructure spending and poverty reduction will work, citing that "both complement each other."
Multiplier effect
"Infrastructure spending generates multiplier effects and jobs needed to reduce poverty incidence. The reduction of poverty creates more funds for infrastructure spending in the long run," Terosa said.
But Benjamin E. Diokno, University of the Philippines economics professor, pointed out that if the slow roll out of the much touted public-private partnership initiative was any indication, the implementation of the updated PDP would likely be be sluggish.
"So far, for the last three and a half years, the administration has consistently failed to implement what little has been budgeted. It has to demonstrate better capability to complete projects," Diokno said.
DOST advocates for more disaster response leaders
(PNA), CTB/ABP/DOST-PR
MANILA, April 16 (PNA) -- The Department of Science and Technology (DOST) is calling for more disaster response leaders as the country grapples with the increasing frequency of natural calamities.
DOST Assistant Secretary Raymund Liboro said everyone must contribute to ensuring that the country will be able to prepare on natural disasters.
Mayors, for instance, need responsible barangay chairmen and other dedicated people to carry out their duties when disaster strikes.
"Our message here is that disaster management or disaster response is everybody's business. We're providing tools that they can use – for them to lead their families to safety," Liboro said in a press briefing at the Region 9 leg of the "Iba na ang Panahon: Science for Safer Communities" held last April 7 to 8, 2014 at the Garden Orchid Hotel in Zamboanga City.
During the two-day workshop, representatives from the DOST's Philippine Institute of Volcanology and Seismology, Philippine Atmospheric, Geophysical and Astronomical Services Administration (PAGASA), Project NOAH (Nationwide Operational Assessment of Hazards), and DREAM (Disaster Risk and Exposure Assessment for Mitigation), introduced participants to the various science-based tools available for early disaster information and re-acquainted them with already popular technologies such as Google Earth.
The participants, representing Zamboanga del Norte, Zamboanga del Sur, Zamboanga Sibugay, and the cities of Zamboanga and Isabela, had the chance to actually use some of these tools during table-top exercises which allowed them to formulate short-and long-term action plans for their areas in response to various disasters including worst-case scenarios.
The "Iba na ang Panahon: Science for Safer Communities" is an ongoing information drive on disaster preparedness conducted by the DOST and the Department of Interior and Local Government and the Office of Civil Defense, aimed at strengthening the capability of local government units in disaster response through science-based tools such as flood hazard maps, flood models, geohazard maps, among others.
The campaign has a four point agenda for community preparedness, such as increasing local risk knowledge, knowing how to monitor risk hazards, testing warning protocols in the community and planning for response.
"Anybody who can head these four steps is a disaster leader," Liboro stressed.
RDRRMC, OCD-IX holds provincial summit on DRRM for chief executives
By Claro A. Lanipa (RPIO9)
PAGADIAN CITY – The Regional Disaster Risk Reduction Management Council (RDRRMC-IX) through the Office of the Civil Defense (OCD-IX) in collaboration with the Provincial Government of Zamboanga del Sur holds a two-day Provincial Summit on Disaster Risk Reduction Management for local chief executives of Zamboanga del Sur being conducted from April 14 -15, 2014 at Alindahaw Hotel, this city.
The two-day event aims to strengthen the significant roles and responsibilities of local chief executives (LCEs) in disaster risk reduction management; learn from experiences of selected local DRRMC's and stir community based solutions; and, institutionalize and implement knowledge in DRRM planning, tools and protocols, demonstrated during the Regional Summit.
OCD-9 Officer in Charge Emilia V. Julhajan in her message during the opening program expressed her sincere gratitude to the provincial government of Zamboanga del Sur led by Governor Antonio H. Cerilles for the full support extended in the conduct of the said summit." The conduct of this summit will also ensure that we are all able to spread our messages up to the grass-root level and fully explain and answer all questions related to RA 10121, better known as the "Act of Strengthening the Philippine Disaster Risk Reduction and Management System," Julhajan said.
The summit is being participated by local chief executives of every municipality in the province together with their planning officers and Disaster Risk Reduction Management officers.
WOMAN CHARGED WITH ESTAFA CASE ARRESTED IN PAGADIAN CITY
With report from PO2 Radzben S. Jul (RPIO9)
A wanted person charged with estafa was arrested by elements of Lakewood Police Station in Gaisano Capital at Pagadian City Friday morning April 11, 2014. Arrested was Ruby Jane Campila Y Villanueva, 24 years old, single, female, private employee of e-games and a resident of Purok 7, Barangay Tubod in Lakewood Zamboanga Del Sur. He was arrested by virtue of warrant of arrest for the crime of estafa under article 315 of revised penal code docketed under criminal case number 10853-2k13 issued by Hon Judge Dennis P Vicoy of Regional Trial Court Branch 20, Pagadian city dated March 20, 2013 with recommended bail for her temp liberty is fixed to twenty thousand pesos (P20, 000.00). Arrested person is now temporarily detained at Lakewood Police Station detention cell waiting for final adjudication from the court concern.
FARMER ARRESTED FOR POSSESSING SHOTGUN
With report from PO2 Jonas D. Macasa Jr. (RPIO9)
A thirty two year old man was arrested by the operatives of Tigbao Municipal Police Station, Zamboanga del Sur Police Provincial Office on Wednesday evening for having in possession a homemade firearm. Arrested suspect was identified as Ignacio Lepasana y Retcha @ Tata, married and a resident of Barangay Tigbao, Tigbao, Zamboanga del Sur. Confiscated from his possession was homemade shotgun loaded with a round of ammunition. Report reaching Police Regional Office 9 Headquarters disclosed that prior to his arrest, suspect while under the influenced of liquor and armed with shotgun and was looking for Manuel Daulong y Itmay @ Awi, 22 years old, sawmill operator and his neighbor with whom he has altercation earlier and challenged him for a duel. But Manuel was not around, thus, gained the ire of the suspect and became violent. A concerned citizen reported to Tigbao Municipal Police Station relative hereto, in which, its personnel responded immediately, which resulted to the confiscation of the said firearm and subject failed to present proper documents and was arrested. @ Tata was brought to Tigbao Municipal Police Station and detained at its detention cell. Appropriate charges will be filed in court by the investigators against the suspect.
DepEd set to offer special programs to secondary students
By Hirohito D. Cadion [(PNA), FPV/TPGJR/HIROHITO D. CADION/JSD]
PAGADIAN CITY, Zamboanga del Sur, April 11 (PNA) – The Department of Education (DepEd), to prepare and guide the students in choosing what course to study in college, is set to offer four special programs in secondary starting school year 2014-2015, a DepEd official disclosed Friday.
Dipolog City Schools Division Superintendent Victorina Perez said the four special programs for the secondary students include the following: Science and Engineering Technology (SET); Special Program for Arts and Music (SPAM); Special Program for Sports (SPS); and, Special Program for Journalism (SPJ).
Perez said the four new programs are aimed to address the unemployment problem brought about by job mismatch citing there are increasing numbers of graduates yearly as well as lots of unemployed individuals although there are lots of work available or vacancies.
"This is because we are producing graduates whose skills are not needed in the field," Perez lamented.
Meanwhile, Perez announced that the Zamboanga del Norte National High School (ZNNHS) will offer summer class for incoming senior high schools for school year 2014-2015.
Perez, who is also the concurrent administrator of ZNNHS, has urged the parents of students who have not enrolled yet or have stopped in fourth year to avail of the summer class to be able to graduate next year.
She said the offering of summer studies is aimed to provide the last opportunity to the students to be able to graduate next year under the old curriculum.
She said those who fail to avail of the summer course will have to enroll in Grade 7 next school year under the K-to-12 Curriculum.
The older news reports are kept here.