Zamboanga Del Sur News
From Zamboanga.com :Portal to The Philippines
Province of Zamboanga del Sur - Archived News of Zamboanga del Sur
---

Seal of Zamboanga del Sur Province
Interactive Google Satellite Map of Zamboanga del Sur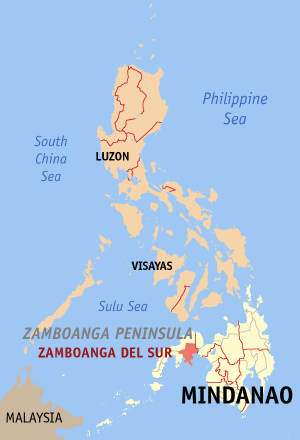 Zamboanga del Sur Map Locator

Municipalities within Zamboanga del Sur

Provincial Capitol of Zamboanga del Sur

Provincial Capitol of Zamboanga del Sur, Santo Niño, Pagadian city
Lapuyan Falls: The favorite haunt of the fair Subanen maidens of Sitio Baga and all its neighboring areas, usual meeting place with many a young country swain in some secluded cavern beneath the rocky forest lane.

Lakewood, Zamboanga del Sur, Philippines

Village of Pedagan

Lintugop, Aurora
Pagadian City, Zamboanga del Sur

Provincial human resource management office of santo niño pagadian city

Civil Service Commision office in santo niño pagadian city
Would-be trafficking victims rescued
By Bong Garcia
JOINT police and social welfare personnel have rescued six would-be victims of human trafficking in the province of Zamboanga del Sur, the police reported Tuesday.
Inspector Dahlan Samuddin, Information Officer-in-Charge of the Police Regional Office-Zamboanga Peninsula (PRO-9), said the would-be victims were rescued around 7:30 p.m. at a karaoke house in the village of Poblacion, Pitogo, Zamboanga del Sur.
Samuddin said the rescue came after the parents of two of the six would-be victims, who are from Siay, Zamboagna Sibugay, reported to the police that their daughters were recruited without their consent.
Samuddin withheld the identities of the rescued youths except to say that the oldest is 20 years old while the youngest is 16 years old.
They are from the provinces of Zamboanga Sibugay and Zamboanga del Sur, according to Samuddin.
The rescued minors are presently under the custody of Pitogo police and Municipal Social Welfare and Development Office for further counseling prior to their turn-over to their respective families, he added.
MILF-CCCH protests arrest of Zamboanga Del Sur LMT member
(CCCH Sec. Gen.)
Early morning on October 16, 2014, operatives of the Philippine Drugs Enforcement Agency (PDEA) raided six (6) houses at Barangay Binuatan in Dinas, Zamboamga Del Sur including the house of the Manalao Butito, MILF Political Committee Chairman of the town of Dinas and a member of the Local Monitoring Team (LMT) of Zamboanga Del Sur.
In a letter-protest dated October 17, filed by the Abbas Salung, Chairman of the MILF Coordinating Committee on the Cessation of Hostilities (CCCH) addressed to BGen. Carlito Galvez, Chair of the GPH-CCCH, he said that, "The PDEA raiding team apprehended Butito and brought him to PNP Camp Avelon in Pagadian City and is being held under custodial detention at the camp despite the committee's persistent request for his immediate release".
"This raid and detention of a senior MILF political leader and a member of the LMT, a mechanism of the GPH – MILF Ceasefire Agreement constitute blatant violations of the ceasefire accord and seriously undermine the GPH – MILF Comprehensive Agreement on the Bangsamoro (CAB)", Salung said in his letter.
Salung enumerated acts that violates the GPH- MILF Ceasefire Accord as follows:
1. Raid and detention of MILF leaders and worker for the GPH – MILF Ceasefire Agreement in line with paragraphs 3.1.2 and 3.2.3 of the prohibited hostile acts and prohibited provocative acts, respectively of the Implementing Guidelines of the Security Aspect of the GRP – MILF Agreement on Peace of 2001.
2. Undermining the confidence building measure between the government and MILF pursuant to the GPH – MILF Comprehensive Agreement on the Bangsamoro (CAB).
3. Total disrespect and dishonor to the safety and security guarantee for the MILF personalities involved in the peace process pursuant to the GPH – MILF Ceasefire Accord.
"We take this case as direct affront to this Committee and those involved in the peace process", he continued saying.
Salung asked the GPH-CCCH and IMT to act on the matter and for the immediate release of Butito otherwise, there is no option left but to elevate the same to the GPH – MILF Peace Panels.
BIR-Western Mindanao exceeds September collection by P102.7M
(MindaNews)
ZAMBOANGA CITY (MindaNews/19 October) – The Bureau of Internal Revenue (BIR) exceeded by P102,783,255.53 its target revenue collection goal for the month of September this year in Western Mindanao.
Alert Alocilja, BIR regional director, announced they collected a total of P406,346,255.52 in September, which was P102,783,255.53 more than the target collection goal of P303,563,000.
Alocilja said his office exceeded the target collection goal due to intensified tax mapping as well as tax collection and information drive.
BIR-Western Mindanao covers Zamboanga City, Zamboanga del Norte, Zamboanga del Sur, Zamboanga Sibugay, and the provinces of Basilan, Sulu and Tawi-Tawi which belong to the Autonomous Region in Muslim Mindanao.
Alocilja said they had collected a total of P3,598,948,682.06 in revenues from January to September. He expressed optimism his office can meet its revenue target collection goal for this year.
He said the BIR central office has tasked them to collect P5.8 billion in revenues this year.
Assorted Firearms, Drug Paraphernalia Seized in Dinas, 2 Suspects Arrested
By PINSP DAHLAN T SAMUDDIN with report from PO2 Radzben S Jul (RPIO9)
Dinas, Zamboanga Del Sur - Two wanted persons were arrested while several high-powered firearms and ammunitions were seized from them by a composite PNP team of Zamboanga Del Sur Police Provincial Office, Western Mindanao Criminal Investigation and Detection Unit, Provincial Public Safety Company, Provincial Anti-Illegal Drugs Special Operation Task Force, EOD team from Regional Public Safety Battalion and PDEA personnel during the service of search warrant against them in Barangay Poblacion and Barangay Binoatan at about 3:00 AM on October 16, 2014. Arrested were Abdulmaola Cagas Cosain, 35, and Manalao Abu Butito a.k.a. "Nalao", 70.
The two were apprehended based on the search warrant number 169-180 for violation of illegal possession of firearms, ammunitions and illegal drugs issued by Presiding Judge Joel G Vercide of MTCC, 9th Judicial Region Branch 1, Pagadian City dated 14 October 2014. Seized from them were a cal 5.56mm rifle with serial number RP192185, one caliber .45 pistol with serial no. 1011659, a caliber .38 revolver pistol Smith & Wesson, one cal .22 rifle with serial number 457201, an H & R ARMSCOR cal 7.62 mm M14 rifle, two hundred sixty five 5.56 mm ammos, twenty-four caliber .45 rounds, nineteen cal 7.62 mm rounds, three caliber .38 rounds, black box containing rolled aluminum, two disposable lighters, assorted military uniforms, four hi-cap magazines of caliber .45 pistol, two M14 magazines, two outside holsters, two inside holsters, one pair of combat boots, one side arm holster, one gun case, one M16 bandolier, one sling bag for caliber .45 pistol, and one Samsung tablet. The arrested persons are now under the custody of the said police office while necessary documents are now being prepared for immediate filing of cases in court against them.
NMIS to celebrate Meat Safety Consciousness Week
By Gideon C. Corgue (FPG/GCC/PIA-Zamboanga del Sur)
PAGADIAN CITY, Oct. 17 (PIA) – The National Meat Inspection Service (NMIS) will be celebrating this year's Meat Safety Consciousness Week on October 20-24 with the theme, "RA 101611 Food Safety Act: "Kaligtasan Ng Mamamayan At Katuwang Sa Kalakalan."
Regional Technical Director Arturo S. De Jesus Jr. said the NMIS has lined up activities for the celebration such as radio program, hanging of streamers, thanksgiving Mass, media forum, greening activities, good handling practices for homemakers, and a fellowship.
"Since the celebration underscores the importance of meat safety consciousness among stakeholders, a seminar on good handling practices for the homemakers will be conducted in Barangay's Manga and Tuburan here," De Jesus disclosed.
Some 100 participants composed mostly of carenderia and sari-sari storeowners are invited to attend said seminar.
De Jesus also said a media forum would be conducted to tap the media practitioners in helping disseminate bits of information on meat safety to the public, considering mass media's influence on the people and society.
As the agency's corporate social responsibility, De Jesus said the NMIS staff are scheduled to plant fruit-bearing trees in a watershed area in barangay Manga and to help government address the adverse effects of climate change.
More troops arrive in Mindanao to fight for peace
(Mindanao Examiner)
PAGADIAN CITY – More troops have arrived in the southern Philippines to replace marines in Sulu and other provinces in Mindanao and help fight insurgency and terrorism and at the same time win hearts and minds of civilians in an effort to support the government's peace and development efforts in the troubled region.
Brigadier General Gerardo Barrientos, commander of 1st Infantry Division, welcomed the troops who arrived here from Luzon Island in two batches.
The soldiers, who are members of the 21st – under Lieutenant Colonel Niceforo Diaz, and 41st Infantry Battalions headed by Lieutenant Colonel Virgilio Noora - took over the 32nd Infantry Battalion in Zamboanga del Sur and Zamboanga del Norte and the 35th Infantry in Lanao del Norte.
Both the 32nd and 35th Infantry Battalions have replaced marine battalions in Sulu province. The marines were reassigned to Palawan province.
"The repositioning of units is part of the strengthening of the military forces to address the emerging threats in the region," Barrientos said. "Army units are equally capable in addressing various threats whether man-made or natural such as terrorism, disaster, environmental, and support to law enforcement and many others."
Barrientos said the two units of 1st Infantry Division deployed in Sulu will continue the thrust in "winning the peace" in the province. He said some of the soldiers sent to Sulu are natives of the province who will hopefully be a tool in creating a bridge between the local communities and the military.
"The Command will sustain the gains that the Marine units established during their stint on the island, and the Army contingent will work side by side with the remaining Marine units in Sulu and most importantly with the stakeholders led by the local chief executives and traditional leaders so that peace and development will reign in every community on the island-province," he said.
Barrientos said the soldiers also underwent a series of orientation and lectures, including cultural sensitivity seminars, and custom and traditions of different indigenous tribes in western Mindanao, to familiarize them to their new area of operation.
Internet café off-limits to studes during school days
By Gideon C. Corgue (FPG/GCC/PIA-Zamboanga del Sur)
PAGADIAN CITY, Oct. 15 (PIA) – Elementary and high school students in Barangay Sta. Lucia here are not allowed to enter internet cafes, computer shops and other similar establishments during school hours.
Speaking during the recently held synchronized barangay assembly, Barangay Kagawad Bonifacio Boron Jr., informed the participants of the passage of an ordinance prohibiting the students from entering internet cafes/shops operating in the barangay during school days from 7-11 a.m. and from 1-5 p.m. However, those aged 16 years old and above are allowed to use the internet shops for research purposes.
Boron, the author of said ordinance, seeks to prevent the students from cutting classes and from chronic absenteeism during school days.
The students, Boron said, can make their class assignments and do research between 11 a.m. to 1 p.m. only provided they present permit from their school principal or teachers.
Boron also said any person, who violates the provisions of the law, will be penalized accordingly. "Any violator shall be fined P500 for first offense, P700 for second offense, and confiscation of equipment for third offense," Boron declared.
The proponent has expressed optimism that the ordinance, after being reviewed and approved by the Sangguniang Panlungsod, will be implemented immediately.
"The ordinance will benefit not only the students but their parents as well," Boron stressed.
Meanwhile, the legislator announced that another ordinance was approved by the council regulating the operation of 'videoke singko' machines during nighttime.
The video singko machine is a sound system consisting of a TV monitor, a CD player, a chip for the crawling lyrics and selection gadget appended to a coin outlet, all encased in a wooden box. These machines are portable, and easy to transport to neighborhoods and villages.
Boron said with this law, the loud noise from 'video singko' machines would be properly addressed. He, however, said only a few 'videoke singko' operators have not complied with the law.
"You can now file your complaint with the barangay council if you can still hear loud noise from 'video singko' machines during nighttime," Boron urged.
Synchronized barangay assembly held in Pagadian City
By Gideon C. Corgue (FPG/GCC/PIA-Zamboanga del Sur)
PAGADIAN CITY – All barangays here have complied with the order from the Department of the Interior and Local Government (DILG) to conduct a nationwide synchronized barangay assembly on Sunday to report and discuss important issues with their constituents.
The conduct of the synchronized barangay assembly was made in pursuance of Proclamation No. 260 dated Sept. 30, 2014 issued by the DILG mandating all barangays to hold the same on Oct. 12, 2014.
In Barangay Sta. Lucia here, Punong Barangay Nasser Caubaconducted the said activity at 9:00 a.m. with the council members reporting their respective second semester accomplishments.
Cauba also delivered his State of the Barangay Address (SOBA) highlighting his 2014 firs semester accomplishments including the ongoing programs and projects for this year.
In his SOBA, Cauba gave updates onhis programs involving barangay disaster risk reduction management, solid waste management, peace and order situation, and preventive measures against illegal drugs.
The 2014 barangay budget, statement of income and expenditures and other barangay financial transactions to include the itemized monthly collections and disbursement summary of income and expenditures were also reported by Barangay Treasurer Cherry Canales.
In Balangasan, the largest barangay in the city, havinga total registered voters of 10,300, the barangay assembly was conducted at 3:00 p.m. at the gym led byPunong Barangay Maphilindo Obaob.
Barangay Secretary MetosLibrea reported the first semester accomplishments of all the council members, specifying among others the programs and projects implemented by the council.
Issues and concerns involving peace and order, environmental protection, children's rights and welfare, solid waste management and infrastructure development were also discussed.
Purok President Nestor Vicente of Capitol Heights proposed to the council that the 27 puroks participate in the implementation of programs and projects.
The conduct of synchronized barangay assembly has been closely monitored by DILG personnel to ensure compliance and maximum participation of all barangays here.
Winners of search for "Most Improved Senior Citizen Centers" awarded
By Gideon C. Corgue (FPG/GCC/PIA-Zamboanga del Sur)
PAGADIAN CITY, Oct. 11 (PIA) – The City Social Welfare and Development Office in collaboration with the Federation of Senior Citizen Association of the Philippines (FSCAP) on Tuesday handed cash prizes and plaques of recognition to the winners of the recently concluded search for the most improved senior citizen center, chapter president, association secretary and treasurer during the culmination program of the 20th elderly Filipino week celebration held at covered court, Plaza Luz complex here.
Social Welfare Officer Saramia Ubpon, senior citizens focal person, bared that this year's winners were as follows: Balintawak Chapter as Most Improved Senior Citizen Center, Danlugan Chapter - Most Improved Association, Vicente Lumantas Jr. of San Pedro - Most Improved Chapter President, Resurreccion Pabingwit of San Pedro Chapter - Most Improved Secretary, and Josenio Du of San Pedro Chapter - Most Improved Treasurer.
Ubpon said the search, which started in 2012, is an initiative of CSWD and FSCAP to encourage senior citizen chapters to establish their own centers equipped with facilities to be used by their members during meetings and other activities.
In 2012 and 2013, Ubpon said senior citizen chapters of barangays Balangasan and Tuburan won the much-coveted awards. "In this year's celebration, the duo were no longer allowed to join the search instead, we gave the opportunity for others to make their chapters vibrant and active," Ubpon explained.
FSCAP-Pagadian City chapter has a total of 41 registered active chapters.
Meanwhile, Ubpon was happy with the active participation of almost 1,000 FSCAP members during the culmination program.
"This goes to show that despite their ripe old age, FSCAP members are actively working in our society and considered as the government's genuine partner in nation building," she added.
Ubpon also thanked the city government through Mayor Romeo Pulmones for the generous support extended to the FSCAP, making the elderly Filipino week observance a success.
Teenager shot in Zamboanga Sur
(Mindanao Examiner)
PAGADIAN CITY – A young man was shot dead in an attack in the town of Labangan in the southern Philippine province of Zamboanga del Sur, police said Thursday.
Police said Saidaron Tahir Bago, 19, was only buying cigarettes at a convenience store in the village of Bulanit when a man, armed with a .45-caliber pistol, shot him several times. The gunman fled on a motorcycle after the killing.
Bago, a resident of Tawagan village in Pagadian City, died instantly from the attack.
Police said Bago was shot at least four times without any apparent reason. "The victim sustained gunshot wounds in his head and different parts of the body," said Inspector Dahlan Samuddin, a regional police spokesman.
He said police are investigating the motive of the murder.
Senior citizens show off talents during elderly week culmination
By Gideon C. Corgue (FPG/GCC/PIA-Zamboanga del Sur)
PAGADIAN CITY, Oct. 9 (PIA) – It was a day of entertainment when more than 600 senior citizens from the different barangays flaunted their talents during the culmination of elderly week celebration on Tuesday at the covered court in Plaza Luz here.
Sultan Pangsayan Radi Sr., president of the Federation of Senior Citizen Association of the Philippines (FESCAP)-Pagadian City chapter, said the elderly week celebration last Oct. 1-7 was capped by a foot parade along the city's major thoroughfares.
This year's celebration has for its theme, "Ang Nakakatanda ay Yaman. Katuwang sa Pag-unlad ng Bayan, Pangalagaan Kanilang Karapatan."
"This is the first time that the city's enthusiastic elderlies hold parade around the city," Radi said adding "the weeklong celebration focuses on the vital role of senior citizens and their valuable contributions to our society."
The FESCAP, Radi said, also conducted a free medical mission, gave recognition to six most active FESCAP chapters and organized a whole-day entertainment program for the members to show off their talents before the public.
"Senior citizens were happy to share their talents through songs, dances, poems, etc. during the yearly event," Radi said.
Radi also thanked the local government unit (LGU) through Mayor Romeo Pulmones for actively supporting the said activity by extending financial assistance and helping promote and enforce the rights and wellbeing of the elderly.
Sixty-five-year-old Lumen Abacahin, FESCAP member of Lumbia chapter and former employee of City Agriculturist Office, said she enjoyed seeing her fellow senior citizens – composed mostly of retirees from public and private organization - gathered together. "This is the only day that all senior citizens come together to mingle with each other."
"I hope that the city government and DSWD will continue to support us- the senior citizens - particularly on our rights because when we served the government, we have contributed our knowledge, skills and experience for the improvement of our society," she added.
Bayog town observes Senior Citizens' Week
By Claro A. Lanipa
BAYOG, Zamboanga del Sur, Oct. 8 (PIA) – To pay tribute to elderly persons for their contributions to the community and in nation building, the municipal government here has feted the senior citizens with a program at the municipal gymnasium to mark the start of the Senior Citizens' week celebration last Oct. 1.
In his inspirational message, Mayor Leonardo L. Babasa, Jr. reiterated the salient provisions of Republic Act 9994, better known as the "Expanded Senior Citizens Act of 2010," that provides more benefits and privileges to elderlies.
Under this law older persons are entitled to 20% discount on the purchase of certain goods and services. Special 5% discount on prime commodities and basic necessities, and 5% utility discount on electric and water consumption.
On top of these, eligible indigent senior citizens are also entitled to a monthly social pension of P500 under the government social pension program implemented by the DSWD.
It can be recalled that Presidential Proclamation No. 470 has declared every first week of October each year as "Elderly Filipino Week."
This year's theme is "Nakakatanda ay Yaman, Katuwang sa Pag-unlad ng Bayan, Pangalagaan Kanilang Kapakanan."
Some 700 senior citizens from the municipality's 28 barangays turned up in said activity with Vice Mayor Celso Matias and some members of the Sangguniang Bayan.
To make the program more entertaining and lively, different games and contests were given to the participants by the Municipal Social Welfare and Development Office (MSWDO) led by Gloria Magtortol.
PDEA taps village officials in anti-drug campaign
By Bong Garcia
THE Philippine Drug Enforcement Agency (PDEA) is tapping the assistance of village officials to help them in the campaign against illegal drugs in Zamboanga Peninsula.
PDEA Regional Director Joseph Ladip said village officials will be of big help in the campaign against prohibited drugs, as "they are the first line of defense and know the people in the community."
Ladip said the involvement of the village officials will further strengthen the campaign against prohibited drugs.
Ladip said they can help in the conduct of preventive education and community involvement program against the use of prohibited drugs.
He said the preventive education include the conduct of seminars in the villages as well as in schools.
PDEA-Zamboanga Peninsula covers the provinces of Zamboanga del Norte, Zamboanga del Sur, Zamboanga Sibugay, Basilan, Sulu, and Tawi-Tawi and this city.
12 Mindanao student writers win top awards
By A. Perez Rimando
PAGADIAN CITY, Zamboanga del Sur—Twelve student journalists from Mindanao, four of them from Zamboanga Peninsula, topped the writing and radio broadcasting contests during the recent National Schools Press Conference (NSPC) held by the Department of Education in Olongapo City.
Education Undersecretary Alberto T. Muyot through Memorandum 75, s. 2014 received by Region 9 Director Malcolm S. Garma, the annual NSPC for campus journalists and school paper teacher-advisers from 16 regions, identified the winning high school (HS) students as Johanna Dejito of Davao city who placed first in English (E) news writing; Revy Marata of Zamboanga del Sur, in (E) copy reading and headline writing; Raul Eguia of Dipolog City, in (E) photojournalism; Fainor Taug of Pagadian City, in Filipino (F) feature writing ; Bonna Claire Baliola of Zamboanga del Norte, in (E) best news presenter; and Madeline Arbis of Butuan City, in (F) best news presenter.
Ranked No. 1 in the elementary level was Surigao City's Kristina Angela Jao in (E) editorial writing; Mati City's Gerald Zaspa, in (E) sports writing; Koronadal City's Nelsie Noserale, in (F) editorial writing; Cabadbaran City's Janrove Alvez, in (F) photo journalism; Cabadbaran's Josie Lastimosa, in (E) best anchor, and Agusan del Sur's Michel Tumulak, in (F )best anchor.
Also cited were Mati City's Allyster Astronomo, Davao del Sur's Mary Claire Marcos, and Agusan del Norte's Gessel Mae Hacan for second in (E) sports writing, in (F) health writing, and in (F )best presenter, respectively.
For the individual category, the winners were Koronadal's Fennie Inocencio in (E) editorial writing, Maguindanao's Denise Tonatos in (E) news writing, Bislig's Andres Basalo in (E) news writing, and Agusan del Sur's Denika Soberano in (F) best presenter.
Tagum's "The Harbinger" was named best school publication followed by Zamboanga del Norte's "The Singkulong", and Dapitan City's "The Equalizer."
Cops, gunmen clash off Zambo Sur
By Bong Garcia
SECURITY has been strengthened at the municipal waters of San Pablo, Zamboanga del Sur following a firefight between sea watchmen and gunmen involved in illegal fishing, an official said.
Police Regional Office-Zamboanga Peninsula (PRO) Information Officer-in-Charge Inspector Dahlan Samuddin said the firefight took place around 11:20 p.m. near Ticala Island, San Pablo town.
Samuddin said the gunmen opened fire when the police forces and sea watchmen led by San Pablo Councilor Ernesto Utlang were checking the reported illegal fishing activity in the area.
Samuddin said this prompted the lawmen to return fire, thus, the brief firefight ensued.
The gunmen aboard two motorized bancas fled towards the seawater of the nearby town of Dimataling upon sensing the arrival of reinforcement, Samuddin said.
No casualties were reported on both the lawmen and the outlaws.
Troops, police intercept rice smugglers in Zamboanga del Sur
(JDS, GMA News)
A joint team of police and military personnel intercepted four trucks loaded with allegedly smuggled rice at a Zamboanga del Sur port, the Army's 1st Infantry Division said.
According to a press statement, members of the 53rd Infantry Battalion and Margosatubig Municipal Police Station conducted the raid on sacks of rice offloaded from M/L Amesia in the town's port last week.
"The combined forces of military and police [then] established [a] blockade at the gate of the sea port to avoid pilferage or loss of the intercepted contraband," the division said.
The 7,689 25-kg sacks have been transported to Pagadian City. The rice, valued at P8 million, will be kept at the National Food Authority while the Bureau of Customs conducts an investigation.
M/L Amesia has meanwhile been escorted to Zamboanga City by a Navy patrol boat. The Customs bureau will have custody of the cargo ship once it reaches port, the division said.
"The successful operation was a result of information given by [a] concerned citizen about a suspicious sea vessel floating in Margostubig waters," Lt. Col. Alvin Luzon, commanding officer of the 53rd IB, said.
DENR-9, Ramon Magsaysay town ink MOA on Bambusetum establishment
By Franklin P. Gumapon (FPG/PIA9)
RAMON MAGSAYSAY, Zamboanga del Sur, Oct. 2 (PIA) – A memorandum of agreement (MOA) between the Department of Environment and Natural Resources (DENR)-9 and this town has been signed here yesterday for the establishment of a "Bambusetum" in the municipality with Regional Director Arleigh Adorable and Mayor Leonilo D. Borinaga Sr. as signatories.
Once completed, this Bambusetum (a bamboo demonstration area) is the second in region 9; the first one was set up in a one-hectare lot in Pasonanca, Zamboanga City.
In his welcome statement, Mayor Borinaga said that bamboo is the municipality's one town, one product (OTOP), as it is producing a variety of bamboo crafts such as "sawali" (woven split bamboo mats), baskets, furniture and many others.
Borinaga also disclosed that this bamboo craft making in his town has been in existence for more than 50 years now since it was introduced by people from Cebu and Siquijor who migrated here.
The municipality will soon be producing engineered bamboos for floor tiles, furniture, tabletops and wall panels, as the Department of Trade and Industry (DTI) has allotted some P3.5 million for the procurement of machineries for the purpose.
To encourage the locals to go on bamboo production, the Technology Transfer Division (TTD) of DENR's Ecosystems Research and Development Service (ERDS) is now conducting a two-day forum on bamboo production and utilization with the members of Ramon Magsaysay Bamboo Association (RAMAGBA) and those living in the municipality's flood-prone areas as participants. The said forum will end today.
Speaking before the participants, ERDS Regional Technical Director Gil Ona told them "bamboo is now called 'green gold of the century' as a potential export commodity."
Subscribing to Ona's statement, Director Adorable has encouraged the participants to plant bamboos to ensure a continuous supply for the bamboo craft industry in the municipality.
DTI boosts Zambo Sur bamboo industry
By Bong Garcia
THE Department of Trade and Industry (DTI) has released Wednesday P3.4 million worth of equipment and machines to boost the Bamboo Industry in the Municipality of Ramon Magsaysay, Zamboanga del Sur.
DTI-Zamboanga del Sur Provincial Director Ma. Socorro Atay said the equipment and machines were released during the launching of the Bamboo-based products at a nursery in Ramon Magsaysay.
Atay said the equipment and machines they released include wood-fired kiln drier, twin rip saw, bamboo pole cutter and laminating press with pneumatic cylinder.
Atay said the beneficiary of the equipment and machines is the Ramon Magsaysay-based cooperative engaged in the production of furniture and other products made of bamboo.
Department of Environment and Natural Resources Bamboo Specialist Gregorio Santos has likened Bamboo to a coconut.
Santos said if the coconut is dubbed as the "tree of life," bamboo too can be considered as one "because every part of bamboo, like coconut, is useful."
Santos said that there are at least 200 species of bamboo in the country.
Meanwhile, the DTI has conducted "Pulong-Pulong sa Industriya sa Kawayan" in Pagadian City as part of the agency's consultation and at the same time an education and information campaign to Bamboo Industry stakeholders.
The activity was held in partnership with the DENR, Department of Agriculture, Department of Education, Department of Science and Technology, Department of Labor and Employment, Department of Agrarian Reform, and Technical Education Skills and Development Authority.
The older news reports are kept here.