Zamboanga Del Sur News
From Zamboanga.com :Portal to The Philippines
Province of Zamboanga del Sur - Archived News of Zamboanga del Sur
---

Seal of Zamboanga del Sur Province
Interactive Google Satellite Map of Zamboanga del Sur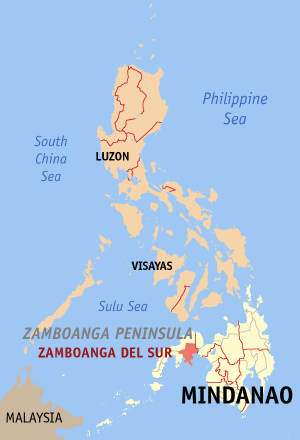 Zamboanga del Sur Map Locator

Municipalities within Zamboanga del Sur

Provincial Capitol of Zamboanga del Sur

Provincial Capitol of Zamboanga del Sur, Santo Niño, Pagadian city
Lapuyan Falls: The favorite haunt of the fair Subanen maidens of Sitio Baga and all its neighboring areas, usual meeting place with many a young country swain in some secluded cavern beneath the rocky forest lane.

Lakewood, Zamboanga del Sur, Philippines

Village of Pedagan

Lintugop, Aurora
Pagadian City, Zamboanga del Sur

Provincial human resource management office of santo niño pagadian city

Civil Service Commision office in santo niño pagadian city
Troops complete disaster training
By Bong Garcia
A TOTAL of 40 personnel from the Zamboanga del Sur-based Army's 53rd Infantry Battalion have completed a 20-day Disaster Response Operations Training (DROT) training, an official announced.
Army's 53rd Infantry Battalion commander Lieutenant Colonel Alvin Luzon said those who completed the training held from October 6 - 27 comprised of four officers and 36 enlisted personnel.
The training were held in separate areas such as in Camp David that houses the Army's 53rd Infantry Battalion Headquarters in the town of Guipos; Tukuran beach; and, selected high rise building in Pagadian City.
Luzon, who acted as the course director, said the training covered topics like first aid and basic life support, actual rescue and disaster relief operations.
Luzon said they conducted the training to capacitate the troops with the knowledge on disaster response operations and management aside from combat operations.
He said they have "to prepare our troops to be the first responders because the disasters are now happening everywhere, as the world has changed because of climate change."
The training was conducted in partnership with the Zamboanga del Sur provincial government through the Provincial Disaster Risk Reduction Management council (PDRRMC); Bureau of fire Protection (BFP); Office of Civil Defense (OCD); and, the Philippine National Red Cross (PRC)-Pagadian City-Zamboanga del Sur Council.
Farmer killed in Zamboanga del Sur
By ANTHONY VARGAS
A FARMER was beheaded by a still unidentified man while on his way home Wednesday night in a remote village in Zamboanga del Sur. Reports reaching the Philippine National Police operations center in Camp Crame named the victim as Jorge Mendoza of Barangay Tungawan in Sominot town. The reports said the victim was killed at about 8:30 p.m.
LEADERSHIP SUMMIT
(PIA, Manila Bulletin)
Bayog, Zamboanga del Sur – Some 140 residents, aged 15-30 years old from 28 barangays here, participated in the five-day Youth Leadership Summit held recently at Glupa Gulian Agro-Tourism Park, Function Hall, Kahayagan, here. The summit, with the theme "Lihok Kabataan Alang sa Kalinaw ug Kalamboan (Youth Acts towards Peace and Development)," was held by the local government of Bayog in coordination with Charlie Company, 44th Infantry Battalion, Philippine Army. The topics discussed in the event were Family and Community, Role of the Youth, Fire Prevention, RA 10121-An Act strengthening the Philippine Disaster Risk Reduction and Management System, Human Rights and Children's Rights, Criminality and Drug Addiction and Prevention, Environmental Protection, Leadership and Interpersonal Communication, the truth about CNN, IPSP "Bayanihan," Mural Painting/Team Logo Making, Strengthening Team Spirits, Community Situation Awareness, Community Needs Assessment and Action Planning.
PhilFIDA urges farmers to plant more abaca
(MVC/DTI-9)
Philippine Fiber Industry Development Authority OIC-Executive Director Eduardo Holoyohoy urged farmers and those engaging in agriculture to plant more abaca and take advantage of a bigger share of the market as Ecuador announced it is reducing its production by 7,000 metric tons.
Dir. Holoyohoy, in a press conference during the opening of the Zamboanga Peninsula Trade Exposition (ZAMPEX) 2014, said "We are really encouraging our farmers to increase their production of abaca as Ecuador, the only other source of loose abaca fiber, announced that they will be reducing their production by as much as 7,000 metric tons next year".
Philippines is supplying 80% of the total loose abaca fiber in the world market, leaving the 20% to Ecuador. But with its recent announcement, there is no other recourse but for the Philippines to increase abaca production to grab the opportunity and supply the global demand.
PhilFIDA records show the country has shipped a total of 275,578.70 bales of commercial abaca fiber from January to July this year, equivalent to 34,447.3375 metric tons. Last year, the agency reported 389,039.70 bales of commercial abaca fiber or 48,629.96 metric tons exported.
Holoyohoy said abaca fiber is in demand world-wide, mentioning United Kingdom and Japan as two of the country's major abaca fiber markets.
"Japan is using our abaca fiber for their paper bills. They have increased the fiber content of the Japanese Yen to 60% as it makes counterfeiting very difficult. The new Philippine peso bill, on the other hand, uses 30% abaca fiber content. United Kingdom, on one hand, uses the abaca fiber for ropes or cordages", he explained in previous meeting.
With Ecuador's announcement, Holoyohoy said the Philippines would be increasing its dominance in the world market, and that the country should be ready to supply the demand abroad.
"By increasing our production as early as this year, we will be increasing our market dominance and supply the demand in the world market", Holoyohoy said.
The Department of Trade and Industry-9 has identified abaca as one of the six regional champion products as approved by the Regional Development Council-9 in 2011.
As per data from PhilFIDA-9, Zamboanga Peninsula Region, which also includes the island provinces of Basilan, Sulu, and Tawi-Tawi, produced 529.66 metric tons of loose abaca fiber last year. However, it was down from the 644.86 metric tons produced in 2012 or 17.86% decrease, due to infestation.
PhilFIDA, nevertheless, is still optimistic that the figure will improve this year as disease management initiatives were already implemented to avoid contamination of other abaca plantations in the region.
DOLE-ZamboSur implements TUPAD project in V. Sagun
By Claro A. Lanipa (ALT/CAL/PIA9 with reports from DOLE-ZdSFO)
VINCENZO SAGUN, Zamboanga del Sur, October 27 – The Department of Labor and Employment (DOLE) Zamboanga del Sur Field Office, in partnership with the local government unit here recently implemented the Tulong Panghanapbuhay sa Ating Displaced/Disadvantaged Workers (TUPAD), a project under the DOLE Integrated Livelihood and Emergency Employment Program (DILEEP).
DOLE Zamboanga del Sur chief Ms. Lourdes Amores said the program aims to address poverty reduction through eco-tourism projects which benefit the poor and marginalized workers in the locality.
This convergent project is also designed to conserve the environment and improve the well-being of the local people by rehabilitating the road including canal dredging and tree planting going to Ambulon Beach, an identified tourist spot of the municipality.
Amores said her office has allocated P444,000.00 for the payment of salaries, provision of personal protective equipment (PPEs) and insurance coverage of 60 TUPAD beneficiaries most of whom are farmers and fishermen of barangays Ambulon and Limason for a period of 22 days.
As a result of the successful implementation of the said project, the Limason-Ambulon road leading to the beach is now more passable by four-wheel transportation. The cottages along the beach were likewise repaired and rehabilitated.
Indeed, the project did not only generate transitional emergency employment for the vulnerable sector in the area, but also served as a vehicle towards community empowerment, making its natural resources accessible to the public.
In the long run, if this initiative is sustained by the populace, it would bring positive economic change in terms of additional income to the municipality and social services to the community.
PAGASA: Thunderstorms over Central Visayas and Mindanao
By Bianca Rose Dabu /LBG (GMA News)
Some parts of Mindanao and the Central Visayas are experiencing thunderstorms, state weather agency said Sunday.
In its 1:10 p.m. advisory, PAGASA said Davao and Caraga Regions, the Zamboanga Peninsula, and a portion of Northern Mindanao would have thunderstorms.
Also, it said the weather condition – particularly affecting Zamboanga del Norte, Zamboanga del Sur, Agusan del Norte, Agusan del Sur, Bukidnon, Davao del Norte, and Davao del Sur – may persist for the one to two hours.
Meanwhile, a thunderstorm is expected over Bohol in Central Visayas in the next two hours, particularly in the towns of Sagbayan, Inabanga, Clarin, Tubigon, Calape, Bilar, Dimiao.
Cebu province, also in Central Visayas, and other nearby areas will also experience thunderstorms.
On the other hand, light to moderate with occasional heavy rain is affecting Metro Manila and the province of Quezon. The weather condition may persist for an hour.
Raps not true, VP swears to God
By Helen Flores, Roel Pareño (The Philippine Star)
MANILA, Philippines - Vice President Jejomar Binay invoked Divine Providence and said the corruption allegations against him are not true.
"I just want to tell all of you, to God and people, that I'm not the owner of that property. Even the piggery, they say it's air-conditioned, that's the first time I've heard of that," Binay said in Filipino in an interview with radio dxCA on Thursday.
Binay also appealed to Filipinos to rally behind him amid what he said were the escalating personal attacks against him and his family.
Binay issued the statement during his visit to Pagadian City on Thursday to attend the 11th Rovers Moot of the Boy Scouts of the Philippines.
Binay made the statement in reference to allegations that he owns a 350-hectare farm in Rosario, Batangas through a businessman dummy.
Binay admitted owning a piggery and a flower farm – inside the nine-hectare portion of the property – but said he sold his shares to JCB Farms when he won the vice presidency in 2010.
Binay earlier said he chose to answer all the corruption allegations thrown at him by some senators directly to the people instead of attending the ongoing Senate investigation.
He branded the Senate investigation on him as a "kangaroo court."
"They are prejudiced. It's a kangaroo court. They already have the decision. They are not investigating …their intention really is to discredit me," he said.
"The senators are excessively pounding on me, you should have seen their demeanor, they really wanted me destroyed… I pity the witnesses in the investigation," Binay said.
Binay lauded businessman Antonio Tiu, who stood pat in maintaining that he was the owner of the 350-hectare property despite how he was grilled by the senators.
He challenged Sen. Antonio Trillanes IV to bring out the truth on the allegations, which he said are part of a demolition job.
On Tuesday, Binay challenged Trillanes to a one-on-one debate.
Binay said he wants to debate Trillanes so he can answer the allegations against him point by point.
Spokesman Cavite Gov. Jonvic Remulla said the Vice President has no plans of attending the "farcical" Senate Blue Ribbon subcommittee hearing as the senators conducting the hearing have already "prejudged" him.
Binay noted the Senate Blue Ribbon committee itself, led by Sen. Teofisto Guingona III, the mother committee of the panel investigating the allegations against him, will issue the invitation.
He said he is still considering whether to appear before the probe.
"I heard that the mother committee will be the one to lead it. I can't call it an investigation, but I think it's just a forum (to malign me)," Binay told a press conference in Pagadian City last Thursday. "Let's wait for developments and we'll talk about it."
Guingona said on Wednesday they will invite Binay to the ongoing investigation into the corruption allegations against him.
Guingona assured Binay the panel will give him fair treatment, respect and opportunity to answer the accusations he is facing.
Binay joined local officials in a boodle fight at the Pagadian Public Market.
He recounted during their meal two elderly women approached him and were teary eyed because of the extreme accusations hurled against him.
Binay, meanwhile, thanked the people of Mindanao for their continued support for him and his family as he urged people not to listen to baseless lies and accusations.
"Let us stay together. To all the towns and cities, thank you for all your support. It started in 2010, you continued to support us with Senator Nancy Binay, now I appeal to you, please don't believe these false accusations against me," the Vice President said.
Zambo Sur guv declares war on illegal gambling
By Bong Garcia
ZAMBOANGA del Sur Governor Antonio Cerilles has declared war against all forms of illegal gambling and ordered an intensified campaign against all kinds of numbers games in the province.
Cerilles' order came as he reconstituted last Monday the Task Force on Anti-Illegal Gambling to run after financiers and supporters of all forms illegal gambling in the province' one component city and 26 municipalities.
The task force was reconstituted through Executive Order 10 penned by Cerilles.
Ceriiles has named Provincial Board Member Ernesto Mondarte, who chairs the Committee on Peace and Public Safety, as the new task force head with Zamboagna del Sur Police Director Sofronio Ecaldre as the vice-chairman.
Designated as the task force members are lawyers Attorney Cleto Edralin and Johnabel Tabunda, Department of Justice (DOJ) representatives; Fr. Leslie Bataoel and Fr. Gilbert Hingone, religious sector representatives; and Adriano Durano III, business sector representative.
Cerilles ordered the task force to conduct relentless campaign against all forms of illegal gambling, citing he envisions the province to be 100 percent free of illegal gambling.
Cerilles noted that there are still illegal gambling, especially "swertres, video karera and horse fighting," that exist in some parts of the province.
Shopping center burglarized
By Eugene A. Lasprilla
A shopping center was ransacked by unidentified burglars who stole assorted jewelry in Pagadian City, Zamboanga del Sur, on Tuesday.
Police Regional Office 9 (PRO9), Office in-charge of the Public Information Office (OIC-PIO) Inspector Dalhan Samuddin said the People Plaza Shopping Center was burglarized by a lone intruder who carted away 925 assorted silver Italy necklaces and bracelets amounting to P210,000 more or less.
Samuddin said the still unidentified man hid inside the store before it was closed and ransacked the place. The robbery was discovered at about 7 a.m. of Tuesday.
Police said the suspect destroyed the padlock of the cubicle stand were the jewelry were placed and took the items.
Further, the suspect ate a piece of cake, 3 lollipops and drank sterilized milk at the grocery section.
Samuddin added that the suspect exited from the 4th floor of the building by tying several clothes which he used as a rope to escape.
Police disclosed that Pagadian City Police Station is conducting further investigation to establish the identity of the suspect for his arrest.
6 rescued from human trafficking
By Roel Pareño (philstar.com)
ZAMBOANGA CITY, Philippines - Police authorities last week rescued from human trafficking at least six females, including five minors, in a karaoke bar in a town in Zamboanga del Sur.
Police Inspector Dahlan Samuddin, public information chief of Police Regional Office 9, said the victims were rescued by the combined police operatives of Siay and Pitogo towns and social welfare development personnel in the karaoke house owned by a certain Gloria Pacatang alias Nining and Sita Mandano in Pitogo town.
Samuddin the said the rescued victims were aged 16 to 20 and came from Pagadian City, Zamboanga del Sur, and nearby towns of Siay and Pitogo.
Police investigation disclosed that the victims were reportedly recruited without the parents' consent and worked in a karaoke bar.
The rescued victims were provided stress debriefing by the social welfare office before they were turned over to their respective families.
Would-be trafficking victims rescued
By Bong Garcia
JOINT police and social welfare personnel have rescued six would-be victims of human trafficking in the province of Zamboanga del Sur, the police reported Tuesday.
Inspector Dahlan Samuddin, Information Officer-in-Charge of the Police Regional Office-Zamboanga Peninsula (PRO-9), said the would-be victims were rescued around 7:30 p.m. at a karaoke house in the village of Poblacion, Pitogo, Zamboanga del Sur.
Samuddin said the rescue came after the parents of two of the six would-be victims, who are from Siay, Zamboagna Sibugay, reported to the police that their daughters were recruited without their consent.
Samuddin withheld the identities of the rescued youths except to say that the oldest is 20 years old while the youngest is 16 years old.
They are from the provinces of Zamboanga Sibugay and Zamboanga del Sur, according to Samuddin.
The rescued minors are presently under the custody of Pitogo police and Municipal Social Welfare and Development Office for further counseling prior to their turn-over to their respective families, he added.
The older news reports are kept here.