Zamboanga Del Sur News
From Zamboanga.com :Portal to The Philippines
Province of Zamboanga del Sur - Archived News of Zamboanga del Sur
---

Seal of Zamboanga del Sur Province
Interactive Google Satellite Map of Zamboanga del Sur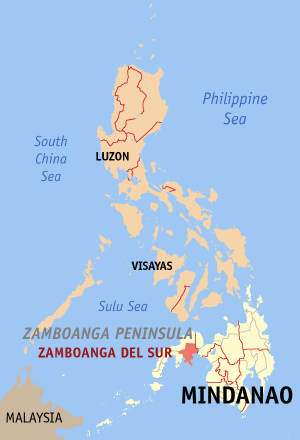 Zamboanga del Sur Map Locator

Municipalities within Zamboanga del Sur

Provincial Capitol of Zamboanga del Sur

Provincial Capitol of Zamboanga del Sur, Santo Niño, Pagadian city
Lapuyan Falls: The favorite haunt of the fair Subanen maidens of Sitio Baga and all its neighboring areas, usual meeting place with many a young country swain in some secluded cavern beneath the rocky forest lane.

Lakewood, Zamboanga del Sur, Philippines

Village of Pedagan

Lintugop, Aurora
Pagadian City, Zamboanga del Sur

Provincial human resource management office of santo niño pagadian city

Civil Service Commision office in santo niño pagadian city
By Gideon C. Corgue (FPG/GCC/PIA9-Zamboanga del Sur).
PAGADIAN CITY, July 23 (PIA) – Civil Military Operations (CMO) officers from the 1st and 6th infantry battalions of the Philippine Army (PA) have attended the Public Affairs Seminar-Workshop held on July 16-18 at Farmer's Haven in Dao, this city.
The training sought to develop the skills of CMO officers in handling public affairs programs in their respective areas of responsibility.
In his message, Colonel Thomas Sedano Jr., executive officer of the Ofice of the Assistant Chief of Staff for CMO-Manila, said the higher command sees the need for the CMOs to be trained in public affairs, as they play a very important role in the community.
Sedano added the CMOs were taught how to write press releases , utilize social media, conduct media interview/press conferences with invited lecturers from the Philippine Information Agency (PIA)-9 and the private media.
"This kind of training has been conducted for the first time in the different brigades and battalions in Luzon, Visayas, and Mindanao. For Luzon-based units, the training was held in June at Fort Bonifacio, Metro Manila, followed by the EastMincom in Davao City and WesternMindanao in Pagadian City, this July. While for the Visayas-based units, it will be held on last week of this month," he added.
Lt. Leo Baloja, CMO of 55th Infantry Battalion, said he learned from the training the techniques in newswriting and proper procedures in conducting media interview. "With the knowledge that I've learned during the seminar, I will impart it to my fellow CMOs in the lower units for them also to effectively perform their duties," stressed Baloja.
"I hope that this activity will be held annually to ehance our skills in public affairs," Baloja suggested.
Lt. Mayven Prima, CMO of 53rd Infantry battalion, thanked the higher headquarters for implementing the program saying, "we have learned the proper techniques in writing news."
"The training helped us develop our our skills in performing our tasks and duties. We need to keep our stakeholders informed of the programs and activities of Philippine Army through our good press releases," Prima concluded.
Tambulig launches Climate Change Advocacy Campaign
By Claro A. Lanipa (FPG/CAL/PIA9 with reports from Nilo Munoz/PIO-designate of Tambulig)
TAMBULIG, Zamboanga del Sur, July 22 (PIA) – To get his constituents ready for the new weather phenomenon, Mayor Caridad B. Balaod of this town and other municipal officials have launched on Friday, July 18, a Climate Change Advocacy Campaign (CCAC).
All the municipal officials and employees were wearing the CCAC brand T-shirt in the said activity, which joined by the personnel of the Philippine National Police (PNP) led by Chief Inspector Benjamin Napigkit and the personnel of the Bureau of Jail Management and Penology (BJMP) headed by the Municipal Warden, SJO4 Aladin Salinding.
The activity started by putting up and establishing CCAC brand billboards in strategic areas within the poblacion, the barangays along the national highway and at the municipal integrated bus/jeepney terminal, aimed at generating public awareness on climate change adaptation and resiliency.
In the afternoon of the same day, the municipal officials and employees together with some 220 ROTC cadets from JH Cerilles State College brought along CCAC brand streamers (PUNUAN), as they joined the tree planting activity at barangay Upper Lodiong. Some 1,000 mahogany trees were planted along the road of said barangay.
The event ended with a radio program "Ikaw ug ang Palibot Karon" (You and the environment today) hosted by Municipal Disaster Risk Reduction Management Officer designate Nilo A. Munoz over DXDC-FM Radio, a local radio station operated by the LGU.
CCAC radio plug, "Nagbabago na ang Panahon, Panahon na para Magbago… Nagbago na Ako" is also being aired daily over the same station.
MCN to conduct infocars in Sominot, Talusan towns
By Jocelyn P. Alvarez
ZAMBOANGA CITY - Various agencies of government are going to troop down to the remote municipalities of Sominot in Zamboanga del Sur and Talusan in Zamboanga Sibugay in an information caravan on July 24 and 25, respectively.
Participating agencies will bring along their respective programs, projects and services direct to the townsfolk during the said activity.
Immediate assistance such as free medical consultation, minor surgery and dental services will also be provided including distribution of medicines for common illnesses.
Prior to this activity, a meeting with the Municipal Action Teams (MATs) of these municipalities was held to gather firsthand the specific needs and problems of the people in the area.
These needs and problems are to be addressed during the information caravan by the government agencies concerned.
In the need analysis, people from these towns have indicated that they need certain infrastructures, livelihood assistance and skills development training, medical and dental services, supplemental feeding and many more.
The information caravan is being spearheaded by the Mindanao Communicators' Network (MindaComNet) Inc. in partnership with the Regional Development Council (RDC) IX through the Regional Communication and Advocacy Plan – Technical Working Group (RCAP-TWG).
Philippine Information Agency (PIA)-9 Regional Director and MindaComNet President Noemi Edaga said close to 30 government agencies will be bringing in their services to these two municipalities.
"Given that these municipalities are seldom visited by government agencies, we take this opportunity to deliver medical services as well as other available government interventions and programs," she said.
Typhoon 'Henry' slows down
By Ellalyn De Vera
Typhoon "Henry" (international name "Matmo") has slowed down but maintained its strength as it continues to move northwest over the Pacific Ocean on Sunday noon.
The Philippine Atmospheric, Geophysical and Astronomical Services Administration (PAGASA) said the eye of the typhoon is at 420 kilometers (km) east-northeast of Borongan, Eastern Samar at around 10 a.m. Sunday.
It has maintained its maximum sustained winds of 120 kilometers per hour (kph) near the center and gustiness of up to 150 kph.
It also continued to move northwest but slower at 13 kph.
If it maintains its present speed and direction, typhoon "Henry" will be at 440 km northeast of Virac, Catanduanes by Monday morning.
By Tuesday morning, it will be at 360 km east-northeast of Aparri, Cagayan and at 210 km north-northwest of Basco, Batanes by Wednesday morning.
It may not make landfall over the country but the typhoon is expected to bring moderate to occasional heavy rains and thunderstorms over Biliran, Eastern Samar, Leyte, Northern Samar, Samar, Southern Leyte, Albay, Camarines Norte, Camarines Sur, Catanduanes, Masbate, Sorsogon, Dinagat Islands, Siargao Island, and Surigao del Norte.
PAGASA warned residents in these areas against possible flashfloods and landslides due to heavy rains.
The enhanced southwest monsoon will bring cloudy skies and light to moderate rain showers and thunderstorms over Metro Manila, Oriental Mindoro, Occidental Mindoro, Marinduque, Romblon, Palawan, Cavite, Laguna, Batangas, Rizal, Quezon, Agusan del Norte, Agusan del Sur, Surigao del Sur, Zamboanga del Norte, Zamboanga del Sur, Zamboanga Sibugay, Bukidnon, Camiguin, Lanao del Norte, Misamis Oriental, and Misamis Occidental.
Fisherfolks and those with small seacrafts were advised not to venture out over the eastern seaboard of Bicol Region, Visayas and Mindanao due to big waves generated by the typhoon.
Pagadian City to host 'Batang Pinoy' Mindanao qualifying leg
(PNA), JBP/TPGJR/HIROHITO D. CADION/PJN
PAGADIAN CITY, Zamboanga del Sur, July 19 (PNA) -- This city is playing host to this year's "Batang Pinoy" Mindanao qualifying leg.
The sports event, which is scheduled to be held from September 10-14, more than 5,000 athletes from across Mindanao will see action in the different athletic competitions.
Provincial Information Officer Marivic Jongco said Gov. Antonio Cerilles and the Philippine Sports Commission (PSC) represented by Commission Jose Luis Gomez and Atty. Jay Alano have signed a Memorandum of Agreement (MOA) for the conduct of the sports event here.
The "Batang Pinoy" is a sports activity for children 15 years old and below.
It is a program of the PSC to address the need for a comprehensive grassroots sports program centered on values formation inherent in the practice of sports and to eliminate the child's chances of becoming juvenile delinquent.
Meanwhile, Jongco said that another MOA was signed by Cerilles and the PSC officials making this city as the national headquarters for the Sepak Takraw National Team.
P49-M needed to open science high school
By Bong Garcia
AN OFFICIAL of the Department of Science and Technology (DOST) said that at least P49 million fund is needed to open a Philippines Science High School (PSHS) in Zamboanga Peninsula.
Martin Wee, DOST's assistant regional director for administrative support and technical services, said the P49 million will be spent for the construction and operation of the science high school.
Wee said the funding will be used to construct the building and facilities, including an academic building, a dormitory, and a laboratory.
He said the funding will come from the DOST, which will manage the PSHS.
An evaluation team headed by DOST Undersecretary Fortunato Dela Peña has already inspected last week the two proposed sites where to establish the science high school.
One of the proposed sites is at the Zamboanga City Special Economic Zone and Freeport (Zamboecozone) at Barangay Talisayan, Zamboanga City and at Dumalinao, Zamboanga del Sur.
Zamboanga Peninsula is among the three regions in the country that do not have science high school.
The other two regions are Calabarzon and Mimaropa.
Tour guide training held
By Gideon C. Corgue (FPG/GCC/PIA9-Zamboanga del Sur)
THIRTY-SEVEN individuals and members of an adventure group have undergone a week-long Eco-Guides/Mountain Guides training conducted by the Department of Tourism (DOT) in Pagadian City, Zamboanga del Sur.
DOT Regional Director Mary June Bugante said the training was designed to accredit eco-guides and mountain guides, specifically for Mt. Timolan.
Mt. Timolan is the highest peak in Zamboanga del Sur and is one of the tourist destinations in the Zamboanga Peninsula region. It has an area of 2,691,189 hectares, spanning in six barangays in the municipality of Tigbao and one each in Guipos and San Miguel towns.
Bugante said the participants of the training were residents of seven of the 18 villages of Tigbao, Zamboanga del Sur, and members of the Pundok sa Aktibong Pagadianong Adbenturero organization of Pagadian City.
Some of the topics include gender and development, overview of the Philippine tourism industry, history and culture, effective customer service and tour guiding techniques, childwise tourism and sustainable tourism and ecology.
Also discussed were flora and fauna and bird watching, introduction to mountaineering, basic caving, compass and map reading and wilderness emergencies and jungle survival.
The resource speakers were Marilou Silorio and Wenceslao Galeza of the DOT regional office; Mr. Roderick Gonzales of DOT central office; Renefe Tremedal of the National Commission for Culture and the Arts; Jaime Barrientos, a DOT-accredited speaker for tour guiding accreditation; Evangeline Estoconing of the Department of Environment and Natural Resources; Anthony Arbias and Adrian Constantino of the Wild Bird Club of the Philippines; and, Edwin Aguilar, Melchor Padilla and Larry Andres of the Makati City Disaster Risk and Response Management Office.
Bugante said they will also conduct a similar workshop on cave guiding for Zamboanga del Norte.
Health fair for IPs held in Dumingag town
By Gideon C. Corgue (FPG/GCC/PIA9-Zamboanga del Sur)
DUMINGAG, Zamboanga del Sur, July 16 (PIA) – To reduce poverty and address issues concerning the rights of cultural minority groups, the United Nations Population Fund Program (UNPFA) and European Union (EU) in coordination with Rural Health Unit successly conducted a two-day "Health Fair" in barangays Ditulan and Upper Landing on July 11-12, respectively.
The UNPFA, a UN organization whose work is to promote the right of every woman, man and child to enjoy a life of health and equal opportunity and the EU, the funding agency, have been continuously supporting the implementation of maternal, neonatal, child health and nutrition (MNCHN) program in the municipality.
IP-MNCHN program manager Dr. Cenelli Bernadette Sabay of the UNPFA, said "the activity is part and parcel of the MNCHN Project Mindanao implemented in Dumingag in October, 2012."
The event involves the UNPFA as a major implementing partner on reproductive health concerns.
The UNFPA, which will run from 2012-2016, is funded by the EU.
Sabay said the event aimed at contributing to significant, sustainable improvement in maternal and child health towards meeting the Millineum Development Goals 4 and 5, to reduce child mortality and improve maternal health by 2015.
Capping the event were the turnover of medical equipment and FP commodities to Rural Health Unit/Birthing Facility, distribution of certificates of live birth to 493 recipients from six IP barangays, lecture on IP rights, birth registration, and gender-based violence, provision of medical and dental health services, mobile birth registration, family planning and reproductive health session, and distribution 182 "dignity" (hygiene) kits to IP pregnant and lactating women.
Sabay said the two-day event has served the following barangays: Dilod, Dulop , Guintanan, Saad, Salvador, and Sunop.
As an abode of IPs in the province, Dumingag has been chosen as one of the five project sites for MNCHN in Mindanao, Sabay explained.
AFP modernization program underway, says military official
By Gideon C. Corgue
LABANGAN, Zamboanga del Sur –The modernization program of the Armed Forces of the Philippines (AFP) is now underway, according to Major General (MGen.)Romulo Cabantac Jr., vice commander, Philippine Army (PA).
In a recent media interview following the change of command ceremony at the 1st Infantry "Tabak" Division here, MGen.Cabantac disclosed that that "the AFP had acquired new military hardware."
"When I attended the 67thPhilippine Air Force (PAF) Day last July 1 at Clark Airbase in Pampanga, I saw four Huey helicopters from South Korea. The remaining 17 Huey helicopters will be delivered on the third quarter this year, specifically in September," Cabantac said.
Cabantac said the acquisition of new military hardware is part of ongoing AFP's modernization program during the term of President Benigno Simeon Aquino III.
The AFP modernization program is mandated under Republic Act No. 10349, otherwise known as the revised AFP modernization act. This program will go for 15 years covering all branches of the AFP such as the Philippine Air Force, Philippine Navy and Philippine Army.
Cabantac said the modernization program forms part of the AFP's capability upgrades aimed at securing the country's territory and respondingto any disaster quickly," he explained.
"There are also new armored personnel carriers to be delivered soon afer the bidding is done to boost the AFP's support capabilities," Cabantac added.
On 18 March 2014 the Philippine Army had also procured brand new M4 carbines to replace the Army's automatic rifle.
"There are 88,000 new rifles and bullet proof vest to arrive this year,"Cabantac announced.
When asked what would happen to the old rifles, Cabantac said: "We are still studying if we will give it to the CAFGU or reservists."
Pagadian City tricycle driver cited for exemplary honesty
(PNA), SCS/TPGJR/HIROHITO D. CADION/JSD
PAGADIAN CITY, Zamboanga del Sur, July 14 (PNA) – The local police has commended a tricycle driver who demonstrated exemplary honesty by returning a wallet containing cash, a check and an ATM card he found on a street in this city last week.
Local police chief Supt. Glenn Dulawan identified the driver as Alejandro Mendoza, 36, of Barangay Tuburan, this city.
Dulawan said on Monday that Mendoza turned over to them last July 8 a brown wallet containing a driver's license, company identification card (ID), automated teller machine (ATM) card, P2,460 in check and P6,960 cash.
Dulawan said the wallet belonging to Samuel Delima of NDV Rosario Heights VIII, Cotabato City was found by Mendoza along Roxas St. in Barangay San Pedro here.
He said the ATM has an existing balance of P98,000. Its Personal Identification Number (PIN) is written at the back of the card.
"Such act manifested great virtues from a lowly tricycle driver who is struggling to make both ends meet," he said.
Dulawan has written Mayor Romeo Pulmones recommending the giving of due recognition to Mendoza for exemplary honesty.
DTI exec, 3 others hurt in accident
By Bong Garcia
A TOP official of the Department of Trade and Industry (DTI) and three other personnel of the agency were wounded when the vehicle they were riding turned turtle along the highway in Zamboanga del Sur, the police said Sunday.
The police identified the victims as DTI-Zamboanga del Sur Provincial Director Ma. Socorro Atay and her two office staffs Crisvil Sarsalejo, and Judith Guatno, and the office driver, Maynard Fernandez, 39.
The accident occurred around 10:20 p.m. Friday at Sitio Tiniguiban in the village of Poblacion, Kumalarang, Zamboanga Del Sur, said the police.
The police added that the victims were traveling from Zamboanga City en route to Pagadian City when the vehicle they were riding turned upside down and fell into a ditch at the side of the road, resulting in the injury of the four DTI personnel.
The police, quoting Atay, said the road was very slippery since it was raining at that time when they met the accident.
The victims were brought to a hospital in Pagadian City, Zamboanga del Sur, the police said.
Man dies, boy hurt in Zambo Sur gun attacks
By Bong Garcia
ONE person was killed while a boy was wounded in separate gun attacks in the province of Zamboanga del Sur, the police reported Saturday.
Inspector Dahlan Samuddin, information officer-in-charge of Zamboanga Peninsula Police Regional Office, identified the victims as Eddie Alosbanños, 32, who died on the spot, and Demetrio Trazona Jr., 12.
Samuddin said Alosbaños was killed in an ambush around 1:45 a.m. Saturday in the village of San Pedro, Pagadian City, the capital of Zamboanga del Sur province.
Samuddin said investigation showed that Alosbaños was driving his motorcycle on the way to San Pedro coming from the village of Sta. Lucia when waylaid by an unidentified gunman.
The Scene of the Crime Operatives (Soco) recovered five empty shells of M16 armalite rifle from the crime scene.
Trazona was shot and wounded around 7:25 p.m. Friday in the village of Daniel Mantos, Mahayag, Zamboanga del Sur.
The police said Trazona was searching for spiders at a cornfield when shot by an unidentified gunman.
Both incidents are continuously being investigated to establish the identities of the suspects, the police added.
DILG sets 2-day SPMS orientation workshop in Pagadian City
(PNA), SCS/TPGJR/HIROHITO D. CADION/EBP
PAGADIAN CITY, Zamboanga del Sur, July 11 (PNA) -- The Department of the Interior and Local Government (DILG) has scheduled the conduct of a two-day Strategic Performance Management System (SPMS) orientation workshop in this city.
DILG Regional Director Paisal Abutazil said the orientation workshop will be held from Monday until Tuesday and will be attended by 35 officials and personnel of the agency based in this region.
Abutazil said the implementation of the agency's SPMS is pursuant to the Civil Service Commission (CSC) Circular No. 6, Series of 2012.
He said the circular aims to concretize the linkage of organizational performance and ensure effectiveness and improvement of individual employees' efficiency by cascading the institutional accountabilities anchored on the establishment of rational and factual basis for performance targets and measures.
Abutazil said the SPMS is important as it puts premium on the final outputs toward the realization of organizational mission and vision.
He added that it is in this light that the rating for planned and/or intervening task shall always be supported by reports, documents or any outputs as proofs of actual performance.
He advised the participants to bring with them their approved Annual Operations Plan and Budget Current Year 2014, Action Plan for the monthly targets and office success indicators when they attend the orientation workshop.
The older news reports are kept here.