Tumana, Marikina City, Philippines
From Zamboanga.com :Portal to The Philippines
Barangays of Marikina City, within the NCR - Metro Manila Area in the Republic of the Philippines
Barangka • Calumpang • Concepcion Uno • Concepcion Dos • Fortune • Industrial Valley • Jesus De La Peña • Malanday • Marikina Heights • Nangka • Parang • San Roque • Santa Elena • Santo Niño • Tañong • Tumana
We ask the SK Chairman, to please Help update his/her barangay webpage with information updates or Picture Uploads to promote tourism and attract investors.
Philippines News: Monday, September 1, 2014 -- Recovery of imports seen in Q3  : MANILA, Philippines - Merchandise imports would likely recover in the third quarter following a contraction in June and May, the research arm of Metropolitan Bank & Trust Co. said .... More
---
If you do not have a community website yet, no need to create your own community website. We have already done it for you. Just adopt this site then any registered user can maintain the site. No need for special IT training. Most of all zamboanga.com is here to help you. It is all FREE.
If you already have your own site, use this site as a supplement. You will get more exposure to TOURISTS and INVESTORS. Link to it specially for the barangay pages.
If you have a Facebook Page (Social Media site), supplement it with this WIKI page (Information Dissemination site). It will help promote your LGU.
Most importantly all the regions, provinces, cities, municipalities, and barangays are linked. Nobody else in the world has this. Nobody!
---
---
A | B | C | D | E | F | G | H | I | J | K | L | M | N | O | P | Q | R | S | T | U | V | W | X | Y | Z
---
Regions | Philippine Provinces | Philippine Cities | Municipalities | Barangays | High School Reunions
---
---

Barangay Seal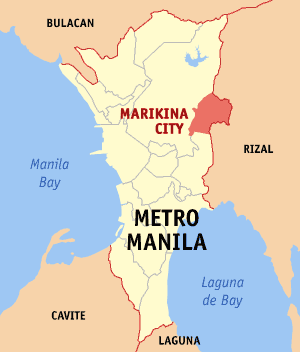 Marikina City Map Locator

Barangay Hall
Tumana, Marikina City, Philippines
Location of Tumana, Marikina City, Philippines
Tumana is located in partly Edgewater Suddivision
History of Tumana, Marikina City, Philippines
Tumana is a part of Conception Uno, and By the help of the people of conception Uno, Tumana was born by Plebisto headed by Mar Andes President of Marikina City Concerned Citizen Organization (MARCCCOR)
---
Source: Tumana LGU
Barangay Tumana is a medium sized real state, bounded at the northwest side of Marikina and a vast farmland extending to the sierra madre, in the north of Barangay Nangka, south of Malanday and guarded by the river within the west side. Tumana under city ordinance no. 70 series of 2005 was created the 16th barangay of Marikina City coming from the Barangay concepcion Uno on March 4, 2006 plebiscite. The barrio most rich pasture land predominantly as an agriculturl land best suited for vegetable farming. Being so close to the river, the area was largely inhabited by different species and plants. The fertility of the soil attracted a number of peasants and tenants, thus leading to the construction and establishing permanent settlers and resettlement sites. Later on, the increasing population drove the settlers and expanded towards Farmers Avenue 1, Ampalaya, Kabayan 1 Road, Farmers 2, Angels Santos, Roga and Doña Petra Road 1-5. The name Tumana was derived from being agricultural or being vegetable farm land that usually well known and verse by the people.
People of Tumana, Marikina City, Philippines
Total Population of Tumana 10,000 families and estimated 12,000 Voters
Local Government Unit LGU of Tumana, Marikina City, Philippines
Barangay Hotline Number: 477-3817 or 09239967011
Elected Tumana Officers for the term of 2010 - 2013

Chairman (captain):
Kagawad:

Barangay Secretary
Barangay Treasurer
Committees
Committee on Senior Citizens & Committee on Women and Family Affairs - Hon. Emelia Agulto
Committee on Peace and Order, Public Safety and Security - Hon. Oscar Frank Rabe
Committee onLivelihood and Education - Hon.Crispin Carurucan
Committee on Good Governance and Ethics & Accountabilities and Cultural Activities - Hon. Francisco Delos Santos
Committee on Transportation, Ways and Means - Hon. Amado Garcia
Committee on Health and Sanitation - Hon.Jimmy Ceguerra
Committee on Infrastracture - Hon Nestor Impron
Committee on Youth and Sports Development - SK Chairman Rogene Isidro
Businesses in Tumana, Marikina City, Philippines
We invite you to list your business located in Tumana, Marikina City.
Give your business a good description. Add your address and contact number if available.

Resorts, restaurants, pension houses, or hotels are welcome to be listed here.
Bakery, Mechanical Shop, Bicycle Shop, Tailor shops can be listed here.
If you have a pharmacy or gas station, it can be listed here too.
Hardware stores, Agrivets, salon, spas, etc. are welcome to be listed.

We do not allow external links. If you have an external site for your business you may not link to it in Z-Wiki but you can point to it. e.g. list it like this: www.myTumanabusiness.com - this tells the people of your website but it does not link to it.
Churches, Mosques, or Places of Worship in Tumana, Marikina City, Philippines
The name of your church, mosque, or place of worship can be listed here. We can even provide you with a free webpage for you. We can help you.
Schools in Tumana, Marikina City, Philippines
The schools in Tumana
Economy of Tumana, Marikina City, Philippines
If you have an article that talks about the improvement of the economy of Tumana, Marikina City you can post that article here. If you come across any news item that talks about the economy of Tumana, Marikina City, you may post it here. Of course you have to reference the writer of the article. Any improvement to transportation, power and service usually improves the economy of the community, so go ahead and report that too.
Natural Resources of Tumana, Marikina City, Philippines
This page needs some articles about the natural resources of Tumana, Marikina City. Where does the energy source of this city come from? Are there any mining industries? Rivers and tributaries are part of the natural resouces.
Tourists Attractions of Tumana, Marikina City, Philippines
Penafrancia Festival every 3rd week of september its a tourist attractions of Tumana
Fiestas and Traditions of Tumana, Marikina City, Philippines
Nuestra senora de Penafrancia Festival yearly celebrate INA every September
On the 28th of January the Dona Petra which is a part of Barangay Tumana is celebrating its feast.
Your Story about Tumana, Marikina City, Philippines
You story about Tumana
Photo Gallery of Tumana, Marikina City, Philippines
Tumana, Marikina City, Philippines
Disclaimer
Most of the contents in this site are taken from the department of tourism, comelec, natioanal statistical board, DILG, (LGU) government sites, online news, and other content sites about the specific community. This page does not serve as the official website of the community but rather compliments and helps the community to promote tourism and attract investors.
This is an interactive and collaborative webpage, meant to help promote this community and showcase it to the world via the internet.
This wiki page follows a format. The editor of this wiki page reserves the right to change formats, edit, or delete entries that may be considered as offensive, vulgar or not for the betterment of this wiki page.