Patikul Higad, Patikul, Sulu, Philippines
From Zamboanga.com :Portal to The Philippines
ARMM Autonomous Region Muslim Mindanao News: Thursday, January 29, 2015 -- DepEd-ARMM replicates 'best practices' of Saranggani province to improve NAT results : COTABATO CITY, Jan. 29 (PNA) -- The town of Malungon in Saranggani province is now the apple of the eye of the Department of Education in the Autonomous Region in .... Full Story»
---
Barangays of Patikul in the Sulu Province within The ARMM in the Republic of The Philippines
Anuling • Bakong • Bangkal • Bonbon • Buhanginan (Darayan) • Bungkaung • Danag • Gandasuli • Igasan • Kabbon Takas • Kadday Mampallam • Kan Ague • Kaunayan • Langhub • Latih • Liang • Maligay • Mauboh • Pangdanon • Panglayahan • Pansul • Patikul Higad • Sandah • Taglibi (Pob.) • Tandu-Bagua • Tanum • Taung • Timpok • Tugas • Umangay
We ask the Barangay Chairman, to please Help update his/her barangay webpage with information updates or Picture Uploads to promote tourism and attract investors.
---
A | B | C | D | E | F | G | H | I | J | K | L | M | N | O | P | Q | R | S | T | U | V | W | X | Y | Z
---
Regions | Philippine Provinces | Philippine Cities | Municipalities | Barangays | High School Reunions
---
---

Patikul Higad Barangay Seal Picture
Please upload Picture
Interactive Google Satellite Map of Patikul, Sulu

Map location of Sulu Province

Patikul Higad Barangay Hall Picture
Please Upload Picture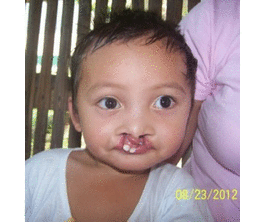 In as few as 45 minutes a child or anyone can be saved from a lifetime of pain, shame and isolation. You can give them a chance to go to school, make friends and have a bright future. For as little as 100 pesos you can help provide a surgery for a child suffering from a cleft palate or cleft lip(harelip).


One act of random kindness at a time.

Visit our website: B.O.S.S.
Patikul Higad, Patikul,
Sulu, Philippines

Location of Patikul Higad, Patikul, Sulu, Philippines
Patikul Higad is one of the Barangays of Patikul.
Patikul is in the Province of Sulu .
Sulu is within Region XV-ARMM in the Sulu Archipelago.
History of Patikul Higad, Patikul, Sulu, Philippines
Contribute your knowledge about the history of Patikul Higad
People of Patikul Higad, Patikul, Sulu, Philippines
Total Population of Patikul Higad
Elected Government Officials of Patikul Higad, Patikul, Sulu, Philippines
Elected Officials for the term of 2013 - 2016
Election Result for this barangay from the COMELEC is not available as of 20 October 2014.You may email ersd@comelec.gov.ph to inquire.
---
Elected Patikul Higad Officers for the term of 2010 - 2013
Businesses in Patikul Higad, Patikul, Sulu, Philippines
We invite you to list your business located in Patikul Higad.
Give your business a good description. Add your address and contact number if available.

Resorts, restaurants, pension houses, or hotels are welcome to be listed here.
Bakery, Mechanical Shop, Bicycle Shop, Tailor shops can be listed here.
If you have a pharmacy or gas station, it can be listed here too.
Hardware stores, Agrivets, salon, spas, etc. are welcome to be listed.

We do not allow external links except for our sponsors. If you have an external site for your business you may not link to it in Z-Wiki but you can point to it. e.g. list it like this: www.my??business.com - this tells the people of your website but it does not link to it.
Take a picture of your Business in Patikul Higad. Upload that picture here in zamboanga.com and that picture can immediately be your barangay page. It is that easy.
Businesses in Patikul Higad

The name of your business, address, phone number
Patikul Higad, Patikul, Sulu, Philippines supports Philippine Cycling
Philippine Cycling is about cycling in the Philippnes. Philippine Cycling helps promote bike races, cycling clubs, bicycle tours, and the development of bicycle trails. Activities are coordinated with bike shops and cycling clubs throughout the Philippines to promote the fun of riding bikes. Philippine Cycling will be coordinating events with tour of Luzon, Visayas and Mindanao. Road biking and mountain bikings will be promoted by Philippine Cycling.
Cycling Activity to Participate In
Your cycling activity can be posted here and it will be shown in all the Provincial, City, Municipal and Barangay pages. Your 2015 Cycling Race or Activity can be Posted here.
CYCLING Le Tour de Filipinas 2015 set as country celebrates 60 years of top-caliber cycling Feb 1 to Feb 4 2015: LE Tour de Filipinas (LtDF) breaks decades of summer tradition but returns to a familiar and historic culminating stage as it holds its sixth edition in 2015, highlighting 60 years of the Tour in the country. From the traditional schedule that made the Tour the country's summer sports spectacle on wheels for two generations, the 2015 LtDF kicks off February 1 and ends February 4 again atop the Cordilleras at the Burnham Park in Baguio City. Read More >>>
Ronda Pilipinas: Feb 8 - 27 2015:>> Discovering young riders for the national team will be the main objective of the LBC Ronda Pilipinas 2015 when the country's premiere cycling race hits the road on Feb. 8 in Butuan City. Ronda Pilipinas executive project director Moe Chulani said the international multistage bikathon, which ends on Feb. 27, will have two qualifying legs of four stages each in Mindanao and the Visayas where the top riders will advance to face a tough foreign challenge in the six-stage Luzon finale. Read More>>>
If you have real estate property, whether its commercial, residential, farm land, or just empty or vacant lots in Patikul Higad, you can list that property for FOR FREE.
Click to VIEW, EDIT, or ADD Realty Listings.
You can list your House and lot or farm land for sale or lease for free here.
If you are a real estate developer, you can list your subdivision, condominiums, high rises, apartment complexes, shopping strips or malls, and open market developments for Free.
Churches, Mosques, or Places of Worship in Patikul Higad, Patikul, Sulu, Philippines
The name of your church, mosque, or place of worship can be listed here. We can even provide you with a free webpage. We can help you.
Schools in Patikul Higad, Patikul, Sulu, Philippines
The schools in Patikul Higad
Economy of Patikul Higad, Patikul, Sulu, Philippines
If you have an article that talks about the improvement of the economy of Patikul Higad, Patikul you can post that article here. If you come across any news items that talk about the economy of Patikul Higad, Patikul, you may post it here. Of course you have to reference the writer of the article. Any improvement to transportation, power and service usually improves the economy of the community, so go ahead and report that too.
Natural Resources of Patikul Higad, Patikul, Sulu, Philippines
This page needs some articles about the natural resources of Patikul Higad, Patikul. Where does the energy source of this Barangay come from? Are there any mining industries? Rivers and tributaries are part of the natural resources.
Tourists Attractions of Patikul Higad, Patikul, Sulu, Philippines
Help us add some of the tourist attractions of Patikul Higad. This will help boost the local economy of Patikul Higad. Anything that is unique or anything that stands out in your community may be a tourist attraction.
Landmarks are usually photographed a lot by visitors. Post the Patikul Higad landmarks here.
Places to see in Patikul Higad:
Fiestas and Traditions of Patikul Higad, Patikul, Sulu, Philippines
Fiesta date of Patikul Higad
Your Story about Patikul Higad, Patikul, Sulu, Philippines
Tell your story about Patikul Higad. You can talk about the good things in Patikul Higad or simply talk about the past. You can talk about the eco-system of Patikul Higad. What is the local LGU doing about the preservation of your natural resources? The topic can start here and once it gets bigger it can have a page of its own in Z-Wiki. It's all up to you.
The oldest man or woman in Patikul Higad, Patikul, Sulu, Philippines
Do you know who the oldest man or woman is in Patikul Higad? Zamboanga.com is starting this inquiry in order to honor the older generation of the Philippines. Please provide the full name and date of birth of the elder living in Patikul Higad. We will then post your entry in the Oldest Man or Woman in the Philippines page.
Sports News of Patikul Higad, Patikul, Sulu, Philippines
Every community has its sports hero. Who is the sports hero of Patikul Higad? Are there any basketball courts, tennis courts, volleyball courts, baseball fields, softball fields, or any type of sports area or arena in Patikul Higad? Go ahead and list any upcoming sports events in Patikul Higad.
Pacman, Floyd meet, swap numbers
Thursday, January 29, 2015 12:00 am
MANILA, Philippines - Floyd Mayweather Jr. and Manny Pacquiao finally came face to face yesterday – in a basketball game in the United States.
The two boxing superstars were at the American Airlines Arena in Miami, Florida to watch the Heat play the Milwaukee Bucks ................................ Full Story»
News and Events
PH GDP grew 6.1% in 2014, 6.9% in 4th quarter
Thursday, January 29, 2015 11:43 am
MANILA, Philippines — The Philippine economy grew by 6.1 percent in 2014, slower than the 7.2-percent expansion posted in 2013, the National Economic and Development Authority announced on Thursday.
The 2014 figure was below the government's goal of 6.5-7.5 percent growth, but within the 6-7 percent range that economic managers had said was more "realistic." ......................... Full Story»
---
PSEi hits new high of 7,661.18
Wednesday, January 28, 2015 4:30 pm
THE local stock barometer surged to another record high on Wednesday ahead of the release of Philippine year-end economic data and the closely-watched US Federal Reserve (US Fed) meeting.
Gaining for the fourth straight session, the Philippine Stock Exchange index added 30.61 points or 0.4 percent to close at 7,661.18, setting a new milestone for both closing and intra-day peak levels ......................... Full Story»
Why Z-Wiki Patikul Higad, Patikul?
We want to give the people of Patikul Higad the ability to promote their community to the world via the internet by providing this interactive website. The growth of this website of Patikul Higad is not dependent upon one individual. This website will grow as more people of Patikul Higad participate and provide valid information about the community and also by providing pictures about the community. More power to Patikul Higad.
Do the following so your photo upload will be properly categorized for Patikul Higad.
Copy and paste the code below in "GREEN" to the body or "Summary" of the image file that you are uploading.
{{zadheader pictures}}
[[Category:Patikul Higad, Patikul Photo Gallery]]
[[Category:Patikul, Sulu Photo Gallery]]
[[Category:Sulu, Philippines Photo Gallery]]
*[[Patikul Higad, Patikul, Sulu, Philippines]]