Misamis Occidental Province, Philippines
From Zamboanga.com :Portal to The Philippines
List of Municipalities in Misamis Occidental Province, Philippines
Aloran || Baliangao || Bonifacio || Calamba || Clarin || Concepcion || Jimenez || Lopez Jaena || Panaon || Plaridel || Sapang Dalaga || Sinacaban || Tudela || Don Victoriano Chiongbian
Cities in the Province of Misamis Occidental: Oroquieta City(Capital) || Ozamis City || Tangub City
We ask the SK Chairman, to please Help update his/her barangay webpage with informaton updates or Picture Uploads to promote tourism and attract investors.
---
A | B | C | D | E | F | G | H | I | J | K | L | M | N | O | P | Q | R | S | T | U | V | W | X | Y | Z
---
Regions | Philippine Provinces | Philippine Cities | Municipalities | Barangays | High School Reunions
---
---

Seal of Misamis Occidental Province
Interactive Google Satellite Map of Misamis Occidental Province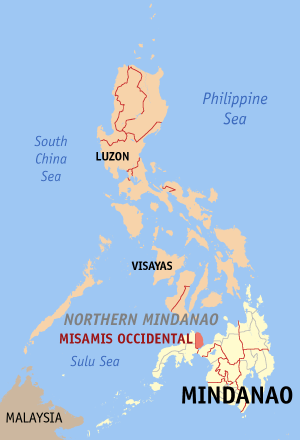 Location of Misamis Occidental within The Philippines

Kalatungan falls, Carmen, Jimenez, Misamis Occidental

Provincial Capitol of Misamis Occidental Province

Provincial Capitol of Misamis Occidental Province

City Hall, Oroquieta City

Social Security System, Oroquieta City

Municipality Hall of Lopez Jaena, Misamis Occidental
Province of Misamis Occidental, Philippines
Misamis Occidental has a total of 490 barangays, 14 municipalites, and 3 cities
Registered Voters of Misamis Occidental as of (2010) = 303,145
Population of Misamis Occidental (as of Aug 1, 2007) = 531,680
Land Area of Misamis Occidental (as of 2007, in hectares) = 205,522
Misamis Occidental is a 2nd class province.
The province of Misamis Occidental is within Region X in the island of mindanao.
Location of Misamis Occidental, Philippines
The province of Misamis Occidental is within Region X in the island of Mindanao.
Source is verbatim from the office of the Commission on Population
"Misamis Occidental is located near the narrow strip of land linking Northwestern Mindanao, to the Northcentral part of the island. Shaped like a collapsible fan it is bounded on the northeast by the Mindanao Sea, east by the Iligan Bay, southeast by the Panguil Bay, and the west by the Zamboanga del Norte and Sur. The fact that three of its boundaries are bodies of water gives away water life as one of its natural resources and fishing as one of its main industries. Except along the coastal area, hilly and rolling land characterized the provincial terrain. Towards the western border, the terrain is particularly rugged."
From the vast tracks of rice land along the coastal areas, 12 municipalities and 3 cities are located. The terrain is rising gently towards the hilly and rolling land westward to Mount Malindang and Mount Ampiro where 2 municipalities are situated. The soil in the rugged interior are suited to coconuts which is the chief crop grown in this province. the second major crop is rice. Other crops like corn, abaca, cacao also thrive in flat and rolling lands. Under the present land classification system, lands of public domain with slopes of more than 18% (approximately 10 degrees) are retained for permanent forest purposes.
Those with 18% slope and below classified as alienable and disposable (A and D) lands. Those lands may be released for non-forest purposes (agriculture, industrial and residential) subject to additional conditions such as contiguity of area and environmental considerations.
As of 1995 about 127,929.54 hectares or 63.20% of the total land area of the province has been classified as A and D while the remaining percentage of 34.03 percent accounts for forest lands. Parks and wildlife reserved 53,262 hectares or 71.50% of the total classified forestlands. The area for fishpond, Civil Reservations and Established Timberlands constituted 21,226.46 or 28.50% of the total classified forestland.
History of Misamis Occidental, Philippines
Source is verbatim from the office of the Commission on Population
The name "Misamis" is believed to have been derived from the Subano word "Kuyamis" which is variety of sweet coconut - the staple food of the early settlers in this place. During the years the name persisted as an inference of geographical location and upon the advent of the Sapnish settlers, the word "Kuyamis" easily gave way to the more conveniently pronounceable word "Misamis".
The original inhabitants of this area were the Bukidnon who gradually retreated into the interior following the steady influx of settlers from Cebu and Bohol.
People of Misamis Occidental, Philippines
Population(as of Aug 1, 2007)= 531,680
Registered Voters per Comelec (2010)= 303,145
---
This website is interactive unlike most websites of the LGU's (Local Government Units) in the Philippines.
If you do not have a website yet, no need to create your own community website. We have already done it for you. Just adopt this site then any registered user can maintain the site. No need for special IT training. Most of all zamboanga.com is here to help you. It is all FREE.
If you already have your own site, use this site as a supplement. You will get more exposure to TOURISTS and INVESTORS. Link to it specially for the barangay pages.
There are sites out there that will provide you with a free webpage. But then you have to create if from scratch. The site that we provide you already has content. It is not an empty shell.
Most importantly all the regions, provinces, cities, municipalities, and barangays are linked. Nobody else in the world has this. Nobody!
---
Elected officials of Misamis Occidental for the term of 2010-2013
---
Elected officials of Misamis Occidental for the term of 2010-2013
Barangays Elected Officials of Misamis Occidental
Businesses in Misamis Occidental, Philippines
Resorts
Restaurants, Bakeries, Fast Food
Hotels, Motels, and Pension Houses
Mechanical Shop, Bicycle Shop, Tailor shops
Pharmacies and Convenient Stores
Department Stores and Malls
Hardware stores, Computer Stores and Agrivets
Clinics and Hospitals
Banks and Other Financial Companies
Real Estate or Properties for Sale or lease in Misamis Occidental, Philippines
If you have real estate property, whether its commercial, residential, farm land, or just an empty lot in Misamis Occidental, you can list that property for free.
Click to VIEW, EDIT or ADD Realty Listings.
You can list your House and lot or farm land for sale or lease for free here in Z-Wiki
If you are a real estate developer, you can list your subdivision, condominiums, high rises, apartment complexes, shopping strips or malls, open market developments here in Z-wiki for Free.
Churches, Mosques, or Places of Worship in Misamis Occidental, Philippines
The name of your church, mosque, or place of worship can be listed here. We can even provide you with a free webpage for you. We can help you.
List the Mosques or Masjid in Misamis Occidental here.

List the Catholic churches and chapels in Misamis Occidental here.

Catholic Church, Oroquieta, Misamis Occidental

List the Methodist churches in Misamis Occidental here.

List the Iglesia Ni Cristo churches in Misamis Occidental here.

List the Seventh-day Adventist churches in Misamis Occidental here.

List the Church of Jesus Christ Latter day Saints (Mormons) churches in Misamis Occidental here.

List the Presbyterian churches in Misamis Occidental here.

List the Baptist churches in Misamis Occidental here.

List the Evangelical churches in Misamis Occidental here.

Evangelical Chruch, Oroquieta, Misamis Occidental
Schools in Misamis Occidental, Philippines
School year 2013-2014 starts June 3 and ends March 31, 2014, for public elementary and secondary schools. The school year will have 201 school days, of which 180 days are "nonnegotiable" student-teacher contact time.
The multisectoral Brigada Eskwela to prepare schools for the students' return will be on May 21-26. Oplan Balik Eskwela will be from May 28 to June 8 while orientation on K to 12 for parents and other stakeholders will be on June 9.
Although private schools may deviate from the Department of Education (DepEd) calendar, they are enjoined not to start before June 3 and later than Aug 31.
---
School Year 2013-2014 in public elementary and high schools will start on June 3 and end on March 31, 2014 The name of your school in Misamis Occidental can be listed here. You can list it like this:
Name of School. Private or Public. It can be an elementary school, high school, college.

Address of your school
Telephone Number
Principal of the school
You can also create a webpage for your school. We can help you.
Economy of Misamis Occidental, Philippines
Source is verbatim from the office of the Commission on Population
Misamis Occidental is a predominantly agri-based economy with 118,933 hectares or 61.33% of its total land utilized as cropland. Food crops occupied an area equivalent to 13,861 hectares or 11.65% of its total cropland, while 105,072 hectares or 88.35% are devoted to commercial crops.
Coconut shared the largest area of 101,784 hectares or 96.87% of commercial crops. It is still the main cash crop of the province, even if some considered it a "sunset industry". Coconut is a major drag to agriculture growth. There are a total of 58,685 coconut farmers in the province. It has 337.9 million nuts production per year from 9.1 million coconut-bearing trees or barely 36 nuts per tree per year which is very low production.
Rice being the secondary crop and the staple food of majority of lowland residents is planted to a total of 6,831 hectares. About 6,209 hectares or 90.9% are planted in irrigate paddies, 435 hectares or 6.4% on non-irrigated paddies and 187 hectares or 2.7% on upland areas, with average yield of 4.1, 2.96 and 1.32 metric tons per hectare, respectively.
Corn is another crop grown in the province on an effective area of 16,800 hectares. It is mostly concentrated on high land areas and are usually planted under coconut trees with total yield of 25,000 MT or an average yield of 1.5 MT/hectare in 2000. There was no increase in average yield, meaning that there was no visible intervention to increase productivity of corn, which is the staple food for rural areas. These high hectarage planted to corn display the segment of the population consuming corn.
Coffee and cacao (excluding coconuts) are the only perennial commercial-industrial crops grown in the province. However, in recent years, farmers are attracted to planting high value crops with mango and banana as the leading fruits.
If you have a job available and that job is within the Province of Misamis Occidental, Philippines, you may post it here.
Remember to be as descriptive as possible and to post your Company name, Contact person, physical address, email address and Phone number..
Post expiration of Job Application. Go ahead and Click HERE to Insert your job offer in the "Misamis Occidental Philippines, Jobs" page.
Natural Resources of Misamis Occidental, Philippines
Protect the environment
It is sad but true that as of the year 2012 the rivers of the Philippines continue to be the #1 Sewer Systems of the Philippines.
Protect & Save the Rivers. Do not let your sewer drain into the river. Your community can be the first to initiate this project.
Build your riverbank protection with a built-in gutter system. Reforest within Ten Years - Guaranteed!
---
Let us plant more trees in every barangay in the entire Philippines. It does not make any difference if the barangay is urban, partially urban or rural; we need more trees. Trees will prevent erosion, provide oxygen, prevent green house effect, and even a place of business for the shade tree mechanic.
The Philippines is a tropical country and practically anything will grow. The DENR has the planting trees project that goes on every year. Lots of picture taking for the media. Planting trees one by one is the "human" way of doing it. This individual planting of trees is good if done to "line" the roads and highways with trees or along fences or property divisions, or if you have a plantation.
To reforest the nation of the Philippines we have to plant trees the "mother nature" way. Sow the seeds during the rainy season. Go deep into "bald" forests and plant trees by sowing seeds. If there's not enough volunteers to do this, use the military helicopters to fly over the designated areas and sow the seeds.
Guaranteed within a few years, The Philippines will be lush again. >>Read More
---
We are using our rivers as our sewer system. If you ask a Filipino, "Are the Filipinos a clean people?" The answer is an automatic, "Yes!". However, the Filipinos are suffering from the same disease or attitude as most people do, and that is the "NIMBY" disease or "NIMBY" attitude. (NIMBY) Not In My Back Yard. So it is OK to dump my garbage and sewer there. Not mine! Someone else will take care of it.
This attitude is killing our rivers. Your great-grandparents, grandparents or parents were once proud to tell the stories of how they enjoyed swimming in the river behind your house or nearby. However, you can't say the same or tell the same stories to your kids or grand kids. Why? Because your generation is killing the river.
Contact:
Secretary Ramon J. P. Paje
Department of Environment and Natural Resources
Visayas Avenue, Diliman, 1100 Quezon City, Philippines
+63-2-929-6626
osec@denr.gov.ph
---
We have so much water in the Philippines and yet very little to drink.
---
Instead of relying too much on Diesel fuel and Coal to generate the majority of Philippine's Electrical energy Supply, we can concentrate more on renewable and sustainable source of energy such as: Hydro Power, Solar Power, and Wind Power. We have too many black outs.
Tourists Attractions of Misamis Occidental, Philippines
Help us add some of the tourist attractions of Misamis Occidental in Z-wiki. This will help boost the local economy of Misamis Occidental. Anything that is unique or anything that stands out in your community may be a tourist attraction.
Landmarks are usually photographed a lot by visitors. Post the Misamis Occidental landmarks here.
---
Source is verbatim from the office of the Commission on Population
Among the local government units in the province, Ozamiz City stands out as the center of trade and commerce, due to the presence of improved port facilities located in the city. Businessmen and travelers even from nearby provinces of Lanao del Norte and Zamboanga del Sur especially those from along the Panguil Bay area, find it cheaper and more convenient to use Ozamiz port as starting point for Cebu and Manila destination.
In 2000, there were 461 business establishments registered in the province with total capitalization of P2,311,589,745.15 and generated 2,956 employments. About 216 or 46.9% of registered establishments were on trading with P1.218 billion capitalization with 931 employments generated. Servicing came next with 186 registered establishments with P1.379 billion capitalization and generated about 1,379 employments. About 38 manufacturing establishments registered with P1.025 billion capitalization but with only 542 employments generated.
Festivals, Fiestas and Traditions of Misamis Occidental, Philippines
Every city or municipality has some sort of a festival or tradition that is celebrated every year. In the Philippines almost all barangays that are predominantly populated by Christians celebrate fiesta. Tell us about the festivals, fiestas and traditions of Misamis Occidental.
Philippine News
Gov't works on branding for Phl food products
Saturday, May 18, 2013 12:00 am
MANILA, Philippines - The government plans to launch this year a branding for Philippine food products for export, as it seeks to actively promote local goods overseas, a trade official said.
"We want to create a Philippine brand (to be used) for packaging (of products) this year," Center for International Trade Expositions and Missions (CITEM) executive director Rosario Virginia Gaetos told reporters at the sidelines of the 9th International Food Exhibition Philippines..........Full Story
---
Public ownership of stocks rises
Friday, May 17, 2013 12:00 am
MANILA, Philippines - Public ownership of companies listed in the local bourse is increasing, the Philippine Stock Exchange (PSE) said.
In a recent study, the operator of the country's only stock exchange said the free float level hit 33.4 percent as of end-March..........Full Story
---
Phl-Smart jins bag 12 golds, 28 other medals in ASEAN meet
Saturday, May 18, 2013 12:00 am
MANILA, Philippines - The Philippines-Smart taekwondo team romped off with a haul of 12 gold, 14 silver and 14 bronze medals in the recent 11th ASEAN champions (ATF) tournament in Nay Pyl Taw, Myanmar.
Many-time internationalist Kirstie Elaine Alora and Anjelay Pelaez showed the way with a gold each in the senior women's kyorugi (free sparring) competition..........Full Story »
Misamis Occidental, Philippines supports Philippine Cycling
Philippine Cycling is about cycling in the Philippnes. Philippine Cycling helps promote bike races, cycling clubs, bicycle tours, and the development of bicycle trails. Activities are coordinated with bike shops and cycling clubs throughout the Philippines to promote the fun of riding bikes. Philippine Cycling will be coordinating events with tour of Luzon, Visayas and Mindanao. Road biking and mountain bikings will be promoted by Philippine Cycling.
Cycling Activity to Participate In
Tour de Zamboanga 2013: From the 11th of July, 2013 to the 14th of July, 2013. A four day 540 kilometer bicycle race for Charity!
Due to the road constructions going on in the route of the Tour, we are eliminating the road bikes from this race.
This is a (Non-Roadbike) individual bicycle race. Everybody is welcome in this race. The more the merrier. Racers who skip a stage will not be allowed to continue. Everybody who finishes the race and does not skip a stage is a winner.
The race starts at the port municipality of Liloy, Zamboanga del Norte and rests in the historical city of Zamboanga del Norte, Dapitan City to end the first stage. The following day the race will continue from Dapitan City to Pagadian City to end the second stage. The 3rd stage will be from Pagadian to Ipil. And finally culminate with the final stage from Ipil, Zamboanga Sibugay to Zamboanga City.
Prizes for the Winners and Participants of Tour de Zamboanga
80 PRIZES in all to be Given Away. OVER ₱ 782,000.00 pesos in Prizes
Grand Prize: The overall (liloy, dapitan, pagadian, ipil, zamboanga) first 15 finishers will be based on the overall accumulated time it took to finish the 4 stage race. The racer must finish all stages to qualify for the grand prize.

The racer with the best accumulated time wins the championship. 1st:50K, 2nd:30K, 3rd:20K, 4th:15K, 5th:10K, 6th:9.5K, 7th:9K, 8th:8.5K, 9th:8K, 10th:7.5K, 11th:7K, 12th:6.5, 13th:6K, 14th:5.5K, 15th:5K

Every stage has a winner. Prizes will be presented to the first 3 racers to win each stage. 1st:20K, 2nd:15K, 3rd:10K, 4th:6.5K, 5th:6K, 6th:5.5K, 7th:5K, 8th:4.5K, 9th:4K, 10th:3.5K, 11th:3K, 12th:2.5K, 13th:2K, 14th:1.5K, 15th:1K

The winner of each stage keeps the prize money even if he/she can't continue with the race because of injury or other reasons. But because the racer skipped a stage he/she will not be allowed to continue with the race.

Besides the Open Category, There are three (3) other competitive categories: (Women; Under 16 years old; 50 years old and over. Prizes for these categories are as follows: 25K 1st, 20K 2nd, 15K 3rd, 10K 4th, 5K 5th. Each Category gets a prize. Prizes given only to finishers of all 4 stages for these 3 categories.
Finishers of all the 4 stages get a certificate of completion and a refund of their 1,000.00 peso registration fee. If a racer skips a stage he or she is will not be allowed to continue the race. Every finisher of the Tour de Zamboanga is a WINNER!
First Bicycle Race to cover the entire Zamboanga Peninsula
Due to the election complications in the Zamboanga peninsula, the tour has been postponed to July 11 - July 14 of 2013.
Zamboanga del Norte, Zamboanga del Sur, Zamboanga Sibugay, and Zamboanga City.
All Philippine Cyclers are invited to participate in the open bicycle race. It is for a great charitable cause: Project BOSS - Brotherhood Operation Sweet Smile
Total Distance to be traveled: 540 kilometers or 338 miles - Visit our WebPage
School Year 2012-2013 starts on June 4
by Rutchie C. Aguhob

OZAMIZ CITY, Misamis Occidental, May 11 (PIA) -- The coming school year (SY) will start on June 4 and end on March 22, 2013.
Education Secretary Armin A. Luistro, FSC, issued the School Calendar for SY 2012-2013 to synchronize all core events and teaching-learning activities in order to maximize the use of the required 200 school days, Rebonfamil Baguio, Asst. Superintendent, Ozamiz City Schools Division, said.
This will then include the 180 days to be used for non-negotiable teacher-pupils/students contact time and the five days In-Service Training (INSET) break and parent-teacher conference, he said.
Private schools, however, may deviate from the School Calendar, as long as they will not start their classes earlier than June 4, 2012 and not later than the last day of August, this year, as provided in Republic Act (RA) No. 7797 entitled "An Act to Lengthen the School Calendar from 200 Days to Not More Than Two Hundred Twenty-Two (220) Class Days."
Schools may also observe national and local celebrations/activities and holidays, provided that the total number of school days is maintained and make-up classes shall be conducted to compensate for the school days spent for such activities.
Meanwhile, Secretary Luistro, per DepEd Order No. 26, series of 2012, has issued the following guidelines for the schools to conduct in preparation for the opening of classes for SY 2012-2013: early registration of pupils/students in the schools where they wish to study held last Jan. 29; and National Schools Maintenance Week (Brigada Eskwela) on May 21-26, to enable the community and the school to prepared their facilities and In-Service Training (INSET) activities to be held a week before the opening of classes.
Likewise, as part of the opening rites, all schools are expected to conduct a general assembly for the purpose of orienting stakeholders on the curriculum and co-curricular programs and ancillary services lined-up for the year in support of learner development and continuous improvement of school outcomes.
For the secondary level, the general orientation shall include a career exposure program for the first- to third-year students to acquaint them with the various career pathways, which they wish to pursue.
For the fourth-year students, schools are encouraged to conduct Career Guidance Program in preparation for the careers or courses they prefer to pursue after high school.
On the other hand, the school year will be divided into four quarters: 52 days each for the 1st and 2nd quarters and 50 days and 46 days, for the 3rd and 4th quarters, respectively.
A mid-term break will be observed at the end of the 2nd quarter to appraise individual-teachers and their collective performance, and on this basis, conduct INSET activities, in support of continuing professional development.
Christmas break, as indicated in the school calendar, will begin on December 22, Saturday, and classes will resume on January 3, 2013, Monday.
Summer classes will begin on April 15, 2013, and ends on May 27, 2013, which is the last day for the final examination.
It shall consist of a three-hour daily sessions per subject area from Monday to Saturday for 36 days, exclusive of May 1, which is a legal holiday. (PIA-10 Mis. Occ.)
Misamis Occidental Zip Codes
Source: Philippine Postal Corporation
This table is Sortable by Location or by ZipCode
| ZipCode | Location | Area |
| --- | --- | --- |
| 7200 | Ozamis City | Misamis Occidental |
| 7201 | Clarin | Misamis Occidental |
| 7202 | Tudela | Misamis Occidental |
| 7203 | Sinabacan | Misamis Occidental |
| 7204 | Jimenez | Misamis Occidental |
| 7205 | Panaon | Misamis Occidental |
| 7206 | Aloran | Misamis Occidental |
| 7207 | Oroquieta City | Misamis Occidental |
| 7208 | Lopez Jaena | Misamis Occidental |
| 7209 | Plaridel | Misamis Occidental |
| 7210 | Calamba | Misamis Occidental |
| 7211 | Baliangao | Misamis Occidental |
| 7212 | Sapang Dalaga | Misamis Occidental |
| 7213 | Concepcion | Misamis Occidental |
| 7214 | Tangub City | Misamis Occidental |
| 7215 | Bonifacio | Misamis Occidental |
Do the following so your photo upload will be properly categorized for Misamis Occidental.
Copy and paste the code below in "GREEN" to the body or "Summary" of the image file that you are uploading.
{{zadheader pictures}}
[[Category:Misamis Occidental Province, Philippines Photo Gallery]]
*[[Misamis Occidental Province, Philippines]]