Manay Davao Oriental Philippines
From Portal to The Philippines
Barangays of Manay in the Davao Oriental Province of The Philippines
Capasnan • Cayawan • Central (Pob.) • Concepcion • Del Pilar • Guza • Holy Cross • Lambog • Mabini • Manreza • New Taokanga • Old Macopa • Rizal • San Fermin • San Ignacio • San Isidro • Zaragosa
Philippines News: Friday, February 12, 2016 -- Index climbs ahead of BSP meeting : MANILA, Philippines – Share prices climbed yesterday ahead of the rate setting meeting of the Bangko Sentral ng Pilipinas (BSP), analysts said .... More
---

Adopt this webpage. Help your community get more exposure to TOURISTS and INVESTORS. Help us improve this webpage.

---
List of Municipalities in the Davao Oriental province within Region XI in the Repulbic of The Philippines
Baganga || Banaybanay || Boston || Caraga || Cateel || Governor Generoso || Lupon || Manay || San Isidro || Tarragona
Cities in Davao Oriental: Mati City(Capital)
---
A | B | C | D | E | F | G | H | I | J | K | L | M | N | O | P | Q | R | S | T | U | V | W | X | Y | Z
Regions | Philippine Provinces | Philippine Cities | Municipalities | Barangays | High School Reunions
---
---
Sign this petition to guarantee a minimum of one senator per Region to represent its provinces, cities/municipalities and barangays.

Manay Seal
please upload picture
File:Ph locator davao oriental manay.png
Manay within the province of Davao Oriental
Interactive Google Satellite Map of Davao Oriental Province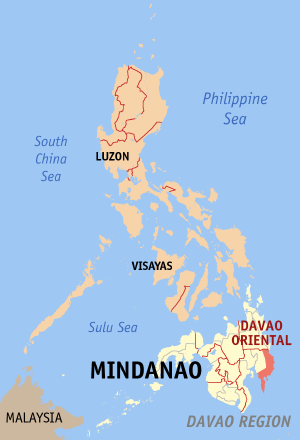 Location of Davao Oriental within The Philippines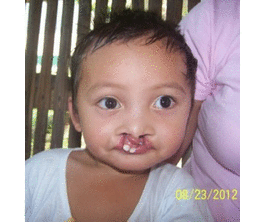 In as few as 45 minutes a child or anyone can be saved from a lifetime of pain, shame and isolation. You can give them a chance to go to school, make friends and have a bright future. For as little as 100 pesos you can help provide a surgery for a child suffering from a cleft palate or cleft lip(harelip).


One act of random kindness at a time.

Visit our website: B.O.S.S.

Manay Municipal Hall
please upload picture

Manay,
Davao Oriental Province, Philippines

Manay has a total of 17 barangays.
Registered Voters of Manay as of (2010) = 25,492
Manay is in the "1st" Voting Congressional District of Davao Oriental.
Population of Manay (as of Aug 1, 2007) = 38,067
Land Area of Manay (as of 2007, in hectares) = 41,836
Manay is a 2nd class Municipality and Partially Urban.
Manay is in the Davao Oriental province and within Region XI–Davao Region in the island of mindanao
Geography of Manay, Davao Oriental, Philippines
Manay Land Area (as of 2007, in hectares)=
Location of Manay, Davao Oriental, Philippines
History of Manay, Davao Oriental, Philippines
The beginning of Manay
People of Manay, Davao Oriental, Philippines
Manay Population (as of Aug 1, 2007) =
Manay Registered Voters (2009) =
Local Government Unit LGU of Manay, Davao Oriental, Philippines
The Sangguniang Panlungsod is composed of the City (Municipality) Vice-Mayor as Presiding Officer, regular Sanggunian members (Councilors), the President of the Association of Barangay Captains and the President of the Sangguniang Kabataan.
They shall exercise and perform the legislative powers and duties as provided for under Republic Act No. 7160, otherwise known as the Local Government Code of 1991. Shall consider and conduct thorough study all matters brought to their attention and consequently pass resolutions, enact ordinances and to introduce recommendations.
---
Elected officials of Manay for the term of 2013-2016
Mayor of Manay: DAYANGHIRANG, JM (NP) NACIONALISTA PARTY
Vice-Mayor of Manay: CRAVE, JOJO (LP) LIBERAL PARTY
Councilors of Manay:
DAYANGHIRANG, ANTERO JR. (NP) NACIONALISTA PARTY 10435 11.61%
MARIANO, VP (NP) NACIONALISTA PARTY 10076 11.21%
LAHORA, BENJIE (LP) LIBERAL PARTY 10048 11.18%
QUIBO, JAPHET (NP) NACIONALISTA PARTY 9443 10.51%
MORALIZON, HUBERTO (LP) LIBERAL PARTY 7700 8.57%
BALANTE, KEN-KEN (NP) NACIONALISTA PARTY 7272 8.09%
DIUYAN, ROY (NP) NACIONALISTA PARTY 6287 7.00%
TENGSON, HONESTO (NP) NACIONALISTA PARTY 6063 6.75%
---
Elected officials of Manay for the term of 2010-2013
Barangay Elected Officials of Manay, Davao Oriental
Businesses in Manay, Davao Oriental, Philippines
How to Improve Your Business and Livelihood
The Philippine Livelihood Program: The Philippine government provides several programs to enhance the livelihood of the Filipino people. The department of Science and Technology through its Technology Research Center (TRC) regurlarly conducts various types of hands-on and personalized training programs.
DOST - Website
UPLiFT stands for Urban Program for Livelihood Finance and Training. - Website
DSWD Pro-poor and Livelihood Programs - Website
---
Take a picture of your Business (from a Sari-Sari Store to a Mega Mall). Upload that picture here in zamboanga.com and that picture can immediately be your business webpage. It is that easy. Here are two examples of how a picture becomes the webpage of the business: Twins Fried Chicken Restaurant and ABC Shopping Center
Give your business a good description. Add your address and contact number if available.
Possible Businesses
Auto, Trucks, Motorcycle and Bicycle dealers
Banks, Lending Firms, Pawnshops, and Financial Institutions
Clinics, Veterinary Clinics and Hospitals
Pharmacies, Drug Stores, Agri-Vets
Convenient Stores, Hardware and Supplies, General Stores, Sari-Sari Stores, Internet-Cafes
Department Stores and Appliance Stores
Supermarket, wet market, Fish Markets
Hotels, Motels, Pension Houses, Boarding houses and Resorts
Repair Shops: Shoe repair, Cellphone, Bikes (bicycles), motorcycles etc...
Restaurants, Carenderias, Coffee Shops, and Bakeries (Bakeshops)
Salons, Spas, Beauty Shops and Barber Shops
Gas Stations, Water Stations, Propane Stations
Sports News of Manay, Davao Oriental, Philippines
Every community has its sports hero. Who is the sports hero of Manay? Are there any basketball courts, tennis courts, volleyball courts, baseball fields, softball fields, or any type of sports area or arena in Manay? Go ahead and list any upcoming sports events in Manay.
Young Ateneo karter shows potential in national karting series
Friday, February 12, 2016 10:35 am
MANILA, Philippines -- Fast-rising Karter Maverick Corpus showed a lot of promise when he finished a strong second runner-up in his first ever race at the 2015 Petron Blaze 100 ROK Karting Series.
Corpus pushed Austrian Constantin Reisch to the limit as they went off to a virtual drag race to the finish line that kept the crowd on its feet in the final three laps of the last leg of the national karting series last January 24 at the Carmona Race Track ................................ Full Story»
News and Events
Index climbs ahead of BSP meeting
Friday, February 12, 2016 12:00 am
MANILA, Philippines – Share prices climbed yesterday ahead of the rate setting meeting of the Bangko Sentral ng Pilipinas (BSP), analysts said.
The main composite index rose 25.95 points to settle at 6,663.43 points, while the All Shares index gained 21.51 points to close at 3,846.72 ........ Full Story»
---
Philippines' Foreign Direct Investment Rises in November
Wednesday, February 10, 2016
MANILA—Foreign direct investment in the Philippines showed a net inflow of $464 million in November, a 16.4% increase from a year earlier, the central bank said Wednesday.
The central bank attributed the higher figure to strong investor confidence due to the country's sound economic fundamentals. The bank said a 27% increase, to $187 million, of foreign-companies investment in debt securities issued by their local units was the main contributor to foreign direct investment expansion in November ........ Full Story»
Real Estate for Sale or lease in Manay, Davao Oriental, Philippines

If you have real estate property, whether its commercial, residential, farm land, or just an empty lot in Manay, you can list that property for FREE HERE in Z-wiki.
You can list your House and lot or farm land for sale or lease for free here in Z-Wiki
Churches, Mosques, or Places of Worship in Manay, Davao Oriental, Philippines
The name of your church, mosque, or place of worship can be listed here. Take a picture of the facade of your church or place of worship and it can be posted here. We can even provide you with a free webpage. You can enter the data here yourself or email the information to franklin_maletsky@yahoo.com
Schools in Manay, Davao Oriental, Philippines
School year 2015-2016 starts Monday, June 1, 2015 and ends Friday, April 1, 2016, for public elementary and secondary schools. The SY will consist of 201 school days, inclusive of the five-day In-Service Training (INSET) break. The different school events and activities, including the number of school days per quarter, are contained in Enclosure No. 1. Source: Department of Education
---
The name of your school in Manay can be listed here. You can list it like this:
Name of School. Private or Public. It can be an elementary school, high school, college.

Address of your school
Telephone Number
Principal of the school
You can also create a webpage for your school. We can help you.
Economy of Manay, Davao Oriental, Philippines
If you have an article that talks about the improvement of the economy of Manay you can post that article here. If you come across any news items that talk about the economy of Manay, you may post it here. Of course you have to reference the writer of the article. Any improvement to transportation, power and service usually improves the economy of the community, so go ahead and report that too.
Natural Resources of Manay, Davao Oriental, Philippines
Protect the environment
It is sad but true that as of the year 2012 the rivers of the Philippines continue to be the #1 Sewer Systems of the Philippines.
Protect & Save the Rivers. Do not let your sewer drain into the river. Your community can be the first to initiate this project.
Build your riverbank protection with a built-in gutter system. Reforest within Ten Years - Guaranteed!
---
Let us plant more trees in every barangay in the entire Philippines. It does not make any difference if the barangay is urban, partially urban or rural; we need more trees. Trees will prevent erosion, provide oxygen, prevent green house effect, and even a place of business for the shade tree mechanic.
The Philippines is a tropical country and practically anything will grow. The DENR has the planting trees project that goes on every year. Lots of picture taking for the media. Planting trees one by one is the "human" way of doing it. This individual planting of trees is good if done to "line" the roads and highways with trees or along fences or property divisions, or if you have a plantation.
To reforest the nation of the Philippines we have to plant trees the "mother nature" way. Sow the seeds during the rainy season. Go deep into "bald" forests and plant trees by sowing seeds. If there's not enough volunteers to do this, use the military helicopters to fly over the designated areas and sow the seeds.
Guaranteed within a few years, The Philippines will be lush again. >>Read More
---
We are using our rivers as our sewer system. If you ask a Filipino, "Are the Filipinos a clean people?" The answer is an automatic, "Yes!". However, the Filipinos are suffering from the same disease or attitude as most people do, and that is the "NIMBY" disease or "NIMBY" attitude. (NIMBY) Not In My Back Yard. So it is OK to dump my garbage and sewer there. Not mine! Someone else will take care of it.
This attitude is killing our rivers. Your great-grandparents, grandparents or parents were once proud to tell the stories of how they enjoyed swimming in the river behind your house or nearby. However, you can't say the same or tell the same stories to your kids or grand kids. Why? Because your generation is killing the river.
Contact:
Secretary Ramon J. P. Paje
Department of Environment and Natural Resources
Visayas Avenue, Diliman, 1100 Quezon City, Philippines
+63-2-929-6626
osec@denr.gov.ph
---
We have so much water in the Philippines and yet very little to drink.
---
Instead of relying too much on Diesel fuel and Coal to generate the majority of Philippine's Electrical energy Supply, we can concentrate more on renewable and sustainable source of energy such as: Hydro Power, Solar Power, and Wind Power. We have too many black outs.
Tourists Attractions of Manay, Davao Oriental, Philippines
Help us add some of the tourist attractions of Manay in Z-wiki. This will help boost the local economy of Manay. Anything that is unique or anything that stands out in your community may be a tourist attraction.
Landmarks are usually photographed a lot by visitors. Post the Manay landmarks here.
Festivals, Fiestas and Traditions of Manay, Davao Oriental, Philippines
Every city has some sort of a festival or tradition that is celebrated every year. In the Philippines almost all barangays that are predominantly populated by Christians celebrate fiesta. Tell us about the festivals, fiestas and traditions of Manay.
Your Story about Manay, Davao Oriental, Philippines
Create you own personal page about the barangay in the municipality or City you live in. Title it like so for specificity: "Mybarangay, MyCityMunicipality, Myprovince, Philippines by MyFirstname Mylastname". You can update and edit this page anytime and anyway you want. It does not have to follow the standard format of the main wiki. It is your page. A link to your page will be inserted in this main barangay page. Here is an example page.
If you want the tittle to be more generic then do this: "Philippines by Your name". You can insert your picture of anywhere in the Philippines in this page. This will be your personal WIKI social media page.
You can talk about your personal experiences, your advocacies, the environmental conditions of your barangay, municipality, city or province.
---
The oldest man or woman in Manay, Davao Oriental, Philippines
Do you know who the oldest man or woman is in your community of Manay? Zamboanga.com is starting this inquiry in order to honor the older generation of the Philippines. Please provide the full name and date of birth of the elder living in Manay. We will then post your entry in the Oldest Man or Woman in the Philippines page.
Manay, Davao Oriental, Philippines supports Philippine Cycling
Philippine Cycling is about cycling in the Philippnes. Philippine Cycling helps promote bike races, cycling clubs, bicycle tours, and the development of bicycle trails. Activities are coordinated with bike shops and cycling clubs throughout the Philippines to promote the fun of riding bikes. Philippine Cycling will be coordinating events with tour of Luzon, Visayas and Mindanao. Road biking and mountain bikings will be promoted by Philippine Cycling.
Cycling Activity to Participate In

Your cycling activity can be posted here and it will be shown in all the Provincial, City, Municipal and Barangay pages. Your 2015 Cycling Race or Activity can be Posted here.
ILOILO CITY, April 27-May 2, 2015 (PNA) – Some 5,000 bikers are expected to join the second Iloilo Bike Festival slated April 27-May 2, 2015 as the city continues to aspire to become a bike-able walkable metropolis. The activity that supported by the John B. Lacson Foundation Maritime University (JBLFMU) and Megaworld Iloilo aims to promote Iloilo as a safe and bike friendly city, promote the share-a-road movement encourage Ilonggos to commute via biking and raise Ilonggos awareness on the benefits of biking on health, safety and environment concerns. Read More....
CYCLING Le Tour de Filipinas 2015 set as country celebrates 60 years of top-caliber cycling Feb 1 to Feb 4 2015 - View the result of the race: A four stage race. Stage 1 starts in Balanga and back to Balanga for a 126K race Feb 1, 2015 (Sunday); stage 2 starts in Balanga, Bataan to Iba, Zambales for a 154.7 K race Feb 2, 2015 (Monday); stage 3 starts in Iba, Zambales to Lingayen, Pangasinan for a 150.1K race Feb 3, 2015 (Tuesday); stage 4 starts in Lingayen, Pangasinan to Baguio City, Benguet for a 101.7K race Feb 4, 2015 (Wednesday). For a total distance of 532.5 Kms. Read More >>>
Ronda Pilipinas: Feb 8 - 27 2015:>> Discovering young riders for the national team will be the main objective of the LBC Ronda Pilipinas 2015 when the country's premiere cycling race hits the road on Feb. 8 in Butuan City. Ronda Pilipinas executive project director Moe Chulani said the international multistage bikathon, which ends on Feb. 27, will have two qualifying legs of four stages each in Mindanao and the Visayas where the top riders will advance to face a tough foreign challenge in the six-stage Luzon finale. Read More>>>
Click HERE to view more PHOTOS about Manay.
Disclaimer
Most of the contents in this site are from registered user collaborations. Information has also been taken from the Department of Tourism, Comelec, National Statistical Coordination Board, DILG: Department of the Interior and Local Government, (LGU) government sites, online news, and other content sites about the specific community. This page does not serve as the official website of the community but rather compliments and helps the community to promote tourism and attract investors.
This is an interactive and collaborative webpage, meant to help promote this community and showcase it to the world via the internet.
This wiki page follows a format. The editor of this wiki page reserves the right to change formats, edit, or delete entries that may be considered as offensive, vulgar or not for the betterment of this wiki page.