Malolos City, Bulacan, Philippines
From Zamboanga.com :Portal to The Philippines
Barangays of Malolos City in the Bulacan Province, Philippines


Anilao • Atlag • Babatnin • Bagna • Bagong Bayan • Balayong • Balite • Bangkal • Barihan • Bulihan • Bungahan • Caingin • Calero • Caliligawan • Canalate • Caniogan • Catmon • Cofradia • Dakila • Guinhawa • Ligas • Liyang • Longos • Look 1st • Look 2nd • Lugam • Mabolo • Mambog • Masile • Matimbo • Mojon • Namayan • Niugan • Pamarawan • Panasahan • Pinagbakahan • San Agustin • San Gabriel • San Juan • San Pablo • San Vicente • Santiago • Santisima Trinidad • Santo Cristo • Santo Niño • Santo Rosario • Santol • Sumapang Bata • Sumapang Matanda • Taal • Tikay
We ask the SK Chairman, to please Help update his/her barangay webpage with informaton updates or Picture Uploads to promote tourism and attract investors.
Philippine News: Saturday, May 18, 2013 : Gov't works on branding for Phl food products : MANILA, Philippines - The government plans to launch this year a branding for Philippine food products for export, as it seeks to actively promote local goods overseas, a trade official said....Full Story»
---
This website is interactive unlike most websites of the LGU's (Local Government Units) in the Philippines.
If you do not have a website yet, no need to create your own community website. We have already done it for you. Just adopt this site then any registered user can maintain the site. No need for special IT training. Most of all zamboanga.com is here to help you. It is all FREE.
If you already have your own site, use this site as a supplement. You will get more exposure to TOURISTS and INVESTORS. Link to it specially for the barangay pages.
There are sites out there that will provide you with a free webpage. But then you have to create if from scratch. The site that we provide you already has content. It is not an empty shell.
Most importantly all the regions, provinces, cities, municipalities, and barangays are linked. Nobody else in the world has this. Nobody!
---
A | B | C | D | E | F | G | H | I | J | K | L | M | N | O | P | Q | R | S | T | U | V | W | X | Y | Z
Regions | Philippine Provinces | Philippine Cities | Municipalities | Barangays | High School Reunions
---
---
List of Municipalities in the Bulacan Province of The Philippines
Angat | Balagtas | Baliuag | Bocaue | Bulacan | Bustos | Calumpit | Guiguinto | Hagonoy | Marilao | Norzagaray | Obando | Pandi | Paombong | Plaridel | Pulilan | San Ildefonso | San Miguel | San Rafael | Santa Maria | Doña Remedios Trinidad
Cities in the Province of Bulacan: Malolos City (Capital) | Meycauayan City | San Jose Del Monte City

Seal of Malolos City
Interactive Google Satellite Map of Malolos City, Bulacan Province

Location of Malolos within Bulacan Province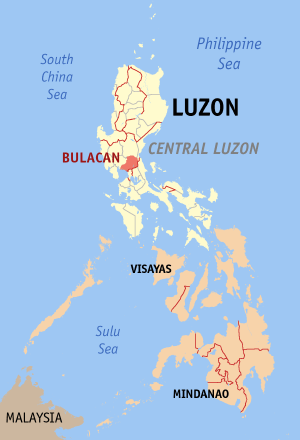 Map location of Bulacan Province

Municipal Building Of Malolos City, Bulacan

Entrance to Malolos City, Showing a small model of the Barosoain Church at the top of the arch.

Barosoain Church Malolos City
Malolos City,
Bulacan Province, Philippines

Malolos City has a total of 51 barangays
Malolos City is in the "1st" Voting Congressional District of Bulacan.
Registered Voters of Malolos City as of (2010) = 104,497
Population of Malolos City (as of Aug 1, 2007) = 223,069
Land Area of Malolos City (as of 2007, in hectares) = 6,725
Malolos City is a 3rd class Component City and Urban.
Malolos City is in the Bulacan province and within Region III in central Luzon.
Malolos City is the capital city of Bulacan
Geography of Malolos City, Bulacan, Philippines
Geography of Malolos City
Location of Malolos City, Bulacan, Philippines
History of Malolos City, Bulacan, Philippines
article below is copied verbatim from:www.bulacan.gov.ph/malolos
No other towns in the Philippines can be linked to the great patriots and heroes in the country's history more than Malolos—capital of the short-lived Philippine Republic. Such name as General Emilio Aguinaldo, Pedro A. Paterno, Dr. Jose P. Rizal and the del Pilars- Marcelo, Pio, and Gregorio, Apolinario Mabini, Antonio Luna, Felipe Calderon, and a host of others are forever engraved in the annals of Philippine History.
The name of Malolos was presumably derived from the Tagalog word "Paluslos", meaning " downwards". The name resulted from a misunderstanding among the first Spanish missionaries who reached the place. Searching for inhabited places along the Calumpit River, these priests came upon some natives of a riverside barrio (now Kanalate). They asked for the name of the place. The natives, not knowing the Spanish tongue, answered that the flow of the river in that part was downstream -"paluslos"-, which the Spaniards pronounced "Malolos". Corruption of the word through the years led to present "Malolos".
The town originated from a small settlement started by the Spanish missionaries. Later, after clearing forests and virgin lands, the settlement grew, and the population increased. After the construction of a big church, the place was made into a town. From the very beginning, Tagalog made up the majority of the Malolos populace. They were led by prominent families, among them the Gatsalians (Gatchalian), and the Manahans.
To cite all the historical events that transpired in Malolos, one could very well fill a good-sized book. The major events especially those that revolved around the first Republic, cannot be left unmentioned.
The wealth of Malolos lies not only in its more than four thousand hectares of fertile rice lands and more than two thousand hectares of fishponds, but in the character of its people as well. Its people have long been known for their diligence and ingenuity. In early days, farming and fishing took up most of the poultry, farming, pigeon rising, carpentry and woodwork, and other profitable cottage industries and handicrafts. A major factor in Malolos growth and development was the opening of the Manila-Dagupan railways in 1892. With the advent of the railroad came new ideas from Manila and other places. Another factor is Malolos proximity to industrial and business centers. Only 42 kilometers off from Manila, the town and its people are inevitable subjected to an influx of metropolitan thoughts.
In work methods and tools, it is estranged to find Malolos folk using a combination of the old and the new Ramshackle hops tremble to the whirl of modern electric-powered machines. Fishermen go out to the sea in the same dugouts their grandfathers used. Some of them have outboard motors. And handicraftsmen, woodworkers and weavers still follow the ageless techniques of their forefathers.
People of Malolos City, Bulacan, Philippines
Population of Malolos City (as of Aug 1, 2007) = 223,069
Elected officials of Malolos City for the term of 2010-2013
Barangays Elected Officials of Malolos City, Bulacan
Businesses in Malolos City, Bulacan, Philippines
We invite you to list your business located in Malolos City.
Give your business a good description. Add your address and contact number if available.

Resorts, restaurants, pension houses, or hotels are welcome to be listed here.
Bakery, Mechanical Shop, Bicycle Shop, Tailor shops can be listed here.
If you have a pharmacy or gas station, it can be listed here too.
Hardware stores, Agrivets, salon, spas, etc. are welcome to be listed.

We do not allow external links except for our sponsors zamboanga.com and maletsky.com. If you have an external site for your business you may not link to it in Z-Wiki but you can point to it. e.g. list it like this: www.my??business.com - this tells the people of your website but it does not link to it.
Businesses in Malolos City

The name of your business, address, phone number
If you have real estate property, whether its commercial, residential, farm land, or just an empty lot in Malolos City, you can list that property for free. Click to VIEW, EDIT, or ADD Realty Listings.
You can list your House and lot or farm land for sale for free here in Z-Wiki
Churches, Mosques, or Places of Worship in Malolos City, Bulacan, Philippines
The name of your church, mosque, or place of worship can be listed here. We can even provide you with a free webpage for you. We can help you.
Schools in Malolos City, Bulacan, Philippines
School year 2013-2014 starts June 3 and ends March 31, 2014, for public elementary and secondary schools. The school year will have 201 school days, of which 180 days are "nonnegotiable" student-teacher contact time.
The multisectoral Brigada Eskwela to prepare schools for the students' return will be on May 21-26. Oplan Balik Eskwela will be from May 28 to June 8 while orientation on K to 12 for parents and other stakeholders will be on June 9.
Although private schools may deviate from the Department of Education (DepEd) calendar, they are enjoined not to start before June 3 and later than Aug 31.
---
School Year 2013-2014 in public elementary and high schools will start on June 3 and end on March 31, 2014 The name of your school in Malolos City can be listed here. You can list it like this:
Name of School. Private or Public. It can be an elementary school, high school, college.

Address of your school
Telephone Number
Principal of the school
You can also create a webpage for your school. We can help you.
Economy of Malolos City, Bulacan, Philippines
If you have an article that talks about the improvement of the economy of Malolos City you can post that article here. If you come across any news items that talk about the economy of Malolos City, you may post it here. Of course you have to reference the writer of the article. Any improvement to transportation, power and service usually improves the economy of the community, so go ahead and report that too.
If you have a job available and that job is within Malolos City, Philippines, you may post it here.
Remember to be as descriptive as possible and to post your Company name, Contact person, physical address, email address and Phone number.
Post expiration of Job Application. Go ahead and Click HERE to Insert your job offer in the "Jobs in Malolos City" page.
Natural Resources of Malolos City, Bulacan, Philippines
Protect the environment
It is sad but true that as of the year 2012 the rivers of the Philippines continue to be the #1 Sewer Systems of the Philippines.
Protect & Save the Rivers. Do not let your sewer drain into the river. Your community can be the first to initiate this project.
Build your riverbank protection with a built-in gutter system. Reforest within Ten Years - Guaranteed!
---
Let us plant more trees in every barangay in the entire Philippines. It does not make any difference if the barangay is urban, partially urban or rural; we need more trees. Trees will prevent erosion, provide oxygen, prevent green house effect, and even a place of business for the shade tree mechanic.
The Philippines is a tropical country and practically anything will grow. The DENR has the planting trees project that goes on every year. Lots of picture taking for the media. Planting trees one by one is the "human" way of doing it. This individual planting of trees is good if done to "line" the roads and highways with trees or along fences or property divisions, or if you have a plantation.
To reforest the nation of the Philippines we have to plant trees the "mother nature" way. Sow the seeds during the rainy season. Go deep into "bald" forests and plant trees by sowing seeds. If there's not enough volunteers to do this, use the military helicopters to fly over the designated areas and sow the seeds.
Guaranteed within a few years, The Philippines will be lush again. >>Read More
---
We are using our rivers as our sewer system. If you ask a Filipino, "Are the Filipinos a clean people?" The answer is an automatic, "Yes!". However, the Filipinos are suffering from the same disease or attitude as most people do, and that is the "NIMBY" disease or "NIMBY" attitude. (NIMBY) Not In My Back Yard. So it is OK to dump my garbage and sewer there. Not mine! Someone else will take care of it.
This attitude is killing our rivers. Your great-grandparents, grandparents or parents were once proud to tell the stories of how they enjoyed swimming in the river behind your house or nearby. However, you can't say the same or tell the same stories to your kids or grand kids. Why? Because your generation is killing the river.
Contact:
Secretary Ramon J. P. Paje
Department of Environment and Natural Resources
Visayas Avenue, Diliman, 1100 Quezon City, Philippines
+63-2-929-6626
osec@denr.gov.ph
---
We have so much water in the Philippines and yet very little to drink.
---
Instead of relying too much on Diesel fuel and Coal to generate the majority of Philippine's Electrical energy Supply, we can concentrate more on renewable and sustainable source of energy such as: Hydro Power, Solar Power, and Wind Power. We have too many black outs.
Tourists Attractions of Malolos City, Bulacan, Philippines
Help us add some of the tourist attractions of Malolos City in Z-wiki. This will help boost the local economy of Malolos City. Anything that is unique or anything that stands out in your community may be a tourist attraction.
Landmarks are usually photographed a lot by visitors. Post the Malolos City landmarks here.
Festivals, Fiestas and Traditions of Malolos City, Bulacan, Philippines
Every city has some sort of a festival or tradition that is celebrated every year. In the Philippines almost all barangays that are predominantly populated by Christians celebrate fiesta. Tell us about the festivals, fiestas and traditions of Malolos City.
Your Story about Malolos City, Bulacan, Philippines
Tell your story about Malolos City. You can talk about the good things in Malolos City or simply talk about the past. You can talk about the eco-system of Malolos City. What is the local LGU doing about the preservation of your natural resources? The topic can start here and once it gets bigger it can have a page of its own in Z-Wiki. It's all up to you.
Featured News of The Philippines
Gov't works on branding for Phl food products
Saturday, May 18, 2013 12:00 am
MANILA, Philippines - The government plans to launch this year a branding for Philippine food products for export, as it seeks to actively promote local goods overseas, a trade official said.
"We want to create a Philippine brand (to be used) for packaging (of products) this year," Center for International Trade Expositions and Missions (CITEM) executive director Rosario Virginia Gaetos told reporters at the sidelines of the 9th International Food Exhibition Philippines..........Full Story
---
Public ownership of stocks rises
Friday, May 17, 2013 12:00 am
MANILA, Philippines - Public ownership of companies listed in the local bourse is increasing, the Philippine Stock Exchange (PSE) said.
In a recent study, the operator of the country's only stock exchange said the free float level hit 33.4 percent as of end-March..........Full Story
---
Date: May 14 - Location: Angono, Rizal

Farmers pay tribute to their patron saints; a procession of carabao carts bearing a myriad local produce is held; prizes are awarded to the strongest and most beautifully decorated carabaos.
Date: May 14 Location: Pulilan, Bulacan

Hundreds of festively adorned carabaos are paraded by their farmer-owners on the street leading to the church; there the carabaos are made to kneel down as a homage to San Isidro de Labrado, the patron saint of farmers.
---
Phl-Smart jins bag 12 golds, 28 other medals in ASEAN meet
Saturday, May 18, 2013 12:00 am
MANILA, Philippines - The Philippines-Smart taekwondo team romped off with a haul of 12 gold, 14 silver and 14 bronze medals in the recent 11th ASEAN champions (ATF) tournament in Nay Pyl Taw, Myanmar.
Many-time internationalist Kirstie Elaine Alora and Anjelay Pelaez showed the way with a gold each in the senior women's kyorugi (free sparring) competition..........Full Story »
Philippine Cycling is about cycling in the Philippnes. Philippine Cycling helps promote bike races, cycling clubs, bicycle tours, and the development of bicycle trails. Activities are coordinated with bike shops and cycling clubs throughout the Philippines to promote the fun of riding bikes. Philippine Cycling will be coordinating events with tour of Luzon, Visayas and Mindanao. Road biking and mountain bikings will be promoted by Philippine Cycling.
Cycling Activity to Participate In
Tour de Zamboanga 2013: From the 11th of July, 2013 to the 14th of July, 2013. A four day 540 kilometer bicycle race for Charity!
Due to the road constructions going on in the route of the Tour, we are eliminating the road bikes from this race.
This is a (Non-Roadbike) individual bicycle race. Everybody is welcome in this race. The more the merrier. Racers who skip a stage will not be allowed to continue. Everybody who finishes the race and does not skip a stage is a winner.
The race starts at the port municipality of Liloy, Zamboanga del Norte and rests in the historical city of Zamboanga del Norte, Dapitan City to end the first stage. The following day the race will continue from Dapitan City to Pagadian City to end the second stage. The 3rd stage will be from Pagadian to Ipil. And finally culminate with the final stage from Ipil, Zamboanga Sibugay to Zamboanga City.
Prizes for the Winners and Participants of Tour de Zamboanga
80 PRIZES in all to be Given Away. OVER ₱ 782,000.00 pesos in Prizes
Grand Prize: The overall (liloy, dapitan, pagadian, ipil, zamboanga) first 15 finishers will be based on the overall accumulated time it took to finish the 4 stage race. The racer must finish all stages to qualify for the grand prize.

The racer with the best accumulated time wins the championship. 1st:50K, 2nd:30K, 3rd:20K, 4th:15K, 5th:10K, 6th:9.5K, 7th:9K, 8th:8.5K, 9th:8K, 10th:7.5K, 11th:7K, 12th:6.5, 13th:6K, 14th:5.5K, 15th:5K

Every stage has a winner. Prizes will be presented to the first 3 racers to win each stage. 1st:20K, 2nd:15K, 3rd:10K, 4th:6.5K, 5th:6K, 6th:5.5K, 7th:5K, 8th:4.5K, 9th:4K, 10th:3.5K, 11th:3K, 12th:2.5K, 13th:2K, 14th:1.5K, 15th:1K

The winner of each stage keeps the prize money even if he/she can't continue with the race because of injury or other reasons. But because the racer skipped a stage he/she will not be allowed to continue with the race.

Besides the Open Category, There are three (3) other competitive categories: (Women; Under 16 years old; 50 years old and over. Prizes for these categories are as follows: 25K 1st, 20K 2nd, 15K 3rd, 10K 4th, 5K 5th. Each Category gets a prize. Prizes given only to finishers of all 4 stages for these 3 categories.
Finishers of all the 4 stages get a certificate of completion and a refund of their 1,000.00 peso registration fee. If a racer skips a stage he or she is will not be allowed to continue the race. Every finisher of the Tour de Zamboanga is a WINNER!
First Bicycle Race to cover the entire Zamboanga Peninsula
Due to the election complications in the Zamboanga peninsula, the tour has been postponed to July 11 - July 14 of 2013.
Zamboanga del Norte, Zamboanga del Sur, Zamboanga Sibugay, and Zamboanga City.
All Philippine Cyclers are invited to participate in the open bicycle race. It is for a great charitable cause: Project BOSS - Brotherhood Operation Sweet Smile
Total Distance to be traveled: 540 kilometers or 338 miles - Visit our WebPage
Malolos City News
116 villages flooded in Bulacan; Malolos hardest hit
By: Emil G. Gamos, Philippine News Agency

August 7, 2012 8:47 PM InterAksyon.com The online news portal of TV5
MALOLOS CITY, Bulacan --Intensive rainfall that pounded many parts of Bulacan inundated at least 116 villages in 12 towns and 3 cities, the Provincial Disaster Risk Reduction and Management Council (PDRRMC) on Tuesday night.
The hardest hit was the capital city of Malolos, where 29 villages were submerged under one to four feet of raging floodwaters, turning many roads into virtual rivers.
This is the first time that Malolos City was hit by this kind of flooding. The rains were indeed so intense that brought so much waters, said PDRRMC chairman Gov. Wilhelmino M. Sy-Alvarado, who personally supervised operations at the PDRRMC command center at the provincial capitol here, together with Vice Gov. Daniel Fernando.
Trucks carrying rescue teams and relief goods were dispatched to heavily flooded areas.
He said emergency response teams were on 24 hours alert, ready to respond at any given time.
Raging floodwaters submerged 16 villages in Calumpit (one to two feet), 11 villages in Obando (one to six feet), eight in Marilao (one to six feet), seven in Guiguinto (one to two feet), six each in Balagtas, Baliwag, Bocaue (one to two feet), five each in Pulilan and Bulakan (one to two feet), four in Plaridel (one to two feet), thre in Meycauayan City (one to four feet), two in San Jose del Monte City (two feet) and one in Sta. Maria (one foot).
As a result, the governor maintained suspension of classes at all levels in the province on Wednesday, Aug 8.
He, however, pointed out that all government institutions related to health, relief and rescue operations are required to report in these crucial times.
Alvarado also disclosed that Ipo dam had began reducing the volume of excess waters towards Bustos dam — from 856 cubic meters per second at 11 a.m. to 300 cms at 2 p.m. to 250 at 4 p.m.
The gradual release will help the Bustos dam to stabilize its water holding capacity.
As of 12 noon Tuesday, the water elevation at Angat dam was 204.3 meters, still below its spilling level of 210 meters.
The water elevation at Ipo dam as of 12 noon was 101.81 meters, breaching its spilling level of 100.50 meters by 1.31 meters.
Senate bets promise to prioritize rehabilitation of water resources
By Dino Balabo (The Philippine Star)
Updated April 18, 2010 12:00 AM

MALOLOS CITY, Bulacan , Philippines – Senatorial candidates from the the Liberal Party (LP) and the Nacionalista Party (NP) yesterday promised to support the rehabilitation of water resources and infrastructure in the country.
LP senatorial candidate Dr. Martin Bautista said reforestation is the most effective way to retain water supply.
He also proposed a total ban on logging, establishment of seedling banks, compulsory tree planting for Filipinos aged 12 to 65, and dredging of waterways.
NP senatorial candidate Susan Ople, who comes from the coastal town of Hagonoy in Bulacan, said the country's water resources should be rehabilitated to suit the changing climate because a slight rise in sea water levels can displace settlers of coastal towns and destroy their livelihood.
Neric Acosta, also from LP, said water supply is the foundation of economic development.
"Water is life itself. Without it, there would be no society," he said.
Local candidates in the province also urged the protection of the Angat watershed, which is threatened by illegal logging.
The Angat Dam supplies 97 percent of Metro Manila's water requirement.
Gubernatorial candidate Willy Alvarado said fishpond operators lose their fish stocks due to heavy runoff during typhoon season.
Edwin Santos, who is running for mayor of Obando, proposed the creation of a coastal road to link Obando to Navotas because 25 percent of the town becomes flooded during high tide and heavy rainfall.
"How can you develop a town like Obando when all dry land goes underwater?" he said.
Environmental group Greenpeace earlier stressed the need to upgrade water infrastructure to suit extreme weather events like the heavy flooding in the metropolis brought by tropical storm "Ondoy" in September last year, and the ongoing El Niño phenomenon.
Greenpeace called for the implementation of the Rainwater Harvesting law that was enacted in 1989.
The law mandates the Department of Public Works and Highways to construct rainwater collectors in every barangay.
Do this so your photo upload will be properly categorized for Malolos City.
Copy and paste the code below in "GREEN" to the body or "Summary" of the image file that you are uploading.
{{zadheader pictures}}
[[Category:Malolos City, Bulacan, Philippines Photo Gallery]]
[[Category:Bulacan, Philippines Photo Gallery]]
*[[Malolos City, Bulacan, Philippines]]