Iloilo Province, Philippines
From Portal to The Philippines
List of Municipalities in the Iloilo Province within Region VI in the Republic of The Philippines
Ajuy | Alimodian | Anilao | Badiangan | Balasan | Banate | Barotac Nuevo | Barotac Viejo | Batad | Bingawan | Cabatuan | Calinog | Carles | Concepcion | Dingle | Dueñas | Dumangas | Estancia | Guimbal | Igbaras | Janiuay | Lambunao | Leganes | Lemery | Leon | Maasin | Miagao | Mina | New Lucena | Oton | Pavia | Pototan | San Dionisio | San Enrique | San Joaquin | San Miguel | San Rafael | Santa Barbara | Sara | Tigbauan | Tubungan | Zarraga
Cities in the province of Iloilo: Iloilo City (Capital) | Passi City
---
A | B | C | D | E | F | G | H | I | J | K | L | M | N | O | P | Q | R | S | T | U | V | W | X | Y | Z
---
Regions | Philippine Provinces | Philippine Cities | Municipalities | Barangays | High School Reunions
---
---
Interactive Google Satellite Map of Iloilo, Philippines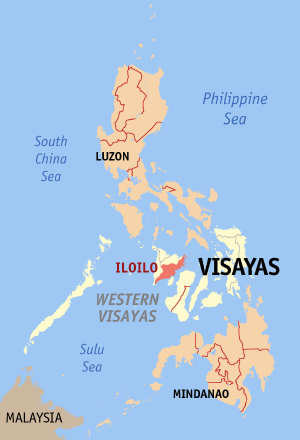 Map Locator of Iloilo Province
Click to view Map of the Island of Panay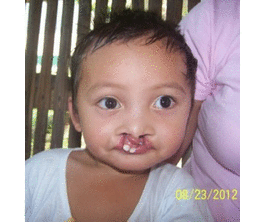 In as few as 45 minutes a child or anyone can be saved from a lifetime of pain, shame and isolation. You can give them a chance to go to school, make friends and have a bright future. For as little as 100 pesos you can help provide a surgery for a child suffering from a cleft palate or cleft lip(harelip).


One act of random kindness at a time.

Visit our website: B.O.S.S.
ILOILO FACTS & FIGURES
Land Area : 4,719.4 sq km (2004)
No. of Barangays: 1,901 (As of September 2003)
No. of Municipalities: 42 (As of September 2003)
No. of Cities: 2 (As of September 2003)
Total Population: 1,925,002 (As of May 1, 2000
                                                   census)         
Population Growth Rates: 2.10 (1995-2000)
Income Class: First
Consumer Price Index (2000=100): 114.4 (2004)
Inflation Rate: 5.2 (2004) 
Average Family Income: 110,114 (2000)
Average Family  Expenditure: 91,900 (2000)
No. of Elementary Schools:
     Public:   1,043 (SY 2003-2004)
     Private:  38 (SY 2002-2003)
No. of Secondary Schools:
     Public :  166 (SY 2003-2004)
     Private:  19 (SY 2002-2003)
No. of Tertiary Schools: 25 (SY 2003-2004)
No. of Licensed Hospitals: 20 (2003)
Telephone Loads: 50,254 (2003)
Telephone Density: 2.5 per 100 population (2003)
No. of AM Broadcast Stations: 7 (2003)
No. of FM Broadcast Stations: 12 (2003)
No. of Motor Vehicles Registered: 74,316 (2003)
No. of Establishments (3rd Qtr. 2004)
     Business Name Registration: 913   
Capitol Building of the province of Iloilo
Aerial View of Iloilo City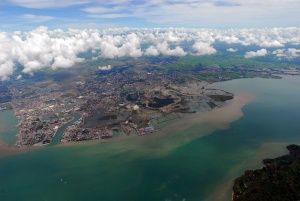 Higher Aerial View of Iloilo City
Jaro, Iloilo City, Cathedral. Built in 1864
Iloilo Province, Philippines
The province of Iloilo is within Region VI-Western Visayas
Iloilo province has 42 Municipalities, 2 Cities, and 1,901 Barangays - Every barangay in the province of Iloilo has an Interactive Webpage of its own.
Registered Voters per the Comelec as of (2010) = 1,158,943
Population (as of Aug 1, 2007 NSO census) = 1,691,878
Geography of Iloilo, Philippines
Located in the island of Panay in the Philippines.The island of Panay is divided into four provinces: Aklan, Antique, Capiz, and Iloilo, all in the Region VI-Western Visayas.
Iloilo is located in the center of the Philippine archipelago. Strategically located 283 statute miles from Manila, it is the gateway to the flourishing region that is Western Visayas. The province comprises the southeastern part of Panay Island.
Location of Iloilo, Philippines
Iloilo is located in the center of the Philippine archipelago. Strategically located 283 statute miles from Manila, it is the gateway to the flourishing region that is Western Visayas. The province comprises the southeastern part of Panay Island.
History of Iloilo, Philippines
ILOILO takes its name from Irong-Irong, the old name of the city of Iloilo, a tongue of land that sticks out like a nose on the south of Iloilo River. The Maragtas Legend tells the story of Iloilo way back in the 13th century, when Datu Puti and his fellow Datus, fled from the tyranny of Sultan Makatunao of Borneo and landed at the mouth of the Siwaragan River, now known as the town of San Joaquin, and eventually settled there.
ImageAt the that time, people called the "Atis", who were ruled by King Marikudo and Queen Maniwangtiwang, inhabited Panay. King Marikudo bartered the lowlands of Panay Island for a golden hat, "saduk", and a long gold necklace, "manangyad", and other assorted gifts to the Bornean Datus. The latter then took complete control of the island with the "Atis" retiring to the mountains. It was Datu Paiburong who was assigned in Irong-Irong. Panay Island was ruled under the Code of Kalantiao, where peace and prosperity reigned for 300 years. But this was disrupted when the Spaniards came and established the provincial government.
ImageAs early as 1855, Iloilo opened to the world of trade and became the biggest port in the Philippines and premier province of the country because of various economic activities. Municipio de Iloilo became a city under the Bacura Law in 1893.
When the Philippine Revolution started, Panay uprising against the Spaniards was led by Gen. Martin Delgado of Sta. Barbara, who liberated all the towns, except Iloilo City, Molo, and Jaro. December 28, 1898 marked the arrival of the Americans at the Iloilo port, and on April 11, 1901, Iloilo City whose status has reverted to municipality, became the chief port and trading center of Panay and Negros. Because it progressed steadily, the Commonwealth Act No. 158 incorporated the surrounding towns of Lapaz, Jaro, Mandurriao and Arevalo to form Iloilo City and was finally inaugurated on Aug. 25, 1937, and was dubbed as the "Queen City of the South". Gen. Martin Delgado became the first governor of the province of Iloilo.
The Japanese occupation started on April 16, 1942. The Panay Guerilla Movement, the first resistance group in the Philippines, continued fighting the Japanese Imperial Army even before the American Liberation of Panay on July 4, 1946.
 ** article from the provincial government of Iloilo**

People of Iloilo, Philippines
Hiligaynon (Ilonggo) is the main dialect spoken in Iloilo. English and Tagalog are also widely spoken and understood especially in urban areas.
Registered Voters per the Comelec as of (2010) = 1,158,943
Population (as of Aug 1, 2007 NSO census) = 1,691,878
Local Government Unit LGU of Iloilo, Philippines
Iloilo is composed of two cities and 42 municipalities. It is divided into five (5) congressional districts. It has 1,720 barangays.
Elected Officials of Iloilo for 2007-2010
Governor
Vice-Governor
House of Representatives
Businesses in Iloilo, Philippines
Rice is the major crop in the province of Iloilo. Fish and marine products are considered the main source of livelihood in the first and fifth districts of Iloilo. There are also non-traditional products in the province which include processed food, fruits and vegetables, gifts, furniture, and others. Traditional products include sugar, coco oil, and lime products, among others.
There are 114 private and government banks all throughout the province and city of Iloilo, in addition to 40 rural banks found in most municipalities, at least 6 malls, and many department stores.
We invite you to list your business located in Iloilo.
Give your business a good description. Add your address and contact number if available.

Resorts, restaurants, pension houses, or hotels are welcome to be listed here.
Bakery, Mechanical Shop, Bicycle Shop, Tailor shops can be listed here.
If you have a pharmacy or gas station, it can be listed here too.
Hardware stores, Agrivets, salon, spas, etc. are welcome to be listed.

We do not allow external links exept for our sponsors zamboanga.com and maletsky.com. If you have an external site for your business you may not link to it in Z-Wiki but you can point to it. e.g. list it like this: www.my??business.com - this tells the people of your website but it does not link to it.
Businesses in Iloilo

The name of your business, address, phone number
Philippine Cycling is about cycling in the Philippnes. Philippine Cycling helps promote bike races, cycling clubs, bicycle tours, and the development of bicycle trails. Activities are coordinated with bike shops and cycling clubs throughout the Philippines to promote the fun of riding bikes. Philippine Cycling will be coordinating events with tour of Luzon, Visayas and Mindanao. Road biking and mountain bikings will be promoted by Philippine Cycling.
If you have real estate property, whether its commercial, residential, farm land, or just an empty lot in Iloilo, you can list that property for free. Click to VIEW, EDIT, or ADD Realty Listings.
You can list your House and lot or farm land for sale or lease for free here.
If you are a real estate developer, you can list your subdivision, condominiums, high rises, apartment complexes, shopping strips or malls, open market developments here.
Churches, Mosques, or Places of Worship in Iloilo, Philippines
The name of your church, mosque, or place of worship can be listed here. We can even provide you with a free webpage for you. We can help you.
List the Mosques or Masjid in Iloilo here.

List the Catholic churches and chapels in Iloilo here.

Sta. Ana Parish Church, Molo, Iloilo City, Iloilo
Cathedral Of St. Elizabeth Of Hungary, Iloilo City, Iloilo
Jaro Plaza, Jaro Pavia Parish Church, Pavia, Iloilo City, Iloilo
San Jose Parish, Iloilo City, Iloilo
St. Clement's Church, La Paz, Iloilo City, Iloilo

List the Methodist churches in Iloilo here.

List the Iglesia Ni Cristo churches in Iloilo here.

List the Seventh-day Adventist churches in Iloilo here.

List the Church of Jesus Christ Latter day Saints (Mormons) churches in Iloilo here.

List the Presbyterian churches in Iloilo here.

List the Baptist churches in Iloilo here.
Schools in Iloilo, Philippines
Having one of the highest literacy rates in the country and being center of education in Western Visayas, Iloilo has a lot of educational institutions including more than 30 tertiary, 200 secondary, and 1100 elementary level schools. There are 8 universities in Iloilo, 6 of them are private universities while 2 of them are public or government-owned.
Iloilo Universities:

University of San Agustin (USA)

Address: General Luna Street, Iloilo City 5000 Philippines; Phone: +63(33)3374841 to 44; Email: info@usa.edu.ph

University of Iloilo (UI)

The University of Iloilo (Filipino: Pamantasan ng Iloilo) is a private university in Iloilo City, Philippines. It is a member of the PHINMA Education Network. The University of Iloilo started as the Iloilo City Colleges (ICC). It was established in June 1947 by the Hon. Fernando H. Lopez, then mayor of Iloilo City, who was imbued with the spirit of unselfish service to the youth. In this great task of organizing a college, he was inspired by his wife Doña Mariquit and his brother Don Eugenio. Today, the University of Iloilo stands stronger than ever. It continues to enlighten the minds and shape the ideas of thousands of young Filipinos, the most fitting and lasting monument to its founders who had dreamed and worked hard to make this Institution a center of learning for everyone.

Saint Paul University Iloilo (SPUI)

Saint Paul University Iloilo (SPUI) is a premier institution for higher education recognized for excellence in student-centered learning, transformative teaching, challenging academic programs, innovative research, and responsive community service. Impelled by the love of CHRIST, and on the invitation and support of His Eminence Denis Cardinal Dougherty, Bishop of Jaro, The Sisters of St. Paul of Chartres began their apostolic activities in Iloilo by establishing St. Paul's Hospital in 1911. Their primary aim was to care for the poor and the sick, However, the care of the poor and the sick was not the only apostolic mission of the Sisters of St. Paul; they have also been founded for the purpose of training and educating the young. So it was, with the great desire emboldened by the formative component of their mission, coupled with the pressing need of the hospital for trained competent Catholic nurses, the Sisters under the leadership of Mother Josephine de Jesus opened the School of Nursing in June, 1946. The school was formally declared as a university in 2004.

Central Philippine University (CPU)

Central Philippine University (CPU) is a non-stock, non-profit Christian institution of higher learning in Iloilo City.It was founded in 1905 as the Jaro Industrial School by missionaries of the American Baptist Foreign Mission Society.The school has the distinction of having organized the first student government in the country – the Jaro Industrial School Republic, and one of the oldest student's newspapers – the Central Echo. In 102 years, CPU has grown from an elementary school with 17 pupils to a widely known university with an enrollment of over 12,000. The 24-hectare campus, which was originally chosen for its quiet and relative isolation, is now a veritable community by itself, with more than 30 buildings used for classrooms and support facilities.

John B. Lacson Foundation Maritime University (JBLFMU)
West Visayas State University (WVSU)
University of the Philippines in the Visayas (UPV)
Philippine Christian University (PCU) – Extension Campus

Iloilo Colleges (other Tertiary Schools/Higher Education Institutions):

Iloilo Doctors' College
Colegio de San Jose
Colegio del Sagrado Corazon de Jesus
Western Institute of Technology
St. Therese-MTC Colleges
Colegio delas Hijas de Jesus
Western Visayas College of Science and Technology
Iloilo State College of Fisheries
Northern Iloilo Polytechnic State College
St. Anne College of Iloilo
St. Augustine College of Nursing
Interface Computer College
STI
AMA Computer College
Dominican College of Iloilo
Cabalum Western College
ABE International College of Business and Economics
ACSI Business and Computer School
Computer College of the Visayas
De Paul College
Integrated Midwives Association of the Philippines Foundation School of Midwifery
Interface Computer College
New Lucena Polytechnic College
Passi City College
Philippine College of Aeronautics, Science and Technology
St. Vincent Ferrer Seminary
Economy of Iloilo, Philippines
If you have an article that talks about the improvement of the economy of Iloilo you can post that article here. If you come across any news item that talks about the economy of Iloilo, you may post it here. Of course you have to reference the writer of the article. Any improvement to transportation, power and service usually improves the economy of the community, so go ahead and report that too.
Natural Resources of Iloilo, Philippines
Protect the environment
It is sad but true that as of the year 2012 the rivers of the Philippines continue to be the #1 Sewer Systems of the Philippines.
Protect & Save the Rivers. Do not let your sewer drain into the river. Your community can be the first to initiate this project.
Build your riverbank protection with a built-in gutter system. Reforest within Ten Years - Guaranteed!
---
Let us plant more trees in every barangay in the entire Philippines. It does not make any difference if the barangay is urban, partially urban or rural; we need more trees. Trees will prevent erosion, provide oxygen, prevent green house effect, and even a place of business for the shade tree mechanic.
The Philippines is a tropical country and practically anything will grow. The DENR has the planting trees project that goes on every year. Lots of picture taking for the media. Planting trees one by one is the "human" way of doing it. This individual planting of trees is good if done to "line" the roads and highways with trees or along fences or property divisions, or if you have a plantation.
To reforest the nation of the Philippines we have to plant trees the "mother nature" way. Sow the seeds during the rainy season. Go deep into "bald" forests and plant trees by sowing seeds. If there's not enough volunteers to do this, use the military helicopters to fly over the designated areas and sow the seeds.
Guaranteed within a few years, The Philippines will be lush again. >>Read More
---
We are using our rivers as our sewer system. If you ask a Filipino, "Are the Filipinos a clean people?" The answer is an automatic, "Yes!". However, the Filipinos are suffering from the same disease or attitude as most people do, and that is the "NIMBY" disease or "NIMBY" attitude. (NIMBY) Not In My Back Yard. So it is OK to dump my garbage and sewer there. Not mine! Someone else will take care of it.
This attitude is killing our rivers. Your great-grandparents, grandparents or parents were once proud to tell the stories of how they enjoyed swimming in the river behind your house or nearby. However, you can't say the same or tell the same stories to your kids or grand kids. Why? Because your generation is killing the river.
Contact:
Secretary Ramon J. P. Paje
Department of Environment and Natural Resources
Visayas Avenue, Diliman, 1100 Quezon City, Philippines
+63-2-929-6626
osec@denr.gov.ph
---
We have so much water in the Philippines and yet very little to drink.
---
Instead of relying too much on Diesel fuel and Coal to generate the majority of Philippine's Electrical energy Supply, we can concentrate more on renewable and sustainable source of energy such as: Hydro Power, Solar Power, and Wind Power. We have too many black outs.
Travel and Tourists Attractions of Iloilo, Philippines
Antonia, Isla de Gigantes, Carles, Iloilo
Iloilo / Panay Mountainbiking

Guimaras Island off the coast of Iloilo is famous for the Guimaras International Mountain Bike Festival. If you want more, head across the Guimaras Strait to Iloilo, where there is an active biking scene and a number of routes of varying lengths. For a long-distance tour, ride across Panay Island and take your bike over to Boracay, a destination worth the effort.

Jaro Cathedral

3 km. from the city proper; seat of the Jaro Archbisphoric embracing Western Visayas.

Lapaz Batchoy (Lapaz, Iloilo)

Originated in the District of Lapaz, Iloilo City. It's a noodle soup with pig's entrails, liver, and chicharon.

Malbuena Resort, Ajuy, Iloilo
Miag-ao Church (Miag-ao)

40 km. southwest of Iloilo City; built in 1786; declared as national landmark in 1973; included in UNESCO's World Heritage List.

Molo Church

3 km. from the city proper; Gothic Rennaissance Church of coral rock; completed in the 1800s.

Museo Iloilo and Antique Collections (Iloilo City)

Repository of Iloilo's cultural heritage.

Paraw Regatta

(movable dates; Iloilo Strait). A race among swift and colorful native outriggers in the strait between Iloilo City and Guimaras Island.

San Joaquin Church

53 km. southwest of Iloilo City; the only church in the Philippines sporting bas-relief of historic battle between Christians of Spain and Moors of Morocco in Tetuan in 1859.

Sta. Barbara Golf Course

16 km. north of Iloilo City proper; 18-hole; 37 hectares of golf course which is the oldest in the country; built in 1907.

Tambaliza Beach, Pan de Azucar, Concepcion Iloilo
Tangke, Isla de Gigantes, Carles, Iloilo
UP in the Visayas Campus (Miag-ao, Iloilo)

A thousand hectare school campus, which centers on fisheries.

White Beach Sand, Carles, Iloilo
Festivals, Fiestas and Traditions of Iloilo, Philippines
Festivals are the bright flecks of Ilonggo life. They are mostly religious and folk celebrations rolled into one. Festivals provide an opportunity for elders to pass on folk knowledge to younger generations. It provides the perfect occasion for feasting, fellowship and family get-togethers. Festivals are the glue that holds together far-flung members of family and friends who come on reunions. It is an outpouring of respect, rejoicing, or high revelry. It can also be a commemoration of an important historical or cultural event, or a re-creation of cherished folkways. Here in Iloilo, festivals truly reflect Iloilo's diverse cultural heritage, enabling visitors a glimpse of a rich history and tradition as well as culture.
The first festival that Iloilo annually celebrates. The rich culture of Lambunao is depicted in this annual celebration highlighting the coupling mechanism of banog birds in a showdown of Binanog dance.
Originated in 1973 the town of Pavia celebrates the provinces' oldest festival with a carabao parade and race participated in by the town's 18 barangays.
(every 4th of weekend of January; Iloilo City). A colorful cavalcade in honor of the Holy Child Jesus amidst the cracking drumbeats, Iloilo's version of the world famous Ati-atihan Festival.
Celebrated every September, the municipality of Cabatuan pride themselves with its newly-instituted festival inspired from their native soup that has gained popularity all over Iloilo.
Philippine News
PSEi seen targeting 6,800
Tuesday, February 9, 2016 12:05 am
The local stock barometer is seen attempting to breach the 6,800 mark this week, the start of trading in the new Lunar Year of the Fire Monkey.
Last week, the Philippine Stock Exchange index (PSEi) gained 1.16 percent to close on Friday at 6,765.13. Trading resumes today after the long weekend break ........ Full Story»
---
More investors bullish on Philippine prospects – StanChart
Monday, February 8, 2016 12:00 am
MANILA, Philippines - Investors are bullish on the country's economic prospects over the next five years, according to a survey conducted by Standard Chartered Bank.
Based on the survey conducted by the bank among 160 of its top financial institution and corporate clients, more than 80 percent of the respondents expect the country's gross domestic product (GDP) to grow above five percent over the next five years ........ Full Story»
---
Padit, pals top ABC team tilt
Tuesday, February 9, 2016 12:00 am
MANILA, Philippines - Manny Padit of Philflex Wires, Jerry Canuday Cham of Boysen Paints, Randy Poon of American Wires and Bert Magsakay of Boysen Paints combined for a 2806 to clinch the Architects Bowling Club's four-man team event at the E-Lanes Center in Ortigas Ave. last week.
Toto Abear of Emerald Pipes, Jerry Canuday Cham of Boysen Paints, Rudy Serrano of DN Steel and Jayson Basye of Boysen Healthyhomes pooled a 2774 for second while Eugene Panaguiton of Boysen Paints, Benny Tan of Atlanta Pipes, Violy Magsakay of Boysen Paints and Boy Roldan of Philflex Wires and Cables assembled a 2,764 for third ................................ Full Story»
DSWD search for child friendly municipalities on
By: Lilibeth A. French
Monday, April 30, 2012
ILOILO CITY- The Department of Social Welfare and Development 6 is now accepting entries for the Presidential Award for Child Friendly Municipalities and Cities for 2012.
The annual search initiated by the Council for the Welfare of Children (CWC) seeks to recognize deserving local government units for ensuring a child friendly governance as well as upholding children's rights to survival, development, protection and participation.
It has five categories categories: 1st to 3rd Class Municipality, 4th to 6th Class Municipality, Component City, Independent Component City (ICC), and Highly Urbanized City (HUC).
Asuncion Santiago, focal person for Children of the DSWD 6, said letters of invitation and entry forms were already sent to the different local government units in the region.
Santiago said in the region, the deadline of submission of entries from HUCs and ICCs will be on May 15 while entries from the provinces on May 31.
CWC, in a press report, has scheduled the validation of entries in the regions from June to July and in the national level from August to September to select the Presidential Awardees.
The awarding ceremonies is set in October in time for the Children's Month.
Iloilo Zip Codes
Source: Philippine Postal Corporation
This table is Sortable by City/Municipality or by ZipCode
Click on Icon to Sort
ZipCode
Click on Icon to Sort
City/Municipality
Province
5000
Iloilo City
Iloilo Province
5001
Pavia
Iloilo Province
5002
Santa Barbara
Iloilo Province
5003
Leganes
Iloilo Province
5004
Zarraga
Iloilo Province
5005
New Lucena
Iloilo Province
5006
Dumangas
Iloilo Province
5007
Barotac Nuevo
Iloilo Province
5008
Pototan
Iloilo Province
5009
Anilao
Iloilo Province
5010
Banate
Iloilo Province
5011
Barotac Viejo
Iloilo Province
5012
Ajuy
Iloilo Province
5013
Concepcion
Iloilo Province
5014
Sara
Iloilo Province
5015
San Dionisio
Iloilo Province
5016
Batad
Iloilo Province
5017
Estancia
Iloilo Province
5018
Balasan
Iloilo Province
5019
Carles
Iloilo Province
5020
Oton
Iloilo Province
5021
Tigbauan
Iloilo Province
5022
Guimbal
Iloilo Province
5023
Miagao
Iloilo Province
5024
San Joaquin
Iloilo Province
5025
San Miguel
Iloilo Province
5026
Leon
Iloilo Province
5027
Tubungan
Iloilo Province
5028
Alimodian
Iloilo Province
5029
Igbaras
Iloilo Province
5030
Maasin
Iloilo Province
5031
Cabatuan
Iloilo Province
5032
Mina
Iloilo Province
5033
Badiangan
Iloilo Province
5034
Janiuay
Iloilo Province
5035
Dingle
Iloilo Province
5036
San Enrique
Iloilo Province
5037
Passi
Iloilo Province
5038
Duenas
Iloilo Province
5039
San Rafael
Iloilo Province
5040
Calinog
Iloilo Province
5041
Bingawan
Iloilo Province
5042
Lambunao
Iloilo Province
5043
Lemery
Iloilo Province
Do the following so your photo upload will be properly categorized for Iloilo.
Copy and paste the code below in "GREEN" to the body or "Summary" of the image file that you are uploading.
{{zadheader pictures}}
[[Category:Iloilo, Philippines Photo Gallery]]
*[[Iloilo Province, Philippines]]